If you've ever struggled with tracking spending and budgeting, then you're not alone.
Many of us have a substantial pile of receipts that are just piling up. Receipts for food, clothes, fuel – the list goes on and on. Unless you are highly organised, it can be hard to keep track of them all.
The ReceiptJar app is here to help.
Top Australian Paid Survey Picks:
Start earning cash by joining some or all of our top Australian paid surveys now!
TIP: These legitimate sites are free to join. We recommend you sign-up for multiple Australian paid survey sites in one go for the best chance to earn more cash and rewards.
This free app enables users to scan a receipt with their phone camera and it will save it so they can find it later. Not only will you get more organised with your spending. You'll also earn rewards for providing consumer data.
ReceiptJar has been gaining popularity in Australia due to its intuitive design. But is it worth your time?
In this Receipt Jar review, we'll take a look at how this app works, whether it's safe and legitimate, and what you can get out of it.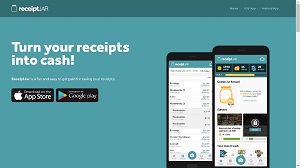 Get off to a flying start by using this code: 'MICHC3GB8′ to score 200 points and then earn 200 more for every referral. Start scanning your receipts here.
How the ReceiptJar app works
The premise is quite simple. ReceiptJar offers a user-friendly app with the ability for users to save and upload receipts. The app is available to download for android and ios at the app store and Google Play.
The data collected de-identified, aggregated, and sold to companies in the form of consumer insights. In return, users earn rewards and have the ability to better track spending.
The ReceiptJar app is very easy to use, and it's entirely free to sign up. It's available for both android and iOS.
All you need to do is open the ReceiptJar app, take a picture of your receipt, and hit save. The app will automatically save the date and time so you can keep track of when you made your purchase.
You can also categorise your receipts by type – for example, you could have groceries, gas, clothes, etc. ReceiptJar will keep track of how much you've spent on that type of item over time so you can keep an eye on your budget.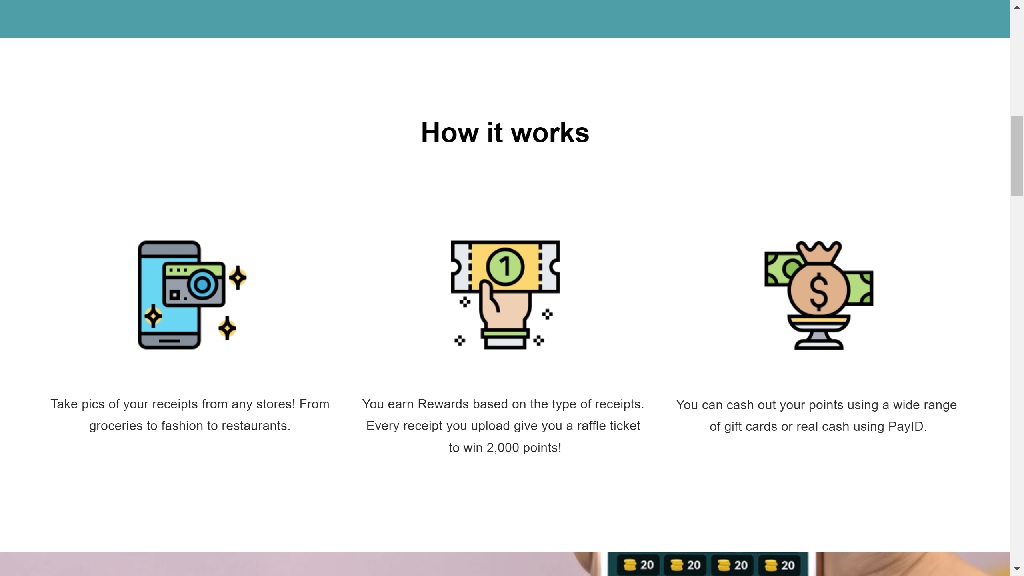 Why do companies want your receipts?
Consumer spending habit data is highly valuable to businesses and brands. And there's no better way to collect it than gaining access to customer receipts.
The data collected by ReceiptJar allows them to drill down to a very detailed level of consumer insights that help brands understand their market. For example, they might be able to work out that customers in one specific postcode are 25% more likely than the rest of the country to shop for cleaning goods at Coles instead of Woolworths.
Is ReceiptJar safe and legitimate?
Yes. ReceiptJar appears to be a secure and trustworthy mobile app, and it's used by thousands of Australians every day. It's owned by an Australian company, Feedmee App Pty Ltd, Trading as The U Group & Co. This company is affiliated with Uno Group and Unomoney.
When you use ReceiptJar, there's no need to enter any personal information such as credit card numbers or phone numbers.
The data from user receipts is anonymized and used solely for marketing research purposes.
ReceiptJar: Step by step guide
It's easy to get started. Simply download the app from the app store to get started and register. Once you've completed the signup process, you're ready to start uploading receipts.
Here's how it works:
Step 1: Take pics of your receipts: ReceiptJar supports most major retailers. From groceries to fashion to restaurants, fuel, and more.
Step 2: Upload your receipts to earn reward points.
Step 3: Cash out reward points for a range of gift cards. Or, convert to cash via a PayID payout.
How to earn ReceiptJar points
Users are incentivized via a points-based system. 1,000 ReceiptJar points are worth the equivalent of $5 AUD.
Online receipts submitted earn ReceiptJar points based on the entire amount spent on the shopping trip, with larger amounts being worth more. We've outlined the ReceiptJar points earning tiers below:
Total spend below $10 earns 5 points
Total spend between $11 – $50 earns 10 points
Total spend between $51 – $100 earns 15 points
Total spend over $100 earns 20 points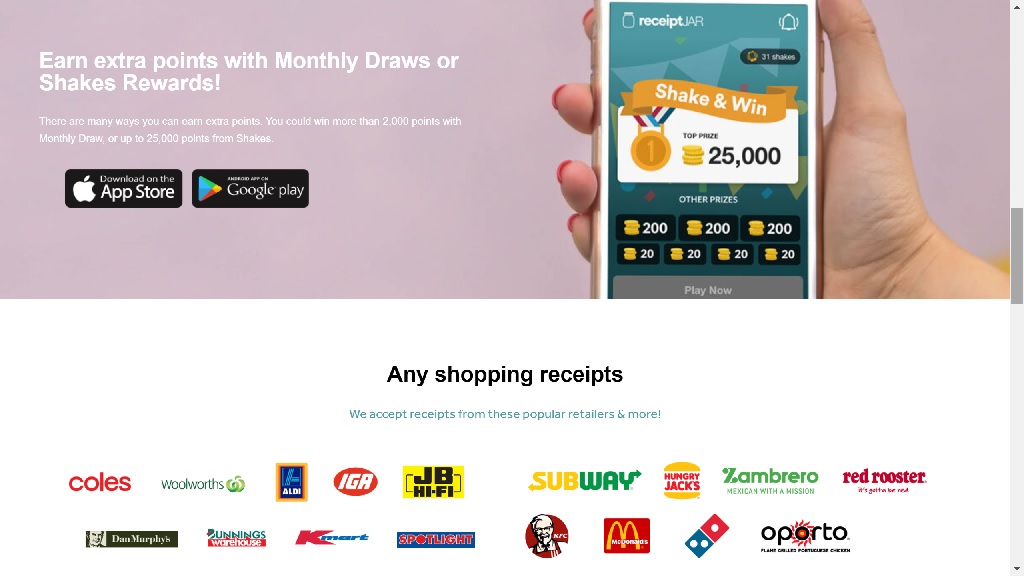 Additionally, ReceiptJar users can earn extra points with Monthly Draws and sweepstakes, along with 'Shakes' Rewards!
ReceiptJar offers a monthly draw with a chance to win more than 2,000 points. Up to 25,000 points are on offer from Shakes promotions.
Redeeming ReceiptJar points
ReceiptJar points can be cashed out for real money, via cash transfer into PayID. Alternatively, users can opt for a gift card.
To cash out your points, you'll need to have at least 1,000 ReceiptJar points in your account. Points expire after 30 days of inactivity.
Which receipts are accepted?
You may submit receipts into the mobile app for any physical items you've bought, such as food, electronics, clothes, and pet supplies.
ReceiptJar accepts receipts from many retailers in Australia. This includes:
Supermarket spend (including Coles & Woolworths online stores)
Restaurants and cafes (dine-in restaurants, cafes, coffee shops, lunch bars and delis)
Convenience & Petrol (7 Eleven, BP, Caltex, Coles Express and all other convenience stores & petrol stations)
Specialty foods (butchers, bakeries and all other independently owned specialty food stores)
Alcohol stores and bottle shops (FirstChoice, Liquorland)
eBay purchases
Amazon purchases
Fashion retailers (Myer, David Jones, online stores like The Iconic, Net A Porter)
Health & beauty (Chemist Warehouse, Adore Beauty online, Mecca)
Apparel & General Merchandise (Big W, Kmart, Target, The Reject Shop and all other bricks and morter and online stores that sell clothing and general merchandise)
Electronics outlets (The Good Guys, JBHifi, Harvey Norman)
Online pet supply (Petstock, Pet Circle.)
Fast food receipts (McDonald's, Red Rooster, Hungry Jacks, Pizza Hut, KFC)
Other (choose the 'other' option when uploading your receipt
Every day, stores have a three receipts per retailer, per transaction date limit. You will not be able to submit more than three receipts for the same date.
It's worth noting that you can submit receipts from your household, including those from your spouse and children under the age of 18. Only purchases undertaken as a result of your own purchasing behaviors may be uploaded to ReceiptJar.
Which receipts are not accepted?
While the ReceiptJar app accepts uploads from a number of retailers, some spend categories don't qualify. Physical receipts that aren't accepted include:
Receipts for services, such as event tickets, transport tickets, Uber receipts, Groupon, gift card purchases and car service receipts
Receipts that are older than 14 days
EFTPOS receipts (as opposed to an official tax invoice)
A4 receipts. Receipts in A4 format are currently not supported, presumably due to limitations with the ReceiptJar app.
Online receipts that are not accepted include:
PayPal transaction confirmation emails
Utility bills, including mobile phone, internet, electricity and gas bills
Digital service subscriptions
Rent payment receipts
Ride share receipts such as Uber
Travel receipts, including airline spend (such as Qantas), holiday and hotel spend.
How to ensure your ReceiptJar upload qualifies
To ensure your receipt is accepted and points are credited to your ReceiptJar account, you must ensure the following information is visible when you upload pictures of your receipts:
Retailer
Items purchased
Date and time of purchase
Total purchase amount
Receipts with unclear merchant names, missing details around item purchases, or receipts that are cut off/too faded in any of those four regions will be rejected.
If you've paid electronically with a card, ReceiptJar also needs to see the EFTPOS section to cite the last four digits of the debit or credit card displayed on the receipt. This is done to determine whether the receipts are yours. If your account has a large number of unique debit or credit card IDs, you may have your account suspended, as this is a red flag that you may be uploading receipts that aren't yours.
It's also important to note that ReceiptJar only accepts receipts that are up to 14 days old. To ensure you don't forget, consider getting into the habit of uploading a receipt as soon as you've completed your purchase.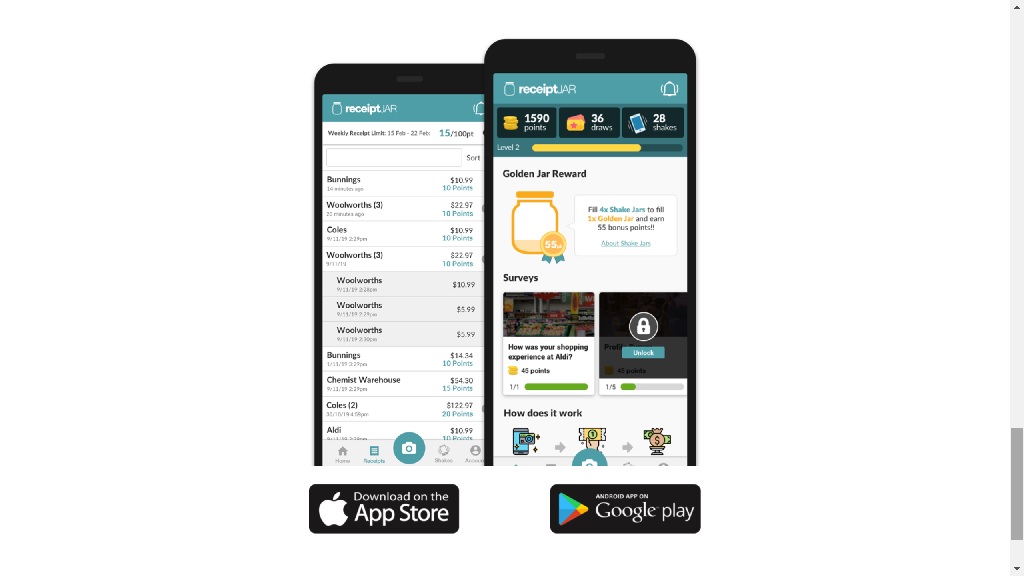 How ReceiptJar monitors user compliance
Like many rewards apps services, ReceiptJar has a robust fraud-detection mechanism in place to avoid users 'gaming the system' by engaging in fraudulent behaviours.
ReceiptJar assigns users an account score. The account score is monitored to ensure users comply with the terms of the program.
Avoid doing the following things to keep your account in good standing:
Receipt diving. This behaviour involves uploading receipts that are not your own. Examples of receipt diving include employees of a store uploading receipts from customers, using receipts that belong to others, including friends or colleagues.
Creating fake accounts. Users should not create fake ReceiptsJar accounts to generate referrals
Unaccepted receipts. Don't upload multiple receipts that are not accepted, such as Service receipts, travel spend, event tickets, etc.
You will not be able to request a payout if your account is identified with more than three suspicious behaviors. It's important to avoid gaming the system on purpose, as your behaviour will likely be detected and your account will be shut down.
How Does ReceiptJar make money?
If you've read this far into our ReceiptJar review, the idea of an app paying consumers for uploading receipts may seem a bit odd.
However, at its core, ReceiptJar is a market research and rewards app that is not dissimilar to Nielsen Homescan, Receipt Hog, and Ibotta. The founders have found an innovative and entirely legitimate way to turn a receipt into a valuable commodity for both customers and companies.
ReceiptJar aggregates and de-identifies the data they obtain from receipt uploads. They also run online surveys via the ReceiptJar app. The insights are summarised in market research reports that companies are able to purchase.
ReceiptJar Refer A Friend program
Like many GPT and paid rewards apps, ReceiptJar offers a referral program that can earn users extra money.
The ReceiptJar Refer a Friend program is simple. You'll get 200 points when someone you refer subscribes to Receiptjar and scans their first receipt.
Simply share your referral link on social media or send it out in an email- however you think your friends will be most likely to see it. Then sit back and wait for the rewards to roll in.
ReceiptJar customer support
ReceiptJar maintains a customer support function to assist users with any queries. Email [email protected] or navigate to the live chat in the app.
ReceiptJar Conclusion
If you're looking for a fun and easy way to keep track of your receipts and make money online, downloading the ReceiptJar app could make sense. While it won't earn you much in the way of real cash, it's a way to earn a little extra in a passive way.
ReceiptJar is a simple and straightforward app. It makes money by selling market research reports to companies, who use Receipts as a raw data set for their market research purposes.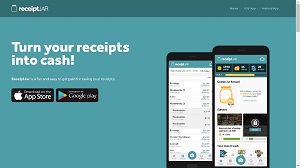 Get off to a flying start by using this code: 'MICHC3GB8′ to score 200 points and then earn 200 more for every referral. Start scanning your receipts here.
ReceiptJar's robust fraud detection mechanism prevents users from engaging in fraudulent behaviours such as uploading receipts that are not theirs or creating fake accounts to generate referrals.
Users can access additional rewards via the ReceiptJar Refer a Friend program. They can also contact customer support with any queries they have.
We hope you've found our ReceiptJar review helpful. If you decide to download and use the app, be sure to follow the terms of service so that your account remains in good standing.
ReceiptJar Frequently Asked Questions (FAQ)
Have more questions? We answer the top queries users may have in our ReceiptJar FAQ
Is ReceiptJar legit?
Yes, ReceiptJar is a legitimate and safe market research company. It collects aggregate consumer data from shopping receipts.
How does ReceiptJar make money?
ReceiptJar makes money by selling market research reports to companies. These reports use aggregate data from shopping receipts to help businesses understand consumer trends.
What receipts does ReceiptJar accept?
ReceiptJar accepts uploads from numerous retailers all around Australia. Read our ReceiptJar review to find out which spend categories are excluded.
While you're here: Subscribe to our newsletter for the latest tips, deals and news. It only takes a few seconds and we respect your privacy: