Uber Rewards unlocks points and perks with every dollar spent on Uber and Uber Eats.
When it comes to rideshare and meal delivery, there are many companies jostling for your dollar. However, if you spend frequently on these services, then it's likely that you could benefit from the rollout of Uber's loyalty program – Uber Rewards.
What is Uber Rewards?
As a multi-level loyalty program, Uber Rewards has progressively rolled out to Australian and New Zealand consumers from the start of 2020, offering points earning opportunities and exclusive member benefits.
Uber Rewards is free to join. And, even if you only purchase Uber rides or Uber Eats occasionally, it's worth taking notice. As we'll explain in this guide, there are many ways you could benefit from the program, regardless of how frequently or infrequently you use Uber products.
How to join Uber Rewards in Australia
Joining Uber Rewards is free and easy. In fact, it will take you less than a minute of your time if you have an existing Uber account.
Follow the steps below to join:
Step 1: Open the Uber app, tap the menu icon in the top left corner and select Uber Rewards.
Step 2: Click 'Join for free'.
Step 3: Accept the Terms and Conditions.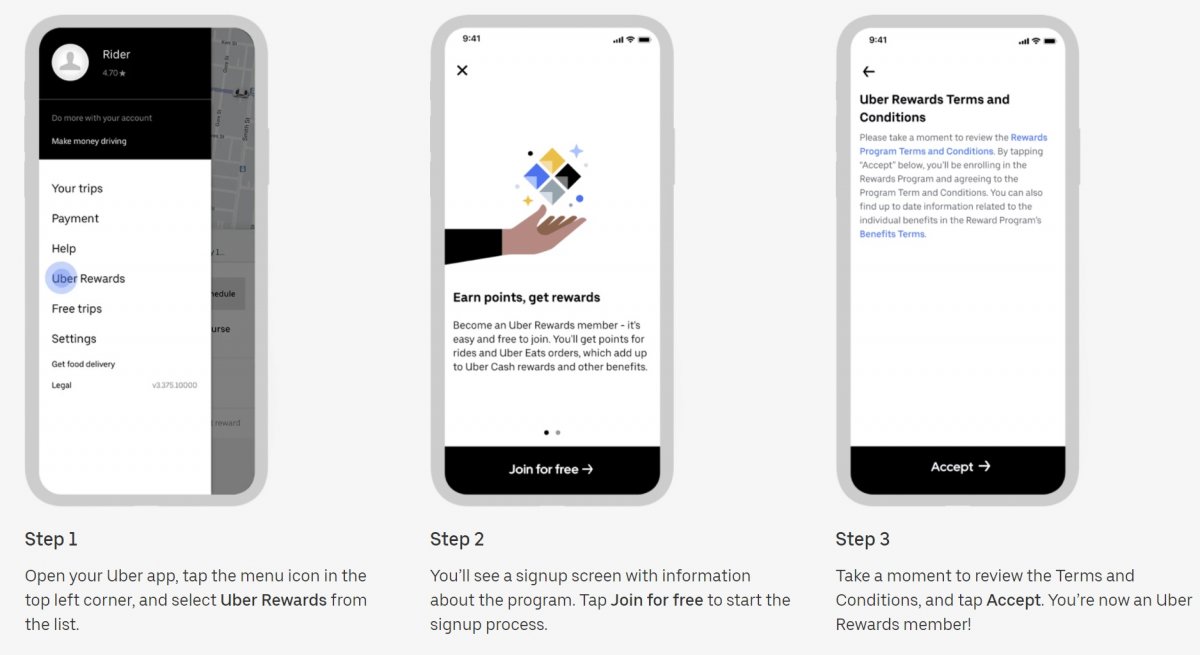 And that's it! As a carded-up member, you're ready to start earning points and working your way up the Uber Rewards membership tiers straight away.
Earning points with Uber Rewards
Like many loyalty programs, Uber Rewards' key appeal centres around the ability to earn points on purchases through both Uber rideshare and Uber Eats meal delivery. Points earned through the scheme can then be used to unlock exclusive benefits and perks.
The Uber Rewards points earn rates are broken down across the different spend categories as shown below:
| Spend Category | Points earn rate |
| --- | --- |
| UberPool | 1 point per $1 AUD |
| UberX | 2 points per $1 AUD |
| UberXL | 2 points per $1 AUD |
| Uber Comfort | 2 points per $1 AUD |
| Uber Assist | 2 points per $1 AUD |
| Uber Premium (formerly Uber Black) | 3 points per $1 AUD |
| Uber Eats | 1 point per $1 AUD |
It's worth mentioning that these earning rates apply across all Australian locations, in New Zealand, and also if you access an eligible Uber service overseas.
Unsurprisingly, Uber Rewards seeks to incentive spend on premium rideshare products, with an earn rate of up to 3 points per dollar. Conversely, the cheapest rideshare option (UberPool) and Uber Eats award just 1 point per dollar spent.
What spend is ineligible for points earning?
Points are not earned on:
Taxes, levies, fees, tolls and surcharges
Tips to delivery-partners or driver-partners
Cancellation fees
Portions of trips covered by a promotional value
Portions of trips covered by another user through split fare
External trip fees such as damage or cleaning fees
Taxi, bike, and scooter rides
In addition, other types of trips may also be ineligible. Check the Uber website for up-to-date information.
Uber Rewards points expiry and capping
Points that are redeemable for rewards expire after one year, on a monthly basis. To avoid points expiry, members should ensure to redeem points for a reward before 12 months have passed.
There's no 'cap' on the number of points you can earn through Uber Rewards, and you can earn on both personal and business spend. Note that you will not earn points on taxes, levies, tolls, and surcharges.
Understanding the Uber Rewards status tiers
Uber Rewards operates a tiered membership system, with four distinct status levels on offer. As an Uber Rewards member meets thresholds on Uber product spend, it's possible to move up the four tiers of membership.
The number of qualifying Uber Rewards points earned in each six-month interval determines status in the program.
The points threshold for each of the four Uber Rewards tiers is presented below:
| Membership Level | Qualifying Points |
| --- | --- |
| Blue | Less than 1200 Qualifying Points in a Program Period |
| Gold | 1200 – 3999 Qualifying Points earned during a Program Period |
| Platinum | 4000 – 7499 Qualifying Points earned during a Program Period |
| Diamond | 7500 or more Qualifying Points earned during a Program Period |
Uber Rewards membership benefits
Even at entry-level, the Uber Rewards program provides a limited range of benefits and perks. Scale up to a higher tier, and you could unlock exclusive offers, Uber price promise, and even the occasional surprise upgrade.
We've broken down the perks and benefits of each membership level below:
Uber Rewards Blue membership benefits
Entry-level 'Blue' is awarded to members who don't qualify for a higher tier upon assessment of their previous six months of spend activity. In a nutshell, Blue level unlocks points earn on Uber rides and orders with Uber Eats. From time to time, entry-level Uber Rewards members may also get access to special offers.
Uber Rewards Gold membership benefits
Once the threshold of 1,200 points has been reached, a member attains Gold level status. This entitles you to the same benefits as a Blue member, with a few additional perks. At every 750 points earned, you will gain access to extra rewards from Uber, Uber Eats, and other partners. Uber Rewards Gold members also get access to 10% off an Uber Comfort trip every month.
Uber Rewards Platinum membership benefits
Platinum status is obtained at 4,000 points. This third-tier membership level provides all the benefits of Gold membership, with one particularly handy additional benefit – Price Confidence.
How does Uber Price Confidence work? Choose a route that you take often, such as work to home, and Uber will grant Platinum members a set promotional price. The price may fluctuate during peak times, but even then, you will still receive up to 35% off the ride. You can also change your desired route every 30 days if your travel requirements change.
If you travel Uber rideshare services at peak times in busy cities such as Melbourne or Sydney, or when it's particularly busy, then this benefit could potentially save you substantial money.
Uber Rewards Diamond membership benefits
And finally, if you are an avid Uber and Uber Eats user and ratchet up 7,500 points, you will gain the heady title of Diamond member. As a top-tier elite, you'll receive all the membership benefits of a Platinum member. In addition, Diamond status gets you access to premium phone support and the possibility to score complimentary rideshare upgrades.
Premium phone support means that if you run into any problems, you will have 24/7 access to knowledgeable and experienced phone support agents.
Free upgrades are offered to Diamond level members who order an UberX, provided higher-end ridesharing vehicles are available nearby.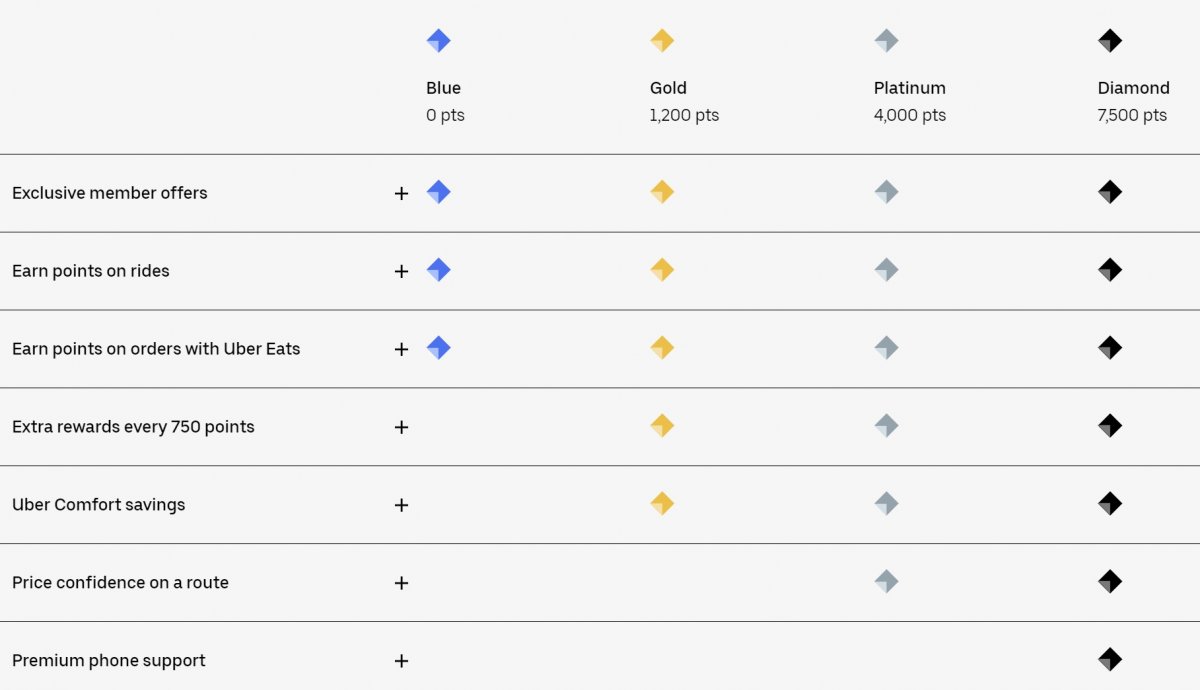 Uber Rewards status extension in response to COVID-19
In April 2020, Uber confirmed that it would offer a six-month status extension to Uber Rewards members. Additional information about Covid-19 measures will be provided in this post as information comes to hand.
How to use Uber Rewards points
The points that you earn with Uber Rewards are either qualifying (to move you up levels) or redeemable (able to be redeemed for unique rewards).
Once you reach the Gold membership level, you will gain access to extra rewards at every 750 points earned (or every 600 points in New Zealand). Available rewards include:
Meal delivery service discount: 15% off Uber Eats orders for one nominated three day period (capped at $25 per order)
Rideshare discount: 15% off all Uber rides for one nominated three day period. Choose from UberX up to Uber Premium (formerly Uber Black)
Qantas Points: The ability to convert your points to Qantas points; 750 Uber Rewards points can be converted to 200 Qantas Points.
Donation: The choice to donate your reward to a charity, such as Uber's partner Paralympics Australia.
For most consumers, the best 'bang for buck' will be obtained by choosing 15% off Uber Eats or Uber rideshare. This is particularly the case if you are able to utilise the three-day redemption window strategically, ensuring a busy period of use. Converting Uber Rewards points for Qantas points offers poor value.
If you're keen to redeem Uber Rewards overseas, you're out of luck. Unfortunately, you can only access Uber Rewards and benefits in your home country.
How Uber rideshare compares to DiDi and Ola
There is a range of rideshare companies operating in Australia, so it pays to shop around. Before placing all your eggs into one basket with Uber, let's take a look at the competition.
DiDi
Chinese rideshare company DiDi call themselves "The Lowfare Rideshare". With 550 million users worldwide, the company gained popularity as their trips were often at lower prices than Uber (their main competitor). These low prices aren't backed by frequent user incentives, however, as DiDi doesn't yet have any kind of loyalty or membership program.
RELATED: Read our Guide to DiDi here
DiDi also offers fewer car types than Uber and doesn't yet offer food delivery. DiDi allows for parcel delivery, but it's not yet a well-known service.
Ola
Indian rideshare company Ola, which came to the Australian market more recently, has also been a strong competitor of Uber. Although their prices are slightly lower, like DiDi, Ola also has fewer car types and no food delivery service. Ola is talking about expanding to enable driver delivery of goods, alcohol, and parcels, but this is not yet available in Australia.
In terms of loyalty programs, however, Ola offers users the ability to earn Virgin Velocity Points when using their service. Users can earn up to 4 Velocity Points per $1 spent on Ola rides to and from select airports, and 1 point per $1 spent on all other rides.
If you are new to Ola, you can even gain up to $20 off and 1,000 bonus Velocity Points on your first ride by using our code:
Sign up using our unique Ola referral code 0XDQ4EU to get $20 off your first ride (T&Cs apply).

IMPORTANT: To use this code, start the OLA app. You'll be prompted to verify your mobile number, enter your name and the Ola referral code.
How Uber Eats compares with Menulog
Australia's food delivery company Menulog, which was around long before the Australian launch of Uber Eats, is an interesting competitor to Uber's food delivery service. Although both platforms have similar offerings, Menulog frequently offers better prices and larger discounts, while customers prefer the usability and delivery standards of Uber Eats.
In terms of rewards for its users, Menulog boasts some exciting offerings.
Like Ola, Menulog has partnered with Virgin to provide 1 Velocity Point per $1 spent on Menulog orders purchased through the Velocity e-store. If you're a member of Singapore Airlines' KrisFlyer program, you can gain 7 KrisFlyer Miles per $10USD spent on Menulog through the KrisFlyer online store.
Menulog is also part of the Commonwealth Bank Commbank Awards program. At the time of writing, Commbank cardholders can get 2 bonus points per $1 spent on Menulog orders through their online store. Commbank Awards can be redeemed for a variety of products including movie tickets, Myer purchases, and travel bookings through Flight Centre.
Menulog is a strong contender when it comes to being rewarded for your food delivery purchases. See whether the benefits of Uber Rewards or Menulog's variety of rewards programs suit you better (or sign up for both!).
Qantas and Uber partnership
Uber isn't missing out when it comes to airline partnerships, and its tie-up with Qantas shines.
In addition to turning your Uber Rewards points into Qantas Frequent Flyer points, you can also gain Qantas points on Uber rides to and from select airports. You will earn 1 point per $1 spent. Just download the latest version of the Qantas app and follow the prompts to link your Uber account.
If you are a Qantas Frequent Flyer member who hasn't used Uber yet, Qantas is offering an additional 2,000 Qantas Points on your first Uber ride.
Alternately, if you're an Uber user and have been thinking about becoming a Qantas Frequent Flyer, sign up now as Qantas is waiving their $99.50 joining fee for Uber customers.
With so many ridesharing and meal delivery services on the market, the Uber and Qantas tie-up is a great way for Qantas Frequent Flyer members to feel recognised and rewarded for each and every dollar spent.
Uber Rewards pros and cons
Uber Rewards conclusion
If you're an avid rideshare or meal delivery service user who hasn't signed up for Uber Rewards, then you could be missing out on gaining access to unique rewards and benefits. Uber Rewards has the potential to be especially rewarding for users of Uber Premium (formerly Uber Black) who can earn a generous 3 points per dollar spent.
And, with Uber Rewards being completely free to join, there are many ways to benefit, regardless of how frequently or infrequently you use Uber services.
Sign up for the program in-app or visit the Uber website to find out more.
Frequently Asked Questions (FAQ) – Uber Rewards
Does it cost anything to join Uber Rewards?
The Uber Rewards program is entirely free to join, and it takes less than a minute to sign up. You will gain points and access to exclusive rewards from the very beginning, no matter how frequently or infrequently you use Uber's products.
What are the Uber Rewards membership levels and required points?
Uber Rewards offers four membership levels: Blue, Gold, Platinum and Diamond.
What if I can't see the option of Uber Rewards in my Uber app?
The Uber Rewards system is quite new to Australia, and you may not have Uber Rewards available to you yet. Not to worry though, because Uber is aiming to make it available to everyone as soon as possible.
Can I earn and redeem Uber Rewards points overseas?
You can still earn points while using Uber and Uber Eats overseas, and they will be based on your local currency once converted. Unfortunately, you can only access rewards and benefits in your home country.
How often does my Uber Rewards membership level reset?
Membership levels reset every six months. If you don't gain enough points to stay on your current level, you will move down to a lower level.
In April, however, Uber confirmed that they would offer a six-month status extension to members, which will be updated based on the state of the world in the next few months.
While you're here: Subscribe to our newsletter for the latest tips, deals and news. It only takes a few seconds and we respect your privacy: