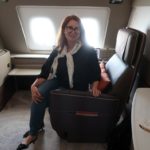 Hi, I'm Adele.  I love to travel the world in comfort and style.  In fact, there's really nothing I love more than sitting in a plane at 36,000 feet, a glass of Krug in hand, watching the clouds go by.
When I'm not planning my next luxury travel adventure or indulging in my other passion of good food and wine, you'll find me juggling a day job and two beautiful children under the age of four.
Why The Champagne Mile?
I started this blog as a hobby to share my tips and tricks for using points from loyalty programs to embark on amazing travel experiences. I also write about airline news, post luxury travel reviews and selectively cover credit card deals that can help you to significantly boost your frequent flyer points balance.
You don't have to be insanely wealthy to travel in style.
These days, most of my air travel is up the pointy end of the plane in first and business class and I stay in high end, luxurious accommodation.  However, almost all of my travel is funded with frequent flyer points – it's surprisingly easy to do!
Please join me as I share my tips and tricks, travel news, reviews and more.  You can also follow me on Facebook, Instagram or Twitter.