Nielsen is a company that has been providing insight into consumer behavior for decades, and its latest initiative is the Nielsen Broadband Panel.
The Nielsen Broadband Panel stands out from other paid survey opportunities in several ways.
The very best thing about the Nielsen Broadband Panel is that you don't have to do anything special to earn money. It's a passive type of income. All you really need to do is connect to the internet and use it like you normally would.
Ready to learn more? It's easy to get started, but we'll cover all of the details in this blog post.
What is the Nielsen Broadband Panel?
The Nielsen Broadband Panel program was created to measure Australian consumer Internet services and assess the state of broadband service performance in the country. The initiative is backed by Nielsen, a leading, legit global market research firm. NBN has engaged Nielsen to manage the panel.
To ensure appropriate representation, Nielsen assigns all users to a consumer panel. Essentially, a panel is a collection of people who have similar characteristics, such as gender, race, age, and technology. These panels help Nielsen to understand what's going on in the larger population without having to contact every member of it personally.
Is Nielsen Broadband Panel trustworthy?
Yes! Nielsen is a legitimate, well-known market research firm that provides media and marketing data to companies all around the globe. Nielsen has been in operation for over 90 years, and it has a presence in over 100 countries.
A search of websites including Reddit, OzBargain, and TrustPilot shows that Nielsen Broadband Panel reviews are generally very positive, and users report receiving rewards as promised.
Here in Australia, Nielsen abides by the Australian Privacy legislation and is a member of the Market and Social Research industry standards group The Research Society.
Information is kept secure and used in accordance with the full provisions of the Nielsen Privacy Policy.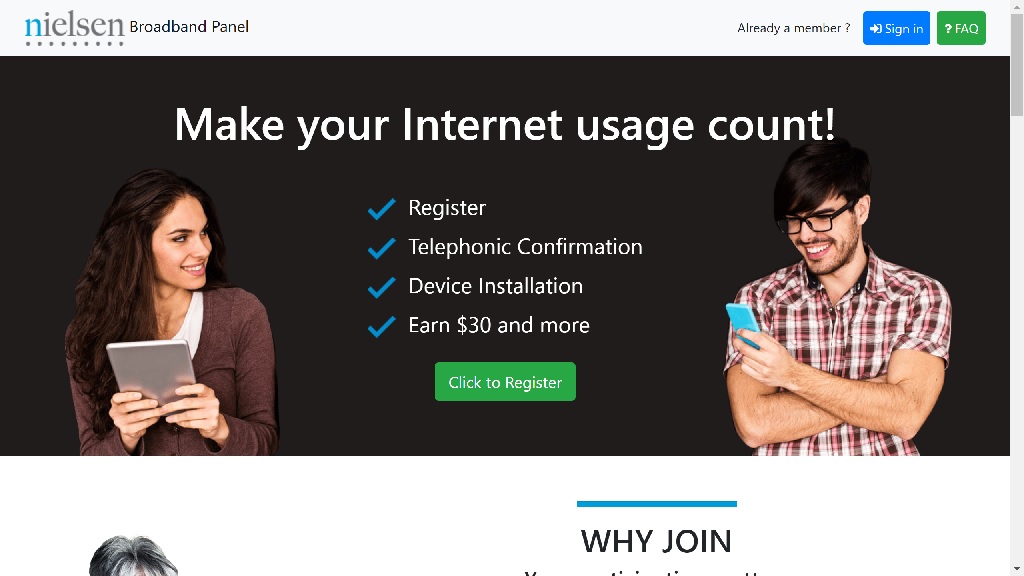 How you earn with Nielsen Broadband Panel
Users who actively participate in the Nielsen Broadband Panel are rewarded through a points-based cash rewards system offered by Nielsen.
Points can be cashed out for gift cards and certificates.
By joining this panel you have the chance to be rewarded for:
Initial sign up and registration
Installing the whitebox device and app for ios or android
monthly promotions aimed to reward active Broadband Panel members
Incentives for running the RealSpeed test as often as required, filling out the Broadband Panel surveys when sent to you, and meeting a 3-month activity milestones
Every week that your device is connected, you will get a particular number of points for the first month. Then, every month thereafter, you will receive points based on your previous year's performance.
It's possible to earn $30 AUD in your first month, simply for installing and connecting the Whitebox device and staying active for the first four weeks.
Additionally, by being a member of the panel, you may be eligible to win 10,000 points in the monthly raffle or sweepstakes just for participating. While there's no guarantee of winning, these incentives are substantially higher than what is typically offered for other GPT and survey sites.
Users will continue to gain points from panel activity, as long as they remain engaged.
How to redeem Nielsen Broadband Panel points
So how much are Nielsen points actually worth?
10,000 points are the equivalent of $100 AUD.
Points may be used to purchase gift certificates from Coles, Woolworths, JB Hi-Fi, Myer, David Jones, Amazon, Kmart, Caltex, and more.
To redeem points, go to your Profile and select the voucher you want to redeem for. You'll need to reach a threshold of at least 300 points (the equivalent of $3) before you can start redeeming!
Unfortunately, it's not possible to generate actual cash rewards from the panel. If you want to earn money, consider joining paid survey sites that offer cash out via PayPal or direct to your bank account.
Who is eligible to join Nielsen Broadband Panel?
The Australian Nielsen Broadband Panel is designed to provide information on the performance of broadband service in Australia. For this reason, you'll need to be based in Australia to join.
To qualify, you'll also need an NBN-ready modem, a current fixed internet plan, and space next to your router where the Nielsen Whitebox can be placed.
After you've completed the registration process, you'll need to be approved. If you're accepted, Nielsen will send you the whitebox that has to be installed in order for your participation to begin.
Nielsen may also assess your demographic and geographical location when considering your application. That's because Nielsen Broadband requires uniform coverage throughout the country to guarantee that data is fairly representative and accurate.
To be a part of the Nielsen Broadband program, panel members must adhere to the program regulations. That implies connecting your Whitebox and participating in panel activities (such as performing speed tests and completing surveys on a regular basis).
If you meet the requirements, the company will provide you with a Whitebox for free. All you have to do now is connect it up and start tracking.
How to join Nielsen Broadband Panel
It's very easy to get started with Nielsen Broadband panel, and you could earn an easy $30 for your time. Simply follow the steps below: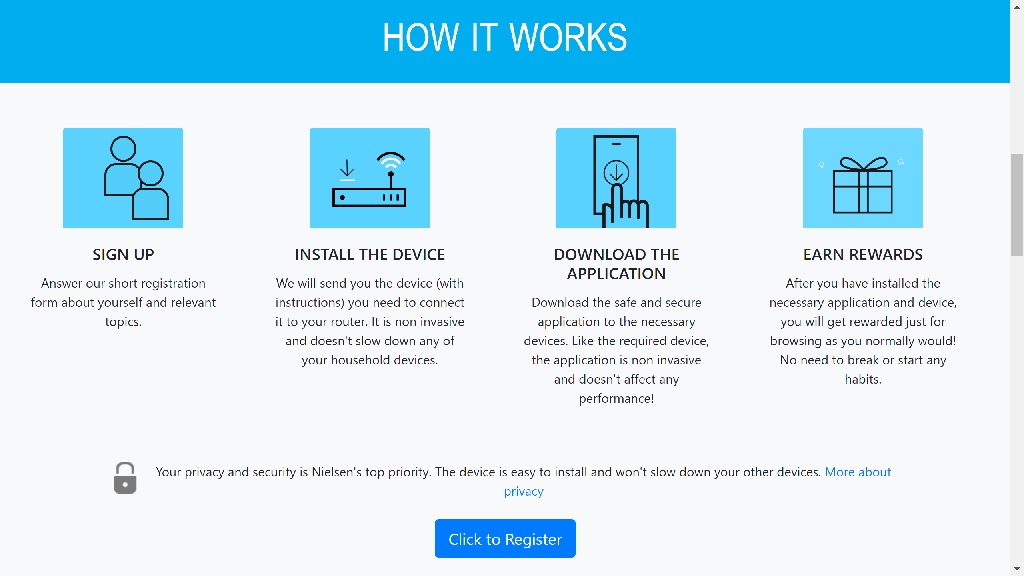 Step 1) Sign up. Answer the brief registration form questions about yourself. It should take you less than five minutes to complete. You'll undertake a brief phone screening to ensure that you are suitable for the panel.
Step 2) Install the Whitebox. You'll receive the equipment (with directions) you'll need to connect it to your router from Nielsen. It's non-invasive, and it doesn't affect the performance of your router.
Step 3) Download the app. To download the safe and secure Nielsen broadband app to the required devices. The app is noninvasive and has no effect on internet performance.
Step 4) Get rewarded. After you've installed the Whitebox and app, carry on your internet surfing activity, to earn points passively.
What is the Nielsen Broadband Whitebox?
If you've read this far into our review, you're likely aware that all Nielsen Broadband Panellists need to use a 'Whitebox' to track internet usage.
So what exactly is the whitebox and how does it work?
The Whitebox is a specialized gadget for measuring your internet connection's performance. The measurements of this device are 24 cm length X 15 cm width X 18 cm height.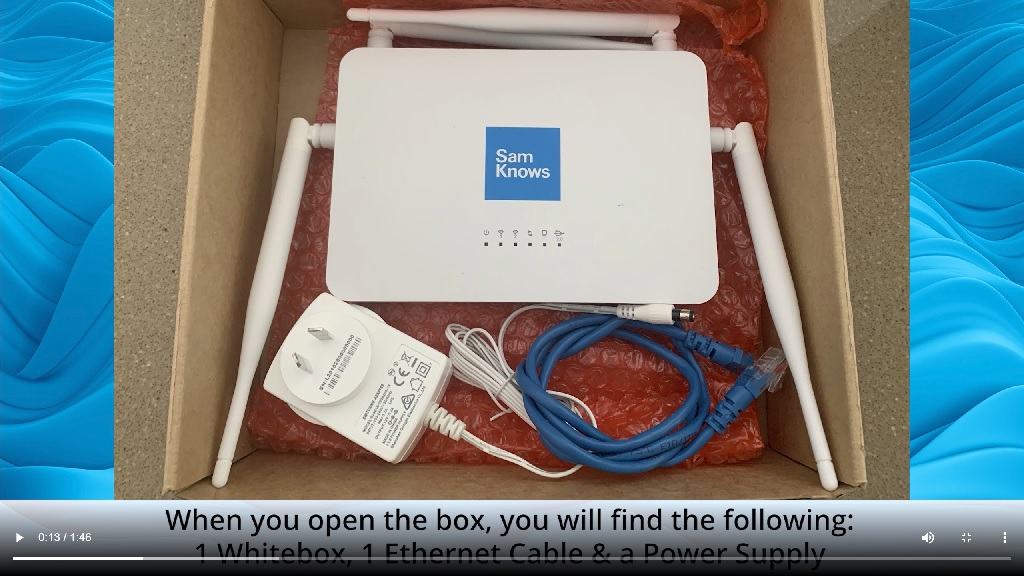 If you're onboarded onto the Nielsen Broadband panel, you'll need to ensure you can house the whitebox next to your router.
The Whitebox does not, in and of itself, improve your connection speed. It gives information to Nielsen on the quality of your internet connection in the form of automated tests that are disconnected from what you're doing online.
How does the Nielsen Broadband Panel app work?
Downloading the Nielsen broadband panel app to your mobile device will help you to earn greater rewards. The app is available from Google Play and the app store.
Handily, the app software can be used to test your internet connection. However, the most important thing you need to do is use the program from time to time and perform wifi speed connection tests. When you continue to actively use the mobile app, you will earn rewards.
What data does Nielsen Broadband Panel collect?
The panel collects data around network testing, as well as information on download and upload speeds, video streaming, internet gaming stability, latency, packet loss, and a variety of other topics. Nielsen stresses that the Panel will not have access to the internet activities of individual users.
Further, demographic data collected from the Nielsen Broadband Panel allows Nielsen to track and analyze trends in specific demographics.
Personal information or individual usage statistics will not be shared with third parties. Instead, usage behaviour data is combined with that of thousands of other panelists to provide aggregated insights to Nielsen clients.
How does the Nielsen broadband app work?
Downloading the Nielsen broadband panel app to your mobile device will help you to earn greater rewards.
Handily, the app software can be used to test your internet connection. However, the most important thing you need to do is use the program from time to time and perform wifi speed connection tests. When you continue to actively use the mobile app, you will earn rewards.
Nielsen Broadband helpdesk
Nielsen Broadband Panel provides a comprehensive helpdesk service for new and existing panellists.
You can get in touch with the helpdesk for the Nielsen Broadband Panel in the following ways:
Submit a contact form inquiry: Click "Contact Us" at the bottom of the page on the Nielsen Broadband website.
Send an email: Send an email to [email protected]
Via telephone: Call the Nielsen Broadband Panel in Australia on 1800 334 440
How to leave the panel
It's simple to quit the Broadband panel if you feel you no longer wish to take part.
You may cancel and remove the app/program with just a few clicks. The panel, however, continues to gather data, so you can stay a member for years if you like.
Other Nielsen panels to know about
If you're interested in exploring other passive ways to earn rewards, it's worth knowing that Nielsen runs several other consumer panels.
This includes NielsenIQ Homescan (a panel where consumers scan receipts and purchases) and the Nielsen Computer & Mobile Panel, which tracks data from your PC and mobile device. You can join both consumer panels right now. Readers may also wish to consider ReceiptJar as an alternative receipt scanner app.
Nielsen Broadband Panel: Pros and Cons
Like any market research activity, there are advantages and disadvantages to the Nielsen Broadband Panel. Here are some of the pros and cons to be aware of:
Pros:
Passive income: Earn rewards, simply for surfing the internet as per usual
Legit and trustworthy: Nielsen is a leading global provider of market research services, and the panel has been commissioned directly by nbnco. As such, it's clear that this is a legitimate opportunity and not a scam
Important research topics: Help to shape the future of the internet in Australia, by providing data on the status of broadband service performance
Easy to join: Signing up only takes 5 minutes, and it won't cost you a cent
Cons:
Limited rewards: Points can be redeemed for gift cards only, with no ability to access cash payouts.
Final thoughts
When it comes to online market research opportunities, Nielsen Broadband Panel could be a worthwhile option to help you generate passive income.
At the end of the day, the Nielsen Broadband Panel pays Australian consumers to provide information, simply for using the internet as per normal. It's a user-friendly and straightforward way to get rewarded for your time.
Nielsen is a respected research firm, and you can safely assume that any service they support is genuine and not a scam. Plus, with a range of safeguards in place, Nielsen provides assurances on how they handle private information.
While there's no way to earn real cash or PayPal rewards, points can be converted to gift cards at many retailers. Now that you've read our Nielsen Broadband Panel review and know how it works, consider signing up today and start getting rewarded for browsing the internet.
Nielsen Broadband Panel Frequently Asked Questions (FAQs)
How to join Nielsen Broadband Panel?
Registration is easy and it only takes 5 minutes. To join now and earn $30 AUD, simply follow this link.
Who is eligible for Nielsen Broadband Panel?
Membership is open to Australians who meet additional eligibility criteria, including a subscription to a 12 month fixed internet plan
Is Nielsen Broadband panel safe?
Yes, the Panel is administered by Nielsen, a leading global research company. The research has been commissioned directly by nbn, an Australian government-owned company.
While you're here: Subscribe to our newsletter for the latest tips, deals and news. It only takes a few seconds and we respect your privacy: