Earn Coles Flybuys points at the supermarket, filling up with petrol, or even shopping online.
Whether you've thought about it or not, chances are, you've been asked "Flybuys?" when you shop at Coles. So, if you're not already a member, you've probably been presented with endless chances to earn Coles Flybuys points in this leading rewards program.
But how does the Flybuys rewards program work and what are points worth? Delve into our detailed guide, and discover why joining Flybuys is worth your while.
Table of Contents
Coles Flybuys rewards program: Overview
Coles Flybuys is one of Australia's most popular supermarket loyalty programs. It's no wonder, with the scheme boasting a large range of retailers that cover major spending categories.
There are endless opportunities to earn points on spend you'd likely make anyway. Think Coles supermarkets, Kmart, First Choice Liquor, Target, Liquorland, Officeworks, Shell Coles Express and Bunnings. You can earn Coles Flybuys points on everything from food, alcohol, travel, insurance, car services, homewares, and more… you get the idea.
RELATED: How to hack your grocery spend with Coles e Gift Cards
How the Flybuys concept works
The overall Flybuys concept works like this: As a member, every dollar you spend is an opportunity to earn Coles Flybuys points. You'll earn points on your everyday purchases that you can then redeem for vouchers at those same stores or other rewards. The Flybuys program also allows Australians to convert Coles Flybuys points to Velocity Frequent Flyer.
How do I join Flybuys?
It's quick easy and free to join Flybuys in Australia. You can choose to sign up in-store at Coles, online via the Flybuys website, or via the Flybuys app.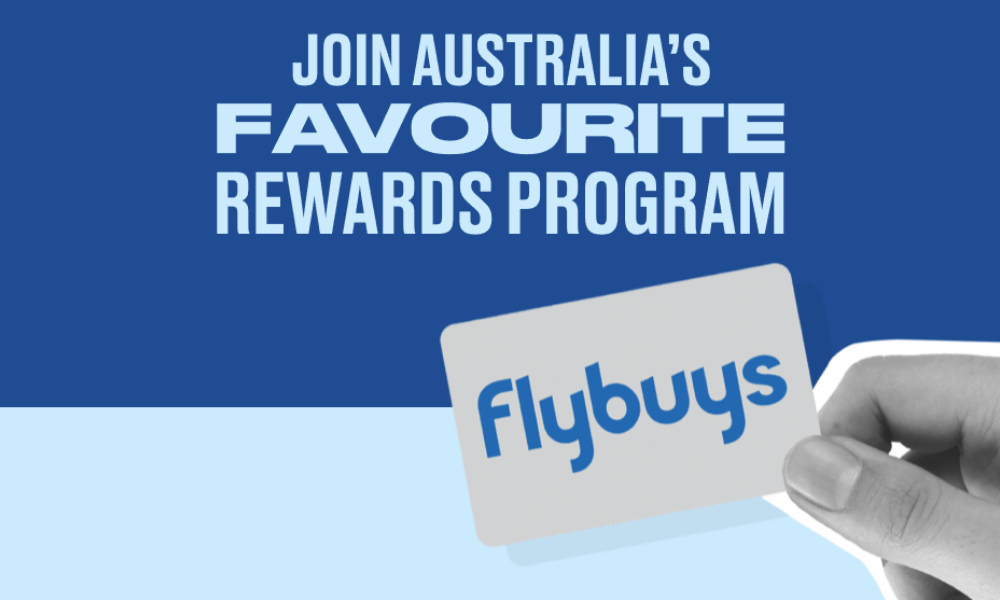 Joining FlyBuys online
Simply follow the four steps below to join Flybuys online:
Step 1: Head to the Flybuys website: www.flybuys.com.au
Step 2: Click the 'Join' button
Step 3: On the next screen, click the 'Sign up' button. Enter your details, create a password, then read and accept the Flybuys program terms and conditions.
Step 4: Flybuys will send you a confirmation email which you must open and click through the link to activate your account.
After you have successfully registered your Flybuys account, you will be provided with the option to print a temporary card. You can use this card until your official plastic card arrives in the post.
Joining via the Flybuys app
If you are more of an on-the-go type of person, you can also sign up via the Flybuys app. Available on the Apple app store and Google Play, simply download the Flybuys app, and follow the prompts to create an account conveniently.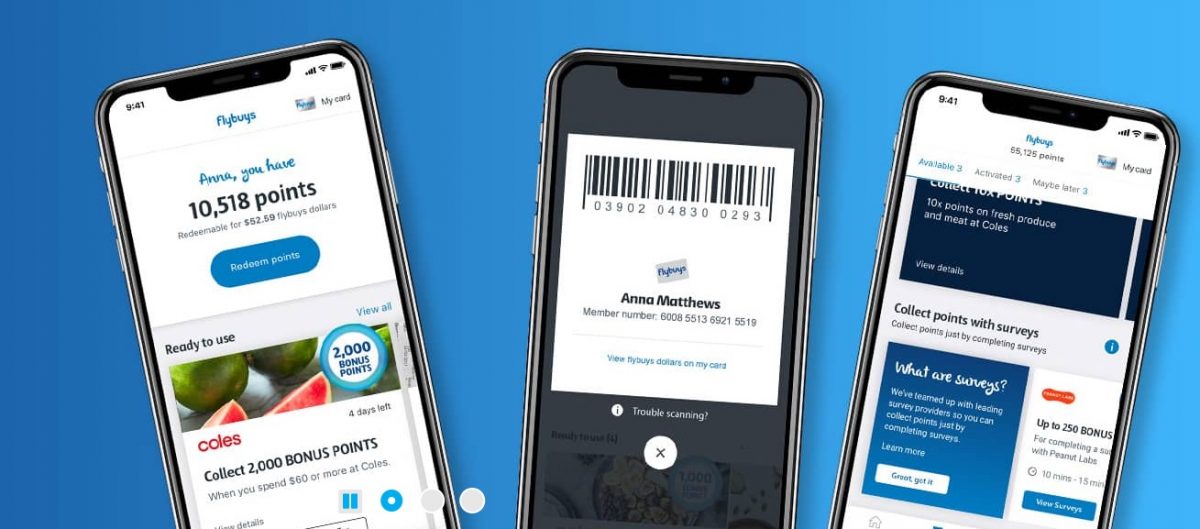 Joining in-store at a Coles supermarket or participating retailer
To join Flybuys in-store, head to the service desk. You will be provided with an application form which you can complete and lodge in person.
Once you've successfully signed up to the Flybuys program, it's really very simple to earn, monitor, and spend your points.
When will I receive my Flybuys card?
Once you activate your membership, depending on where you live, your Flybuys card should arrive in the mail in around 10 business days. In the meantime, be sure to make use of your temporary card. You can start using it straight away to earn Flybuys points on your purchases.
How do I earn Flybuys points?
To earn Coles Flybuys points, simply spend at participating Flybuys partners, either in-store, or online, and make sure to scan your Flybuys card. Alternatively, you can enter your Flybuys details. Each partner will have a different earning potential. These are subject to fluctuation at different times – more information on this can be found on the Flybuys website.
We can't stress the importance of taking advantage of offers to max out your points! Either via email, on your Coles shopping dockets in-store, or alerting you through the app, special offers with particular retailers can accelerate your points earning quite quickly.
Where can I earn Coles Flybuys points?
The Flybuys reward scheme boasts a large range of spending categories and it's arguably much broader than Everyday Rewards. Typically, the most consistent offers and lucrative rewards come from shopping at Coles supermarkets – it is the Coles Flybuys program, after all! Simply scan your card at the checkout to start earning, whether in-store or online.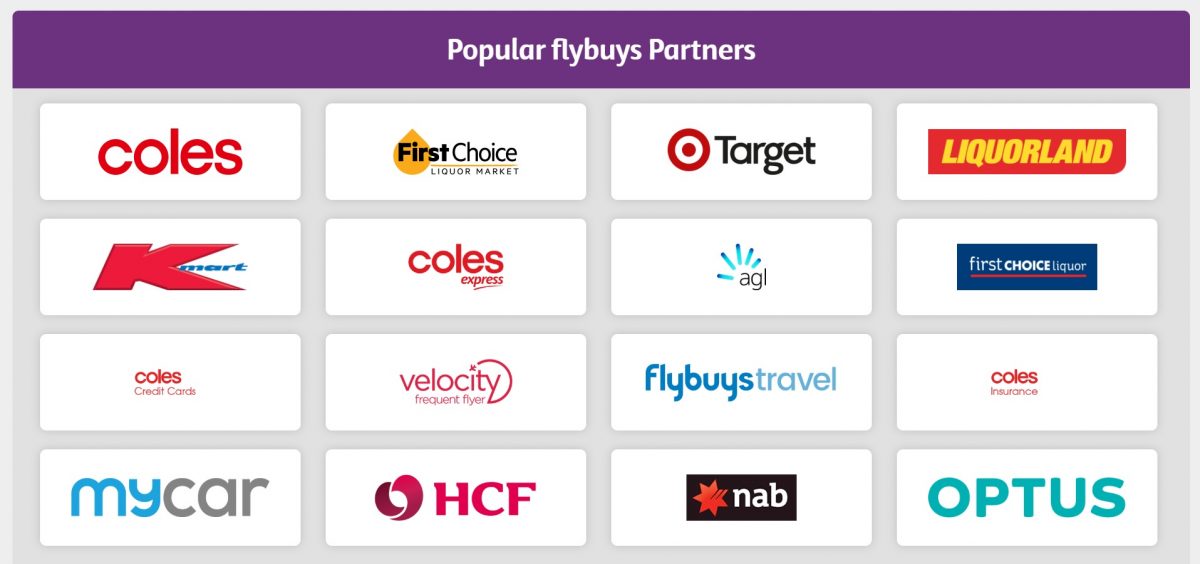 Earning points with retailers
One of the benefits of Flybuys is that it boasts a very extensive list of retail partners. The retailers that participate in the Flybuys rewards program are listed in the table below:
Coles (including Coles Online)
Target
Kmart
Kmart Tyre & Auto Service
Coles Express
Liquorland
First Choice Liquor
Officeworks
Medibank
Bunnings Warehouse
NAB
Coles Personal Loans
Coles insurance
Flybuys travel
Velocity Frequent Flyer
Optus
Kleenheat
Catch
Discovery Parks and Gday Parks
HCF Health insurance
Earning Flybuys points with a Coles credit card
If you're in the market for a new credit card, the Coles Rewards Mastercard, and Coles No Annual fee Mastercard both also offer strong Coles Flybuys points earning potential. Often, these cards offer supercharged bonus points, too.
Selected credit cards also deliver bonus points on spending at supermarkets, allowing you to 'double-dip' on rewards. This includes the American Express Platinum Edge Credit Card, which earns 3 Membership Rewards points per $1 on spend at Coles and Woolworths.
Enjoy $0 Annual Card Fee (usually $195) in the first year when you apply online and are approved. T&Cs apply. New Card Members only. Plus, receive a $200 American Express Travel Credit each year you hold the card.
How many Coles Flybuys points can I earn?
You'll receive $1 per point when shopping at Coles, Kmart, and Target. You can also score points as you fill up at Coles Express ($2 equals 1 point) and purchase your alcohol at Liquorland or First Choice Liquor ($1 equals 1 point). Once you reach a threshold of 2,000 Coles Flybuys points, you'll be able to access $10 Flybuys Dollars off your shop.
If your Coles Flybuys and Velocity Frequent Flyer memberships are linked, you can also earn 1 Velocity status credit for every $100 spent at Coles. This includes spend at Coles Online, Liquorland, and First Choice Liquor.
How to find Flybuys bonus points deals
The Coles Flybuys program regularly releases bonus points deals to members, helping members to earn extra points. Some Flybuys bonus point offers are available publicly at Coles, in emails, docket deals, and coupons. Selected offers can be stacked with gift card purchases for brands including Accor, Ola, DiDi, and Uber. Other deals may be targeted.
Deal and bargain sites like OzBargain regularly promote Flybuys bonus points offers. It's worth checking these sites regularly for new offers.
How to redeem Coles Flybuys points
There are many ways to redeem Flybuys points. The options include redeeming for Flybuys Dollars, scoring goods or gift cards. The program also allows for transferring points to Velocity Frequent Flyer.
Redeeming Flybuys Dollars for money off your next shop at the checkout
Many Australians choose to exchange Coles Flybuys points for Flybuys Dollars. This could see you get money off your next shop at participating Coles supermarkets, Coles Express, Kmart, Target, Liquorland, First Choice Liquor, and more.
To redeem points for Flybuys Dollars, follow the steps below:
Step 1: Sign into your Flybuys account.
Step 2: From the main menu, select "Rewards" > "Money off shop" > "Flybuys Dollars" > "Get it now". Follow the prompts and enter the necessary information
Step 3: Set up a PIN code. This is required to secure your account.

Step 4: Choose the number of points to exchange for Flybuys Dollars. Hit the "redeem now" button, and your card will be loaded with the specified amount!
Redeeming points for Flybuys rewards
You can redeem points for rewards online too. Flybuys offers a range of rewards online in a similar format to the Qantas Marketplace. Rewards range from kitchenware and electronic goods, through to Coles gift cards and garden items. Simply find the reward you are after, and follow the Flybuys prompts to redeem it.
Where you don't quite have the points to secure an item, you can utilise the "Points & Pay" feature, where you combine your points with $ to pay for an item.
Redeeming points for travel
Members can redeem points directly with Flybuys for flights and travel via the Flybuys travel website.
Sending Flybuys points to Velocity Frequent Flyer
Coles Flybuys points can be converted to Velocity Points unlocking flights, hotels and other lucrative travel redemptions. Of course, the choice is up to you, you can always book cheap revenue flights and put your points towards shopping instead.
Do Coles Flybuys points expire?
If one year passes without you using your card to redeem, or earn points, your Flybuys points will expire. But with so many ways to earn and redeem Coles Flybuys points, there's no excuse to let your balance expire.
The fact is, you only need to swipe your Flybuys card once or redeem once to keep your Flybuys account active and your points in your pocket! If you're going to make the most of your Flybuys membership, it's almost impossible for this to occur.
Digging into the Flybuys and Velocity partnership
Flybuys and Velocity Frequent Flyers (the Frequent Flyer program for Virgin Australia) have partnered to allow members of both programs to earn points to spend on travel and beyond. With every 1000 Flybuys points giving you 500 Velocity points, it is a great way to get to boost your Velocity points and get in the air quicker.
Flybuys members can connect their account to Velocity Frequent Flyer to convert Coles Flybuys points to Velocity points. Plus, when you shop at Flybuys partners, you can earn Status Credits to boost your Velocity Frequent Flyer membership level.
At its core, the idea is that by linking your accounts, you can earn Coles Flybuys points which can be redeemed as per the Flybuys program or converted to Velocity points to spend on travel.
It's simple to connect your Coles Flybuys and Velocity Frequent Flyer accounts online via the Flybuys website.
Velocity airline partners include Etihad, Tigerair, Delta Airlines, Singapore Airlines, Virgin Atlantic (naturally), Hong Kong Airlines, and more, offering you more opportunities to accumulate points when you fly Internationally.
When you are ready to transfer points across, the transfer minimum at any one time is 2000 Flybuys points, while the maximum is 138,000 points.
How to use the Flybuys app
Whether you choose to sign up online, or via the app, the Flybuys app is a useful tool for making the most of every offer and opportunity to earn Coles Flybuys points.
Inside the Flybuys app, you can:
Activate targeted or personalised bonus points offers
Redeem points on the go – meaning you can convert points into Flybuys dollars at the hit of a button!
Monitor your Flybuys points balance in real-time
Use your phone as a digital card instore to collect points
Activate spotlight offers which give extra rewards instore
Take surveys to collect points
To begin using the Flybuys app as an existing member, simply download the app and sign in with your membership number and password.
How to navigate the Coles Flybuys points portal
As a Flybuys member, you can easily log into the Flybuys portal online to monitor your activity and your accumulating points. Simply visit www.flybuys.com.au and 'Sign In' with your membership number and password. You should be able to save these details to make it easier to log in each time.
Within the Flybuys portal, you can monitor your points balance, activate exclusive bonus points offers, convert your points into Flybuys Dollars and more.
Adding cardholders to your Flybuys account
Those who like to share their wins are in luck! You can add extra cardholders to your account to create linked family accounts, equaling more opportunities to earn points. Together, you will accumulate a collective Flybuys points balance, which means multiple members of the family have access to reap rewards.
How does points pooling work? This is handy if person 'A' accumulates a lot of points on travel, while person 'B' regularly does the food shopping – convert those Flybuys points back to Flybuys dollars and you've got money to spend at Coles on the essentials!
On the other hand, you can run separate Flybuys accounts and accumulate your own points, with the convenience to transfer Flybuys dollars when you would like to.
Pros and Cons – Coles Flybuys
Pros
Free to join. It's free, quick and easy to join and you can start earning right away
Easy to earn. You can earn differing amounts of points for each and every dollar spent in-store and online on qualifying transactions
Multiple redemption options. Cash out your points for dollars off your shop, for goods online or transfer them (currently suspended) to your Velocity Frequent Flyer account
Retrospective points collection. If you forgot to swipe your card at the checkout, you have 7 days to return with your card to be credited the points in-store.
Cons
Points expiry. Points may expire, but provided you redeem or earn points within 12 months, they won't.
FAQ – Coles Flybuys
How do I check the balance on my Flybuys card?
You can check your points online at the Flybuys website. Simply login and follow the prompts to check your account balance.
Will I earn Coles Flybuys points when I shop at Coles online?
Yes, Flybuys points can be earned when shopping at Coles online. To ensure you receive your points, make sure your Flybuys account details are linked to your Coles Online account before you check out.
Can I convert Coles Flybuys points to Qantas Frequent Flyer?
Should I join Coles Flybuys if I am already a member of Everyday Rewards?
Yes, even if you are a dedicated Woolworths shopper, it could still make sense to sign up for a Flybuys membership account. There are so many ways to collect and redeem points. Even if you don't live near a participating retailer, you can earn plenty of points when you shop online.
How much is 2,000 Coles Flybuys points worth?
2,000 Flybuys points are equal to $10 Flybuys Dollars off your next shop.
When will I receive my Flybuys points?
Points collected with most Flybuys retail partners are credited within two days. For some other partners, you may need to allow a week. For bonus points promotions, the time will vary. If in doubt, check the promotion terms and conditions.
I forgot to swipe my Coles Flybuys points card. Can I retrospectively collect points?
Yes, but you must do so within seven days. If you shopped at Coles, go to the service desk within the store with your receipt and Flybuys card. The staff will be able to add the missing points your account manually. For other retailers, contact the Flybuys service centre on 13 1116.
How do I get in contact with Flybuys?
Members can contact the Flybuys service centre on 13 1116. The contact centre is open Monday to Friday between 9 am to 7 pm AET.
Can I trade Flybuys points for cash?
No, unfortunately you cannot redeem your Flybuys points for cash, however, you can buy a wide range of gift cards with your points.
Is Flybuys compatible with Apple wallet and Google Pay?
Yes, you can use your Flybuys card through Apple wallet and Google Pay. If you download the Flybuys app, it will prompt you to add your Flybuys card to your digital wallet. Or you can simply use the barcode within the app.
While you're here: Subscribe to our newsletter for the latest tips, deals and news. It only takes a few seconds and we respect your privacy: