Surveys can be one of the most straightforward ways to earn rewards online. The process might be time-consuming, and it certainly won't be enough to replace a full-time income, but some people find market research worthwhile.
In this review, we'll examine Survey Compare, a platform that's quite different from any other paid online survey site operating in Australia.
Survey Compare is a survey aggregator platform that connects people to paid market research opportunities. It enables users to find and take part in online surveys and other online research opportunities.
But before we dive in further, let's cut to the chase.
Top Australian Paid Survey Picks:
Start earning cash by joining some or all of our top Australian paid surveys now!
TIP: These legitimate sites are free to join. We recommend you sign-up for multiple Australian paid survey sites in one go for the best chance to earn more cash and rewards.
If you're looking for a legitimate way to make money online, Survey Compare probably shouldn't be at the top of your list. While it appears to be a legitimate site, we'd question whether Survey Compare offers anything that can't be found elsewhere.
For the best chance of taking up legitimate paid survey opportunities in Australia, it's always better to sign up direct.
How does Survey Compare work?
Survey Compare itself doesn't offer online surveys.
While you can sign up to complete surveys, it's not possible for users to receive payments directly through the site – as is the case with most other paid online survey sites operating in Australia.
Instead, SurveyCompare provides a list of providers that users can sign up to take part in online surveys with. Those survey companies then pay users in cash, gift cards, or other rewards.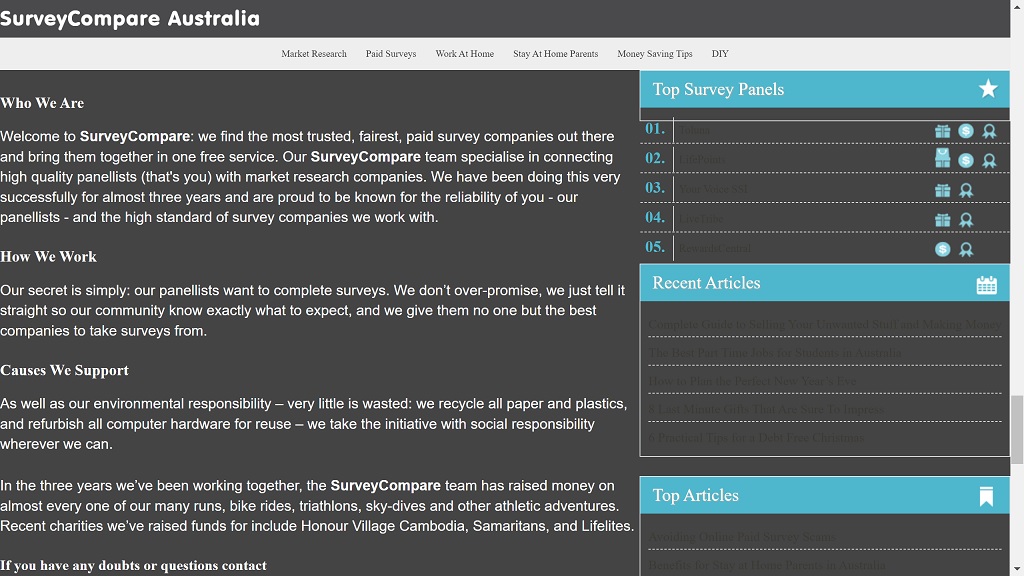 At the end of the day, Survey Compare makes its money from affiliate marketing. They receive commissions from introducing users to sites including Swagbucks, Toluna, MyOpinions, Survey Junkie, Valued Opinions, and other paid survey sites.
Will I Make Money Using the Site?
When you first visit SurveyCompare's website, it appears to be a legitimate survey panel. The site is plastered with Australian logos for companies including Coles, PayPal, Target, and Myer, suggesting that it's possible to access these rewards directly via the site.
However, Survey Compare is simply a platform that connects users with paid survey sites.
Therefore, there's no way to earn cash rewards, gift cards, or cash out money into your bank account with Survey Compare. The rewards will only come from the online survey sites that you've been matched with, and only when you have qualified for different surveys.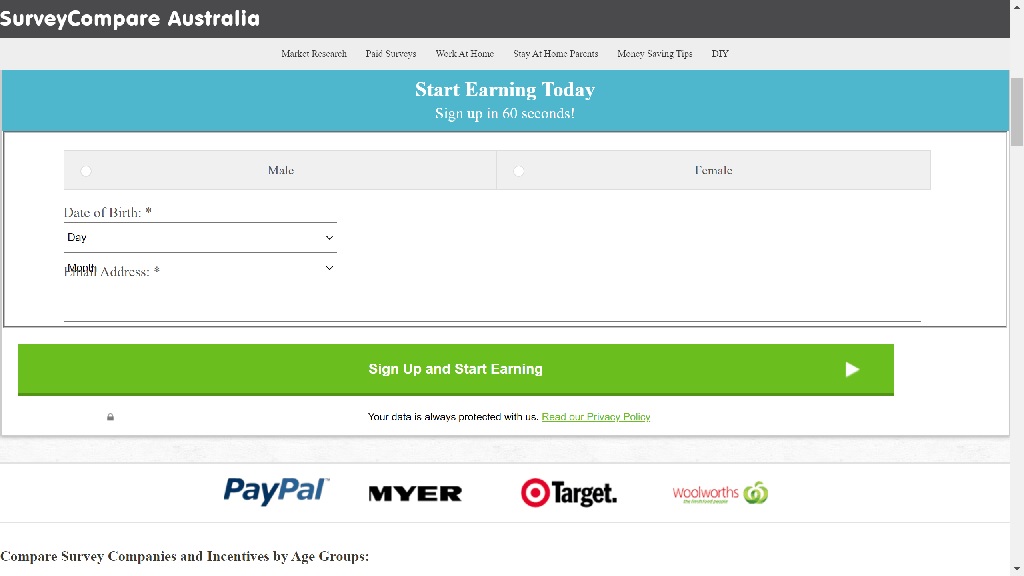 So how much money can you make with online surveys? That varies widely, depending on the site you join and the opportunities that are available at any given time.
You may receive more, or less, online survey invites depending on your demographics and behaviours.
Generally speaking, the more complex and time-consuming a survey is, the higher the payout offered by the research company conducting the study. The best paid survey sites, like Octopus Group, offer earn rates of up to $16 AUD or more, per hour. Other sites offer considerably less.
Survey Compare reviews from the web
When it comes to Survey Compare reviews, it's difficult to find legitimate testimonials. That's because reviews for this platform often get mixed up with user experiences about specific survey companies.
A quick search of Google reveals that many people are not happy with the service. Some people feel the site is a little shady, and there's also some concern about privacy issues; it seems as though your personal information will be shared with third-party survey websites.
Other reviews on sites like TrustPilot report annoyance with email spam. Some reviews appear to be suspiciously positive, leaving us unclear as to whether these are legitimate.
Who can join SurveyCompare?
SurveyCompare is available to Australian residents aged 18 and over.
SurveyCompare.net also runs country-specific websites for many other locations, including Canada, the USA, New Zealand, India, and South Africa.
How to sign up for SurveyCompare
Users who want to join Survey Compare need to follow a few simple steps. After you've created an account, you'll be eligible to select sites you wish to join from a list of survey providers. When creating an account, users must choose the offers they wish to participate in.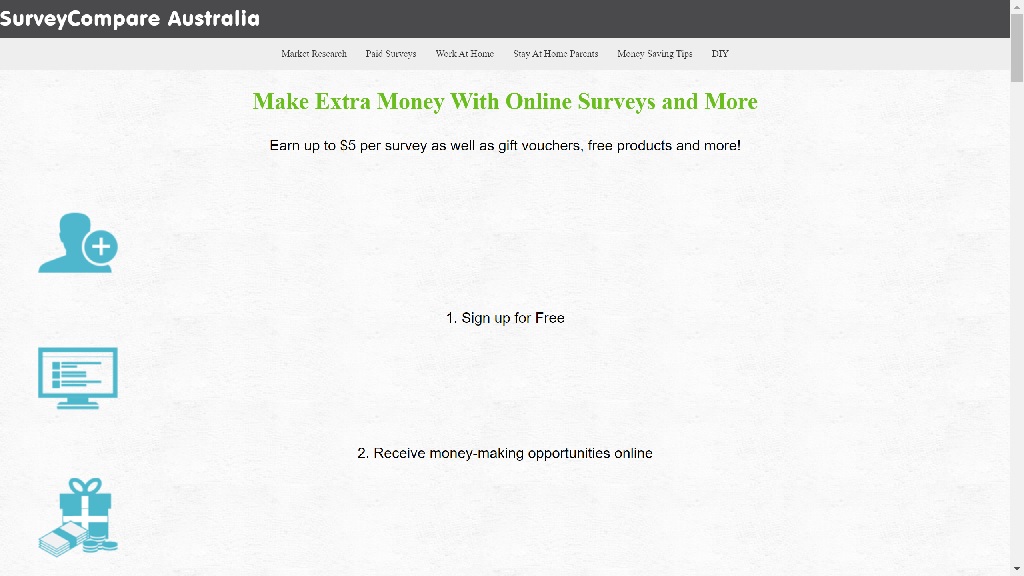 After you've completed the web form, you will receive a confirmation email for each offer that you selected. The message will come from either Survey Compare or the survey provider that you selected. If you still want to participate in the Offer, simply click on the link it provides, which will redirect you to the Service Provider
You will also receive a general welcome email from Survey Compare
Is Survey Compare A Scam?
The company behind SurveyCompare is Marketing VF Ltd, a firm registered in England and Wales.
Survey Compare operates a number of country-specific domains, including an Australian site.
But aside from the company number and a privacy statement, there's very little on the website to outline who exactly Survey Compare is, or what they do.
The lack of information on the website could make Australian users very nervous about how data they enter into the registration form could be used.
Survey Compare Pros and Cons
At this point in the review, you might be wondering whether Survey Compare is actually worth your time. Before you cancel it out entirely, here are the pros and cons to know about:
Pros:
Survey Compare appears to only promote legit and trustworthy survey sites (but you can sign up for trustworthy sites direct)
Join for free. Like with all legit survey sites, you won't pay a cent to sign up.
Cons:
Since Survey Compare is collecting your data to pass on to other companies, there's no way to earn money direct
It's hard to see any benefit in joining paid survey sites via a third party
There's limited information available about the website owners, which makes us uneasy about their intentions.
We can't see any specific assurances that Survey Compare follows Australian privacy laws or follows the market research code of conduct. This raises questions about how consumer data might be handled after users provide it.
Survey Compare: Worth it?
At the end of the day, Survey Compare is nothing more than a survey platform that links consumers with providers of online surveys.
It's worth noting that most – if not all – of these market research companies offer the ability to sign up direct. So, it's questionable as to whether there is any value in going through Survey Compare as a third party.
While it's an interesting concept, as we've outlined in this review, the service is lacking in many areas and it presents with several red flags.
Personally, I'm uneasy about the general lack of information about how the site works, and whether it is compliant with Australian privacy laws. It's also unclear what benefits Australian users will gain by signing up for paid survey sites via a third-party provider.
Most importantly, there isn't any way for users to make money from Survey Compare directly without first being onboarded to an external survey provider; this means that, if you're not lucky enough to be invited to join a survey, your time will have been wasted.
Unless you're really desperate for some extra cash and don't mind wasting your time on a site that doesn't seem very user-friendly, we'd recommend giving Survey Compare a miss. You could make more money – and enjoy greater privacy and data handling protections – by joining trusted, established online survey sites direct.
So is Survey Compare worth your time? In our opinion: no! There are much better-paid market research opportunities out there that don't require you to waste your time on a site like this one.
Survey Compare Frequently Asked Questions (FAQ)
How much money can you make on Survey Compare?
As a third-party platform, it's not possible to make money wi.h Survey Compare direct.
Is Survey Compare legitimate?
While Survey Compare appears to be legitimate, there is limited information on the website about how Australian consumer data is handled.
While you're here: Subscribe to our newsletter for the latest tips, deals and news. It only takes a few seconds and we respect your privacy: