Redeeming points for a short flight in Qantas domestic business class isn't for everyone. But, with the Boeing 737 making up over half of all planes that Qantas currently operates on domestic (and trans-Tasman) routes, there are many scenarios where using points or miles for a business class award seat on the Qantas 737 might make sense.
If you're curious to know what it's like to fly up the pointy end of a Qantas Boeing 737 aircraft, read on for a detailed overview of this service, plus find out everything you need to know about redeeming points for it.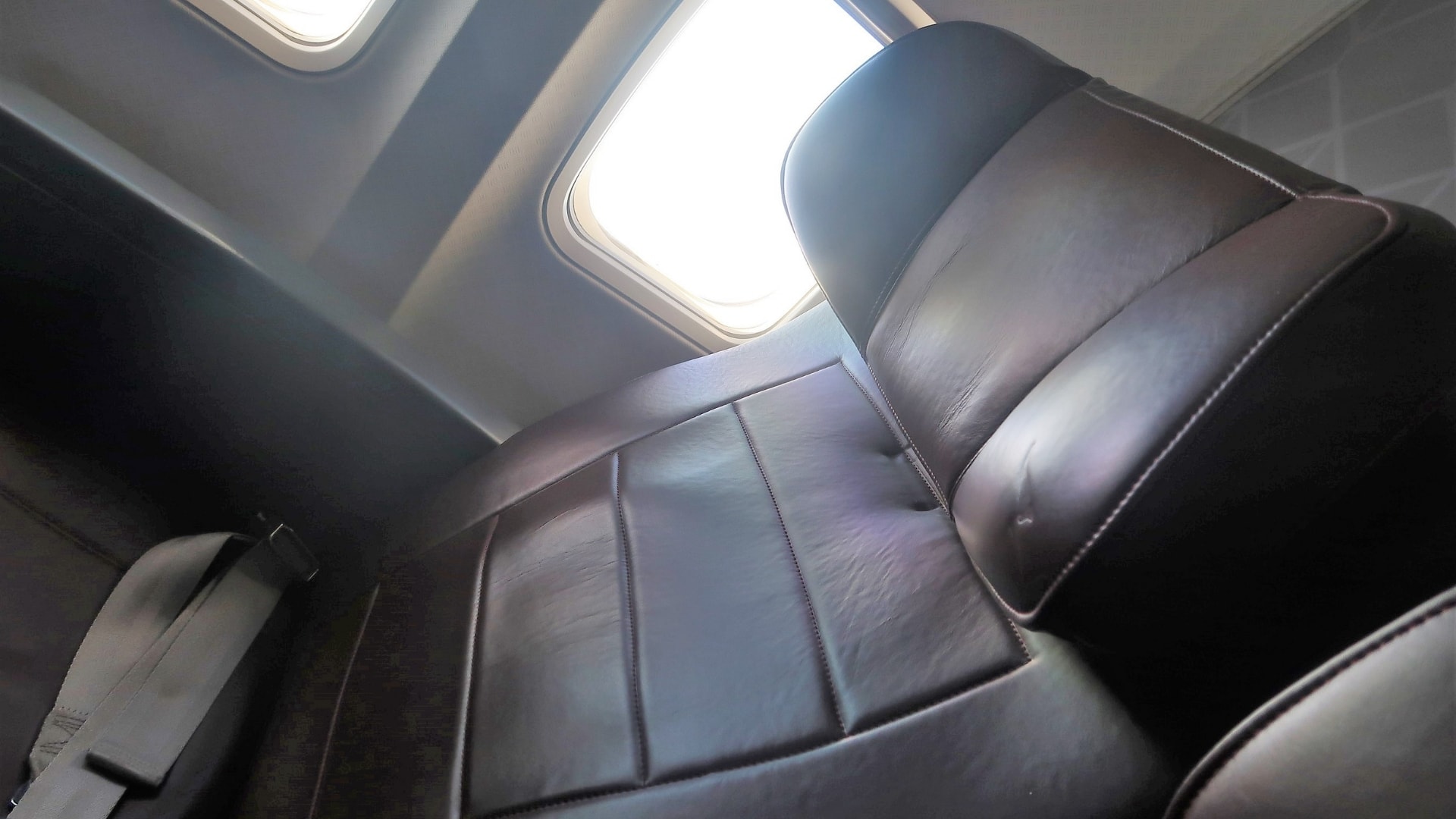 Interested in the lowdown on other Qantas flight cabins? You might like to check out our detailed review of Qantas First Class, or our overview of trans-Tasman Qantas A330 business class.
Qantas domestic business class pre-departure experience
Before you commence your journey in Qantas domestic business class, you can expect to enjoy benefits at the airport that will help you travel in comfort. Once you arrive, you'll be able to access priority security screening at selected checkpoints, plus you'll score an additional luggage allowance of two 32kg bags (double the economy class entitlement).
Once you're through security, you may then have access to the Qantas Business Lounge. Qantas Business Lounges are located in five capital cities – Sydney, Melbourne, Brisbane, Perth, and Canberra, and are accessible to business class passengers, Platinum and above Qantas Frequent Flyer members, and their OneWorld equivalents.
If no Qantas Business Lounge is available, you'll be able to access the Qantas Club (accessible to Qantas Club members, Gold Frequent Flyers, and OneWorld equivalent status holders), which are located in other capital cities, and at a range of regional airports. We list out all of the Domestic Qantas Business Lounges here.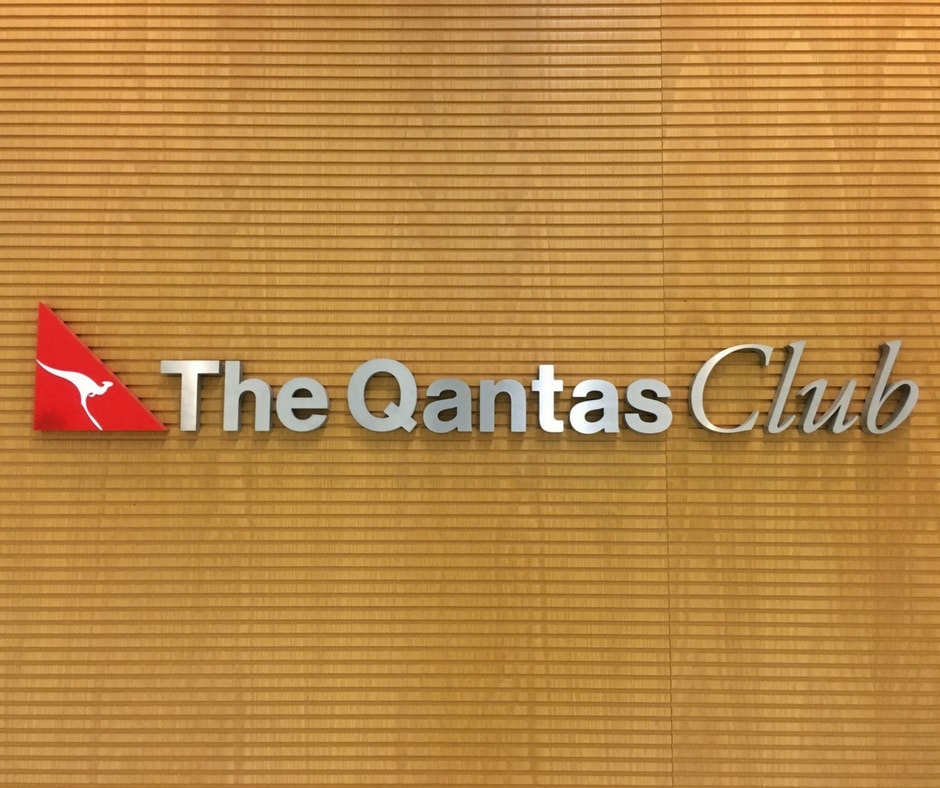 At the gate, those travelling in Qantas domestic business class are entitled to join the priority boarding queue, which, if policed effectively, should see you embark smoothly.
Qantas domestic business class seat and cabin
Each Qantas 737 features a small business cabin of 12 seats in a 2-2 configuration over three rows. There is no direct aisle access for passengers seated by the window.
The Qantas domestic business class recliner seat boasts a width of 22 inches and is smartly upholstered in maroon leather.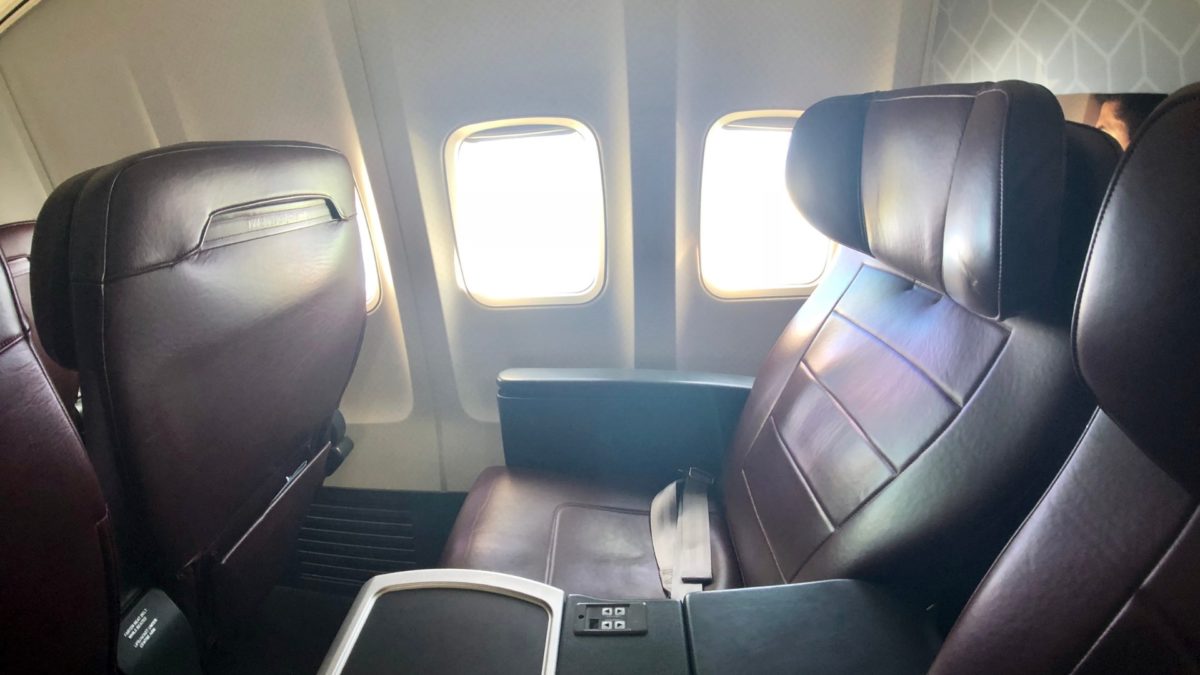 The seat-back in front features an area to fix a tablet or small entertainment device and a pocket for storing small items. There's also an adjustable footrest which can be controlled via a button.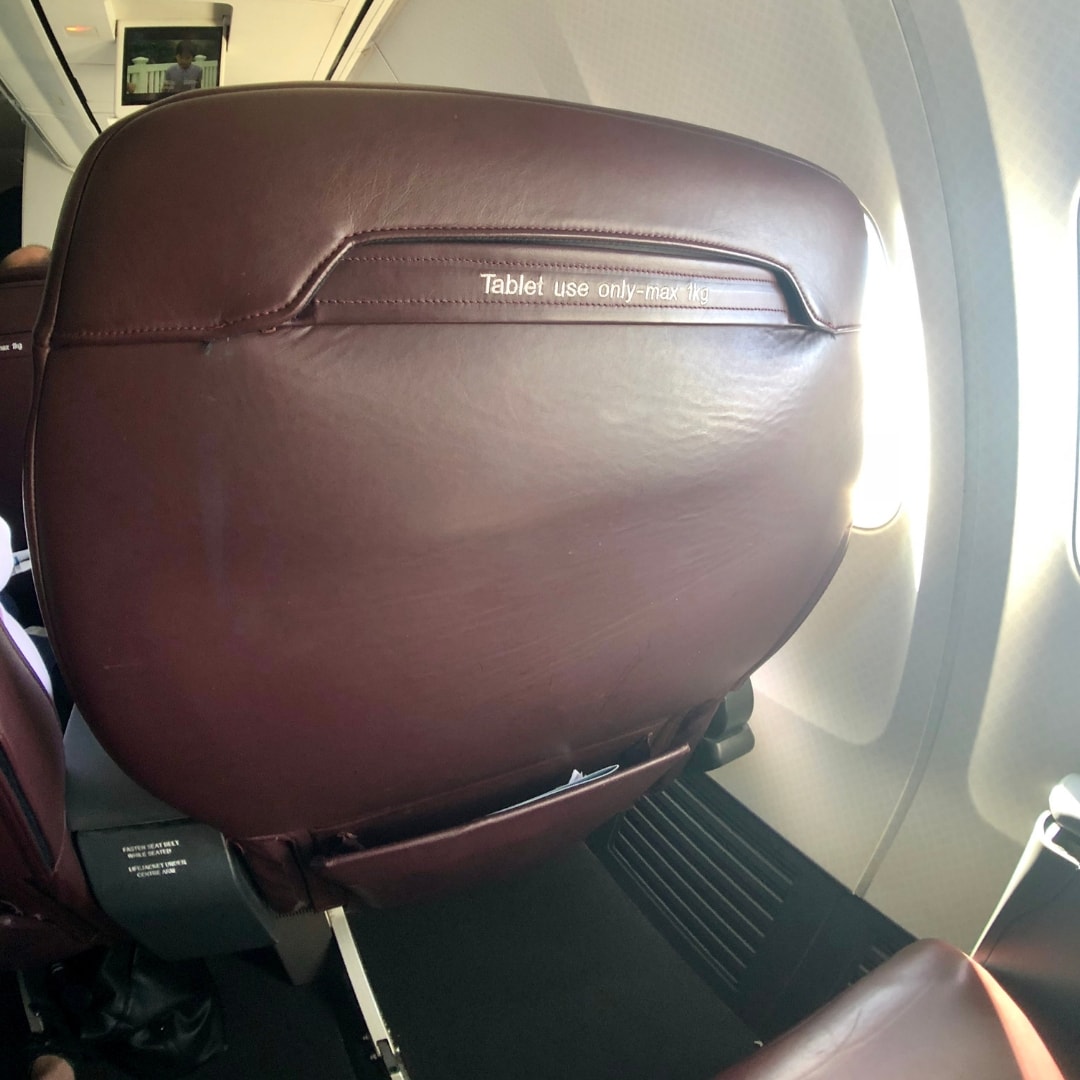 A console is positioned between each aisle and window seat. It's a handy place for drinks to be placed when the tray table is stowed, and it features a range of basic seat and entertainment controls on each side. The more modern 737s also feature handy USB and AC outlets.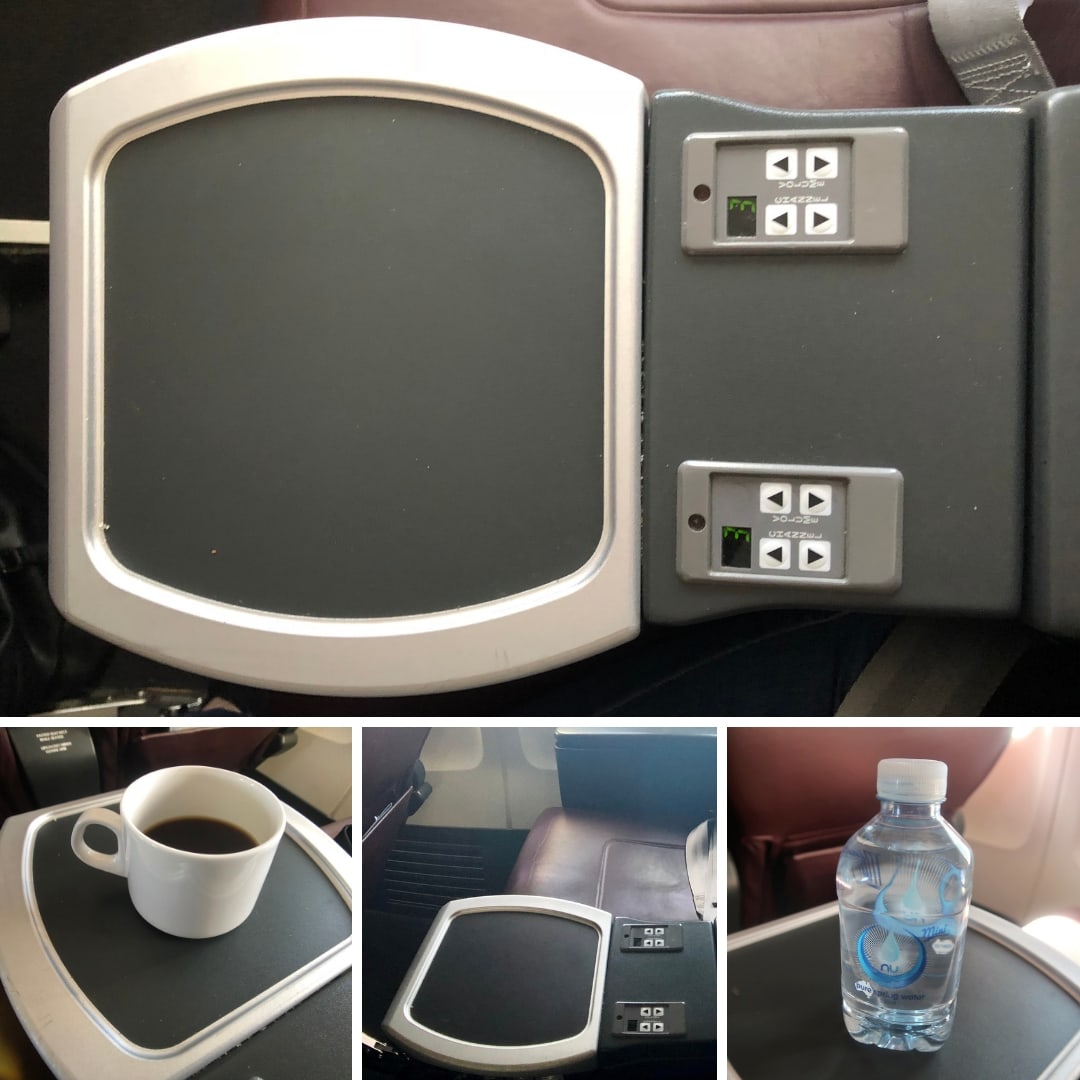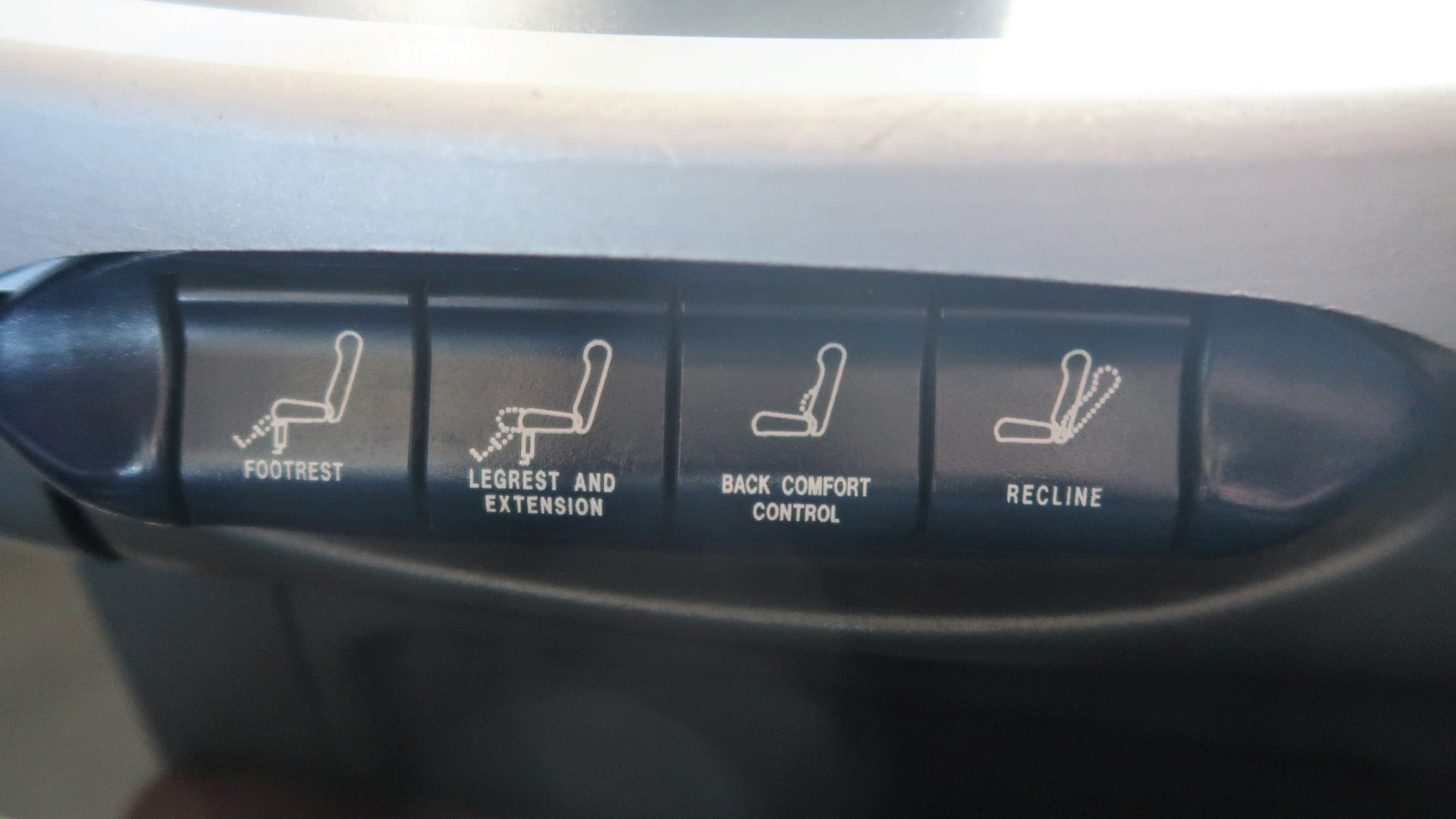 A tray table folds out easily from the armrest. It can be folded in half as required.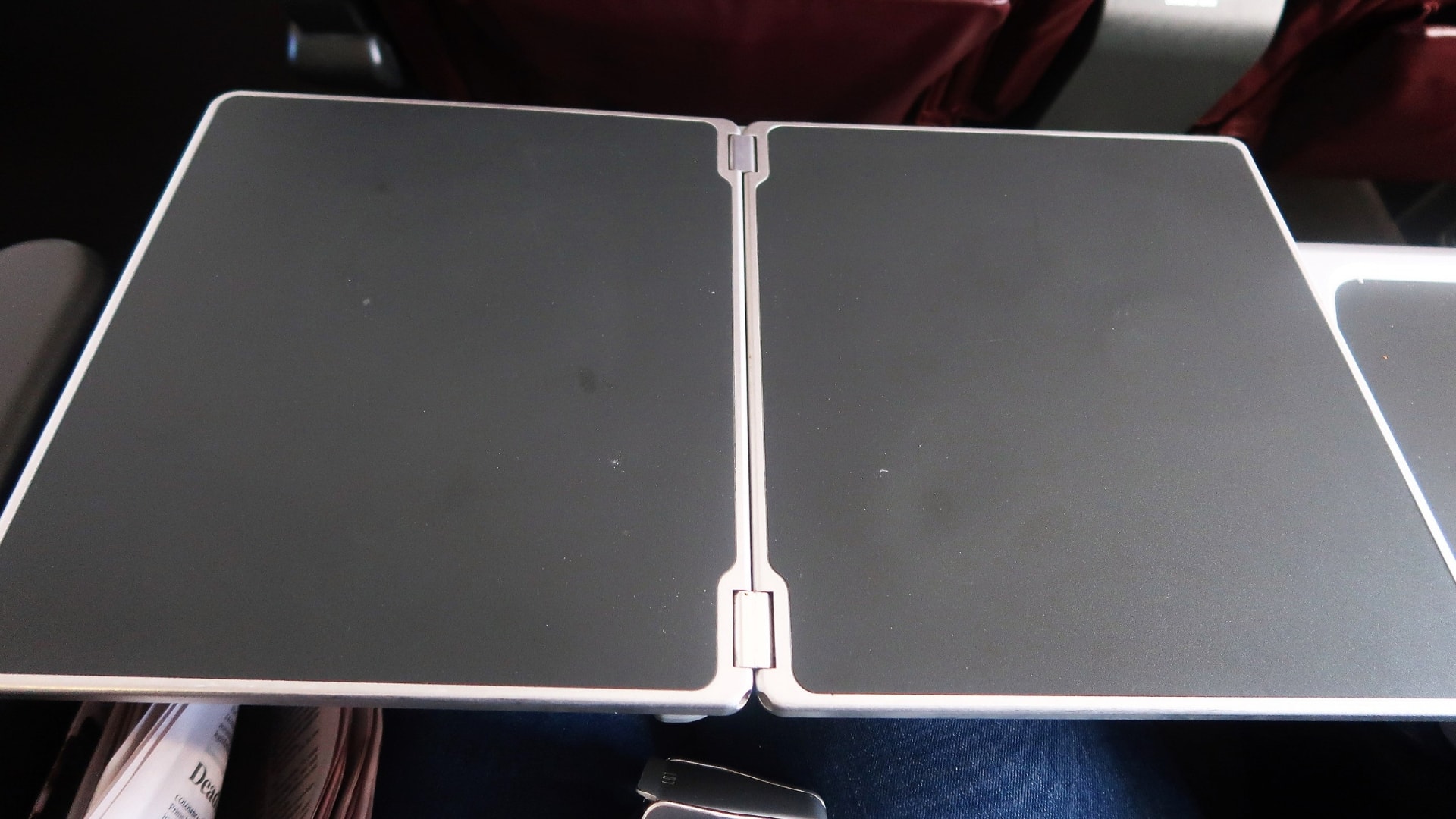 Qantas domestic business class meal service
Before wheels up, passengers are offered a pre-departure drink of a fruit juice or water (still or sparkling).
After the seatbelt sign has been switched off, the cabin crew will prepare the business class meal and beverage trolley, before approaching each passenger to provide a tray service meal. Service almost always commence from the front at seat 1A before concluding at row three.
Depending on the duration of the flight and the time of the day, a refreshment or more filling meal is offered. Except on very short flights, a hot option is offered.
As with other food, domestic business class meals are 'inspired' by Neil Perry. There is no printed menu provided (except on selected trans-continental routes).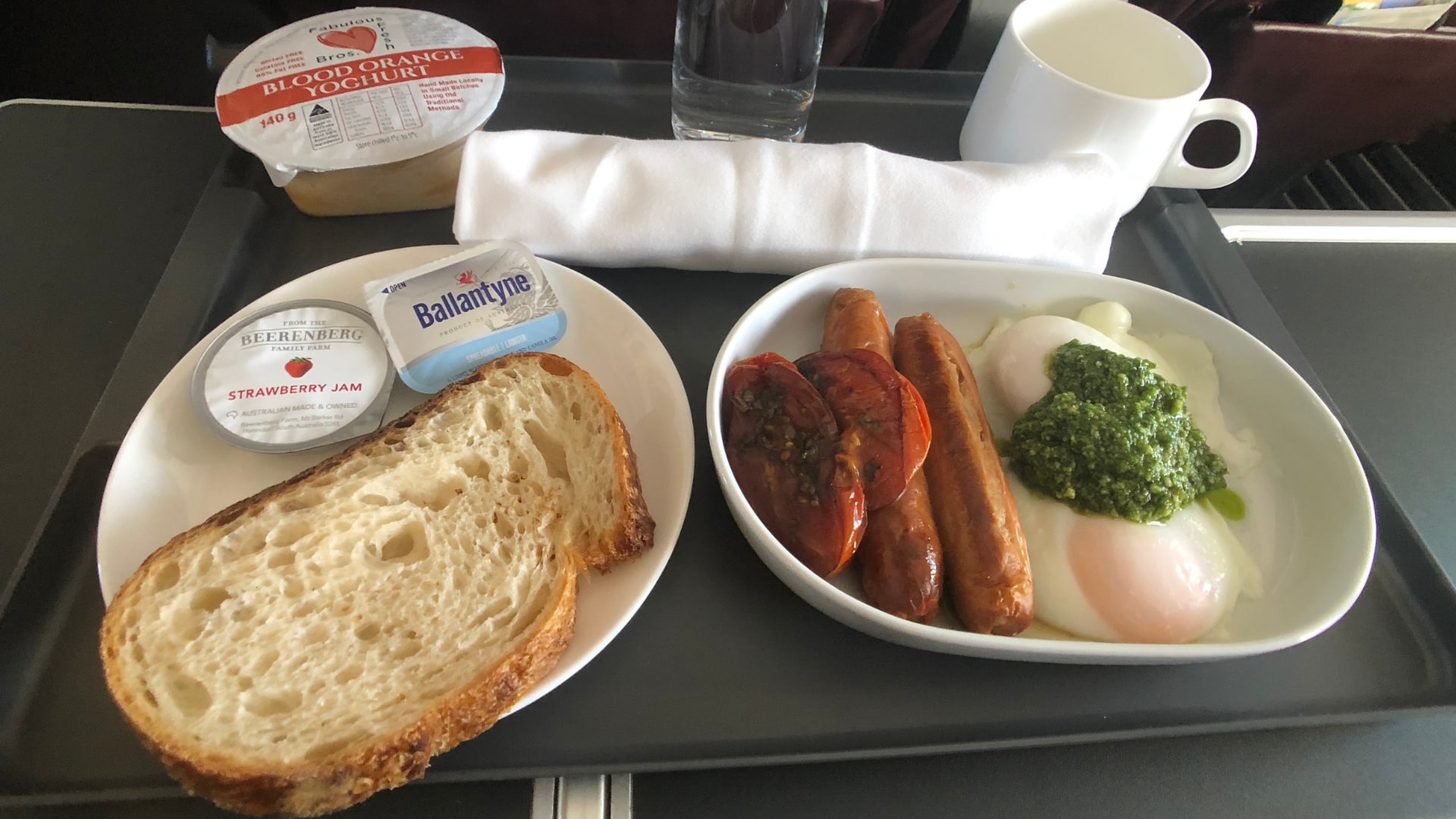 The meal is delivered on a tray with proper napery and metal cutlery. It may include accompaniments such as bread (which can be selected from a bread basket), butter, salad and dessert (Simmone Logue cakes and Koko Black chocolates being the current flavour of the month). Breakfast flights will often include yoghurt and/or a pastry.
Drinks are served alongside the meal and may include a selection of Australian wines (for flights after midday), juices, soft drinks and plunger coffee and tea. Piccolos of Australian sparkling wine (Grant Burge) are served upon request.
Following the conclusion of the meal, the cabin crew often provide chocolates and a bottle of water.
Comparing Qantas domestic business class meals with Virgin Australia
Most travellers who fly in the pointy end in domestic business class will agree that Virgin Australia's Luke Mangan inspired meals usually come out ahead of Qantas' offerings, both in terms of taste and presentation. However, Qantas is continuing to improve the meal quality in domestic 737 business class.
You can learn more about Virgin Australia's 737 business class offering here.
Qantas in-flight entertainment
While newer Qantas 737 aircraft are fitted with personal seatback video on demand in-flight entertainment, older models feature a somewhat archaic entertainment screen that drops down from the ceiling.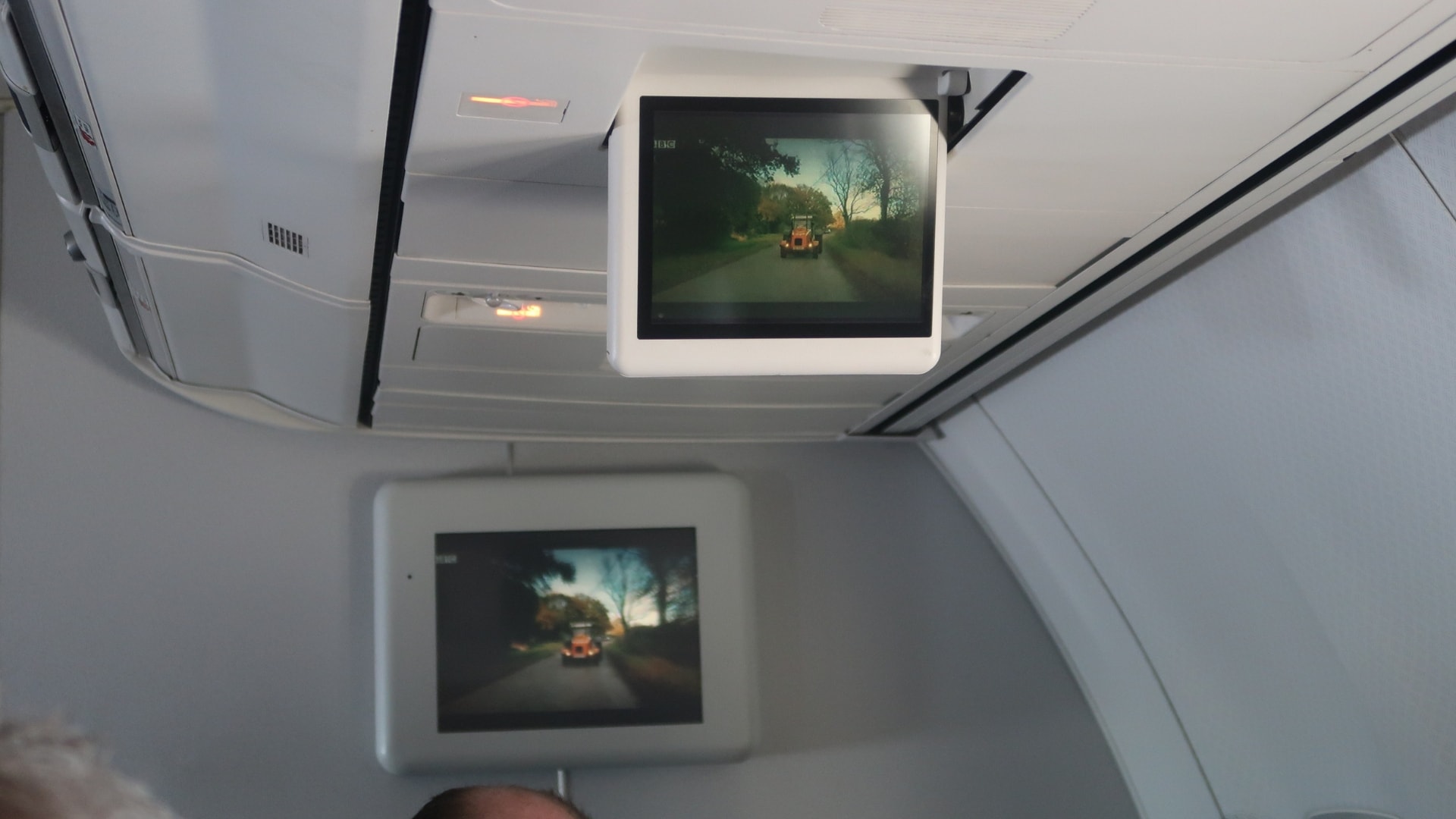 Thankfully, all 737 aircraft provide access to the Qantas Entertainment app, which allows travellers to connect to the in-flight entertainment service and stream a range of movies, tv shows and more onto laptops, tablets or smartphones.
As in economy class, a copy of the Qantas in-flight magazine is provided for each business class passenger. Newspapers may also be offered prior to departure.
Does the Qantas 737 feature in-flight WiFi?
While you won't find WiFi on all 737 Qantas aircraft, Qantas is continuing to roll out connectivity across its domestic fleet. The good news is that many of the Qantas 737 aircraft are now equipped with it, but it still remains 'luck of the draw'. If you're fortunate to score wifi enabled Qantas flight, this can provide a handy in-flight entertainment or working option. You can find out more about the Qantas WiFi rollout here.
Qantas 737 routes
The Boeing 737 is the workhorse of the Qantas fleet. Currently, it makes up over half of all planes that Qantas operates domestically.
You'll find this aircraft servicing routes all over Australia, including capital cities and regional centres. The Qantas 737 is also used for trans-continental treks between Perth and the Eastern seaboard.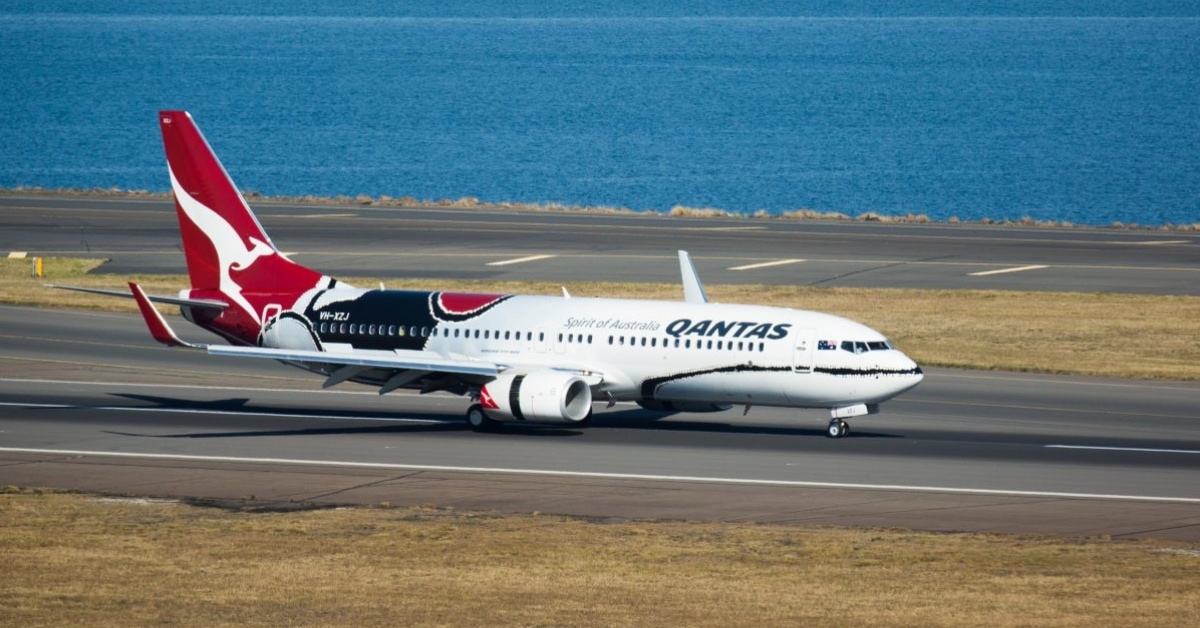 Additionally, Qantas operates the Boeing 737 on selected international routes, the length of which might be best avoided in a recliner seat. International routes include Sydney – Noumea, trans-Tasman routes, and Sydney to Bali.
All Qantas 737 aircraft are dual-cabin, featuring economy and business class.
Which seat to choose in the Qantas domestic business class cabin?
There is no direct aisle access for those seated by the window, so if you have a preference for in-flight aisle access, opt for an aisle seat.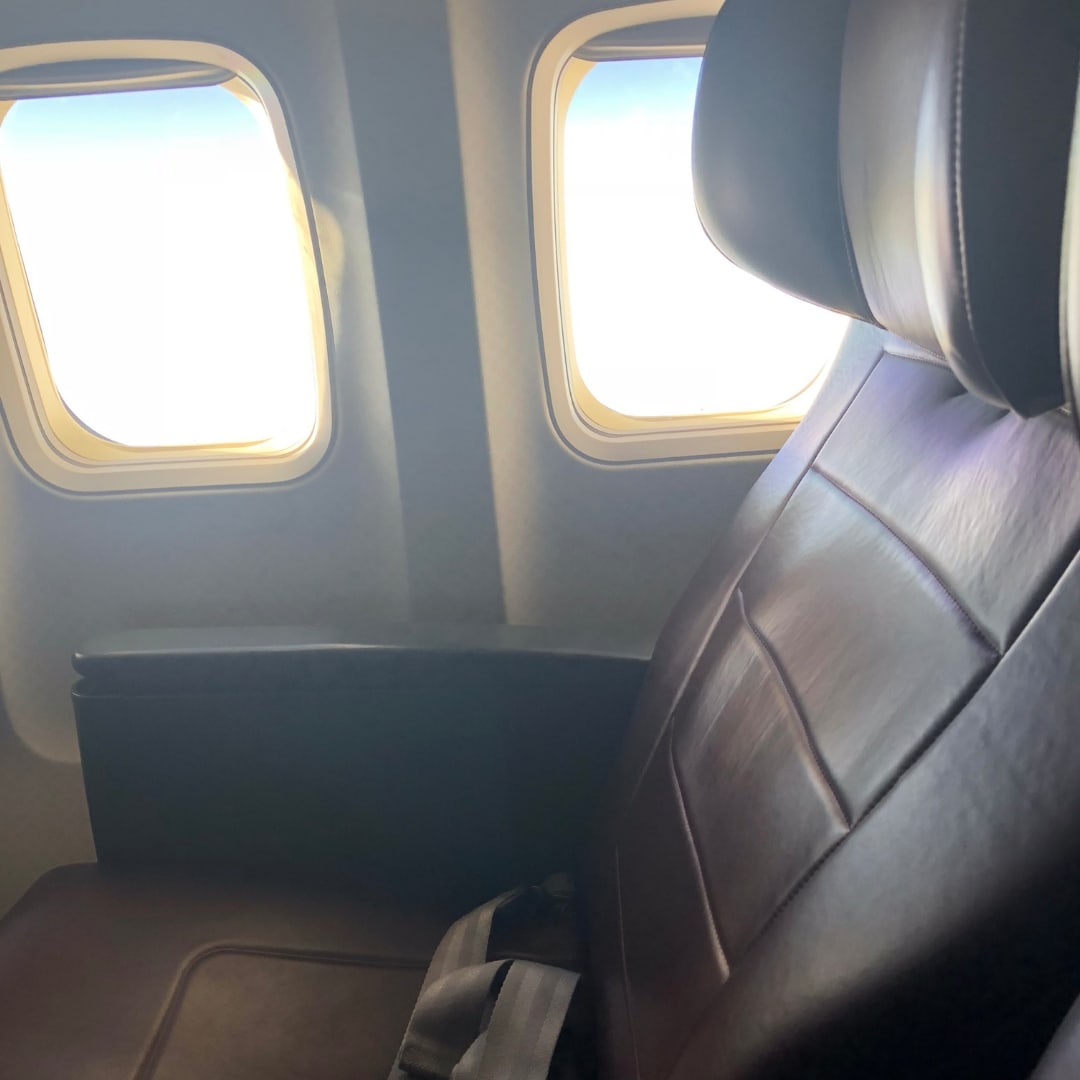 Otherwise, the preference comes down to the row. If you're not bothered by a bulkhead and the need to stow all hand luggage, opting to sit in row one will ensure you receive attentive service and first dibs on your in-flight refreshment choice.
A seat in row two, on the other hand, provides a touch more privacy (as you're not fully exposed to the front of the business cabin during the flight) and the ability to stow hand luggage underneath the seat in front. You'll wait slightly longer for your meal, but not as long as those in row three.
Row three is furthest away from the front, closest to the economy cabin, and it may not be the best choice for those who don't want to dine in a rush. On ultra-short routes, travellers seated in this row will often find that they are approached to commence the in-flight meal service around 20 minutes ahead of descent (and often most popular meal choice(s) may be unavailable at this stage).
Comparing the Qantas 737 business class cabin against other Qantas aircraft
Qantas operates domestic business class cabins on a range of other aircraft, and the Boeing 737 features one of the least glamorous business cabins.
A smaller but similar Qantas domestic business cabin can be found on the Boeing 717, which holds 6, rather than 12, recliner business seats.
In addition, the Qantas fleet boasts more advanced lie-flat, direct aisle access business class 'suites' fitted to Airbus A330 and Dreamliner 787-9 aircraft, along with slightly more tired but still international-grade seats on the Qantas Boeing 747, which can occasionally be seen plying domestic routes.
As a recliner seat, and with a pared-back service offering, the 737 is the poorer cousin of other Qantas business class products, perhaps with the exception of the 717. It's to be avoided if you can find a better aircraft servicing the route you wish to fly.
The best way to redeem points for Qantas domestic business class
Seats in Qantas 737 domestic business class services are most commonly redeemed as Classic Flight Rewards via Qantas Frequent Flyer, however, this isn't your only option.
It's possible to leverage a range of other airline loyalty programs to redeem flights at the pointy end of the Qantas 737 business cabin.
And while Qantas is naturally the scheme that most travellers will use to redeem points for award seats, as we'll explain, it's not always the cheapest.
As we've previously written about here, it's often possible to purchase points through the distance-based British Airways Avios program quite cheaply for use on Qantas domestic business class redemptions.
The British Airways Avios program generally offers the best value for short Qantas 737 domestic business class flights. As an example, a short hop between cities like Sydney – Melbourne and Adelaide – Canberra comes in at just 9,000 Avios which is significantly cheaper than stumping up the 24,000 points you'd need to redeem a Classic Flight Reward via Qantas.
However, for longer flights and multiple sector redemptions, region-based airline loyalty schemes like the American Airlines AAdvantage program may provide a cheaper outcome.
Upgrading to the Qantas domestic business class 737 cabin
While it usually makes sense to bypass Qantas in favour of other airline programs for outright redemptions of Qantas 737 domestic business class seats, that's not the case when it comes to upgrades.
An upgrade from an economy ticket to the Qantas 737 business class cabin can only be processed via Qantas Frequent Flyer. It's not possible to obtain an upgrade from a paid economy class ticket on a Qantas operated flight via any other airline.
The amount you'll pay for your upgrade depends on the fare class of the ticket you've purchased. Those holding basic sale fares (sometimes known as 'Red-e-Deal' tickets) will need to stump up significantly more than those holding more expensive, flexible fares.
As an example, the cost of an upgrade from a Qantas Red-e-Deal economy class ticket to a business class seat is priced at 10,000 Qantas points for Zone One distance flights, with flexible fares priced lower, at 5,000 points.
With many employers purchasing Qantas flexible fares for staff, there can frequently be an opportunity for employees to nab an upgrade to Qantas domestic business class for a relatively low outlay of points.
Conclusion: When to use points for Domestic Business Class?
All travellers have different goals, and whether you choose to redeem points to either outright purchase or upgrade to a Qantas domestic business class ticket on the 737 very much depends on your individual circumstances (and your points balance).
A jaunt in Qantas 737 domestic business class may be an attractive option for passengers who don't hold Qantas elite Qantas or OneWorld airline equivalent elite status, which generally provides the additional comforts and perks (lounge access, priority boarding and additional luggage allowance) that a Qantas 737 business class ticket unlocks.
Additionally, it can often make sense to redeem a Qantas 737 domestic business class award ticket when travel at short notice is required, and where cash-equivalent tickets for the desired travel period are prohibitively expensive.
Finally, savvy frequent flyers may see significant value in redeeming an award ticket with a 'sweet spot' points currency like British Airways Avios, or by leveraging a cheap upgrade from a paid Qantas flexible economy ticket.
The 737 Qantas domestic business class experience offers a level of comfort and privacy you won't find in Economy, with meals and service that will help you relax during your journey. However, if you're after an international-grade business class experience, or, if you're travelling on a red-eye flight, you would do better to look to the most current lie-flat Qantas business suite or another leading airline.
Have you used points to redeem or upgrade a flight in Qantas 737 domestic business class?
While you're here: Subscribe to our newsletter for the latest tips, deals and news. It only takes a few seconds and we respect your privacy: