With Qantas Club membership, you'll unlock access to premium lounges in Australia and overseas.
Read on to find out whether joining the Qantas Club is worth your while in 2021. In this guide, we'll show you everything you need to know about Qantas Club membership and crunch the numbers on pricing.
Plus, we'll highlight various ways to enter the frosted doors of the Qantas Club without holding a paid membership, or by leveraging a Qantas Club sale.
Is the Qantas Club worth joining in 2021?
An annual Qantas Club membership commands a significant fee, so its value proposition needs to be weighed up against your personal circumstances.
Before forking out, why not consider a Qantas credit card with complimentary entry? Selected Qantas credit cards offer two complimentary Qantas Club Lounge entries each year as a membership perk. You can browse cards offering up to 120,000 Qantas Points here
Or, read on to discover whether joining the Qantas Club could be worth your while this year.

Qantas Club Membership overview
Qantas Club membership unlocks access to an extensive network of Qantas lounges in Australia and overseas, providing a premium space where travellers can relax before a flight whilst enjoying complimentary refreshments, high-speed internet, business and shower facilities.
These benefits are provided regardless of your status tier or class of travel. You simply need to be flying with an eligible airline.
Once you're a carded up Qantas Club member, you'll also gain access to selected perks outside the Lounge when you fly Qantas. This includes priority check-in, preference for domestic upgrades and an additional checked baggage allowance.
Which Qantas Clubs and Lounges can members access?
The Qantas network of lounges is the largest of any airline in Australia. Along with access to domestic Qantas Clubs in capital and regional cities, membership unlocks entry to a range of premium Qantas operated lounges overseas.
This includes the Qantas International Business Lounge, Qantas International Lounges (think London, Singapore and Hong Kong), and even selected Associated Lounges operated by partner airlines.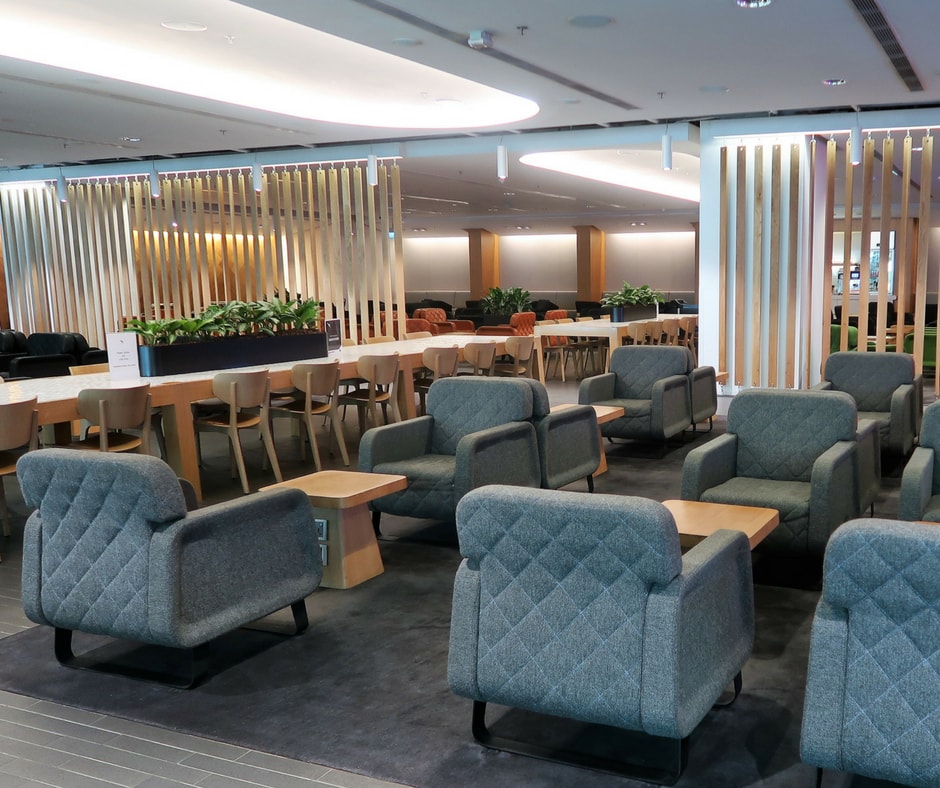 Qantas Club members are unable to access Qantas Domestic Business Lounges, Qantas International First Lounges or the Chairman's Lounge.
More information about lounge access for Qantas Club members is provided further down this post.
What additional benefits does Qantas Club Membership provide?
Joining the Qantas Club provides access to a range of handy benefits, above and beyond access to individual Qantas Lounges. Key perks that members can access on the ground and in the sky include:
Access for one guest (visitation rules vary between lounges)
Access to 'On Departure' upgrades on Australian domestic flights (using Qantas points)
Additional checked baggage allowance when travelling in Economy or Premium Economy
Priority check-in for Qantas flights, and
Discounts on booking Qantas Meeting Rooms in Australia.
When can members access the Qantas Club?
Qantas Club Membership provides the primary member and one guest entry to Qantas Clubs and International Business Lounges prior to flying. Children aged 17 or under are generally admitted at the discretion of the lounge (more information is here).
When travelling in Australia, you'll need to be travelling on a flight with a Qantas or Jetstar flight code. When flying overseas, the access rules vary, but you'll usually be able to visit a Qantas International, International Business Lounge or associated lounge when you're flying with Qantas and have a QF flight number. Most lounges also offer access when you're travelling on an international Jetstar flight with a JQ number.
Note that access rules vary between lounges, and some restrictions may apply. For example, at the time of writing, Qantas Club members are unable to access to Qantas Singapore Lounge due to longstanding issues with overcrowding. When in doubt, check the Qantas website for the most up to date access information.
How much does Qantas Club Membership normally cost?
Access to the Qantas Club is convenient, but it doesn't come cheap. Below, we've outlined the standard membership costs you can expect to pay.
Qantas Club memberships are offered in one, two or four-year blocks. The usual pricing in dollars and points is as follows:
| Individual Qantas Club membership | Cost (renewal) $ | Cost (membership + join fee) $ | Qantas Points redemption |
| --- | --- | --- | --- |
| 1 year | $540 | $939 | 78,000 |
| 2 years | $980 | $1,379 | 155,000 |
| 4 years | $1,850 | $2,249 | 285,000 |
If you're a new member taking up an Individual membership, a joining fee of $399 is levied. This charge does not apply for renewals or corporate memberships.
While membership isn't cheap by any means, you'll receive 3 Qantas Points per $1 spent on Qantas Club memberships, which can help to sweeten the deal.
Note that Qantas Business Rewards members can receive 10% off individual membership fees. Separate fees apply to Corporate and Partner memberships.
Can I join the Qantas Club with frequent flyer points?
Yes, in addition to forking out 70,000 Qantas points for the joining fee, you can also purchase a one, two or four-year membership at 78,000, 155,000 or 285,000 Qantas points respectively.
But while Qantas points can be used to redeem for Qantas Club membership, this generally represents a poor use of points when compared with business or first class flights.
How to visit the Qantas Club without paying
Before you commit to Qantas Club membership, it's worth knowing that there is a range of ways you might be able to experience a Qantas Club or Lounge without being a carded up member, or at a significant discount.
Get a credit card that offers Qantas Club passes
For a chance to sample the benefits of the Qantas Club a couple of times per year, why not consider choosing a credit card that offers complimentary passes to Qantas owned and operated lounges before you shell out for a full membership?
Many Qantas linked credit cards offer two single entry passes to Qantas Clubs and selected International Lounges each year you hold the card. Taking up one of these cards can help you to experience lounges at home or overseas – without breaking the bank.
The following credit cards offer two Qantas Club lounge passes each membership year:
Receive 100,000 bonus Qantas Points when you apply online, are approved and spend $3,000 on your new Card within the first 3 months. Offer available to new Card Members only. Plus, receive a $450 Qantas Travel Credit each year.
Enjoy 120,000 bonus Qantas Points with the American Express® Qantas Business Rewards Card when you apply online by 18 May 2022, are approved and spend $3k within the first 2 months after approval. New Card Members only, T&Cs apply.
You can browse our full range of Qantas linked credit cards here.
Purchase a single Qantas Club Lounge pass
If you're not willing to invest in a Qantas Club membership, you may be able to purchase a single access pass. Qantas occasionally sends email invitations to travellers, inviting them to purchase a lounge access pass. Emails are usually sent out between two to five days before the flight.
This can be a good way of working out whether a Qantas Club membership is worth investing in before you commit.
Take advantage of Qantas Club sales and promotions
Several times per year, Qantas runs sales and promotions on Individual Qantas Club memberships. The offers can include discounted or waived joining fees, and a reduction on renewal fees.
The most recent Qantas Club sale took place in November 2019. We publish all Qantas Club joining offers right here. You can also subscribe to our newsletter to ensure you don't miss out on the next one.
RELATED: Read the TCM Guide to Qantas Status Credits and membership tiers
Qantas Lounge tiers and locations
A network of over 50 Qantas Clubs and Lounges are operated in Australia and overseas. There are six different lounge types, of which three are accessible to Qantas Club members. These include:
Domestic Qantas Club Lounges
Qantas International Business Lounges
Qantas International Lounges
Domestic Qantas Club Lounges
If you're travelling domestically, you can expect to visit a Qantas Club before your flight. Qantas boasts domestic Qantas Clubs in no less than 24 locations. This includes all Australian capital cities and selected regional locations.
At the time of writing, locations include:
| Qantas Club network | | |
| --- | --- | --- |
| Adelaide | Devonport | Mackay |
| Alice Springs | Emerald | Melbourne |
| Brisbane | Gladstone | Perth (T4) |
| Broome | Gold Coast | Port Hedland |
| Cairns | Hobart | Rockhampton |
| Canberra | Kalgoorlie | Sydney (T3) |
| Coffs Harbour | Karratha | Tamworth |
| Darwin | Launceston | Townsville |
Space at regional Qantas Club locations can get restricted, and as a result, they can tend to get crowded at peak times.
Qantas International Business Lounges
Qantas International Business Lounges are typically located airside in the international terminal. However, in smaller airports such as Adelaide and Darwin, domestic Qantas Clubs also double up as (arguably inferior) International Business Lounges.

The Qantas International Business Lounge can be found at the following locations:
| Qantas International Business Lounge network | | |
| --- | --- | --- |
| Adelaide | Los Angeles | Sydney |
| Auckland | Melbourne | Tokyo (Narita) |
| Darwin | Perth (T1) | Wellington |
| Honolulu | Perth (T4) | Singapore |
Qantas International Lounges
If you're thinking about joining the Qantas Club, you'll want to maximise access to the small network of Qantas International Lounges. Why? These are premium combined business and first-class flagship lounges that you'll want to spend some serious time in!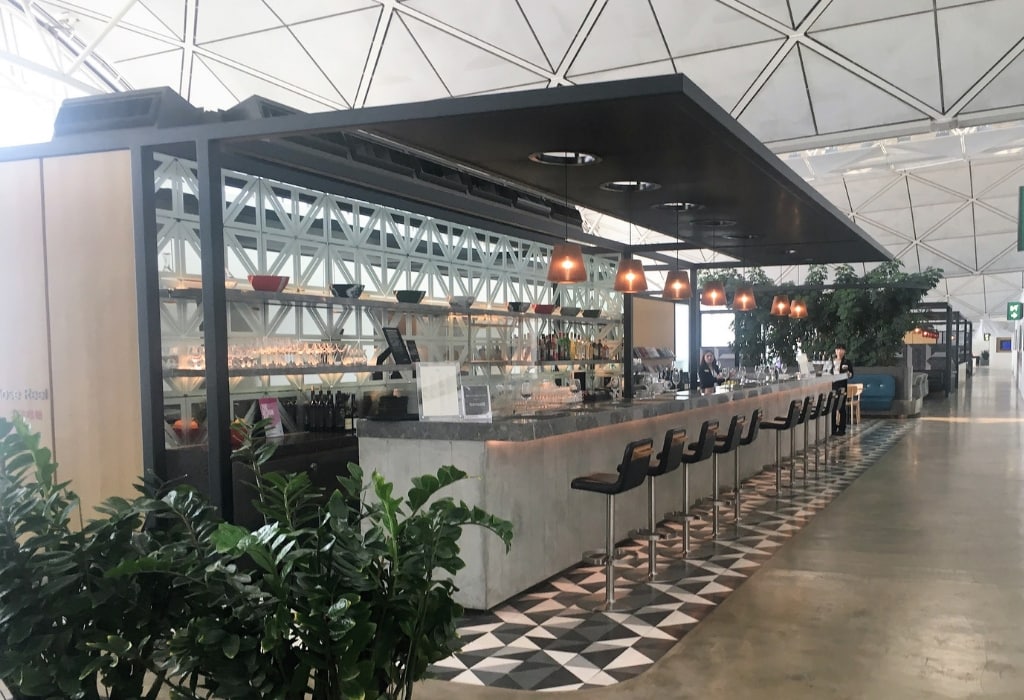 Visitors to these high-quality spaces can expect to enjoy a la carte dining, premium beverage options and other high-end facilities. At the time of writing, locations include Brisbane, Hong Kong, London and Perth.
Associated Lounges
The amenities you can expect to see on offer at Qantas Clubs will vary by Lounge type and size. At the upper end, selected premium International Business Lounges offer a la carte dining options and lush facilities. However, smaller domestic Qantas Clubs may only offer limited refreshments and restricted seating.
At a base level, you should expect to have access to the following amenities and facilities at any Qantas Club Lounge you visit:
Refreshments: Food and drinks are offered at all locations, but the quality and format can vary widely. International Business Lounges offer extensive food options, while smaller Qantas Clubs typically offer a limited selection. All Lounges offer self-service tea and coffee stations, with larger lounges operating a barista coffee service in the morning. Domestic Qantas Clubs typically offer alcohol for consumption from midday onwards, while international lounges offer unrestricted access.
Business centre: While a lounge is a relaxation zone for many, it's also a space where others can catch up on work. All Qantas Club lounges offer a space for business travellers to power up. Some lounges offer dedicated Apple computers, printers and even phones for usage.
WiFi: Each time you visit a Qantas Club lounge, you can expect to access WiFi, which is usually password protected. WiFi speeds are variable and may depend on the location of the lounge.
Bathrooms and showers: All lounges provide bathrooms, with larger lounges offering dedicated shower facilities.
Newspapers and magazines: Reading material can be found in each Qantas Club lounge. This generally includes local papers, as well as selected magazines.
Children's space: Play zones for children can be found in most Qantas Clubs and International Business Lounges. These areas typically feature a TV, play mat, toys and children's computer equipment.
Summing up: Qantas Club Membership
A Qantas Club Membership can unlock comfort and convenience for leisure and business travellers – even when flying in economy. However, joining up doesn't come cheap, so it's important that you consider your own personal travel patterns before deciding to pay.
Membership can make sense if you plan to travel and can make use of a Qantas Lounge frequently (my general rule of thumb would be ten or more times per year), or if you can take advantage of one of the promotions that Qantas runs several times per year. It might also be worth joining if you could make multiple visits to one of the ultra-premium lounges, such as the Qantas Hong Kong or London Lounge.
However, if you only travel infrequently, obtaining single entry lounge passes through a Qantas co-brand credit card or waiting for an invitation to purchase lounge access from Qantas can make much more financial sense.
While you're here: Subscribe to our newsletter for the latest tips, deals and news. It only takes a few seconds and we respect your privacy: