Author's Note re COVID-19: Considering a trip overseas? Make sure you read our Ultimate Australia Travel Bubble Guide first.
We review the excellent Qantas A330 business class suite on a trans-Tasman journey
Recently, I flew Qantas A330 business class between Melbourne and Auckland. I was fortunate enough to fly on the latest version of the A330-200 aircraft on the trans-Tasman route and enjoyed it immensely. Read on for an in-depth review of this exceptional product.
Want more Qantas Points? Get up to 150,000 Qantas Points and a first-year reduced annual fee. Browse top Qantas credit card offers now.
Booking Qantas A330 business class from Melbourne to Auckland
Using Qantas Frequent Flyer points, a one-way business class ticket from Melbourne to Auckland can be booked for 36,000 points, plus taxes.
However, the flight can be booked even cheaper via Cathay Pacific's Asia Miles frequent flyer program, where you'll pay just 30,000 points plus nominal taxes. I've previously written about how you can book cheap Qantas operated award flights via the Asia Miles loyalty program here.
Qantas recently ramped up flights from Australian cities to Auckland as a result of the Emirates withdrawal from several trans-Tasman routes earlier this year. At the present time, Qantas trans-Tasman award availability appears to be quite open.
Qantas A330 business class pre-departure
I checked in several hours before my flight and proceeded to the Qantas First lounge. Thanks to a couple of Qantas status runs, I'm a newly minted Platinum member, always keen to maximise the benefits of my status.
After a delicious breakfast of corn fritters from the Neil Perry Qantas First menu and a cheeky glass of Mumm NV rose champagne, I indulged in a 20-minute treatment at the Qantas First Spa. Before long, it was time to make my way to the gate for my trans-Tasman flight.
What is the layout of the business class cabin?
I commenced embarkation as soon as boarding opened up, keen to snap some photos of the Qantas A330 business class cabin before the other passengers arrived. Once embarking the aircraft, I was met by the friendly Qantas business class crew and shown to my seat.
The Qantas A330-200 business class cabin sports 28 business 'suites'. Space is divided into the main cabin of 22 seats and a smaller, more intimate six-seat business class cabin.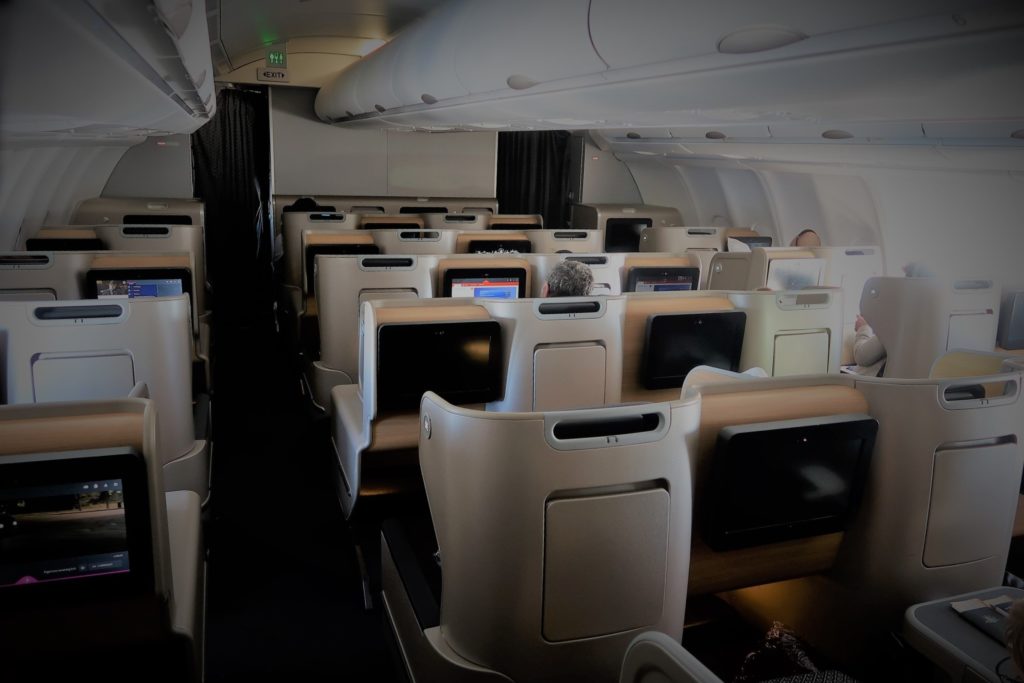 The Qantas A330 business class seat
I made my way through the main Qantas business class cabin and settled in at seat 3K, a window seat (my other half was seated by the window on the other side of the aircraft, so you'll notice that this post contains photos from a few different locations).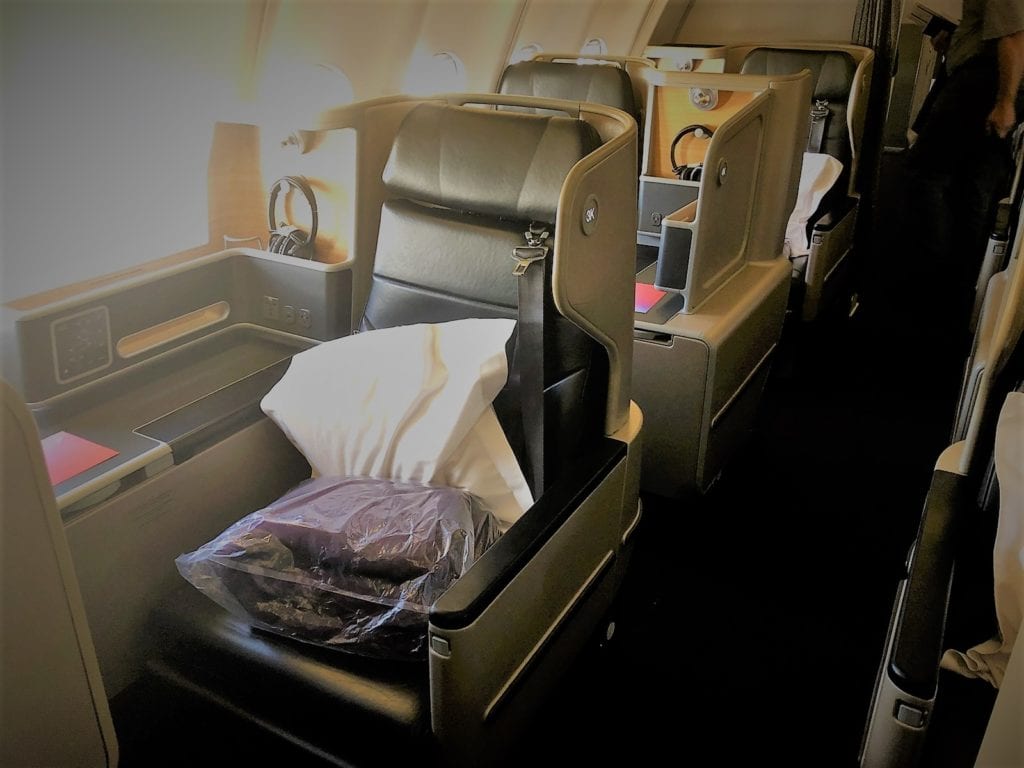 The Thomson Aero Seating designed Qantas business class suites are arranged in a 1-2-1 configuration, all with direct aisle access.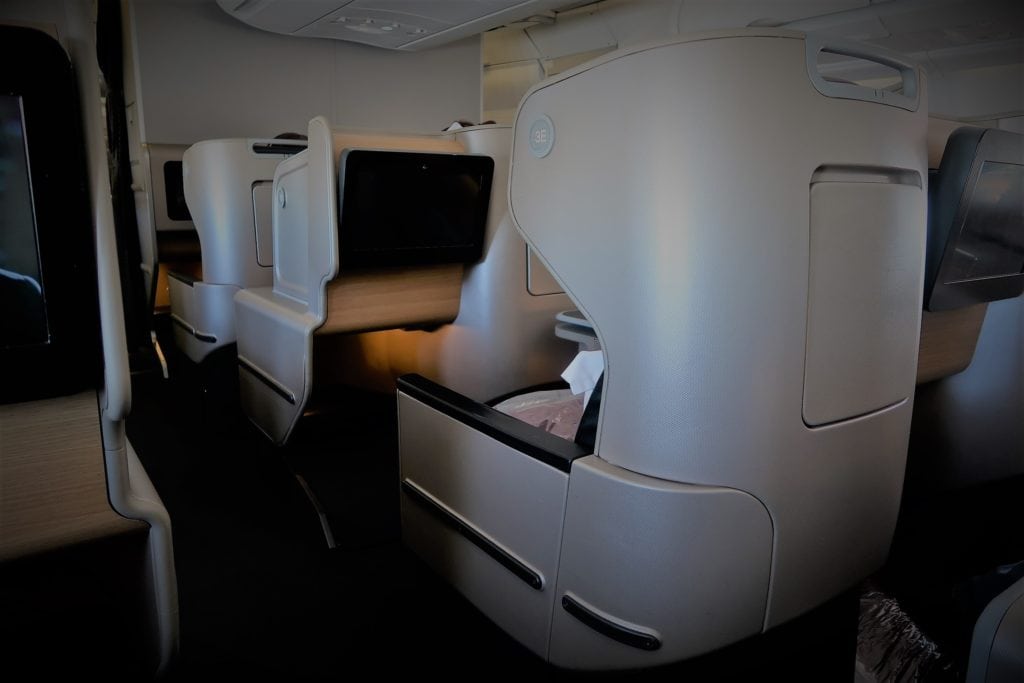 Wrapped in black leather and with a seat pitch of between 55 and 58 cm (depending on your seat location), you'll find the Qantas A330 business class suite seriously spacious. It sports ergonomic cushioning and converts to a 2-metre long flatbed. Additional comforts include a 4-way adjustable headrest and an extendable leg rest.
Personal storage space is where the Qantas A330 business class seat really shines, however, with numerous options at your fingertips. At seat 3K, a generously sized side table was located to the left of the seat. Here, I could place items including a phone or laptop for easy access.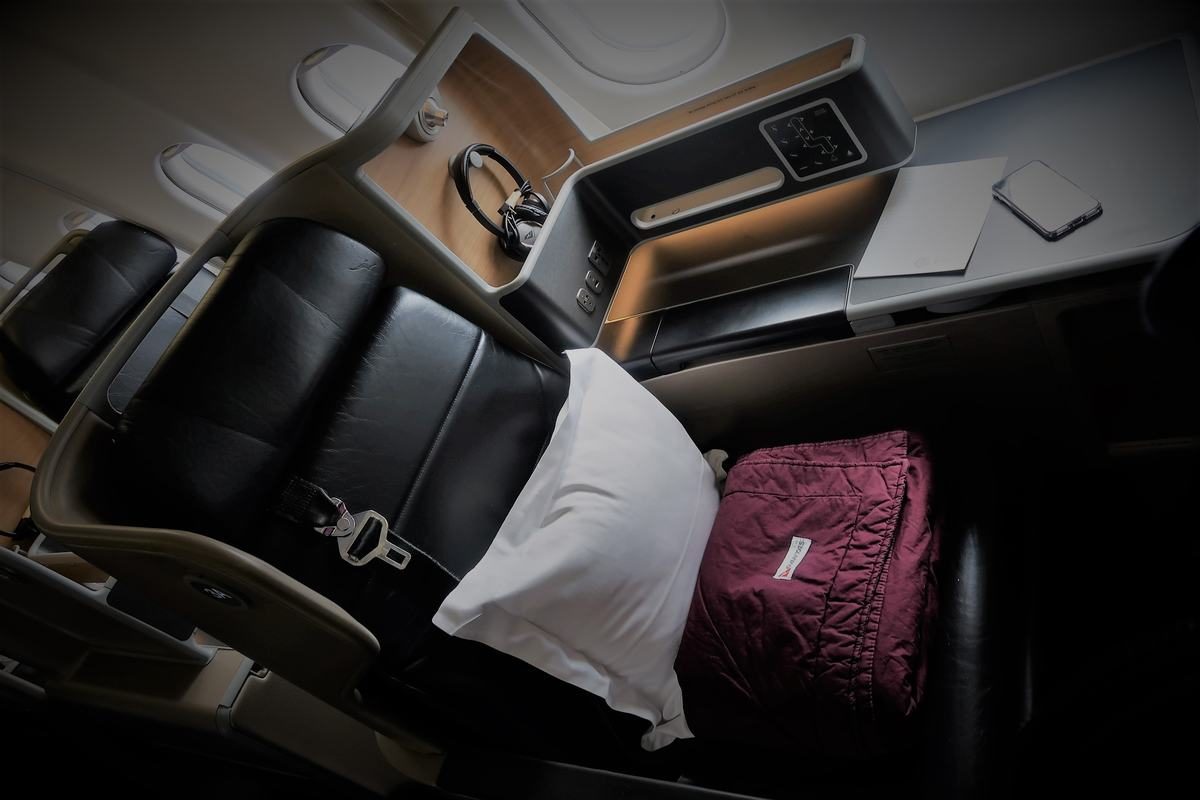 An L shaped console is located behind the side table. It houses a pair of Qantas branded noise-cancelling earphones.
The stylish wood-wrapped console provides a clever and useful storage option. It incorporates a drink holder, an LED reading light plus individual headphone, PC power and USB ports.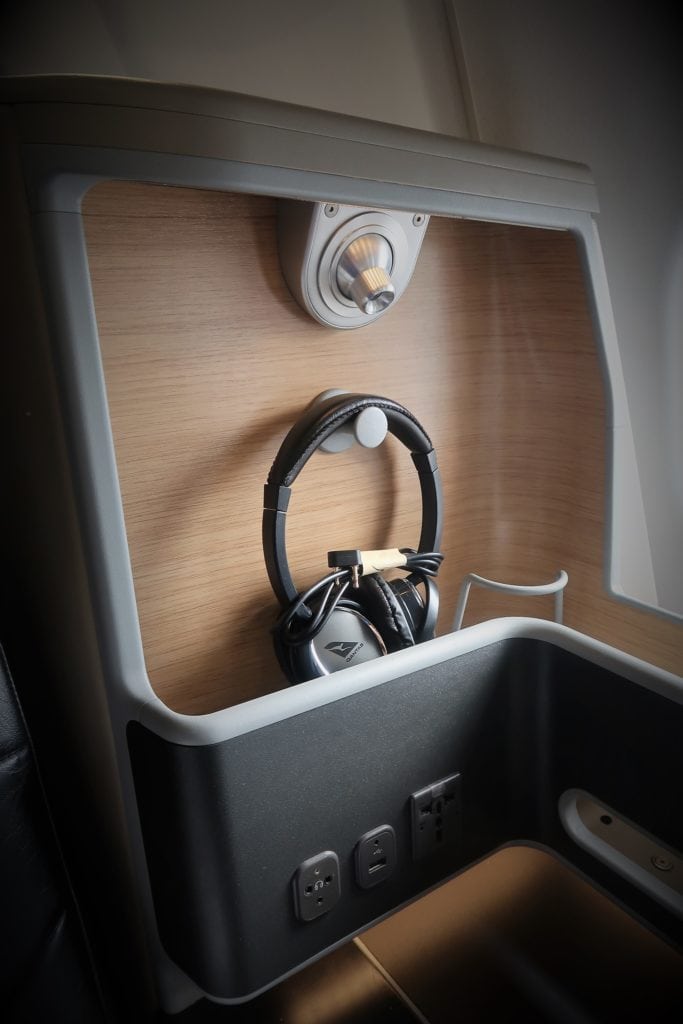 Other personal storage options include a hard-shell seatback pocket which houses the A330-200 safety card and Qantas magazine…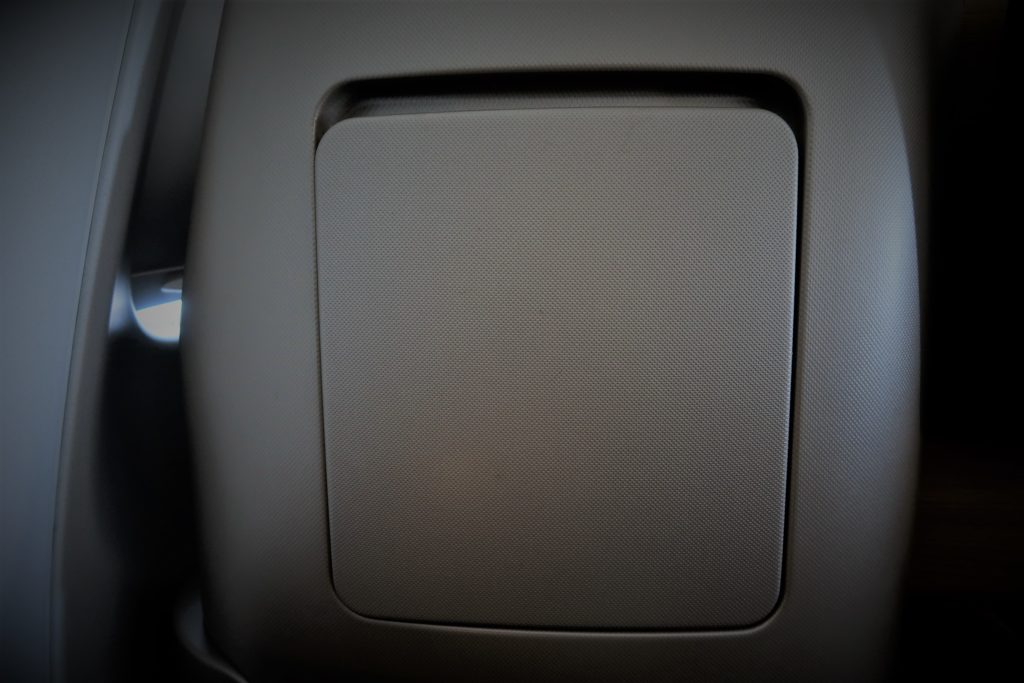 … plus a spacious footwell which is large enough for you to stash a small item of hand luggage.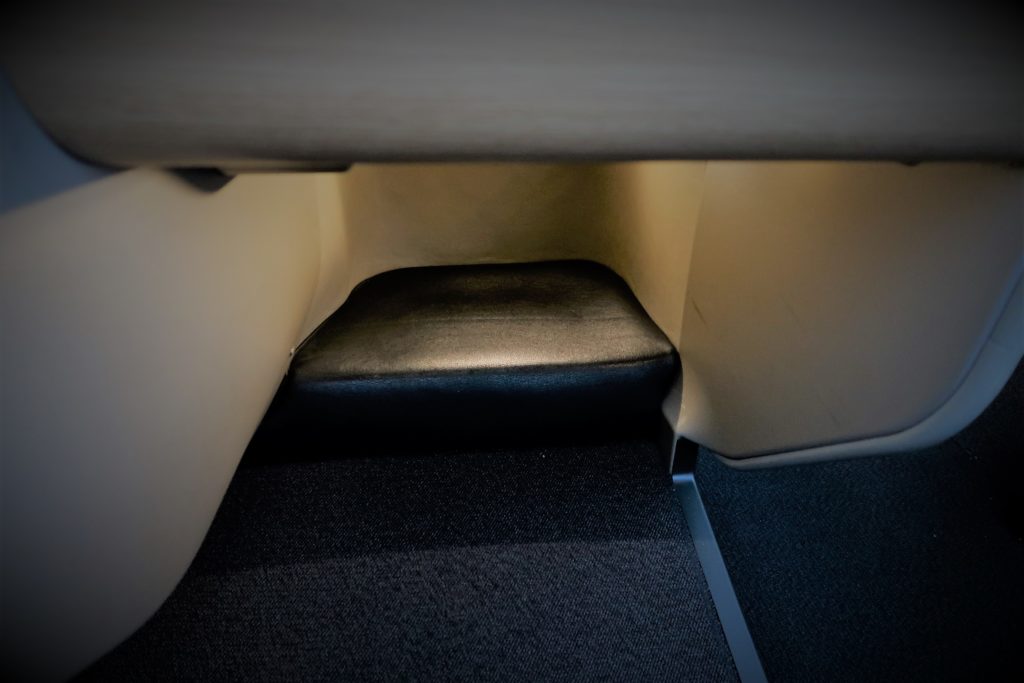 Qantas A330 business class 'K' seats feature entertainment controls within the left-hand armrest. A small mirror is located inside the lid, very handy for makeup touch-ups on the go.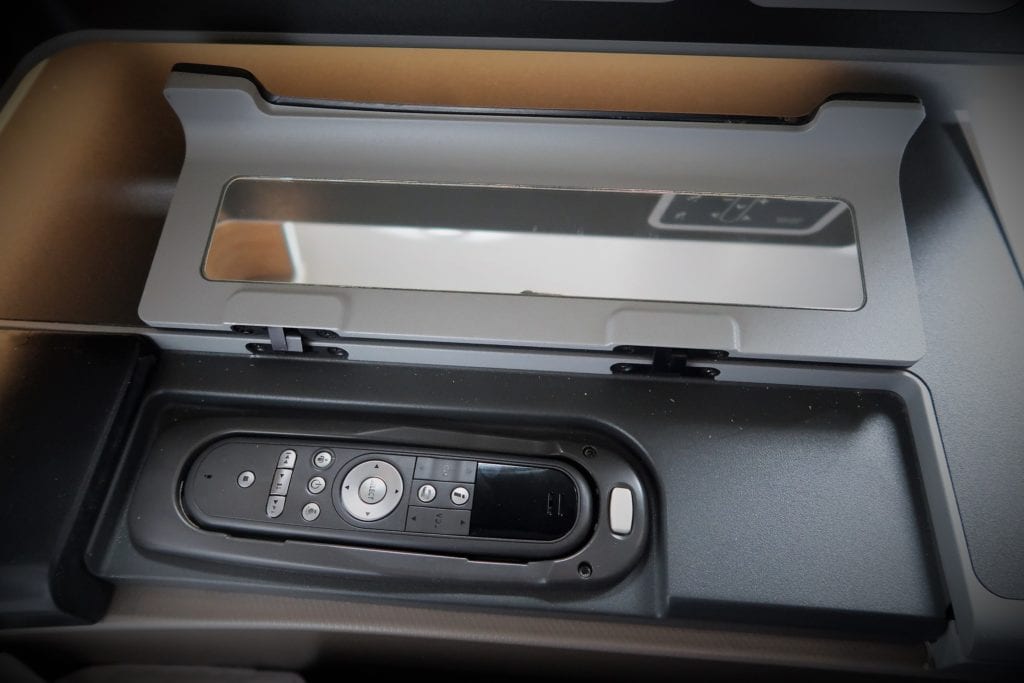 A set of seat controls are located within the Qantas A330 business class console. These allow you to adjust your seat into many different positions. One particularly handy feature of the seat is that it offers a recline position which is cleared for takeoff and landing.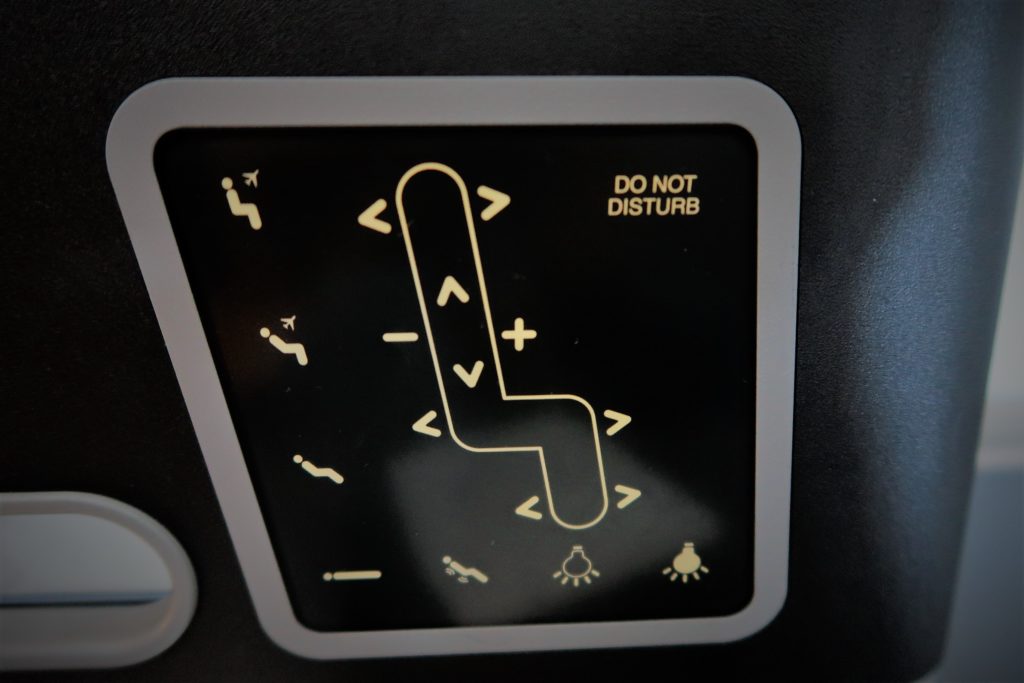 A large, adjustable tray table pulls out from the side console at the flick of a button. It's a generous size and suitable for both dining or working.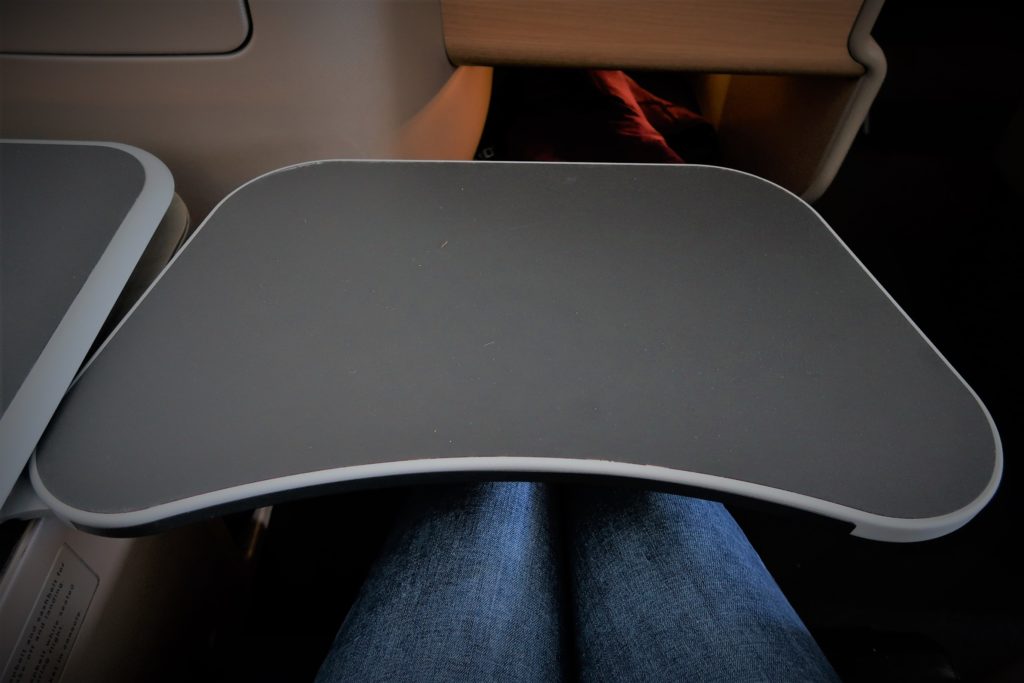 Each Qantas A330 business class suite also features a large 16-inch touchscreen. The Qantas in-flight entertainment range of content has improved in recent times, and the touch screen is the perfect size to enjoy a movie or box set bingeing in flight.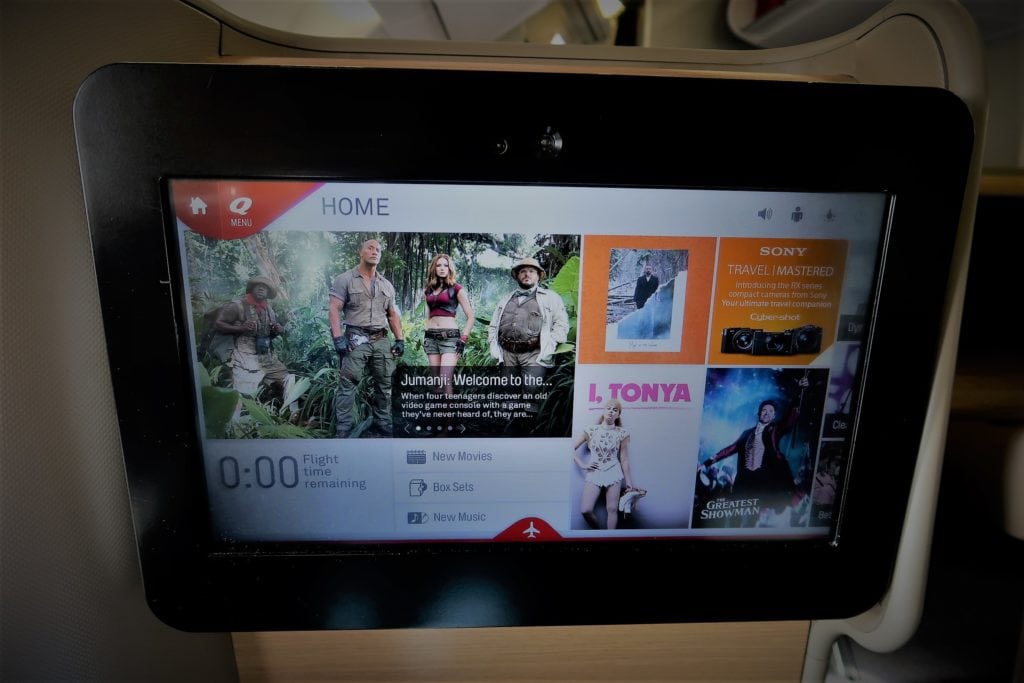 Onboard dining experience
Once I'd settled into my seat, the friendly Qantas crew brought around a pre-departure drink for travellers in the business cabin. Naturally, I opted for a glass of champagne, which was Duval-Leroy Brut NV.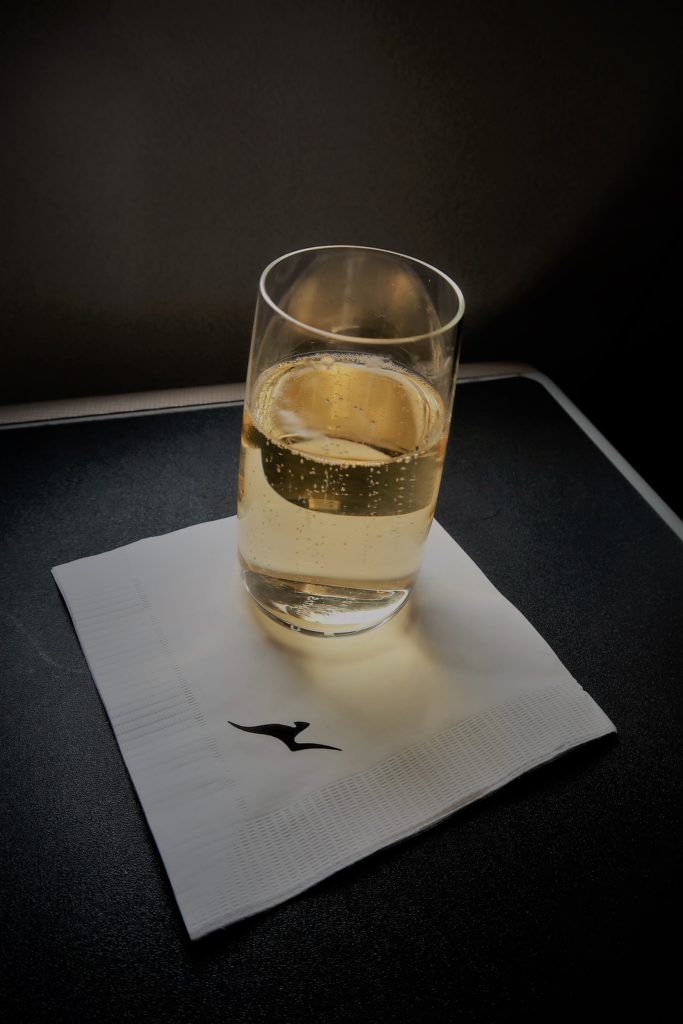 The Qantas A330 business class drinks menu advertises four business class champagnes, however, it's 'luck of the draw' as only one is provided in-flight. An extensive range of other alcoholic and non-alcoholic beverages was offered on my trans-Tasman Qantas flight. These included FIX coffee, a range of cocktails and a selection of Australian and New Zealand wines.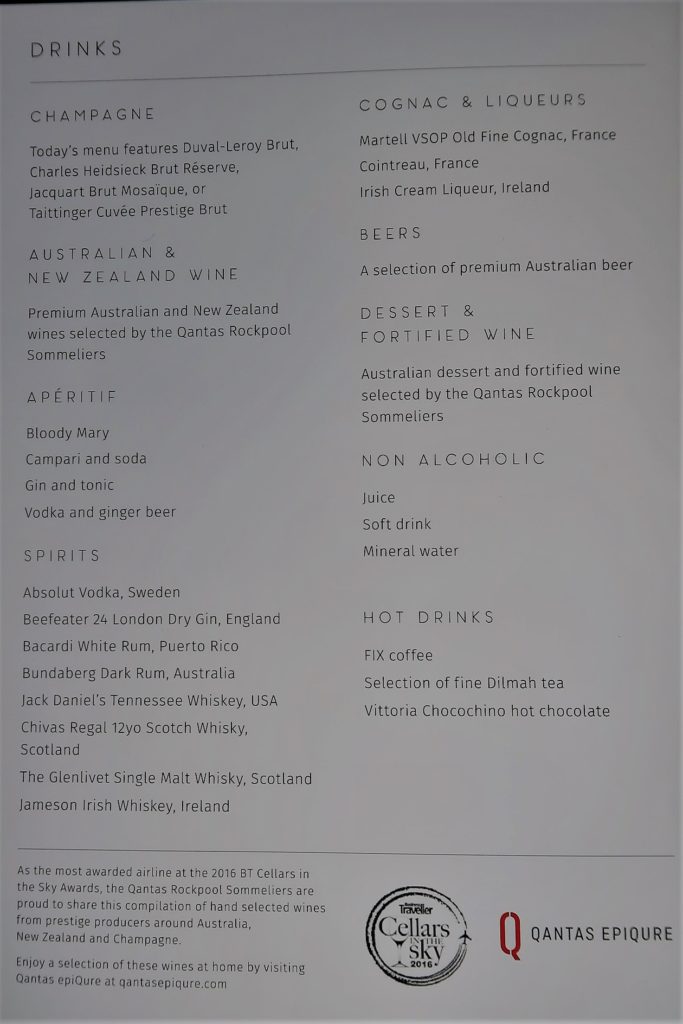 The Rockpool inspired Qantas A330 business class food menu featured a choice of two starters, five main courses, a salad and the option of a cheese plate or ice cream for dessert. Not bad for a three-hour trans-Tasman flight!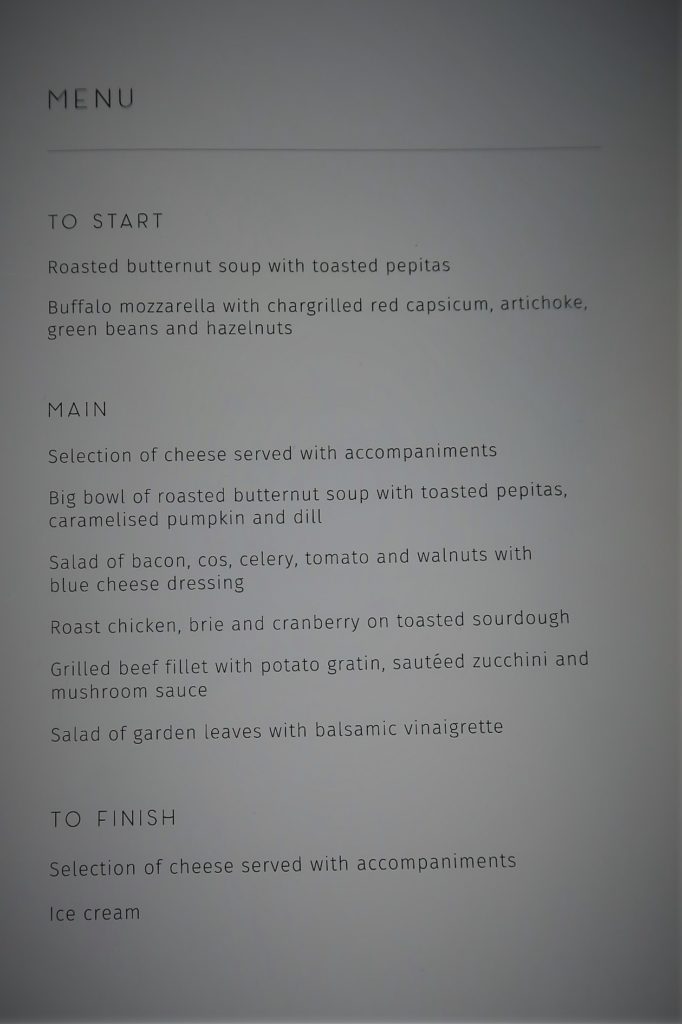 After the captain switched off the seat belt sign, the crew came around to take my food order. My table was then promptly set with fine linens before I was brought a plate of crusty sourdough bread and salad.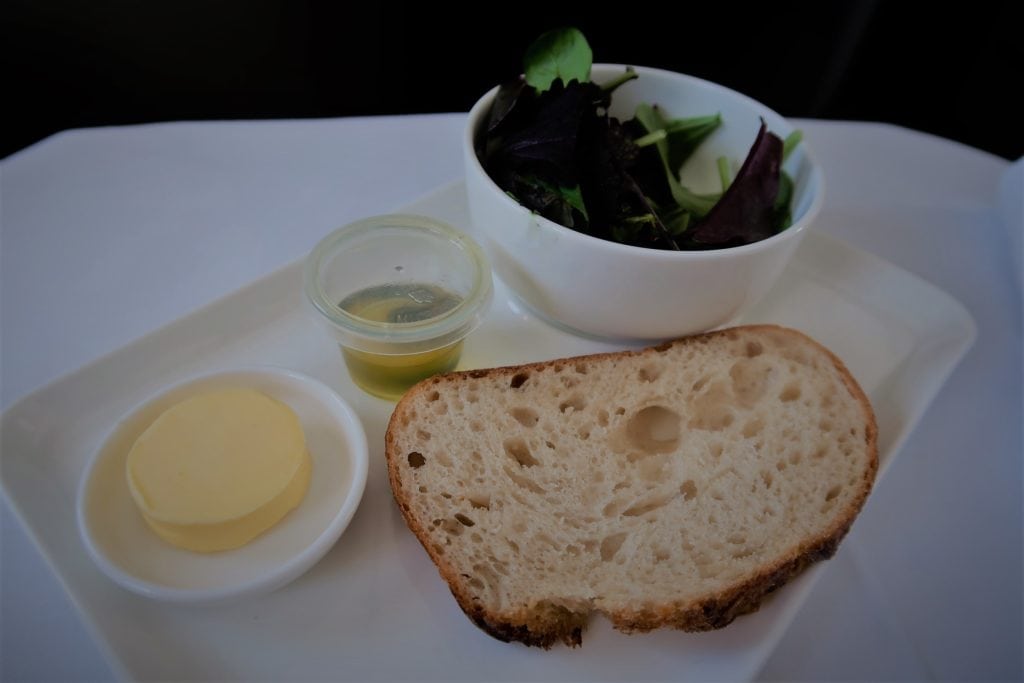 For my entree, I chose the buffalo mozzarella with chargrilled red capsicum, artichoke, green beans and hazelnuts. This Neil Perry inspired dish was fresh and delicious.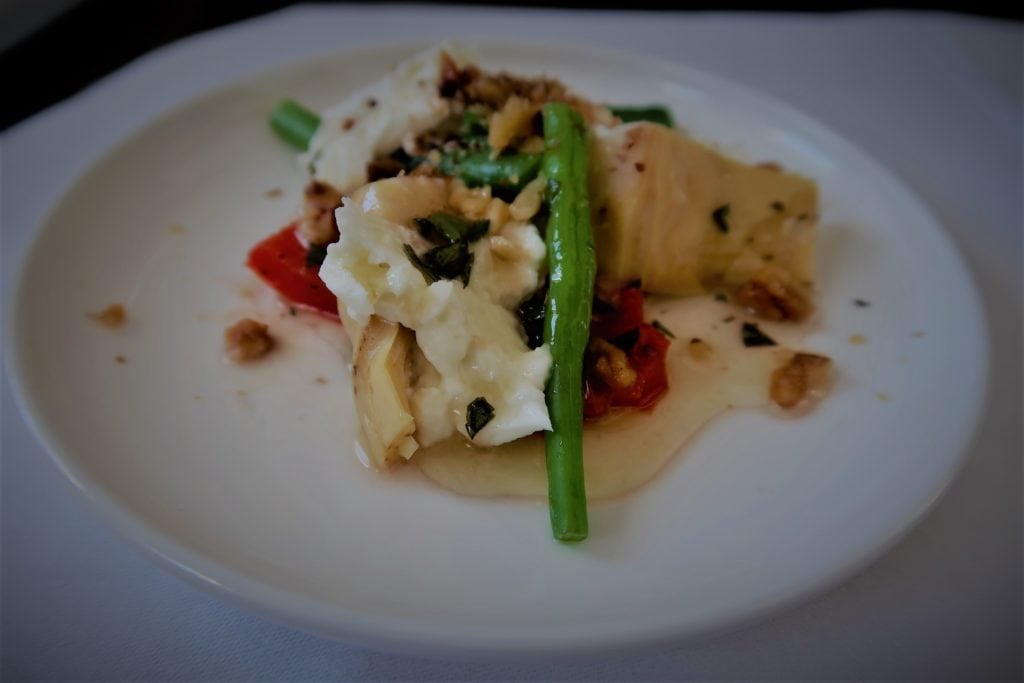 For my main course, I opted for the grilled beef fillet with potato gratin, sauteed zucchini and mushroom sauce. Unfortunately, the beef was slightly dry. Nevertheless, the flavours were good.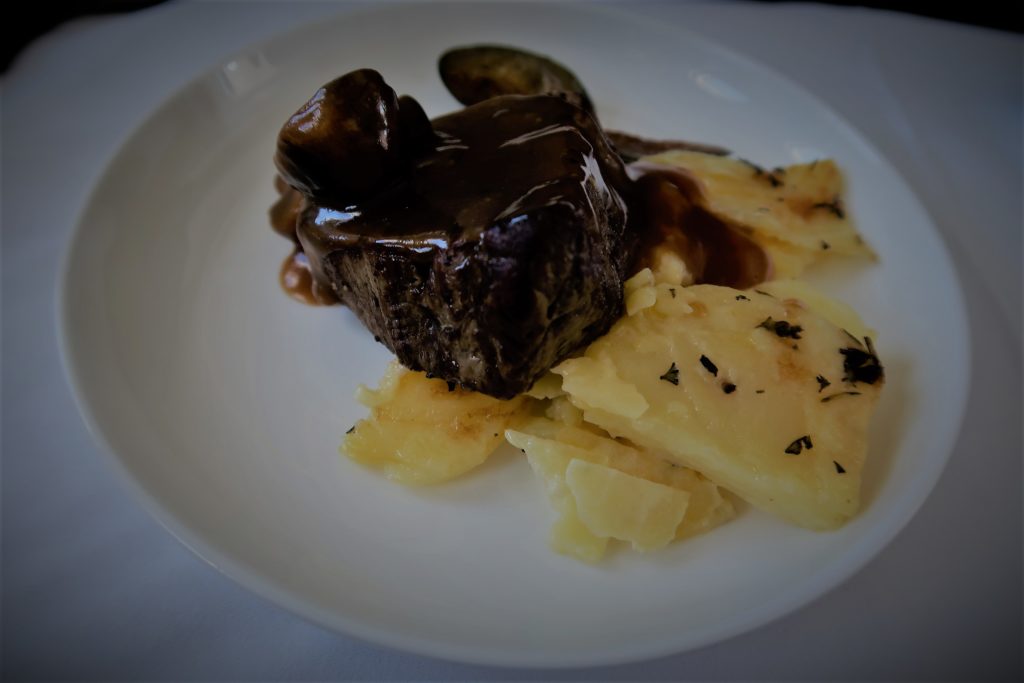 To finish, I enjoyed a cheese plate. It featured a selection of hard and soft Australian cheese, plus crackers, fresh fruits and quince paste.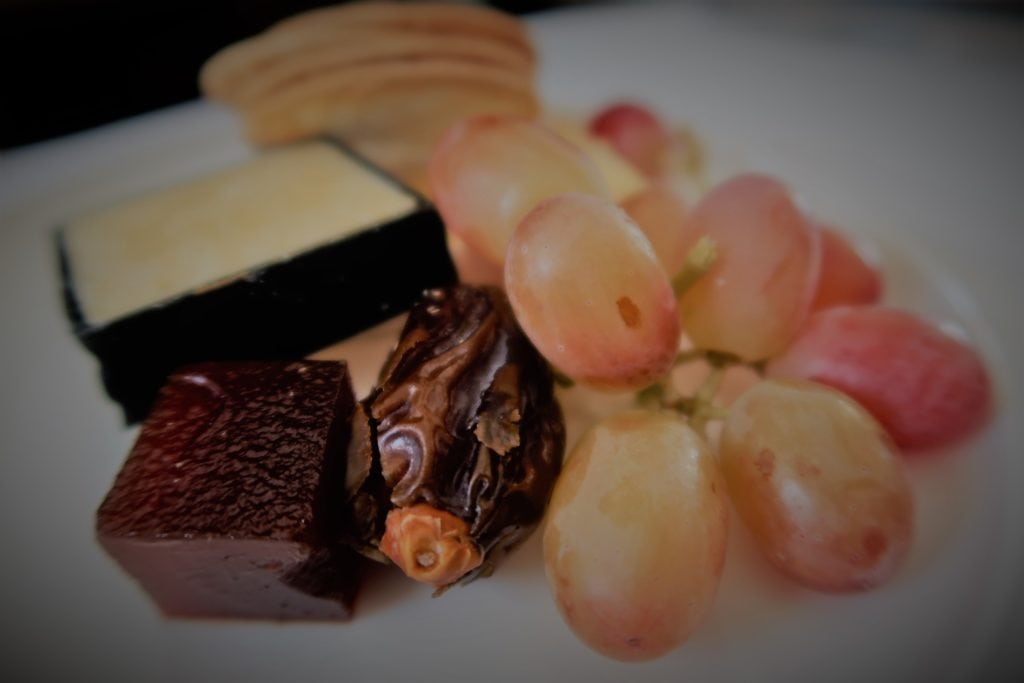 After my meal, I settled into work for half an hour, and it was soon time for our descent.
How does Qantas A330-200 business class compare to Qantas A380 business class?
When it comes to food, beverage and service, both Qantas business class offerings are delivered to the same level.
However, when you consider the hard product, Qantas A330 business class hard product is leaps and bounds above Qantas A380 business class. The new Qantas A330-200 business suite provides a cutting edge product, while Qantas A380 business class is now very worn, tired and in need of an upgrade.
Fortunately, as we've flagged here, Qantas A380 business class is in line for an imminent upgrade. In our opinion, it can't come soon enough.
Summing up: Try the Qantas A330 business suite if you get a chance
All in all, the Qantas A330 business suite is an excellent hard product, and the latest Qantas A330-200 business cabin is up there with the world's best business class. I was seriously impressed with my three-hour journey, and wouldn't hesitate to choose this product again. In fact, I'd place the hard product a notch above Qantas A380 first class, which I've previously reviewed here.
The well designed and stylish Qantas A330 business class suite offers everything from a fully flat bed to clever storage. And with an excellent Neil Perry inspired menu and quality wines on offer, the soft product is of a very high standard, too.
The A330 is rostered on to service the transcontinental routes of Sydney-Perth, Melbourne-Perth and Brisbane-Perth, as well as trans-Tasman routes. There are ample opportunities for you to try it. If you haven't done so, we suggest you fly it as soon as possible!
While you're here: Subscribe to our newsletter for the latest tips, deals and news. It only takes a few seconds and we respect your privacy: