Qantas began rolling out free Wi-Fi on their domestic Boeing 737 and Airbus a330 flights back in 2017. While it feels like it's been a very slow process, the Qantas WiFi rollout appears to have picked up the pace in recent months.
Up until recently, it was something I'd rarely encountered inflight. In fact, on a Qantas status run in January, I took seven domestic Qantas flights over a 48 hour period, and not one offered inflight connectivity.
However, as of the start of 2019, Qantas advises that in-flight WiFi had been installed on 42 of the airline's target of 75 Boeing 737 jets. It's understood that the remaining aircraft will be upgraded by the end of this year.
That represents over 50% of the domestic fleet, so there's a 1 in 2 chance that your next Qantas 737 flight will sport in-flight internet. Read on to discover how you can enjoy Qantas WiFi on your next flight, and find out the answers to questions that we commonly get from our readers.
How to check if your next flight is Qantas WiFi enabled
It used to be quite difficult to check if your next flight is enabled. Fortunately, there's no longer any need to delve into Flight Radar data or check for a WiFi dome on the plane itself. Now, you can simply look at the departure board to see if your next Qantas flight is displaying a WiFi signal: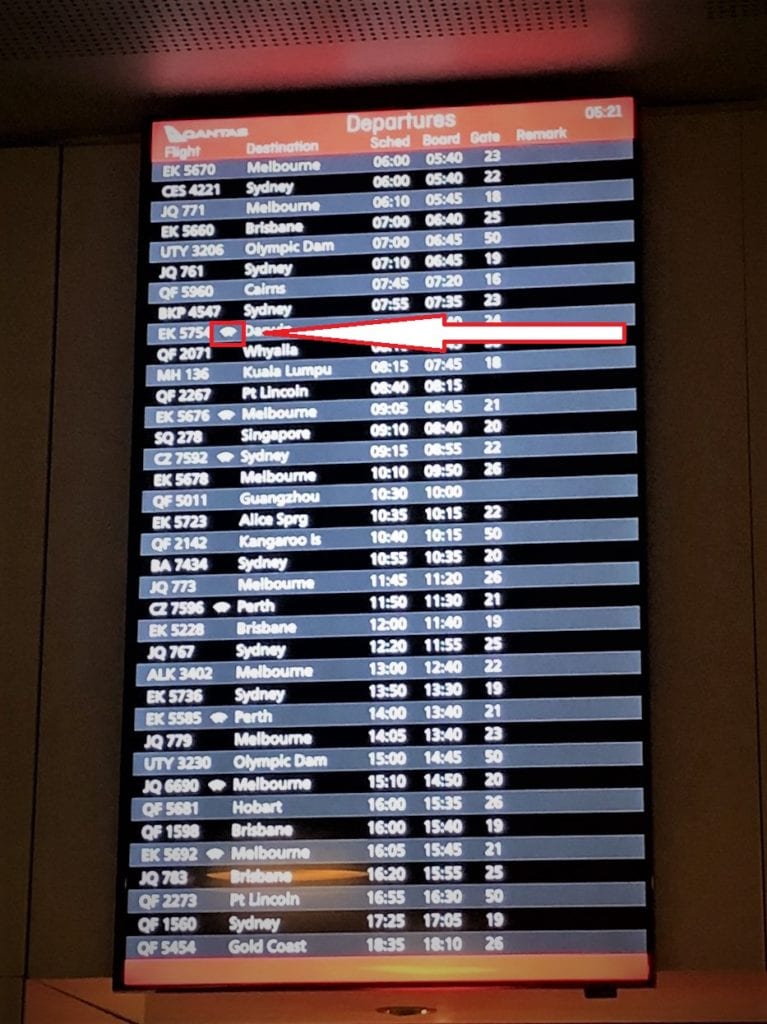 Too easy!
How do I connect my device to Qantas WiFi once onboard?
Once you've boarded the plane and taken your seat, check the seat pocket. If your flight is indeed WiFi enabled, you should find a Qantas WiFi instruction sheet tucked in behind the safety card.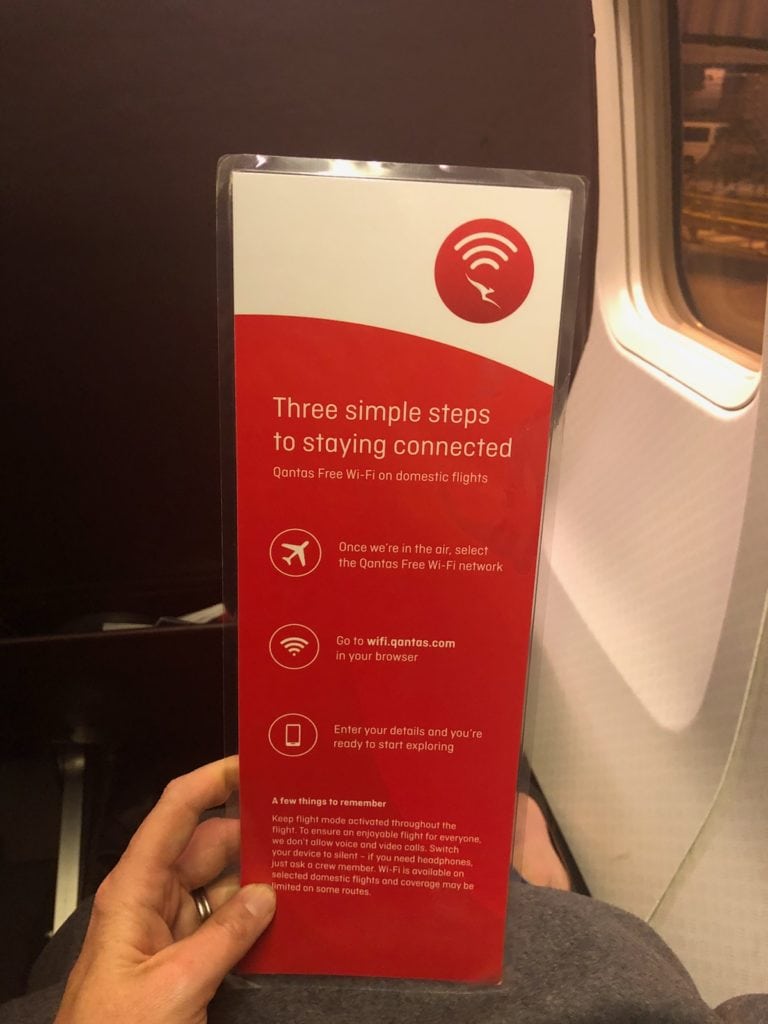 Sit back and be sure to activate your device to flight mode. Once you're at cruising altitude, you can connect your device to Qantas inflight WiFi in three simple steps, as follows:
Step 1: Select the Qantas Free WiFi network (you'll need to wait until the flight is in the air to do this. It isn't possible to connect to the network on the ground)
Step 2: Navigate to wifi.qantas.com in your browser
Step 3: Enter your details (your name and Qantas flight seat number), accept the terms and conditions and start browsing!
Which devices can be connected to inflight WiFi?
You can access the service with any device which has a WiFi connection and a browser. This includes laptops, smartphones and tablets. Remember that you'll only be able to access your laptop once the seatbelt sign has been switched off.
Are there restrictions on how Qantas WiFi can be used?
Yes, there are several restrictions that users need to take into consideration when using Qantas inflight Wifi. These are as follows:
You'll need to ensure you keep flight mode activated on your device throughout the flight
For the courtesy of others in the cabin, no voice and video calls are allowed. You're also asked to switch your device to silent
It's important to note that coverage and speed may be limited on some routes
Is Qantas inflight WiFi free in 2019?
Yes. Unlike other carriers (including Singapore Airlines and Emirates) Qantas does not currently charge for the use of inflight WiFi. Whether a charge is levied in the future remains to be seen. Some airlines, like Air New Zealand, operate free domestic inflight WiFi service but levy a charge for international usage. It is certainly possible that we could see a fee for Qantas inflight WiFi in the future.
Can I stream content for free?
Yes. Qantas has partnered with Foxtel, Stan, Netflix, and Spotify to allow customers to stream content for free while in-flight. We've tested out streaming in flight, and found that speeds are generally good.
Get exclusive access to partner offers
Browsing Qantas inflight WiFi? Keep an eye out for special offers. Users can navigate their way to exclusive partner offers that are only accessible when you're in the air. At the time of writing, Qantas inflight WiFi offers include:
Up to 4 months membership with Apple Music
Your first 3 audiobooks for free with an Audible trial
Access unlimited TV and movies with a free 3 month trial of Stan
Terms and conditions apply to these offers, and they are only available to users logged into Qantas inflight Wifi.
Is Qantas WiFi available on international routes?
No, sadly it is only currently possible for travellers to access inflight WiFi on Qantas domestic routes operated by 737 and A330 aircraft. Qantas has publicly stated that they are investigating an improved technology that will allow fast WiFi for our international routes, however, this appears to be a while off.
We'd love to see WiFi rolled out internationally, especially long-haul flights. We'll be reporting any news once available.
How does Qantas WiFi actually work?
Qantas has partnered with global broadband services provider ViaSat to use the NBN Sky Muster satellite service to deliver in-flight wifi.
The service works by utilising capacity in the spot beams of the two NBN Sky Muster satellites, which were placed in orbit by Arianespace. Primarily the satellites work in tandem to provide internet access across regional and rural Australia, but spare capacity is used to deliver Qantas services. As a Qantas plane flies through each of the fixed footprint spot beams of the satellite, the service is able to seamlessly transfer from one spot beam to another without impacting the user experience.
Will your next Qantas airplane offer inflight Wifi? We'll cross our fingers for you!
While you're here: Subscribe to our newsletter for the latest tips, deals and news. It only takes a few seconds and we respect your privacy: