The Champagne Mile recently took the Qantas A380 first class seat for a ride. Read on to find out what you can expect from the pinnacle of Qantas service.
How I booked my Qantas A380 First Class ticket
I booked my one way Qantas A380 first class award ticket via the Qantas website for just 90,000 points plus taxes. You could also book this seat via American Airlines (costing 50,000 points plus taxes).
Experiencing Qantas First Class lounge
The Qantas First Lounge, Sydney Airport is consistently rated amongst the best airline lounges in the world.
A few days before my trip, I received a courtesy call from the Qantas first class concierge. I was offered a pre-booked 20 minute spa treatment at the lounge and also asked if I required any on-the-ground assistance. With a 9am spa treatment locked in, I checked in online the evening before my flight. I headed to Sydney Airport very early the next morning in order to enjoy as much time as I could in the Lounge.
I'll be posting a separate, detailed review about the Sydney Qantas First Class Lounge. However, it's fair to say that this space more than lives up to its reputation as Qantas' flagship lounge offering. Highlights included no less than four non vintage champagnes on pour (Pommery, Mumm Rose, Taittinger and Perrier Jouet), a Neil Perry inspired a la carte dining menu and a relaxing treatment in the on-site Aurora spa. I certainly wasn't disappointed!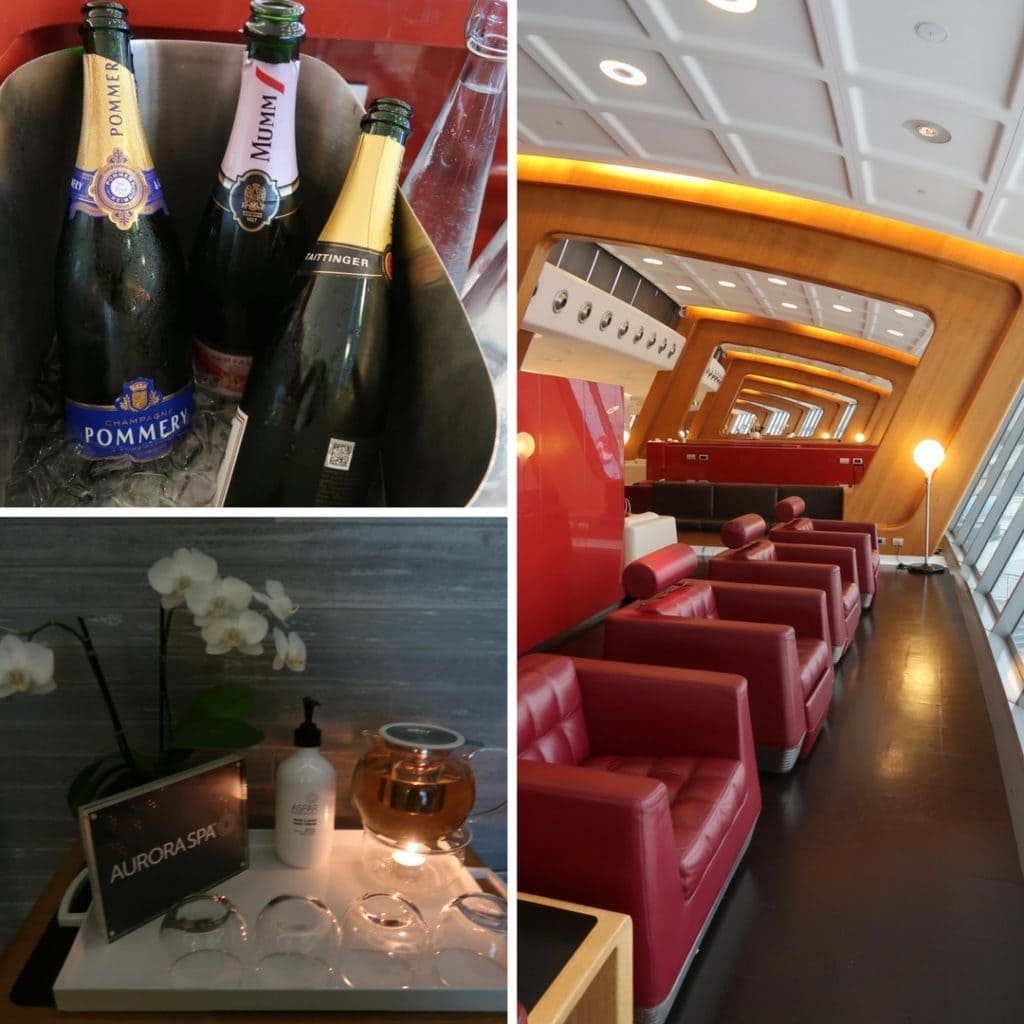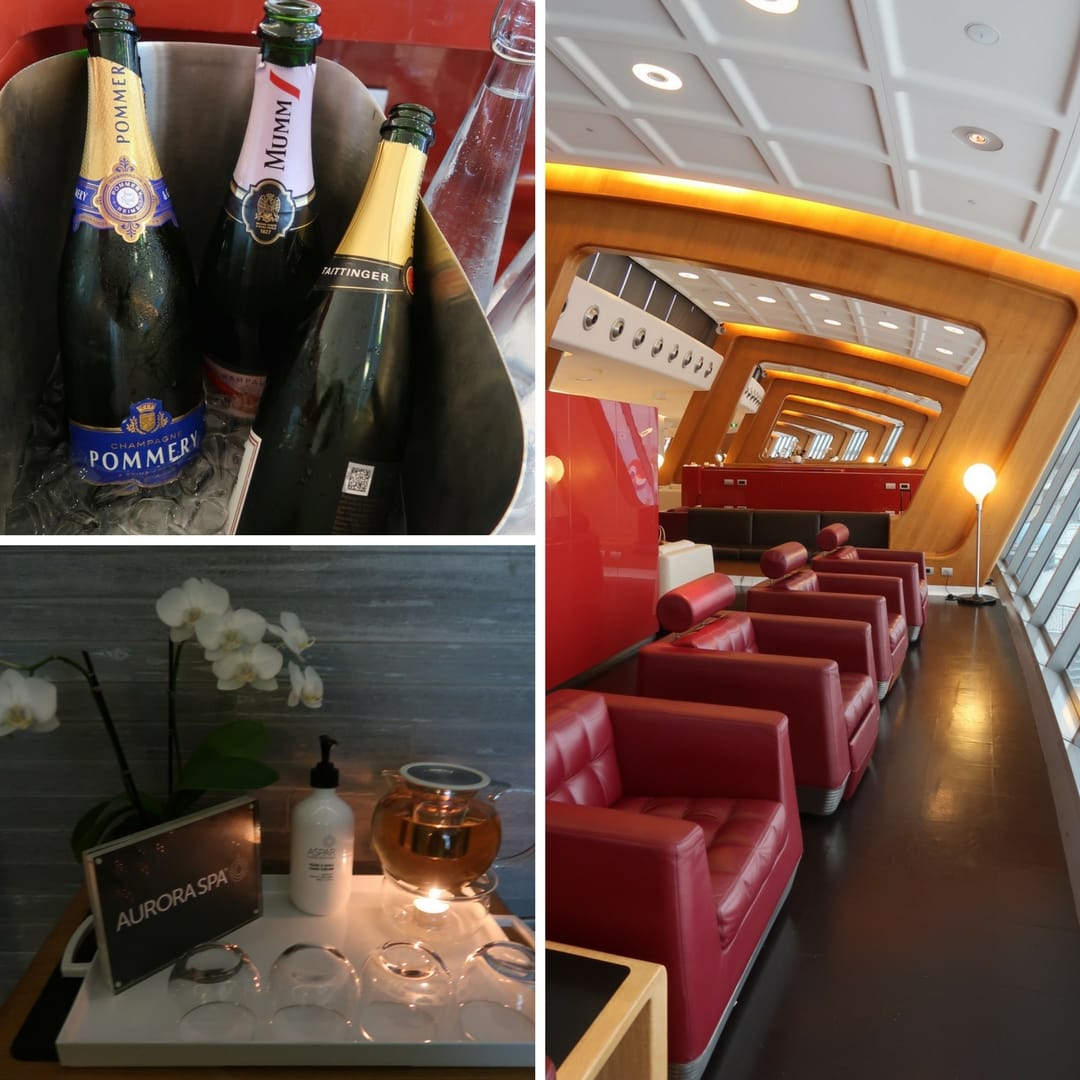 Initial impressions of the Qantas A380 first class cabin
I was cleared to board slightly early so that I could take some photos before the other passengers arrived. The 14 Qantas A380 first class 'suites' are arranged in a 1-1-1 configuration at the front of the A380 lower deck. Upon embarkation, I was warmly greeted by the crew and wandered in to take my first look at the Qantas A380 first class cabin.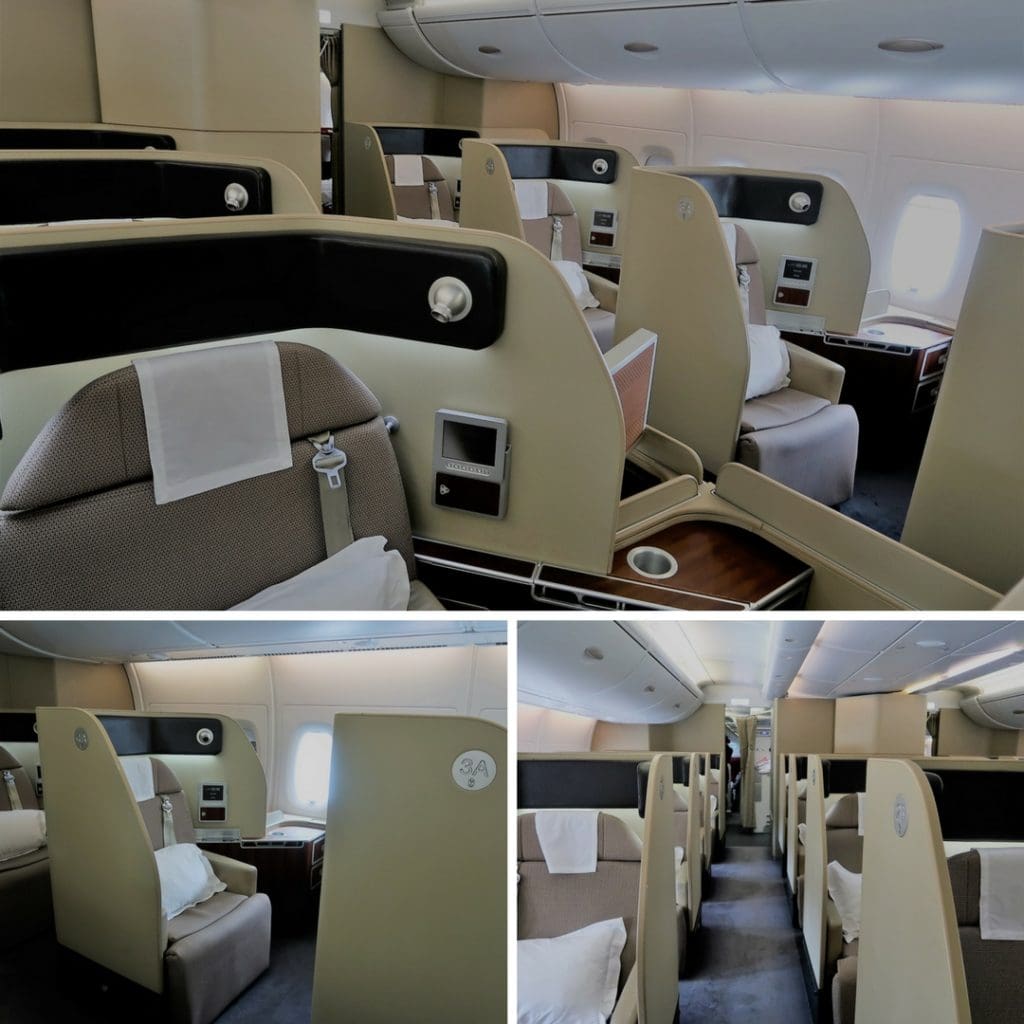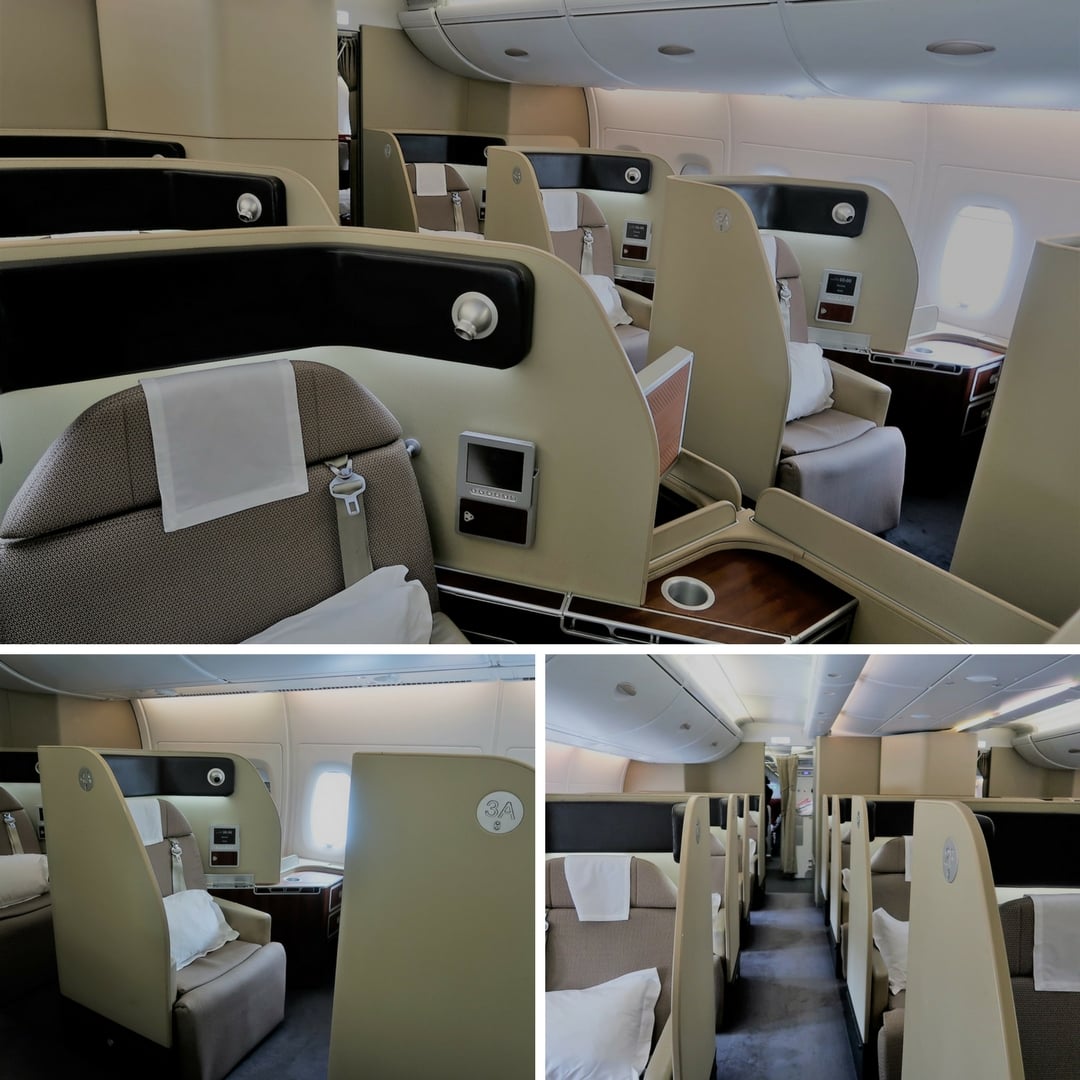 The iconic Qantas A380 staircase to the upper deck is situated at the front of the cabin. Ascending the steps, you'll find a self-service bar and mixed use first and business class 'lounge'. Beyond that, the Qantas A380 business class Skybed II seats are found. These are generally considered inferior to the Qantas A330 business class suite, and are in line for refurbishment over the next few years.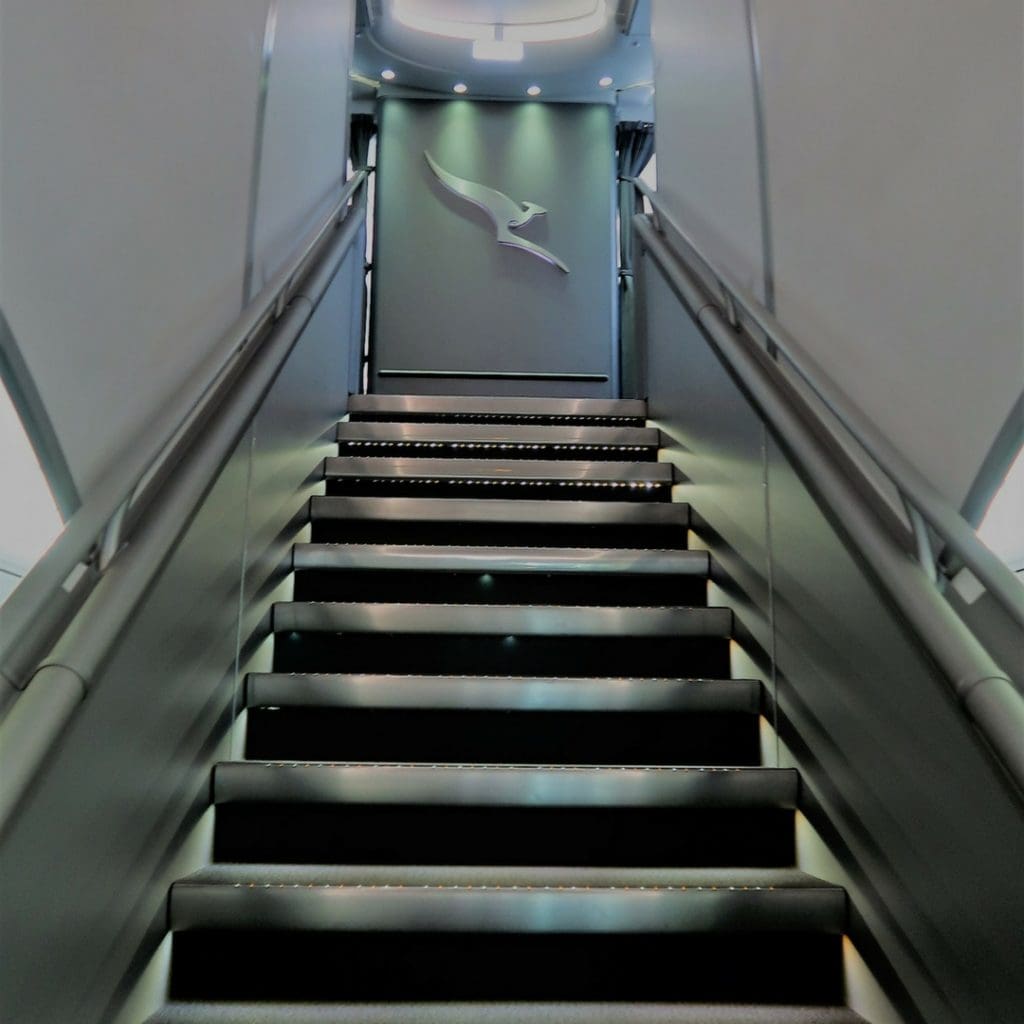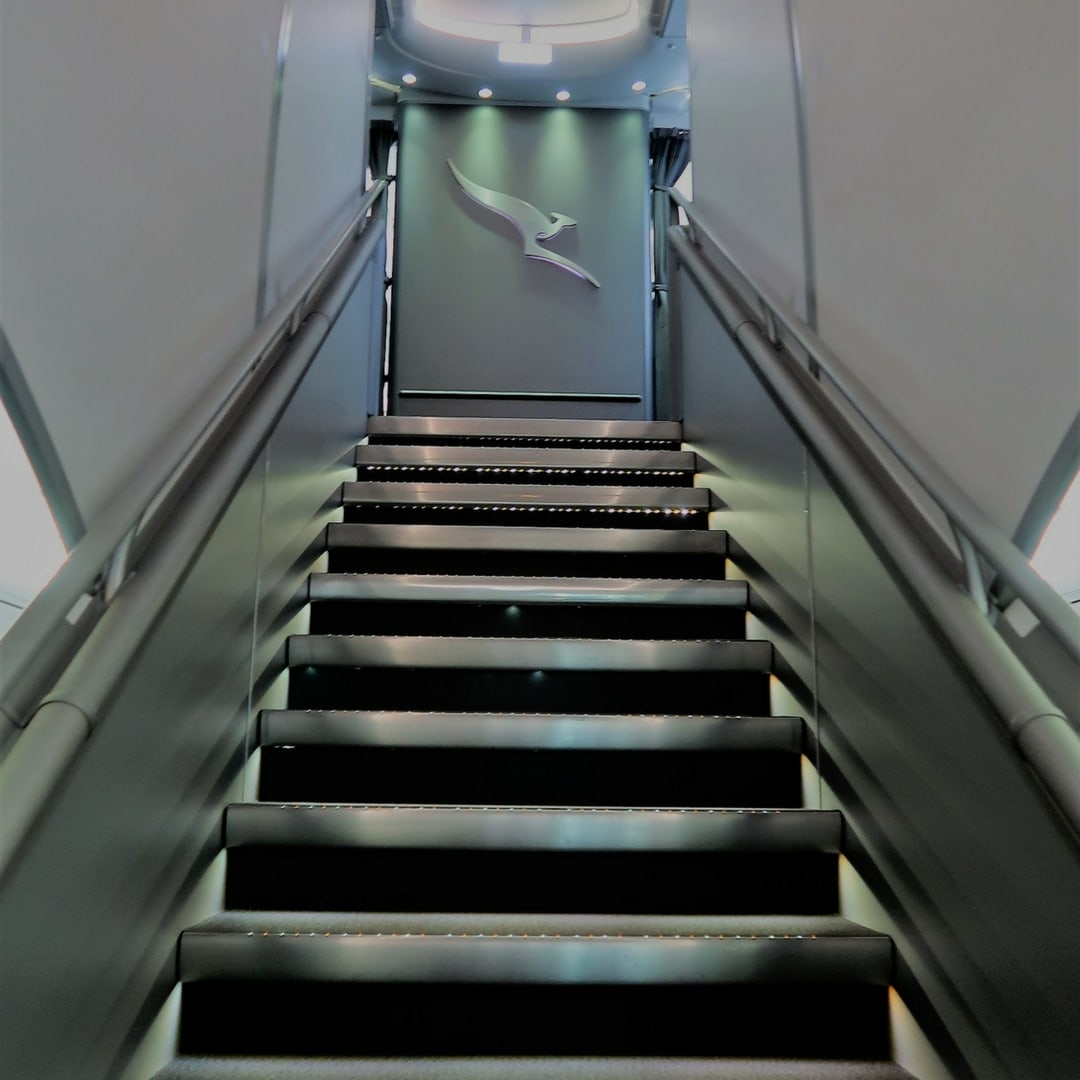 The 'lounge' located at the front of the Qantas A380 business class cabin is quite underwhelming. A long, red leather banquette couch takes up one side of the area, while a long and narrow magazine rack sits opposite, positioned underneath a mid sized screen. Unlike the Emirates A380 bar, this isn't an environment that is conducive to mingling or conviviality, and I didn't witness any passengers using the lounge during my flight. Overall, it feels like wasted space and it's good to hear that Qantas will be redesigning this area as part of their upcoming A380 refurbishment program.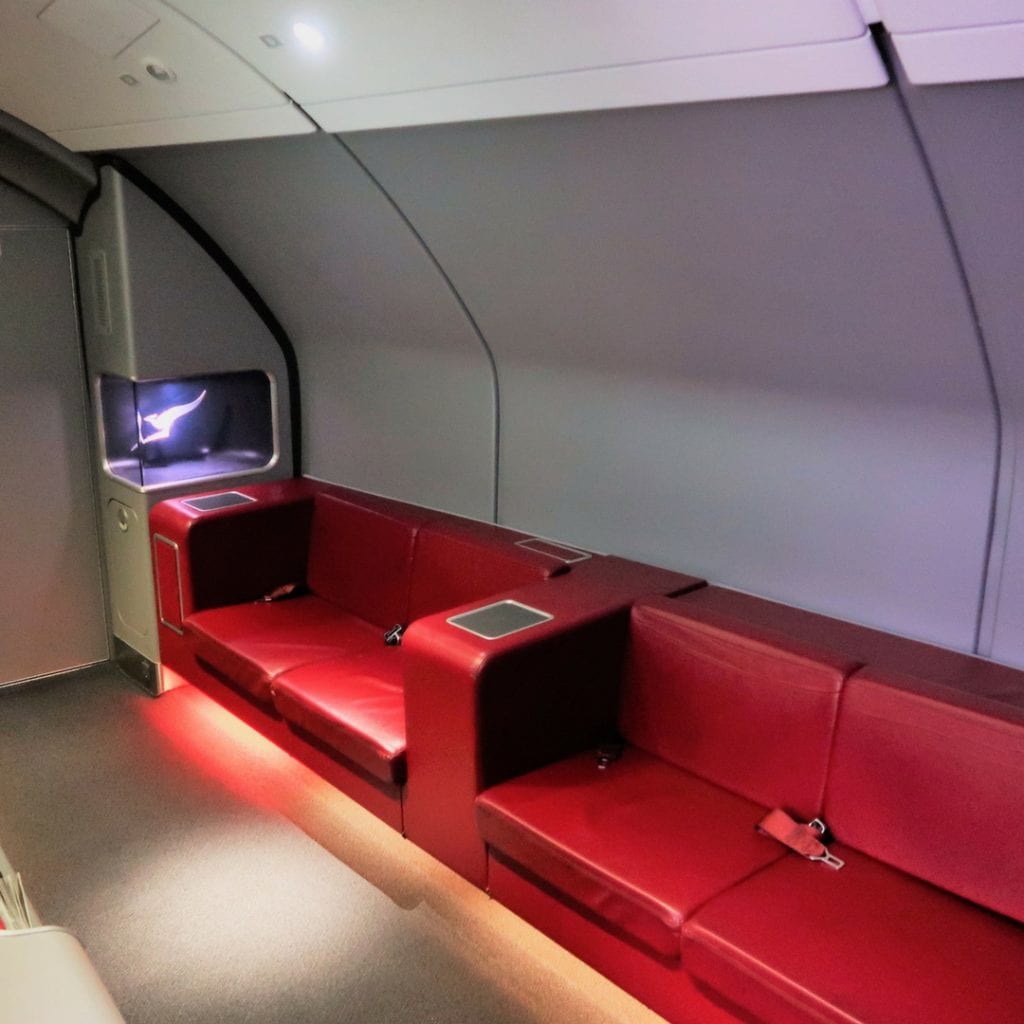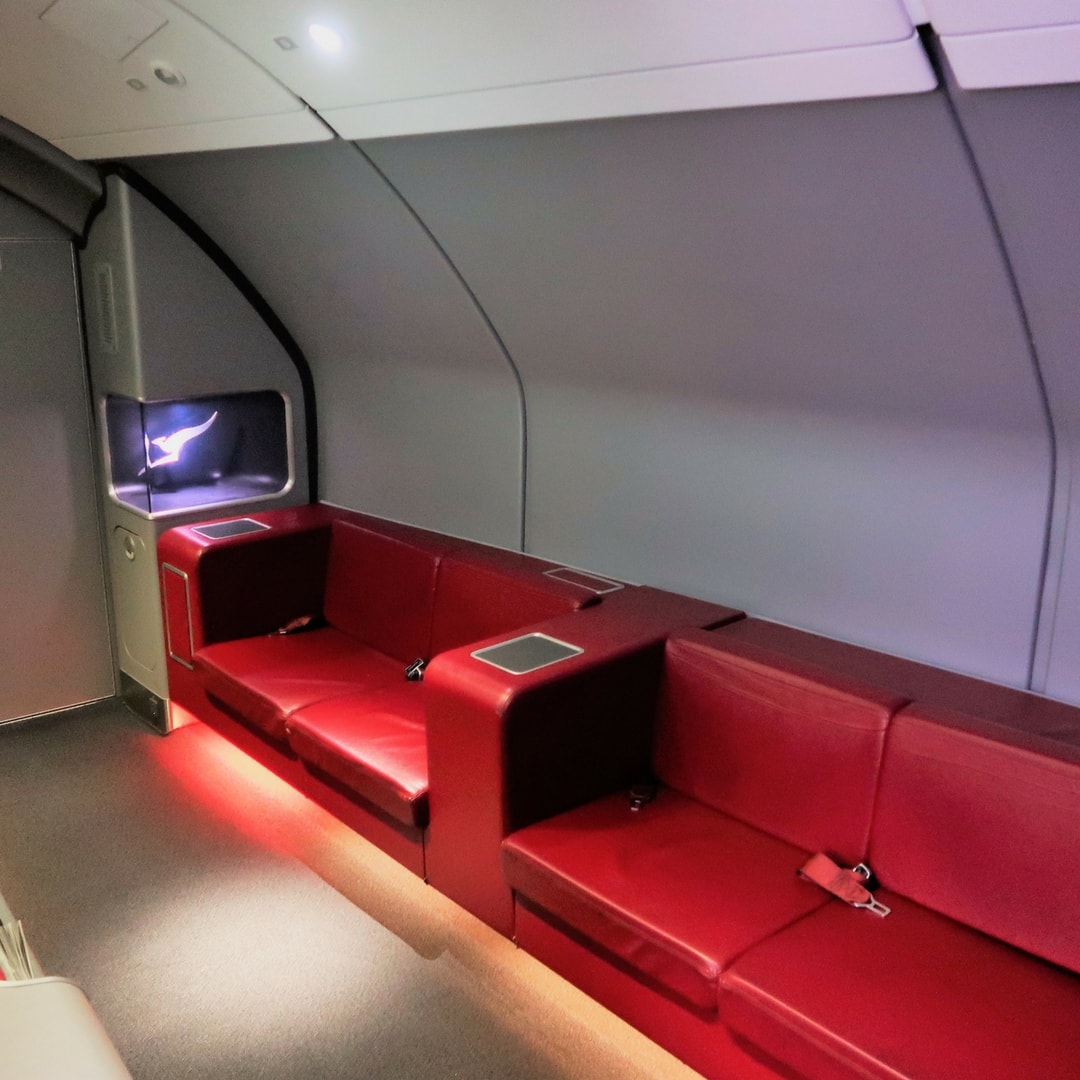 Features of the Qantas A380 first class suite
The first class suite offers a rotating seat upholstered in beige fabric, enclosed by a light caramel coloured privacy shell.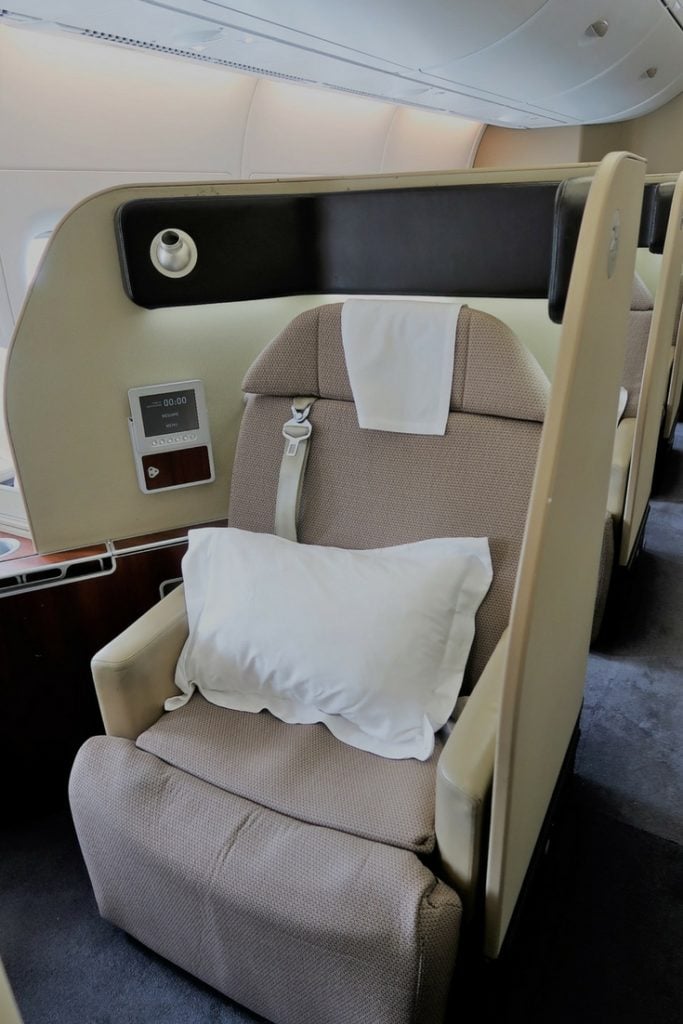 The seat pitch is 22.5 inches. At 10 years of age, my Qantas A380 first class seat had clearly endured some wear and tear, however it was still incredibly comfortable and spacious.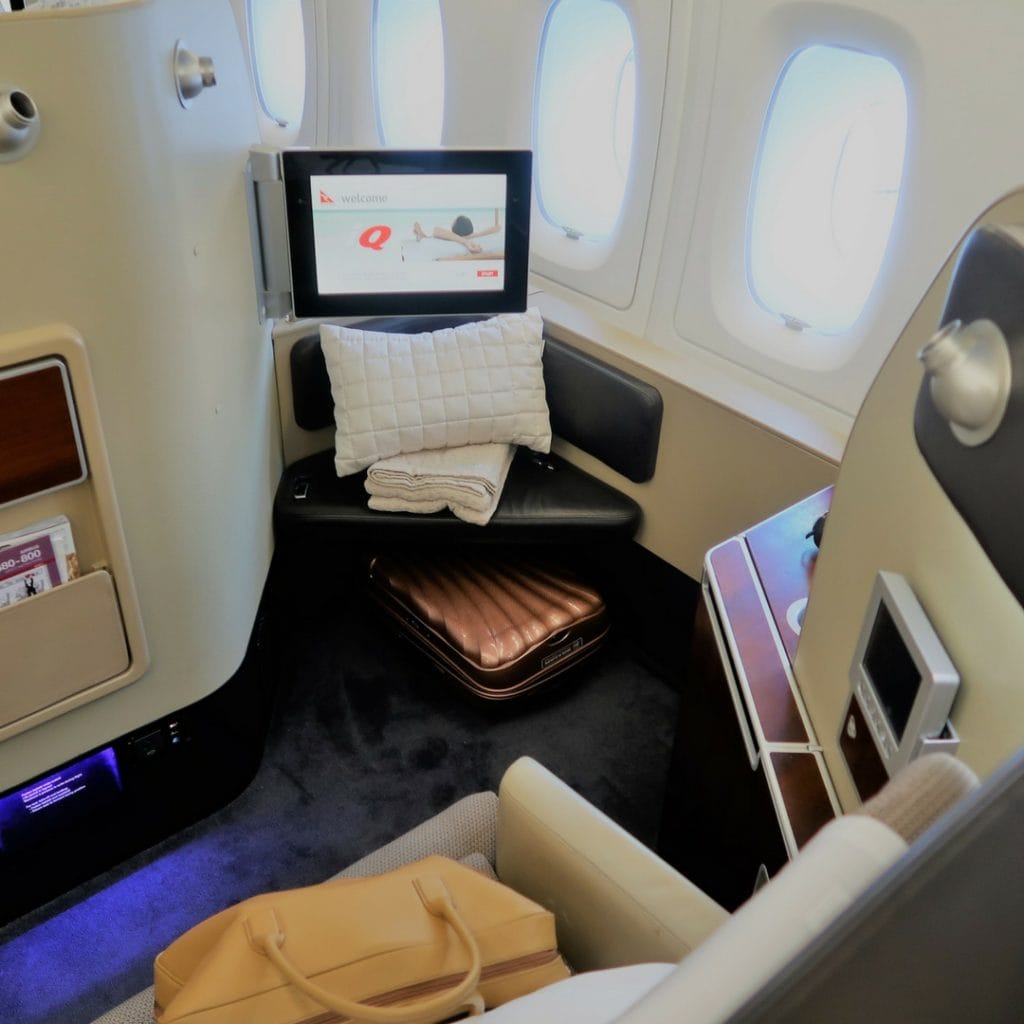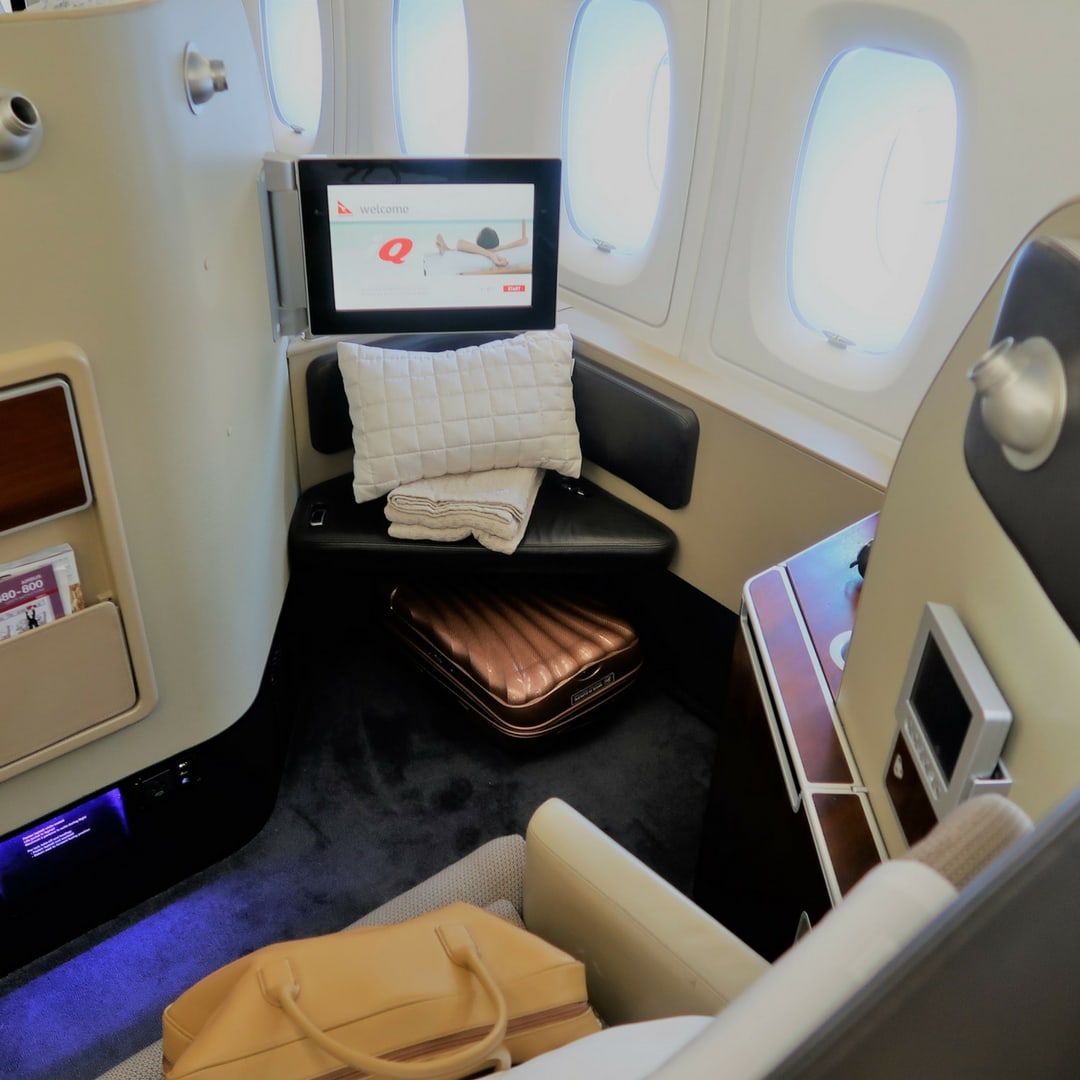 During take-off the seat faces forward. However it is easily rotated 45 degrees in-flight using one-touch preset options, allowing you to face your dining table and entertainment screen.
In front of the seat, you'll find an ottoman (packed with luxury Sheridan bedding and pillows), which can also be used as a seat for a dining companion. The 43 centimetre entertainment screen is positioned quite far away, and is definitely easier to view once the seat has been rotated. The screen can be closed as part of the sleeping preset mode.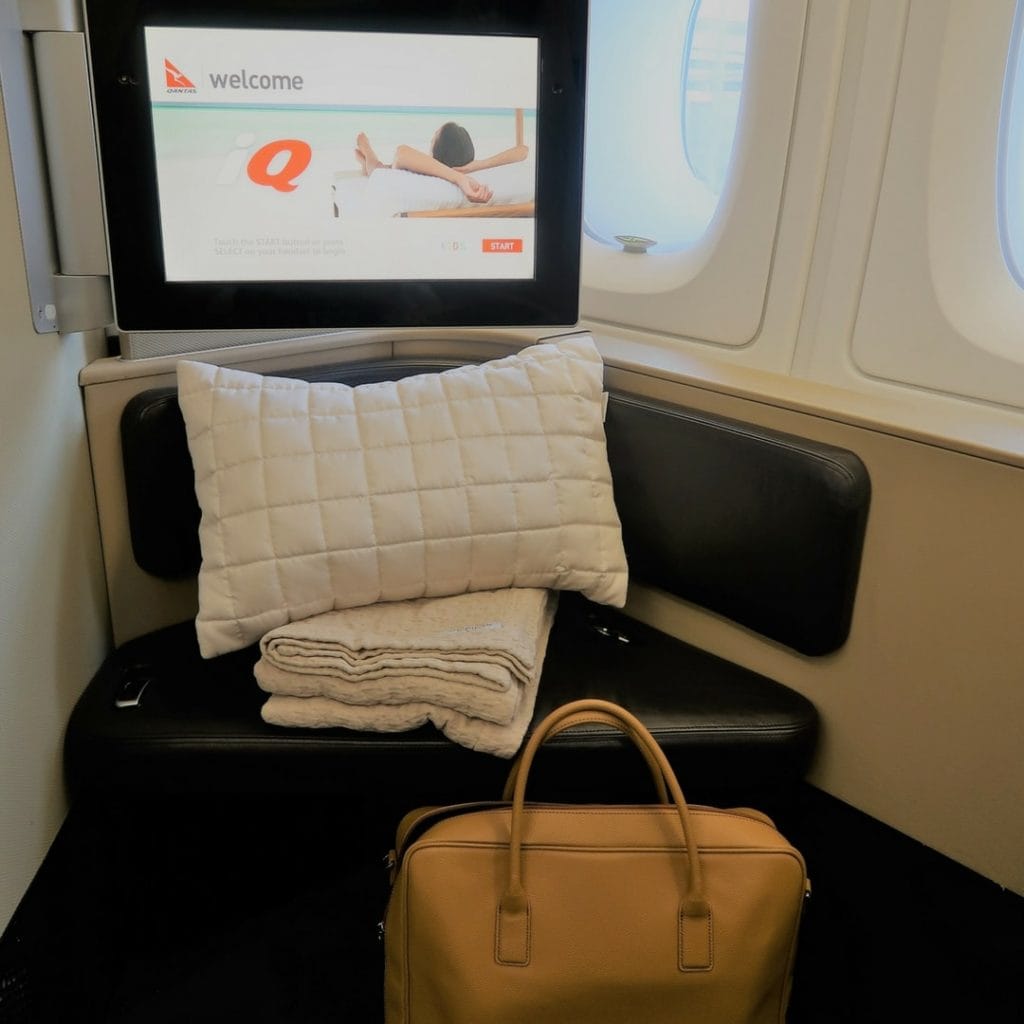 A number of storage compartments are provided in the Qantas A380 first class suite. These include a bank of pull tab drawers, a deep cup holder, drop down mini table (well positioned for housing pre-flight champagne and canapes), and a magazine storage rack. Convenience is at hand with a bank of power and HDMI sockets located under the magazine rack, and entertainment controls located within the arm rest.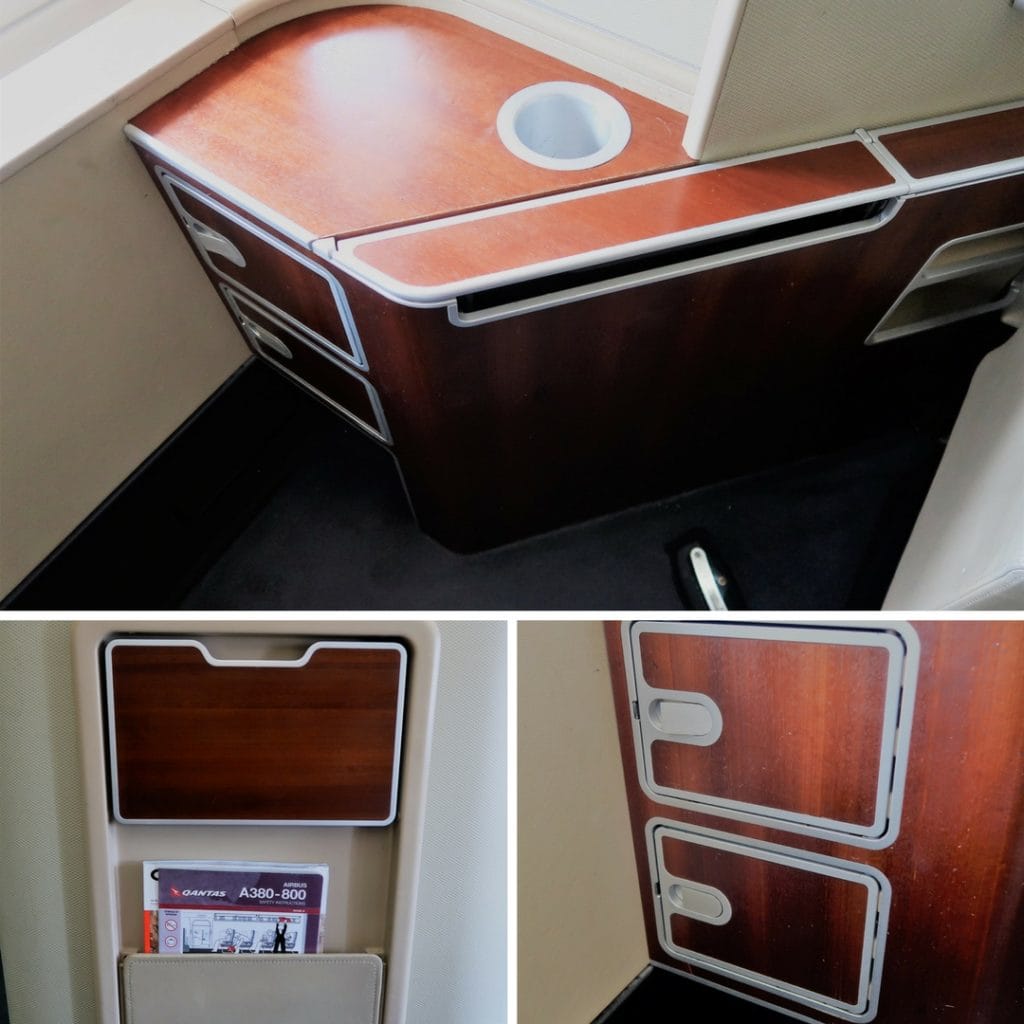 A centralised suite control mechanism is built into the chair's privacy shell. From here, you can control everything from the dining and sleeping presets to the lighting, window shades and entertainment. There is even a series of massage presets.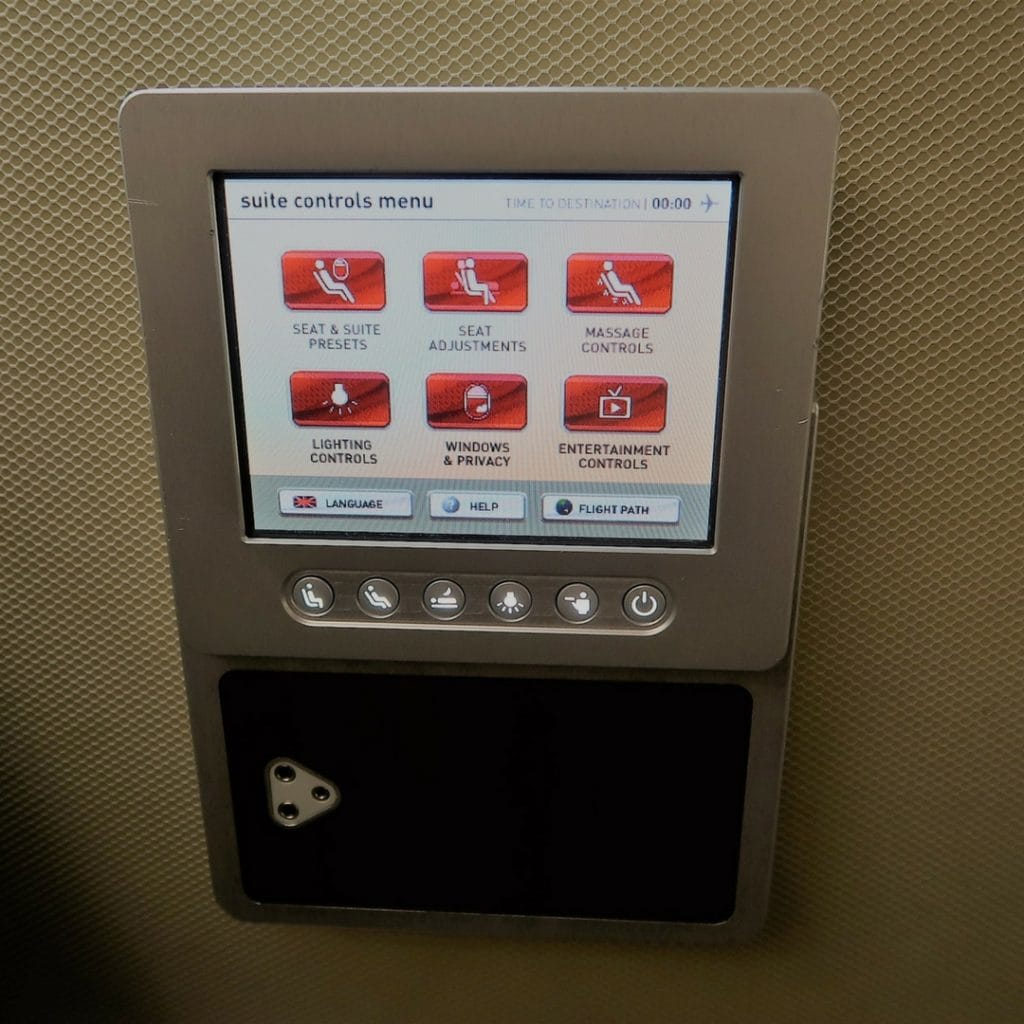 The pull out dining table is located in the armrest of the seat. It's fully extendable, allowing you to enjoy a spacious dining set up with a travelling companion, should you wish to do so.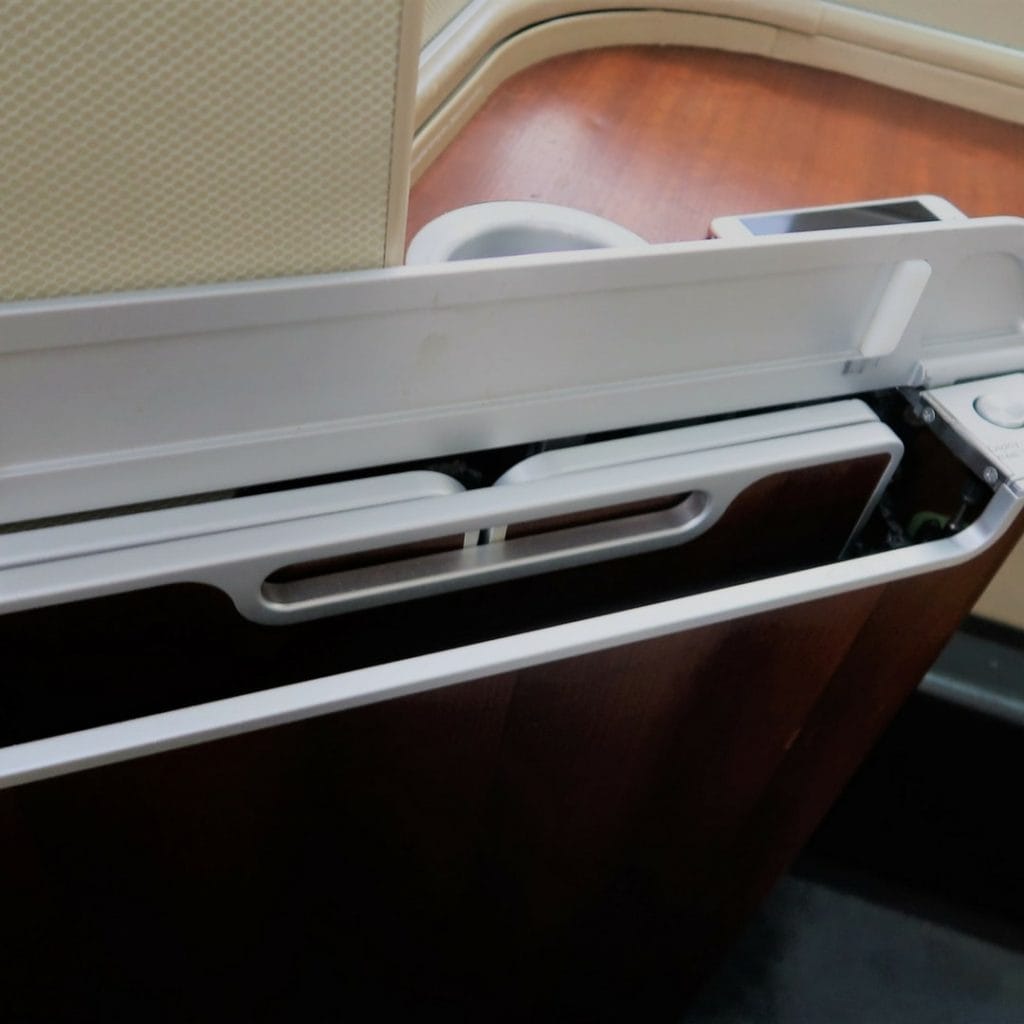 Qantas A380 first class amenities
A set of Qantas noise cancelling headphones is provided. While these were adequate for watching the in-flight entertainment, I didn't find them to be of the highest quality. If in-flight noise cancelling is a priority for you, then you'd do well to bring your own.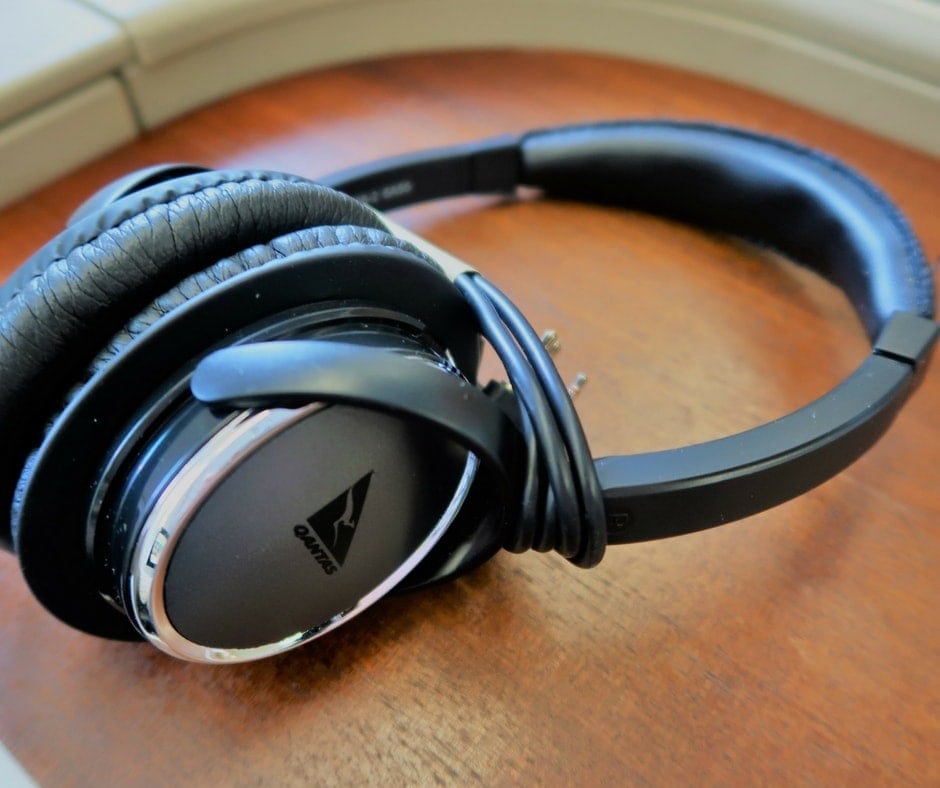 Qantas is famous for its pyjamas, and rightly so. The current Qantas first class pyjamas are designed by Martin Grant. The dark navy sleepwear is constructed from 100% cotton and is light and comfortable. The unisex pyjamas are presented in a drawstring bag with matching slippers.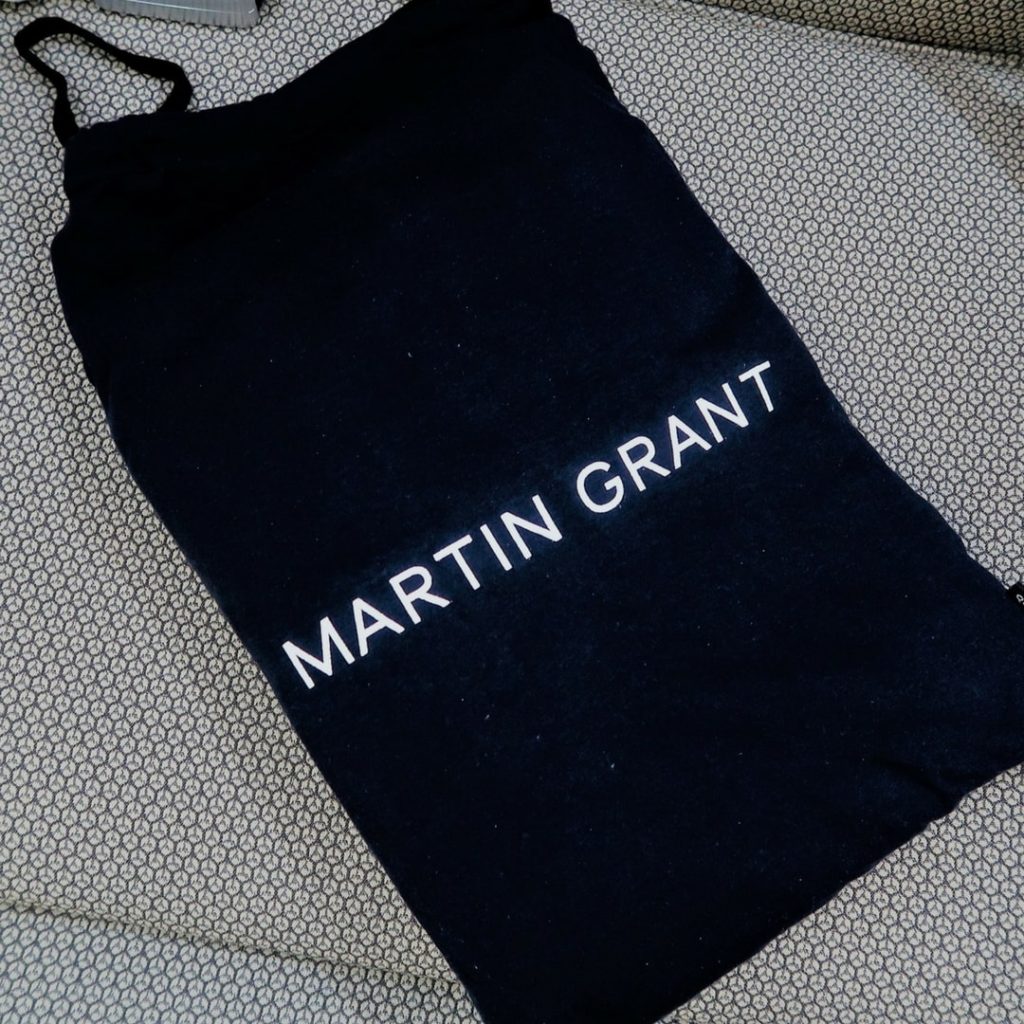 Opening up the stylish Martin Grant designed Qantas A380 first class amenity kit, you'll find a collection of botanical-based products from Aurora Spa Rituals (ASPAR). An individual hand cream, lip moisturiser, facial mist and moisturiser are presented in the female amenity kit, along with a Rexona deoderant, socks, ear plugs and toothbrush. A Martin Grant designed padded '3D' eye mask helps to block out light when you turn down the covers for sleep.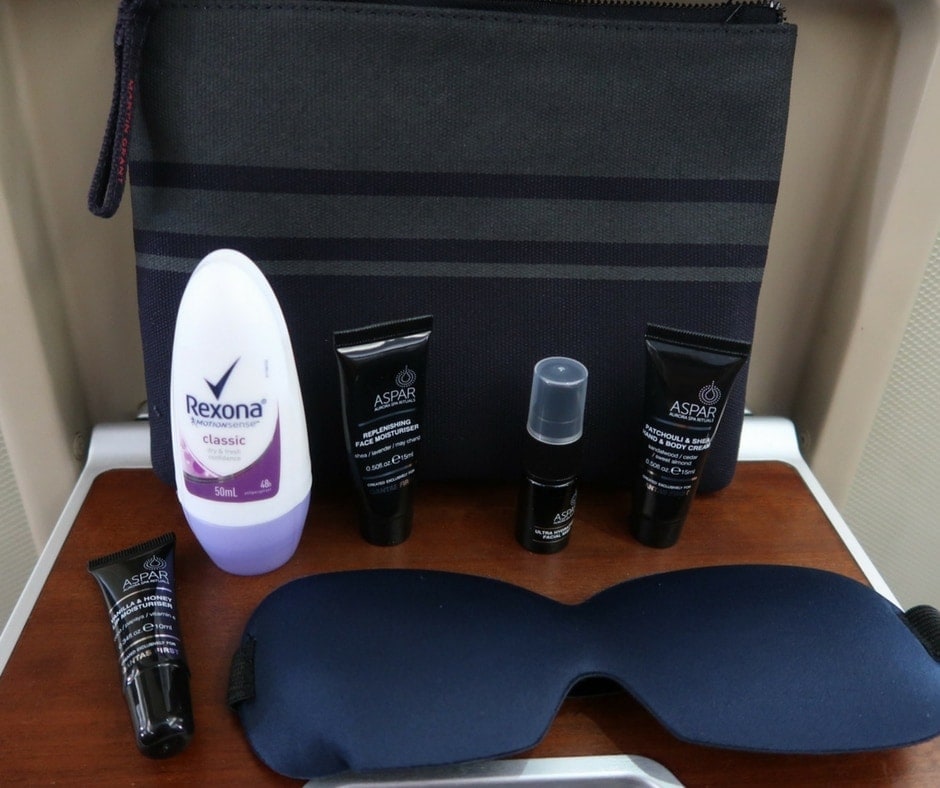 Qantas A380 first class inflight dining experience
The Qantas A380 first class in-flight menu proudly advertises three high-end champagnes: Taittinger Comtes de Champagne Blanc de Blancs, Pol Roger Sir Winston Churchill and Veuve Cliquot La Grande Dame. However, only one champagne, Veuve Cliquot La Grande Dame 2006, was available on my flight. I enjoyed it immensely. The 2006 vintage of this champagne is currently retailing for $250 per bottle at Dan Murphys.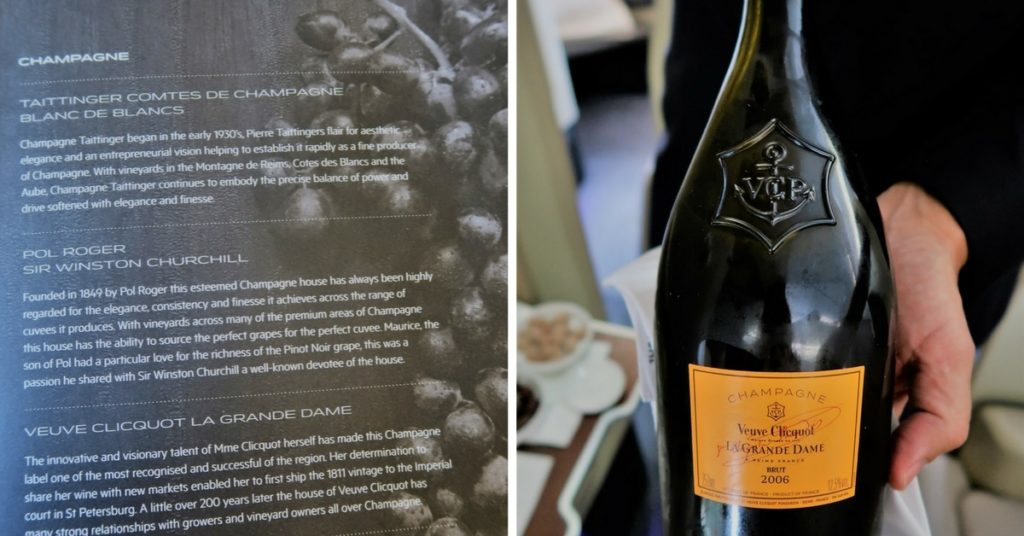 My glass of champagne was presented with roasted almonds and olives. These were delightful pre-departure nibbles.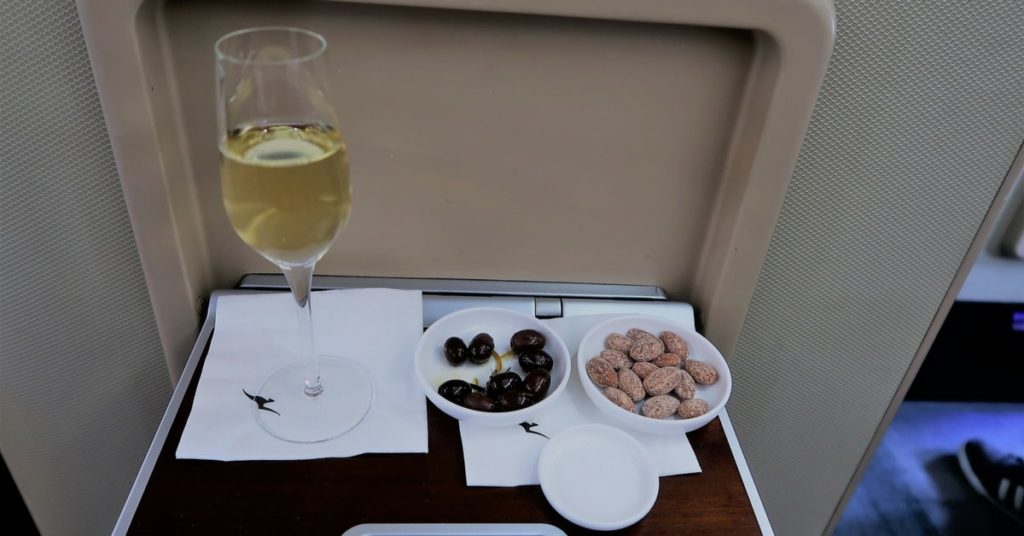 As we took off, I took the chance to review the menu. The wine list included one champagne, three white wines, three red wines and a sticky wine. While perfectly acceptable, most of the white and red wines on offer retail around the $25-$50 mark, and none held first class 'wow' factor for me. I couldn't help but think that the wine list would benefit from the inclusion of a flagship Australian red wine to showcase to international travellers. Perhaps something along the lines of a Penfolds RWT or Henschke Mount Edelstone.
Once we'd reached cruising altitude, the crew came around to take lunch meal orders and to present two canapes – a caviar tartlet with sweet onion cream and a spicy lamb and pine nut finger with sumac yoghurt. Both items were delicious.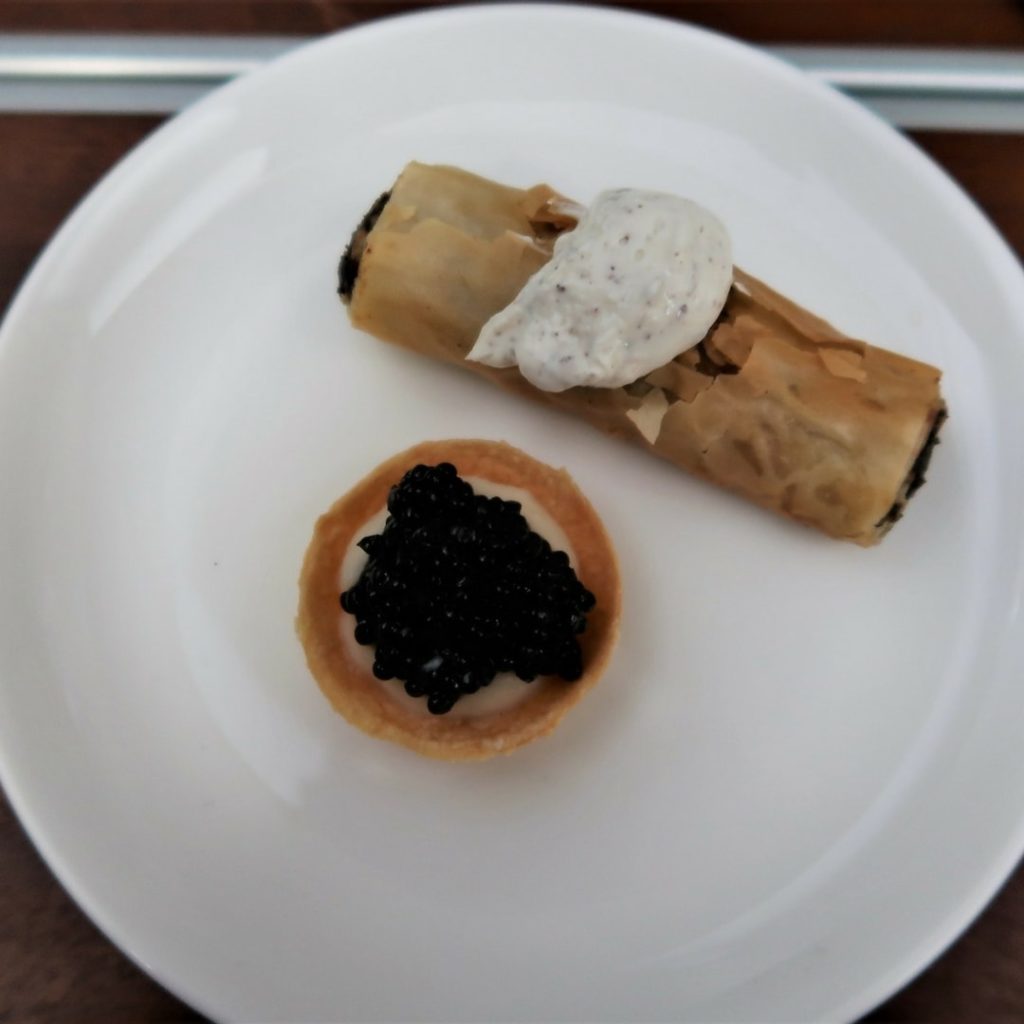 The crew then dressed my table with fine linens, ready for the proper lunch service. I swivelled my armchair around to the correct position and adjusted the lighting using the one touch dining preset seat control.
For my entree, I enjoyed grilled prawns with chipotle butter and tomatillo salsa on Mexican rice. The dish was light and bright, the prawns juicy and well cooked.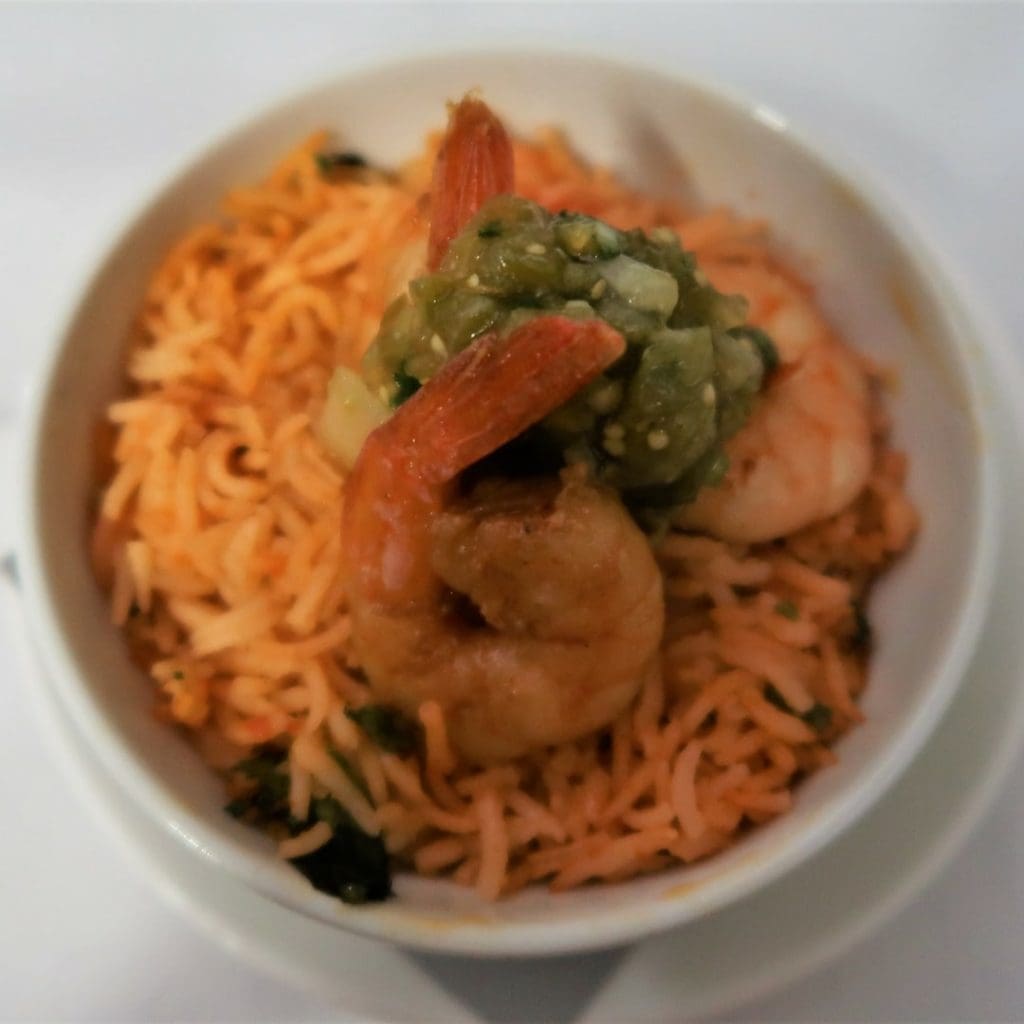 For my main course, I chose the Rockpool Bar and Grill style beef, served with broccolini and a potato and cabbage gratin and a side of horseradish. The beef fillet was a clearly a quality cut of meat, but was unfortunately overcooked. The creamy potato and cabbage gratin was the hero of the day. Baked directly within the dish, it held rich, luscious flavours, the ultimate in comfort food!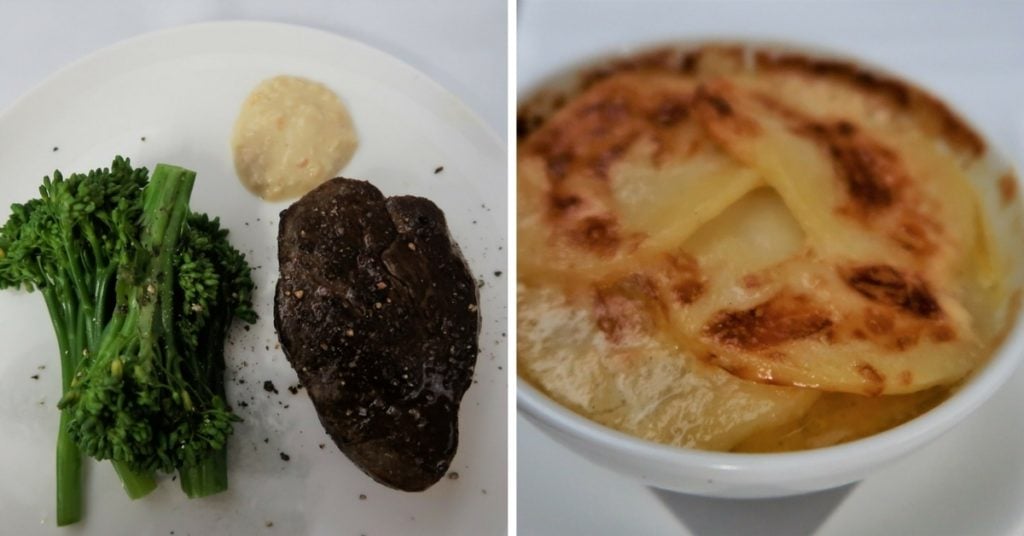 To finish my meal, I enjoyed the Spice Temple inspired caramel, chocolate and sesame ice cream sandwich along with a black coffee.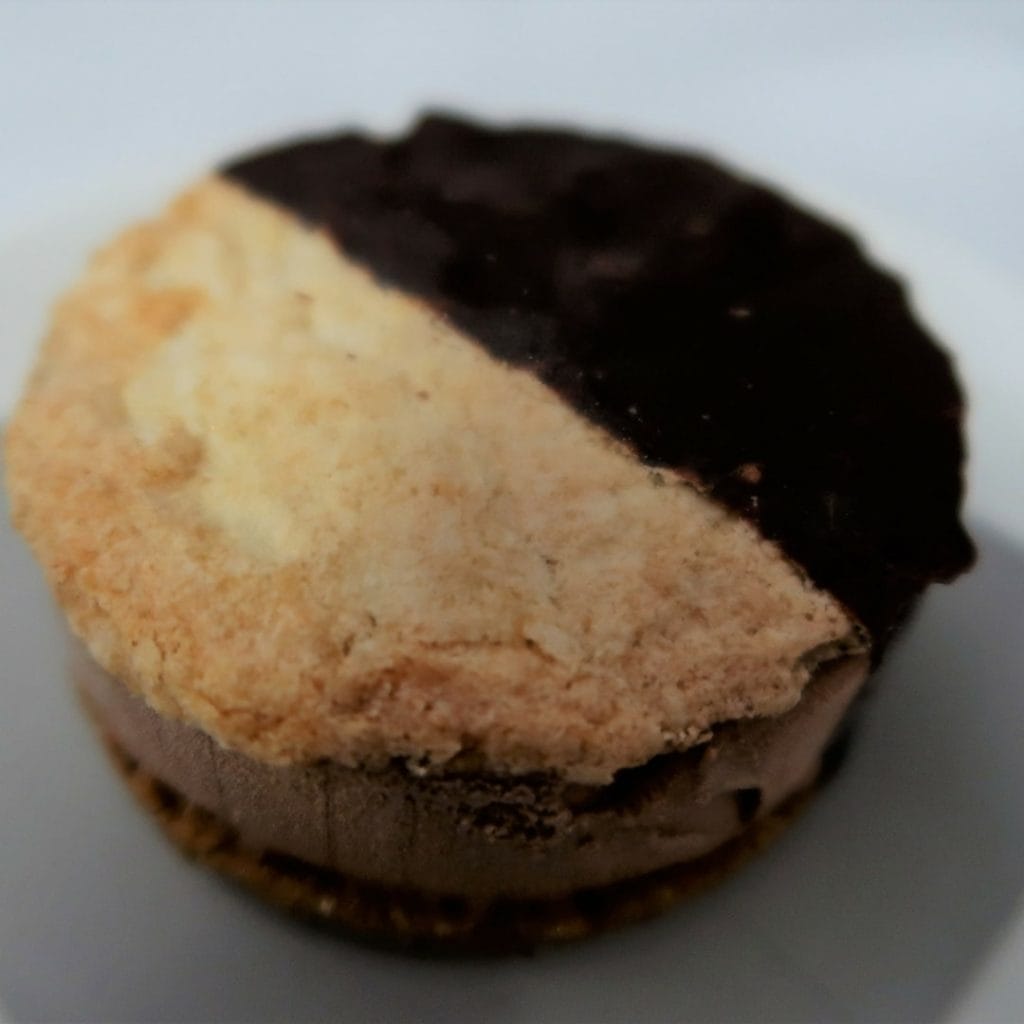 Qantas A380 first class turn-down service
After my meal, and a three episode binge of Dr Foster Season 2, I decided to try out the turn-down service. Qantas A380 first class passengers enjoy a range of luxurious bedding products created exclusively by Sheridan. The bedding is indeed supremely comfortable and includes a memory foam mattress, super-soft sheeting, a duvet cover made from soft-touch tencel and a 100% combed-cotton woven throw.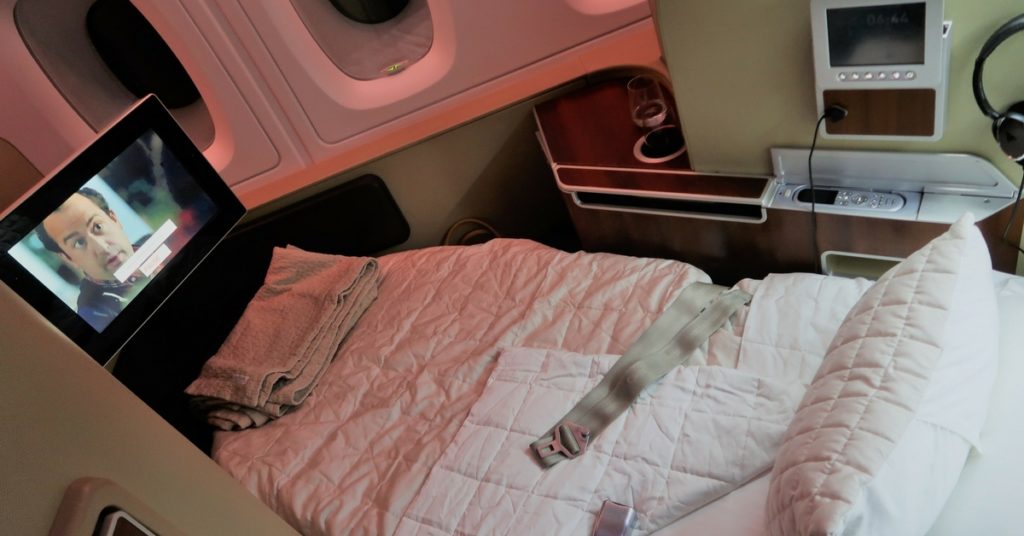 Several different pillow options are provided, including the lightweight Sheridan Ultimate Comfort Pillow and soft-touch bolster cushion.
Before long, it was time for our descent into Singapore. I arrived relaxed and refreshed from my journey.
Overall thoughts
No one likes to travel economy class, and in my opinion, Qantas first class is worth experiencing, even if it's just once. With Qantas points being quite easy to come by, Qantas first class redemptions are very accessible to Australian based travellers.
The standard of the service offering and hard product don't match Singapore Airlines, and you won't quite over the top decadence of the Emirates first class suite. However, Qantas still offers a high quality first class product, particularly in terms of the food and bedding.
That being said, at ten years of age, Qantas A380 first class is starting to look a bit worn, and is struggling to complete with the more exciting first class offerings of other leading airlines. The upcoming A380 refurbishment program is arguably somewhat overdue.
If you'd like to book this first class flight, you can do so using Qantas Frequent Flyer points.