There's sipping cocktails and then there's sipping cocktails at cruising altitude…
Picture this: You're perched at the glamorous horseshoe-shaped Emirates A380 bar, bathed in soft mood lighting. A bartender furiously shakes a cocktail and you sip on a glass of fine champagne, contemplating the tempting spread of canapes in front of you. Guests around you mingle and chatter and a live-stream sports game plays on the big screen.
While you could be at a high-end local watering hole, you're actually on the upper deck of the Emirates A380 – flying at 40,000 feet.
The iconic Emirates A380 onboard lounge is a popular area for travellers to wander from their first or business class seats to perch during a long-haul journey.
As a self-confessed AV geek, it's one of my personal favourite aviation experiences (coming only second to the Emirates first class shower spa).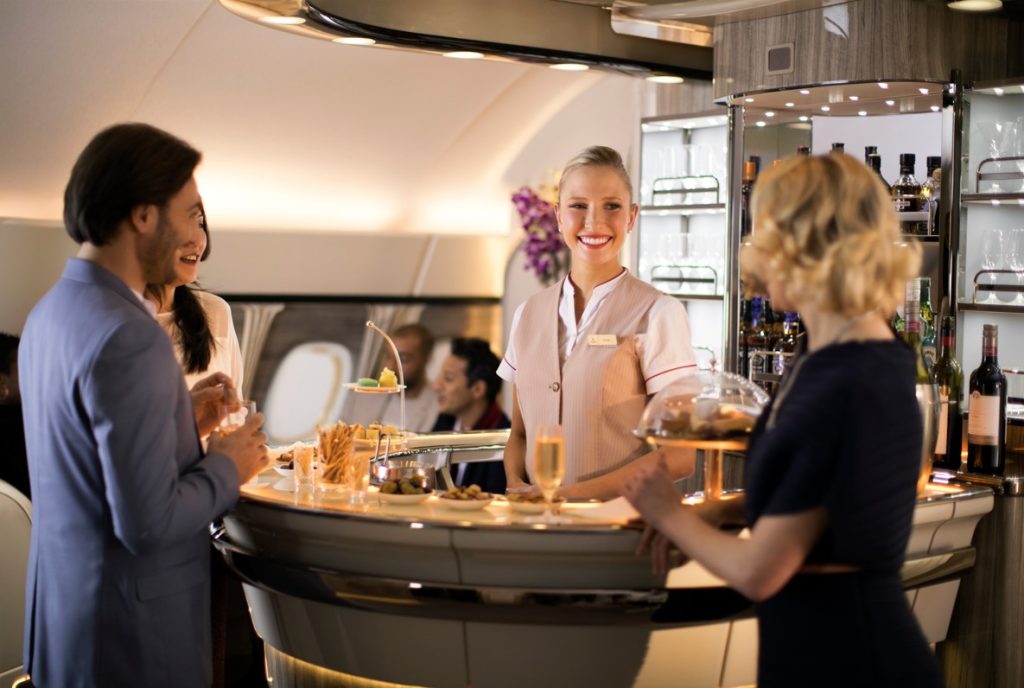 Curious about what to expect from a visit to the Emirates A380 bar, or keen to find out how you can score entry to this ultra-exclusive space? Read on to find out everything you need to know.
When can passengers access the Emirates A380 bar?
Unlike other airline lounges (the rather lackluster Qantas first and business class lounge coming to mind), the Emirates A380 bar is fully tended for the duration of your flight.
The Emirates lounge area and bar are accessible from the moment that the seat belt sign has been switched off, until preparation for landing. After takeoff, a great deal of effort goes into transforming the space into an inviting and welcoming area.
From applying soft mood lighting and setting out a tempting array of canapes to displaying a spirits lineup that your local bar would envy, the busy Emirates cabin crew get to work right after takeoff.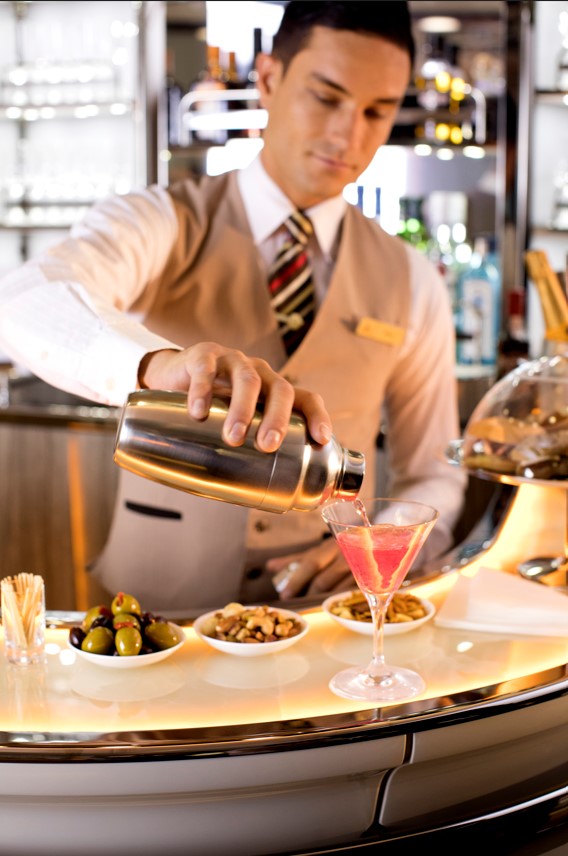 Who can access to the Emirates A380 bar?
The Emirates A380 bar is accessible to all Emirates first class and business class passengers. As expected, economy class passengers aren't granted a pass, and neither are those flying premium economy.
Australian or New Zealand based travellers looking to experience the Emirates A380 bar at a low cost might consider booking a leg in first or business on the Emirates A380 Sydney – Christchurch service.
While Emirates has pulled back from many of its previous fifth freedom trans-Tasman flights, with routes including Melbourne, Sydney and Brisbane to Auckland getting the chop, passengers can still score a Sydney — Christchurch award ticket via the Qantas website.
At just 43,800 Qantas Points one way in business class (or 64,500 one way in first class) plus carrier charges, this redemption is a bargain in anyone's book — it's one of my top three cheapest first class redemptions!
Providing you can snatch up limited award availability, this ultimate business class experience is a very accessible opportunity for members of the Qantas Frequent Flyer scheme.
Where is the Emirates A380 bar and lounge area located?
The Emirates A380 bar is situated at the rear of the upper deck, immediately behind the business class cabin.
It's something of a trek from the Emirates first-class cabin, which is located right at the front of the A380 upper deck. However, first-class passengers keen for some inflight exercise will likely appreciate the opportunity to stretch their legs.
Moseying down to the bar and lounge area during your flight, you can either perch to stand at the central cocktail bar, or at one of several bar-height tables or shelves.
You'll find seating areas on both sides of the bar (complete with seat belts, which you'll need to fasten if unexpected turbulence hits). These can be handy for making use of the Emirates inflight WiFi during your visit.
Sports games and alcohol are known for uniting folk, which is presumably why you'll also find a large TV screen and refreshment shelf are located at the back of the bar, offering yet another reason to stay and mingle amongst other passengers in the premium cabin.
What to expect: Emirates A380 bar and lounge menu and refreshments
The Emirates A380 bar offers an array of bar snacks and bite-size finger foods to tide travellers over until their next in-seat meal. Items such as cheese sticks, chips and olives, petite sandwiches, wraps and sweets are all temptingly arranged on display platters.
You'll also generally find a menu perched at the bar. On offer are several more substantial hot snacks, which can either be served to you in the bar and lounge area or in the comfort of your own seat.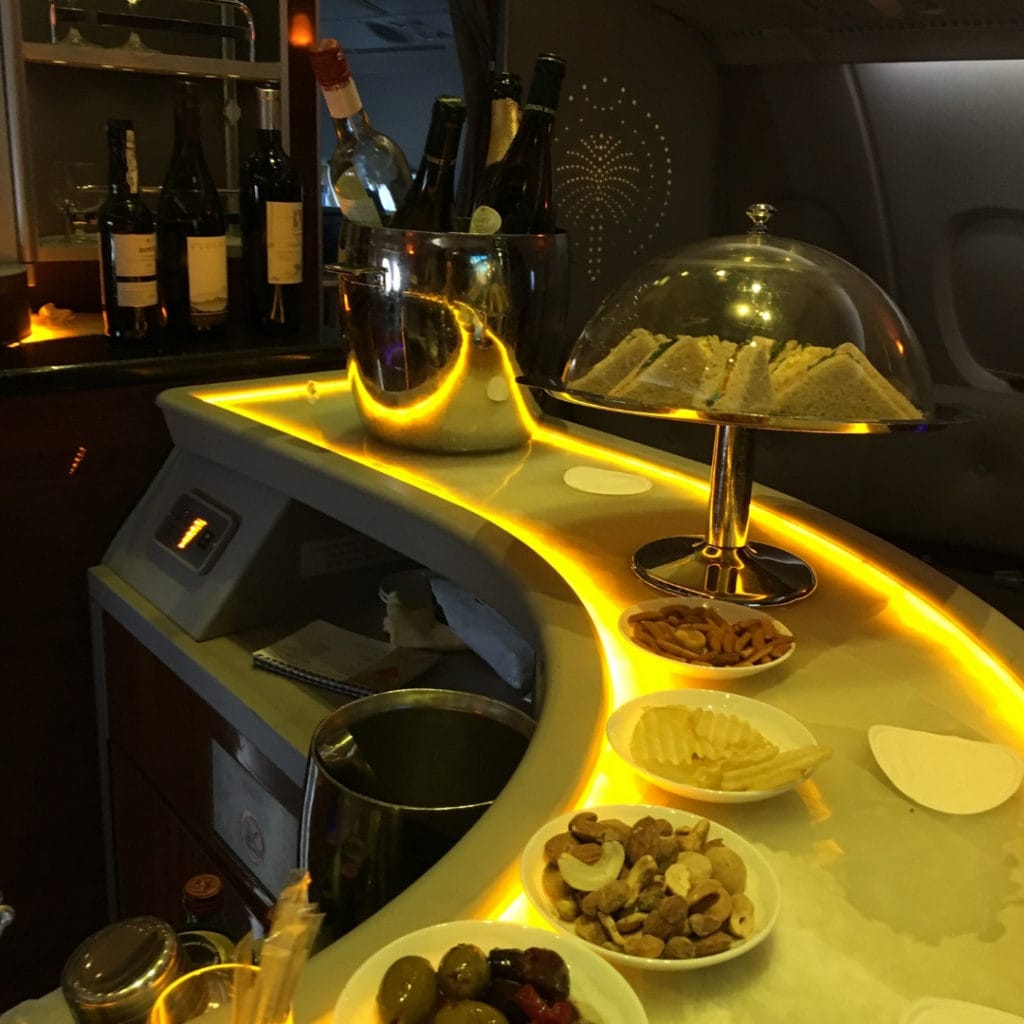 Fancy a cocktail? Your friendly bartender will happily mix you up something from the inflight cocktail list.
From the old-school glamour of a Kir Royale to an on-point Classic Martini, you'll find a range of short and long drinks on offer.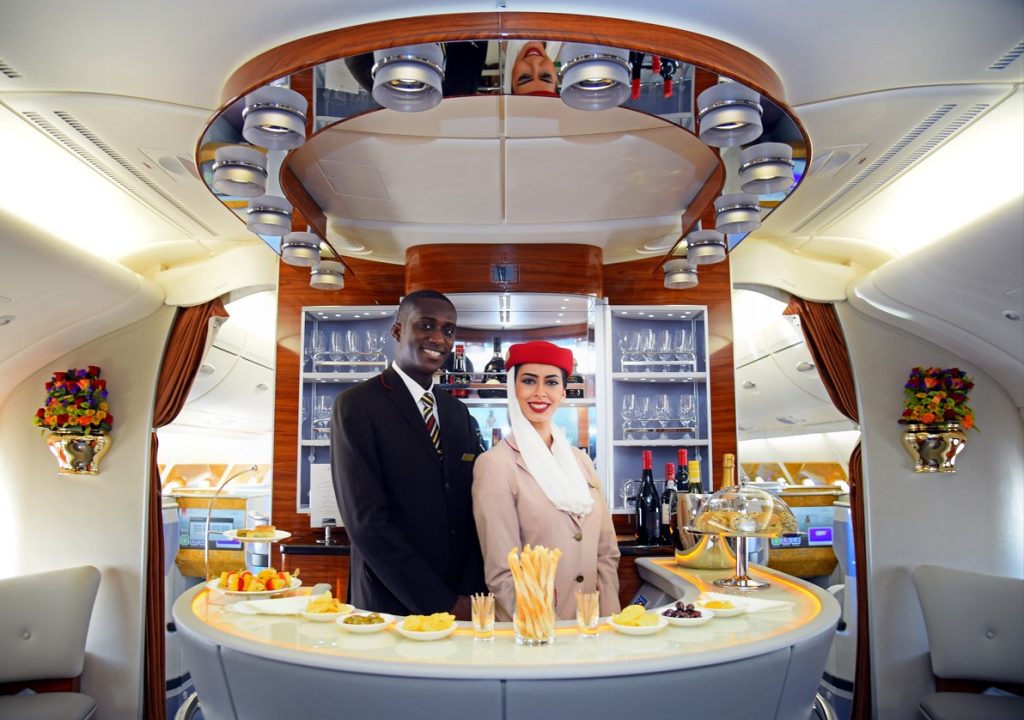 A selection of top-shelf spirits are available on rotation, too. Previously we've seen Sipsmith London Dry Gin, Belvedere Vodka, Woodford Reserve bourbon and the ever-popular Hennessy XO take their places at the Emirates A380 bar.
Travelling in Emirates business class? You'll be able to enjoy free-flow Champagne, as served to the wider cabin. The drop on offer is generally Moet Chandon NV, although Veuve Clicquot NV occasionally makes an appearance.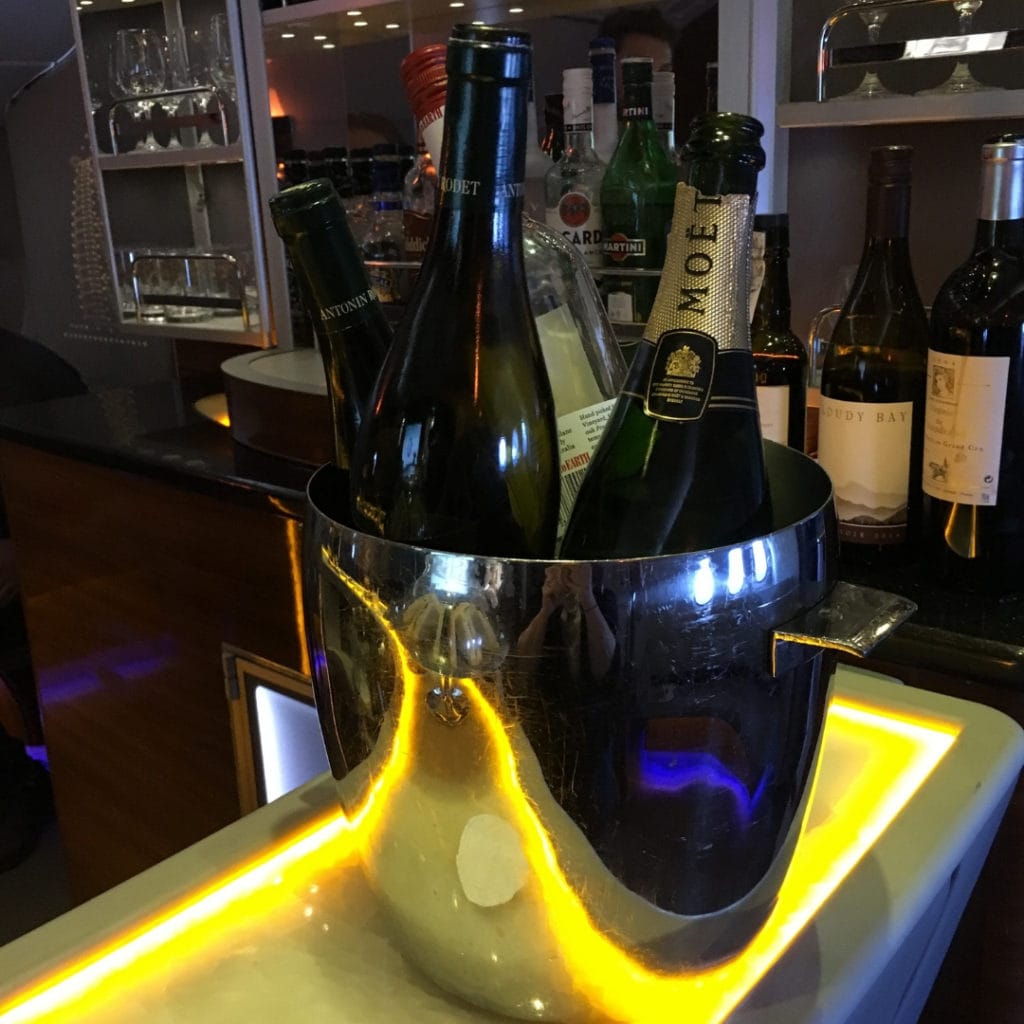 Do Emirates first class passengers score better drinks?
If you're an Emirates First Class passenger, there's no need to forego your vintage Dom Perignon Champagne or Hennessy Paradis.
Simply let a flight attendant know that you're heading back to the business class bar, and they'll discreetly ferry through your high-end tipple of choice so that it can be served to you exclusively.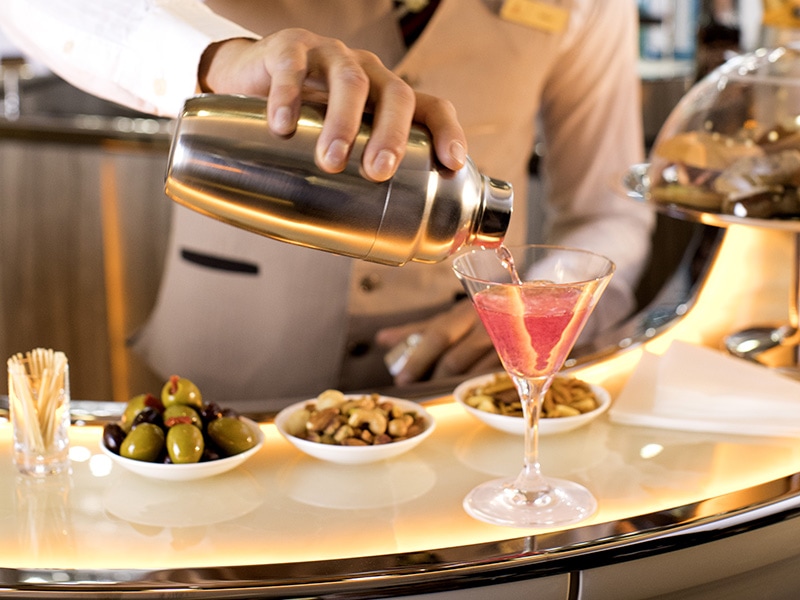 The Emirates A380 bar: Where it all began
While streamlined check-ins, quality amenities and lie-flat beds have become the norm in premium air travel (we're not complaining), the signature Emirates A380 bar continues to set the Gulf carrier apart from other unique business class offerings, such as the Qatar Airways Qsuites.
Emirates initially set out to elevate its premium A380 offerings in 2008 with a golden-age-inspired bar that was sure to grab the attention of curious passengers.
However, the emergence of the Emirates A380 lounge wasn't the first time we saw a sky-high bar, with similar areas existing on the Gulf Air TriStars years before Emirates formed.
Though we now know the Emirates A380 bar is a sure thing, the airline initially rolled the upper deck bar lounge out with overhead compartments in case the bar failed to attract passengers — this way it could swiftly be turned converted to more business class seats.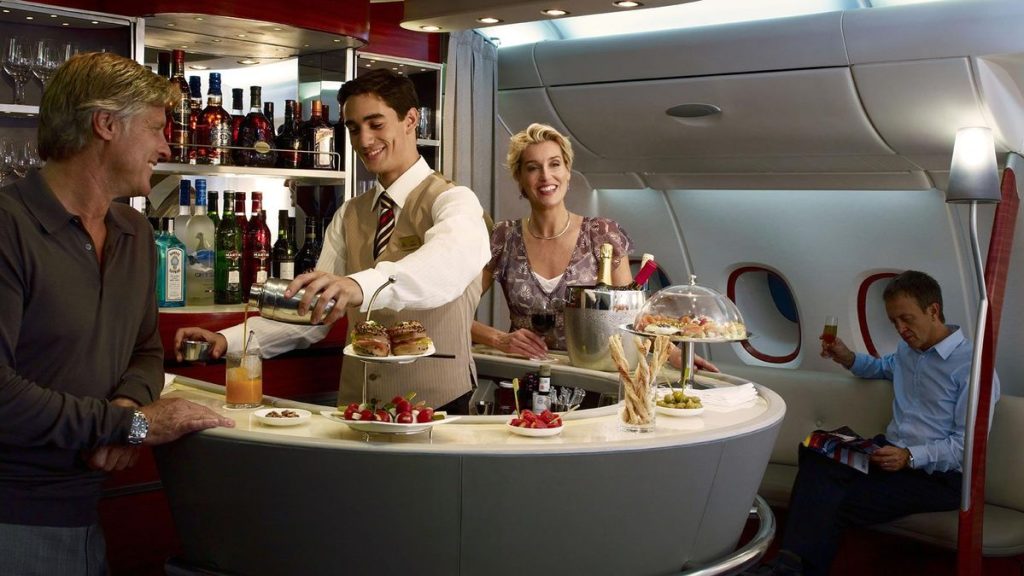 As such, the 2017 refresh saw the rear of the upper deck fitted without overhead cabins, but rather, more emergency oxygen masks for the many passengers who soak up the novelty of a cocktail at 40,000 feet.
Are there different variations of the Emirates A380 bar and lounge?
In July 2017, Emirates started rolling out a new design for their A380 bar and lounge area.
While the original Emirates A380 bars sport darker tones and two curved benches, the 2017 redesign features a cleaner, more airy look with communal cafe-style tables — perfect for socialising amongst fellow premium passengers.
As well as more sociable seating arrangements and larger areas for mingling, the revamped inflight bar features calming LED mood lighting, as well as elegant bronze and woodgrain accents.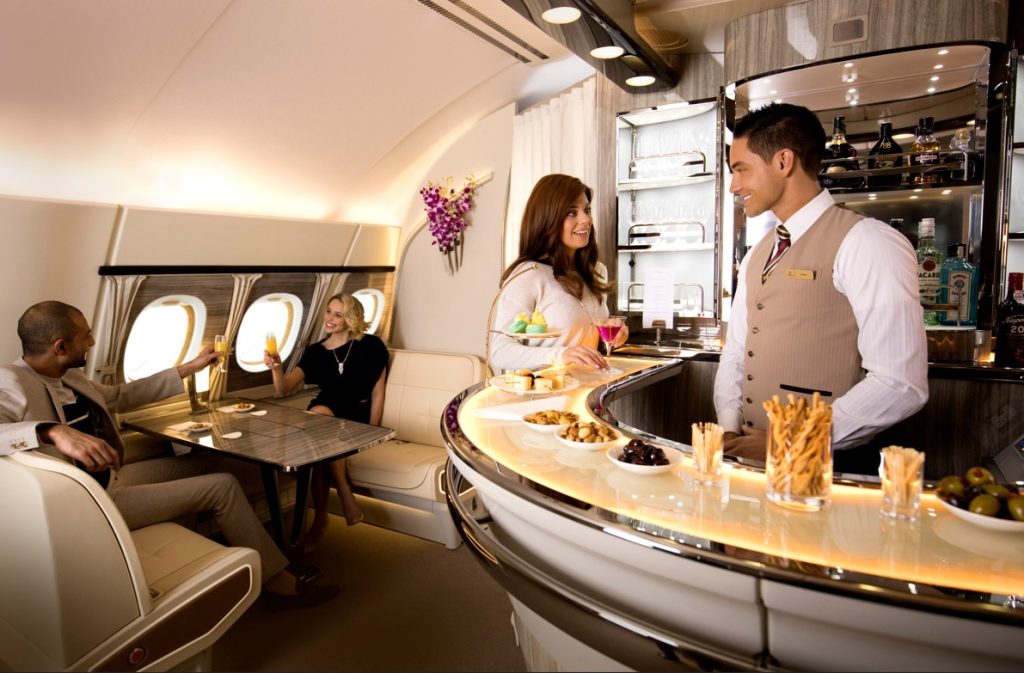 Does the Emirates A380 bar have a capacity?
During Covid, the Emirates A380 bar transformed into a take-away bar with limited seating and social distancing protocols in place, continuing to serve passengers alcohol and pre-packaged lounge bites to enjoy in their own seats.
Now with most social distancing requirements lifted, the iconic horseshoe-shape Emirates A380 bar is open to all business and first class passengers as normal. The lounge area seats eight passengers and has room for up to 26 in total (standing and sitting).
Which other airlines have an onboard lounge?
Upon its 2008 debut, the Emirates A380 bar was like nothing else in the sky at the time. Nowadays we see a select few airlines sport upper deck lounges onboard their Airbus A380 aircraft.
Qatar Airways
With a memorable wave design, the mood lighting on Qatar's A380 also makes the lounge a welcoming space on long flights. While it doesn't allow face-to-face cafe-style seating like Emirates, it does have long couches to allow for people to sit side-by-side and enjoy the space — the booth-style seating arguably making for a more relaxed feel.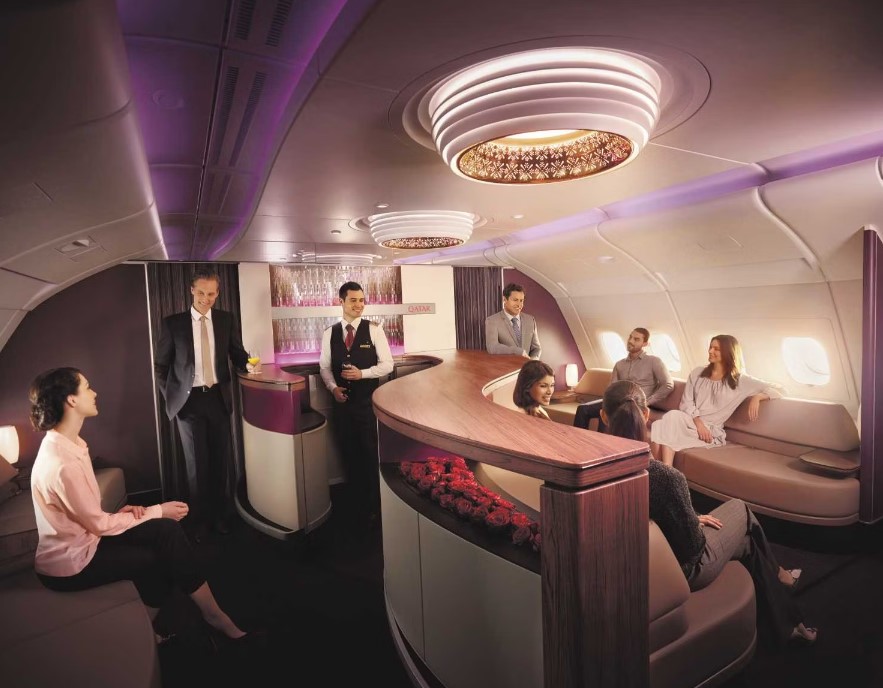 Etihad Airways
As well as its iconic 'The Residence' suites, Etihad also features a small lounge on its superjumbo. Named 'The Lobby', the lounge houses a round table surrounded by seats on either side, with a bar on the wall behind.
While The Lobby lounge is available to all first and business class passengers, seating is limited to only a handful of people due to the design.
You won't find a tended service like on the Emirates or Qatar A380s, but the crew are on call to jump behind the bar, or there is a self-serve selection of alcohol behind the lounge as well.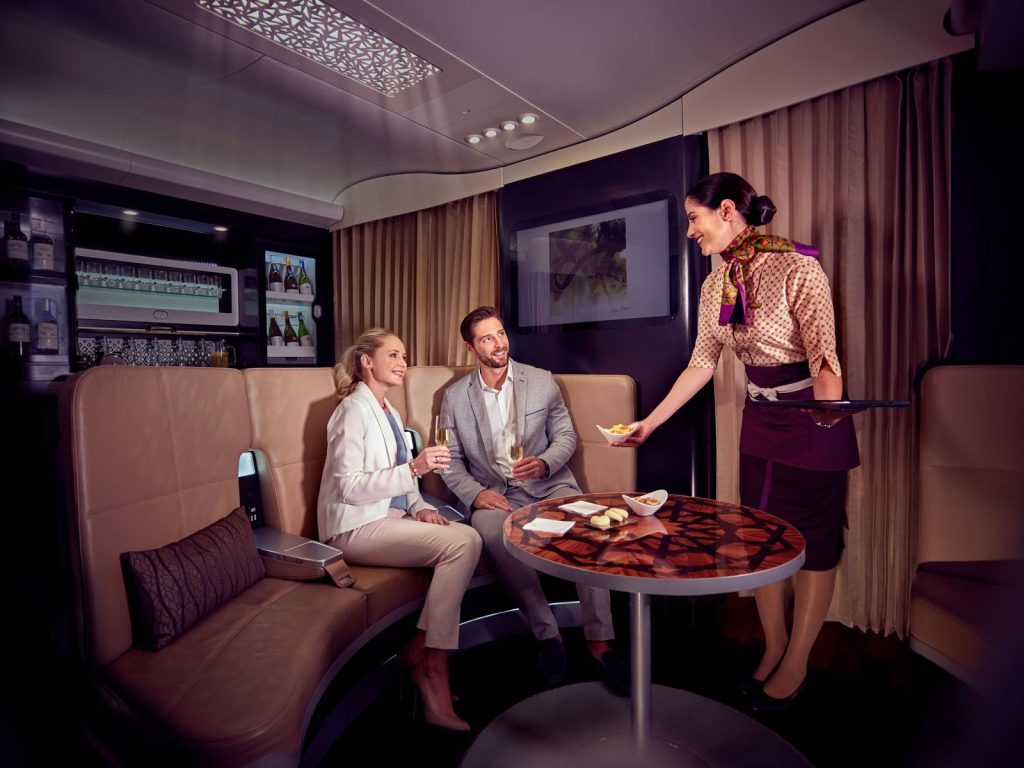 Korean Air
While Emirates and other airlines added features like suites and showers to their A380s, Korean Air decided to feature a duty-free shop alongside its onboard Dream Lounge and 'Celestial Bar'. Lounge highlights include spectacular night lighting and signature cocktails.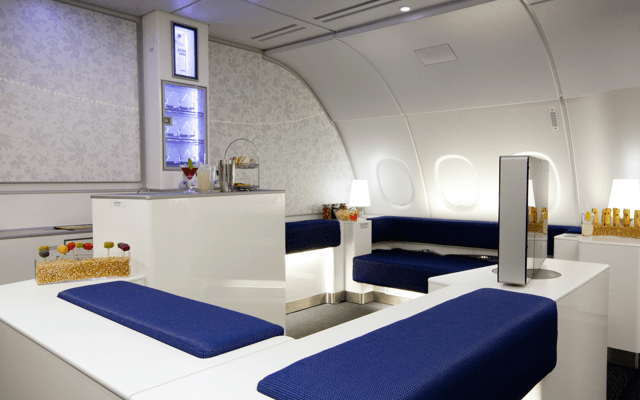 Summary: What happens when A380s stop flying?
While many expected onboard lounges to be a relic of the past after the pandemic, a surprising surge in demand has brought the superjumbo back in action. For highflyers and savvy points collectors alike, the added touch of an upper deck lounge is definitely a must-to experience.
Got a fair few points to save? Not to worry. Although Airbus A380s will eventually be a thing of the past, you still have plenty of time to experience the Emirates A380 bar.
While Airbus has ceased production of A380s, Emirates has said it won't be retiring its superjumbos until about 2035, so there will be ample opportunities to save up your credit card points and redeem your spot on the upper deck in Emirates A380 business class.
Have you experienced the Emirates A380 bar?
FAQ – Emirates A380 bar
What is the Emirates A380 upper deck lounge?
Emirates A380 aircraft have an upper deck lounge that houses a cocktail bar. Emirates is one of the few airlines that offer a serviced onboard bar for first and business class passengers.
Has Emirates reopened the bars on its A380?
Yes. Emirates has reopened the bars on its A380 from 11 February 2023, following their closure during the pandemic.
Is the Emirates A380 a social aircraft?
Yes – the Emirates A380 bar offers a social inflight experience for premium travellers, who can mingle whilst enjoying cocktails on the aircraft's upper deck.
Do other airlines have an onboard bar?
Yes, Qatar Airways, Etihad Airways, and Korean Air A380s all feature an upper deck lounge, with Qatar's the most similar to Emirates' offering.
While you're here: Subscribe to our newsletter for the latest tips, deals and news. It only takes a few seconds and we respect your privacy: