If you fancy staying in Bali in an upmarket resort, but still in the action, then the Stones Legian Bali might fit the bill.
The hotel is an Autograph Collection property that comes under the Marriott umbrella and fully participates in the Bonvoy loyalty program. It lies at the mid to upper end of accommodation experiences in Bali, delivering rest and relaxation in well-maintained surrounds.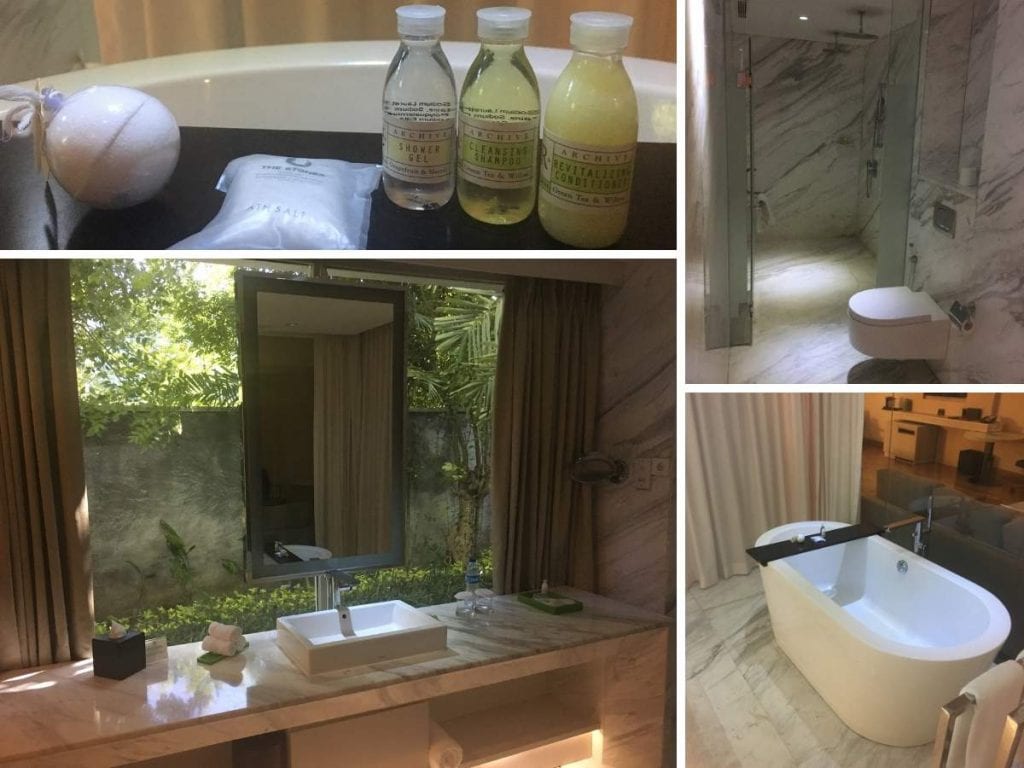 I was lucky enough, as "Mr Champagne Mile" to stay for a week at this hotel with a couple of mates – and it proved the perfect location to experience travel with friends. Read on for my review of The Stones – Legian Bali.
Arriving in Bali on Malindo Air
After de-planing from the inaugural Malindo Air 737-800 flight from Adelaide to Denpasar, we quickly located our Resort chauffeur driver at the pick-up area. Following a comical experience locating the car, we were smoothly whisked to the hotel in air-conditioned comfort. Admittedly, a $70 AUD return is expensive for hotel arranged transfers versus $30 AUD for return taxis, but we valued taking the stress out of navigating the cab rank. Whilst The Stones Hotel is located toward the southern end of Legian Beach and is just 20 minutes from the airport, it's more than enough time for the chaos of Bali to take hold near the main strip.
The Stones Hotel – first impressions
Arriving at the resort, I have to admit that initial glimpses weren't that favourable, with the first thing crossing my mind was that I was booked into an East German leisure centre.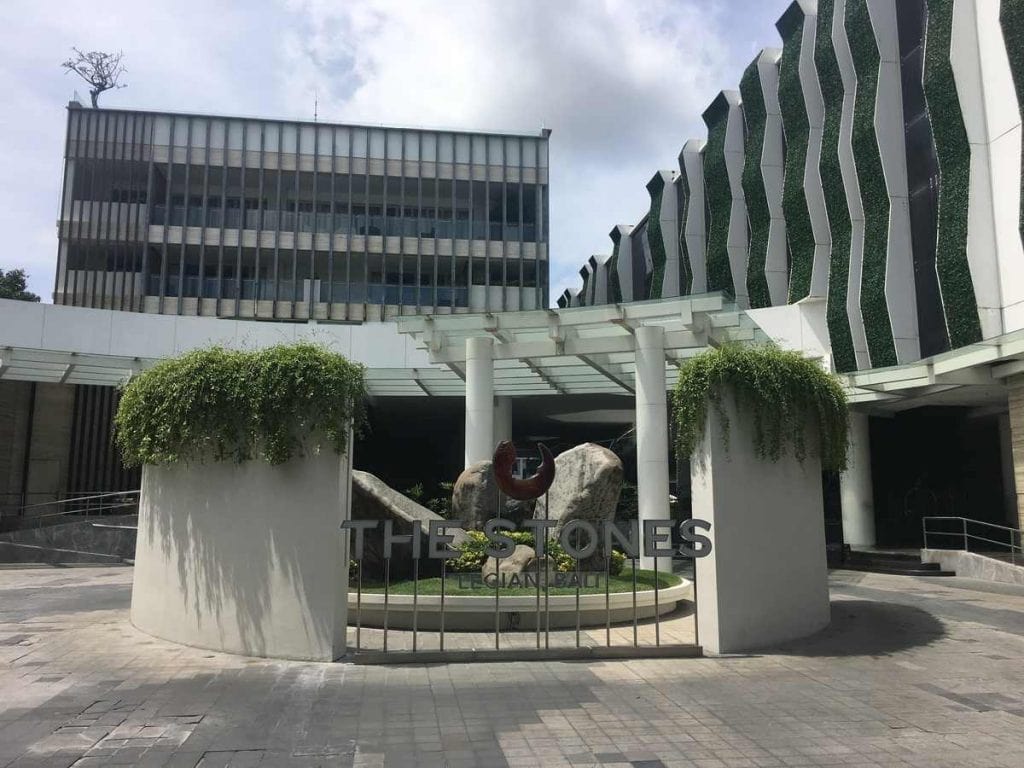 But sometimes you just have to have faith… Getting past the security gates on the edge of the property, which serve as a stark reminder that Indonesia is not as secure as Australia, you step into a calm alternate reality.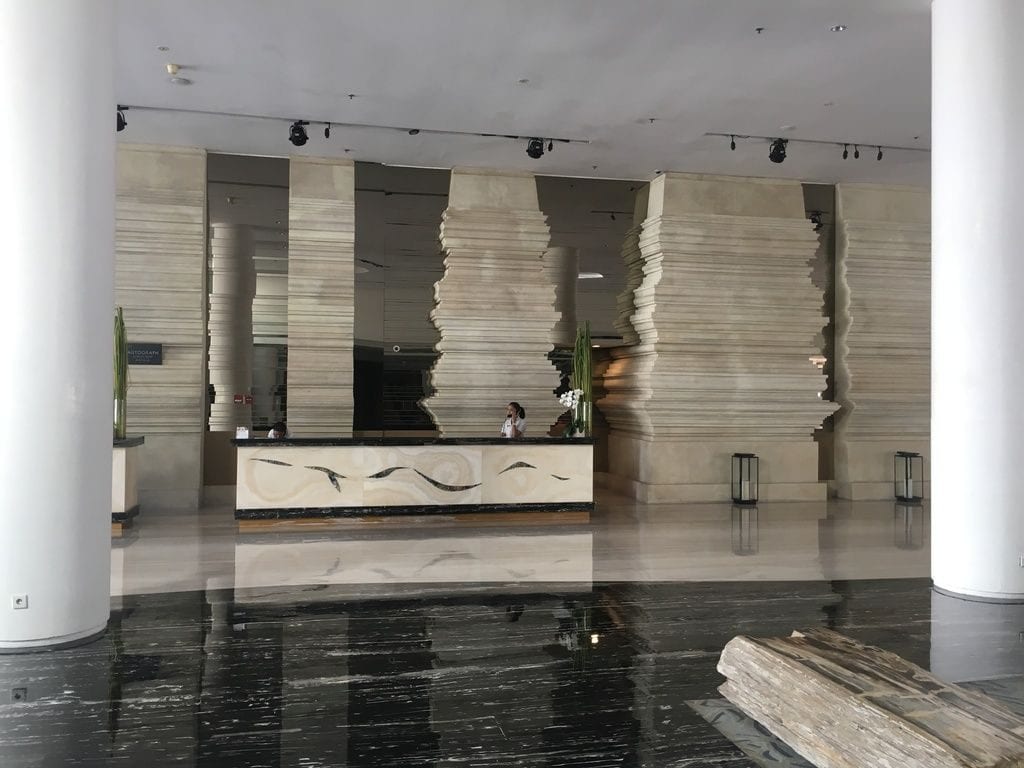 And it got better with the pleasant news of an upgrade for all our rooms due to Mrs Champagne Mile holding Bonvoy Gold Elite status with Marriott Bonvoy. All in all, the status afforded us:
Upgrade to Deluxe Pool View King Bed, complete with a bathtub on the deck.
Free breakfasts – worth $38 AUD a day per person, for both rooms (note: this is not a standard Gold Elite benefit, so the hotel went above and beyond here)
15% discount on food and beverages (excluding room service), Spa and laundry.
Complimentary Wi-Fi.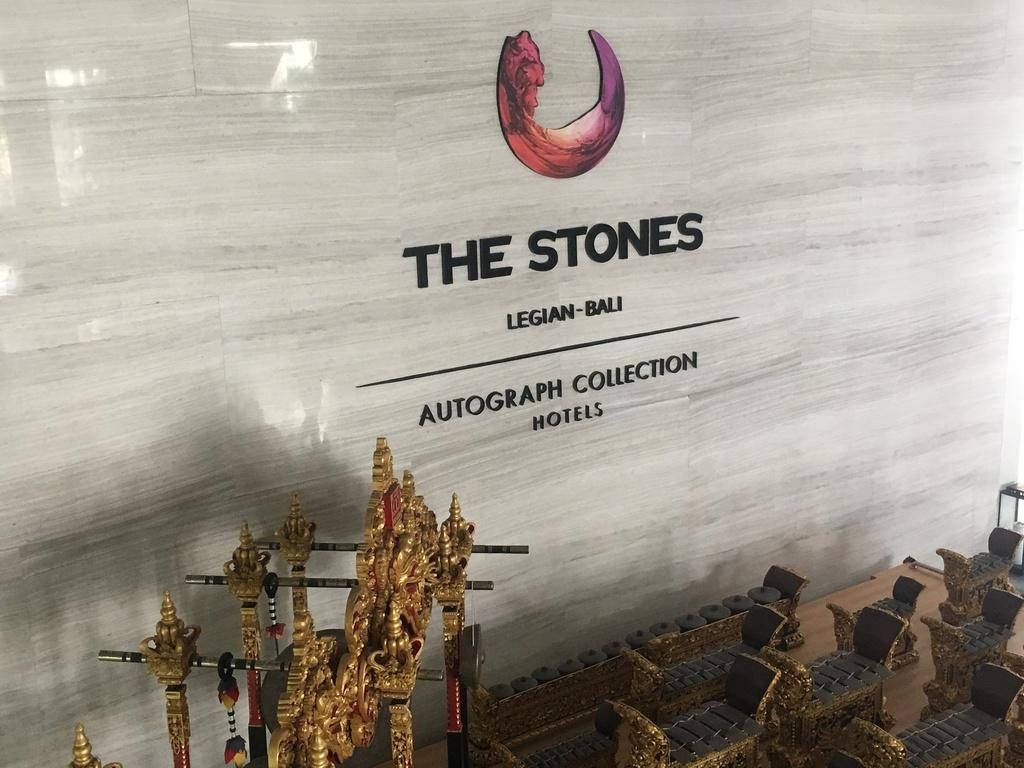 As you progress beyond the cavernous reception, the thing that strikes you most is the size of the courtyard and pool area. This is an expansive area with striking architecture and a 3500 square metre pool, restaurant and relaxation areas all around.
A large and stylish pool is always at the top of my list for choosing a hotel in Bali, and it's quite plausible that a family could relax in here for a week without even needing to venture outside.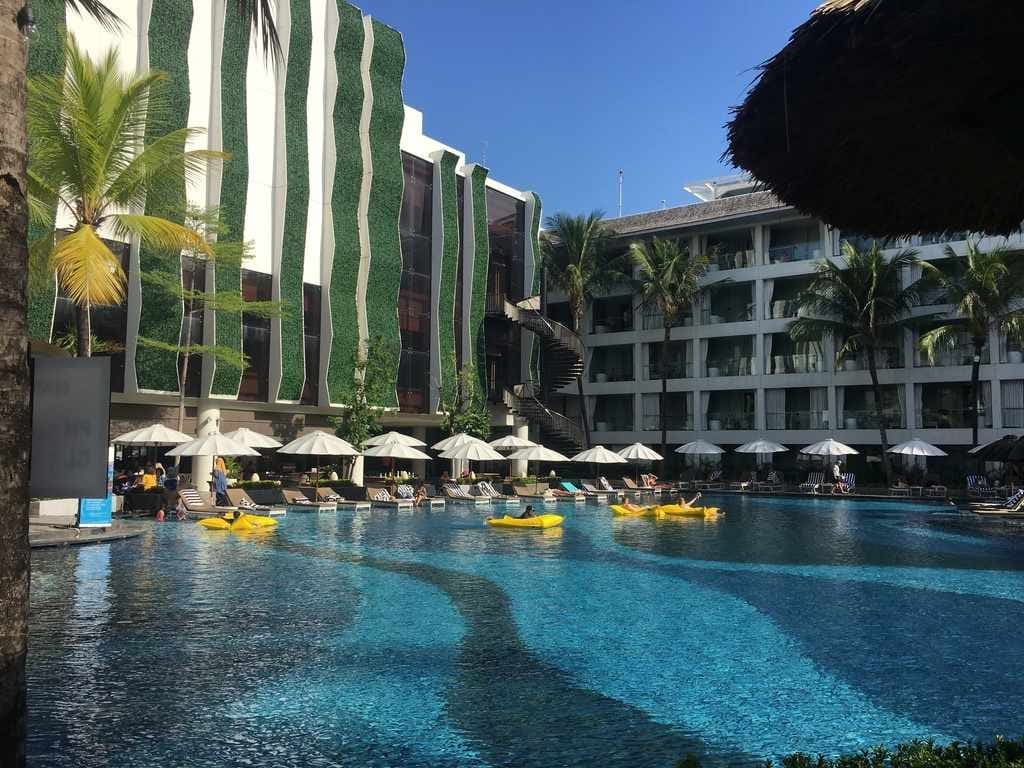 That being said, there are plenty of places and activities to explore nearby. The Stones Legian sits at the south end of a foreshore strip of beach bars leading up toward Seminyak. It's also walking distance from Kuta. Here, travellers can enjoy the hustle and bustle of lively bars, and one of the best surfing beaches in Bali.
Rooms of contrast – pool or garden view?
The resort rooms are 50/50 split between pool and garden view. Higher-end rooms are located in the corners and ends. On the ground floor around courtyard rooms feature plunge pools (arguably redundant given the main pool is 10ft away), whilst on the top of the building sits the "Honeymoon Suite".
During my six-day stay I was fortunate enough to stay:
4 nights in a Deluxe Pool View King Bed, 3rd floor
2 nights in a Junior Suite, garden view, ground floor
Whilst the Deluxe Pool View King Bed was thoroughly enjoyable, it didn't quite meet Luxe standards. The room was functional but was showing signs of ageing.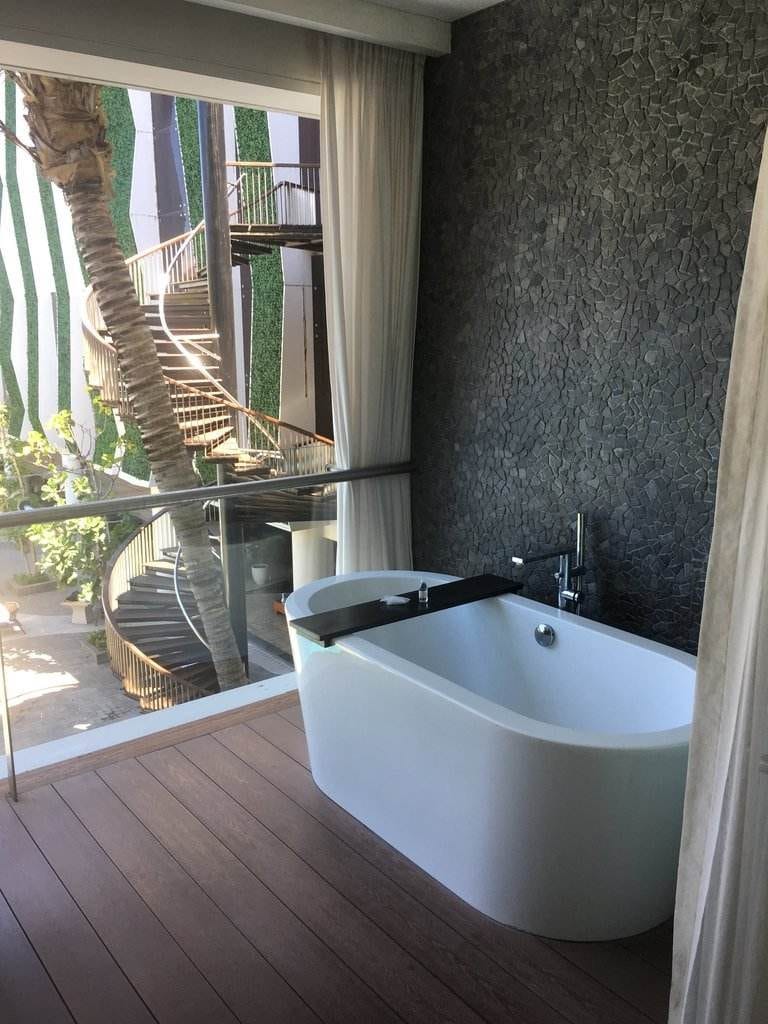 The balcony and view was the only element of the Deluxe Pool View King Bed that really worked for me. Now I do have to qualify this – the centrepiece of this option is not so much the decor and room, but the view and atmosphere – and I loved it. With Bali weather, you can while away the day on your lounger on the balcony or soak in a bath – being part of the action but still having privacy and convenience of being in your room.
In the afternoon, ambient DJ mixed music floats up to my balcony. And private bathing can be experienced with full-length privacy curtains. On a whim, if you fancy it, the hotel will even bring breakfast served to your bath-tub…. not that I tried it.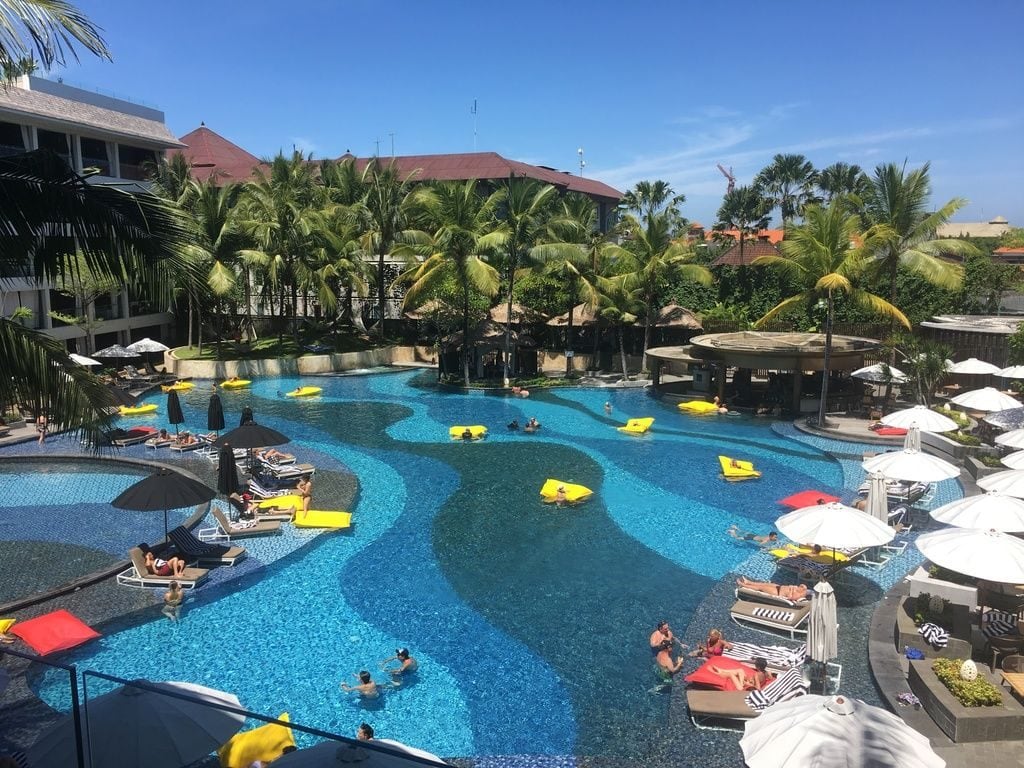 For the simple reason that the Pool view room was functional, but didn't set the world alight, I'm only reviewing the second and superior room – the Junior Suite.
The Stones Legian Bali – Junior Suite
These suites commence at approx $230 AUD a night as of April 2019 versus $217 for the Deluxe Pool View King Bed. BUT there are only a dozen or so Junior Suites versus at least a hundred Deluxe Pool View King rooms.
The Junior Suite features a king bed and ample living space of nearly 70 square metres. Floorboards and elegant decor abound and the bathroom has a style all of its own with tropical plants outside and space – more space than the average Sydney 2 bedroom apartment.
Walking in you gain a sense of space…
One of the most interesting aspects is that the bathroom has been made into a feature and with a glass enclosure, it helps to bring extra light into the main room, which would otherwise be quite gloomy.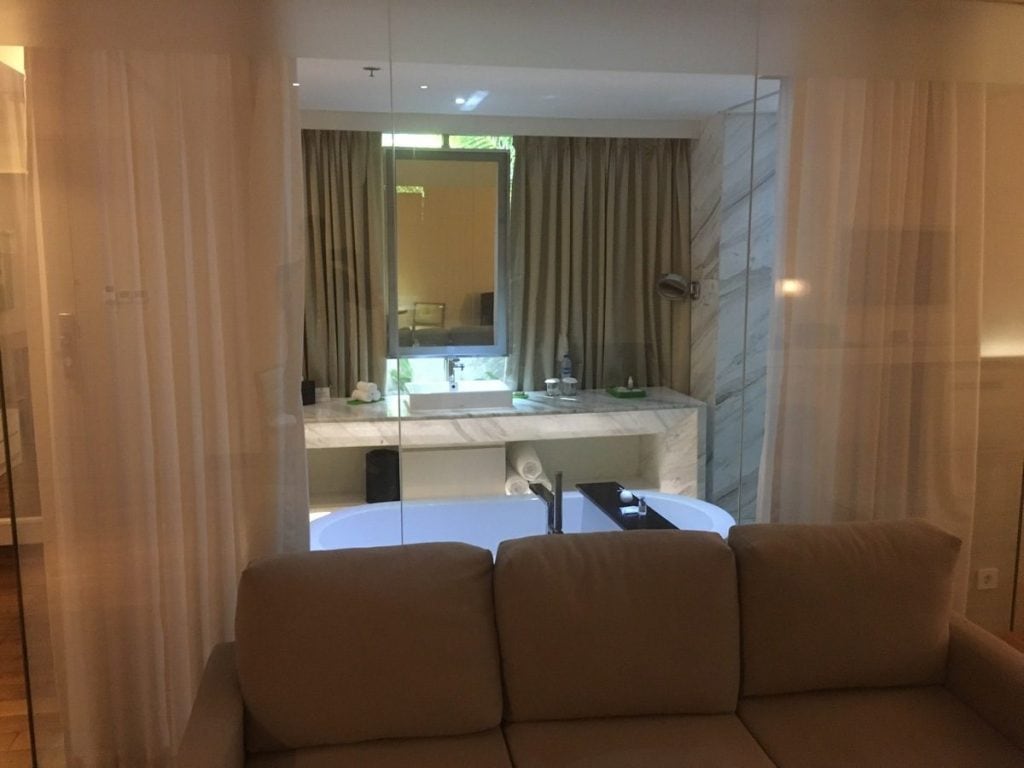 Looking closer at the feature bathroom, the greenery outside frames the mirror. You will have to draw the curtains though, as this suite is on the ground floor…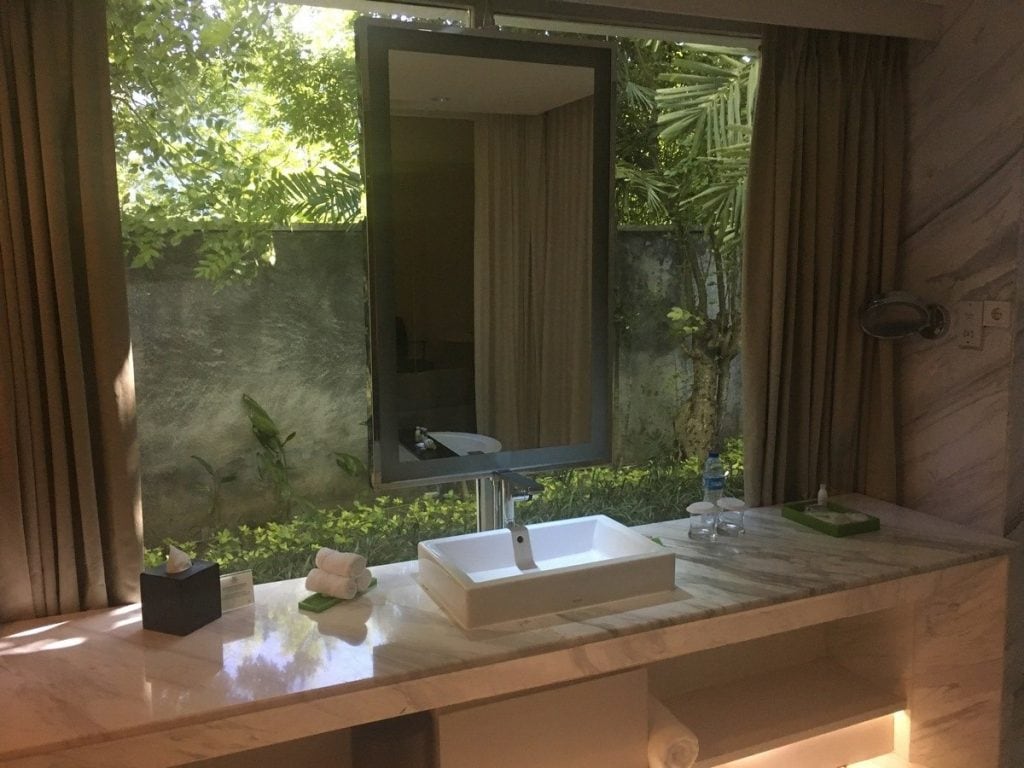 Venturing into the bathroom itself, you'll see two additional features – a double rainwater shower and a standalone bath…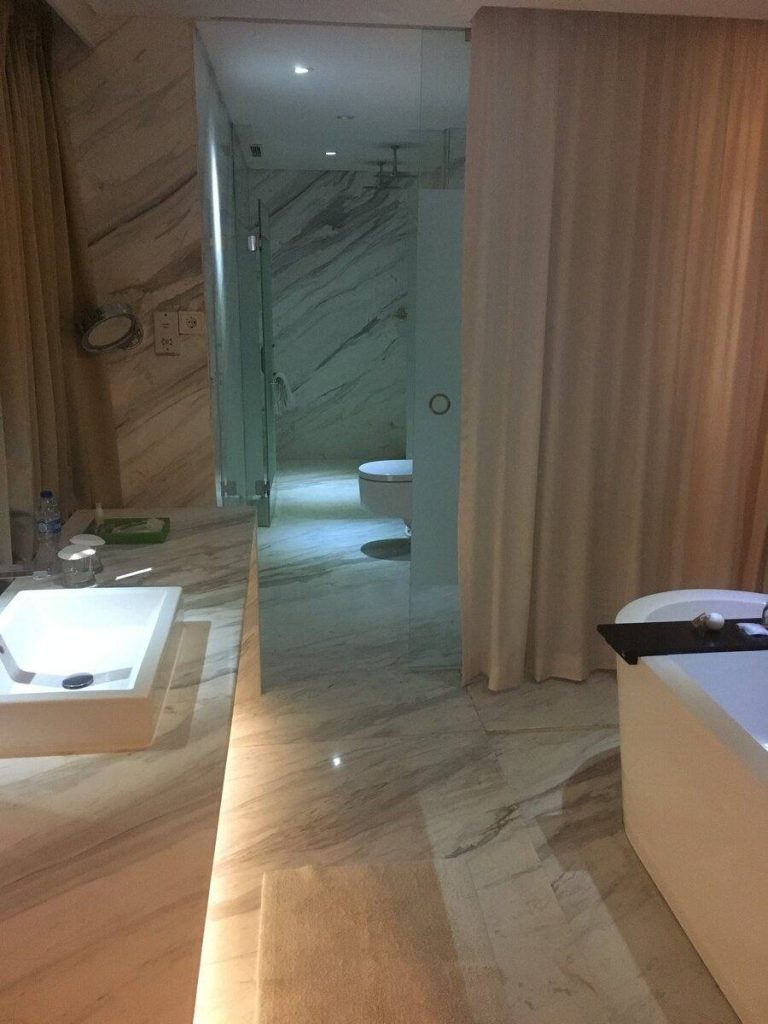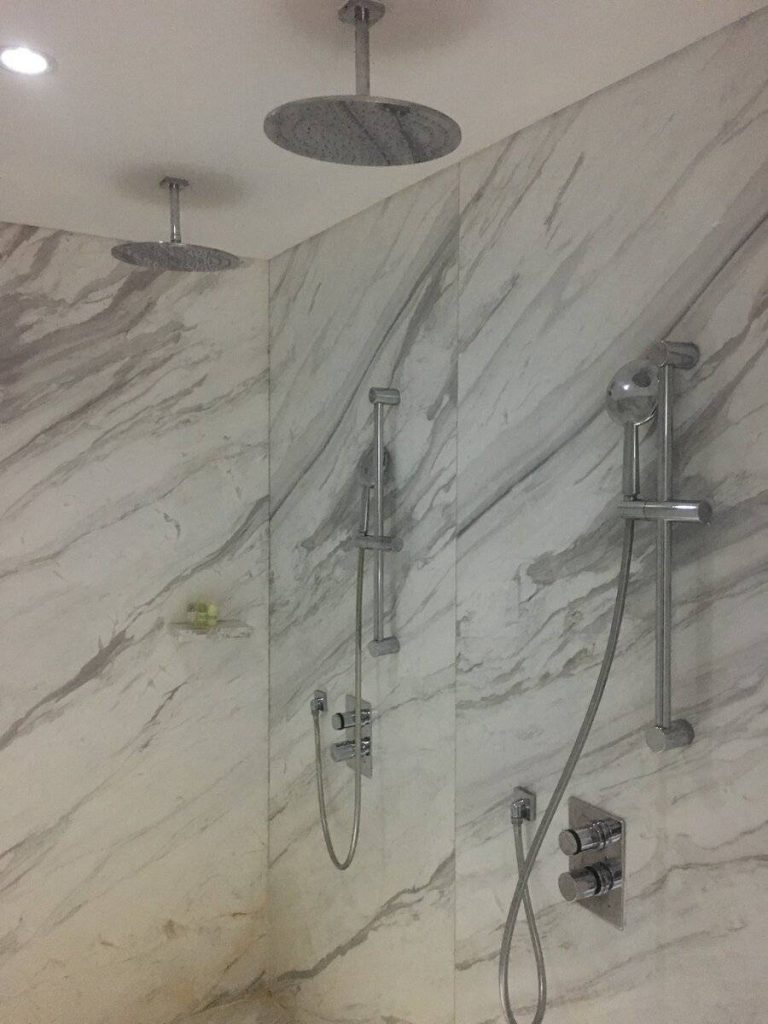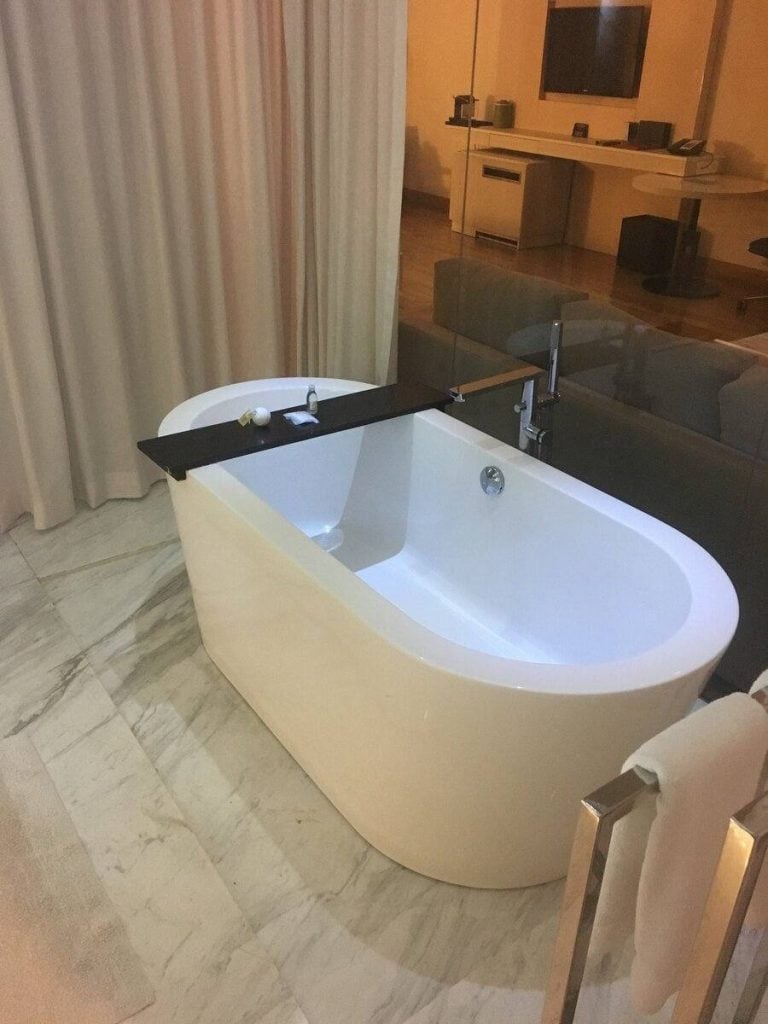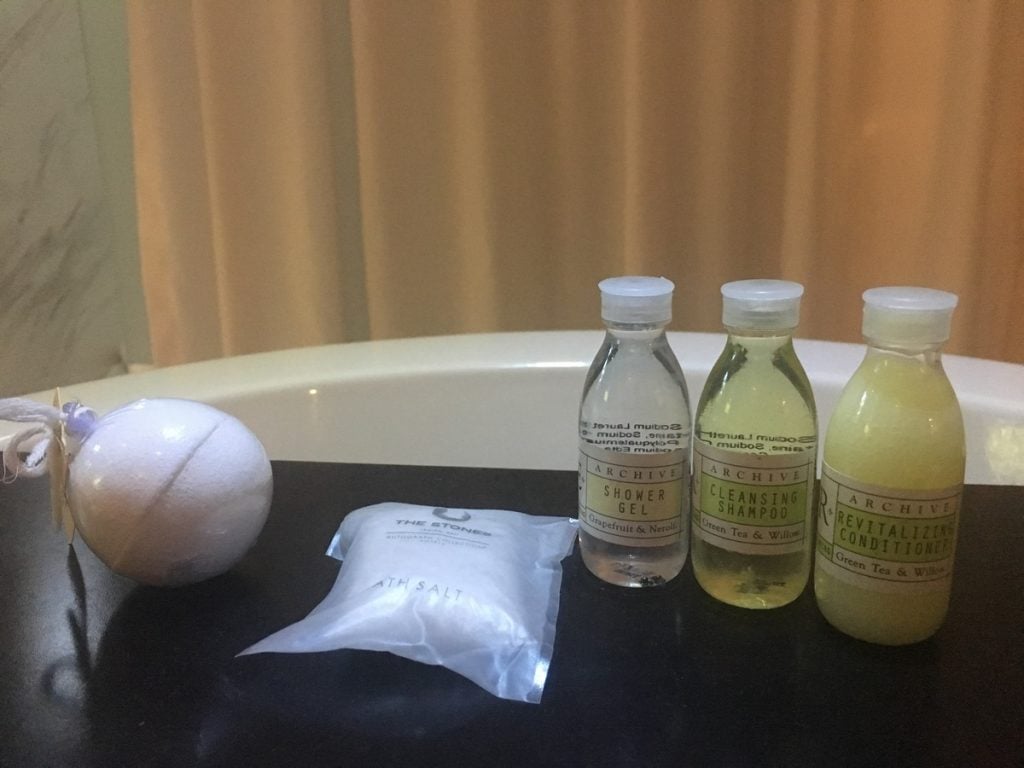 I was also impressed with the Bang and Olufson sound system – the only problem being it's for an older iPhone so you'd need an audio cable or adapter (possibly from reception).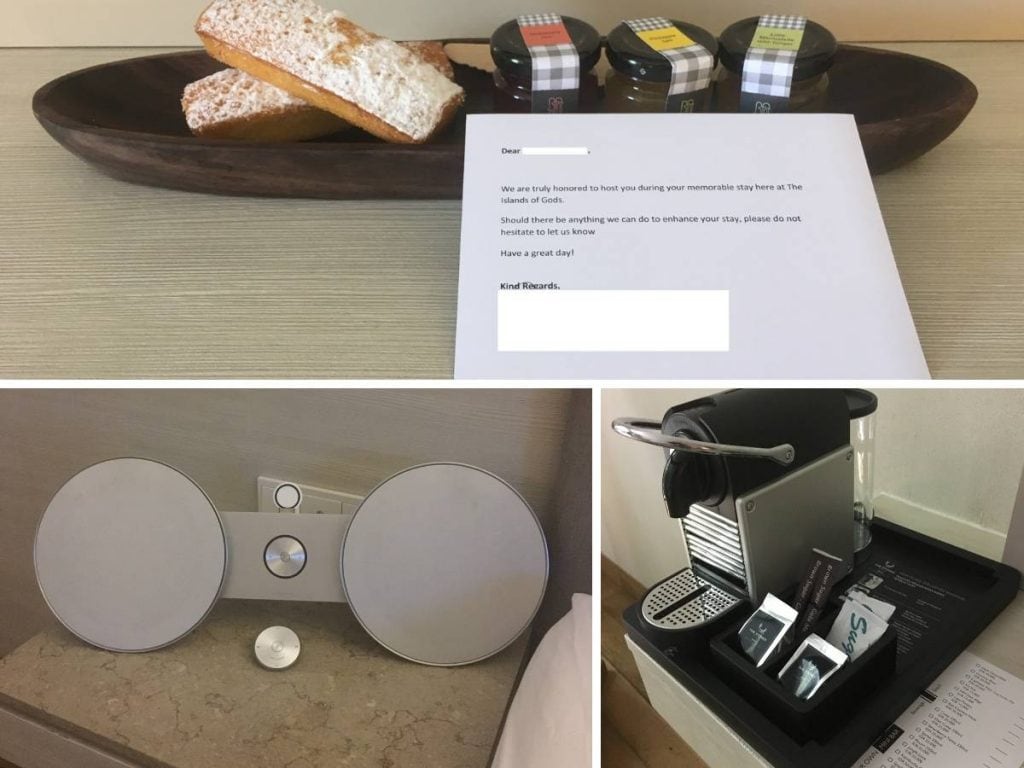 I enjoyed two beautiful nights in this room and was even able to watch my favourite streamed TV show on the hotel Wi-Fi network. To be honest, it put Australian hotel Wi-Fi to shame.
The Stones Legian courtyard
Having discussed the room, the reality is that you'll spend far more time outside it than in, which puts you squarely in the courtyard if you're not overly keen on navigating the Bali street experience.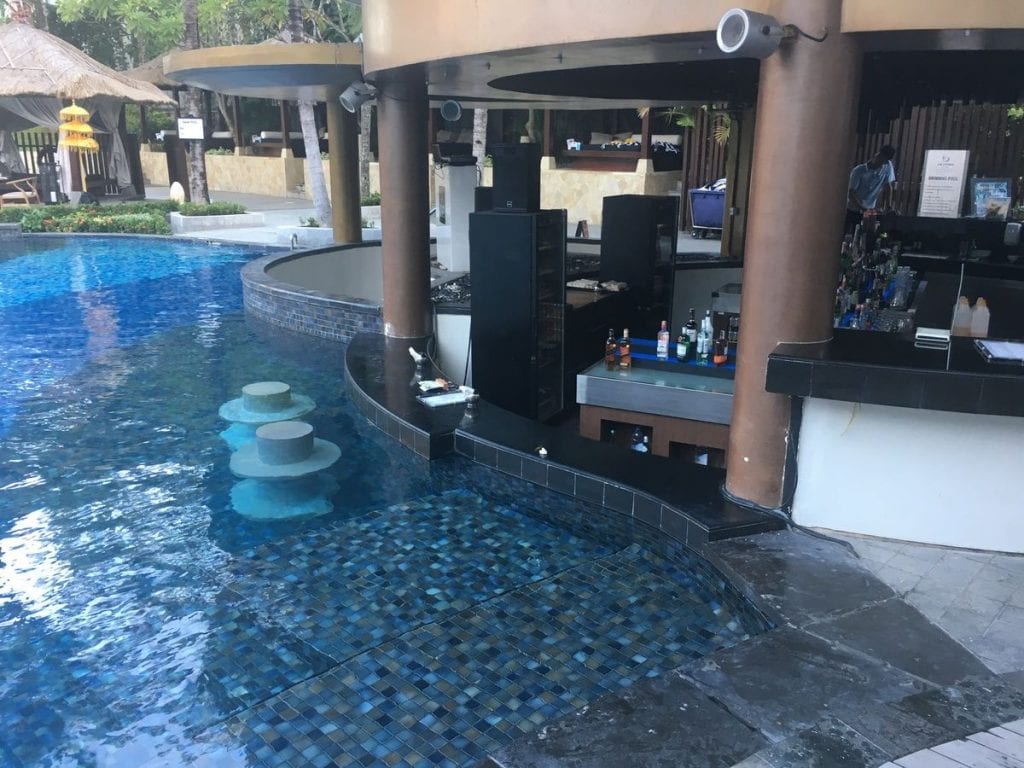 The key feature is the pool with a swim-up bar – something that should be on anyone's Bali bucket list!. The pool has a consistent depth right across at chest height so you can swim or walk it without disappearing under. It also features wide ledges where deck chairs are actually in the water.
This pool is so big that kids can play in their own section or anywhere really and not even remotely bother those looking for child-free time. It was noticeable that even though we were there in school holidays, this is not a resort that attracts significant amounts of families with young children.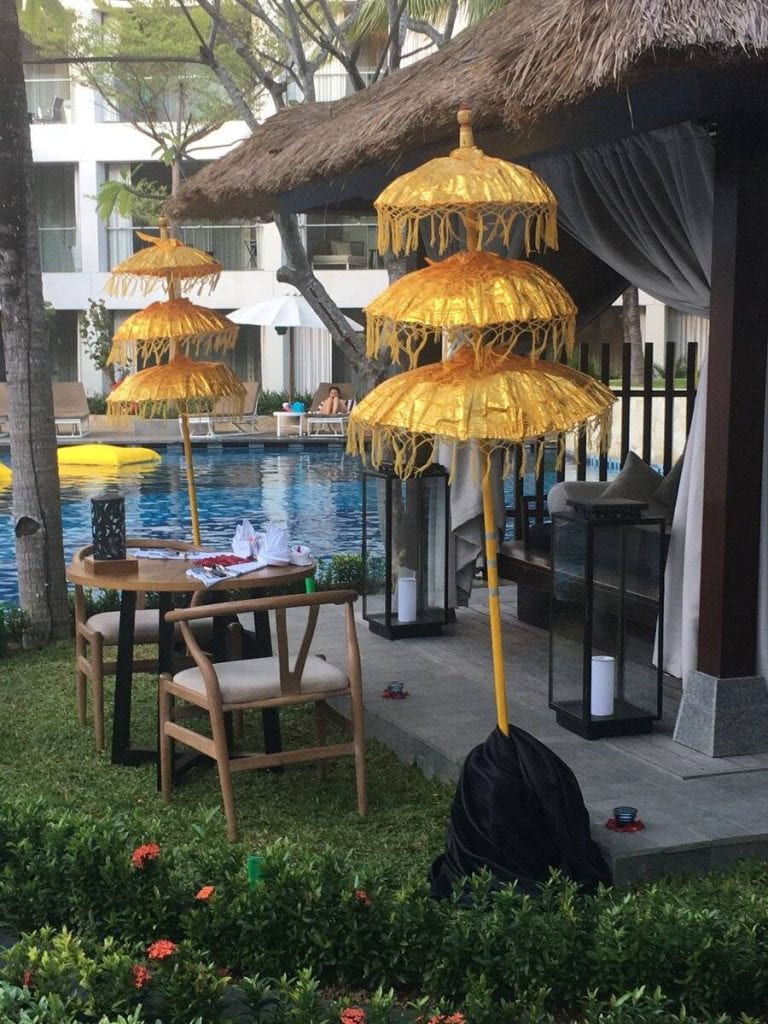 We all enjoyed the yellow floating pool pillows. Hotel staff are totally fine with beer being drunk in plastic glasses in the pool, so you can lose entire afternoons as the current gently moves you around the pool.
A couple of standout features are the cabanas and hammocks. If you're lucky enough to nab the master cabana, you'll feel like a king or queen for the day.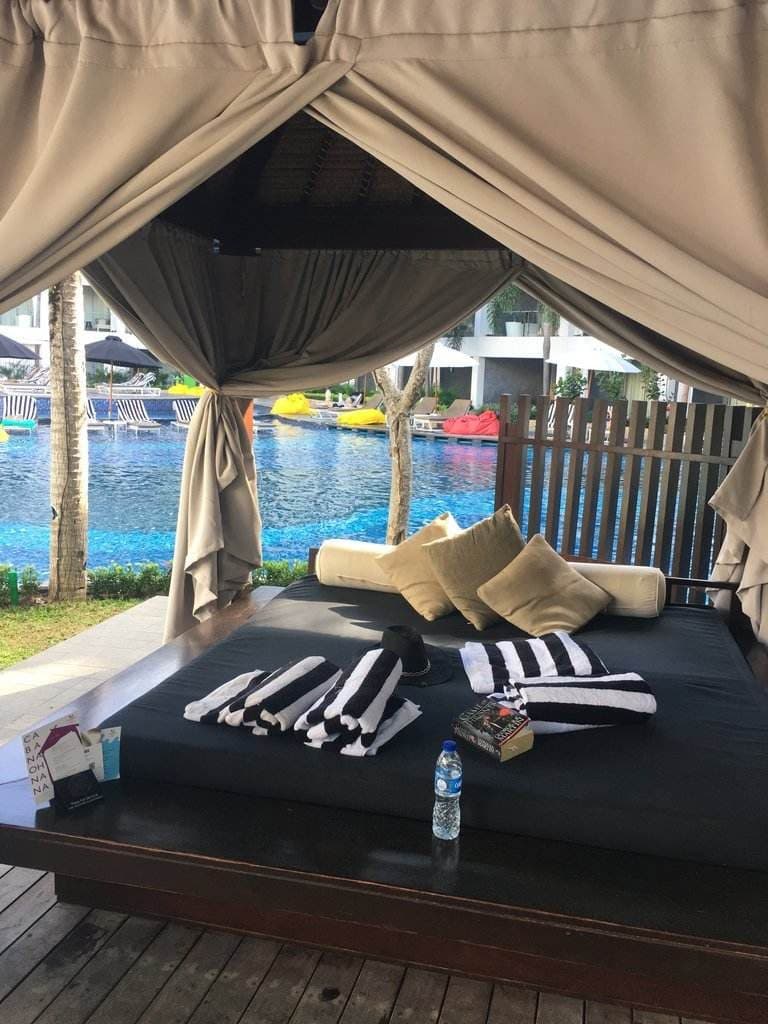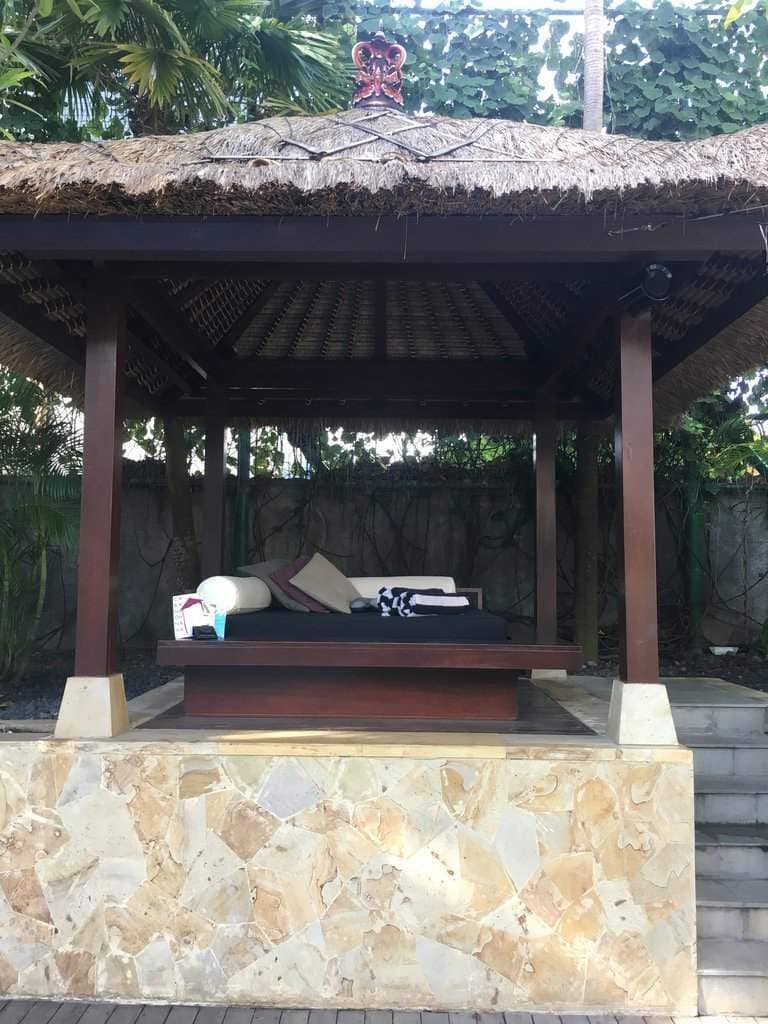 Dining at The Stones Legian
The breakfast buffet is very popular and busy during its 4 hours of breakfast service from 6.30am; probably due to being the coolest and easiest time to eat in the humidity of Bali.
A large variety of cuisines is on offer along with good coffee but erratic service. Staples include cooked English style breakfasts, including eggs cooked to your specification, a pastry and bread bar, cold meat cuts and a number of Asian Goreng dishes.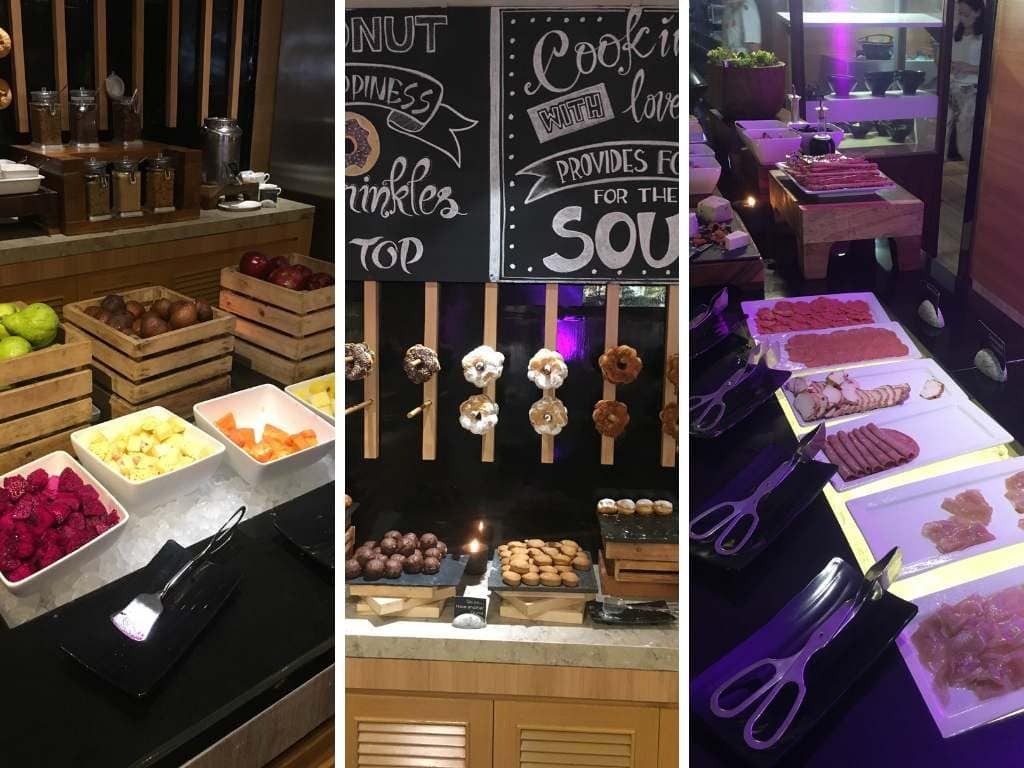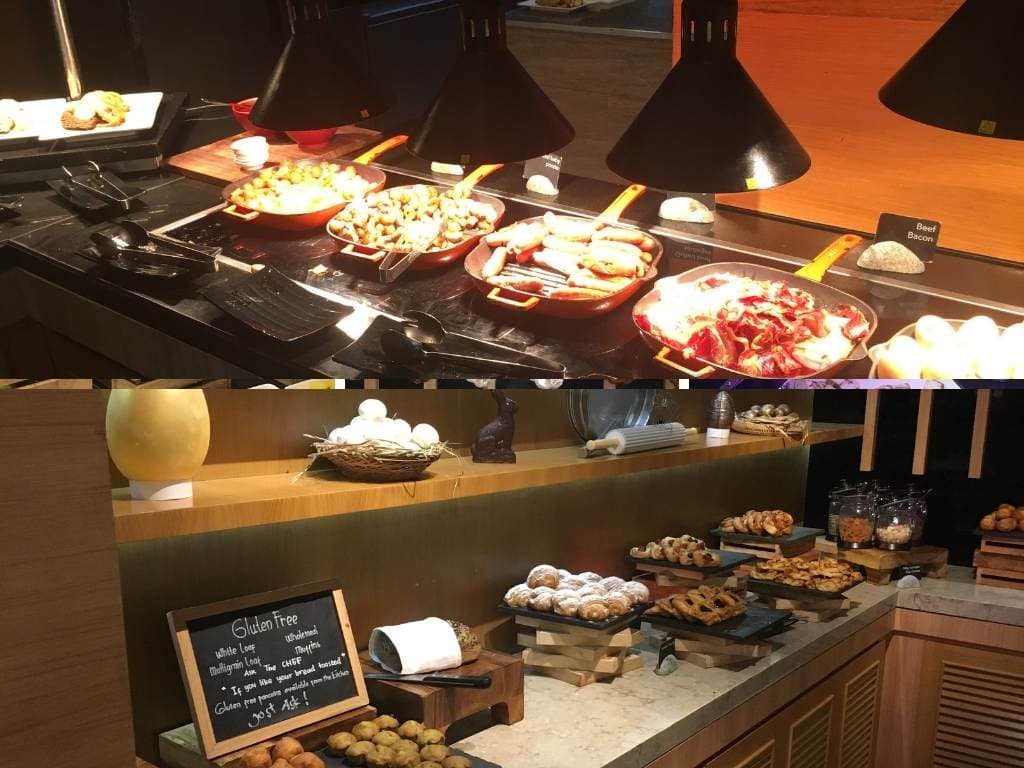 Dinner, on the other hand, is a confusing affair with multiple menus – the menus need streamlining and the staff are not overly familiar with some of the offerings.
We usually dined after 9 pm due to the heat. Being Australians we ordered rib-eye steaks one night and the result was less than impressive, possibly due to getting the last two pieces of meat. We were not convinced that either rib-eye was in fact that particular cut of meat and one was sent back to the kitchen. Credit to the staff that there was no argument regarding the food failure and we did not pay for the steak.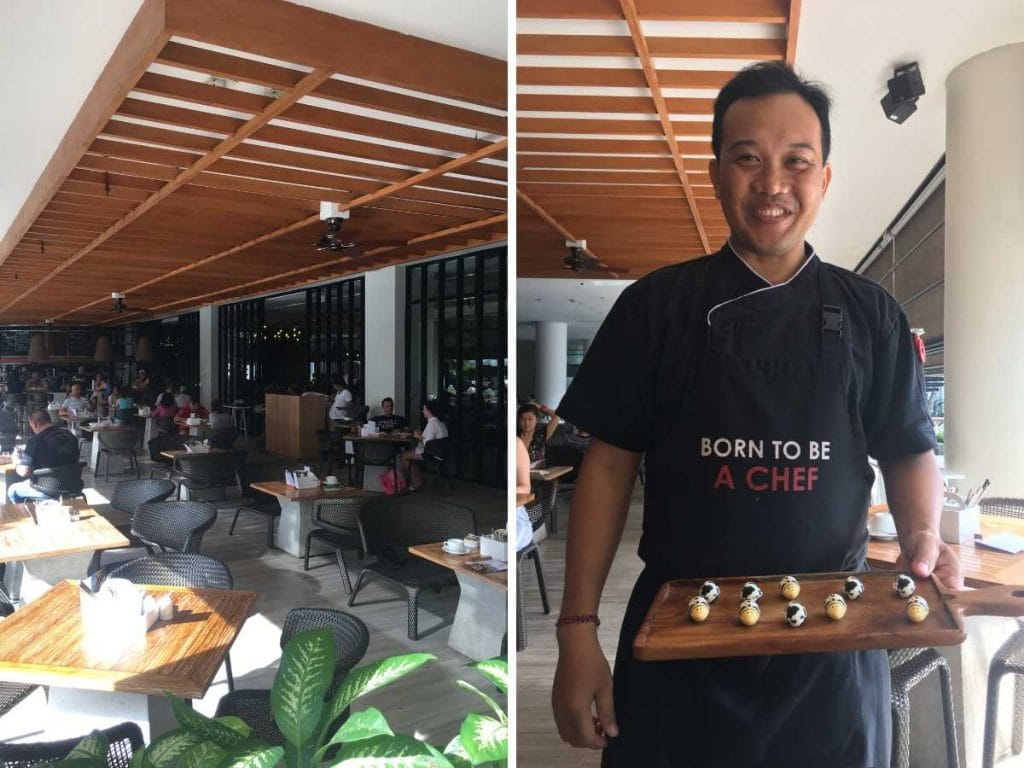 During our stay, there was two call out two items – the satays skewers and the beef nachos. I think the nachos dish was ordered at least 7 times that week around the pool, possibly because it works so well with Bintang beer.
Several other features of The Stones Legian Bali include the large 24×7 gymnasium with good modern equipment and a Club Jasper for kids.
The Stones Legian Bali, Marriott Autograph Collection – verdict
Overall I enjoyed my stay. But I will qualify this regarding the rooms – with the resort is reaching its 7th year of operations, it' starting to show signs of wear. I'm advised that in Q4 a major maintenance program is commencing. It is needed.
My first room, the Deluxe Pool View King Bed was altogether unimpressive inside, but the deck and pool view was great. My Junior Suite, garden view, met my criteria for Luxe and was lovely inside. If I were to return, a Junior Suite would be the starting point; not much more in cost, but far more luxurious.
All that aside, The Stones represents great value for a stay, providing a consistently enjoyable package for a spot of rest and relaxation in Bali.
While you're here: Subscribe to our newsletter for the latest tips, deals and news. It only takes a few seconds and we respect your privacy: