Right now, French discount website, Vente-Privee is running a sale on the purchase of British Airways Avios.
Travellers can opt to purchase Avios in a number of bundles, as shown below. You can access the sale here.
| | | |
| --- | --- | --- |
| Avios bundle | Cost EUR | Cost AUD (10 Sep 18) |
| 2,000 | € 21 | $34.14 |
| 4,000 | € 59 | $95.91 |
| 9,000 | € 109 | $177.19 |
| 20,000 | € 229 | $372.26 |
| 35,000 | € 399 | $648.62 |
While we haven't written much about British Airways Avios in the past, it's a very relevant scheme for Australian-based travellers and one that I use frequently. Why? It provides access to extremely cheap Qantas economy and business class domestic award flights.
Why every Australian traveller needs a stash of British Airways Avios
British Airways Executive Club operates a distance based chart. Premium cabin redemptions on longer haul flights generally represent poor value, but short haul redemption rates are very appealing. Travellers can access number of 'sweetspots' for short haul flights, with Avios able to redeemed on partner airlines such as Qantas.
Zone one short haul flights of up to 650 miles represent the very best value.
An economy Qantas flight between Melbourne and Sydney or Canberra and Adelaide can be redeemed for just 4,500 British Airways Avios (or 9,000 Avios in Business Class). Qantas Frequent Flyer charges 8,000 points in Economy and 16,000 points in Business for flights of up to 600 miles – so a British Airways Avios redemption can often be had at almost half the (points) price.
Here's a personal case study. Often, I'll need to book a last minute Qantas domestic seat and can only find expensive Qantas flex or business class fares available. In this scenario, usually a business class award seat is still available, so I'll get great value booking it for just 9,000 British Airways Avios.
As an example, let's look at Sydney to Melbourne morning commuter flights on Monday 17th September 2018. At the time of writing, a cash rate Qantas Red-e-Deals ticket costs $450 for the 6 am flight, and there are no Economy Classic Reward seats available. However, there is still at least one Business Classic Reward seat available, which I can book for just 9,000 Avios.
With the current Vente-Privee deal, 9,000 Avios could be purchased at a cost of 109 EUR. This is roughly $177 AUD at today's exchange rates – and around one third the cost of the Qantas Red-e-Deal ticket: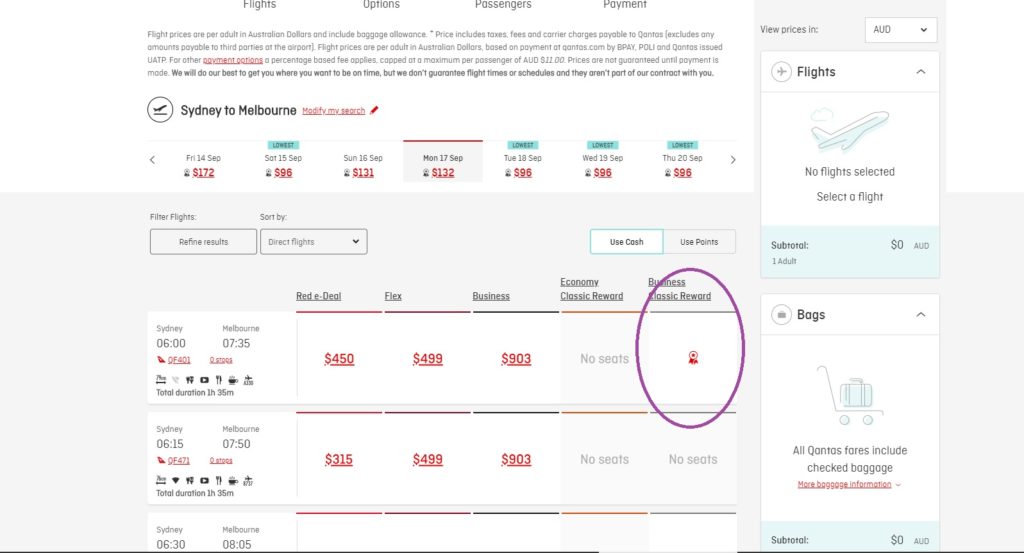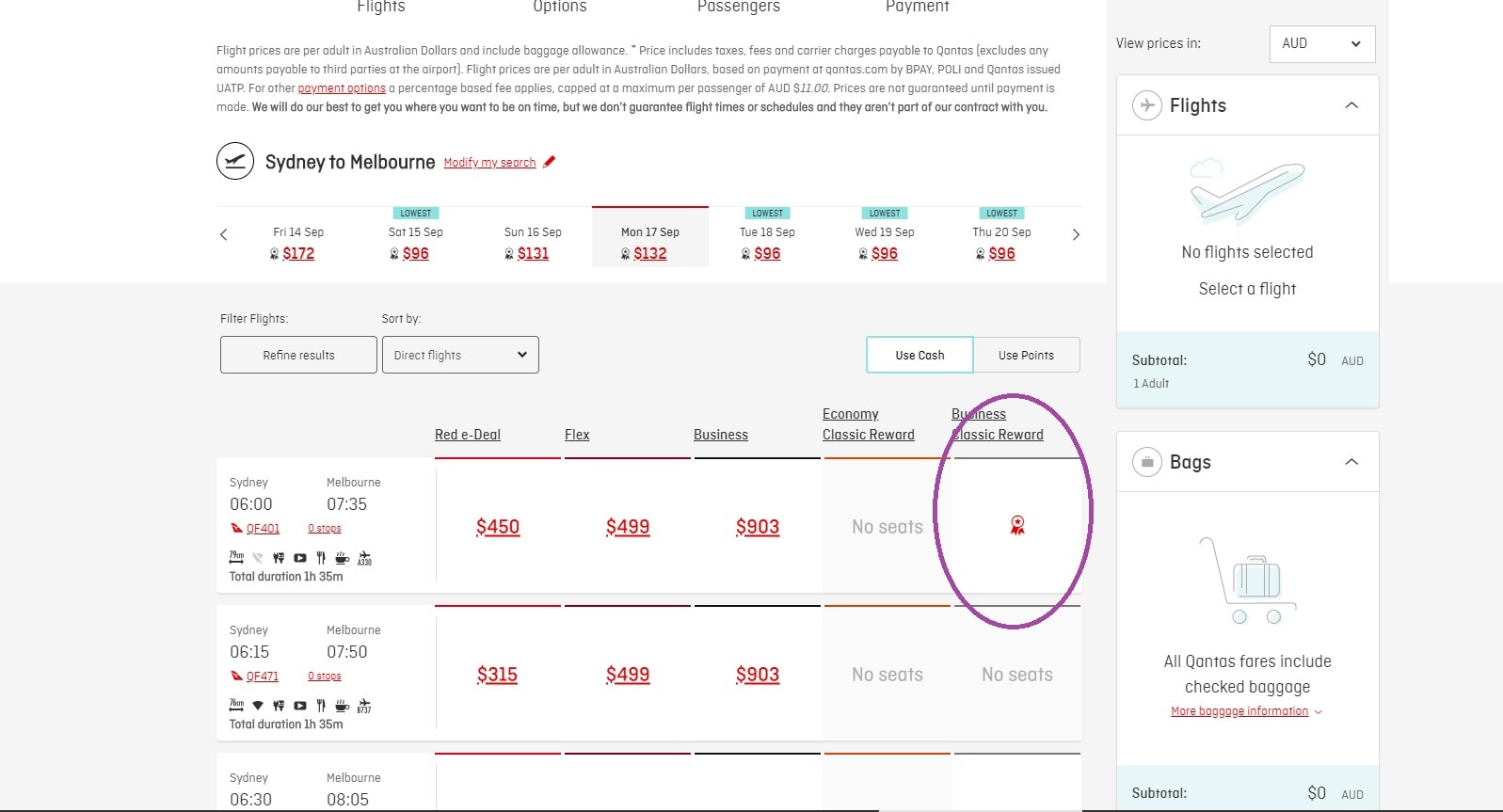 Longer flights can also represent good value when booked with Avios. Flights between 651 miles and 1,150 miles cost 7,500 Avios to redeem in Economy or 15,000 in Business class. And you could also fly between Melbourne and Perth on the excellent Qantas A330 business suite for just 20,000 Avios.
Travelling overseas? You'll find your Avios could also come in handy for short domestic hops with Japan Airlines and American Airlines.
How to take advantage of the Vente-Privee deal
Like all good deals, this one requires some effort, though it's considerably more streamlined than previous, similar Groupon deals.
Step 1 – First up, you're going to need to hold a British Airways Executive Club account. Unfortunately, British Airways restricts those with Australian addresses from signing up (possibly this goes back to the historical British Airways and Qantas tie up), so you'll need to register with an overseas address.
If you're unable to use a friend or family member's address, an easy way to get around this rule is to sign up to a mail-forwarding service like My UK Mailbox. You'll be provided with a United Kingdom address for free, and you only pay when a package is on-forwarded.
Step 2 – Once you have your British Airways Executive Club membership, proceed to the Vente-Privee website and create an account. The website is in French, so switch on Google Translate if you need help with navigation. You can either register with Facebook or sign up manually. Note that manual registration requires you to enter a French post code.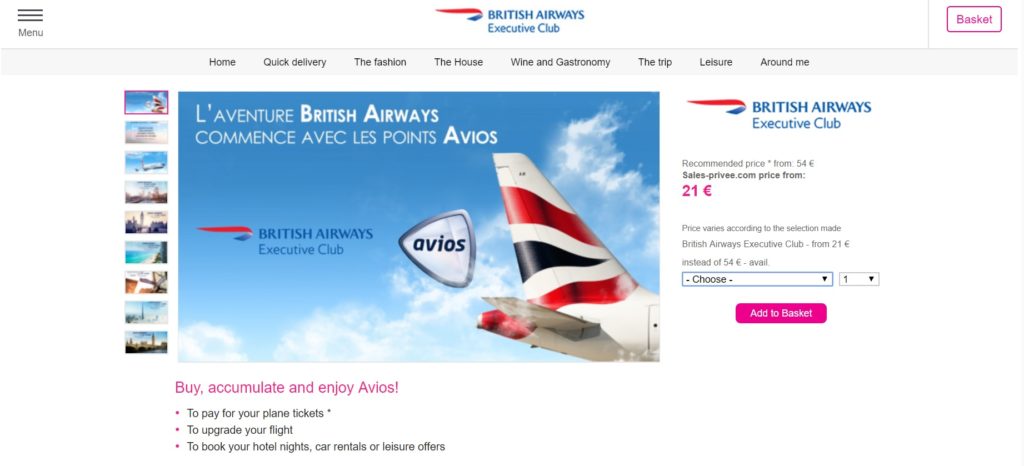 Step 3 – Select the number of British Airways Avios you wish to purchase. Note that these sales are very popular, and blocks of Avios can sell out quite quickly.
Step 4 – Once you've purchased, sit back and wait for your voucher code. You'll be able to deposit the Avios into your British Airways Executive Club account from 16th September.
Will you be taking advantage of the offer to purchase cheap British Airways Avios?