A solid hard product and exceptional ground service position Thai Airways First Class as one for the bucket list.
Thai Airways First Class has been on my wishlist for quite some time. While it tends to receive mixed reviews, the ground experience (inclusive of a one hour massage and buggy service for first-class travellers departing Bangkok) is lauded as one of the best.

Throw in full caviar service, vintage Champagne (Dom Perignon), a chance to sit in the nose of the iconic 747 plus authentic Thai cuisine, and you'll begin to understand why a jaunt in Thai Airways First Class isn't one to miss.
Booking my ticket
I booked my flight as a United Mileage Plus redemption. United Airlines' loyalty program provides one of the most competitive ways to redeem Thai First Class. In fact, up until recently, a flight between Sydney and Bangkok (or further afield in Southeast Asia) at the pointy end could be redeemed for just 40,000 United miles – one of the best frequent flyer points and miles 'sweet spots' for those in the know.
Fast forward a year, and United Mileage Plus has undergone a raft of changes – namely, a partner award chart devaluation and the total abolishment of its own award chart – which augers badly for the future of the program.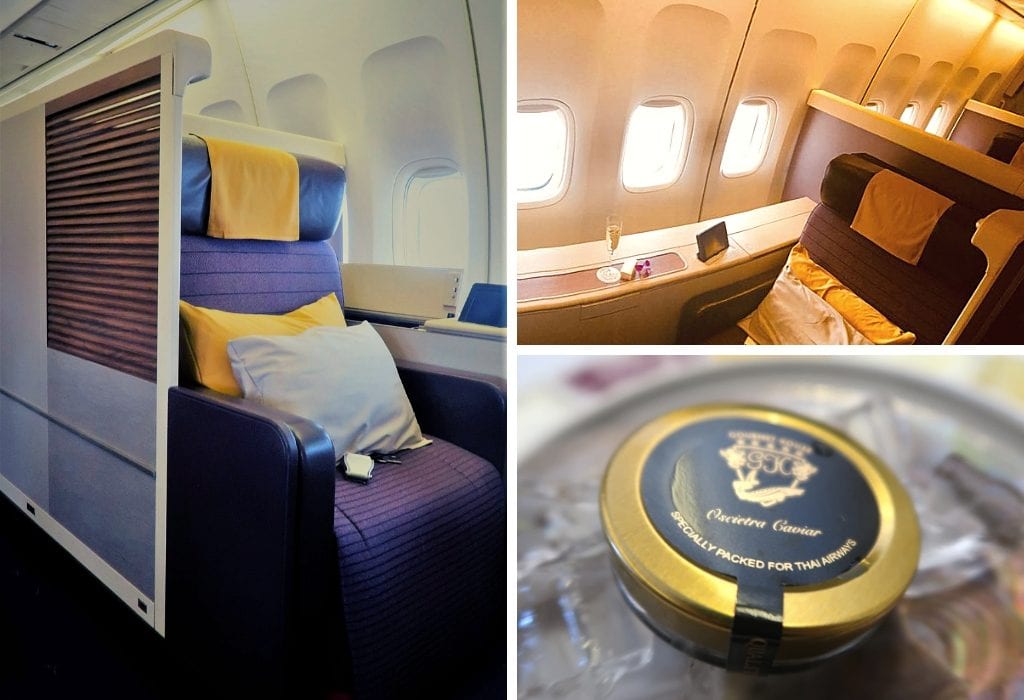 However, at the present time, it's possible to book a two-sector Thai Airways first class flight between Sydney and Tokyo for 65,000 United miles (plus accompanying taxes/surcharges of approx $200 AUD). This is, in my opinion, still an unbeatable deal.
After all, you're getting 15 hours in Thai first class (nine from Sydney to Bangkok, and a further six onwards to Tokyo), plus a chance to experience Thai Airways exceptional on the ground services (massage, buggy rides and all) during transit.
Tip: United Mileage Plus allows you to extend the value even further by tagging on an Air New Zealand trans-Tasman flight within the 65k itinerary (Air NZ Dreamliner business class, anyone?).
The catch? Thai doesn't release many first class award seats to partners, and it can be very hard to find them in pairs.
I located and booked my redemption just five days before departure, snapping up my 65k itinerary quickly. As a rule, you'll do better looking for one seat and you must be flexible – it pays to look very far in advance, or shortly before departure.
Those obstacles aside, Thai Airways First Class is an experience worth splashing out for if you can.
This last-minute availability seems to be a pattern. At the time of writing, I've looked ahead just 7 days and found SYD-NRT available for one person, both sectors in first class, per the itinerary below: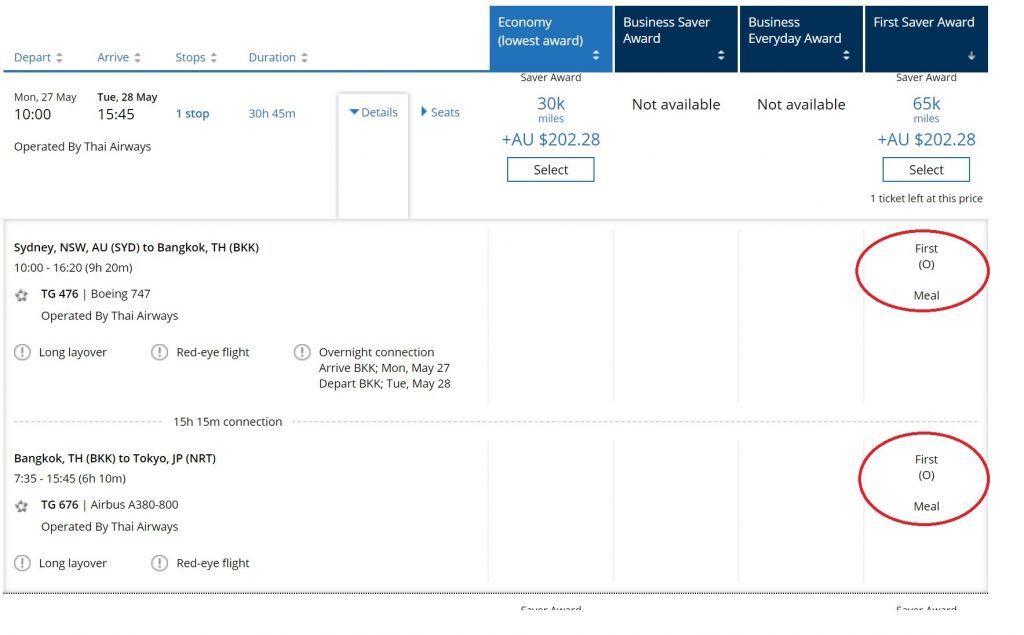 United Mileage Plus miles aren't easily earned in Australia. However, they can be purchased (with United often running promotions throughout the year). More information on purchasing miles is available here. If you don't have a stack of United miles at the ready, you can also book Thai Airways through another Star Alliance partner such as Singapore Airlines Krisflyer.
Thai Airways First Class check-in
Arriving at Sydney International Airport at 7 am sharp, I made a beeline for the Thai Airways check-in desk. There was a dedicated Royal Silk first-class line, and it was relatively quiet.
A sign inviting passengers to bid for a paid upgrade to first class was displayed at the counter (I didn't enquire as to the price). Check-in was processed quickly and efficiently, and I was asked to re-confirm my seat of choice (2K).
It's interesting to note that I was directed by the check-in agent to head to the Air New Zealand Business Class Lounge. However, the Singapore Airlines SilverKris Lounge is also available to passengers travelling in Star Alliance first class, and in my opinion, it's far superior. It's also one of my favourite spaces at Sydney Airport, second only to the Qantas International First Lounge.
The SilverKris Lounge features a dedicated first class section complete with free-flow Veuve Cliquot and a truly excellent signature prawn laksa.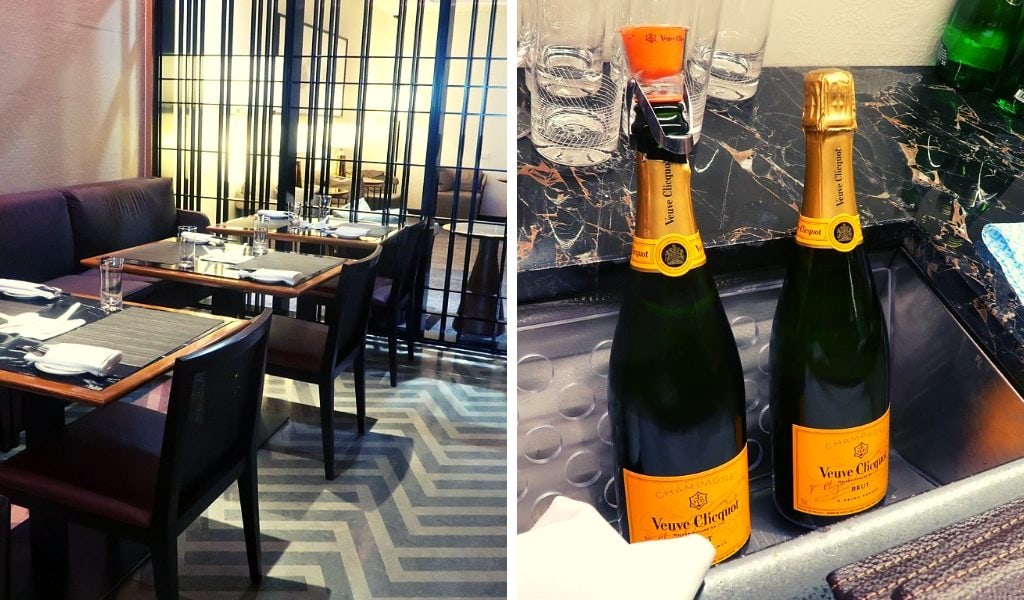 Arriving at the SilverKris Lounge, I was immediately escorted through to the first class section, which was empty, save for one other person.
At the time of visiting, the Lounge featured a range of a la carte breakfast options along with a buffet spread. A selection of champagne, red and white wines were on offer, along with beer, juices and soft drinks.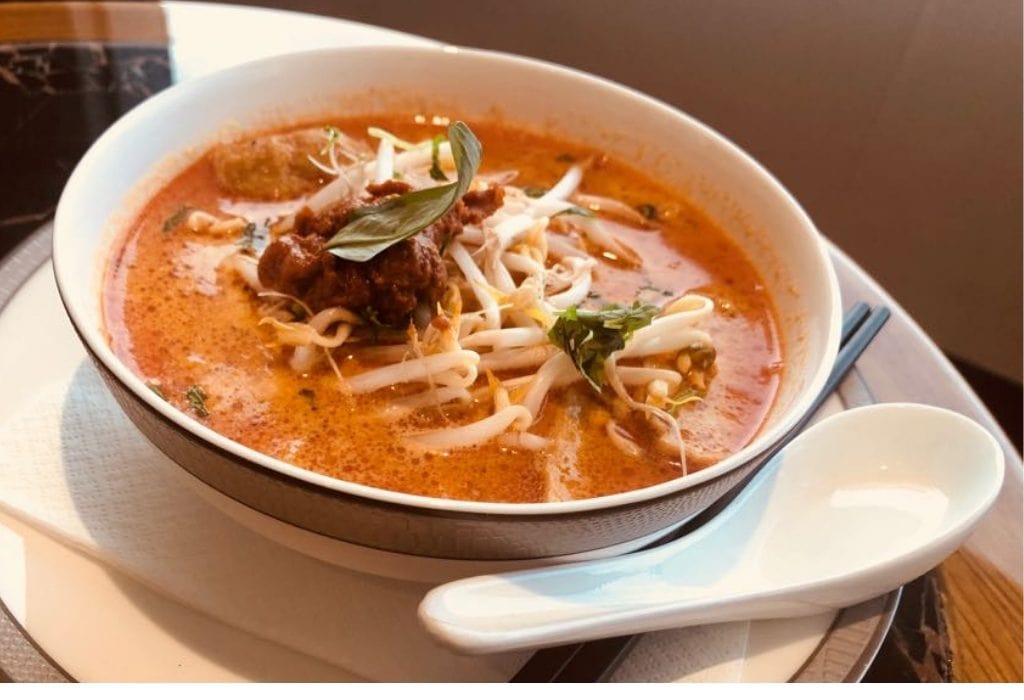 The Singapore Airlines SilverKris First Class Lounge serves a mean prawn laksa. There are various seating options available, including a well-appointed lounge area, a la carte dining area, a cluster of work pods and a small number of (highly coveted) wingback chairs which overlook action on the tarmac.
Along with a glass of Veuve, I ordered the signature prawn laksa. This combination is essentially my dream breakfast! The laksa was fragrant and full of flavour – just as I remembered.
Before long, it was time to head to the gate, where the premium line up was already snaking its way around the bend. Along the way, I spotted my Thai Airways 747 parked at the gate.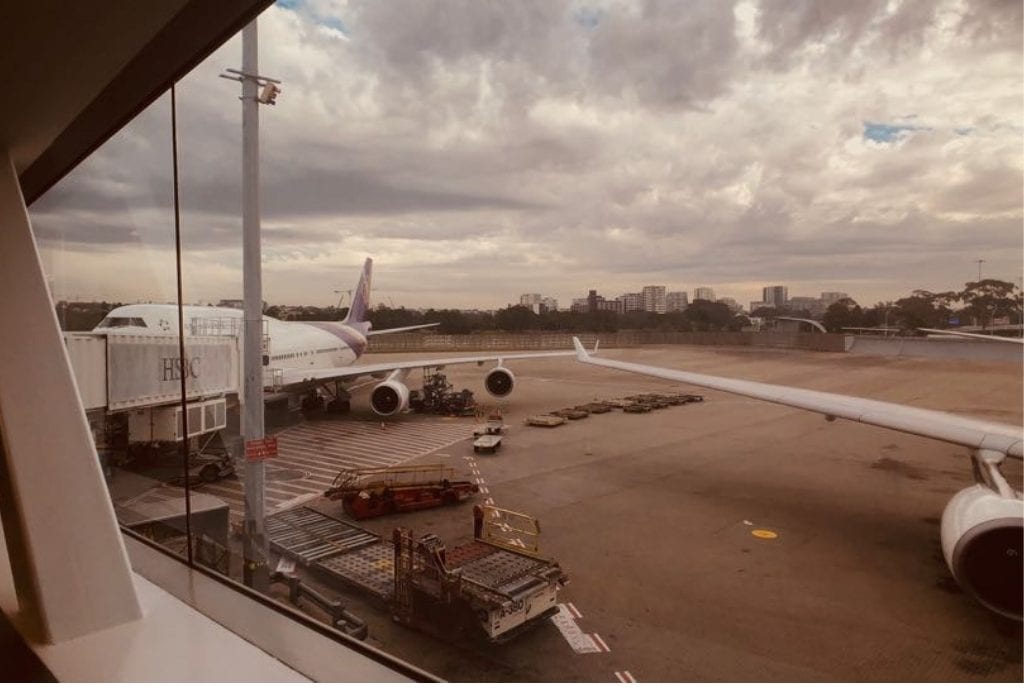 Thai Airways 747 First Class cabin
As soon as I'd stepped aboard the Thai Airways 747, I was welcomed warmly, if brusquely, by the crew and ushered through the first class cabin to my seat.
Thai Airways operates two configurations of the 747-400. One version offers a newly refurbished first class cabin (considered superior even to the A380 first class fit-out), and the other is in desperate need of an overhaul.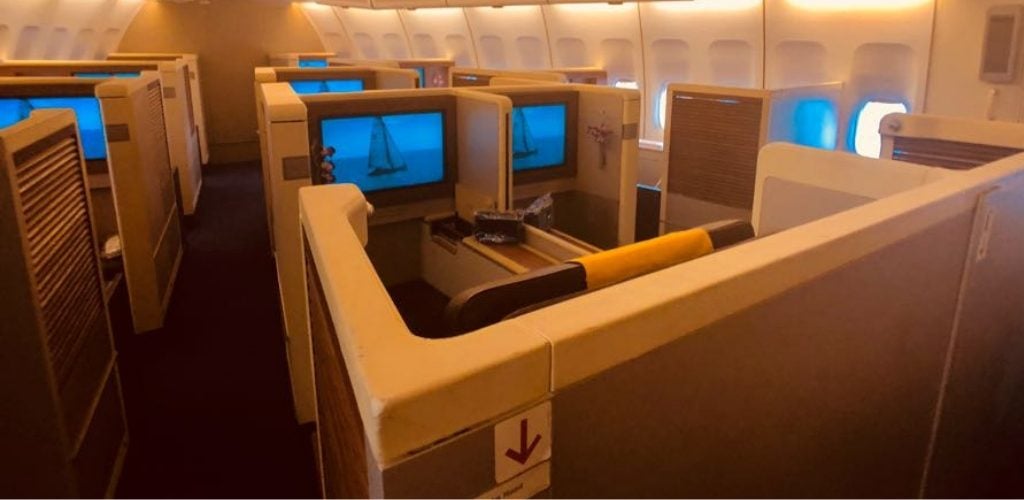 Both configurations ply the Sydney – Bangkok route, so the hard product you can expect to experience is essential 'luck of the draw'.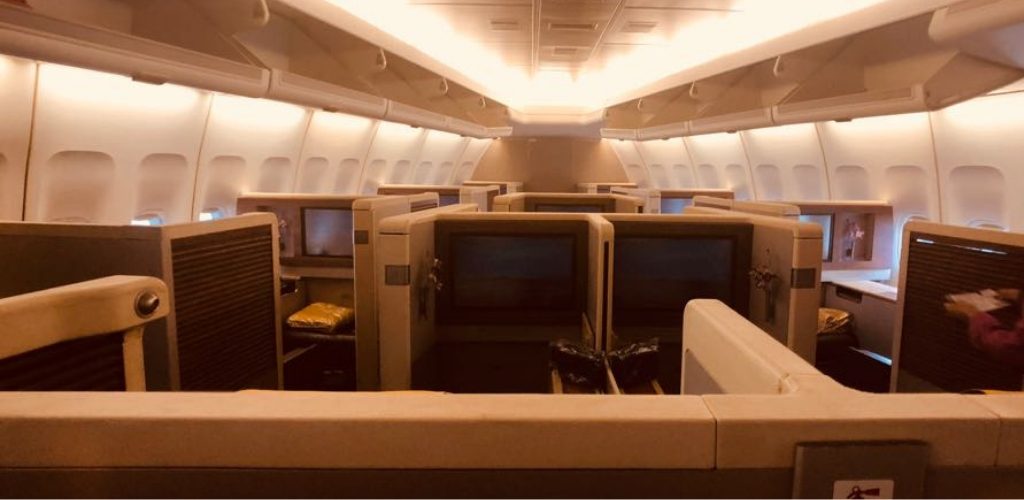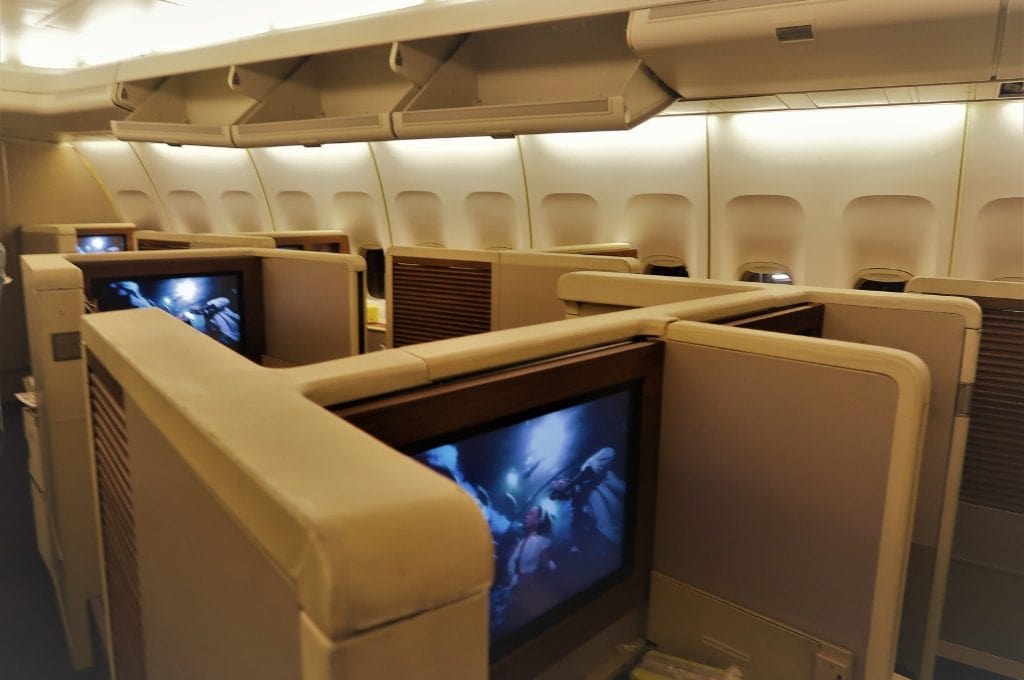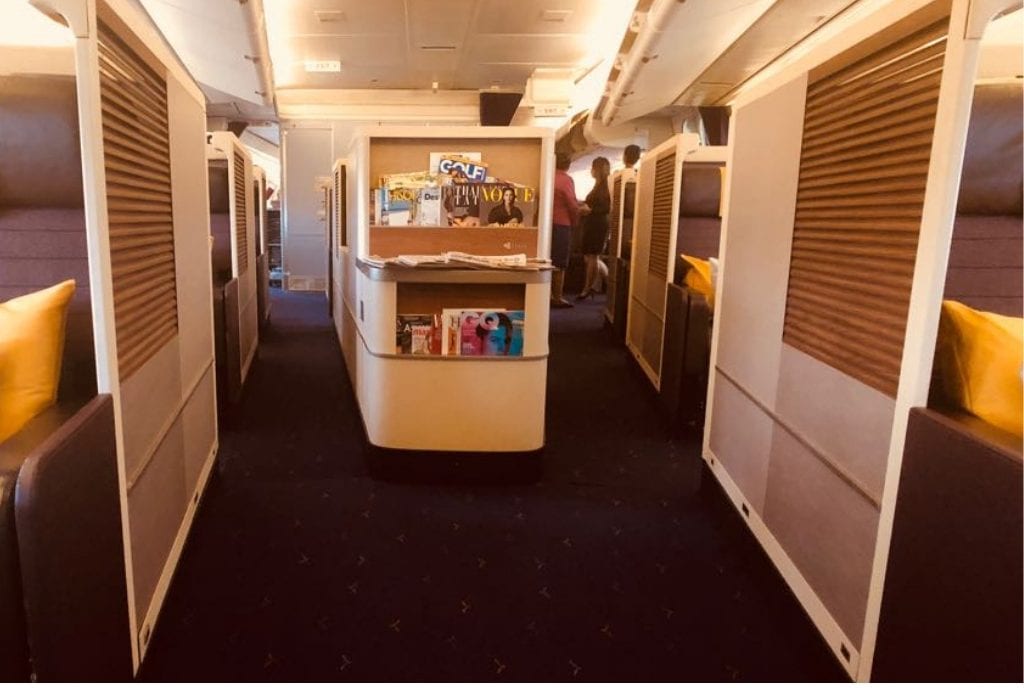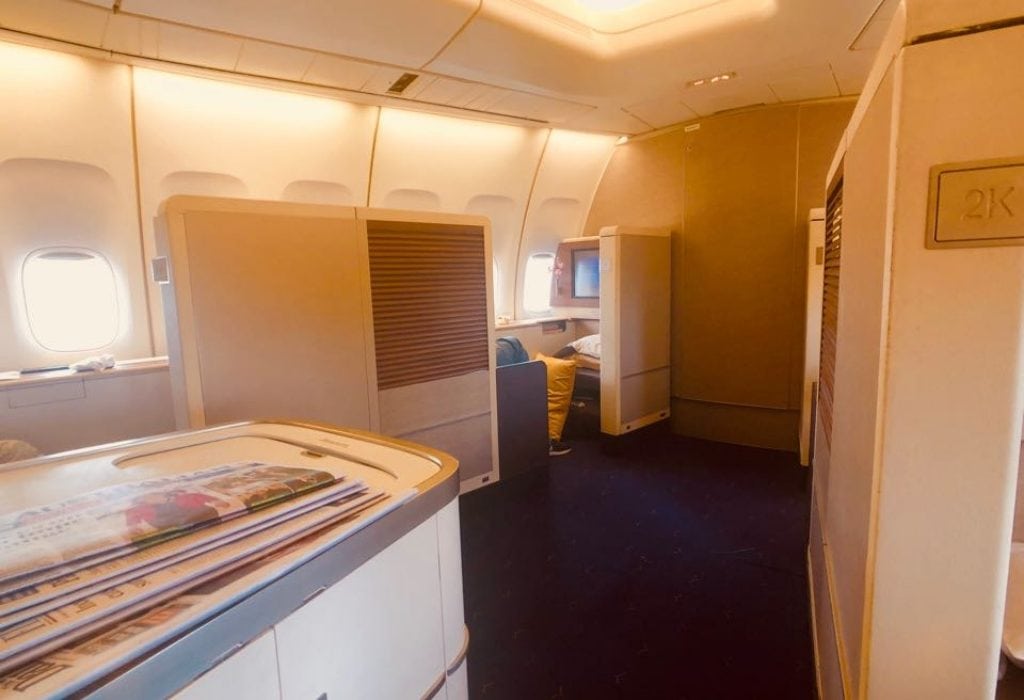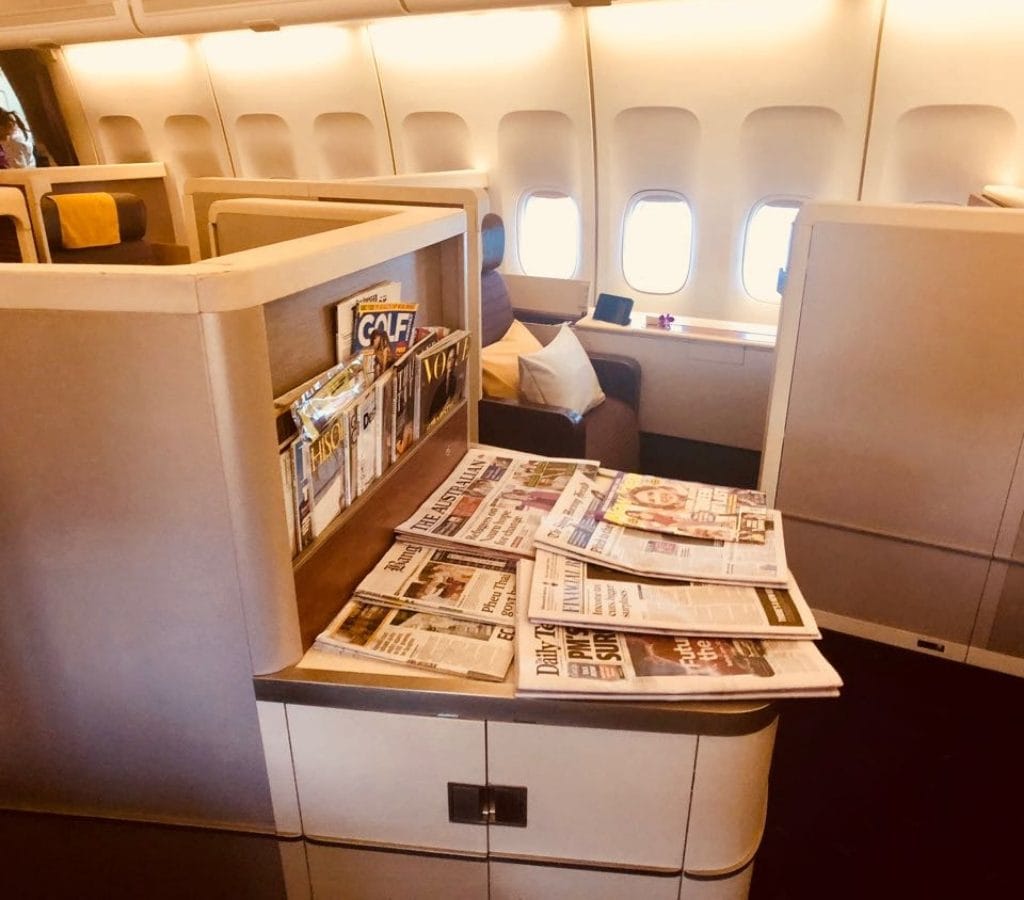 The nine seats are located in the nose of the 747, and they are spaced out over three rows. Row one features just two seats, row two has three and row three boasts four.
In the middle of row two, there's also a console/service station that's used to display magazines and newspapers prior to take off. During meal service, the console is converted into a drink station, where you'll find chilled Dom Perignon champagne.
Thai Airways First Class seat
The new config Thai Airways 747-400 features a 23-inch wide first-class seat. While that might sound a little cramped compared to some other first-class offerings, I found Thai's first-class seat provided plenty of space.
It was certainly more than adequate for my 5'4 frame, and other much taller passengers were able to comfortably stretch out.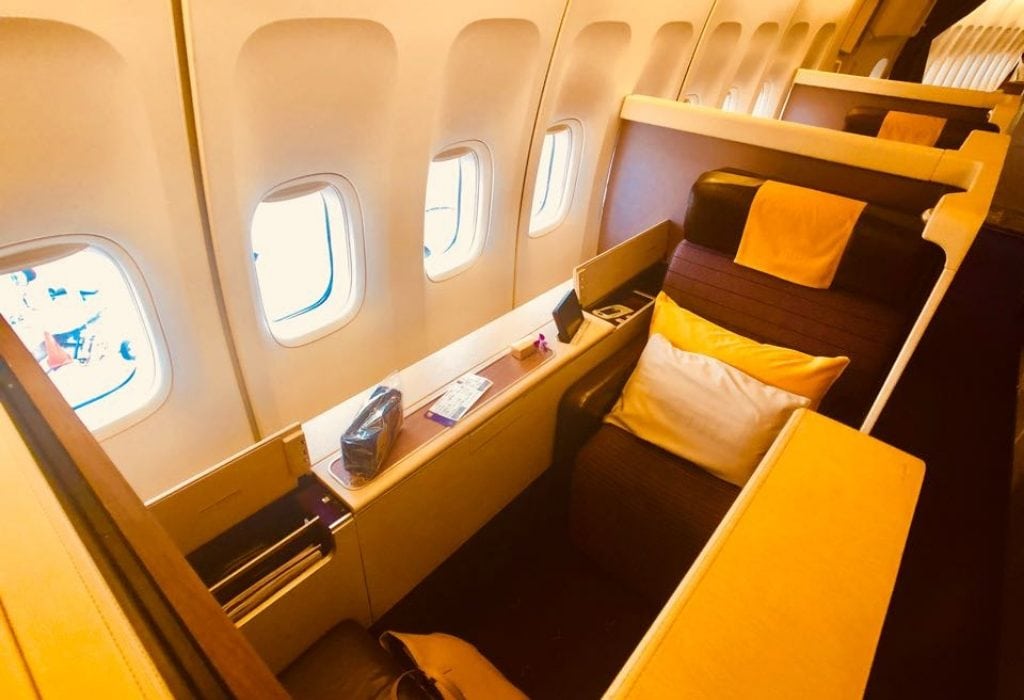 The Thai Airways First Class provides ample space to stretch out and an opportunity to get in a number of hours of slumber before hitting up sightseeing in Bangkok or beyond.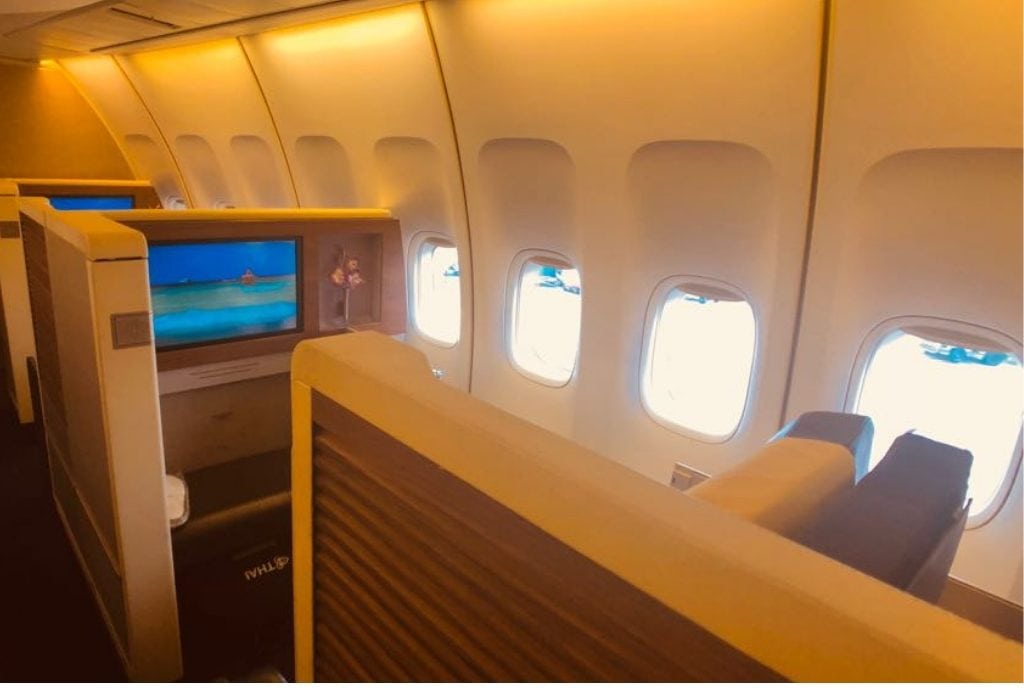 Thai refers to these seats as 'suites' and the description isn't too far off the mark. However, I can't help but think that an extension of the doors – creating a fully-enclosed suite – would add an extra layer of privacy and luxe.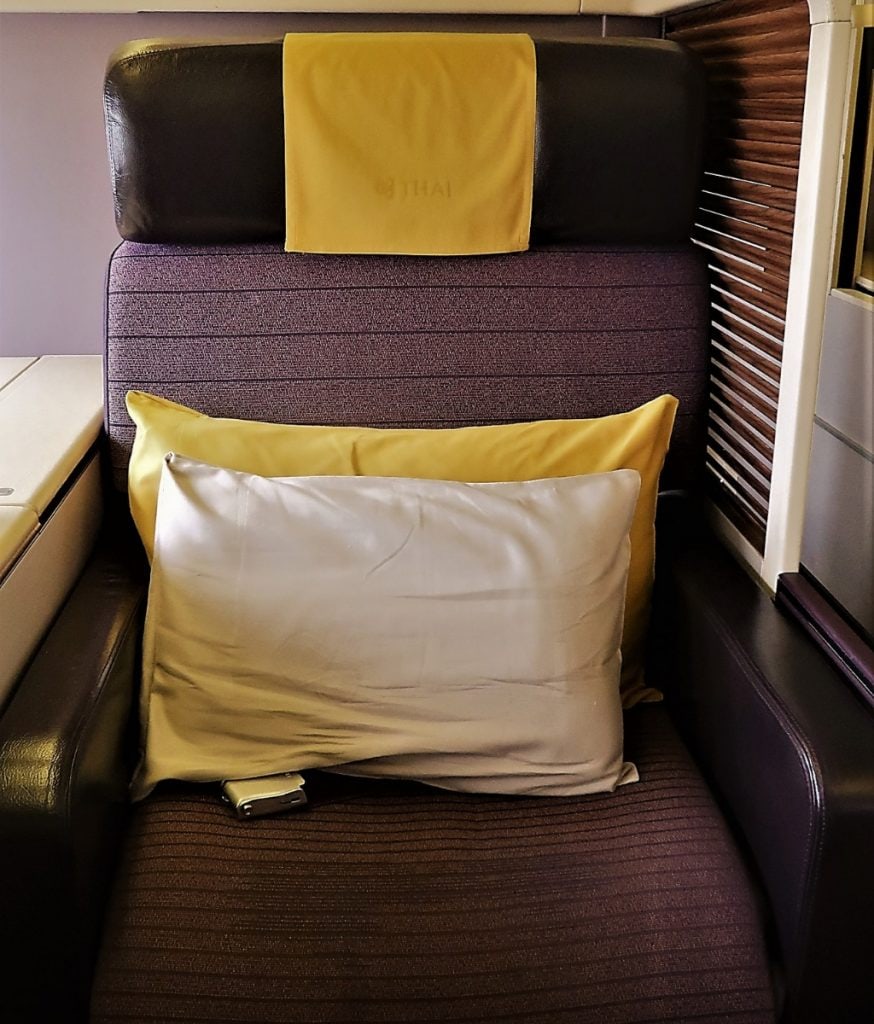 The seat is upholstered in a plush purple fabric. Accompanying pillows and linens are in shades of yellow and beige. The use of slatted wood within partial privacy screens adds style and warmth.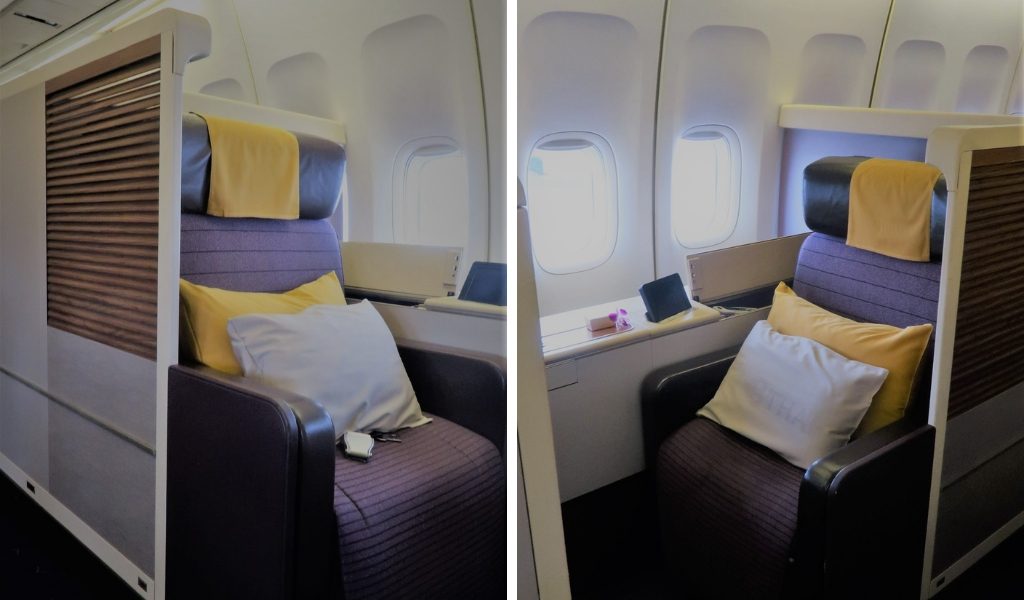 An ottoman is positioned directly across from the seat. Similar to Qantas A380 first class, this is large enough to allow a companion to dine opposite. An entertainment screen featuring a 23-inch display was positioned above.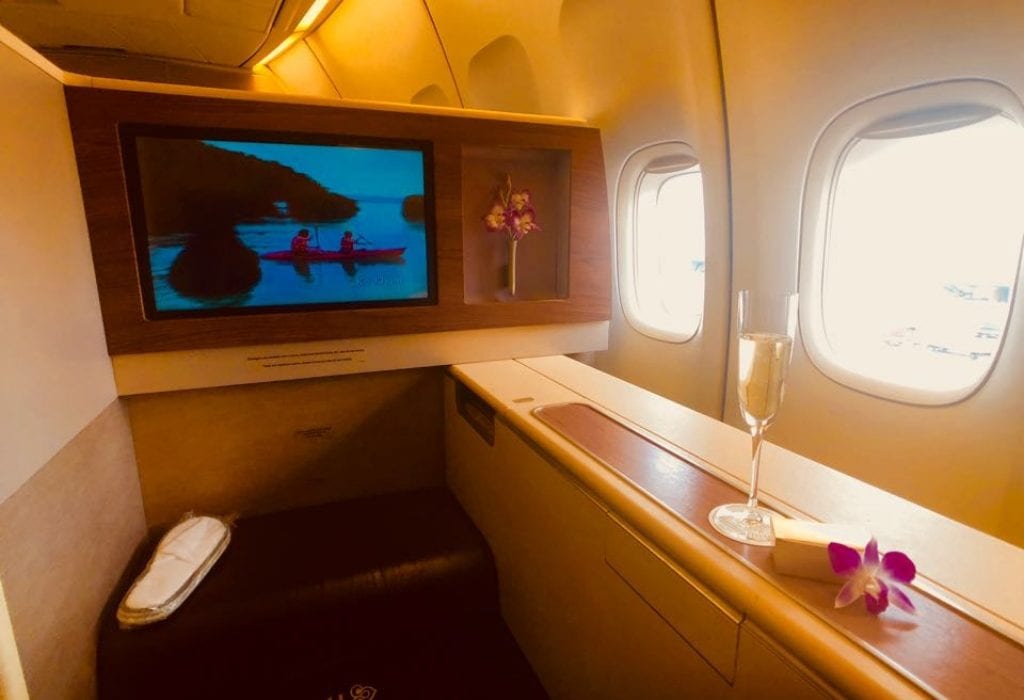 To the left of the entertainment screen, a narrow wardrobe is large enough to hang one jacket. To the right, a vase displays a beautiful, fresh Thai orchid.
A storage compartment is located directly underneath the ottoman. This can be used to store a (small) handbag or travel backpack. Mine failed the space test and had to be placed in the overhead bin.
A long console is positioned to the side of the seat. Here, you'll find the Thai Airways First Class seat controls, along with a few storage compartments.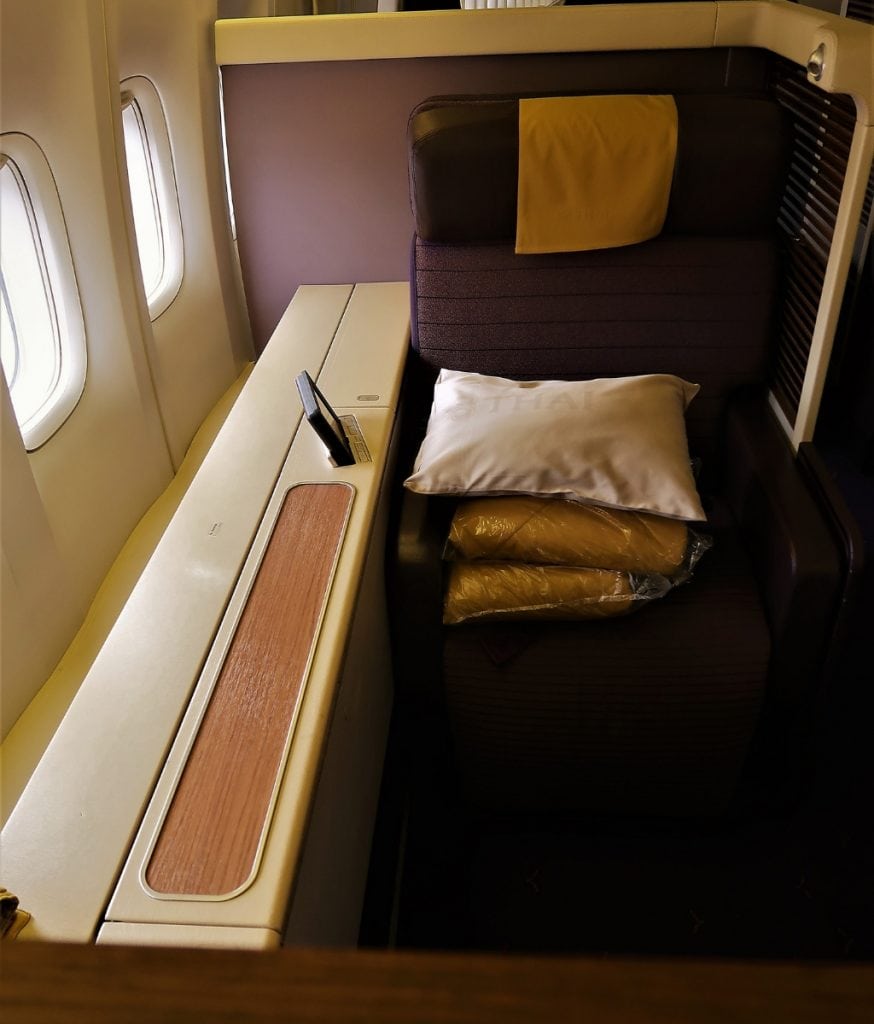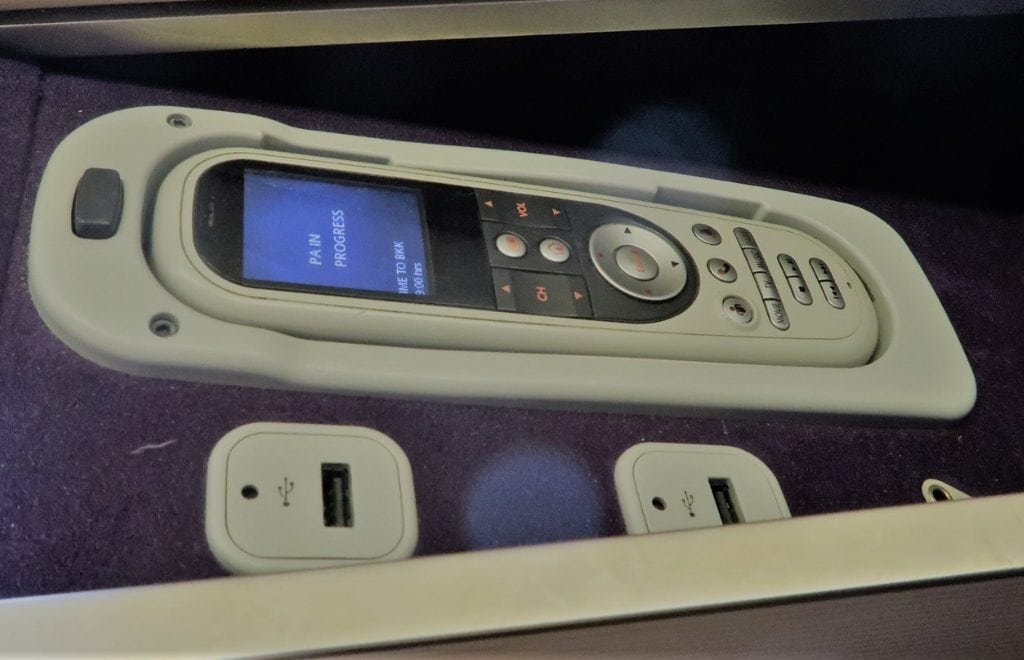 Closest to the seat, flip-up a lid to find the entertainment controls, headphone jack and two USB outlets. Behind this, there's an (oddly placed) small storage compartment.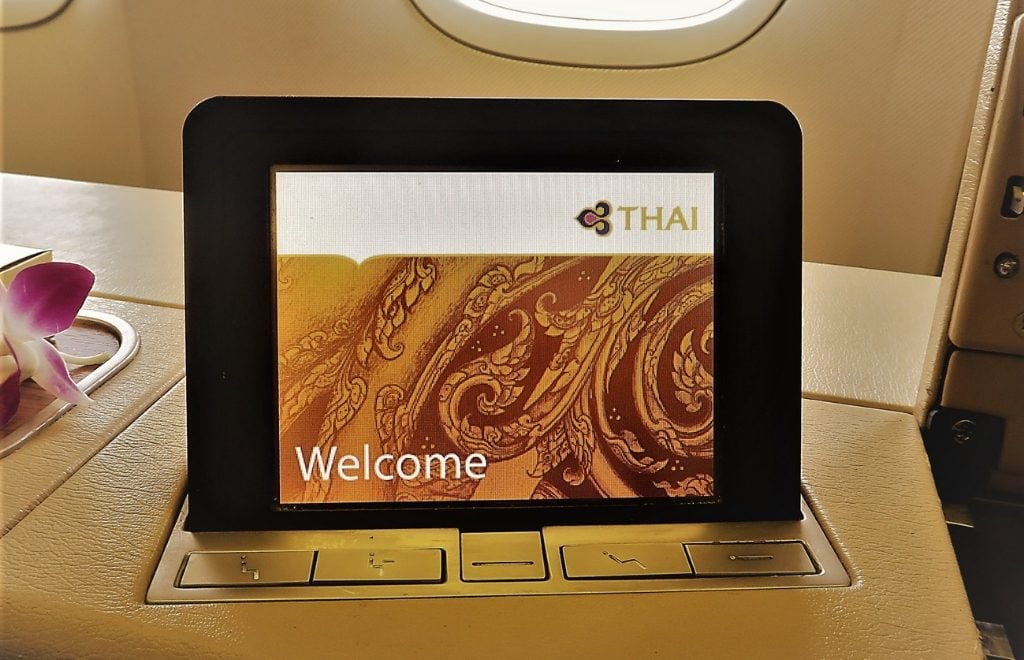 Directly in front of this, a tablet touch screen allows the passenger to select from the various seat and lighting preset options.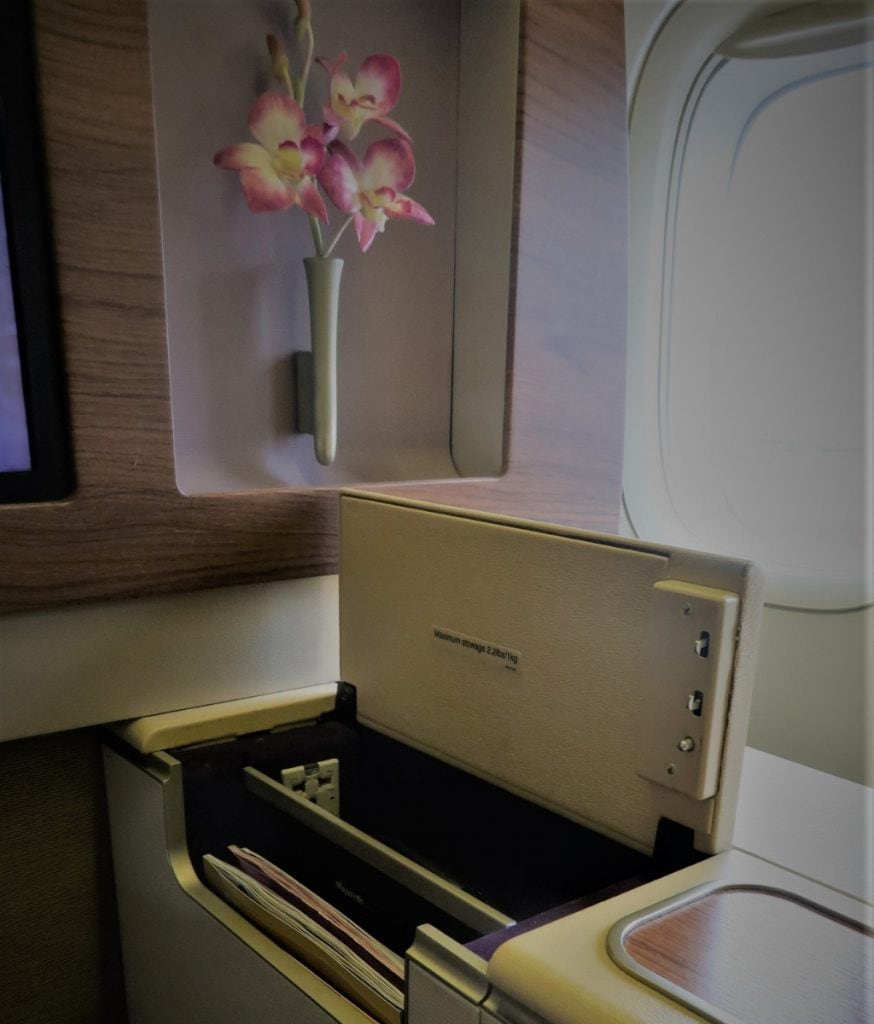 Furthest away from the seat, there's a deep storage pocket. Here, you'll find a selection of Thai Airways magazines (including the Duty-Free catalogue and Entertainment schedule), along with noise-cancelling headphones.
While the Thai Airways first class seat delivers all the features that you need, I can't help but think that user functionality could have been better thought through. In particular, the position of storage options could have been more intuitively designed, as there are few compartments that are easily accessible.
Thai Airways First Class amenities
Once I'd settled into my seat (suite?), a Thai orchid pin and a small gold box were placed on my console. The box contained a chocolate truffle.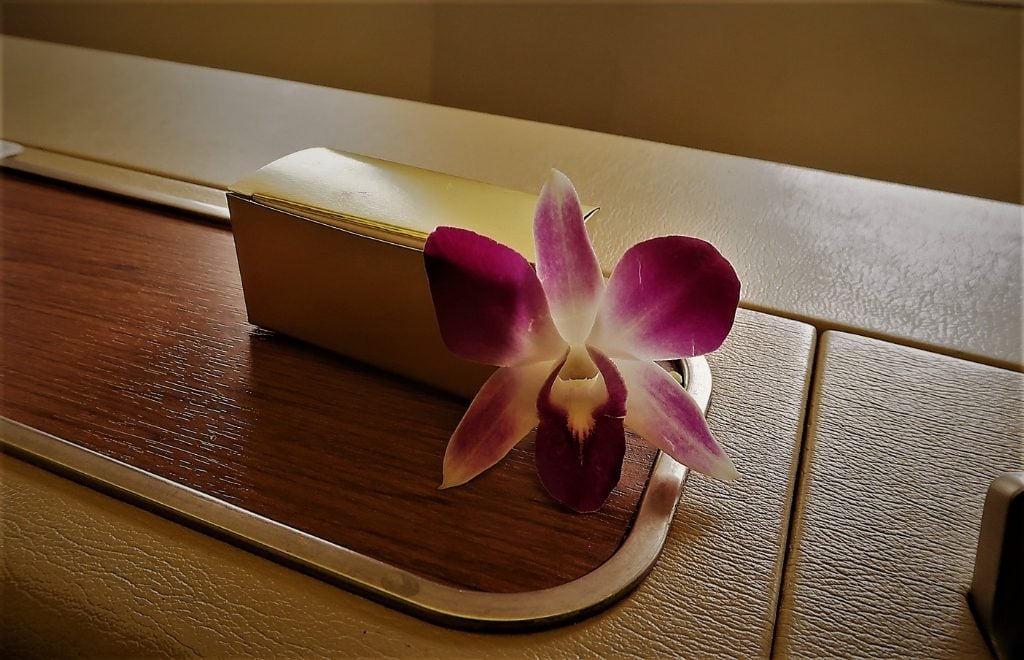 Shortly thereafter, the crew came around to present first-class passengers with an amenity kit and pyjamas.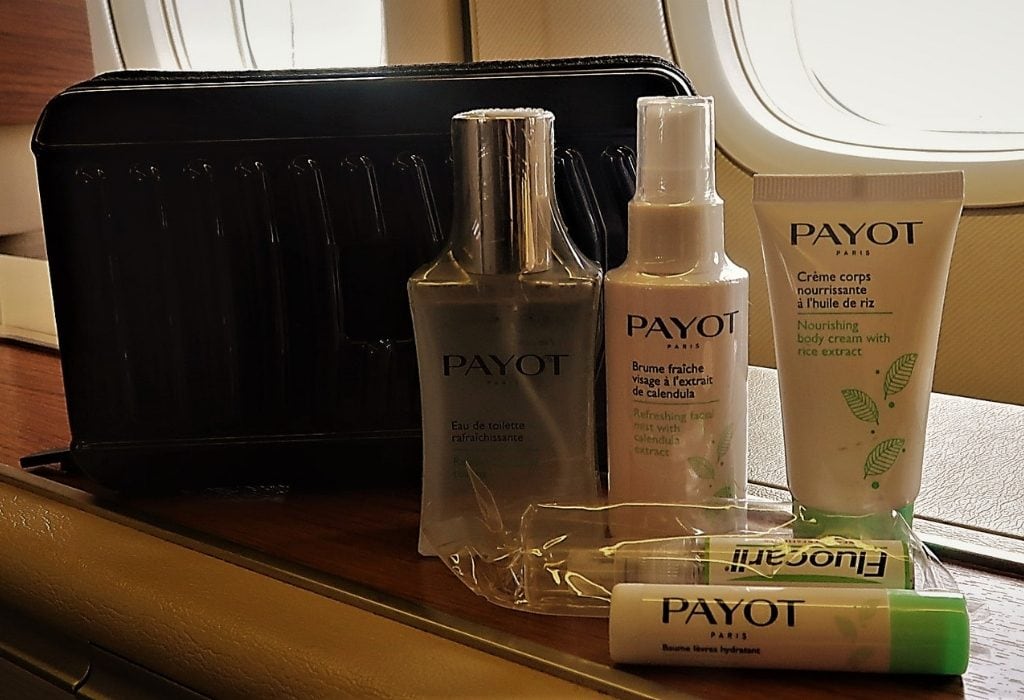 The amenities were housed in a black hardcase kit by Porsche. Inside, I found a range of generously-sized Payot toiletries and a toothbrush. I was slightly disappointed not to be receiving the highly coveted Rimowa case, however, I did score one the very next day on my flight to Tokyo.
The pyjamas were by Boggi, a men's contemporary design house based in Milano. These were presented in a dust bag.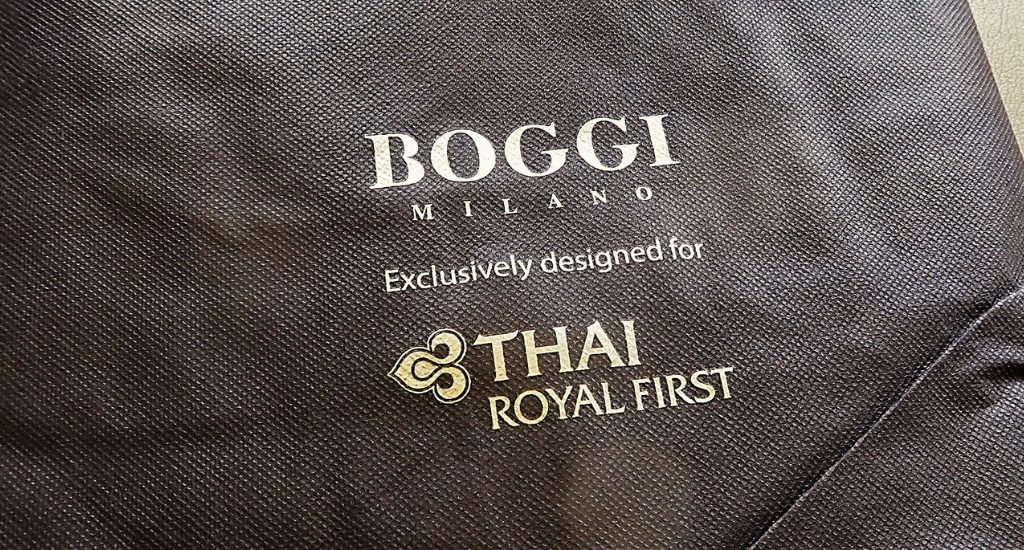 A set of AKG noise-cancelling headphones was located in the storage pocket at the front right of my seat. While I'd brought my Bose QC35s along for the journey, I decided to test these out. I was pleasantly surprised by the quality on offer.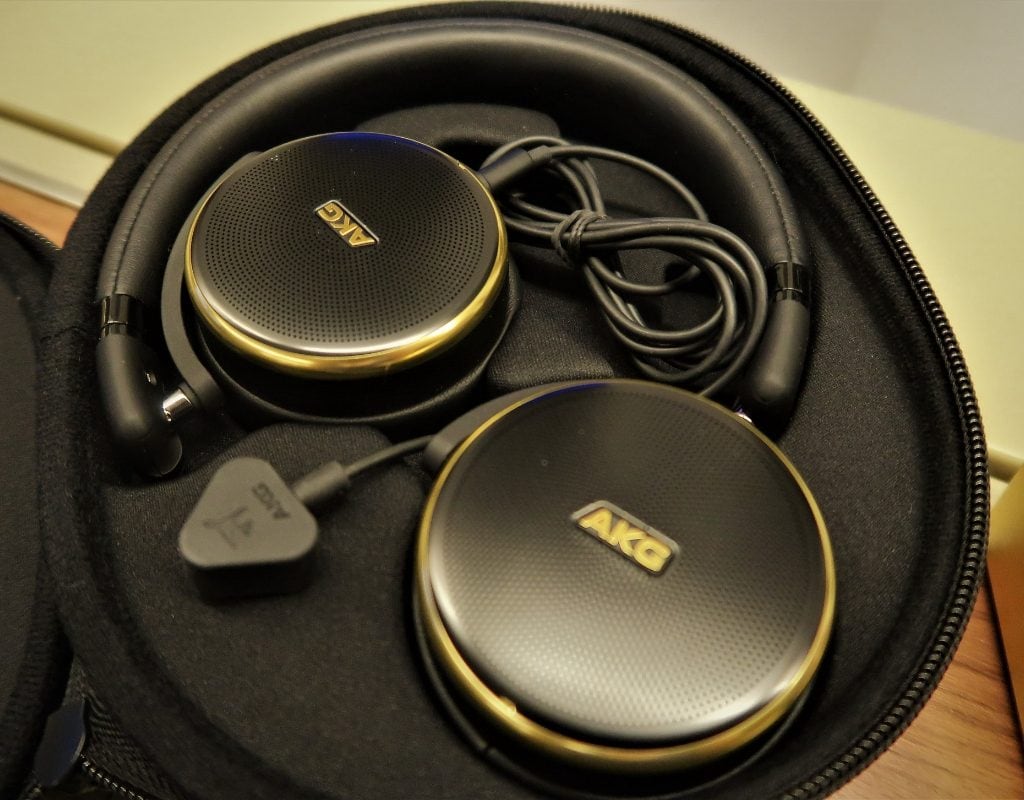 Food and beverage service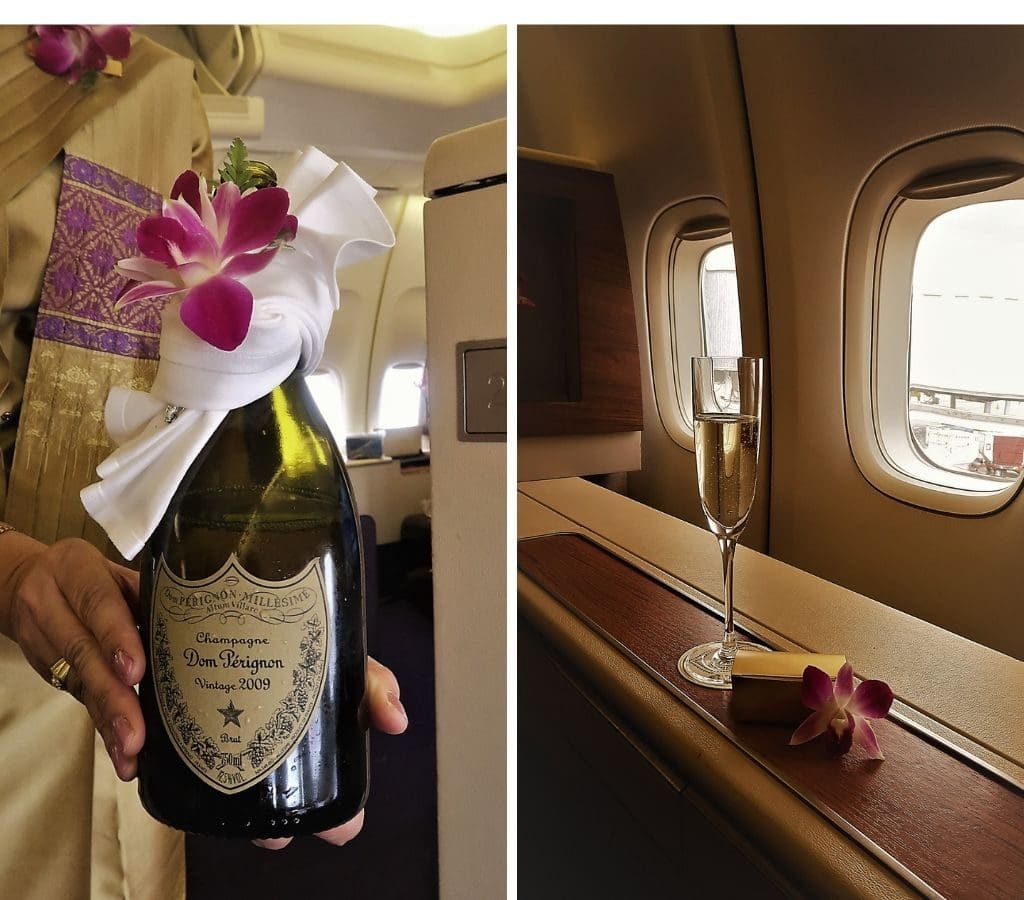 Shortly after I'd settled into my seat, the crew came around to offer passengers a glass of Dom Perignon 2009, which can be purchased for around $235 from Dan Murphys.
My glass was proactively topped up once more before wheels up. As soon as we reached cruising altitude, the crew quickly came around to proffer another glass of champagne and a leather-bound menu to peruse.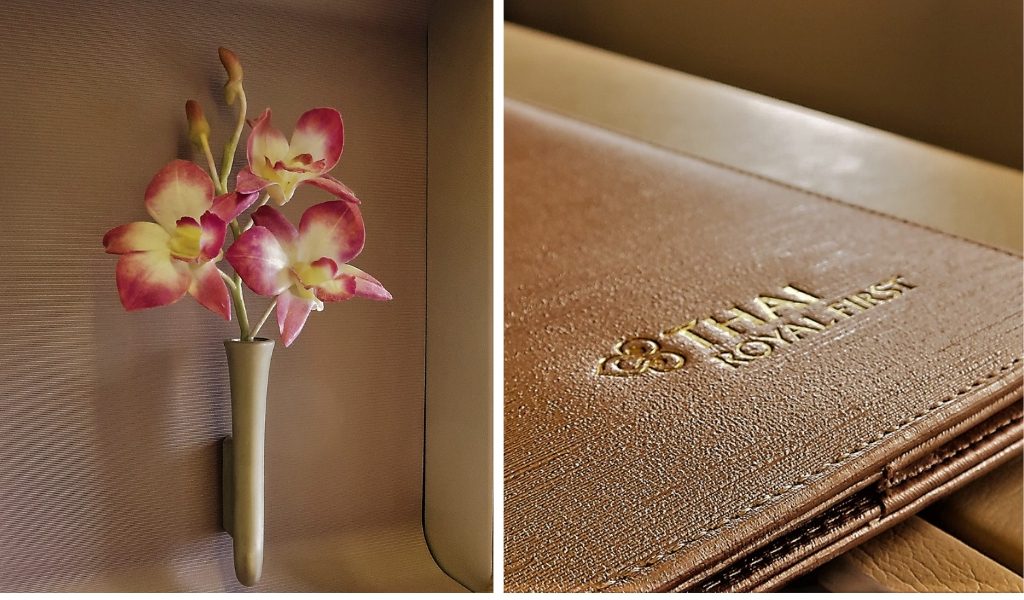 Along with Champagne, the Thai First Class drinks menu offered a range of white and red still wines (mostly French, with some new world), and mid to high-end spirits.
I've enjoyed a number of trips to Thailand, so it goes without saying that I love Thai food. As a cuisine, I find it works very well in the air. Browsing the food menu, it struck me that there was a lot of food on offer across the two meal services.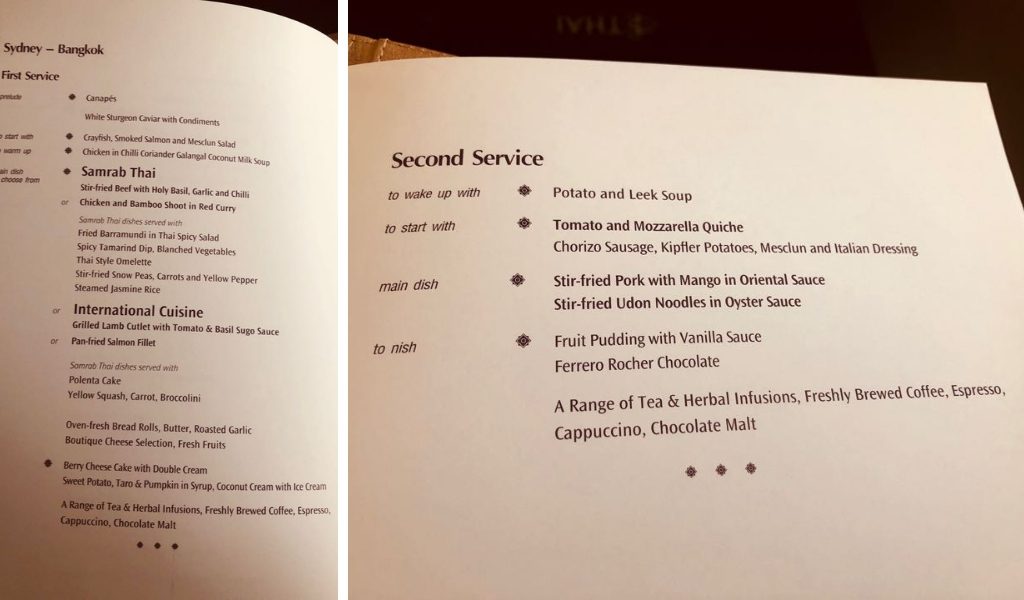 The first service consisted of no less than seven courses (not including the five dishes to accompany the Samrat Thai main), plus bread and condiments. The second service, which would commence only around four and a half hours following the completion of the first, provided for four additional dishes – three savoury and one sweet.
Prior to my table being set, I was presented with a 'taster' trio of canapes on bread and a bowl of warm macadamia nuts. The macadamia nuts were lovely, but the canapes were somewhat lacking. The accompanying bread was verging on the stale side.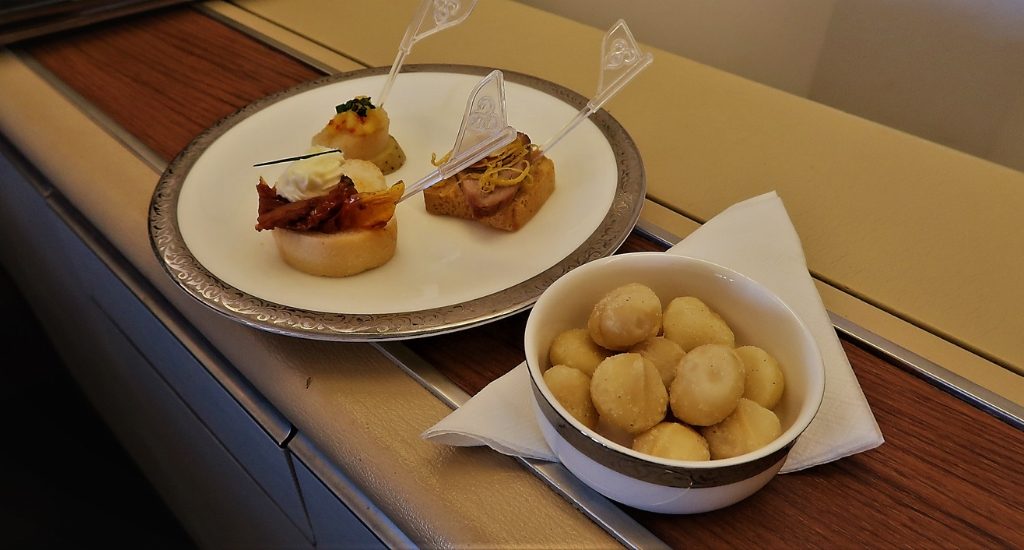 Next, the crew expertly set up my tray table for the Thai Airways First Class meal service proper.
First to come out was a basket of various breads (wholegrain, white and warm garlic bread) plus condiments. Interestingly, this included a whole roasted head of garlic.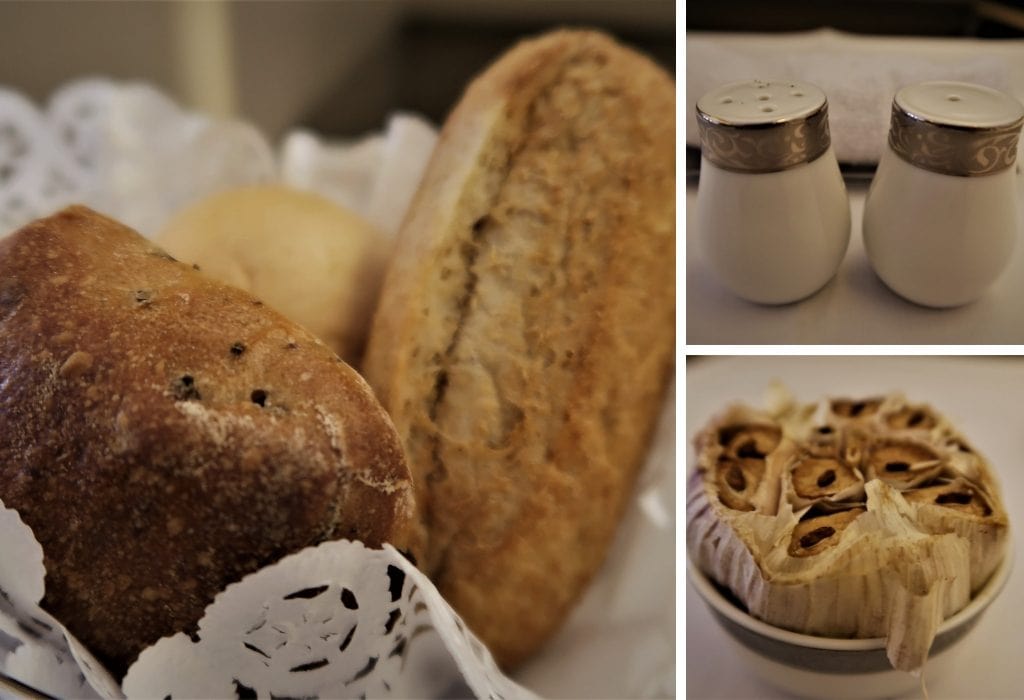 With a slice of garlic bread consumed, it was time to commence a full caviar service.
Thai Airways First Class passengers on medium to long-haul routes enjoy a generous portion of chilled Oscietra caviar and accompaniments, served correctly with a porcelain spoon. A shot of vodka (Stolichnaya) is proactively offered.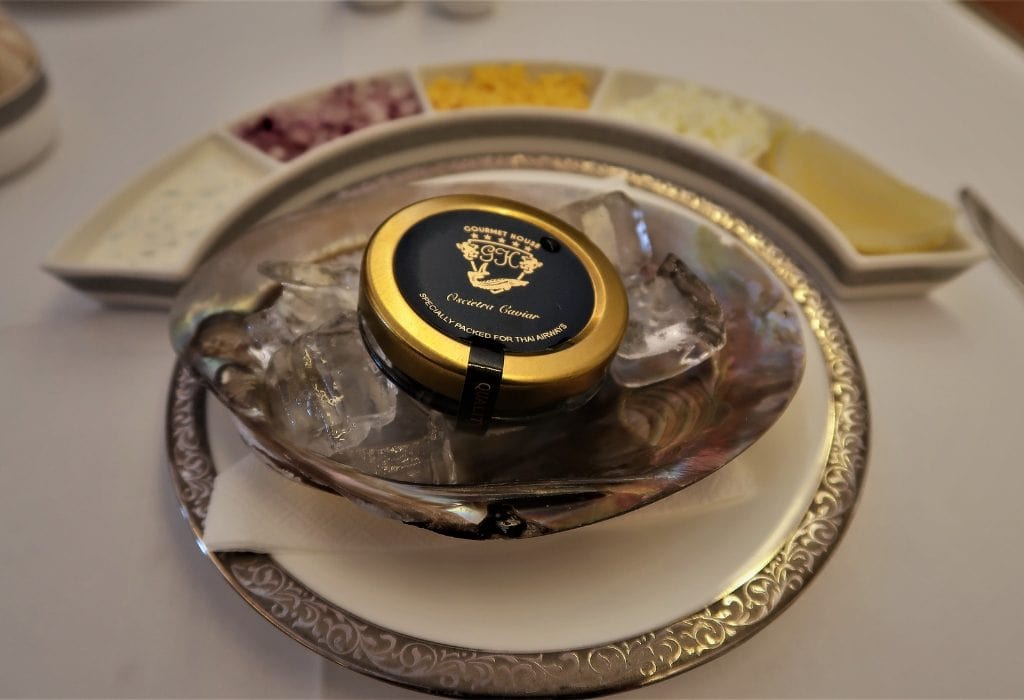 With the caviar service completed, I was excited to proceed to the Thai cuisine. The first dish was a delicious Tom Kha Chicken soup.
For the main course, I received the red Chicken curry with bamboo shoots. The curry was rich and nicely balanced. As I'd opted for a Samrat Thai choice, at this point I was served no less than five accompanying dishes – some of which were as substantial as the main!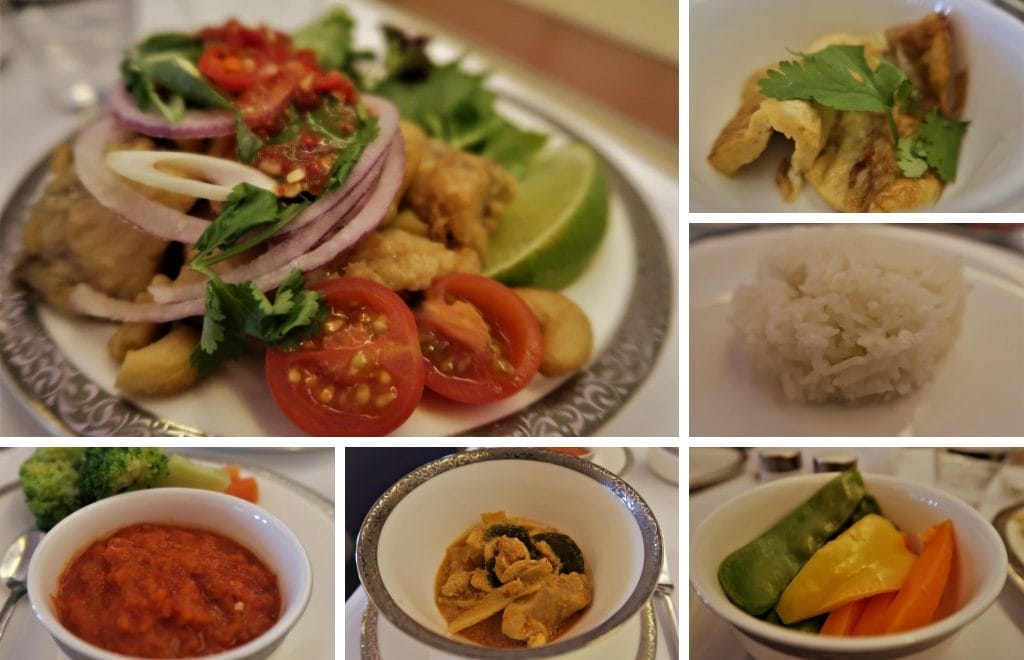 After a short break, a cheese and fruit trolley came out. This approach is similar to the Cathay Pacific business class, where the crew will plate up your selections from the different items on offer.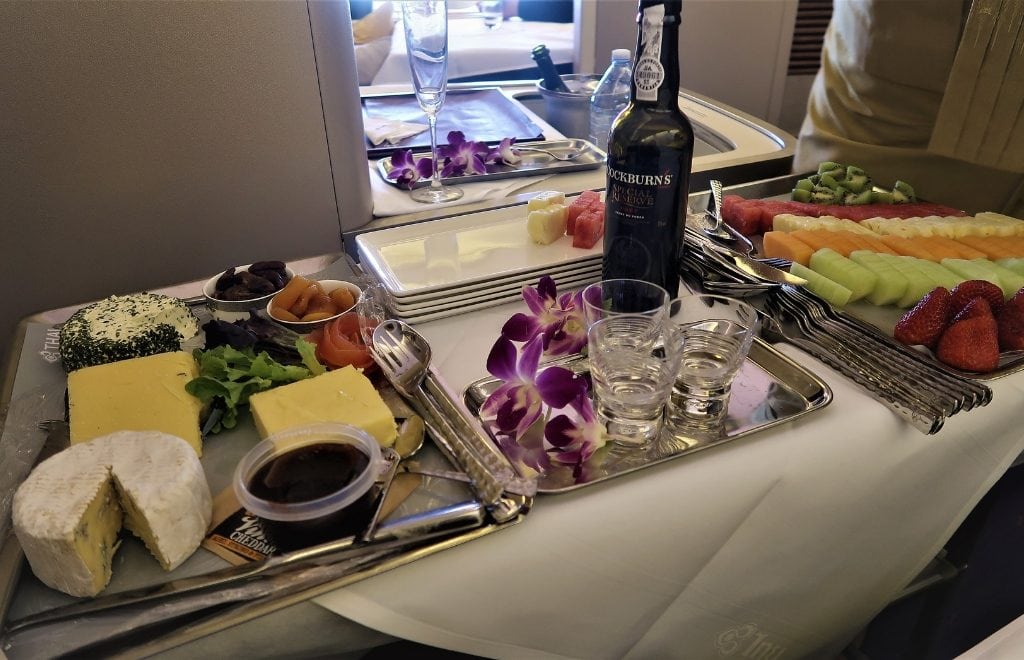 There were four kinds of cheese on offer along with a range of different fruits.
After the cheese and fruit had been consumed, the crew offered dessert. This consisted of a tub of Serendipity 'Hokey Pokey' ice cream and a cheesecake with berry coulis.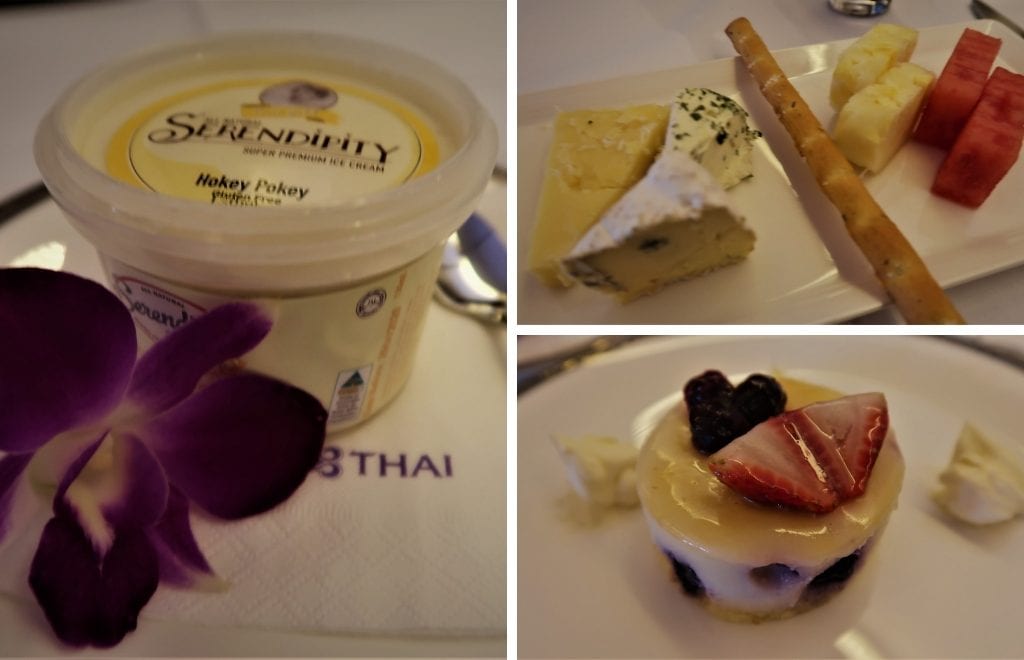 Around four hours later, the second meal service was provided. This consisted of three substantial, savoury dishes – a soup, tomato and mozzarella quiche with chorizo sausage, and pork stirfry with udon noodles.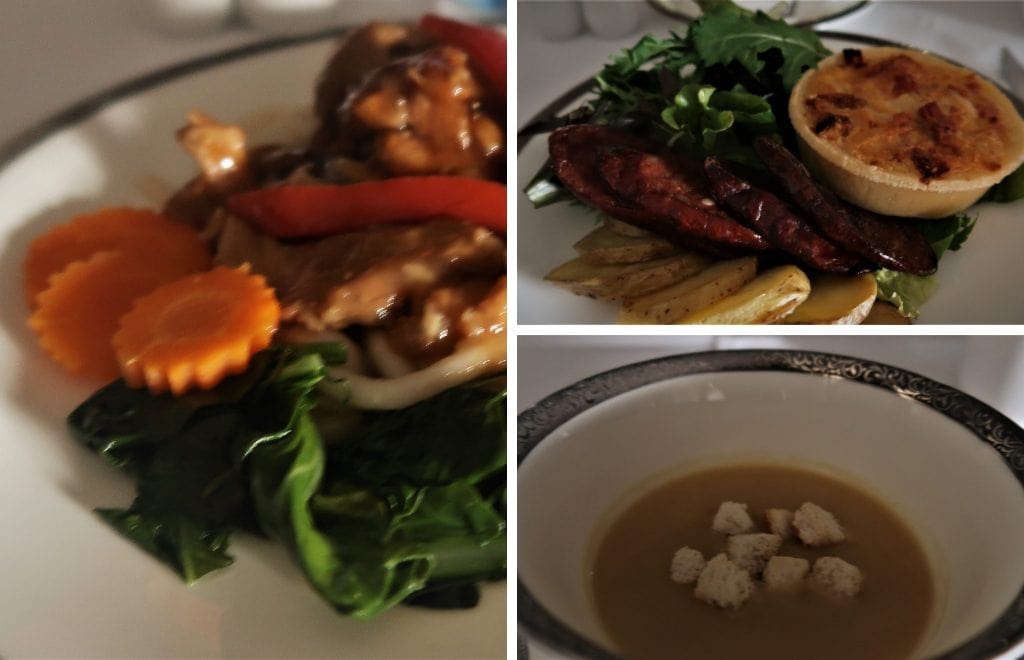 There was also a fourth dish (a fruit pudding) on offer. However, by this stage, I was only accepting food for photographic merit so I couldn't see another dessert go to waste!
Thai Airways First Class bed
The seat converts to a fully lie-flat bed. I decided to test it out for a short nap after the first meal service.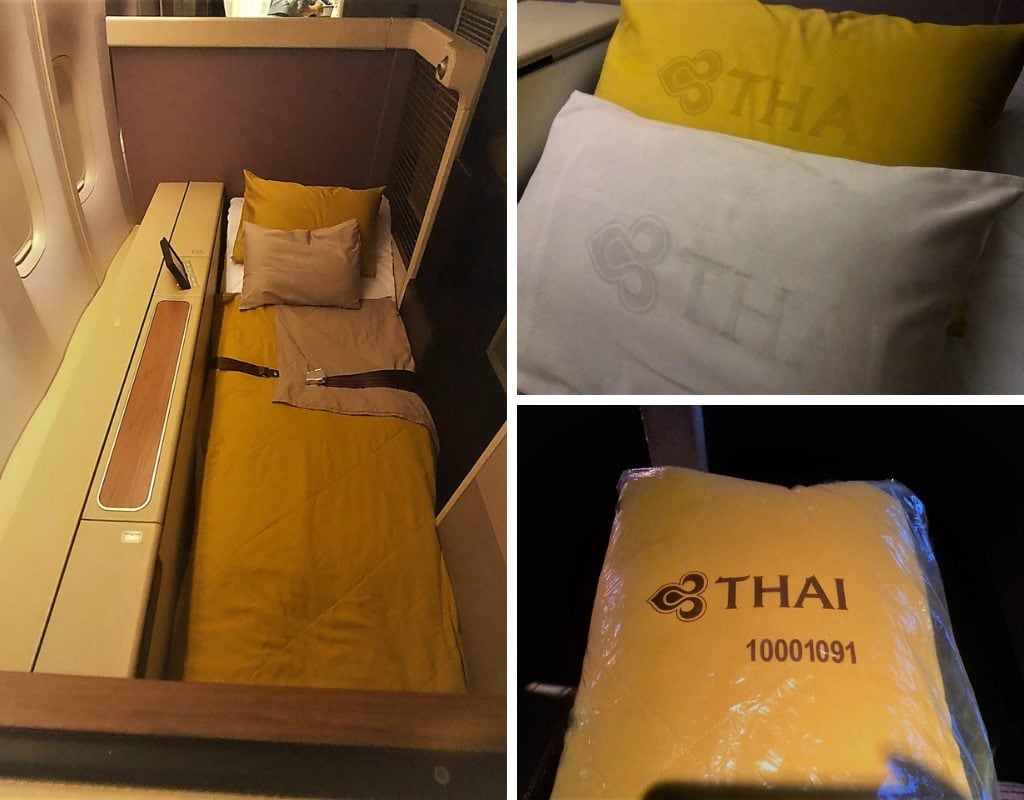 The lie-flat bed is dressed with a mattress pad and topped with a comforter and pillows. The crew offer full turndown service.
The bed was well-padded and the comforter and pillows were of high quality. After a few hours of shuteye, I fired up the flight map to find we had just two hours to go.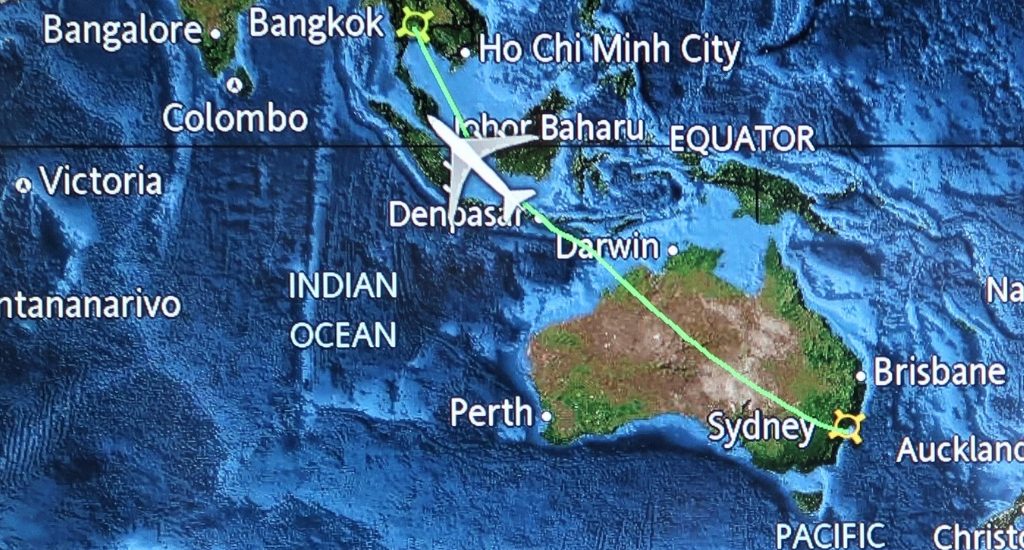 Before long, it was time for our descent into Bangkok, one of my favourite cities to explore. I arrived relaxed and refreshed from my journey, if not suffering slightly from a food coma.
Thai ground services
Thai Airways offers an incredible on the ground service for First Class passengers. This includes a security fast track, a "buggy" ride to and from the gate and the lounge, and the chance to experience a complimentary one hour massage at the Royal Orchid Spa if transitting.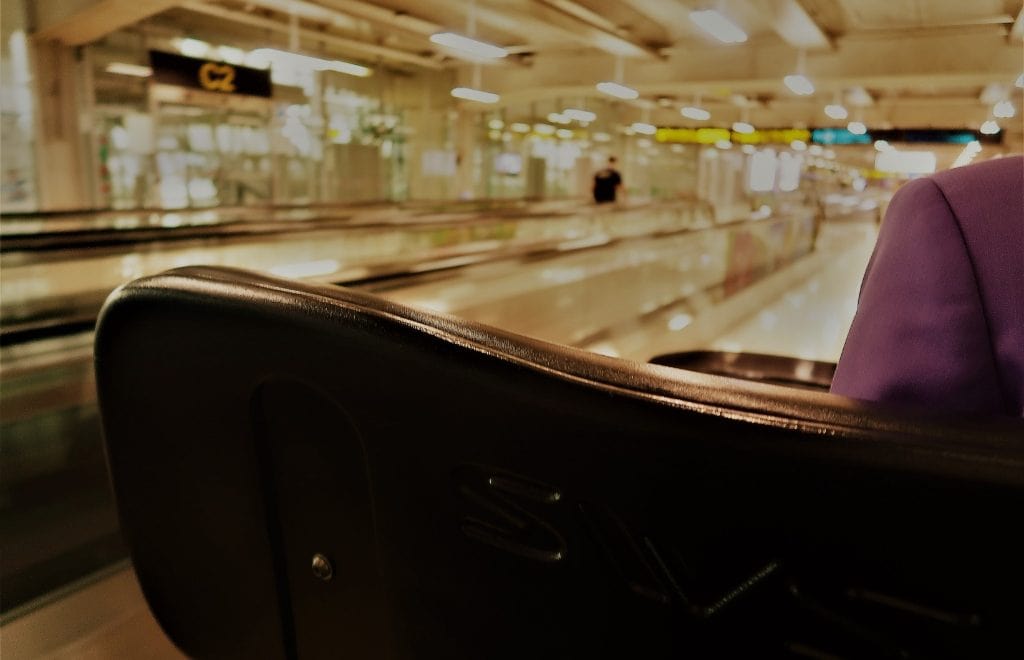 As soon as I stepped off the plane, I found an airport agent waiting with a sign for me. I was escorted to a waiting buggy and promptly whisked away to a security fast track checkpoint.
After that, it was straight to the exit, to spend the night in the city, before coming back the next morning for my second Thai Airways First Class flight to Tokyo. In all, from plane door to exit took around five minutes!
Thai Airways First Class Lounge & Royal Orchid Spa
Early the next morning, I arrived back at the airport, ready to sample the Thai Airways First Class Lounge and the Spa.
Thai Airways offers a dedicated First Class check-in area at Suvarnabhumi Airport. At the time of my visit, it was empty, and I was attended to quickly.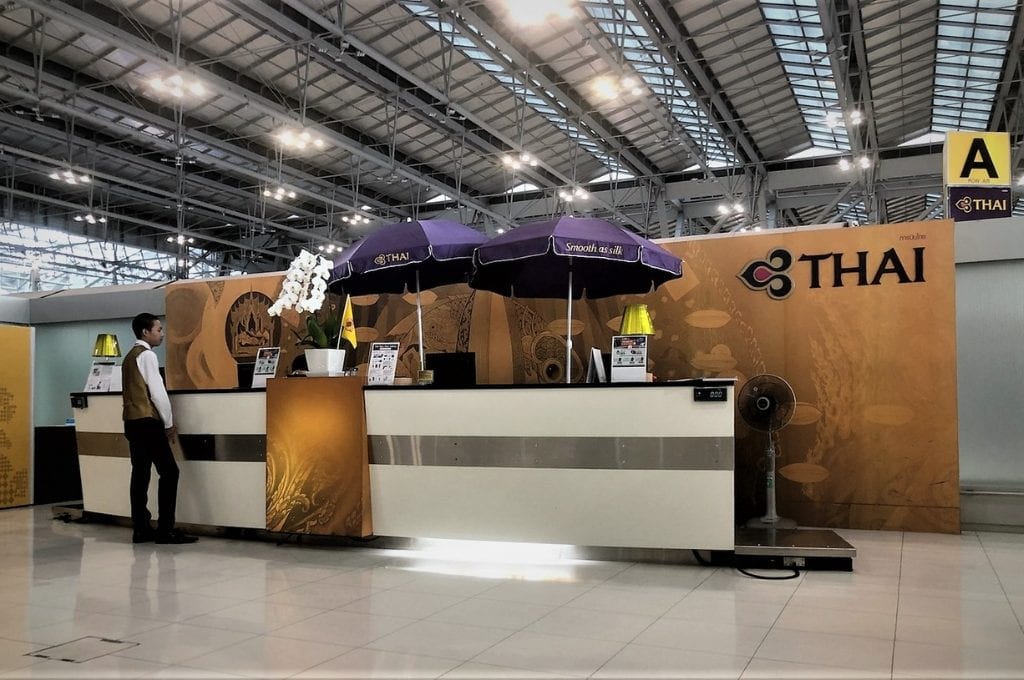 I was then whisked through a security fast track, into confines of the Thai Airways First Class Lounge. Amusingly, this included a buggy ride through the Business Class Lounge!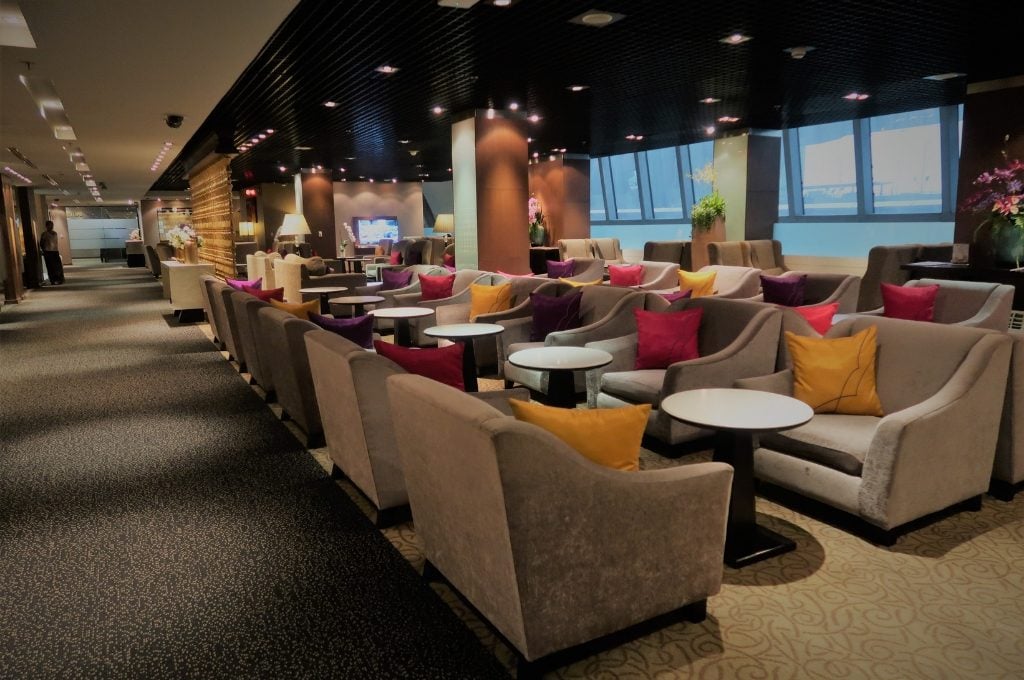 Here, you'll find a plush lounge area, a number of dedicated private rooms, a buffet area, and the highly regarded Thai Airways Royal Orchid Spa.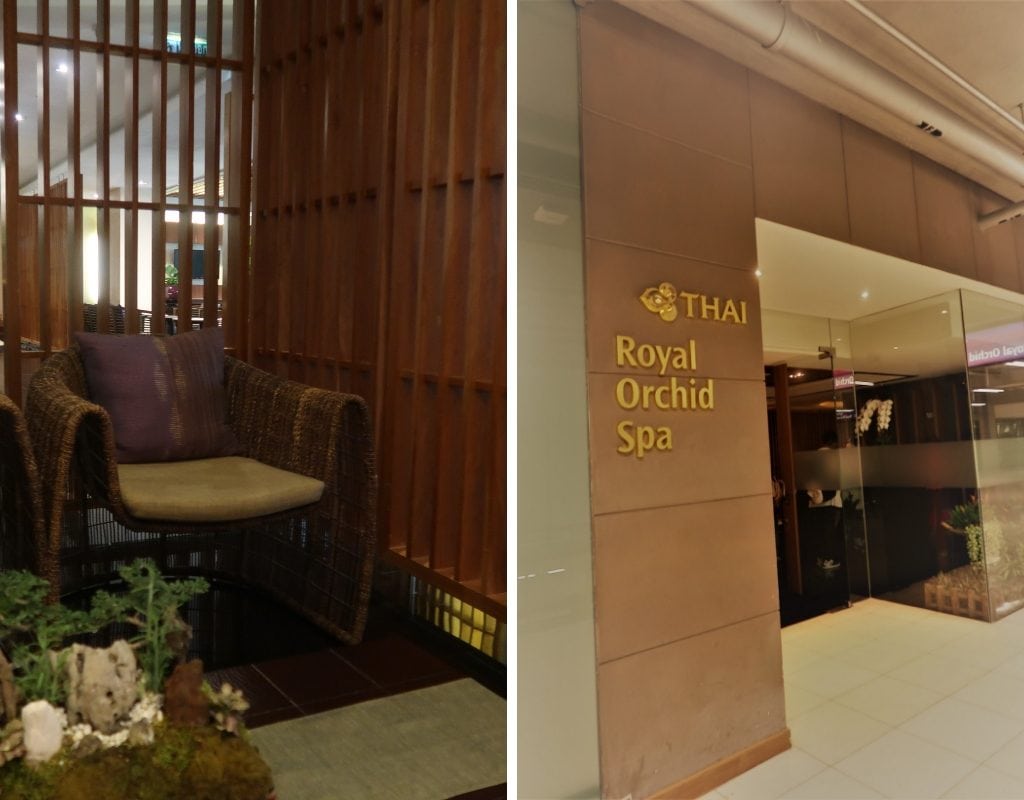 The Royal Orchid Spa is accessible to both business and first class passengers. Business class passengers can enjoy a 30-minute massage, while first-class passengers can receive one hour. The massages are of very high quality, and it's well worth having one if you can spare the time.
I enjoyed an excellent neck and shoulder plus foot massage, which took place in a private suite.
Afterwards, I retired to a private living room area, complete with a sofa, chairs, a TV and a desktop computer. Here, I sampled a Thai Green Curry, before it was time to head to the gate for my second first-class flight, on the A380.
There are no boarding announcements in the Thai Airways First Class Lounge. Rather, an attendant will come and get you when it's time to board. As my gate was located just outside the Lounge, there was no buggy ride on offer. However, the attendant escorted us all the way to the door of the plane.
Thai Airways First Class: Verdict
Thai Airways offers a solid first class in-flight service, with decent catering and a semi-private seat that is both functional and efficient.
While Thai's inflight service isn't quite up there with leading first-class carriers like Singapore Airlines, on the ground services like a one hour massage and buggy transport help it to stand out from the pack.
And with a chance to enjoy full caviar service, vintage champagne and a seat in the nose of the 747, a jaunt in Thai Airways First Class should be on your wishlist – particularly when two sectors can be booked for just 65,000 miles.
While you're here: Subscribe to our newsletter for the latest tips, deals and news. It only takes a few seconds and we respect your privacy: