The Qantas First Lounge at Sydney International Airport is consistently ranked amongst the best in the world. It's one of three flagship first-class lounges operated by Qantas (the others are located at Melbourne and LAX). These exclusive spaces pamper guests with a range of indulgent services and high-end amenities.

Note: This review was written pre-Covid. The flagship Qantas First Lounge at Sydney International Airport is due to re-open with an expanded access list on 19 April 2021. Not all features or services covered in this review are guaranteed to be available.

Boasting incredible spaces to relax in, top-notch a la carte dining, bottomless Champagne and even an on-site spa, a visit to the incredible Qantas first-class Lounge at Sydney International Airport should be on the wishlist of every discerning traveller.

Read on for the ultimate guide to this exclusive space.
Updated: 2021 Qantas first class lounge access
As Qantas looks to ramp up international flights with the trans-Tasman a number of travellers can now gain a pass through the frosted doors of the First Lounge in Sydney and Melbourne.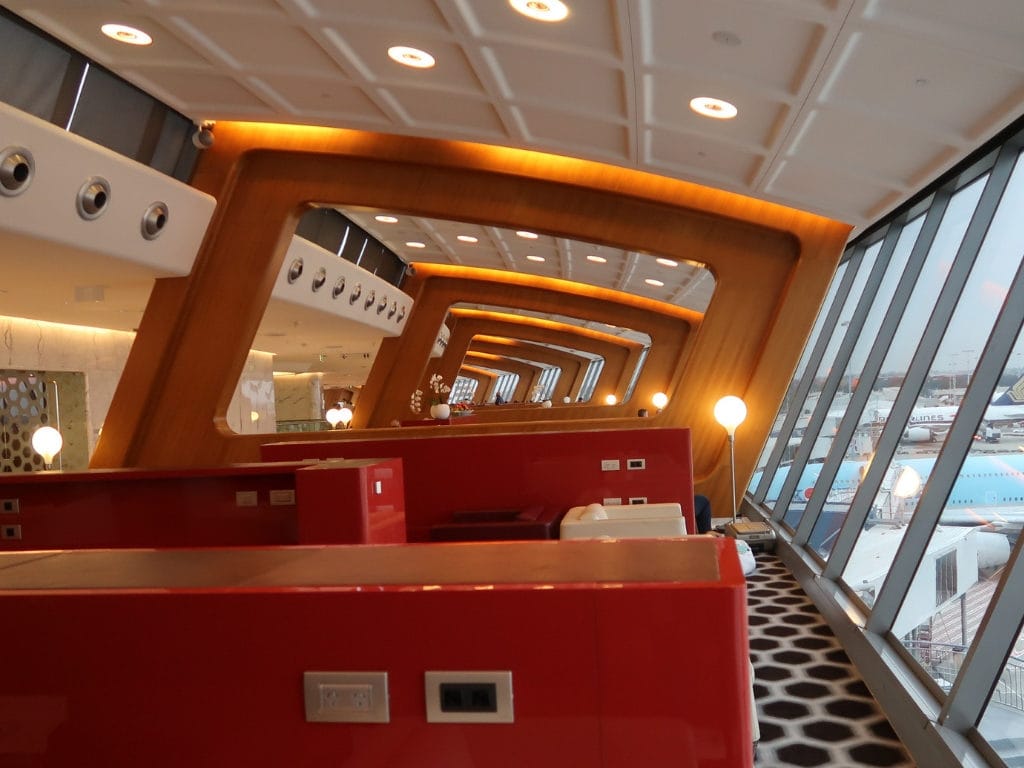 This includes temporary access for passengers who would normally only be able to visit the Qantas International Business lounge. The full access list includes:
Qantas business customers
Qantas Club members
Gold and above Qantas Frequent Flyer members
Equivalent oneworld and partner airline elite members
Qualifying Australian and New Zealand-based members of other airline programs can also register for the current Qantas Gold Status Fast Track offer, unlocking lounge access during the 90 day qualifying period.
Presumably, passengers holding a Qantas Club Lounge invite will gain access too, though we're checking that with Qantas, and will provide an update to this article once information is received.
If you're a lower tier Qantas or Oneworld member keen to visit the First Lounge, consider booking a Qantas business flight across the Tasman to get access.
Arriving at the Qantas lounge at Sydney Airport
The Qantas First Lounge is located a short walk beyond security and passport control and past the duty-free area. Simply follow the signs to the Qantas lounges and take a quick ride up the escalator to level one. There, you'll find an unassuming sign marked 'Qantas First Lounge' next to a frosted glass door featuring the distinctive honeycomb pattern developed by Qantas aircraft interior and lounge designer Mark Newson.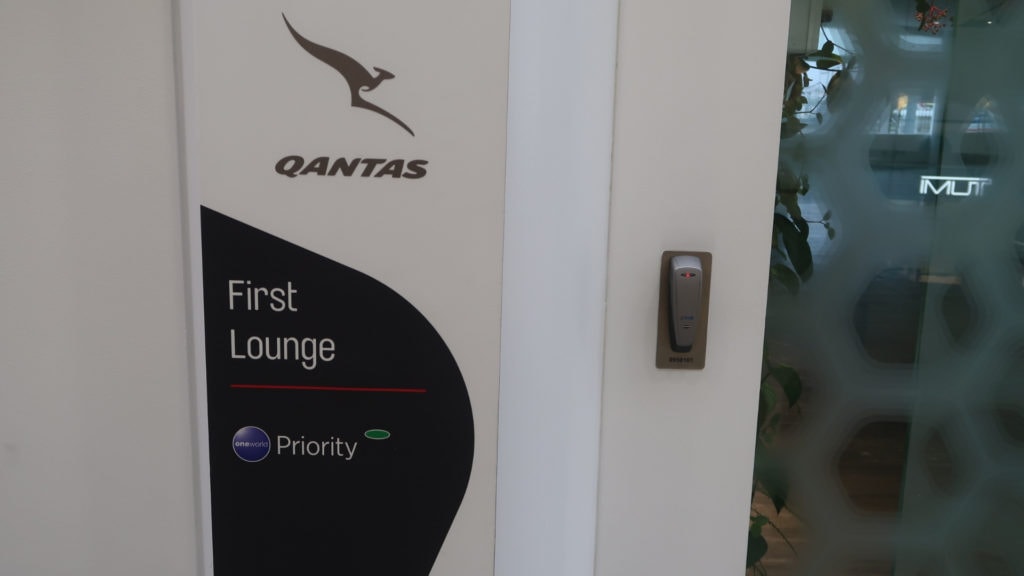 Inside, you'll be greeted by a door attendant, before making your way down a 30-metre walkway featuring a vibrant living plant wall. It's one of a number of vertical garden systems developed by Patrick Blanc and featured in both the Sydney and Melbourne Qantas First Lounges.
Once you've made your way down the corridor, you'll then head up another escalator to the First Lounge entry area. The centrepiece of this area is a vintage rotating flap display board, which is replicated on a smaller scale in several other areas.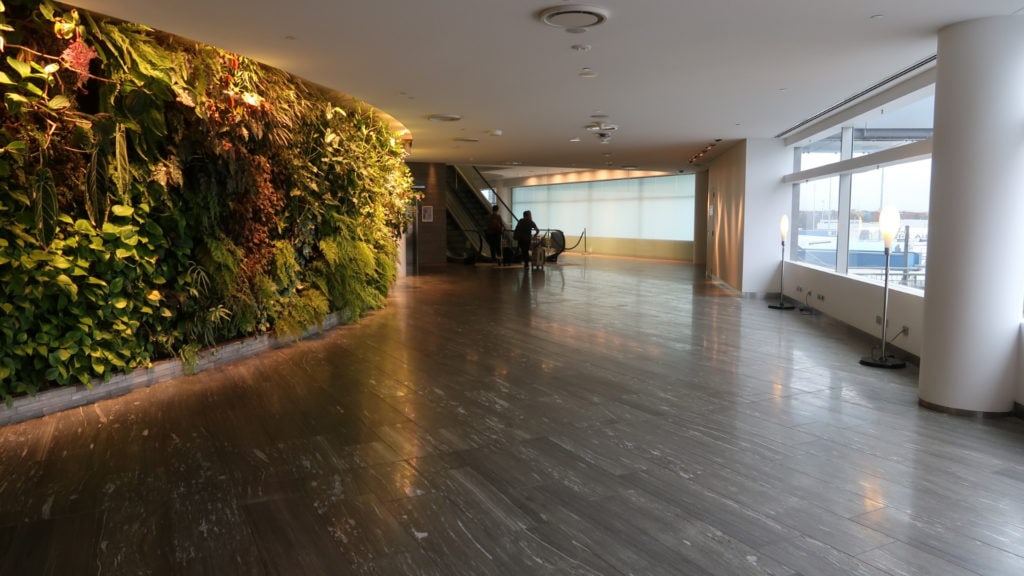 After handing over your boarding pass to be checked at the front desk (and ideally arranging an appointment for a spa treatment), it's time to indulge in the various amenities and services on offer.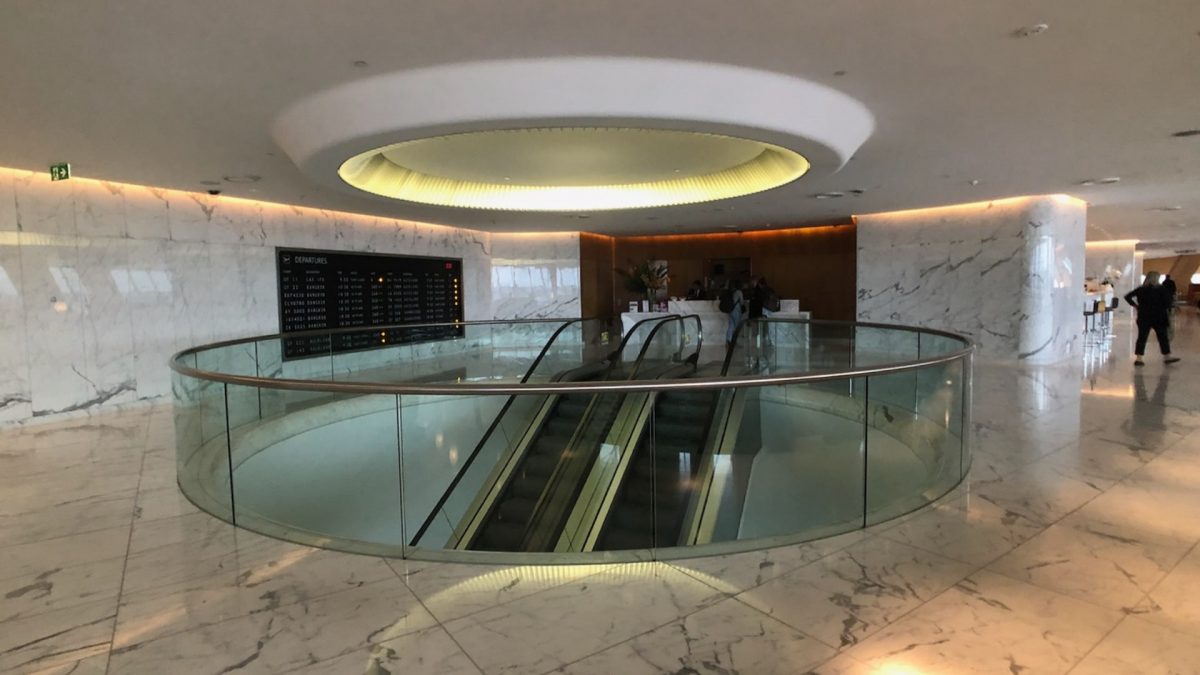 For a first-timer, it can be overwhelming to know where to start. Read on for an overview of the various elements of the Lounge, along with a guide to the amenities and services you can expect to enjoy during your visit.
Qantas first class lounge design
As you walk into the Qantas First Lounge, you'll be struck by the dramatic design, which dates back to 2007. The design concept was overseen by longtime Qantas collaborator Mark Newson. Newson also helmed the design of the Melbourne International Qantas First Lounge and the interiors of the Qantas A380.
The Lounge features a colour palette of rich red, ochre, brown and cream tones which, along with the use of oak wood, take cues from the Australian landscape.
Aerodynamically shaped and angled oak dividers are not only seriously 'instagrammable' – they create privacy by splitting the Qantas First Lounge into a series of intimate nooks and spaces.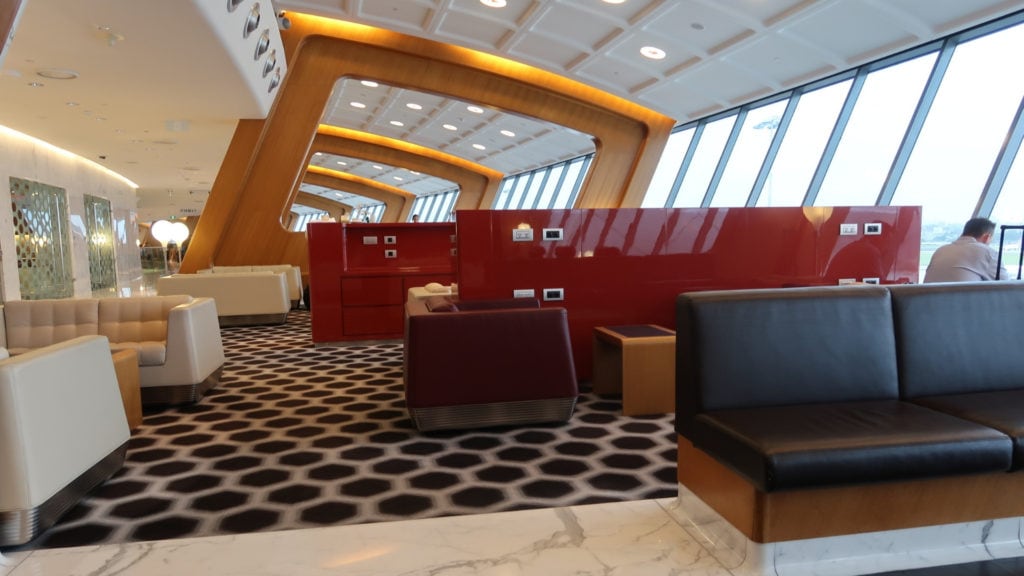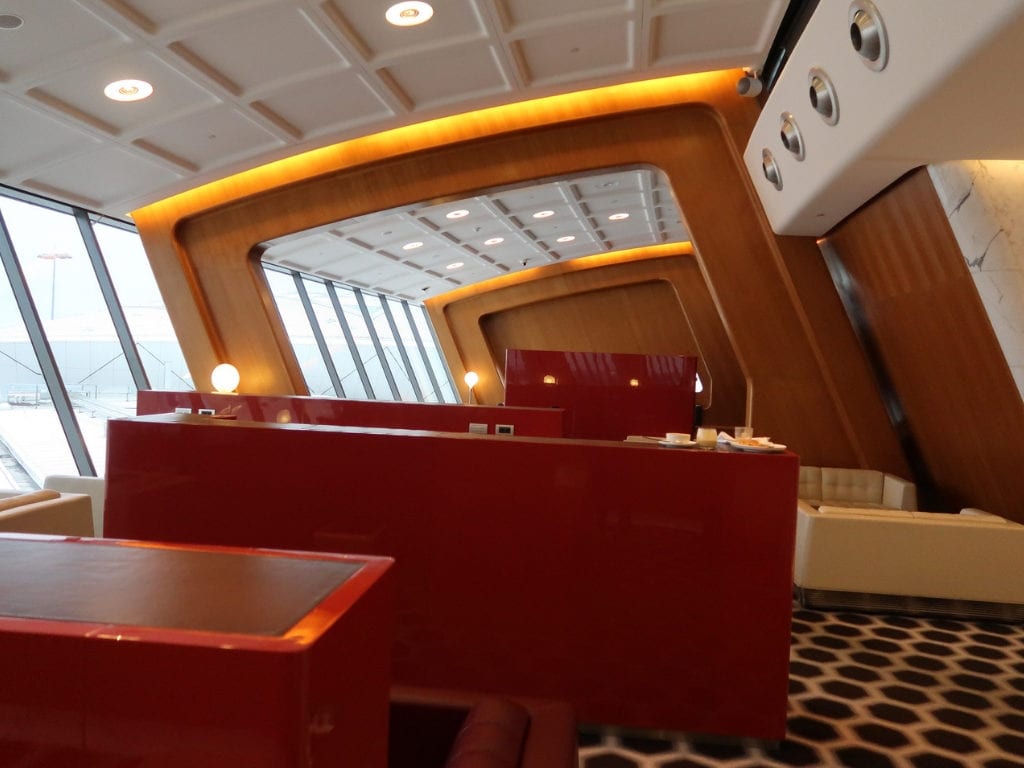 A curved walkway winds around the length of the Qantas First Lounge, providing easy access to each of the different zones.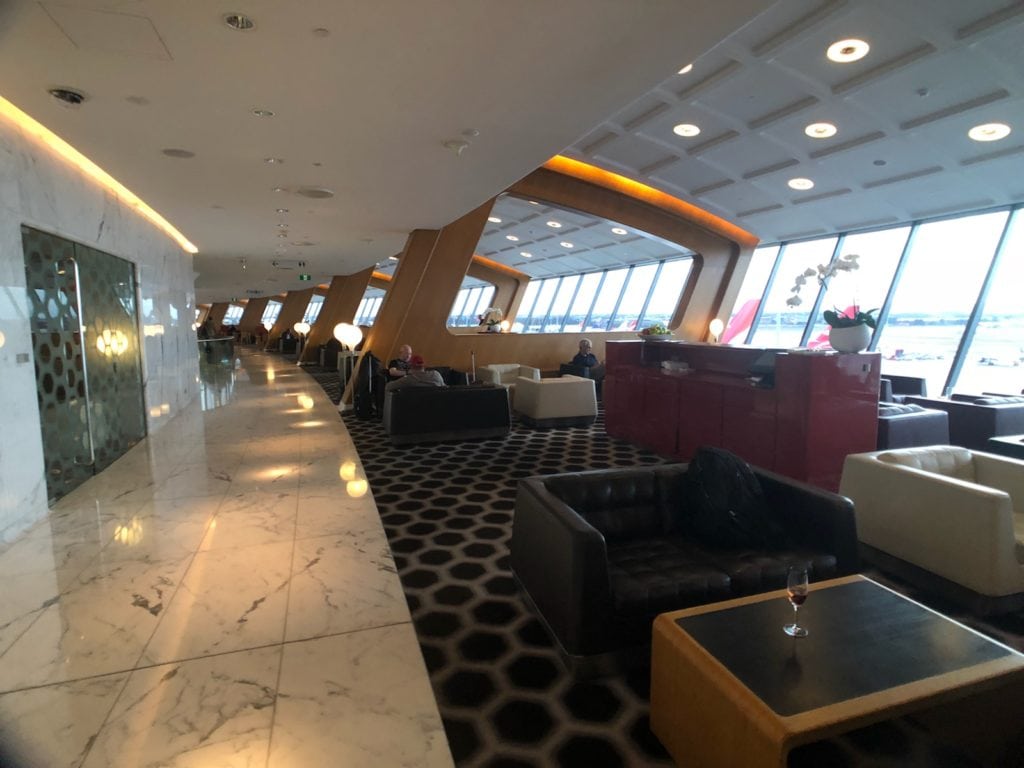 Angled floor to ceiling windows provide a sweeping view of the busy Sydney Airport tarmac.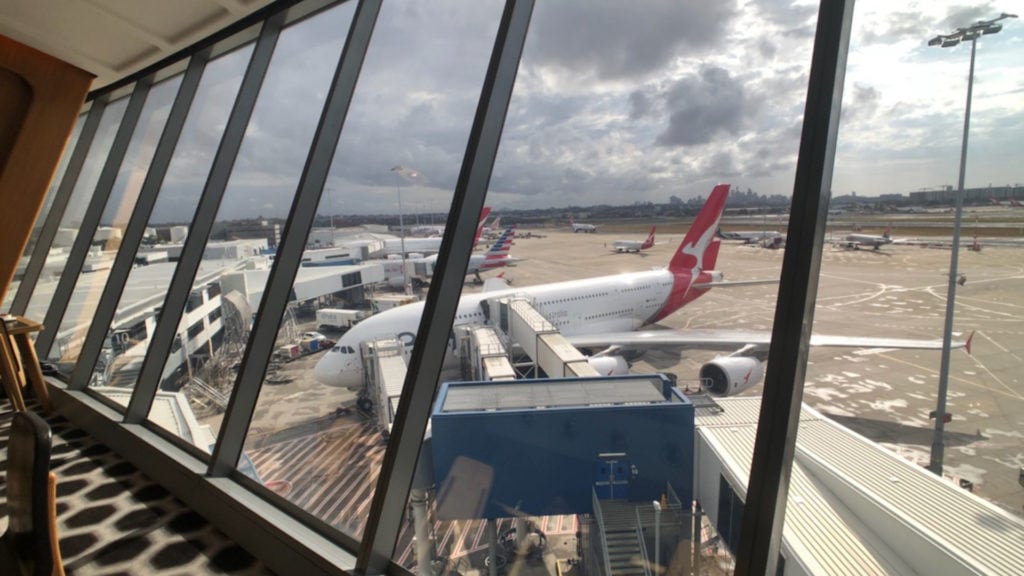 Dining in the Qantas first class lounge
Qantas First Lounges are renowned for an extremely high standard of dining – and it's not uncommon for regular visitors to arrive extremely early with a view to sampling food across multiple sittings. The food is overseen by Neil Perry's Rockpool Group.
A breakfast menu is offered until 11 am, after which the lunch and dinner menu kicks in. Menus change seasonally and feature a number of rotating dishes along with (sometimes not very inspiring) 'Market Inspirations' choices.
A popular breakfast pick is the sweet corn fritters with bacon, avocado, salsa and sour cream…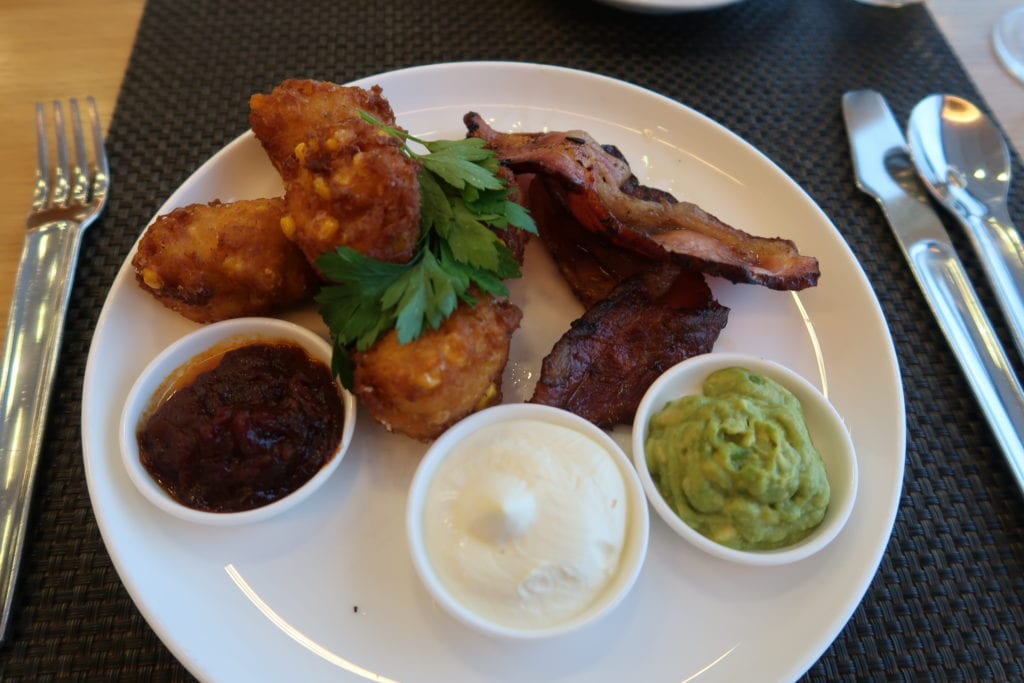 …whilst frequent diners can't go past the famous salt and pepper squid served with aioli and dipping sauce for lunch or dinner. In fact, if you get the chance to visit, it would be almost criminal not to order the squid. (Tip: Ask nicely, and the staff will happily serve this dish to you for breakfast!).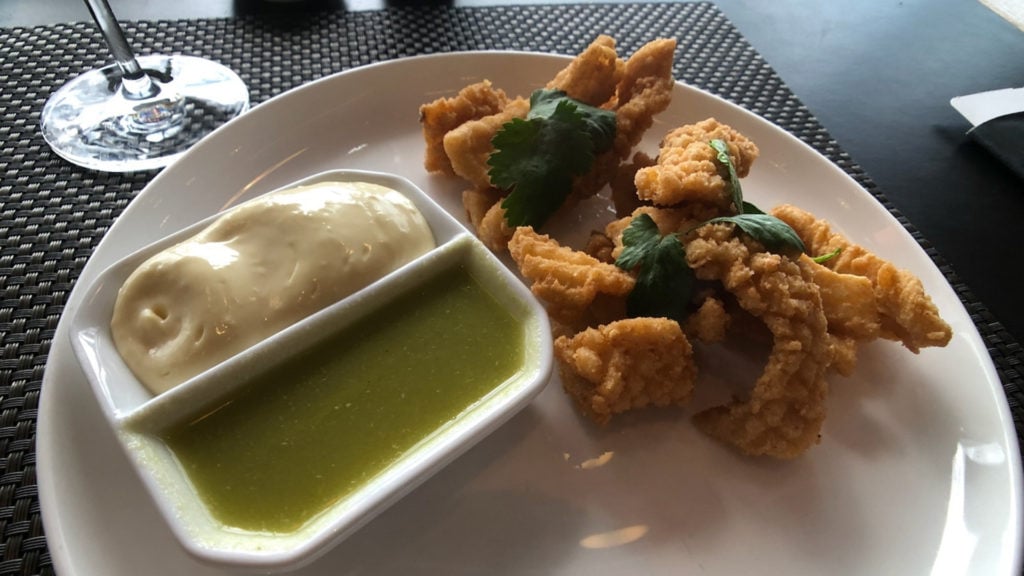 An extensive range of soft beverages is available to wash down your meal. These include a selection of mocktails developed by the Rockpool Group. Alcoholic options include spirits, cocktails and beers, plus wines.
The still wine list exclusively showcases Australian producers. On offer are four white wines, one rose and four red wines. But the Champagne selection is where the Qantas first-class lounge beverage list really delivers. Guests can choose from an incredible four non-vintage champagnes (including one rose). At the time of writing, the selection features:
Perrier-Jouet Grand Brut NV
Pommery Brut Royale NV
Taittinger Brut Reserve NV, and
G.H Mumm Rose NV (my personal favourite).
Not sure which one to choose? Why not ask to sample a small flight of all four!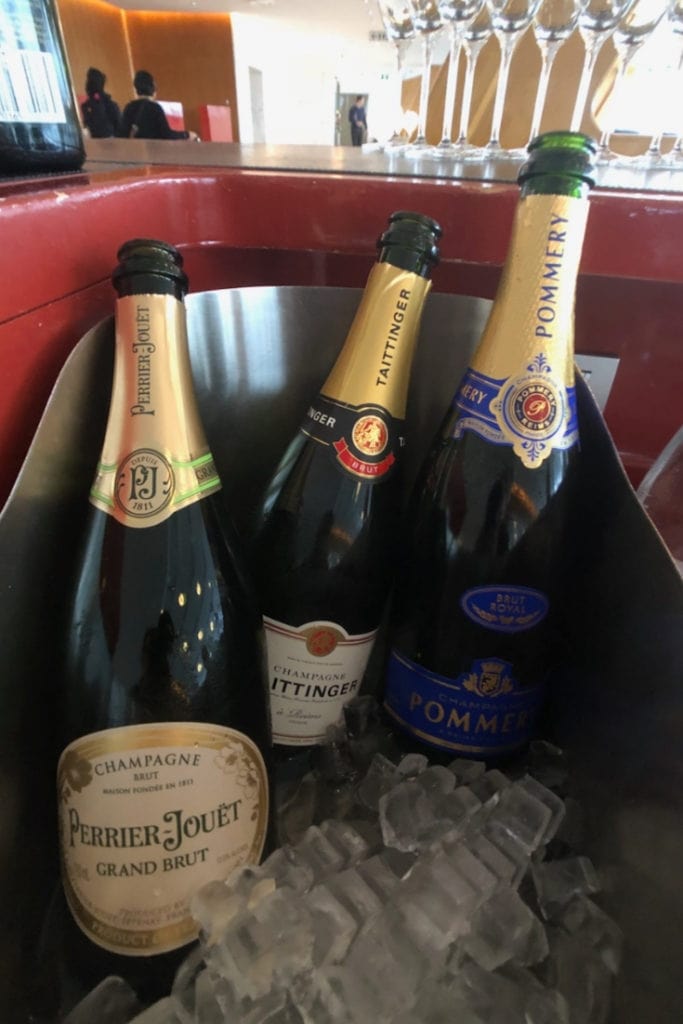 The lounge fills up quickly, and dining space is often at a premium. If it's not too busy, opt for a seat in the dining area, overlooking the tarmac.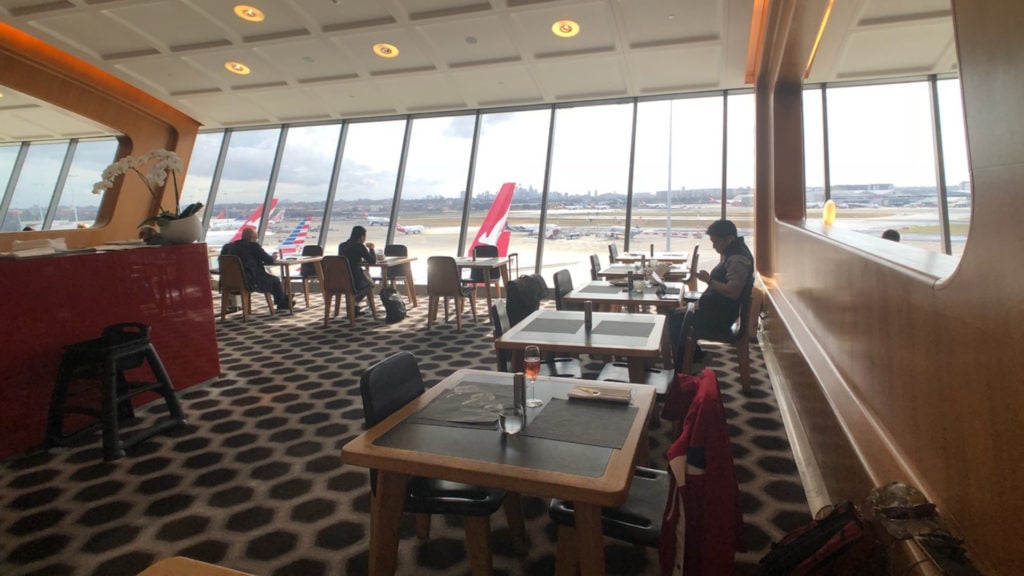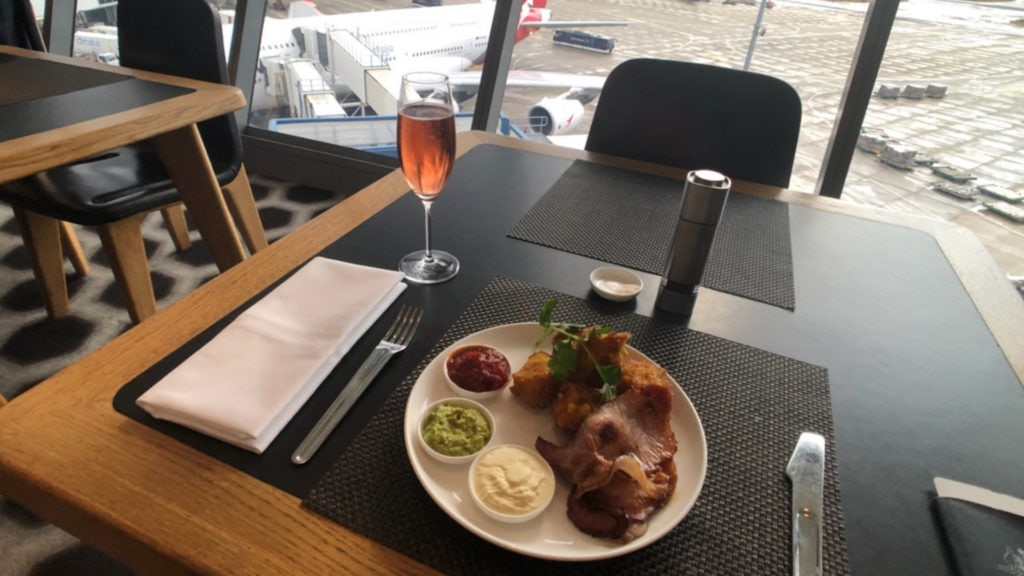 Or, if travelling alone, you might like to pull up a seat at the stylish bar where you can watch the chefs at work.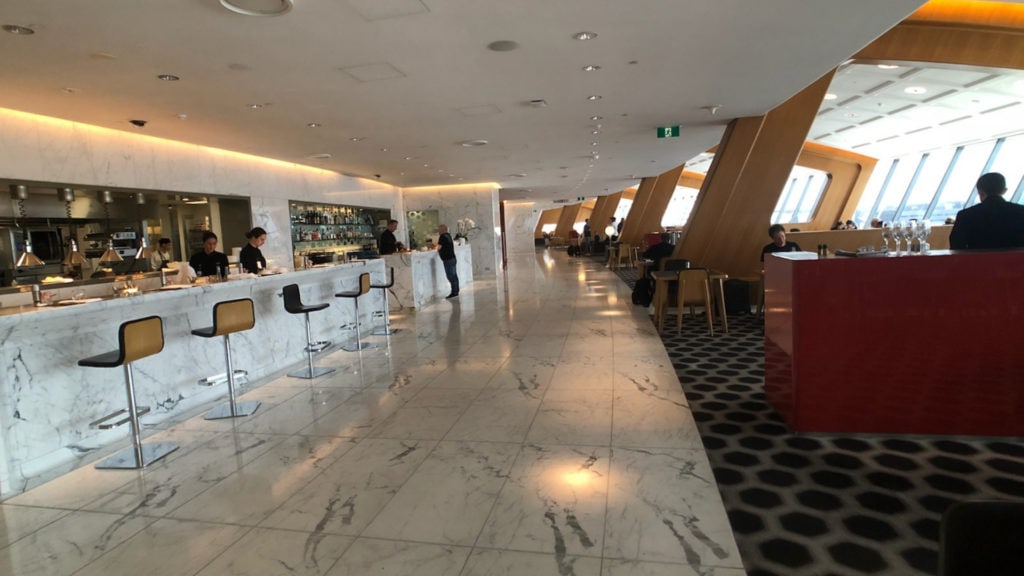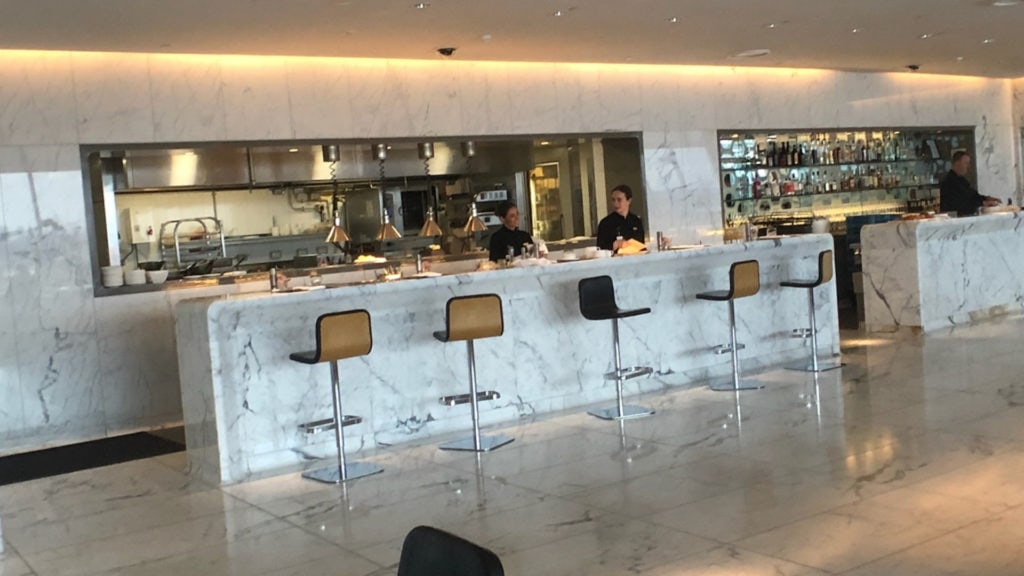 If you prefer to kick back and relax, or if the dining area is full, the staff will happily serve your food in one of the many seating areas dotted around the lounge.
No time for a sit-down meal? A small self-serve buffet is available towards the back of the lounge. It features a range of light dining options, plus a range of beverages.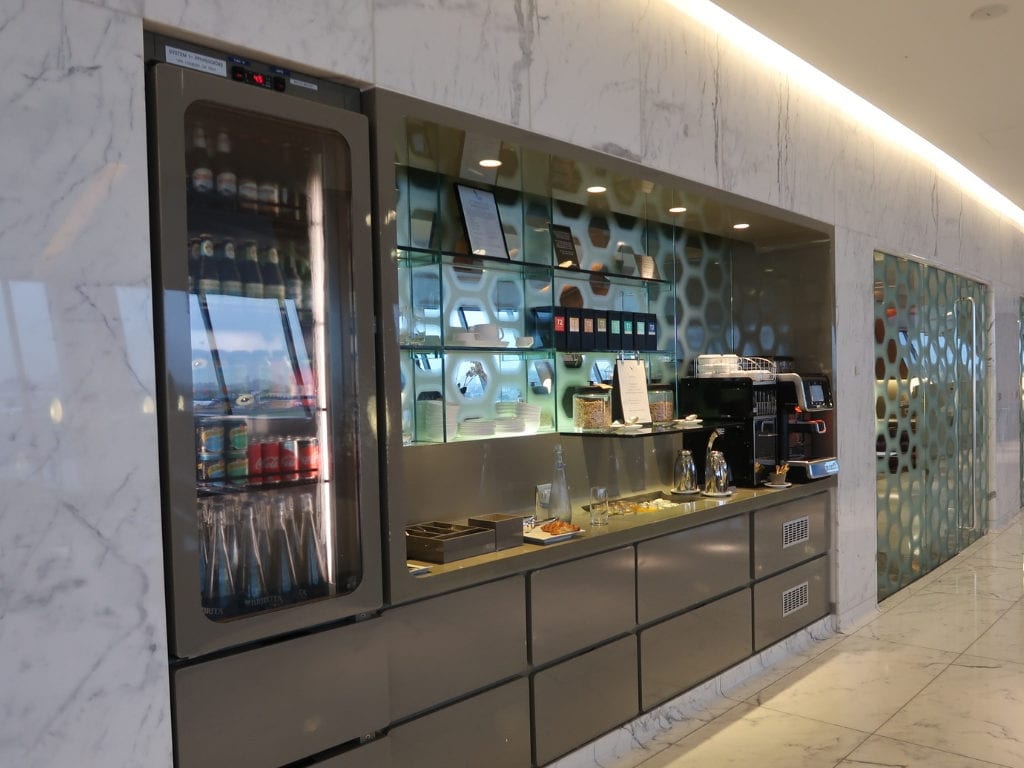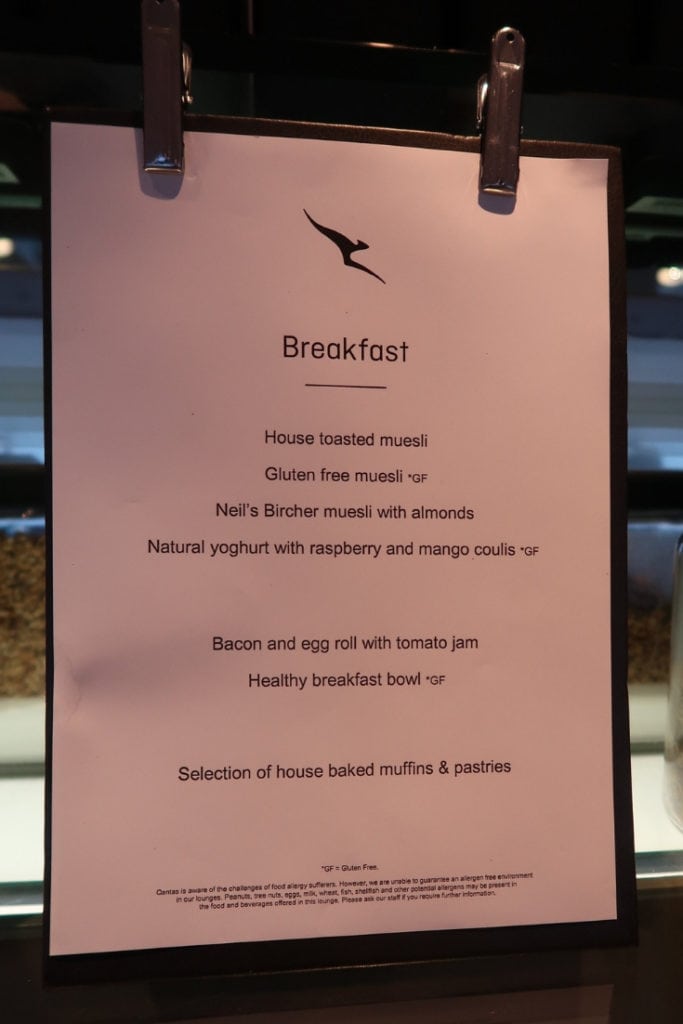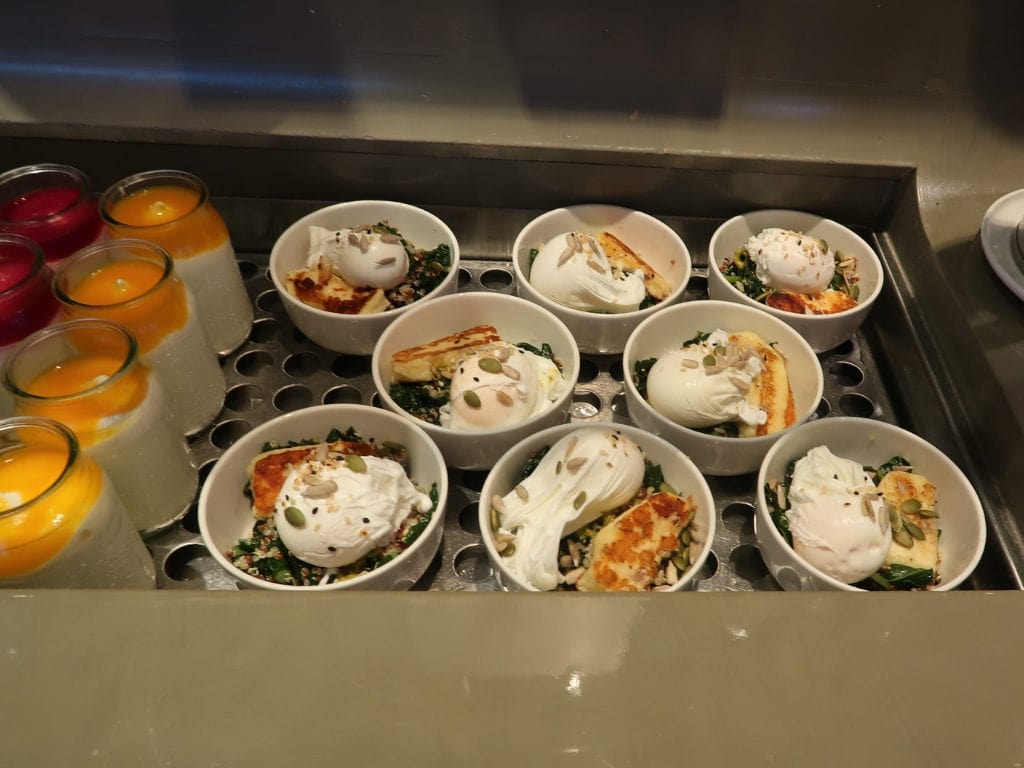 Relaxing in the Qantas first class lounge
A number of relaxation zones are dotted around the Lounge. They feature comfortable leather chairs and sofas, many of which have power points in easy reach. Visitors can choose to perch in one of a number of large open areas…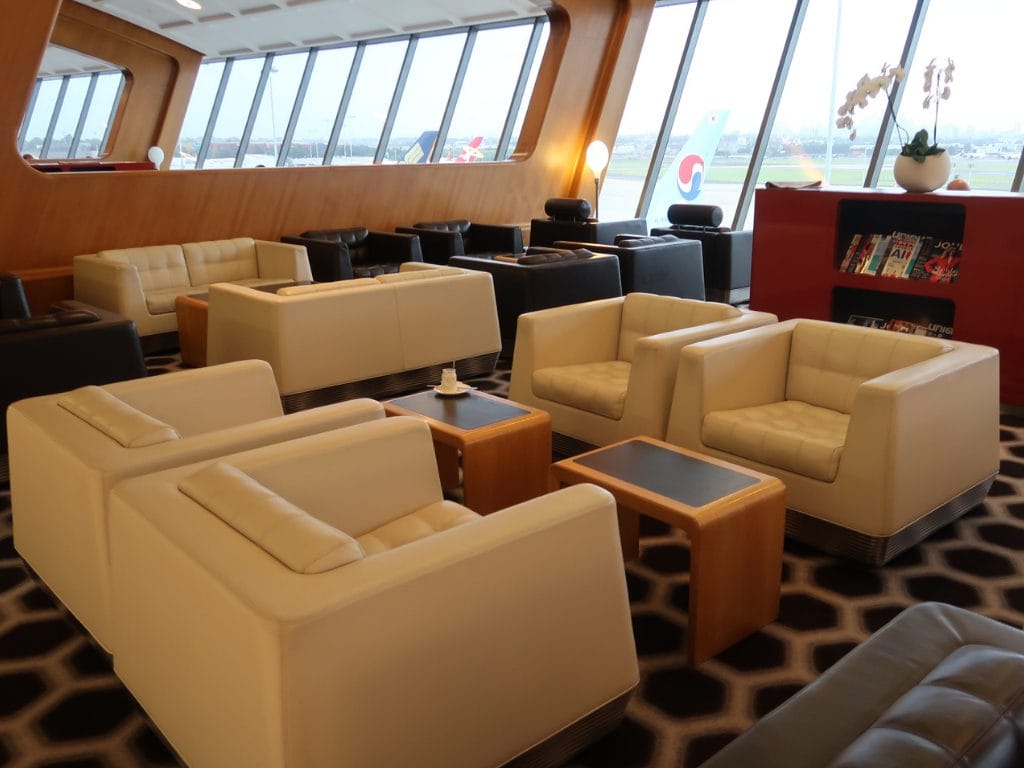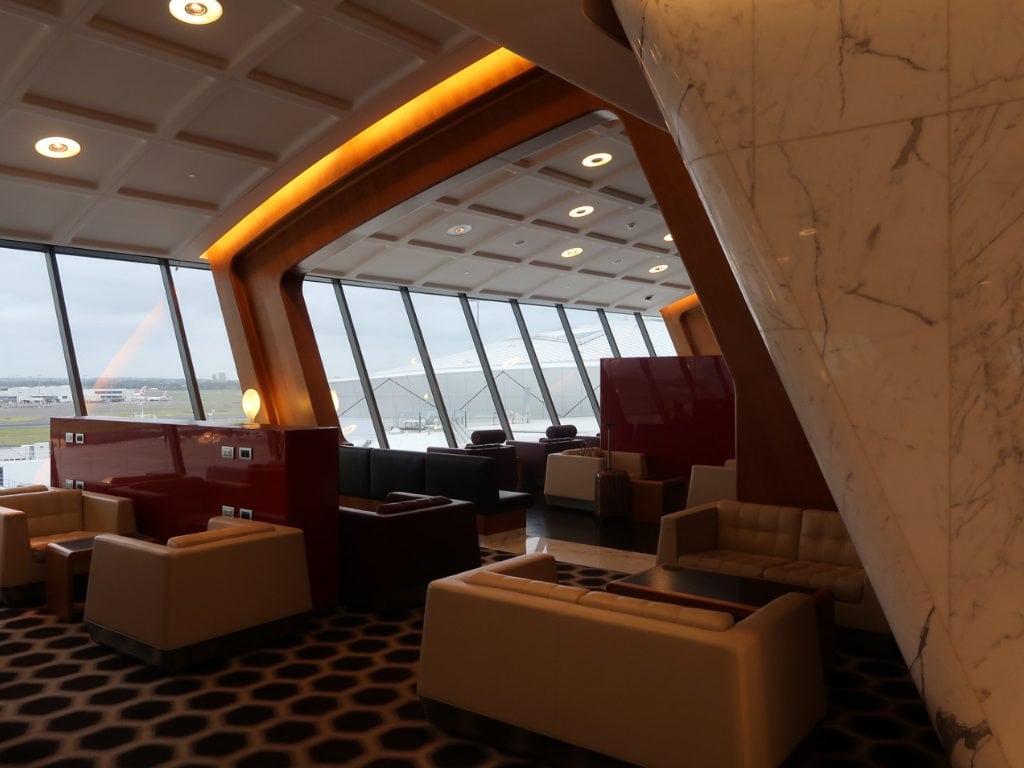 …or head to smaller nooks which afford a greater sense of privacy.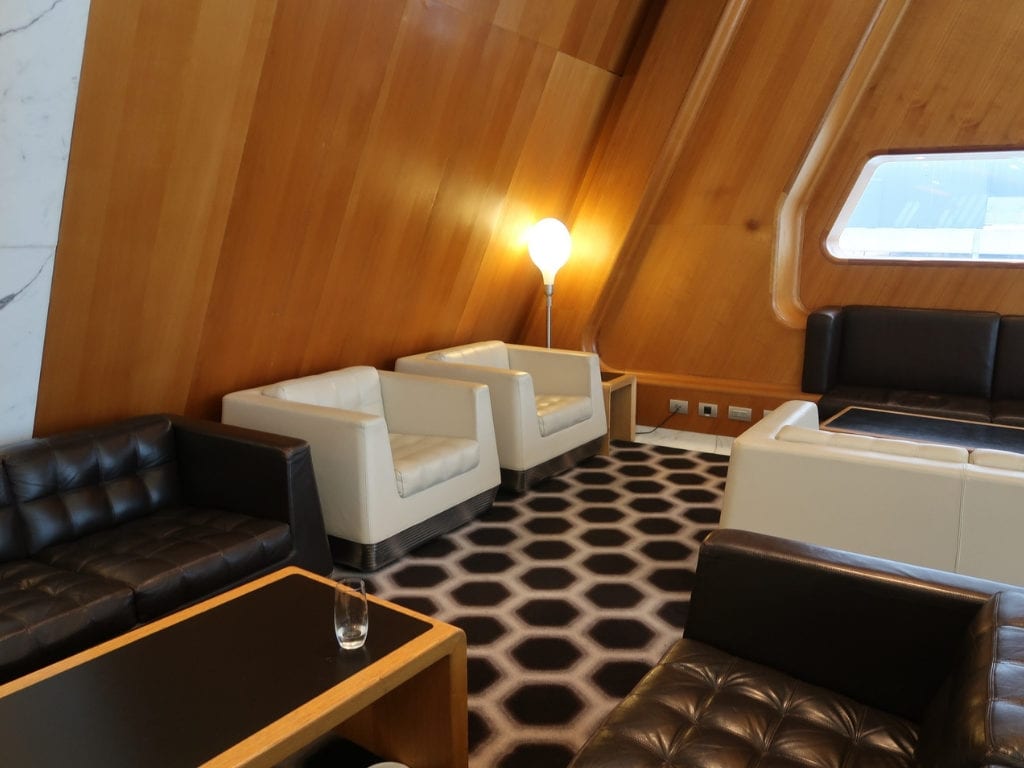 Towards the back of the Lounge, you'll find a row of red leather armchairs overlooking the tarmac.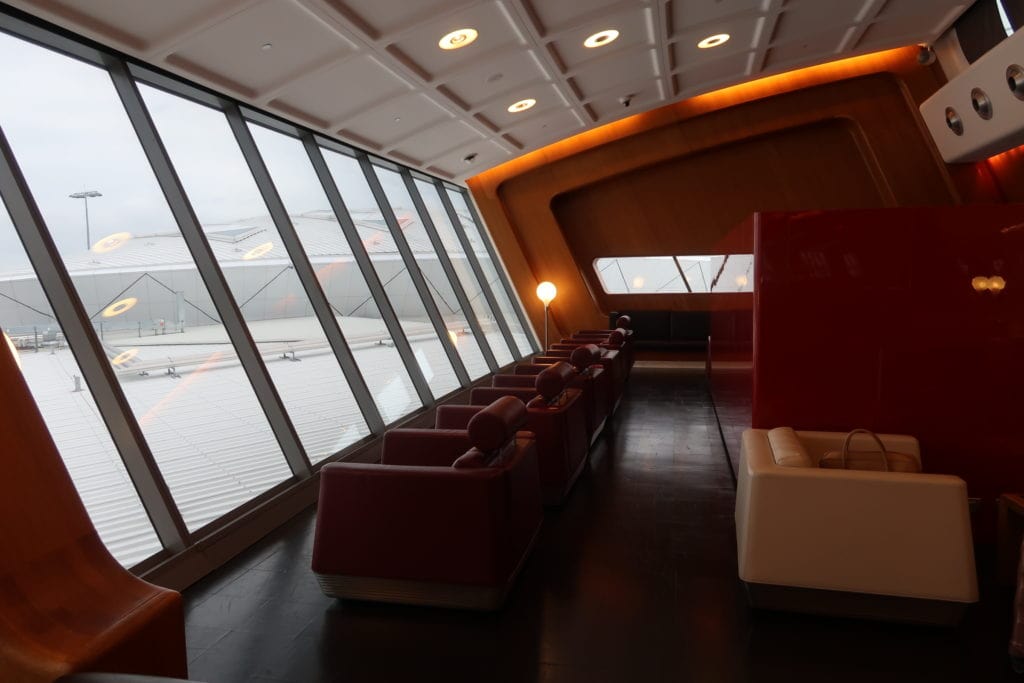 A library is located directly behind this area, providing a quaint, if somewhat underutilised space to relax in.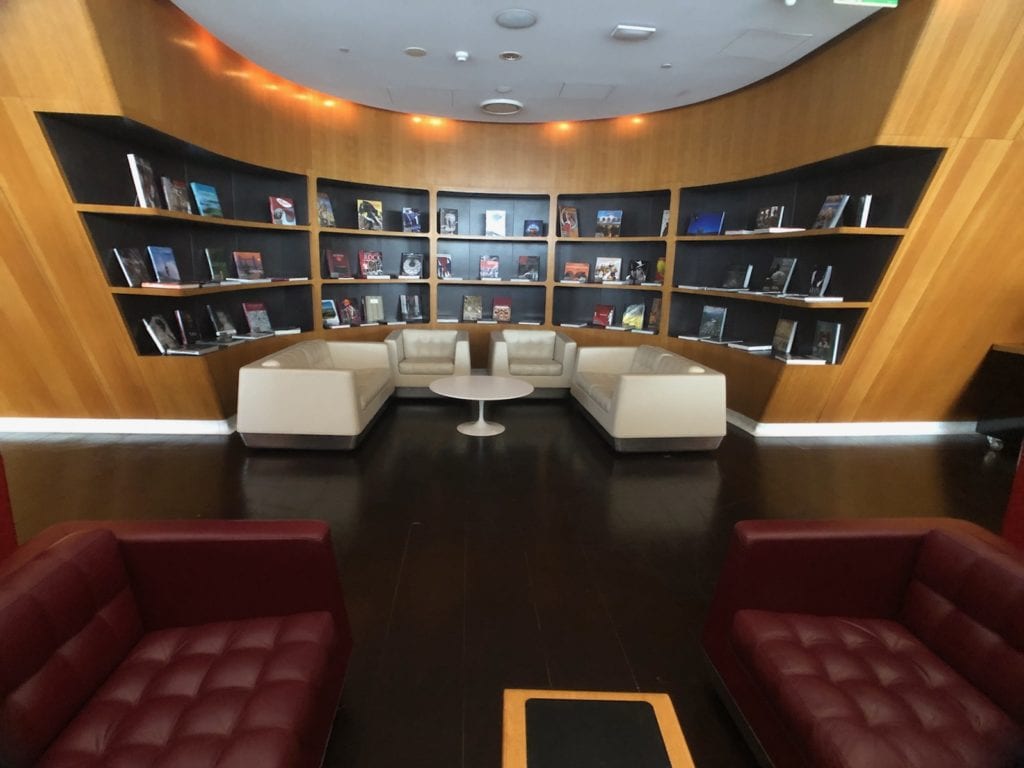 Working in the Lounge
With power points and side tables at the ready, most travellers will opt to work on their laptop in one of the many lounge zones. However, a small business centre is located at the far end of the lounge, adjacent to the Qantas First Spa.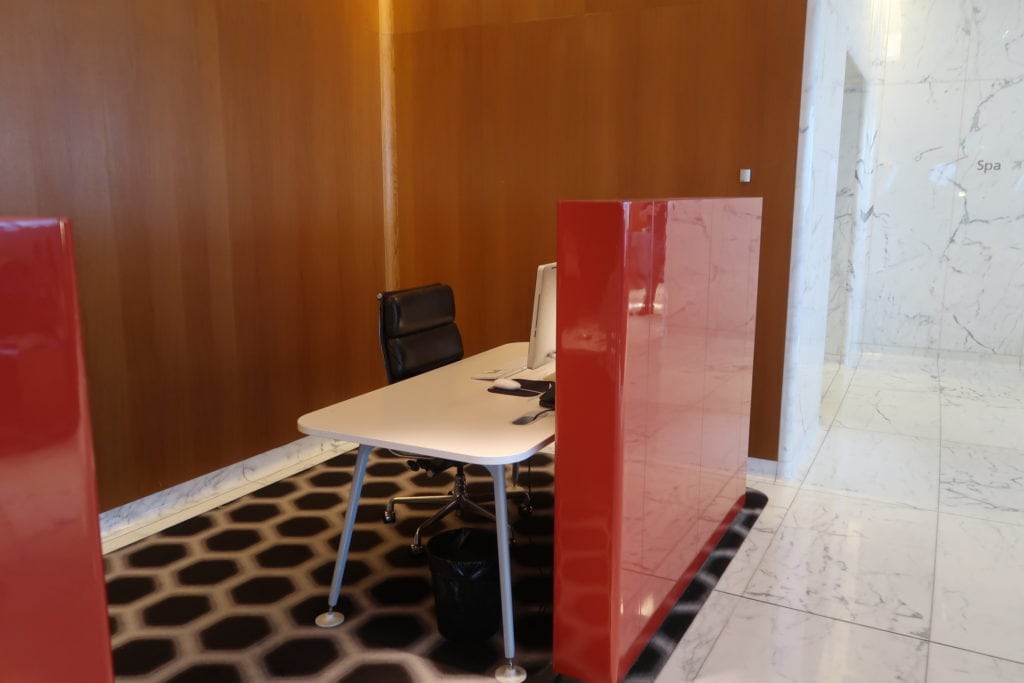 And several meeting rooms (often used for high profile guests seeking privacy) can be booked for usage.
The Qantas First Lounge Spa
Dining, relaxing and working aside, a visit to the Qantas first-class lounge at Sydney International wouldn't be complete without indulging in a treatment at the world-class First Lounge Spa.
Qantas is one of just a few airlines worldwide that operate a day spa within their airport lounge. Featuring stunning decor and overseen by leading Australian skincare company La Gaia, a treatment here isn't to be missed.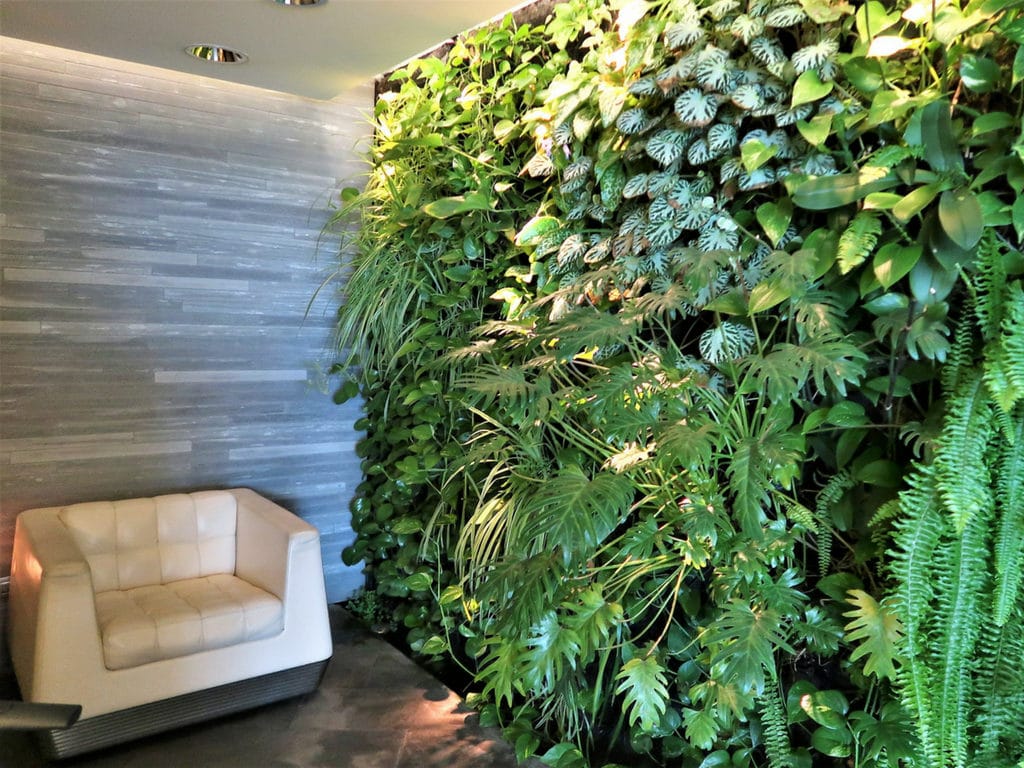 Spa treatments are available from 8 am to 4 pm daily, and all last for 20 minutes. If you're travelling in Qantas first class, you'll have the option of pre-booking your appointment.
For everyone else – including first-class passengers travelling on partner airlines – you'll need to check availability as you arrive. It pays to do this as soon as possible, as treatments are very popular, so can book out quickly.
The Spa is located at the far end of the Lounge and accessed through a plain door.
There are ten soothing treatments available, ranging from massages and facials to eye treatments and 'Signature' offerings. Most are unisex.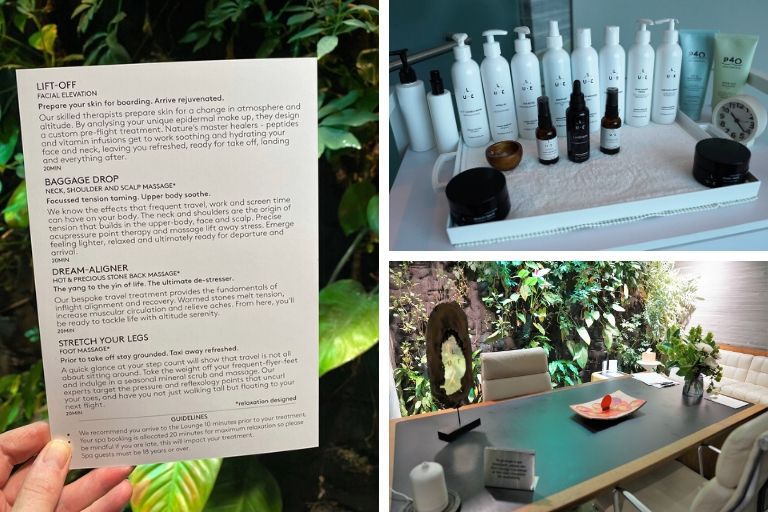 With floor to ceiling greenery, the breathtaking treatment rooms will transport you to a state of bliss – if only for a very short time.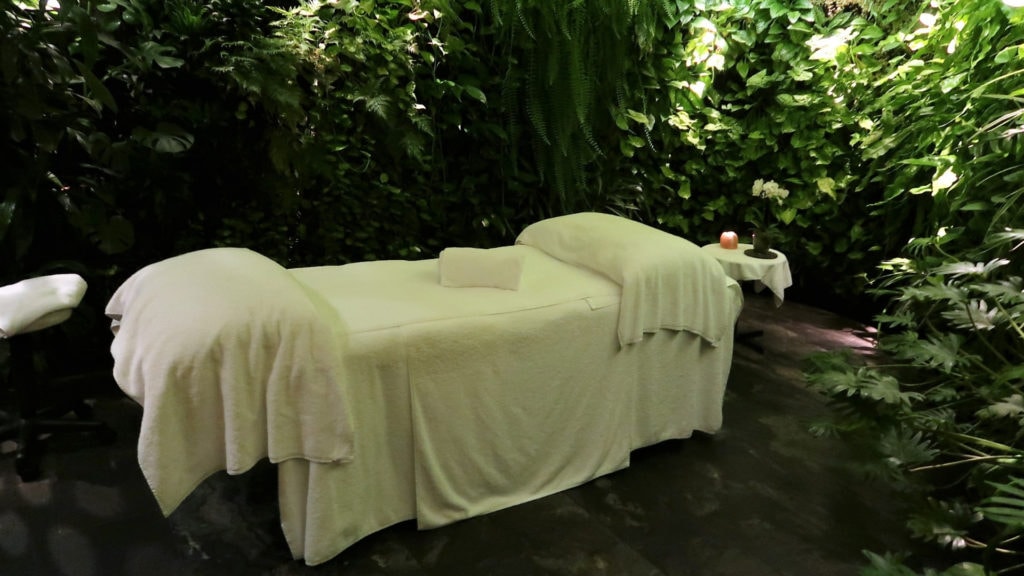 You can read our comprehensive overview of the Qantas first class lounge Spa here.
A number of bathroom and shower facilities are located within the Lounge. These feature marble decor and are stocked with LaGaia products.
Final words
The Sydney Qantas First Lounge is a cavernous space, yet it still provides a sense of intimacy. While the Lounge is now well over 10 years old, it still manages to wow visitors with its dramatic design, world-class dining and spa services.
A visit to the Qantas First Lounge at Sydney Airport should be on the bucket list of every Australian traveller!
Who can use Qantas First Class Lounge?
From April 19, 2021, Qantas will expand First Lounge access to passengers travelling in Qantas Business, Qantas Club Members, Qantas Gold Frequent Flyers and oneworld equivalent members. Platinum and above Qantas Frequent flyers, plus oneworld equivalents continue to gain access to the Lounge.
When will the Qantas First Lounge reopen?
The Qantas First Lounge will re-open for business on April 19, 2021. This coincides with the commencement of the Australia and New Zealand travel bubble.
While you're here: Subscribe to our newsletter for the latest tips, deals and news. It only takes a few seconds and we respect your privacy: