Author's Note re COVID-19: Considering a trip overseas? Make sure you read our Ultimate Australia Travel Bubble Guide first.
Over the course of six months in 2018, we had the pleasure to sample Air New Zealand business class, flying several times Adelaide-Auckland return, to see family. We were fortunate enough to sample both the Dreamliner 787 and 777 products.
Air New Zealand is the only airline servicing the Adelaide – Auckland route directly, operating as a monopoly. Hence, pricing is not as sharp as East Coast routes into New Zealand, but the convenience of arriving door to door in half a day cannot be overstated enough, versus making a domestic/international transition in either Sydney or Melbourne.
Does Air New Zealand still deliver the "goods" without competition? Read on for our two reviews…
Review 1: Air New Zealand Business Class – flying from Adelaide to Auckland on the Dreamliner (787-9)
| | |
| --- | --- |
| Flight number: | NZ192 |
| Airline: | Air New Zealand |
| Route: | Adelaide to Auckland (inaugural flight) |
| Flight duration: | 4 hours |
| Cabin: | 'Business Premier' |
| Redemption points: | 17,500 Krisflyer miles (plus around $120 AUD in taxes) |
As of May 2018, Air New Zealand flies to Adelaide multiple times per week with a shiny new 787-9 Dreamliner, offering an exciting new way for Adelaide-based travellers to travel across the pond. I was very keen to review the new Air New Zealand business class new service and was fortunate to nab a seat on the inaugural flight.
Booking my Air New Zealand business class seats
I booked two Air New Zealand business class seats using Singapore Airlines Krisflyer points, earned through the American Express Explorer Card. Air New Zealand business class is a wonderful use of Krisflyer points, and one of the best ways to cross the Tasman.
The Singapore Airlines website doesn't support searches for partner award bookings; you'll need to search via another Star Alliance partner that does. I was able to search for the flights via United Airlines and then called up Singapore Airlines to easily book my Air New Zealand business class seats over the phone.
Business class check-in and lounge access
With check-in completed promptly, and we were soon on our way to the lounge. Air New Zealand business class passengers use the Qantas Domestic Lounge, located before international security. The Lounge is large and airy. It's not particularly exciting, but it's a perfectly adequate space to relax for a short time before flying. We arrived shortly before 10 am and enjoyed a morning coffee. Given that Star Alliance partner Singapore Airlines operates a lounge in Adelaide Airport, it's somewhat surprising that Air New Zealand business class passengers are directed to a Qantas Lounge – though admittedly, the Singapore Airlines Lounge is very small.
At the gate and onboard Air New Zealand business class
Shortly before 11 am, we headed through to clear international security. We appeared to be the last passengers through, and the clearance process only took five minutes. Inside the gate, we spotted a large media contingent celebrating the inaugural flight. Outside sat an Air New Zealand Dreamliner in it's distinctive black and white livery.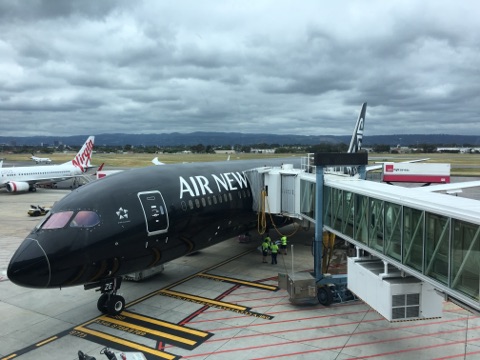 The Air New Zealand 787 business class cabin
Upon boarding, we were promptly greeted and shown to our seats. The soft purple lighting caught my eye. It provided a calm ambience and enhanced the gorgeous interior of the Dreamliner. Miss Champagne Mile and I settled ourselves into seats 4J and 5J. We waved goodbye to Mr Champagne Mile and Baby Champagne Mile. They were seated just behind us in the Air New Zealand Premium Economy cabin (luckily nabbing one of the bassinets).
The Air New Zealand Business Class cabin features a 1-1-1 seat configuration in a herringbone formation, which isn't something we usually see in business class. While this format provides every traveller with direct aisle access, all seats diagonally face inwards towards the front of the plane. You'll find row 'A' to the left with its own private isle, with 'J' and 'K' sharing a walkway. Seats in row 'A' would definitely be my pick for solo travellers. These seats feature more privacy and a greater amount of overhead storage.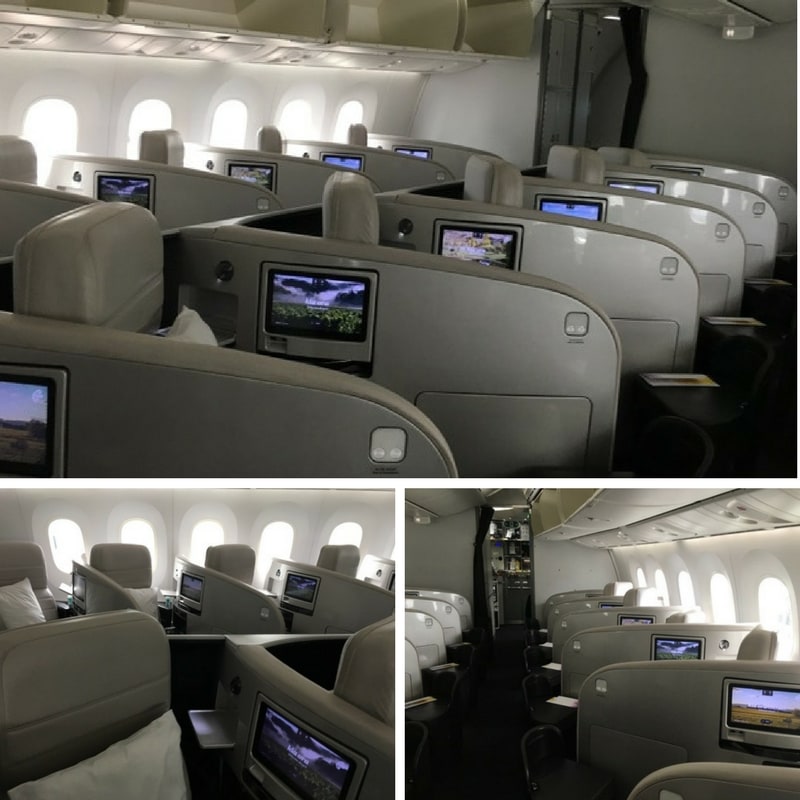 With a seat width of 22 inches (56 centimetres), the Air New Zealand business class Dreamliner seat is arguably on the narrow side for those with broad shoulders. The upholstery is soft, sand coloured leather and features high, non-retractable privacy barriers on each side. The seat flips to create a bed with a foam mattress, allowing passengers to recline for taxi, takeoff and landing.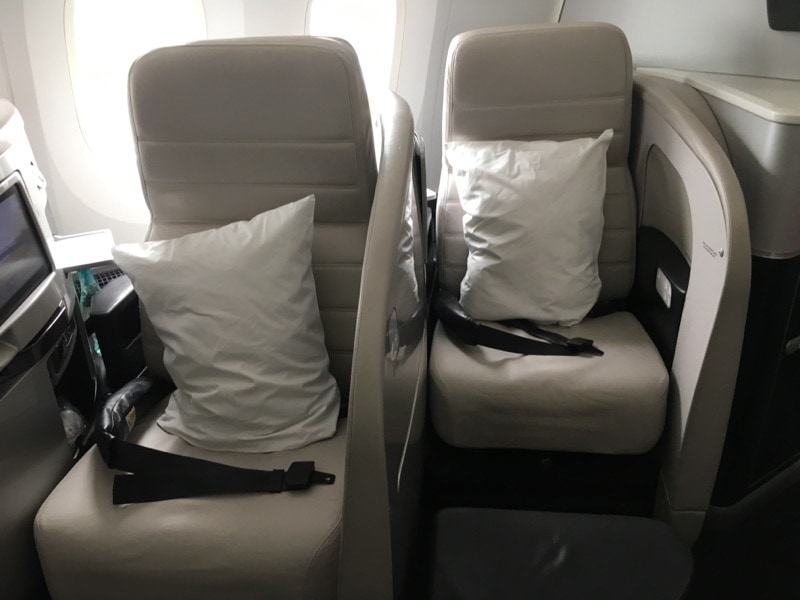 An ottoman at the foot of the seat provides clever storage space and acts as a handy perch for a dining companion. The Air New Zealand business class in-seat dining table is very versatile – it can be lifted up to allow aisle access while in use, meaning you can exit your seat during meal service. Travellers will find an 11 inch LCD screen and entertainment controls built into the left-hand privacy divider. Alternately, seat controls are found on the right-hand side.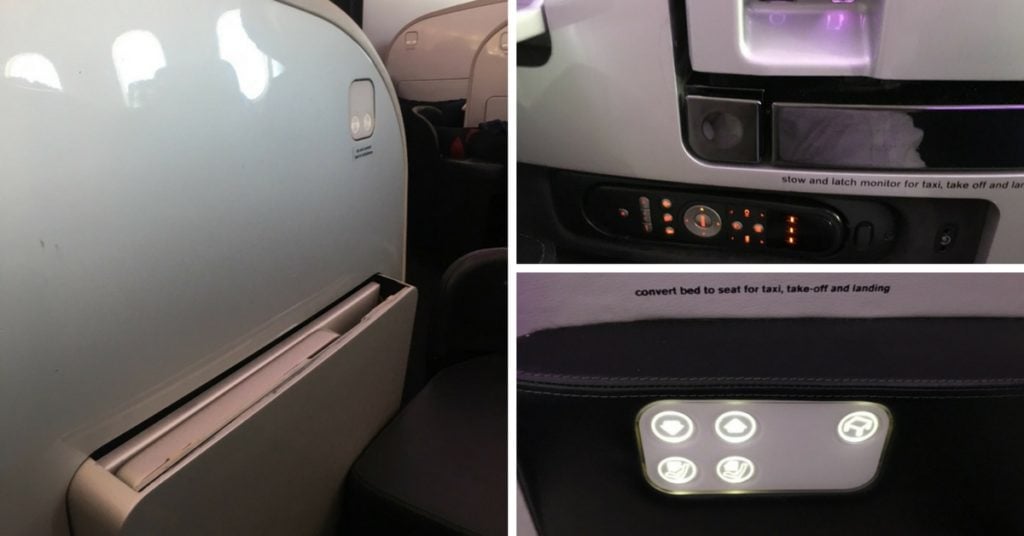 Air New Zealand business class Champagne
Once we'd settled in, I happily accepted a glass of champagne and the menu. Air New Zealand Business Class currently serves Billecart-Salmon NV, my favourite non-vintage champagne. The Air New Zealand crew were very proactive with pre-departure refreshments and treated me to a second glass before take off. The service compared very favourably with long-haul Cathay Pacific business class, and other trans-Tasman business class services, where, in my experience, you'll generally only be offered water or juice.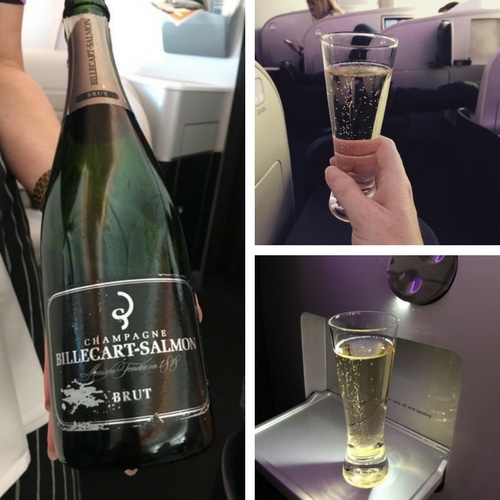 My first experience flying on an Air New Zealand Dreamliner certainly didn't disappoint. Upon takeoff, you're struck by the quiet hum of the engines and the airy windows which lulled me into a sense of relaxation – even with a three-year-old seated next to me.
Service commences in Air New Zealand Business Class
As soon as the seat belt sign switched off, the crew came around to take drinks and meal orders. Unfortunately, the published menu had changed (a catering issue had been encountered in Adelaide), but the competent crew reeled off a number of other tempting options and I selected my starter, main and dessert.
I stuck with Billecart-Salmon Champagne throughout the meal. Air New Zealand takes its Business Class wine selection very seriously. No less than two sparkling wines, three whites and three reds were on offer during the flight, and several crew members were identified as 'wine specialists', having completed intensive training in food and wine matching.
Dining onboard Air New Zealand Business Class
Before long, we were offered crusty bread rolls and a serve of warm garlic bread. It proved to be a great hit with Miss Champagne Mile. A small bottle of 'The Village Press' olive oil from Hawke's Bay accompanied the tasty and fresh bread.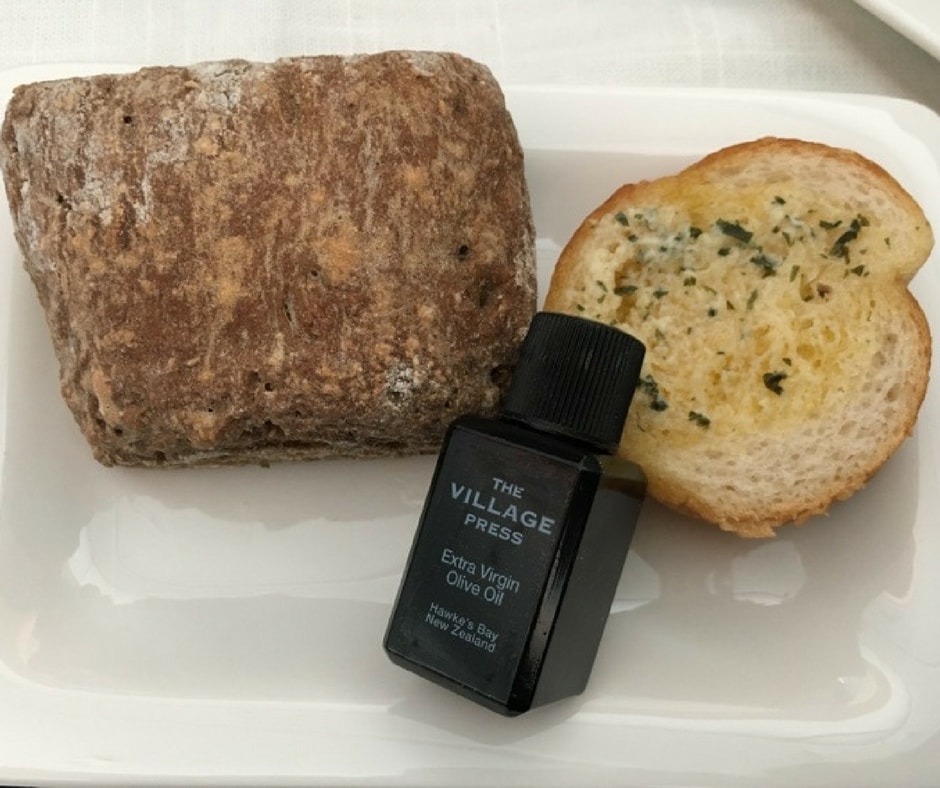 Shortly thereafter, my starter arrived. I'd selected the heirloom tomato and burrata salad, with rocket and mustard dressing. It was a great example of Air New Zealand business class cuisine – beautifully fresh, with the tomatoes were of excellent quality. For the main course, I chose the pork belly with pumpkin mash. Pleasant. Miss Champagne Mile skipped the starter and opted for a plain chicken breast for her main course.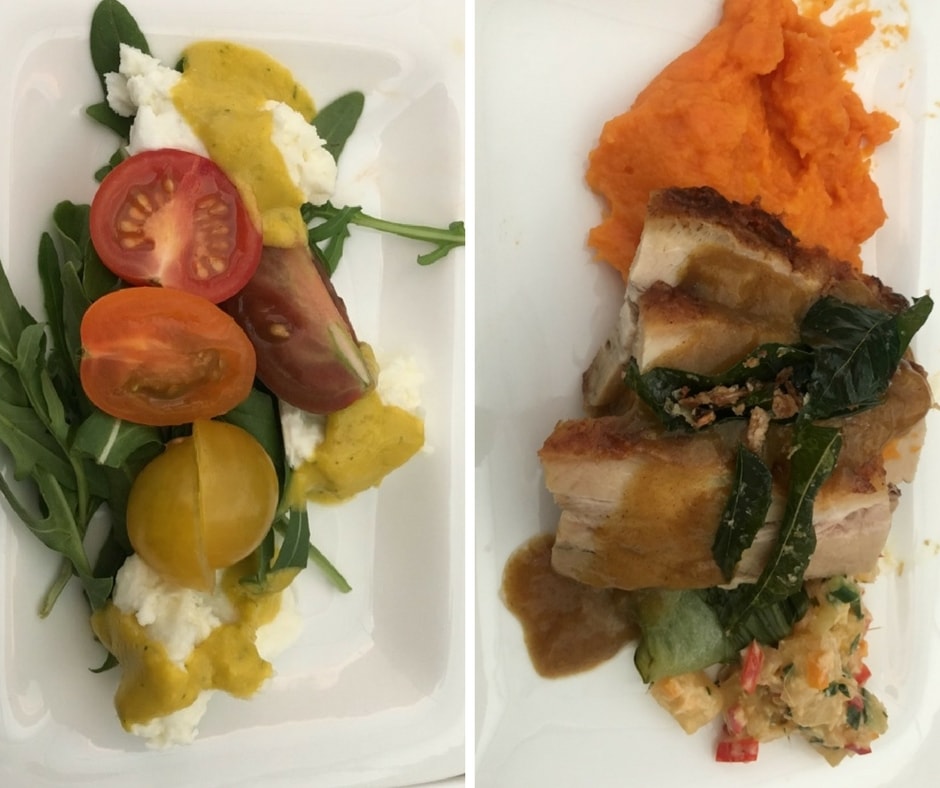 For dessert, I opted for the chocolate tart with coffee cream, while Miss Champagne Mile enjoyed a scoop of chocolate ice-cream.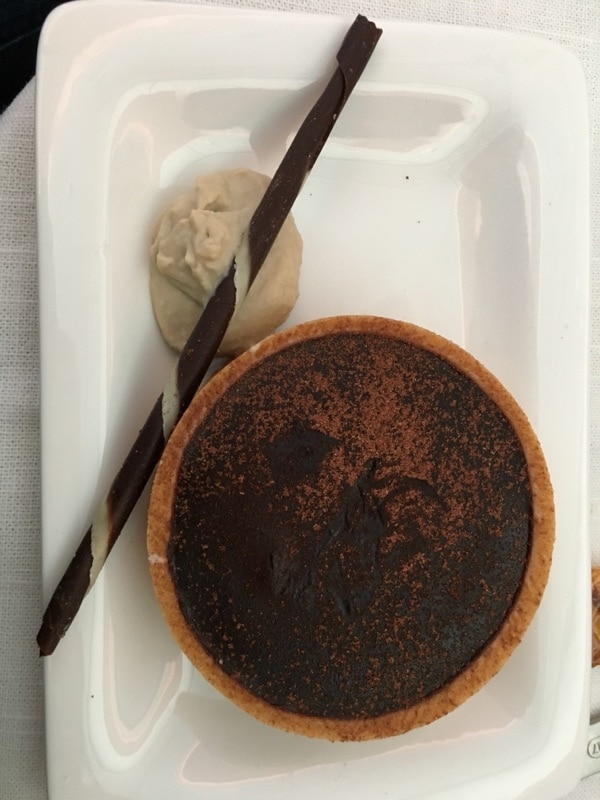 Following the meal service, we had around 1 hour 45 minutes till arrival in Auckland – just enough time for a movie. Miss Champagne Mile watched Frozen, and I ambled back to the Air New Zealand premium economy cabin. Baby Champagne Mile was enjoying the view from out of the window.
Further back in Premium Economy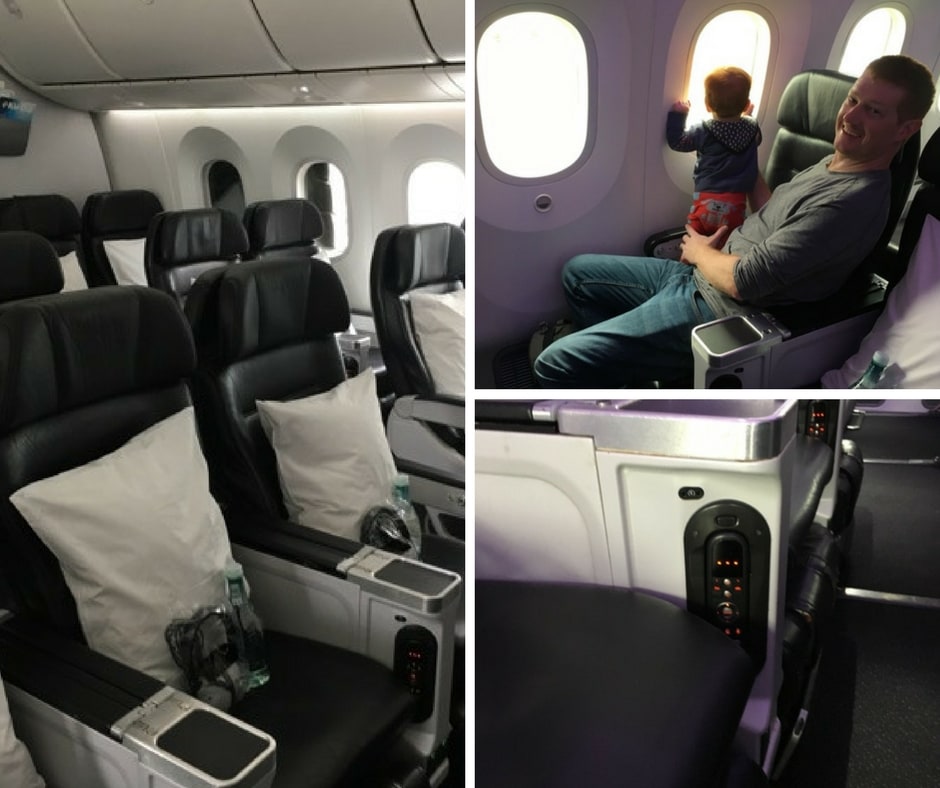 The Air New Zealand premium economy cabin is sometimes described as 'business-lite'. The seats are smartly finished in black leather and are arranged in a 2-3-2 configuration. Each seat provides a pitch of 41 inches and a width of 19.3 inches. During our flight, premium economy passengers enjoyed the 'Business Premier' menu. However, I'm unsure if this is normal, or due to the catering mishap mentioned above.
The remaining hour and a half of our flight passed quickly, and soon it was time to land. Impressively, the Purser walked the entire business cabin to personally farewell each guest. We were invited up to take a quick peek at the Dreamliner cockpit with the children upon landing, and Miss Champagne Mile enjoyed a chat with the pilots.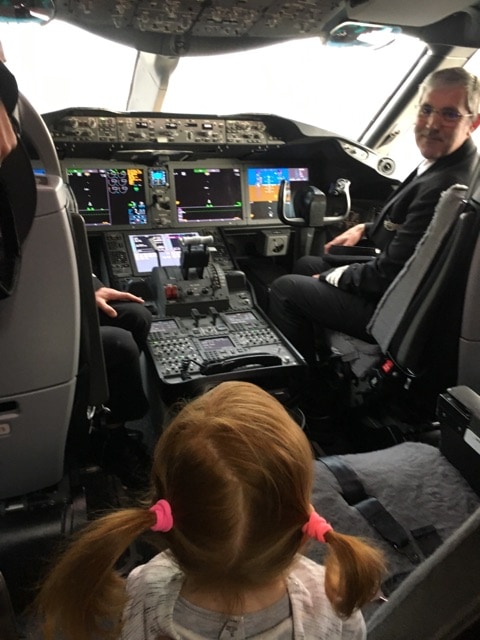 Air New Zealand Business Class 787 – verdict
All in all, I really enjoyed my journey in Air New Zealand business class across the Tasman. Travel with children can be incredibly rewarding (and it helped that the kids were generally well-settled during the flight). Along with the friendly in-flight service, the general ambience of the Air New Zealand Dreamliner made for a very relaxing flight and I felt very refreshed on arrival.
At 25,000 Singapore Airlines Krisflyer points, my one-way Business Premier ticket represented great value. If you're a collector of Air New Zealand Airpoints, you could also put these towards this flight.
Air New Zealand operates daily return services from Adelaide to Auckland on the Dreamliner. Full timetable details can be found here.
---
Review 2: Air New Zealand Business Class – flying from Auckland to Adelaide on the Boeing 777
Recently, I had a blast testing out Air New Zealand business class between Auckland and Adelaide, flying the Boeing 777-300 aircraft. It was an enjoyable and stylish way to cross the Tasman. Keen to try it out? Read on for an in-depth review and find out how to make the most of your journey.
Booking my Air New Zealand business class ticket
A one-way ticket in Air New Zealand business class (or Air NZ Business Premier, as it is officially known) on this route will generally set you back around $1,100 NZD one way, (slightly less when on sale). On flights to and from busier Australian cities like Melbourne and Sydney, Air New Zealand is similarly priced to the other carriers that ply these trans-Tasman routes (think Qantas and Virgin Australia), but it's currently the only full-service carrier flying directly to Adelaide. As a consequence, the lack of competition means that pricing isn't particularly sharp on this route.
Rather not fork out the cash? Consider instead using Air New Zealand Airpoints Dollars to help offset the cost of your ticket. Alternatively, you can try to redeem an award ticket with an airline scheme that offers Air New Zealand flight bookings. While it can be quite difficult to find availability for Air New Zealand business class seats, they do emerge from time to time.
In my case, I was able to locate and book my Air NZ seat just a few weeks out in September 2018, using United Airlines Mileage Plus miles (25,000 miles + approx $140 NZD in taxes).
The Air New Zealand Auckland Airport experience
If you're wanting to try Air NZ business class, then Auckland Airport is where you should depart from.
First up, you'll enjoy access to the private Business Premier check-in area. Simply waltz through the doors and wait for a friendly agent to personally assist you with the check-in process (no lines!). Once you have your boarding pass and priority screening fast-track in hand, a private elevator will whisk you to Immigration NZ, allowing you to bypass the masses.
Once you've cleared security, you'll have the opportunity to visit the Air New Zealand Auckland Lounge. The Lounge features a number of different spaces to relax and kick back in, including a full-length outdoor terrace complete with a living plant wall and sweeping tarmac views. As a flagship offering, the Air NZ Auckland Lounge doesn't disappoint.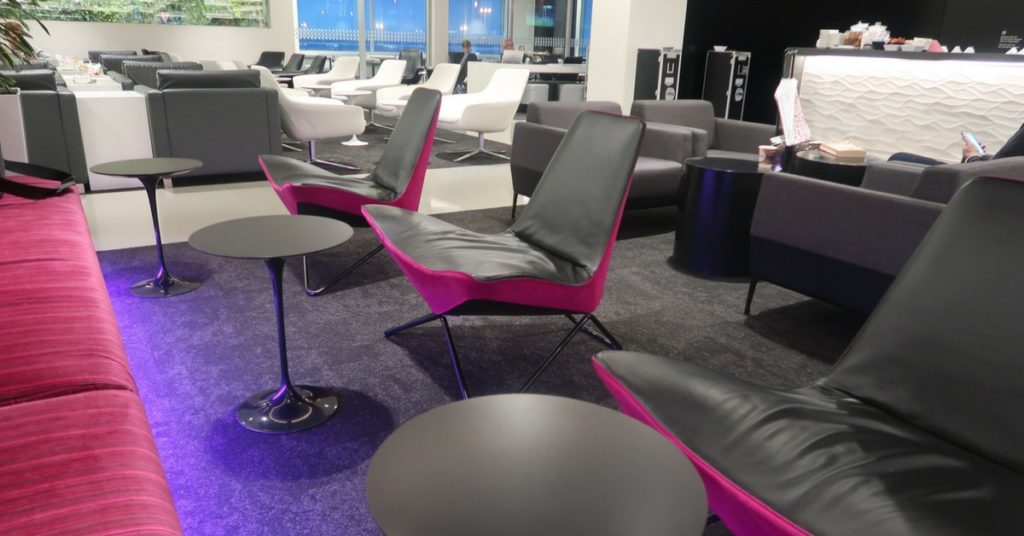 With my flight due to depart at 8.45 am, I checked in around 6.30 am. I cleared security and proceeded directly to the Air New Zealand Lounge. It was crowded for such an early hour, but with plenty of seating areas, I was able to find a comfortable place to perch next to windows overlooking the tarmac.
I immediately made my way to the bar and ordered a double shot latte. I sat down to enjoy a tasty bowl of fruit and yoghurt and a cooked to order omelette from the breakfast station whilst enjoying the view of Auckland Airport comings and goings.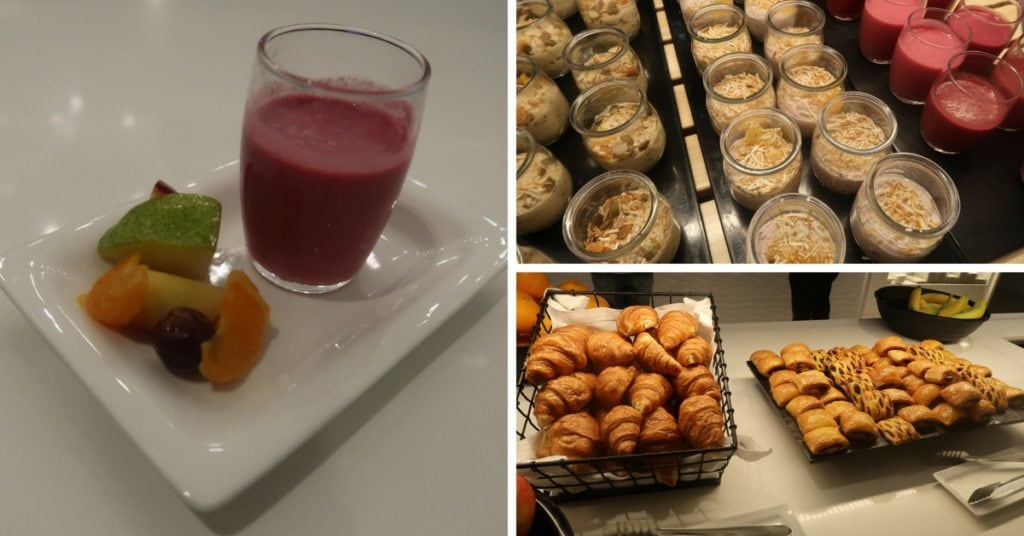 Before long, it was time for me to make my way to the gate which was a ten-minute walk away. As I approached gate six, I spotted my shiny Air NZ 777.
First impressions: Air New Zealand business class cabin
Boarding commenced slightly late, at around 8.15 am. Once wheelchair assisted passengers had boarded, Air NZ Business Premier passengers were invited to come forward to board the aircraft. I made my way down the walkway, embarked the aircraft and turned left into the business cabin.
The Air New Zealand 777-300 Business Premier cabin features 44 seats in a 1-2-1 herringbone configuration. The cabin is bathed in soft mood-lighting and feels quite airy. I was surprised at how 'fresh' the cabin felt, despite its age.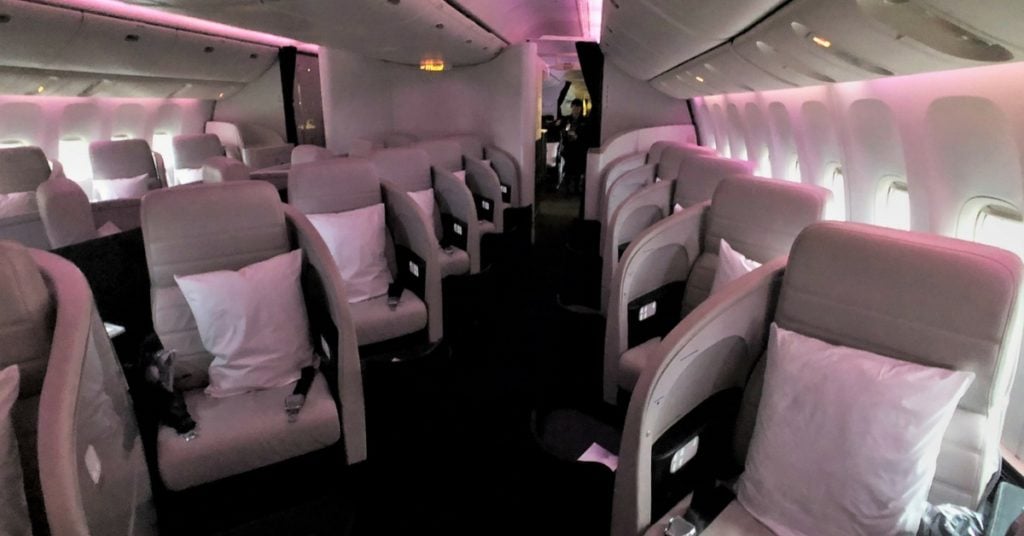 Space is divided into the main cabin of 28 seats and a second, smaller cabin of 16 seats.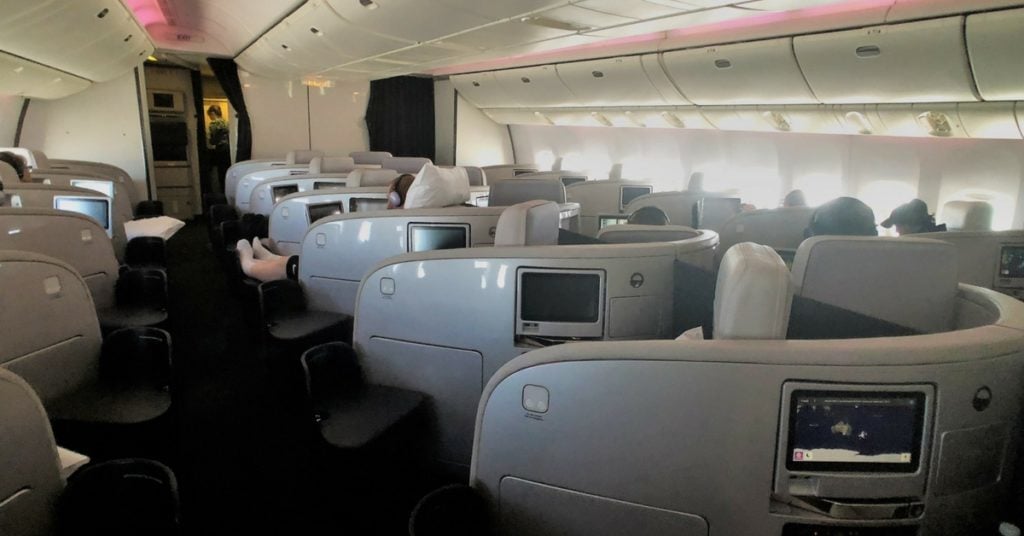 Air New Zealand 777 business class seats
The Air NZ herringbone seat has been in operation since 2011. Each seat offers direct aisle access but is angled away from the window. If you enjoy spending your flying time gazing out at the clouds, you'll be disappointed.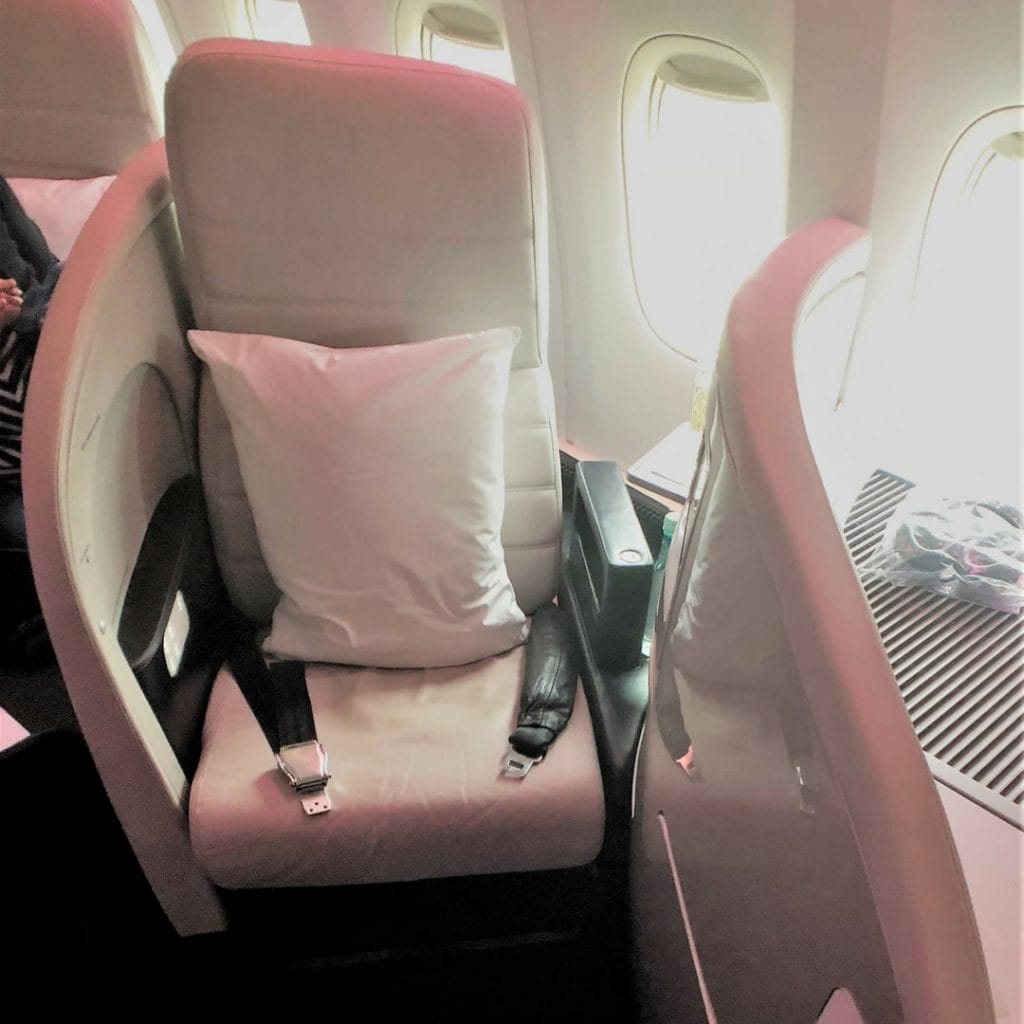 Each Air New Zealand business class seat is upholstered in off-white leather, measuring 22 inches in width and 79 inches when in lie-flat mode. A separate black leather ottoman acts as a handy seat for a dining companion and provides storage.
Low, curved walls offer some privacy. However, when seated upright, you're facing into the middle of the aisle and may have other passengers (if not their propped up feet!) in your line of view.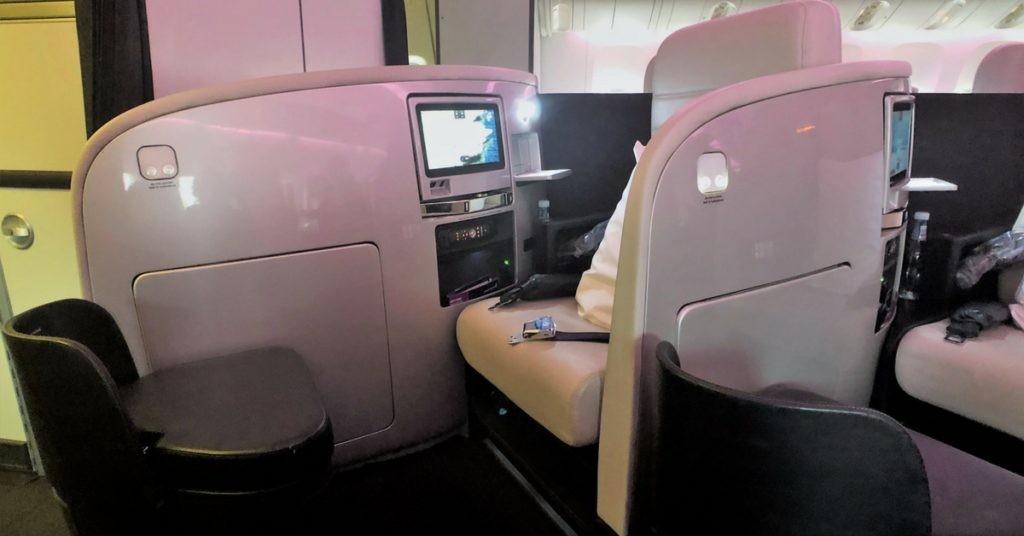 A number of convenient storage and stowage options are at hand. These include a magazine pocket under the entertainment screen, bag stowage underneath the separate ottoman and adjustable armrest with storage pocket.
A small drop-down tray is perfectly sized to house a glass of champagne, and the main tray table is a generous size and perfectly suitable for working on a laptop as well as dining.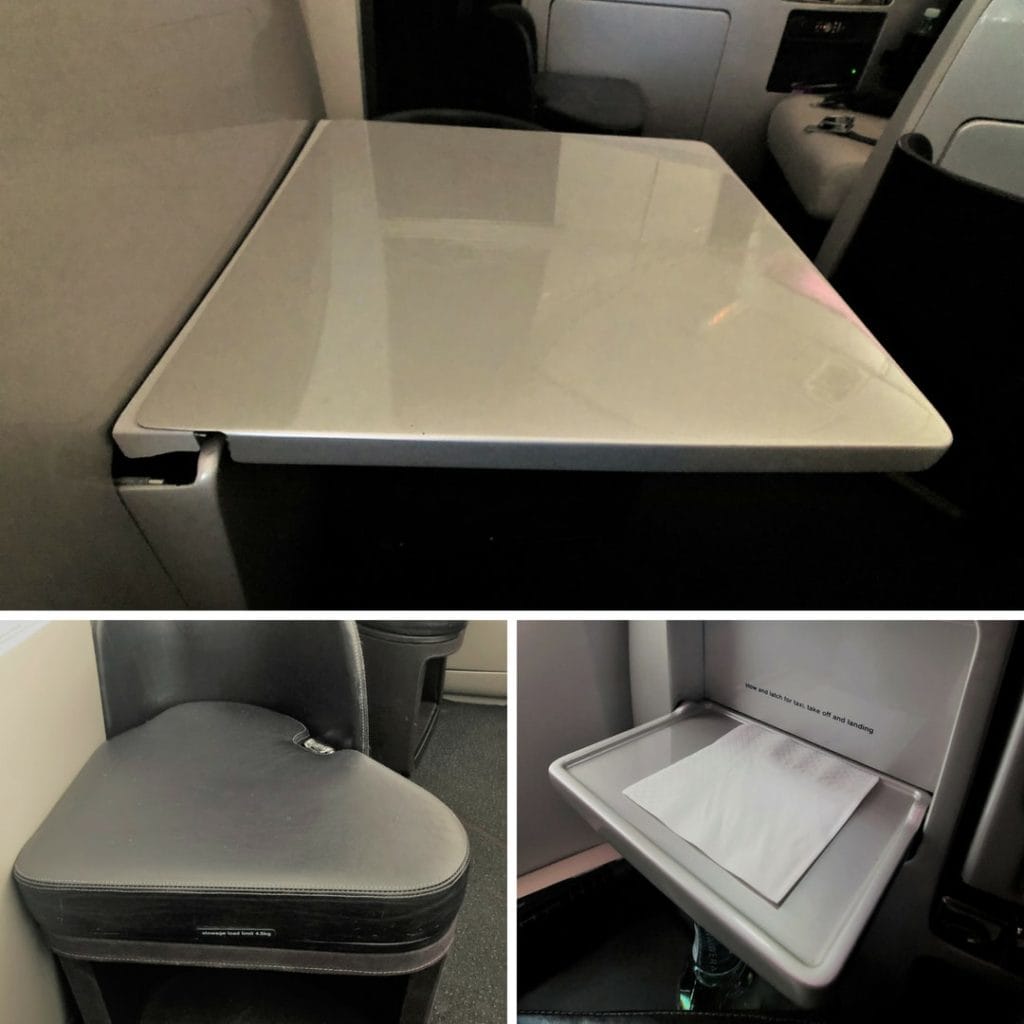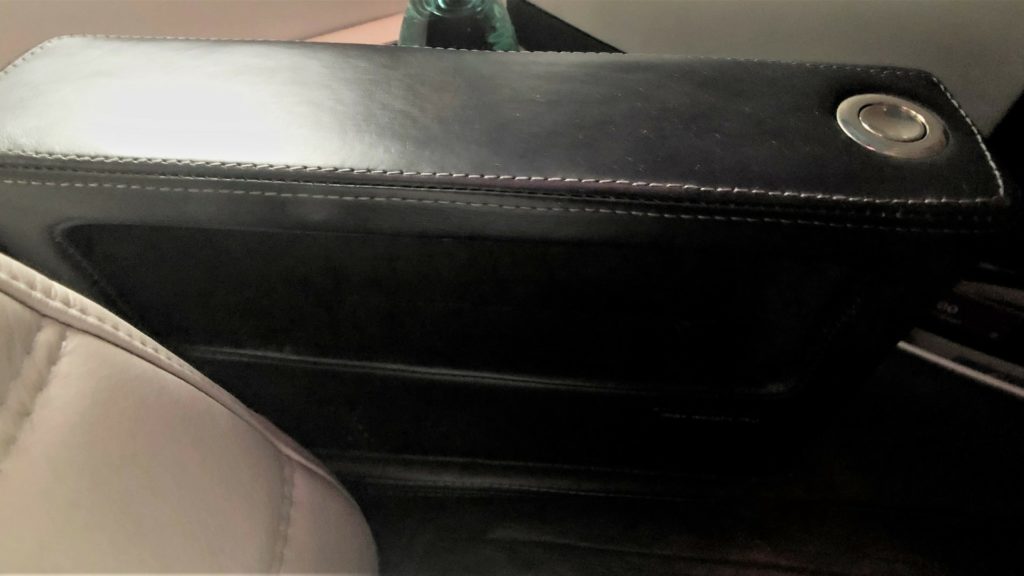 While a number of other business-class carriers offer angle-flat seats, the Air New Zealand 777 business class seat converts to a true lie-flat bed – a big tick in my book. Simple seat controls allow you to convert your seat to a fully lie-flat bed at the touch of a button.
Which seat should you choose in business class?
As a herringbone middle facing product with a standard configuration, all seats offer a similar level of comfort and direct aisle access – there are no lemons here.
If you're sensitive to noise, or on a long-haul flight and wanting to catch some sleep, you may wish to avoid the seats closest to the galley – namely, rows one and two at the front of the cabin, and seven and twelve at the back of the cabin.
If privacy is important, you might choose to sit in the second, smaller cabin located directly in front of economy. However, if you're flying a short, daytime trans-Tasman crossing like I was, you're likely to be perfectly happy seated at the front of the cabin.
Air New Zealand in-flight entertainment system and WiFi
The Air New Zealand business class entertainment screen is on the small side at just 12.6 inches wide. It's stored within the seat wall, with a remote, USB and universal power sockets located underneath.
Despite the small size of the entertainment screen, I was impressed by the Air New Zealand entertainment offering. A huge selection of movies, tv shows and box sets were available, including a number of very recent releases.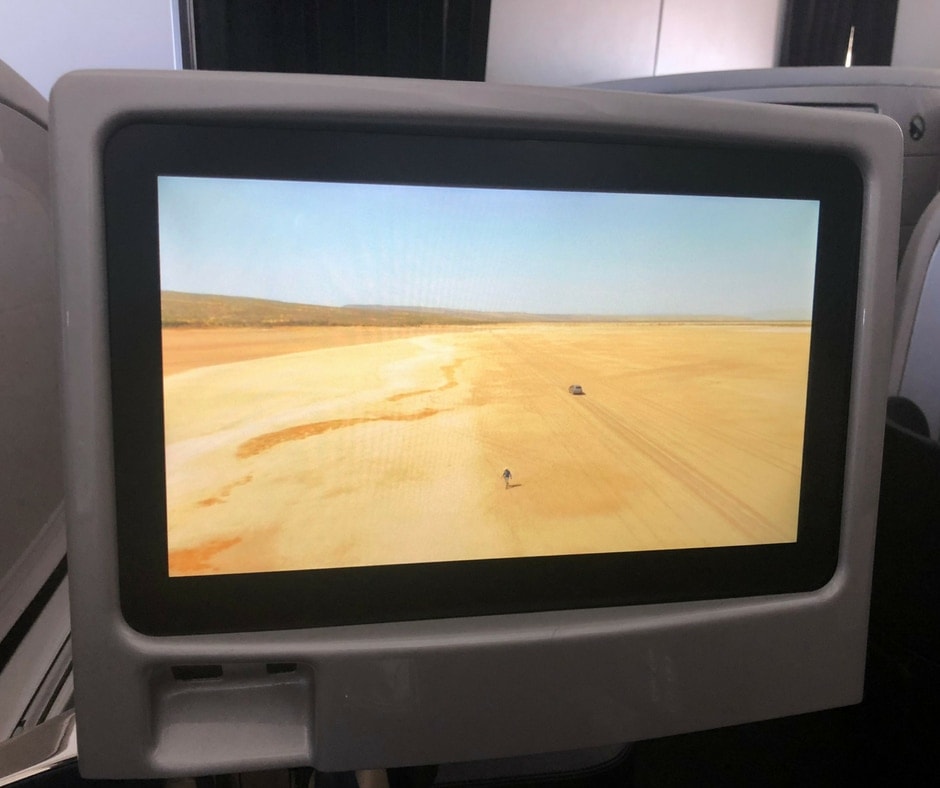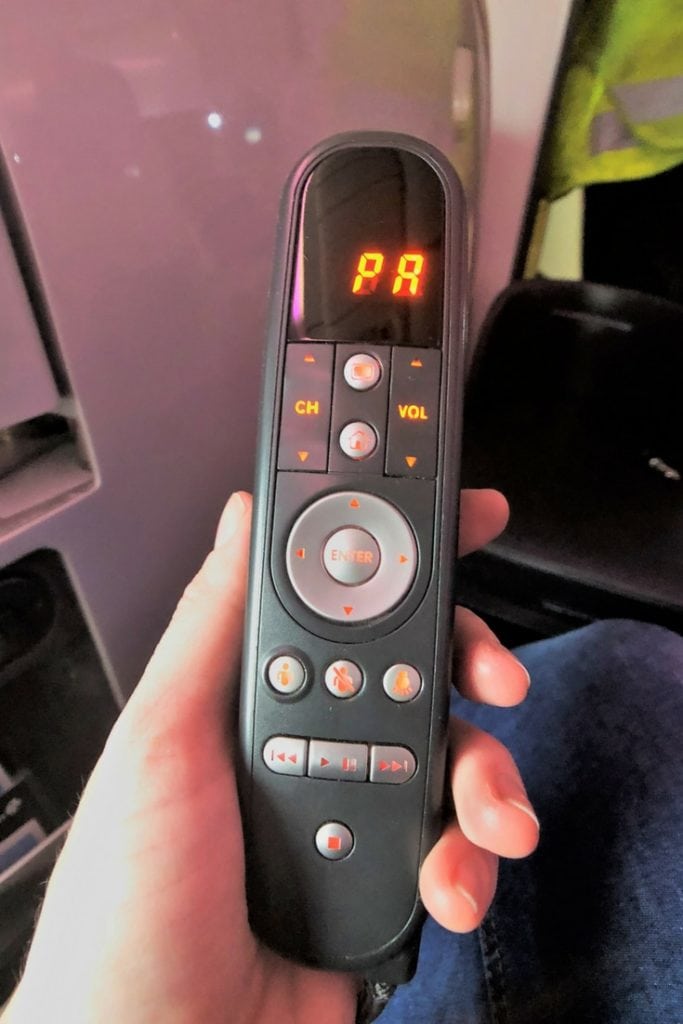 I was excited to find that WiFi was available in-flight. It's something that I think all airlines should be working towards on international flights, and I'm glad to see Air New Zealand has committed to expanding its offering here.
All passengers receive a free 10 minute Air NZ WiFi pass, with a full flight pass costing $10NZD on Australia and Pacific Islands routes. While I'd love to see Air New Zealand offer free WiFi, these prices are reasonable when compared with other carriers.
Authors Note: As of 2020, all WiFi on international flights is free.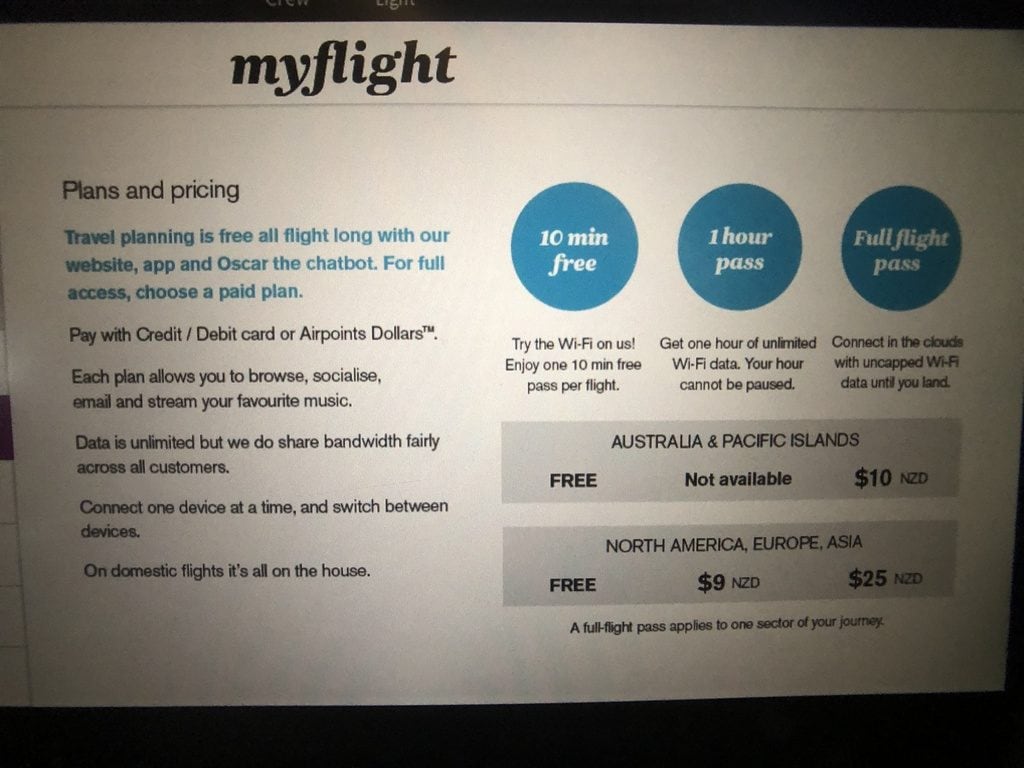 Dining in business class
Shortly after I'd settled in my seat, the friendly crew offered me a drink and to provide a hot towel. A choice of orange juice, water or champagne was available. Air New Zealand currently offers either Billecart NV or Laurent Perrier NV champagne on trans-Tasman routes. Both are lovely and would be at the top of my list for NV champagne picks.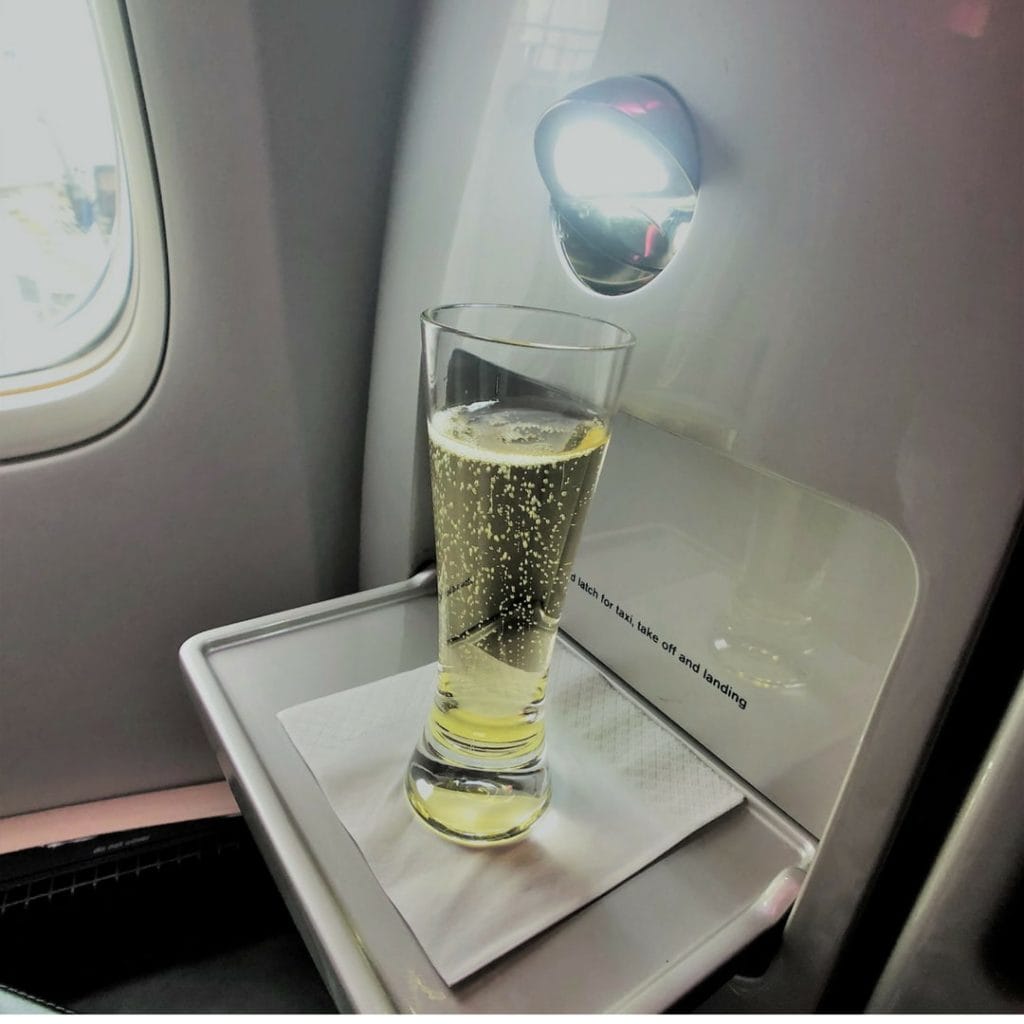 As I sipped my champagne, I read through the Air New Zealand business class menu. Early morning flights crossing the Tasman receive a breakfast service, while return flights enjoy a full lunch service.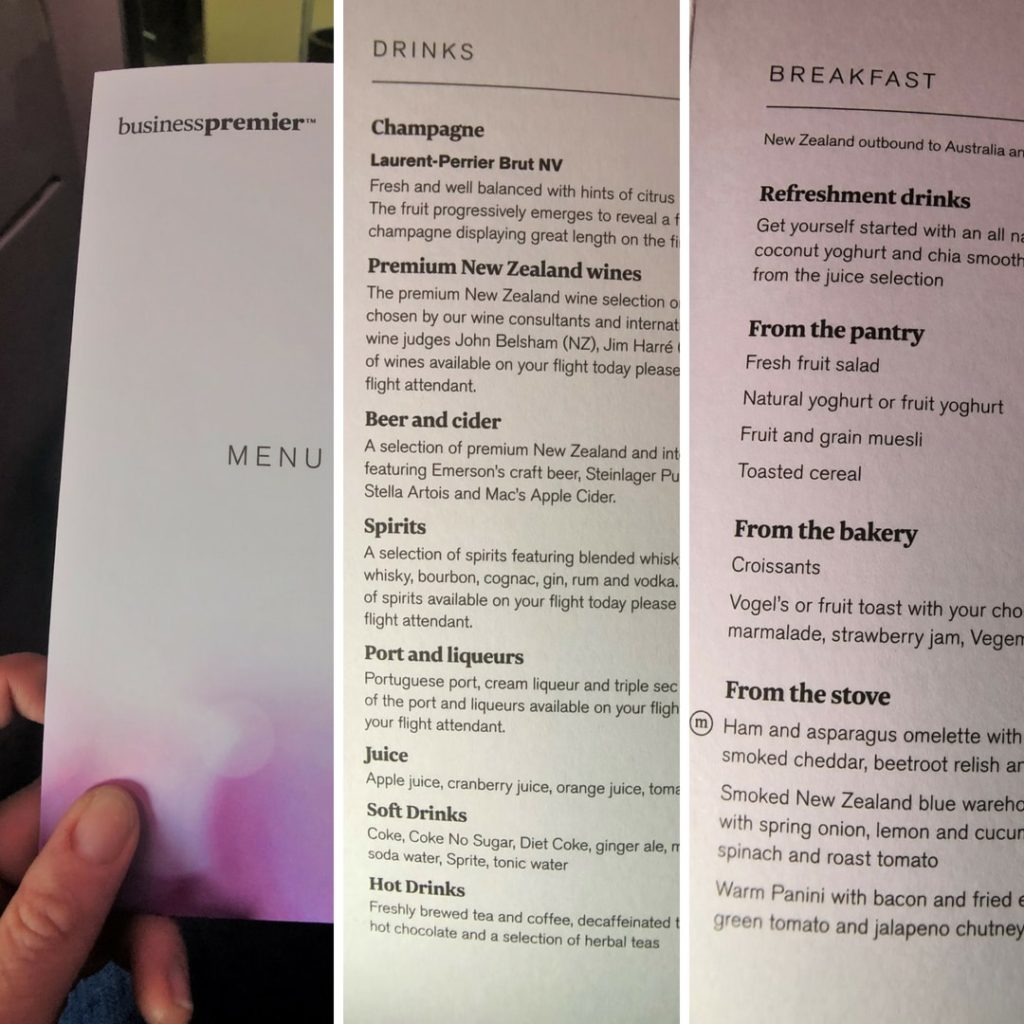 To start with, I enjoyed a serving of fruit salad. This was accompanied by a selection of fresh bread and toast. For my main course, I chose the ham and asparagus omelette smoked cheddar, beetroot relish and Bearnaise sauce. My meal was accompanied by a delicious blueberry, coconut yoghurt and chia smoothie.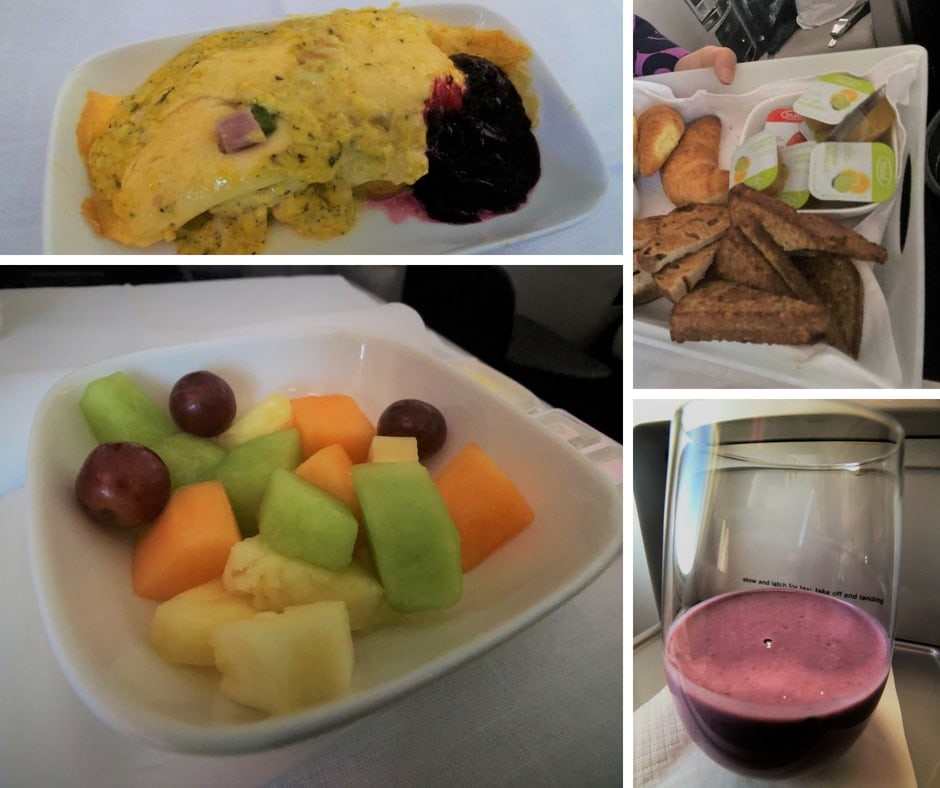 Plane breakfasts are usually pretty nondescript, and perfunctory. Today, all the dishes tasted fresh and showcased New Zealand produce in a positive way.
Around an hour from landing, I was surprised to see the crew come around with morning tea. On offer were a selection of cakes, pastries and sandwiches. I opted for a bit sized lemon curd tart and a trio of sandwiches.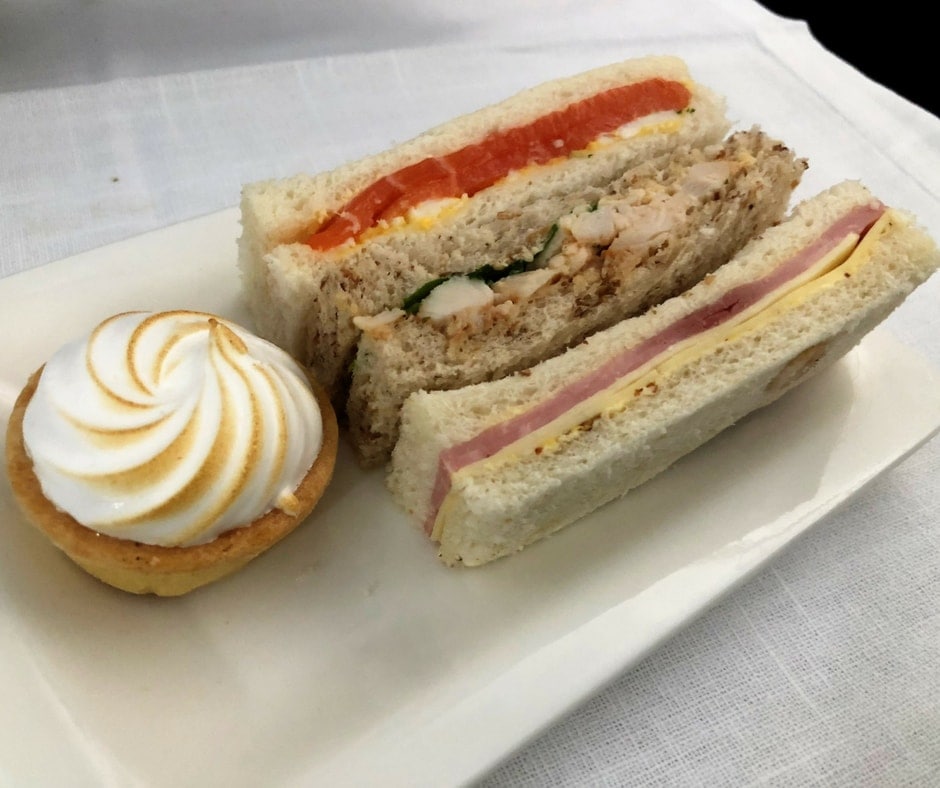 After morning tea, I took the opportunity to flick through the entertainment offerings, catching a 30-minute show. Before long, the captain announced our descent, and it was time to say goodbye to my Air New Zealand Business Premier experience.
Air NZ Business Class 777 – verdict
Overall, I was very impressed with my experience at the pointy end of the plane.
The Air New Zealand herringbone seat is a polarising product for consumers. But being a lie-flat seat is a big advantage over some other competitors. On this flight of 4.5 hours, I was extremely comfortable.
The service and banter provided by cheerful Air New Zealand crew were, as always, delightful, and I enjoyed the high-quality food and beverage options on offer.
Trans-Tasman routes are operated by a significant number of carriers, and it's still possible to access the glitz and glamour of Emirates business class across the ditch. However, I certainly wouldn't hesitate to fly Air New Zealand again.
While you're here: Subscribe to our newsletter for the latest tips, deals and news. It only takes a few seconds and we respect your privacy: