Step inside the little-known Singapore Airlines SilverKris Lounge Adelaide Airport.

For a relaxed international departure experience, Adelaide Airport is unquestionably up there with the best. I'll almost never encounter a line at the screening area. And, with a small international departure space, there's never far to walk to reach the gate.

That being said, a small airport naturally delivers a limited lounge offering. While travellers will find a Qantas Club, Virgin Australia Lounge and Rex Lounge in the domestic area of the terminal, there is only one Lounge that caters for guests jetting off on international flights.

Enter the Singapore Airlines SilverKris Lounge. It's a space you may not know about, but one you should take time out to visit if you're eligible to pass through the doors.
Finding the Lounge
This low-key lounge is the only Adelaide Airport lounge to be positioned after international passport control. And, if you are a new visitor, you'll need your wits about you to find it!
Once clearing immigration, head out towards Gate 16. Follow the nondescript signage to 'International Lounges' (note: there is only one international lounge currently in operation, with spaces currently being renovated for Qantas and Virgin Australia). Simply take the escalator down to the bottom level, and follow the signs to the SilverKris Lounge.
Entering the SilverKris Lounge Adelaide
The Silverkris Lounge operates on very restrictive opening hours (more on that below). A welcome banner positioned outside the entrance flags when it is open.
Entering the Lounge, you will be greeted warmly by the staff seated at the reception desk. Adjacent to the front desk there is a small business centre, offering computer stations, fax machine and a printer.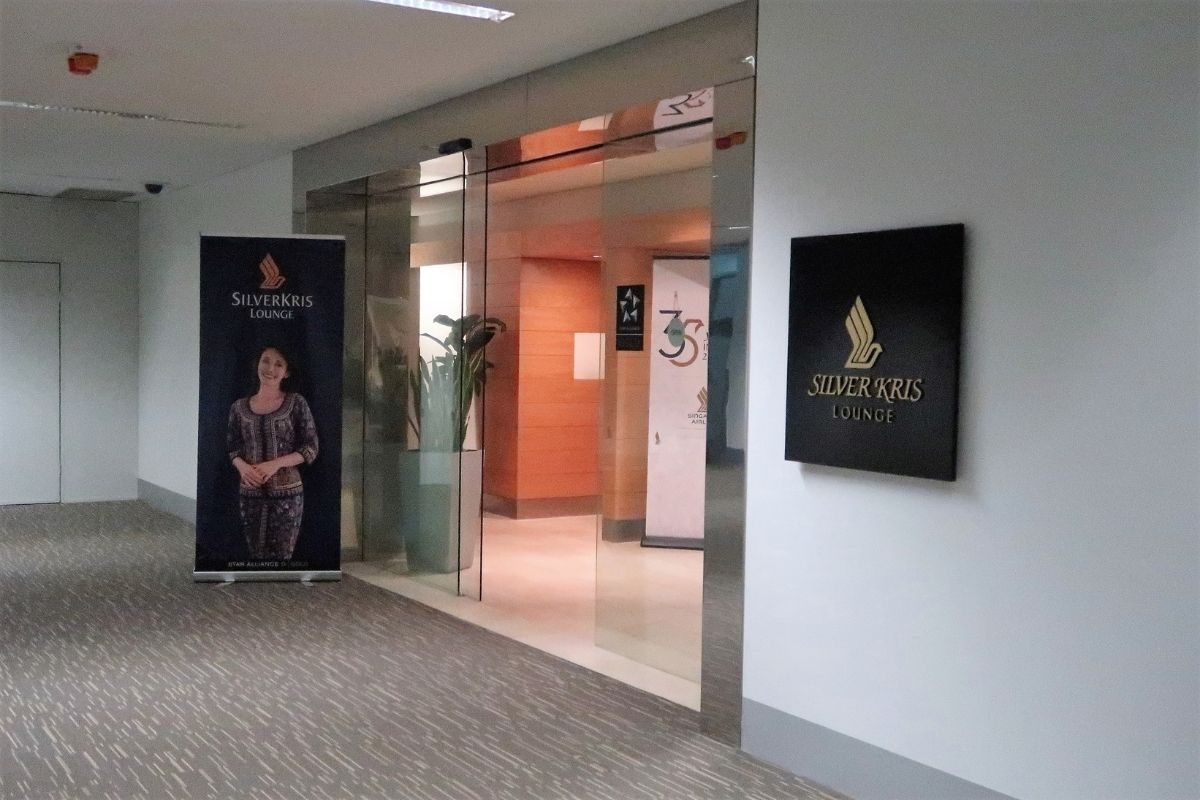 Beyond the reception, the Lounge is entered through a narrow, wood-panelled corridor.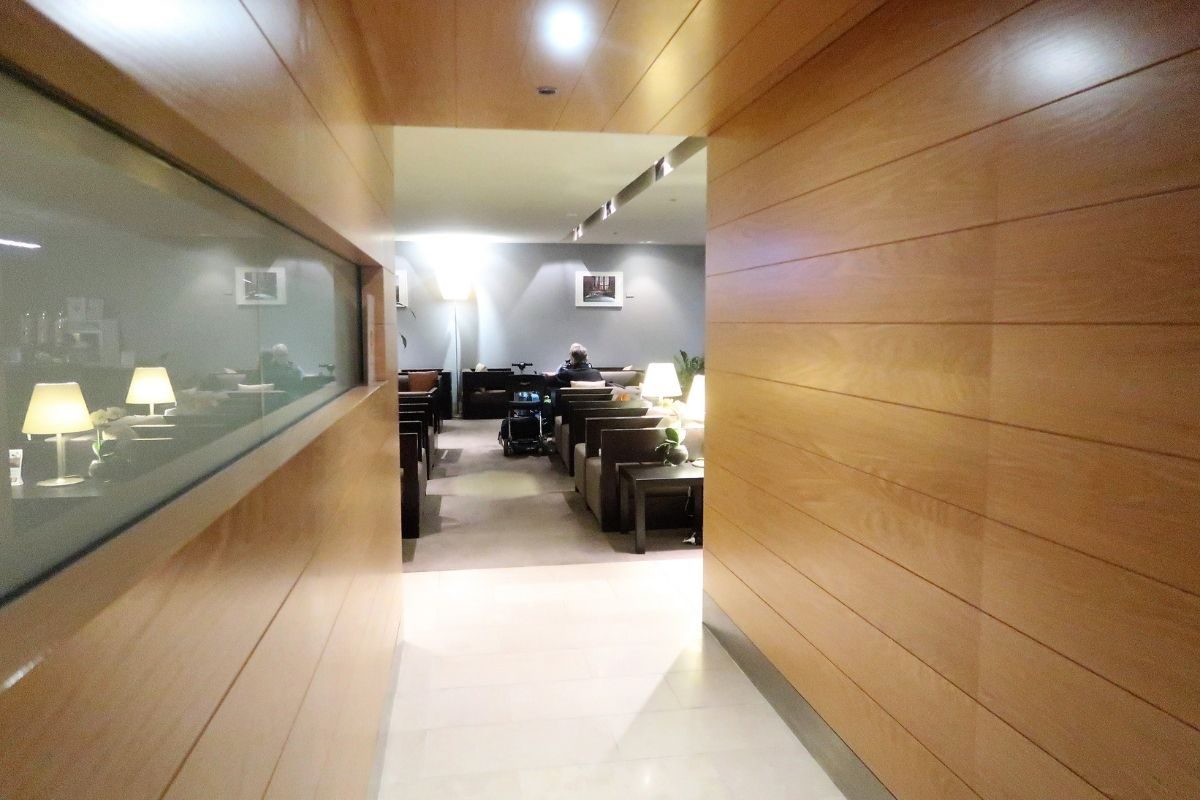 At first glance, it's a small, rectangular space with no windows. Well worn armchairs can accommodate around 40 guests.
Various lamps positioned around the space serve to amp up the brightness. However, with no natural light present, there is still unquestionably a gloomy feel.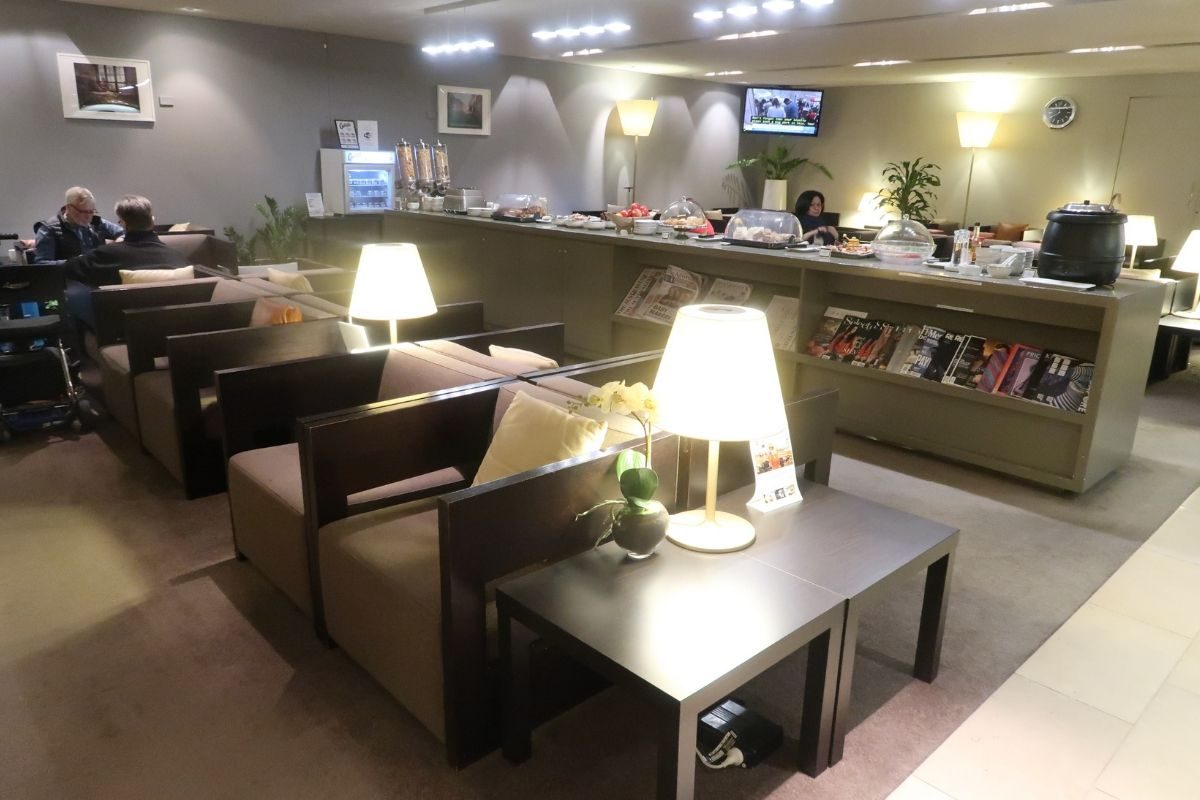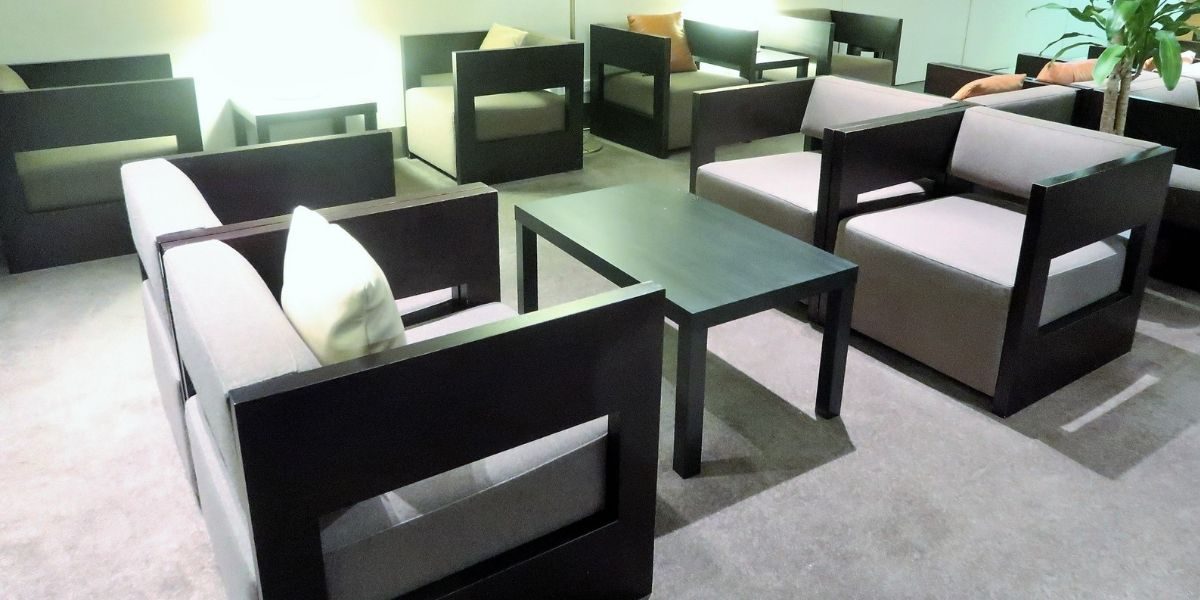 In the centre of the lounge, a long console is positioned to act as a buffet and reading material display centre. A range of local, national and international magazines and papers are provided for guests to peruse.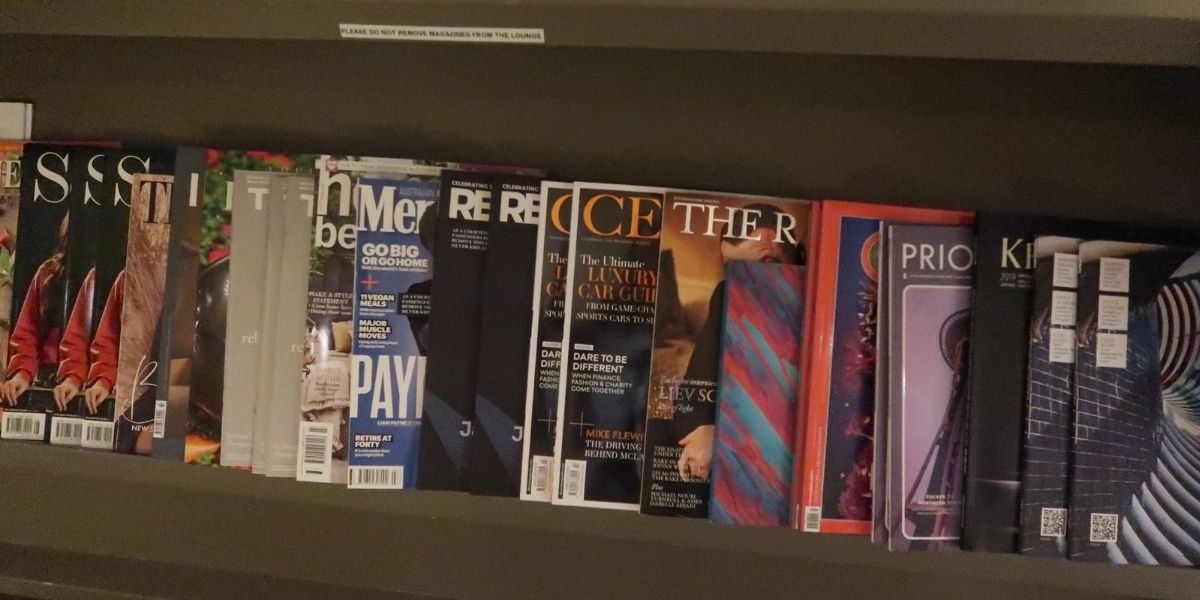 For guests feeling peckish, the central buffet provides a number of cold food options for self-service.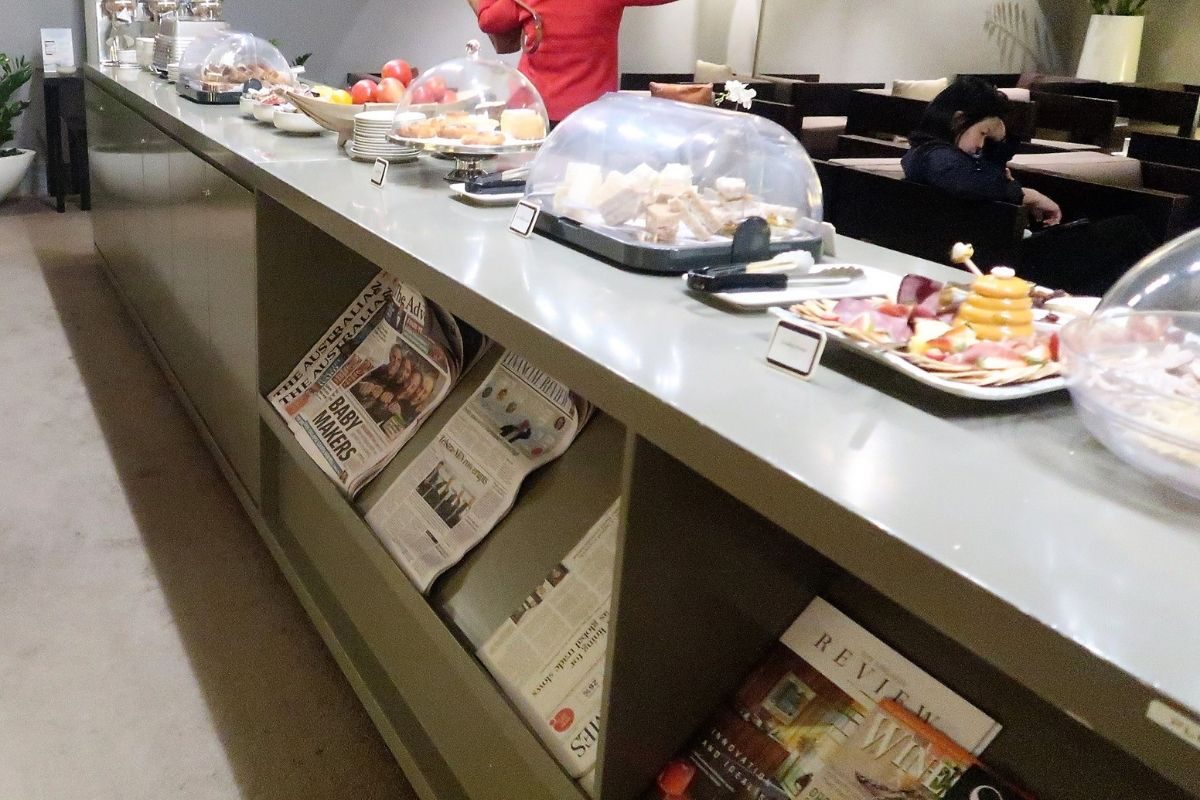 At the time of our visit, these include breakfast staples like fruit, bread and condiments (butter, vegemite). Pleasingly, SA produced Beerenberg jam and honey are also provided.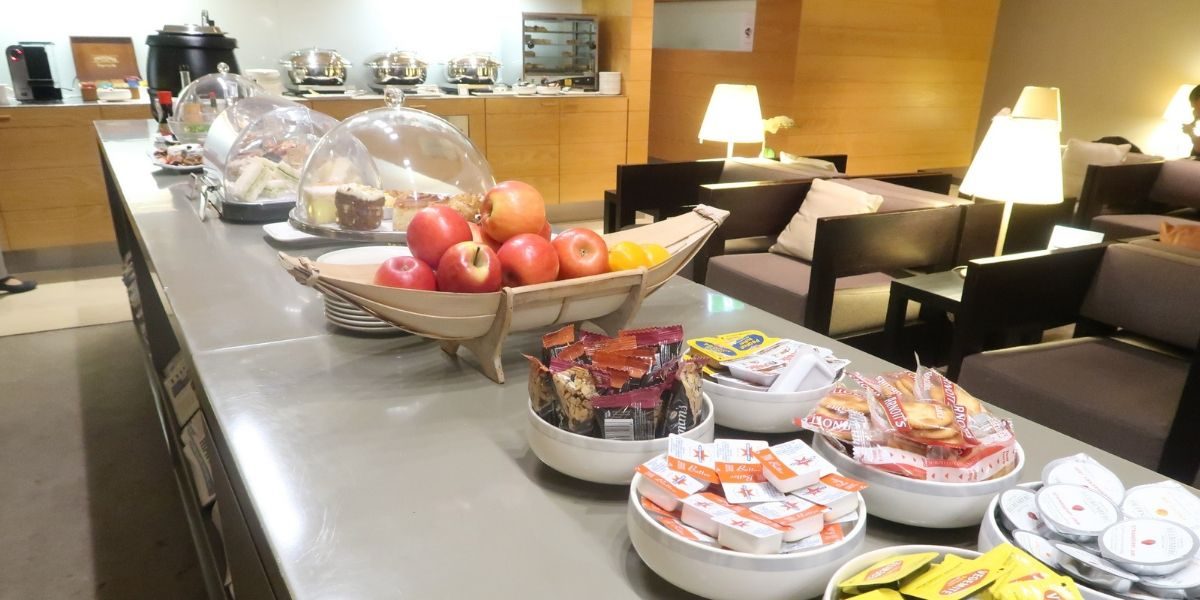 We also spy an antipasto platter which contains cold cuts, crackers, cheese, cut up fruit and nuts. A small selection of cakes and sweet baked goods is available, too.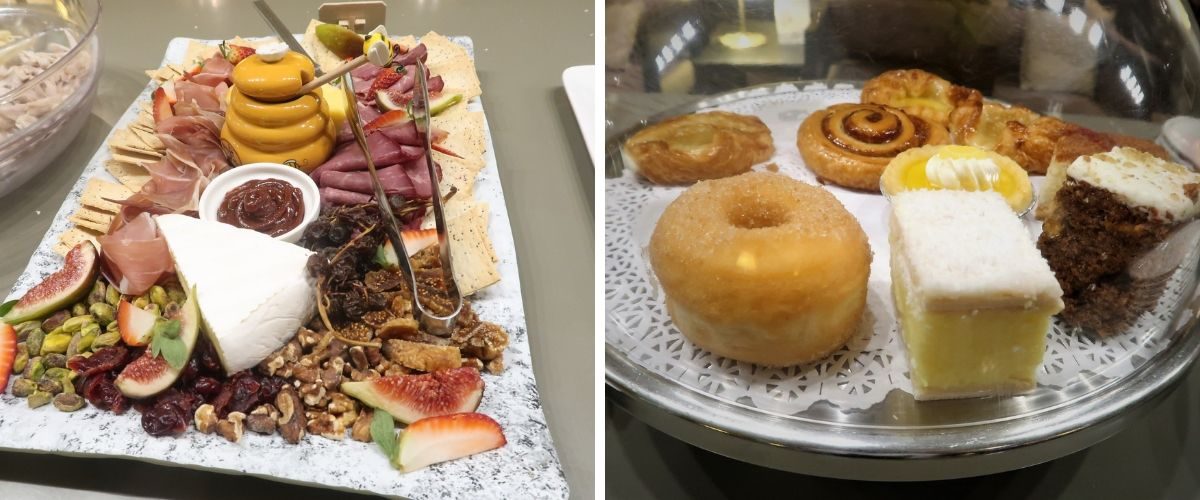 Several types of sandwiches are presented on our visit. These include pumpkin, fetta and spinach. There is also a chicken, mayonnaise and avocado option.
Ice-cream lovers are bound to appreciate the gelato fridge. It serves up a range of popular flavours from local artisan ice cream manufacturer, Gelista.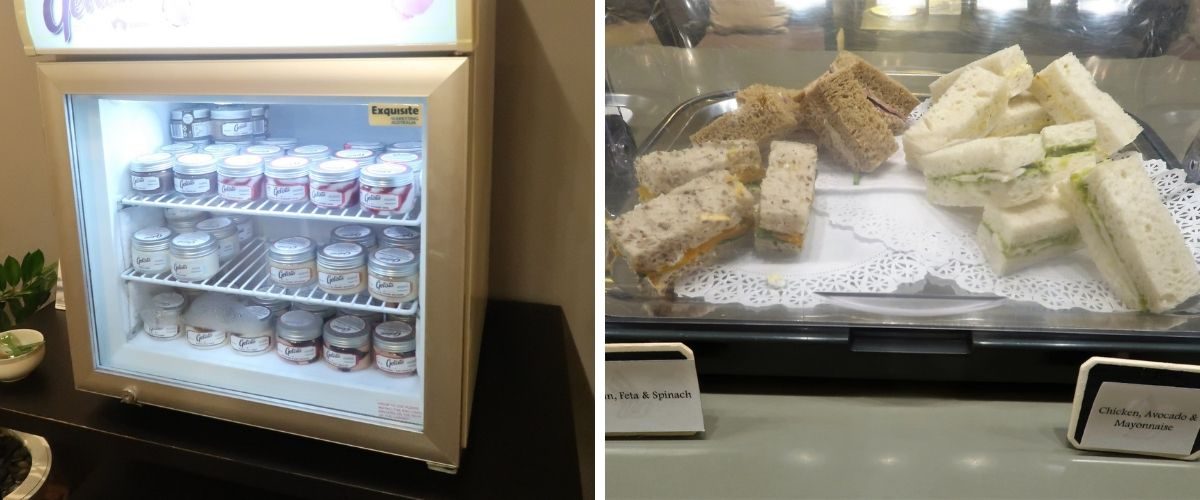 Over on the far side of the Lounge, guests can opt to try a range of self-serve hot food items. At the time of our visit, there are three hot breakfast staples on offer – bacon, eggs and baked beans.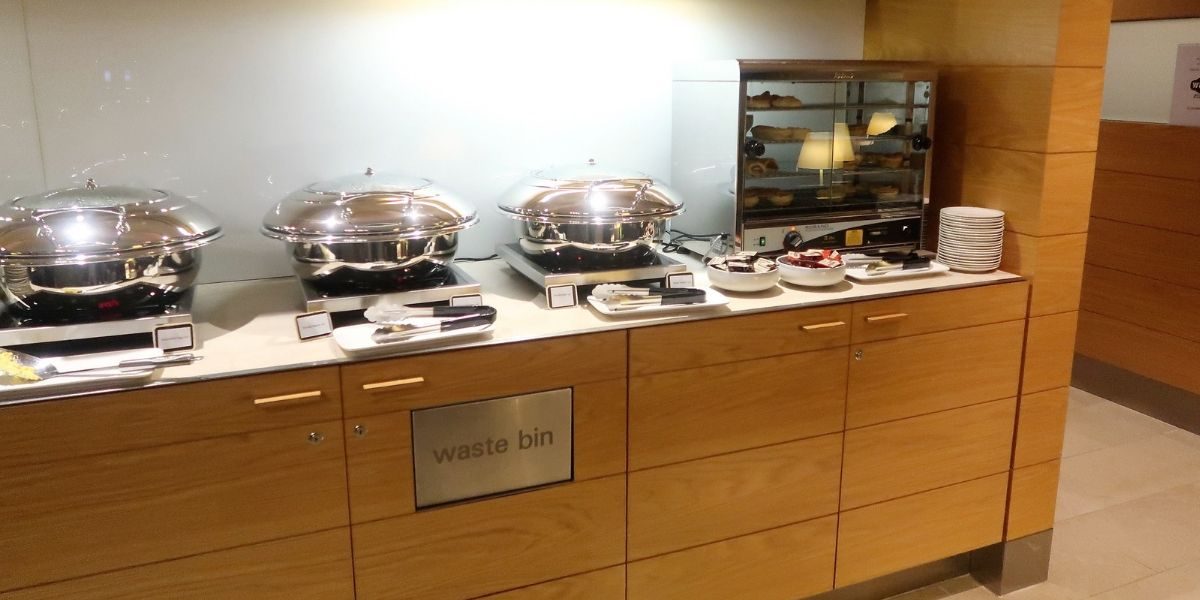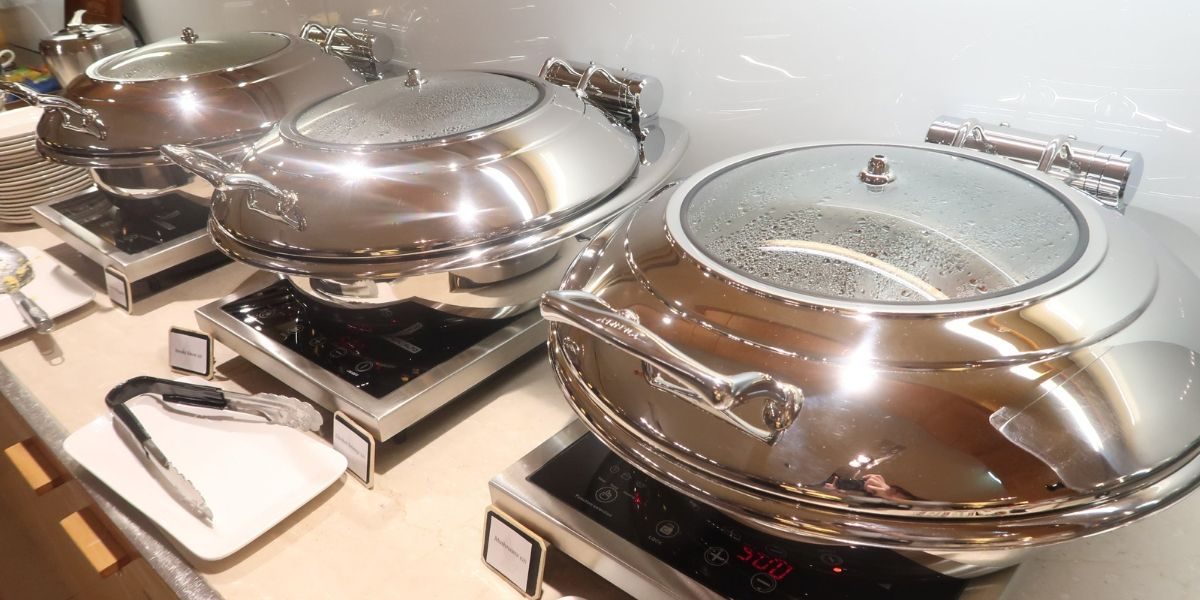 Next to the hot breakfast items, South Australian visitors will go giddy with excitement upon setting eyes on arguably the most tempting offering in the Lounge – a pie warmer stocked with a range of party size pies, sausage rolls and pasties from iconic Adelaide bakery, Vilis.
Above the pie-warmer, a Vilis menu sets out the different hot items on offer. This includes no less than seven types of pies, two Kransky variants, one vegetarian pasty type, sausage rolls and one type of quiche.
At the time of our visit, there is an extensive range of hot items on display in the pie warmer, though it is fast depleted!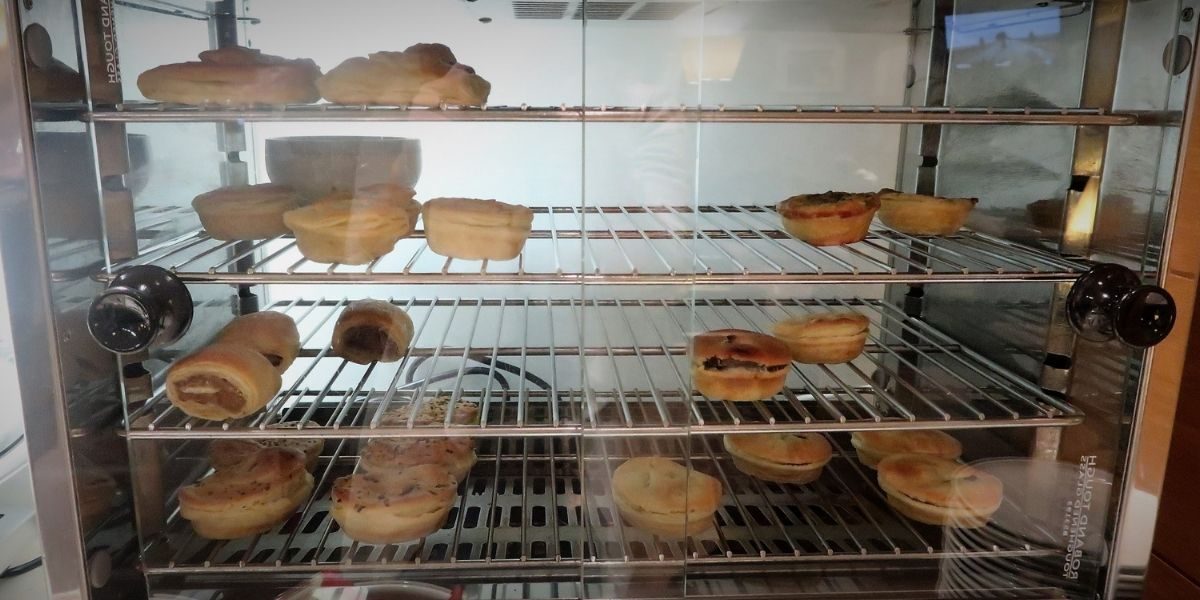 Guests can also opt for cup noodles, with four different types available from the side buffet. At the time of our visit, the flavours on offer include Spicy Seafood, Chilli Crab, Tom Yum Seafood and Chicken.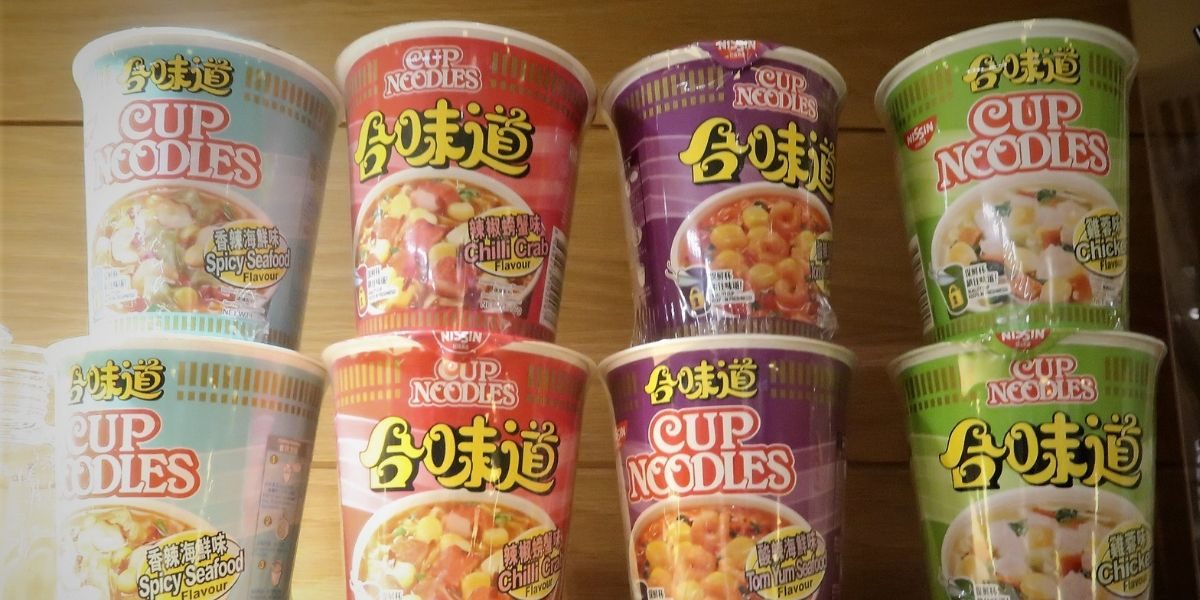 Those seeking a lighter option can grab one of two types of pre-packaged salads from the fridge.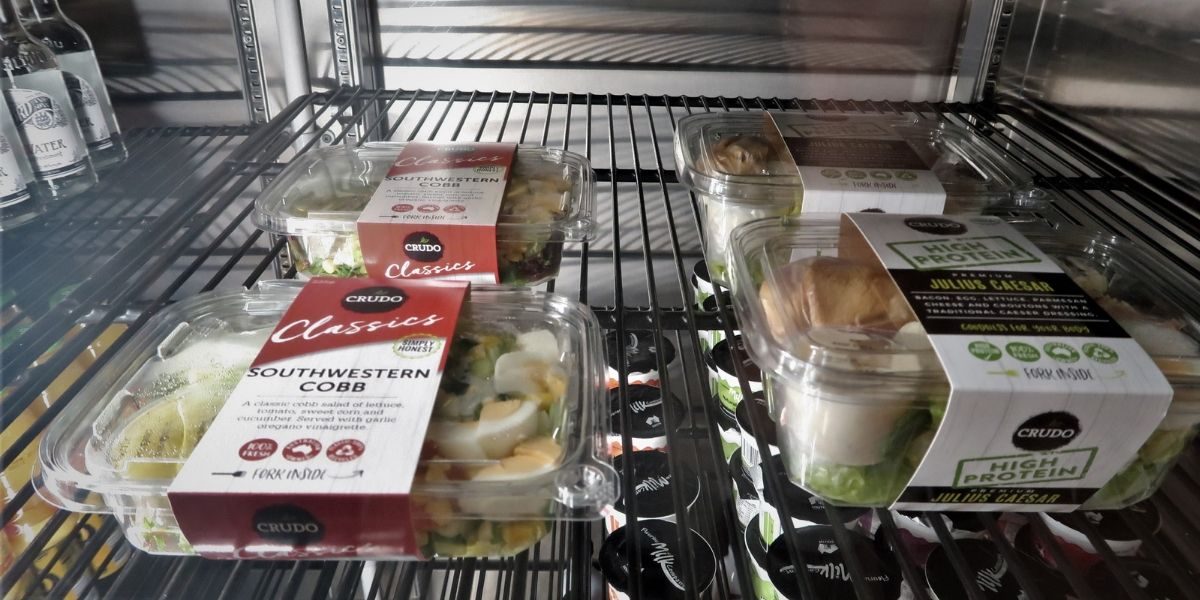 A range of different yoghurt flavours from a local brand, Fleurieu Milk Company, is up for grabs in the fridge, too.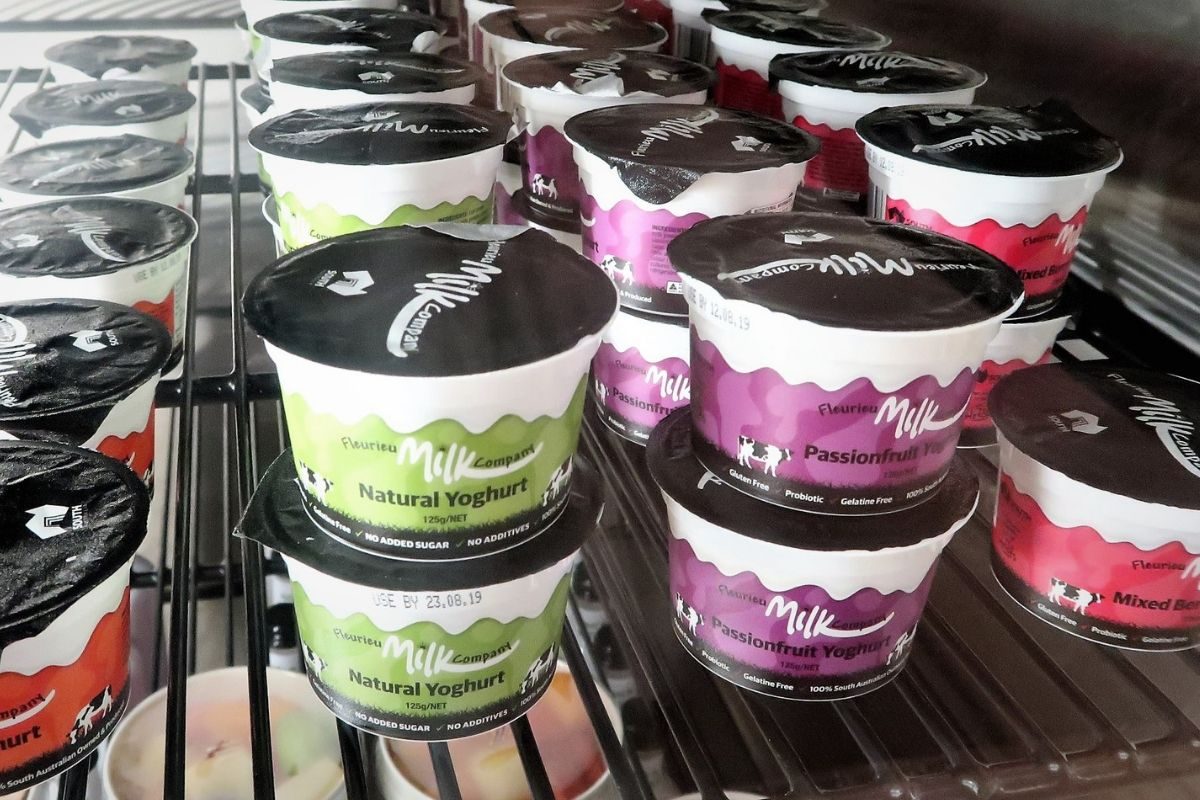 Beverage wise, hot drink lovers are catered for with a self-service coffee machine and tea making facilities. At the time of our visit, however, the coffee machine is not quite functioning correctly, as no milk is served within a flat white.
For those with a harder drink in mind, a tempting array of spirits and red wine are presented. These include Johnny Walker Black Label whisky, Bombay Sapphire gin, Campari and a Martell VSOP cognac. There are also several local red wines on offer.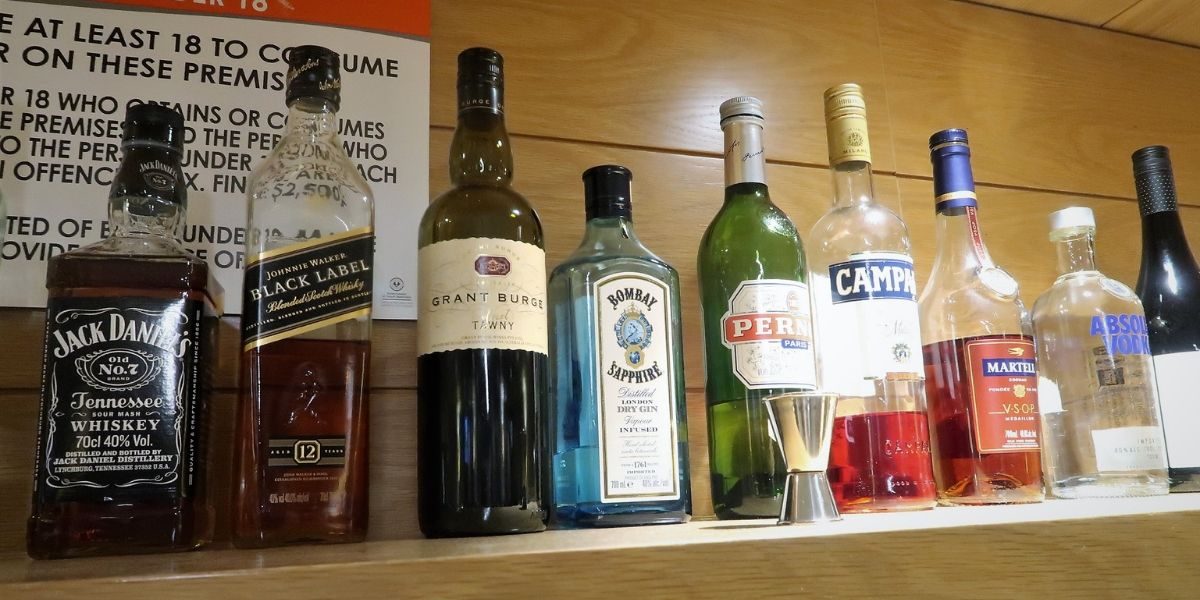 Inside the fridge, guests can opt for an excellent local South Australian sauvignon blanc (Shaw and Smith). Sadly, there is no Champagne on offer, however, guests can indulge in a French sparkling wine: Varichon & Clerc 'Charles de Saint-Ceran'.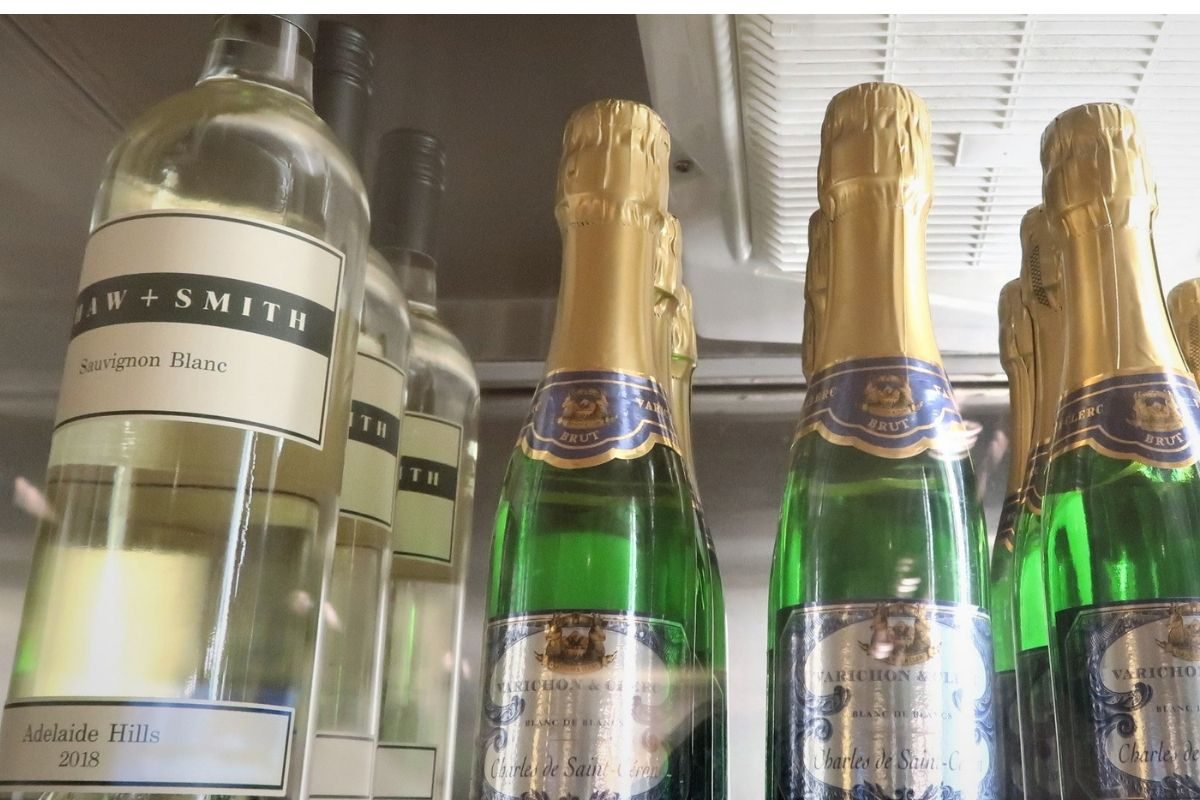 SilverKris Adelaide Lounge facilities
At the time of our visit, we are somewhat surprised that there is no high-speed in-lounge WiFi option on offer. Rather, guests are directed to use the free Adelaide Airport WiFi service, which requires the downloading of an app.
Toilets and a single shower are available for use.
SilverKris Adelaide Lounge opening hours and access
What are the Lounge opening hours?
The SilverKris Adelaide Lounge operates on extremely limited hours, with Lounge opening times designed to cater solely Singapore Airlines departing flights. Currently, the Lounge opens exclusively for one Adelaide to Singapore flight (SQ278) which departs at 9.20 in the morning.
The Lounge opens three hours prior to the flight. It then shuts up shop for the day as soon as boarding for SQ278 is complete.
At the time of writing, Singapore Airlines is expected to add a seasonal Adelaide evening departure to its schedule. This should see the Lounge open later in the day for an ad hoc period of time.
Who can access the SilverKris Adelaide Lounge?
A KrisFlyer Elite Gold, PPS Club and Solitaire PPS Club membership unlock access to the Lounge when travelling on any Star Alliance flight in any cabin. Likewise, passengers travelling in Singapore Airlines business class get a pass through the door.
Star Alliance Gold and above members technically get access to the lounge prior to a Star Alliance flights in any cabin, with the only other Star Alliance service departing the international terminal being the late morning Air New Zealand Adelaide to Auckland service.
However, be aware that the Lounge shuts some 2.5 hours before the departure of the Air NZ trans-Tasman service. I've personally found this out the hard way, being stuck to while away several hours at the gate.
So, if you are travelling on Air New Zealand, you would do better to stick to the Qantas Club, located in the domestic area of the airport.
Singapore Airlines SilverKris Adelaide Lounge: Final thoughts
While limited in size and lacking in atmosphere, the SilverKris Lounge is a solid if not inspiring option for eligible passengers travelling on Singapore Airlines flights departing Adelaide Airport.
Overall, I can't help but feel that the Adelaide SilverKris space does not quite meet the benchmarks of other Singapore Airlines operated Lounges around the world. This includes local offerings such as the SilverKris Melbourne Lounge and, indeed, the top of the line first class offering 'The Private Room' at Singapore Changi Airport.
The absence of windows, increasingly well-worn furniture and restricted space can make the space appear gloomy. Likewise, the lack of lounge-specific WiFi and a malfunctioning coffee machine add an annoyance factor to what could be a more polished product.
I also find it a shame that the restrictive opening hours prevent eligible travellers on Air New Zealand's late morning trans-Tasman service from a chance to experience the Lounge. Indeed, I am curious as to why the Lounge is not opened up to other non Star Alliance airlines with international departures. This would provide even more passengers access to a private space beyond security screening.
That being said, for those who can enter, a keen focus on lots of South Australian produce plus quality non-Champagne wines and spirits serve to lift the SilverKris Lounge Adelaide to an international grade.
In my opinion, the SilverKris Lounge Adelaide is of a higher standard than the domestic Qantas Club, which is used by all other airlines ahead of international departures – so it is well worth seeking out if you get the chance.
Have you visited the Singapore Airlines SilverKris Lounge at Adelaide Airport? If so, what did you think?
Readers may also be interested to read our Melbourne and Sydney SilverKris Lounge reviews.
While you're here: Subscribe to our newsletter for the latest tips, deals and news. It only takes a few seconds and we respect your privacy: