The new Singapore Airlines A380 first class suite sets a worldwide benchmark for luxury at 40,000 feet.
Curious to discover what it's like to experience a hotel room in the sky? Read on for our in-depth review.
Singapore Airlines pioneered the original and game-changing A380 first class suite back in 2007. A decade later, a larger and more opulent new Singapore Airlines A380 first class suite now operates on select routes. This game-changing product features a Poltrona Frau leather swivel chair, 32 inch HD TV, sliding privacy doors, and a full-flat bed that can be stowed into a dividing wall – the ultimate in luxury commercial airline travel.
Booking my flight on the new Singapore Airlines A380 first class suite
When I spotted award seats available for late December, I jumped at the opportunity to book a seat on the daytime Sydney to Singapore leg. Singapore Airlines releases 'Saver' and 'Standard' award redemption booking options for flights booked with points. Saver award bookings are cheaper but not widely available, while Standard awards are priced at almost twice the cost of Saver awards but are easier to find.

At present, you can only find the more expensive Standard award tickets for the journey between Sydney and Singapore on the new Singapore Airlines A380 first class suite (although Saver tickets can be waitlisted). It was necessary for me to stump up an eye-watering 150,000 Krisflyer miles for the one-way journey, which I'd transferred across from my American Express Explorer Card. Was it worth it? Absolutely!

Note that you can book a one-way award ticket for this exact route on a different Singapore Airlines first class product (the incredibly luxurious first version of the Singapore Airlines A380 suite or the original and refurbished Boeing 777-ER) via the Virgin Australia Velocity website for just 95,000 points plus minimal taxes.
Check-in
The dedicated 'Suites Class' check-in counter was empty as I approached, with the attendant excited to hear that I'd be experiencing the new Singapore Airlines A380 first class suite. I enquired about the flight load and discovered five of the six suites were occupied, dashing my hopes of a double suite to myself.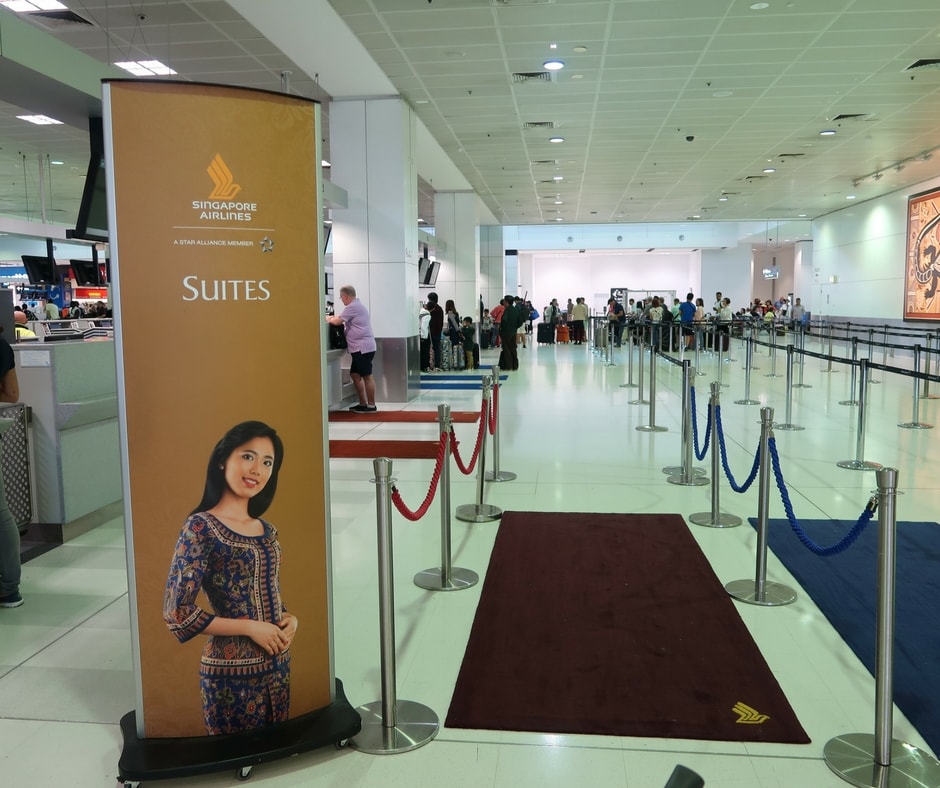 Pre-departure lounge access
Singapore Airlines maintains adjoining First and Business Class lounges at Sydney Airport. The First Class Lounge is accessed discreetly through a private sliding door. This small but elegant lounge features a sitting area, buffet and an a la carte dining area where you can dine on dishes such as Peking duck pancakes and signature Singapore laksa. Non-Vintage Veuve Cliquot is offered. Towards the back of the lounge, you'll find private workstation pods and a private seating area that features tarmac views.
As the focus of this post is the new Singapore Airlines A380 first-class suite, I won't be delving deeply into my lounge experience here, but keep an eye out for a future review.
Initial impressions of the new Singapore Airlines A380 first class cabin
I was cleared to board slightly early so that I could take some photos of the new Singapore Airlines A380 first class cabin before the other passengers arrived. As I embarked, I was warmly greeted by the crew. While Singapore Airlines' onboard service is always of a high standard, I just knew that this crew would provide exceptional service throughout the flight. Golden ticket in hand, I wandered in awe down the corridor of the first-class cabin.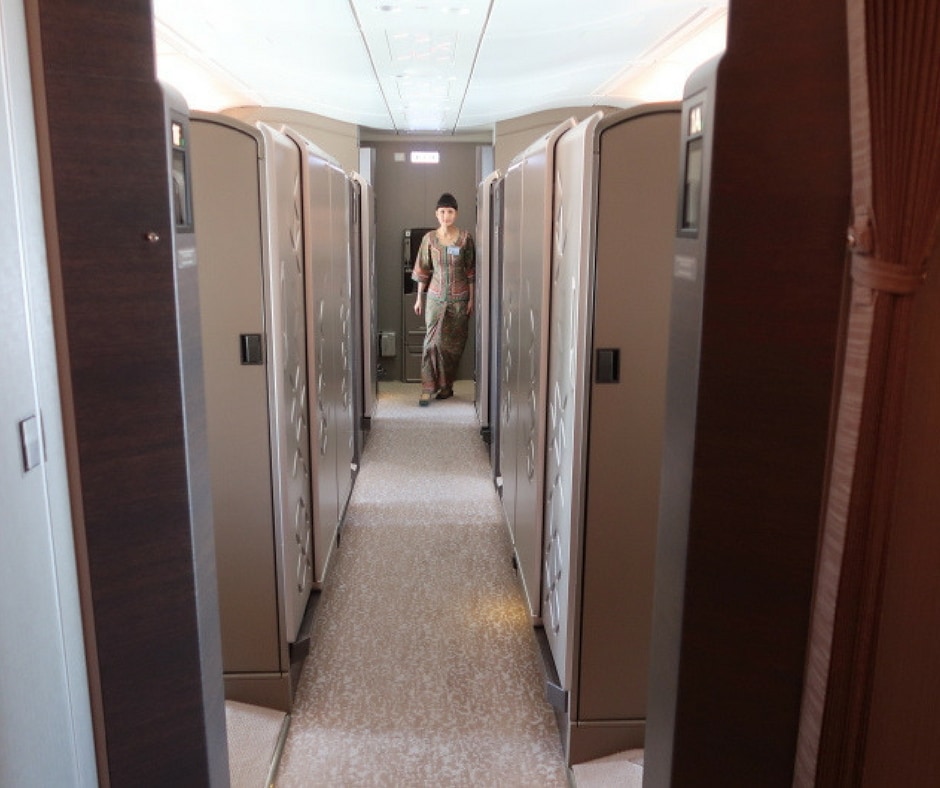 The six first-class suites are arranged in a 1-1 configuration at the front of the A380 top deck. The floor space of suites ranges between 3.23 and 4 square meters (the larger suites feature slightly more floor space than the Etihad Apartment, which comes in at 3.6 square metres). I was able to take a quick tour of the suites before the other passengers arrived.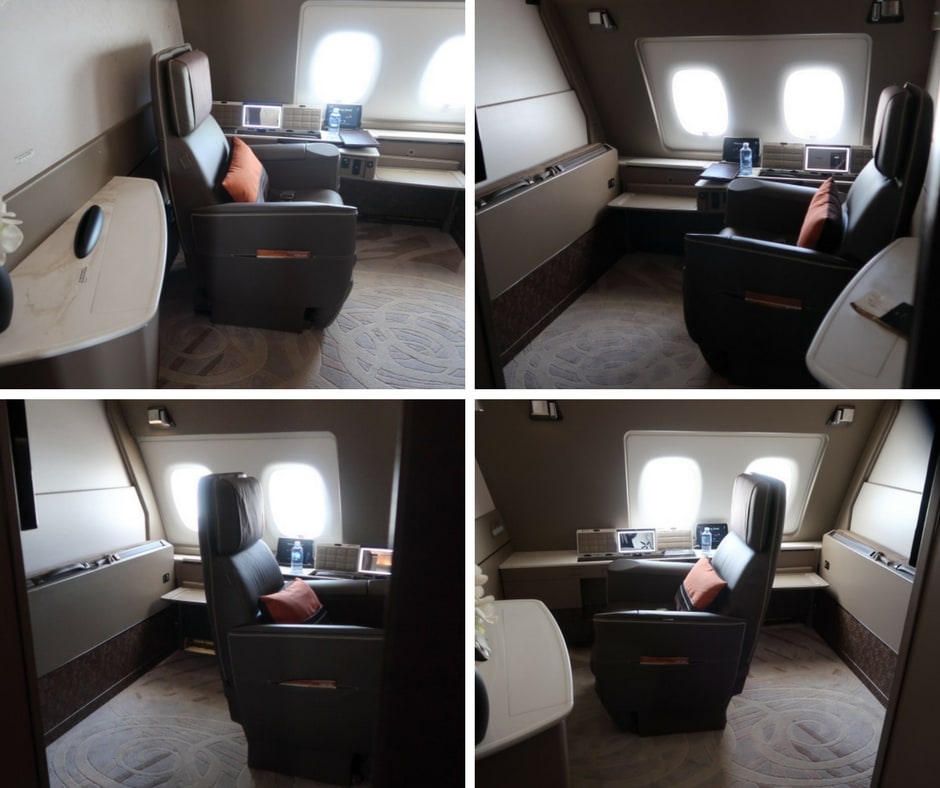 My first impression of the cabin decor was very positive. The restrained beige, cream, and brown colour scheme, along with the soft lighting and floral motifs, contributed to an overall sense of quiet decadence. Finishes from Singapore Airline's collaborators Lalique and Poltrona Frau provide a subtle air of luxury.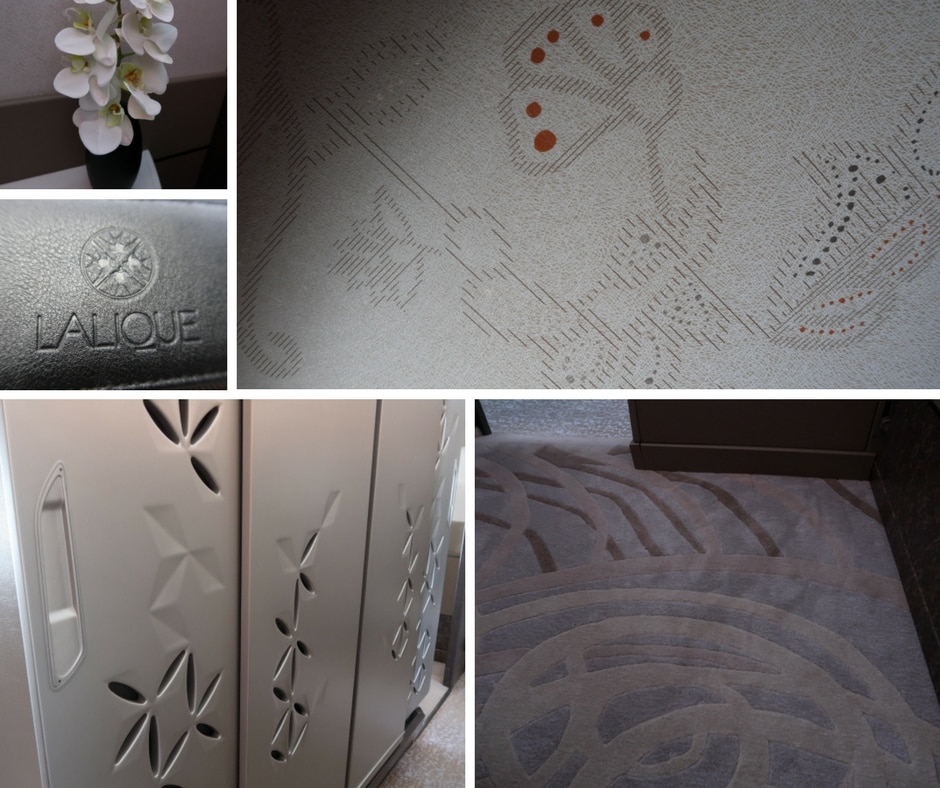 Before taking my seat, I took a quick peek at the two first-class bathrooms located at the front of the first-class cabin. The largest bathroom, located to the right side of the aisle, is particularly impressive. It boasts two separate areas, including a sit-down ottoman and full-size vanity.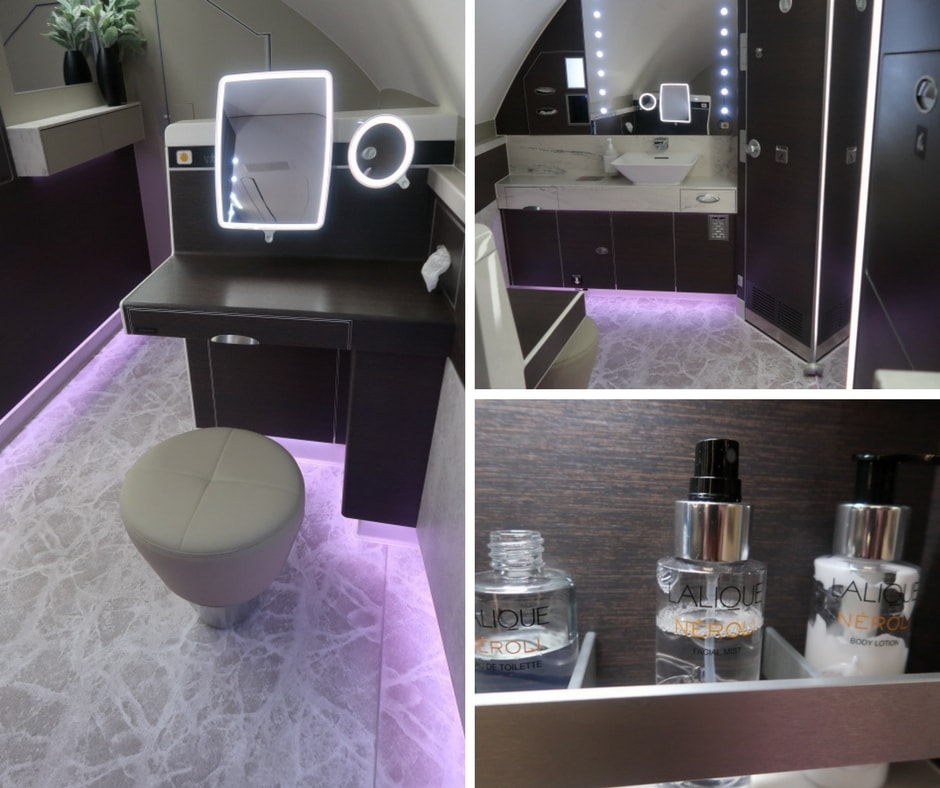 The second bathroom is somewhat smaller. However, it still impresses with a long, leather upholstered banquette and a fit out of faux marble textures and soft purple lighting. Both bathrooms are stocked with Lalique amenities. The new Singapore Airlines A380 first class suite experience would be simply amazing with the addition of an onboard shower!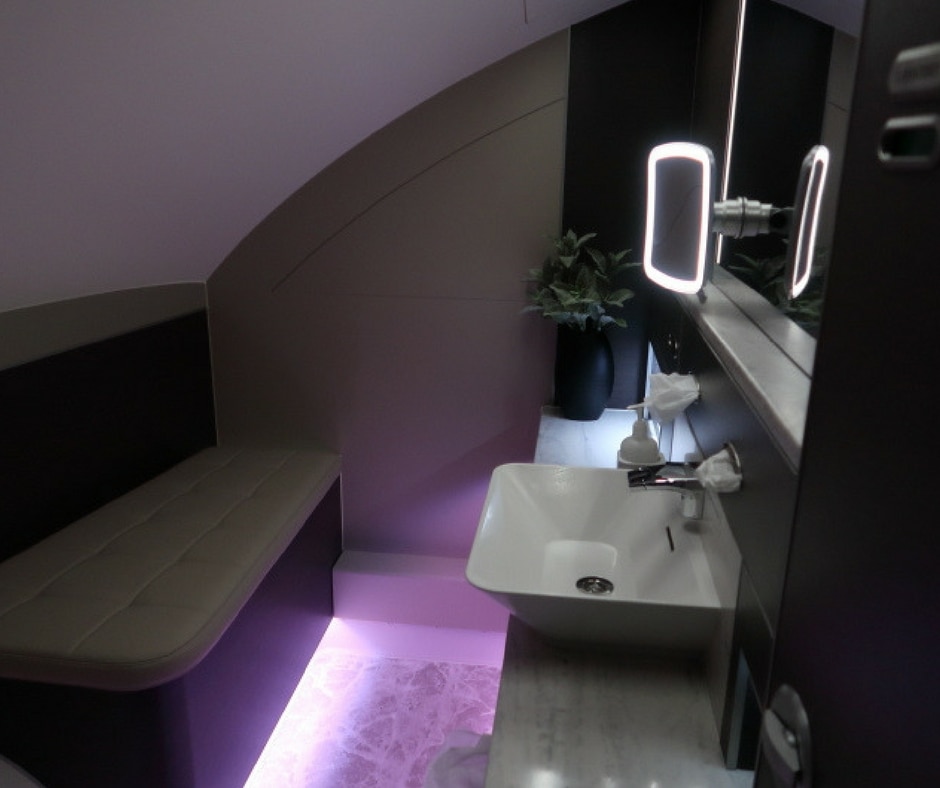 My personal suite
Once I'd finished my quick tour, I settled into my personal suite (2F) and took a moment to marvel at the incredible amount of space provided. With clever storage, the new Singapore Airlines A380 first class suite quite literally felt like my own private hotel room in the sky!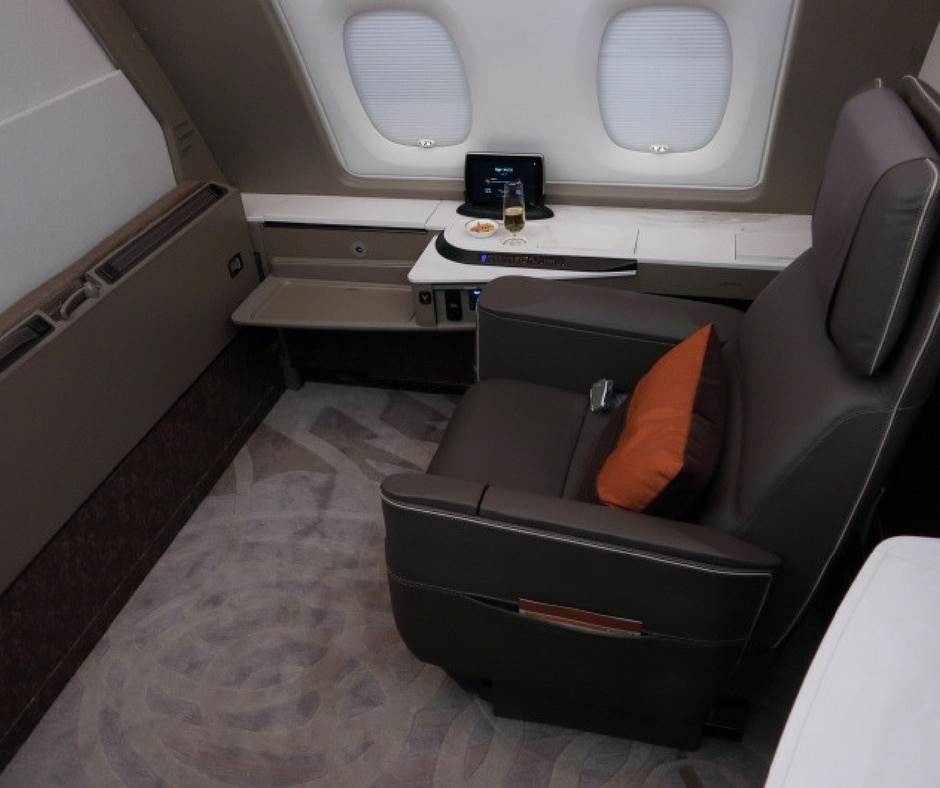 The swivel and reclining armchair is upholstered in fine leather by longtime Singapore Airlines collaborator Poltrona Frau. The armchair has been somewhat maligned in recent press articles covering the release of the new A380, but I can assure you that it's extremely comfortable and functional in real life.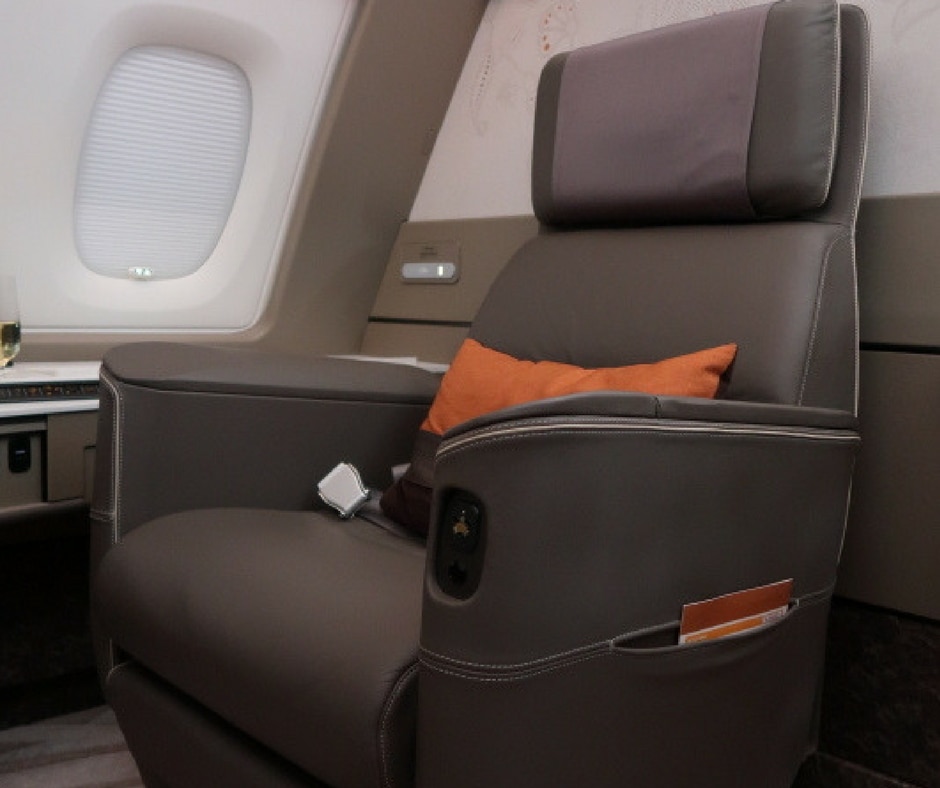 The armchair is fully adjustable using an electronic control side panel hidden inside the left armrest. The swivel capability (between 135 and 270 degrees) allowed me the flexibility of positioning myself to look out the window, before swivelling around the opposite direction to dine. I had great fun trying this feature out!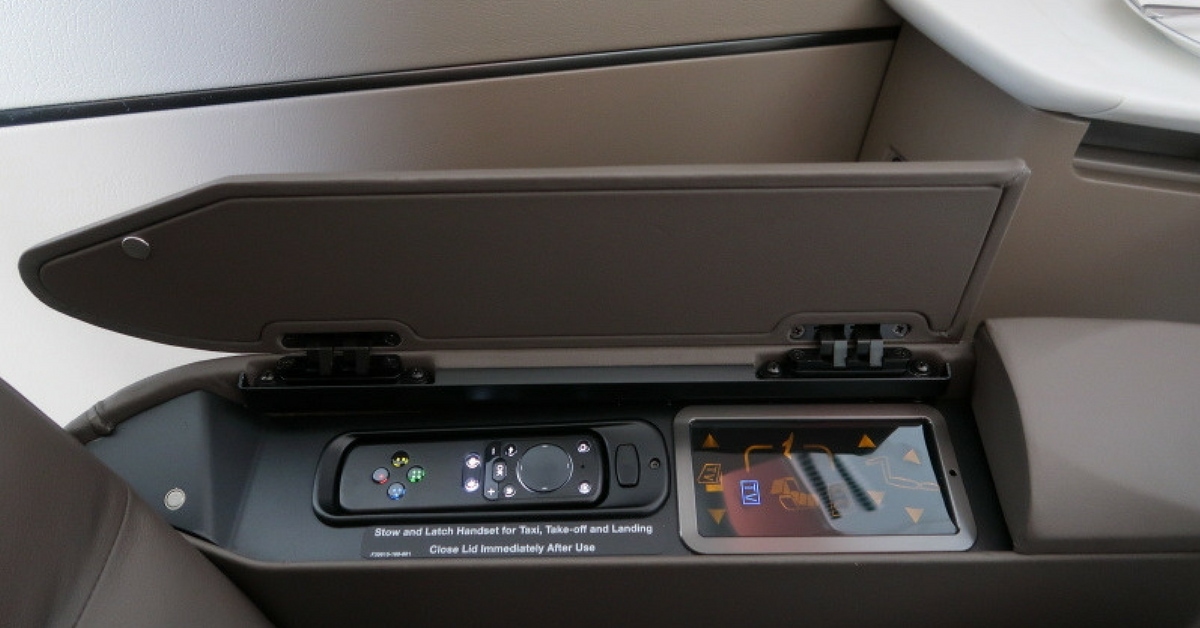 To the left of the armchair, a side console houses an enormous, heavy-duty pull-out table – perfect for dining, but also an incredibly functional workstation. Note that the orchid in the vase is fake.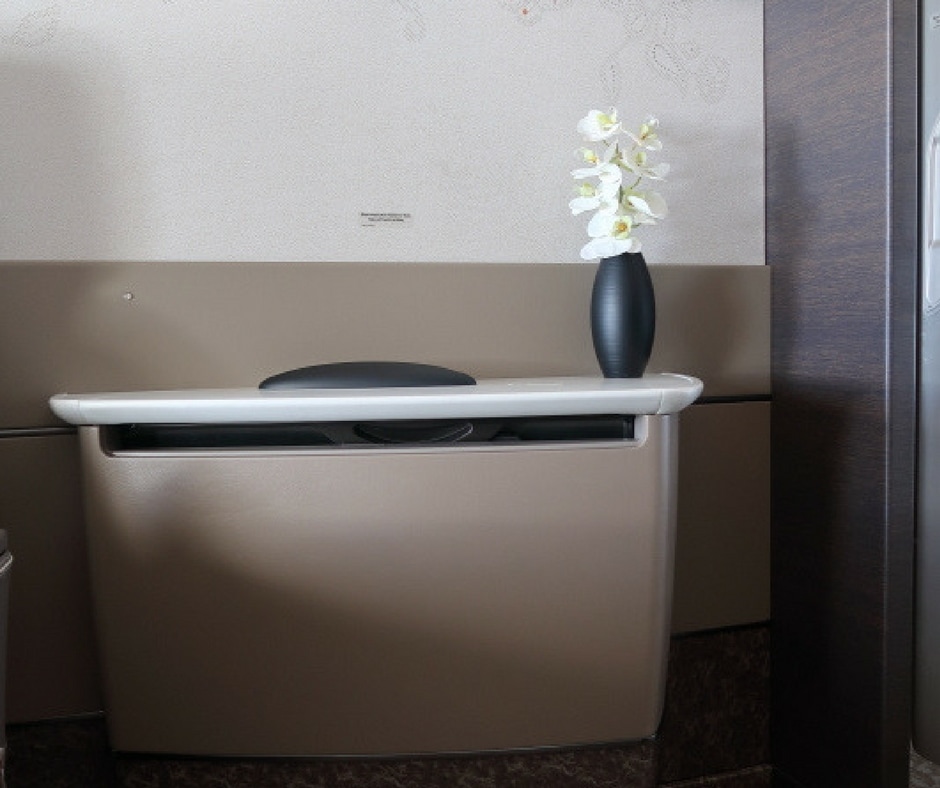 A pull out bed is located across the length of the opposite wall. The bed measures 76 inches long and 27 inches wide. It is dressed by the crew with luxury Lalique linens when you decide that you'd like to get some shut-eye.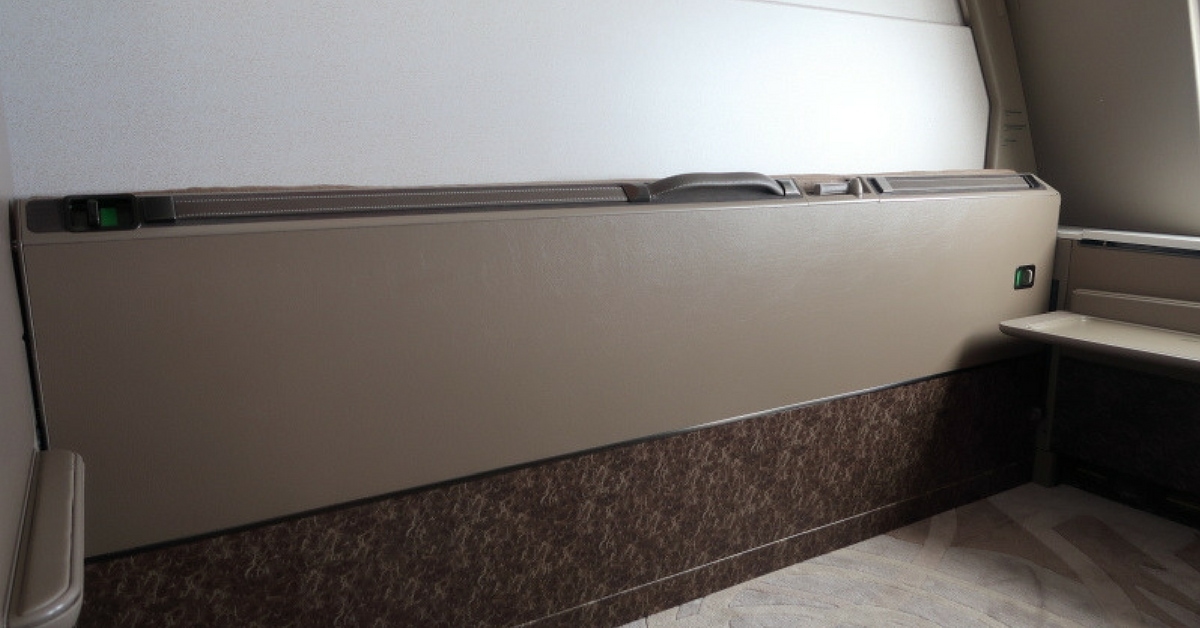 A personal wardrobe is located by the sliding door entrance to the suite. It provides enough space to house cabin luggage and a jacket or overcoat, plus bedding. A small mirror at head height is a thoughtful touch.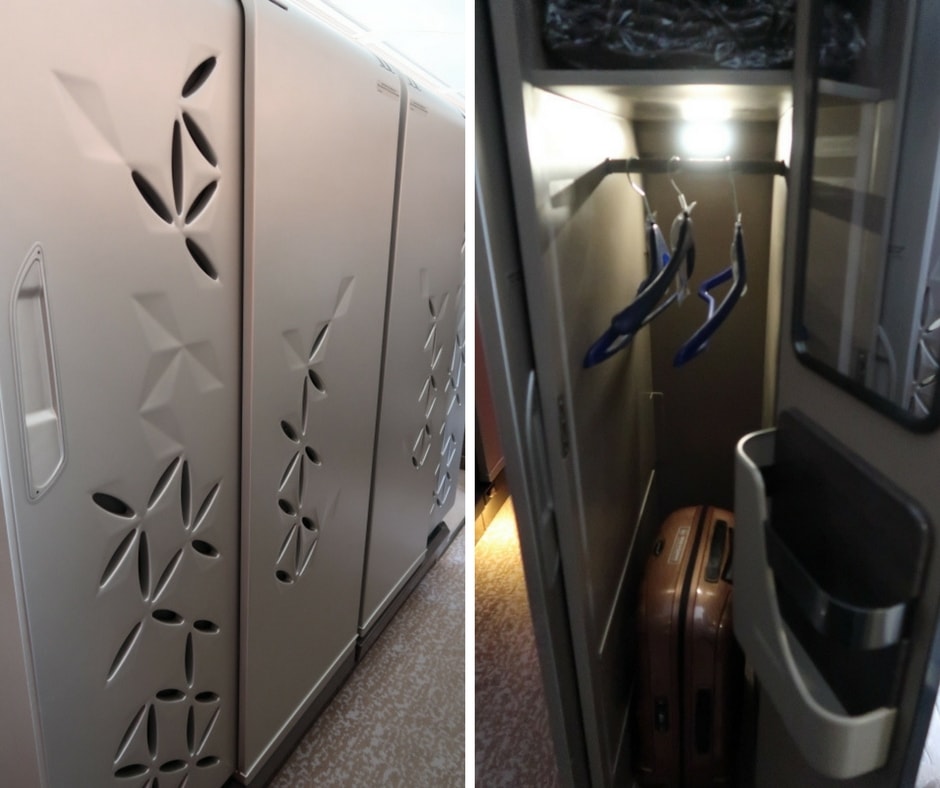 Underneath the suite's electronically shuttered windows, you'll find a tablet that allows you to remotely control the 32 inch LCD in-flight entertainment screen. The tablet charge lasts just two hours, so the crew will prompt passengers to place it back in position periodically.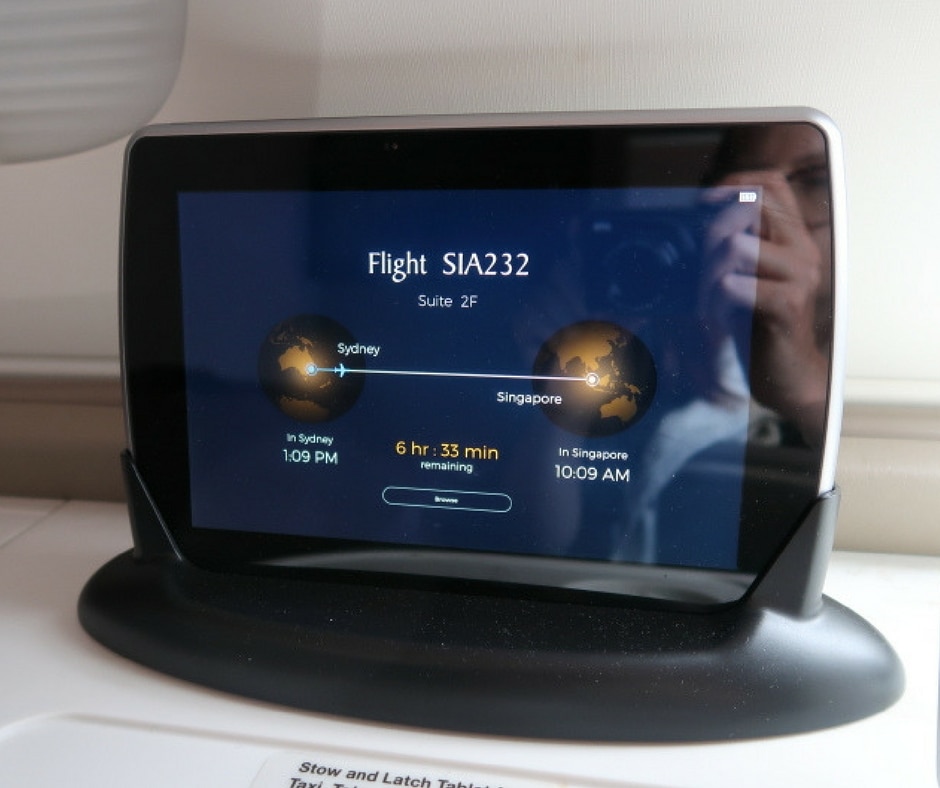 Next to the tablet, a bank of personal storage boxes upholstered in a soft beige leather house a set of Bose noise-cancelling headphones, a brightly lit mirror, and an opulent leather-clad Lalique amenity kit.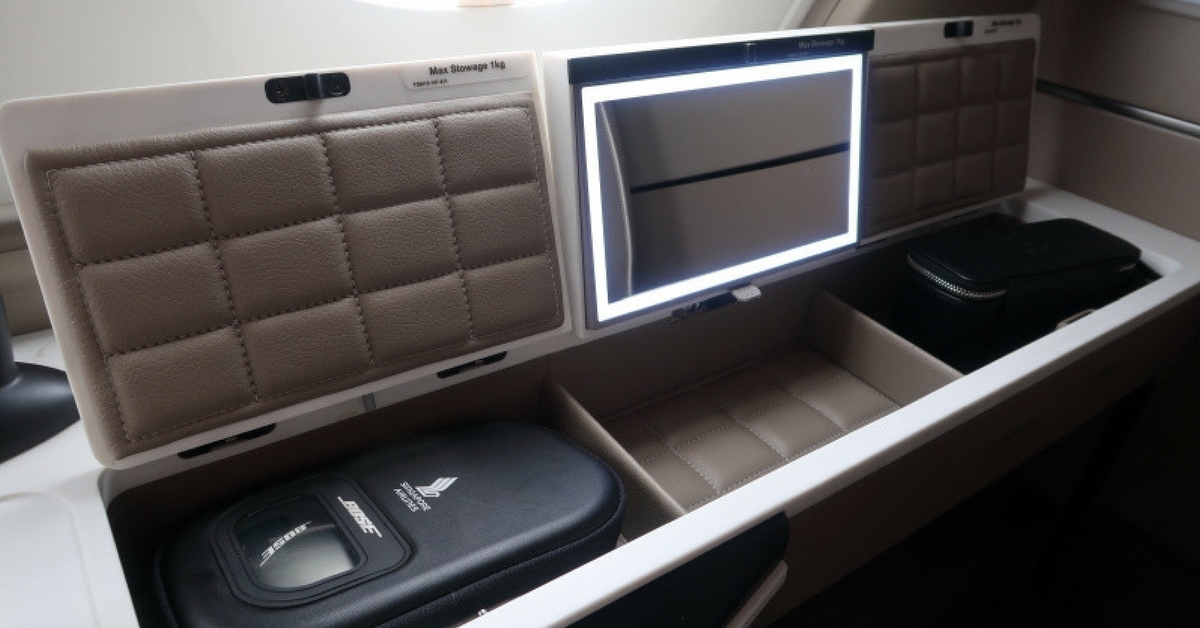 Opening up the stylish unisex amenity kit, you'll find a neroli scented body lotion, lip balm, travel-sized candle (complete with enclosed advice not to light it in the airplane!), soap and a tiny Lalique crystal fish.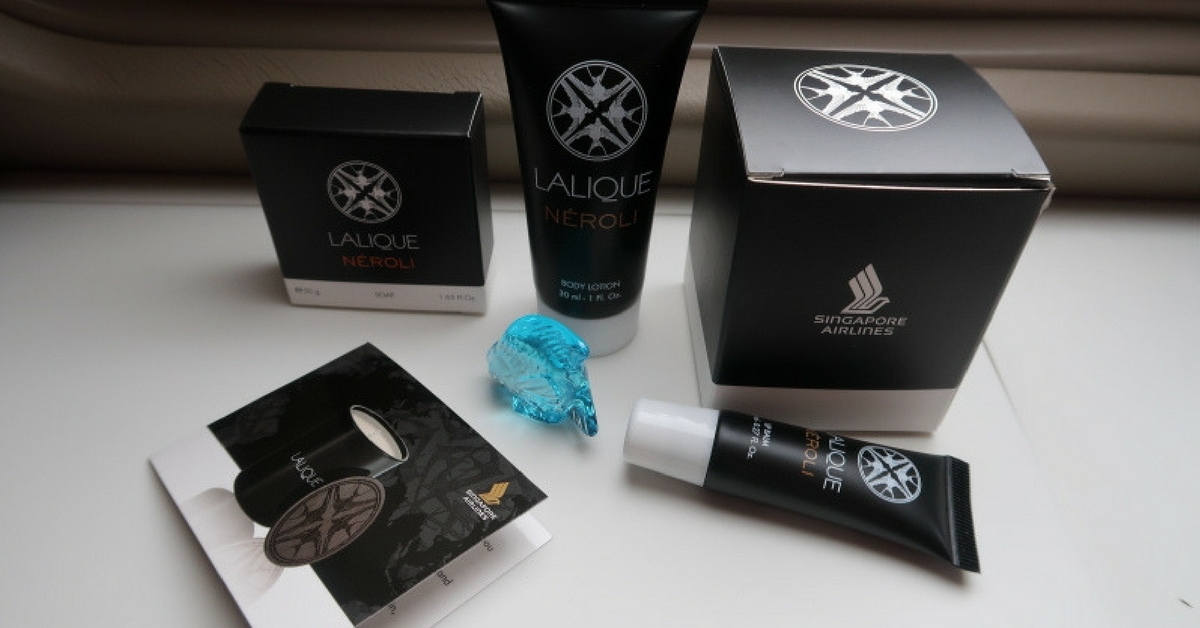 A pair of Lalique pyjamas, along with Singapore Airline's socks and slippers, were distributed just prior to takeoff. The new Lalique pyjamas are much lighter than the design usually found on board Singapore Airlines first class, and hopefully, less susceptible to shrinking.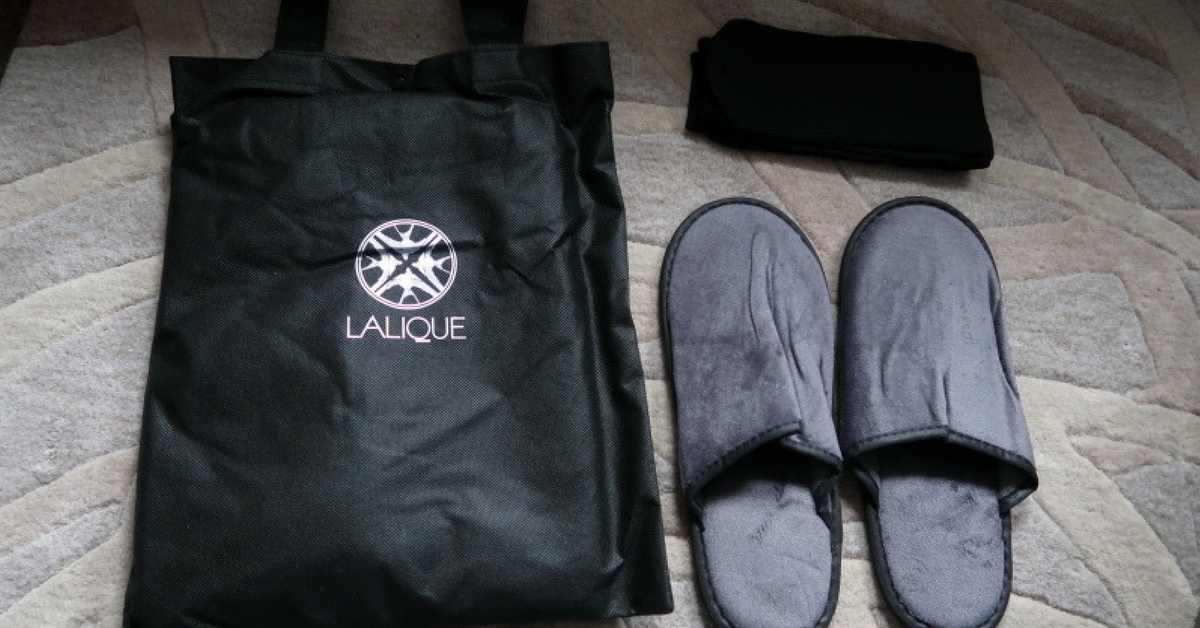 Convenience is at hand with a bank of USB, AC and HDMI sockets and a headphone jack located under the personal storage bank. There's even a PayPass payment facility, should you want to splurge on in-flight shopping or internet access. You'll find a second set of AC and USB sockets on the left-hand side of the console table.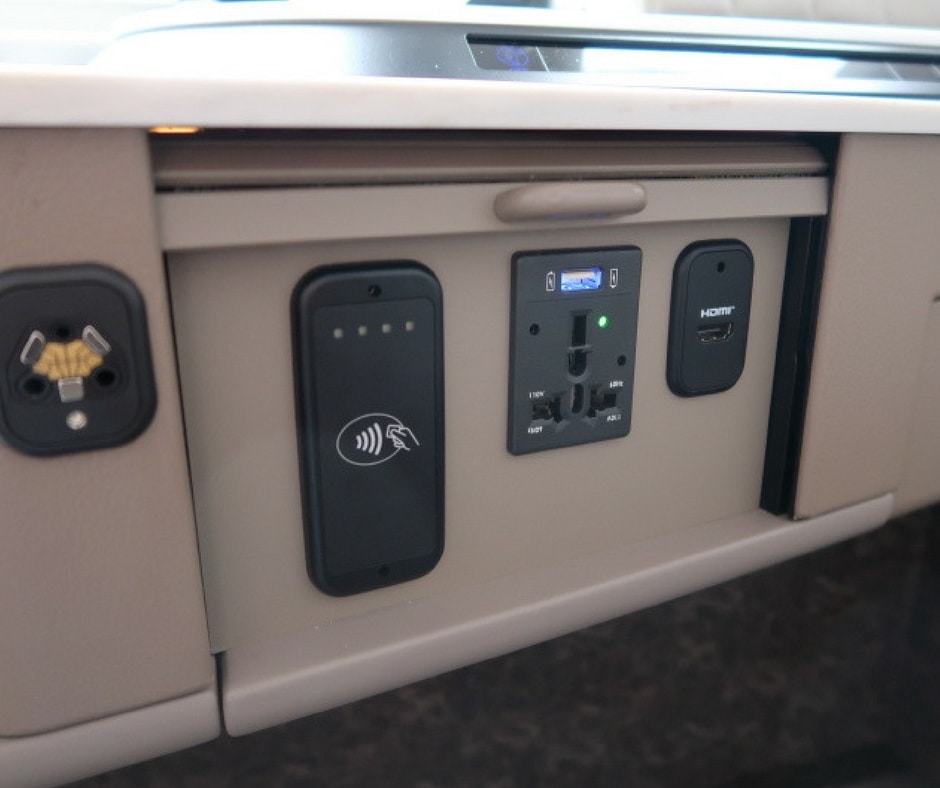 Dining on board the new Singapore Airlines A380 first class suite
Singapore Airlines is known for serving not one, but two, high-end champagnes (Dom Perignon vintage and Krug Non-Vintage). They've recently lifted the bar even further with vintage Krug now on pour. I enjoyed a pre-departure glass of the excellent 2004 Vintage (currently retailing for around $450 AUD per bottle) and stuck with this drop for the remainder of the flight.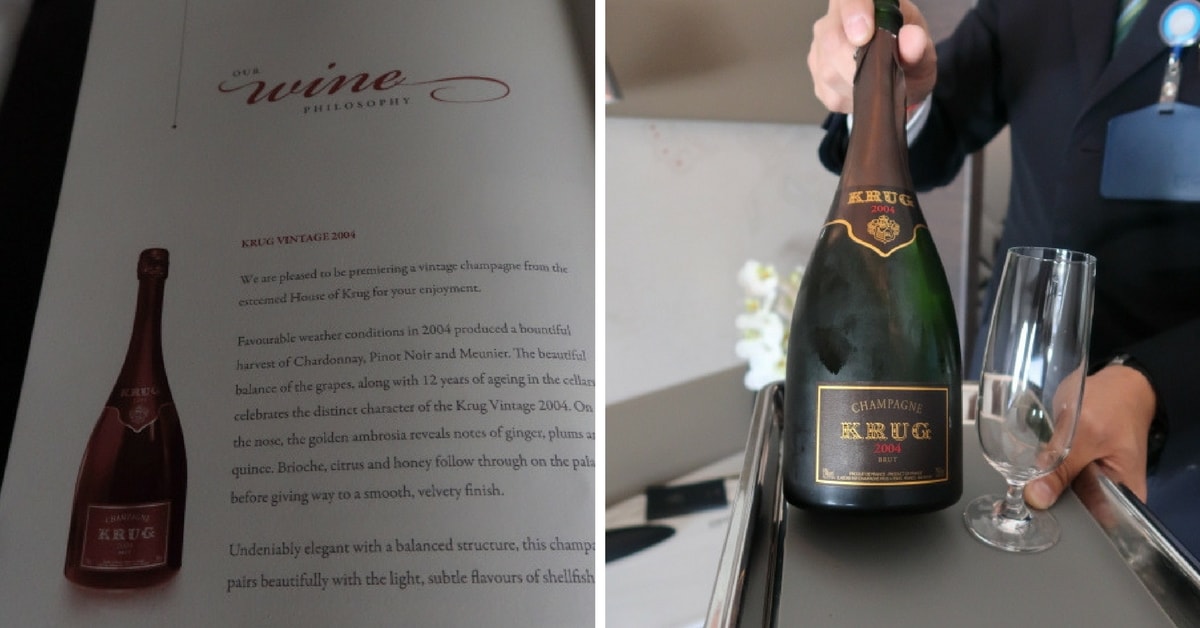 Once we'd reached cruising altitude, the crew came around to take my meal order and commence the in-flight dining service. When flying Singapore Airlines, I usually use the excellent 'Book the Cook' service. However, for this flight, I decided to take my chances with the onboard lunch menu.
Before service, the crew set up and dressed my dining table for the meal and I swivelled my armchair around to the correct position. One bugbear I must mention at this point is that passengers are directly facing their across-the-aisle neighbour when in dining position. This is slightly disconcerting. Fortunately, it is easily fixed by closing the suite door.
To start, I enjoyed a slice of Singapore Airlines' signature garlic bread. For my entrée, I chose the seared Hiromasa kingfish loin on Nicoise salad. This was followed by pumpkin soup with gnochetti and pesto sauce. All food was served on signature Singapore Airlines Wedgwood china.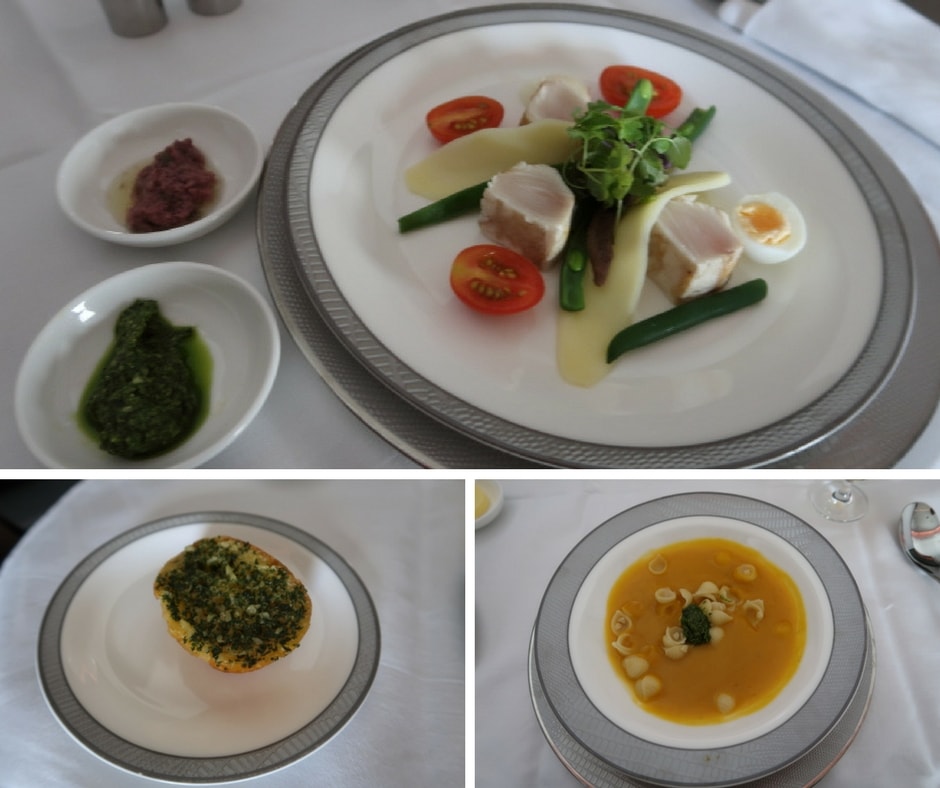 For my main course, I enjoyed barramundi fillet with yellow curry sauce. I then opted for a mixed salad with honey mustard dressing and a cheese plate (I declined the offer of dessert).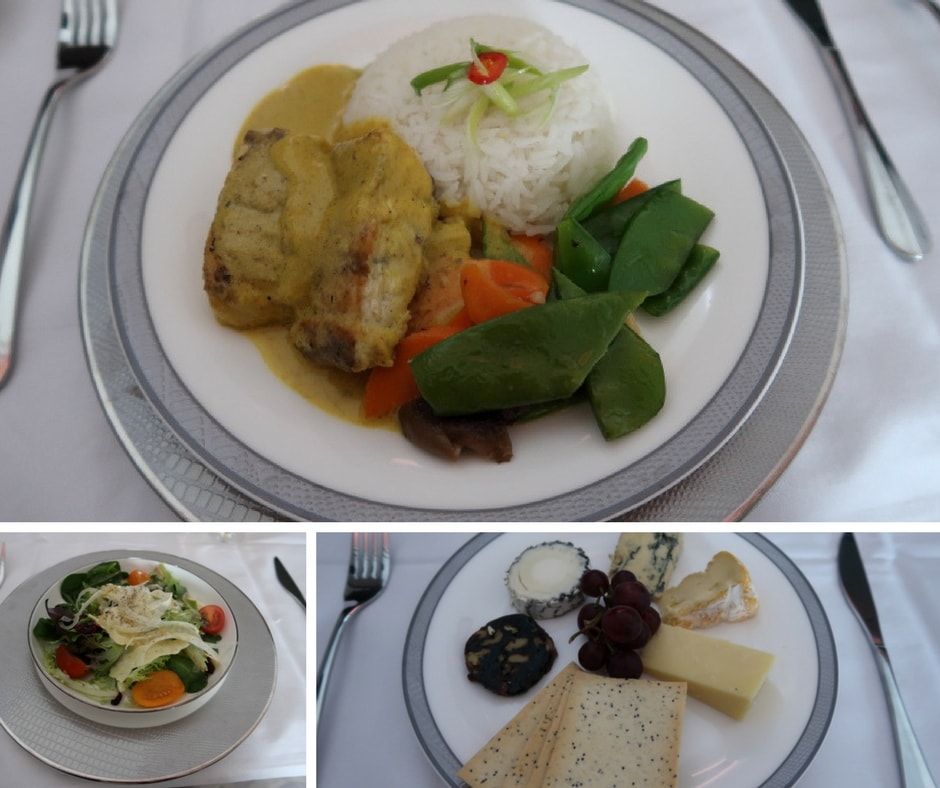 Turn-down service and a quick nap
After my meal, I decided to take a quick nap. While it was still daylight, I was determined to try out the bed. The crew made up my separate, pull out bed with luxurious Lalique linens.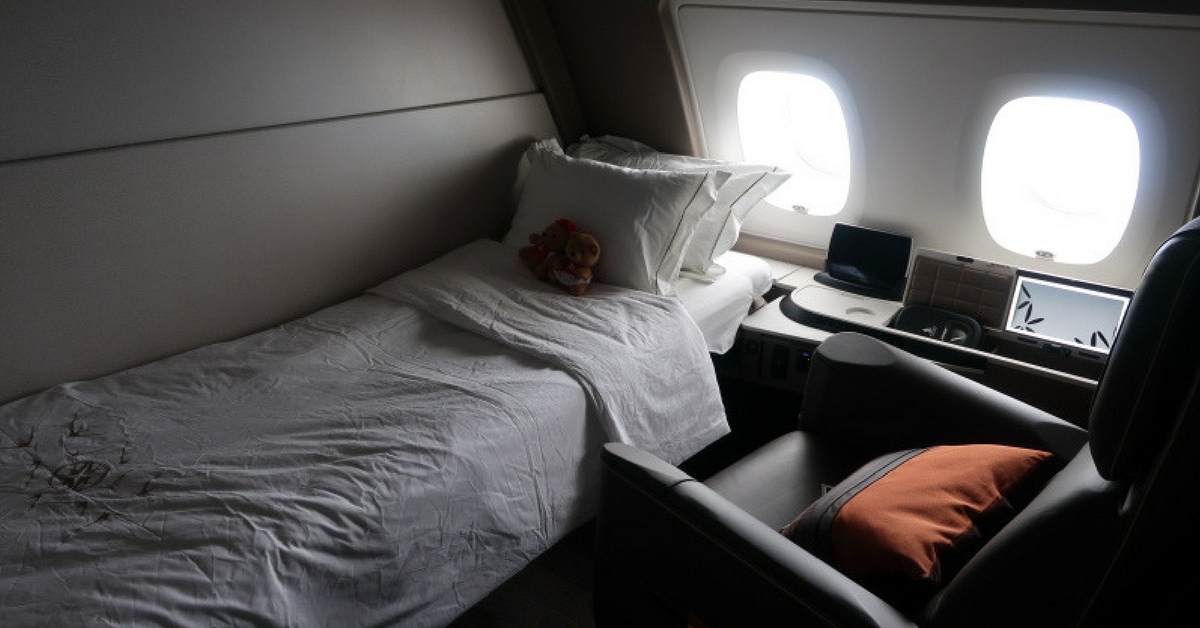 I then enjoyed a peaceful hour of shut-eye before we started our descent.
A shout out to the crew on board Singapore Airlines flight 232
I was absolutely blown away by service provided onboard SQ232. While Singapore Airlines is renowned for exceptional service, the crew on my flight – Jason, Zaf, Shawn, and Meei Mun – were the best I've encountered on my travels to date. They went absolutely above and beyond to ensure my journey was an enjoyable one. Nothing was too much trouble, and I was treated to a personally escorted tour of the rest of the aircraft prior to landing. Shortly before our descent, I was presented with two Singapore Airlines teddy bears and a card to commemorate my flight.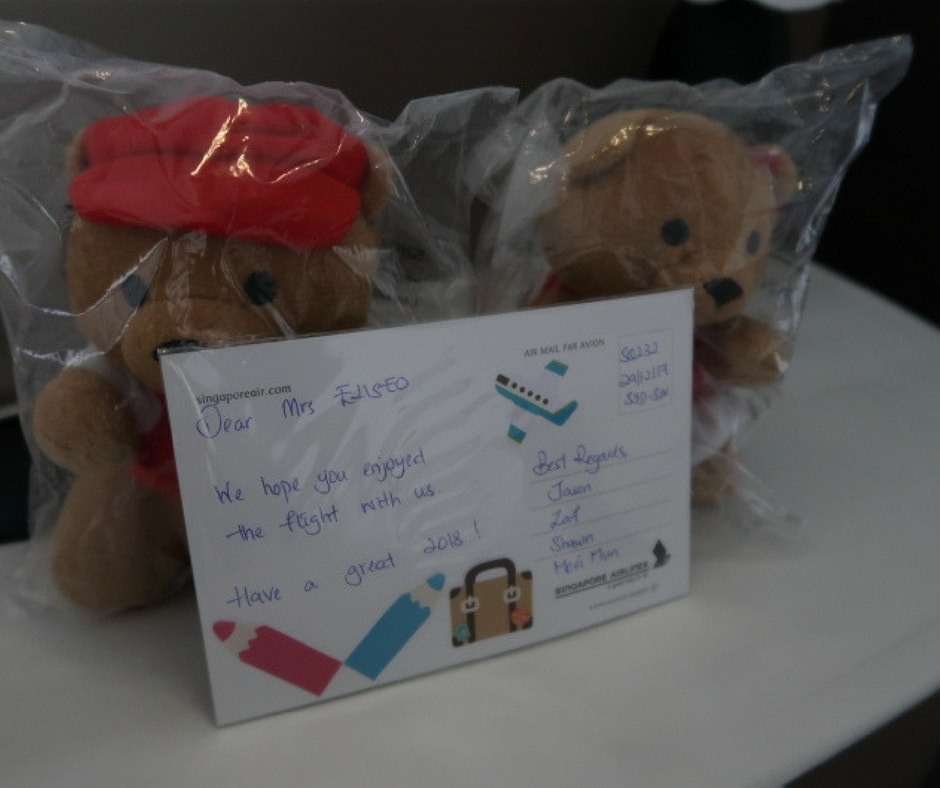 Overall thoughts
I was incredibly impressed with my time on board the new Singapore Airlines A380 first class suite and found the sheer space on offer absolutely mind-blowing and far beyond the offerings of other luxury Suite products I've tried, including Emirates first class. If Singapore is on your bucket list, the new suite is a stylish way to get there, and arguably, the pinnacle of luxury commercial airline travel. The new Singapore Airlines A380 first class suite offers unsurpassed luxury, an impressive hard product, and outstanding service. I'm eager to fly the new suite again – hopefully from Singapore to London late next year, once the new product is expanded onto additional aircraft.
In addition, I'm looking forward to trying a number of other first-class products this year – including Japan Airlines, Qantas, and the Etihad A380 Apartment.
For more content on Singapore Airlines, see:
While you're here: Subscribe to our newsletter for the latest tips, deals and news. It only takes a few seconds and we respect your privacy: