Author's Note re COVID-19: Considering a trip to Singapore with Singapore Airlines? Make sure you read our Ultimate Australia Travel Bubble Guide to learn about the Vaccinated Travel Lanes in operation with Singapore Airlines.
Get the lowdown on what to expect at this well-appointed First Class Lounge, accessible to Singapore Airlines and Star Alliance travellers.
Recently I had the opportunity to spend several hours in the first-class section of the Singapore Airlines SilverKris Lounge Sydney, ahead of a much-anticipated journey in Singapore Airlines Suites. And so it goes without saying that a suites class flight ex Sydney is preceded by a visit to the SilverKris Lounge.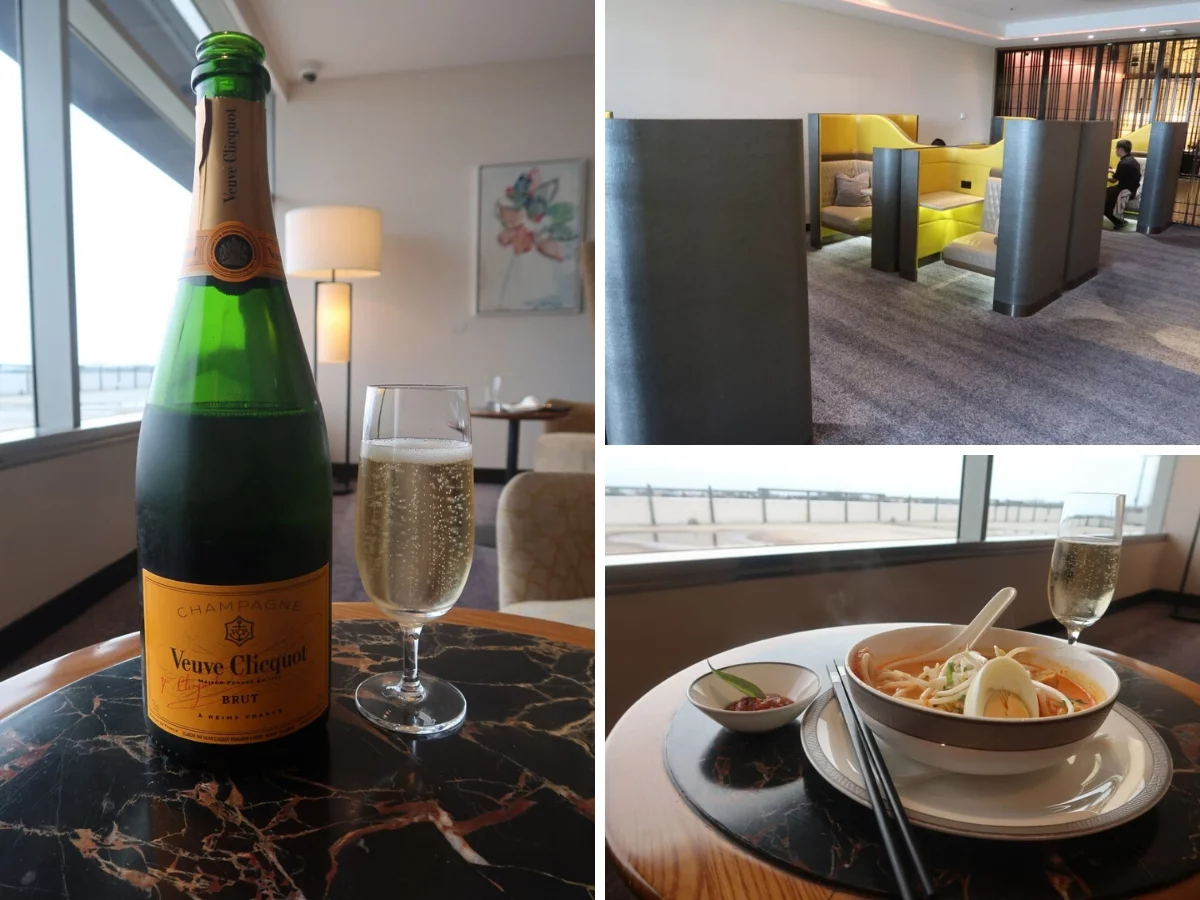 Like everything, there is a price to pay and mine was to pen various reviews on this trip, even if that meant eating and drinking too much. Having hopped off a Jetstar flight from Adelaide, I was in no danger of that yet!
Read on for my thoughts on the Singapore Airlines SilverKris First Class Lounge at Sydney Airport…
Finding the Sydney SilverKris Lounge
Passing through security, I headed toward Gate 59 and up to the mezzanine floor where the Star Alliance (and new American Express) Lounges are located.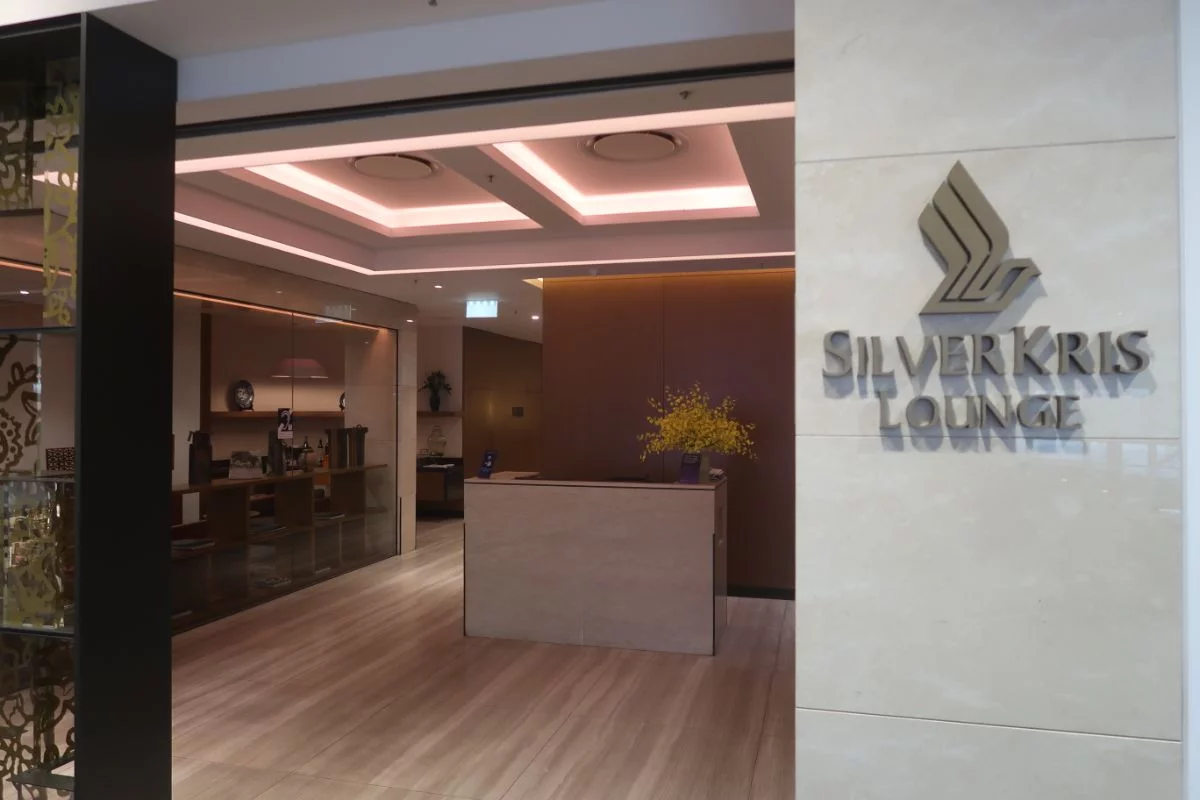 There are two sections within the Lounge. At the entrance foyer, travellers are either directed to head left for Business Class or right for First Class. The attendant will need to press a secret button for access to the First Class section.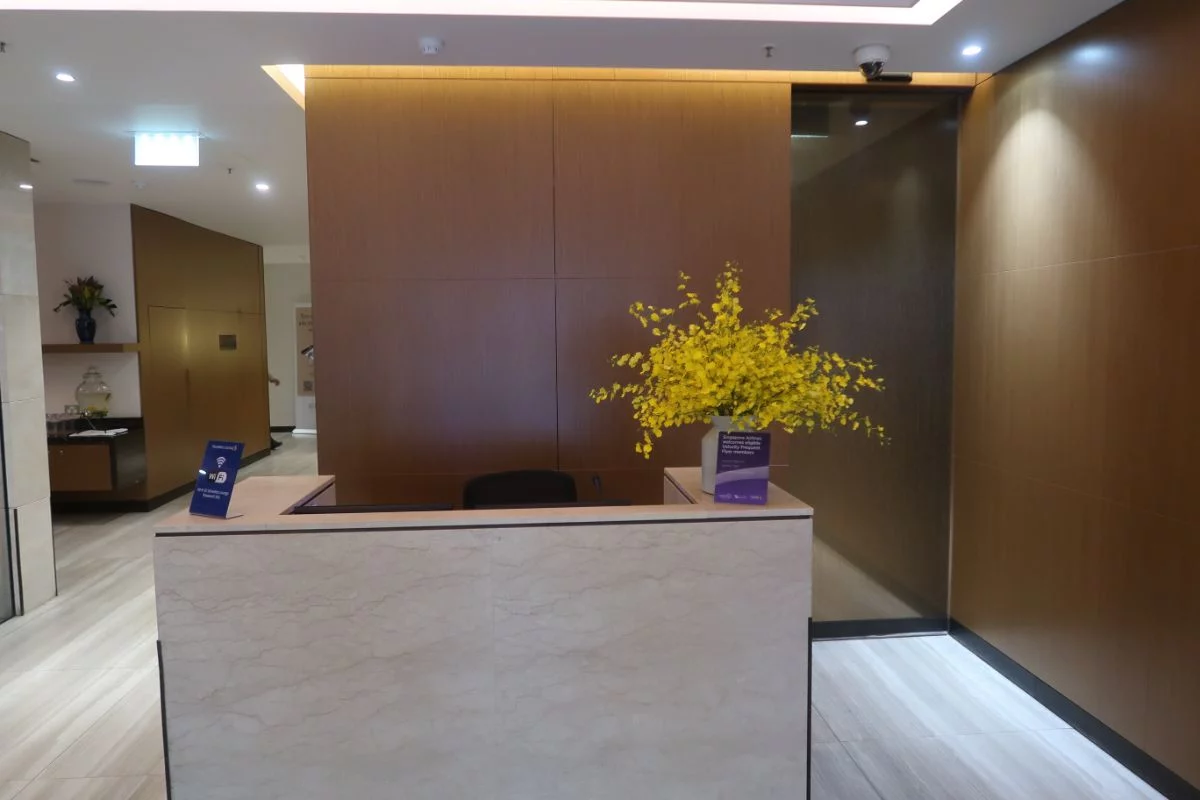 Who can access the First Class Singapore Airlines SilverKris Lounge at Sydney Airport?
It goes without saying that passengers travelling in Singapore Airlines First Class are able to pass through the doors.
In my experience, however, there are typically few Singapore Airlines First Class passengers in the Lounge at any given time. It's also possible to access the first-class section in the SilverKris Lounge if you're a PPS Solitaire member (most Australians would stare blankly at that one), a passenger travelling in First Class on another partner airline (such as Thai Airways First Class) or a top-tier Star Alliance member.
If you're flying Singapore Airlines or another Star Alliance Business Class product (such as Air NZ Business Class), or, if you're a gold tier elite, you'll instead be steered toward the Business Class section. The option of visiting the larger Air New Zealand Lounge next door might also be more appealing.
At the time of my visit, there were only around 12 people in the first class section of the Lounge and a third were staff.
Singapore Airlines SilverKris Sydney Lounge (First Class): Relaxation space
The First Class Lounge itself is not very large but is subtle, elegant and well-appointed. It's also a quiet place to perch before a flight, lacking the buzz and noise of other nearby lounges.
Divided into four sections, you can float between them as you fancy. Staff are welcoming and happily accommodate your needs. A la Carte table service is provided within the dining area.
The front of the lounge features a comfortable seating area (think 'elegant living room' vibe), complete with a display of the wines you can expect to find on pour that day.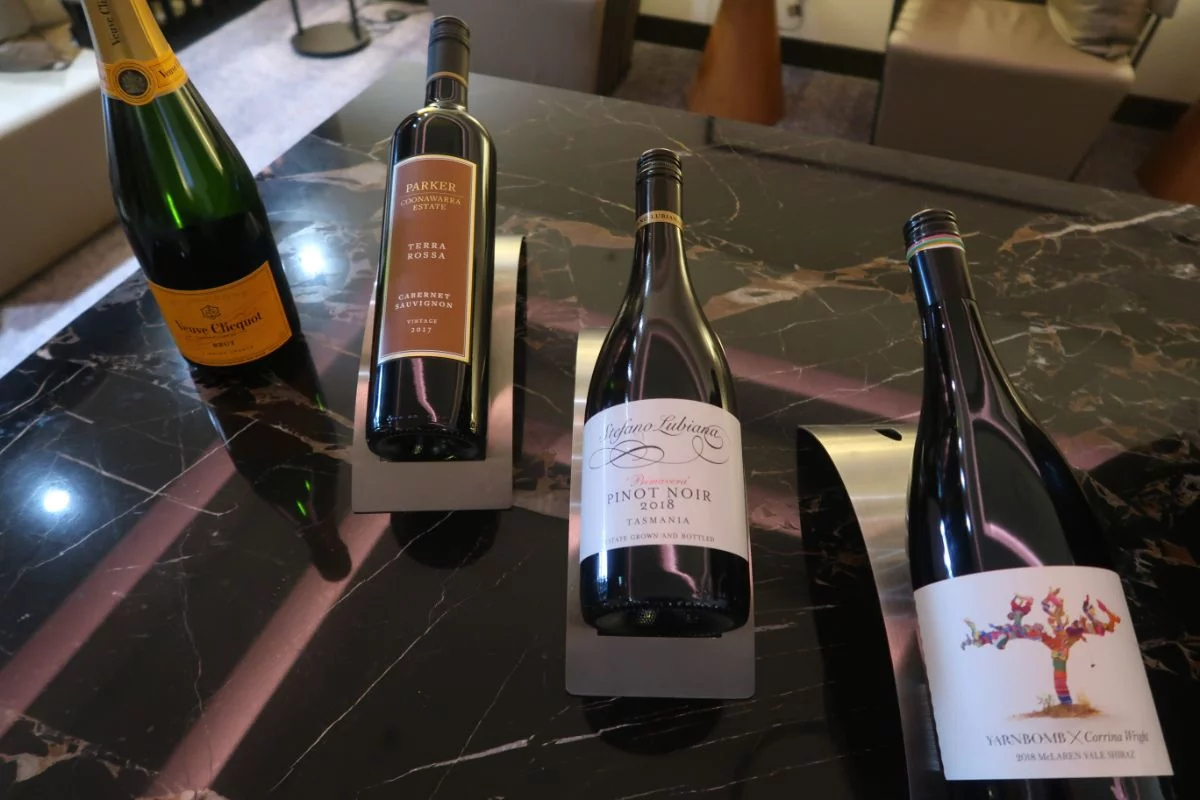 This area will accommodate around one dozen people comfortably and has a reasonable selection of magazines.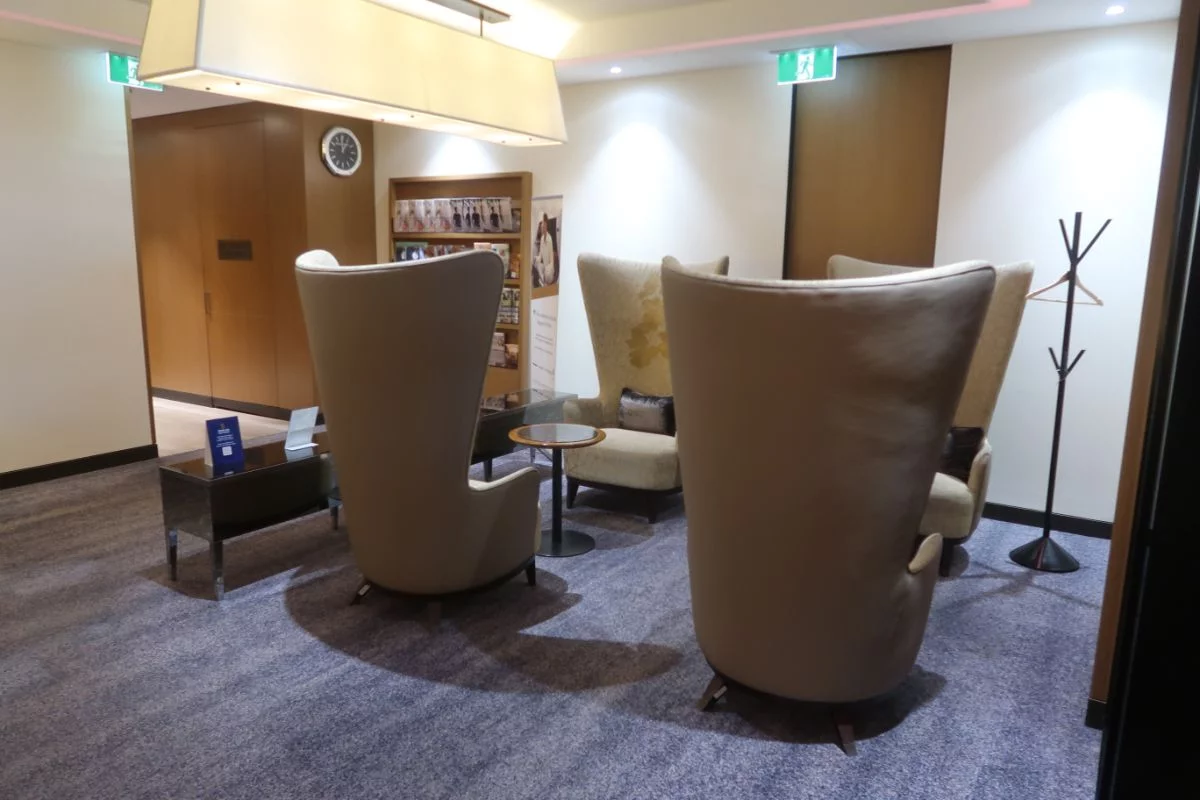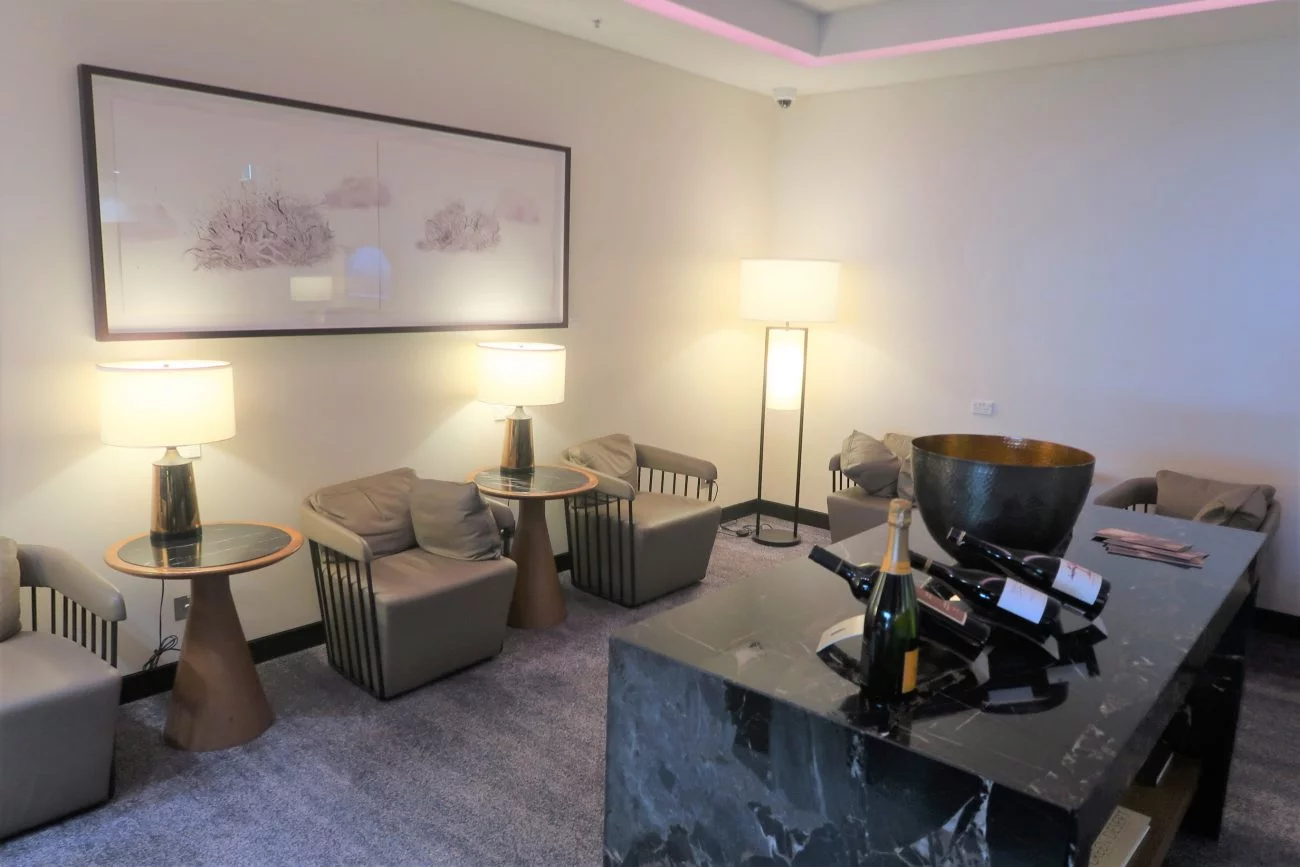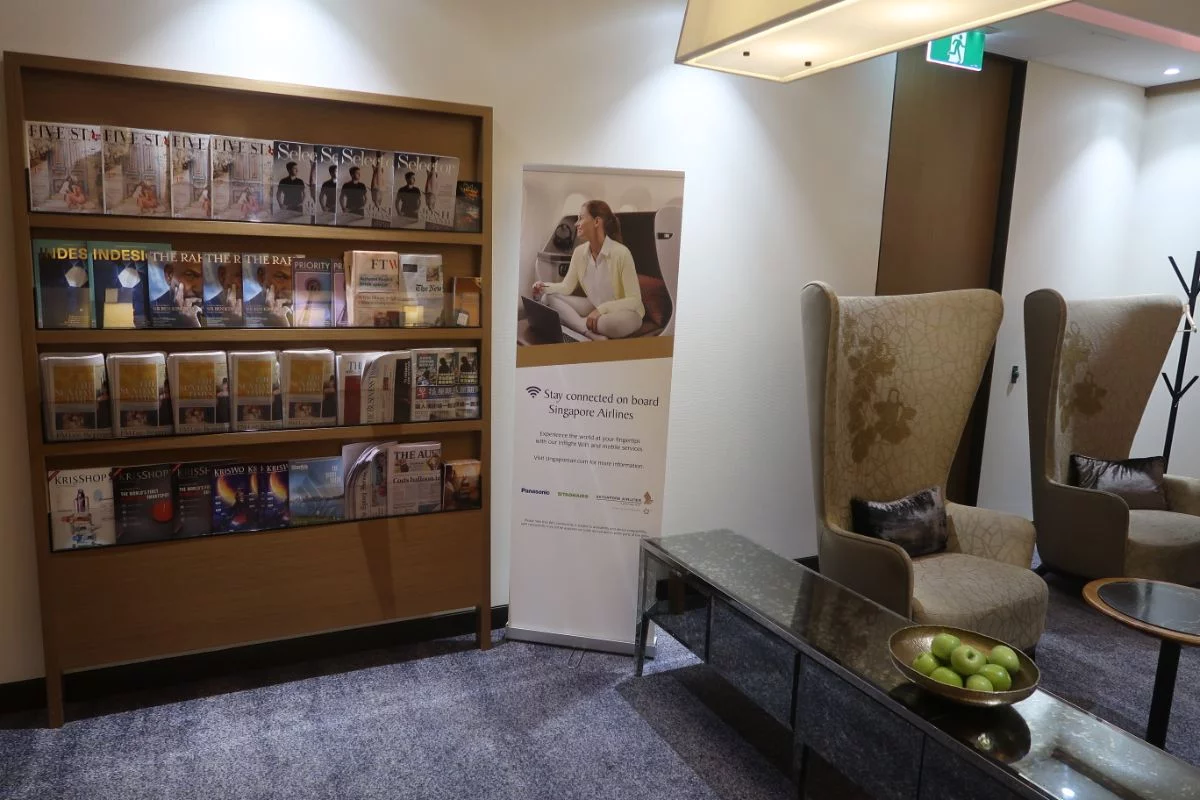 Moving through the food area, the Lounge features a range of semi-private pods that are suitable for both work and leisure. Here is where you'll most likely sit if the window seating is taken. They are very cosy.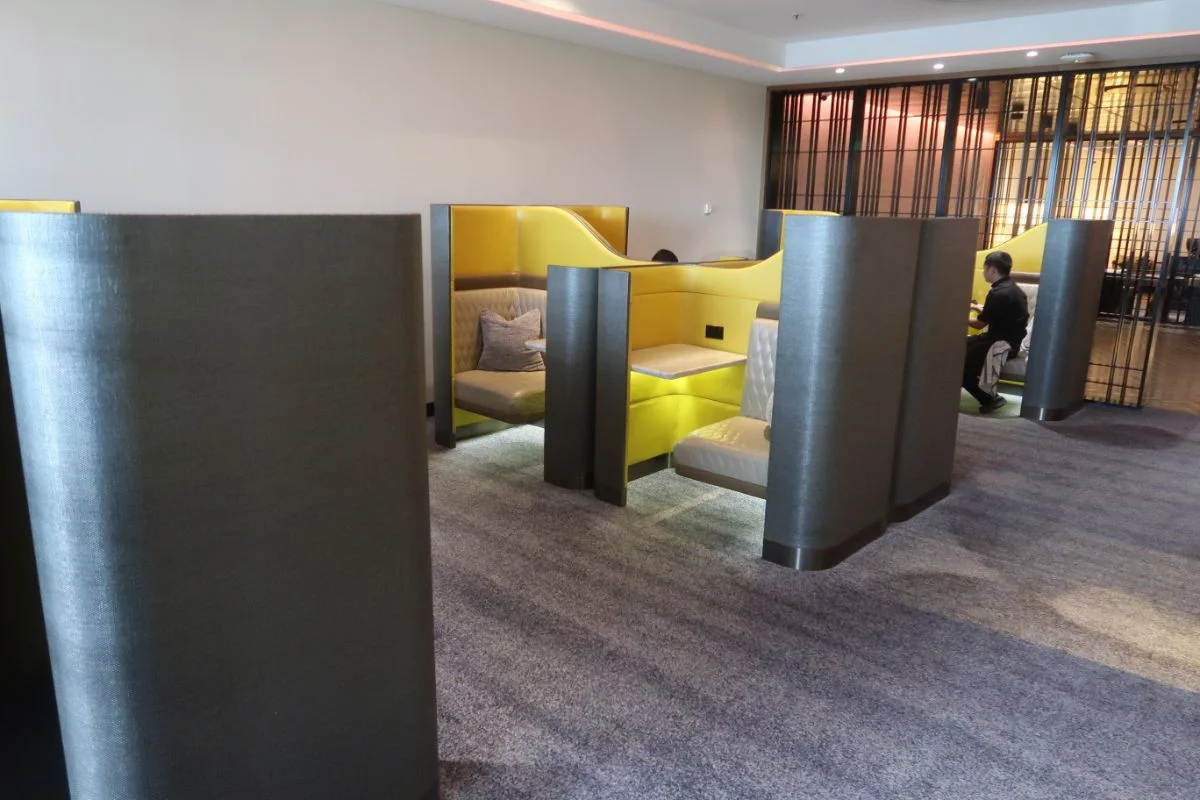 However, savvy travellers who like to indulge in plane-spotting head straight to the back of the Lounge.
Here, it's possible to secure prime real estate, with a row of elegant wingback chairs featuring a tarmac view. Arriving in the Lounge, I was pleased to find this section available. In my opinion, not seeing the runway from an airport lounge is tantamount to sacrilege!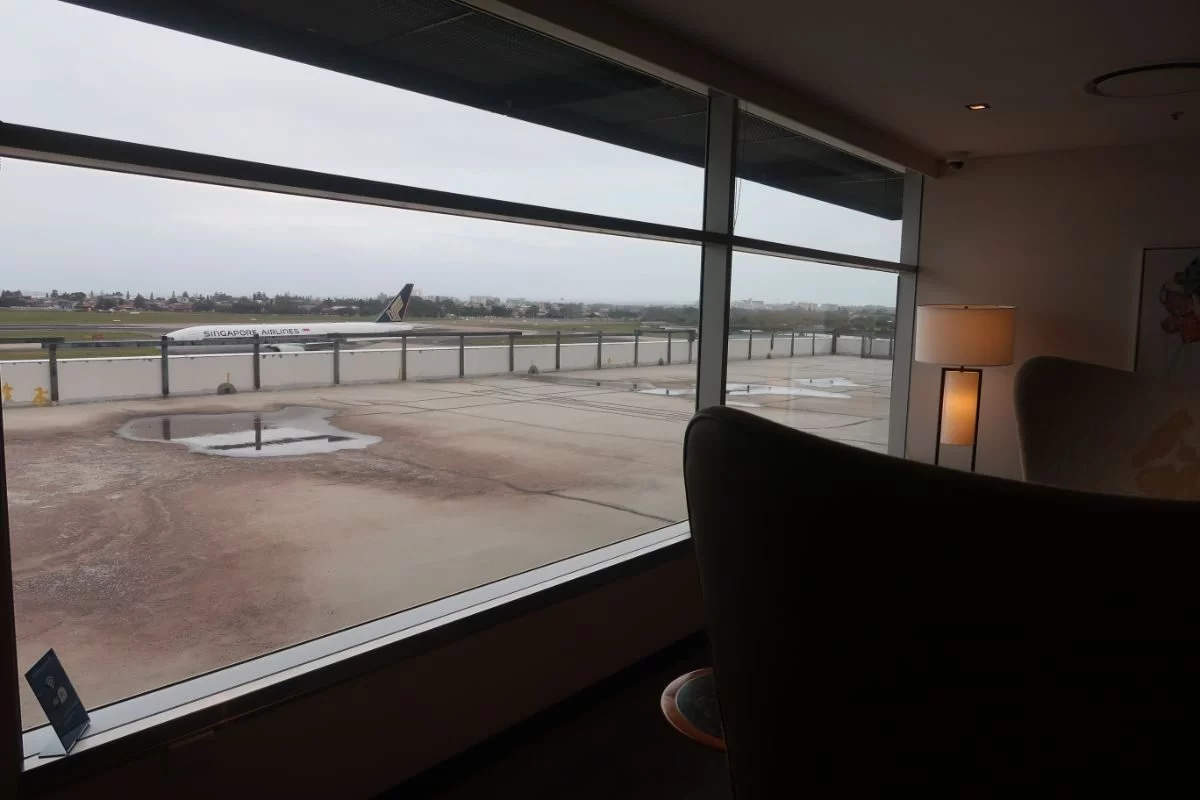 Silverkris Lounge Sydney: Food and drink
After nabbing my window seat, I headed back through the Lounge to check out the food and beverage offerings.
The Singapore Airlines SilverKris Lounge at Sydney Airport offers both an a la Carte dining section and an extensive buffet.
The a la Carte dining section is well appointed. Located in the middle of the Lounge, it puts you in easy reach of service staff.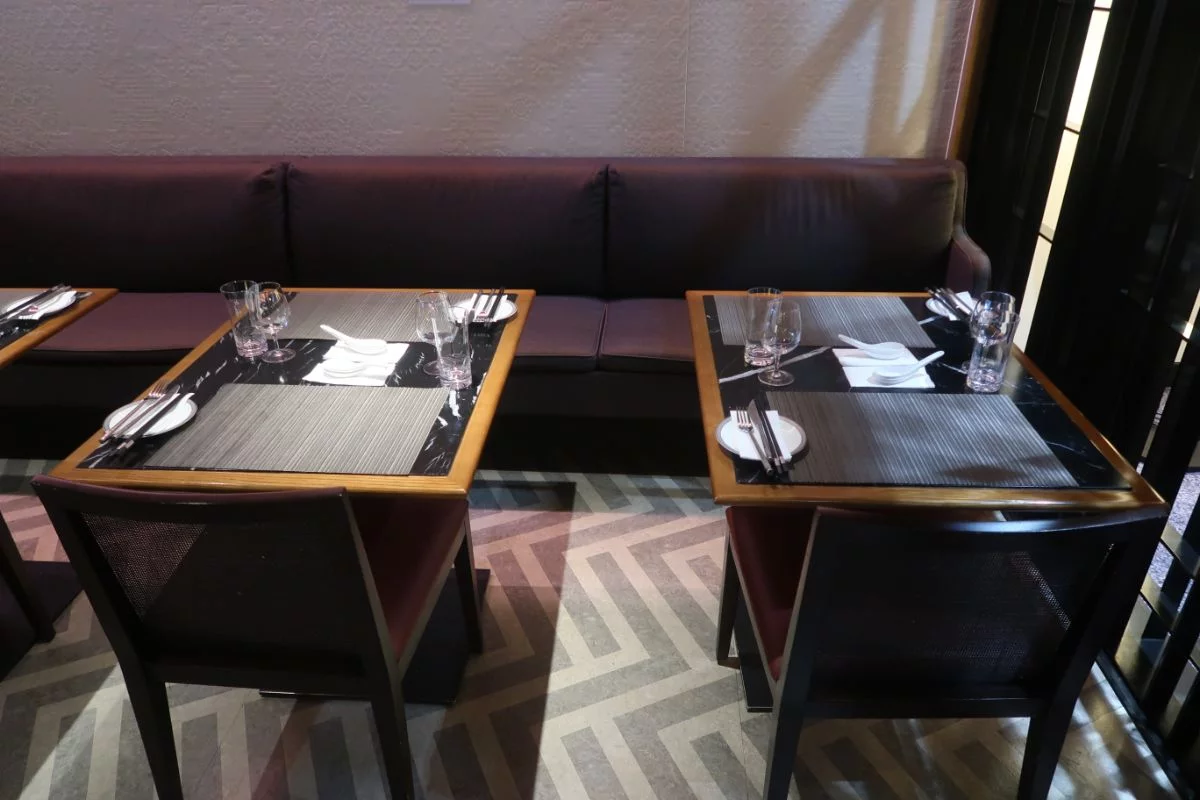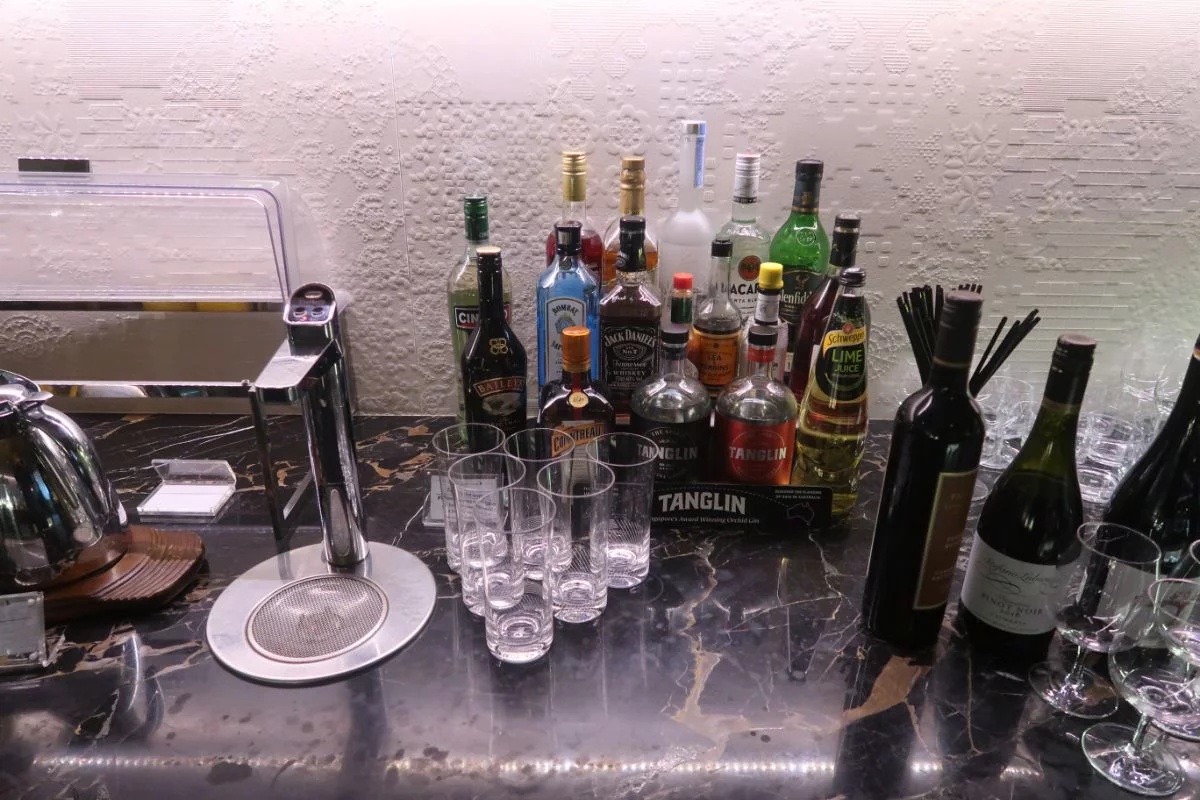 Along with still wines and Champagne, the SilverKris Lounge features an extensive array of beverages, including beers, spirits and soft drinks.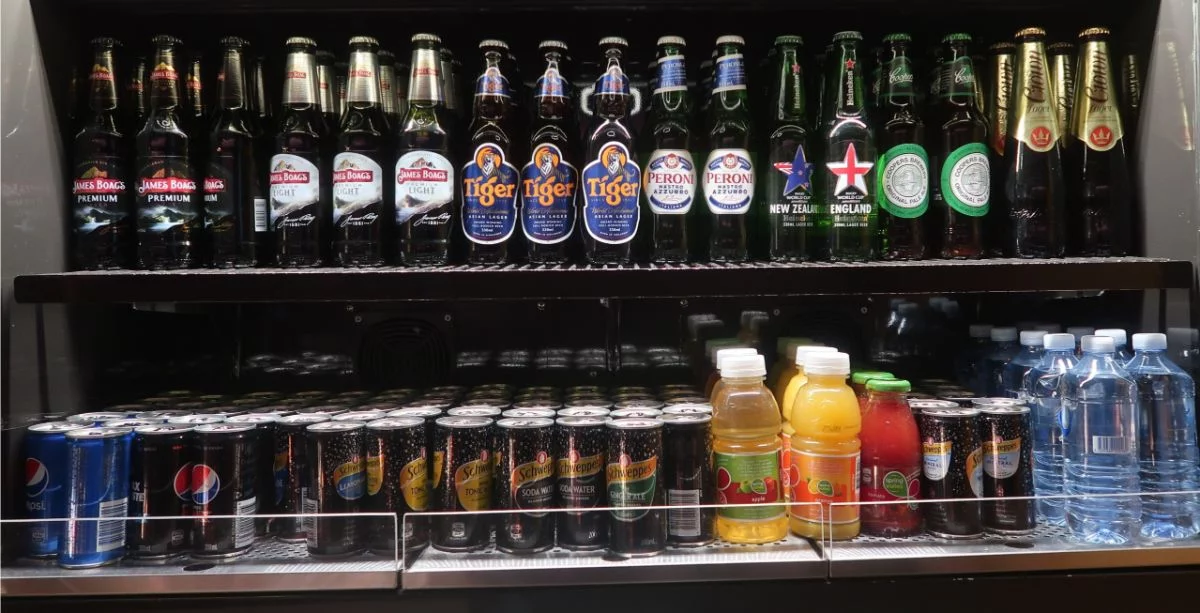 There's a large food buffet in the middle of the room, featuring a range of different self-service dishes.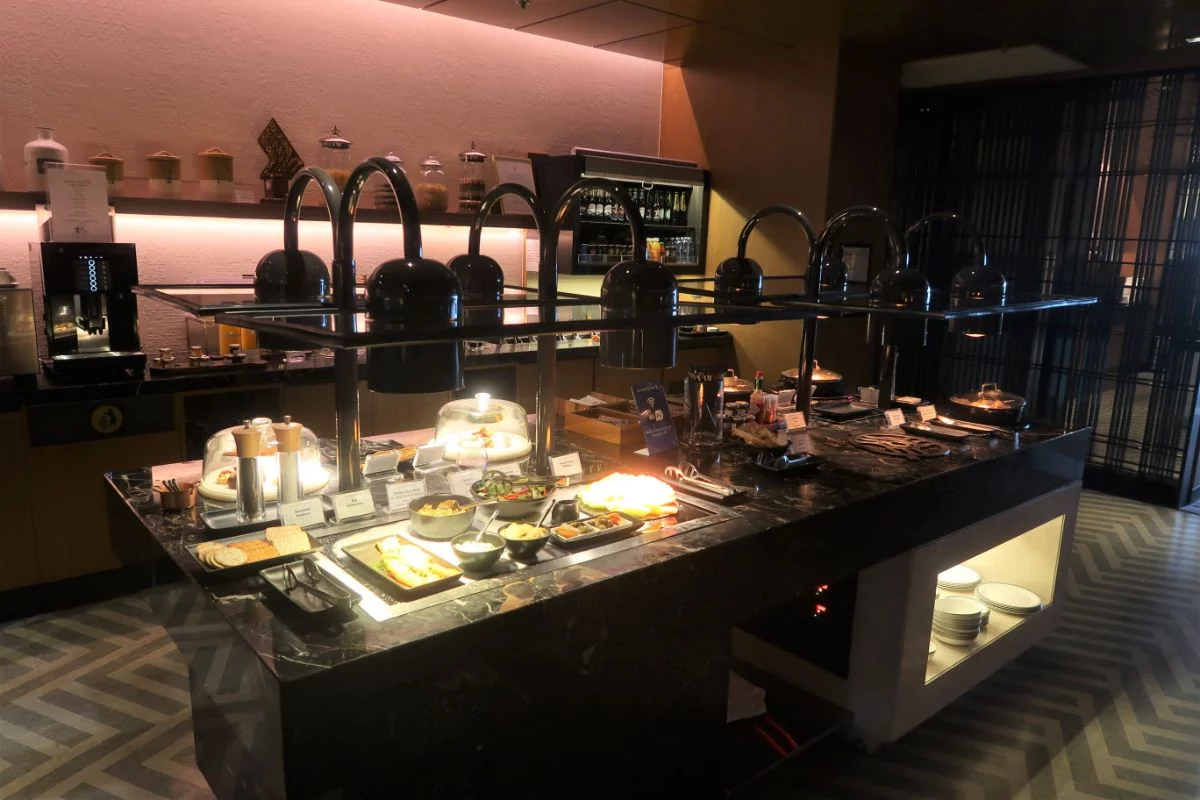 This includes a rotating selection of hotpots, stews, curries and rices.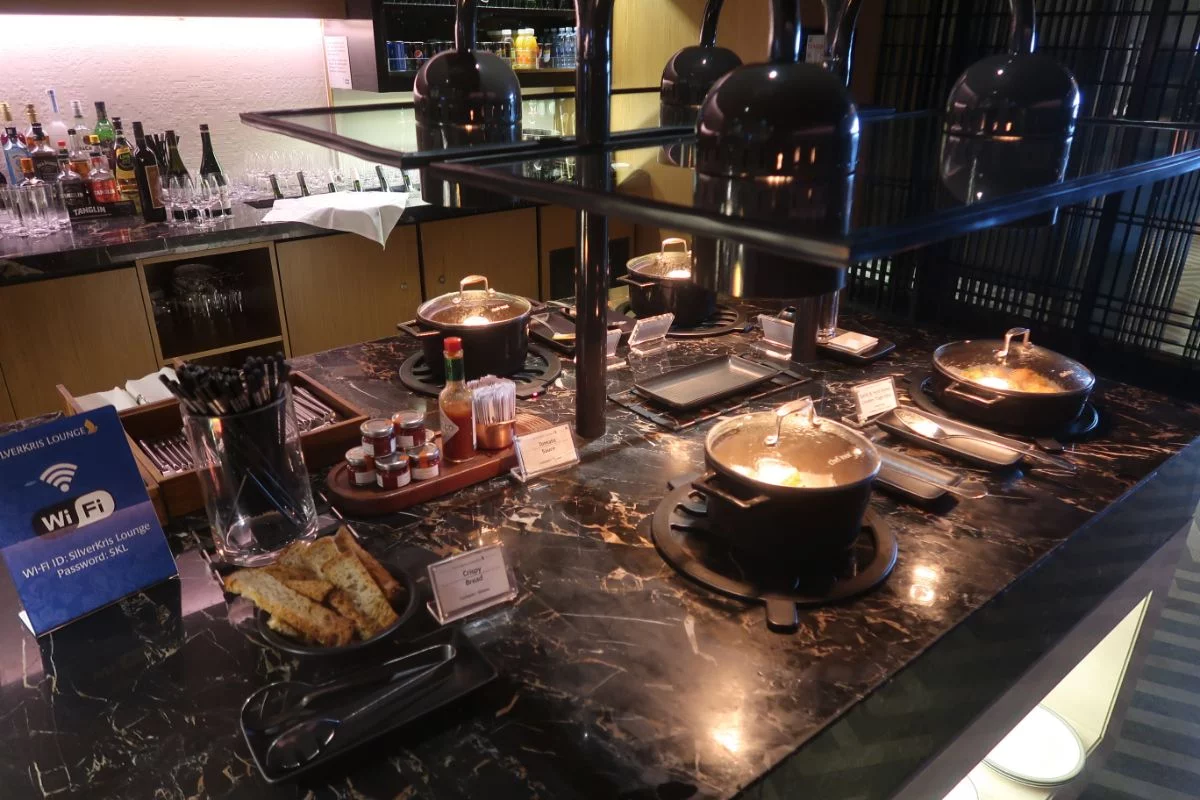 At the time of my visit, the cheese selection was nicely presented with a delicious brie available.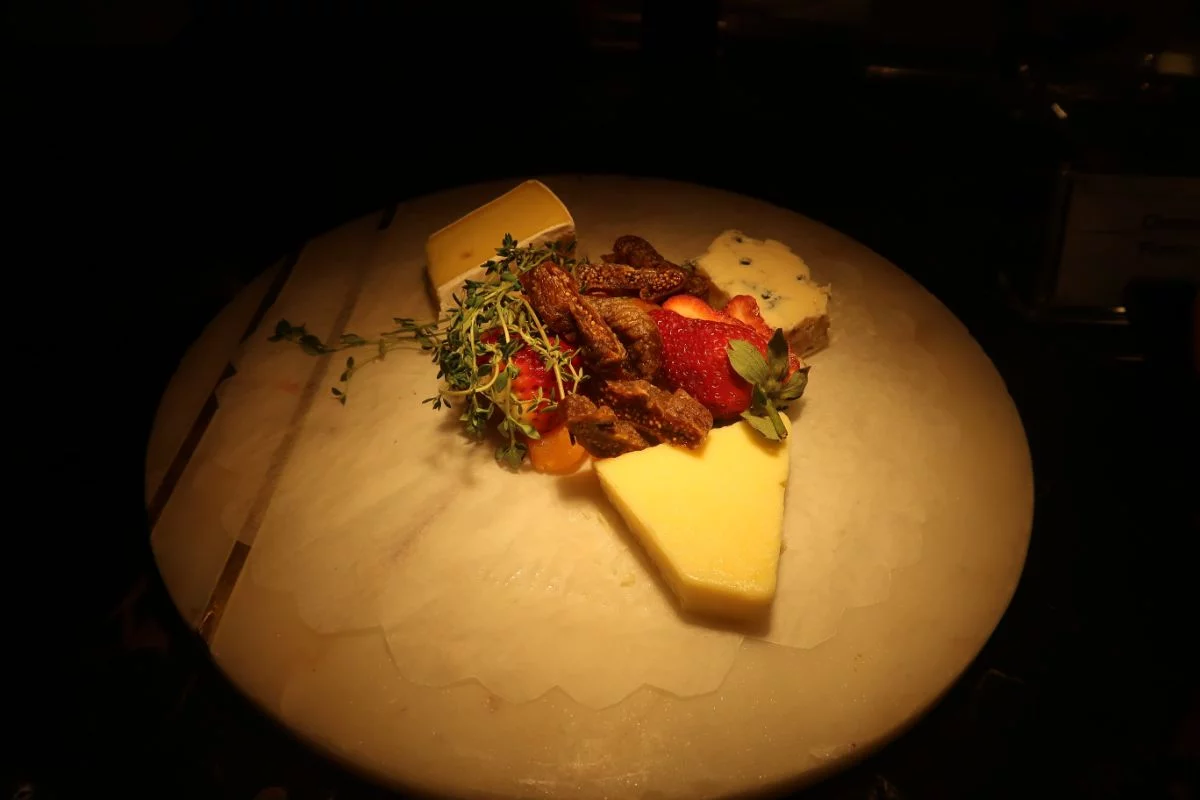 And the mini-bite desserts like those shown below are a perfect size. It's very easy to return for more.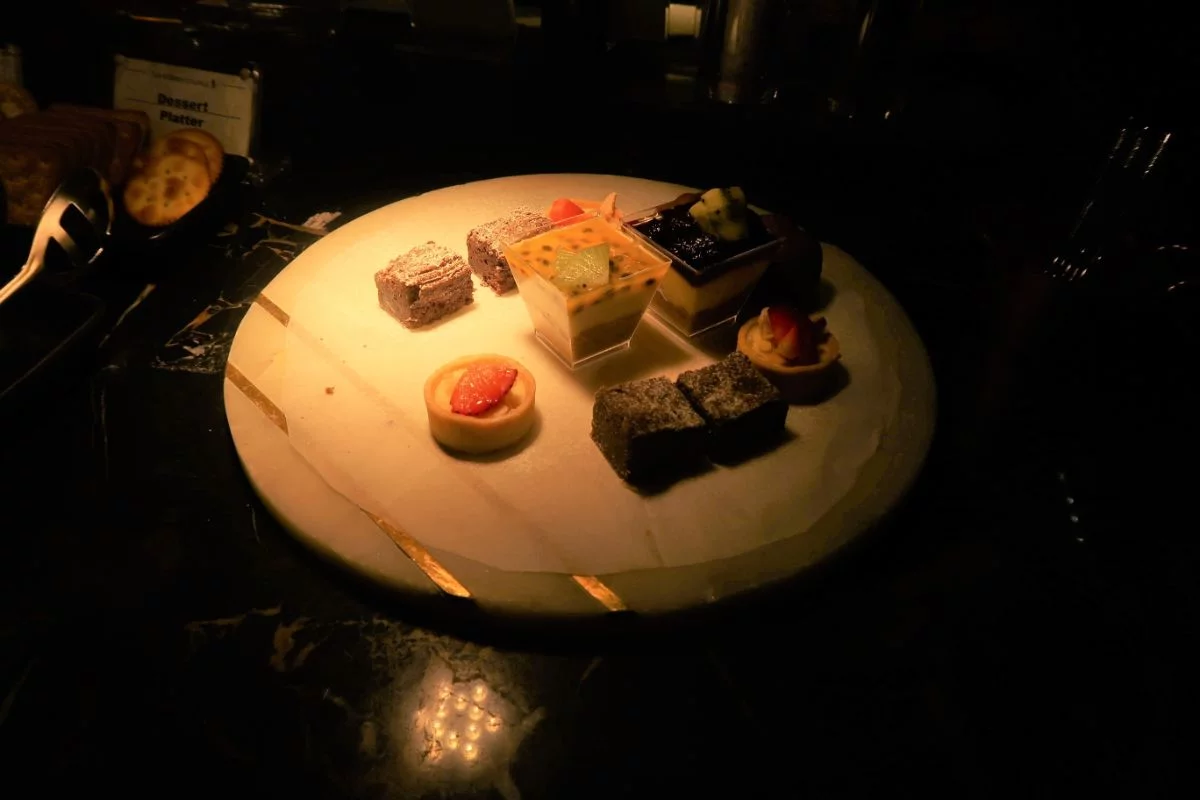 The Lounge is not so big on salads, but there are plenty of fresh fruits on offer.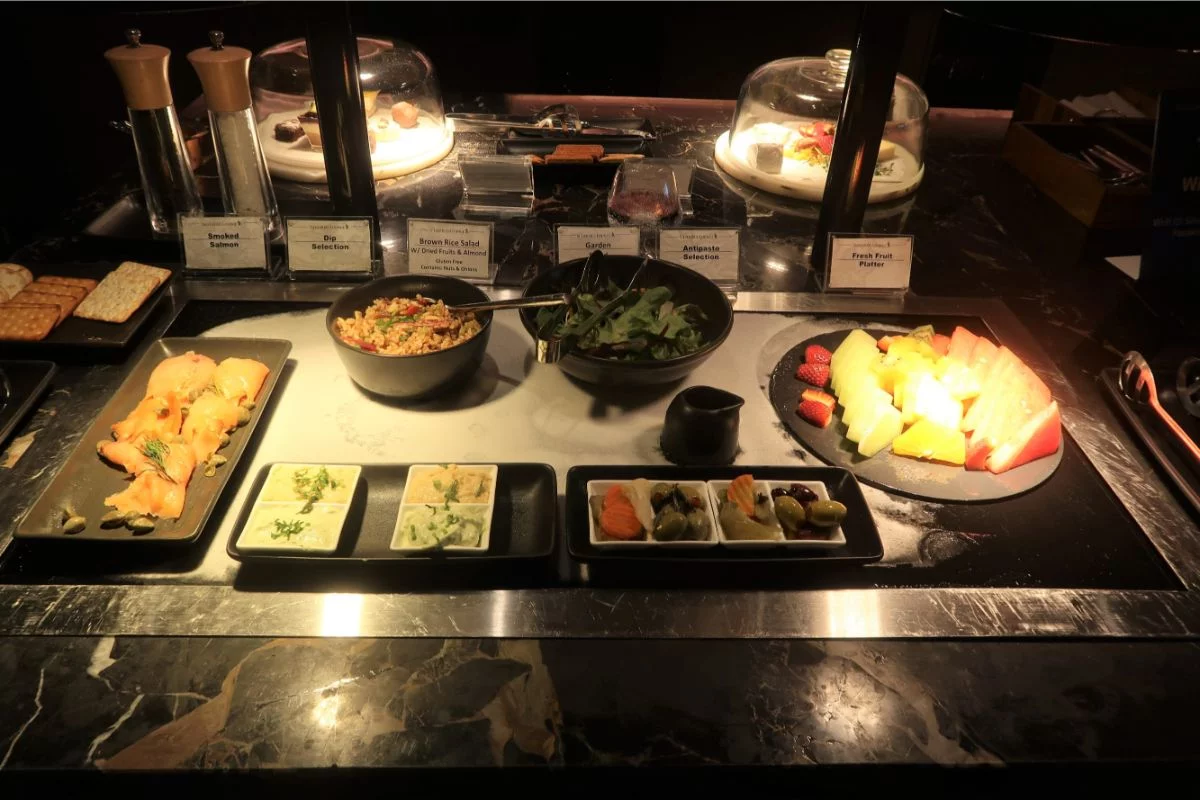 At this point, it was time for me to return to my window seat to indulge in some of the food offerings.
Once settled back in my wingback chair, I recalled the one and only instruction I'd been provided about this visit: "Try the special laksa and the duck pancakes". Not exactly difficult.
And of course, it didn't take me long to start the indulgence, commencing with a glass of Veuve Cliquot, the Champagne that is usually featured in the Lounge.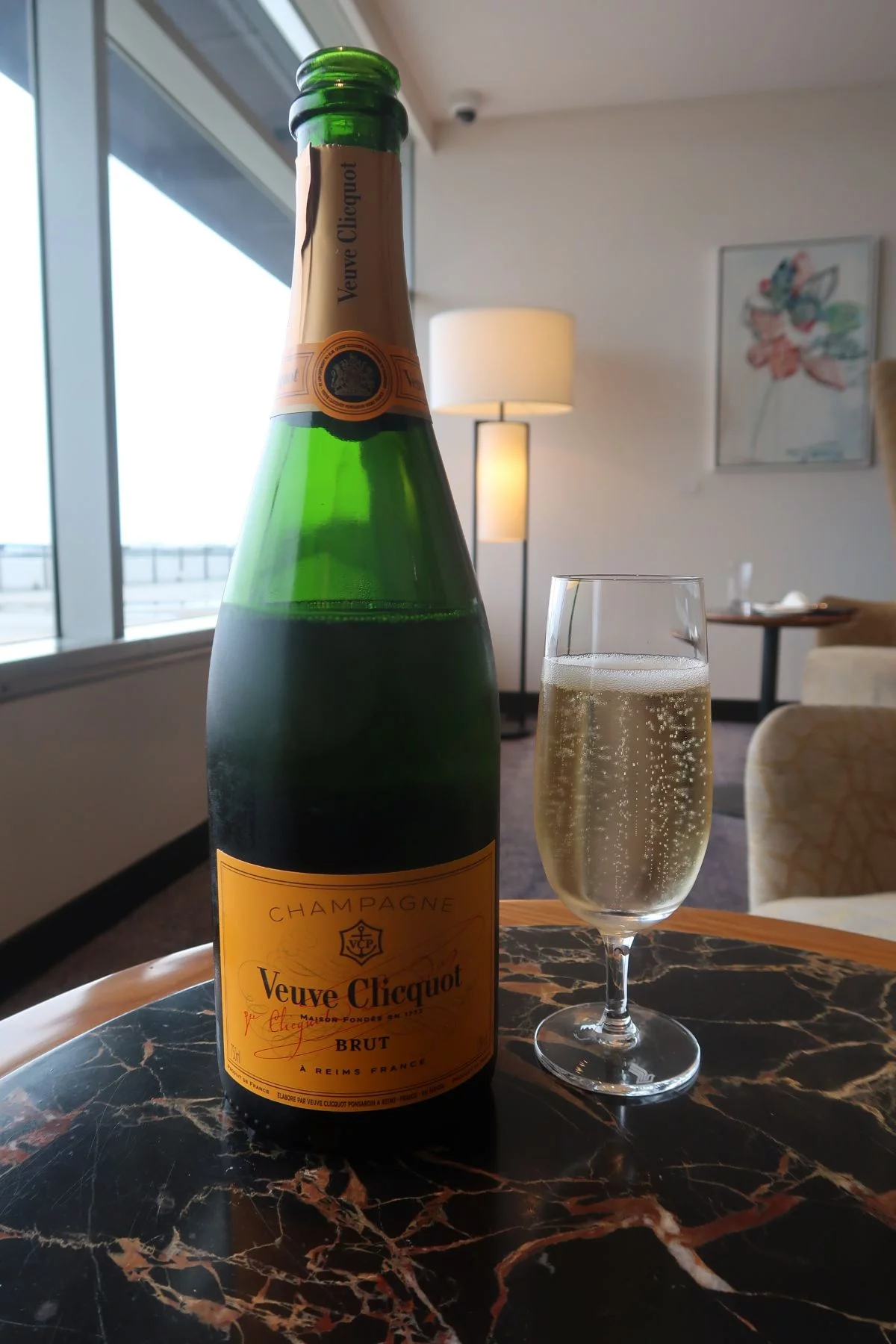 Then, my very attentive host had my first duck pancakes out before my iPhone was even plugged into the wall. Delicious!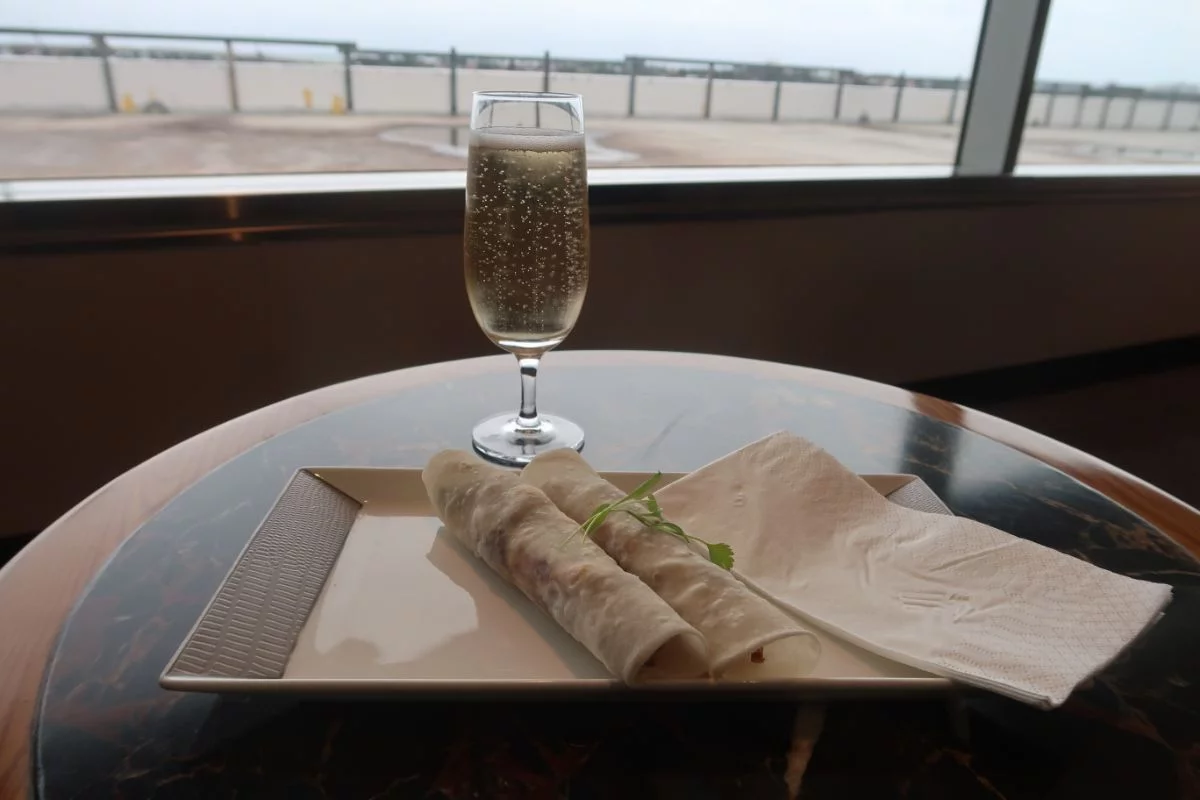 Soon after, I had a bowl of steaming, heart-warming prawn laksa on my table.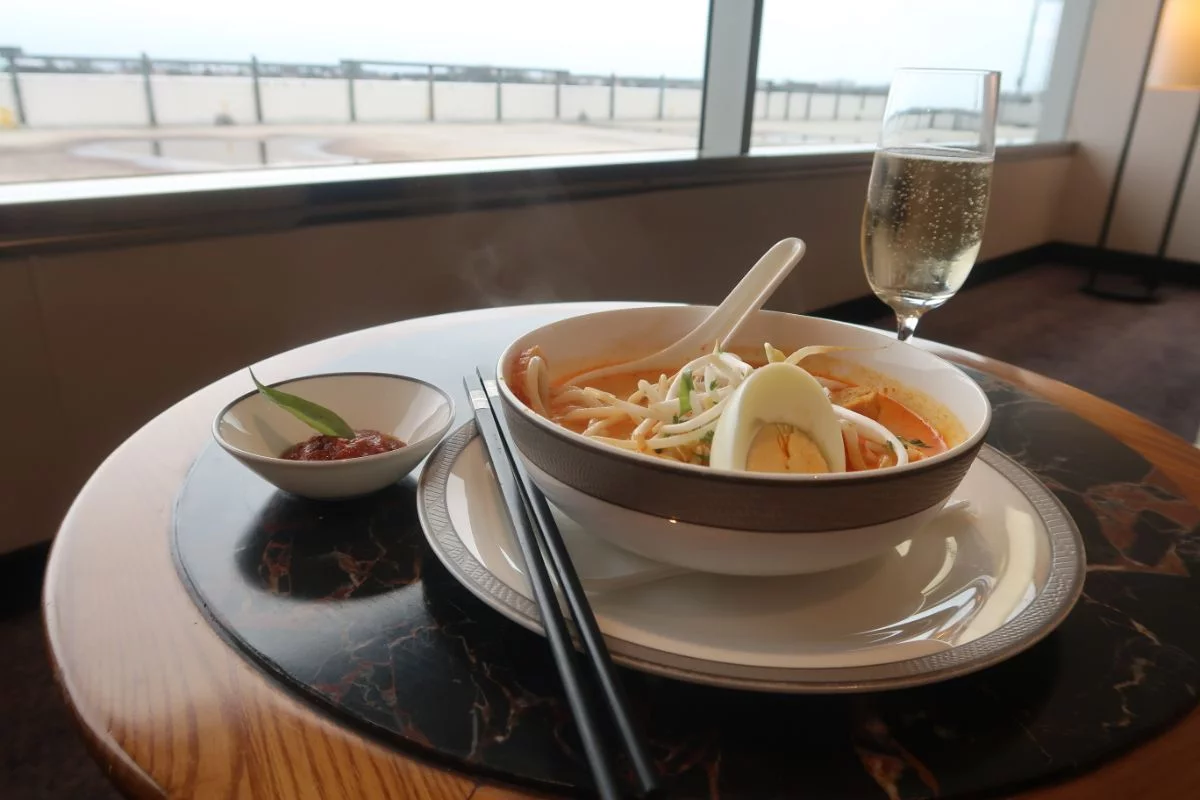 Eating laksa before a flight is always stressful – especially when you're wearing a white shirt. On this occasion, I succeeded without a single splatter. I guessed I deserved a reward, so don't mind if I do!
Then, it was time for the sweet stuff. I have to say, these are my absolute favourite types of dessert – light and nibble-size. It's really important to not overindulge before a flight due to being sedentary for a long time.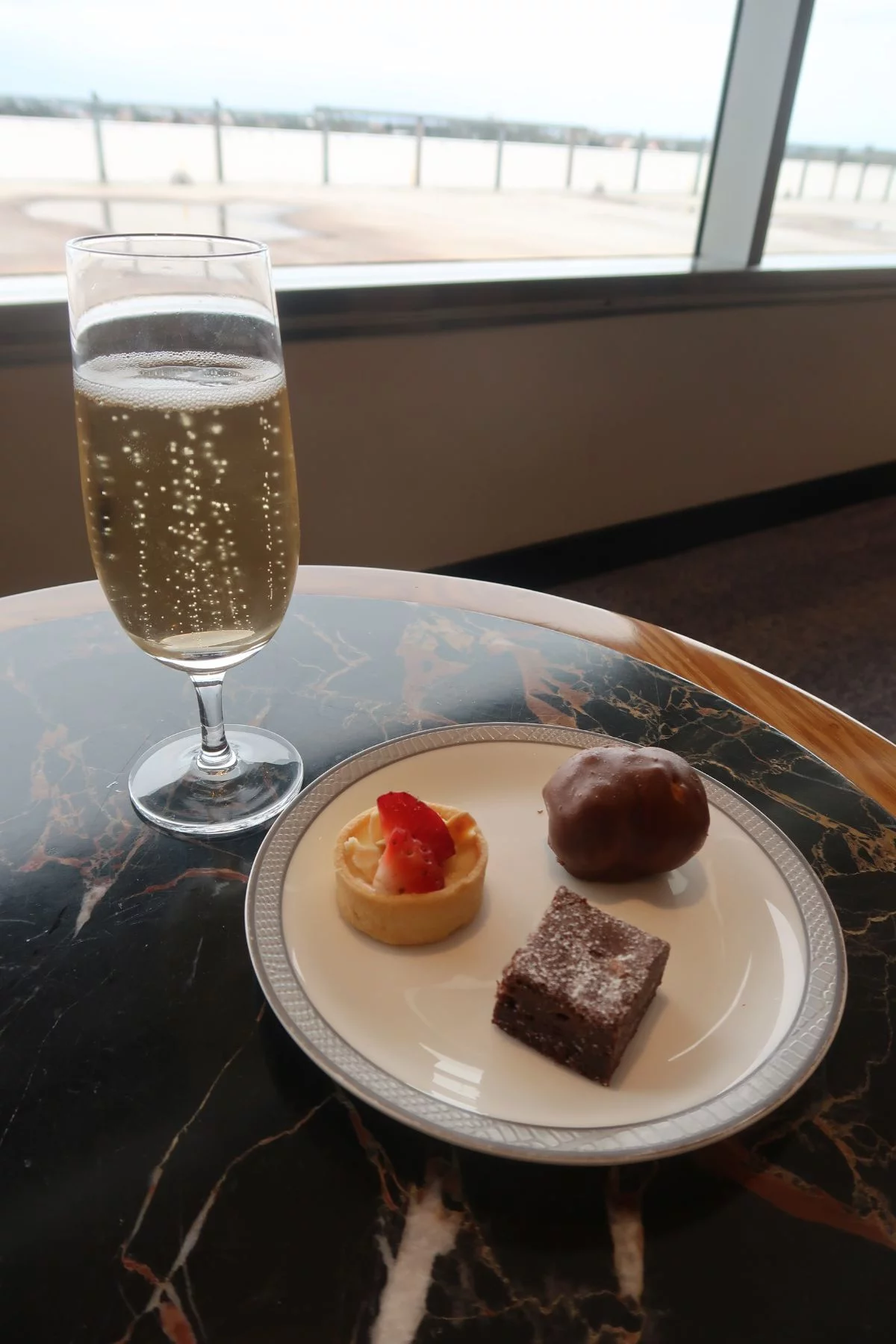 The Singapore Airlines SilverKris Lounge at Sydney Airport menu features a range of other a la Carte dishes, including chicken satays and salmon dishes.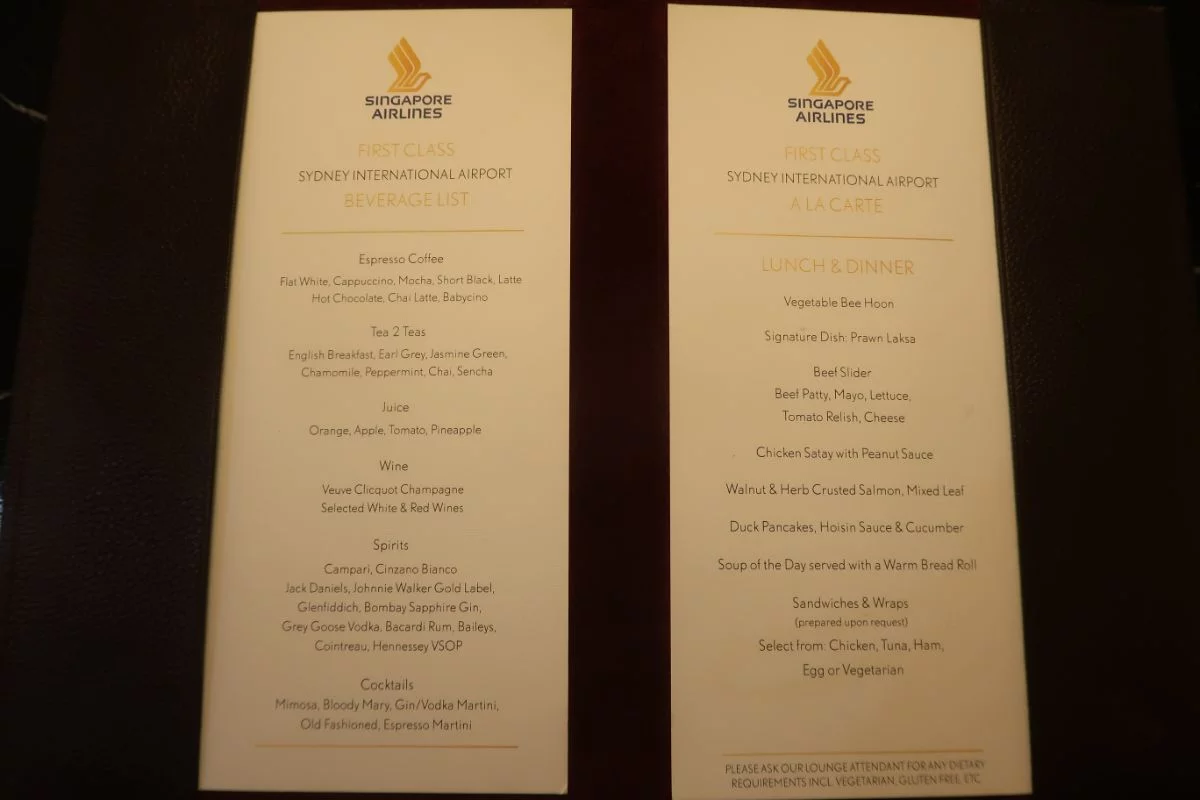 Before long, it was time for me to say farewell to the Lounge and head to my next adventure – my very first experience in the Singapore Airlines A380 suite.
Singapore Airlines SilverKris Lounge Sydney: Verdict
The Singapore Airlines SilverKris Lounge at Sydney Airport features a compact but comfortable First Class section. You won't be blown away by the opulence, but you need to remember this is a small passenger volume lounge.
As far as Star Alliance options go, we'd wager that this is the best place for those with top-tier membership or a first class ticket to perch.
What you get is a comfortable space with attentive staff, great nibbles before your flight, a selection of high quality a la Carte offerings and a quiet and elegant space to drop your bags before wheels up. You'll be relaxed before your flight and that's all that matters.
Of course, if you're looking for the best of the best in Sydney Airport, you'll want to be visiting the Qantas First Class Lounge – but sadly this isn't an option for those flying Singapore Airlines or Star Alliance.
---
What are the opening hours of the Singapore Airlines SilverKris Lounge Sydney?
The Lounge opening hours are 5am to 9pm daily. This allows all passengers from all Singapore Airlines (and most Star Alliance) flights departing Sydney Airport to access the Lounge.
Where is the Lounge located?
You'll find the Singapore Airlines SilverKris Lounge in Terminal 1, near Gate 59. Simply head up the escalators at the base of the centrally located coffee stand. The walk is approximately 8 minutes from security.
Where are other Singapore Airlines SilverKris Lounges located?
Travelling from another city? There are SilverKris Lounges located in a range of other cities. Why not check out reviews of other Singapore Airlines SilverKris Lounges:
Review: SilverKris Lounge, Adelaide Airport
Review: SilverKris Lounge, Melbourne Airport
While you're here: Subscribe to our newsletter for the latest tips, deals and news. It only takes a few seconds and we respect your privacy: