While the Singapore original A380 first class suite may have been superseded, it still surprises and delights.
Today I'm flying Singapore Airlines old A380 first class suite between Sydney and Singapore. But whilst the old product has been superseded by a newer model, it is still one of the best seats in the sky.
RELATED: Suite Life: Testing out the new Singapore Airlines A380 Suite
Flying in this suite is equivalent to the release of a new car model. Most people will automatically gravitate to the newer and flashier model and the old model will be compared unfavourably. But, is that really fair?

Well, rather than compare head to head, read on to see whether you'd be happy to fly in the Singapore Airlines old A380 first class suite.
| | |
| --- | --- |
| Airline: | Singapore Airlines |
| Route: | Sydney (SYD) to Singapore (SIN) |
| Flight Duration: | 8 hours |
| Flight Number: | SQ222 |
| Aircraft Type: | Airbus A380 |
| Date Travelled: | 30th September 2019 |
| Class: | First |
| Frequent Flyer Program: | KrisFlyer |
Booking my Singapore Airlines old A380 first class flight
For a week long holiday in Singapore, I surmised that a trip in first class would make the journey even sweeter.
I booked my flight via Singapore Airlines KrisFlyer. At 88,000 miles and around $60 in taxes, this first class experience comes cheaper than some others (think Qantas First class to Singapore).
If you don't have access to KrisFlyer miles, you could also look to lock in this redemption via Velocity Frequent Flyer or a Star Alliance airline partner.
Check-in experience
Check-in for SQ222 at the Sydney desk is a no-fuss experience. If you're looking for movie-star treatment from the moment you step onto the curb at the airport, then look elsewhere. A hosted Qantas First Class checking experience in Sydney or Thai Airways First Class ex Bangkok journey would be your logical choice. Me – I'm not fussed either way.
The Singapore Airlines check-in counter is located at the non-security end of the Singapore Airlines check-in desks. Today, I've arrived quite early as I'm looking to sample to the Singapore Airlines SilverKris Lounge in earnest.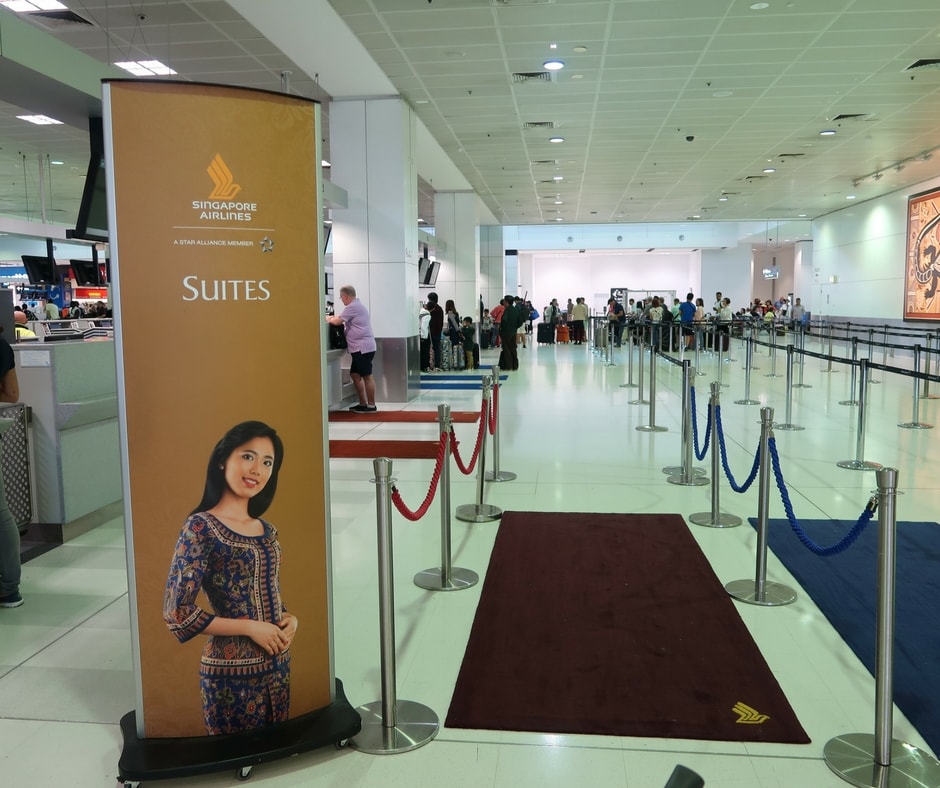 Pre-departure Lounge access
Moving through security with carry-on luggage, I head straight for the Singapore Airlines SilverKris Lounge. The space is cosy but elegant.
With Peking duck pancakes and Singapore laksa made to order and Veuve Cliquot on-demand, you'll need to be careful to leave some room for onboard your flight.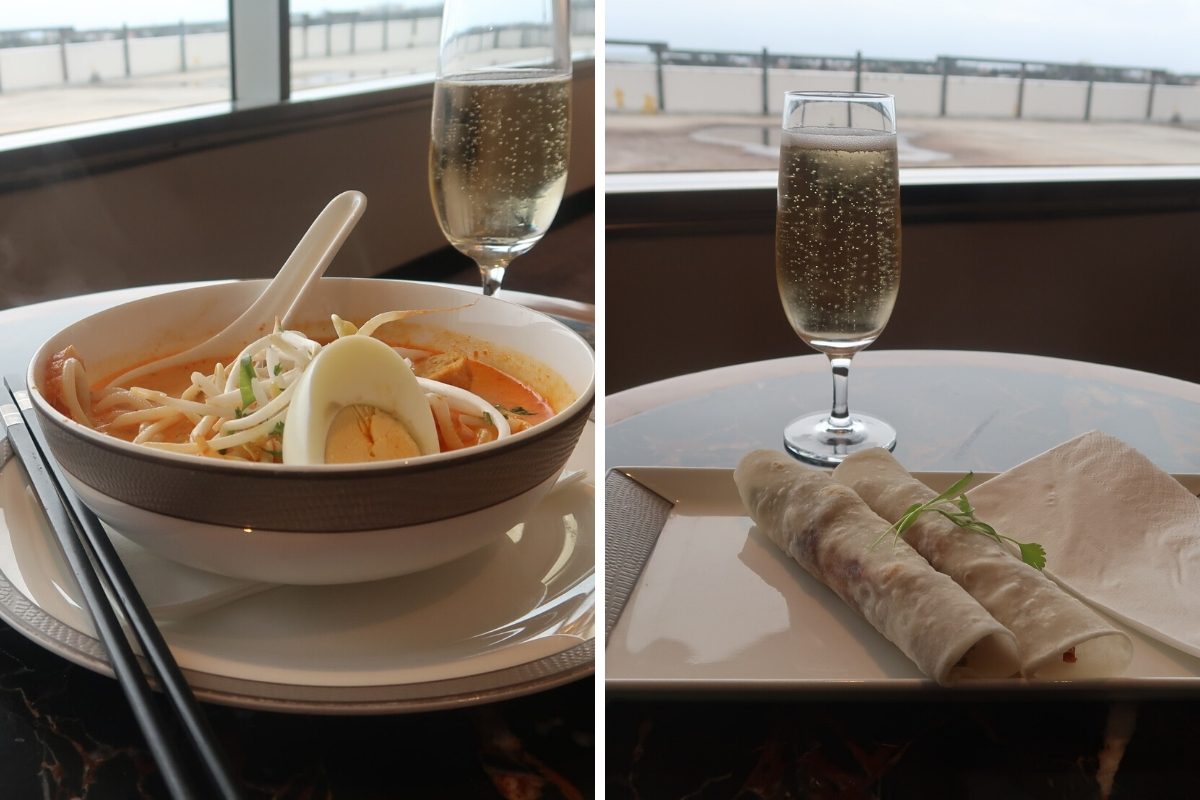 I spent a relaxing few hours in this space before it was time to head to the gate. You can read my review of the Sydney SilverKris Lounge separately here.
Initial impressions of the Singapore Airlines old A380 first class cabin
Stepping onto the plane, there's no question that the decor looks slightly dated. It is however only an initial impression that is easily forgotten as the incredible service commences. After all, the same famous attention and food is served up by Singapore Airlines, regardless of the age of the hard product.
The first-class cabin on Singapore's original A380 aircraft comprises 12 suites in a 1-2-1 configuration. Each features a seat with 81 inches of pitch and 35 inches of width.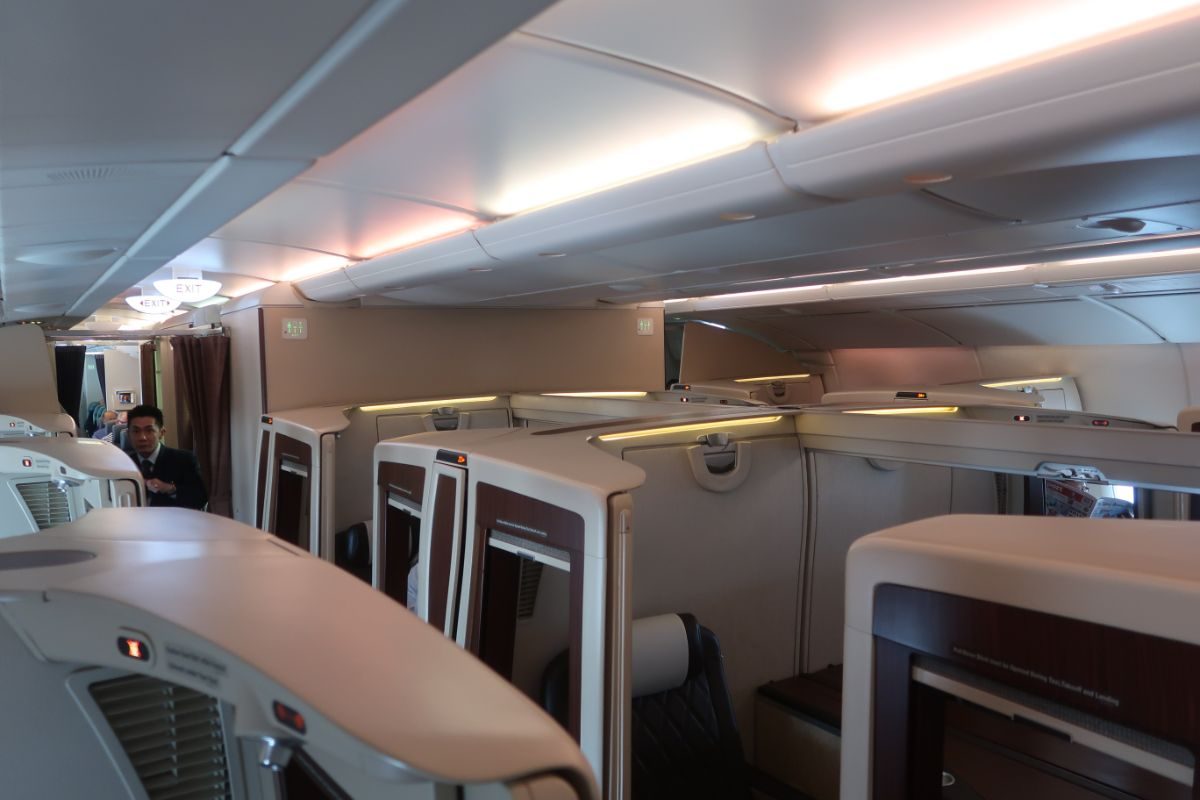 On my flight, the cabin is only half full. It's made up of mostly singular travellers, favouring window seats. This meant that I was able to enjoy both a window seat and a dual bed configuration in the centre of the cabin which the staff kindly set up for me to use later in the flight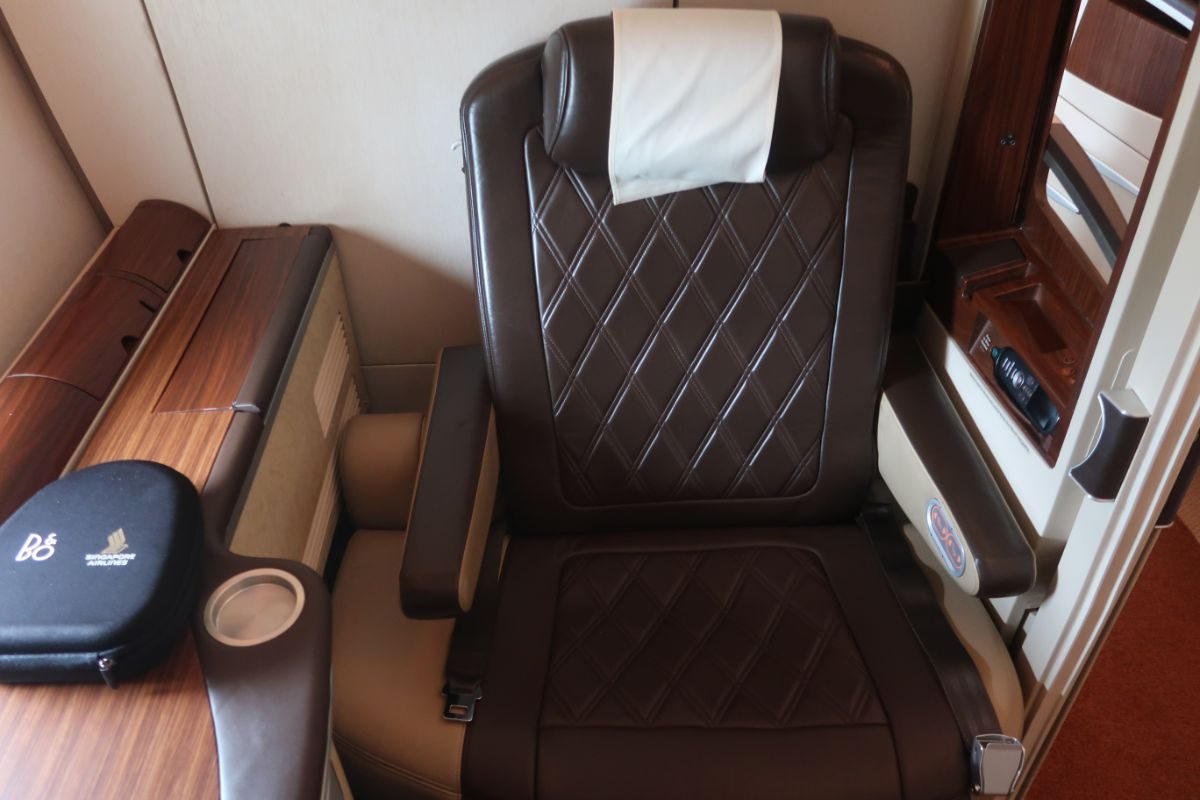 My initial thoughts are that the cabin and individual suites are well-appointed. They hold up well in isolation, but are starting to look somewhat dated due to the use of two-tone brown/tan upholstery. (I use the word 'dated', rather than 'old' as the hard product is still well maintained)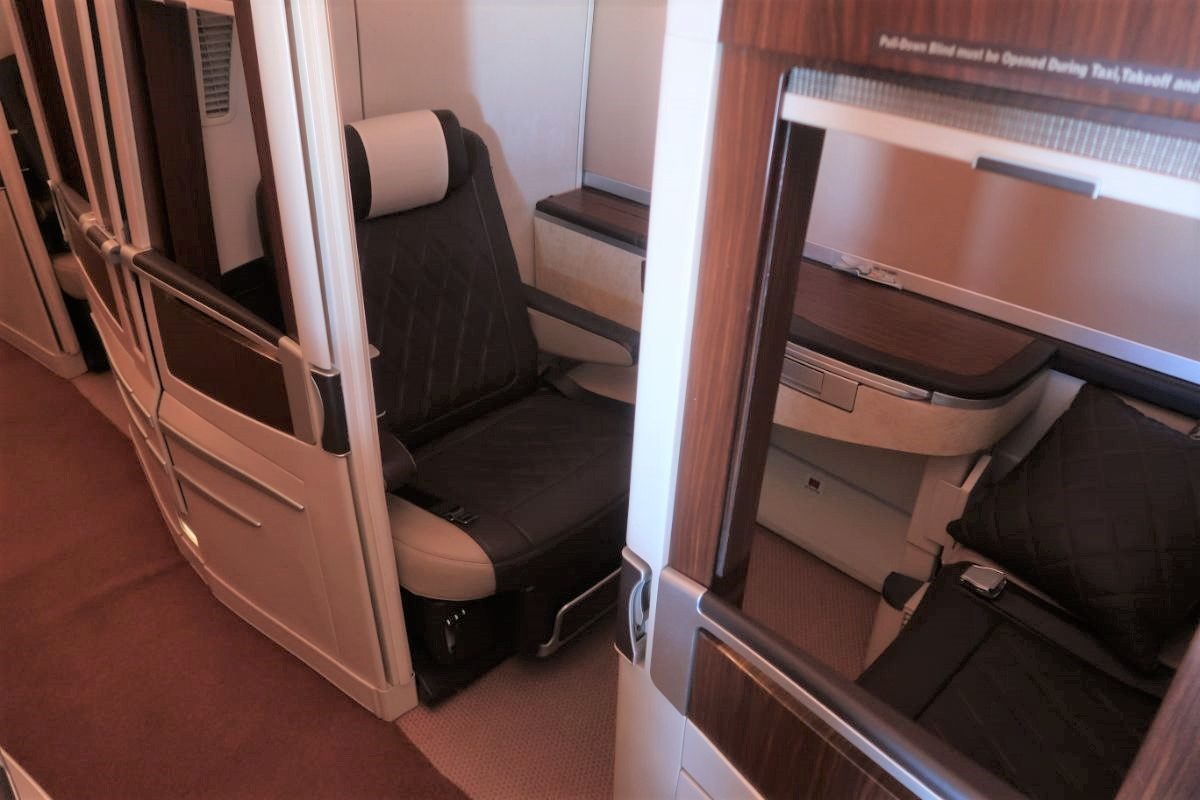 Of course, the decor issue fades away once Champagne is poured and pre-flight activity settles down. Once you relax into the excellent Singapore Airlines service, everything starts to look just fine.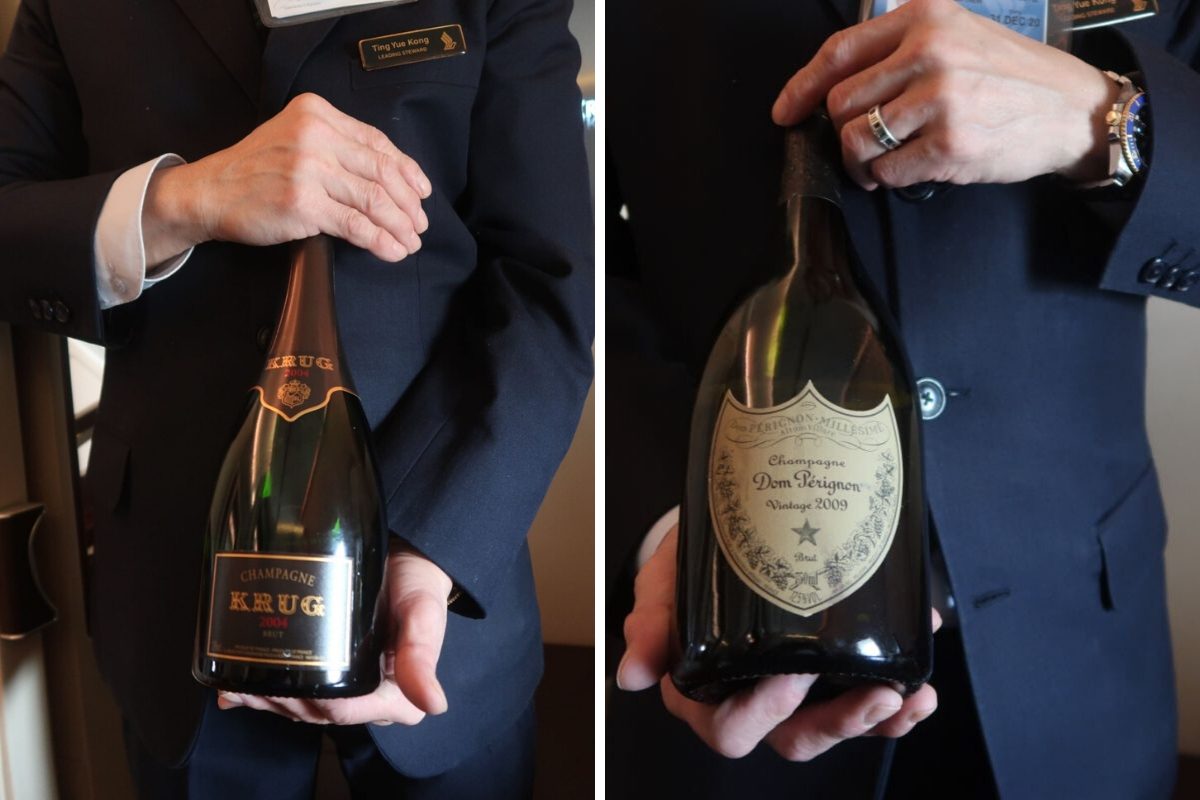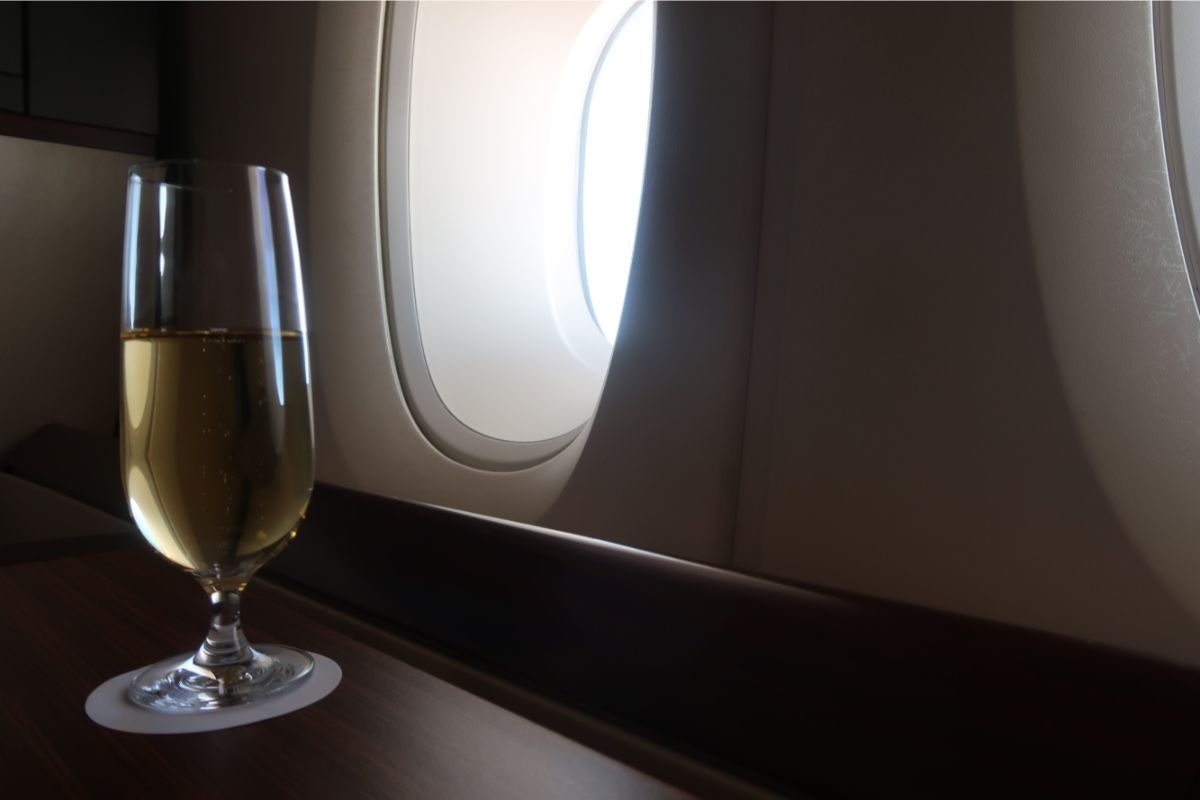 The shape of the suite, which is not floor to ceiling, curves in on the guest somewhat, possibly giving a slight sense of encapsulation.
Yes, your actual floor space and the hard product layout is significantly less than the new suites, but this is unlikely to matter so much on shorter flights. Your privacy is provided by sliding screens and doors. Only a 6 and a half foot tall person would be able to see into your suite.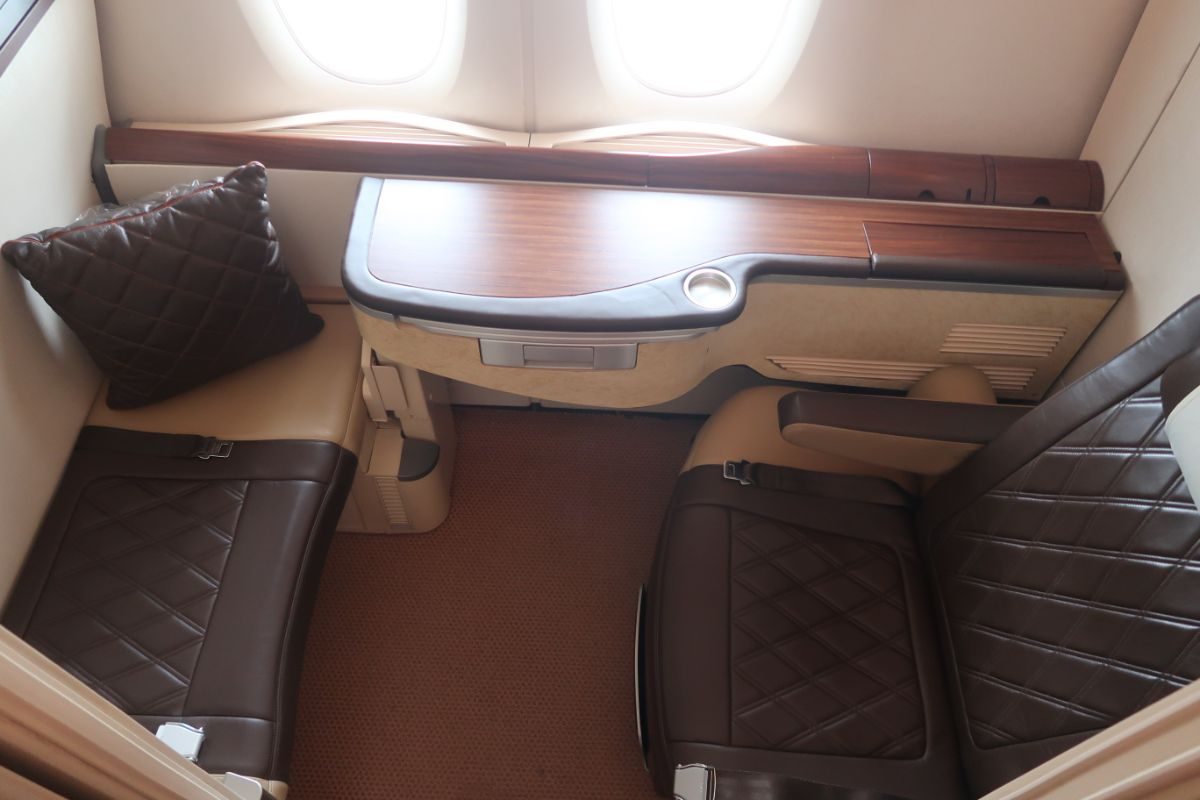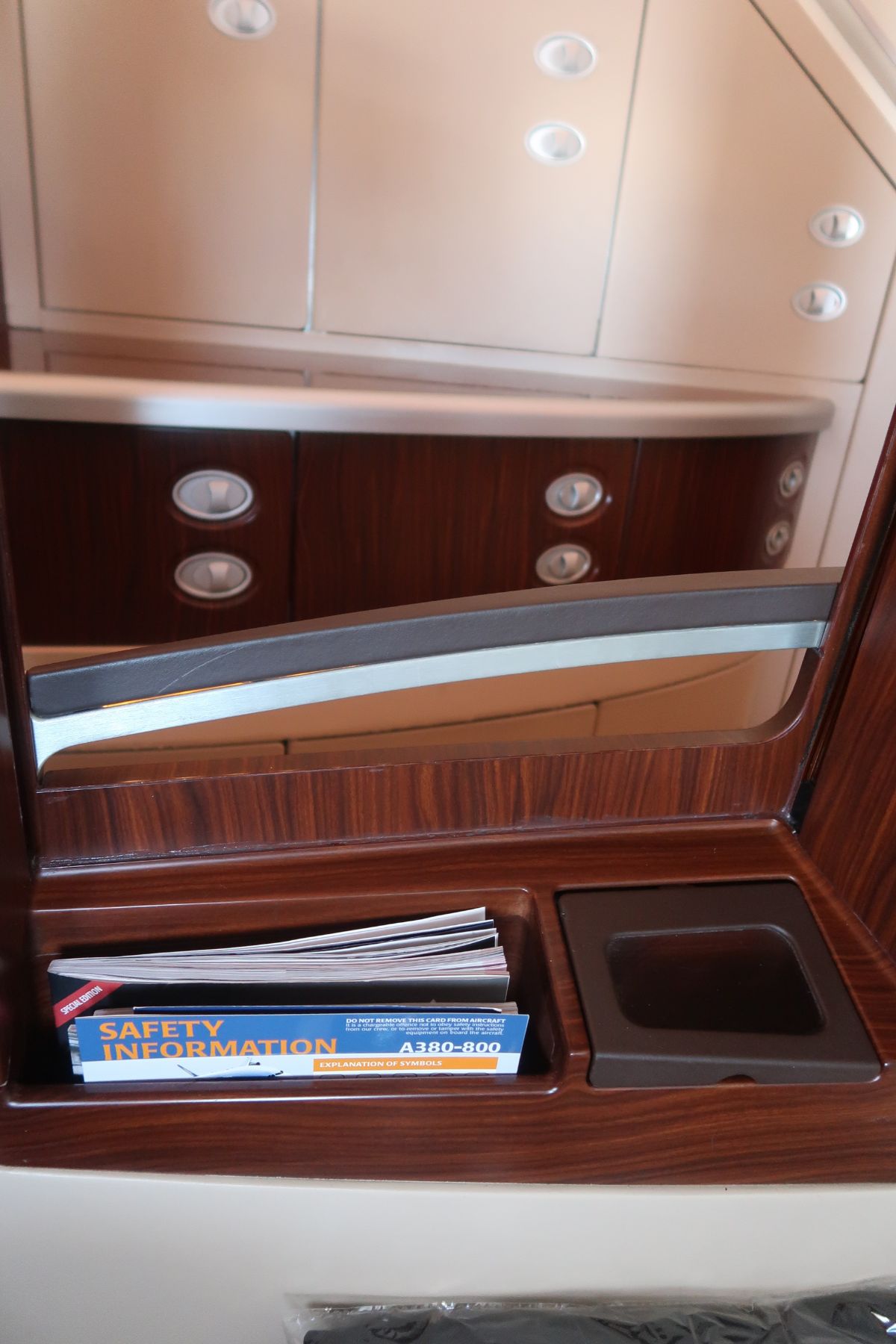 The seat itself and the layout is extremely comfortable and all controls are easily within reach. The table that slides out from the side-console is easy to operate and well-positioned at a height that makes eating easy.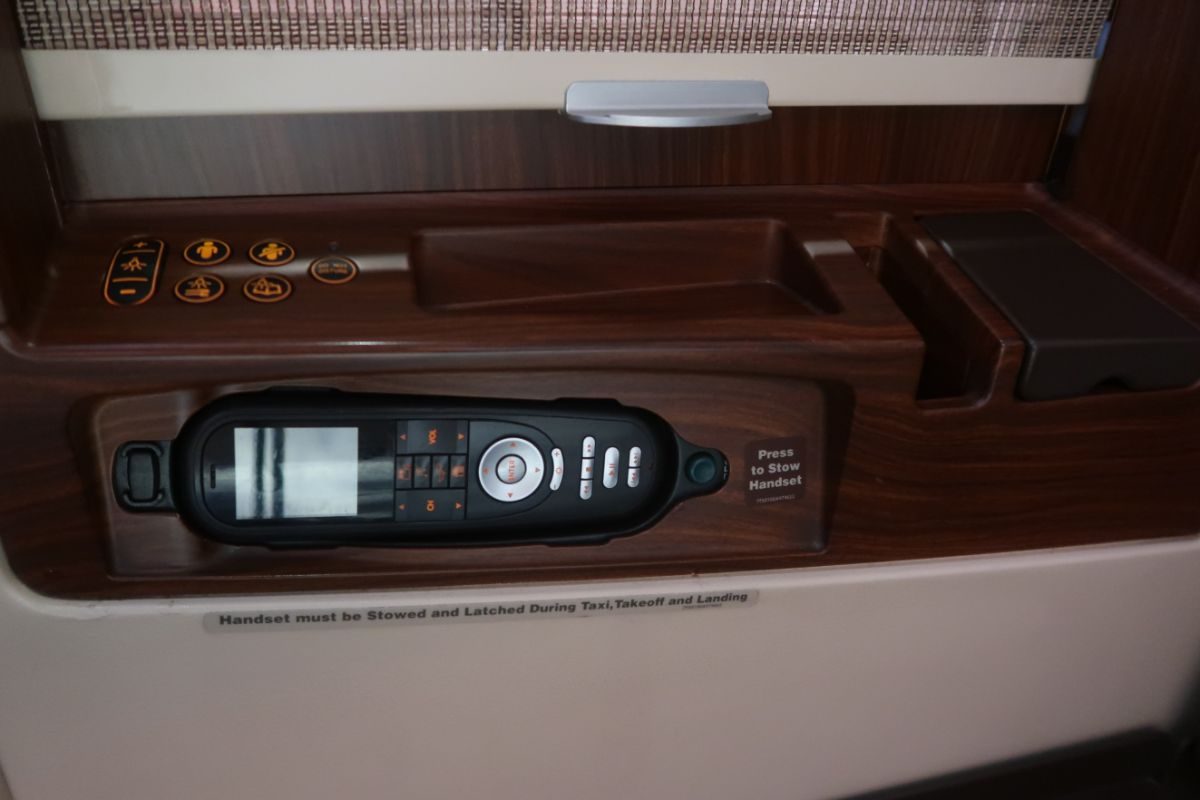 Dining onboard the Singapore Airlines old A380 first class suite
The exciting thing for Champagne lovers is that Singapore Airlines currently serves two, high-end Champagnes (Dom Perignon and Krug). The highly regarded Taittinger Comtes is about to be added to that line-up, too!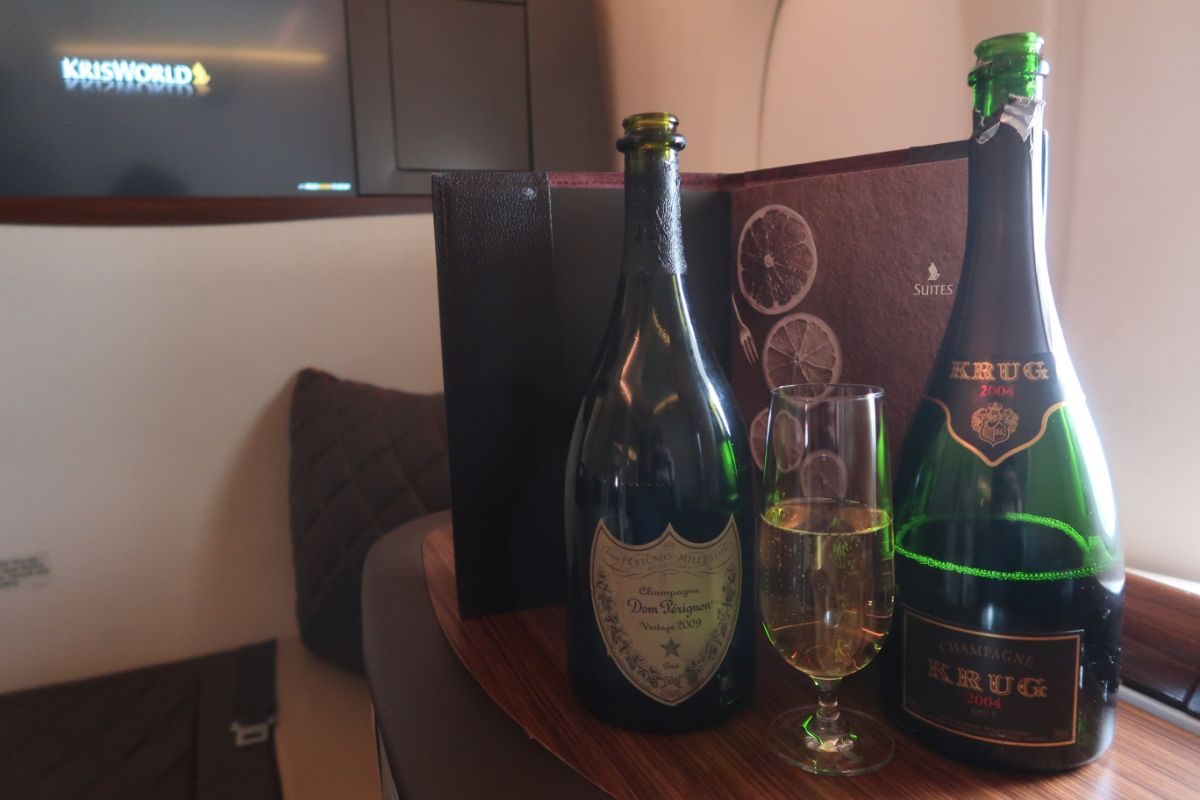 But that's not where I start. I chose a Singapore Sling for sentimental reasons – my first ever business class flight, about 20 years ago, was with Singapore Airlines for work with colleagues and we had a ball. It all started with that mighty 1915 cocktail.
Light and refreshing, it comprises dry gin, Dom Benedictine, orange liqueur, cherry brandy, pineapple juice, Angostura bitters, and Grenadine. In my opinion, you must start with one of these if this is your first time flying in Singapore Airlines first class.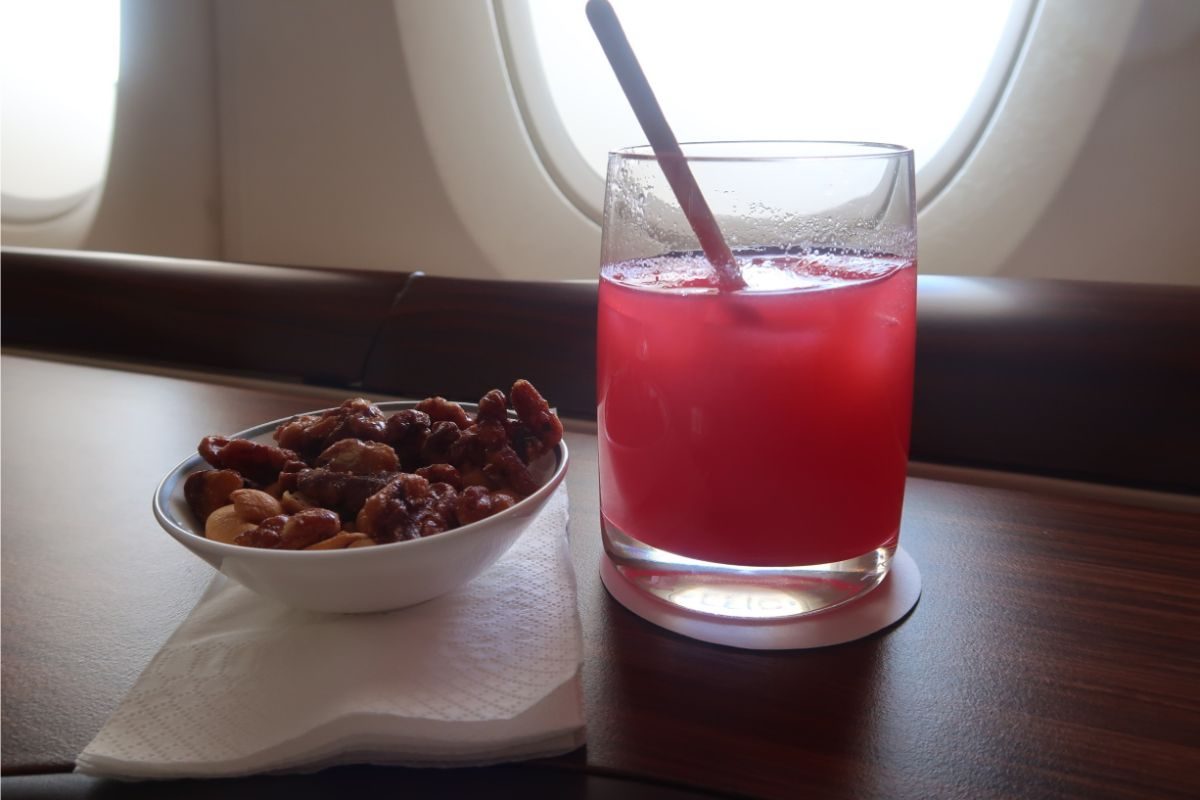 Of course, I could have worked through the cocktail list of Bloody Mary, Screwdriver, Cuba Libra, Rumba, and Campari drinks, but then this review would not have been written.
Soon after take-off, an early dinner is provided. With food tasting different in the air from that on the ground, good garlic bread is a great way to stimulate the taste buds and Singapore Airlines always delivers.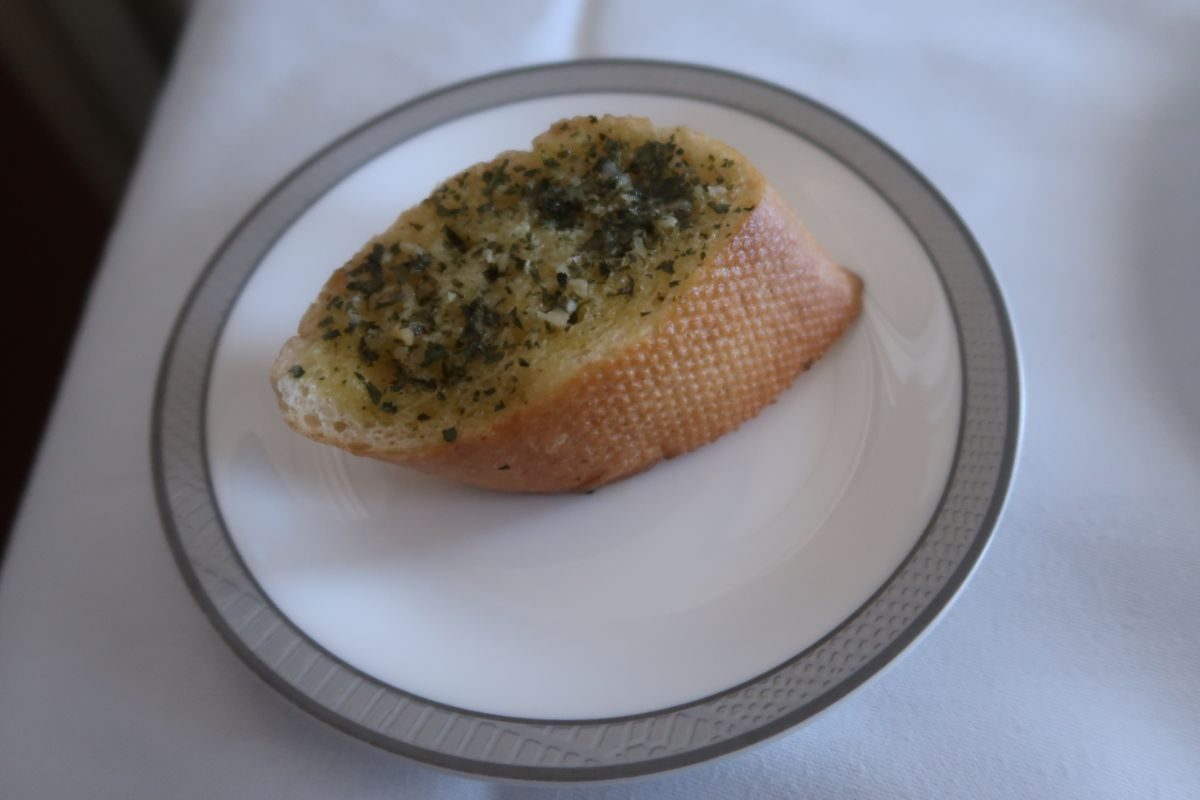 I then move on to the chilled Malossol Caviar, with Melba toast and condiments, as an Appetiser. I tried this because I felt compelled to as caviar is perceived to be luxurious, but to be honest, it is a very acquired taste. The two shots of Vodka that appeared on my table certainly helped.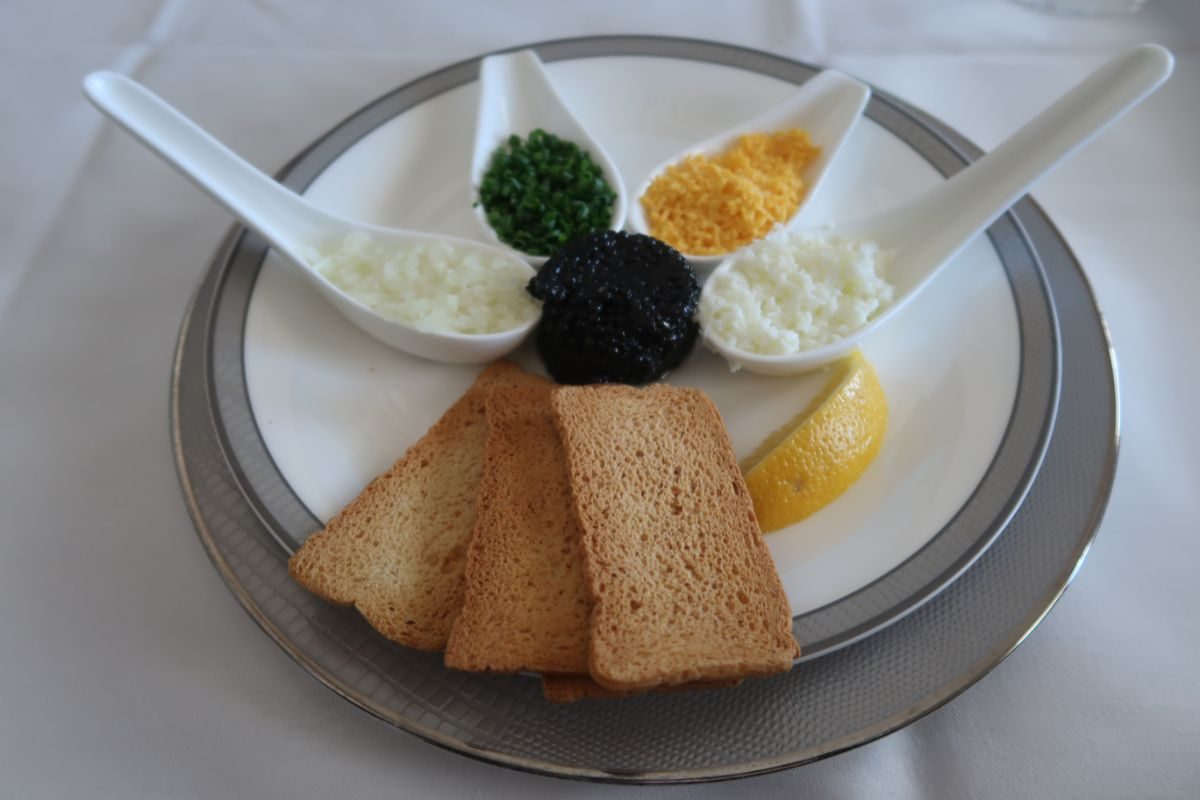 On to the Double Boiled Cabbage Soup with morel and Enoki mushrooms – you'll definitely need to like mushrooms to enjoy this dish!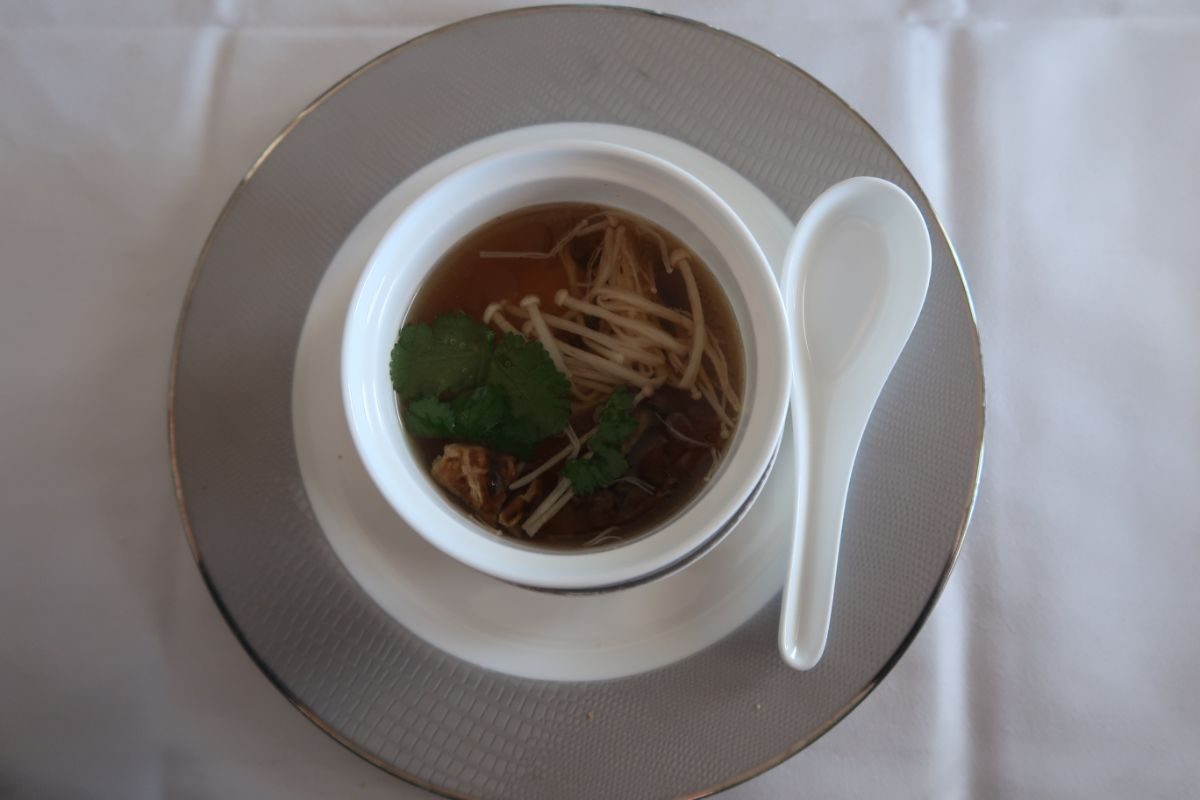 At this point, the salad is a welcome palate cleanser after several very strong tasting dishes. The Baby Gem Lettuce, Witlof, Grilled Haloumi Cheese, and Microherbs construct is topped off with a creamy onion dressing and I find it rather pleasant.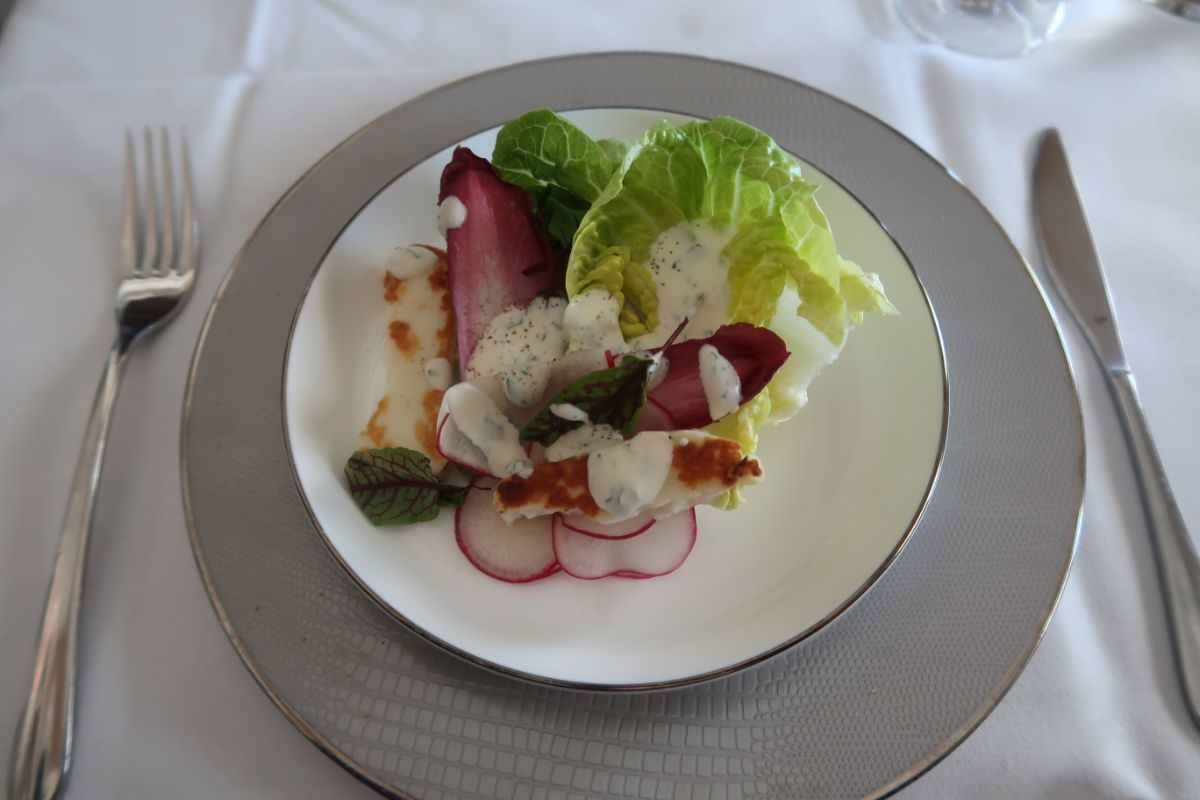 On to the main event – the Book the Cook Lobster Thermidor. Yes, I bypassed the menu items altogether with this little known trick. How did I do it?
A few days prior to my flight, I headed to the Singapore Airlines website to book my first class in-flight meal. Singapore Airlines offers an advance meal booking service for travellers in premium economy, business and first-class, called Book the Cook. You can reserve your main course up to 24 hours before your flight from a wide selection of meals. The Book the Cook service is available from most departure ports. The most extensive selection of meals is available for flights departing from Singapore, but the service is available from many departure cities.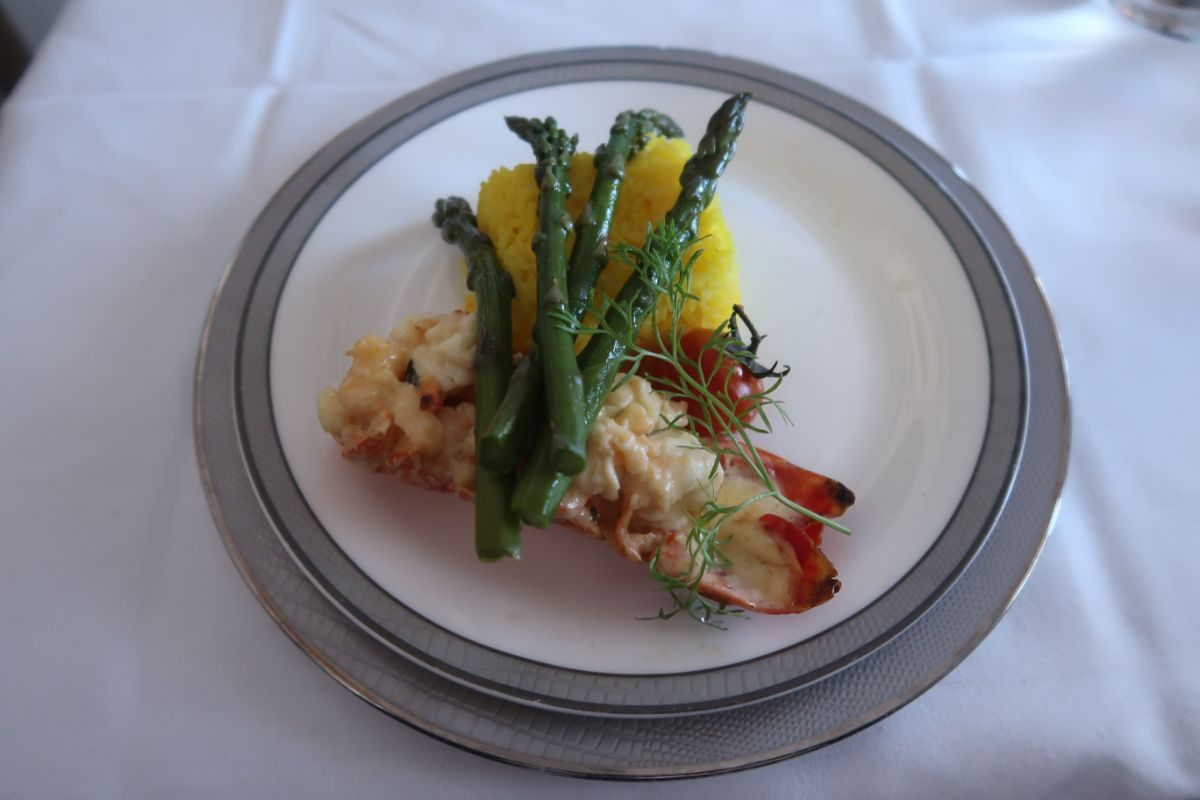 Then it's onto dessert…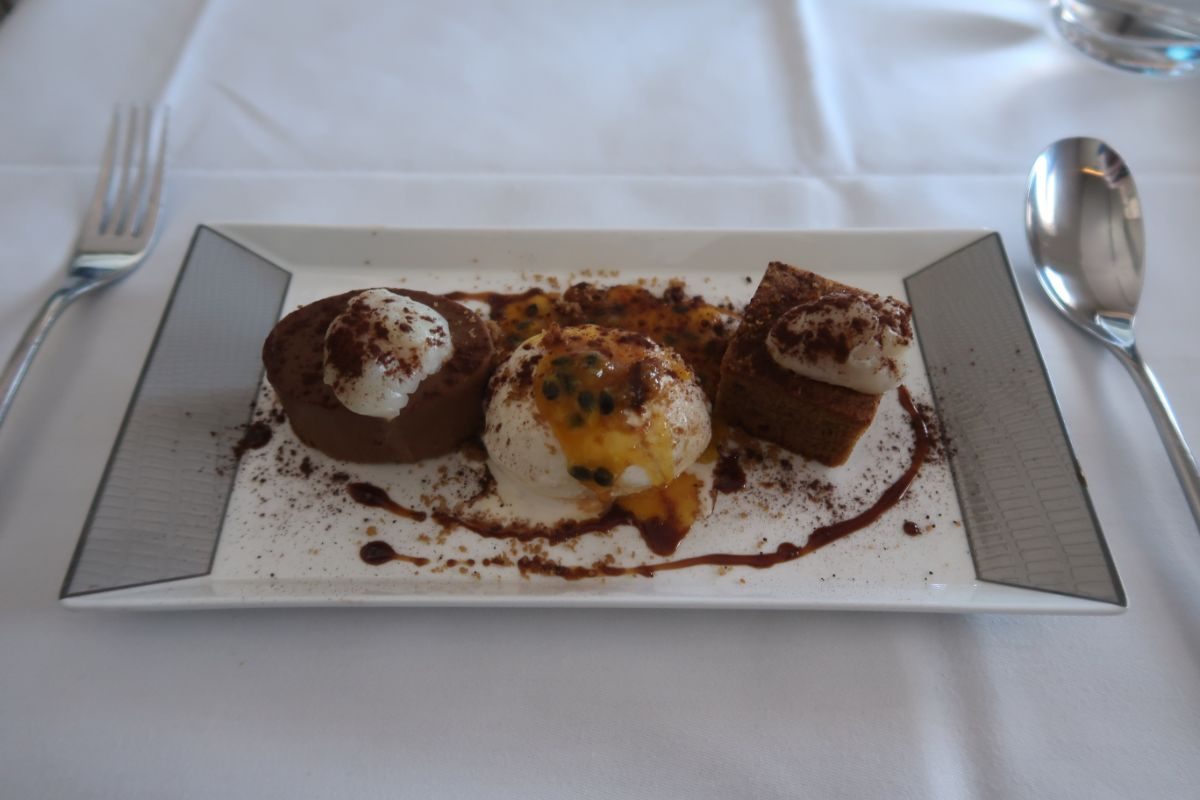 The cheese selection offers up no less than four cheeses: Berry Creek Tarwin Blue, Heidi Farm Tilset, Woombye Camembert and Savourine Goats Cheese, with Guava paste, crackers and grapes. You can choose which cheeses you'd like and the portions are a good size after a big meal.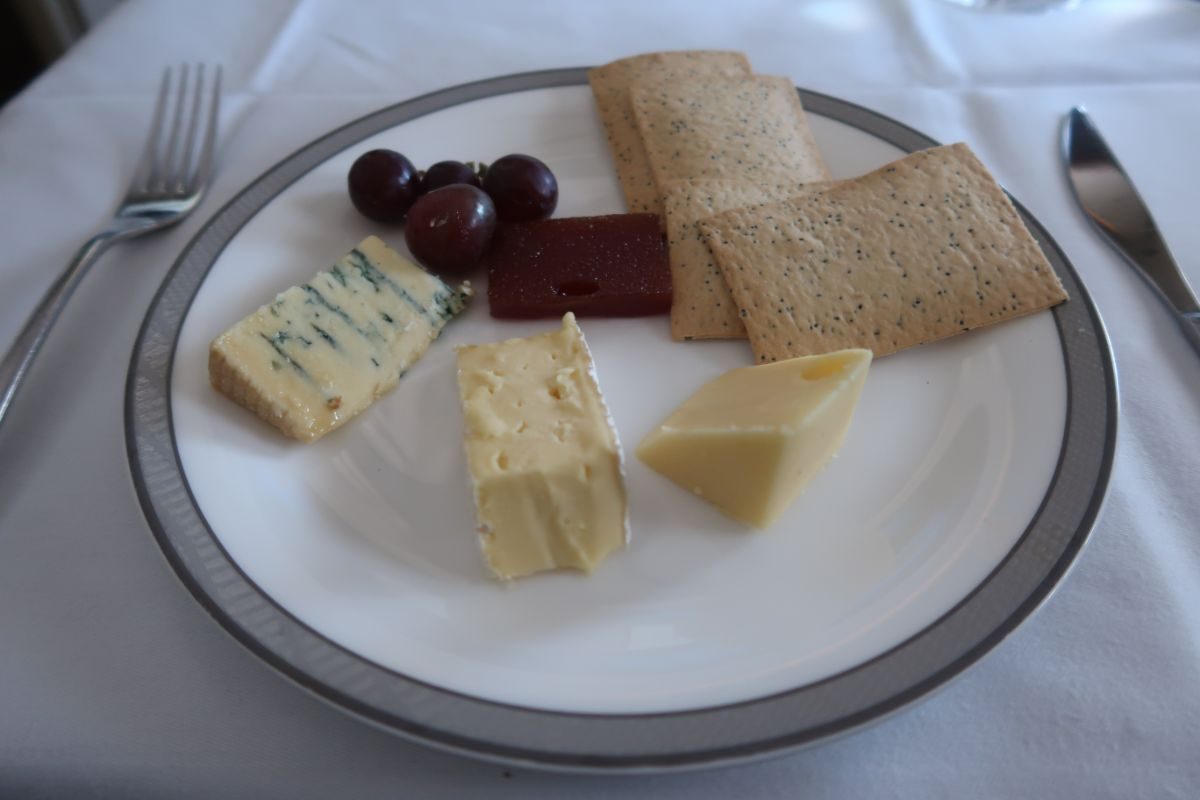 So overall, whilst I bypassed the standard offerings with Book the Cook, I can say that food and presentation is consistently high quality. For those who forget to pre-book, the typical menu is below: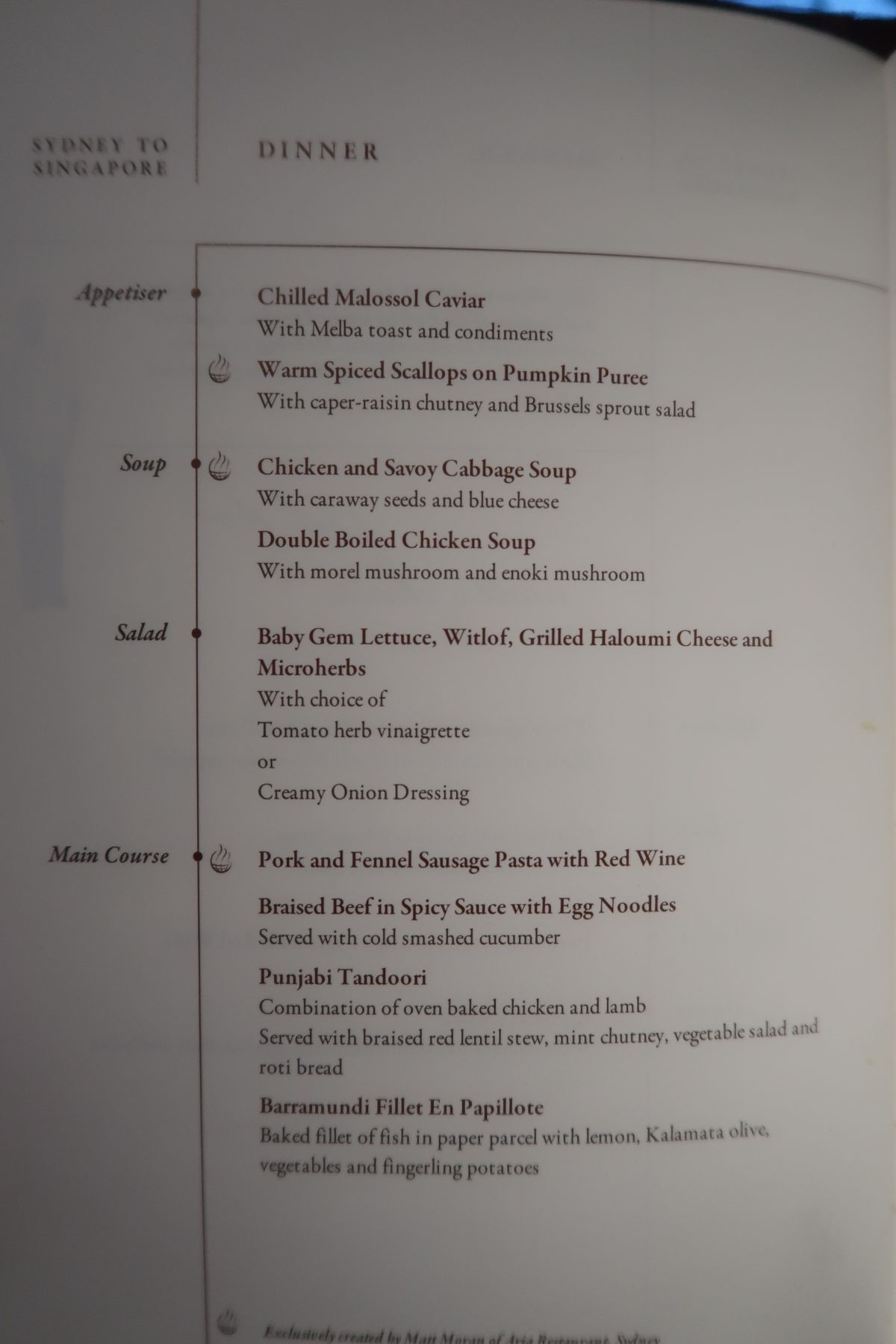 Singapore Airlines engages a team of 'celebrity chefs' who consult on the menu, food and wine pairing. For my flight, the menu featured chef Matt Moran, with recommendations of:
Appetiser – Warm spiced scallops on pumpkin puree
Soup – Chicken and savoy cabbage soup
Main – Pork and fennel sausage pasta with red wine
Dessert – Espresso parfait
If you want to finish off your meal with a night-cap, there is a fine selection of spirits available including Hennessy Cognac XO and Macallan Lumina Single Malt Whisky, with creamy vanilla, ginger and wood spice undertones. Delightful.
For coffee and tea lovers, there is an exceptional TWG selection: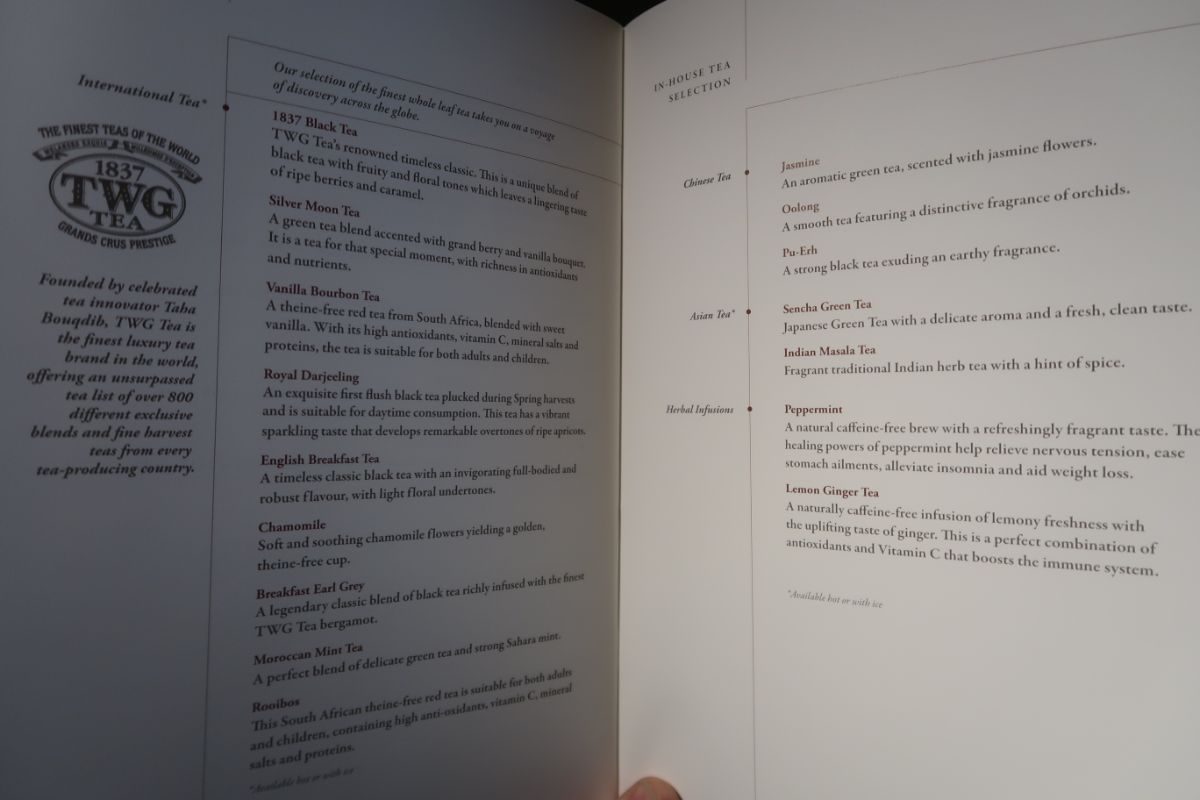 My only complaint around meals is general and not confined to Singapore Airlines, the food needs an update to lighter and healthier options reflecting the fact that the passenger is sedentary. Particularly in first class, food is too rich.
Throughout my meal and after, cabin crew are attentive and discretely available. Nothing is too much bother and they are extremely good at their job.
Singapore Airlines old A380 first class double bed
As I mentioned earlier, a central pair of suites were vacant and I was able to ask the cabin crew to present a double-configuration for our readers. In 5 minutes flat, the beds were made up and Champagne arrived on cue.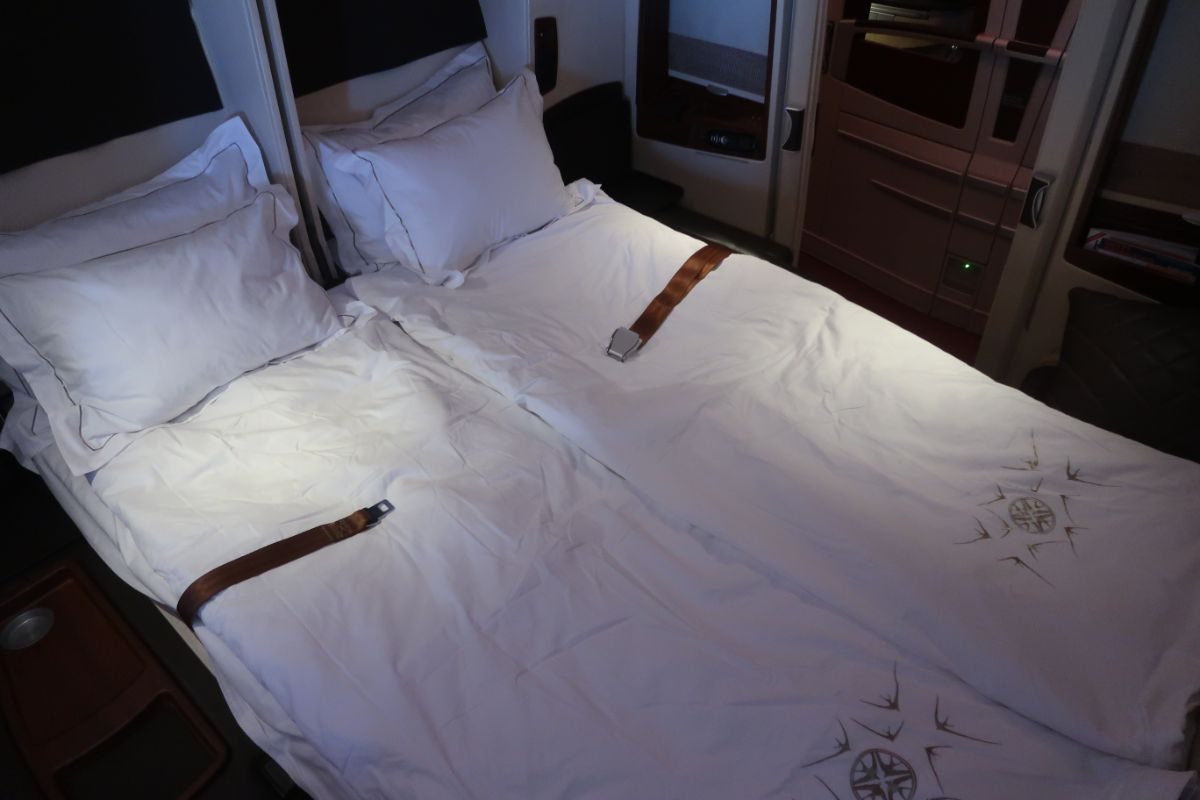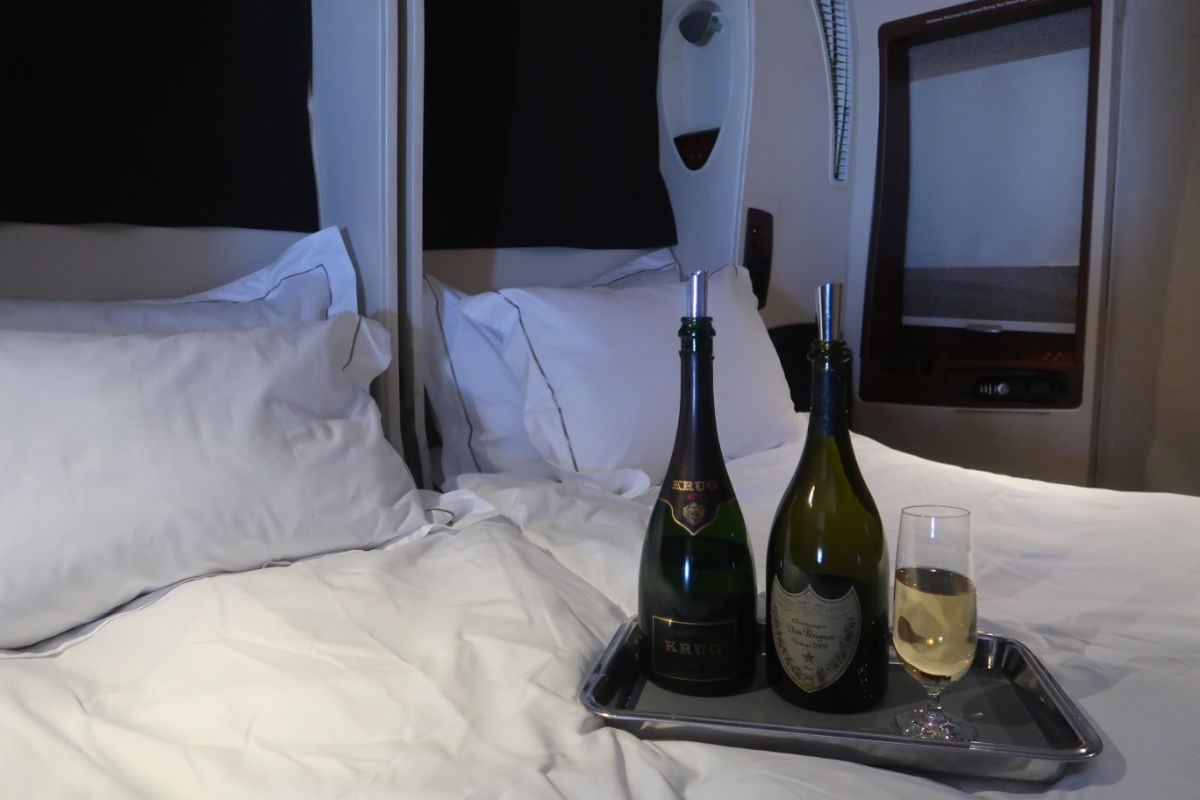 The double-suite still represents great value as there is clearly more space around the beds than the window seating. With a divider down the centre, privacy is maintained. A couple can choose to set one half of the suit up as a dining/seating arrangement and the other half could be kept as a bed.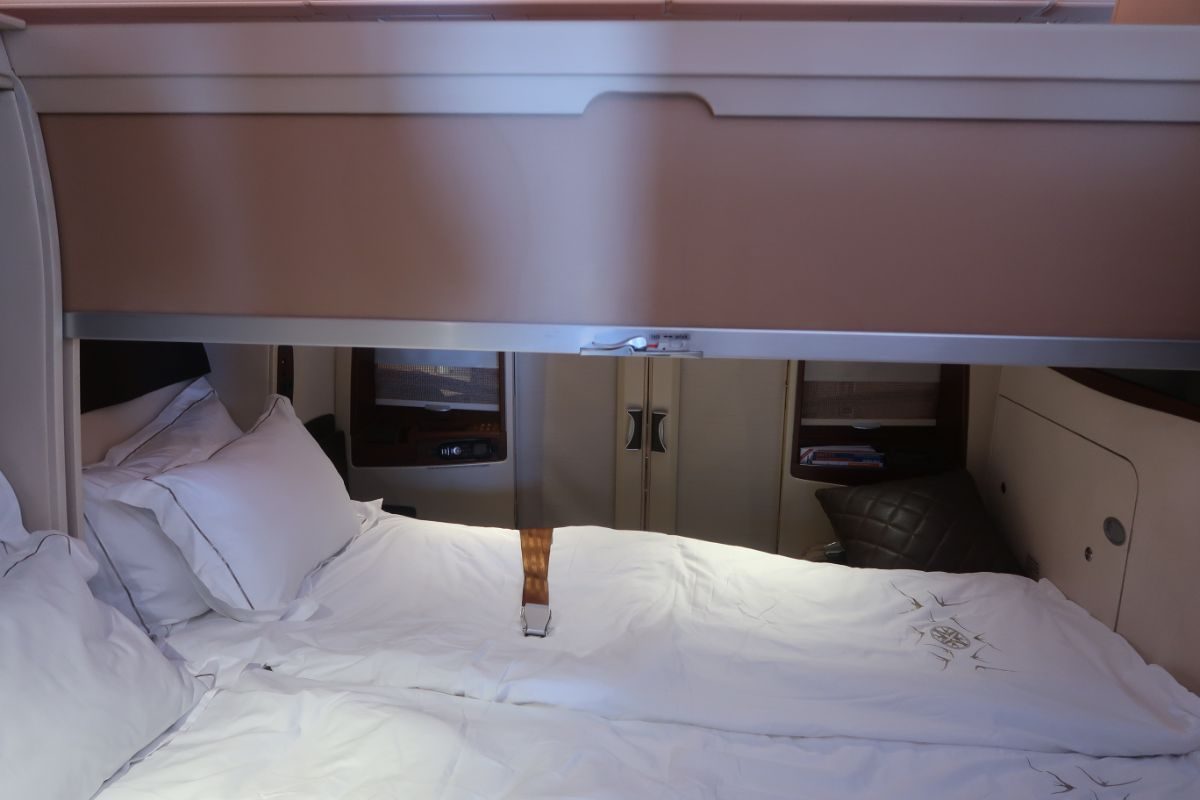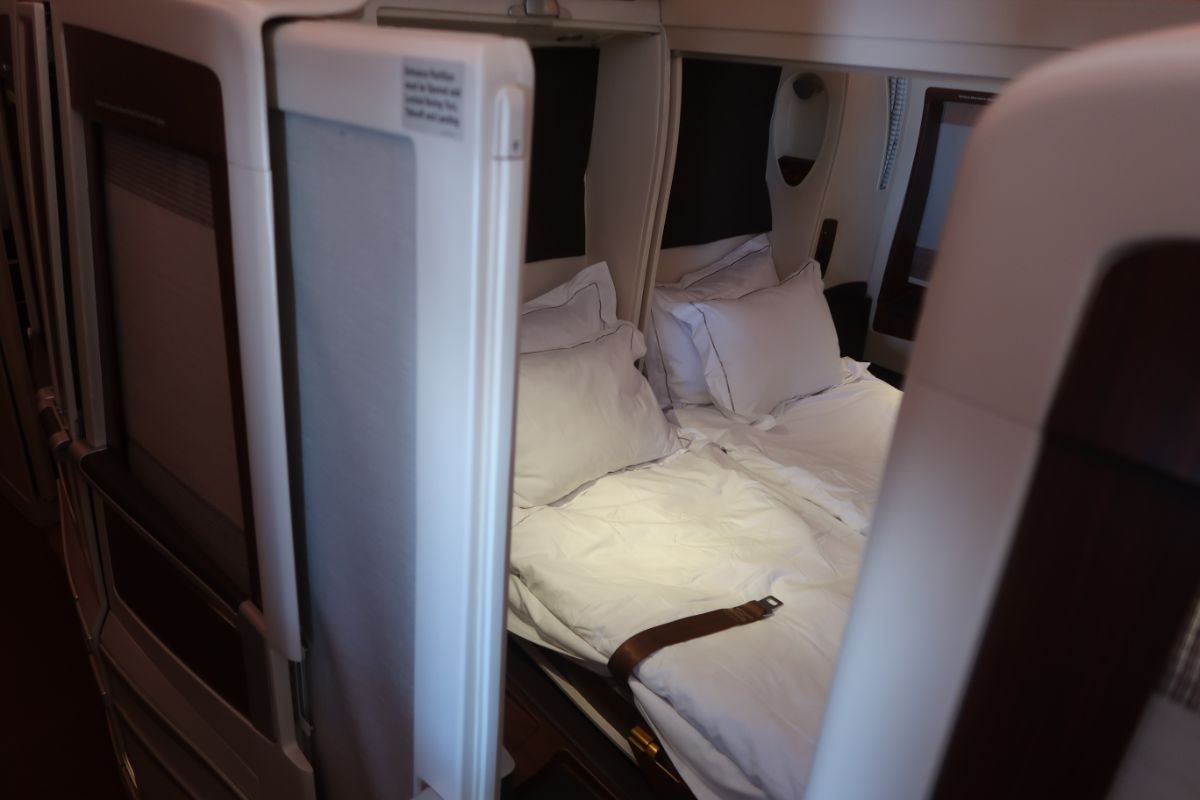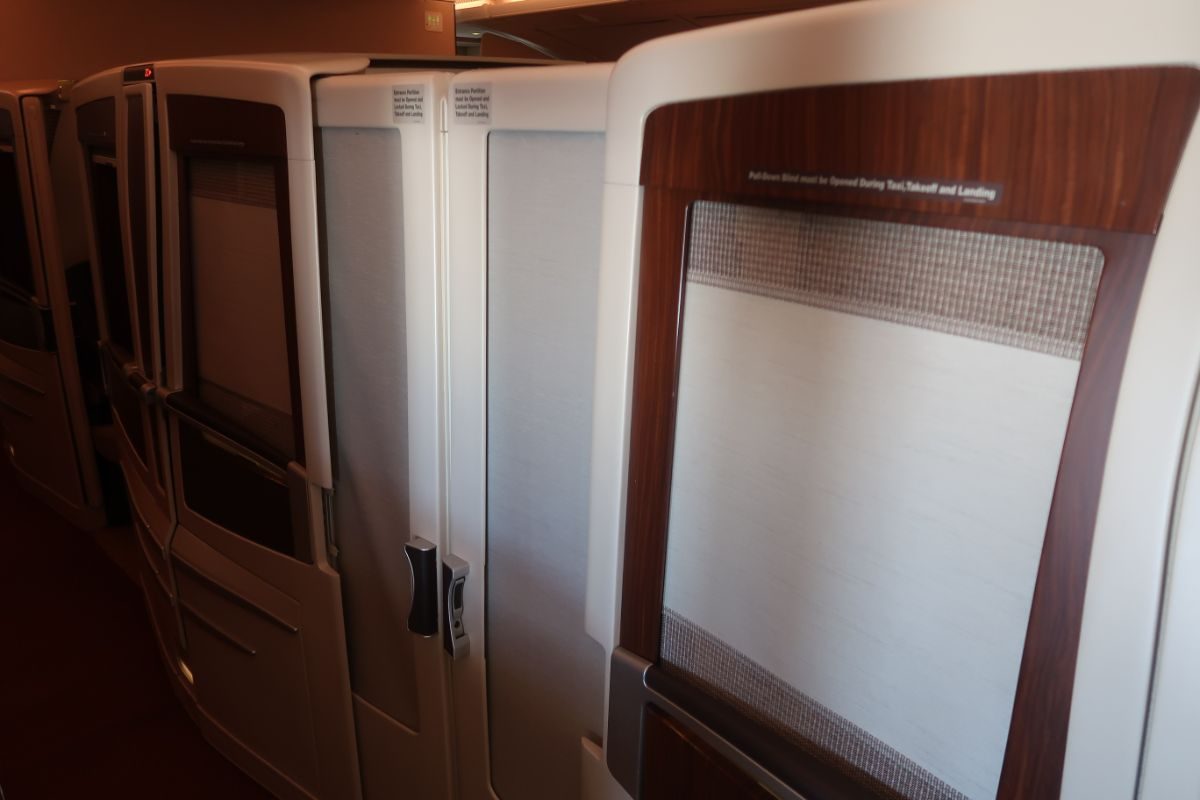 Singapore Airlines old A380 first class entertainment
Time really does fly on this flight and you can doze or watch the KrisWorld entertainment selection. Singapore Airlines has an extensive selection of shows and movies, and in my opinion, superior to the Middle Eastern carriers.
The Bang & Olufsen headset is elegantly presented in its own case. It's also very comfortable to wear.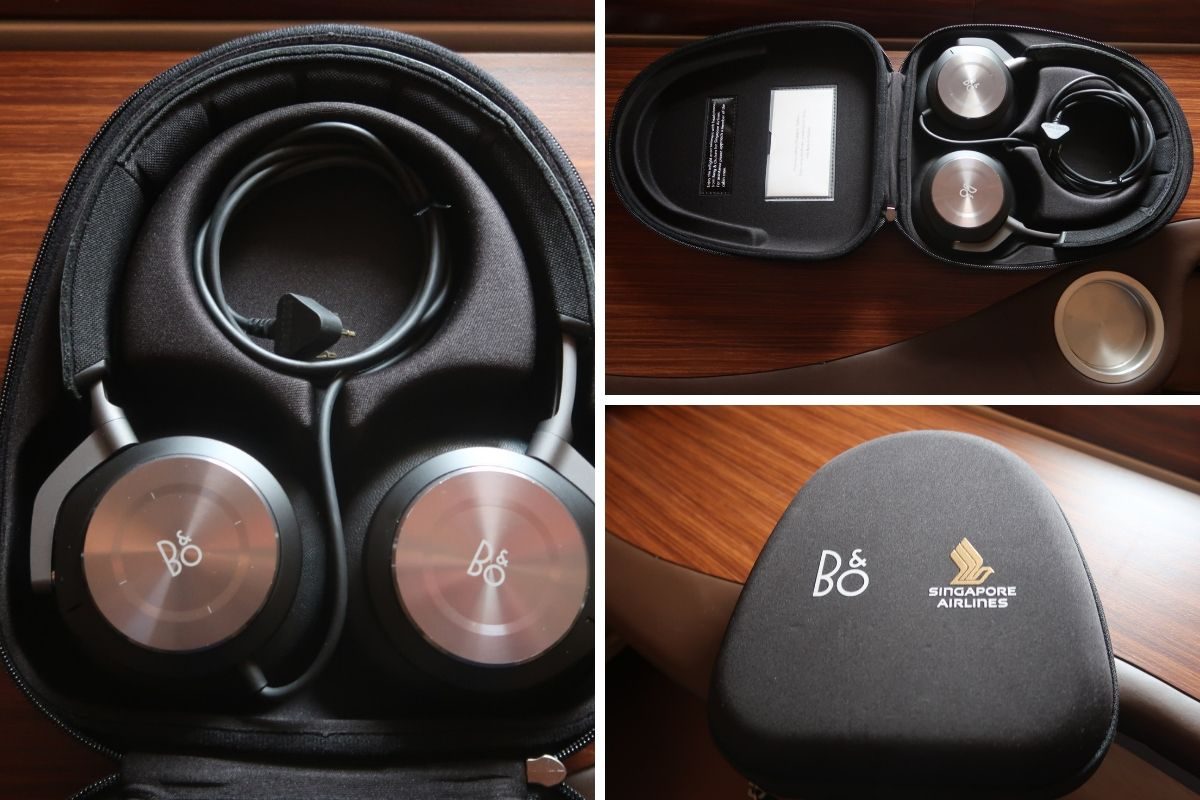 I myself use the inflight Wi-Fi which was adequate for messages and email and the odd webpage, but nothing more.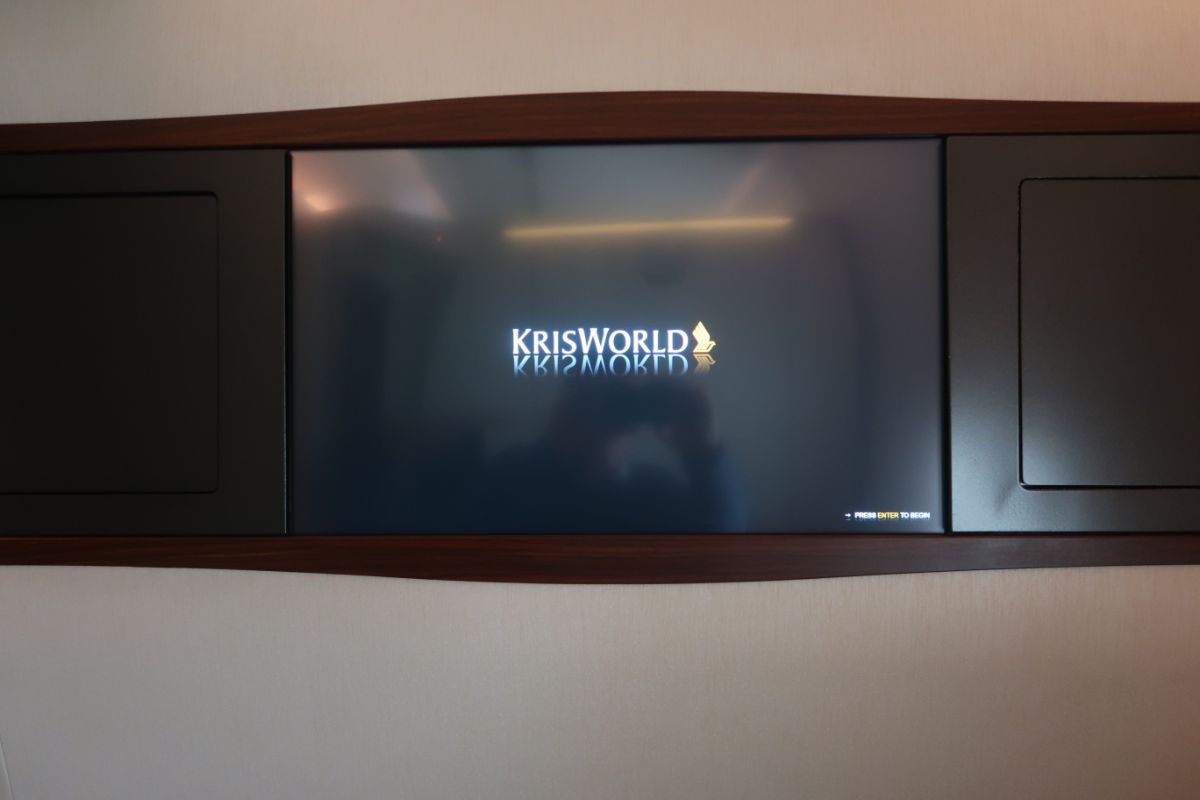 Singapore Airlines old A380 first class amenity kit
Even on afternoon flights, Singapore Airlines provides first class passengers with a set of pyjamas. These are Lalique-made and are incredibly comfortable, but I didn't wear mine, being a day flight.
The Lalique Amenities Kit features a scented candle (with a "do not use on the plane label"), soap, lip balm and moisturiser all presented in a beautiful cube case.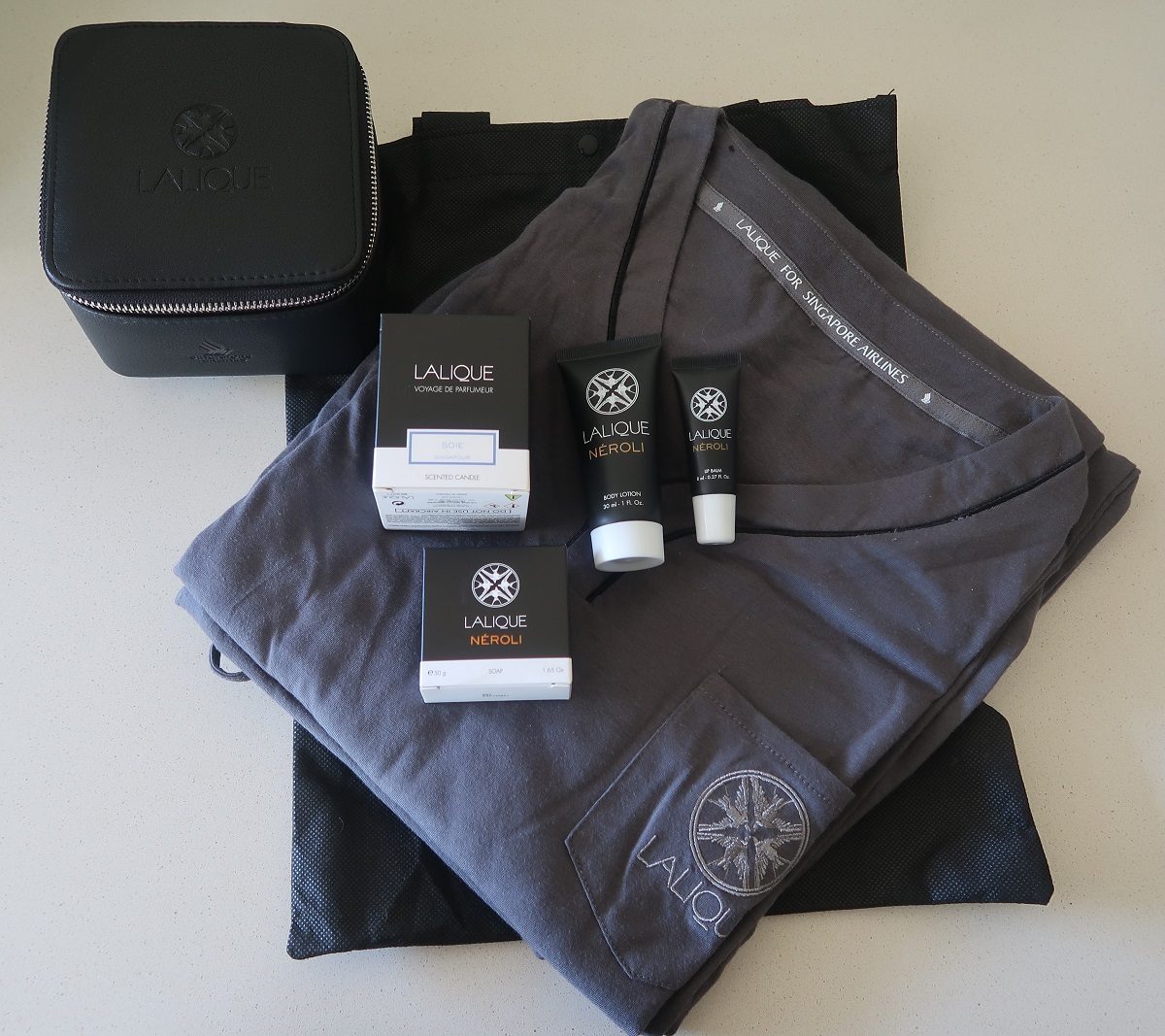 Landing in Singapore Changi
Getting off the plane first, you can be through customs and security inside of 10 minutes. Landing time is not at peak times, so everything is efficient.
RELATED: Visiting the Jewel at Changi Airport
Singapore Airlines old A380 First Class Suite – Verdict
While the decor is starting to look a little tired, flying in the old Singapore Airlines A380 first-class suite is still a great experience and arguably still one of the very best first-class products in the sky. When you enjoy the famous Singapore Airlines hospitality and 'soft product' then there is really nothing to fault.
And, if you're looking to redeem with points, it goes without saying that you're far more likely to find availability in the old suites vs the new.
Have you tried the Singapore Airlines old A380 first class suite?
While you're here: Subscribe to our newsletter for the latest tips, deals and news. It only takes a few seconds and we respect your privacy: