Virgin Australia's impressive yet accessible new Lounge boasts stylish spaces, revamped dining and a variety of relaxation spaces.
Virgin Australia has today revealed its highly anticipated Lounge concept with the opening of the airline's new Adelaide Airport Lounge.
Adelaide-based frequent flyers have been waiting patiently for the Lounge, which was initially set to open in April 2020 following the closure of the previous space. However, the impact of Covid and Virgin Australia's collapse into administration resulted in an extended 12-month delay.
As part of the launch, the Champagne Mile had the opportunity to test out the new facilities. Here's what you can expect.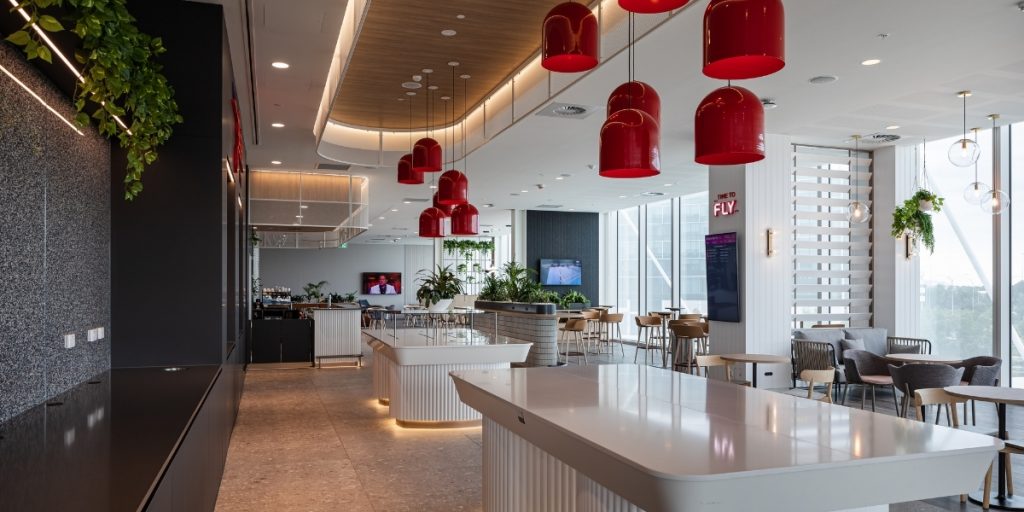 First up: Where to find the Lounge
The Virgin Australia Lounge at Adelaide Airport is located next to the Penfolds bar and near to Gates 14 and 15 in Adelaide Airport's single terminal. Exiting from security, the Lounge is a short 3 minute walk.
Virgin Australia Adelaide Lounge: The Space
Designed by Brisbane's WMK Architecture, the 283-seat Virgin Australia Adelaide Lounge delivers over 1000 square metres of bright, functional space to relax, work or dine in.
The Lounge incorporates a number of different areas, designed to cater for leisure and corporate flyers. High-speed WiFi (which was a little slow on our visit) and charging stations with USB compatibility are available throughout.
Key spaces include:
The Coffee Bar: An eye-catching central café seating area, transforming from a place to unwind over a coffee during the day, turning into a wine bar at night.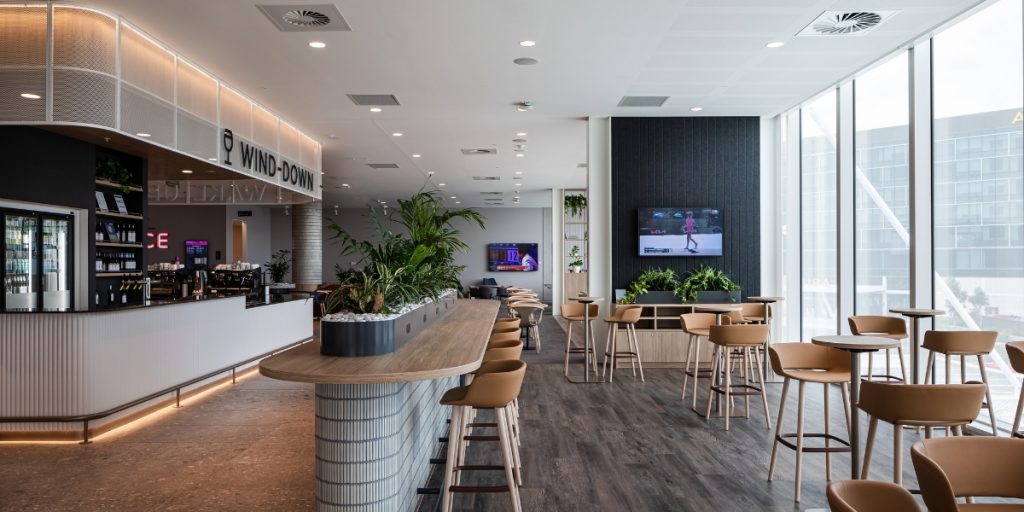 The Cellar Door Hub: With some of Australia's most awarded wineries on the doorstep of Adelaide Airport, Virgin Australia has created a feature space for South Australian wineries to bring their cellar door to the Lounge for seasonal wine tasting.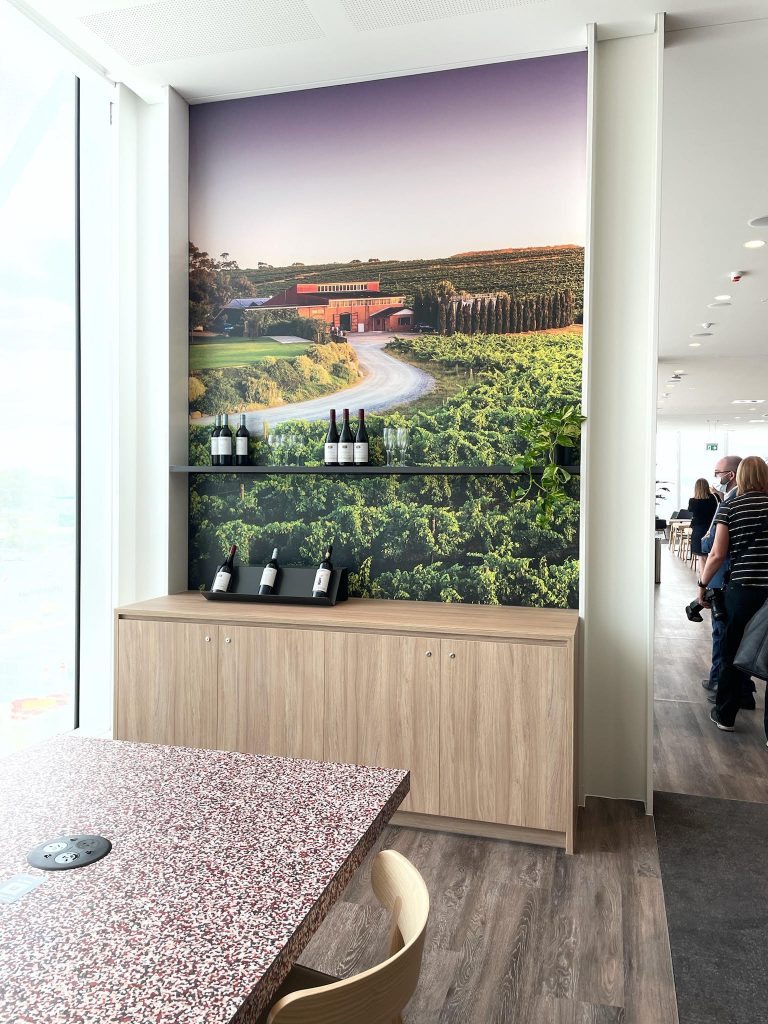 Distinct dining and seating areas: Separate dining areas with diverse functionality have been built adjacent to servery areas to cater to all guest's eating preferences, including large social tables, and banquette seating for more private dining.
The Library: A dedicated work area, The Library features workstations with PCs, printing facilities, power sockets, and desk lamps, offering a functional environment to work on the fly (work spaces continue to be available throughout COVID-19).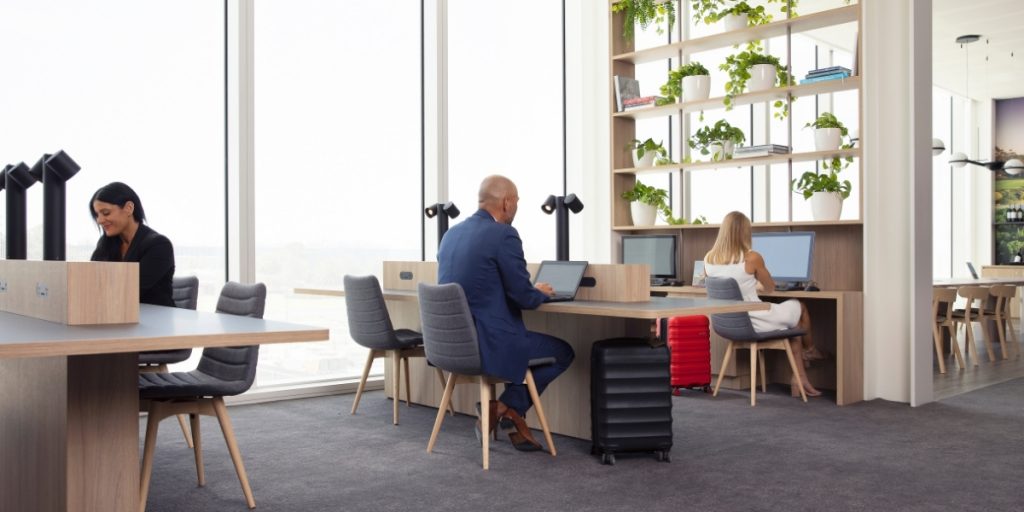 The Gallery Lounge: a chill-out zone adjacent to The Library, complete with lounge chairs and a large flat-screen television.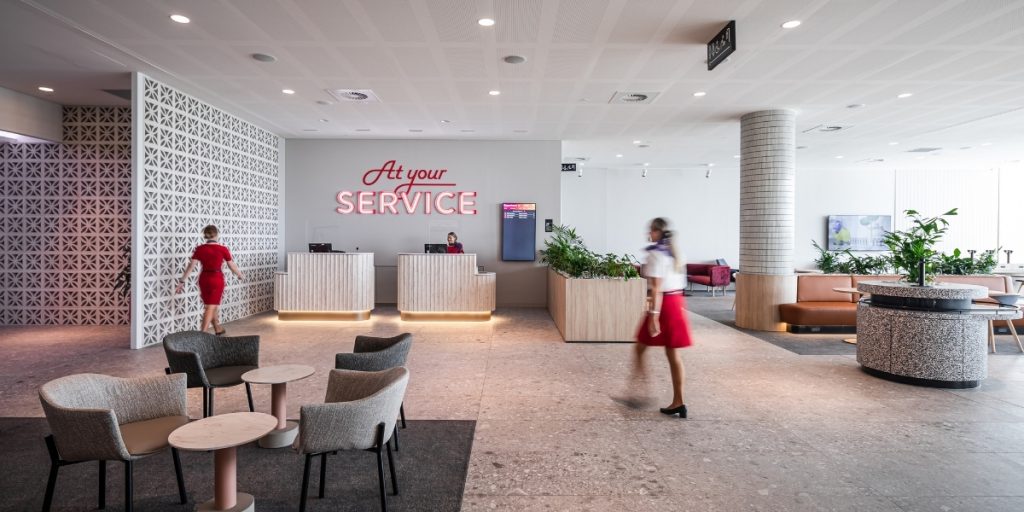 The Sunroom: With a mixture of cosy seating arrangements, this is the perfect space to sit with a loved one, friend or colleague in comfort.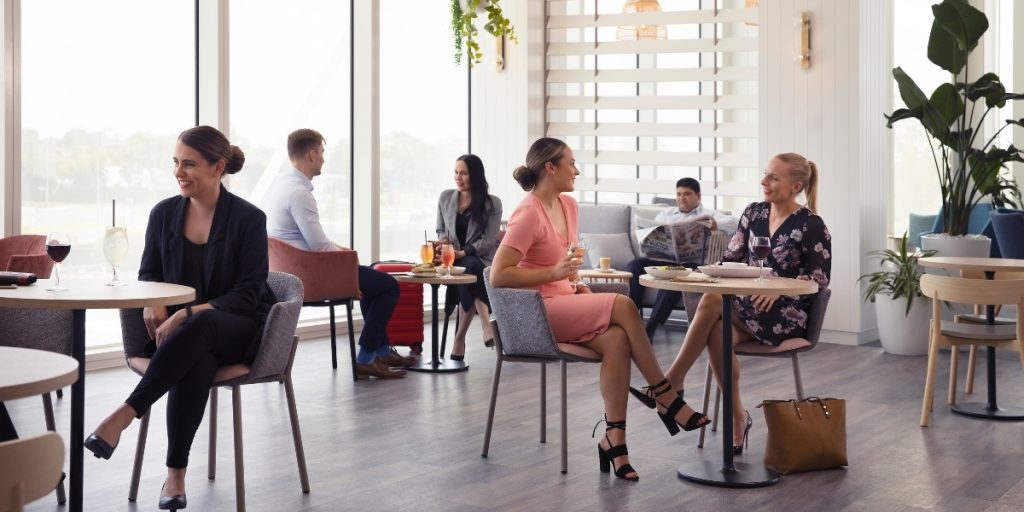 The Long Stay: Closely located next to the servery, the Long Stay is tucked away from the main entrance and provides guests with an inviting space and a wide variety of seating options.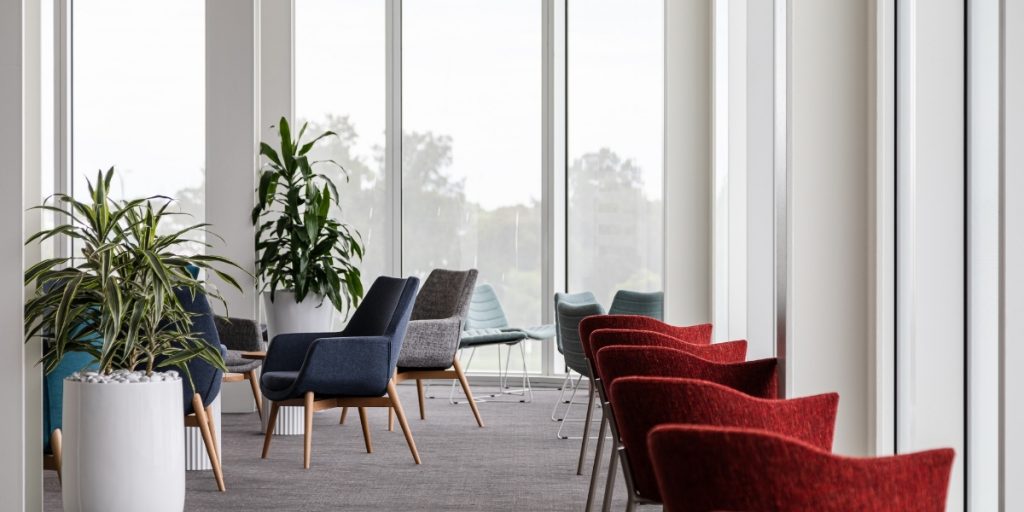 Bathrooms: The Lounge offers shower facilities with floor-to-ceiling mirrors and bench seats. The facilities are temporarily closed due to COVID-19.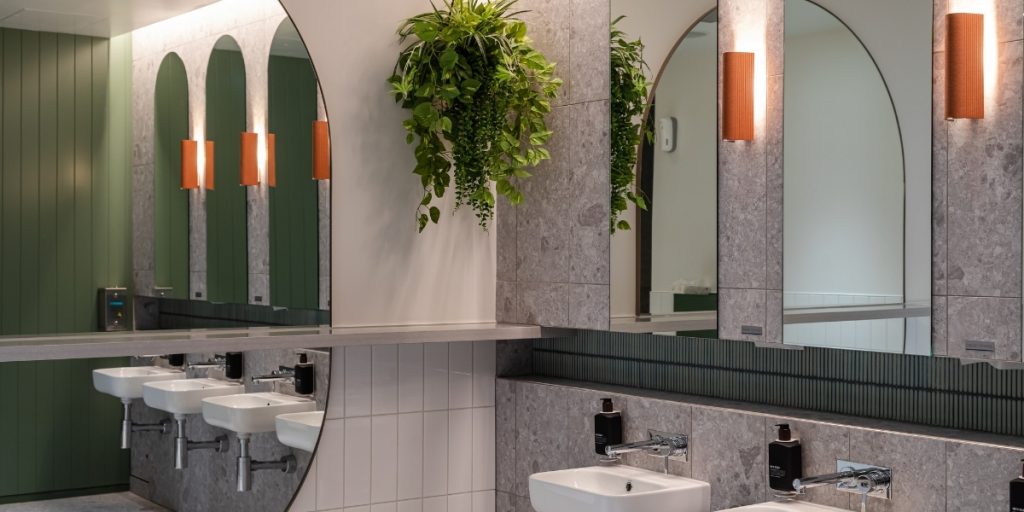 Virgin Australia Adelaide Lounge: Food and drink
To coincide with the opening, Virgin Australia has launched a new and fresh menu for guests of the Adelaide Lounge, featuring a selection of cold items. Highlight dishes include sandwiches and wraps, individual salad bowls and healthy snacks. No hot dishes are present on the standard menu.
Soft beverages on offer include barista-made coffee, premium tea and soft drinks. An array of alcoholic beverages are available from 12 pm, including South Australian wines and craft beers plus spirits.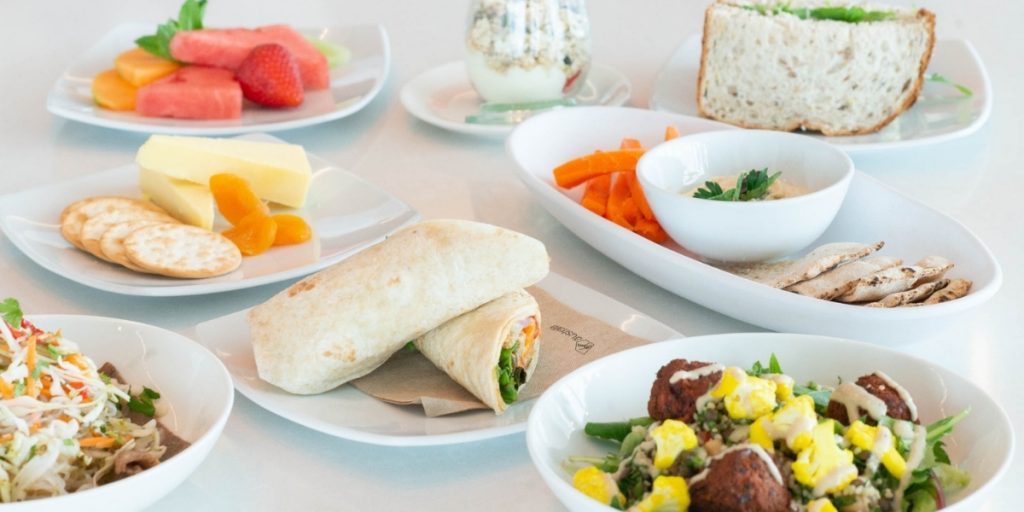 In an Australian airline first, Virgin Australia is also trialling a food ordering system, offering guests end-to-end table service. Initially available in the Adelaide and Melbourne lounges, guests will be able to order food and beverages directly to their lounge seat or table, by simply scanning a QR code and placing an order on their phone.
Final thoughts
Virgin Australia's new-look lounge concept delivers on all fronts, offering a stylish yet functional space that will appeal to both leisure and business travellers.
With all future Virgin Australia domestic Lounge refurbishments to follow the design and service concepts showcased in the Adelaide Lounge, it's positive to see the airline commit to significant investments in improving services and amenities over the next few years.
The author visited the Virgin Australia Lounge at Adelaide Airport as a guest of Virgin Australia. Supplementary images courtesy of Virgin Australia
While you're here: Subscribe to our newsletter for the latest tips, deals and news. It only takes a few seconds and we respect your privacy: