Author's Note re COVID-19: Considering a trip to Singapore with Singapore Airlines? Make sure you read our Ultimate Australia Travel Bubble Guide to learn about the Vaccinated Travel Lanes in operation with Singapore Airlines.
A review of Singapore Airlines flagship first class lounge – The Private Room (TPR).
Located at Terminal 3 in Changi Airport, Singapore Airline's signature flagship lounge is a highly exclusive 'room within a room'. It's located within the Silverkris first-class lounge, which is, in turn, is located within the main business lounge. The lounge is only accessible by those travelling outbound in first or suites class with Singapore Airlines. (no outside guests are allowed). PPS Club elite members and those travelling first class on other Star Alliance airlines must use the separate Silverkris first-class lounge.
I last visited the lounge early in February. After a seven-hour flight early in the morning, I had almost twelve hours to kill until boarding my next leg to Hong Kong. I was looking forward to heading to the lounge for coffee and breakfast before heading into the city for a day of sightseeing. I then planned to return to TPR for a light dinner before flying first class into Hong Kong that evening.
Reaching The Private Room
The main Silverkris Lounge entrance was less than a five-minute walk from my arrival gate and clearly signposted. Upon heading up the escalators to the front desk, I was met by an attendant who greeted me warmly and escorted to the Krisflyer first class lounge entrance. At this point, a second representative greeted me by name, printed off a special 'golden ticket' for The Private Room and then personally walked me through to the entrance.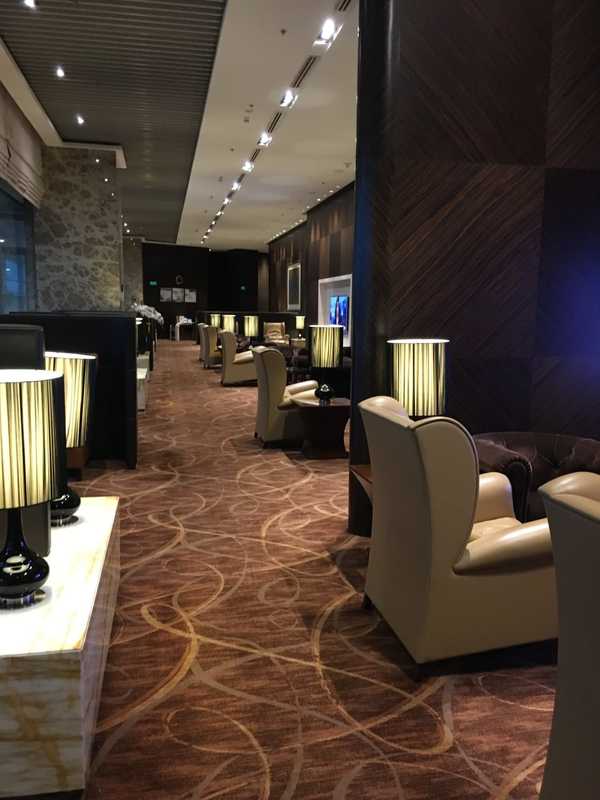 TPR is a long rectangular space. It's lavishly furnished in various hues of brown with a 'private club' feel. Soft leather and velvet armchairs are scattered around the room with marble side tables and mood lighting offsets the heavy wood panelling.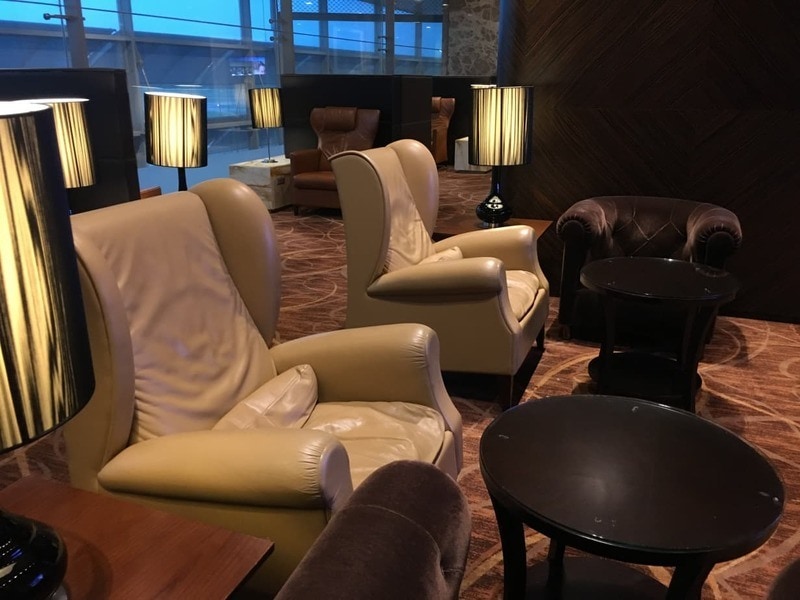 Private Dining
In the middle of the lounge, you'll find an elegant a la carte dining area…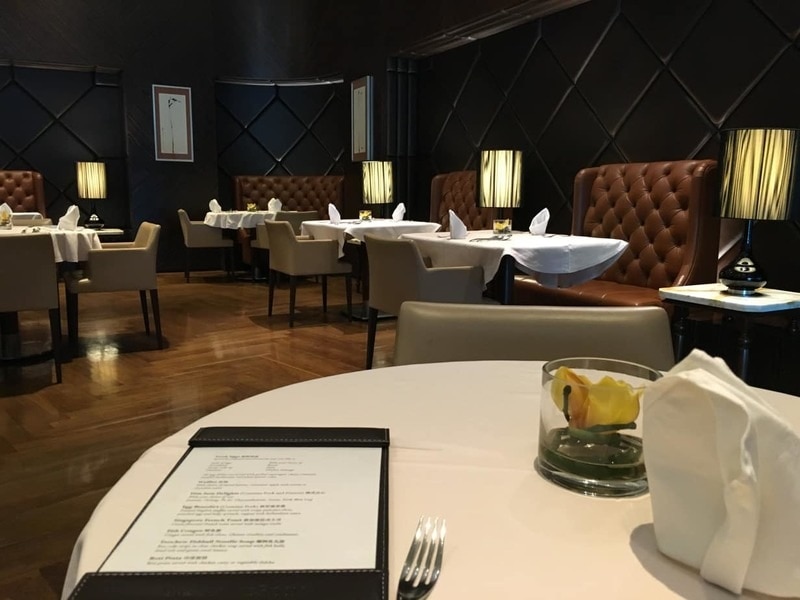 …as well as a lavish self-serve buffet.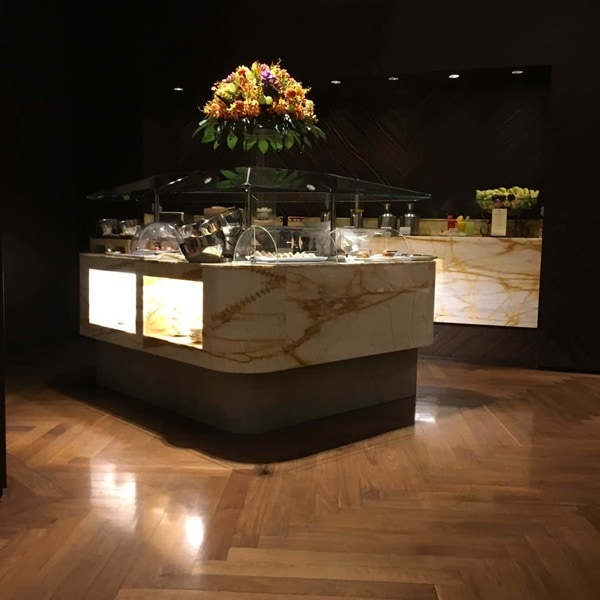 Amenities in The Private Room
Towards the back of the lounge, you'll find a very small business centre which comprises just two iMacs. Those without a laptop and who need to work would do better to backtrack into the Krisflyer first lounge. There, a long bank of computers as well as printing, fax and telephone facilities exists.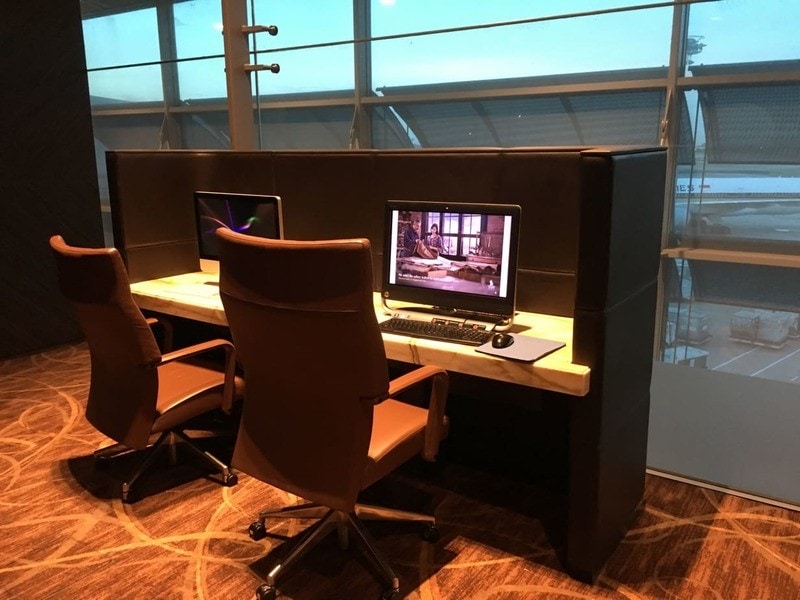 A small room sits opposite the business centre. With a basin, closeable door and a sleek change mat, this room appears to be set up for families. While it's fair to say that not many children visit TPR, the furnishings don't really make for a welcoming environment for children, and a few toys wouldn't go astray.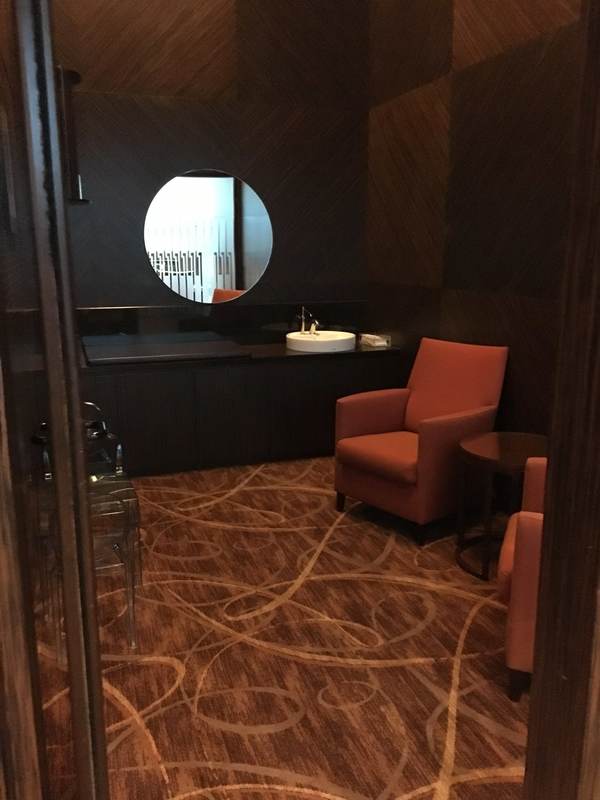 Slanted windows provide a view of the tarmac outside.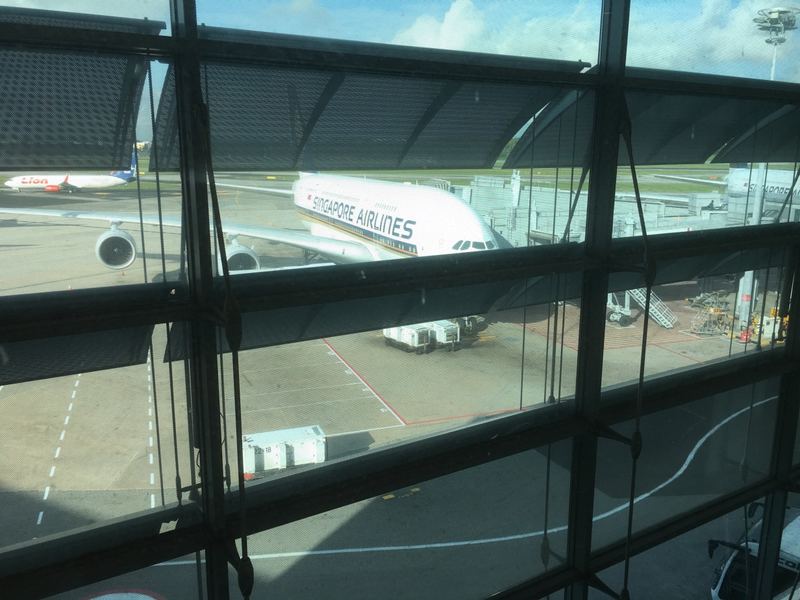 The bathrooms are spacious with large, private shower facilities and Salvatore Ferragamo amenities.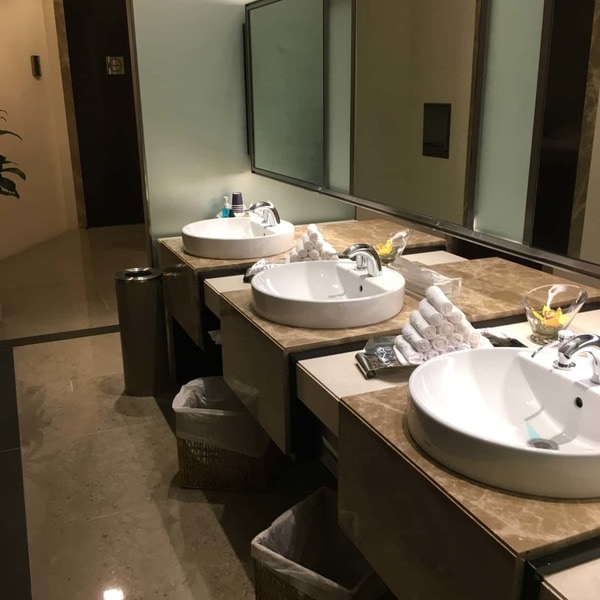 A breakfast menu is served until 11 am.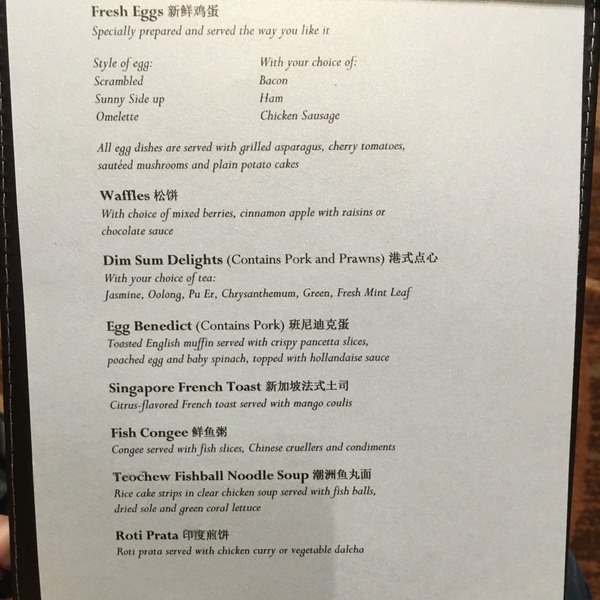 Upon sitting down, I ordered a black coffee…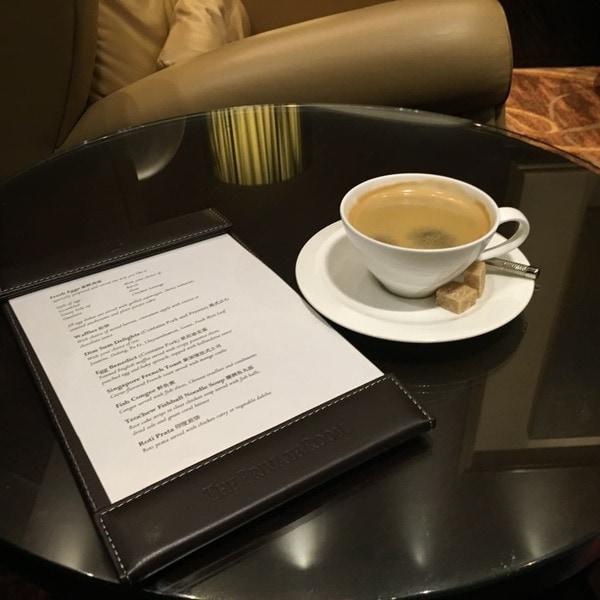 …and a half serve of the eggs benedict, which was tasty.
Returning from the city
After an afternoon spent exploring the Lion city, it was time to head back to the airport through the dedicated first class lounge check-in facility and treat myself to dinner.
The Private Room lunch and dinner menu – page 1: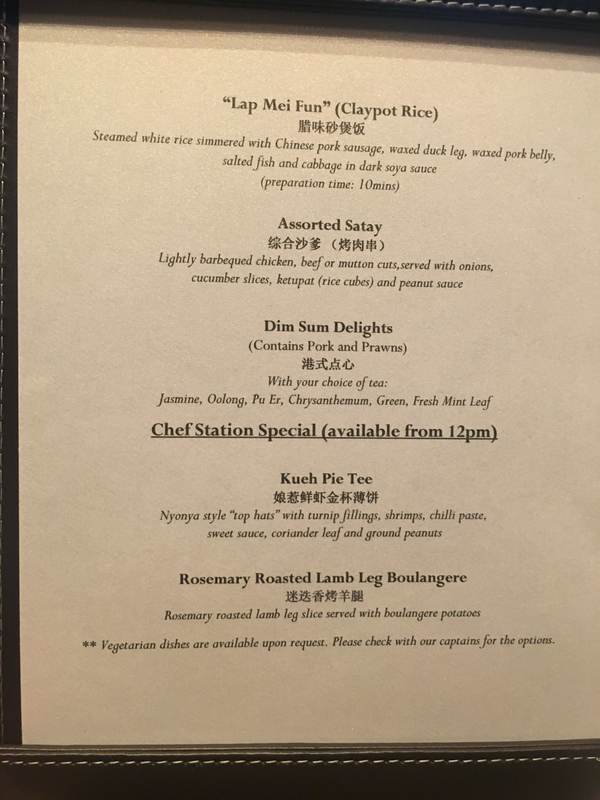 The Private Room lunch and dinner menu – page 2: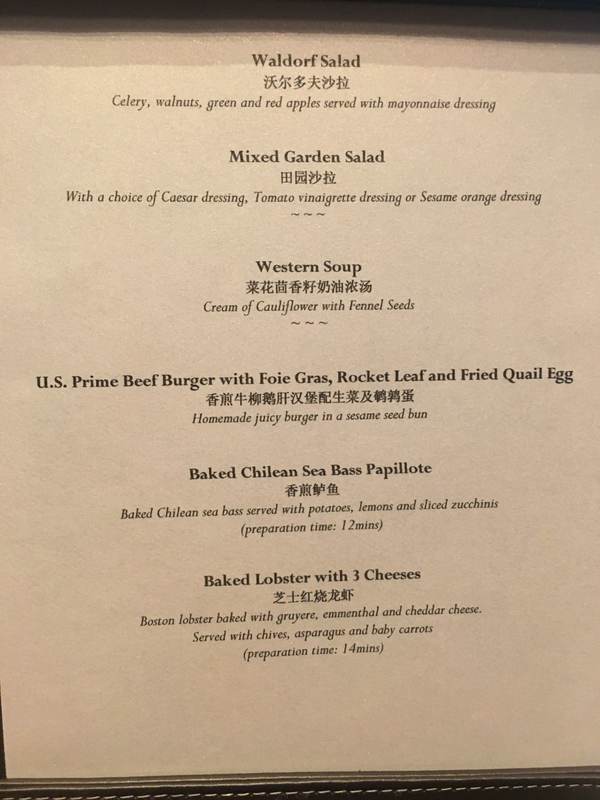 First up, I ordered a Singapore Sling. It was served in a traditional long glass and as you'd expect, it was very well made. In fact, it was better than the one I'd sampled at the Raffles Long Bar a while back.
As I'd sampled a Lobster Thermidor on my flight the night before, I couldn't quite bring myself to order the lobster baked with three kinds of cheese for dinner. Instead, I chose the US prime beef burger with foie gras, rocket leaf and fried quail egg. It was delicious, and thankfully quite a small portion, as I planned to sample the food on my upcoming flight to Hong Kong.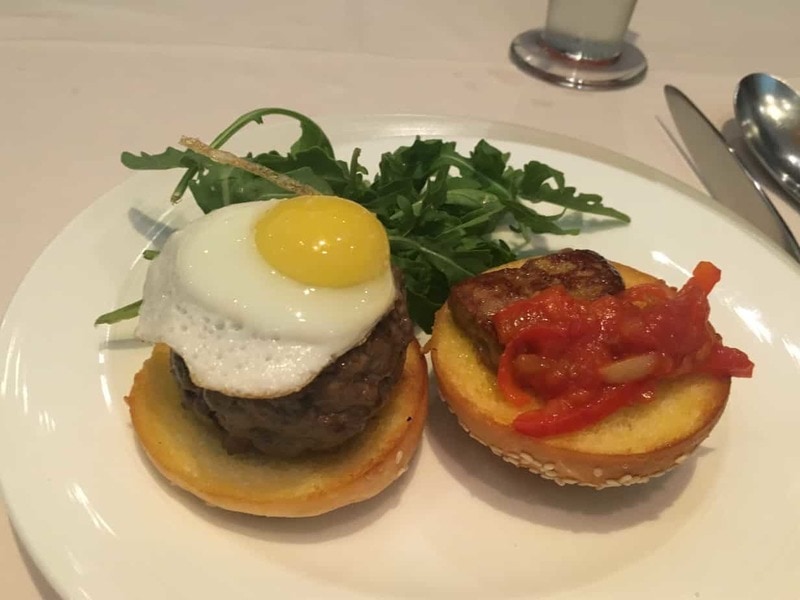 Luxury champagne and onward
I finished my evening visit to the lounge with a glass of the Charles Heidsieck Brut Reserve before it was time to walk to the gate for my flight from Singapore to Hong Kong.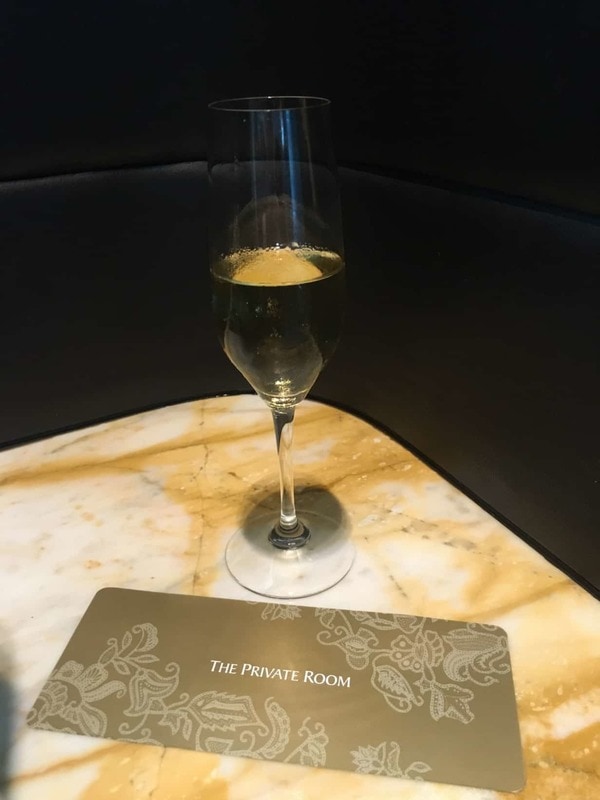 The Private Room – conclusion
There's no denying that The Private Room exudes exclusivity as a dedicated space for the first-class traveller. However, space doesn't quite live up to the hype as Singapore Airlines' top lounge in the world. With the exception of the excellent a la carte dining set up, services and amenities are far behind other flagship first-class lounges. Qantas First Lounges in Melbourne and Sydney and the Thai Airways First Lounge and Spa in Bangkok are all superior.
While it's lavishly furnished, limited business facilities, a lack of family-friendly amenities and a less than relaxed vibe mean that this probably isn't a place you'd want to spend lots of time in – either as a leisure traveller, or to catch up on work.
While you're here: Subscribe to our newsletter for the latest tips, deals and news. It only takes a few seconds and we respect your privacy: