A review of Norwegian Air Shuttle long-haul flying the Boeing 787-9 Dreamliner.
Norwegian Air (or Norwegian Air Shuttle, as it is known) is one of the largest low-cost long-haul Airlines operating globally. Norwegian Air flies to many destinations around the world, including South America.
The London Gatwick to Buenos Aires Ezeiza route is a relatively new flight that started in February 2018. After comparing pricing ahead of an upcoming trip, my husband and I were soon we were ready to book.
| | |
| --- | --- |
| Airline: | Norwegian Air |
| Route: | Buenos Aires to London |
| Flight Duration: | 13 hours |
| Flight Number(s): | DI7506 |
| Aircraft Type: | Boeing 787-9 |
| Date(s) travelled: | 11 May 2019 |
| Class: | Economy |
| Frequent Flyer Program: | Norwegian Reward |
Booking our Norwegian Air Shuttle cheap flights
We booked our round trip low-fare Buenos Aires – London – Buenos Aires tickets via the Norwegian Air site. One ticket was purchased for $903 USD, while the other cost $767.90 USD. The difference in pricing was due to two factors – we purchased different departure dates and baggage allowances. The ticket for $903 USD included one cabin baggage of max 10 kg, one checked baggage of max 20 kg, two meals onboard, and a seat reservation. The other ticket included a carry-on bag only.
Pre-departure Norwegian Air planning
Prior to travel, we were able to plan for our journey in a few different ways.
Firstly, I personally liked that it was possible to pre-order a meal during the booking process. Like many other airlines, Norwegian Air allows you to choose Child Meal, Diabetic, Gluten-Free, Muslim, No Lactose, Vegan, and Vegetarian options.
In the weeks leading up to our flight, we also received emails inviting us to bid for an upgrade to a Premium cabin seat on a Norwegian Air flight. However, we dismissed the offer.
Our Norwegian Air travel experience
On the day of departure, we arrived at the terminal and checked in through the economy class line. It was a pretty long line, so we were waiting for about 30 minutes. At the point of check-in, a desk attendant placed a yellow tag that said "Approved Baggage" on our personal bags.
Boarding and departure
Boarding was called an hour before departure and everything seemed to go well.
Before long, we embarked on our Dreamliner aircraft. What we first noticed was a spacious cabin with a 3-3-3 seating arrangement, which is more generous than many other airlines that service this route.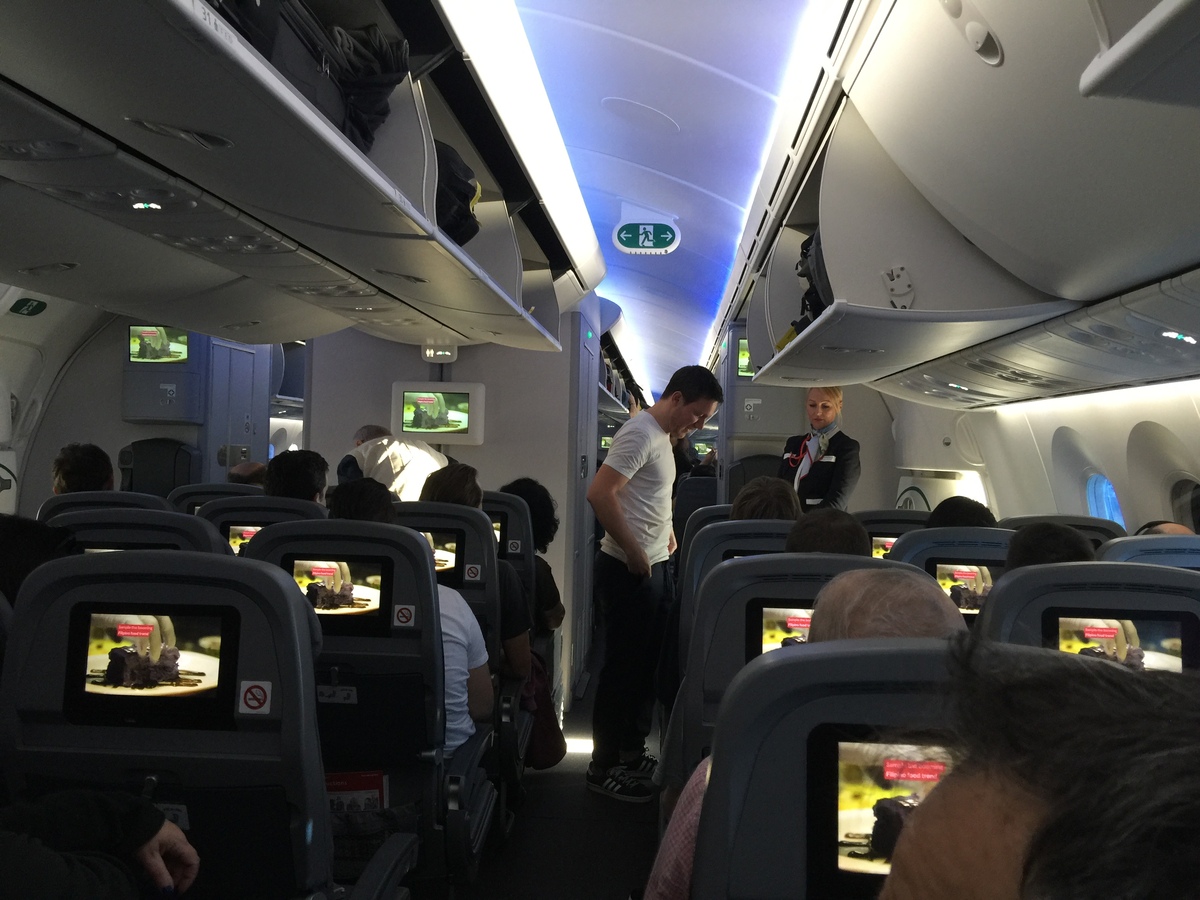 The biggest advantage of all, that we both noticed, was comfortable seats with plenty of legroom. We were relieved, knowing our long-haul flight was going to be more comfortable than any other Airline company we had experienced in economy class.
It was a special relief for my husband who is tall and has always had an issue about the lack of legroom space on other airline products (when travelling economy class).
Each Norwegian Air economy seat was covered in grey leather with red antimacassars on the headrests.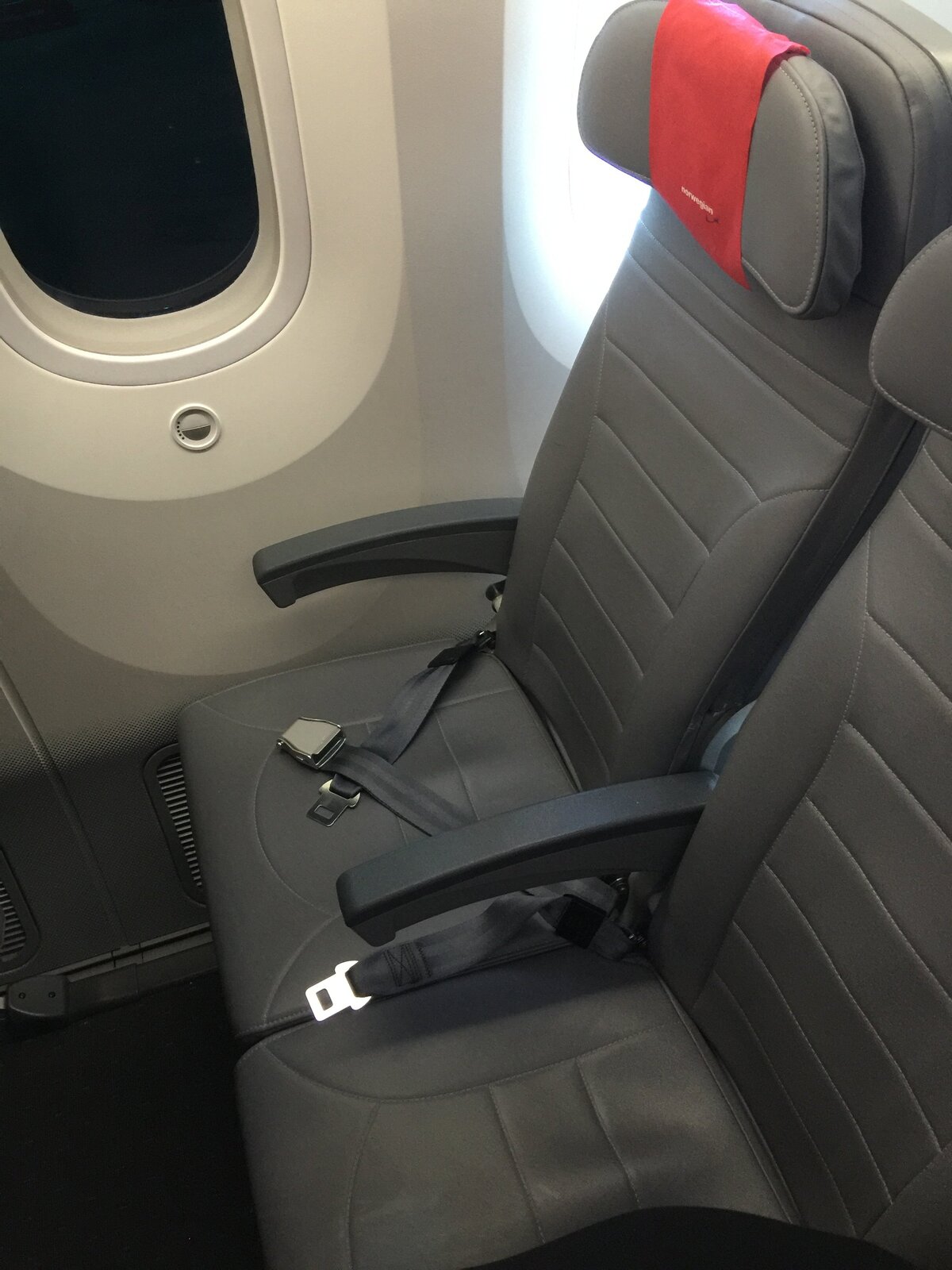 During the boarding process, the cabin crew was kind. However, during the flight, we did experience some problems. For example, when I wanted to ask for a glass of water the flight attendant rolled her eyes and brought the water to me with a very bad expression on her face. The other surprising example was when my husband was walking through the cabin (the moment when it was allowed, of course) and another flight attendant said harshly to him: "Sit down, please". We were surprised and disappointed with this treatment.
Norwegian Air in-flight dining experience
Norwegian is a no-frills airline, and as a result, some amenities come at a cost. You can choose to buy earphones and blankets or, do as we did – bring it yourself.
I had purchased a LowFare+, which included the meal (a pre-ordered Vegan meal), For the meal service, the flight attendants served me first and other passengers who had requested a special meal. After that, they commenced the main service to other passengers with the common meal. Other passengers who had purchased only a Norwegian LowFare ticket (with no meal included) could purchase snacks, sandwiches, other light meals, and beverages.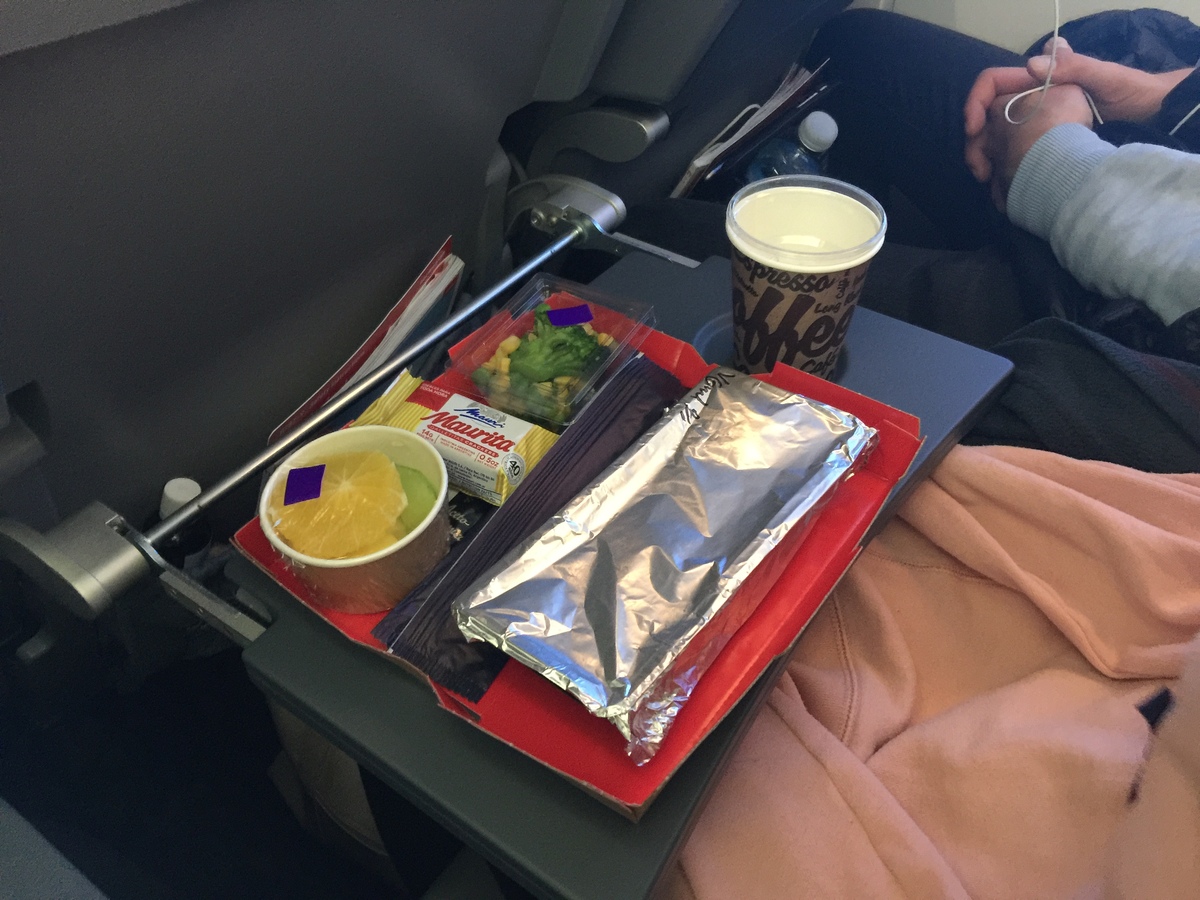 My personal experience with the meal was that it was "acceptable" but poor quantity.
Norwegian Air offers a huge range of movies, TV shows, a 3D map (with points of interest like tourist attractions), also free onboard Wi-Fi, which we didn't try.
As we prepared to land at our final destination, London Gatwick Airport, the ambient lighting changed to different colourful lights.
Norwegian Airlines review: Conclusion
Overall, our experience flying with Norwegian Air was good and we'll do it again, at least for the price (considering how much money we'd spent in the past for such a long intercontinental flight).
The things we liked the most: Competitive pricing on tickets and economy class seats with plenty of legroom.
The things that we liked least: Customer service and in-flight food (already mentioned above).
About Norwegian Air
Norwegian Air Shuttle is a Norwegian low-cost airline and Norway's largest airline. It's one of the world's most highly rewarded low-cost airlines, having been voted Europe's Best Low-Cost Airline and the World's Best Low-Cost, Long Haul Airline by passengers in the Skytrax Awards for several years running.

Where does Norwegian Air fly?
Norwegian Air flies to more than 150 different destinations worldwide. Current destinations include domestically within Scandinavia and Finland and to European cities. Norwegian also flies further afield, having launched its long-haul operation in May 2013.
Norwegian Air loyalty program
Norwegian Air operates a loyalty program named Norwegian Reward. Norwegian Reward members earn CashPoints when flying, staying at a hotel, hiring a rental car using partner offers. CashPoints can be used as full or partial payment for flights.
Members also enjoy frequent flyer benefits with Norwegian Rewards, such as CashPoint boosts, complimentary seat reservations, and free checked baggage. The more you fly, the more Rewards you can earn. You can join the Norwegian Reward program here.
Norwegian Air 787 Dreamliner
Norwegian Air is renowned for operating most international long-haul flights on new aircraft, notably the 787 Dreamliner. The Boeing Dreamliner typically offers a superior level of comfort when compared with many other low-cost airlines operating on competitive long-haul routes.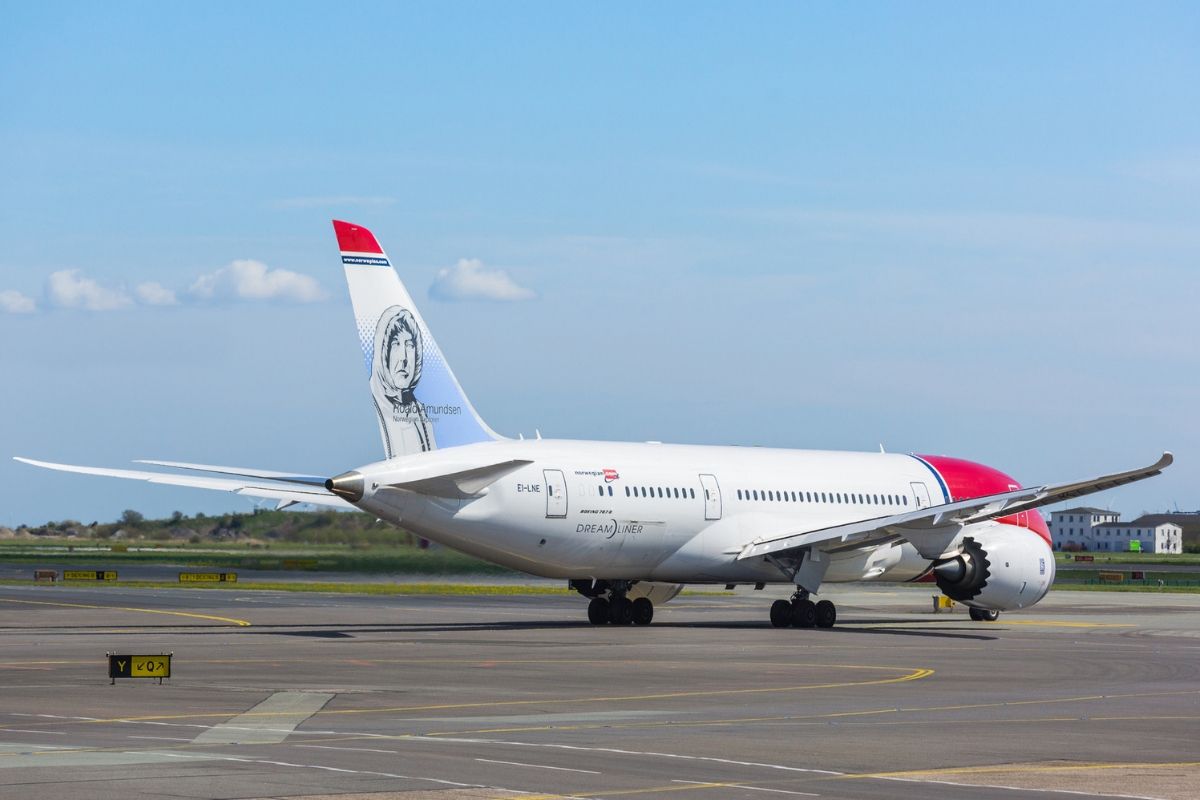 The 787 Dreamliner offers comfortable seats with plenty of room, fresh air, and optimal cabin pressure. The Norwegian Air Dreamliner also offers 65% larger windows than in comparable planes and smart mood lighting that transforms during the flight. Travel on the Dreamliner is widely considered to result in less jet lag for passengers.
This article was contributed as a guest post by Safari Nomad. You can follow Safari Nomad via the website or on Instagram.
While you're here: Subscribe to our newsletter for the latest tips, deals and news. It only takes a few seconds and we respect your privacy: