Author's Note re COVID-19: Considering a trip to Singapore with Singapore Airlines? Make sure you read our Ultimate Australia Travel Bubble Guide to learn about the Vaccinated Travel Lanes in operation with Singapore Airlines.
Recently, I flew Singapore Airlines A330 business class in an Airbus A330-300 from Singapore Changi International Airport (SIN) to Adelaide (ADL).
Singapore Airlines offers an excellent business product onboard their original and refurbished A380 and 777 aircraft, in addition to their newer 787 and A350 aircraft. SQ's fleet of leased A330-300 aircraft, which are operated on selected Asian and 'secondary' Australian markets, features a regional Business Class product that is significantly inferior.
You won't find lie-flat beds or direct aisle access here – the Singapore Airlines A330 business class cabin features a 2-2-2 layout, with angled-flat seats sporting a severe eight-degree incline.
Nevertheless, as an Adelaide resident, the ability to fly home 'direct' after an overseas trip was very appealing, and so it was that I made the decision to bypass a sleeker aircraft (and the numerous joys of Singapore Airlines' first-class suite) in favour of the A330 angle-flat seat.
Pre-departure and visit to SilverKris Business Lounge
After a super-efficient check-in process, and a breeze through outbound passport control (this was Changi Airport, after all), I was soon on my way to the Singapore Airlines SilverKris business class lounge. The Lounge is located in Terminal 3 and clustered nearby are a range of other Singapore Airlines lounges including the ultra-exclusive The Private Room which I've visited on several occasions when travelling SQ first class.
The Singapore Airlines flagship SilverKris Business Class Lounge offers passengers a range of facilities and amenities. These include lounge areas, a business centre, fast WiFi, refreshments and showers. Note that the lounge is only accessible to business class passengers – Star Alliance Gold members don't get a look in here.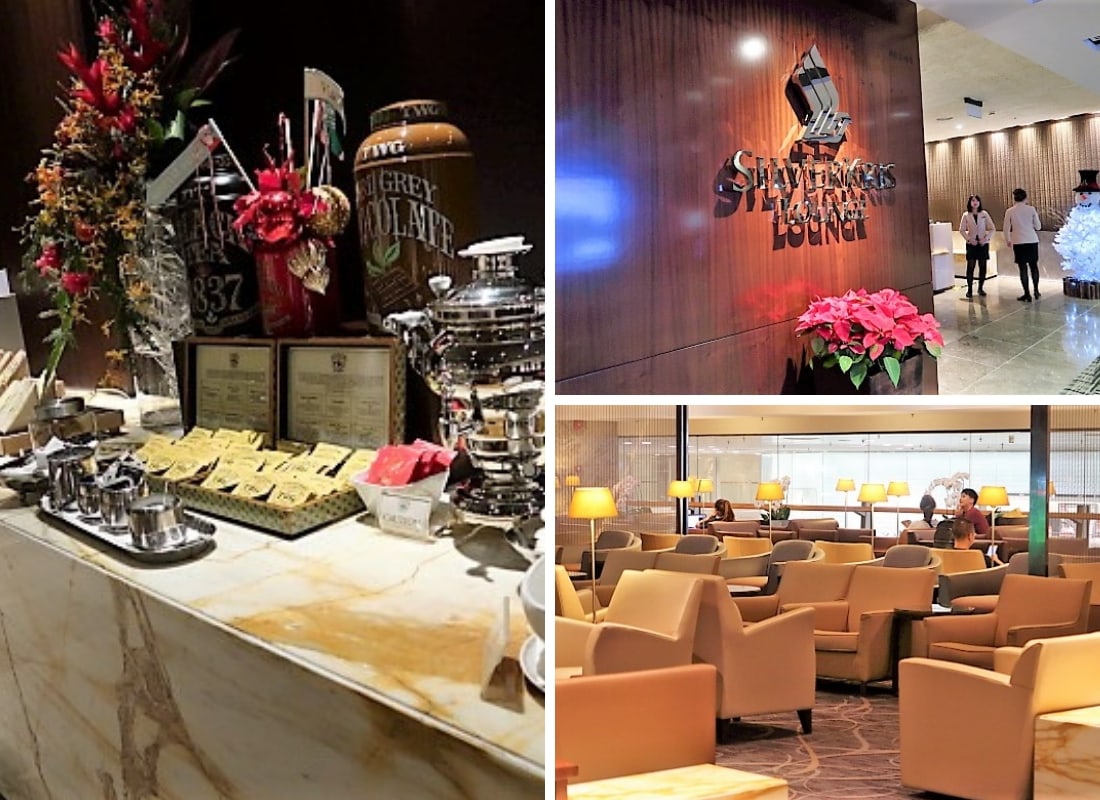 After a wander through the lounge, a light supper and a delightful cup of Paris Singapore TWG Tea (my favourite!), it was time to make my way to the gate.
Onboard: First impressions of the Singapore Airlines A330 business class cabin
Upon embarking, I was greeted by two friendly Singapore Airlines crew members, who graciously showed me to my seat. The dual-cabin A330-300 aircraft features 30 angle-flat regional business class seats at the front of the cabin in a 2-2-2 configuration, spread over an intimate five rows. Economy class, by comparison, features 255 standard seats in a 2-4-2 configuration.
Angle-flat seats aside, I was impressed with the business class cabin decor of soft camel coloured leather and beige, which, while somewhat dated, still had an air of refinement and elegance.
The Singapore Airlines A330 business class seat
While I'm usually a window seat person, I opted for a middle aisle seat on this occasion. This is because window seat passengers need to scramble over the legs of their aisle companion when the seat is in lie (angle) flat mode. This was something I wanted to avoid on my overnight journey.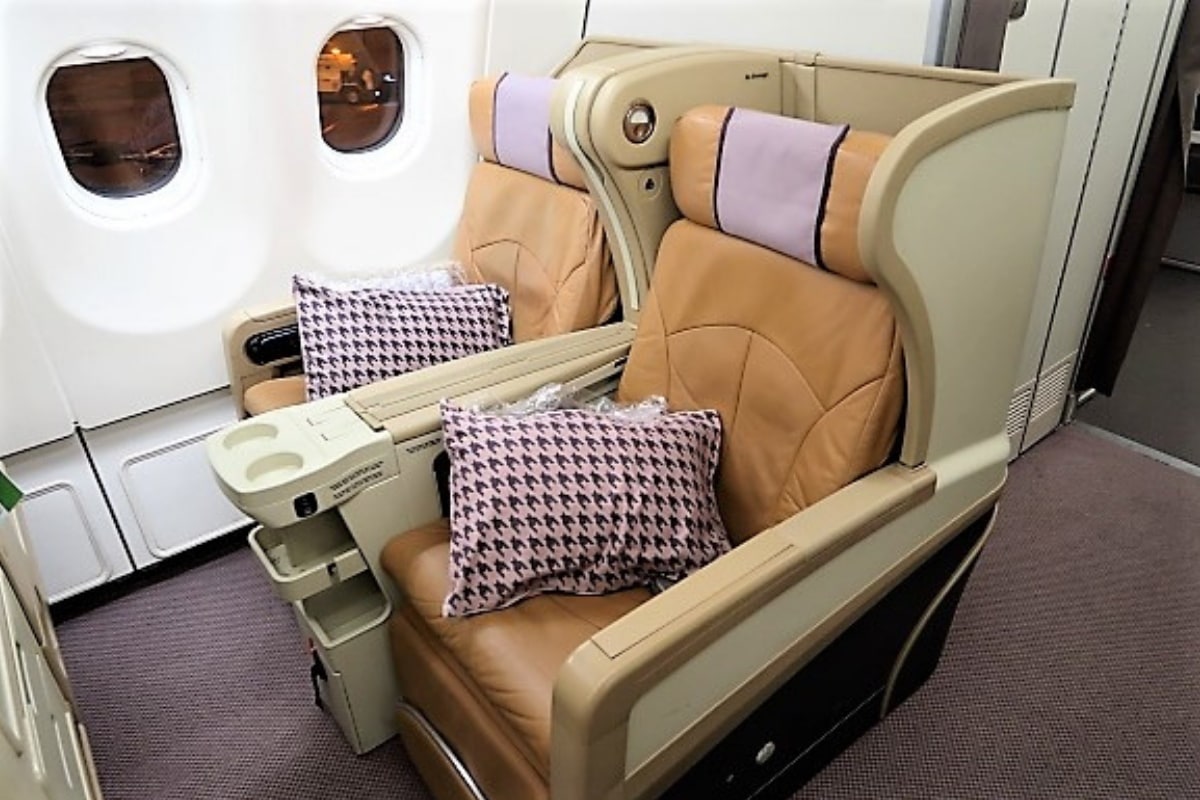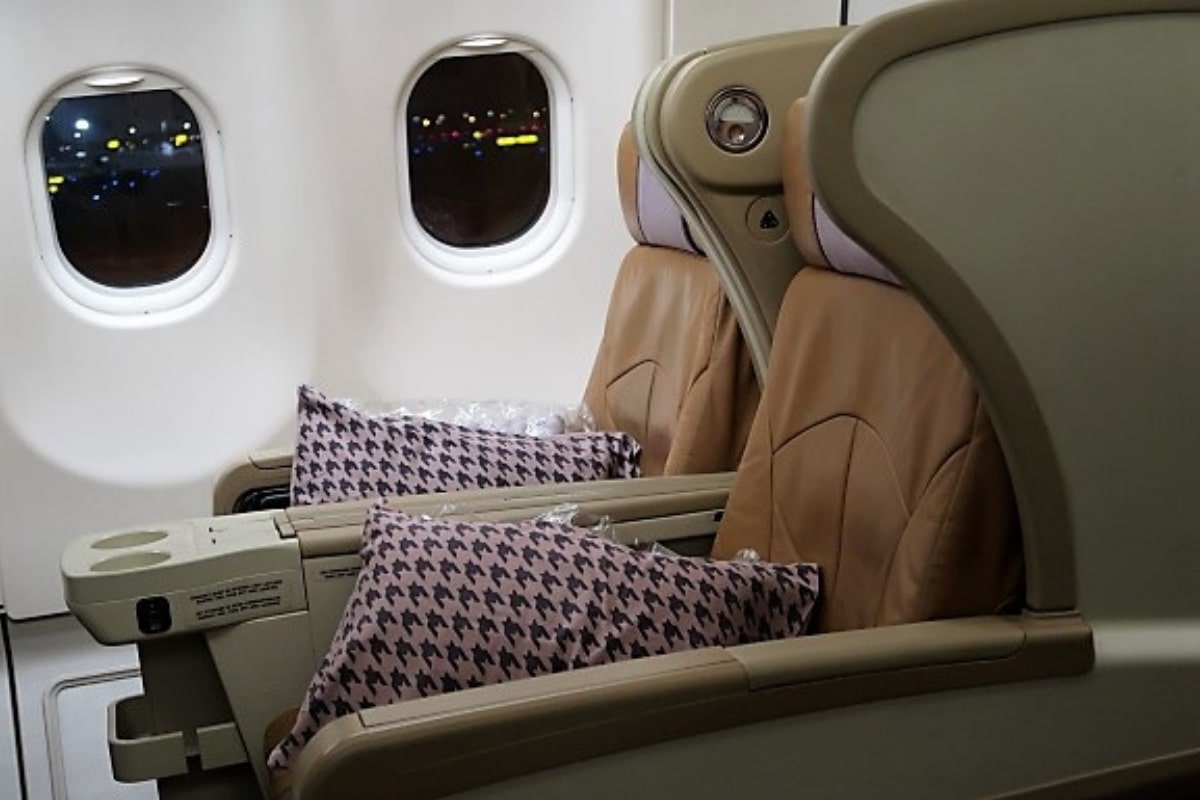 My seat was upholstered in worn but stylish caramel coloured leather. It was extremely comfortable and featured a privacy divider.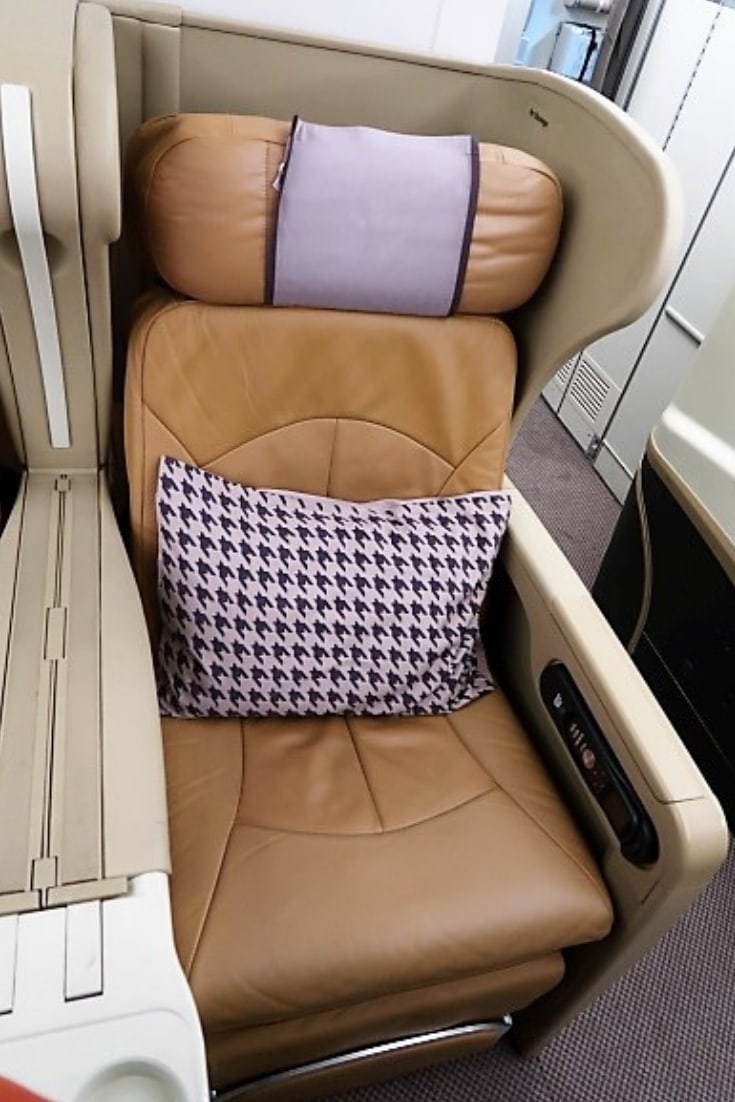 As I stretched back, I was pleasantly surprised by the available legroom and the thoughtful features on offer. These included handily-positioned AC and USB power access, plus a range of storage options.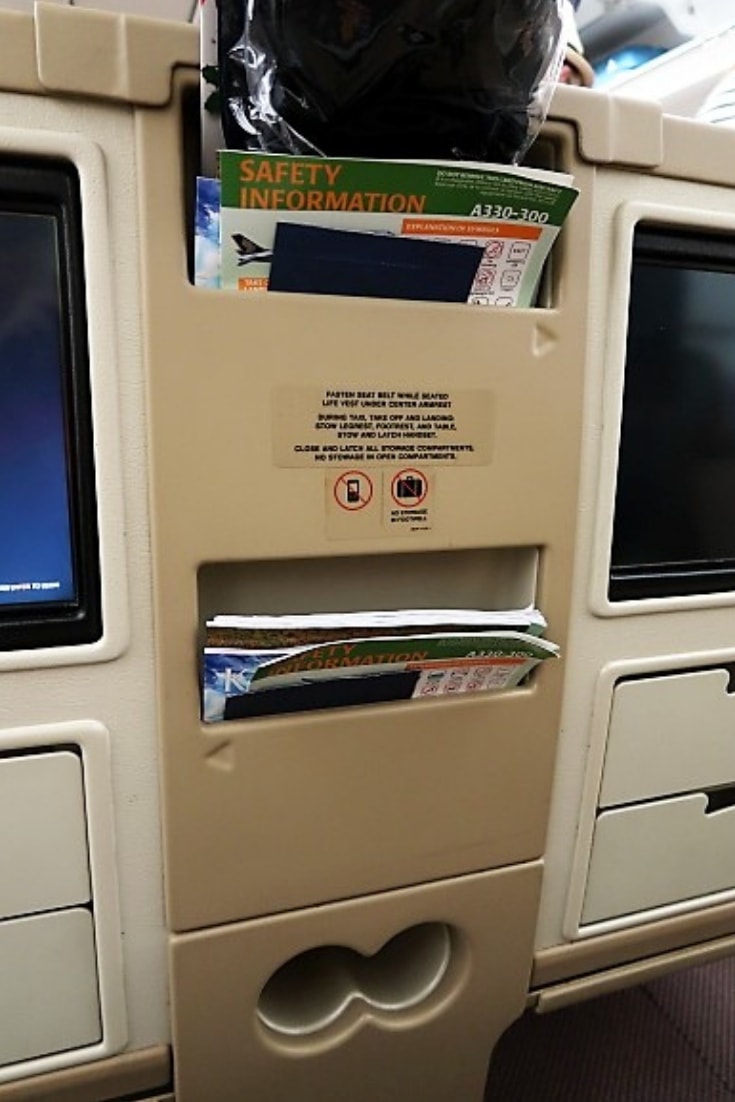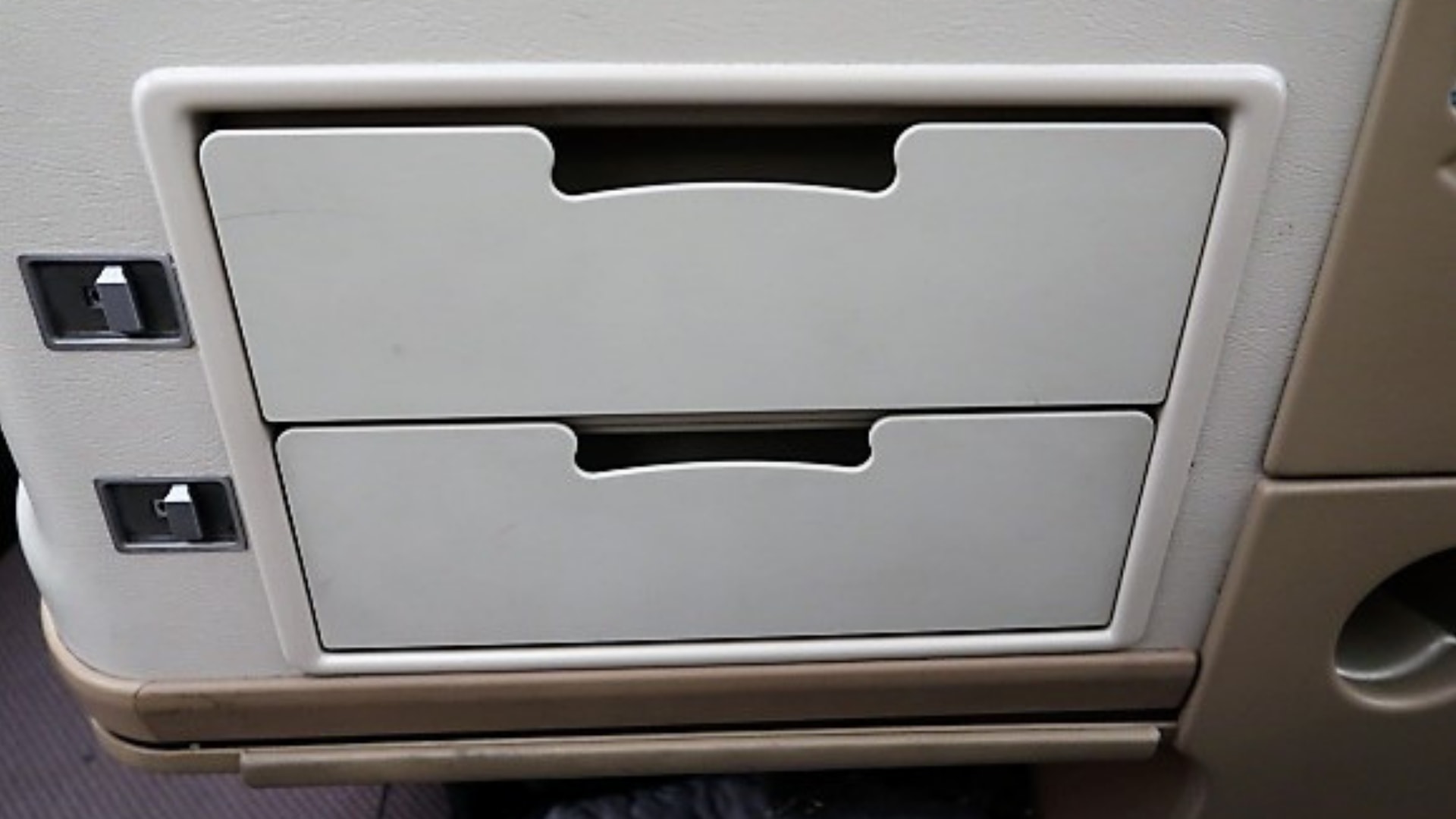 The seat is operated by a bank of controls located in the armrest…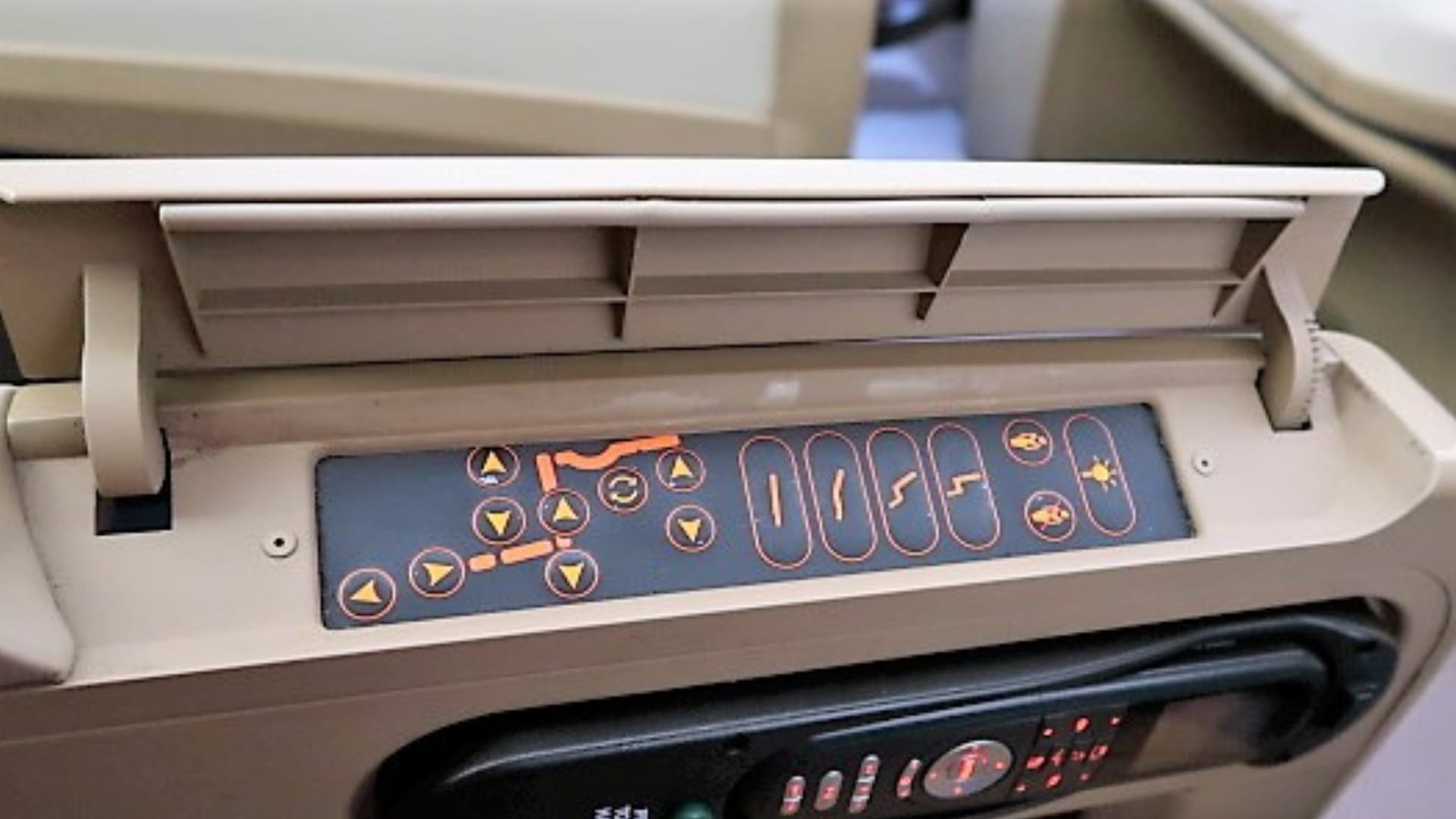 … with separate entertainment controls positioned beneath, to the side
The 15.4-inch mounted entertainment screen was an acceptable size but I found it extremely clunky to operate.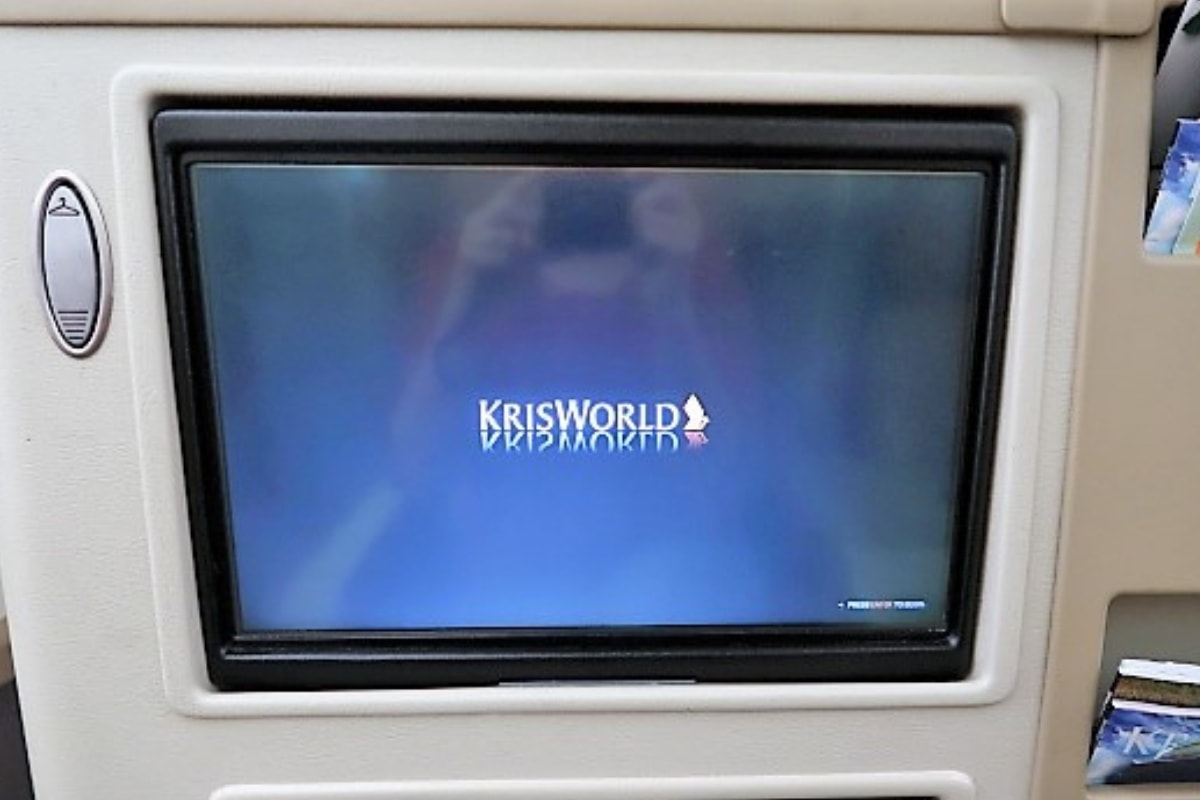 However, this wasn't a major concern as I planned to sleep for most of the overnight flight.
A pair of noise-cancelling earphones was provided to business class passengers. I tested these out, but quickly discarded these in favour of my vastly superior Bose QC35s.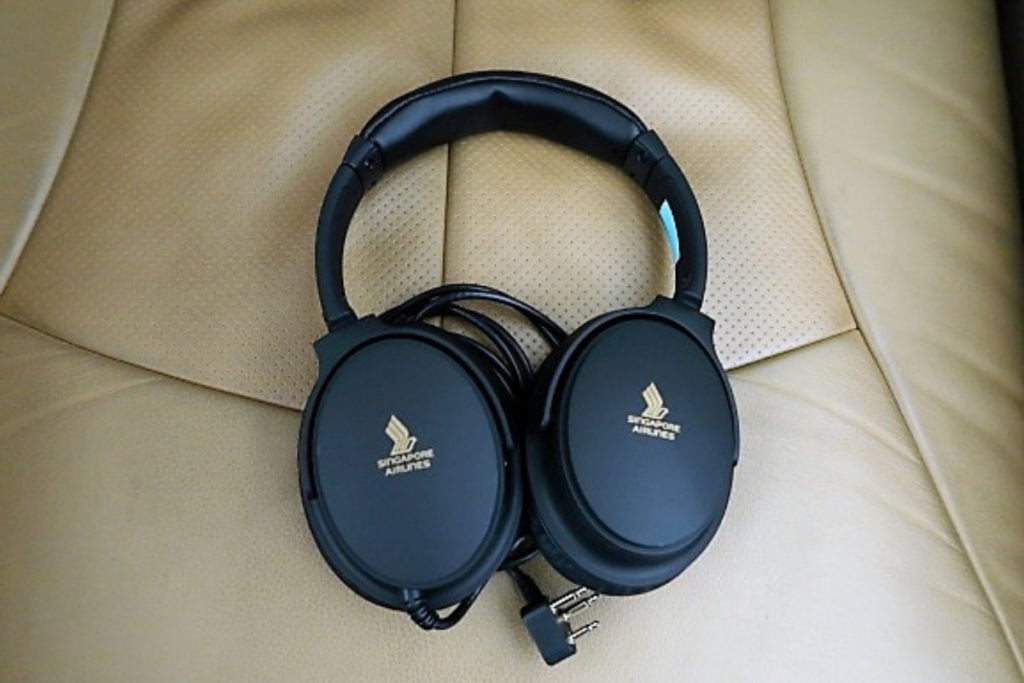 Singapore Airlines A330 business class service
As I settled into my seat, the friendly cabin crew came around to offer a hot towel and pre-departure glass of Champagne. On offer was Charles Heidsieck brut, the same Champagne served on Japan Airlines business class. While pleasant, it is somewhat inferior to the vintage Taittinger Millesime bubbles that used to feature on this route.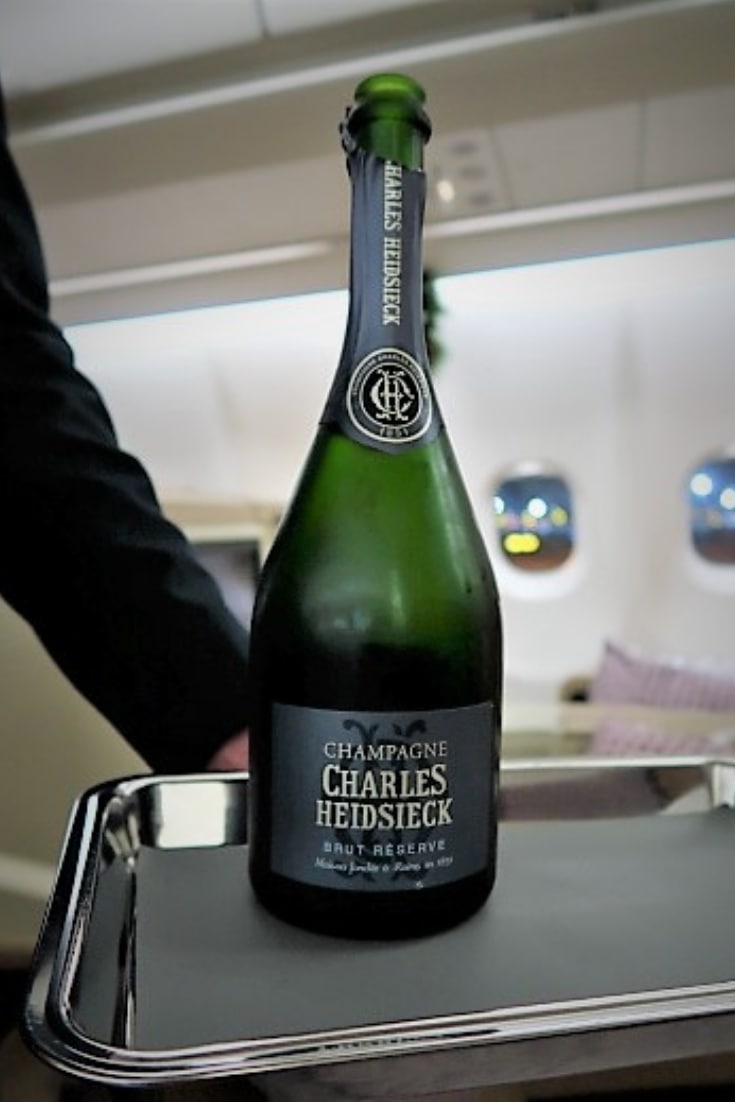 Shortly after the seat belt sign had been switched off, I took the opportunity to thumb through the in-flight menu.
With a scheduled departure time of 11.10pm, SQ271 is a designated 'supper service' flight. As such, business class passengers can expect a one-tray late night 'snack' to be served just after push back from Changi. A light breakfast is then served around an hour from arrival in Adelaide.
For my supper, I opted for the Prosciutto sandwich with radish, which was served open style with an olive and salad garnish. My meal was delivered quickly and efficiently, allowing me a good window of time to catch some sleep.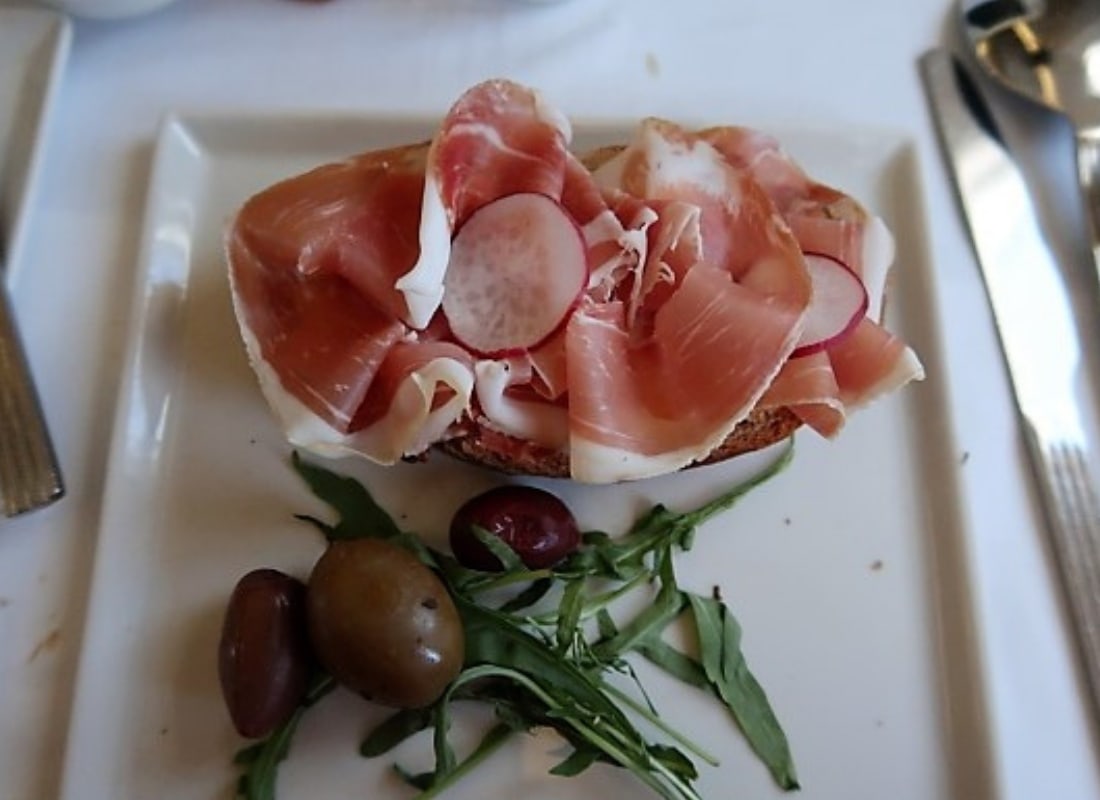 After four hours of tossing and turning on my angle-flat seat, it was time to wake up for breakfast. The flight wasn't particularly full, so the crew happily set me up to take my breakfast at a window seat so that I could enjoy the early morning sunshine.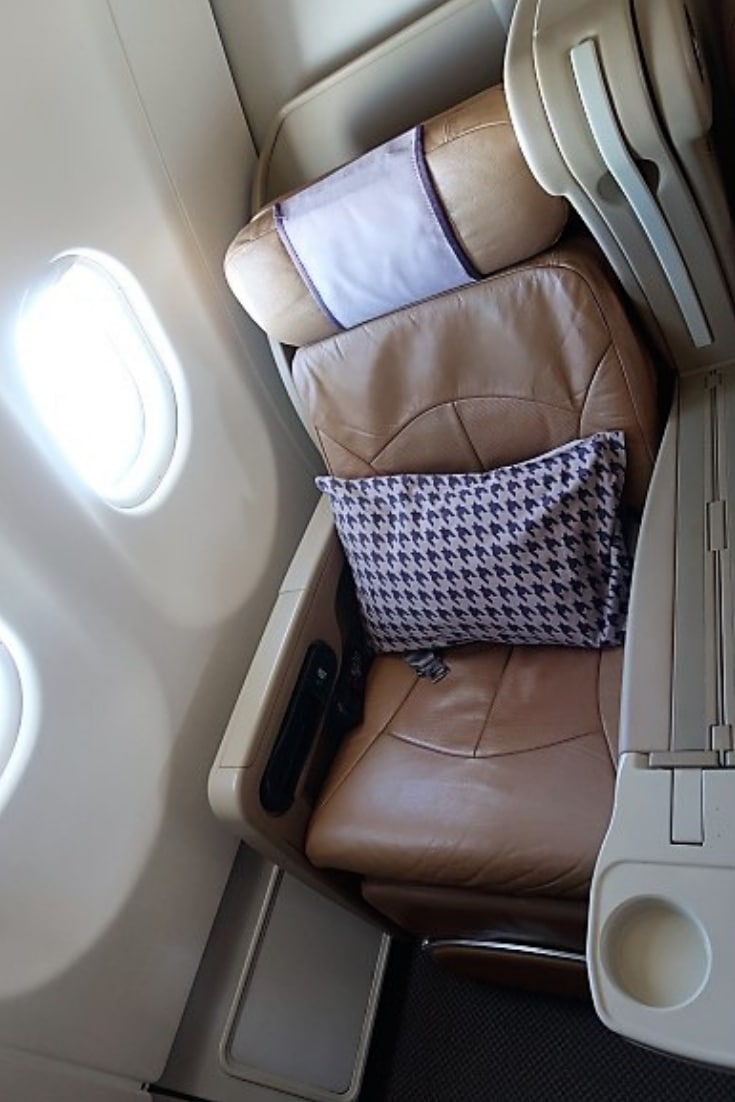 On this occasion, I opted for a small bowl of fruit salad and a coffee.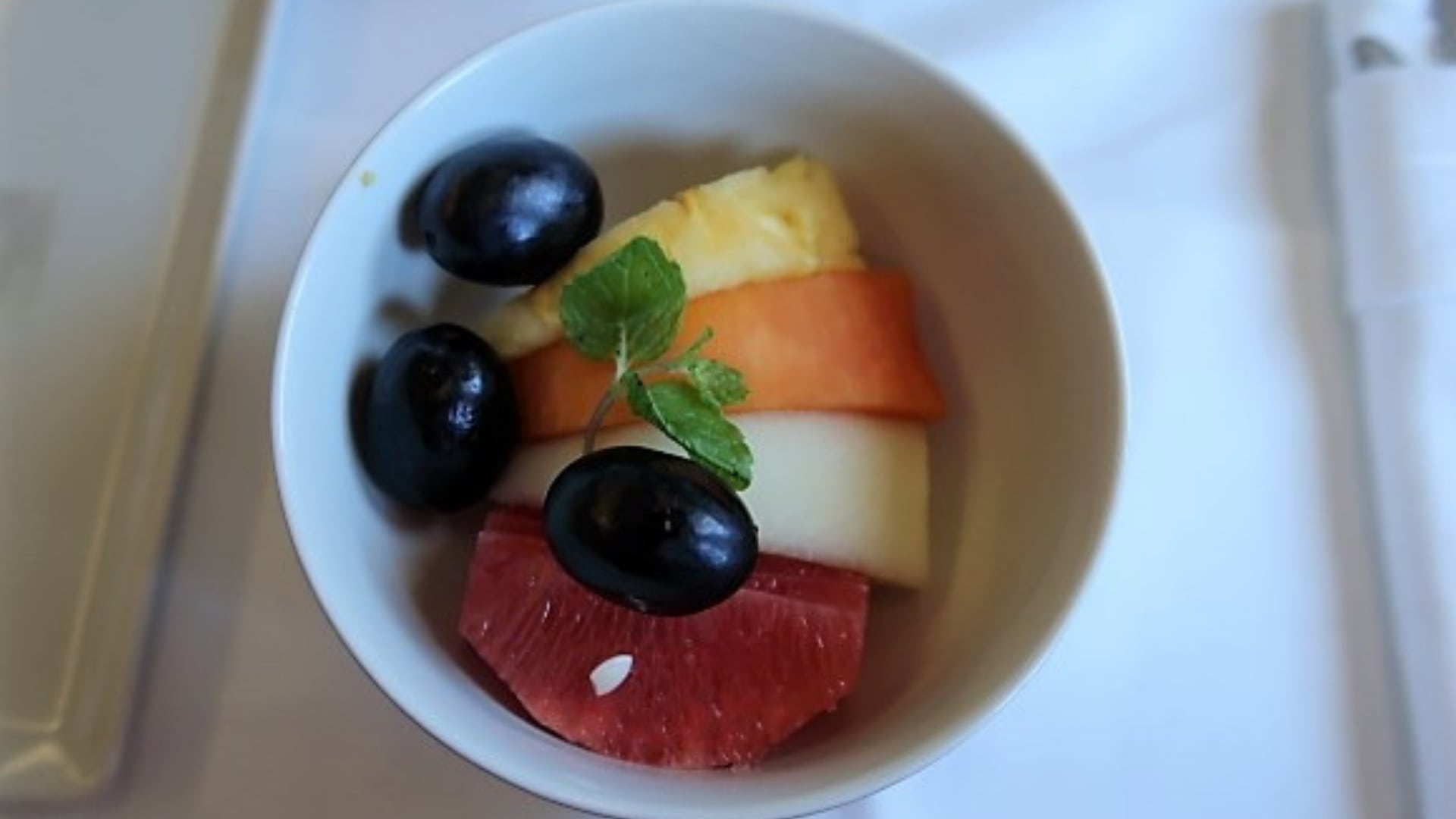 Before long, the flight descended into Adelaide, and I disembarked, happy to be home on a direct flight … yet not exactly refreshed after my failed attempts to sleep.
Singapore Airlines A330 business class – verdict
If you're planning to visit Singapore then Singapore Airlines business class is undoubtedly a great way to fly.
However, there's no question that the regional business class offered by Singapore Airlines on their A330 aircraft is vastly inferior to their other products (and those of competitors). As expected, the crew provided excellent service on the flight, however, this couldn't disguise the presence of angle-flat seats and a lack of direct aisle access for some passengers. Both are major disadvantages, and not at all optimal on a night flight of over six hours.
Singapore Airlines recently announced that the A330 operating on the Adelaide – Singapore route will be upgraded to an A350-1000. We're excited to hear that Adelaide-based travellers will soon get a chance to try out this shiny new aircraft. Stay tuned for our review!
While you're here: Subscribe to our newsletter for the latest tips, deals and news. It only takes a few seconds and we respect your privacy: