After much anticipation, the awe-inspiring $1.7b Jewel Changi Airport complex opened for business in April 2019. It's been captivating travellers ever since.
Jewel has been on my bucket list to visit for some time, and on a recent trip to Singapore, I finally got the opportunity to see it up close. Read our ultimate guide to find out what you can expect when you pay a visit to Jewel Changi Airport.
Jewel Changi Airport: What is it?
Jewel is a nature-themed entertainment and retail complex. Costing $1.7bn SGD, it's built entirely within the Changi Airport precinct.
The facilities include a rain vortex, retail shops, hotels, entertainment, and dining. The Jewel complex spans 135,000 square metres and features ten stories – five stories above and five below ground.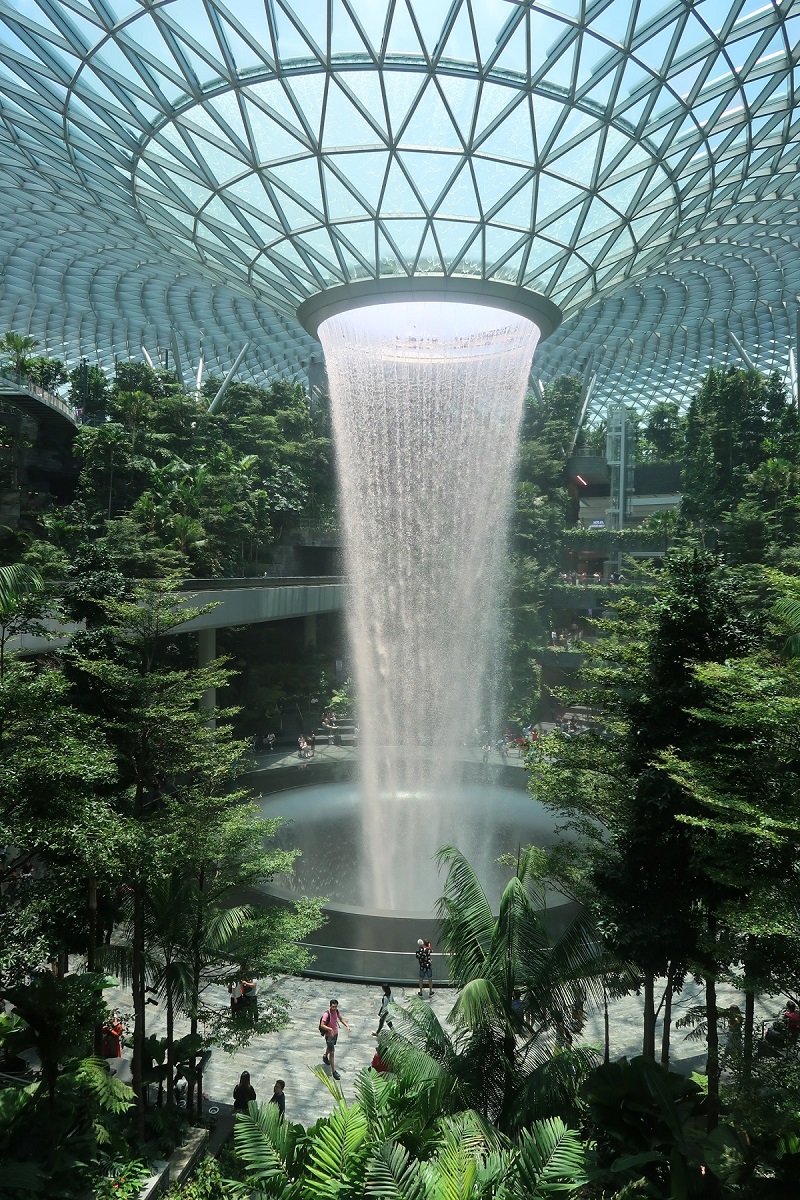 Where to find Jewel Changi Airport
The complex is located right in the middle of Changi Airport, surrounded on three sides by Terminals 1 to 3. And this is what Singapore does best – everything is seamlessly integrated for access.
Author Tip: Grab a map from the concierge desk or download it to your phone. This place is massive. Map here.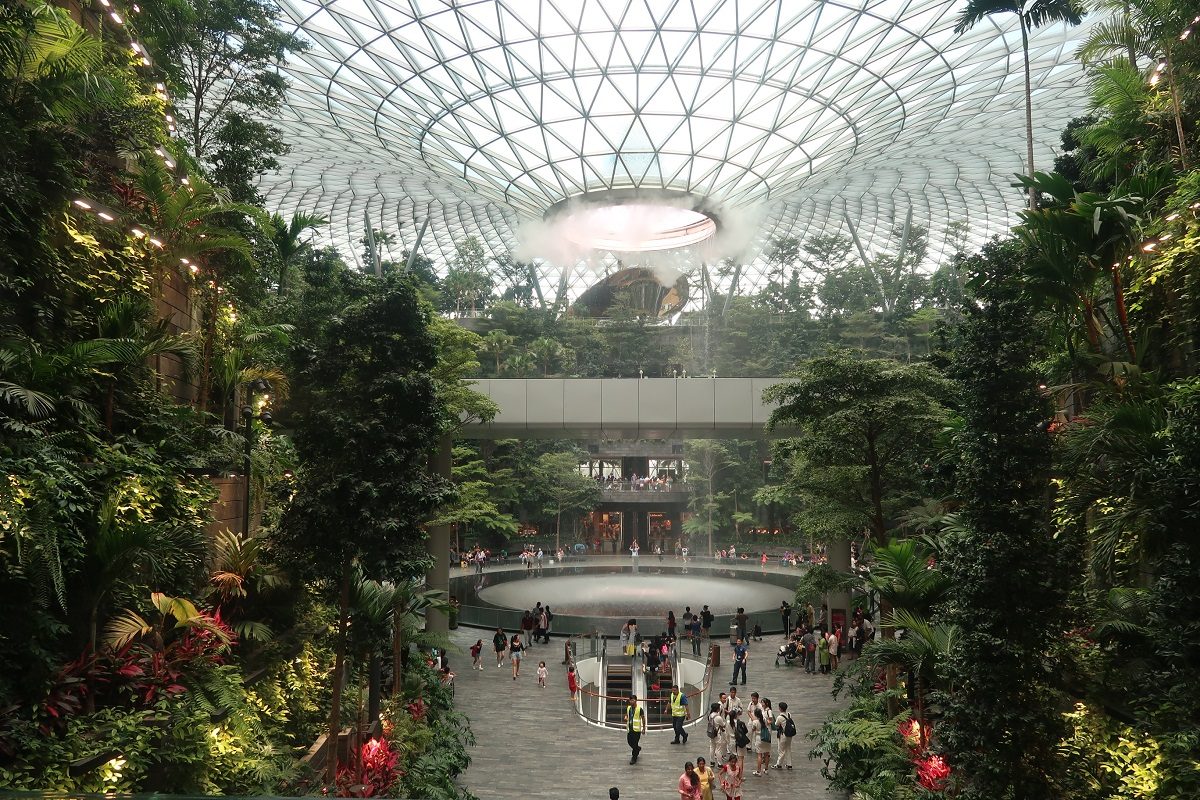 The front entry of Jewel is directly opposite Terminal 1 where Qantas flights arrive and depart from. Singapore Airlines operates flights from Terminals 2 and 3. These two terminals are connected by a 150m walkway, so it doesn't really matter which terminal you're based in!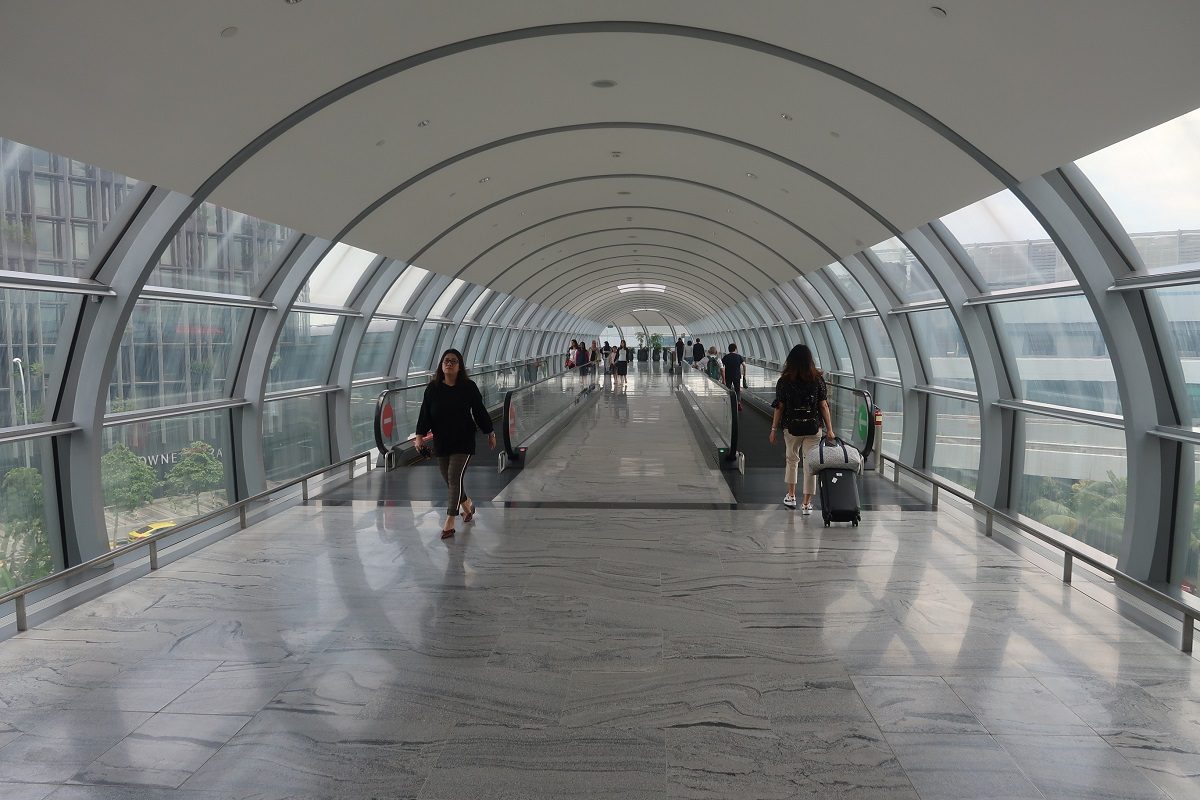 Author Tip: Catch the Skytrain between Terminal 3 and 2 to ride through the complex at Level 3 height right next to the HSBC Rain Vortex – the world's largest indoor waterfall!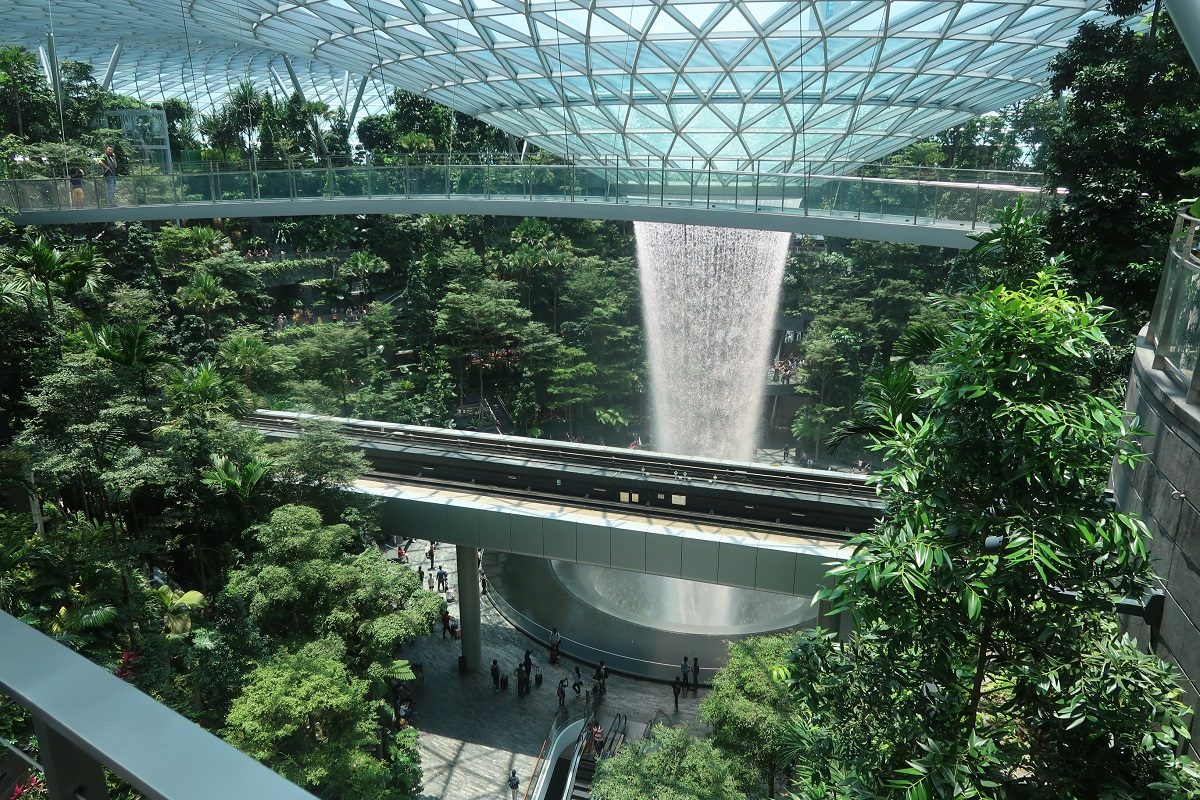 Everything is well sign-posted and you can't get lost (but once you're in the complex you might).
Jewel Changi Airport: Key attractions
On entry from Terminal 1, you'll come face to face with the signature attraction – the jaw-dropping Vortex "waterfall". At this point, you have a decision to make – go up or down. It doesn't really matter as you'll do both.
At the bottom, called the Immersion Garden, you can look up and be dazzled by the size of the vortex as well as enjoy the cooling mist effect.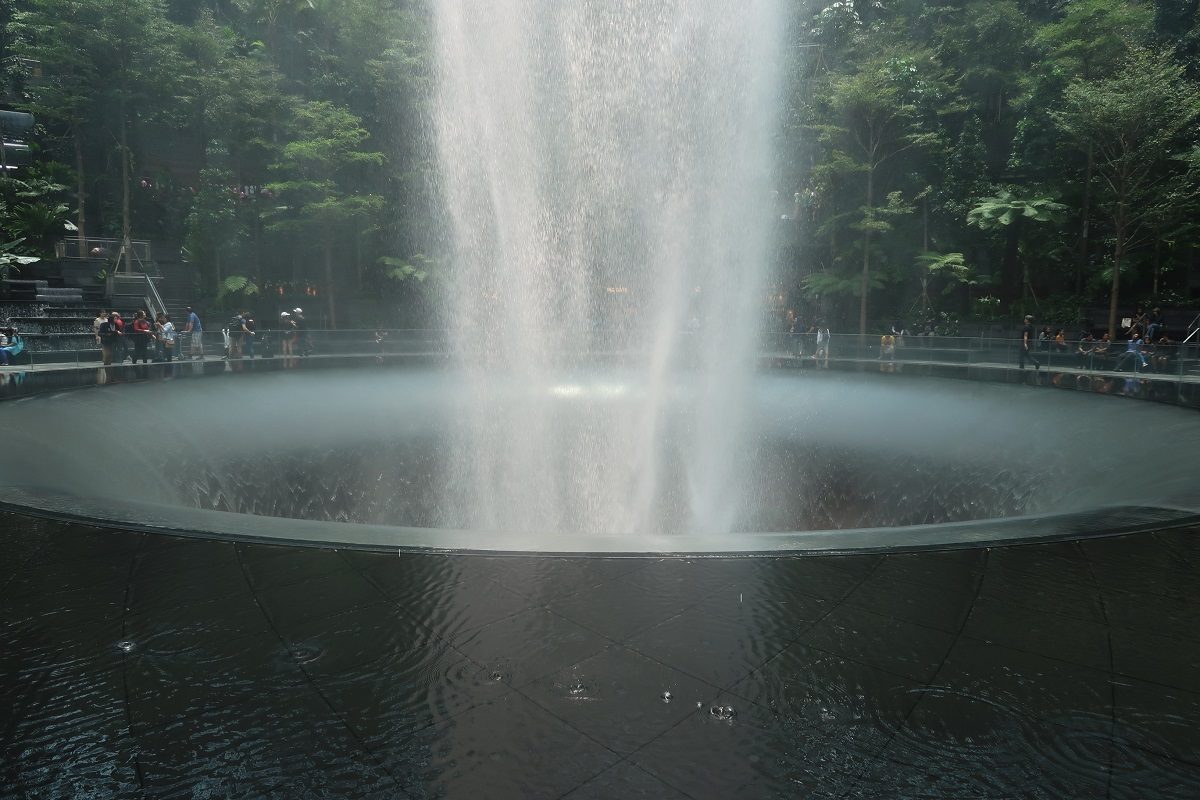 As you enter the vortex, you'll probably notice that there is one thing missing – noise. The vortex makes virtually no noise and it's designed deliberately like that. The reason is that the base of the vortex is a funnel that guides the water down rather than a normal splashing impact. It's all the more amazing given it's the tallest indoor waterfall in the world – 40 metres high!
After you stand in awe, head on up via elevator to Level 1, where you can enter the Shiseido Forest Valley walks – east or west. These walks provide immersive sensory treats, including mist generation.
By the time you reach the top you might just spend half a day up there.
Authors Tip: Every evening there is a Light and Sound Show run hourly from 7.30 pm to 12.30 am.
Level 5 Canopy Park Attractions
There are a range of attractions available for purchase from Level 5. You can purchase tickets for one or many activities at self-service kiosks, concierge stations or online or via the Jewel Changi Airport app. Each attraction will cost you around 5 SGD.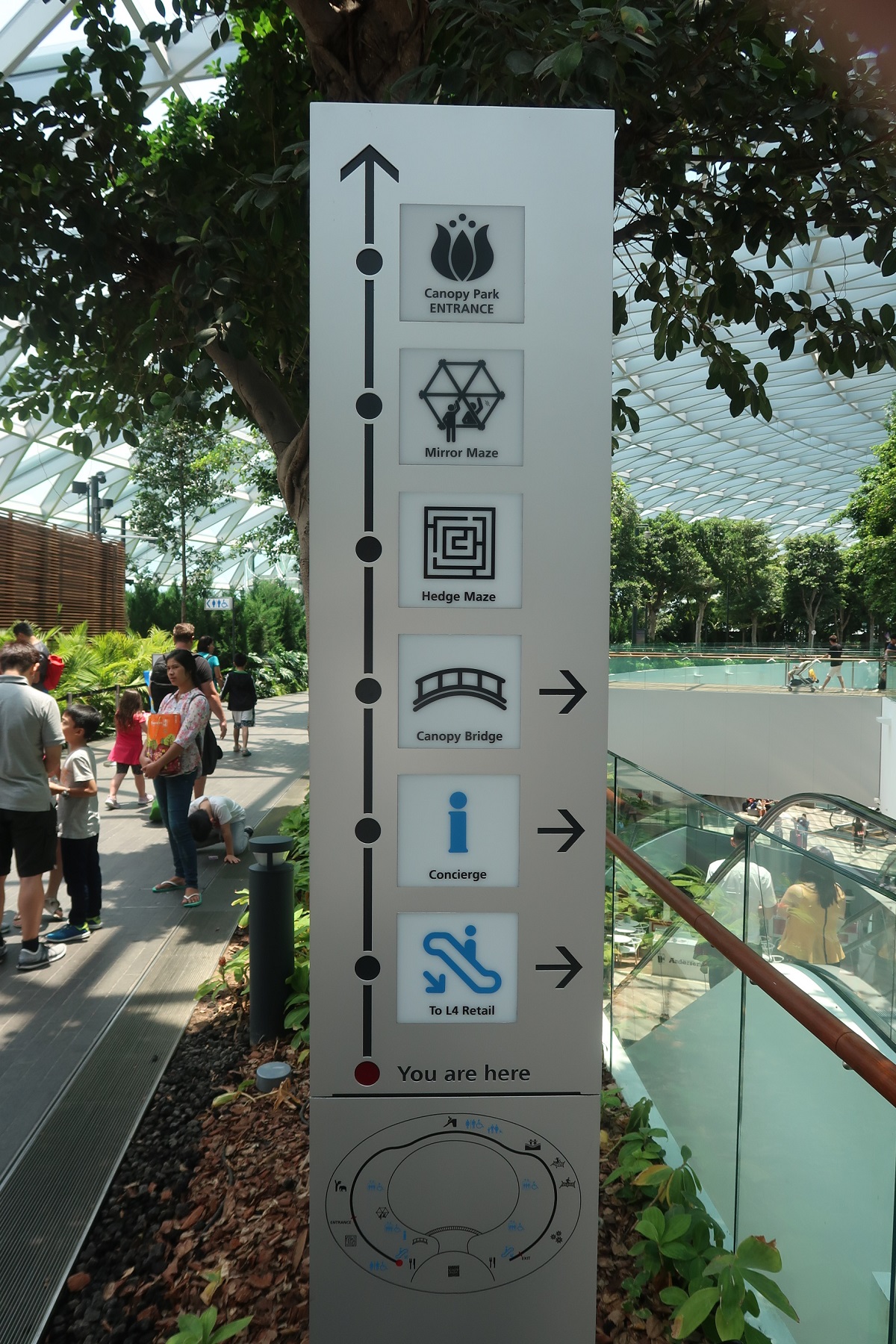 If you're a little short on time, and if you're not travelling with children, you might bypass some of these. However, there is still so much to see and take in as an adult.
Jewel Changi Airport Canopy Bridge
This is a must-do activity when visiting Jewel, but surprisingly few travellers do it. An 8 SGD ticket can be purchased at a self-serve terminal and you can walk straight onto the bridge.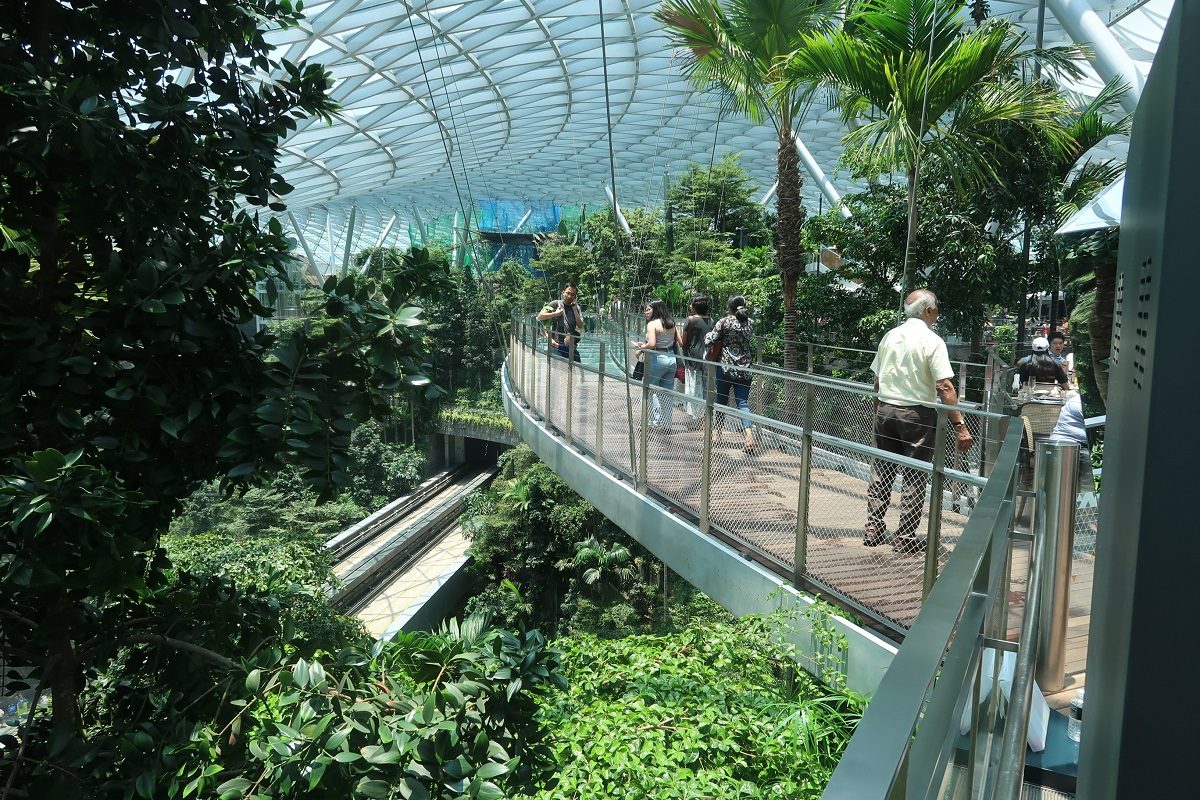 You might just laugh as you watch everyone else gripping the handrails when they step out onto the glass.
Up 23 metres and looking down to Level 1, you're able to walk along the 50m bridge. The glass gets progressively clearer as you reach the centre – probably to help you get used to the idea. You don't get wet as it's not Disneyland, but you'll have just as much fun, that or be terrified.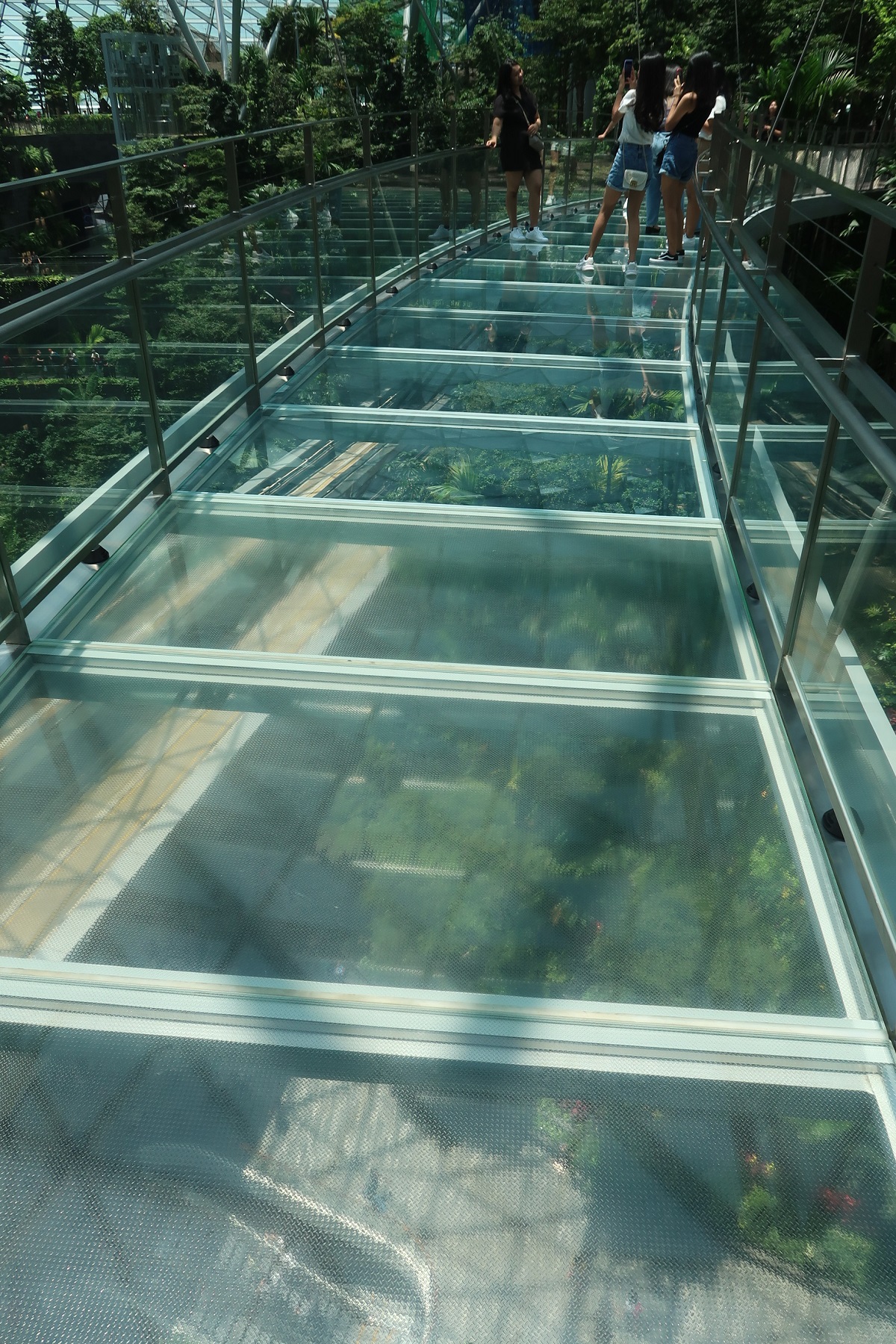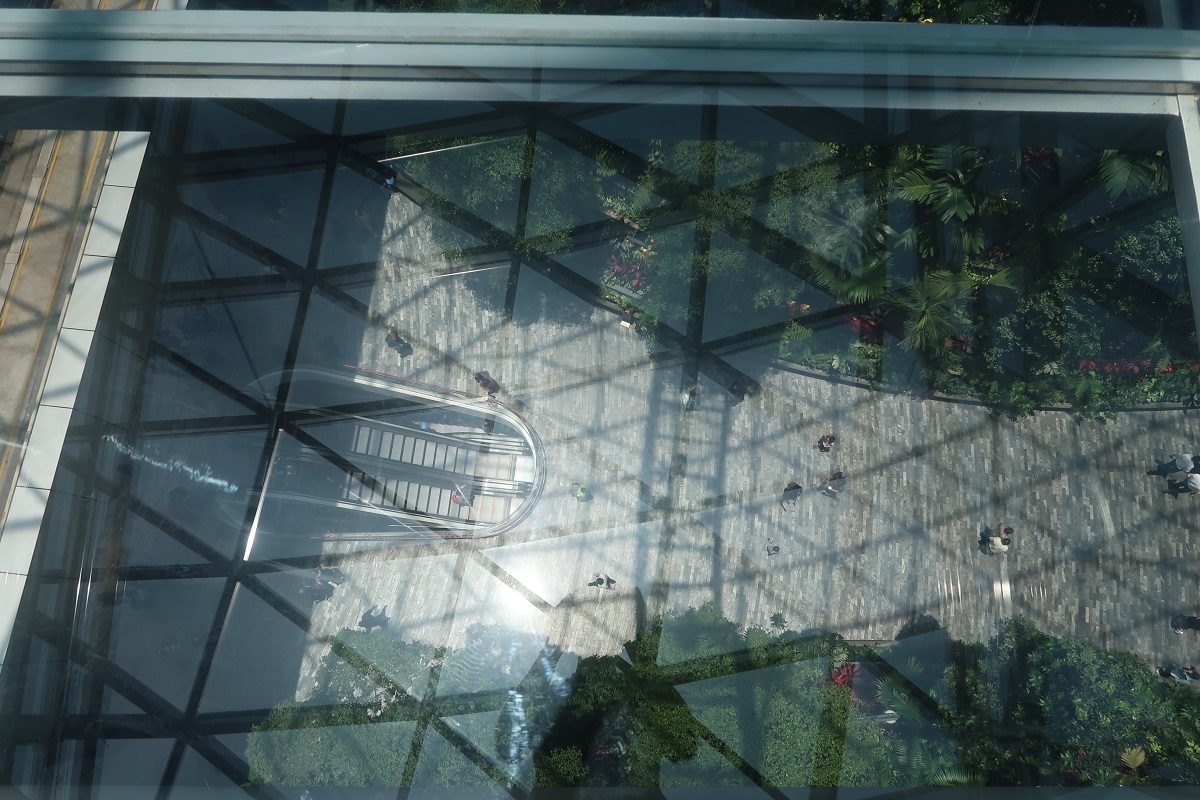 There are surprisingly few selfies being taken at the time of my visit – perhaps the evident fear on faces as people traverse the walkway isn't that attractive on Instagram.
Manulife Sky Nets – Walking and Bouncing
Jewel Changi Airport features two sets of nets. These are perfect for both adults and children alike to experience.
You can choose to walk a net that is 25 metres above a void or bounce along a 250 metre long net that is sure to tire your kids out before a long flight. Brilliant!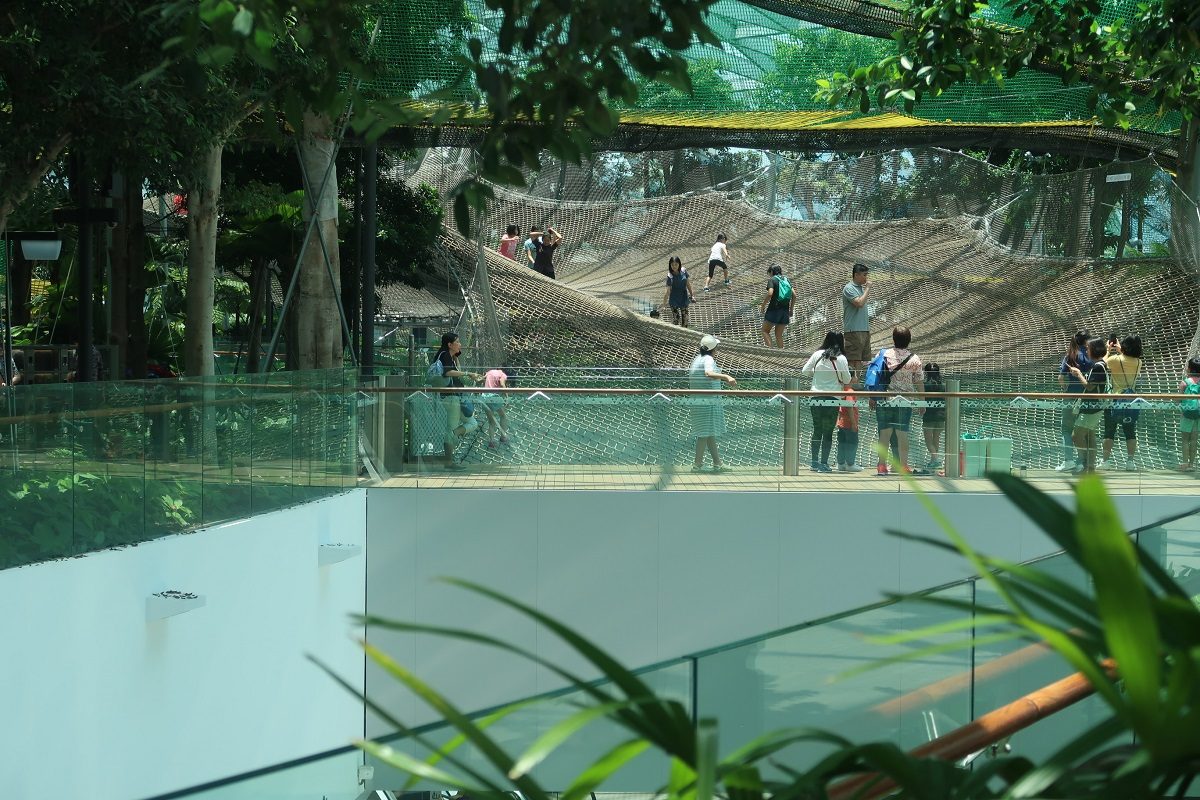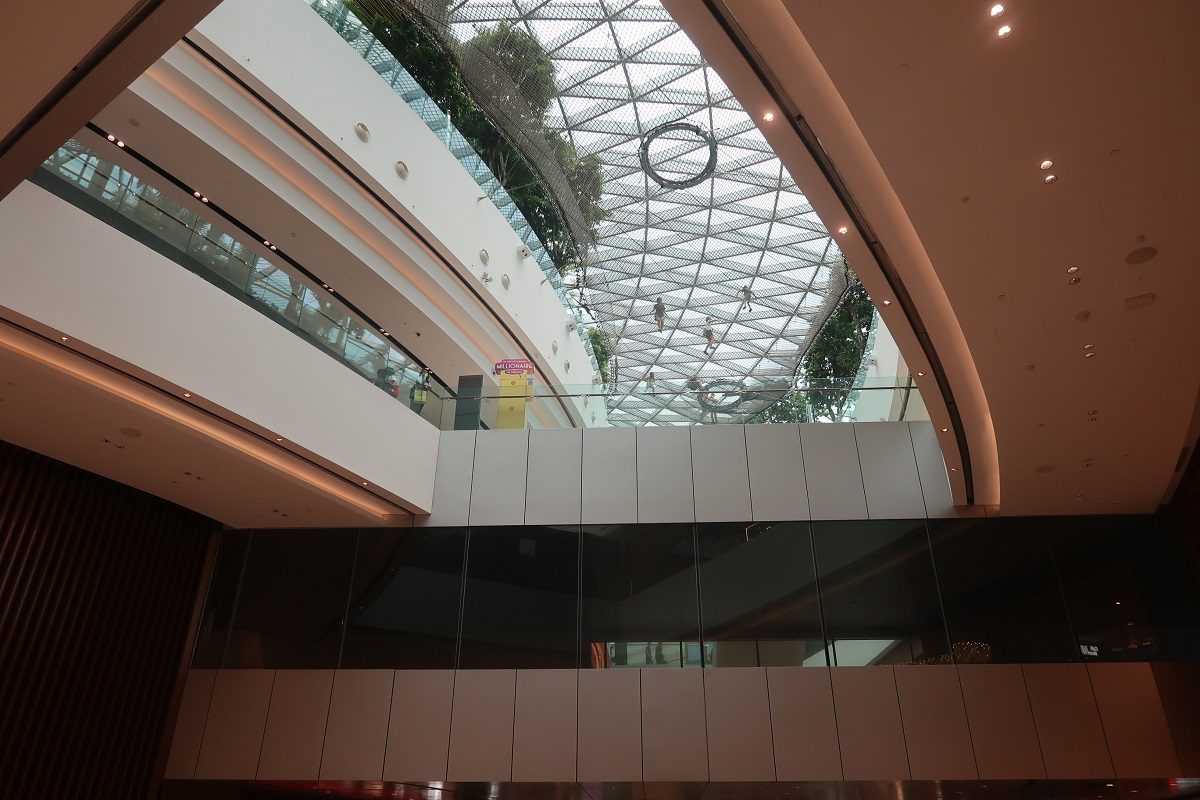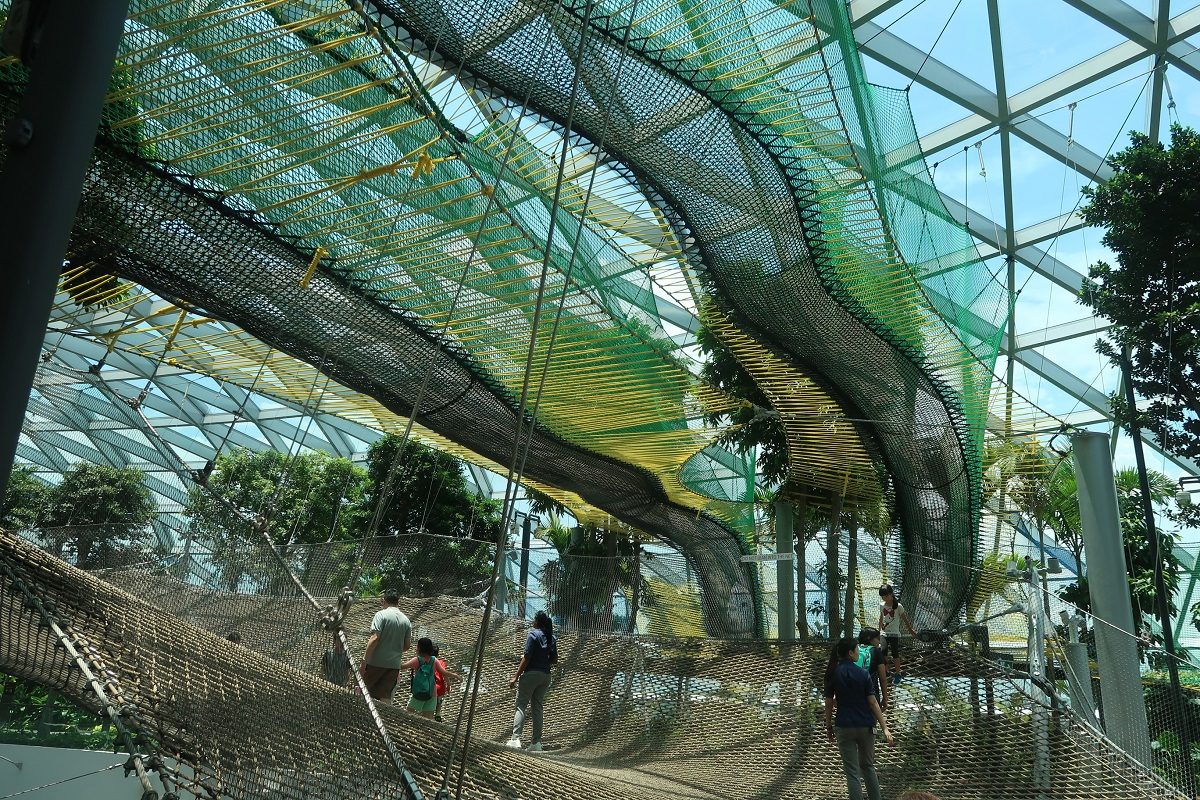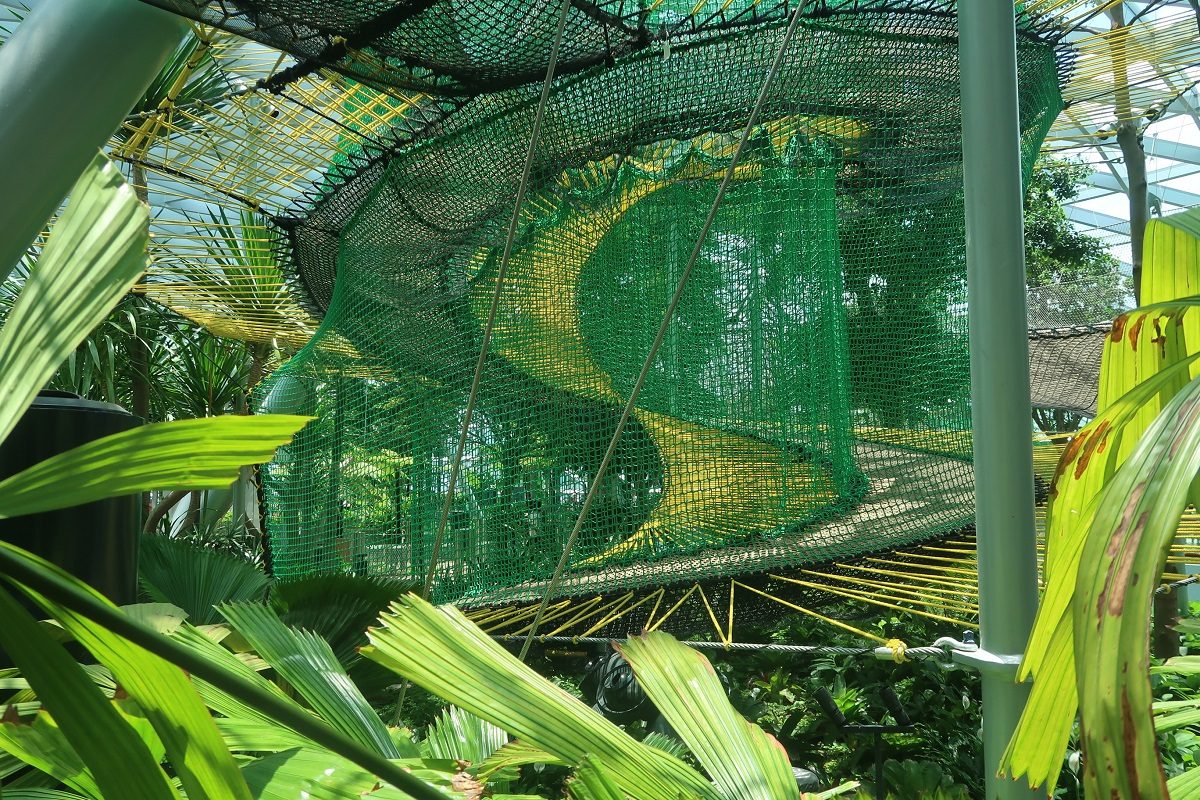 A-Mazing entertainment for the kids
Still, on Level 5, there are two Canopy Mazes to enjoy – the Hedge Maze and the Mirror Maze.
The Hedge Maze features 6 foot high walls and panels that can be pushed to alter the path. If you're unable to find the kids, you can head up to a tower that overlooks the maze to locate them.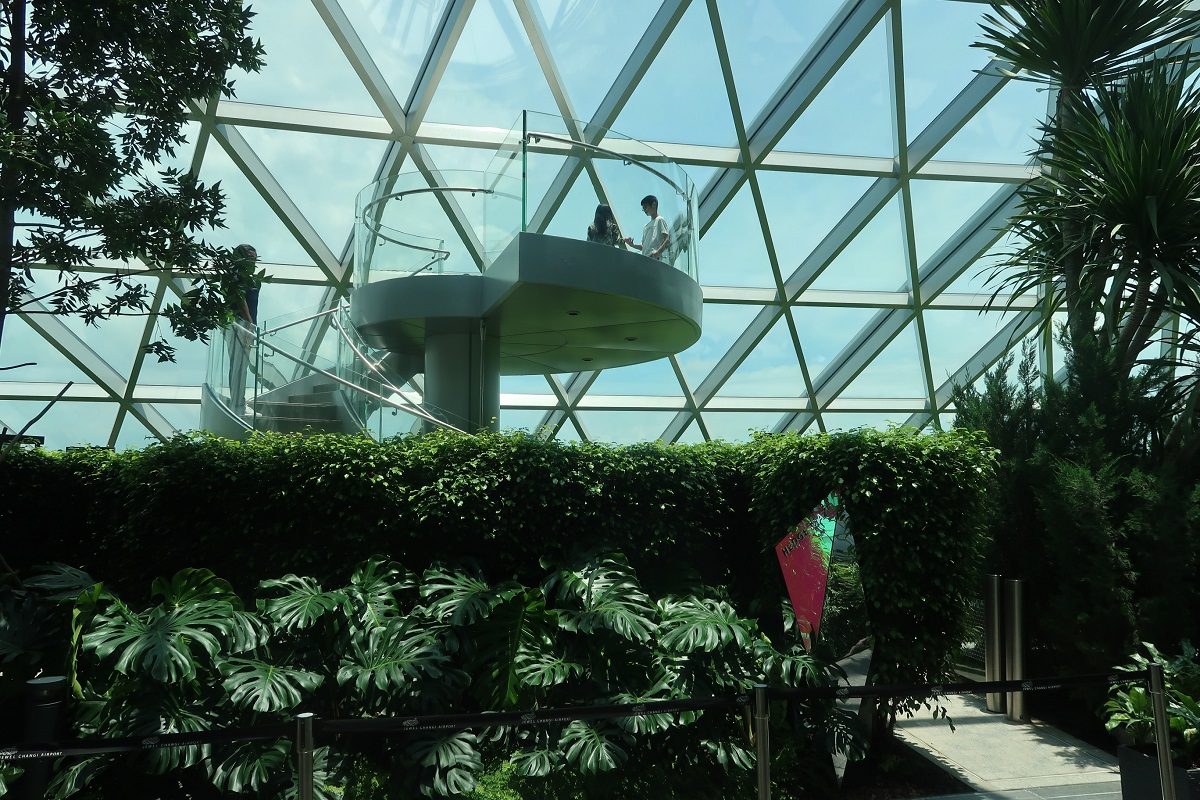 Children will also enjoy discovering the Mirror maze.
More Jewel Changi discovery and fun
Jewel Changi Airport delivers even more fun things for adults and kids, including Discovery Slides and Foggy Bowls. The latter is a mist-generated area that provides the sensation of being amongst the clouds.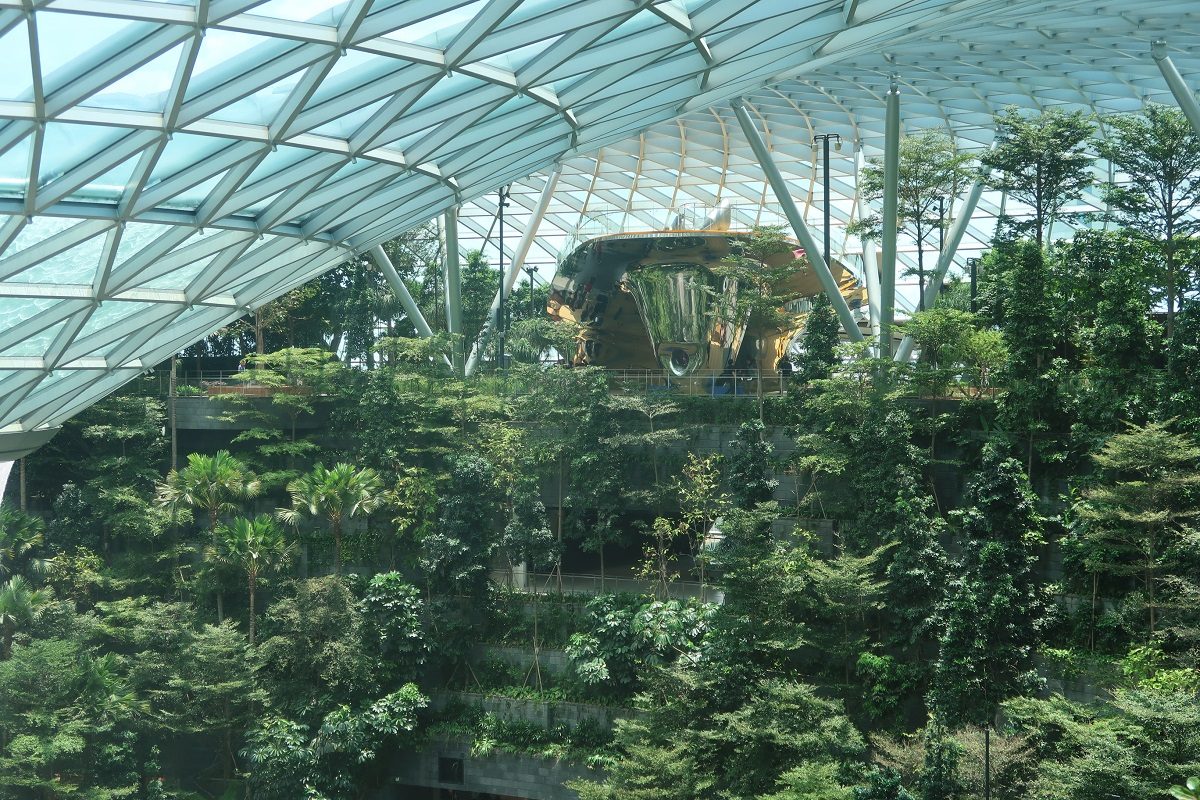 Stretch your legs in the Jewel gardens
Singapore is known for its incredible gardens, and Jewel Changi Airport is no exception.
In the Shiseido Forest Valley, visitors can explore over 100 species planted as 3,000 trees and 60,000 shrubs, spanning 5 stories. This garden is one of the largest indoor gardens in Asia. It's hard to believe that it's all located within Changi Airport.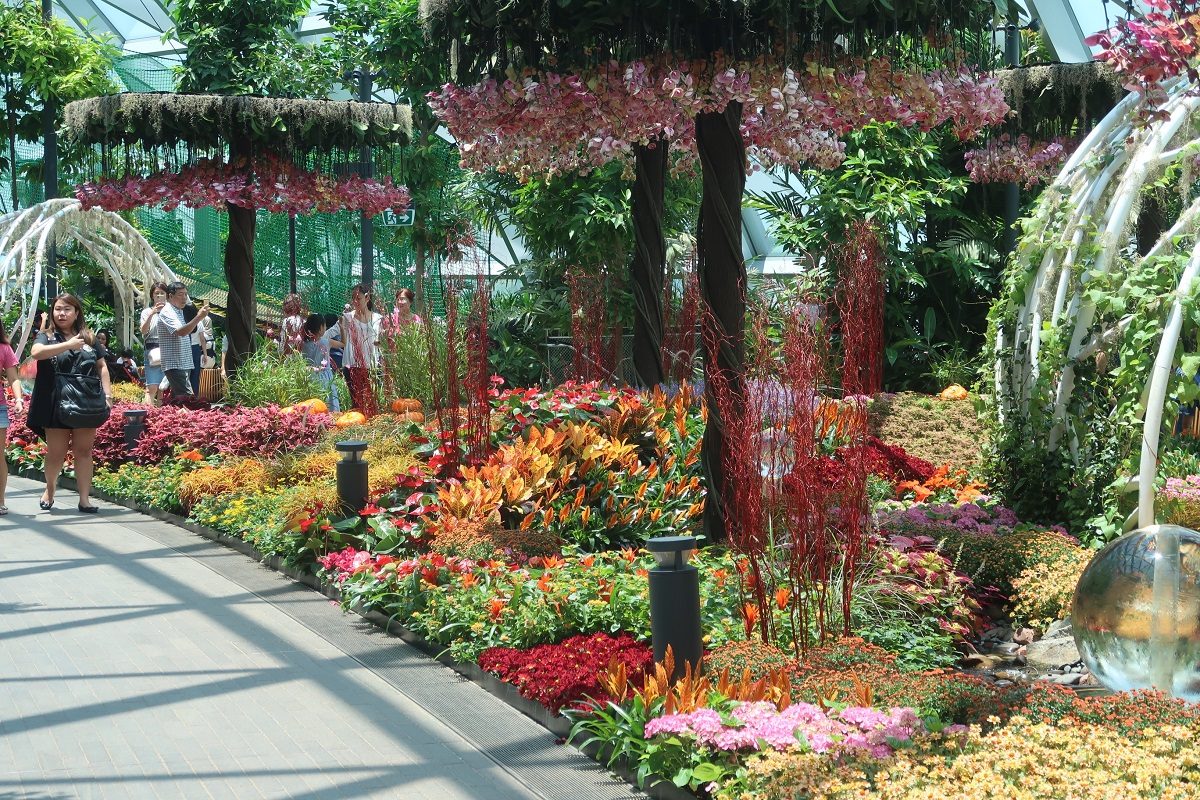 While we're speaking of garden, greenery is everywhere….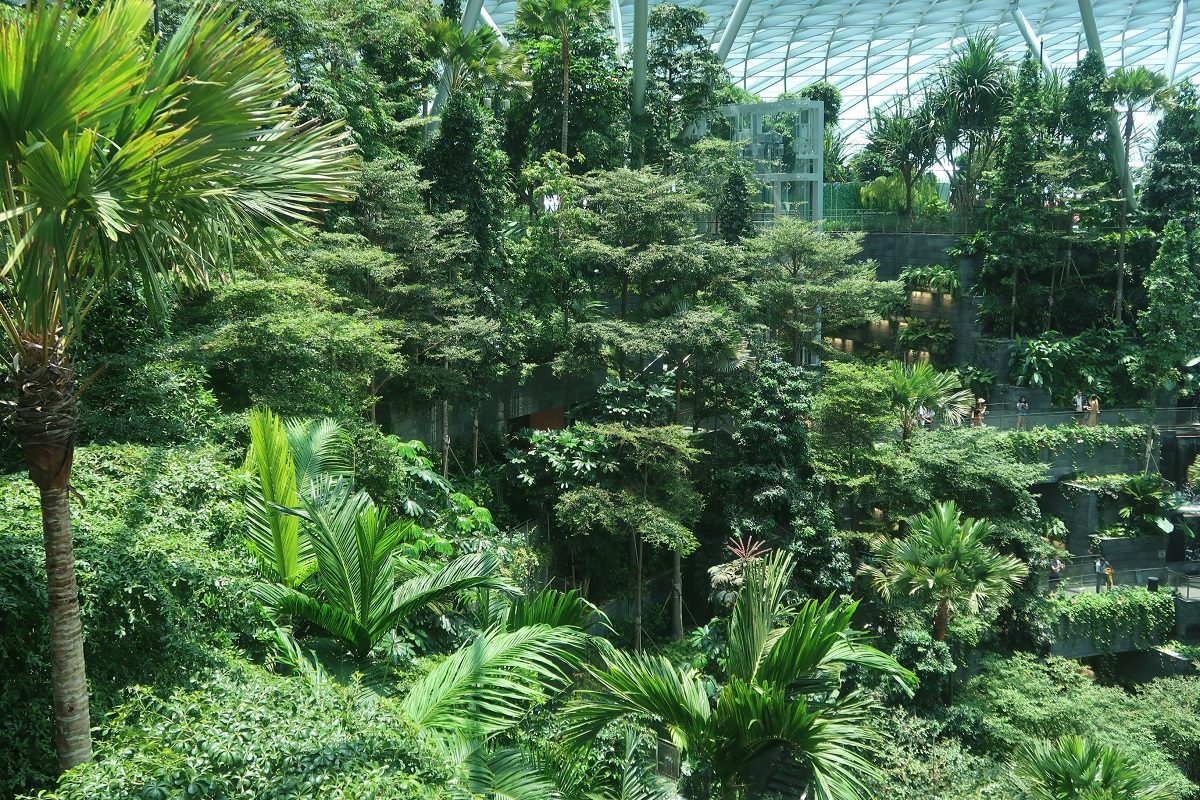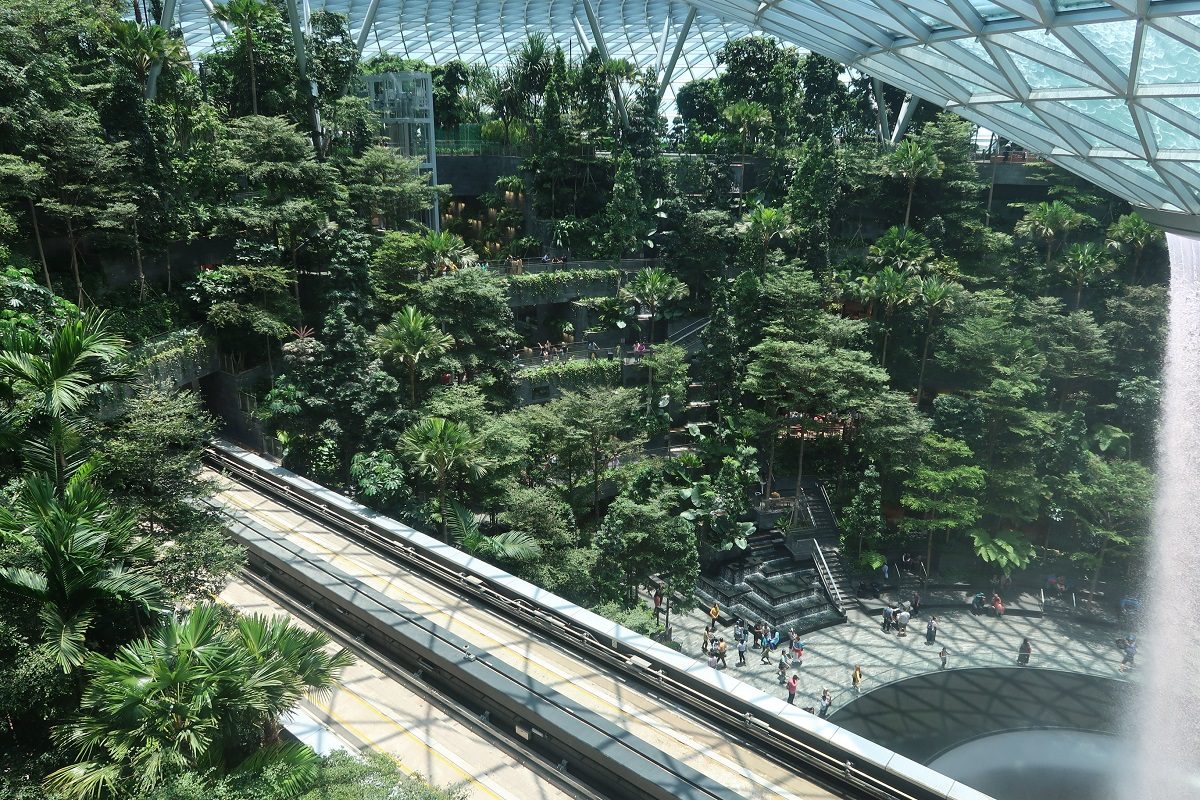 Down on its own on Level 4 is the Changi Experience Studio. This attraction is better suited to older kids and has a strong technology focus. You'll learn all about Changi Airport and this will really appeal to the AV Geek in you.
iMAX your time in Jewel
Down at Level B2 there is a Shaw Theatres iMax complex with 800 person seating capacity. This is the perfect place to perch if you're tired from travel, and if you just want to chill out.
Dining at Jewel Changi Airport
This is Singapore, and so wherever you are, there are reliable food options. Every level in Jewel has good food outlets, including many cult eateries that can't be found in Australia. Some of the more popular even have number queuing systems including Shake Shack.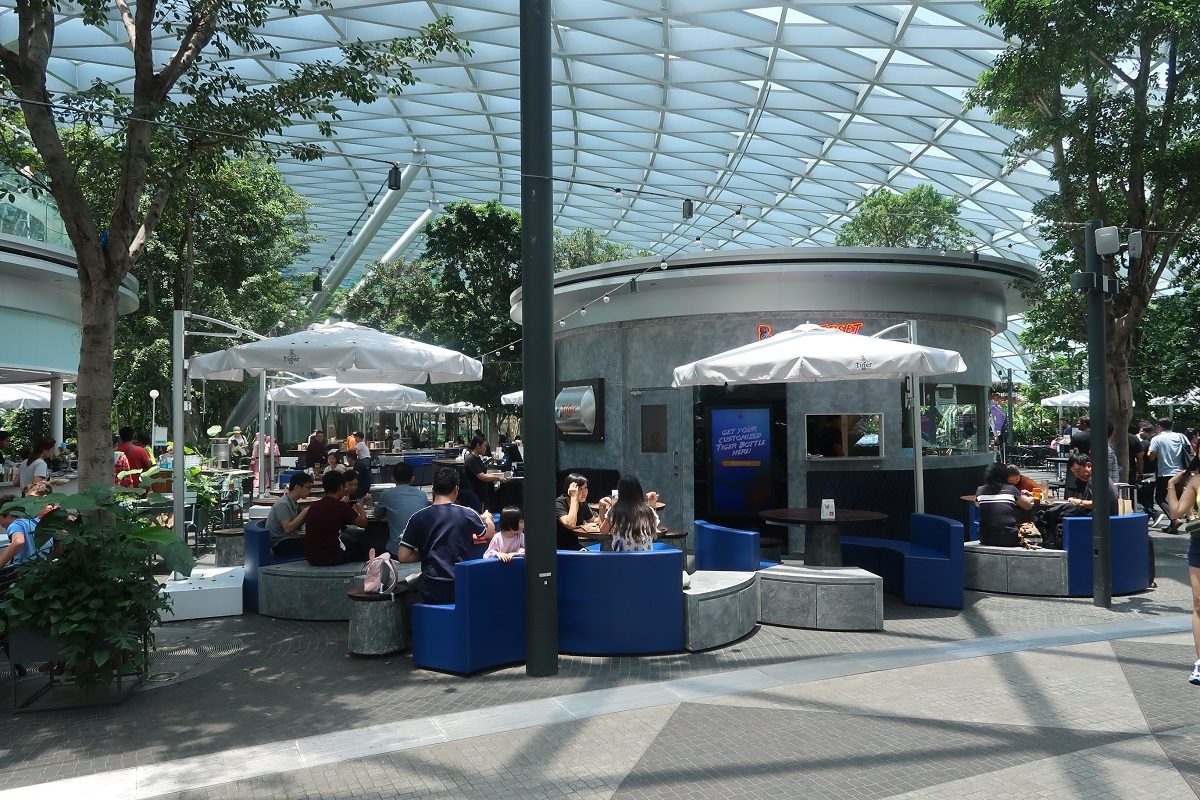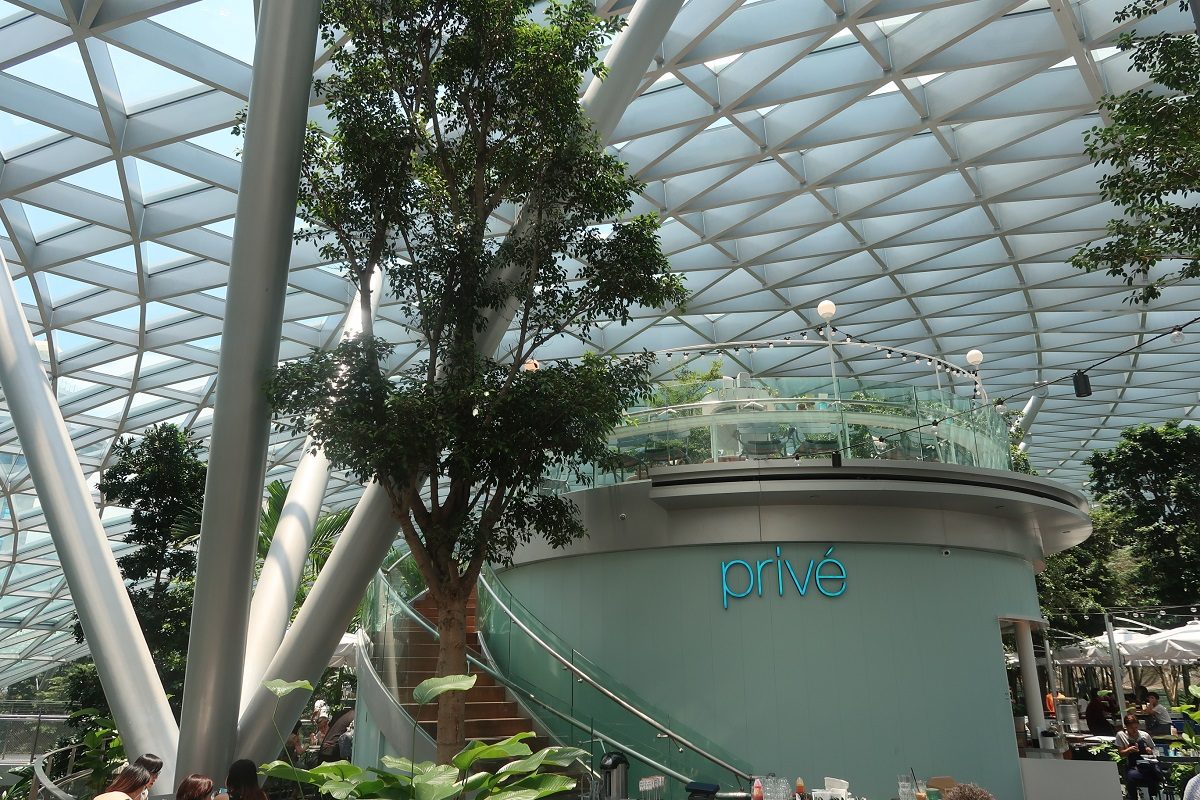 Shop up a storm
Just outside the main rainforest shell, there are multiple floors of Jewel Changi retail outlets ringing the complex. Tip: leave shopping until after you've visited all the attractions on Level 5 to stay hands-free.
Many big brands are here including Uniqlo, Marks and Spencer, Zara and Apple.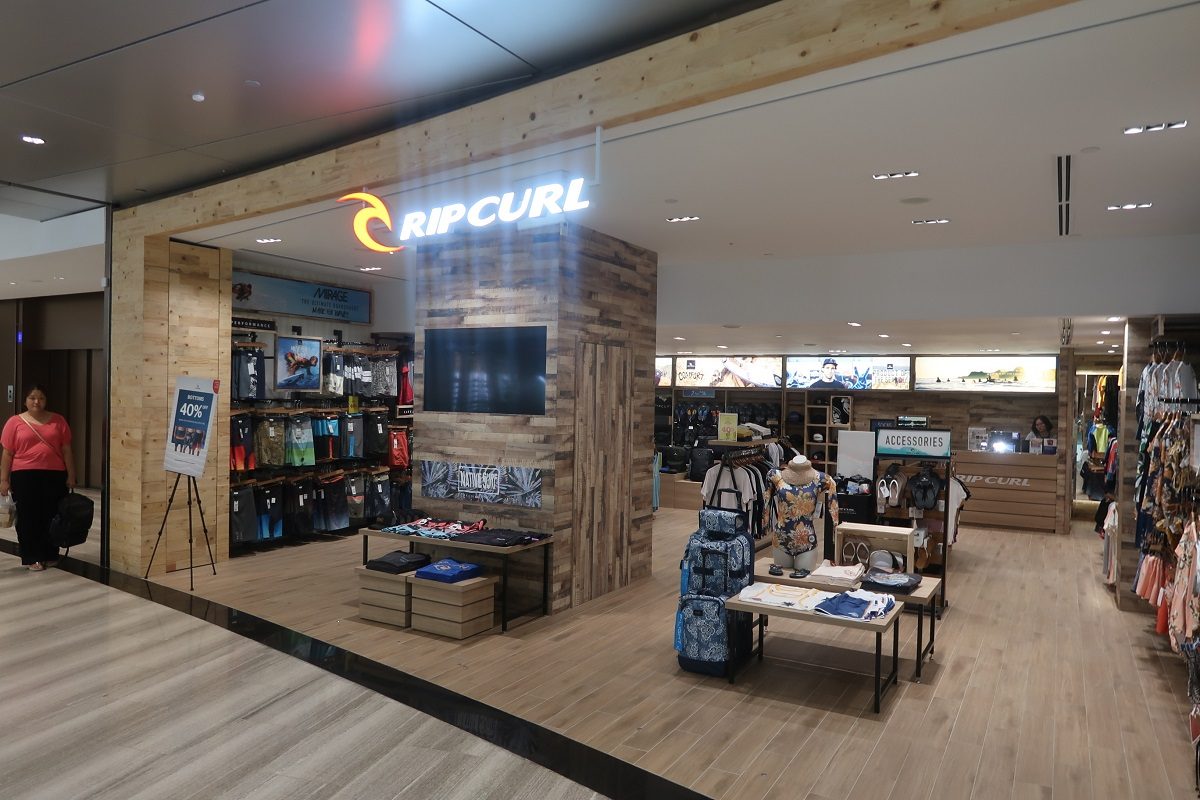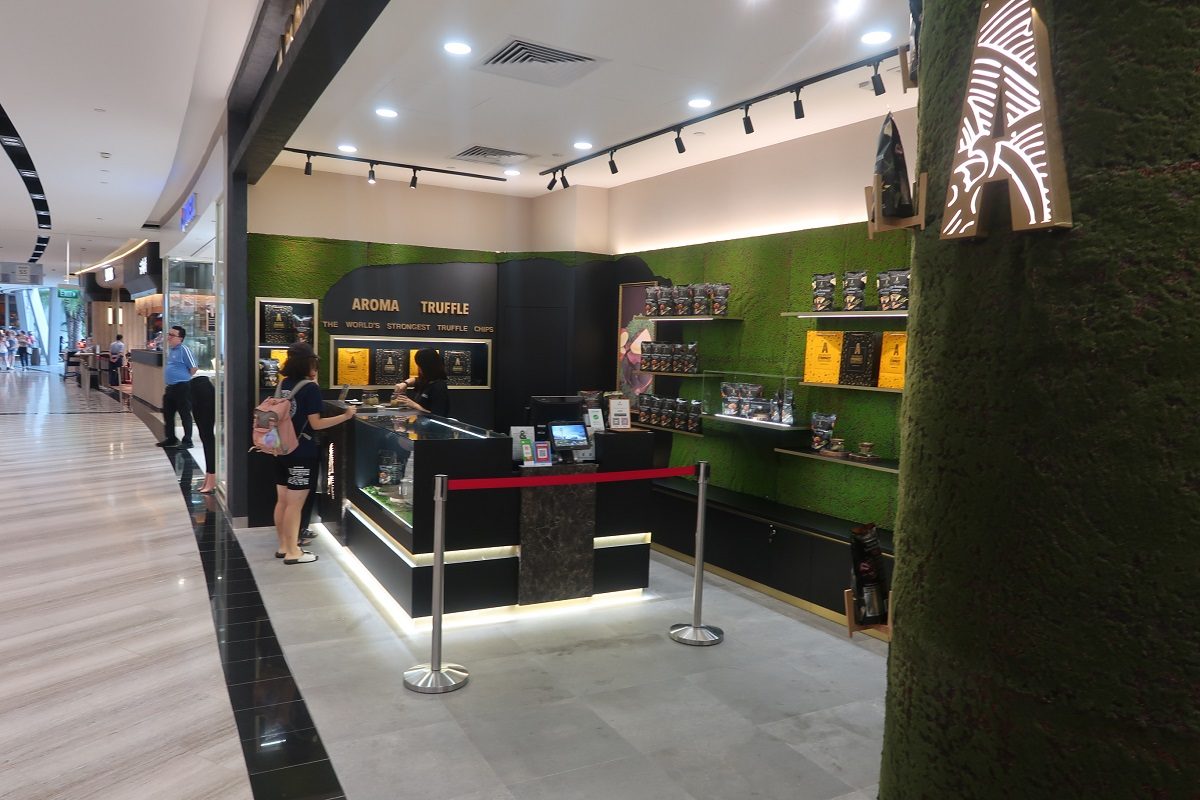 How long should I allow to visit Jewel Changi Airport?
I'll say it now: treat the Jewel as a destination in its own right. With so many different attractions on offer, it's worth putting aside half a day if you can.
If you're in a premium Airport Lounge, you might stay put, but if you're in an old or worn lounge or skulking about a terminal, it's a no contest.
If you're travelling with kids, a visit to Jewel is a no brainer and may be vastly more appealing than biding your transit time in a nearby terminal or lounge.
Jewel Changi Airport: Verdict
Jewel is a world-class destination and it cements Changi as one of the world's major airports.
The beauty of the place is that it's so connected to the Airport and you can wander in and spend an hour or a day. There's no pressure to spend money, either. You could easily just walk around absorbing the atmosphere without any money changing hands.
Whether you're travelling alone, as a couple or in a family, a visit to Jewel Changi Airport isn't to be missed!
While you're here: Subscribe to our newsletter for the latest tips, deals and news. It only takes a few seconds and we respect your privacy: