The Champagne Mile recently road-tested Emirates business class on the A380, flying from Dubai to Melbourne.
Emirates business class is available on multiple Australian routes. Read on to find out what you can expect when you fly this iconic product.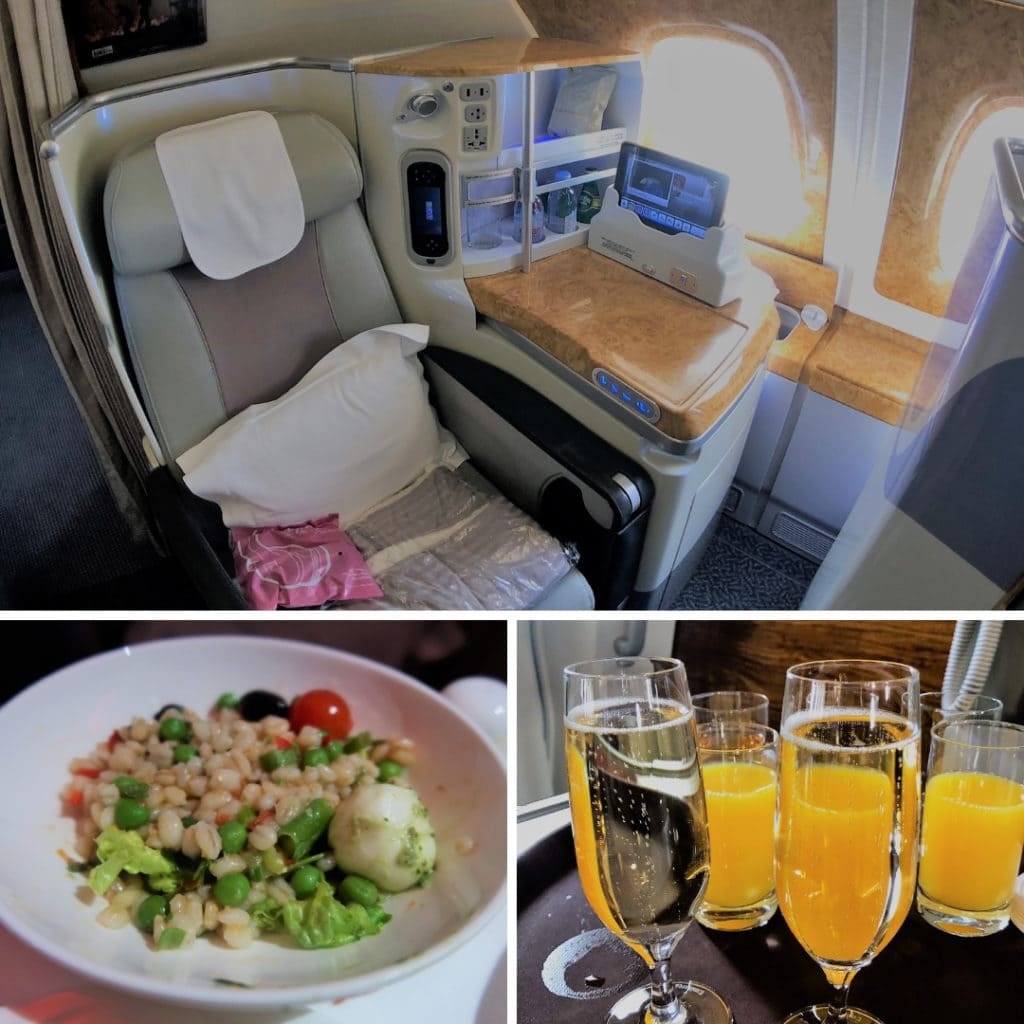 Emirates A380 Business Class – luxury at 36,000 feet
What's glitzy for some is garish for others; Emirates Airbus A380 business class has a reputation as a somewhat polarising product.
But while the burled wood decor can be over the top for travellers who prefer a sense of restraint, others are of the opinion that Emirates nails the old school glamour of air travel in their premium cabins. And a number of thoughtful touches are also very evident in their soft product.
From the iconic Emirates A380 bar and the first class shower suite to the significant investment in premium wines and Champagne, there's a real sense of occasion when you fly up the pointy end in an Emirates premium cabin.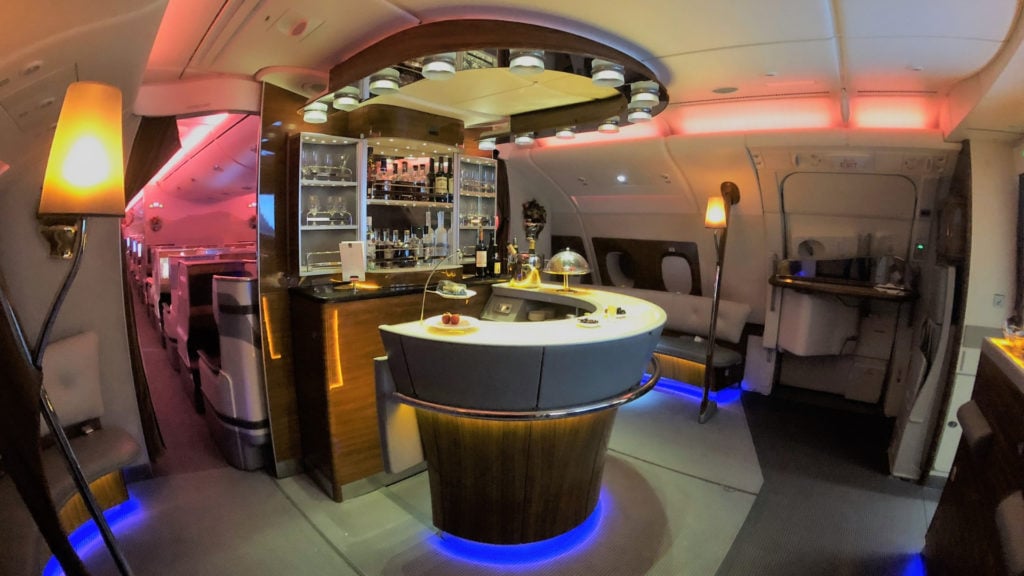 Recently, I returned to Australia from Europe via Emirates business class, and it didn't disappoint. Here's my review of the hard product, the soft product and all the bells and whistles you can expect in between.
Booking an Emirates business class ticket with points
Thanks to the partnership between Qantas and Emirates, it's easier than ever for Australians to redeem Qantas Frequent Flyer points to fly in Emirates business class – and it's my pick as one of the very best ways to use them.
At the cheapest end of the scale, you'll pay just 36,000 Qantas points (plus taxes) to journey from Sydney to Christchurch for three and a half blissful hours in the Emirates A380 business class cabin (you could also stump up a reasonable 54,000 points to fly the same route in First Class – check out our Emirates trans-Tasman review here).
On the other hand, a one way Emirates business class fare between Melbourne or Sydney and various European cities (with a stopover in Dubai), will set you back 128,000 points (plus taxes). To maximise your chances of finding availability, it pays to book as early as possible – though it can be difficult to find availability during peak travel periods, or when you require multiple seats.
However, on this particular flight, I was able to obtain three award seats for my family, with my son as a lap infant. As we were seeking to travel at the height of peak summer season in Europe, this was no mean feat. How did we swing this? By searching the Qantas website regularly and seeking creative routings. Emirates is known to open some award seats up in the days and weeks prior to departure – and we got lucky on this front.
Emirates Chauffeur Drive: Start your journey in style
Emirates provides a complimentary chauffeur service on both departure and arrival for business class passengers, and I was able to use the service with my family from our transit hotel in central Dubai to travel to the airport.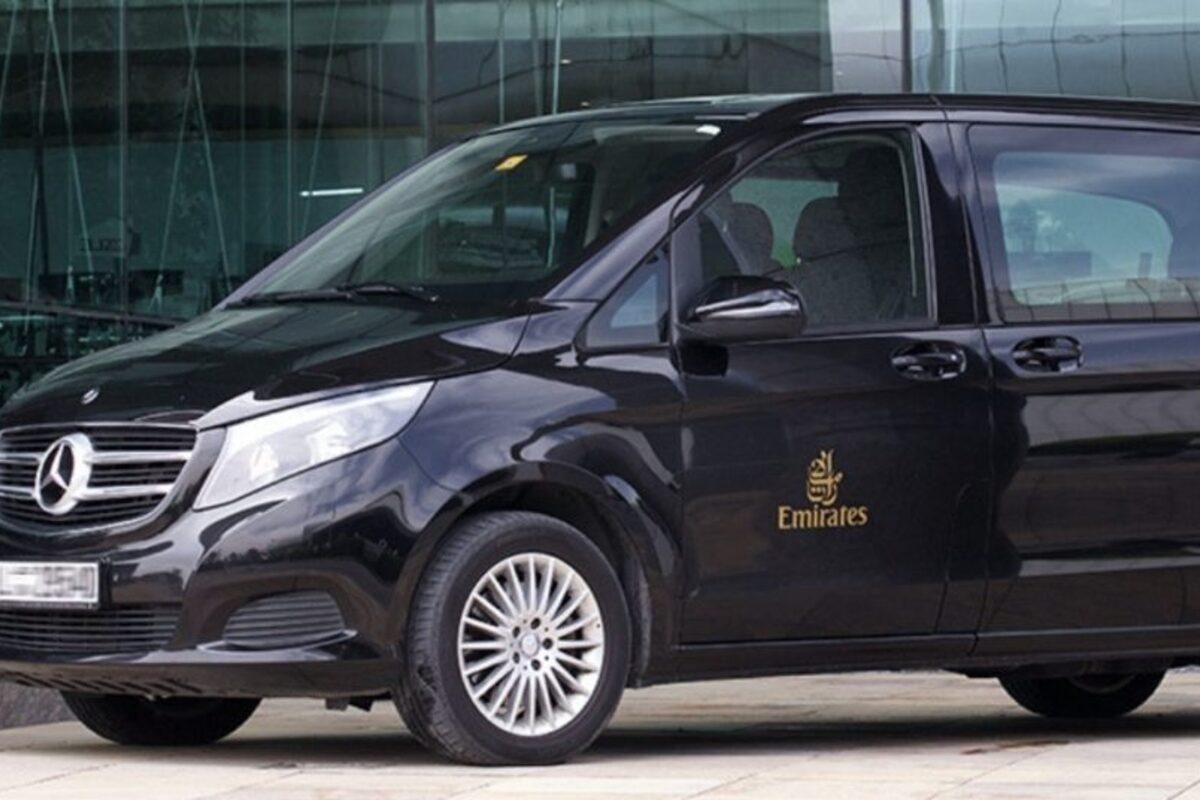 The service is available exclusively to passengers who have booked cash fares in Emirates business or first class tickets along with those flying on Qantas Frequent Flyer points or Emirates Skywards miles. The service is not available to those travelling using points or miles from other frequent flyer schemes.
Given that Qantas levies very high taxes on Emirates award tickets, it's nice to see travellers up the pointy end afforded the luxury of a limousine transfer. Emirates Chauffeur Drive will help you start and end your journey in comfort and style. Plus, it could save you significant money on airport transfers.
A pre-departure visit to the Emirates Lounge
Emirates operates a network of outstanding business and first-class lounges at their Dubai Airport hub. As a Qantas Platinum Frequent Flyer, I was able to enjoy a visit to the highly regarded First Class Lounge.
After a short spa treatment and a sample of tempting morsels from the a la carte dining menu (Foie Gras, grilled cod and Burrata, anyone?), it was time to board my flight. Handily, the gate was accessible directly from the Lounge. So it was a quick trip down the elevator before walking onboard EK406, my Airbus A380 service which was due for wheels up at 10.15 am.
The Emirates A380 business class cabin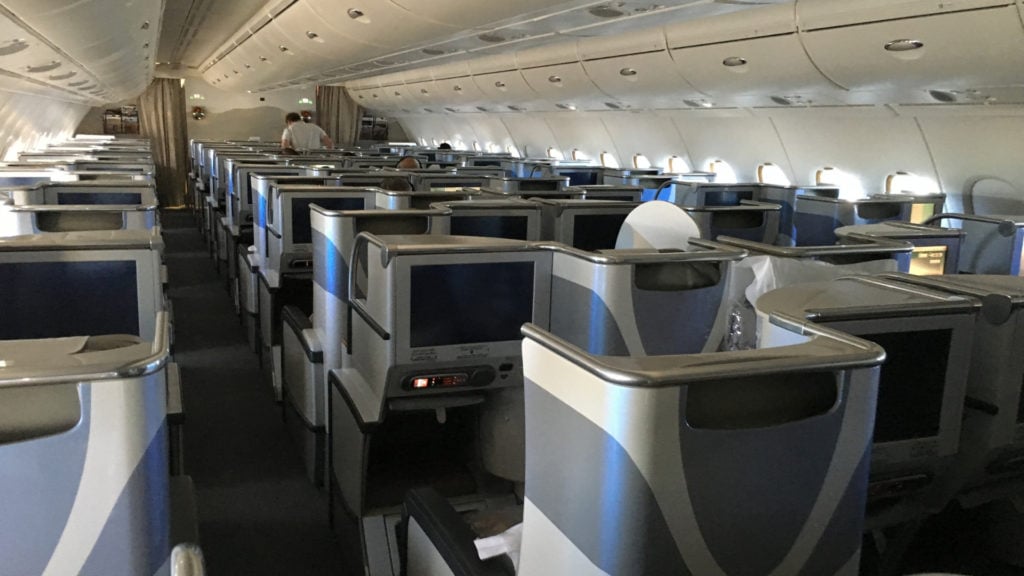 The three class Emirates A380 aircraft features two business class cabins – a larger, main cabin, with a smaller five-row cabin located at the rear. The seats are arranged in a 1-2-1 configuration, taking up the entire area of the A380 upper deck.
Upon embarkation, we are warmly greeted by the attentive international crew and show to our seats. Travelling with my young family, I've opted for the last row of the smaller cabin. This suits us perfectly, as, being close to the business class bar, it's easy for one parent to take a break for a leg stretch or a chat with fellow passengers while being close at hand. The restrooms are conveniently located just behind the bar, making them easy to reach with our small children.
By sheer chance (or, possibly because other passengers have spotted us), the smaller cabin is almost empty. We settle in and get familiar with the features of the Emirates business class seat. While somewhat on the narrow side, the Emirates A380 business class seat is elegant, comfortable and highly functional. The seat boasts a 48-inch pitch and 18.5-inch width.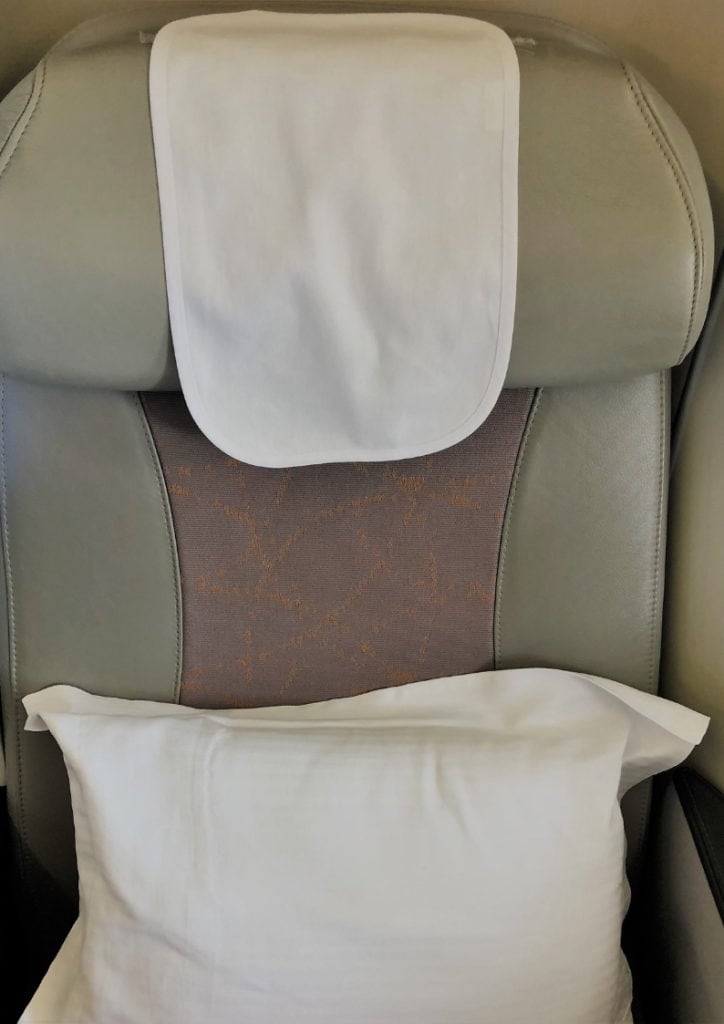 When it's time for all-important sleep, it's possible to extend the seat to an (almost flat) 79-inch bed at the press of a button.
There's a console housing an entertainment tablet and a somewhat impractical un-refrigerated mini-bar, where my daughter is exceedingly excited to discover a range of soft drinks.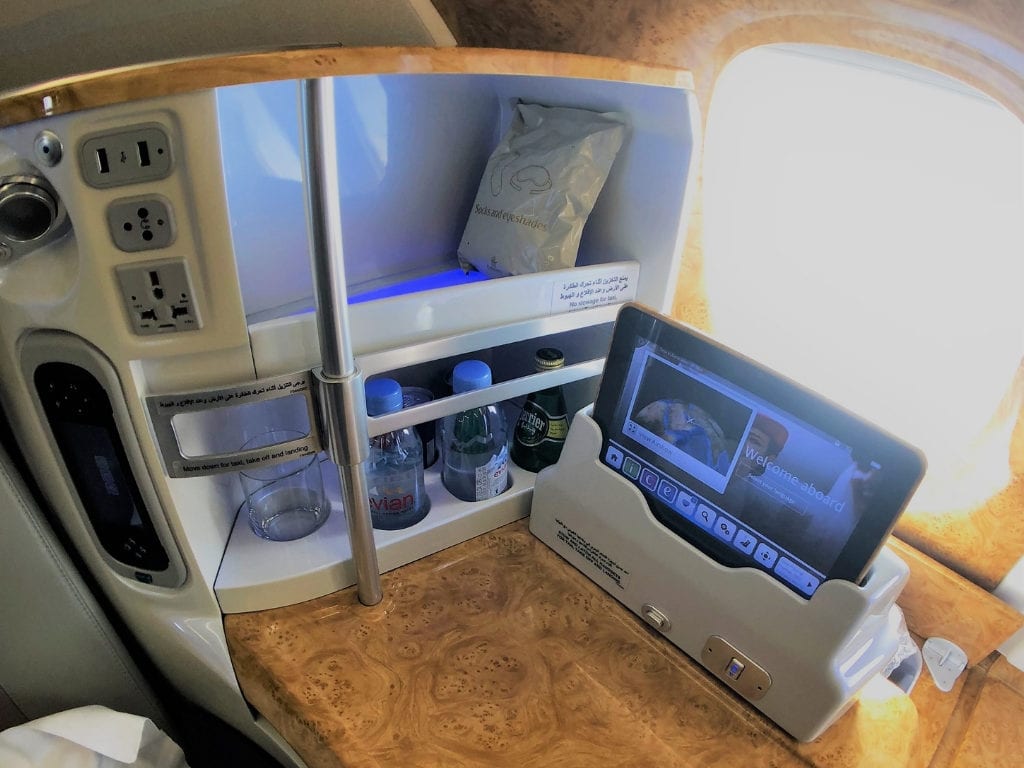 To the side of the minibar, passengers will find a power point, USB and earphone ports, a personal air-conditioning vent and hand controls.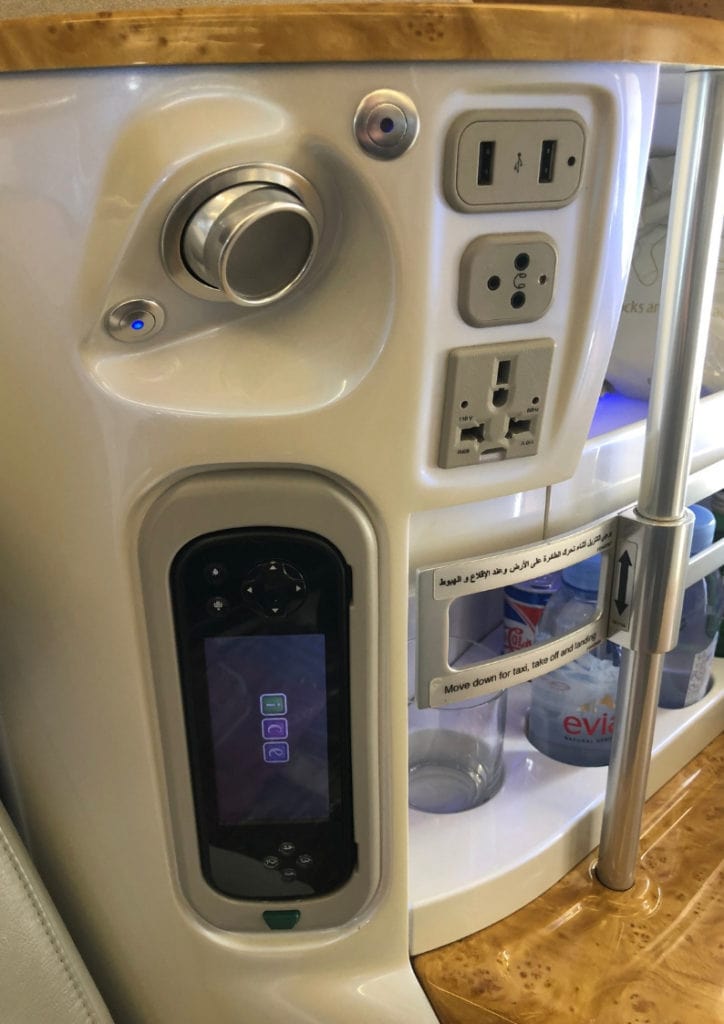 Seat controls are located on the side of the console, providing that all-important 'lie flat' configuration at the touch of a button.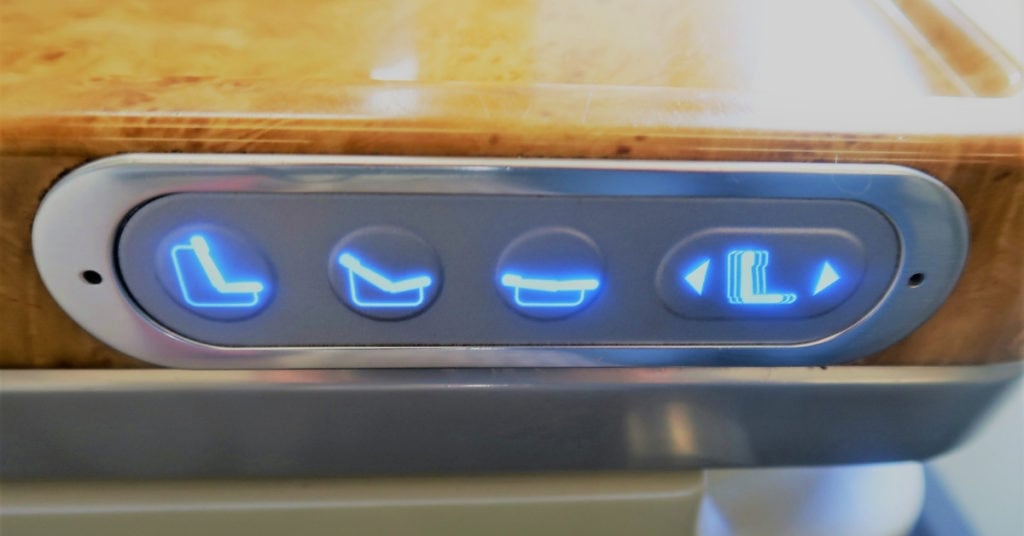 There's also a sizeable storage bin which provides ample space for my long haul carry on essentials.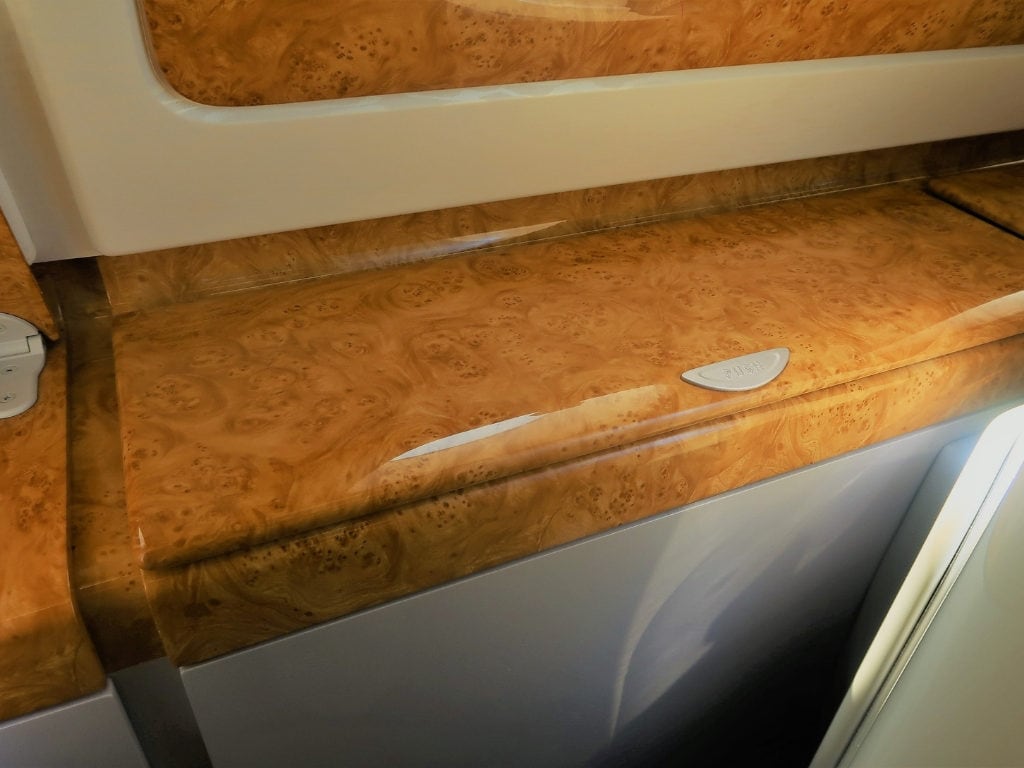 The Emirates A380 business class entertainment screen is of a good size. Certainly, it's large enough to allow for binge-watching of HBO en route, with Emirates ICE offering a decent range of movies, TV shows and the latest in music. Plus, there's an airshow for committed #avgeeks.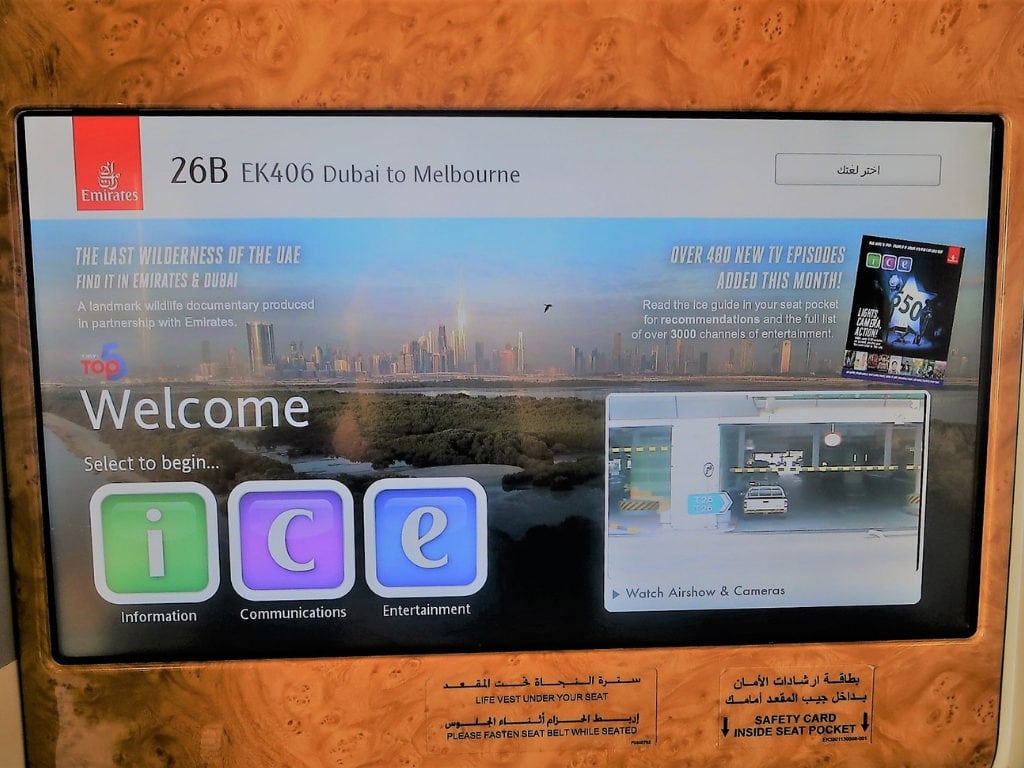 Legroom is ample, and footwell stowage is provided for usage when the seat is upright.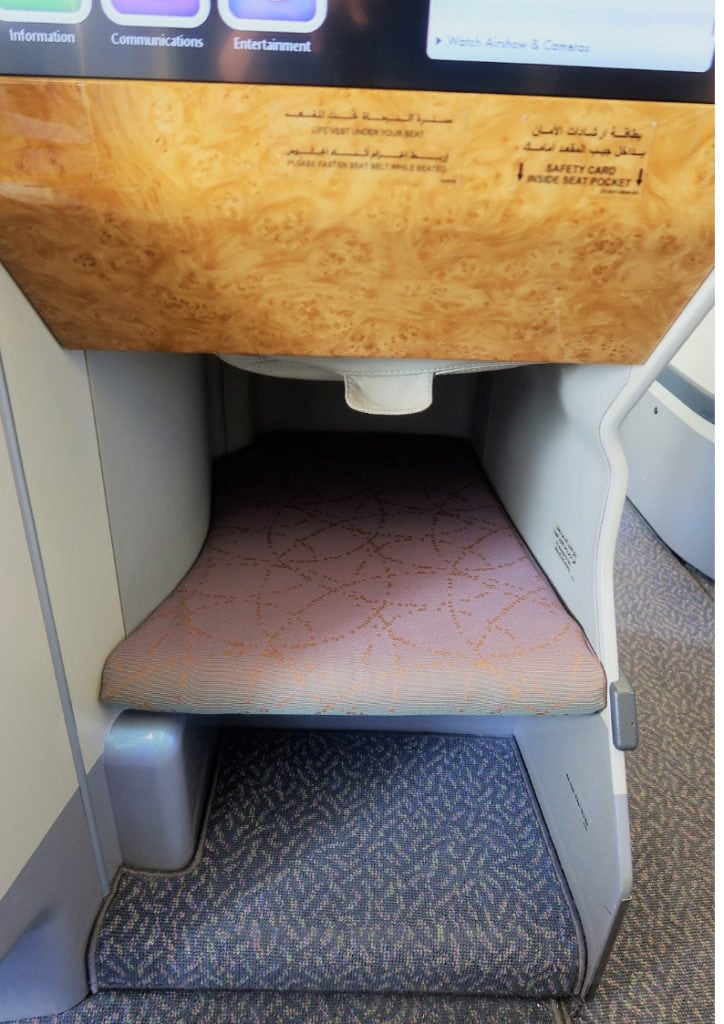 Emirates business class amenities
We are pleasantly surprised to find an array of amenities waiting for us at our seats. This includes a comfortable pillow and blanket, plus eye masks and socks.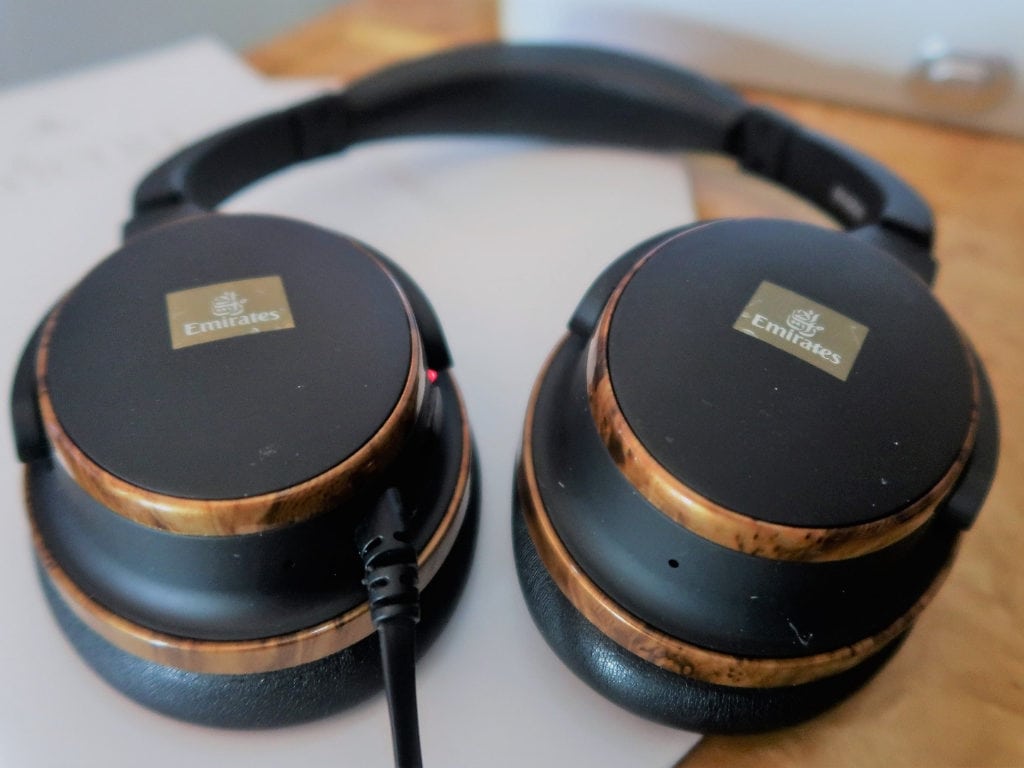 There's also a set of (admittedly pretty good) noise-cancelling headphones complete with a burled wood trim.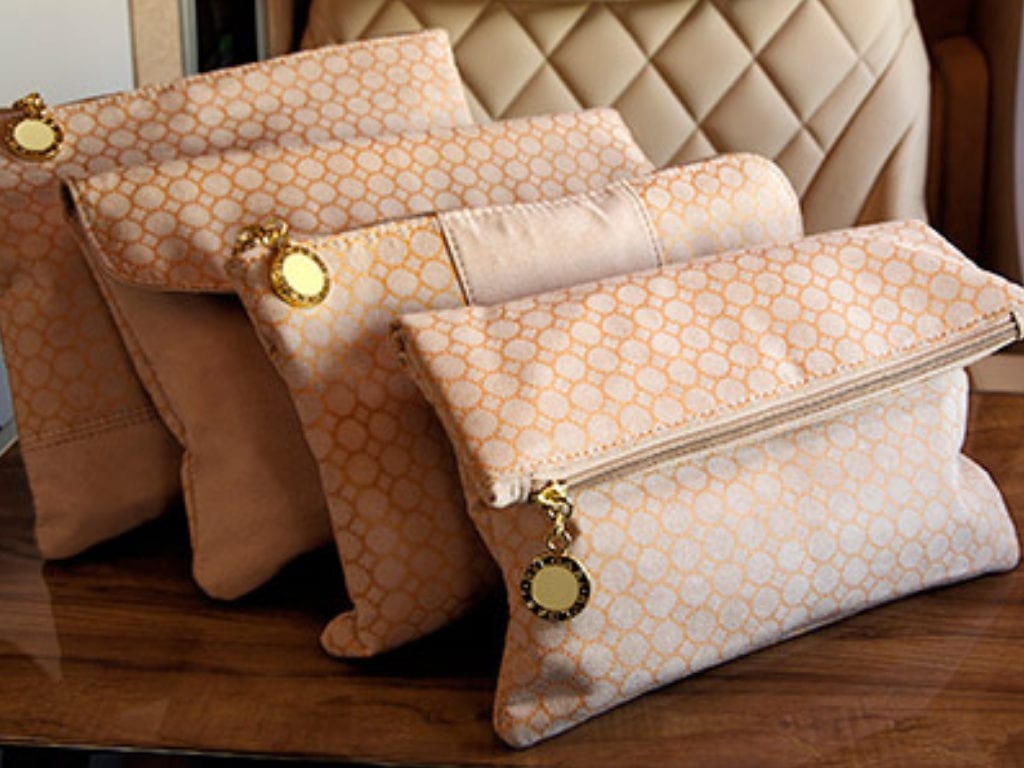 As soon as we've settled ourselves in for the 14-hour journey, the crew come around with an extensive number of toys from the kids – think soft toys, activity books, doodling screens and comfort blankets – plus his and hers Bvlgari amenity kits for the adults.
The initial service, whilst somewhat rushed, is warm and authentic, something I've come to expect from Emirates over the years. A number of crew members come around to introduce themselves.
We're offered a glass of Champagne (Moet NV) and get ready for takeoff. Before long, the seatbelt signs have been switched on, and it's time for wheels up.
Emirates business class wine list
After departure, I take the chance to review the wine selection.
It's rumoured that Emirates has invested over $500 million in their wine list – and that wouldn't surprise me in the slightest.
Passengers lucky enough to travel in first class can experience world-renowned drops like vintage Dom Perignon Champagne, Chateau Y'Quem Sauternes, Hennessy Paradis and top of the shelf back-vintage Bordeaux. While the business class wine list isn't quite as exotic, it nonetheless gives other airlines a run for their money (Qantas first class, we're looking at you).
First up, there's a range of cocktails on offer.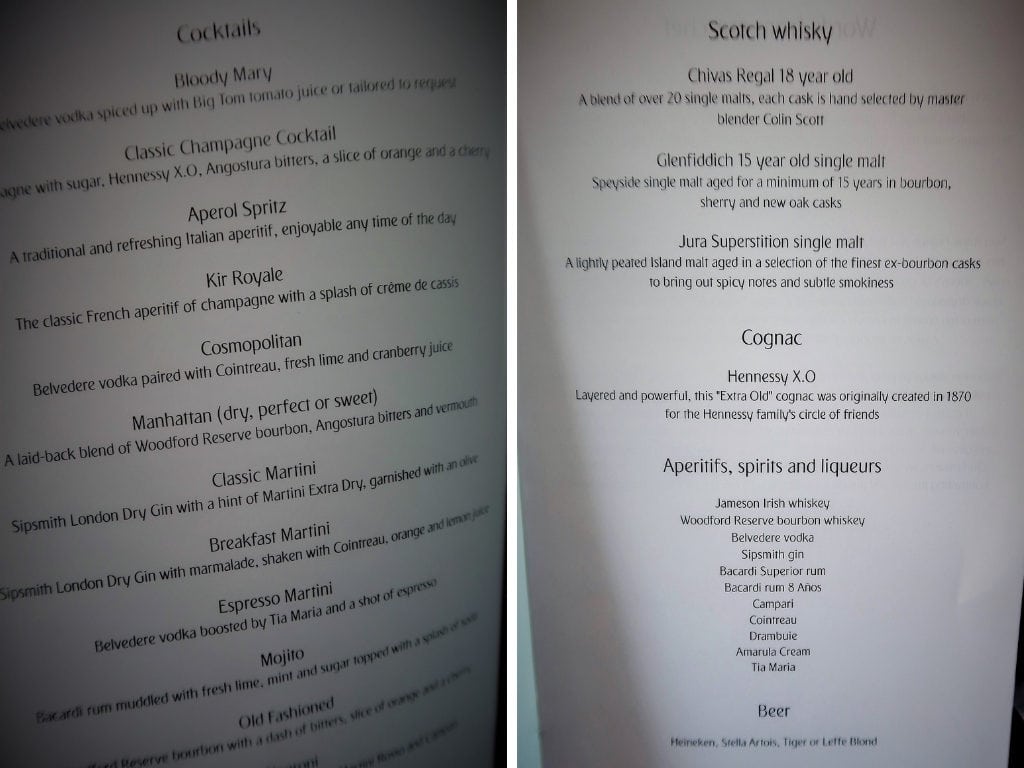 Emirates offers business class passengers a range of old and new world white and red wines, including a back vintage Bordeaux from the highly regarded 2004 vintage, and a Pyrenees Shiraz from Australia.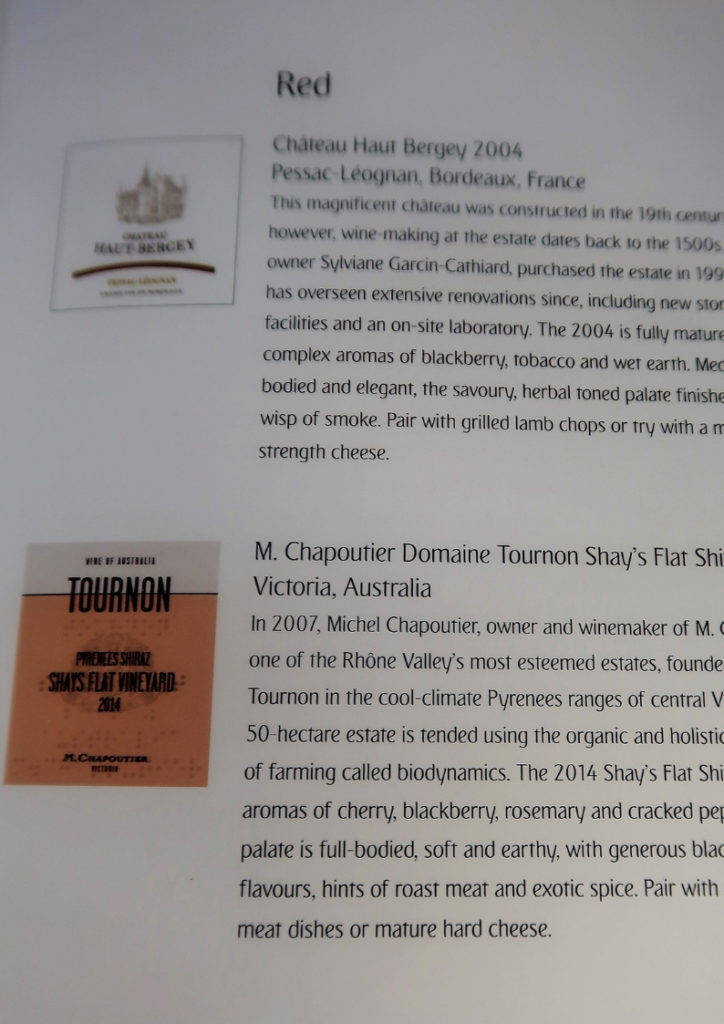 Naturally, though, I stick to Champagne.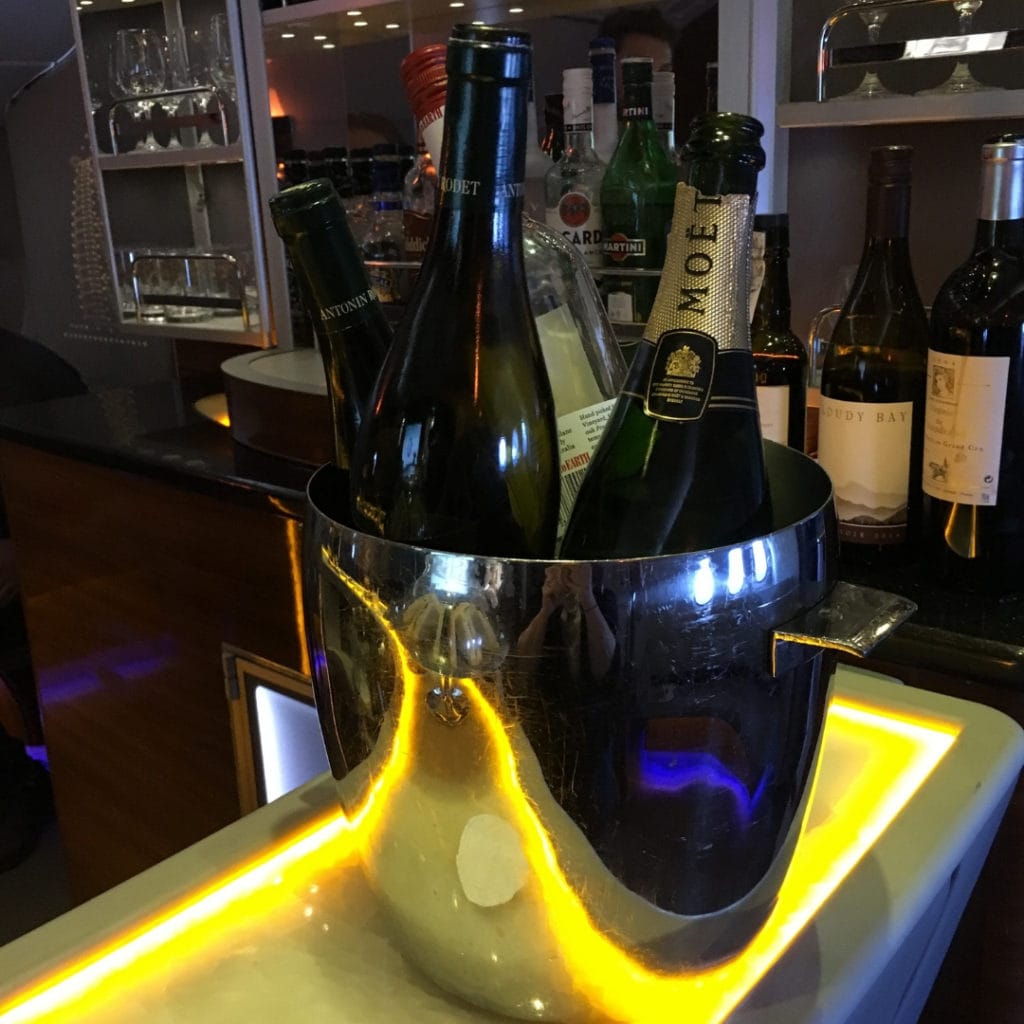 Emirates business class dining (lunch)
There's both a lunch service and breakfast option scheduled for our 14-hour flight. In between, a range of hot and cold snacks are available at the bar, or for in-seat ordering. These range from light bites such as smoked salmon, to a more substantial bowl of barley risotto.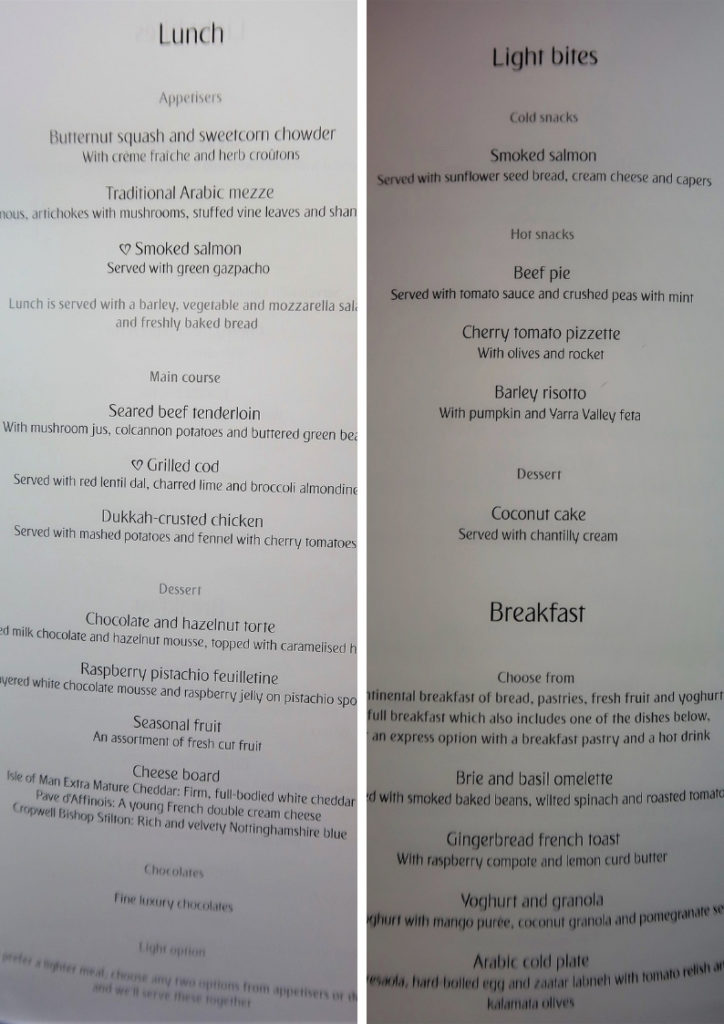 An hour or so after departure, the crew come around to dress my table with linens and take my order for lunch service. First up, my drink (Champagne) is delivered. It's then another half hour or so before my entree arrives. I've opted for the Arabic Mezze, which is always my appetiser of choice when flying with the ME3.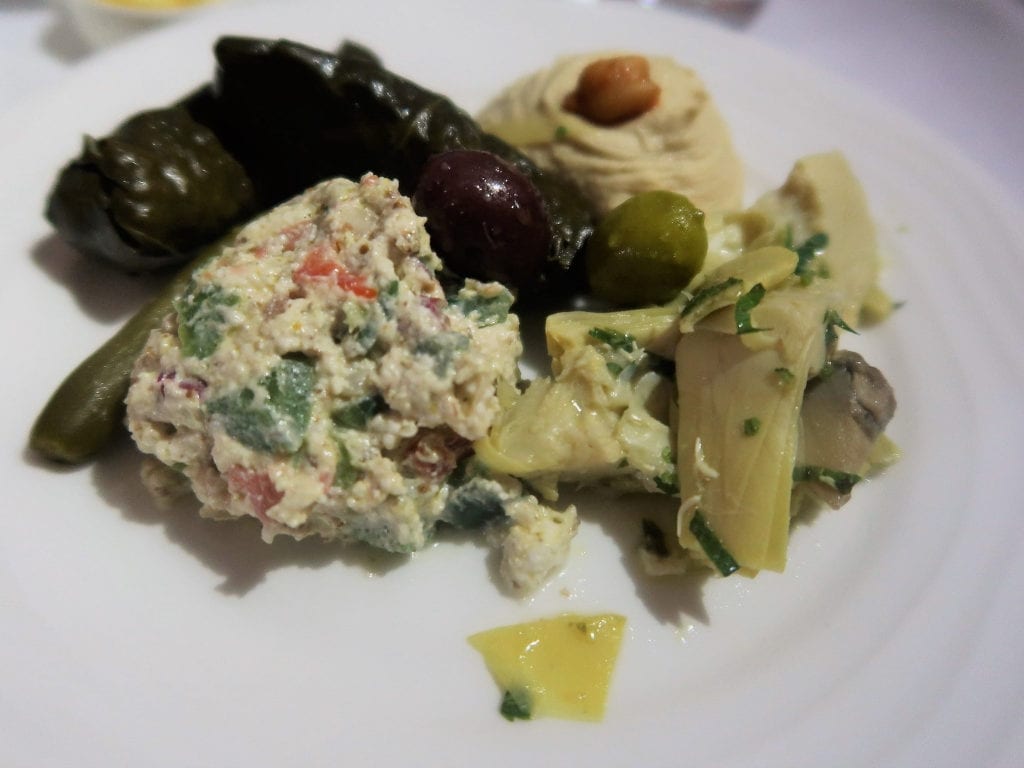 It's a satisfying starter, with the fresh stuffed vine leaves cutting through the richness of the hummus.
For my main, I choose the seared beef tenderloin. ordering steak is often a risk in the air, and unfortunately, on this occasion, while the sides are delicious, the meat is quite dry.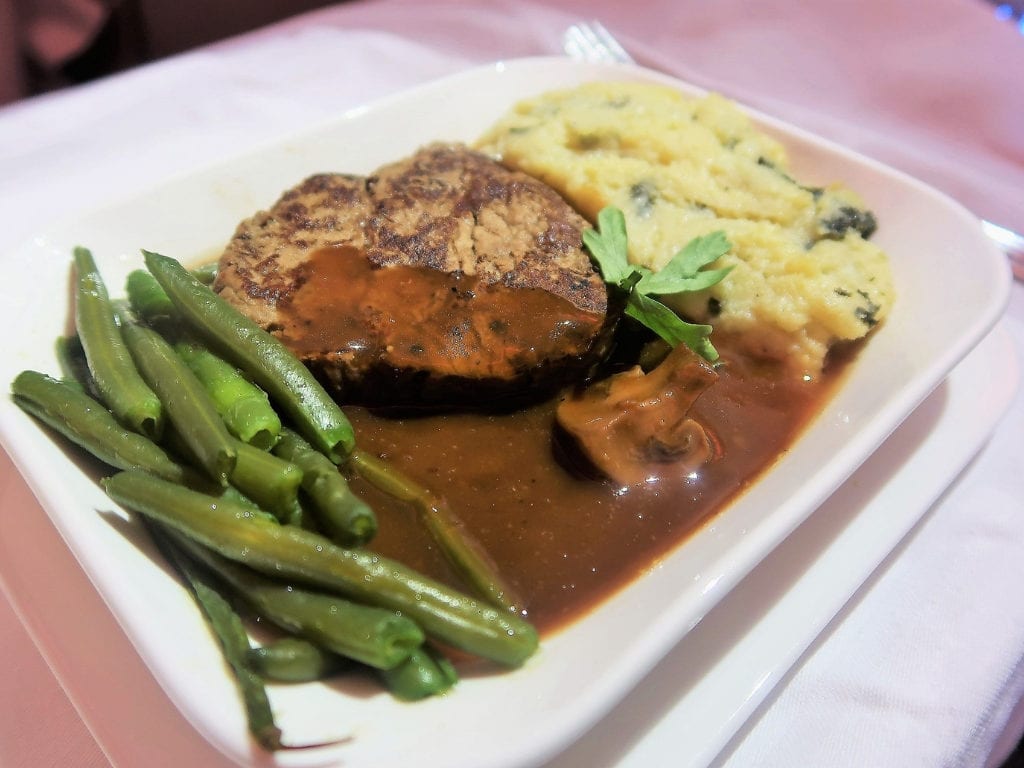 For dessert, I opt for a cheese plate. A range of three cheeses (one Australian, and two from France) are presented alongside accompaniments. The servings are large, and pleasingly, presented at room temperature.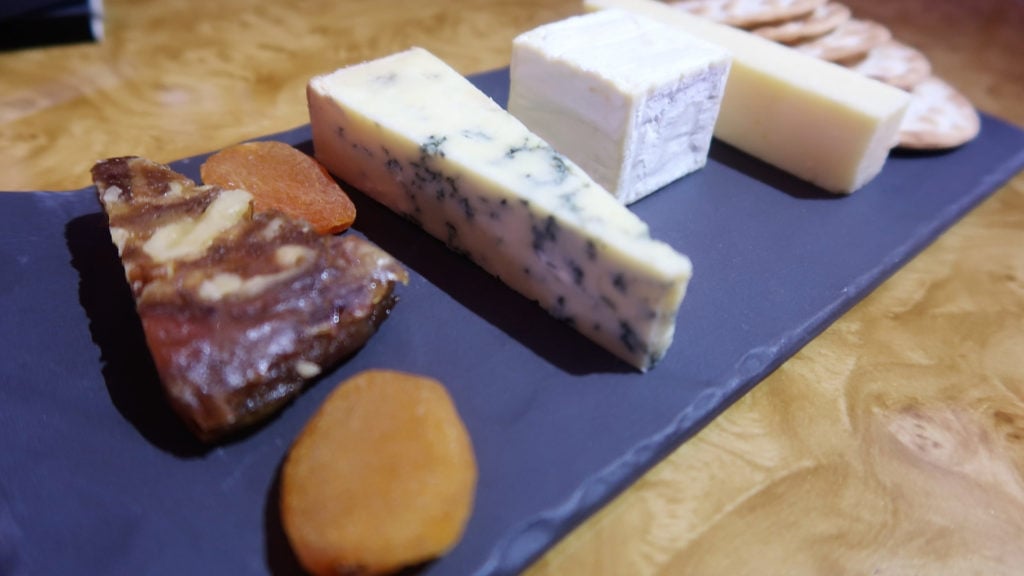 Following dessert, the crew distribute samplers of Valhrona chocolate.
After dinner, my partner and I alternate visits to the fabulous Emirates A380 Bar, which I've reviewed separately here.
Emirates business class dining (breakfast)
Seven or eight hours pass relatively comfortably, with all of the family managing to get some sleep. With our cabin practically empty, even our almost-two-year-old is able to enjoy some shut-eye on his own seat.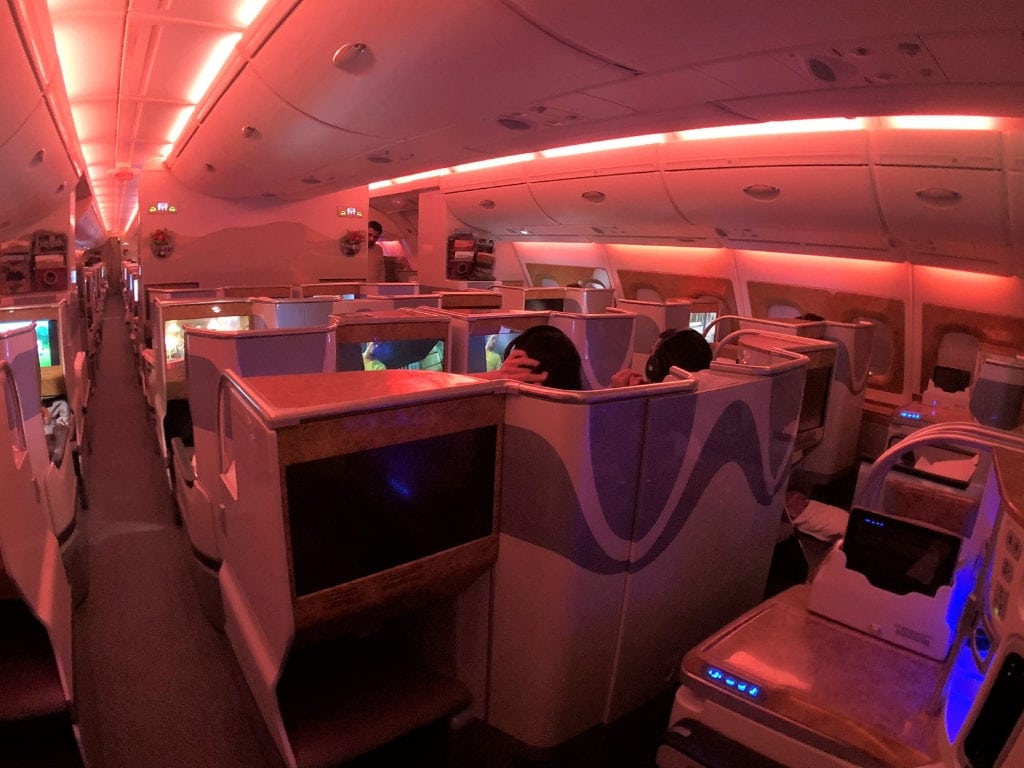 Before long, though, the business class crew start to get ready for breakfast service, which will be served several hours prior to our arrival in Melbourne.
First up, I'm served a fruit salad along with a cup of hot coffee.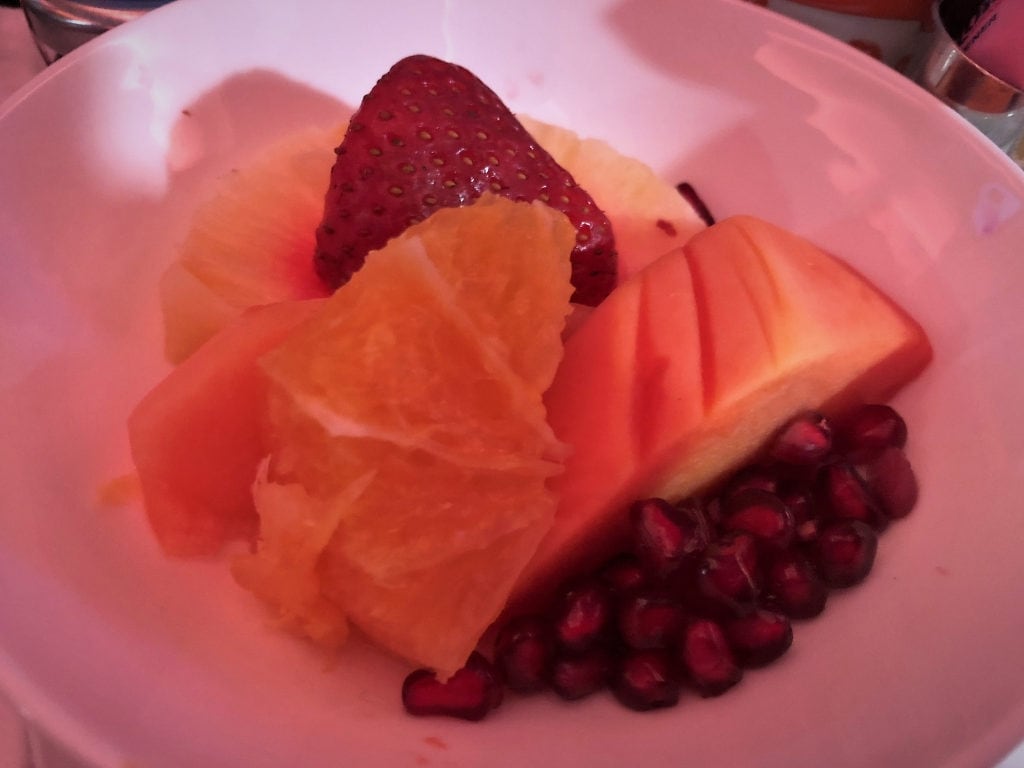 Next, I choose the gingerbread French toast with raspberry compote and lemon curd butter.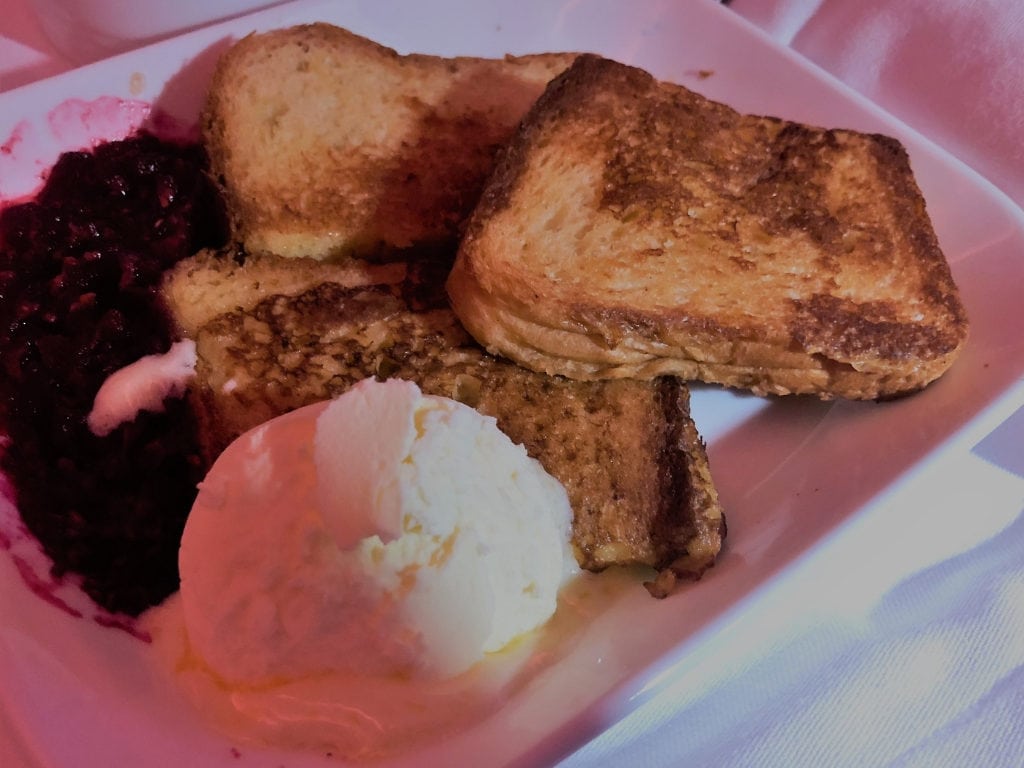 Both are satisfying, and I sip my black coffee whilst admiring the sunrise from my window.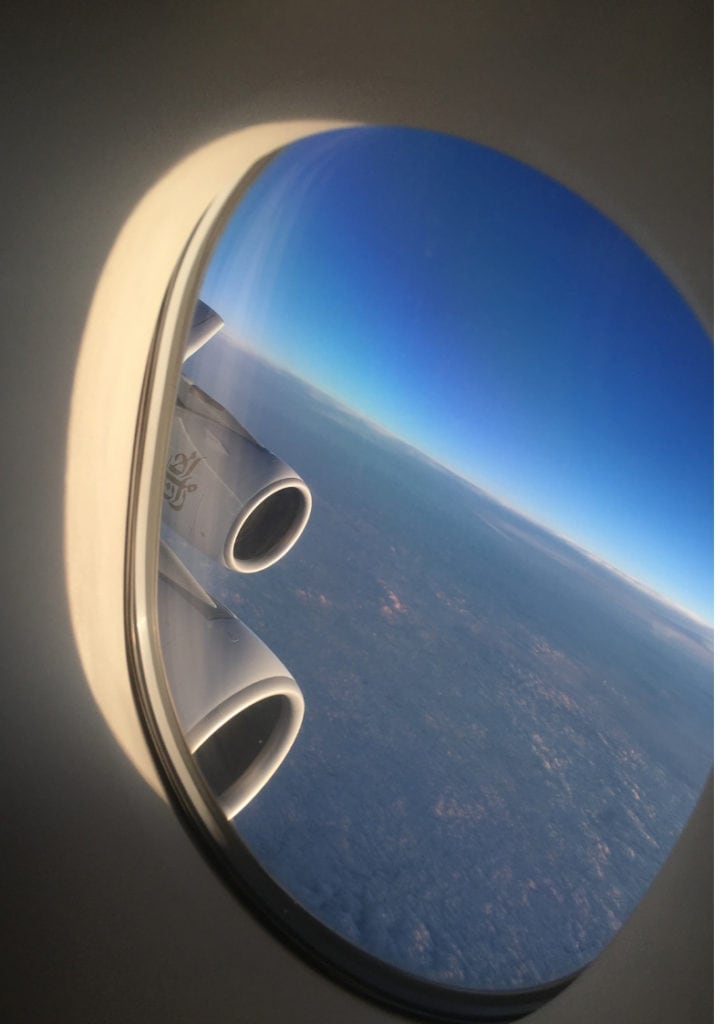 Before long, the captain is announcing that our descent is imminent, and it's time for the crew to get the cabin ready. Our descent is uneventful, and we arrive on schedule into Melbourne Airport at 10.15 am.
Emirates business class review: My verdict
With an extensive network of flights from Australian cities to Dubai and onwards to Europe, Emirates' flagship A380 aircraft is an accessible travel option for Australian travellers. Furthermore, Emirates business and first class flights are easily redeemed using Qantas Frequent Flyer points.
And while the current A380 cabin finishes may appear over the top for some – it all somehow just works. The Emirates business hard product is arguably inferior to some other competitors. However, the overall Emirates Business Class service (including door to door Chauffeur Drive service) most certainly sets Emirates apart from the rest.
Furthermore, the Emirates route map is extensive, and with plenty of things to do in Dubai, a UAE stopover could also be on the cards.
Have you travelled Emirates business class? Let us know your thoughts in the comments!
While you're here: Subscribe to our newsletter for the latest tips, deals and news. It only takes a few seconds and we respect your privacy: