The flagship Malaysia Airlines business class Lounge doesn't disappoint.
A visit to the Malaysia Airlines Golden Lounge at Kuala Lumpur International Airport has long been on my bucket list. It's accessible to Malaysian Airlines business class passengers, along with Oneworld business class and Oneworld Sapphire travellers.
Featuring Malaysian hospitality, elegant decor, great facilities and even a Laksa bar, this flagship Lounge is a great lead into a flight. Read on to find out why you need to visit.
Getting to the Lounge
I arrived from Singapore on Malaysia Airlines flight MH620 in business class and was on my way back to Adelaide on upcoming flight MH0139. Having alighted from the Aerotrain from the main terminal (where short intra-Asia flights arrive) to the satellite terminal, I headed up to the Mezzanine Floor, level 2 where the lounge sits directly above where the light rail arrives. The Malaysia Airlines Golden Lounge is surprisingly easy to find!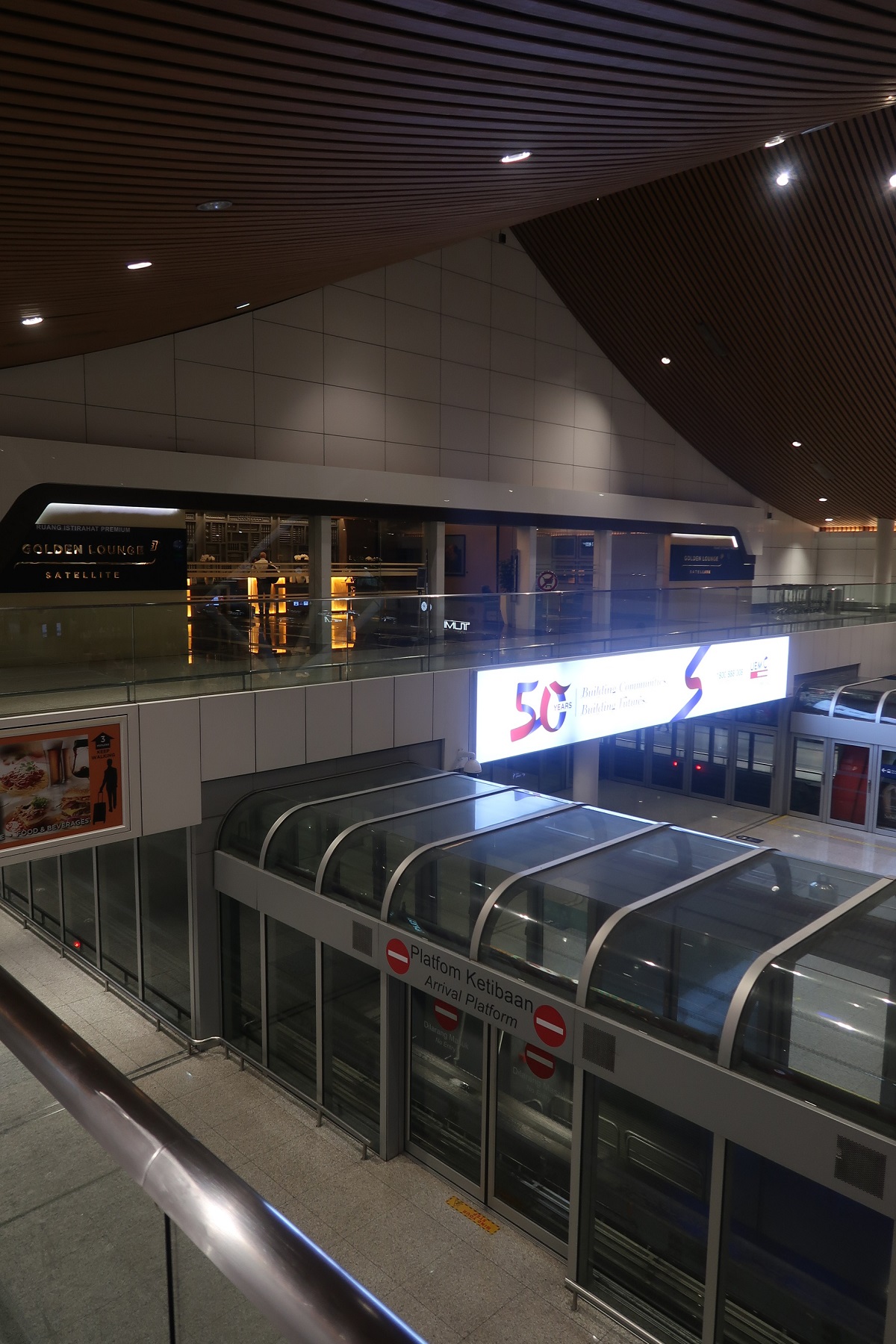 Author note: There are three Malaysia Airlines Golden Lounges at Kuala Lumpur Airport – Golden Lounge – Satellite Terminal, Golden Lounge – Regional and Golden Lounge – Domestic.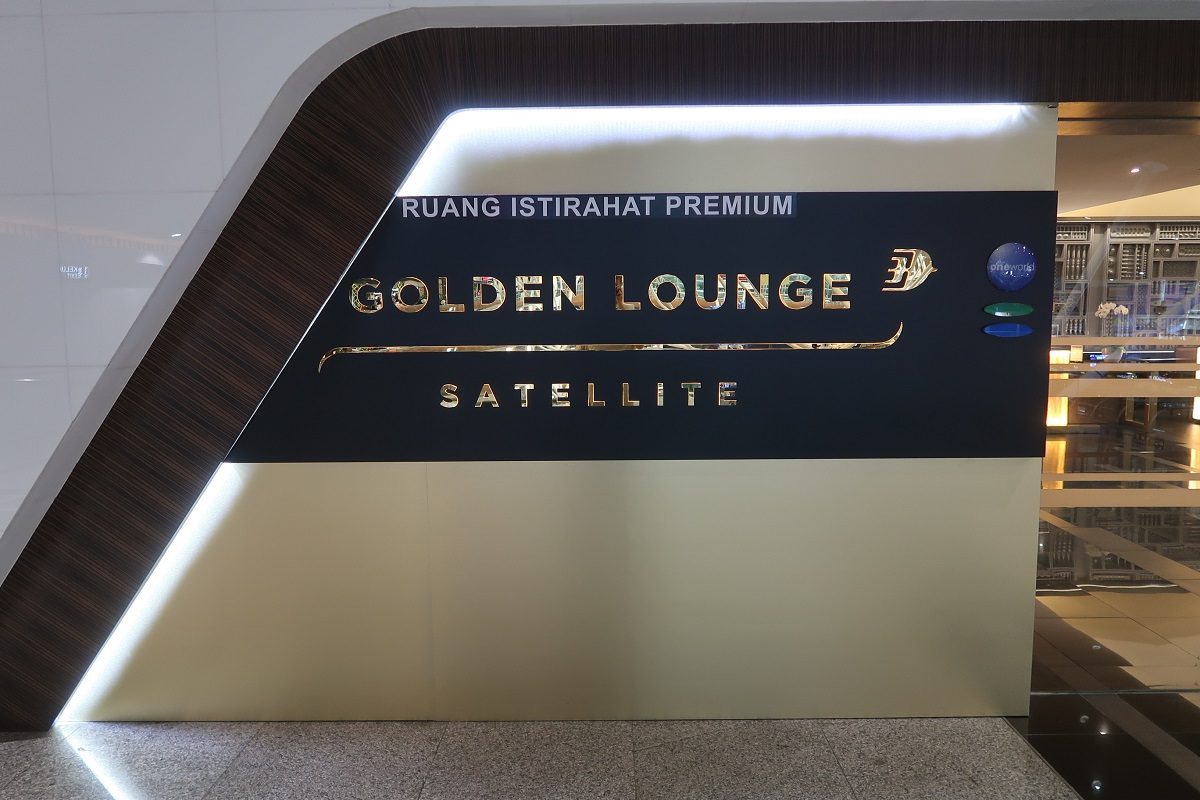 Reaching the entrance, I was struck by the lighting effects and visual style. I would call it "elegant bling".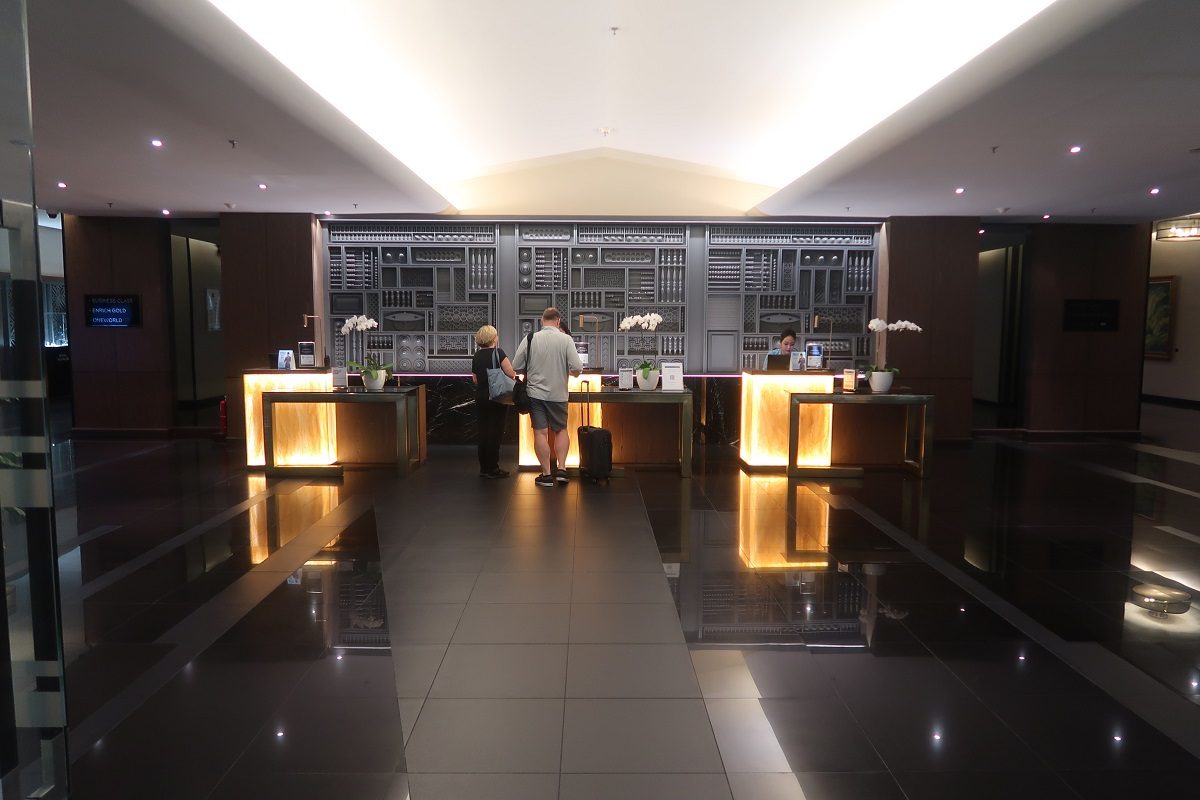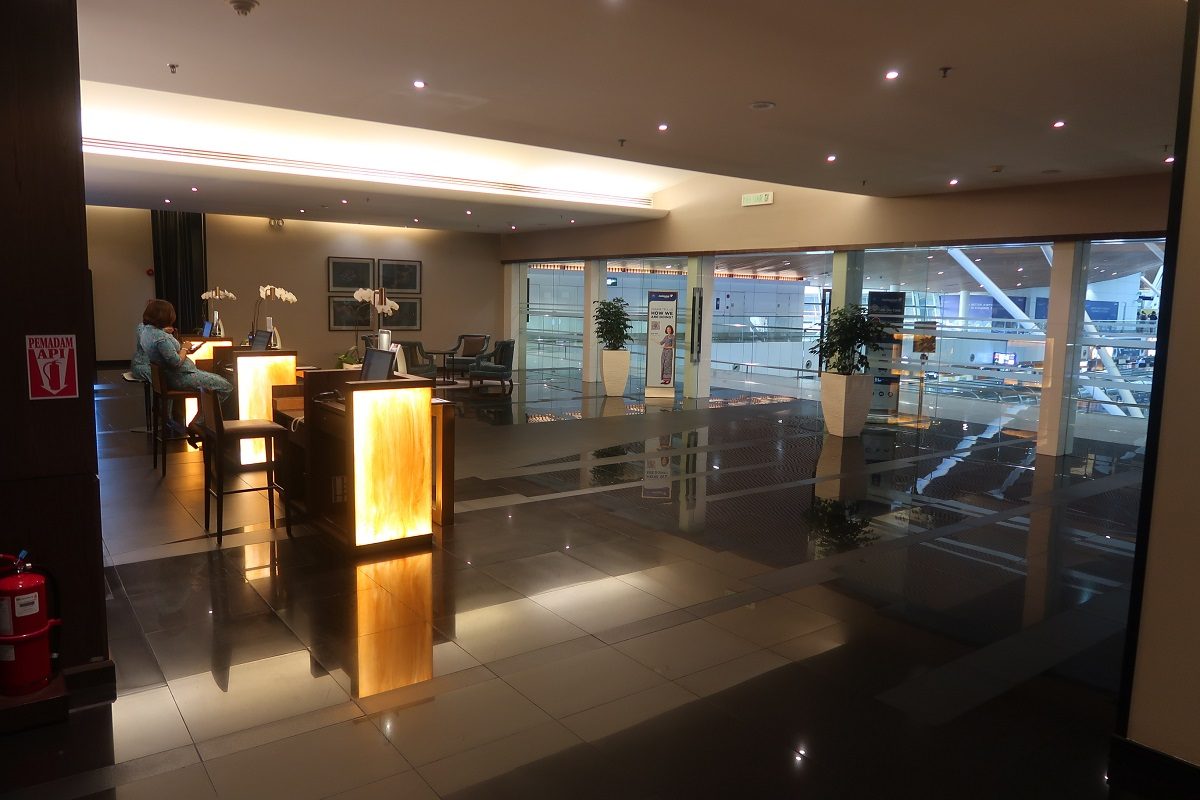 To the left, there is the Business Class Lounge, (which I'm reviewing today). On the right and less obvious is the first-class facility, open to Malaysian Airlines and oneworld first-class passengers, plus top-tier elites.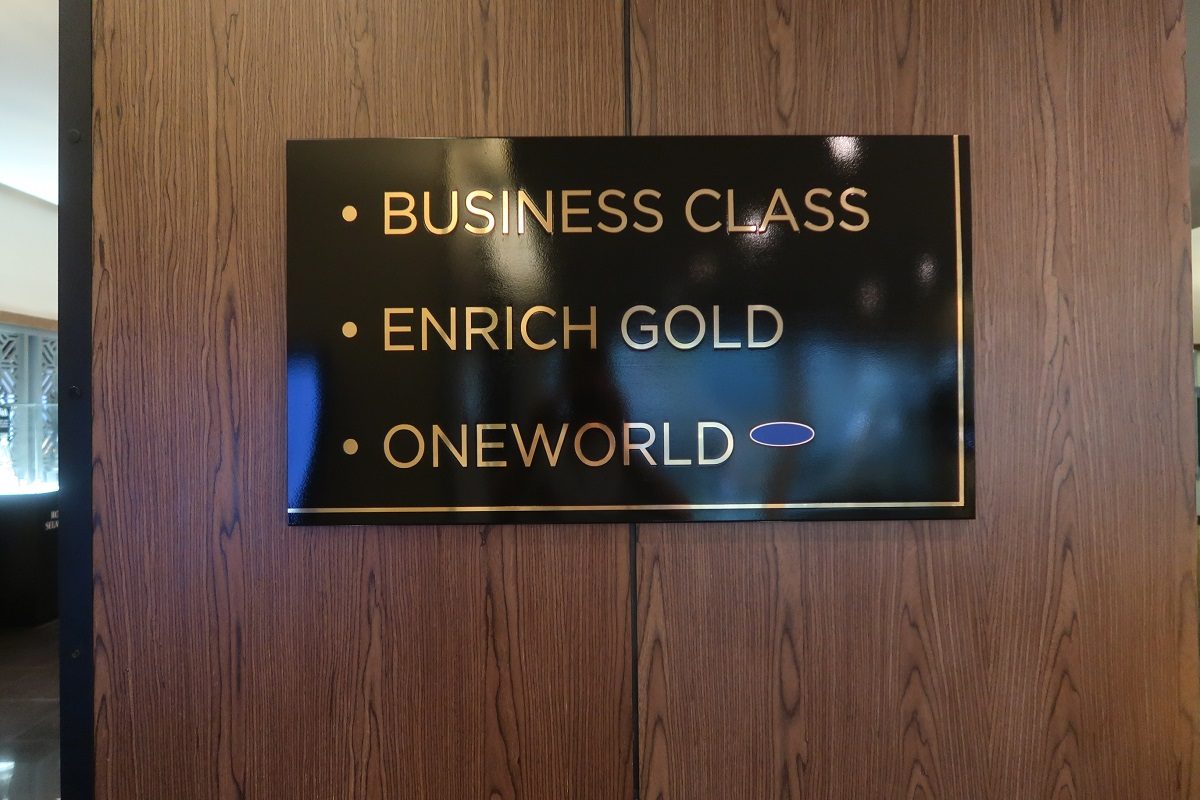 As you head down the corridor, you come to two useful rooms – a luggage storage area and a bar off to the left, just before the steps.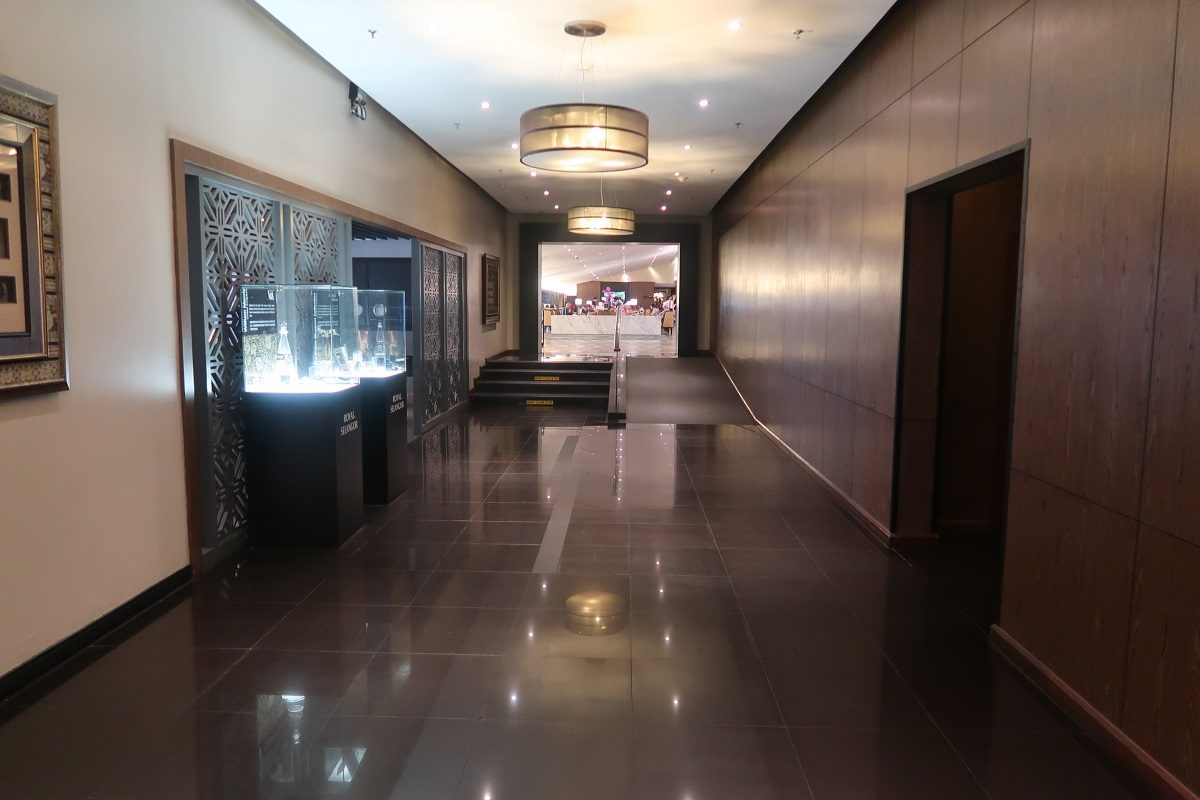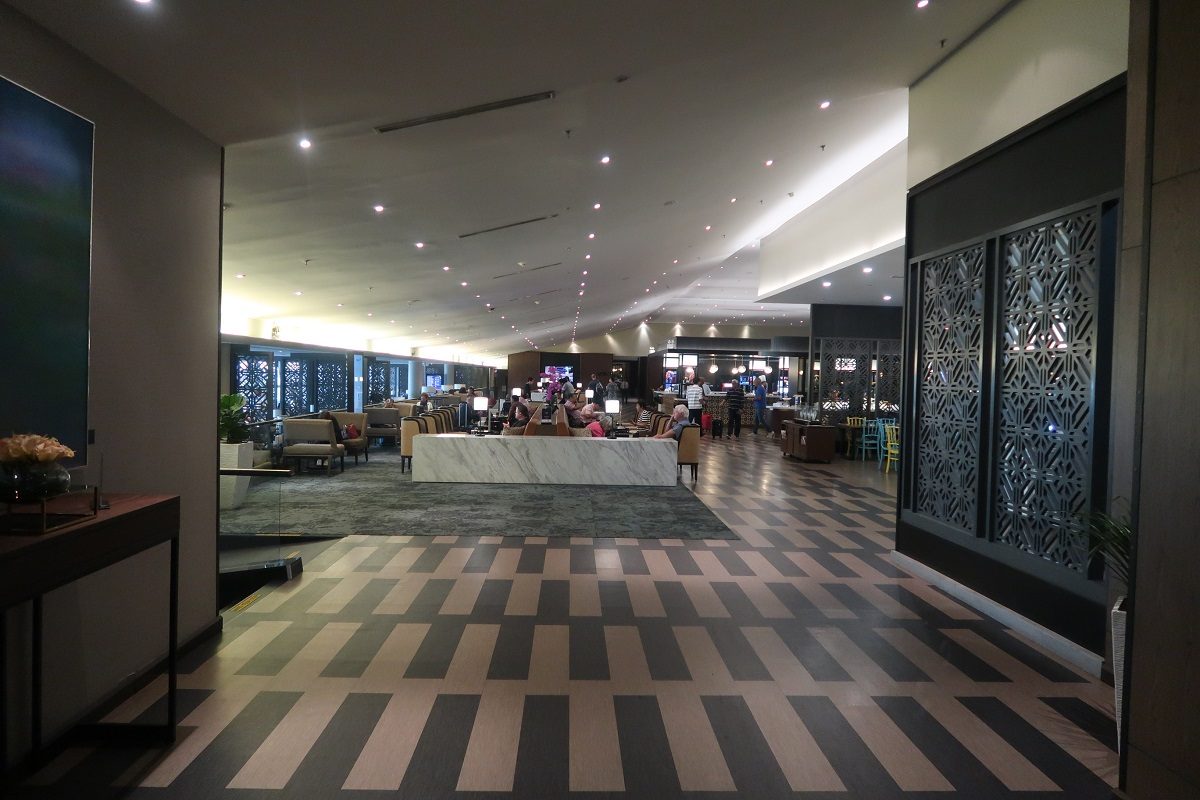 Entering the main area, it dawns on me that the Malaysian Airlines Golden Lounge is a seriously large space. So the first thing I do is secure a spot and go for a wander to see what is on offer.
What I see is a comprehensively designed space that maximises one side for aircraft viewing and has split level partitioned seating. In the centre is the main kitchen, with a noodle bar nearer the front of the lounge.
The rear of the Lounge houses a range of other amenities including showers, prayer room, nap room and family space. On the non-window side are benches and plenty of seating options.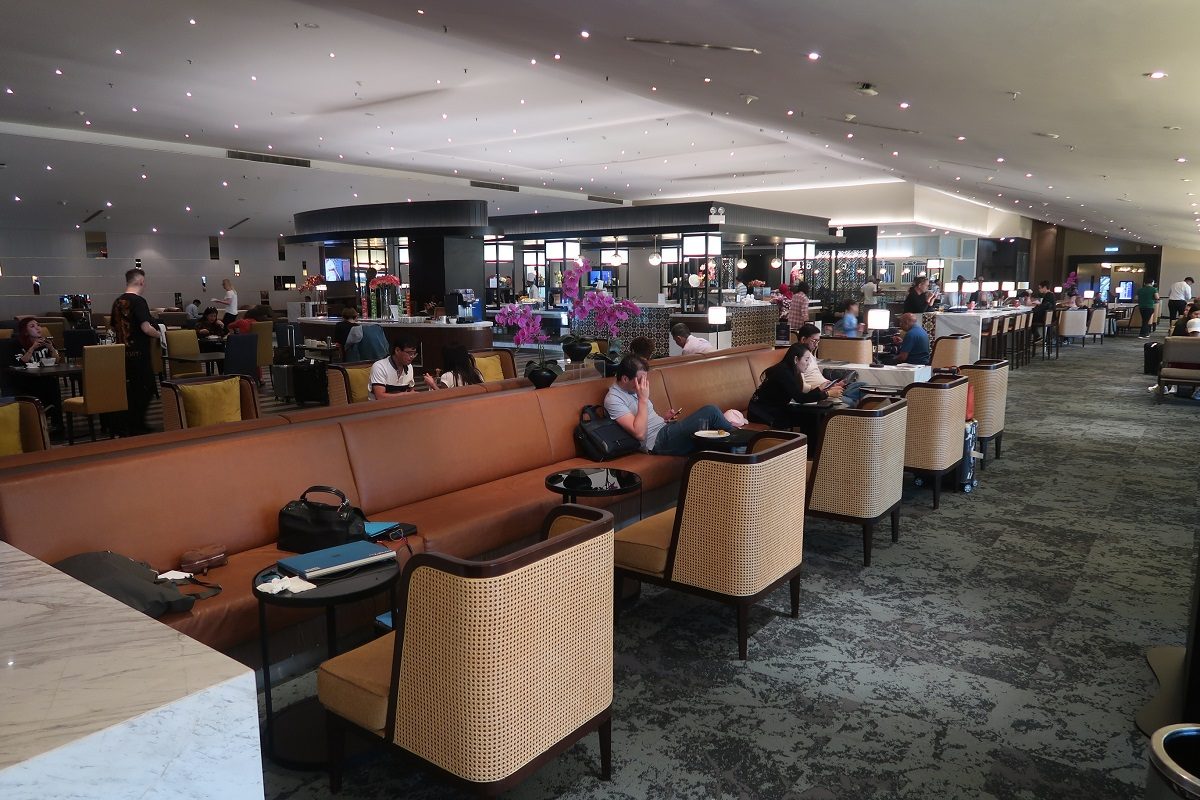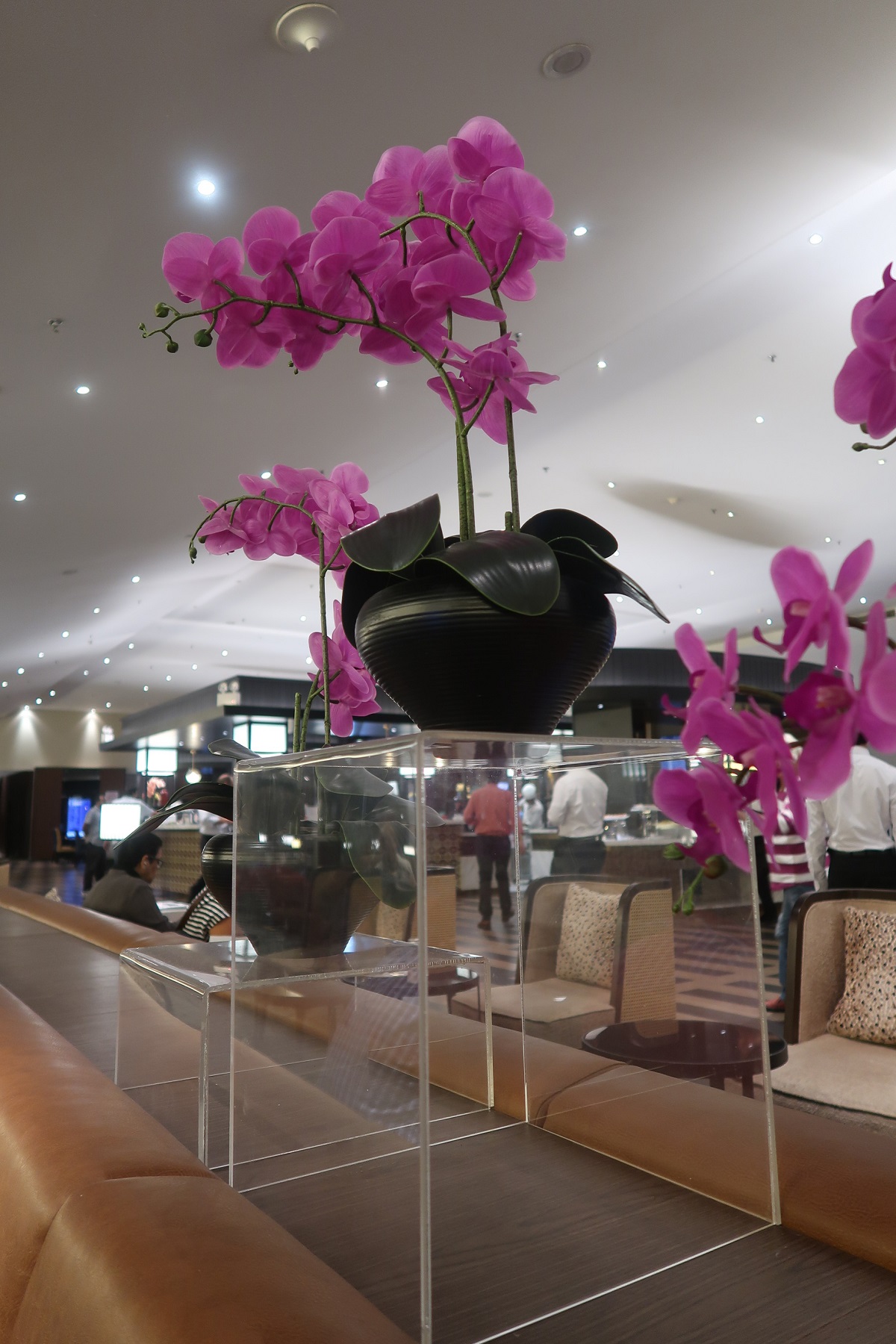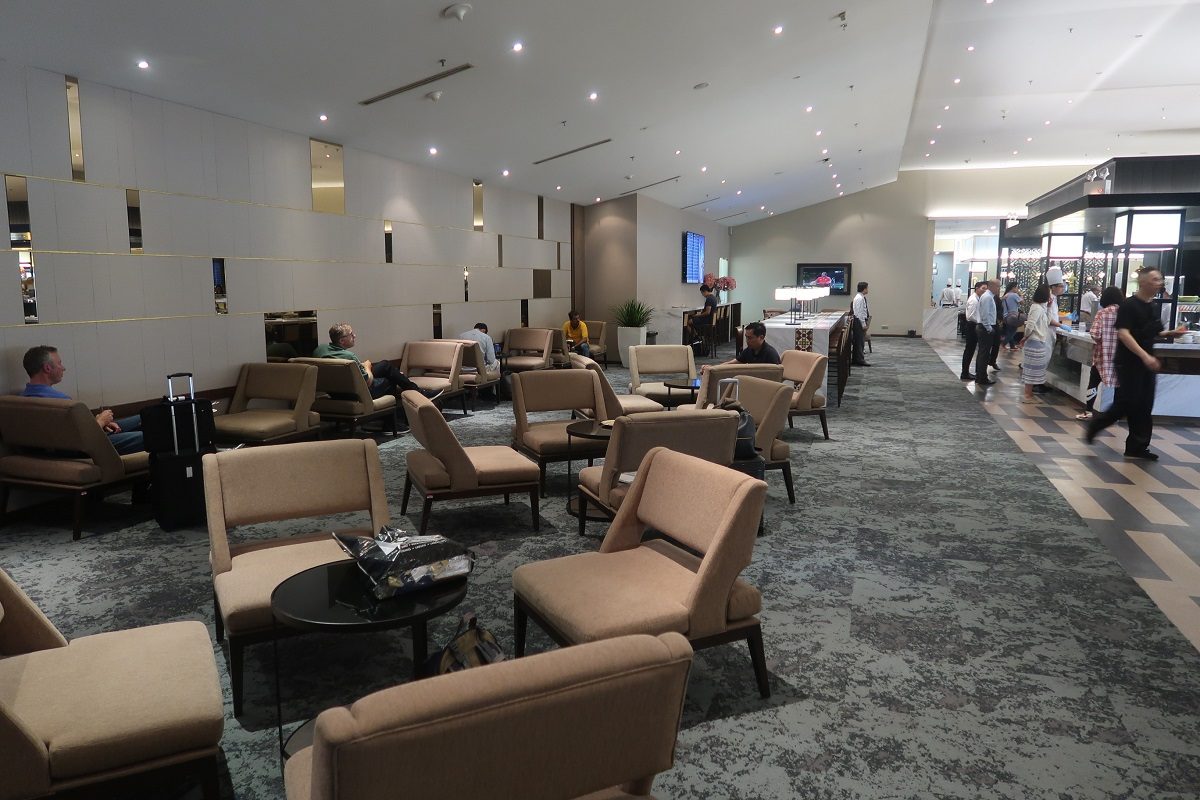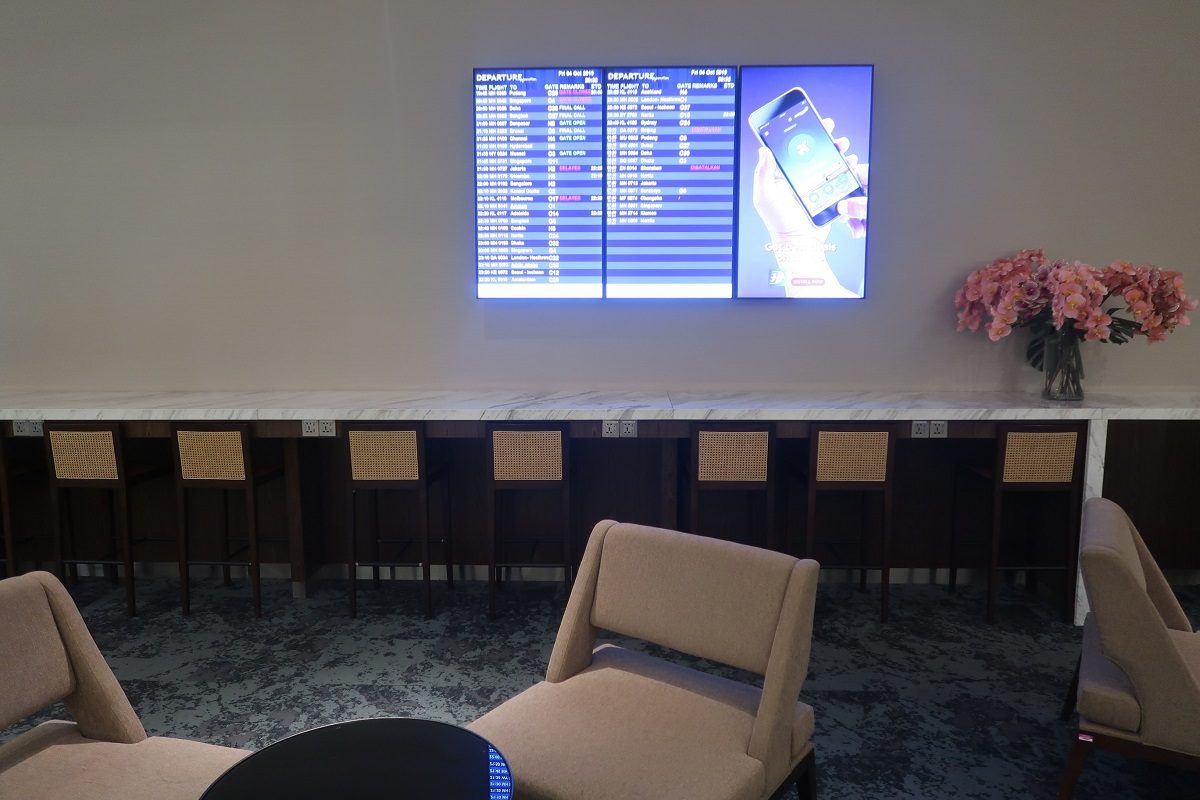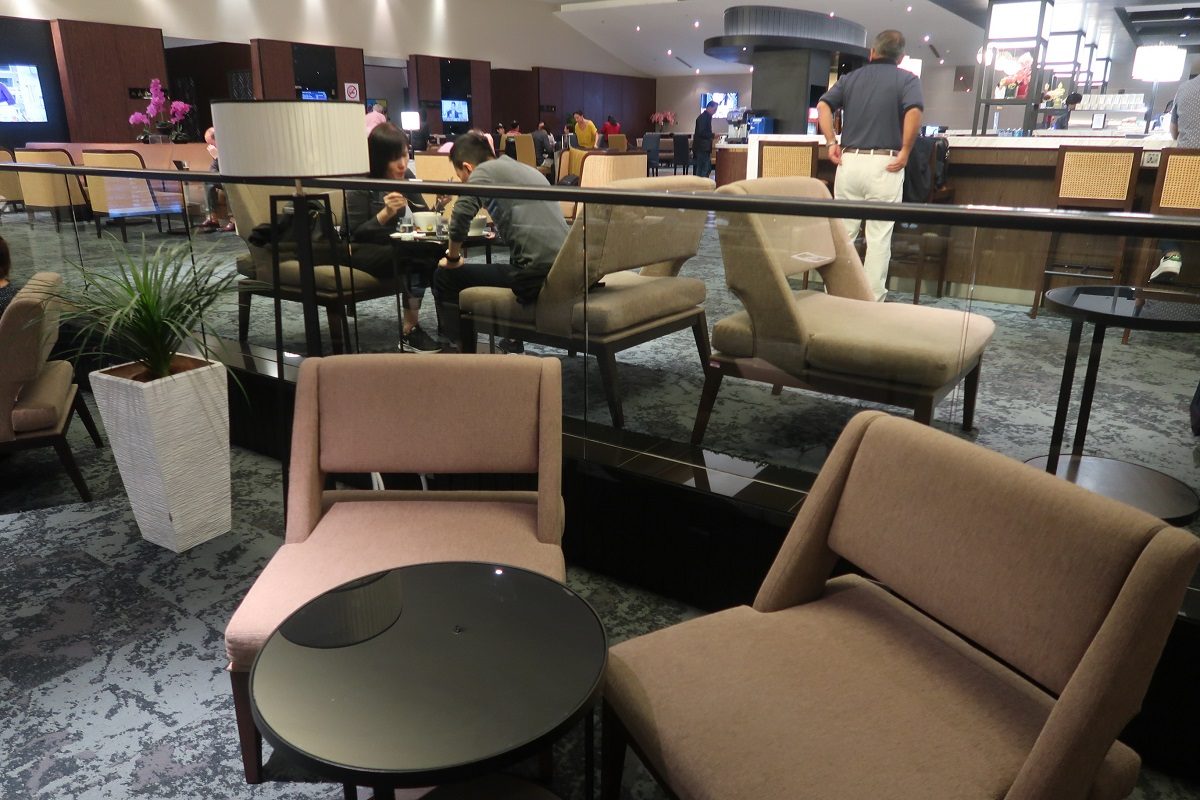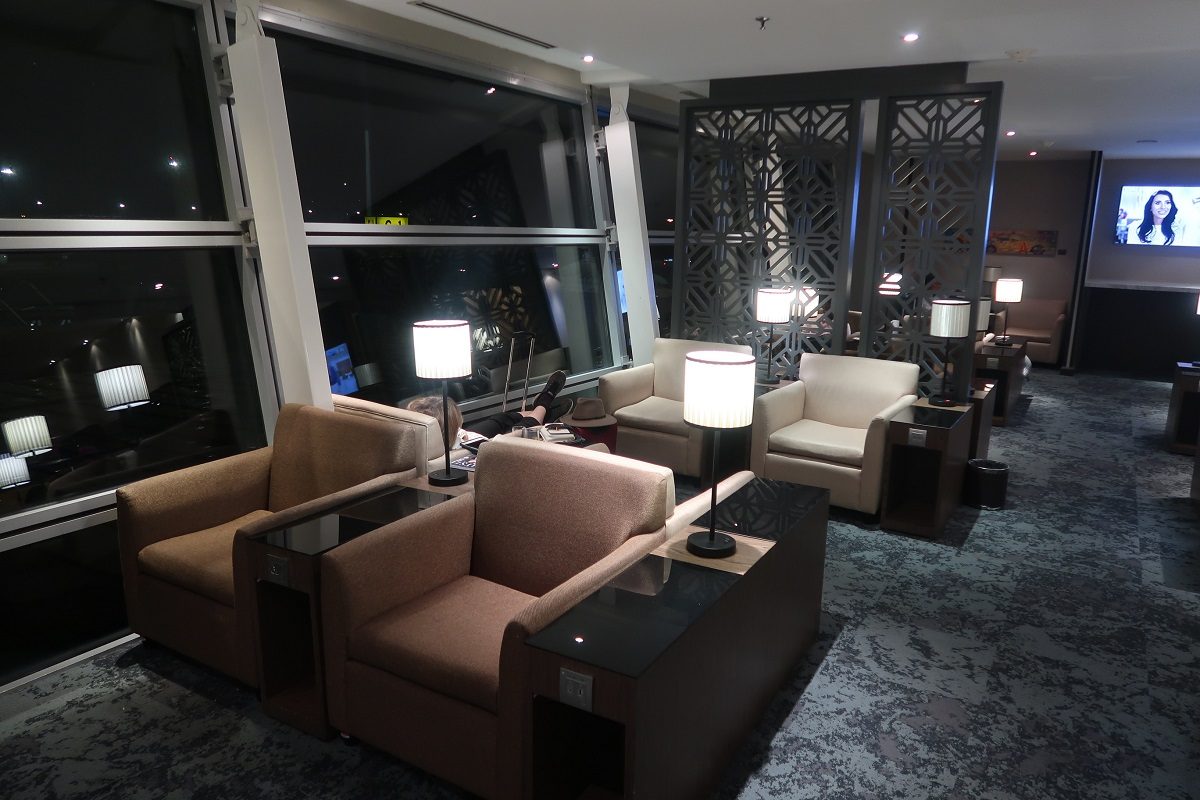 Before I wander further, I return to the bar for an ice-cold Tiger beer. The staff are much obliging and clearly enjoy their job.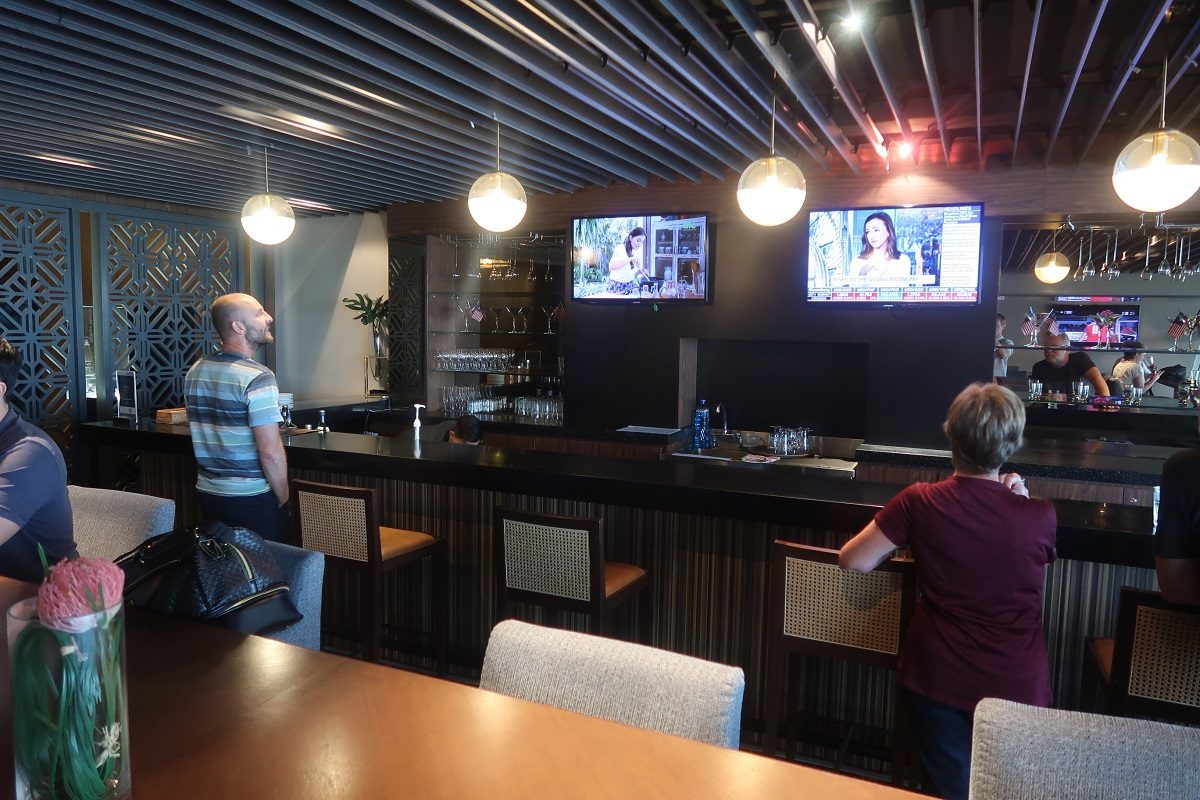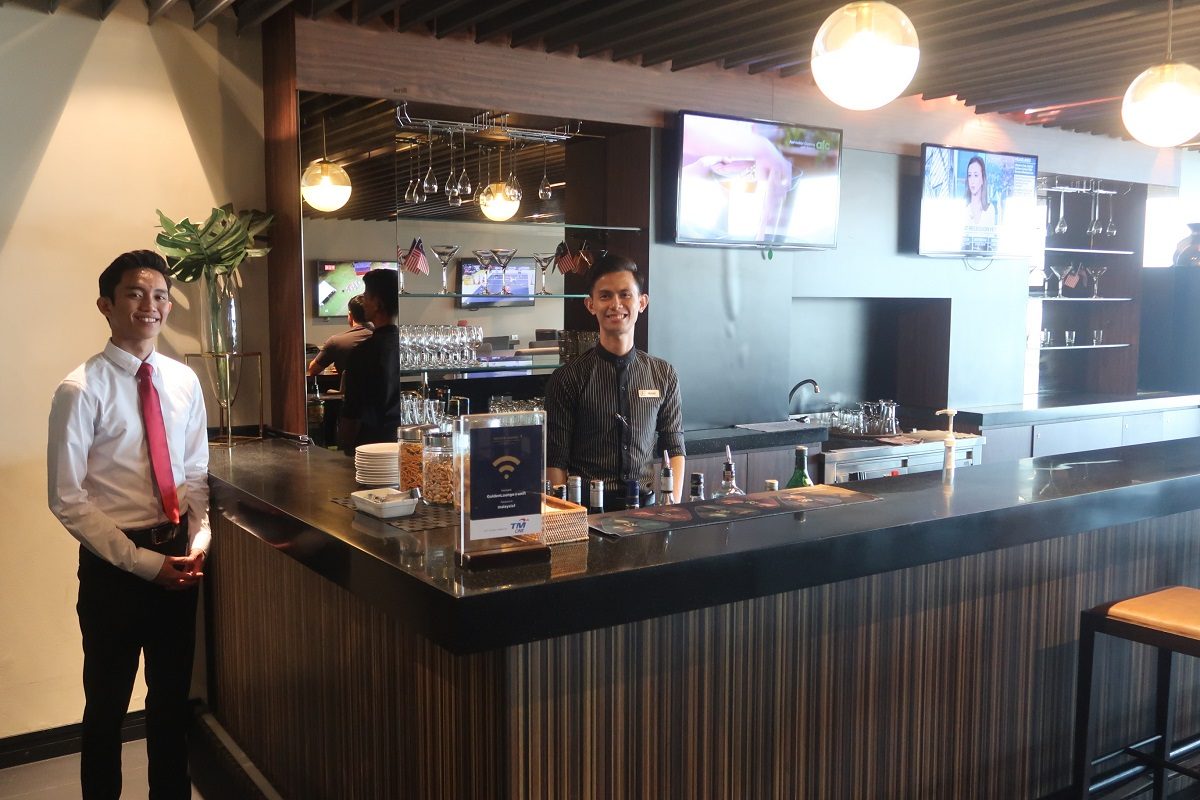 The food in the Malaysia Airlines Golden Lounge
The first thing to remember is that this lounge is a 24 x 7 operation and so you're likely to see a variance in the offerings, depending on the time of your visit.
Before I explore all the standard fare you'd expect to see in a Premium Lounge, I head over to the Noodle Bar, where a famed dish of Laksa is served. This is a concept that I'd love to see in every lounge. It's great to see a lounge showcasing the local fare, or offering something more inspiring than the usual buffet style fare.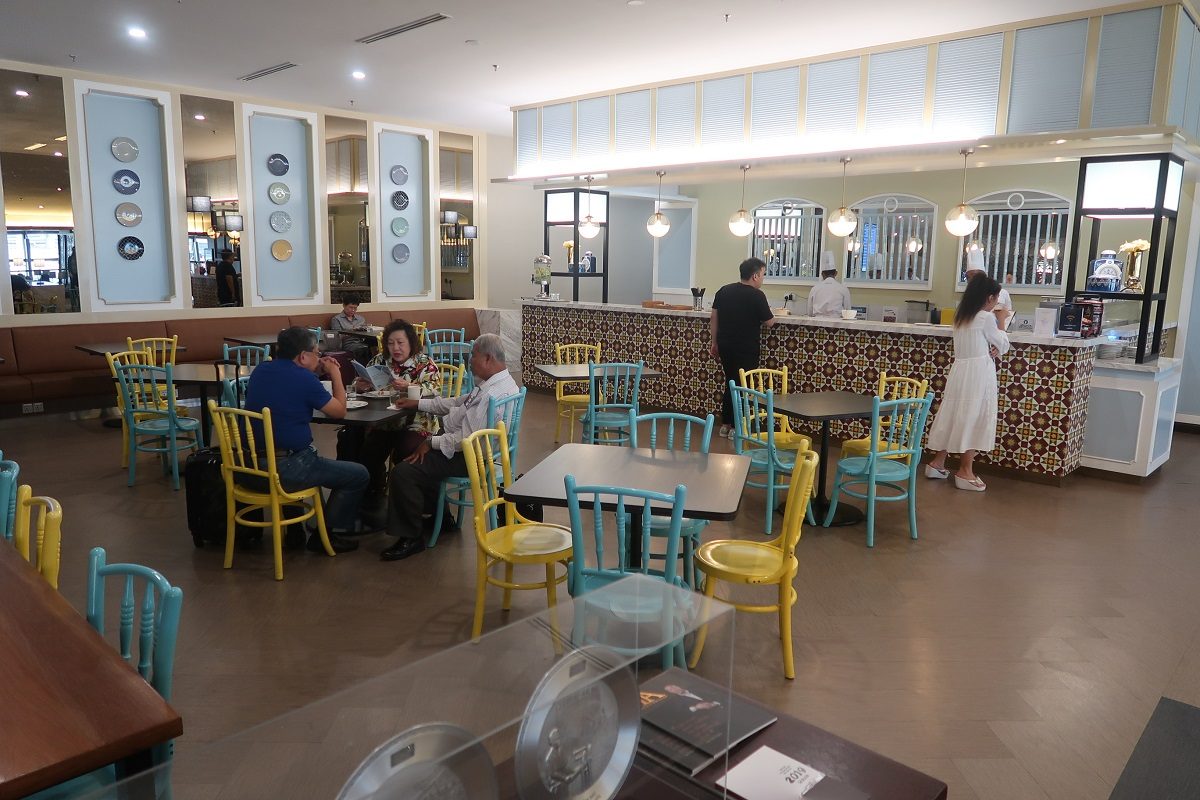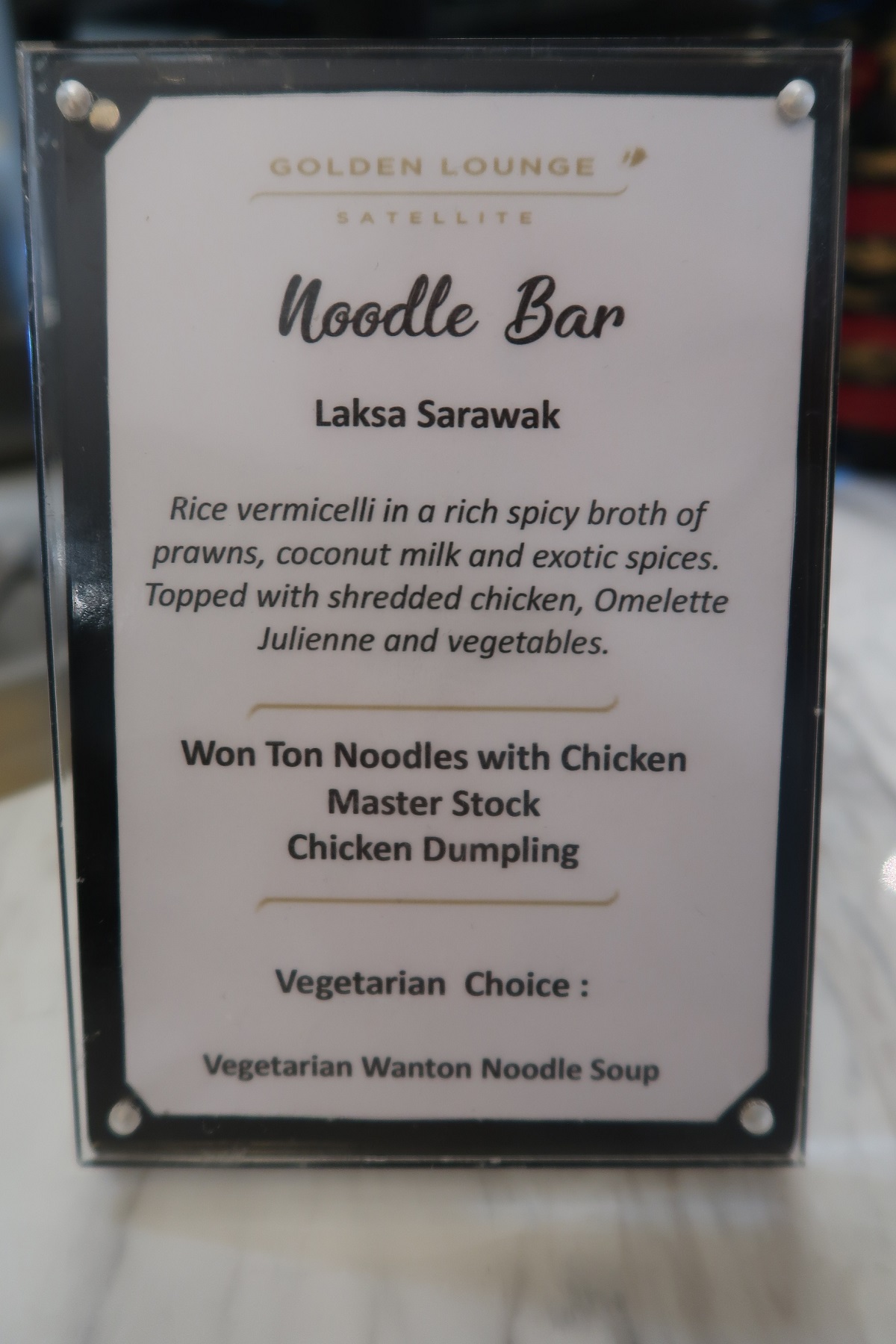 On today's menu is a Laksa Sarawak – it's quite a dark laksa, medium in flavour with its intensity coming from a laksa paste containing sambal belacan, tamarind, lemongrass, a variety of herbs and spices with coconut milk. It hails from the Malaysia state of Sarawak on Borneo. Yum.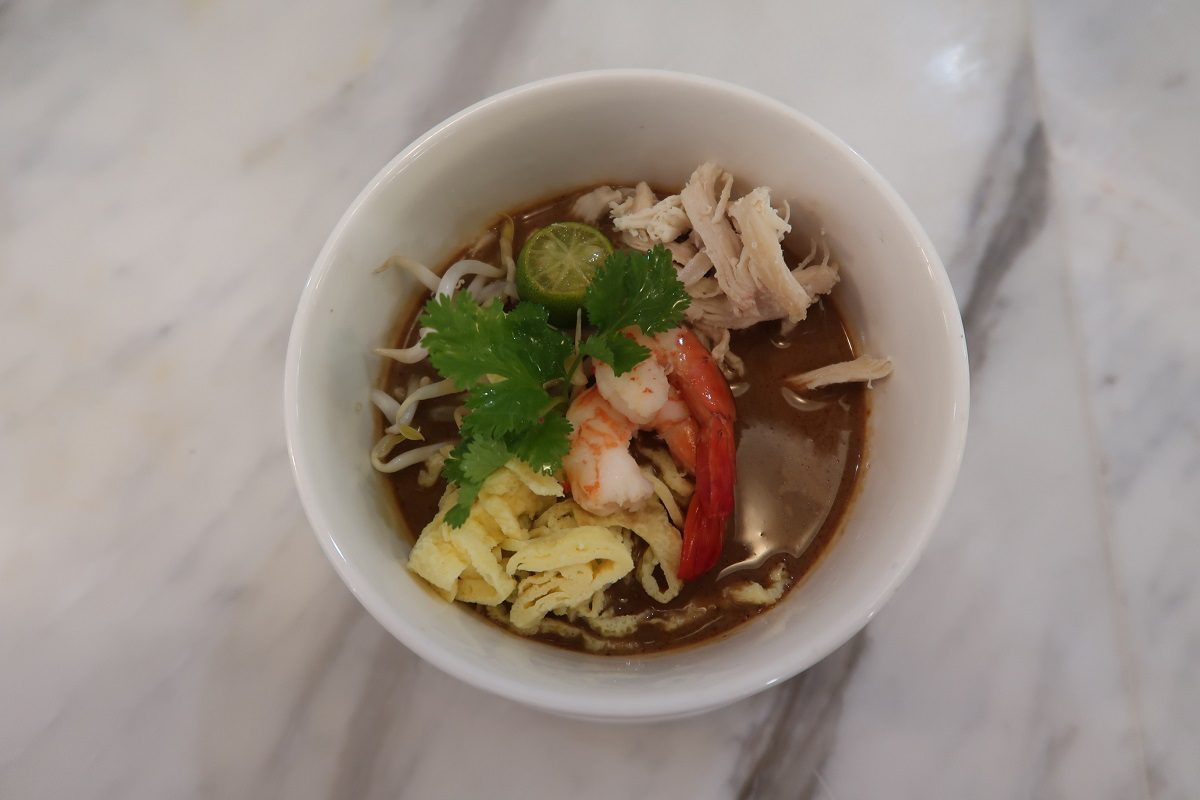 And the other alternative was a Wonton Noodle Chicken broth.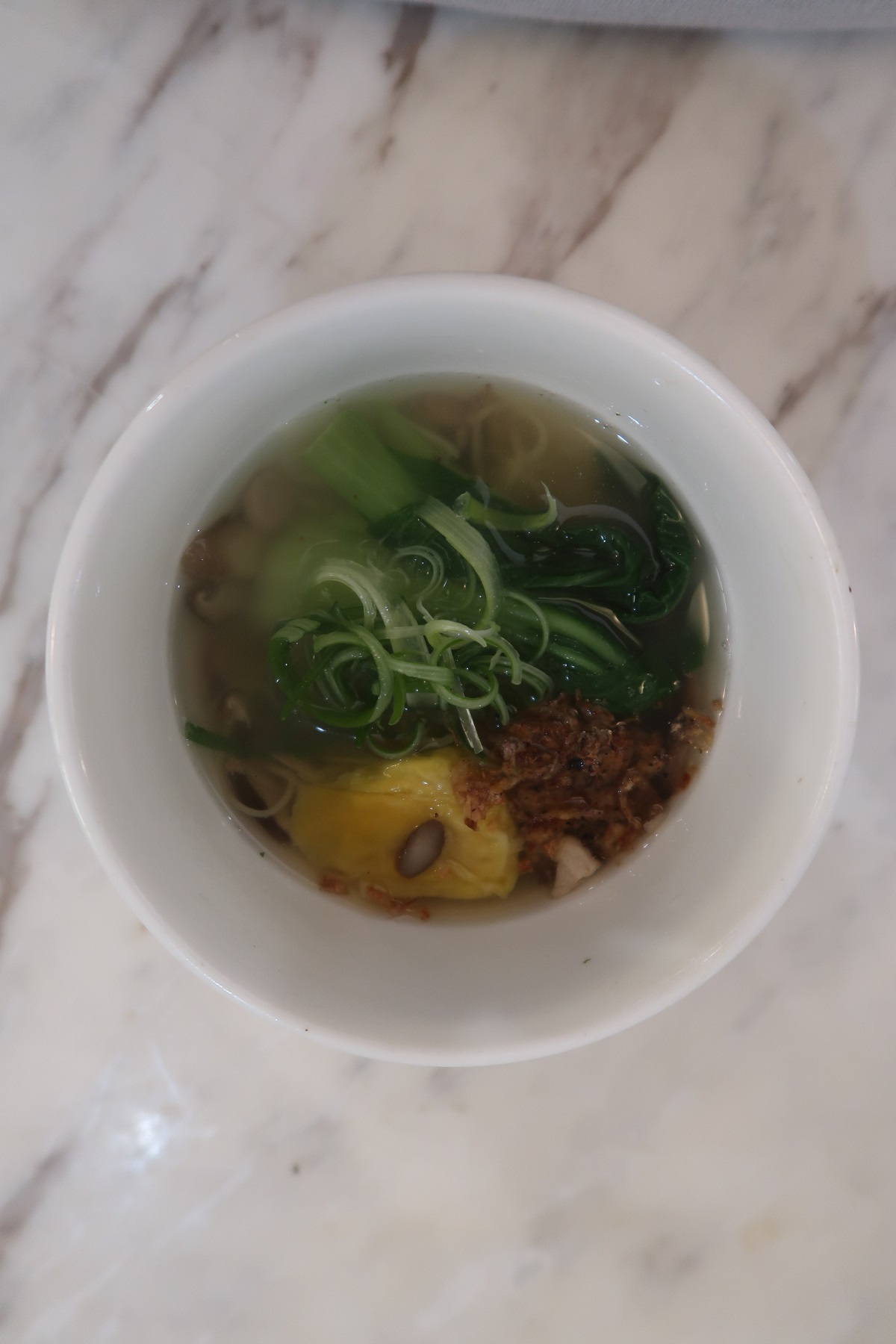 I may well have had both…. and I can say they were delicious. For my meal, "Lachie" was the man.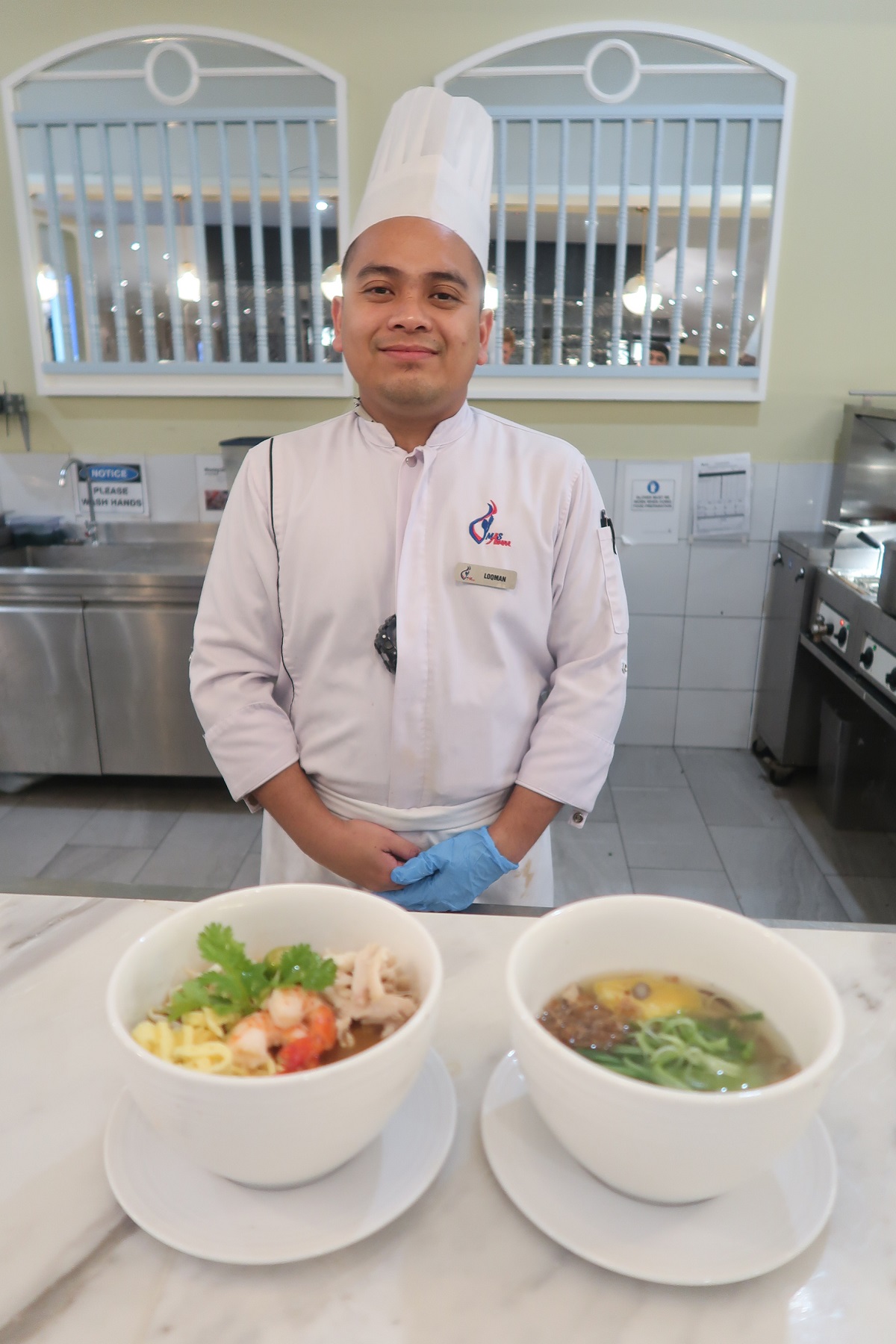 Other fare on offer
Clearly a lot of food is served in the lounge, but the chef station in the middle of lounge would suggest that Malaysia Airlines is serious about lounge dining experiences and keeping it mixed up.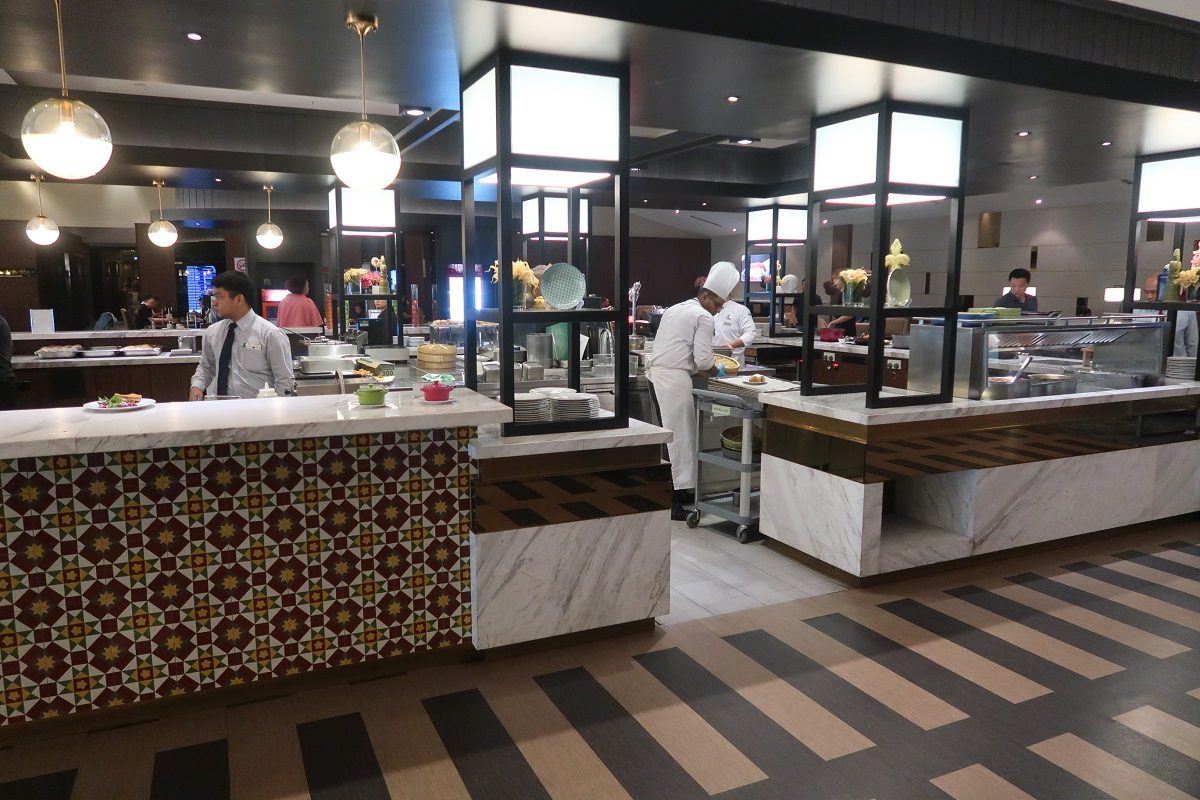 The station is an efficient, clean and interesting spot to lurk around. Periodically interesting things emerge and you can swoop on something new.
By now, I was starting to realise that I was going to put my appetite in jeopardy for the upcoming business class flight. You'll have to see how I went in the review here.
Out came and Ayam Masak Rose and I pounced. Chicken "cooked-red" is the loose translation and it was very nice indeed.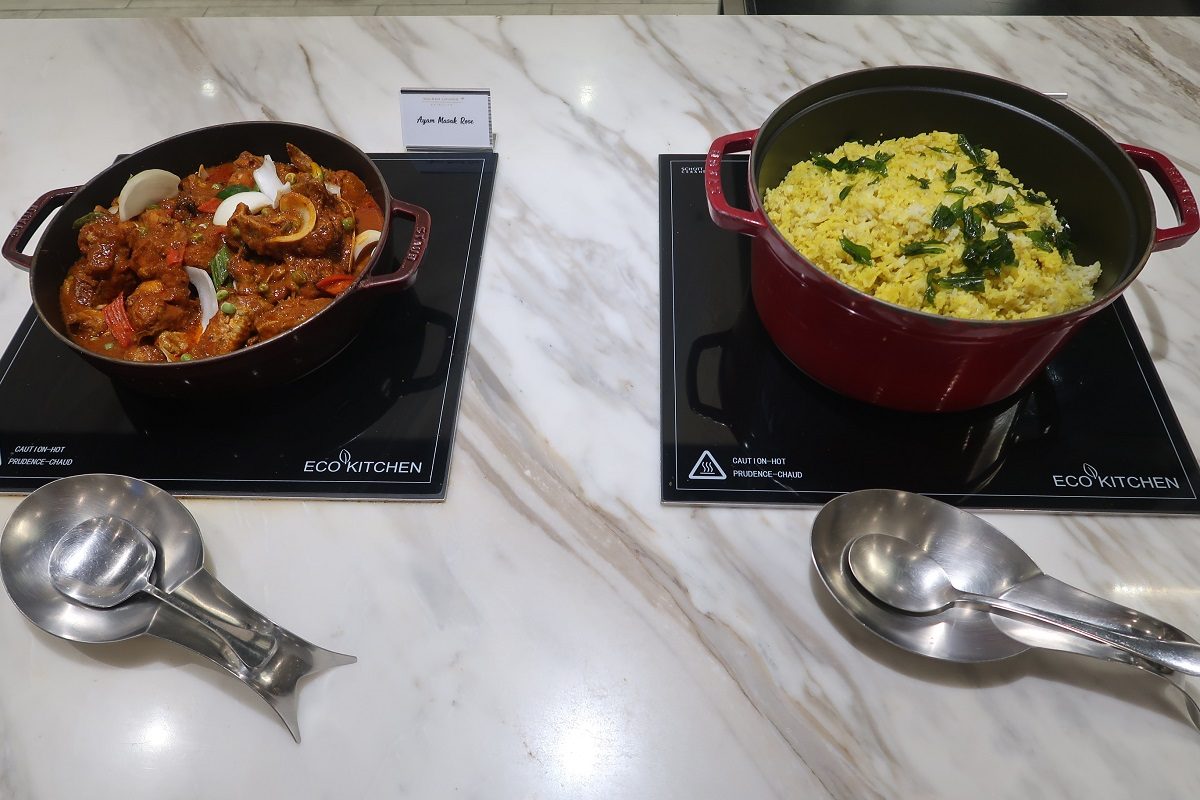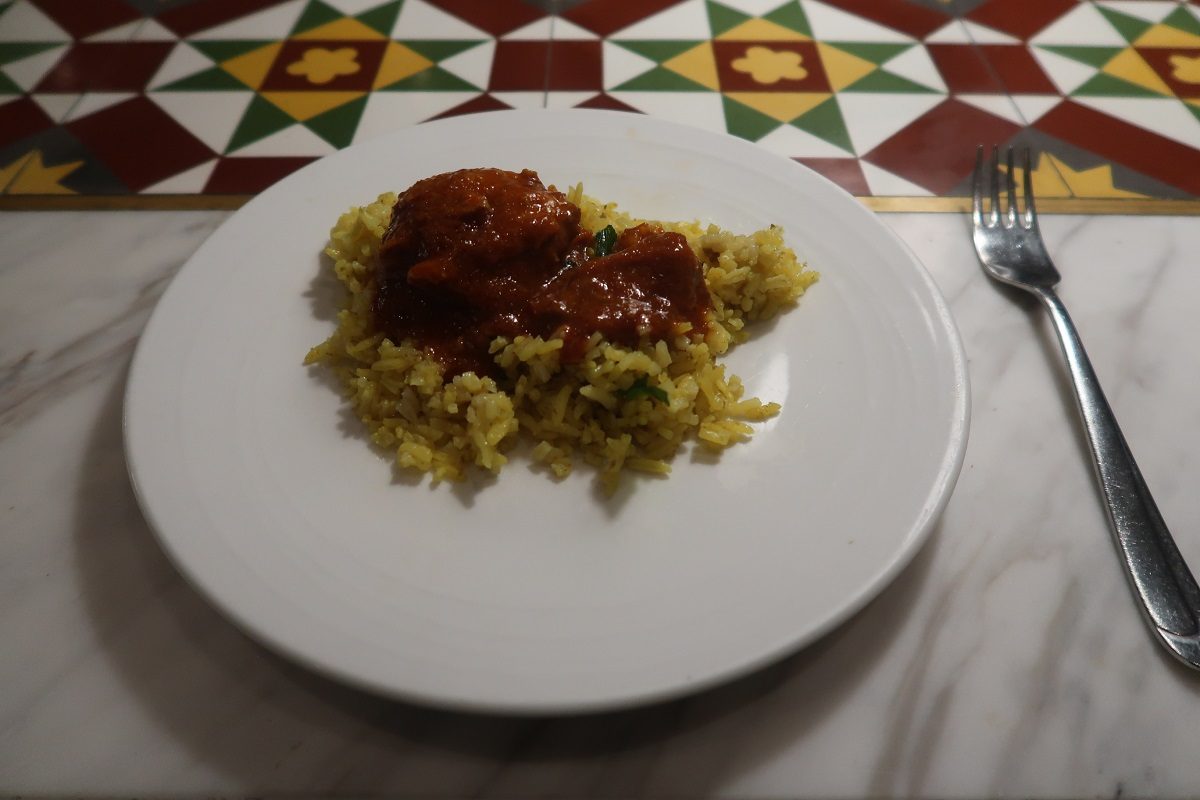 Then I sampled the Eggplant Kolumbu, which was equally delicious.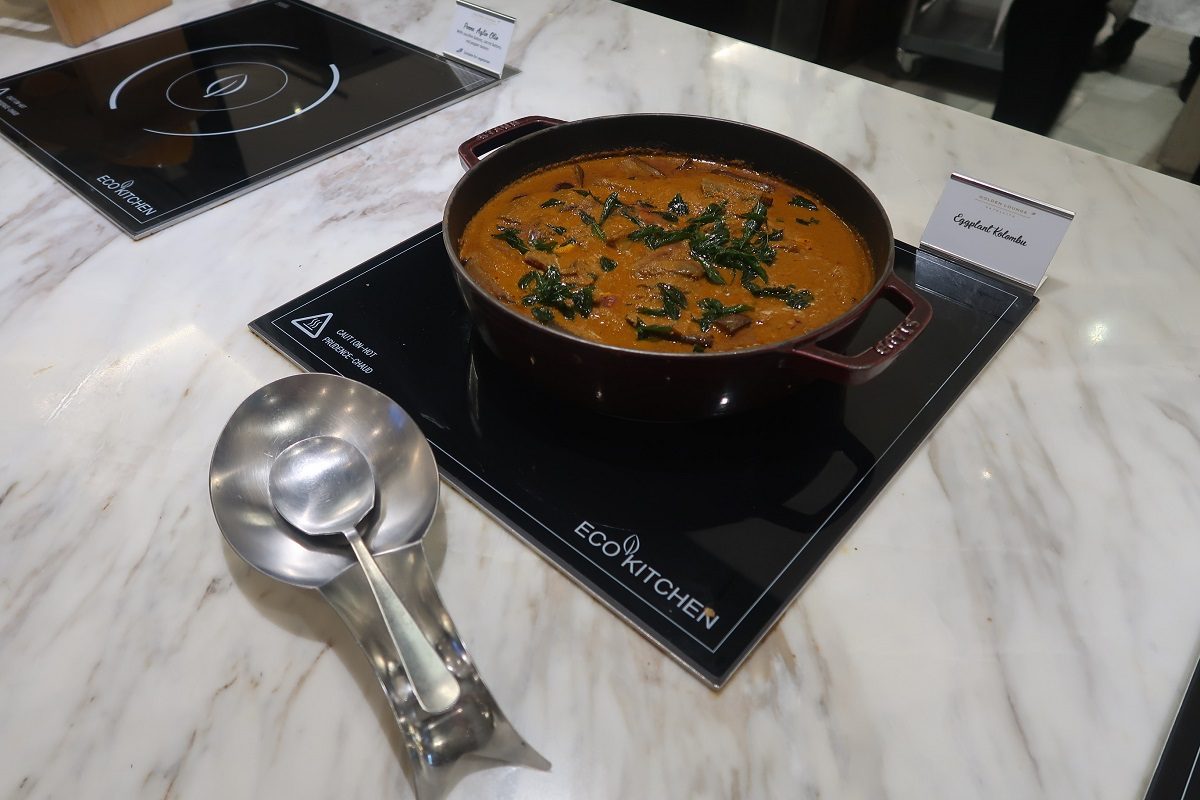 All the other food and drink options
Starting with the healthy stuff, you can access a good selection of fruit, especially melon. The presentation of ice under the fruit makes it vastly more appealing.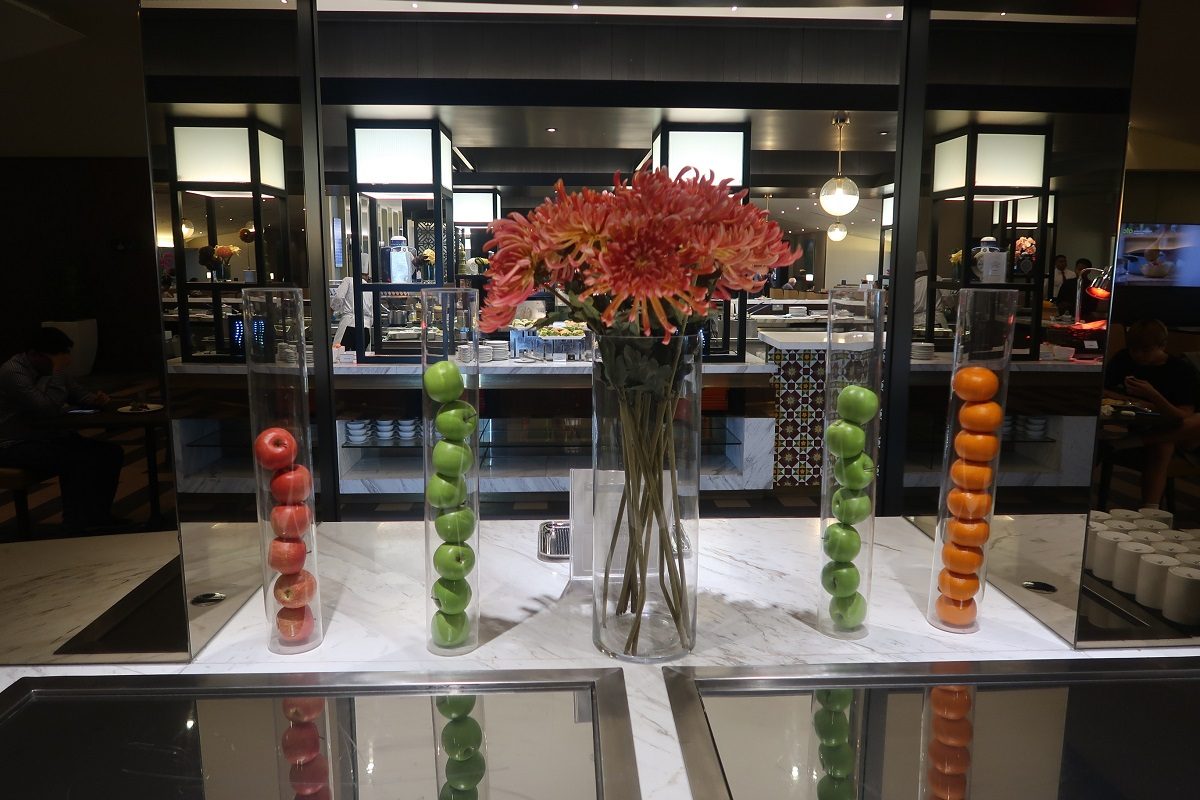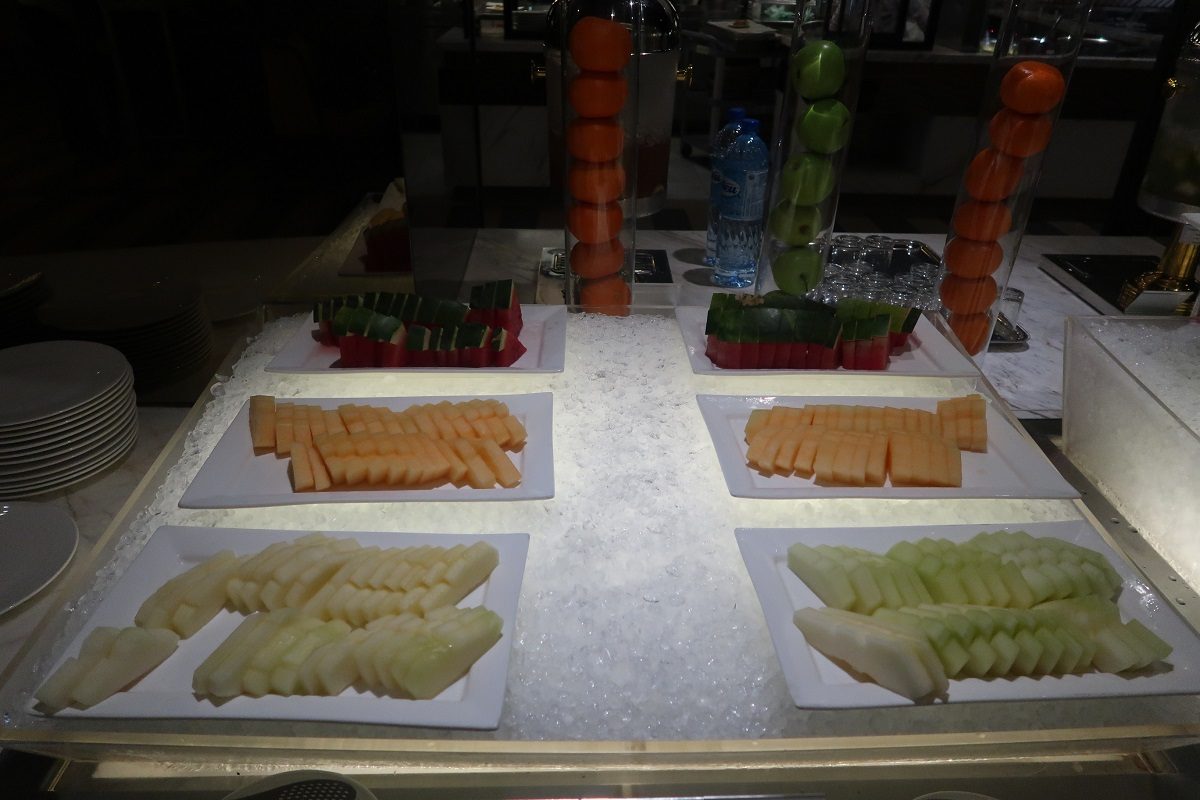 You can also opt for the more traditional fare of sandwiches or nibbles with a cold beer.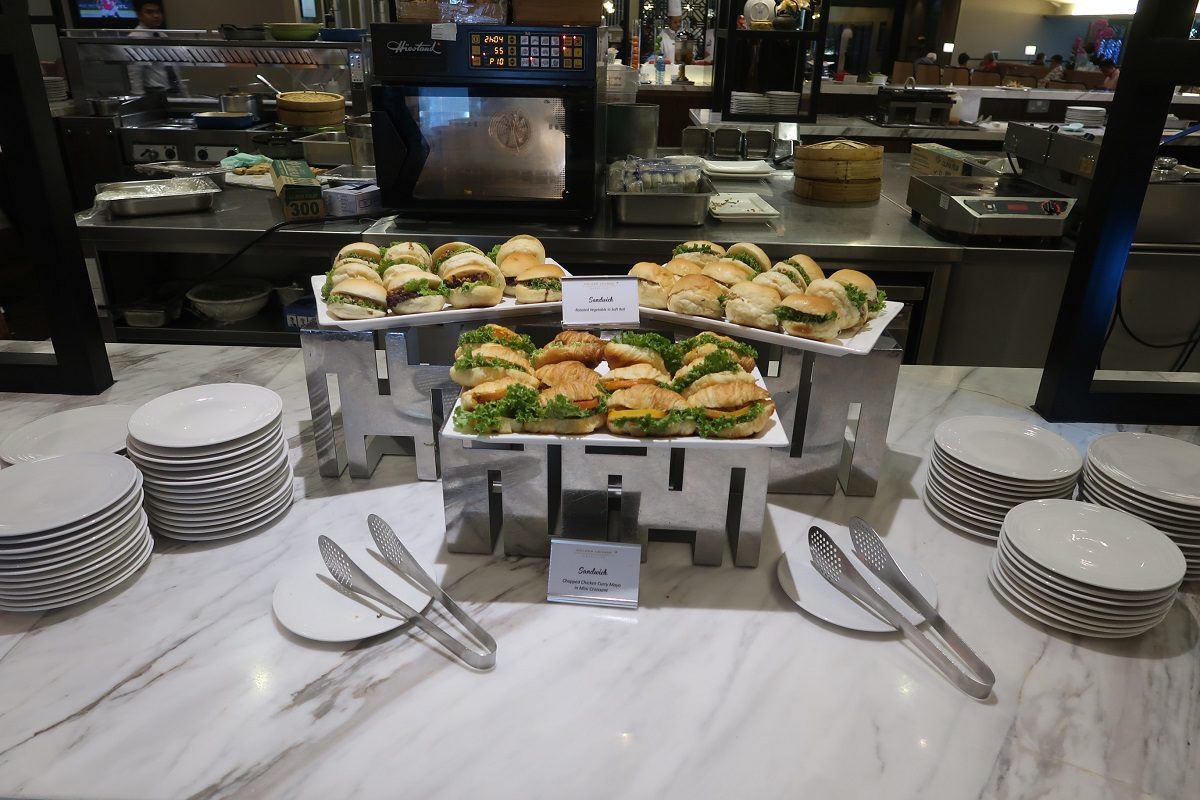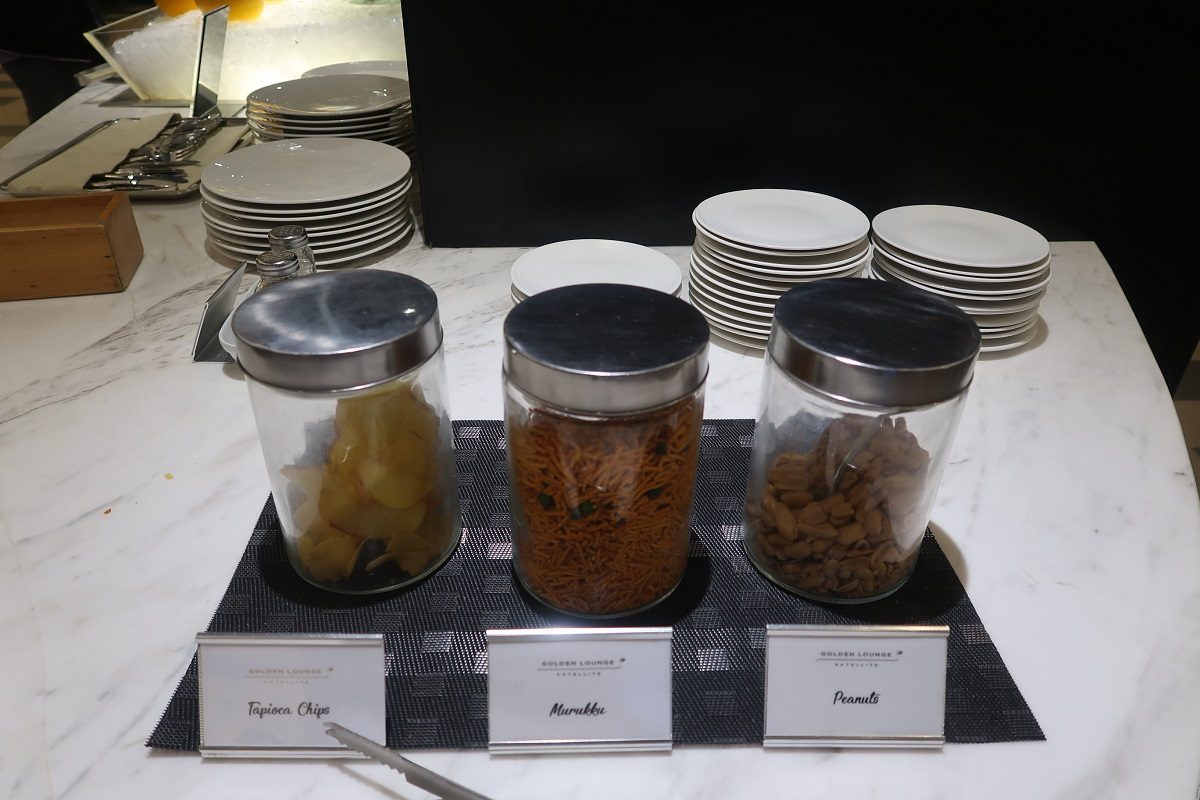 The salad bar is far more appealing than the SATS lounge in Singapore Terminal 2.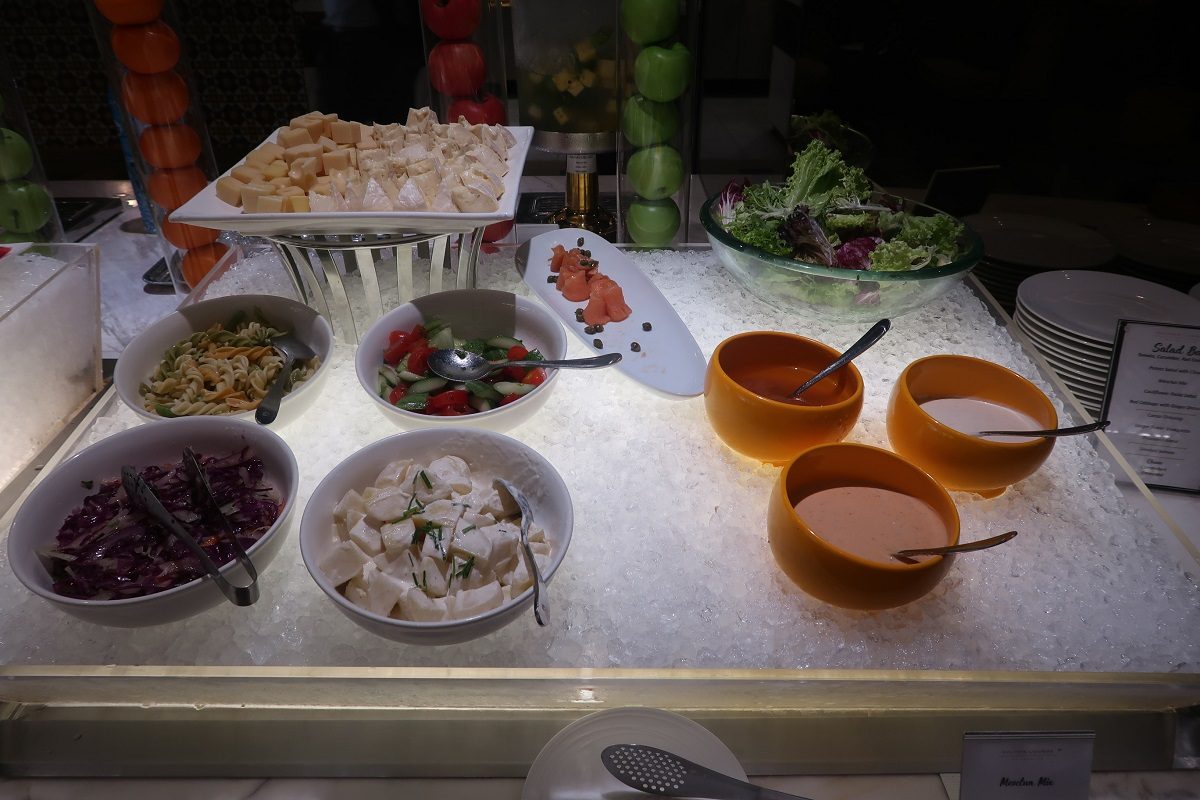 And… if you really want to finish off in a flourish, the sweets are rather good.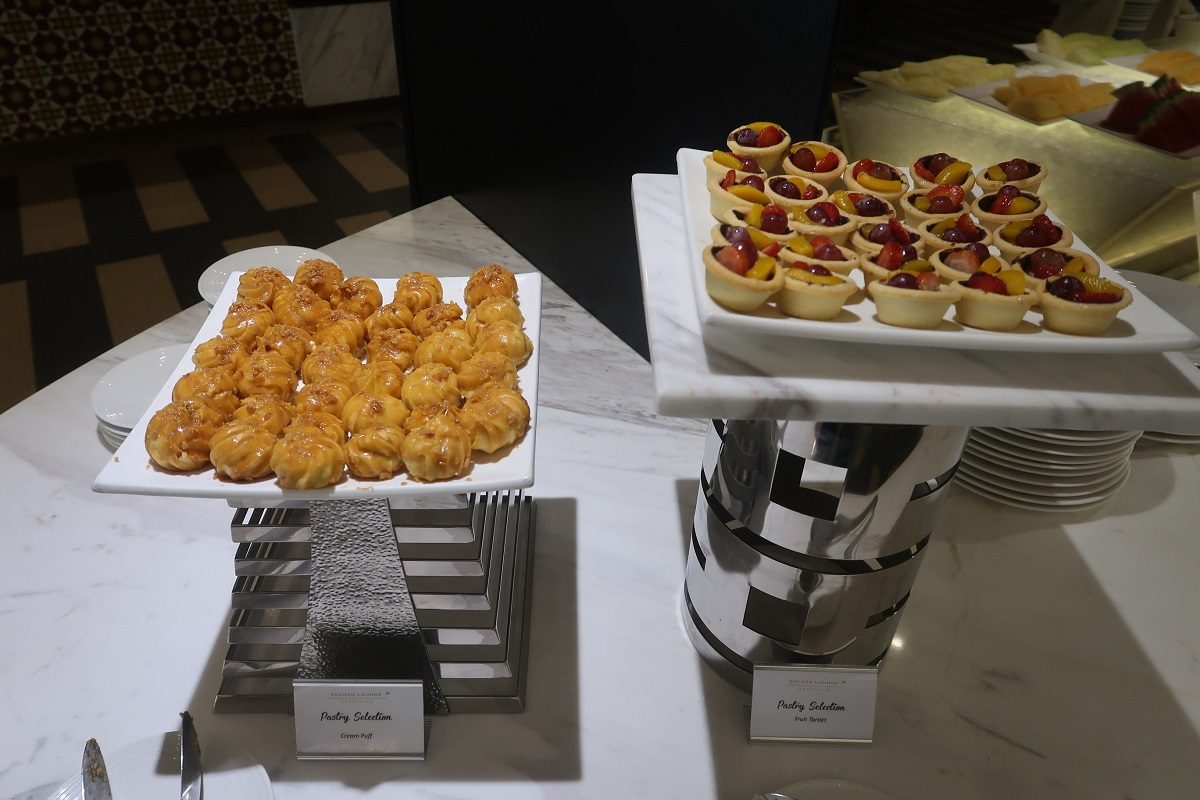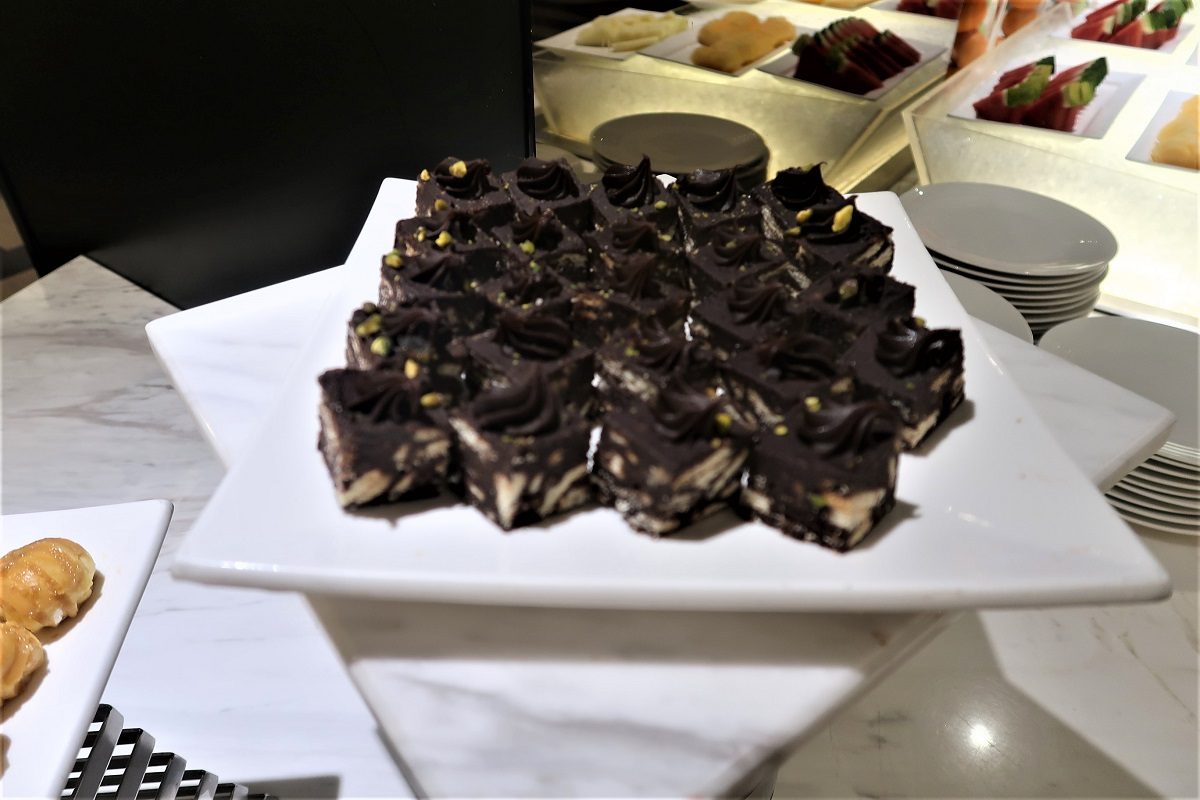 Non-alcoholic beverages are readily available.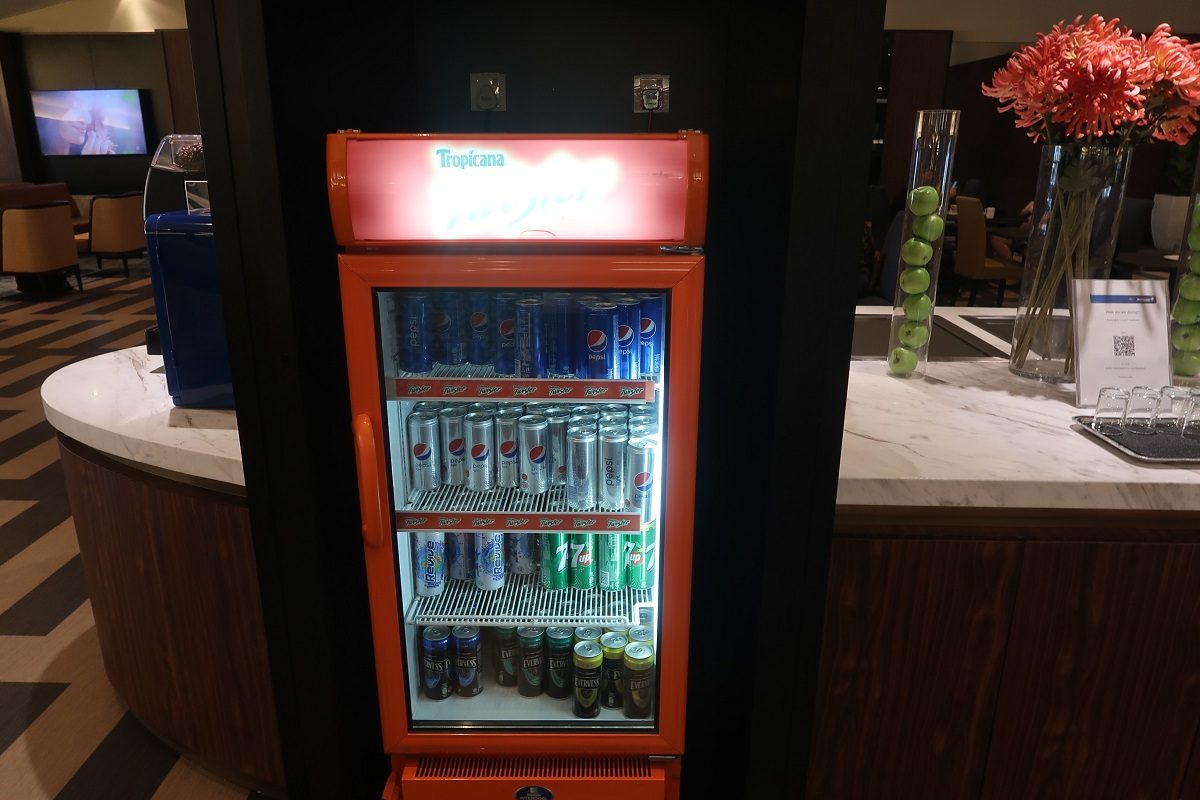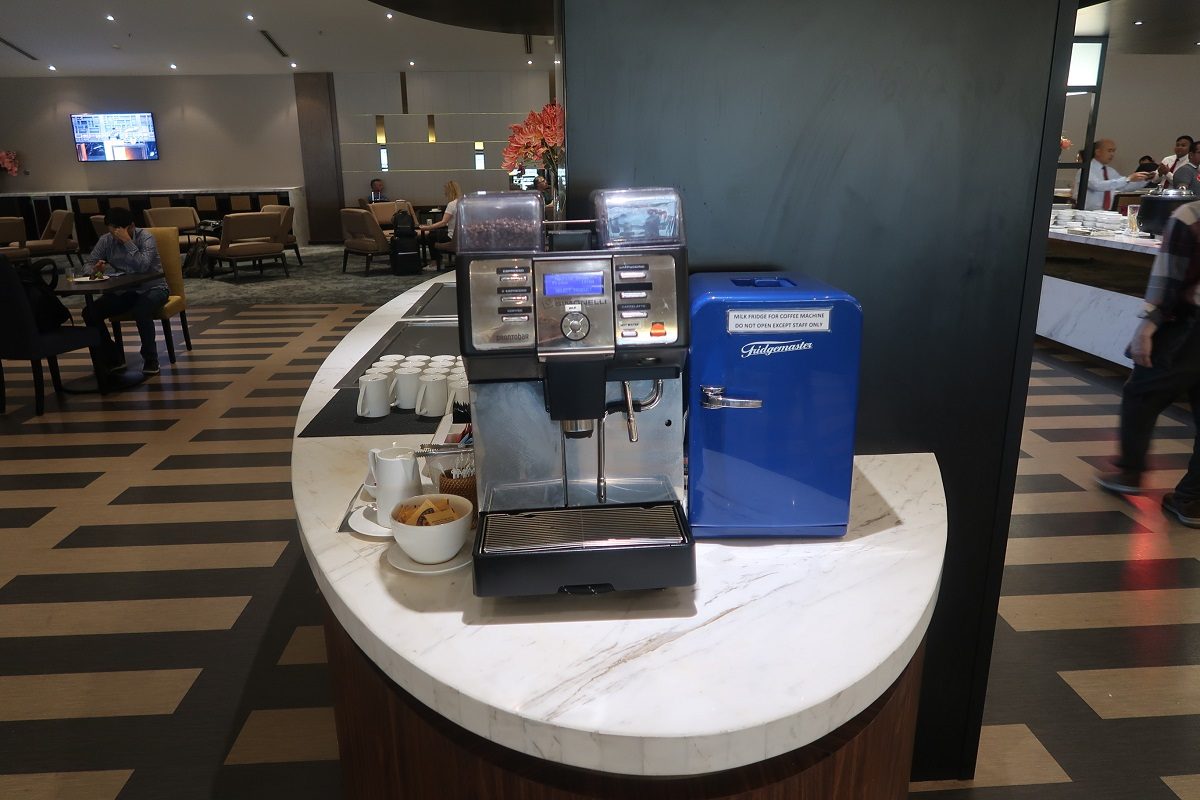 Service within the lounge is good too, with tables cleared quickly and enough staff around should you need help.
Malaysia Airlines Golden Lounge facilities
Unfortunately or luckily, depending on which way you see it, there are no toilet and shower pics in this review. Not that there is anything wrong with said facilities but simply that they were too busy to be entering and taking photos (and in some countries, you may not want to be doing that anyhow)… However, I can confirm they were of a very good standard and the reader has nothing to be worried about.
All amenities are separated by gender.
The Lounge contains a quieter family space, prayer room and nap room with partitioned nap beds which could be a lifesaver in a flight delay situation.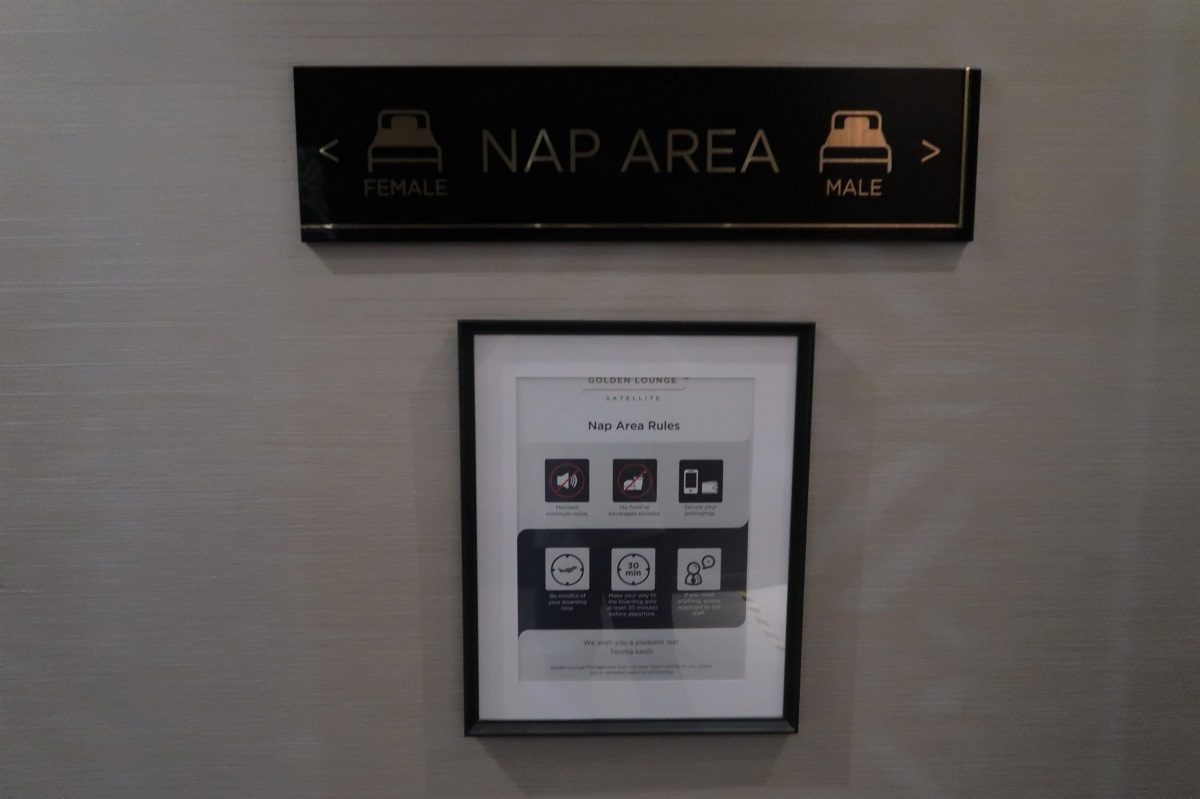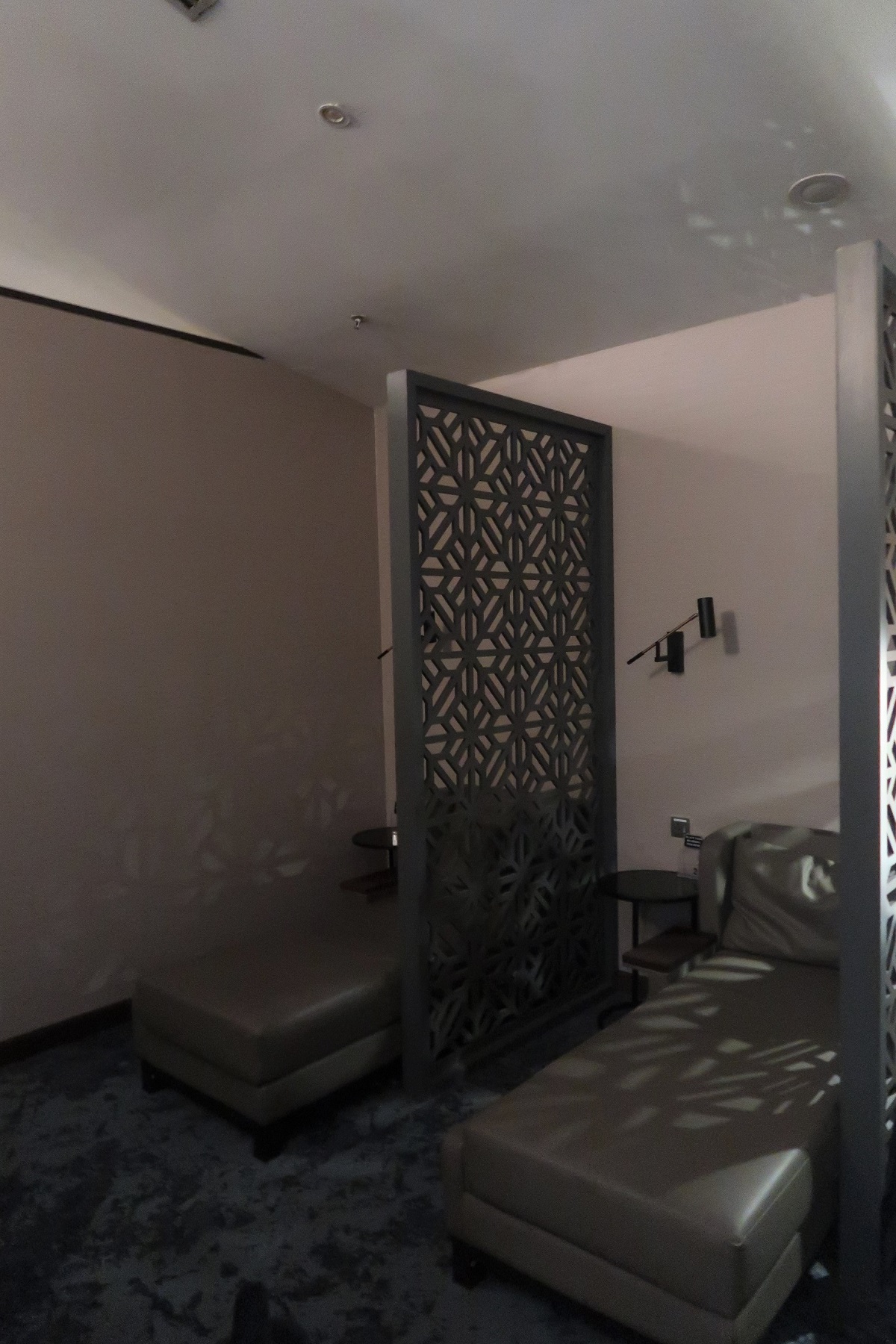 With attentive staff, you can nap and they will pop in to wake you up when your departure time is nearing, or provide a wakeup call.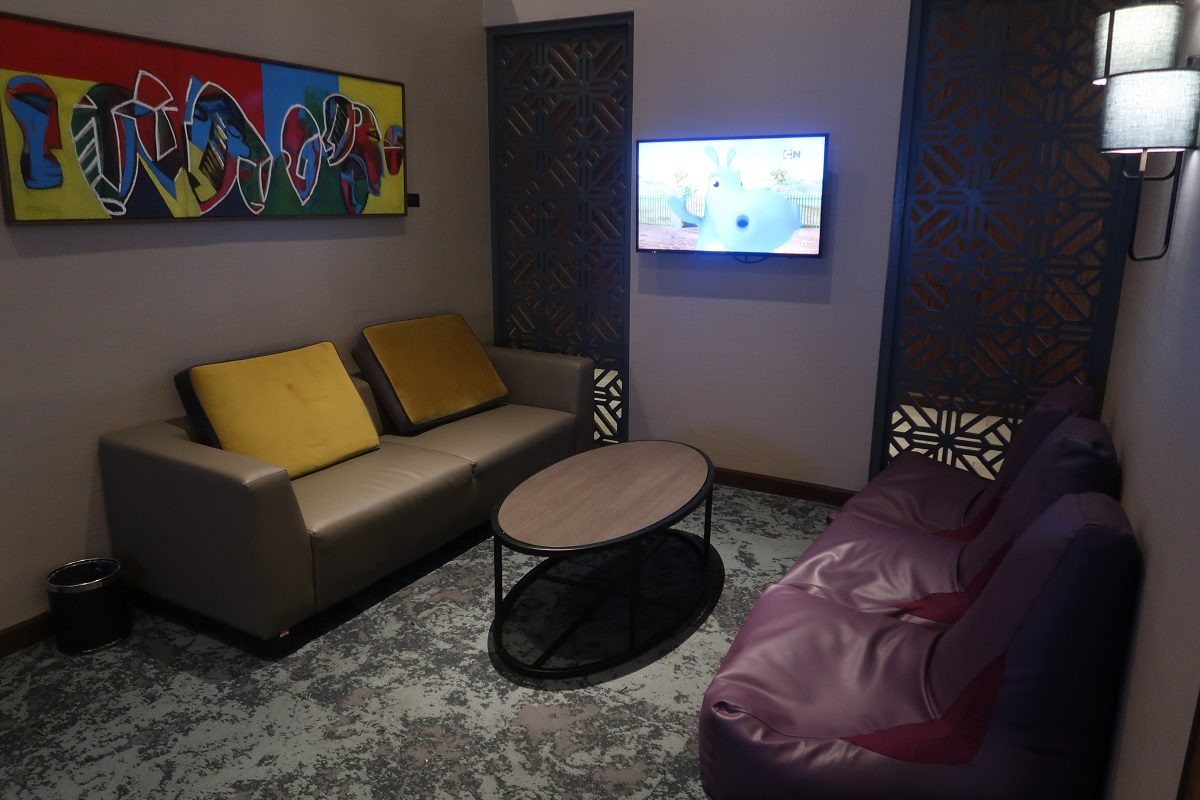 What is the Wi-Fi like in the Malaysia Airlines Golden Lounge?
Unfortunately, it isn't that good at all and I wasn't even there in peak hours. It's a shame. But the good news is that there are plenty of power outlets.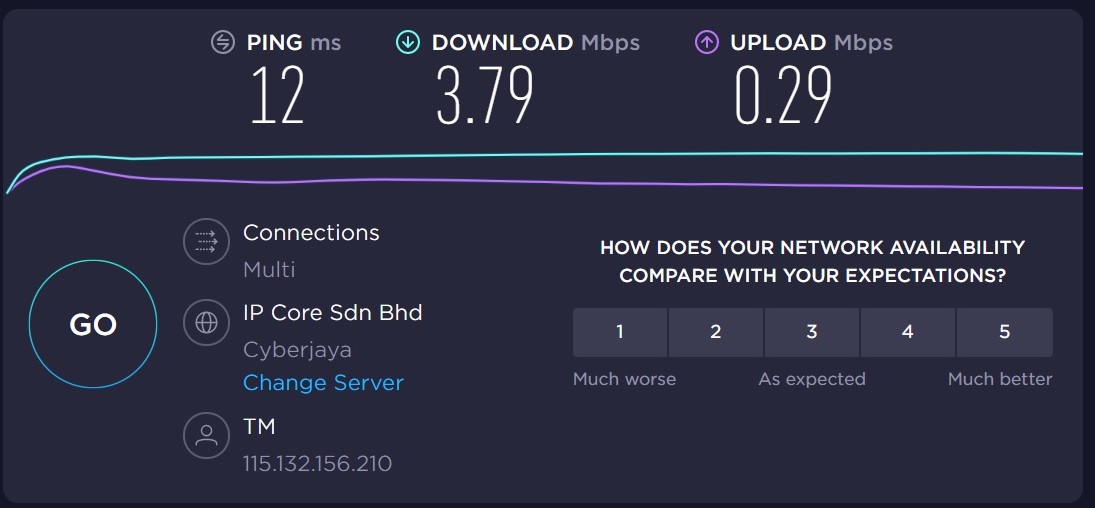 Malaysia Airlines Golden Lounge – Verdict
This business class lounge is a credit to Malaysia Airlines and its brand. It presents well, is comfortable and has a sense of style. There are several premium airlines in Asia that could take a leaf out of Malaysia's playbook on this lounge if truth be told.
If I have the need to fly into Asia again, I can happily add Kuala Lumpur and Malaysia Airlines to my transit options list, as you should too.
---
Who can access the Malaysian Airlines Golden Lounge?
Anybody flying Business Class on Malaysia Airlines, or Oneworld partners in Business Class can access the lounge.
OneWorld Sapphire members can also gain entry. And, Malaysia Airlines' own frequent flyer scheme Enrich Gold provides access to elite members, too.
Alternatively, a day pass can be purchased with your flight booking.
While you're here: Subscribe to our newsletter for the latest tips, deals and news. It only takes a few seconds and we respect your privacy: