Update: Qantas has advised us that as of 9.00 am AEST, the bar carts are now sold out
Qantas is opening its memorabilia storage shed to aviation enthusiasts, offering 1000 Qantas 747 galley carts stocked with a range of items from champagne and Australian red and white wine to Tim Tams, PJs and an exclusive-to-Qantas First Class Sheridan throw.
The sale of bar carts is expected to be very popular, and it comes after Qantas 'iso care kits' featuring PJs and amenities sold out within hours of hitting the Qantas Rewards Store.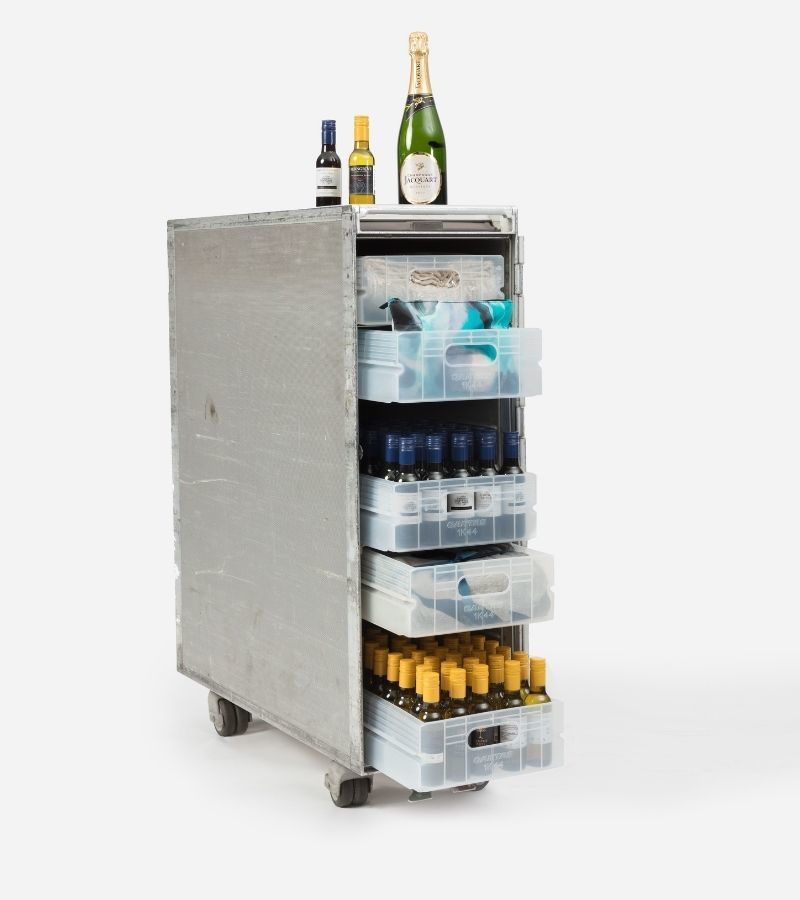 What's included with each Qantas bar cart?
Each Qantas bar cart comes packed with items, including Champagne, mini bottles of red and white wine, Tim Tams, iconic Qantas pyjamas, an exclusive Qantas First Class Sheridan throw and more.
The list of inclusions for the full sized bar cart is as follows:
1x full cart – used (not new)
10x lightweight plastic drawers – used (not new)
80x 187ml bottles of white wine (equivalent to 20 standard 750ml bottles)
80x 187ml bottles of red wine (equivalent to 20 standard 750ml bottles)
2x sleeves of Tim Tams
2x sleeves of savory biscuits
2x bottles of champagne
2x packs of smoked almonds 200g (first class)
4x amenity kits
2x first class blankets (Sheridan, and very plush – you'll find a few images of them in my first class review here)
4x sleeper suites (2x M/L and 2x L/XL)
For the half sized bar cart, you'll receive exactly 50% of the items listed above.
How much does the Qantas bar cart cost?
Half bar carts cost $974.70 including delivery (or 169,000 Qantas Points). A small number of full size carts are available with double the items for $1474.70 including delivery (or 256,000 Qantas Points). Free delivery is on offer to metro locations in Sydney, Brisbane, Melbourne, Adelaide and Perth only.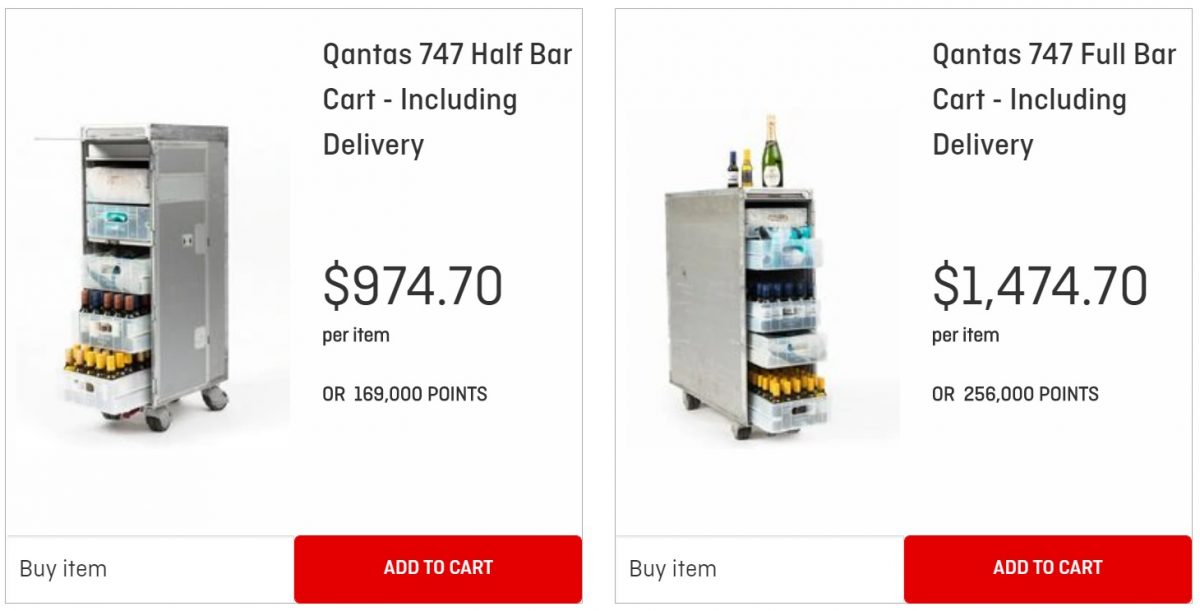 Note that if you hold Qantas Points Club Plus status, you'll be eligible for a 10% discount on the cash or points price.
Is the Qantas bar cart worth buying?
For Qantas enthusiasts looking for a piece of the iconic Qantas 747 with lots of goodies thrown in, this offer could be very attractive. I've personally ordered a half bar cart myself.
The Qantas 747 carts are on sale today via https://wine.qantas.com/. You'll need to hurry – we'd expect these to sell out very soon!
While you're here: Subscribe to our newsletter for the latest tips, deals and news. It only takes a few seconds and we respect your privacy: