Discover the Airbnb discount secrets that will save you more money.
As an Airbnb Associate, The Champagne Mile may earn a fee when you book from a link in this post.
In the current global climate, Airbnb is fast becoming one of the most popular ways to experience travel. As border closures and social distancing restrict many of us from booking chain hotels, savvy travellers are flocking in droves to the Airbnb booking platform.
If you're anything like me, the prospect of obtaining a discount on your holiday booking makes it that much sweeter.
But as Airbnb doesn't typically offer coupons, promo codes or discounts, you might wonder whether it's possible to save money on your next booking?
The short answer is yes! In this post, we'll outline 12 savvy ways to score a discount on your Airbnb booking and extract the maximum value possible.
First things first, is Airbnb right for me?
With nearly 8 million accommodation options and over 50,000 experiences, it's fair to say that an Airbnb stay offers something for everyone.
Whether you're looking for a quick staycation or splurging on an international stay, Airbnb truly has so much to offer. Whatever the size of your travel group, the Airbnb website offers authentic, unique and often luxurious stays. As a plus, many properties offering flexible booking policies.

I've personally embarked on plenty of Airbnb holidays over the past year, with several stays locked in for the future. I've vacationed in tiny houses, luxe family villas and even tried out glamping. Some of the Airbnb Superhosts I've encountered on my journeys have offered an exceptional level of service – often putting previous stays at high-end, five-star hotels to shame!
The fact is, whether you're an experienced guest or totally new to the concept, an Airbnb booking could be for you. And locking in your stay is that much more attractive with the possibility of obtaining a discount on Airbnb.
Top Paid Survey Picks:
Start earning cash by joining some or all of our top Australian paid surveys now!
TIP: These legitimate sites are free to join. We recommend you sign-up for multiple Australian paid survey sites in one go for the best chance to earn more cash and rewards.
Our 12 top tips to getting an Airbnb discount
Read on to discover my top twelve tips and tricks for obtaining a discount on your next Airbnb stay.
1. Score a massive discount with an Airbnb referral
Airbnb doesn't typically offer discount codes, but my first tip on scoring an Airbnb discount is perhaps the most obvious: If you're new to Airbnb (or if you create a new account), you could save money instantly with an Airbnb referral (tip: the referrer also earns credit when you take your stay).
It's simple: Use an Airbnb referral link to book your first stay on either the Airbnb website or Airbnb app. Depending on your country of residence, you'll score up to $50 off your first Airbnb stay! Similar to an Airbnb coupon code, it's essentially money back in your pocket whilst you support small tourism operators.
How does it work? When you sign up and book your first stay, the discount is automatically deducted from your trip total at the check out page. It's similar to using an Airbnb promo code, Airbnb discount code or voucher.
RELATED: Find out more about the Airbnb referral program here
2. Ask the host for an Airbnb discount
One of the things I love most about the Airbnb website is how easy it is to communicate with hosts at the click of a button before you lock in a stay. It's a great way to ask questions about a property – or in this case, to haggle down the price of a holiday!
Once you test this strategy out a few times, you'll find that a surprising number of Airbnb hosts are willing to be flexible about the price of a property. Hosts are often willing to negotiate down the price when you're looking to lock in a stay at incredibly short notice. Alternatively, opting to checkout on a less popular day of the week (say, a Monday in a touristy area) could also see you score a sweet discount.
Other points of negotiation include a request to discount or waive charges for extra guests (such as infants or children who might not require an extra bed), or for services you might not need to be included in your stay (think a pool in winter or a ski storage room in summer).
Finally, it's also possible to negotiate with hosts to lift minimum-night restrictions on properties. For example, when booking a stay in at late notice, some hosts are often happy to remove a two-night requirement and let you book for just one night.
So, the next time you spot that dream property that's just a little too far out of your budget, consider logging into your Airbnb account and contacting the host to ask for an Airbnb discount. After all, the worst thing that can happen is the property owner says no!
3. Purchase discounted Airbnb gift cards
If you're looking to earn points and score a discount on your next Airbnb stay, why not consider looking out for sales on Airbnb gift cards.
It's worth noting here that Airbnb gift cards are restricted to the USA only, so unfortunately this Airbnb discount tip isn't accessible in Australia. To purchase an Airbnb gift card, not only do you need to be a resident of the USA, but you also need to make your purchase with a payment method that was issued in the United States.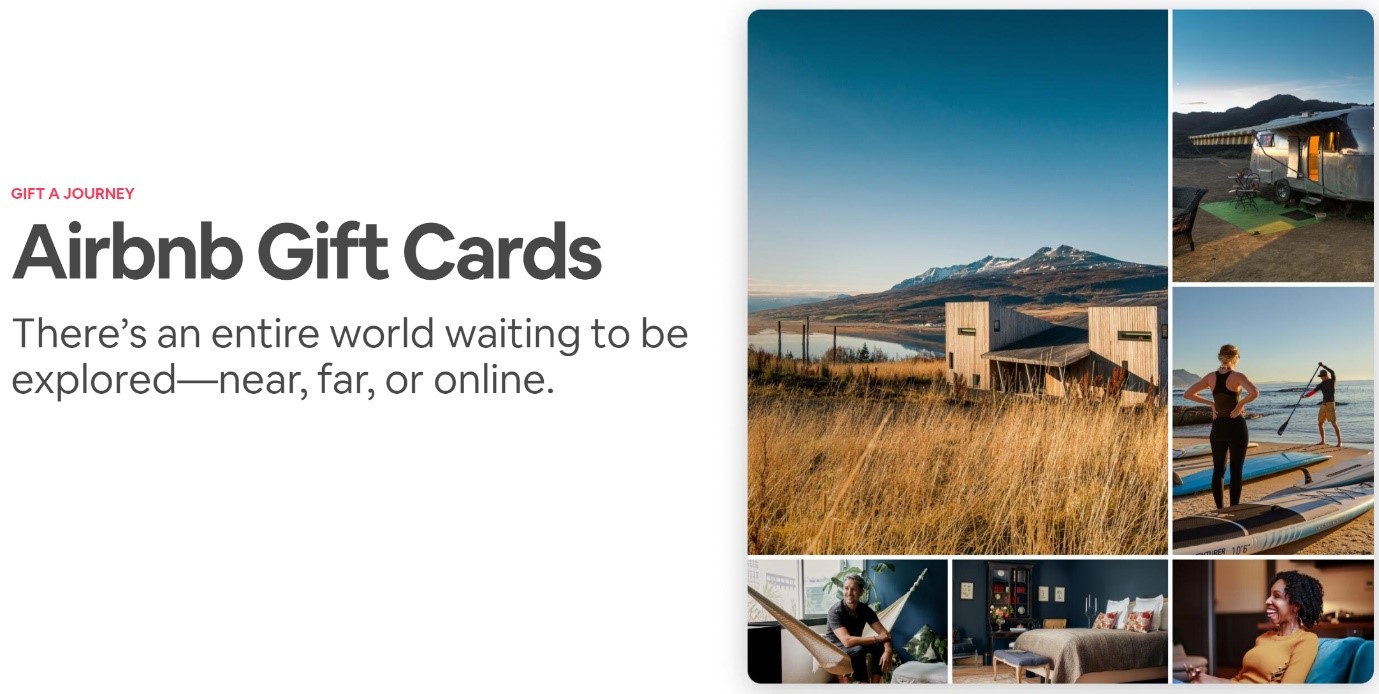 If you are in a position to purchase an Airbnb gift card, keep an eye out for promotions and sales. Airbnb gift cards have no expiry – so once redeemed, gift credit is available in your Airbnb account to use whenever you like.
Head to one of the retailers listed below to purchase your Airbnb gift card:
• Lowe's
• Whole Foods
• Staples
• Safeway
• Krogers
• Vons
You can also pick up an Airbnb gift card online via eBay, or at grocery stores that feature a gift card mall.
Top tip: Purchase your Airbnb gift card via an online shopping mall or cashback site to stack even deeper Airbnb discounts!
4. Book via an airline to earn frequent flyer points or miles
If you're a collector of airline frequent flyer points and miles, chances are you usually opt for chain hotels over Airbnb. However, while Airbnb doesn't have a loyalty program of its own, it does boast a range of airline partners. And, if you play your cards right, it could be possible to earn a stack of points or miles for your booking.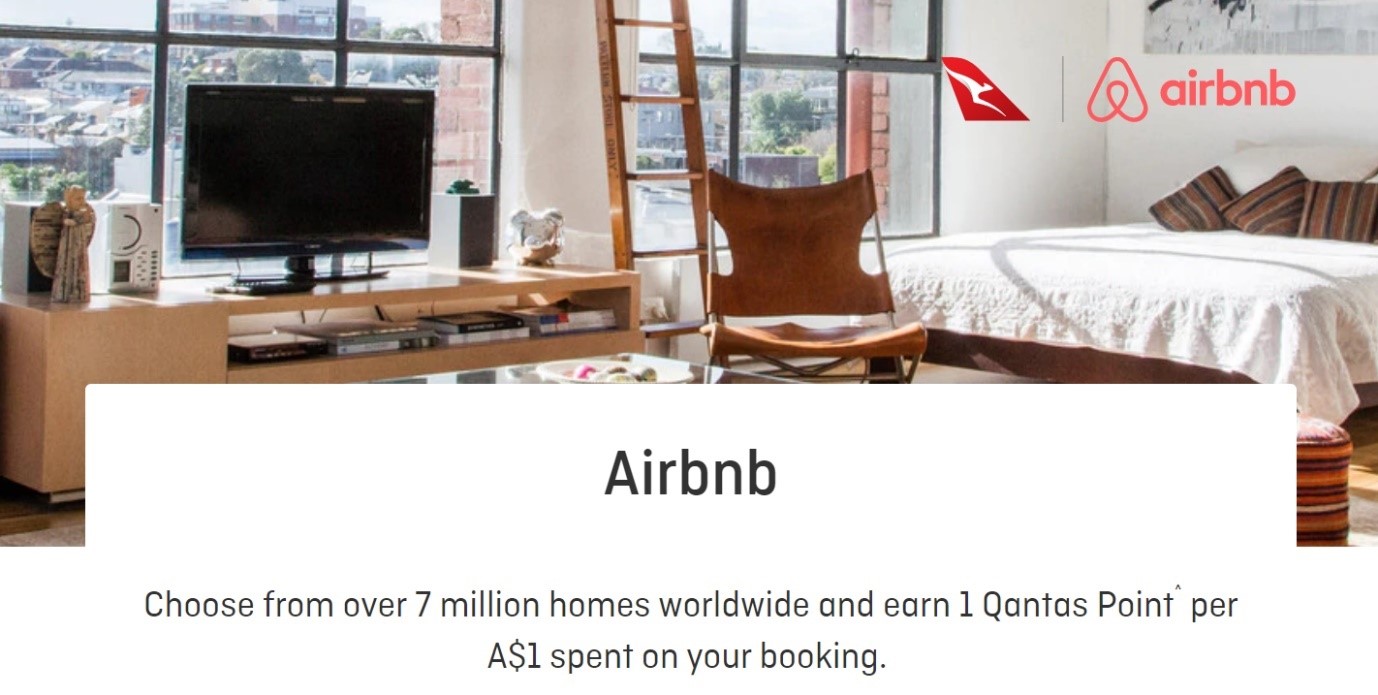 Granted, this isn't a straight cash Airbnb discount. However, the real value of an airline point or mile can often be up to one cent or more – so there are tangible benefits to earning points and miles on the side.
At the time of writing, Airbnb partners with four airlines: ANA Mileage Club, Qantas Frequent Flyer, British Airways Executive Club, and Delta Skymiles. We've listed the current Airbnb earn rates in the table below:
| Airline partner | First time Airbnb user bonus: | Standard Airbnb earn rate: |
| --- | --- | --- |
| ANA Mileage Club | Earn double ANA miles and get a ¥3,000 discount on first booking | Earn 1 mile for every ¥200 spent with Airbnb |
| British Airways Executive Club | Earn 6 Avios per £1/€1/$1 spend | Earn 2 Avios per £1/€1/$1 spend. Additionally, earn 3 Avios for every £1 spent on Airbnb Experiences. |
| Qantas Frequent Flyer | Earn 500 bonus points on your first booking with Airbnb through qantas.com | Earn 1 Qantas Point per A$1 spent on your booking |
| Delta SkyMiles | N/A | Earn 1 mile per $1 spent on all Airbnb stays worldwide |
As highlighted above, the points and miles earn rates differs quite substantially between the four airline partners, so it pays to do your homework to determine which option is right for you. And while the first time Airbnb user bonus might look attractive, bear in mind that you'll usually be better off when opting for a more lucrative referral bonus of up to $50 off your first Airbnb booking.
The Airbnb airline partner earn rates we've included in this article are correct at the time of writing. Please bear in mind that these are subject to change without notice.
5. Be prepared to show flexibility with your dates
So, you've found the perfect Airbnb, and now it's time to lock in your dates. Just like other accommodation platforms, nightly rates for an Airbnb booking can vary dramatically. Many properties feature fluctuating pricing. The cost of a stay can change based on peak and off-peak travel dates for specific locations.
You might expect to see price hikes around school vacations, national holidays, and memorable dates (like Valentine's Day). Consider also the day of the week. You're more likely to score a discount on an Airbnb stay from Sunday to Monday, as opposed to Friday and Saturday nights.
If you can be flexible with your check-in and check-out dates, it pays to play around with the calendar on the Airbnb website. By tweaking your dates, you might just score a sweet saving on your stay!
6. Book as early as you can (up to two years in advance!)
If you're the kind of person who likes to lock in all your travel planning in advance, then this is the Airbnb discount tip for you.
As with any accommodation platform, the most swoon-worthy, in-demand places book out first. Leave it too late, and not only will you lose out on booking your dream stay, but you could also end up paying more. This is because, as Airbnb properties for your destination are snapped up, you're left with less inspiring accommodation providers which will jack up their prices based on demand.
So, how early can you book? We've searched a range of local and global options to test our calendar availability, and found that many quality properties are accepting bookings up to two years in advance!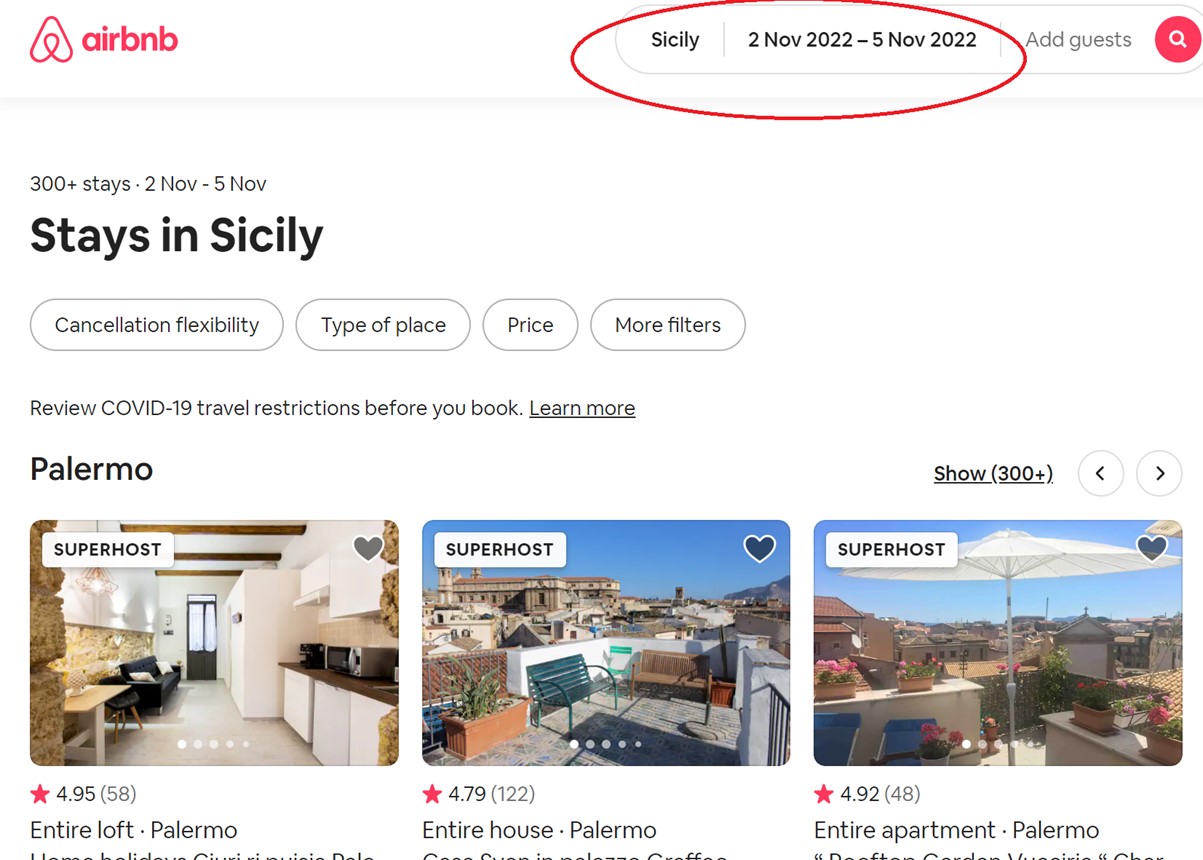 That said, two years is a long time. If you're planning to book very far in advance, it's important to be familiar with the cancellation policy your chosen property offers. There are six Airbnb cancellation policies, listed in the table below:
Booking /Cancellation Policy
How it works:
Flexible
Free cancellation until 24 hours before check-in (time shown in the confirmation email). After that, cancel before check-in and get a full refund, minus the first night and service fee.
Moderate
Free cancellation until 5 days before check-in (time shown in the confirmation email).
After that, cancel before check-in and get a 50% refund, minus the first night and service fee.
Strict
Free cancellation for 48 hours, as long as the guest cancels at least 14 days before check-in (time shown in the confirmation email)
After that, guests can cancel up to 7 days before check-in and get a 50% refund of the nightly rate, and the cleaning fee, but not the service fee
Long Term
Automatically applied to reservations of 28 nights or more
Reservations are fully refundable for 48 hours after the booking is confirmed, as long as the cancellation occurs at least 28 days before check-in (3:00 PM in the destination's local time if not specified)
More than 48 hours after booking, guests can cancel before check-in and get a full refund, minus the first 30 days and the service fee
Super Strict 30 Days
Guests can cancel at least 30 days before check-in and get a 50% refund of the nightly rate and the cleaning fee, but not the service fee
The Airbnb service fee is not refundable
This policy is by invitation only to certain hosts under special circumstances
Super Strict 60 Days
Guests can cancel at least 60 days before check-in and get a 50% refund of the nightly rate and the cleaning fee, but not the service fee
The Airbnb service fee is not refundable
This policy is by invitation only to certain hosts under special circumstances
Opting for a property with a flexible cancellation policy could see you covered if your plans change.
If you're a 'planner', booking early means you'll have the best chance of scoring the Airbnb property you want, at the very best price possible.
7. Score Airbnb travel credit by referring friends
The Airbnb referral program is one of my favourite 'refer a friend' schemes. And the best part? Anyone can introduce their friends and earn an Airbnb discount.
From the Airbnb website or Airbnb app, simply login to your Airbnb account and hit the "Invite Friends" button to start referring friends and family. When someone who signed up to Airbnb with your unique referral link completes a qualifying first time stay, you'll earn referral credit.

How much Airbnb discount could you score? The amount you earn depends on your country of origin, and it changes from time to time. I'm based in Australia, and the image above sets out earnings in Australian Dollars.
Like the first time stay referral code, this discount works as a travel credit. It's automatically deducted from your trip total at the checkout page, similar to using an Airbnb promo code or an Airbnb coupon code.
Referring a host pays out, too. Airbnb offers a sizeable referral credit when people you refer complete a qualifying reservation as a host. Note that there is a lifetime cap of $5,000 USD in Airbnb referral credit that can be earned by referrers for the Airbnb referral program.
8. Master the Airbnb website search function
It's imperative to know your way around the Airbnb website if you're looking to score the best deal. The more research you carry out, the more easily you'll be able to identify the properties that represent the best bang for your buck.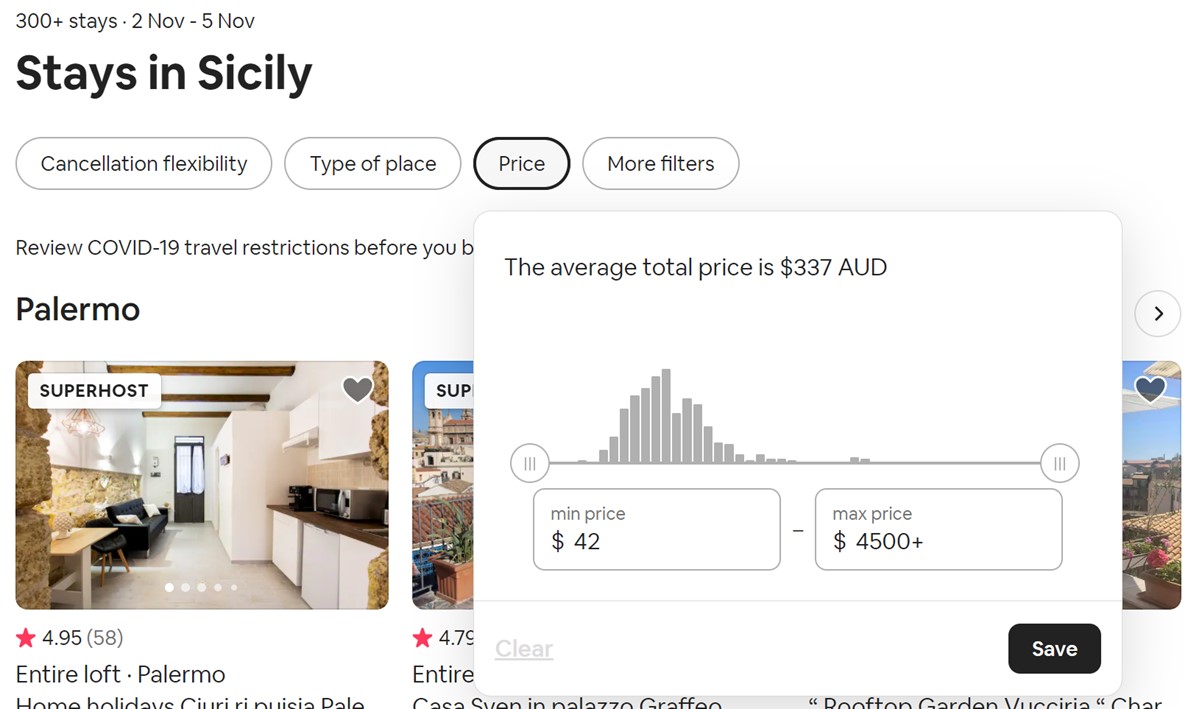 Get familiar with the filter function, as this will help you find the properties that suit your needs. Functions like the pricing filter, cancellation flexibility, and even the ability to filter in or out amenities can all have a significant impact on price.
Pricing displays as soon as you've plugged in all your stay parameters and selected dates – so you'll always be able to see the breakdown of the total trip cost before you head to the checkout page.
9. Travel with more people
So you've stumbled upon that dreamy villa in Portugal, and it looks amazing. However, it comes with 9 bedrooms and a hefty price tag each night.
When it comes to large and luxurious stays, why not consider asking friends or family along to share the load? While you may pay an extra fee for more guests, fixed costs like cleaning charges often won't change, helping you to obtain a savvy Airbnb discount.
Adding guests can be a great way to drive down the cost of accommodation, and it could be a great opportunity to catch up with your nearest and dearest for a memorable holiday.
10. Seek out included breakfast and pantry provisions
In many areas, a traditionally hosted stay includes generous breakfast provisions. The addition of cooked and continental provisions is something I always welcome, and it's a great way to start the day. Having food on hand can also save you significant money when it comes to eating out.

While not all Airbnb properties offer this amenity, if you search carefully, you'll often be able to find hosts who pride themselves on providing generous breakfast provisions for guests. When researching accommodation options, take care to search out property descriptions and reviews which highlight the inclusion of a stocked fridge and pantry – and ideally good coffee. After all, inclusive food and beverages amount to a solid Airbnb discount in their own right, and access to these items could go a long way when it comes to cost savings!
11. Lock in a long-term stay
As with most types of accommodation, it can often be cheaper to book an Airbnb for a longer stay.
Search Airbnb listings around the world, and you'll soon find there are many Airbnb discounts to be found for stays of one week or one month.
For example, it's not uncommon for many Airbnb properties to discount 5% to 10% or more for a stay of a week. Lock in a stay of one month or more, and you might be looking at an even bigger saving of up to 20%.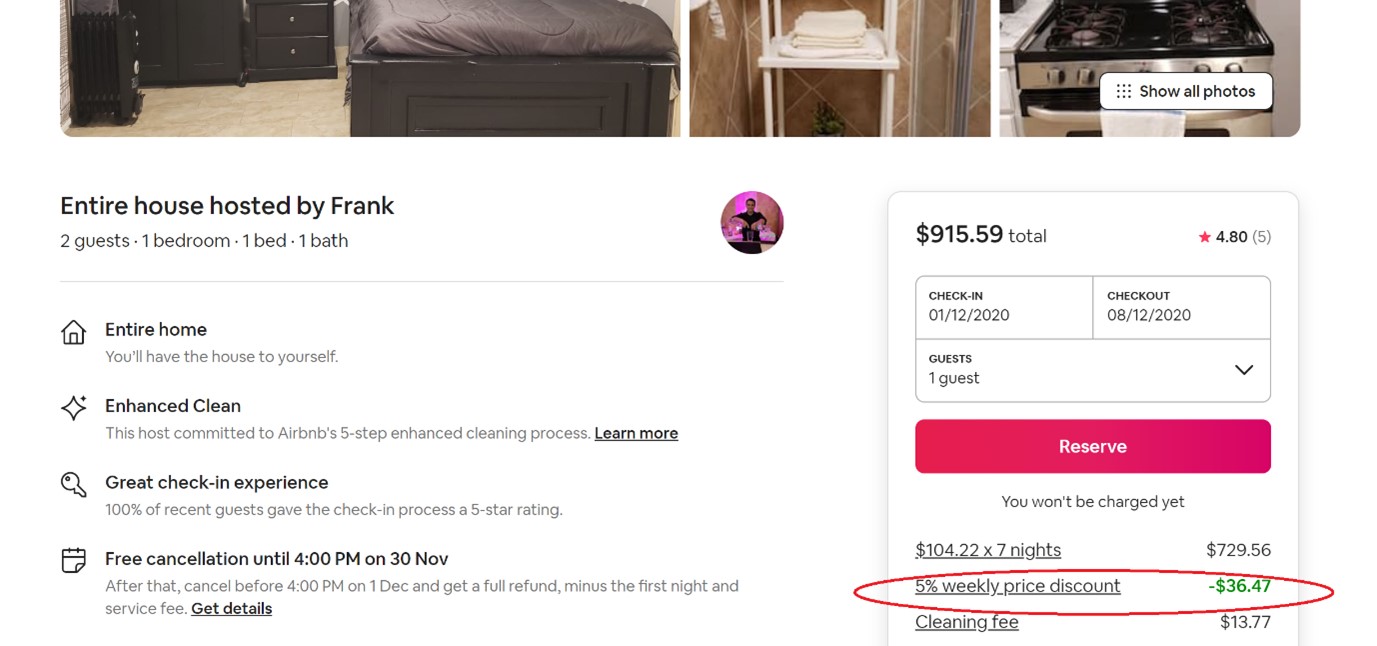 Of course, choosing to book an extended Airbnb stay will depend on your own personal circumstances, and what type of holiday it is you're planning to take. If you're taking a short work trip or planning to travel to multiple places over a short period of time, a long-term stay might not work for you.
However, for some types of holidays (think a lazy summer in a Tuscan villa or a week-long skiing holiday in Whistler) an extended Airbnb stay for a discount could make perfect sense. Do be mindful of the stricter Airbnb cancellation policy for longer stays of 28 days or more (consult our table further up this post).
At the end of the day, booking a longer Airbnb stay is a win-win for everyone. As a guest, you'll enjoy a hefty Airbnb discount, while your host can save on cleaning fees, service fees, and will likely have a property rented for longer.
12. Opt for a full kitchen facility
When it comes to vacation expenses, food costs can rack up quickly. Eating out multiple times per day across your entire holiday can cost serious money.
Opting for a listing with a full kitchen can be a great way to score an Airbnb discount. Not only will you have the freedom to eat what you like, but preparing your own meals can be so much healthier.
Conclusion: There are so many ways to score an Airbnb Discount
In the current climate, savvy travellers are booking out Airbnb stays in droves. After all, where else can you find such unique, quirky and authentic properties, perfect for every type of travel group and budget?
But while you can't search the internet for Airbnb coupon codes or Airbnb promo codes there are still many ways to save money with your next Airbnb stay. Whatever the nature of your plans, an Airbnb discount could save you serious cash.
Is an Airbnb discount part of your holiday strategy? Let us know in the comments if you have any additional money-saving tips!
Frequently Asked Questions (FAQ) – Airbnb Discount
Are there discounts for Airbnb?
Yes, there are many ways to obtain a discount on Airbnb. New users can score up to $50 off with an Airbnb referral code. Existing users can save money by booking longer stays, opting for off-peak dates or purchasing discounted Airbnb gift cards.
How do I get $40 off first on Airbnb?
Do Airbnb coupons work?
Airbnb doesn't typically offer working vouchers, Airbnb Coupon Codes or Airbnb promo codes. However, by following our tips, there are plenty of ways to save on your next Airbnb stay.
Can you negotiate rates on Airbnb?
Yes. It's possible to contact Airbnb hosts via the Airbnb website or app to ask for a discounted rate. If the host agrees, they will send a special offer, which can be accepted by the guest.
While you're here: Subscribe to our newsletter for the latest tips, deals and news. It only takes a few seconds and we respect your privacy: