For just 72 hours, Qantas Hotels is offering triple points on its range of hotels worldwide. That's 9 Qantas Points per dollar on hotel bookings.
The offer is valid for bookings made between 20 January and 22 January 2022. Stays can be completed all the way through to 31 December 2022. To take advantage of this offer, you'll need to book an eligible rate (Classic Hotel Awards aren't included). To book, or to find out more, head to the Qantas website.
Qantas Hotels overview
Qantas Hotels is an accommodation booking portal that brings together over 200,000 properties globally.
Unlike other bookings portals, hotels can be paid for with either points or cash, giving you the benefit of being able to redeem or earn Qantas points on your accommodation. In addition, a Qantas price promise is provided to compensate you if you find a lower price on the same product elsewhere.
Read on for our in-depth guide to earning points when you book with Qantas Hotels.
Earning points with Qantas Hotels
Booking through Qantas Hotels provides the ability for Qantas Frequent Flyer members to earn a side serve of Qantas points when booking a hotel stay. Many savvy travellers, particularly those with elite status, will understandably prefer to book hotel accommodation directly through the property. However, there are often scenarios where it can be worthwhile to go through an aggregator like Qantas Hotels instead.
How many Qantas points can I earn on my booking?
As a general rule, Qantas Hotels provides an earn rate of 3 Qantas Points per $1 AUD you spend on your booking.
However, Qantas Hotels runs promotions at various times of the year (such as the one we've covered at the start of this post), which can see your points haul boosted significantly.
How to book accommodation via Qantas Hotels:
The Qantas Hotels website is simple to navigate, and it's easy to book your accommodation of choice. We've provided a step-by-step guide below.
Step 1: Head here and log in to your Qantas account (Note: you must provide your Qantas Frequent Flyer number at the time of booking in order to earn Qantas points)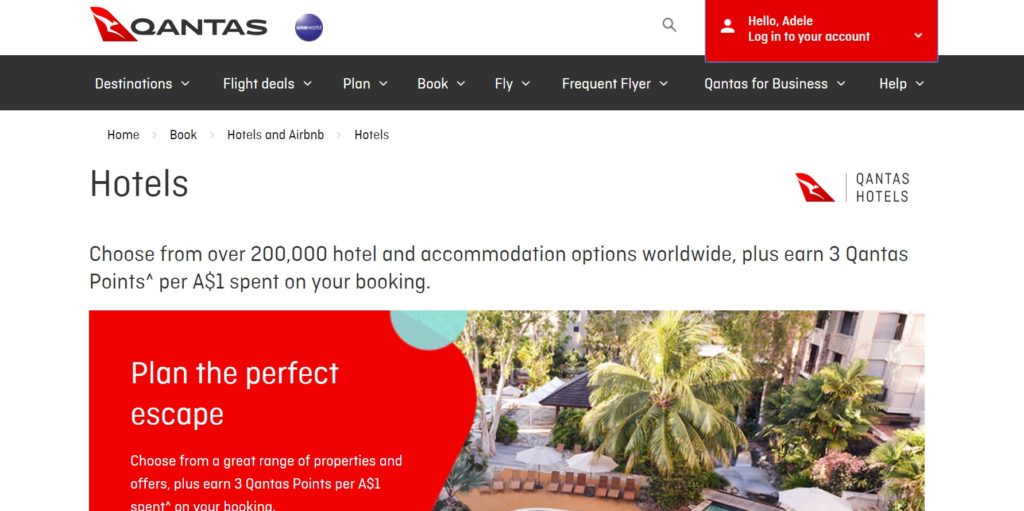 Step 2: Search for a property. Qantas Hotels booking page allows you to sort by a number of factors, including popularity, pricing and deals. You can also toggle to filter by pricing. Properties that are available as 'Classic Hotel Rewards' are flagged as such.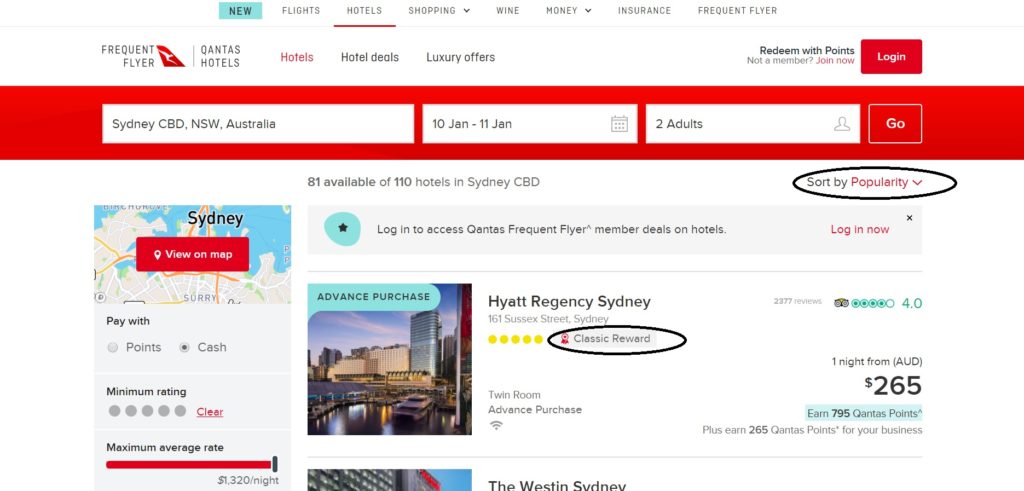 Step 3. Select your hotel and proceed to book, either with points or cash. The number of points you can expect to earn on your booking will be displayed as you progress through to check out.
When will I receive my Qantas hotels points?
If you're after a quick boost to your Qantas Frequent Flyer balance, unfortunately, you're out of luck – points earned through Qantas Hotels can take up to 8 weeks after your stay to be credited to your Qantas Frequent Flyer account.
It's important to note that Qantas Points will not be earned on cancelled bookings. However, you can earn Qantas points on no-show bookings provided the booking was paid for in full and the booking has not been cancelled.
Are there restrictions on where I can earn Qantas points?
Qantas Points are earned on accommodation that has been pre-paid via Qantas Hotels. However, you won't earn them on amounts payable directly to the hotel or additional fees or hotel sundries charged to the room (this includes, e.g. room service, hotel dining, or spa services).
Full terms and conditions are available via the Qantas Hotels page on the Qantas website.
Do Qantas Hotels run promotions?
Yes! Just like the offer we've highlighted above, Qantas Hotels runs bonus points promotions several times per year, allowing your points earn haul to go further. It's not uncommon to see the points offering doubled, or even tripled. This can provide a significant boost to your Qantas points balance and make the prospect of a Qantas Hotels points booking much sweeter.
At the time of writing, Qantas Hotels is offering triple points on new bookings, for 3 days only. If you'd like to be notified when future offers are released, subscribe to our mailing list. We'll let you know next time a Qantas Hotels bonus point offer is released.
How competitive is Qantas Hotels pricing?
Qantas Hotels provides benefits in the form of bonus points. However, depending on your dates, it can at times be more expensive than other booking options and this should be considered in your research.
When browsing accommodation costs at Qantas Hotels, it's important to compare pricing with other aggregator booking sites, along with the rate available direct via the property itself.
You should only book accommodation via Qantas Hotels when you are sure that the cost outlay provides the best return for your individual situation.
Qantas Price Promise
If you're considering booking accommodation via Qantas Hotels, it's worth knowing that Qantas provides a price matching policy. This can provide peace of mind through the Qantas Hotels booking process.
Essentially, if you book accommodation via Qantas Hotels and find a better price online within 24 hours for the same offer, same dates and same conditions, Qantas will refund you the difference when you lodge a claim via Qantas Price Promise.
There's also an added sweetener of 1,000 points awarded for a successful claim.
In theory, the Qantas Price Promise sounds like a great policy, however, there are a number of restrictions to be aware of. In order to be successful with your Qantas Price Policy claim, you'll need to have the following ducks lined up in a row:
Prices must be quoted in Australian dollars without the use of a currency converter including fees and taxes but excluding any card fees
Same hotel property (including location)
Same room type (including bedding configuration)
Same number and type of travellers (including the number of adults and children)
Same dates
Same inclusions
Same booking and cancellation conditions as Qantas Hotels
Most importantly, the comparison price must be provided from a website that ends in .au or on a website operated in Australia by an Australian company. This condition, unfortunately, cancels out a number of the more competitive booking aggregator sites which are owned and operated overseas.
There are also a number of factors and scenarios which can void a potential Qantas Price Promise claim for a Qantas Hotels booking. These include:
Cancelled bookings
Prices which have been provided as part of a package
Prices quoted on websites which do not have the capability to confirm the booking and accept payments (for example, websites that link through to a third party's website)
Rates which have been specially negotiated. This might include travel agent, staff, corporate or membership rates, rates that are only available to people who have subscribed to or become a member of a website or any other rate which is not available to the general public
Unauthorised resellers, for example, purchasing accommodation via eBay
Bookings made with vouchers, coupons or point redemption programs (including Qantas vouchers)
Mistake pricing – in other words, prices that are lower as a result of an error by the retailer
Prices that Qantas is unable to verify, using reasonable means
Prices offered under a promotion with a third party
Finally, note that you won't have long to lodge your Qantas Price Promise claim after you've found more competitive pricing. The Qantas Price Promise claim must be notified to the call centre by midnight (11.59pm) AEST on the same day that booking was made and paid for at Qantas Hotels.
You can submit a Qantas Price Promise claim here.
Do you book accommodation via Qantas Hotels?
While you're here: Subscribe to our newsletter for the latest tips, deals and news. It only takes a few seconds and we respect your privacy: