For a limited time, Qantas Hotels is offering a supercharged earn rate of 9 Qantas Points per $1 spent on over 500,000 hotels worldwide. The offer is available via the Qantas Hotels booking portal until 11.59pm Sunday 10th September.
Bookings via Qantas Hotels normally net 3 Qantas Points per dollar, so this represents a chance to score triple the points yield on your next accommodation booking. To lock in your trip, head to the Qantas website.
Or, read on to learn more about whether Qantas Hotels is worth leveraging for your next accommodation booking.
Qantas Hotels overview
Qantas Hotels is an accommodation booking portal that brings together over 200,000 properties globally.
Unlike other booking portals, hotels can be paid for with either points or cash, giving you the benefit of being able to redeem or earn Qantas Points on your accommodation.
Read on for our in-depth guide to earning points when you book with Qantas Hotels.
Table of Contents
Earning points with Qantas Hotels
Booking through Qantas Hotels provides the ability for Qantas Frequent Flyer members to earn a side serve of Qantas Points when booking a hotel stay. Many savvy travellers, particularly those with elite status, will understandably prefer to book hotel accommodation directly through the property. However, provided you research pricing first, it can sometimes be worthwhile to book through an aggregator like Qantas Hotels.
How many Qantas Points can I earn on my booking?
As a general rule, Qantas Hotels provides an earn rate of 3 Qantas Points per $1 AUD you spend on your booking.
However, Qantas Hotels runs promotions at various times of the year (such as the offer highlighted at the start of this post), which can see your points haul boosted significantly.
How to book accommodation via Qantas Hotels:
The Qantas Hotels website is simple to navigate, and it's easy to book your accommodation of choice. We've provided a step-by-step guide below.
Step 1: Head here and log in to your Qantas account (Note: you must provide your Qantas Frequent Flyer number at the time of booking in order to earn Qantas Points)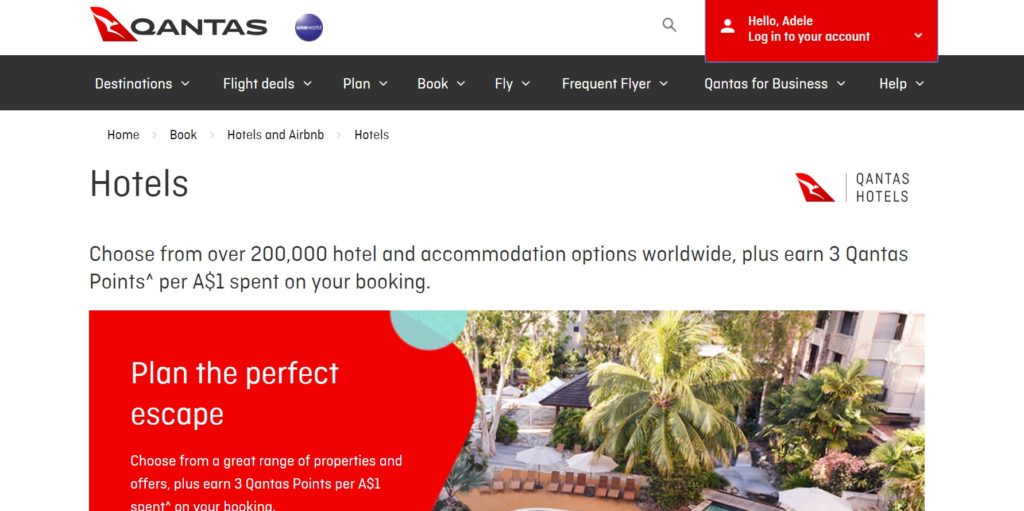 Step 2: Search for a property. Qantas Hotels booking page allows you to sort by a number of factors, including popularity, pricing and deals. You can also toggle to filter by pricing. Properties that are available as 'Classic Hotel Rewards' are flagged as such.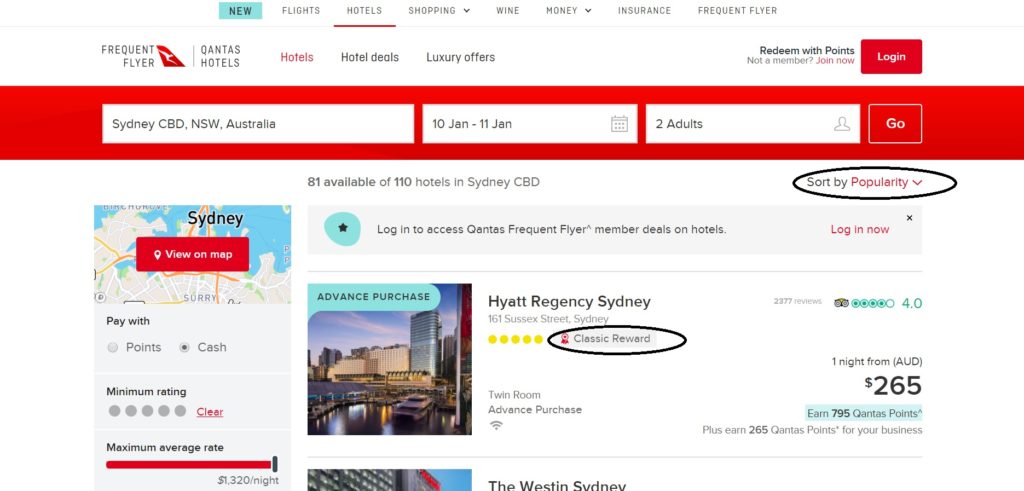 Step 3. Select your hotel and proceed to book, either with points or cash. The number of points you can expect to earn on your booking will be displayed as you progress through to check out.
When will I receive my Qantas Hotels points?
If you're after a quick boost to your Qantas Frequent Flyer balance, unfortunately, you're out of luck – points earned through Qantas Hotels can take up to 8 weeks after your stay to be credited to your Qantas Frequent Flyer account. So, if you pre-book your stay far in advance, you could be waiting some time to receive your points.
It's important to note that Qantas Points will not be earned on cancelled bookings. However, you might be able to earn Qantas Points on no-show bookings provided the booking was paid for in full and the booking has not been cancelled.
Are there restrictions on where I can earn Qantas Points?
Qantas Points are earned on accommodation that has been pre-paid via Qantas Hotels. However, you won't earn them on amounts payable directly to the hotel or additional fees or hotel sundries charged to the room (this includes, e.g. room service, hotel dining, or spa services).
Full terms and conditions are available via the Qantas Hotels page on the Qantas website.
Do Qantas Hotels run promotions?
Yes! Qantas Hotels and Holidays runs bonus points promotions several times per year, allowing your points earn haul to go further. It's not uncommon to see the points offering doubled, or even tripled. This can provide a significant boost to your Qantas Points balance and make the prospect of a Qantas Hotels points booking much sweeter.
At the time of writing, Qantas Hotels is offering a chance to win 1 million Qantas Points for 20 years. If you'd like to be notified when future offers are released, subscribe to our mailing list. We'll let you know next time a Qantas Hotels bonus point offer or promotion is released.
Earning Qantas Green tier status with Qantas Hotels
Sitting separately to standard Qantas Frequent Flyer membership levels, Qantas Green tier unlocks 50 bonus Qantas Status Credits (or a pile of 10,000 bonus Qantas Points), simply for completing five environmentally friendly activities, one of which being staying in an eco-accredited Qantas Hotel.
While a minimum stay of just one night could be a good excuse to get away, green hotels are typically on the more expensive side. This means the cost of your stay can easily outweigh the benefits of reaching Green tier.
In saying that, Green tier members also earn an additional 150 Qantas Points per night every time they choose to stay at an eligible eco-accredited hotel, so it really depends on the amount of time you spend in green hotels.
Qantas Hotels vouchers count when qualifying for Green tier, so it could be a good idea to use a voucher toward booking a green hotel.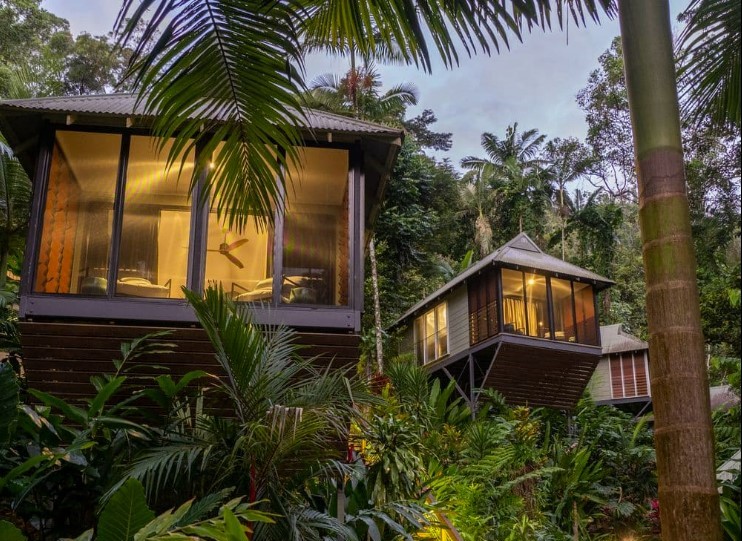 How competitive is Qantas Hotels pricing?
Qantas Hotels provides benefits in the form of bonus points. However, depending on your dates, it can at times be more expensive than other booking options and this should be considered in your research.
When browsing accommodation costs at Qantas Hotels, it's important to compare pricing with other aggregator booking sites, along with the rate available direct via the property itself.
You should only book accommodation via Qantas Hotels when you are sure that the cost outlay provides the best return for your individual situation.
Does Qantas Hotels offer price matching?
Please note that Qantas Hotels no longer offers price matching.
Summary: Is Qantas Hotels a smart choice?
The ability to earn Qantas Points on the ground is always attractive. In fact, Qantas Hotels occasionally runs flash sales that can significantly boost the number of Qantas Points earned from a stay.
In saying this, a Qantas Hotels booking can often be more costly than that of aggregator booking sites, and it will usually void the benefits that can be obtained by booking direct.
With this in mind. you should only book accommodation via Qantas Hotels when you have concluded that it provides the best value for your individual situation.
Do you book accommodation via Qantas Hotels?
While you're here: Subscribe to our newsletter for the latest tips, deals and news. It only takes a few seconds and we respect your privacy: