Fancy a free hotel night (worth up to $400 or more), 50% off dining across hotels in Australia and Asia-Pacific, access to deeply discounted hotel sales, and VIP perks when you check-in?
An Accor Plus membership offers all this and more.
Plus, join now with our special reader offer to score an additional breakfast voucher for two people, worth up to $80 AUD, valid at all Accor Plus participating restaurants in Australia and New Zealand!
This offer is exclusive to The Champagne Mile, and you won't find it anywhere else (including direct via the public Accor Plus website).
Click through to our special offer link on the Accor Plus website to sign up and start enjoying membership benefits now. Or, read on to discover everything you need to know about an Accor Plus membership.
Accor Plus Membership: How the program works
As a paid hotel program, Accor Plus membership unlocks exclusive accommodation and dining benefits at over 1,000 Accor resorts and hotels across Asia Pacific. And even with current international travel restrictions, there's still plenty of value on offer.
Since Accor boasts a significant number of properties in Australia, there are many opportunities to use benefits for staycations, domestic travel and internationally in the Asia Pacific region once travel opens back up. The key Accor Plus membership benefits on offer include:
Complimentary night at a participating Accor property each year. As I'll explain, this benefit can be worth up to $400 AUD or even more (and yes, Saturday nights are often available!)
Dining benefit offering up to 50% off food at restaurants within participating Accor hotels
Up to 50% off accommodation rates with weekly exclusive offers (through Accor Plus Red Hot Rooms)
ALL – Accor elite Silver membership fast track (providing value adds such as 2 x free drink vouchers and a possible late checkout)
Partner benefits including access to discounts with partners such as Europcar, Priority Pass and more
Plus, when you sign up via The Champagne Mile, you'll score an additional breakfast voucher for two people. Depending on where you choose to use it, the value on offer is up to $80 AUD! The voucher is valid for use at any participating Accor Plus hotel restaurant in Australia and New Zealand, including the luxe Sofitel Sydney Darling Harbour. You don't need to be staying in the hotel to use it.
If you can make use of just some of the benefits we've listed out above, you'll easily offset the yearly cost to join Accor Plus.
Sign up for exclusive Accor Plus offer now
How much does Accor Plus Membership cost?
Accor Plus membership comes in two distinct types, the entry-level 'Explorer' and top-tier 'Discovery'. Below, we've set out the standard Accor Plus pricing that applies to each membership level in AUD:
| Membership Type | Standard Price |
| --- | --- |
| Explorer | $399 |
| Discovery | $495 |
So which Accor Plus membership is right for you?
The Accor Plus Explorer membership offers all the core benefits covered in this article and will meet the needs of most readers. I personally have this membership, and I've been able to extract significant value, even during the pandemic.
A Discovery membership offers the core program benefits, plus a few additional perks that will only be accessible once travel recovers. This includes worldwide cruise, tour and wine offers, plus the ability to earn Discovery Dollars booking flights on the Accor Plus portal. At the present time, forking out extra for a Discovery membership probably won't be worth your while.
Where can I use my Accor Plus membership?
Membership is valid at over 1,000 hotels (and 1,400 restaurants) located across 20 countries within the Asia Pacific region. This includes many properties and brands within Australia (think luxe 5-star properties including the Sofitel Sydney Darling Harbour!), so you're spoiled for choice with high-quality accommodation options close to home.
Participating Accor Hotels brands include high-end offerings such as Banyan Tree, Sofitel, Swissotel, Pullman, Peppers, and Fairmont. Mid-tier brands include Mercure, Mantra, and Novotel. While the iconic Raffles brand is included under the Accor Hotels umbrella, unfortunately, it doesn't participate in Accor Plus.

At home, luxe brands that participate in Accor Plus membership include Sofitel, MGallery and Pullman. Once international travel re-opens, your membership is valid at properties in Cambodia, China, Fiji, French Polynesia, Hong Kong, India, Indonesia, Japan, Laos, Macau, Malaysia, Myanmar, New Zealand, Philippines, Singapore, South Korea, Taiwan, Thailand, and Vietnam. Boom!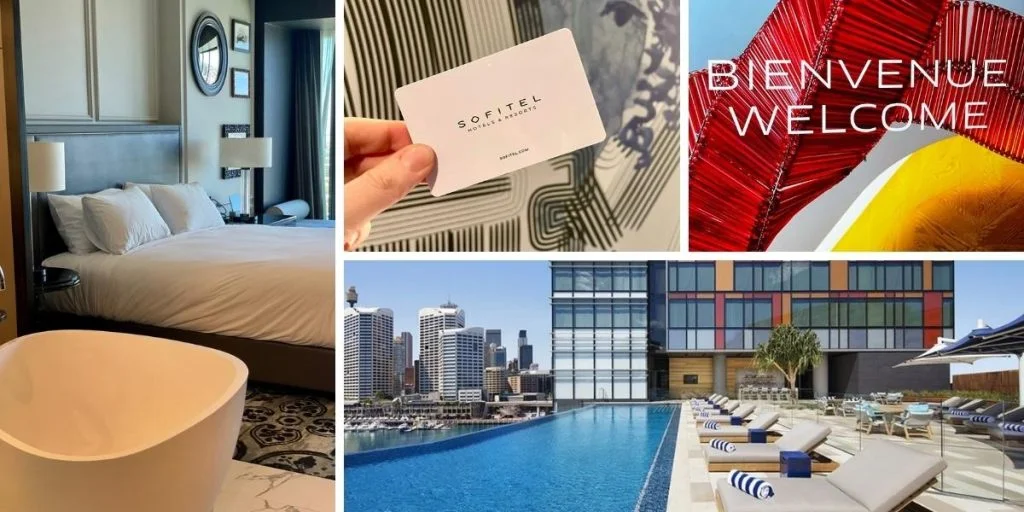 Key benefits for Accor Plus members
Ready to find out more? Let's delve into the key benefits:
Free night at an Accor hotel each year (worth up to $450)
At the top of the list, Accor Plus members score a complimentary one-night stay each membership year at a participating Accor hotel property in the Asia Pacific region (the 'Stay Plus' benefit). Depending on where you use it, the complimentary stay can offer tremendous value.
Click here to discover 4 x properties where you can score up to $450 value with one Stay Plus free night
In fact, it's easy to recoup the full cost of your Accor Plus membership fee simply by using your Stay Plus benefit. Whether you choose to use it for a staycation, interstate holiday, or in the greater Asia Pacific region, it's a chance to spoil yourself with a decadent night away.
---
Stay Plus case study: Sofitel Sydney Darling Harbour
In this quick case study, I'll demonstrate how to extract maximum value from your complimentary Accor Stay Plus night at the exceptional Sofitel Darling Harbour in Sydney.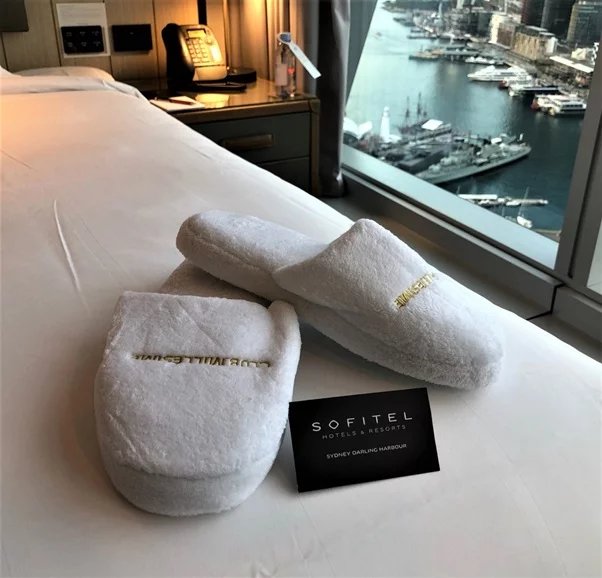 Generally speaking, if you book well in advance, it's possible to lock in a complimentary stay for a Saturday night where the paid rate would otherwise cost around $400 or even more.
In the example below, late last year, I logged in to my Accor Plus account and opted to use my Stay Plus benefit for a Saturday night in early September 2021:

As can be seen, a paid stay on this date for a standard room comes in at $404. However, the Stay Plus benefit is also available, allowing me to access the same room as my free night:

So, just like that, I'm able to recoup the full value of my Accor Plus Membership fee with one night. I can also upgrade from a standard room to a higher category using my Stay Plus benefit, with a luxury corner suite commanding a small supplement of just $50.
The Stay Plus benefit can be booked online, up to 12 months in advance. Since the free night is fully refundable, you can easily cancel it with no penalty up to one day before your stay if your plans change (and let's face it – this scenario is quite common in the current climate!).
Note that the complimentary night is not available at all Accor hotels in the Asia Pacific region, and it is subject to availability. Typically, a base level standard room is offered, although many hotels may allow you to upgrade to a higher room level for a nominal fee (even at check-in).
As with our example above, the earlier you look, the better chance you will have of locking in the Stay Plus benefit at your preferred property, on your preferred date.
Up to 50% off Accor Plus dining benefit at restaurants
After a long day of sightseeing or in the office, sometimes it can be tempting to stay in your hotel for dinner. And with the dining benefits offered with an Accor Plus membership, you won't want to leave the property.
AccorPlus members receive 50% off the food portion of their bill when dining as a party of two – essentially buy one, get one free. This Accor Plus dining benefit is available at participating Accor Hotels restaurants within the Asia Pacific, each and every time you present your card (some blackout dates apply).
Let that sink in for a moment… if you dine out on two scotch fillets, you pay for one. As a solo diner flashing your membership card, you'll receive 25% off your total food bill, while if you bring two guests, you receive 33% off, 3 guests receive 25% off… and so on.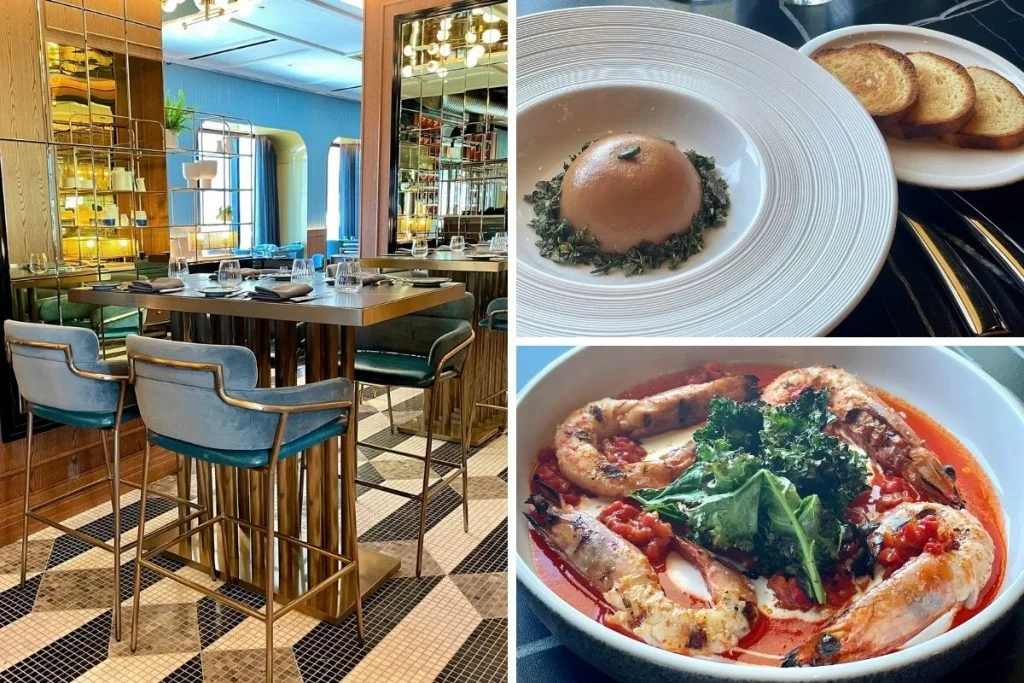 Dining at a participating Accor Hotels restaurant in the Pacific? If you are dining out as a party of four in Australia, New Zealand or Fiji with two Accor Plus members at the table, you can receive a dining discount of 50% off. And, when dining in Asia, you receive 15% off your drinks bill on top! Another round of poolside mojitos, anyone?
It's possible to extract a lot of value from this benefit, particularly at resorts where the onsite restaurants could be your only dining option. Some Accor resorts or hotels are located in remote areas where you typically won't find outside eateries, so you can save significant money by dining onsite at up to 50% food on each day of your stay.
Bear in mind that you don't need to be staying at an Accor Hotel at the time to enjoy savings when you dine out – simply show your Accor Plus membership card when you arrive at the restaurant to access your dining discount. So even if you live or work in an Australian capital city, you may at any one time have access to a number of high-quality Accor Hotels restaurants – at up to 50% off your food bill.
Accor Plus Dining exclusions
As with everything, there are some dining discount exclusions to be aware of. Accor Plus membership benefits are not available at Raffles Hotels & Resorts, Orient Express, and Ibis Budget. Selected independently-owned Accor restaurants may also be excluded from the offer.
You can browse the current list of Accor Plus restaurant dining exclusions on the Accor website here.
Blackout days do apply, and these vary by country. The list of blackout dates that apply to each country is located here. Before dining, we'd encourage you to contact the property to confirm the discount is available.
Up to 50% off stays with Accor Red Hot Rooms
Everyone loves a good hotel sale, and Accor Plus membership delivers members-only promotional rates, all year round.
This benefit is known as Red Hot Rooms, and it sees prices on various hotels slashed at up to 50% off exclusively via the Accor Plus website. While this benefit is popular with leisure travellers, it can lead to significant cost savings for businesses as well.
From high-end Sofitel resorts, Pullman hotels, and Swissotel, to inner-city Mercure and Ibis properties, Accor Red Hot Rooms routinely serves up sharp savings on high-quality properties within the Asia Pacific region.
As a small business owner, I'm personally able to extract significant value from this benefit. I book Accor Plus Red Hot Room rates frequently when planning business travel into cities like Melbourne or Sydney at short notice.
Accor Plus normally releases Red Hot Rooms deals on Friday nights, with the sale rates available for two weeks. Below is a recent example of up to 50% off hotel rooms in Australia: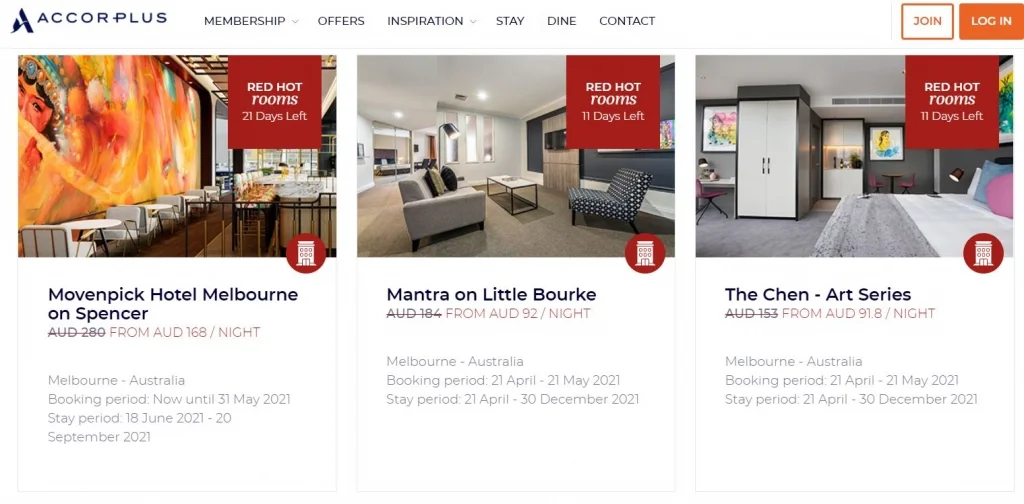 Red Hot Room rates are available to browse on the AccorPlus website. As these are offered as a private members sale, there is less demand for 'red hot prices'. So whether you're travelling for business or pleasure, you'll have a greater chance of scoring a deal before it runs out.
Save 10% off the Best Available Rate
Accor Plus members score an additional 10% off the best available public rate (including restricted rates) when booking directly via the Accor website or the Accor app. This offer is available on any room type at all participating hotels.
The additional 10% discount can also be applied to private sale rates on accorhotels.com, which could see you access discounts of up to 50%.
If you stay regularly at Accor properties, the Best Available Rate discount can add up to significant savings across your membership year.
Note that to access the 10% discount, you must book direct via the Accor website. Sadly, the discount can't be accessed when using Accor gift vouchers purchased via retailers such as Woolworths and Coles.
Plus, don't forget the Accor Hotels Price Guarantee
While it's unlikely that you'll find a cheaper rate elsewhere, don't forget the Accor Hotels Price Promise. If you find a lower rate elsewhere within 24 hours of booking via Accor, you can submit a claims form to request a refund of the difference. Simply take a screengrab that clearly displays the lower price and corresponding price conditions and send it to Accor within 24 hours of your booking. Your claim will be reviewed and processed, if eligible.
Get automatic Silver ALL – Accor Live Limitless Membership
When you join Accor Plus, you'll automatically be gifted an op-up to Silver membership within the Accor Live Limitless loyalty program – unlocking benefits at Accor properties all around the world.
ALL Silver membership is usually awarded after 10 nights stay in Accor hotels or after 800 EUR of eligible expenses, so this is a nice opportunity for infrequent travellers to obtain a quick membership fast track.
And while you won't see free breakfast or a room upgrade, there is still the potential to extract some extra benefits that could be worth up to approx $50 or more per night if you use them.
Silver ALL members enjoy a welcome drink voucher for up to two guests. This typically covers a restricted selection of drinks (think selected wines or limited cocktails) for two. There's also a late checkout (subject to availability). These benefits are provided in addition to the free internet access worldwide that entry-level ALL Classic members receive.
Accor Plus membership is totally separate from the free ALL – Accor Live Limitless (ALL) loyalty program. An ALL membership starts at 'Classic' level. ALL members move up status tiers, based on the frequency of hotel stays and/or monetary spend, providing Status Points, perks, and privileges that are yours for a membership year.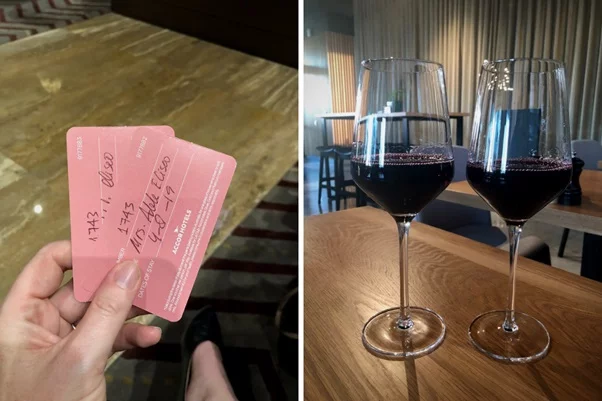 These benefits could save you money you'd otherwise spend when you travel. This is particularly the case for hotels that don't participate in Accor Plus, but which do recognise ALL – Accor Live Limitless benefits.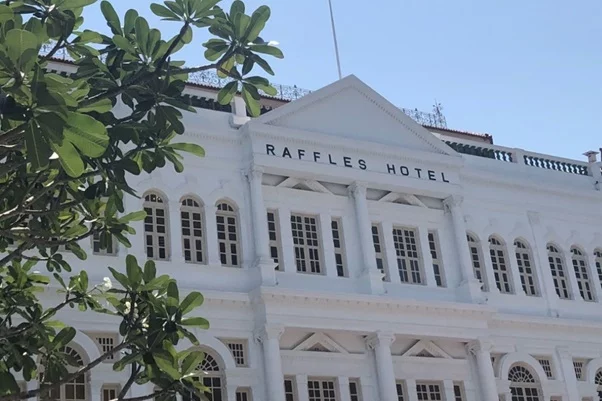 After all, welcome drinks for two could set you back $30 AUD or more, and the chance for a potential late checkout could enable you to enjoy a sleep-in whilst avoiding a hefty late checkout fee.
As an example, Singapore's newly re-opened Raffles Hotel doesn't participate in Accor Plus. However, you can still score a welcome drink and other VIP membership perks with your Accor Live Limitless Silver status.
Your Silver Accor Live Limitless membership status also allows you to earn Status Points and Accor Rewards Points which you can convert to frequent flyer points, put towards hotel stays, or redeem for experiences.
Access More Escapes, member events and partner offers
Members of AccorPlus can log in to the website to take advantage of a range of exclusive offers. These include More Escapes, bespoke member-only events and special partner offers.
More Escapes offers change regularly, but they typically feature discounted rates for stays of two nights or more.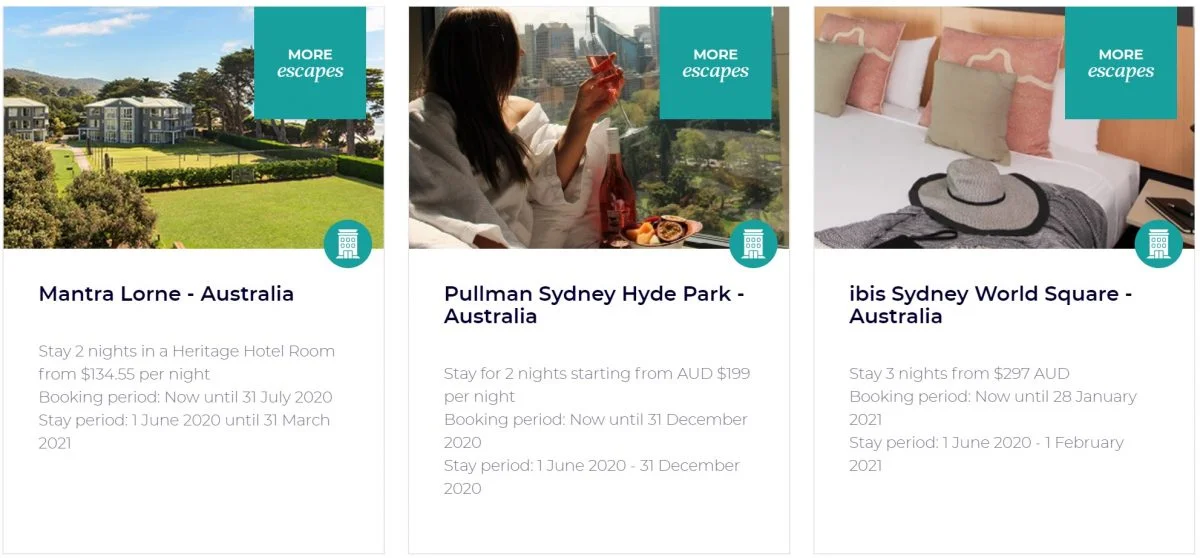 Via the Accor Plus website, members can currently access isolation-friendly entertainment at home events, plus exclusive discounts with Europcar
Which credit cards offer free Accor Plus?
While most people choose to purchase an Accor Plus membership, there's one other way to get it – as a perk from a high end credit card.
In Australia, there are several credit cards that offer a complimentary standard Accor Plus membership, worth $399. These include the American Express Platinum Card and the American Express Platinum Business Card.
Find out more about American Express credit cards here.
Accor Plus membership: Pros and Cons
Accor Plus membership: Is it worth joining?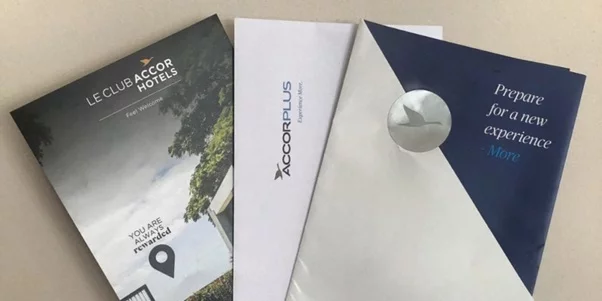 With so many benefits on offer (including a free hotel night worth up to $400 or more and an exclusive breakfast voucher worth up to $80) it's not hard to see why an Accor Plus membership makes sense.
Personally speaking, Accor is my hotel loyalty program of choice. My Accor Plus membership has helped me to save a significant amount of money when travelling and dining over the years. Even in the midst of international travel restrictions, I've found many ways to maximise the program benefits, through staycations and domestic holidays.
Whether you're a frequent or occasional traveller, an AccorPlus membership can pay for itself quickly. Even if you are already a member of Accor Live Limitless or another hotel loyalty program, there's considerable value to be extracted.
In fact, as we've highlighted above, you could potentially recoup the full cost of membership simply using your Stay Plus free night benefit for a high-end property.
Add in up to 50% off dining, Red Hot Room rates, Silver ALL Accor Live Limitless status, and other perks – and it's easy to see why an Accor Plus membership is worth signing up for – particularly with our exclusive offer for readers.
Keen to join up? Head to our link on the Accor Plus website now to sign up.
The Champagne Mile receives a small commission if you sign up for Accor Plus using our link. Thanks for your support
Frequently Asked Questions (FAQ) – Accor Plus membership
How much is Accor Plus membership?
Annual Explorer membership for Accor Plus costs $399 AUD. Join via our exclusive reader link to receive a breakfast voucher for two people, worth up to $80 AUD. This benefit is exclusively available here, you won't find it available anywhere else!
How do I book my Accor Plus free night?
It's easy to claim your free night with Accor Plus. Simply log in to the Accor Hotels website, and search for your preferred date and property within Asia-Pacific. Switch on the Stay Plus Benefit button at the top of the results if you would like to use your free night benefit.
What is the difference between Accor Live Limitless and Accor Plus?
The Accor Hotels ALL loyalty program is free to join. Accor Plus membership is a separate paid program that operates in Asia Pacific. It offers a free night and dining benefits. Conversely, Accor Live Limitless rewards members with Status Points, Rewards Points, and elite membership tiers, based on hotel stays and level of spend.
How much is the Accor Plus free night worth?
As we explain in this post, it's often possible to obtain $400 AUD value or more from your free night benefit, fully offsetting the Accor Plus join fee. You'll extract maximum value if you can plan ahead and use your Stay Plus at a premium five-star hotel.
While you're here: Subscribe to our newsletter for the latest tips, deals and news. It only takes a few seconds and we respect your privacy: