When travel is a way of life, there's often a rewards program to enrich both the journey and destination.
With Accor Live Limitless, it's possible to get rewarded with points and exclusive benefits at almost all points of a journey.
This must-know loyalty program has a flexible points currency that offers many options for redemptions, including with hotel stays and points transfers to airline partners such as Qantas and Velocity.
We've taken a look at what perks are on offer with the Accor Live Limitless program. Here's what you need to know:
Table of Contents
What is Accor Live Limitless (ALL)?
Accor Live Limitless (ALL) is Accor's free worldwide loyalty program. Formerly known as Le Club AccorHotels, ALL introduced premium status under the same loyalty program umbrella.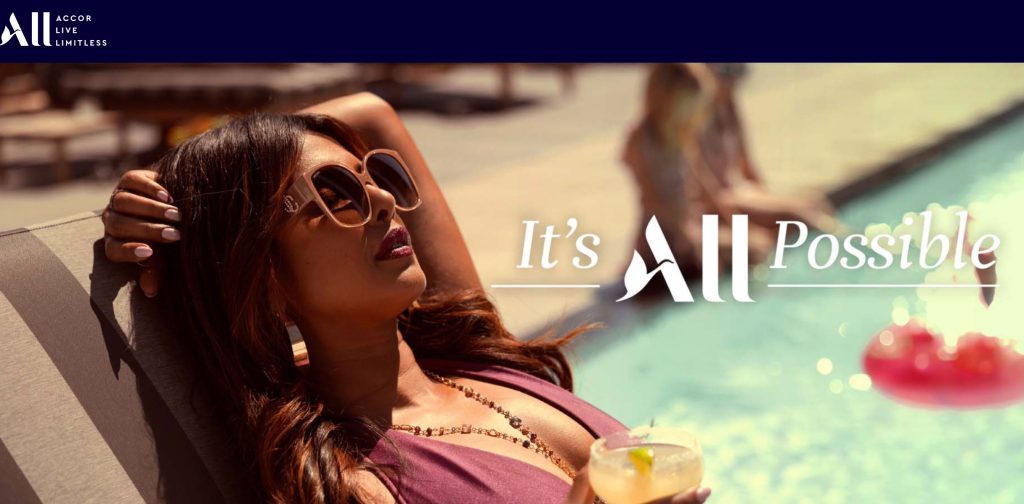 Stay benefits such as a free or discounted night, upgrades and free breakfast are on the cards for members who progress through ALL's membership tiers. Members will start earning ALL Reward points with their very first stay when booking through Accor.
Accor Live Limitless encompasses over 5,000 Accor properties around the globe, making a membership card worth your while. ALL's frequent flyer partners also make it possible to transfer points for reward flights.
The options are almost limitless with an ALL membership, making it an apt name for this worthy rewards program.
What brands are in the Accor stable?
Belonging to one of the biggest hotel chains in the world, this program opens up a virtually limitless list of stay opportunities. Accor Live Limitless members will be able to earn and redeem Reward points at over 5,000 hotels dotted throughout 110 countries worldwide.
Accor boasts over 40 brands ranging from luxury to economy, so there's a stay suited to almost any occasion and budget. From an aspirational luxury night at a Raffles or Sofitel property to a midscale mantra business stay, Accor Live Limitless makes it possible for most travellers to unlock exclusive benefits.

One of the reasons we love Accor is for the sheer number of properties locally in Australia. In fact, if you're in an Australian city right now you'll probably see an Accor property or two shaping the skyline. Don't just take our word for it though, have a look at this expansive list of hotel brands:
Luxury Accor Hotels brands
| | | |
| --- | --- | --- |
| Banyan Tree | Fairmont | Rixos |
| Delano | OneFineStay | Sofitel |
| Emblems | Orient Express | Sofitel Legend |
| Feana | Raffles | SO So Sofitel |
Premium Accor Hotels brands
| | | |
| --- | --- | --- |
| Art Series | MGallery | Pullman |
| Adagio Premium | Mondrain | Swissotel |
| Angsana | Mövenpick | The Sebel |
| Grand Mercure | Museum Hotel | Twenty Five Hours Hotels |
| Mantis | Peppers | |
Midscale Accor Hotels brands
| | | |
| --- | --- | --- |
| Adagio | Mantra | Novotel |
| Mama Shelter | Mercure | Tribe |
Economy Accor Hotels brands
| | | |
| --- | --- | --- |
| Adagio Access | Ibis | Jo & Joe |
| BreakFree | Ibis Styles | Greet |
| HotelF1 | Ibis Budget | |
Accor Live Limitless membership levels and benefits
The Accor Live Limitless program offers five status tiers. These tiers start with entry-level Classic status, followed by Silver, Gold, Platinum and Diamond.
Tier progression requires staying a total number of nights or reaching a minimum spend, where every €10 (all currencies will be converted to euros) on eligible expenses equates to 25 Status points.
Generally, more stays equals more elite status, and greater benefits. Most loyal Accor guests will aspire to Platinum status, arguably the sweet spot that offers the best range of valuable benefits.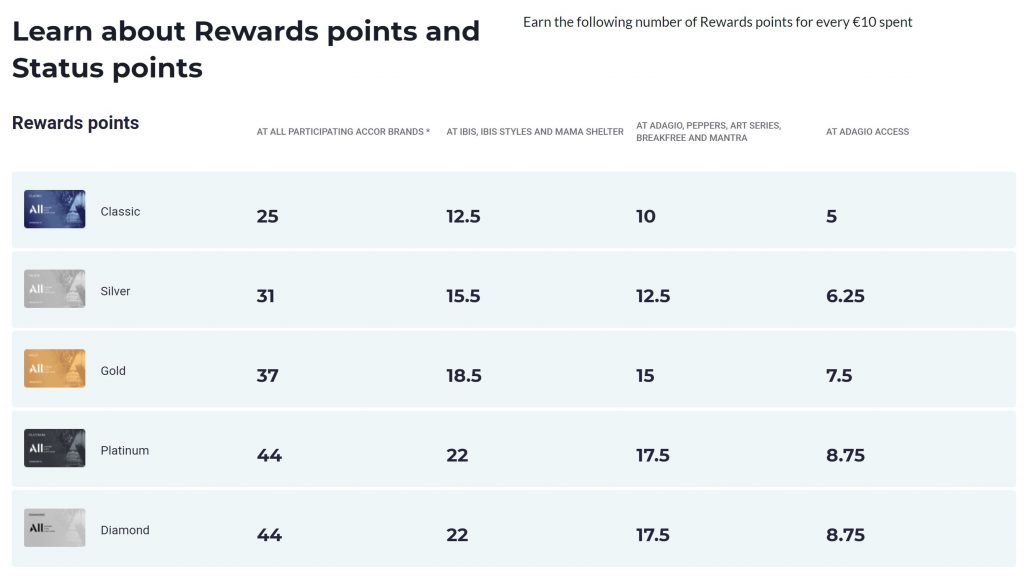 Below we've mapped out how to achieve the five status tiers and what benefits are available with each.
ALL Classic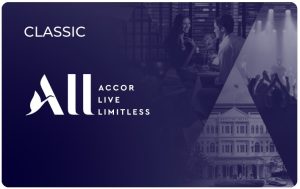 Accor Live Limitless Classic status comes into effect as soon as membership commences.
This base-level tier includes the following benefits:
Exclusive members' rates
Online check-in and fast check-out
Complimentary Wi-Fi
Earn 25 points for every €10 spent at eligible Accor properties
ALL Silver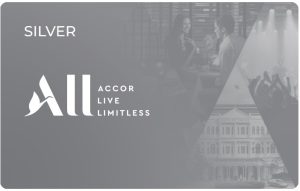 Silver status kicks in when ALL members stay a total of 10 nights. Alternatively, this status can also be reached by spending €800 to earn 2,000 Status points.
However, it's also possible to fast-track to complimentary Silver status with an Accor Plus membership. See Accor Plus Membership 2022: Exclusive offer.
As well as enjoying Classic benefits, Silver status members will be able to access:
Priority welcome (complete with welcome drink for up to two guests)
Late check-out (perfect for later flights)
31 Accor Points per €10 spent at eligible Accor properties
ALL Gold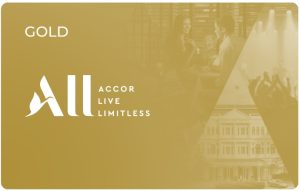 Achieving ALL Gold status requires members to stay 30 nights or earn 7,000 Status points by spending €2,800.
If work has you travelling frequently, there's also a fast-track complimentary Gold status option with the ibis Business card. At the time of writing, eligible Qantas Frequent Flyer members can also obtain an instant Gold status upgrade.
ALL Gold status members will enjoy Silver benefits plus a:
Welcome gift (this varies, depending on the property. It could be as basic as a couple of bottles of spring water, through to a bottle of wine or plate of treats)
Guaranteed room up to three days before arrival
One category room upgrade (subject to availability)
Turndown service at participating hotels
Early check-in or late check-out
Earn 37 points for every €10 spent at eligible Accor properties
ALL Platinum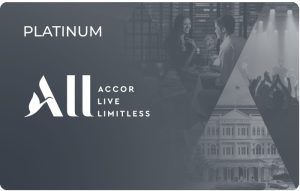 This is where most frequent travellers want to be. ALL Platinum status spoils loyal Accor guests with a compelling suite of benefits.
Staying a total of 60 nights or reaching 14,000 Status points — equivalent to a € 5,600 spend — will see guests enjoy the following perks:
A dedicated helpline
Both early check-in and late check-out
Two guaranteed Suite Night Upgrades
Executive lounge access
Complimentary 7-day-a-week breakfast at Asia Pacific properties
Complimentary minibar soft drinks at MGallery properties
Complimentary one-piece ironing service at Pullman properties
Premium Wi-Fi
Earn 44 Accor Points for every €10 spent at eligible Accor properties
ALL Diamond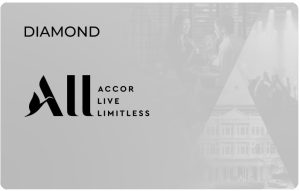 ALL Diamond is the highest status level in the Accor Live Limitless program and is reserved for the most loyal Accor guests.
This tier cannot be reached with any number of stays, but rather, only with Status points. The threshold for ALL Diamond is 26,000 Status points, which equates to a €10,400 spend.
ALL members who hold Diamond status can access all the Platinum benefits as well as these few extras:
Complimentary weekend breakfast at Accor properties around the world
Four dining or spa reward vouchers worth €25
Complimentary ALL Gold status to a person of your choosing — a great gift for a loved one
Digging into the Suite Night Upgrade benefit
Accor Live Limitless Suite Night Upgrades give members a rather notable incentive to accumulate Status points. This is one of the program's more recent perks, which allows Platinum and Diamond members two Suite Night Upgrades per year.
Members can enjoy up to 12 bonus Sweet Night Upgrades (per year) every time they earn an extra 4,000 Status points. This benefit can be used at participating Luxury and Premium brands including Raffles, Sofitel and Pullman, which is reason enough to earn more Status points!
How to join Accor Live Limitless
Joining Accor Live Limitless online is free and easy. Simply follow this step-by-step process to become an ALL member in under five minutes:
Visit the Accor website and create an account via this link
Enter your personal details (name, email, password, country of residence)
Click 'Become a member'
Membership details will be sent via email. Accor Hotels runs another (paid) membership program called Accor Plus (which we'll compare to ALL later in this article), so ensure you are signing up for Accor Live Limitless.
Qantas and Accor Live Limitless partnership
Accor Live Limitless has a relatively new partnership with Qantas, which sees travel worlds collide. Members of both Accor Live Limitless and Qantas Frequent Flyer can link the programs to enjoy a surge of points opportunities across the board.
This provides an opportunity to 'double dip' when flying with Qantas and staying at Accor properties in Asia Pacific. The exciting tie-up is the first time a hospitality group and airline in the Pacific region have united to enhance points earning potential for members.
Qantas Frequent Flyers and Accor Live Limitless members can access a host of key benefits once the loyalty programs have been linked, including:
Fast track to ALL Silver status
Earn 3 x Qantas Points per $1 spend on eligible Accor stays
Score Qantas Premium Wine membership ($99 value)
Earn 2 x ALL Reward points with Qantas (Qantas Platinum or above and ALL Gold status and above)
Convert ALL Reward points to Qantas Points
Yes, Qantas Frequent Flyers can earn 3 Qantas Points per $1AUD spent on participating Accor properties. Here's an example: a $787AUD stay at Sofitel Sydney Darling Harbour is a great example of the 'double dip' point-earning capability here. This stay could eligible members hit a bonus points jackpot by earning an impressive 2,361 bonus points to Qantas Frequent Flyer, alongside 1,169 ALL Reward points.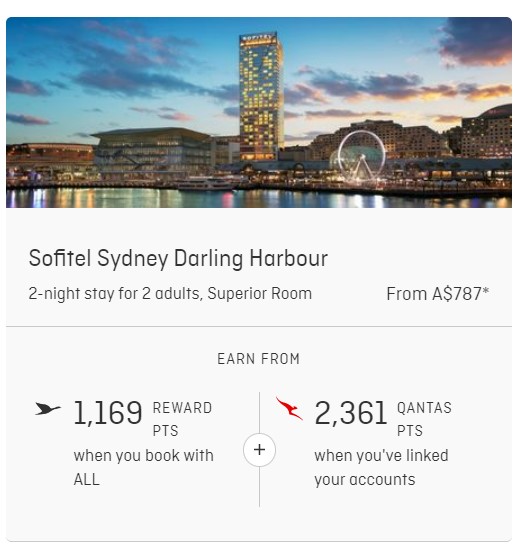 To earn Reward points on eligible Qantas flights, you'll need to hold ALL Gold status (or higher) or Qantas Platinum status (or higher). Here are the ALL points on offer with the Qantas partnership:
ALL Gold members can earn 1 ALL Reward point per AU$10 spent on Qantas flights.
ALL Platinum and Diamond members can earn 2 ALL Reward points per AU$10 spent on Qantas flights.
Qantas Platinum and Platinum One members can earn 2 ALL Reward points per AU$10 spent on Qantas flights.
It's important to note that eligible flights only include Qantas-operated flights with a QF flight code.
Learn everything there is to know about the Qantas x Accor partnership here.

Earning ALL reward points
A key benefit of the Accor Live Limitless program is its variety of points-earning streams. Access to a series of Accor partners means that no matter what their tier, members can earn ALL Reward points from the beginning to the end of a travel journey.
Enjoy Accor stays
What's better than a hotel stay? Earning points on a said hotel stay. When it comes to maximising points earn with an Accor Live Limitless membership, accommodation is a sure thing.
No matter where you're off to (and for what reason) there's likely an Accor property perfectly suited to your needs. Whether it be a romantic getaway or business conference, Accor's significant presence in Europe and Asia Pacific means these occasions (and more) are covered with a points-earning stay.
As a downside, it's worth noting that not all hotel brands under the Accor banner will earn ALL Reward points, and participating hotels each have varying earn rates (which are based on a spend converted to euros). For example, stays at the budget-tier Ibis brand earn at a lower rate than upscale option, Sofitel.
Savvy travellers will take advantage of Accor's calculator to work out which properties will earn the most points.
Accor's calculator tells me that with Platinum status, I will earn 1314 Reward points and 746 Status points for a Deluxe Room at Sofitel Adelaide, booked at a cost of $430AUD.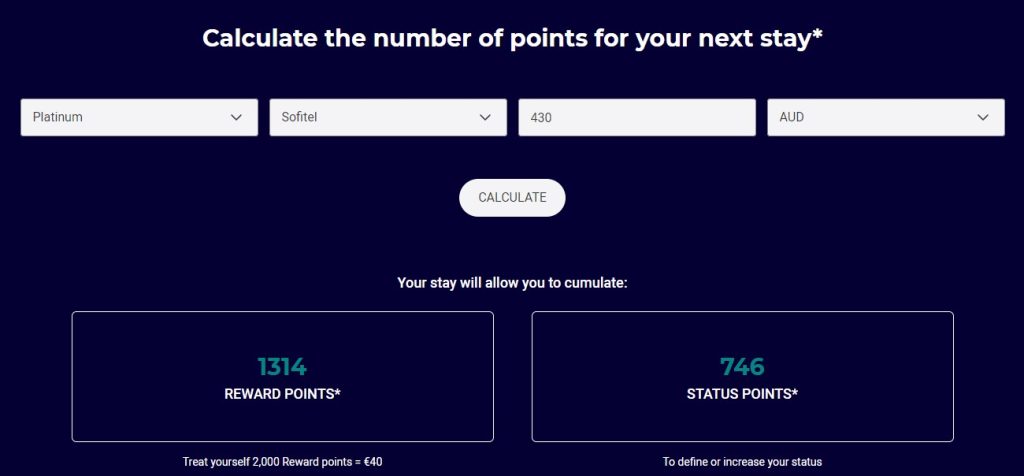 Dine your way around the world
Is food a big part of your travels? Accor Live Limitless members can taste the world while earning 1 Reward Point per €1 spent at participating hotel restaurants, bars and cafes all over the globe.
The Accor website even offers a helpful map showing where to find participating restaurants around the world. Simply enter a city and search for your ideal culinary destination. Once you have arrived, be sure to alert your server that you are an ALL member and wish to log your points.
It's always best to ask for and keep a dining receipt until ALL Reward points appear in your account, which should take around one week.
Take advantage of the Qantas x ALL partnership
As we've covered, Qantas Frequent Flyer and Accor Live Limitless members can take advantage of a 'double dip' thanks to the Qantas and Accor partnership.
Flying with Qantas and staying at Accor properties in Asia Pacific can see Qantas Frequent Flyers earn 3 x Qantas Points per $1 spend on eligible Accor stays.
Like any solid partnership, Qantas and Accor share the love both ways. Qantas Platinum (and above) or ALL Gold status (and above) members can also earn double ALL Reward points with Qantas.
Leverage travel partners
Accor Live Limitless members can take advantage of Accor's various travel partnerships at almost every part of the journey.
Car rental partnerships mean there are also points up for grab to and from the hotel on eligible bookings.
Avis rentals can earn up to 150 points per hire day
Europcar rentals can earn points based on the length of the hire (up to 1,000 points for every eligible booking)
Hertz hires will earn 3 ALL Reward points for every €1
Priority Pass can see Accor Live Limitless members earn up to 1,500 Reward points for a discounted lounges membership.
Luggage Free offers 3 ALL Reward points for every €1 spent on its white-glove door-to-door luggage delivery service.
My Paris Aéroport will reward ALL members with 2 Reward points for every €1 spent, meaning that ALL members can earn points at Paris-Charles de Gaulle and Paris-Orly airport shopping and car park bookings.
Shop with Accor
Accor Live Limitless makes it possible for members to earn Reward points through everyday life. Earning points online by shopping through an extensive array of retail partners across technology, fashion and accessories categories is simple via the Accor store.
From Father's Day gift ideas to Christmas and back-to-school shopping, there are Accor Live Limitless Reward points almost everywhere. Orders through every single partner on Accor's shopping gallery can earn at least 1 ALL Reward points for every €1 spent online.
Redeeming ALL reward points
From aspirational stays to experiences and products, Accor Live Limitless Reward points can be practically whatever members want them to be.
ALL Reward points can be used for a range of valuable redemptions, including hotel stays, ALL Limitless Experiences and transportation. Accor Plus members can also use their membership in tandem with ALL to extract even greater value on some redemptions.
Enjoy free or discounted hotel nights
ALL members can use Accor Reward points to redeem free or discounted stays at participating hotels. The redemption rate here is €40 (approximately $57.84AUD at the time of writing) credit for every 2,000 Reward points. That means ALL members will need 14,000 Reward points to redeem in full for a €280 room.
ALL Reward points can also be stacked with the Accor Plus program for maximum savings across participating restaurants in Asia Pacific. It's important to note that hotel rooms booked with ALL Reward points don't count as qualifying stays for status tiers.
Take to the skies with airline partners
Prefer to use your ALL points to take to the skies? Accor Live Limitless partners with over 30 frequent flyer programs including Qantas Frequent Flyer, Velocity, KrisFlyer and Asia Miles.
Unfortunately, most programs offer an unfavourable exchange rate of two ALL Reward points to one mile. However, via the Qantas and Accor Live Limitless partnership, it's possible to unlock an improved 1:1 transfer ratio, providing an option for frequent flyers with a specific redemption in mind.
Live with Limitless Experiences
Life's better with some lived experiences, which is another reason why Accor's Limitless Experiences can offer so much value. There are once-in-a-lifetime experiences on offer across entertainment, travel, taste and sports categories. This includes competitively priced tickets and suite packages for NRL games and popular concerts, a popular choice amongst Aussies. It pays to keep an eye out for experiences as there's serious value to be had here!
Pay for transportation
Accor Reward points can be used to cover car hire through Europcar and Eurostar, however, this isn't the best use of points considering 2,000 rewards points will only take €20 off a car hire (worth double that for hotel accommodation).
Shop your points away
Accor offers an extensive range of goods and notable brands across technology, homeware, fashion, leisure and beauty retailers. Shopping is generally seen as offering poor value for points. However, if there is a particular product you want, then chances are Accor's partner retailers have it.
Accor Live Limitless vs Accor Plus
Accor Plus is a separate paid loyalty program that operates solely in Asia Pacific. This subscription program offers travel, dining and lifestyle benefits in addition to Accor Live Limitless perks. An Accor Plus membership will unlock a range of major benefits including:
A free 'Stay Plus' night at participating hotels in the Asia Pacific region (effectively offsetting the cost of the membership)
Complimentary Silver status in the Accor Live Limitless program
Up to 50% off 'Red Hot Rooms' deals at selected hotels
Up to 50% off hotel restaurant dining bill (essentially a 'buy one meal get another free' offer)
Up to 15% off drinks at participating hotel restaurants in Asia
An entry-level Accor Plus Explorer Membership will cost $399AUD, an Accor Plus Discovery Membership offers a few extra perks for $498. Purchasing an Accor Plus membership can make sense if you stay frequently at Accor properties, or if you have a high-value use of the Stay Plus benefit in mind.
That said, it's worth noting that Accor Plus privileges are only valid in Asia Pacific, whereas Accor Live Limitless Program is free and allows members to climb membership tiers and access compelling benefits all around the world.
How does Accor Live Limitless stack up?
While there are pros and cons to any hotel loyalty program, Accor Live Limitless stacks up pretty well against other main programs such as IHG One Rewards, Marriott Bonvoy and Hilton Honors.
Here's how Accor Live Limitless stacks up at a glance:
| Hotel loyalty program | Accor Live Limitless | IHG One Rewards | Marriott Bonvoy | Hilton Honors |
| --- | --- | --- | --- | --- |
| Points currency | Accor | One Rewards Points | Marriott Bonvoy Points | Hilton Honors Points |
| Membership fee | No | No | No | No |
| Bonus points offers | Yes | Yes | Yes | Yes |
| Membership tiers | 5 | 5 | 6 | 4 |
| Free night benefit | No | Yes | Yes | Yes |
| Points earing partners | No (except Qantas) | Yes | Yes | Yes |
| Airline points/miles transfer | Yes | Yes | Yes | Yes |
| Number of brands | 43 | 17 | 30 | 18 |
| Australian presence | More than 340 hotels | 69 hotels | 31 hotels | 17 hotels |
| Credit cards | Yes | Yes | Yes | Yes |
| App | Yes | Yes | Yes | Yes |
While Marriott Bonvoy and Hilton Honors offer some of the most valuable points currencies on the market, Accor Live Limitless offers a range of attractive transfer options, particularly when it comes to Experiences and a favourable 1:1 transfer rate for Qantas Frequent Flyer.
And while the program doesn't offer a specific 'free night' benefit, Reward points can be earned relatively easily, and then cashed in at a competitive rate for hotel stays.
Unlike other leading hotel programs, Accor Reward points can't be acquired via leading reward programs in Australia (with the exception of Qantas). Conversely, both Hilton Honors and Marriott Bonvoy points can be obtained via transfers from American Express Membership Rewards.
When it comes to 'go-to' hotel chains, it's hard to ignore Accor's presence locally. Further afield, the chain offers a range of attractive brands in Europe and the Asia Pacific (including Sofitel and Singapore Raffles), both popular travel regions for Australians.
While it largely depends where, and for what reason you travel, it's likely Accor Live Limitless is a worthy loyalty program for most Australian travellers.
Is there an Accor App?
The 'Accor All — hotel booking' app is a centralised place for ALL members to manage reward and status points, as well as book a stay. However, the app doesn't always provide as detailed information as the ALL website.
Here is an easy three-step process to get underway with the Accor ALL app:
Sign-up or log in by opening the app and selecting 'Account' in the corner.
Use the app to make reservations, manage points balances, and more.
How do I contact Accor customer service in Australia?
The ALL online support area is the easiest way for ALL members to get in contact with Accor customer service. The ALL rewards program does not have a direct number. However, there is a general number for reservations and enquiries.
FAQ – Accor Live Limitless
Is ALL – Accor Live Limitless free?
Yes — it's free and easy to join ALL. It takes less than 5 minutes to sign up, which is a great way to earn Accor Rewards points on your next stay.
How is Accor Live Limitless different to Accor Plus?
Accor Live Limitless is a free program that allows members to earn points on purchases and stays at properties around the world, while Accor Plus is a separate paid program that operates solely in the Asia Pacific region and offers other benefits such as a free night and discounted dining. 
Can I buy Accor Rewards points?
No — it is not possible to purchase Accor Rewards points to achieve a reward. While this is a feature of other rewards programs, such as IHG One Rewards, Marriott Bonvoy and Hilton Honors, Accor does not offer this.
While you're here: Subscribe to our newsletter for the latest tips, deals and news. It only takes a few seconds and we respect your privacy: