Hotel loyalty is big business, and the newly revamped and refreshed IHG One Rewards program offers compelling value.

New to IHG One Rewards? In this guide, we unpick IHG's loyalty program to help you reap the rewards and get you well on your way to elite benefits – did someone say free breakfast?

Intercontinental Hotels Group (IHG) is a high flyer in the Australian hotel industry, boasting an ever-expanding portfolio of hotel brands including Crowne Plaza, Intercontinental, voco, Hotel Indigo, and Kimpton.

This revamped program offers an enticing list of perks, including discounts on hotel stays and the ability to earn points that can be redeemed for free nights.

Read on to discover how you can start racking up IHG Reward points. Whether you're a frequent traveller, or simply looking for extra perks on a special hotel stay, we personally think that joining IHG One Rewards pays off.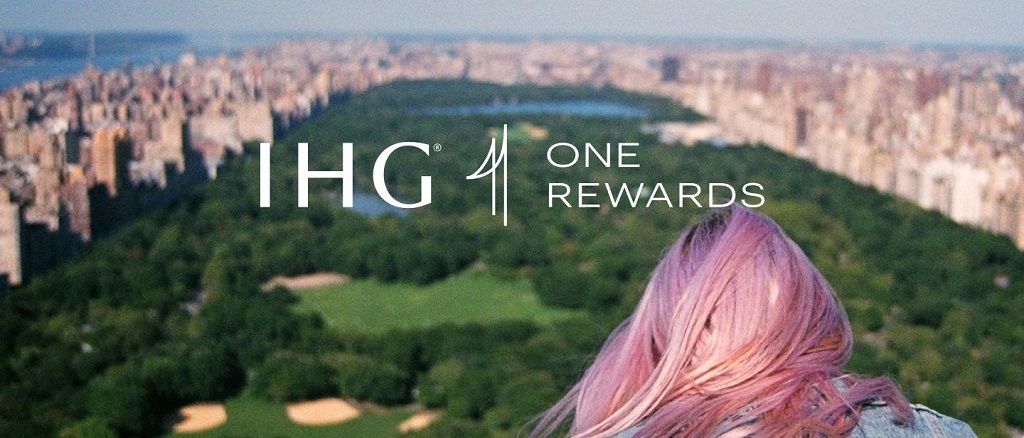 Table of Contents
What is IHG One Rewards, and how does it work?
IHG One Rewards operates globally, unlocking the ability for travellers to earn points towards free stays at over 5,200 IHG properties in Australia and beyond. While the program is an upgrade from its predecessor – IHG Rewards – its fundamental principles hold true.
At its heart, IHG One Rewards is a loyalty program that offers points for stays at participating IHG properties. Points can be redeemed for free nights at eligible properties, transferred to leading airline partners, used for brand name products and gift cards, and other rewards.
Through qualifying nights, members can move up the IHG One Rewards elite tier ladder, which offers an array of exclusive benefits. Through elite membership, the IHG One Rewards program offers top-tier travellers a free breakfast, room upgrades, and even lounge access, ensuring it holds its own with competing hotel loyalty programs.
Sign me up: how do I join?
It's simple and free to join the IHG One Rewards program. To sign up, head to the IHG website and complete the registration form. You will just need to provide your contact information and create a username and password.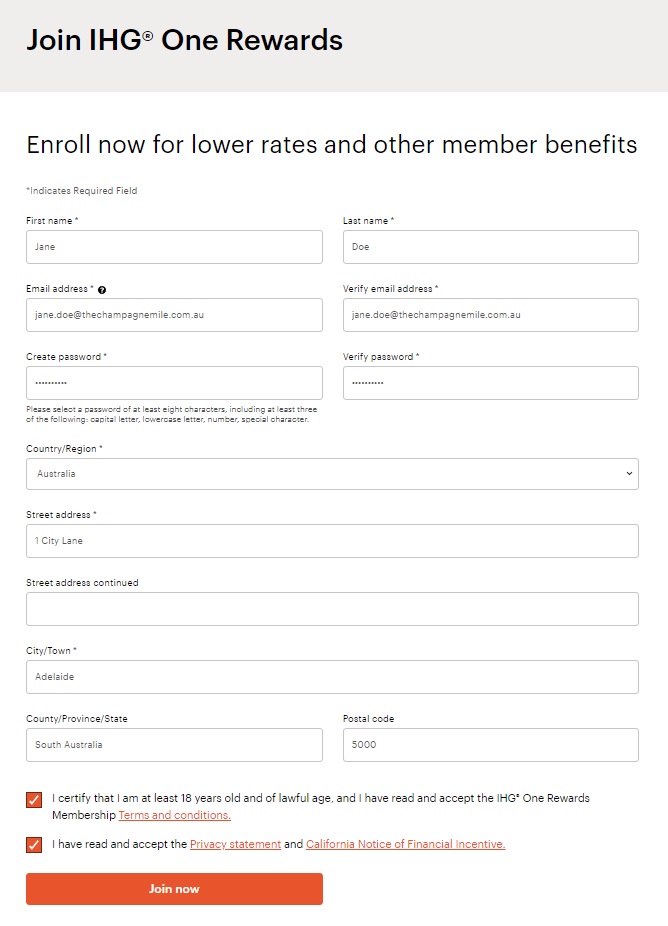 Once you've completed the form, click 'join now,' and you're en-route to earning points and privileges! It's worth noting that IHG One Rewards memberships are based on the calendar year, rather than the date of signup.
Getting started with IHG One Rewards
Once joined, new members can start earning points and perks immediately. Each stay at a participating IHG property, or payment for eligible in-house services and amenities, will earn points that can be redeemed for free nights, discounts, and more.
How many points do I need for a free night?
With as little as 10,000 points it's possible to redeem a Reward Night. Points can also be spread further by combining them with cash to redeem a free night stay (Points + Cash – we'll delve into this in more detail later).
After signing up why not go right ahead and download the IHG app, where managing your account and searching for a bucket list reward is a breeze. Got a destination in mind? Simply enter your city of choice and getaway dates in the 'search' function and get booking.
Which properties form part of IHG One Rewards?
Through the IHG One Rewards program, members can obtain privileges at an impressive array of high-end hotel brands.
The majority of IHG hotel brands recognise an IHG One Rewards membership, including Crowne Plaza, InterContinental Hotels and Resorts, Holiday Inn, Holiday Inn Express, Voco, Hualuxe, Even Hotels, Candlewood Suites, Vignette Collections, Atwell Suites, Six Senses, Staybridge Suites, Kimpton Hotels & Restaurants, Avid, Hotel Indigo, Avant hotels, Holiday Inn Club Vacations.
With 17 respected hotel brands, chances are the IHG One Rewards loyalty program encompasses many of your go-to luxury hotel stays:
It's worth noting that some of these chains are region-specific to the United States or China. Here in Australia, you'll likely make the most of your rewards at InterContinental, voco, Hotel Indigo, Kimpton, and Crowne Plaza.
Australians seeking to maximise benefits like welcome amenity spoils and confirmable suite upgrades are only going to be further spoiled for choice, with Hotel Indigo expected to open more local properties as soon as next year.
Voco, a mainstay on the Gold Coast, has also recently opened its fresh doors in the heart of Melbourne. Another one of our pulsing cities recently welcomed Australia's very first Kimpton, which has waltzed into a fashion-forward Art Deco building in Sydney's edgy Midtown.
Before the pandemic, Australia also saw two new IHG Holiday Inn Express hotels at Sydney Airport and Melbourne Southbank, and we are anticipating more prime locations from IHG in the coming years. With a range of fresh properties on the horizon, it's the perfect time to sign up to IHG One Rewards!
IHG One Rewards membership tiers and benefits
There are five membership tiers in the IHG One Rewards program: Club, Silver Elite, Gold Elite, Platinum Elite, and Diamond Elite. Each level offers a host of benefits, including discounts on hotel stays, free nights, and more.
A key difference in the new IHG One Rewards program is the addition of the 'Milestone Rewards' ladder, where members are dutifully rewarded for every 10 nights stayed (starting at 20 nights and closing at 100 nights). Whether staying for business or leisure, most frequent travellers will easily rack up these nights, making the rewards that much more obtainable.
The program's dual ladder structure (and which ladder you climb) depends on whether travellers are earning points with overnight stays or via hotel restaurant and services spending. In-house guests will reach higher tiers faster, as many of the benefits can only be enjoyed with an overnight stay.
Below, we've broken down each of the tiers and their perks.
Club Membership
At this base-level tier, members can enjoy discounted rates, free wi-fi, and even a complimentary 2 pm late check-out (rare for an entry-level membership, and subject to availability). This is a game-changer for frequent travellers who can relax in comfort – rather than having to kill time meandering a city or airport before later flights – likely saving money on airport lounges.
Silver Elite
To qualify for this second tier, you must stay at least ten nights within a calendar year (other spending won't count). Although, there's an exception for fine diners who can skip Silver and fly straight to Gold once reaching 40,000 points – caviar and Krug, anyone?
Silver Elite members can enjoy all of the benefits of Club membership, plus a few added perks like priority check-in and no expiry on points (ideal for these uncertain times)!
Gold Elite
Accruing 20 nights under IHG One Rewards will qualify travellers for the Gold Elite level. The second Milestone Rewards system comes into play here for members wanting to climb the ladder through stays, rather than dining.
Members enjoy a 40% bonus added onto base points earned via spending, plus the ability to have extra nights roll over, enabling members to maintain their gold status with ease.
Platinum Elite
Arguably the 'sweet spot' in the newly revamped IHG One Rewards program, the Platinum Elite level is reached by staying at least 40 nights or by earning 60,000 points within a calendar year. Platinum members receive favourable perks including exclusive access to discounted reward nights, guaranteed room availability, room upgrades (subject to availability), and an early check-in – who doesn't love getting acquainted with their room straight after breakfast?
Diamond Elite
Stayed 70 qualifying nights? Congratulations, you've arrived at a free breakfast for your entire stay – elite bliss! As well as indulging in some morning macarons or perhaps a pain au chocolate –on the house, of course – Diamond Elite members also get all the perks of lower tiers.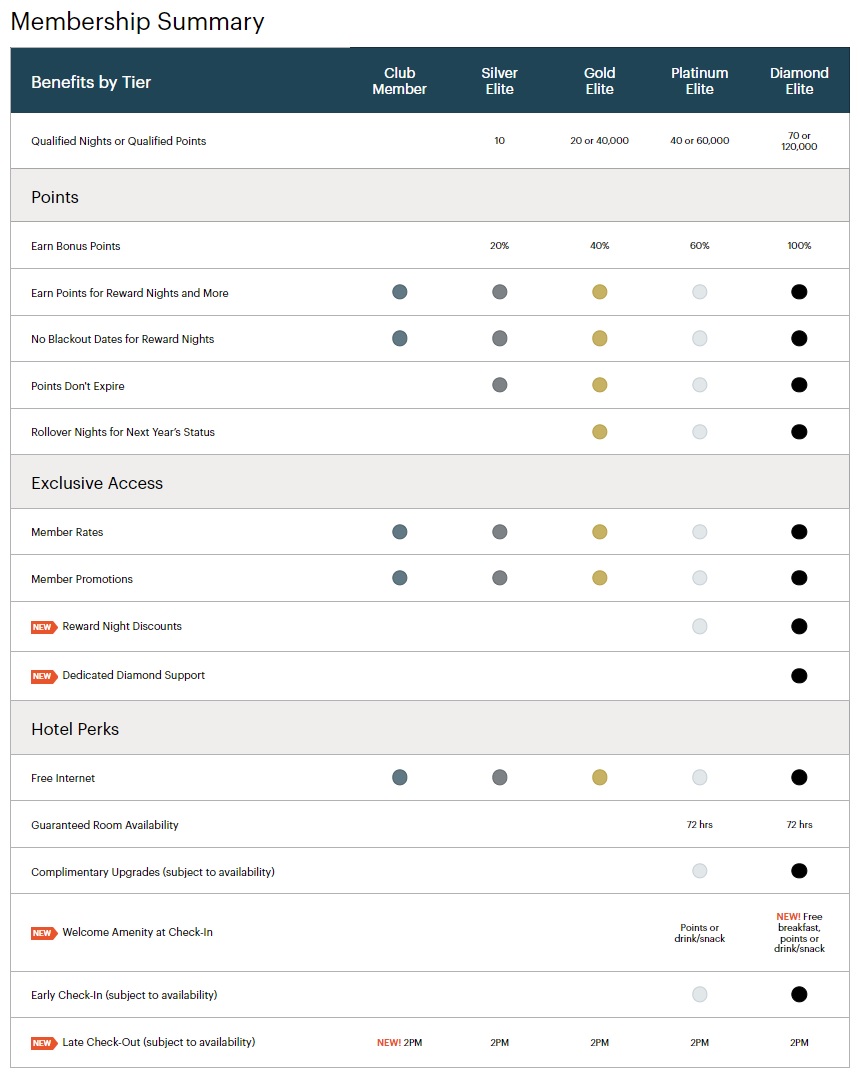 What are Milestone Rewards?
From June 2022, IHG's new Milestone Rewards ladder has been operating alongside the program's main tier status. Climbing this ladder with every 10 nights stayed unlocks another suite of benefits for loyal members, where every 20, 40, and 70-night milestone offers unique benefits.
Stayed 20 nights?
Unlock Gold Elite status and a choice of:
5,000 bonus (non-elite qualifying) points
two $20 food and beverage vouchers
a base-level suite upgrade for up to five nights
Stayed 40 nights?
Enjoy Platinum Elite status and a choice of:
10,000 bonus (non-elite qualifying) points
$100 food and beverage vouchers
another base-level suite upgrade for up to five nights
Stayed 70 nights?
Access Platinum Elite status and:
Members who choose to receive food and beverage vouchers can view their credit on the digital wallet in their IHG app. In-room dining never sounded so appealing! Unfortunately, there's no added tier for frequent IHG guests who stay in excess of 100 nights per year. Rest assured these loyal members will reap the Diamond Elite rewards.
It's worth bearing in mind that while Milestone Rewards bonuses can absolutely be leveraged for rewards, they won't play a part in seeing your status rise to lofty heights. Most purchases from IHG-partnered businesses don't contribute to an Elite status either.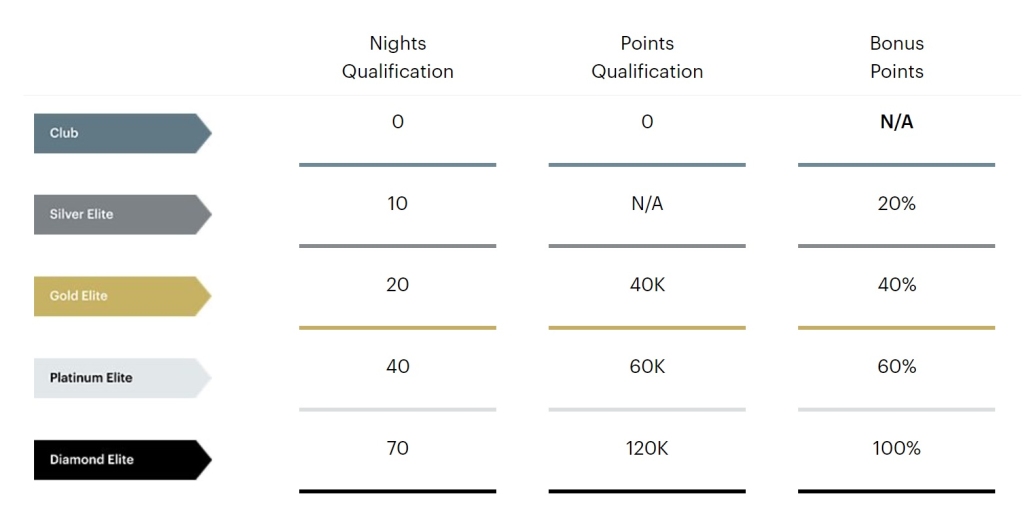 How to earn IHG One Rewards points
An IHG One Rewards membership quite literally unlocks a world of points, and earning Rewards Points is easy – partly because there is a banquet of ways to do so!
The main way to earn IHG points is to stay at the chain's hotels. For example, the bigger brands (excluding Staybridge Suites and Candlewood Suites) offer around 10 points per US dollar (or equivalent currency) spent on a hotel room bill including any dining or cheeky mini-bar charges.
Thousands of bonus points are also possible with IHG's many promotional offers, such as 'A Greener Stay', which incentivises guests to go without housekeeping for a neat 500 points – a small price to pay for reducing water usage.
Does buying IHG points make sense?
IHG One Reward members can even buy points to fatten up their balance for as little as $0.05 per point.
At the time of writing, members can purchase up to 150,000 points per calendar year and another 150,000 as a gift in the same year.
While point purchases are not always a good idea, there are certain situations where it does make sense. Purchasing points could be worth your while if you have a specific redemption in mind and if you have access to a promotion offering a discounted purchase price.
For example, IHG has occasionally run offers where you could earn a 100% bonus on purchased points, and it pays (literally) to keep an eye on these promotions.
Essentially, buying IHG points makes sense when purchasing points for redemption is less expensive than paying cash for the same good or service.
IHG points can be purchased through your account at ihg.com. Select 'buy points' and follow the prompts to a pot of points gold.
Tips for redeeming IHG One Rewards points
There are so many appealing ways to redeem your IHG One Rewards points.
Redeem points for a Reward Night (free night stay)
The most popular way to redeem points is via overnight Reward Night stays, which start from just 10,000 points for a base room.
Fancy a domestic stay? A Standard King Bedroom complete with a walk-in shower and luxe design elements at Voco Melbourne starts from just 35,000 points.
There are also local boutique stays available at properties like Vignette Collection's effortlessly cool Hotel X, located in the beating heart of Brisbane's Fortitude Valley. The sensational rooftop pool here promises to fulfill winter sunshine desires. This mid-year splendor and sophistication don't seem so out of reach knowing I can stay here from 30,000 points as an IHG One Rewards member.
Another sunny option for domestic winter escapees could be a Holiday Inn Cairns Harbourside stay. It's comforting knowing IHG's family of 17 brands will likely have a rewards night available in your city of choice.


It's easy to use the IHG app to search for stays and filter by points to see what is available, with a range of appealing stays available in Sydney at the time of writing: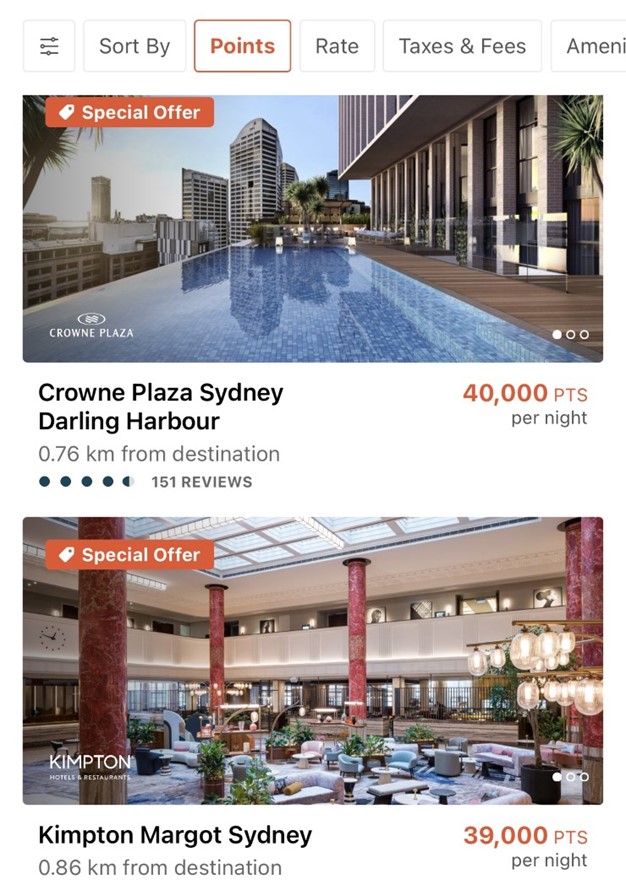 Redeem for Points & Cash
With the Points & Cash option, members can opt to pay with however many points they wish, whilst covering the balance with money. This way a 35,000 point room is yours for 10,000 points and a balance of $226AUD:

Paying with points and cash is an ideal way to maximise IHG's discounted stays, which they occasionally offer for as little as 5,000 points a night. This, of course, makes a stay by redeeming a minimum of 5,000 points and topping up the rest with cash very accessible.
To redeem your points for a free night simply log into your IHG Rewards account and search for hotels that catch your traveller's eye. Once you find a hotel you would like to stay at, select the 'redeem points' option and you're on your way to a heavenly rewards stay.
Transferring IHG Reward Points into airline miles
Frequent travellers love flexible point currencies, and IHG One Rewards absolutely delivers – though the conversion rate isn't always the best redemption option. Members can easily convert IHG One Rewards points into airline miles or elect to earn miles from their stays – whichever is more appealing.
IHG boasts an extensive list of airline partnerships with valued frequent flyer programs including – Qantas Frequent Flyer, Virgin Australia Velocity, Emirates Skywards, Singapore Airlines Krisflyer, and Air New Zealand's Airpoints – through which members can choose to earn miles. Keep in mind that each airline partner has different conversion rates, so research is key here.
As a general rule of thumb, using points for Reward Nights typically offers the best redemption value. However, should you choose to redeem IHG points on miles, simply follow these steps:
Redeeming experiences with IHG One Rewards Access
IHG One Rewards Access, a brand new benefit that gives members opportunities to redeem points for unforgettable experiences in Australia and around the world.
From sideline tickets at sporting events to VIP concert passes and meet-and-greets, members in Australia now have the ability to redeem rewards points for money-can't-buy experiences and packages across a variety of categories, including sports, entertainment, art and more.
Members can explore experiences based on category, location, and quantity of points, and use their points to either redeem instantly at a fixed amount of points or bid on experiences where the highest bid at the close of the auction period wins.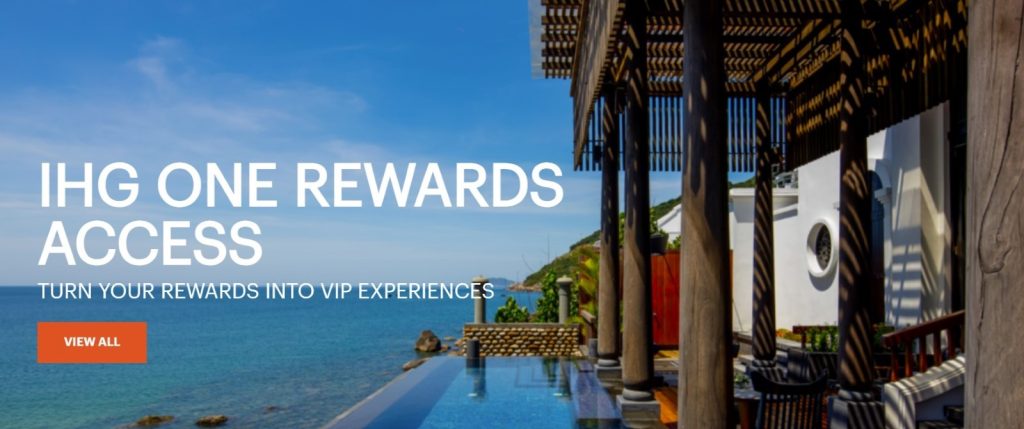 Experiences can range from 1,000 One Rewards points for an online offering to over 200,000 points for a gourmet foodie tour.
The value here can be quite compelling, so it pays to regularly check what's on offer.
How are IHG One Rewards different from the InterContinental Ambassador Program?
The InterContinental Ambassador program is a separate paid loyalty program that runs alongside IHG One rewards.
Membership costs US$200 (AU$290 at the time of writing), which instantly elevates you to Platinum Elite IHG One Rewards status. Becoming an Ambassador member is also possible by using 40,000 IHG One Rewards points to buy your way in.
Whether or not this program is worth it or not is entirely dependent on how frequently you chose to stay with InterContinental properties compared with other IHG brands.
The InterContinental Ambassador Program unlocks exclusive benefits only available when lodging at InterContinental hotels worldwide, which you won't ordinarily get as an IHG One Rewards member. These benefits include:
guaranteed one-category room upgrades
$US 20 restaurant and bar credit
4 pm late checkout and a very attractive certificate for a weekend overnight stay (only to be used on the second night).
Every rewards program comes with its own bundle of perks and it's up to prospective members to decide which benefits appeal most to their personal values. If you are looking for a rewards program – specifically under the InterContinental Hotels banner – that offers perks and benefits across the entire IHG family of brands, then IHG One Rewards is likely the one for you. However, if you prefer exclusive benefits to InterContinental Hotels & Resorts, the InterContinental Ambassador Program may be a better fit.
How do IHG One Rewards stack up?
Hotel loyalty is big business, and the newly refreshed IHG One Rewards program has emerged as a strong contender. Offering an alluring and comprehensive approach to rewards and benefits, being part of this program gives members rare access to various rewards that include no blackouts, free nights starting at just 10,000 points, and points that never expire.
It's a no-brainer and definitely worth a sign-up for frequent travellers whose lives likely take them to a participating IHG property anyway – there are so many after all!
There's a stay for all your needs, whether it's a school holiday trip interstate, business trip, or a well-deserved winter staycation in your capital city.
How to contact IHG One Rewards
If you are looking to contact IHG One Rewards, there are a few ways to do so. You can either call their customer service number at 1 877 424 2449 or live chat with them via the IHG Digital Concierge️ located at the 'need help' section at the bottom of their website.
FAQ – IHG One Rewards
What is IHG One Rewards?
IHG One Rewards is the revamped loyalty program tied to InterContinental Hotels Group (IHG). It allows members to earn IHG One Rewards points, which can be redeemed for stays, transferred to airlines and more. Frequent travellers can also earn status for further benefits.
How many points do you need for an IHG One Rewards free night?
Free nights start from 10,000 points. Rates are available on the IHG website when booking.
What are 10,000 IHG points worth?
We'd estimate that IHG points are worth 0.8 cents apiece. This means that 10,000 IHG points are worth about US$80.
Is it free to join IHG One Rewards?
Yes, it is entirely free to join IHG One Rewards. We have outlined the simple sign-up process in this guide.
Do IHG points expire?
Points will expire after 12 months in the absence of account activity. Simply earning or redeeming once in a calendar year through any IHG hotel or partner can avoid this.
While you're here: Subscribe to our newsletter for the latest tips, deals and news. It only takes a few seconds and we respect your privacy: