Forget international long-haul. Here are the best ways to redeem a stash of Qantas Frequent Flyer points right now.
First things first. Let's get real. While Covid has decimated travel, there are still plenty of ways to earn Qantas Points on the ground.
But if you're worried about how to go about redeeming those points, you're not alone. Current restrictions on air travel mean that it can be difficult to find high-value Qantas points redemptions unless you know where to look.
I'm not about to tell you to burn your Qantas points on long-haul first class, because international travel is likely off the table for some time yet.
But the fact is, there are still many ways to use a stash of Qantas points closer to home.
From luxury rail journeys to regional flights, goods at the Qantas Rewards Store and even Qantas Hotels – we've compiled a list of the four best ways to redeem Qantas points right now.
Read on to find out more.
Experience a Gold Service train journey (up to 1.5 cents value per point)
Qantas and Journey Beyond have recently come together to offer QFF members the chance to switch out business and first-class flights for all-inclusive Gold Service train journeys around Australia.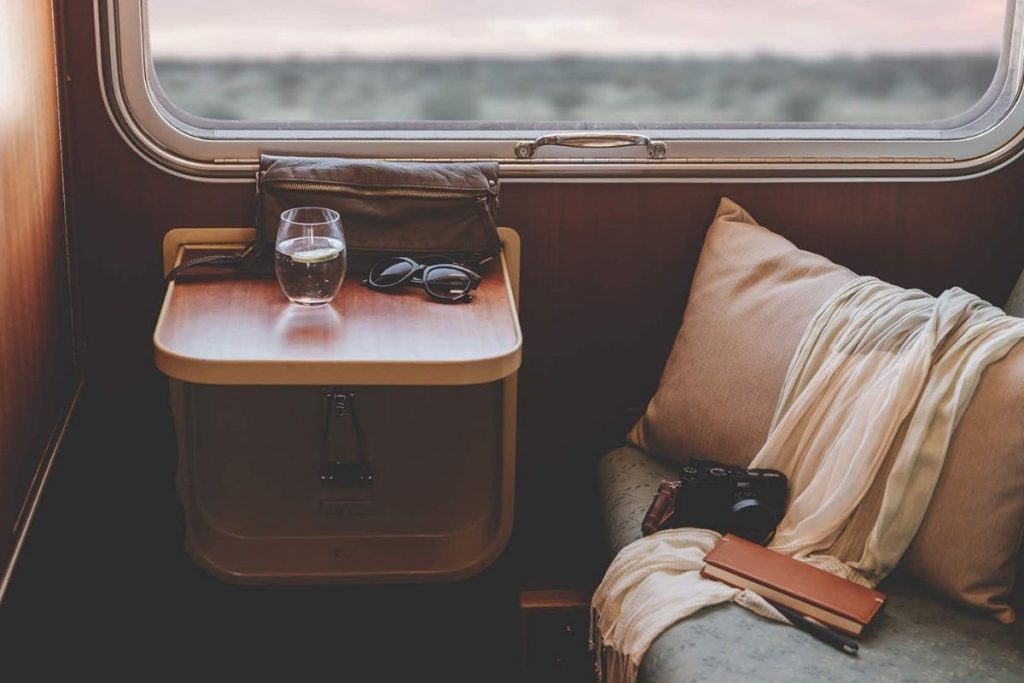 Points can now be used for iconic rail journeys across The Ghan, Indian Pacific and Great Southern, signalling the first time Classic Reward Seats have been offered on the ground. Along with a Gold Service private cabin, these redemptions also offer all-inclusive dining, off-train excursions and selected transfers.
We've crunched the numbers on the Qantas' rail redemption opportunities, and the value offering is surprisingly solid. There are nine different routing and accommodation combinations across the three rail products, starting from just 100,000 points: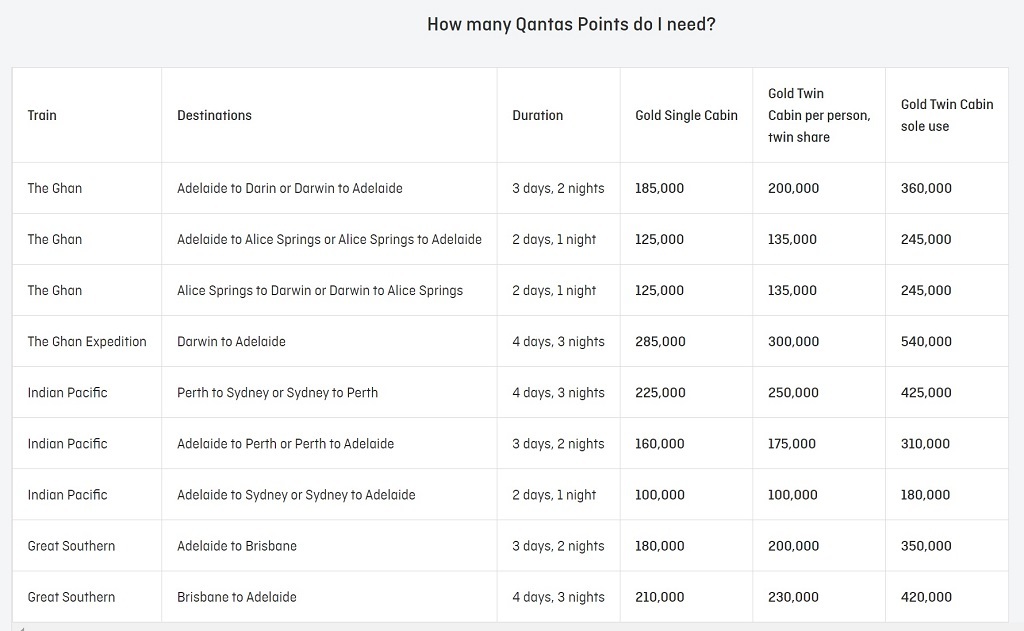 In fact, when comparing revenue ticket vs points cost, a number of redemptions offer well over 1 cent per point value. As an example, it's possible to book a Gold Single cabin on a three-day journey on The Ghan from Adelaide to Darwin in peak travel period (Dry Season) for $2,799 or 185,000 points. That works out to over 1.5 cents value per point, which, let's face it, is a very solid number in the current travel climate:

Even better, there are no pesky taxes, fees or surcharges to pay in addition to points. Simply select to pay with points, and they are deducted from your Qantas Frequent Flyer account, with no credit card information required. This differs to Qantas Classic Flight Rewards, where a hefty fee is often levied in addition to points.
For more information, check out our comprehensive guide to booking a Classic Rail Reward.
Book award flights to Lord Howe Island (up to 5 cents value per point)
When it comes to domestic flight redemptions, it doesn't get much better than Lord Howe Island.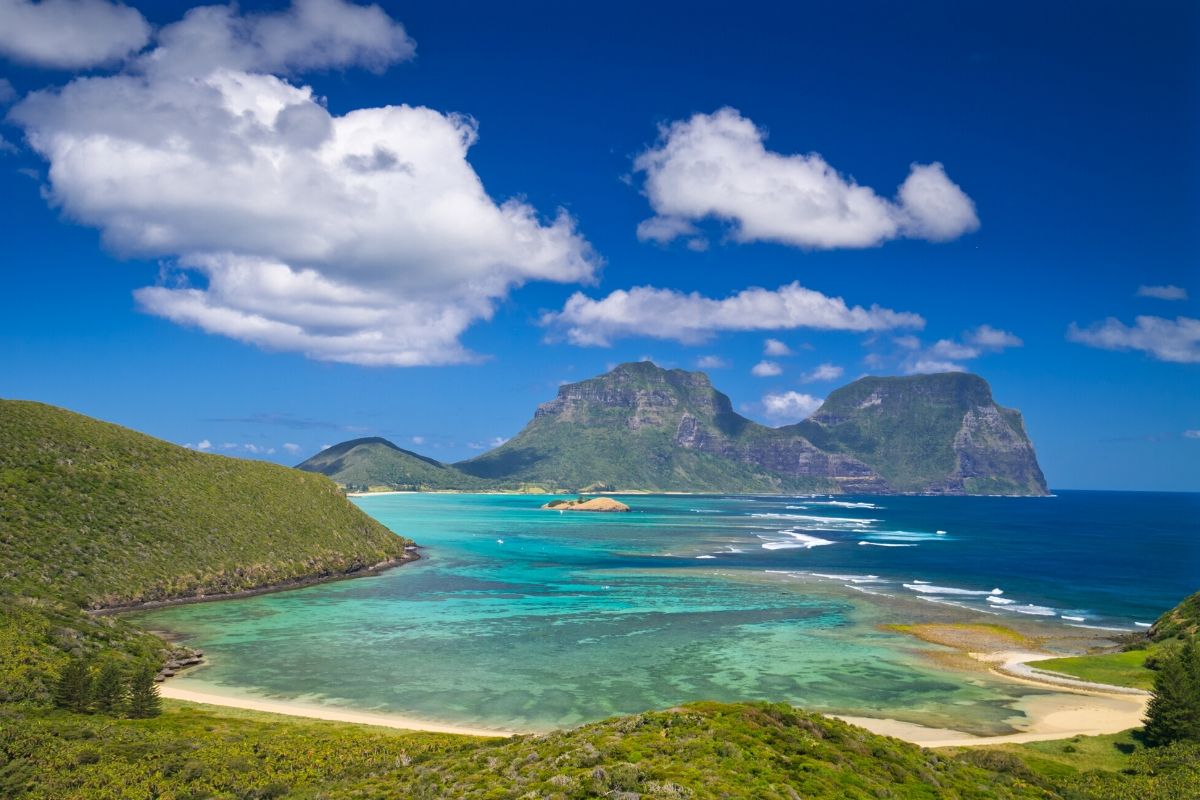 Beyond the fact that borders are currently closed, a Qantas Classic Reward redemption to this dream destination has been on my personal bucket list for quite some time. While seats on this route have long been hard to find, Qantas has released a number of seats across winter 2021.
A one-way direct journey from Sydney to Lord Howe Island will cost you just 8,000 Qantas Points (plus $86 in taxes/fees). With flights on this route typically costing around $480, you're getting almost 5 cents value per point.
This is quite possibly the best value you'll find, given international premium award seats and upgrades aren't accessible to most of us right now. To put it into perspective, a Classic Reward redemption from Sydney to Lord Howe Island is almost 10 times the value you'd extract by using your hard-earned Qantas Points for gift vouchers or goods at the Qantas Store!
| | | |
| --- | --- | --- |
| Economy | Qantas Points | Taxes, fees and carrier charges |
| One-way | 8,000 | A$86 |
| Return | 16,000 | A$172 |
The redemption value ex Brisbane is slightly lower, where a one-way flight costs 12,000 Qantas Points plus $129 in taxes/fees. Given a one-way revenue economy ticket between Brisbane and Lord Howe Island normally costs $599, the value per point is just shy of 4 cents. That's still exceptional.
For more information about availability of Qantas Classic Reward seats to Lord Howe Island, check out our post here.
Accommodation packages with Qantas Hotels (up to 0.62 cents value per point)
When it comes to redeeming my own frequent flyer points, I'm a long-time advocate for choosing nights over flights.
Qantas Hotels provides frequent flyer members with the opportunity to redeem from over 200,000 hotel and accommodation options worldwide. Whether planning a staycation or a domestic holiday, there are plenty of properties to choose from.
And, when you consider that many properties are offering bargain rates as a result of Covid, choosing to redeem Qantas Points in this way can make sense. In fact, the real value can be found in Qantas Hotel package deals, where perks such as room credit, breakfast and complimentary parking are on offer.
Here's an example:
Right now, it's possible to book a two night holiday package at Hilton Cairns from $342 or 56,819 Qantas Points for two adults, twin share. Above and beyond the room, this package includes:
Breakfast for two people daily
$75 food & beverage credit for use in Mondo on the Waterfront or in room dining
Welcome bottle of wine
1pm late checkout
Self parking
On the face of it, there's just 0.62 Qantas Points per cent value that can be extracted with this redemption. But, when you consider that the package inclusions are worth $716, the value proposition is in fact much higher.
Plus, when using Qantas Hotels Points Plus Pay, you'll also earn Qantas Points back to your account for making the booking. For the holiday package we've highlighted above, you'd earn at least 2,052 Qantas points. This rises to over 3,000 points with Qantas Points Club Plus status.
Purchase goods at the Qantas Rewards Store when on sale (up to 0.8 cents value per point)
Lastly, it's possible to exchange Qantas Points for goods at the Rewards Store.
Purchasing goods at the Qantas Store has long been considered one of the very worst ways to use points. However, by planning strategically, it can be possible to increase the value of this redemption.
Firstly, it pays to wait for the right time to redeem – namely when the product you want is on sale. The Qantas Rewards Store regularly runs sales on coveted brands including Apple, Bose and Dyson.
The second way to increase the redemption value of goods at the Qantas Store is via Qantas Points Club. Points Club Plus members receive an additional 10% off the redemption cost at the Qantas Rewards Store, and this can be stacked with some other promotions (including sales).
You can find out everything there is to know about Qantas Points Club in our guide here.
Personally speaking, simply using the strategies above, I was recently able to obtain just under 0.8 cents value per Qantas point when redeeming for an iPhone:

In the current travel climate, that was a value I was comfortable exchanging my points for.
Bear in mind that many goods on offer at the Qantas Rewards Store are available on sale elsewhere, so it pays to shop around. Products such as iPhones are almost never on sale through retailers, so these items can offer value when redeemed with points.
Redeeming Qantas points: Conclusion
While international travel is likely off the cards until 2022, there's still value to be had in redeeming Qantas points closer to home.
Right now, there's up to 120,000 bonus Qantas points available with one frequent flyer credit card sign up. Discover featured offers now.
While you're here: Subscribe to our newsletter for the latest tips, deals and news. It only takes a few seconds and we respect your privacy: