Have your Qantas Points and drink them too with Qantas Wine
Formerly known as Qantas epiQure, Qantas Wine offers the ability to quickly earn Qantas Frequent Flyer points on each $1 spent, in a rewarding way.
Disclaimer: The Champagne Mile holds no commercial relationship with Qantas Wine. Qantas Wine sells a number of wines, including non-Champagne Wines. The Champagne Mile is not suggesting that these wines originate from the Champagne Appellation of Controlled Origin.
There are free and paid membership options that allow frequent flyers to earn points for spending on premium wines, beer, spirits and gourmet food. Of course, good wine often goes glass-in-hand with travel, which is just one of the reasons why purchasing via Qantas Wine could be the perfect pairing.
Table of Contents
Current Qantas Wine bonus point offers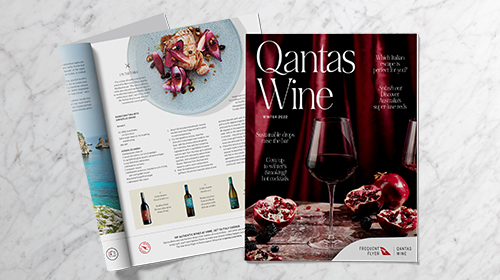 Right now, Qantas Wine has a compelling new customer offer. We're talking about earning 5,000 bonus Qantas Points when you spend $99 or more at Qantas Wine.

The offer is valid until 31 May 2023, so you'll just have to start your Qantas Wine journey before the end of the month to make sure you get the bonus points.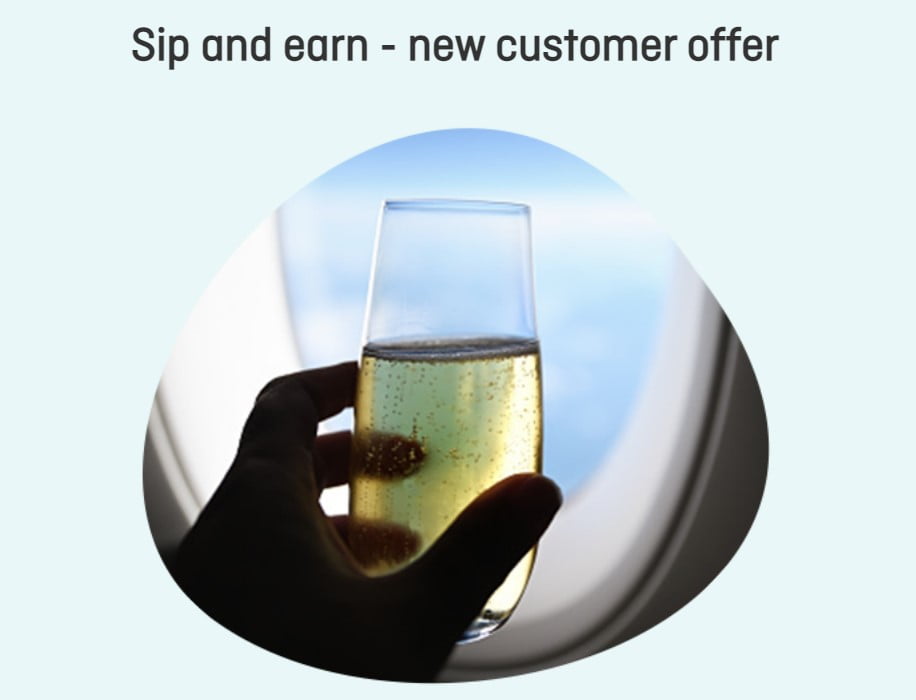 There's also potential to stack this offer with wine purchases that currently earn up to 18,000 bonus points select purchases – that's up to 23,000 Qantas Points for your first purchase!

To take advantage of this offer, simply head to Qantas Wine and start shopping. But remember, the offer only stands for new customers, so you won't be eligible if you've purchased from Qantas Wine before;
When will the bonus points be credited to my account?
Allow up to 8 weeks for points to appear in your Qantas Frequent Flyer account.

Bear in mind that 20,000 is often the maximum number of bonus points on offer through Qantas Wine, though we have recently seen offers max out at 30,000.

However, there doesn't seem to be many lucrative bonus points offers around right now. The best we can find at the moment is 18,000 bonus points with select mixed cases (not champagne).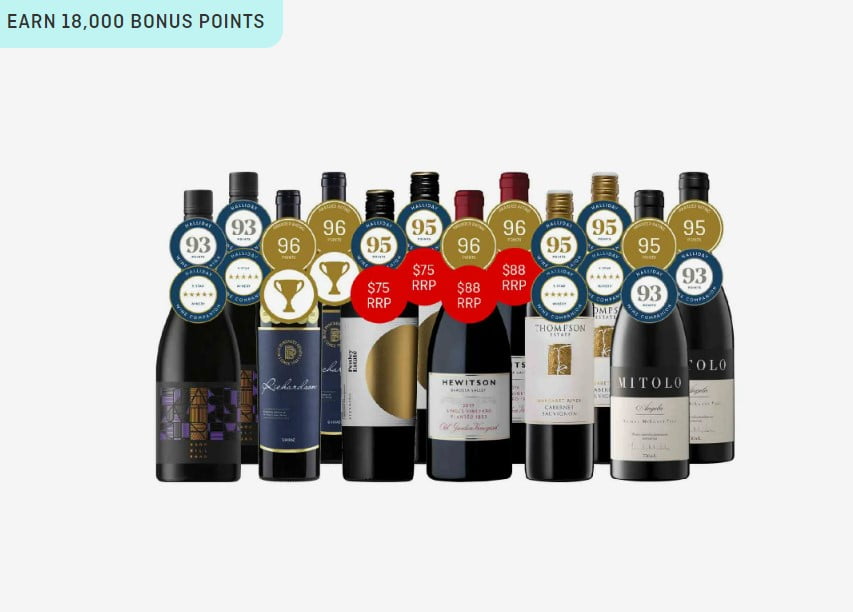 Of course, it's worth noting that the wine the bonus Qantas Points are attached to can sometimes be purchased cheaper elsewhere, so it pays to do your research before buying. In saying that, current standout offers include:
Earn 18,000 bonus points
Wine: Thompson Estate Excellent Dozen (not champagne)
Rundown: Twelve bottles of mixed wines
Price: $419.88 AUD or 72,960 Qantas Points (on sale until 30 June 2023)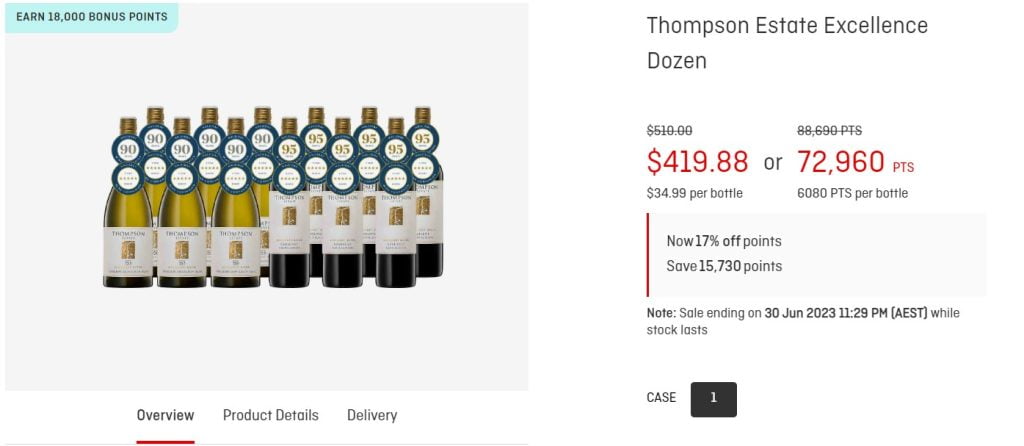 Wine: Voyager Estate Premium Reds Dozen (not champagne)
Rundown: Twelve bottles of mixed red wines
Price: $539.88 AUD or 93,840 Qantas Points (on sale until 31 May 2023)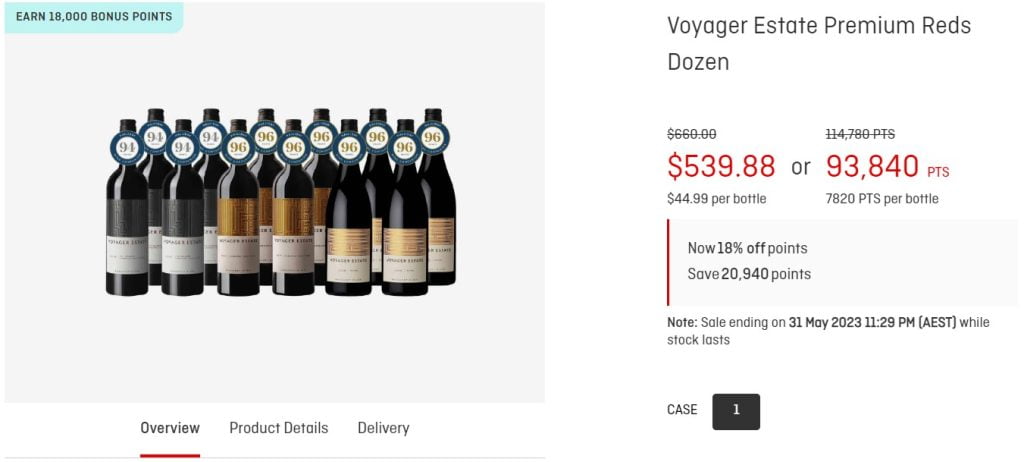 Wine: 'Exceptional Red Wine Doz' (not champagne)
Rundown: Twelve bottles of mixed red wines
Price: $498 AUD or 86,520 Qantas Points (on sale until 30 June 2023)

Wine: Voyager Estate Cabernet Sauvignon 2017 (not champagne)
Rundown: Six bottles of Margaret River Cabernet Sauvignon
Price: $474 AUD or 82,380 Qantas Points (on sale until 30 June 2023)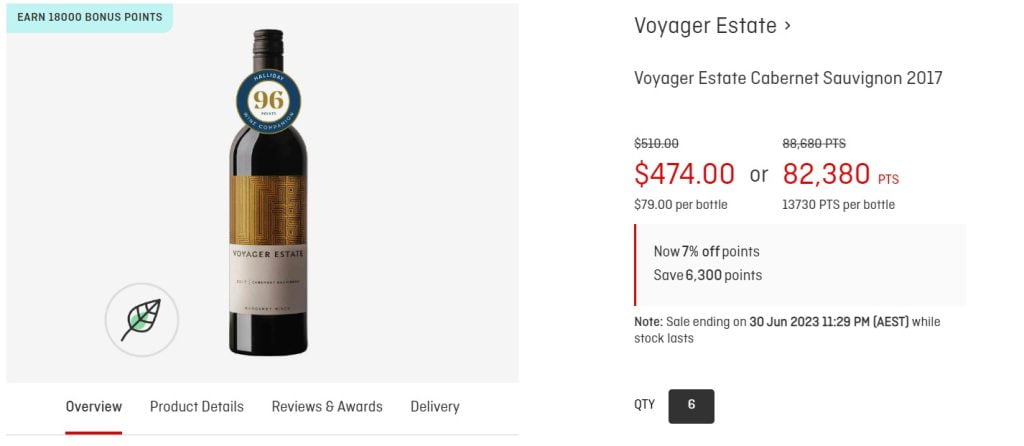 Wine: Ulithorne Avitus McLaren Vale Shiraz (not champagne)
Rundown: Six bottles of iconic South Australian Shiraz
Price: $440 AUD or 78,240 Qantas Points (on sale until 30 June 2023)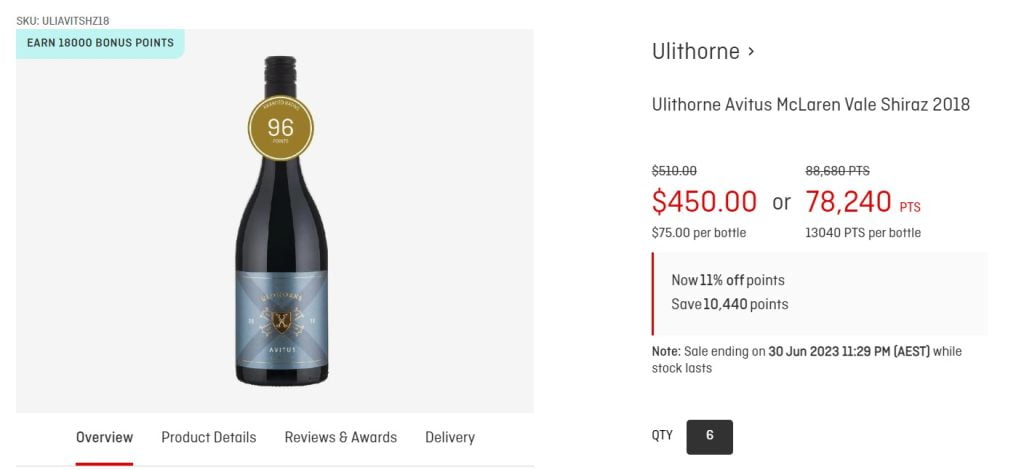 With up to 18,000 neat bonus points ready to fill up your Qantas Frequent Flyer glass, taking these offers up is very much a case of buying wine for the points.
Five key reasons to consider Qantas Wine
As one of Australia's largest wine and spirit retailers, Qantas Wine boasts a large selection of offerings from Australian and overseas wineries – with the ability to earn a side serve of Qantas Points quickly.

We've outlined the difference between a free and premium Qantas Wine membership and how to earn full-bodied bonus Qantas Points with both.

Here are five reasons why it might be worth considering Qantas Wine:
1# Qantas Points get credited fast
When it comes to Qantas Points earning opportunities, Qantas Wine has long been known for offering one of the quickest and easiest ways to boost a Qantas Frequent Flyer balance.

While Qantas Wine states that points credit can take up to 15 days, in our experience, Qantas Points usually arrive in a frequent flyer account within 3-5 days, sometimes even sooner. This positions a Qantas Wine purchase as a way to quickly stop Qantas Points from expiring.
2# Cheaper than buying Qantas Points outright
Savvy frequent flyers keep a close eye on the Qantas Wine website, where it's possible to purchase cases with up to 20,000 bonus points on the side. In fact, for some promotions, the bonus points awarded for purchasing wine can end up costing less than buying Qantas Points outright. For this reason, many frequent flyers seeking to 'top up' points for a redemption make Qantas Wine their first point of call.
3# Double-dip on Qantas Points and promotions
Above and beyond the Qantas Points awarded by Qantas Wine, savvy consumers can use a Qantas-linked credit card to 'double dip' on points earn. Hold an ABN? Access an additional 2 Qantas Points per $1 spent via Qantas Business Rewards. Points Club Plus member? You'll score 2 x $50 vouchers each year and the ability to buy all products (excluding Penfolds) at a 10% discount for the duration of your membership.
4# Access personalised wine advice
For those not well versed in all things tannin and viscosity, the wine world can be overwhelming. So it's good to know that Qantas Wine Advisors are on hand to offer personalised guidance and recommendations. The service offers guidance and support on wine purchases, and it's even possible to request the design of a wine list for your next special event, complete with food pairing suggestions.

From time to time, the Qantas Wine Advisory Service exclusively offers additional bonus point promotions that aren't accessible via the website. So, if you have a large purchase in mind, it's worth calling up to see if you can extract even more Qantas Points out of it.

Novices and seasoned collectors alike can talk to a Qantas Wine Advisor by phoning 1800 505 004 Monday-Friday between 9am-7pm and Saturday 8am-3pm (AEST except AU-wide public holidays),
5# Gifts are sorted
Got an occasion or memorable date coming up? You can rarely go wrong with quality treats, and Qantas Wine offers a range of gourmet food hampers. This offers a way to earn points on gifts that you'd likely buy anyway, not to mention a sure way to please even the trickiest of people to buy for.

Who can purchase from Qantas Wine?
All Qantas Frequent Flyers aged 18 or over can purchase through Qantas Wine. Bear in mind you must have an Australian delivery address.

Not a Qantas Frequent Flyer member yet? The Qantas Frequent Flyer program usually has a $99.50 joining fee, but it is possible to join for free by signing up at the Qantas Wine checkout.

You can also check out The Champagne Mile's other tips on how to join the Qantas Frequent flyer program for free. There are many ways to sign up without any cost and begin enjoying Qantas Points on the ground and in the sky.
Which wineries does Qantas Wine stock?
Qantas Wine partners with over 200 Australian winemakers to offer over 1,500 individual wines, beers and spirits. Further afield, Qantas Wine stocks a wide range of overseas winemakers – including an extensive array of Champagne.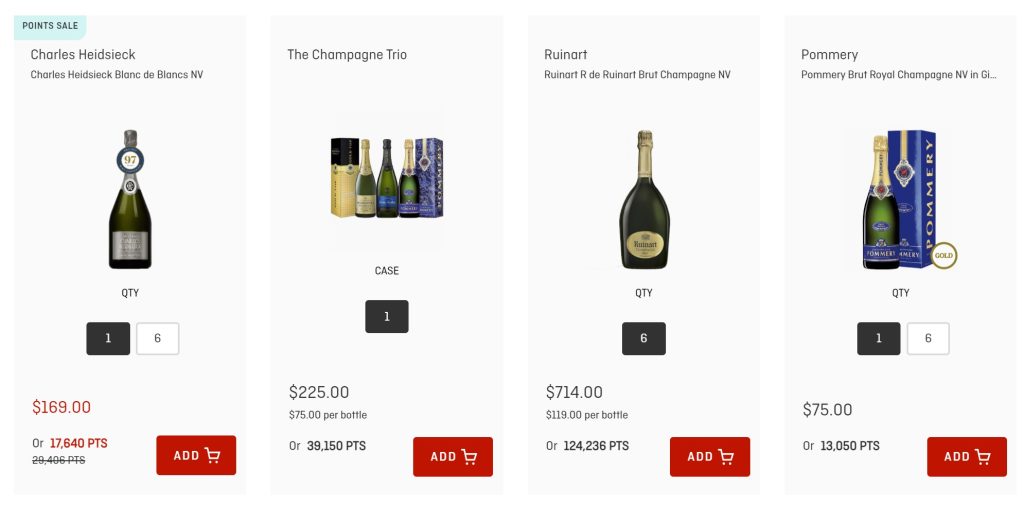 Being one of Australia's biggest wine buyers has seen Qantas Wine create trusting relationships with respected producers across world-leading wine regions.

From grower Champagne to award-winning winemakers in Margaret River, to South Australia's internationally renowned Barossa Valley and Australia's oldest wine region the Hunter Valley, Qantas Wine stocks the best of the Australian and international wine industry.
What is Qantas Wine Premium membership?
Alongside the free membership for Qantas Frequent Flyers, Qantas offers a paid membership, known as Qantas Wine Premium. At the time of writing, the cost to join is $99AUD or 13,000 Qantas Points per year.
Key benefits of Qantas Wine Premium
While all Qantas Frequent Flyers (over the legal drinking age) can earn points through Qantas Wine, a premium membership grants access to a range of perks, the key one being increased points-earning potential (3 Qantas Points per $1 spent, as opposed to 1 Point per $1 spent for standard purchases). Plus, free delivery on all orders with no minimum spend allows Premium members to shop as little and as often as they'd like.

Here's a side-by-side overview of benefits provided via Qantas Wine Premium membership, as compared with a standard purchase:
Benefits
Qantas Wine Premium
Standard Qantas Wine purchase
Fee to join
$99AUD or 13,000 points
(free for eligible frequent flyers)
n/a
Qantas Points earn
3 per $1AUD spent
1 per $1AUD spent
Free delivery
Yes (no min. spend applies)
Yes (min. spend of $300)
Expiry
12 months
n/a
Bonus point offers
Yes
Yes
Exclusive event invites
Yes
No
Premium members receive invitations to exclusive gourmet food and wine events across Australia, though these events have been few and far between in recent years. Those who opt to pay for Premium membership receive a joining gift of their choice. Previously, gifts on offer have included Pommery Brut Royal Champagne NV (selling for $76.99 at Dan Murphy) or 3,000 Qantas Points. If available, we'd pick definitely opt for the Champagne!

If you don't have access to free Qantas Wine Premium membership (as covered below), you can choose to purchase a Qantas Wine Premium Membership here.
How to get complimentary Qantas Wine Premium membership
Fortunately, a number of Qantas partners offer complimentary Premium membership, offering a number of ways to obtain the benefits highlighted above without the need to purchase a membership outright. Below, we've compiled a list of Qantas-linked products and services that offer the benefits of Qantas Wine Premium without any fees:

Note that the complimentary join gift isn't awarded if you take up complimentary, rather than paid, Qantas Wine Premium membership.
Earning Qantas Points with Qantas Wine
Qantas Wine is a one-stop shop for foodies and lovers of fine wine who also have a penchant for points. As such, it could make sense to top up your glass and your Qantas Points balance too.

Here's how many Qantas Points you could earn when purchasing:
Qantas Frequent Flyers will earn 1 Qantas Point for every $1
Qantas Wine Premium members will earn 3 Qantas Points per $1 spent
Qantas Business Rewards members will earn an additional 2 Qantas Points per $1 spent
Of course, if you're opting to pay with a Qantas-linked credit or charge card, you'll earn even more points for your purchase.
Shopping via the Qantas Wine website
To purchase wine or other goods from the Qantas Wine store, complete the following steps:

Login: Click on the login button located in the top right corner of the wine.qantas.com homepage. You'll need to enter your Qantas Frequent Flyer membership number, last name and PIN.

Add to cart: Shoppers can filter selections by their preferred wine whether that be bold reds, a crisp white wine, celebratory champagne or even a mixed case. Once you've made your selection, simply select 'add to cart'.

Checkout: Follow the prompts to the checkout. Ensure you add any promotional codes or Qantas Wine vouchers that may be available to you.
How does Qantas Wine pricing compare?
As with any purchase, it's best to carry out price comparison research, as there's no general rule around the value of wine pricing on Qantas Wine. On many occasions, we've found that bottles can often be found cheaper at a local wine merchant, or at a discount online retailer.

For example, Qantas Wine will often sell wine products available at a deep discount via wine sites such as Vinomofo or Get Wines Direct at full price – with the addition of bonus points to tempt would-be buyers. While these bonus points add value, often it's not enough to warrant the increased sale price of the wine.

We encourage shoppers to ensure the price breakdown of each bottle in a Qantas Wine case is relatively comparable to other sites and, where relevant, at the cellar door, in order to secure the best value.
Digging into Points Club benefits with Qantas Wine
Qantas Points Club sits alongside Qantas Frequent Flyer, offering a range of rewards to those who earn a high number of points on the ground, as opposed to in the sky. The program offers a range of benefits, including Qantas Club Lounge access and the ability to earn Status Credits on reward flights.

Qantas Wine benefits are extended to those who achieve entry-level Points Club membership, along with those who reach the lofty heights of Points Club Plus.

The perks on offer across both membership levels are set out in the table below:
| | Points Club | Points Club Plus |
| --- | --- | --- |
| Complimentary Premium membership | Yes | Yes |
| $50 Birthday voucher ($149 min. spend applies) | 1 | 2 |
| Ongoing purchase discount (excl. Penfolds) | – | 10% |
Using Qantas Points Club wine vouchers
Each membership year, entry-level Points Club membership unlocks 1 x $50 Qantas Wine voucher. Points Club Plus members are credited with two $50 Qantas Wine vouchers. The vouchers are delivered during the member's birthday month, and are available to Australian residents only. If you unlock Points Club or Points Club Plus in the same month as your birthday, you'll receive your voucher the following month.

The unique Qantas Wine voucher codes are sent digitally to the email linked with the Qantas Frequent Flyer account. To receive the voucher(s), members must opt-in to receive promotional emails from Qantas.

Once received, it's easy to use the voucher. Simply enter the unique code in the promotional field box at the Qantas Wine checkout. A minimum spend of $149 per voucher applies.
Accessing the 10% Points Club Plus discount
Top-tier Points Club Plus members receive an additional 10% discount on advertised prices at Qantas Wine. The discount applies for all products (including Champagne!), with the exception of Penfolds. The 10% discount is automatically applied at checkout.

While the discount can't be used with other promotional codes, it's worthwhile noting that it does stack with Points Club Plus birthday vouchers, along with Qantas Wine bonus point offers. Depending on what you choose to purchase, this can add significant value.
Qantas Wine purchases vs buying Qantas Points
For frequent flyers looking to 'top up' for a redemption, it's possible to consider purchasing Qantas Points. However, the cost of buying Qantas Points outright is very high. In some cases, a Qantas Wine purchase with a side serve of bonus Qantas Points can work out cheaper and offers additional value in the form of the purchased products.
Example: At the time of writing Qantas Wine is offering 20,000 bonus points for a $624AUD case of premium Shiraz (not champagne). Conversely, purchasing those 20,000 points directly with Qantas would cost $645AUD plus a $35 service fee for points purchased via the Frequent Flyer Service Centre (with no wine!). Depending on how you redeem them, The Champagne Mile values Qantas Points at between 1 to 4 cents each. So, a serving of 20,000 Qantas Points is worth the equivalent of between $200 – $800.
When it comes to topping up points, many frequent flyers will likely make the choice to buy wine with a serve of points on the side!
Maximising Qantas Wine promotions
When it comes to Qantas Wine, the real value comes from bonus points offers. Bonus Qantas Points are typically available on the more expensive cases of wine, however it's also possible to find accessible mixed cases with a surge of bonus points on the side.

Bonus points start at around 2,000 Qantas Points and can at times reach a whopping 30,000 points for more expensive cases or bottles. Such sizeable bonus point offerings don't come around very often, which is why purchasing from Qantas Wine can be a quick and easy way to top up a points balance for those who have a particular reward in mind. Here are a few ways to maximise value even further:
'Double dip' with a Qantas Points-earning card
Frequent flyers who pay for purchases through Qantas Wine using a Qantas Points-earning credit or charge card will be able to 'double dip' when using the card to pay for purchases.

For example, a Qantas Frequent Flyer card that earns 1 Qantas Point per $1 spent, your earnings could increase to 2 Qantas Points per $1 spent with a standard purchase, or 4 points for every $1 spent as a Qantas Wine Premium member.

It's worth noting that Qantas Wine purchases are categorised as general spend. As such, they usually don't qualify as a spend on selected Qantas products and services, a category used to trigger Qantas benefits (such as lounge passes) linked to selected credit and charge cards.
Double dip with Qantas Business Rewards
Better yet, Qantas Business Rewards members can take advantage of a free Qantas Wine Premium membership to earn points twice, once for a business and again for the frequent flyer.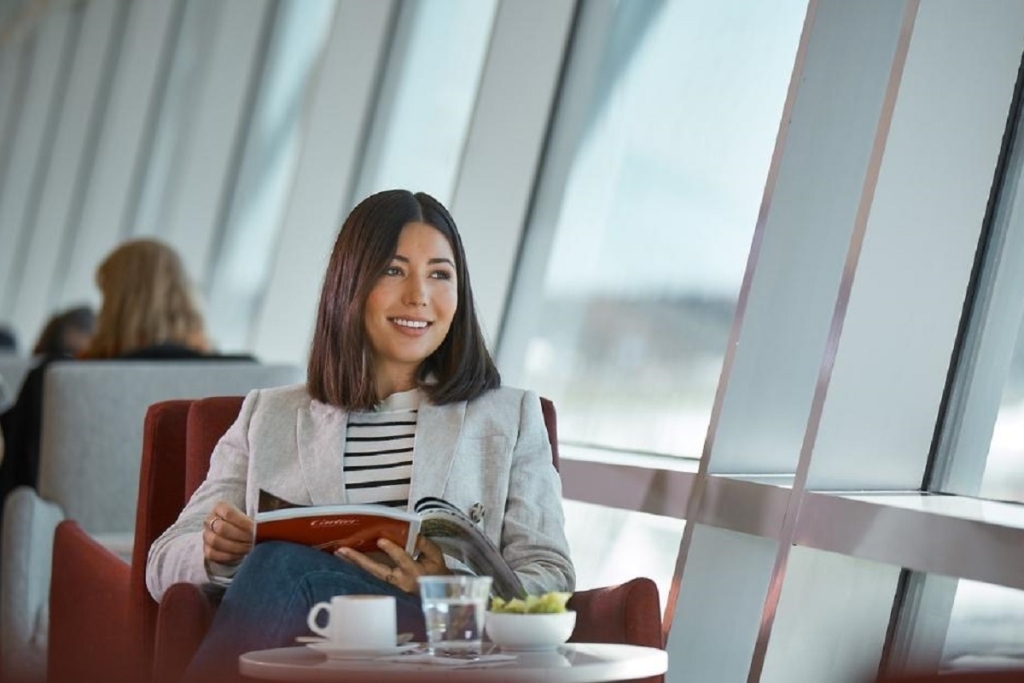 This means Qantas Business Rewards members can earn a sizeable 5 Qantas Points per $1 spent with Qantas Wine.

If the occasion calls — perhaps celebrating an employee — a bottle of something special could do wonders for your points balance, earning piles of Qantas Points across the two loyalty programs.
Check for Qantas Wine promo codes
From time to time, Qantas Wine offers promotional codes. These codes are typically released via email or mail to Qantas Frequent Flyer members, and they may be targeted. Codes are often published on forums such as Australian Frequent Flyer, or deals websites like OzBargain. Before making a purchase, it's worthwhile checking for any valid, current codes. Note that you can't stack Qantas Wine promo codes with Points Club vouchers.
Using Qantas Points to redeem Qantas Wine purchases
It's possible to opt to pay for wine using Qantas Points, though this typically isn't the best way to extract value.
Example: At the time of writing, a bottle of Curtis Family Vineyards Limited Series Shiraz 2018 (not champagne) can be purchased for $90 or by redeeming 15,660 Qantas Points. Conversely, an economy flight from Sydney to Brisbane could be redeemed for just over half the amount of points (8,000 points plus $47 in fees), arguably delivering much higher value.
That said, if Qantas Wine is how you want to use your points, then it's best to watch out for the 'Classic Wine Rewards' symbol when shopping online. Classic Wine Rewards offer a more favourable rate than standard redemptions, with up to 40% off when using points to purchase from Qantas Wine.

A good way to find these discounts is to shop from the 'Points Sale' category. Just elect to pay with Qantas Points at the checkout.
Qantas Wine conclusion
When it comes to earning Qantas Points, Qantas Wine offers the opportunity to top up your glass and your points balance in tandem With speedy delivery of bonus points and the ability to double dip on points earn, it's an easy way to rack up Qantas Points on the ground.

Of course, additional value comes from Qantas Wine's bonus point promotions and promo codes, so it pays to look out for these offers in your inbox.

Points Club members can obtain serious value adds with the delivery of vouchers and year-round discounts. And, for those holding an ABN, a Qantas Business Rewards membership delivers complimentary Premium membership, free delivery on all orders and the ability to double dip by earning Qantas Business Rewards points and frequent flyer points.

Of course, it's important to research pricing before choosing to make a Qantas Wine purchase. You should weigh up the benefits of any bonus Qantas Points against cash savings that might be available via other retailers.
FAQ – Qantas Wine
How do I earn Qantas Points purchasing wine?
Qantas Frequent Flyers 18 years and over can earn Qantas Points simply by purchasing from Qantas Wine. Depending on your membership level and affiliations, it's possible to earn up to 5 Qantas Points for every $1 spent.
Can I return my Qantas wine?
Yes. If you are not satisfied with your purchase after trying the first two bottles, the case can be for a full refund of the product price. Head to the Qantas Wine website to learn more.
What are the benefits of Qantas Wine Premium membership?
Premium members earn more Qantas Points on wine purchases. All Qantas Frequent Flyers will earn 1 Qantas Point per dollar spent, however, Qantas Wine Premium members will enjoy 3 points per dollar spent through Qantas Wine.
While you're here: Subscribe to our newsletter for the latest tips, deals and news. It only takes a few seconds and we respect your privacy: