The Qantas Dreamliner is an exciting new addition to the Qantas fleet. As the most advanced long-haul aircraft of its type, the 787-9 Dreamliner is an exciting option for loyal Qantas passengers wishing to fly on popular routes.
Read on for an in-depth overview of this impressive aircraft. Plus find out everything you need to know about the cabins, routes, the cost of tickets and more.
The Qantas Dreamliner is a next-generation aircraft
With a carbon fibre fuselage and a fuel efficiency improvement of 20%, Qantas has acquired an aircraft that not only saves money but can fly further. Most importantly it puts Qantas on an equal footing, finally, with airlines that received earlier Dreamliners while it was still running inefficient 747s and A380s. With a reduced maintenance schedule, the plane flies for longer and also costs less to operate.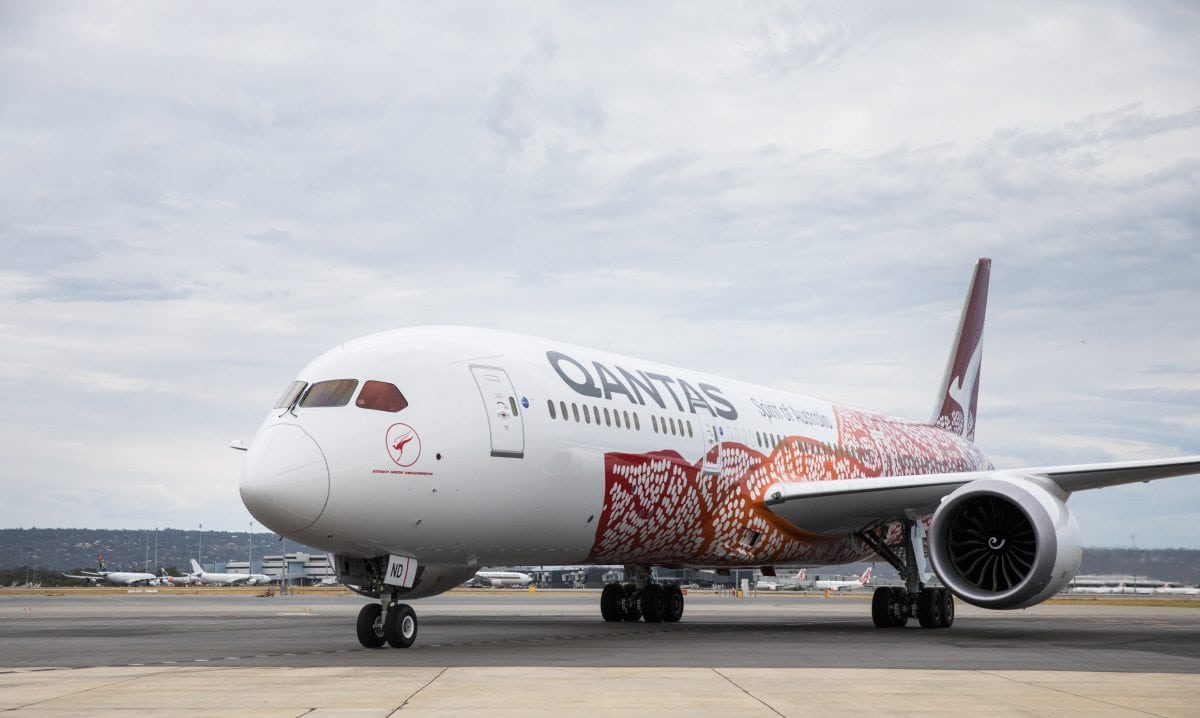 Qantas Dreamliner features
The 787-9 Dreamliner was a game-changer in the design approach by Boeing, with passenger comfort being factored in from the beginning of the design rather than as an afterthought.
The Qantas 787-9 Dreamliner features are as follows:
Windows on the Qantas Dreamliner are up to 65% larger than comparable aircraft allowing more natural light (which helps with jetlag), with an electronic tinting function that is superior to the classic window shade.
Lighting has been enhanced to "mood lighting".
Cabin pressure has been adjusted from a simulated 8,000ft altitude to 6,000ft and humidity increased. This means you'll land feeling more hydrated, less tired and jetlagged.
Engines are also quieter, making it easier to sleep and hear entertainment. Additionally, the noise-cancelling headphones are superior to older planes in Business Class and Premium Economy.
Turbulence reduction is included with sensors that can adjust the wing control surfaces to smooth out the ride.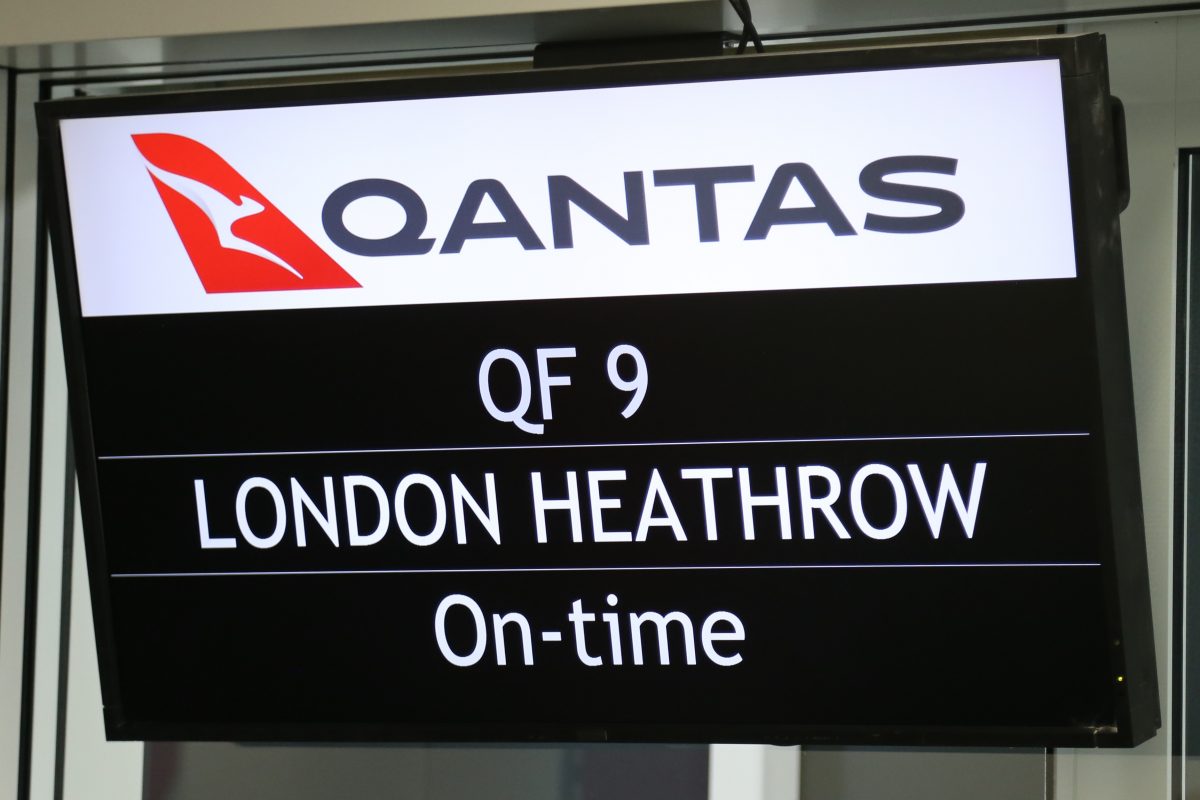 Where does the Qantas Dreamliner fly to?
Qantas commenced receiving their Dreamliners quite late in the piece, with a number of other airlines flying them on high traffic routes. While Qantas has essentially been playing 'catch up', the aircraft can be found on a number of current routes, with others in the works.
Current Qantas Dreamliner routes
The first Qantas Dreamliner route, the Perth to London 'Kangaroo' route, was launched with much fanfare in 2018.
Additional routes are being rolled out progressively as retiring and moving aircraft permits. From Perth, the Qantas Dreamliners track across Australia to Melbourne, Sydney or Brisbane before continuing eastward to the US West Coast. Other routes currently plied by the Qantas 787-9 Dreamliner are:
Brisbane (BNE), Melbourne (MEL) to Hong Kong (HKG)
Melbourne (MEL) to San Francisco (SFO)
Brisbane (BNE), Melbourne (MEL) to Los Angeles (LAX), continuing to New York (JFK)
Upcoming Qantas Dreamliner routes
Qantas will commence Dreamliner flights from Sydney (SYD) to Hong Kong (HKG) in April 2019.
Other possible upcoming routes include Johannesburg (JNB), Vancouver (YVR) and Santiago (SCL). With a Qantas Dreamliner or similar long-haul aircraft on the Vancouver route, this flight could potentially decrease from 25+ hours to 18 hours and become a direct flight.
Additionally, future rumoured routes include Chicago and it is likely that additional European cities will be required to balance out the mix. Frankfurt, Rome, Paris and Berlin would all be plausible, with much depending on interconnection strategies and landing rights/costs.
Perth to London Qantas Dreamliner route in 2019
The Perth to London run is the most famous Qantas Dreamliner route. At the time of writing it is the third longest in the world after Singapore's flight to Newark (19 hours) and Qatar's Auckland to Doha (17.5 hours).
The Qantas flight takes just over 17 hours and flies 14,500 kilometres. During this time you'll eat at least 3 meals and numerous snacks and watch a copious amount of the in-flight entertainment product. You'll need to move about the cabin regularly to avoid DVT and drink plenty of water.
Either you'll appreciate the fact that you can get off the plane at your destination after one flight or you'll swear to never do it again.
How much does a Qantas Dreamliner flight cost?
At the time of writing and looking at the cost of Qantas Dreamliner flights to London for mid-March 2019, a return Economy fare starts at $1300 in Economy on sale. We found pricing of $5813 for Premium Economy and a whopping $12,551 for Qantas Dreamliner business class.
Of course, for shorter routes, you'd be looking at considerably cheaper fares. And, with the Dreamliner featuring as a positioning flight on a range of domestic routes, it can often be possible to find a very cheap business class fare. You can check out our Qantas Status Run post for details of cheap business class routes currently on offer.
How many Qantas Dreamliners are in operation?
In May 2018, Qantas announced it was ordering six more 787's, with 14 scheduled to be in operation by the end of 2020. At this point, the 747s would cease to operate after 40 years of continuous service.
As of February 2019, there are approximately eight Qantas Dreamliner aircraft in operation. Another six or more are scheduled to come into service later in 2019.
Qantas Dreamliner cabins and classes
Qantas Dreamliners operates as a 3 class configuration, featuring Business, Premium Economy and Economy class cabins.
For a long-haul product, the Qantas Dreamliner carries fewer passengers than you may think – only 236 versus 484 on the Qantas A380. The Qantas Dreamliners smaller passenger load leads to fuel efficiencies. It also allows Qantas to seek increased revenue from Business and Premium Economy passengers, which take up half the plane.
Below are the seat pitches that can be found in each cabin class:
| | | | |
| --- | --- | --- | --- |
| | Width (inches) | Pitch (inches) | Reclinability (inches) |
| Qantas Dreamliner Business | 23 | 46 | full |
| Qantas Dreamliner Premium Economy | 21 | 38 | 9 |
| Qantas Dreamliner Economy | 17 | 32 | 6 |
Qantas Dreamliner Business Class
The Qantas Dreamliner Business Class cabin is spread across two sections. There are 34 seats in the larger forward cabin and 12 directly behind in a smaller, more intimate cabin.
All seats convert to a fully lie-flat bed and can stay reclined during take-off and landing. With a 1:2:1 configuration, all seats have aisle access and face forward – no polarising herringbone layout like Air New Zealand.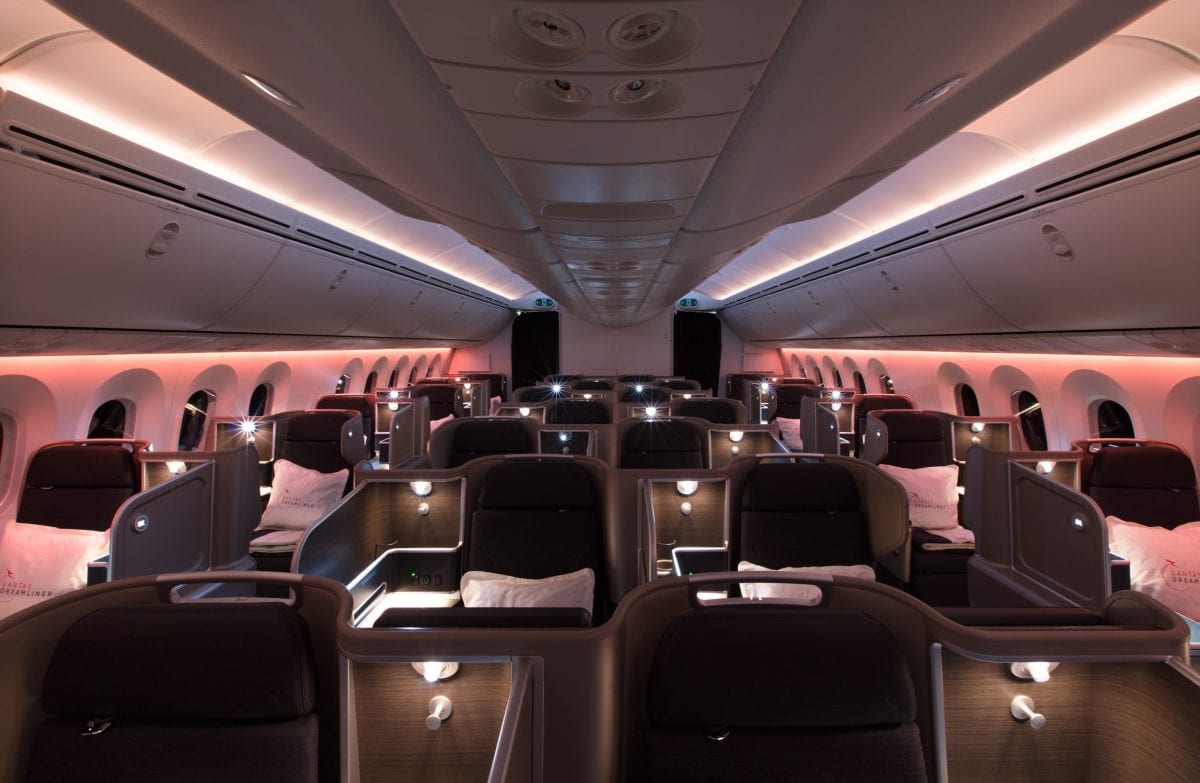 Readers may recognise these seats as being the same as the new seats being progressively rolled out across the Qantas A330s plying a number of routes.
In the larger forward cabin, all rows are separated from the lavatories by an exit, the effect is that there really isn't a poor seat to be had. However, the front row is optimal for space, but in the centre, seating starts at row 2, where both seats are against the bulkhead and can be configured for a bassinet. Meanwhile, row 8 has you near the galley.
In the more intimate smaller cabin, again row 10 is good for legroom but a bassinet may appear at seats in the centre aisle.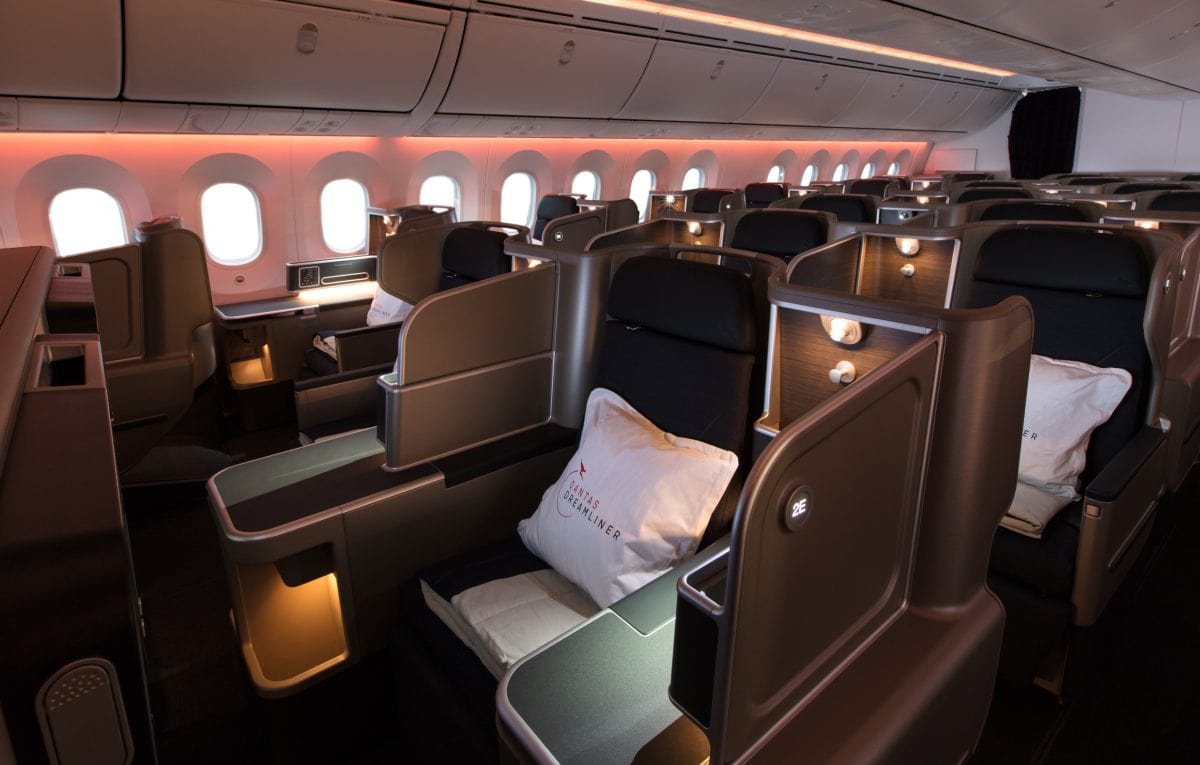 Qantas argues that these seats are comparable to a First Class product ('mini first class' so to speak), but this suggestion is probably a stretch. Nonetheless, the Qantas Dreamliner Business Class seat is 80 inches long (6ft 8 in) and 25 inches wide (2ft 1 in) – more than ample for a full stretch out.
Each business class seat features USB ports for charging devices and have a large 16-inch entertainment system.
Which is the best seat in Qantas Dreamliner business class?
There are many good seats to choose from, however, our pick would be rows 1-6 and 11-12. Also, note that the majority of odd-numbered seats are actually closer to the windows and therefore more private.
Qantas Dreamliner Premium Economy Class
The Qantas Premium Economy space is an intimate affair with only four rows in a 2:3:2 configuration for 28 seats. Each seat is ten per cent wider than Dreamliner Economy Class and seeks to create an entire recline sensation akin to "cradling".
The Dreamliner features entertainment screens that are 25% larger than previous iterations of Qantas Premium Economy. There is also plenty of storage and support for devices, including a screen ledge for your own devices.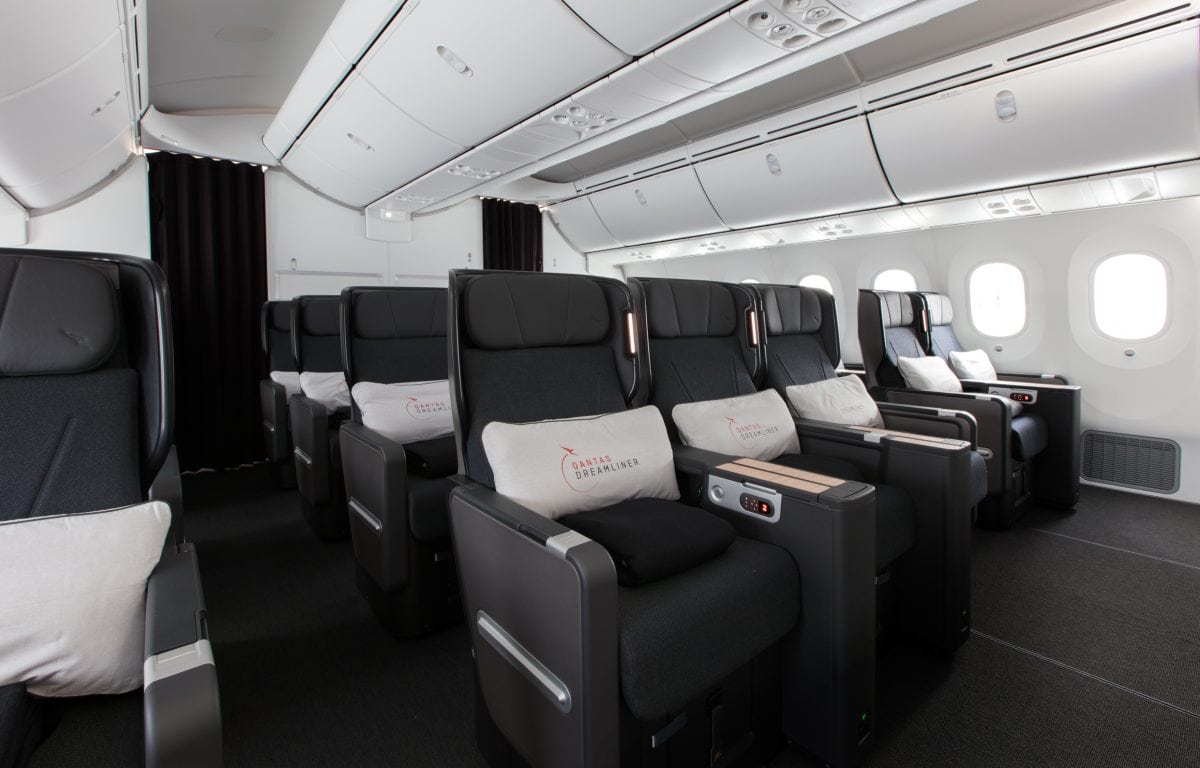 Neither end of this cabin is bounded by lavatories, so it's particularly pleasant on long-haul flights with no risk of people queuing near your seat to use the amenities.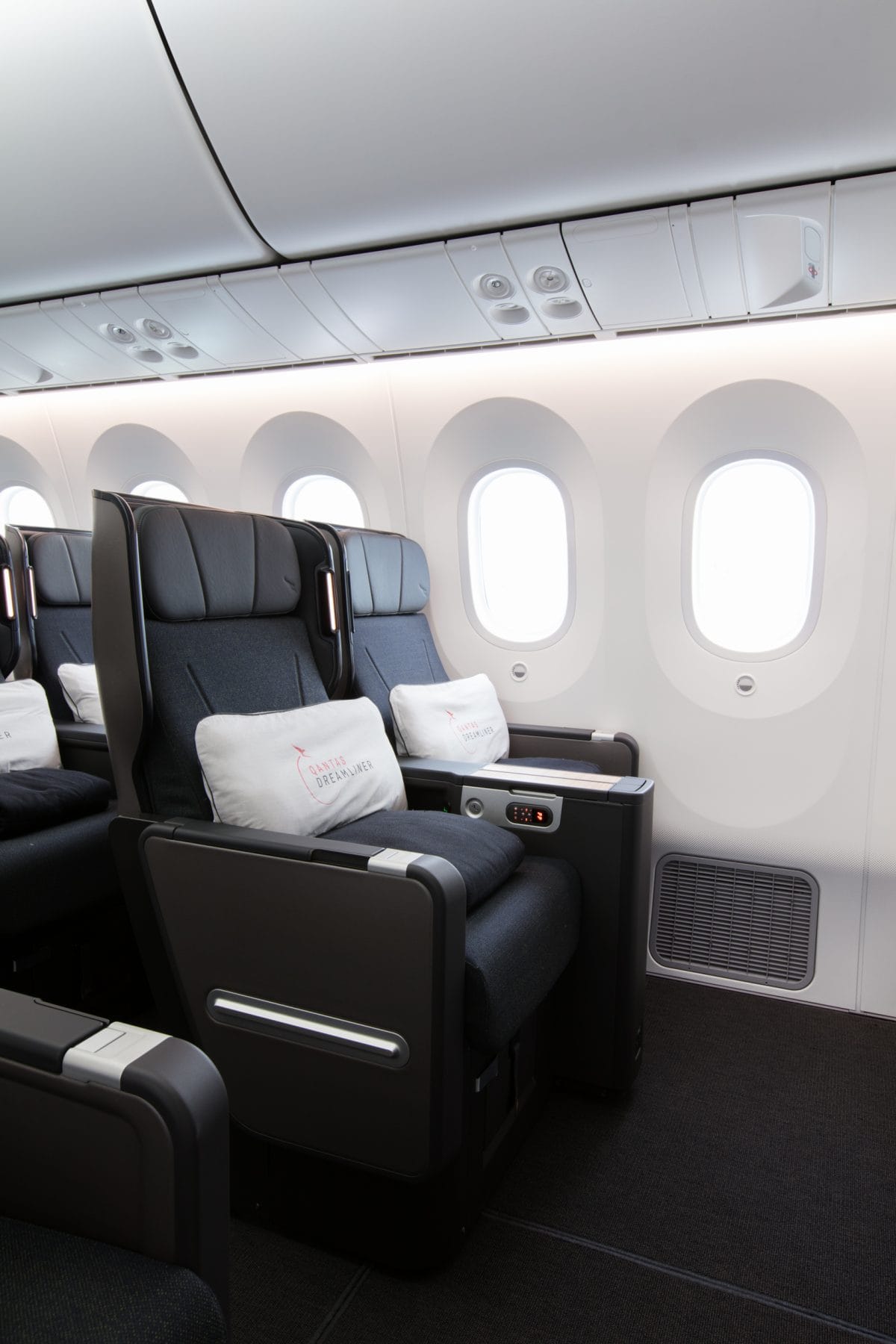 Seats include a hammock for your feet and clip-on pillows attach to the headrests.
Which seat is the best in Qantas Dreamliner Premium Economy Class?
Row 20 is great for extra legroom, but you do run the risk of being near children as 20A, 20B, 20J and 20K are bassinet configurable. Having said this, there have been complaints of reduced comfort when the passenger in front reclines, so a front-row seat may be best.
Qantas Dreamliner Economy Class
The economy section of 166 seats is presented in a 3:3:3 configuration, divided into two cabins. Seats have an extra inch of pitch (the gap between your seat and seat behind) but are slightly narrower than other aircraft. A new touch-screen of 12 inches is included in the seatback.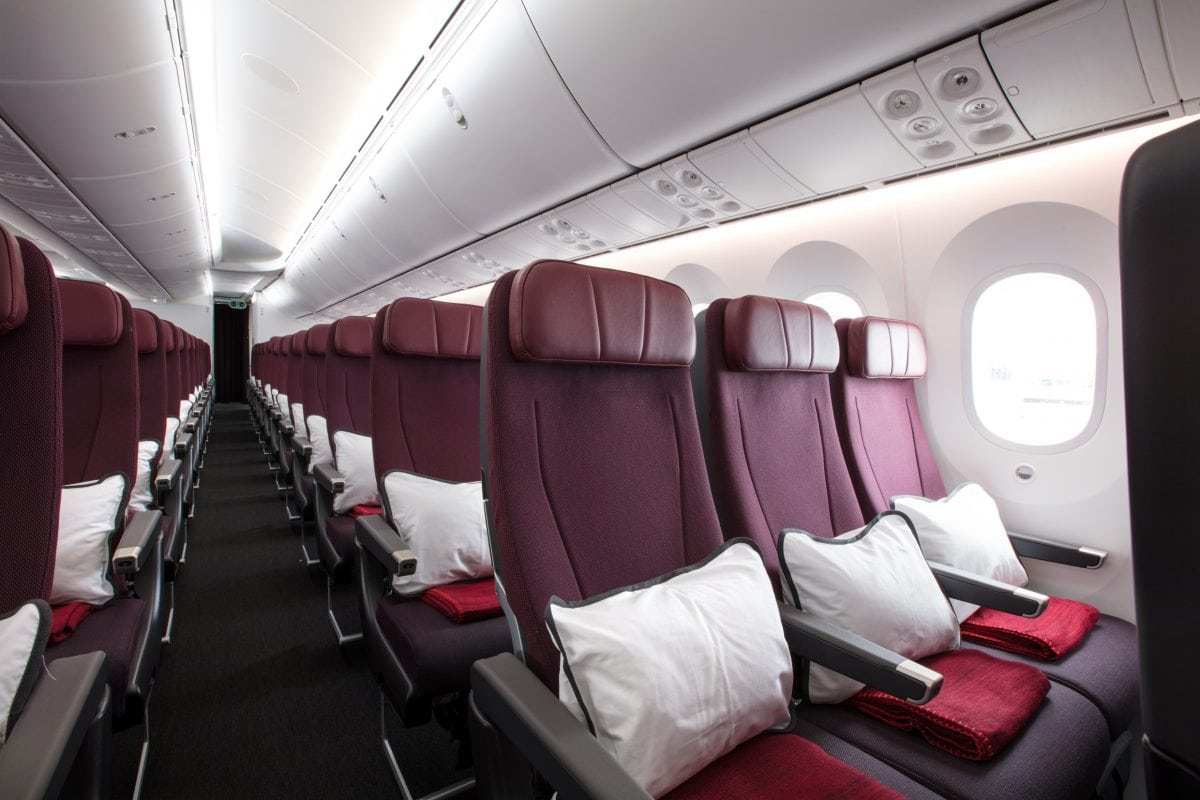 The larger section, directly behind, seats 124 in a large open space. Seats 46D-F are bassinet friendly, with extra leg space but near the lavatories. Seats 57A and 57J are windowless. The last row is 59 and like many commercial flights has limited recline capability and is next to the lavatories, so this spot may make for a miserable flight.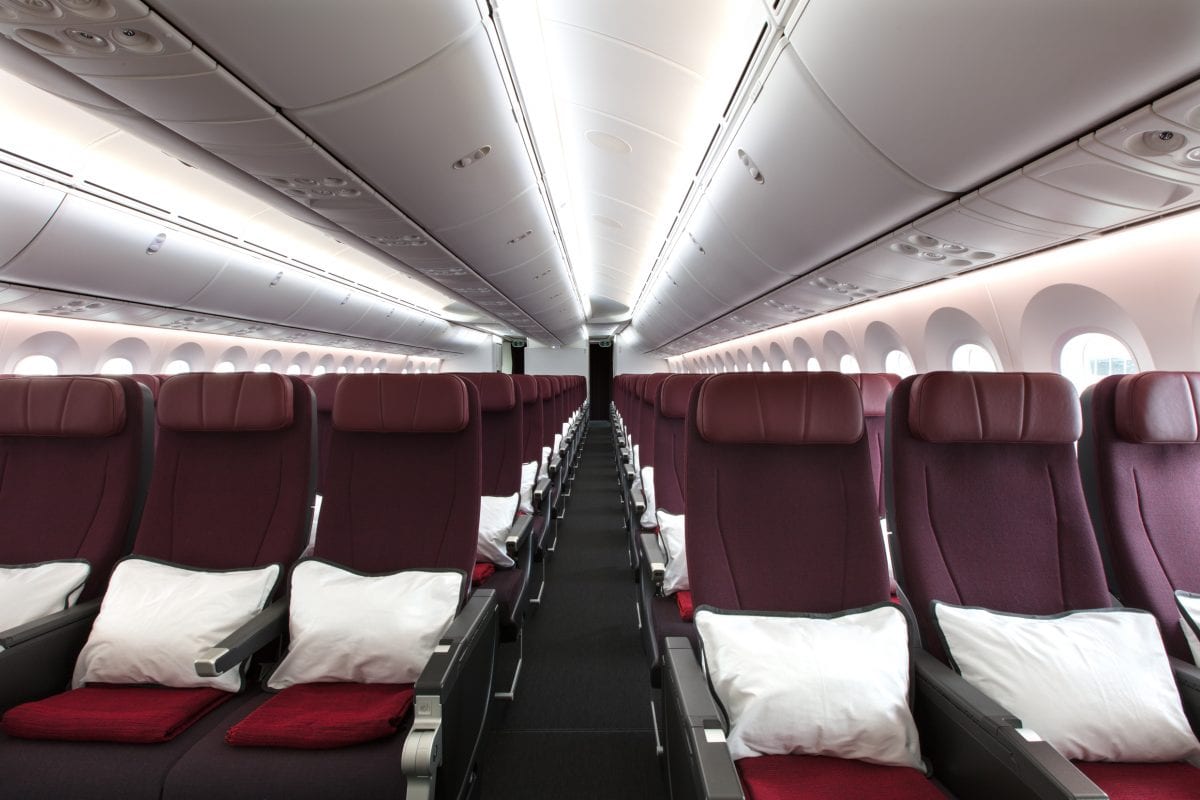 Which seat is the best in Qantas Dreamliner Economy Class?
If you're staring down the barrel of a direct flight to London, then choosing your economy seat wisely will help you to have a more comfortable journey.
The small forward cabin section seats 42. Bassinet stations are located in front of seats 40A-C and 40H-K. Seats in rows 44 are without windows. Rows 43 and 44 are also very close to the lavatories.
A word of warning – if travelling with children, locking in your seating and the infant on your ticket is important to do as early as possible, given the short supply of bassinet spots.
Does the Qantas Dreamliner have first class?
No, sadly the Qantas Dreamliner doesn't feature first class.
The only aircraft to feature Qantas first class is the A380. If you're interested to fly this product, you'll find a comprehensive Review and Guide to Qantas first class in 2019 here.
Does the Qantas Dreamliner have WiFi?
Surprisingly, while Qantas is currently rolling out WiFi on its domestic fleet, in-flight WiFi is not available on the Qantas 787-9 Dreamliner. Or, for that matter, on any other Qantas international routes.
However, this may change, requiring aircraft to be retrofitted. A number of other carriers that service Qantas Dreamliner routes do provide WiFi on their aircraft. So, if this is an important consideration for you, you may wish to fly another carrier instead.
How did the Qantas Dreamliners receive their names?
In mid-2017 Qantas revealed the names for its fleet of eight Boeing 787-9s. More than 60,000 suggestions were put forward and 45,000 votes cast in selecting the names of the aircraft.
The winning entries consist of landmarks, native animals, literature and Indigenous heritage. The final Qantas Dreamliner names chosen were:
Great Barrier Reef
Boomerang
Skippy
Waltzing Matilda
Uluru
Great Southern Land
Quokka
Dreamtime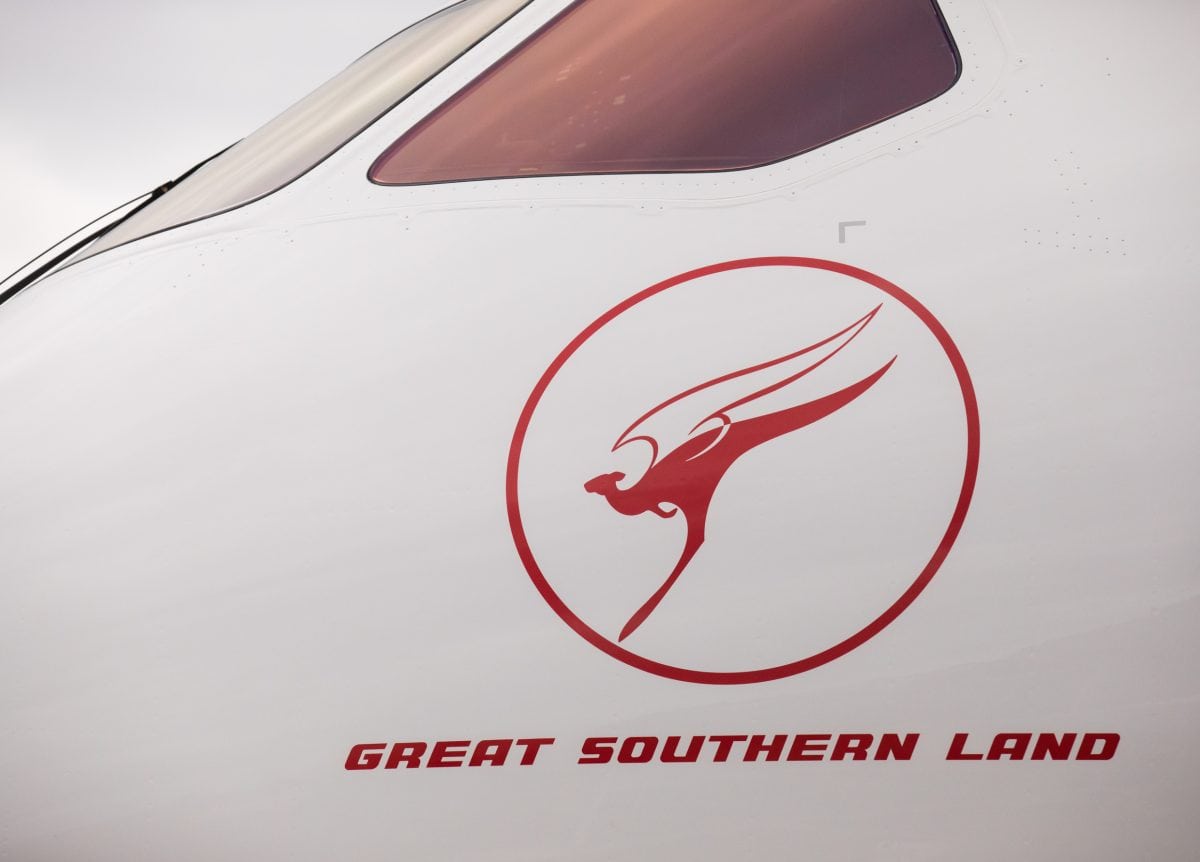 In May 2018, Qantas announced it was ordering six more 787's, with 14 in operation by the end of 2020. At this point, the 747s would cease to operate after 40 years of continuous service.
Why is the Qantas 787-9 Dreamliner a game-changer for Qantas?
The 787-9 Dreamliner is a realisation of the Qantas' ambition to carry its passengers directly to their destinations without passing through global hubs.
Why is this so important? Well, it allows Qantas to hold customers captive, theoretically creating more loyalty through the entire experience, rather than handing them off to the likes of Emirates. Qantas can earn extra revenue, reduce landing fees and spend more time in the air.
Qantas has for several years been working towards a goal of being able to fly anywhere meaningful in the world in one flight (Project Sunrise) – you could take this to mean New York or London. And while the Dreamliner doesn't quite realise the ambition from anywhere in Australia, it's a major step in that direction.
Ultimately, the need to fly into hubs such as Singapore, Hong Kong or Dubai, (where those locations have reinvented themselves as tourist destinations in their own right) is now diminishing to the benefit of Qantas. How many people actually stop in Dubai genuinely for a visit versus needing to rest or interconnect? How many arrive or leave the hub on an Emirates plane rather than Qantas? At the time of the Qantas / Emirates deal, a number of commentators questioned this strategy.
Qantas Dreamliner conclusion
Qantas has come to the Dreamliner party fairly late in the piece. Other airlines, including Air New Zealand, Etihad, American Airlines and Singapore Airlines have been flying Dreamliners for far longer in and out of Australia than Qantas. In all, there are over a dozen airlines operating the plane out of Australia, including Jetstar.
However, the Qantas Dreamliner is a solid new option for Australians wishing to fly to Europe non-stop, and Qantas has worked quickly to place the 787-9 Dreamliner on a range of high-traffic routes.
While the Qantas Dreamliner is built for endurance, if you're completing the new Kangaroo route, seventeen hours on a plane with fellow passengers is likely to be rather challenging! However, with the most up to date seating, the standard of business class is the best you'll currently find on Qantas and it's more than adequate for a long journey.
And, with self-serve areas in the Economy and Premium Economy cabins, it's possible to stretch your legs without pacing the aisles. What you will need is a good book to read between binge-watching the latest HBO box set and at least three meal services.
Will you consider flying the Qantas Dreamliner?
While you're here: Subscribe to our newsletter for the latest tips, deals and news. It only takes a few seconds and we respect your privacy: