Author's Note re COVID-19: Considering a trip to Singapore with Singapore Airlines? Make sure you read our Ultimate Australia Travel Bubble Guide to learn about the Vaccinated Travel Lanes in operation with Singapore Airlines.
A review of Singapore Airlines first class from Singapore to Sydney, flying the regional Boeing 777-300ER.
| | |
| --- | --- |
| Flight number: | SQ241 |
| Airline: | Singapore Airlines |
| Route: | Singapore to Sydney |
| Flight duration: | 7 hours, 20 minutes |
| Cabin: | First class |
| Redemption points: | 80,000 Krisflyer points (plus approx $70 SGD in taxes) |
Singapore Airlines first class is a renowned and world-leading airline product. Recently, I had the opportunity to embark on a last-minute weekend trip in Singapore Airlines first class, flying on the Boeing 777 300. My first class seat for the Singapore to Sydney leg of my trip was booked with 80,000 Singapore Airlines KrisFlyer miles (plus a nominal $70 SGD in taxes).
Singapore Airlines first class pre-departure – Book the Cook
A few days prior to my flight, I headed to the Singapore Airlines website to book my first class in-flight meal. Singapore Airlines offers an advance meal booking service for travellers in premium economy, business and first-class, called Book the Cook. You can reserve your main course up to 24 hours before your flight from a wide selection of meals. The Book the Cook service is available from most departure ports. The most extensive selection of meals is available for flights departing from Singapore, but the service is available from many departure cities.
Singapore Airlines first-class dishes I've previously ordered on Book the Cook include a whole lobster thermidor, prawn and chicken laksa and Kyo-kaiseki (Japanese haute cuisine). Given I'd sampled the lobster thermidor on a previous Singapore Airlines A380 first-class suites flight, I instead chose the delicious-sounding Wagyu sirloin steak with enoki mushrooms.
Singapore Airlines first class check-in and lounge access
As a Singapore Airlines first-class passenger, I had use of the dedicated first class check-in terminal at Changi Airport. It's not unlike a high-end hotel lobby, with porters to help you with your bags and a comfortable lounge area where you are invited to wait as your check-in documentation is processed.
I pulled up just after 5 am for my 7.10 am flight and was informed that I was the first passenger to arrive for the day. The Singapore Airlines first class check-in process was seamless and within ten minutes, I had my boarding pass in hand and had cleared the dedicated immigration line.
With over an hour to kill before boarding, I headed through to the Singapore Airlines first-class lounge. Within the lounge, first-class passengers have access to the highly exclusive Private Room. You can find our previous review of the Singapore Airlines Private Room here. Unfortunately, the Private Room is closed until 6 am, so I perched in the separate first class lounge for a short time and was then escorted through when it opened.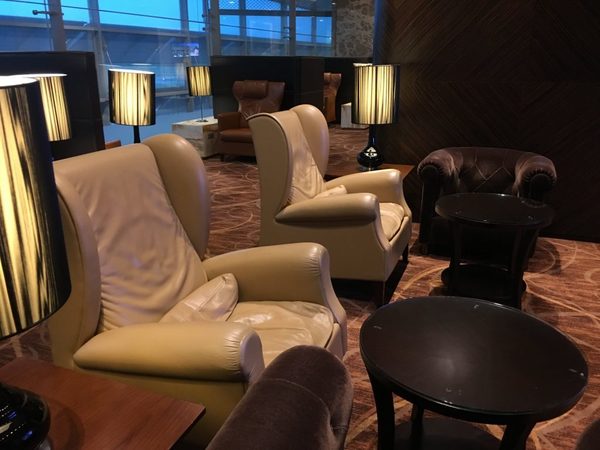 Flights departing Changi Airport feature security screening at the gate. Somewhat surprisingly, there is no priority screening for Singapore Airlines first class and business class passengers, so it's important to set off for the gate early. The gate was around a 15-minute walk so I set off early to ensure I allowed ample time before boarding.
Tip: Singapore Airlines' first-class passengers can access buggies upon request. However, being able-bodied and about to indulge in some seriously decadent champagne and food, I decided it would be best to walk on this occasion!
Onboard my flight
Once boarding was announced, I embarked and was greeted warmly by the cabin crew, who showed me to seat (1A). I was excited to learn that I'd be the only traveller in the first-class cabin for the flight.
The non refurbished Singapore Airlines 777-300 ER features an 8 seat first-class cabin across 2 rows in a 1-2-1 configuration.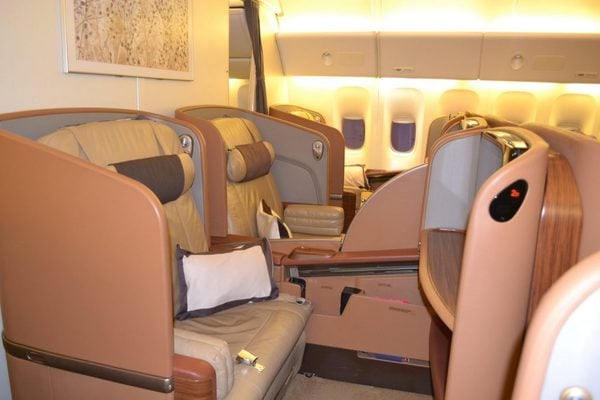 The non-refurbished Singapore Airlines first class 777 seat is extremely wide. It's upholstered in cream leather with a seat back wrapped in tan leather. While there's no denying that the seat is elegant and comfortable, it's definitely starting to look a bit dated.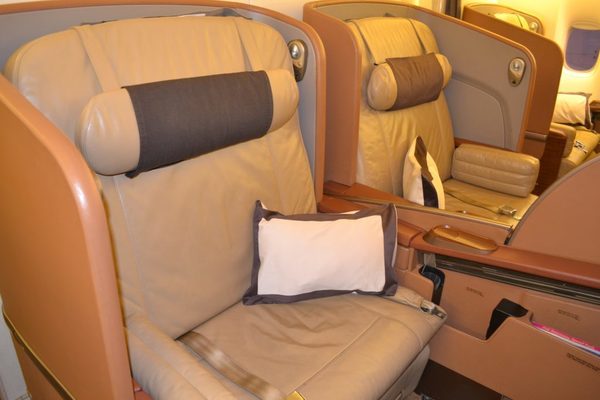 As usual, I was travelling with carry-on luggage only. My items were easily stowed under the ottoman at the front of my seat.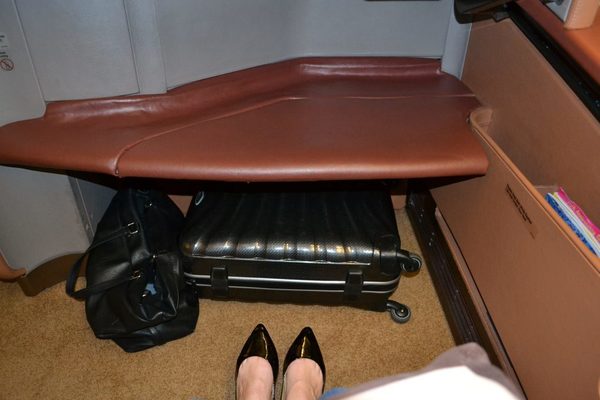 The first-class seat features a storage bin in the right-hand armrest, perfect for placing a phone and other small items.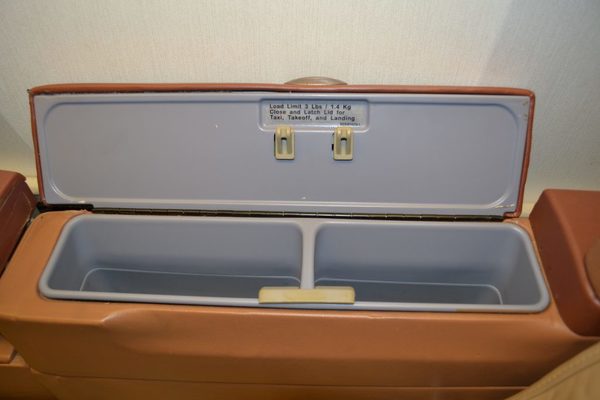 The various first-class in-seat controls and entertainment navigation system are found in the left-hand armrest. They're quite easy to navigate, at least when compared with the Emirates A380 first-class suite.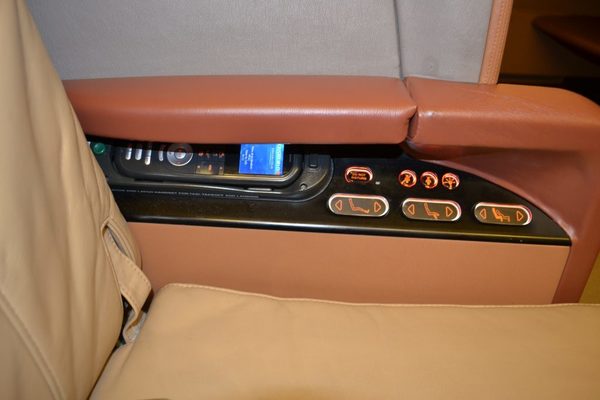 A set of high-quality Bose noise-cancelling headphones is provided for first-class passengers.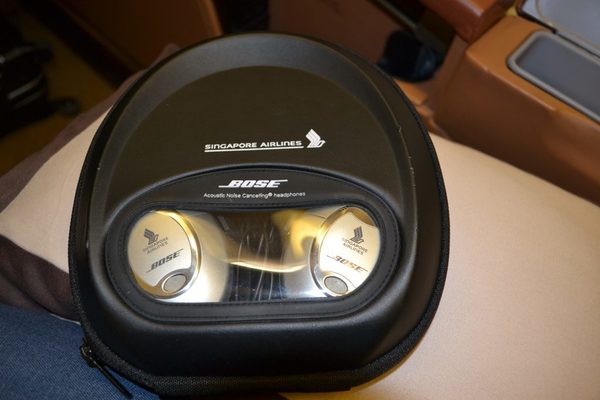 Settling into my Singapore Airlines first-class seat
Once I'd settled into my seat, the cabin crew asked if I'd like to enjoy a pre-departure glass of champagne. Singapore Airlines generally offers not one, but two high-end champagnes in the first-class cabin – Dom Perignon Vintage and Krug NV. While I was the only passenger in the first-class cabin, I naturally took the opportunity to sample both champagnes. I asked the crew to bring the bottles out so I could take a photo.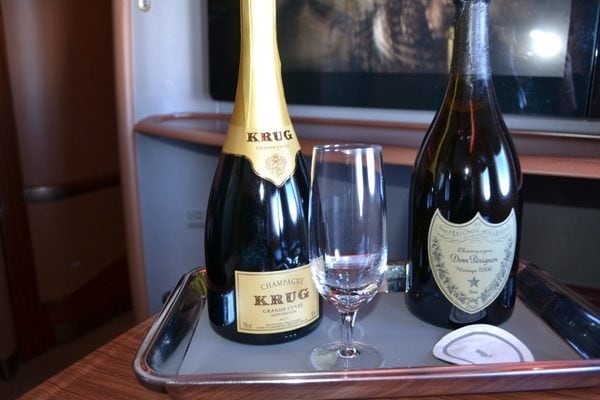 After the friendly crew member had delivered my champagne, I was offered a first-class amenity kit plus pyjamas, slippers and socks. I chose a male amenity kit to take home to my husband. It featured a number of generously sized Salvatore Ferragamo products. Staples such as razors and deodorants are not provided in the amenity kit. Rather, you'll find them stocked in the first-class lavatory.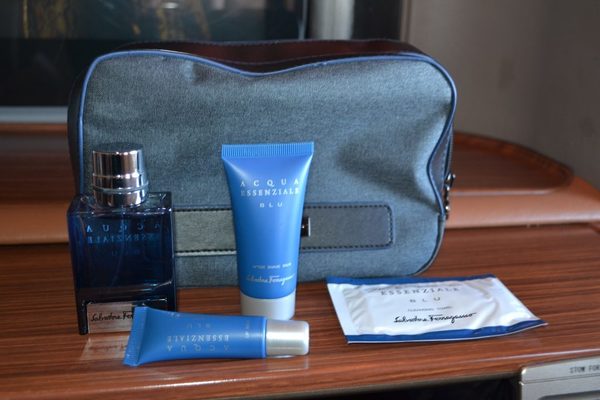 Around an hour into the flight, the crew asked me if I was ready for the in-flight lunch service. They acknowledged that I'd chosen my main course from the Book the Cook service, but still brought around the first-class menu so that I could make my selections for the other courses.
Singapore Airlines first-class dining
The dining service commenced with two pieces of delicious garlic bread. Singapore Airlines first class is famous for its garlic bread. If you get the chance to fly first class, I'd recommend you sample it! 😉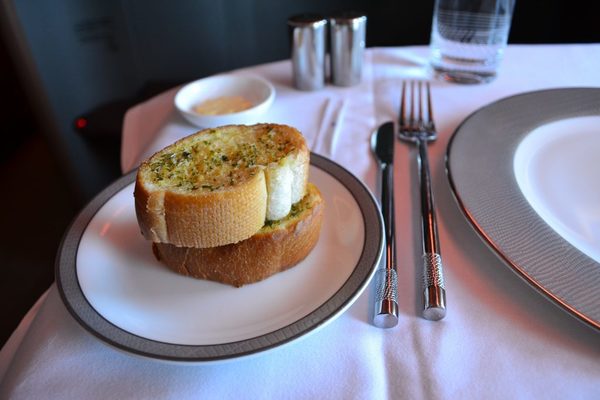 For my first class appetiser, I selected a cauliflower pannacotta with smoked salmon, lemon oil and salmon caviar. The dish was a special creation by Singapore Airlines' first-class guest chef Alfred Portale. The presentation of the dish wasn't exactly what I was expecting, and I wasn't convinced that the flavour combinations worked together.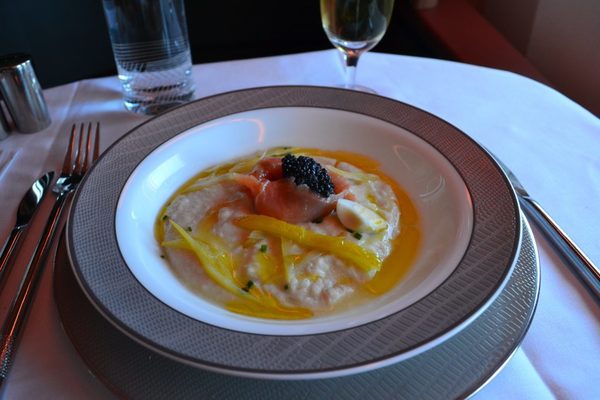 For my second dish, I chose a celeriac and pear cream soup with Roquefort custard and a cold apple-walnut salad garnish. The soup was quite refreshing, and the Roquefort provided a hint of creaminess and bite.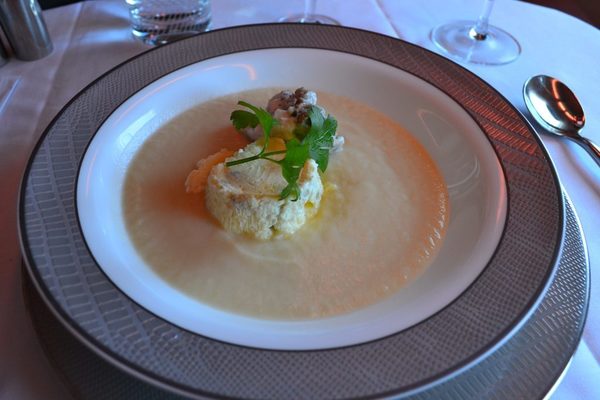 Next, I sampled a salad of baby spinach, arugula, frisee, sun-dried tomato and olive. It was paired with a tangy and zesty 'Singapore' salad dressing.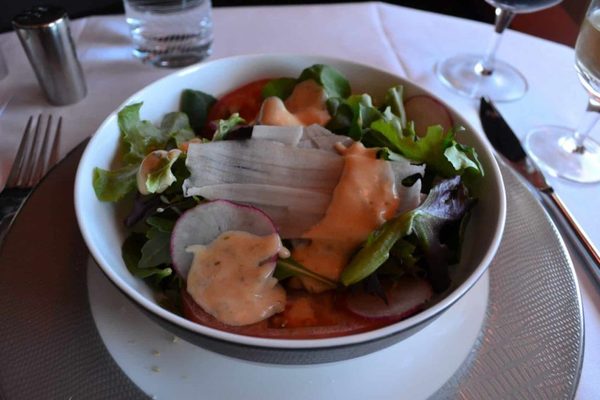 Shortly after I'd finished my salad, the crew brought in my first class Book the Cook main course, the Wagyu sirloin steak with enoki mushrooms. While I was extremely full, I was only able to manage a few bites. However, what I did manage to eat was very good.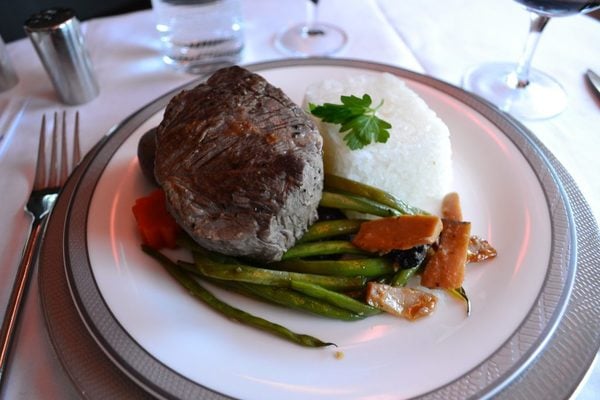 I asked the crew for a long interval between main and dessert and they courteously obliged. I spent a few hours happily enjoying cups of TWG Silver Moon tea (my favourite Singaporean tea) and catching up on Game of Thrones on my Singapore Airlines first-class personal LCD screen.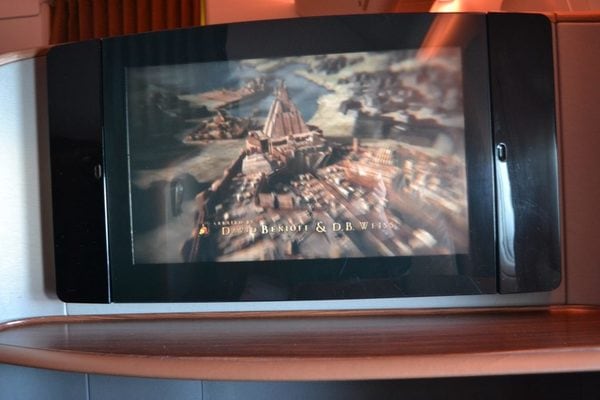 Several hours, later, my dessert was delivered. I'd opted for the warm frangipane tart with fresh raspberry and almond ice cream. The dish was beautifully presented. I was still quite full, so sampled just a few bites.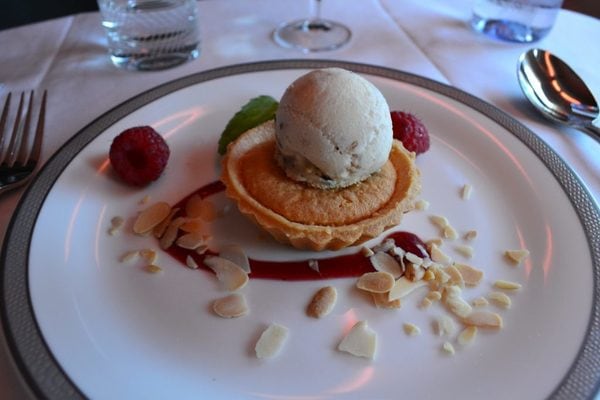 My meal service concluded with an Illy long black coffee.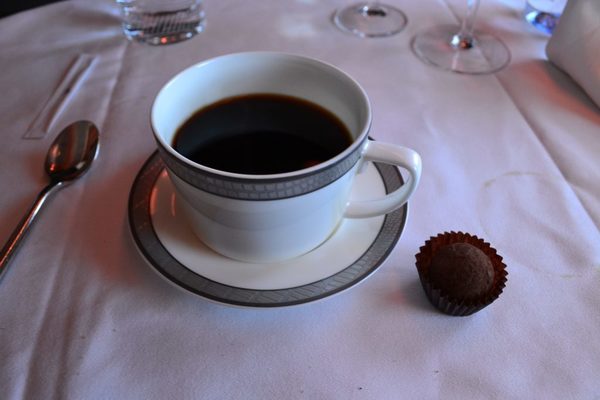 Descent and landing
At this stage, we were around two hours out of Sydney. Before long, the Captain announced our descent, and the seat belt sign was promptly switched on. Our descent into Sydney was unremarkable and it was a quick taxi to the gate before disembarking.
Singapore Airlines 777 first class: Verdict
Overall, I really enjoyed my Singapore Airlines first-class flight on the non-refurbished Boeing 777-300ER. While the first-class cabin is starting to date, the seat was still very comfortable and spacious. The Singapore Airlines first-class crew were extremely professional and their service couldn't be faulted. The fact that I had the first class cabin all to myself made the experience very special.
Singapore Airlines remains one of my favourite airlines to fly, and Singapore is a wonderful place to visit – be it for a short stopover or a longer stay.
Collecting Singapore Airlines KrisFlyer miles in Australia
It's surprisingly easy to collect Krisflyer miles in Australia. You can currently pick up 80,000 KrisFlyer points with the American Express Platinum Charge Card. This high-end charge card earns points in the American Express Membership Rewards scheme, with a conversion rate of 1:1 to KrisFlyer. With the current sign-on bonus for this card, you'll receive enough KrisFlyer miles to book a one-way flight between Singapore and Sydney in first class.
While you're here: Subscribe to our newsletter for the latest tips, deals and news. It only takes a few seconds and we respect your privacy: