Find out how I used Marriott Rewards points for a luxury hotel that commands over $1,000 per night
I'm writing this post from one of Crete's most luxurious resorts. From my spacious deck, I enjoy sweeping views across the Mirabello Bay towards the Venetian fortress of Spinalonga. A private jacuzzi is just a few steps away, and a quick stroll will take me to a breathtaking infinity pool or a secluded beach dotted with olive groves.
Welcome to Domes of Elounda, one of Greece's top all-suite hotels. With entry-level suites commanding around $1,300 AUD per night in high season, Domes is an eye-watering expensive playground of the elite. However, it also happens to be easily bookable with Marriott points.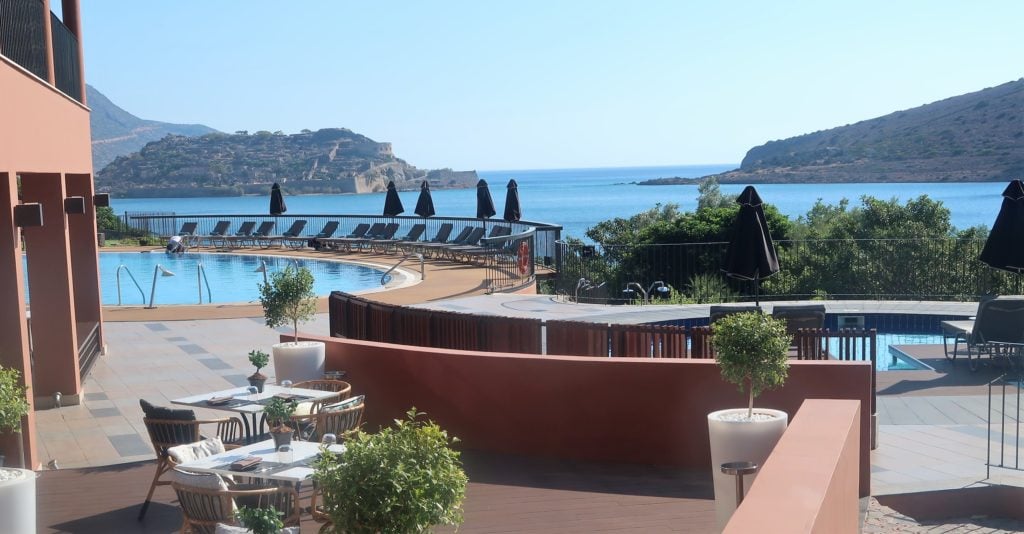 When I booked my stay, a one night award stay at this Marriott property could be had for just 45,000 Marriott points per night (or 40,000 points for off-peak dates) – the equivalent of 30,000 / 26,667 American Express Membership Rewards points.
I was able to book my two weeks stay in a Family Seaview suite using two Category 9 seven night travel packages. As shown below, the cost of an equivalent cash booking for my dates is a whopping $23,494 at today's exchange rates:

Unfortunately, points bookings at Domes of Elounda just got more expensive
The cost of a night here booked here rose to 60,000 points on August 18, and will rise again to a whopping 85,000 points next January. It's the largest category hike in Marriott's worldwide portfolio and will make future stays at Domes of Elounda prohibitively expensive.
However, extensive award availability has been loaded up for the 2019 season so you can still book at 60,000 points per night for next year.
Is it worth it? We'd say yes.
You'll enjoy a private suite with a hot tub (sleeping up to four people) in one of the most stunning locations in Crete, inclusive of a generous breakfast. I personally find this such a great deal, that I booked this property for a total of 14 nights (yes, two whole weeks!).
Domes of Elounda individual night stays can then be easily booked via the Marriott Rewards website, though you'll need to call if you wish to attach a seven-night certificate.
Why I believe the Domes of Elounda is a great use of points
It's no secret that I love using my points for hotel stays, and there are many excellent Marriott properties you can book (we've covered some lower-cost properties here). However, Domes really offers an excellent value proposition. Here's a quick round-up of the reasons why:
1# It's an all-suite property – higher tier suites are often available at the base level points cost
An all-suite property is a major value add. This is particularly the case for families, who ordinarily might need to fork out for two interconnecting rooms to accommodate everyone. Domes of Elounda features 80 suites and 40 villas, most with stunning sea views.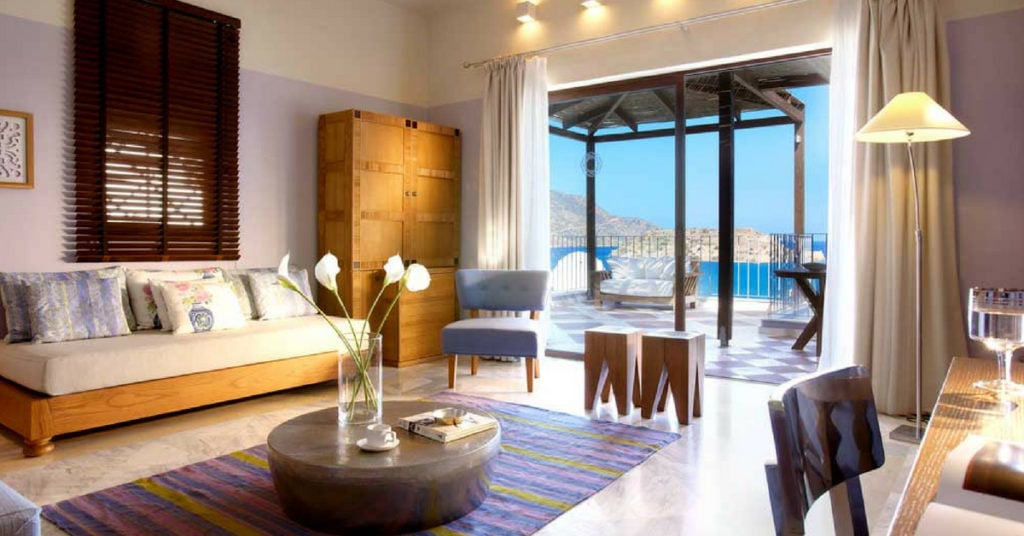 At the base level, you'll enjoy a premium sea view suite which features a separate bedroom and living areas, a large bathroom plus a private terrace with whirlpool. However, as with my booking, often a family sea view suite (the next room tier up) is bookable – still at base level points! A family sea view suite accommodates four people and offers an abundance of space and privacy.
2# Free breakfast is offered resort wide – it's not dependent on status
In a blow to Marriott Gold Elite members, free breakfast shifted to a platinum-only perk from August 18. However, this isn't an issue at Domes of Elounda – buffet breakfast is free for everyone. The spread of hot and cold dishes is extensive, and it even includes a bottomless sparkling wine station!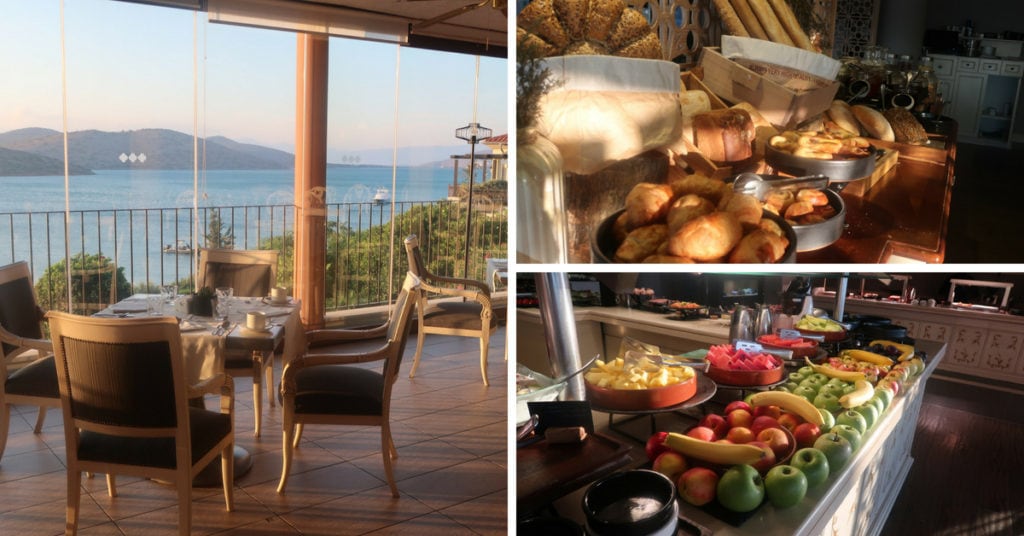 3# Sick of resort food? Access inexpensive village dining close by
I must confess, I'm not usually a resort person. This is mainly because I love to experience a variety of food when I travel, and I'm always keen to try simple local fare. Many high-end resorts, particularly those in remote areas, hold you captive to expensive food bought on site. This isn't the case at Domes. Fill up on your free breakfast, have a very light lunch and then head to the small village of Plaka just a seven-minute walk away. There, you'll find a range of inexpensive and jovial Tavernas, all offering high-quality Cretan fare.
4# Families enjoy free kids club plus many other facilities
It's important to acknowledge that Domes of Elounda is incredibly popular with families (although it does maintain a range of adults only areas to cater for couples, too). Above and beyond the advantage of staying in a spacious suite, there are a number of additional benefits for families.
The resort collaborates with Worldwide Kids, a UK childcare company, to offer a number of childcare options. These include a free kids club for children aged 4 – 12 years of age, plus a relatively inexpensive creche for younger children. All childcare options feature high staff to child ratios. Inexpensive babysitting is available in the evenings. Both of my children are currently enjoying these facilities.
If that wasn't enough, families can also make use of free equipment – think strollers, high chairs, bottle warmers and even blenders – as part of their stay.
…Plus enjoy stunning views and top amenities
Guests have access to a private Blue Flag grade beach, separate adults and children's pools, on-site spa and a range of high-quality eateries. The Island of Spinalonga is a short boat trip away, and free, secure parking makes Domes a great choice as a travel base for those wishing to explore the stunning landscapes and rich history of eastern Crete.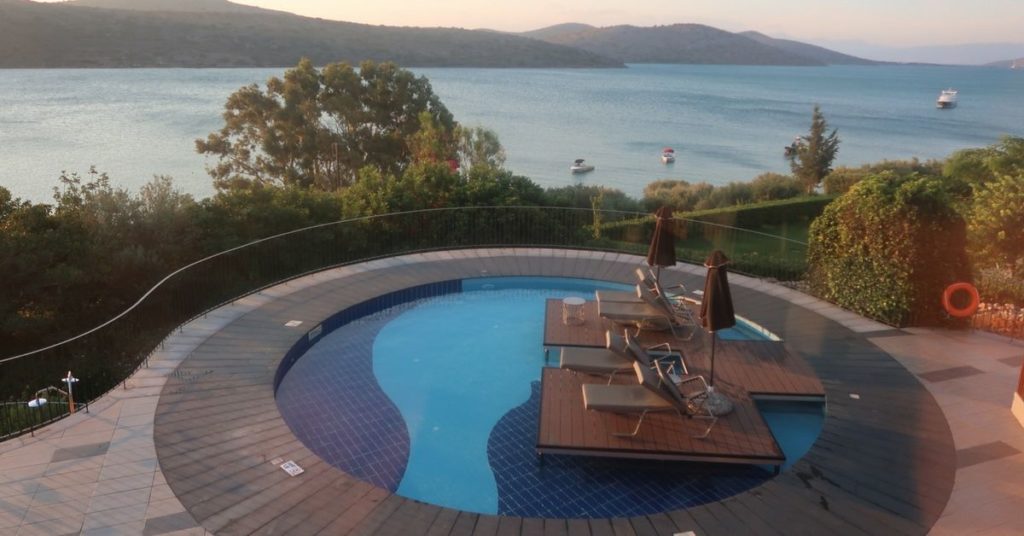 Summary: Domes of Elounda is an excellent points redemption
I'm absolutely loving my time at this property, and I'm very happy with the value I'm getting from my two seven-night Marriott travel certificates. If you have the chance to splash out for a last-minute redemption before the points cost more than doubles, go ahead.
Would you consider a points stay at this property? Let us know in the comments!
While you're here: Subscribe to our newsletter for the latest tips, deals and news. It only takes a few seconds and we respect your privacy: