Today I'm flying Malaysia Airlines 737 Business Class on a short-haul international flight between Singapore and Kuala Lumpur. It's just over an hour in duration and feeds into my flight from Kuala Lumpur to Adelaide later in the day.
In between, I will have the opportunity to sample the Malaysia Airlines – Golden Lounge located in the satellite terminal at Kuala Lumpur Airport, before heading on to Adelaide.
With award seats being readily accessible using Qantas Frequent Flyer points, Malaysia Airlines' business class is a logical and easy option within the oneworld alliance.
Read on to find out whether Malaysia Airlines 737 Business Class (short-haul) warrants the extra cost of points or an upgrade.
| | |
| --- | --- |
| Airline: | Malaysia Airlines |
| Route: | Singapore Changi to Kuala Lumpur (SIN to KUL) |
| Flight Duration: | 1 hour 10 minutes |
| Flight Number: | MH620 |
| Aircraft Type: | Boeing 737-800 |
| Date Travelled: | 4 October 2019 |
| Class: | Business |
| Frequent Flyer Program: | Booked using Qantas Points |
Malaysia Airlines 737 Business Class (short-haul)
Malaysia Airlines 737 pre-flight experience
At Singapore Changi Airport Terminal 2, I visited the SATS Premier Lounge that Malaysia Airlines uses for its business class passengers. It's not a patch on the oneworld lounges available in Terminal 1 (think Qantas and British Airways), but it's a quiet enough space to relax.
Leaving the SATS lounge early I head down to gate E1, where I go through another round of security screening before being able to board the plane reasonably early.
First impressions of Malaysia Airlines 737 business class
Malaysia Airlines flies its 737 aircraft on a range of routes, including short-haul services to Singapore and domestic services to Penang and Langkawi. To be honest, when you board a 737-800 with recline business class seats, they tend to all look the same, bar the colour and brand. The differences can usually be found more in the service than the hard product such as the seat.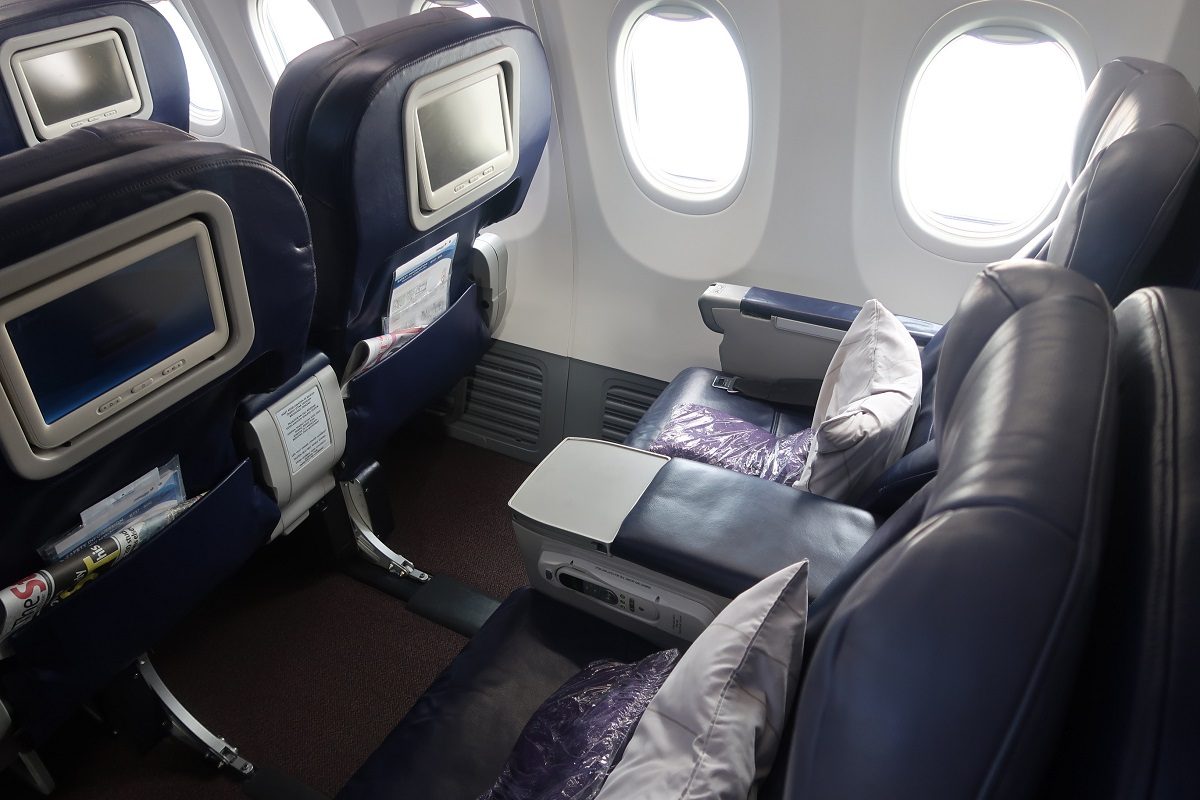 The colour scheme onboard this Malaysia Airlines 737 itself is a bit bland and uninspiring. I look out the window at Changi and wonder why Malaysia Airlines hasn't actually used a stronger combination of its logo colours as Virgin Australia does in the cabin.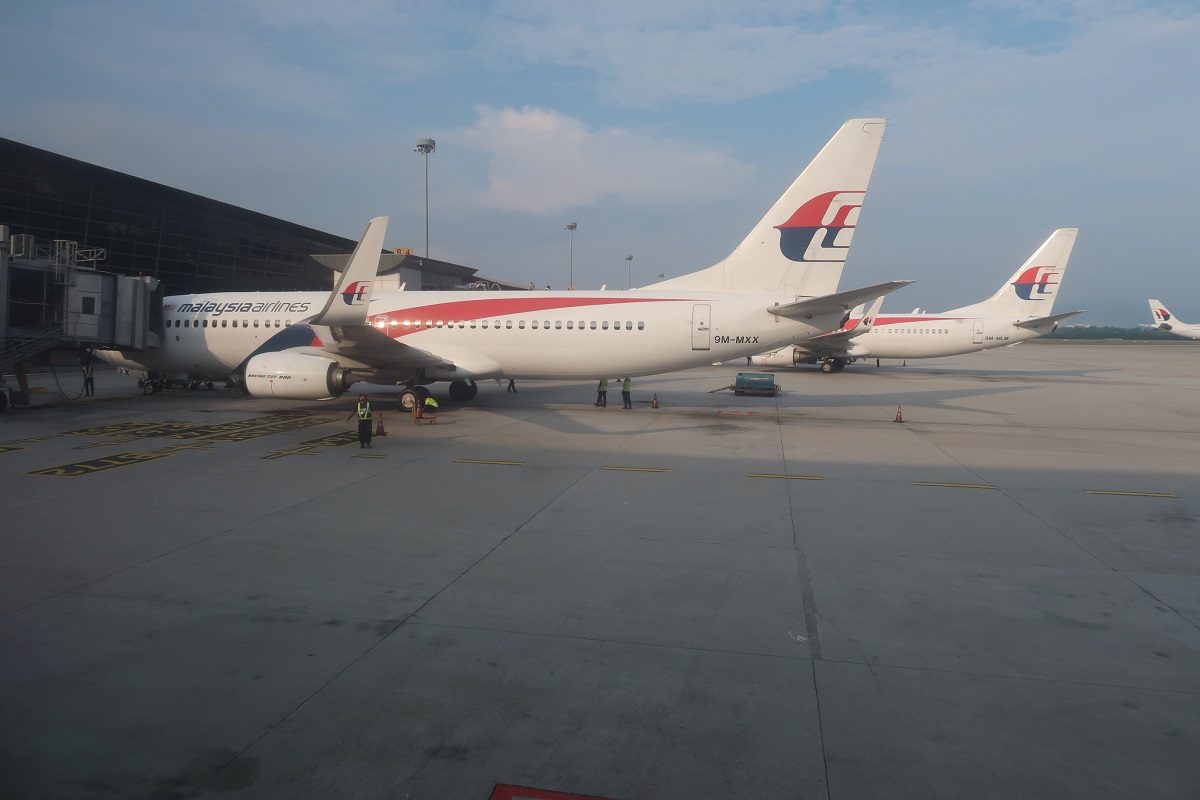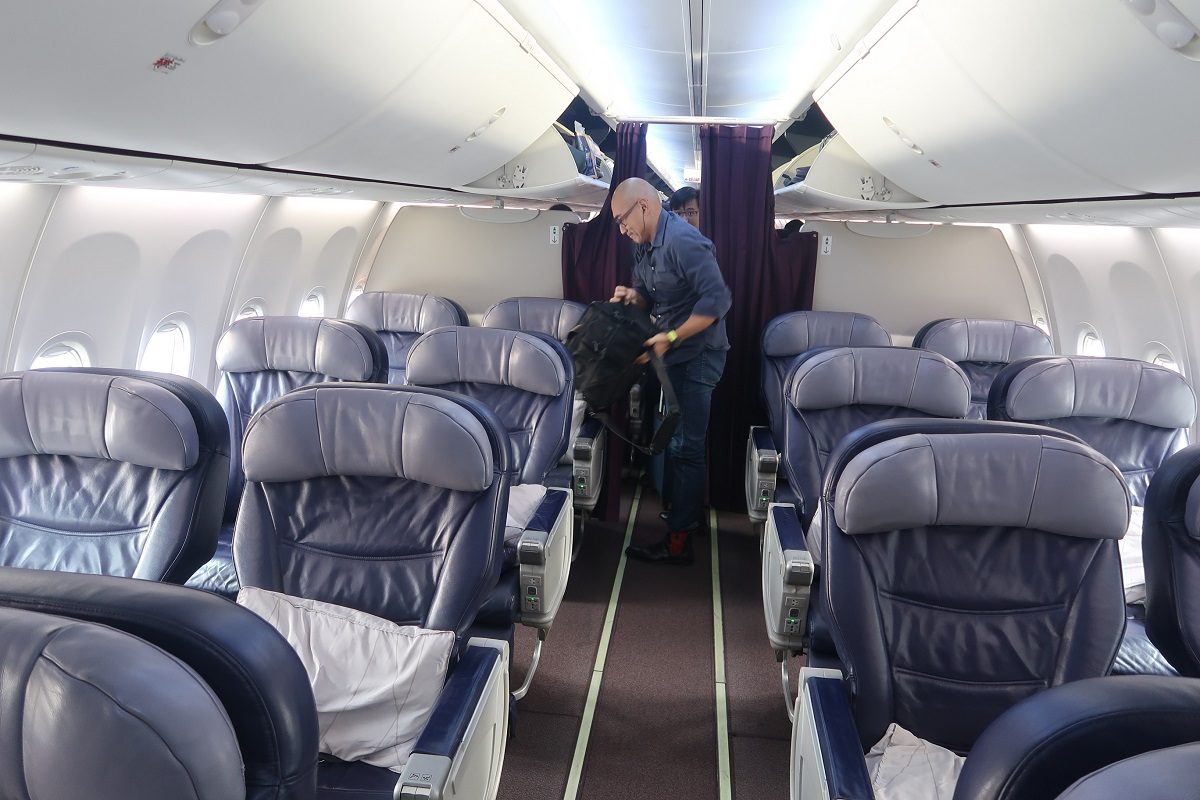 I do immediately notice the legroom in row 4 – I actually have to reach out to touch the screen. It really does put some Australian airlines to shame.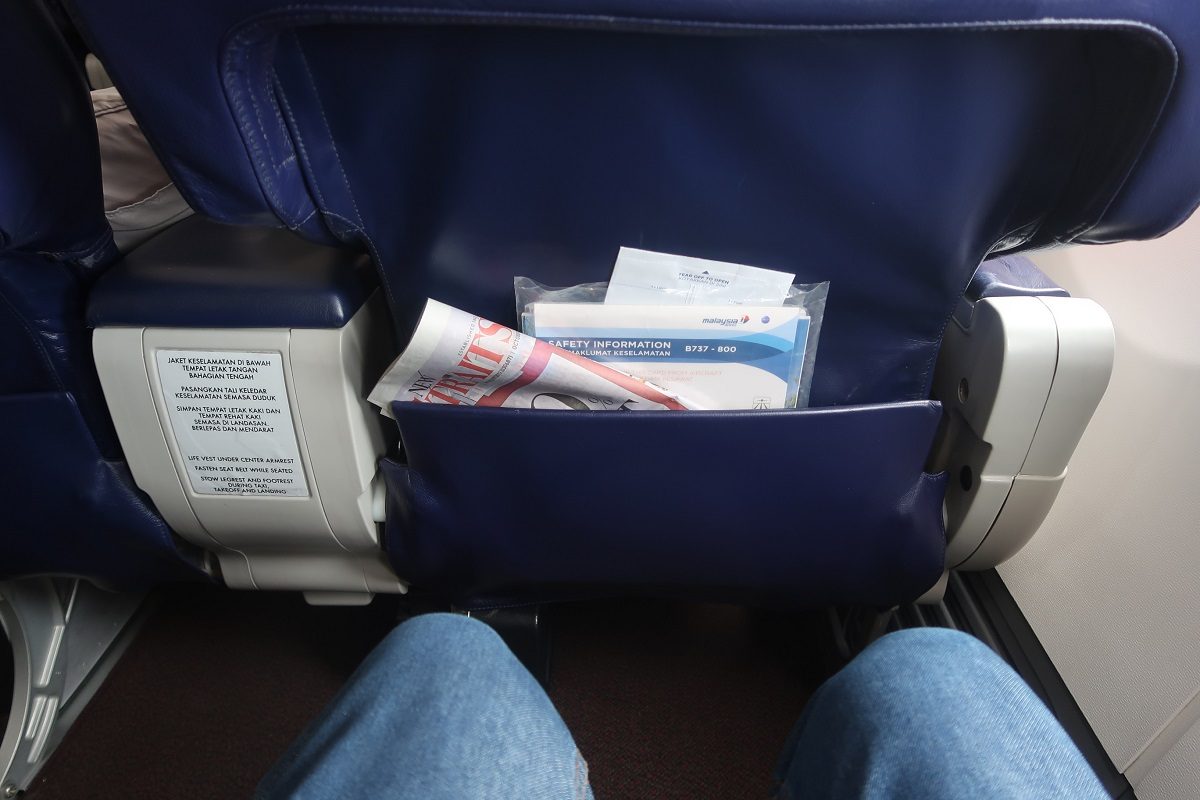 And in no time, I'm offered a drink. A point to note – Malaysia Airlines does not offer alcohol on flights under 3 hours and not over Malaysia itself. This is apparently due to cost-cutting and Malaysian law. Either way, a 1 hour 10 minute flight without alcohol is not exactly a hardship, given I could drink prior in the SATS Premier Lounge.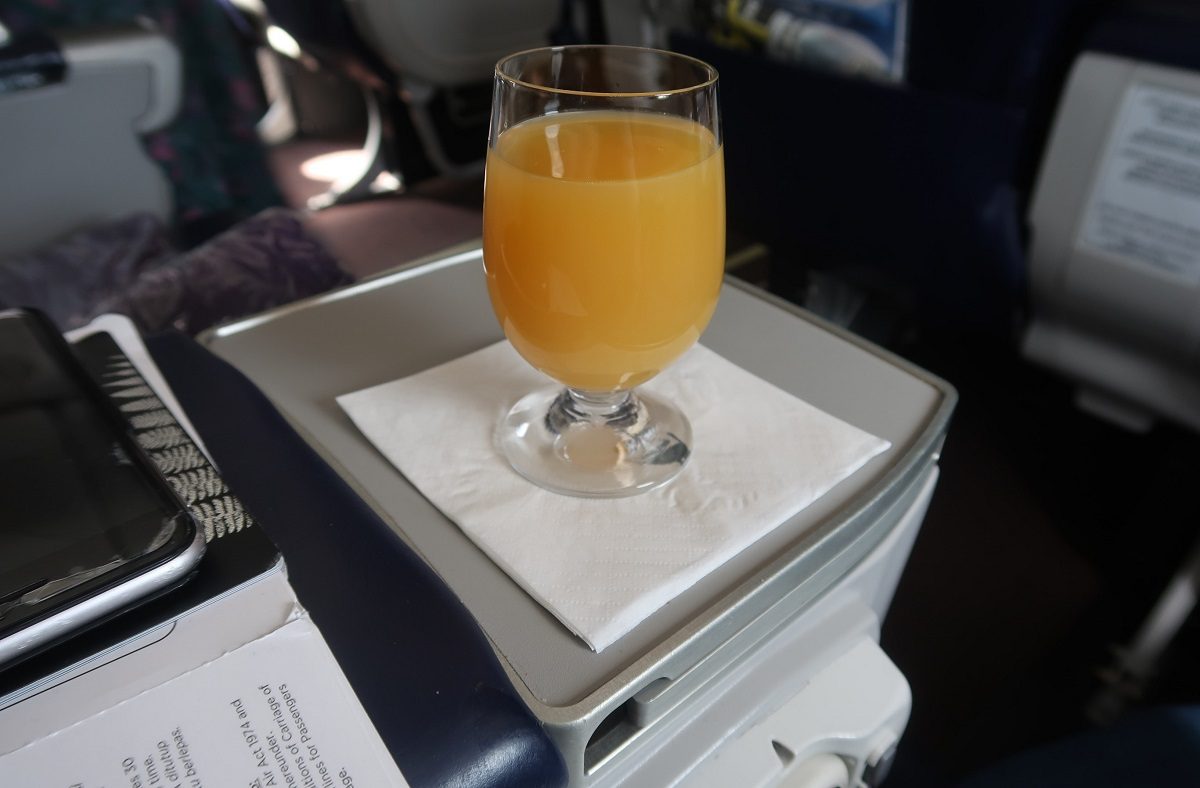 An Islamic prayer features on the inflight entertainment before take-off and all the announcements are in two languages.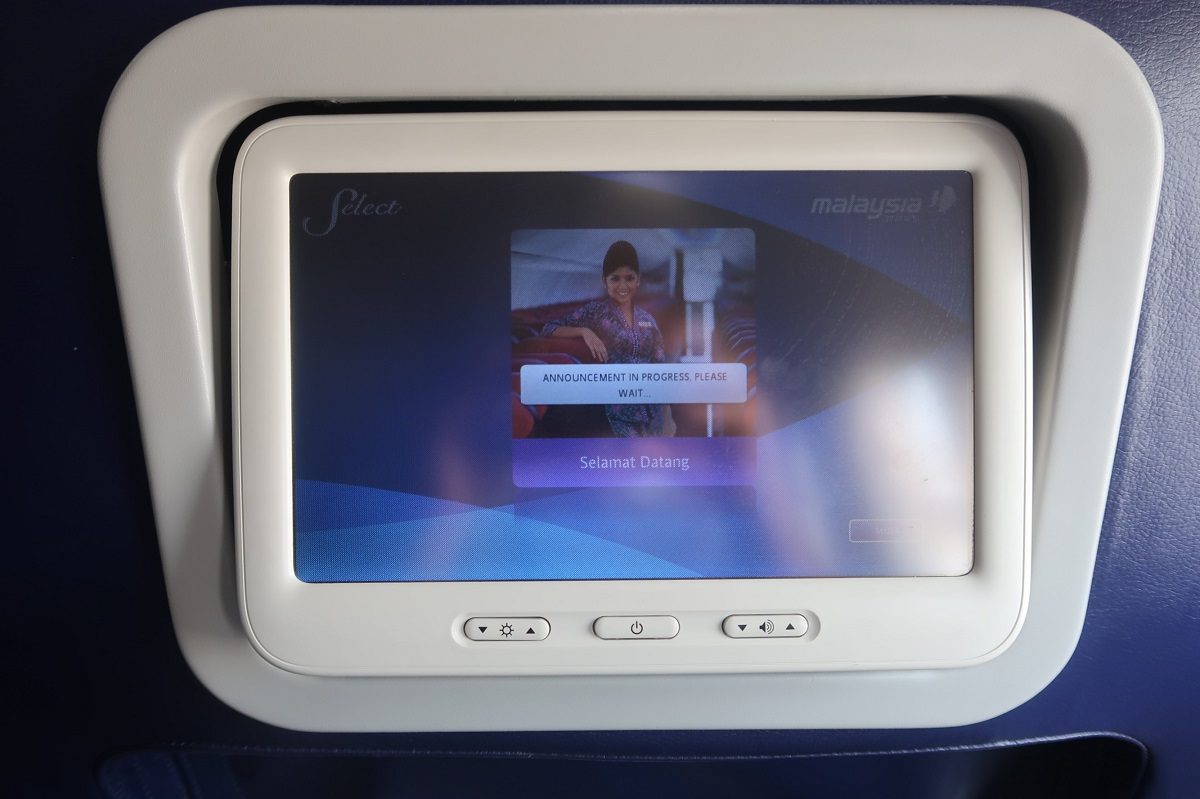 In-air Malaysia Airlines 737 business class service
Flying out of Singapore is so visually interesting – it's a flight where I could spend the entire hour with my nose glued against the window. From the Straits of Singapore to the palm plantations near KL airport, and the very straight roads and bridges in-between, the landscape is so different to Australia.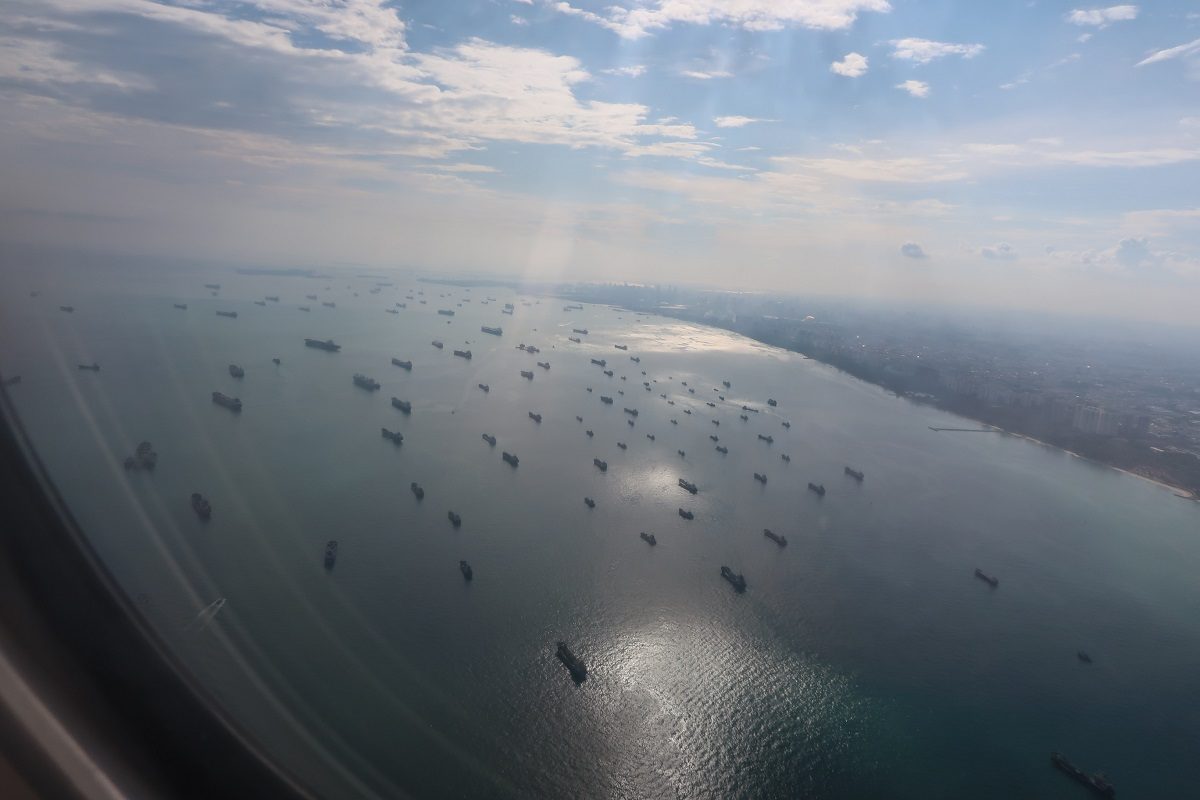 Service in the air is quite perfunctory. It's not unlike being on a Qantas business class hop from Sydney to Melbourne.
Shortly after take-off, I'm offered the choice of two meals and I select the fishcakes.
To be brutally honest, this meal is underwhelming – no flavour and presentation are lacking. Many Asian-based airlines are able to differentiate their in-air offering with exciting regional cuisine (think Thai Airways), but Malaysia Airlines is a fail here.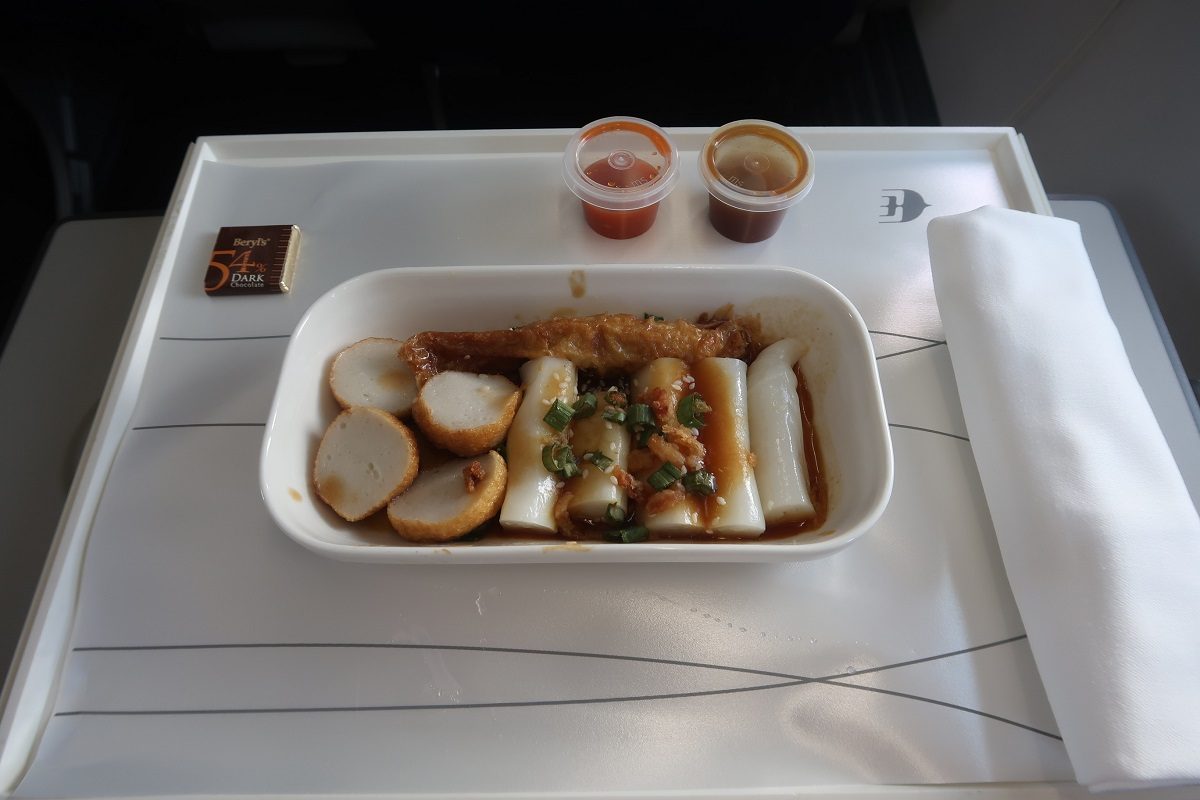 Soon after the meal, everyone settles into some TV as there isn't time for a movie with only 30 minutes to go. I decide to not even turn on the entertainment system.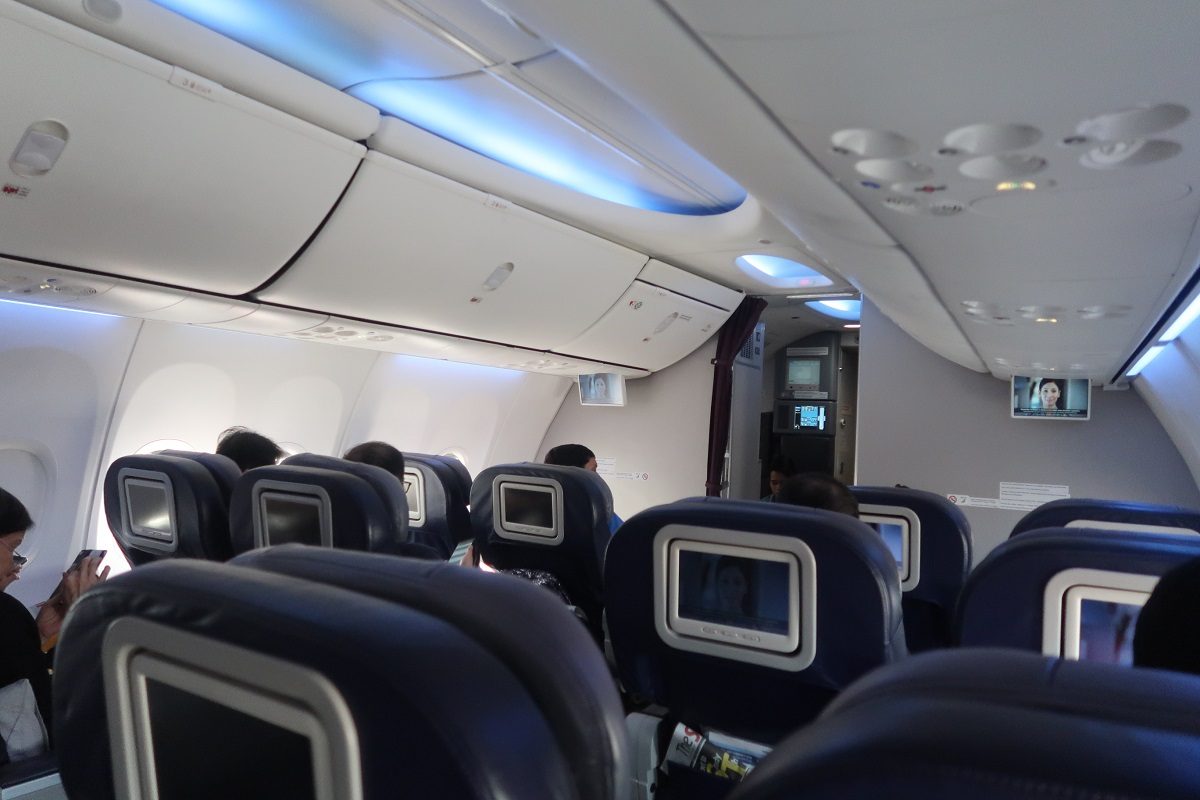 In no time at all, we arrive at KL airport. Once I realise we have only travelled 350km, it starts to put the service into perspective. For Australians, it's half the distance at least between any of our capital cities. Here we're flying a 737-800 but back home, you'd more than likely be on a smaller propeller plane for this sort of distance.
We commence a long taxi to the satellite terminal and everyone stands up once the plane stops – some things are the same the world over.
Singapore to Kuala Lumpur 737 business class short-haul verdict
For the pre-flight experience, you'll want to read the SATS lounge review – in short, it was uninspiring.
The flight itself is so quick that it's hard to pick flaws in service in products. The crew themselves are efficient but they're still busy.
The seats onboard the Malaysia Airlines 737 itself are more than adequate – they're clean, comfortable and have good legroom. The food is a failure and don't expect a drink (but you can hardly blame Malaysia Airlines for that).
Business Class here is simply buying you more space, quicker access to and from the plane and access to a lounge beforehand. Nothing more, nothing less. If you're expecting any more of Malaysia Airlines 737 business class, you'll be disappointed.
---
About the Singapore – Kuala Lumpur route
It's a reasonably busy route with not only Malaysia Airlines but also Scoot, Air Asia, Jetstar, Malindo Air, Singapore Airlines, Ethiopian, Silk Air, Air Mauritius and Garuda, plying the skies – some of which also offer Business Class products.
While you're here: Subscribe to our newsletter for the latest tips, deals and news. It only takes a few seconds and we respect your privacy: