Find out how Malaysia Airlines A330 business class stacks up against the competition.
Malaysia Airlines business class is a solid product for Australians on the lookout for a comfortable way to travel to Asia and beyond. The Malaysia Airlines A330 offers a flat-bed and a pleasant variety of Asian cuisines and warm hospitality. It's also very convenient – the Australian mainland capital cities of Perth, Adelaide, Brisbane, Sydney and Melbourne are all served.
And, with award seats readily bookable using Qantas Frequent Flyer points, Malaysia Airlines' business class is an affordable and accessible option within oneworld.
Recently, I had the opportunity to try out Malaysia Airlines business class from Kuala Lumpur to Adelaide, after a short-haul flight from Singapore to Kuala Lumpur. Read on to discover more.
| | |
| --- | --- |
| Airline: | Malaysia Airlines |
| Route: | Kuala Lumpur to Adelaide (KUL to ADE) |
| Flight Duration: | 7 hours 10 minutes |
| Flight Number: | MH0139 |
| Aircraft Type: | Airbus A330-300 |
| Date Travelled: | 4 October 2019 |
| Class: | Business |
| Frequent Flyer Program: | Booked using Qantas Points |
Malaysia Airlines pre-flight experience
Malaysia Airlines business class passengers have access to the recently renovated Golden Lounge in the satellite terminal at Kuala Lumpur Airport. This is a high-quality lounge, and it offers a range of a la carte dining options. After several hours spent relaxing (and consuming bowls of laksa) I proceeded to gate level security and stepped aboard the A330-300.
Like many Australians, I did have a slightly higher level of apprehension about flying Malaysia Airlines after two incidents in living memory. I was also somewhat apprehensive about whether the business class product and service may have been impacted, given recent financial difficulties.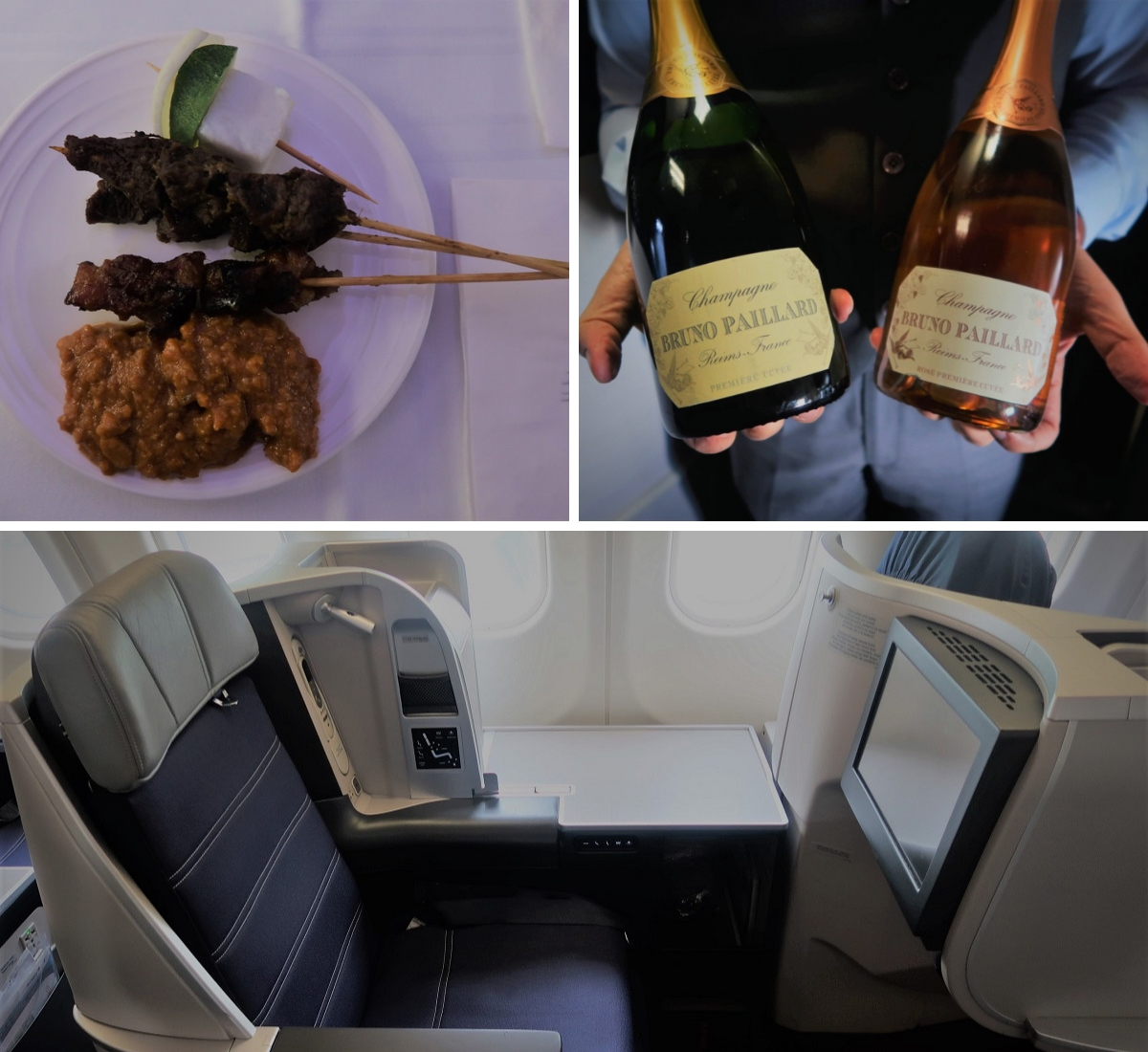 However, I've heard exceptional things about the on-board satay, so I was keen to give it a try!
First impressions of Malaysia Airlines business class
I receive a warm welcome when I step on board, taking the right-hand aisle to sit in my seat. Looking around me, I notice that the flight, and indeed the business class cabin of 27 seats is full.
Immediately noticeable is the offset seating – seats alternate between being directly next to the window and the next one back to the aisle and so on.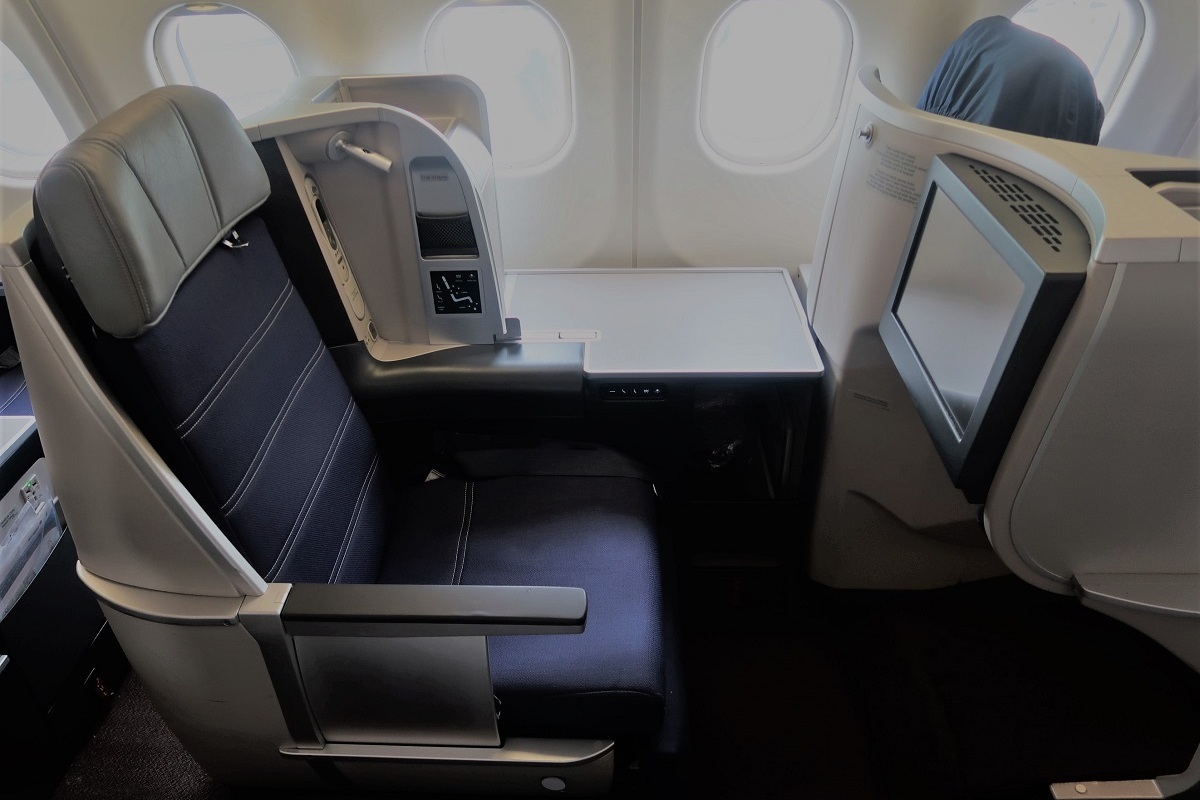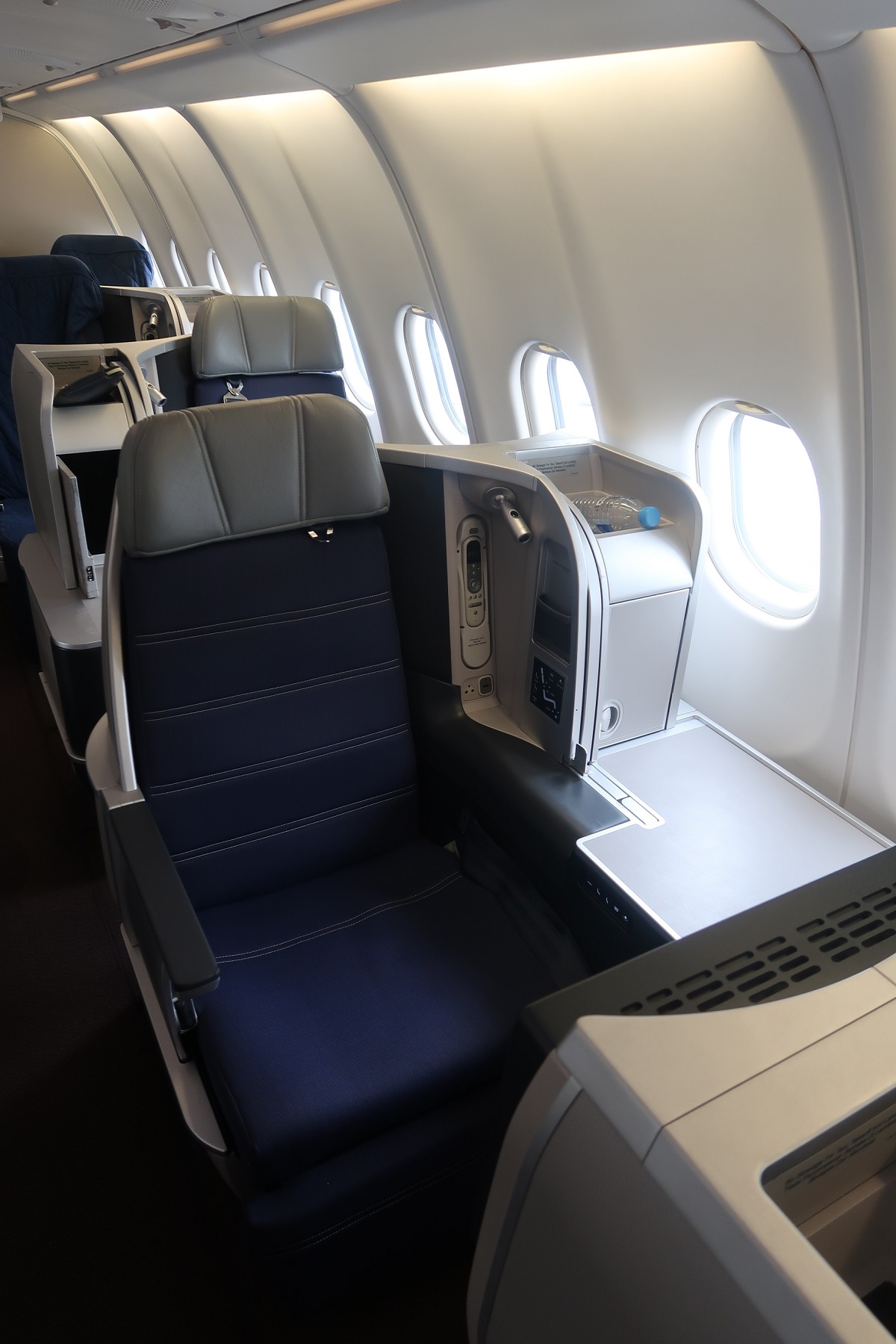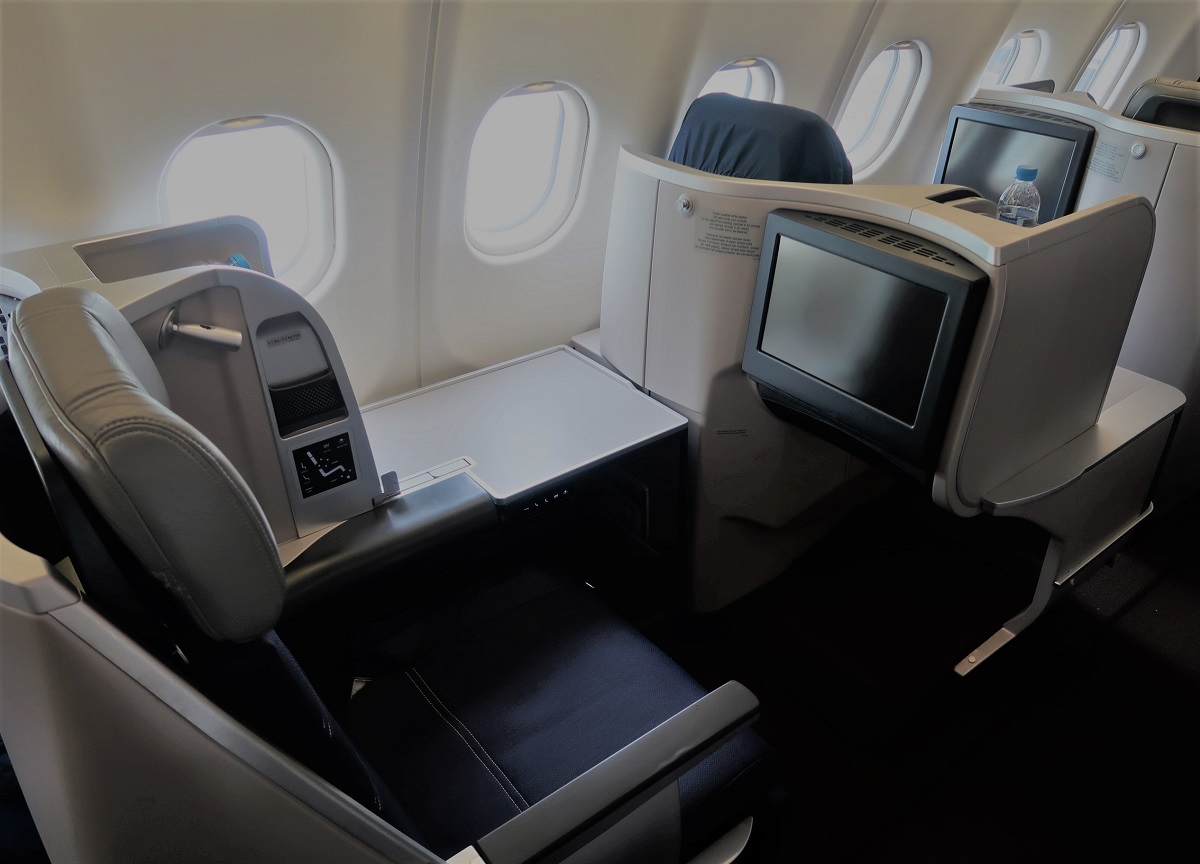 Everything is very clean and fresh looking as I arrive at my seat, the internal 5D. The spaciousness of the cabin (being a wide-body jet) is noticeable. The colours are subtle and refreshing without being overdone.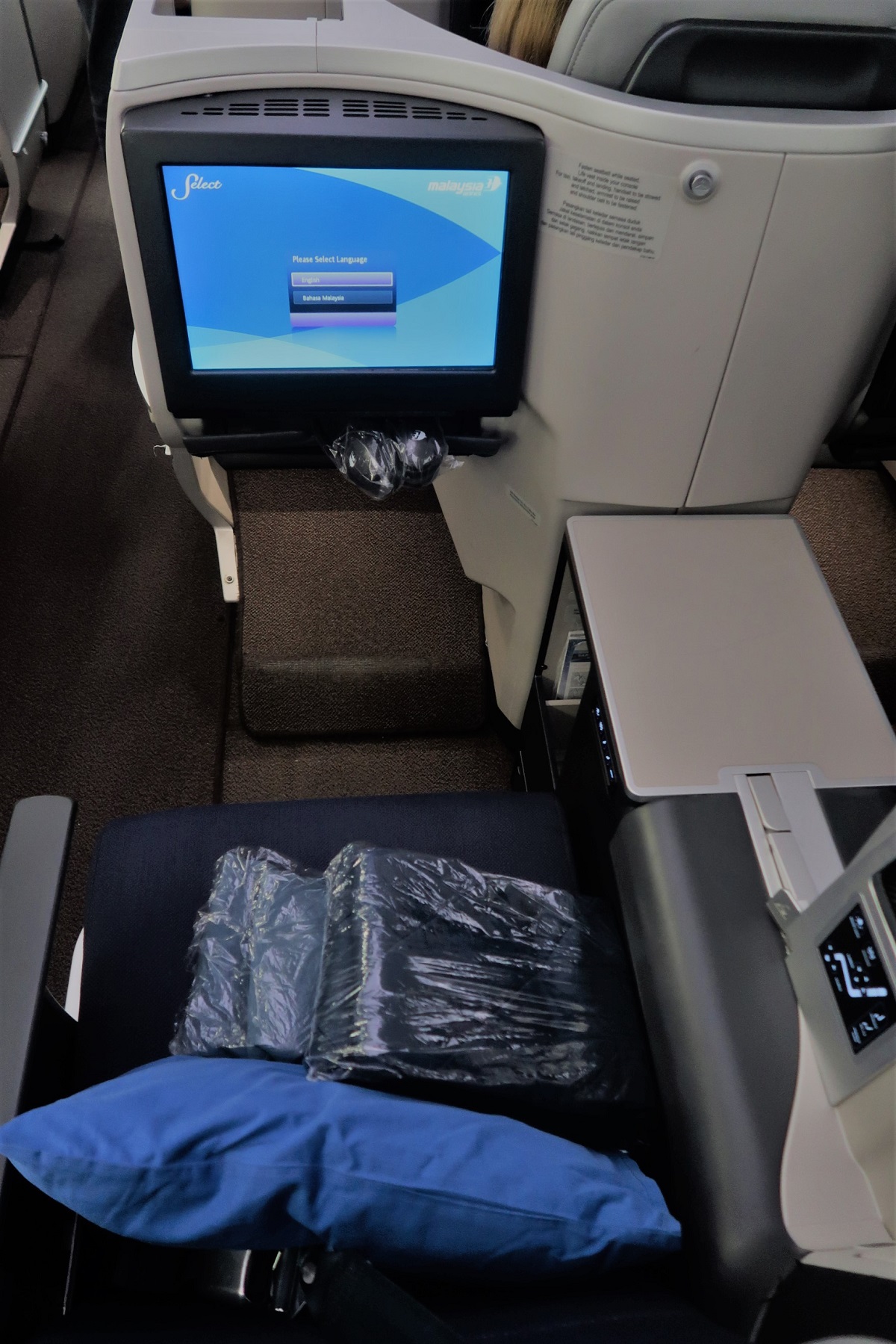 On my seat are a wrapped underlay and a blanket with headphones stowed under our TV screen. I'm also handed a toiletries kit and food and drink menus before take-off.
Straightaway I'm offered a selection of water or juice, though I ask for Champagne.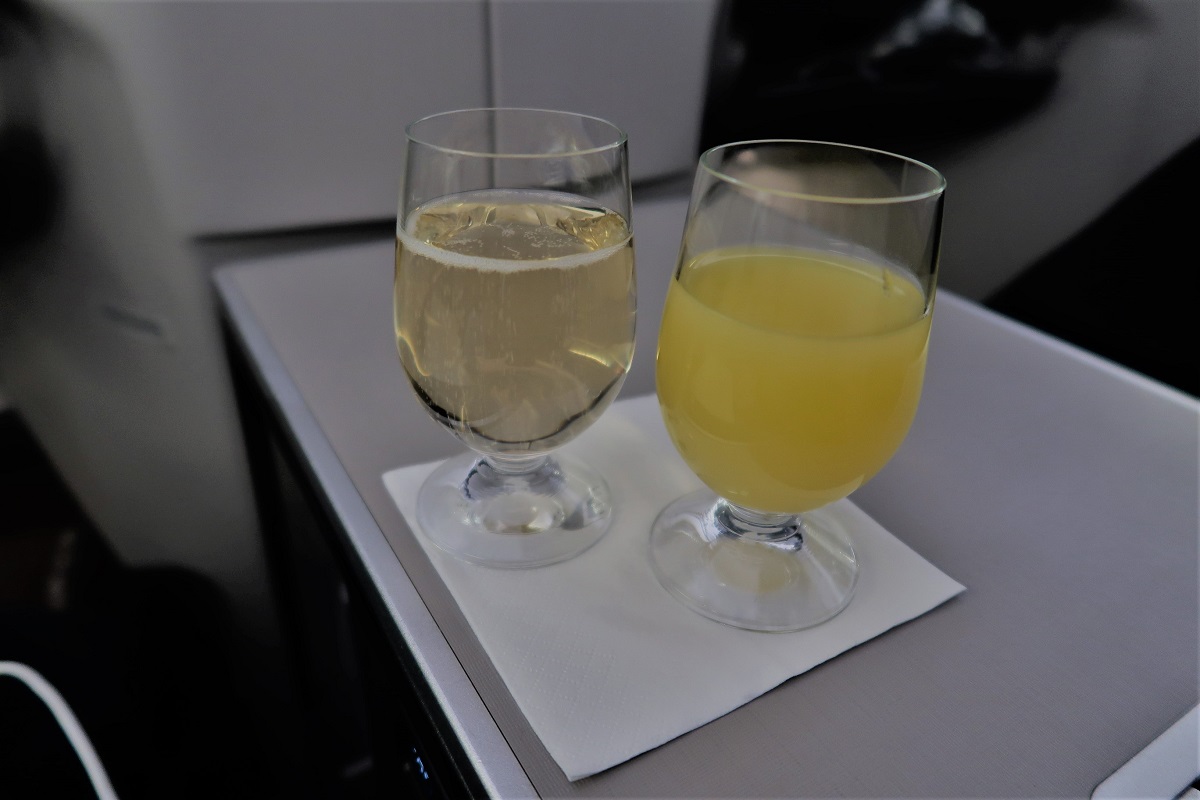 Malaysia Airlines business class seat
I settle in to my seat and take some time to familiarise myself with all the different features.
The seat controls are all very standard and there is excellent storage between the two seats where laptops can be stowed safely for take-off and landing.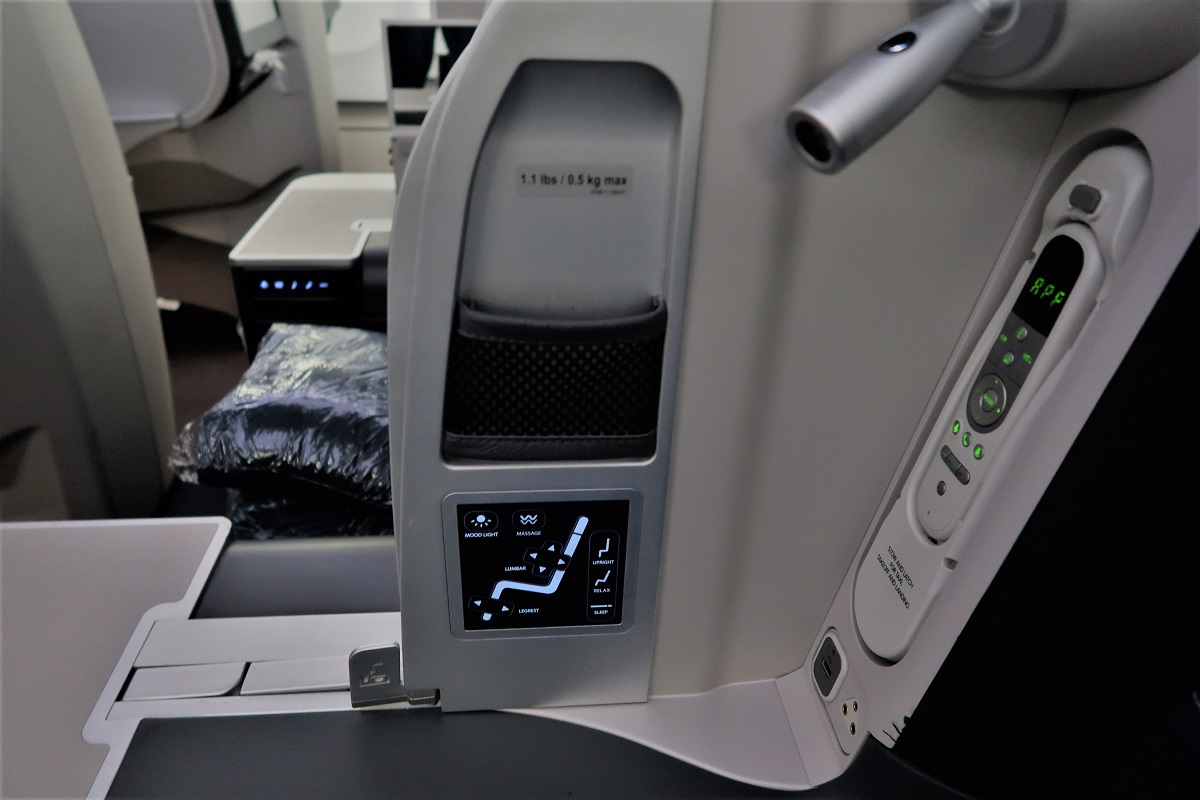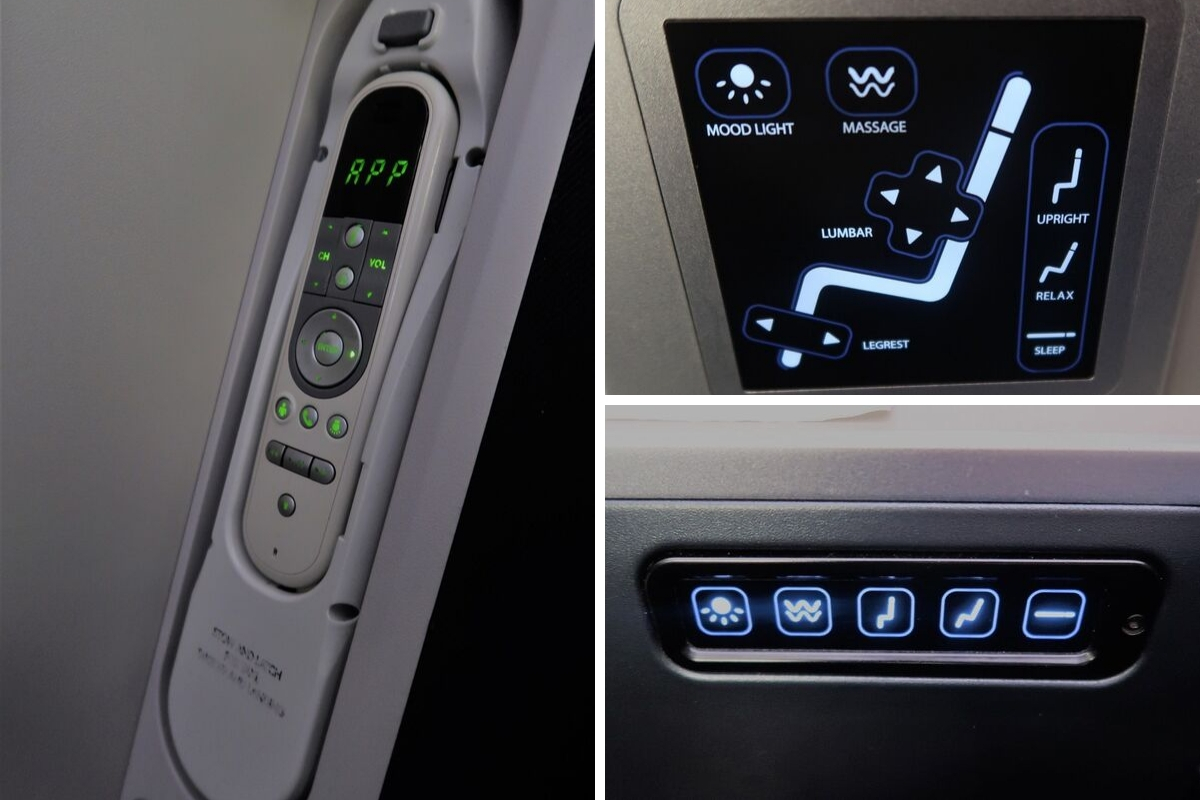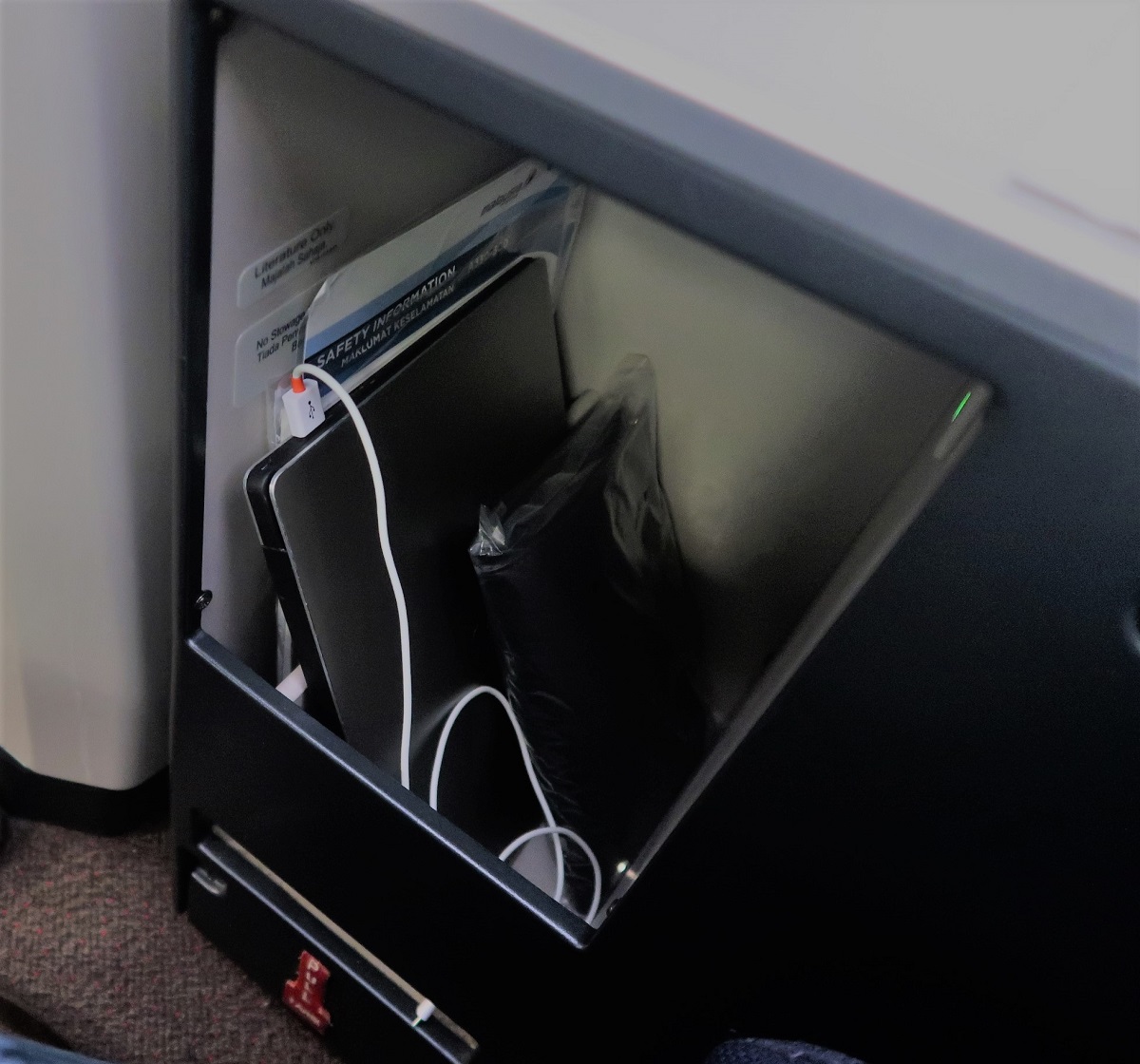 Malaysia Airlines business class service
Because the flight departs KL at 10.20 pm, and the business cabin is almost full, cabin staff waste no time in commencing the dinner service. For me, dinner starts with a taste of several champagnes.
Malaysia Airlines business class passengers get access to two champagnes by Bruno Paillard. This includes an exceptional champagne rose.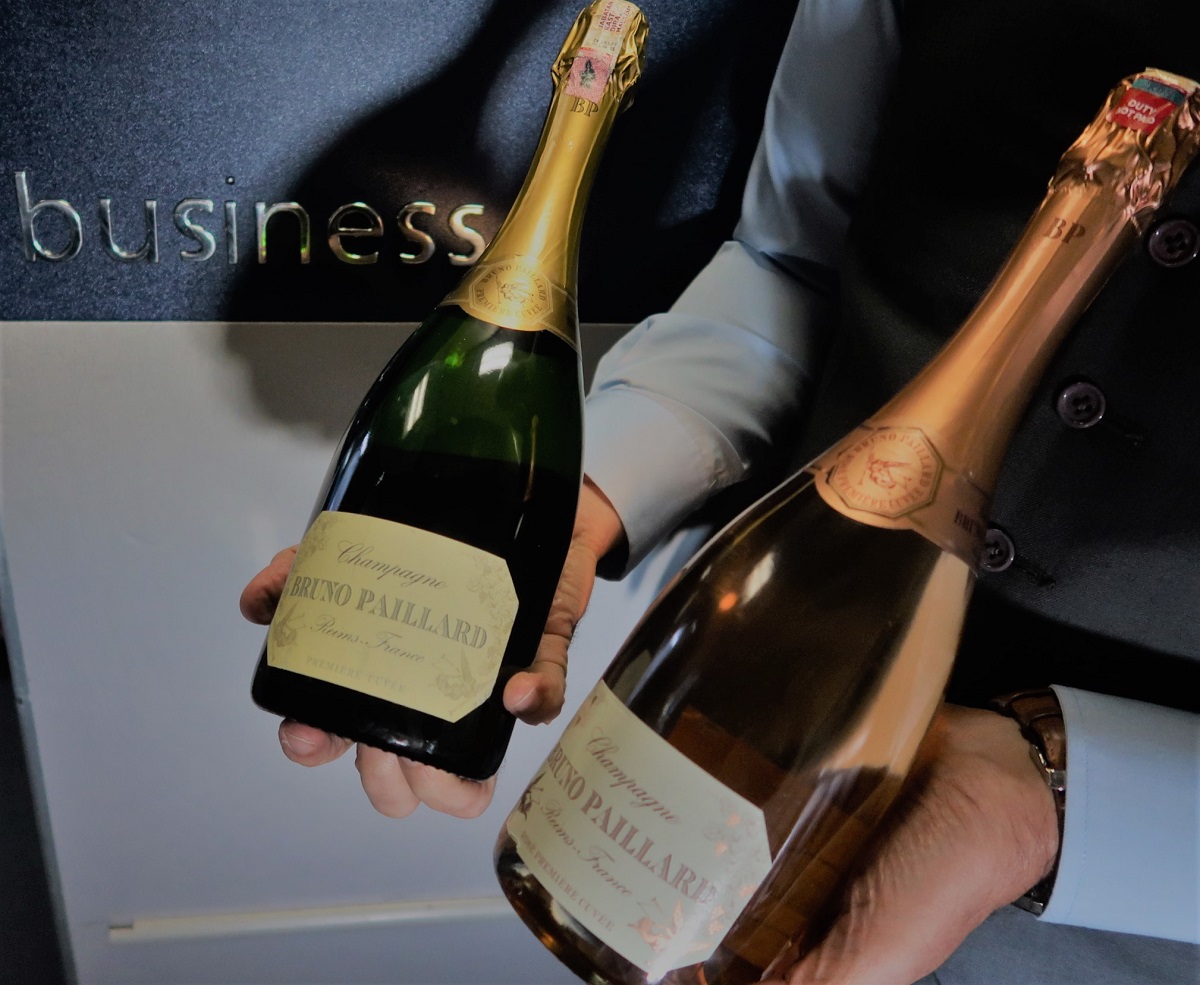 I know before being asked what I'm going to eat – an entree of the satays – sampling both beef and chicken. Malaysia Airlines is well known for these. I have to say they are a lovely starter because they hold their flavour in the air unlike some of the westernised fare served up on other airlines.
Unfortunately, the satays are running low by the time the trolley arrives at my seat. This results in some 'rationing', however, I'm happy with the quality of the food.
The service trolley is a little different from what you see on many other airlines and it gives a more favorable view of the food being presented.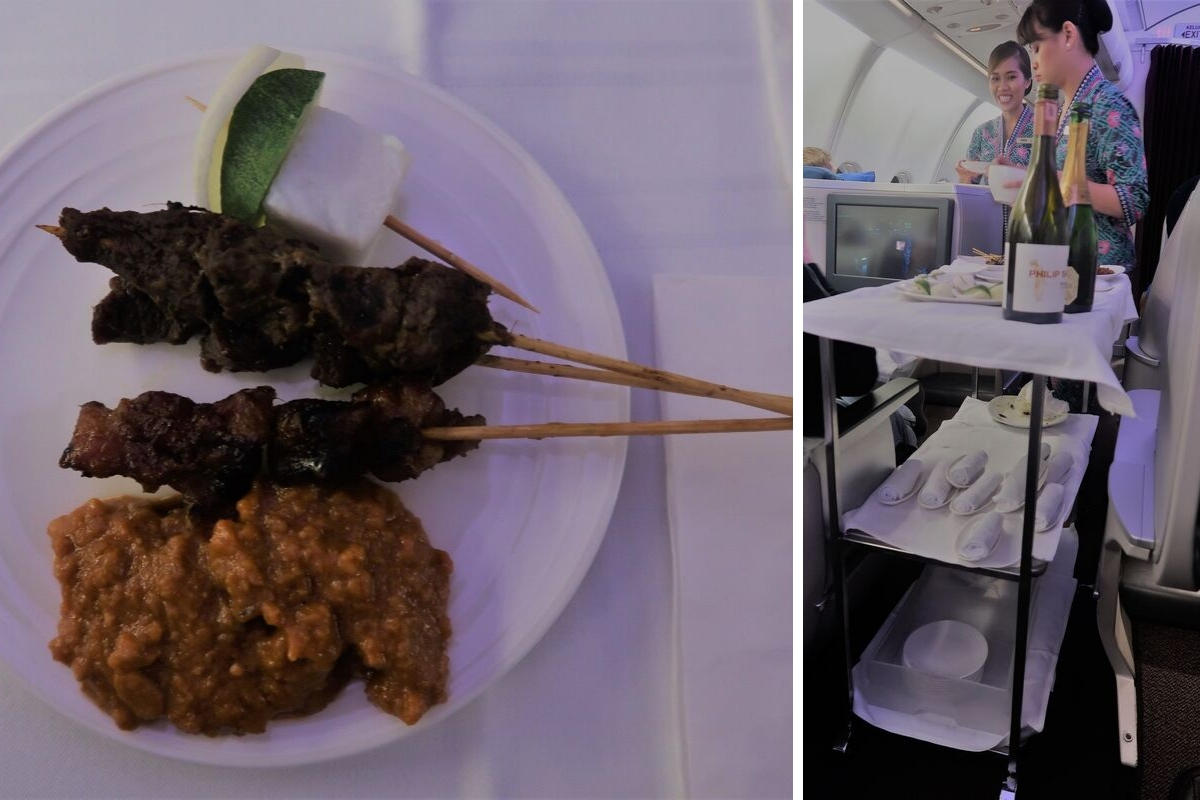 There is also a bit of a backstory to satay which Malaysia Airlines speaks of on the first page of its menu.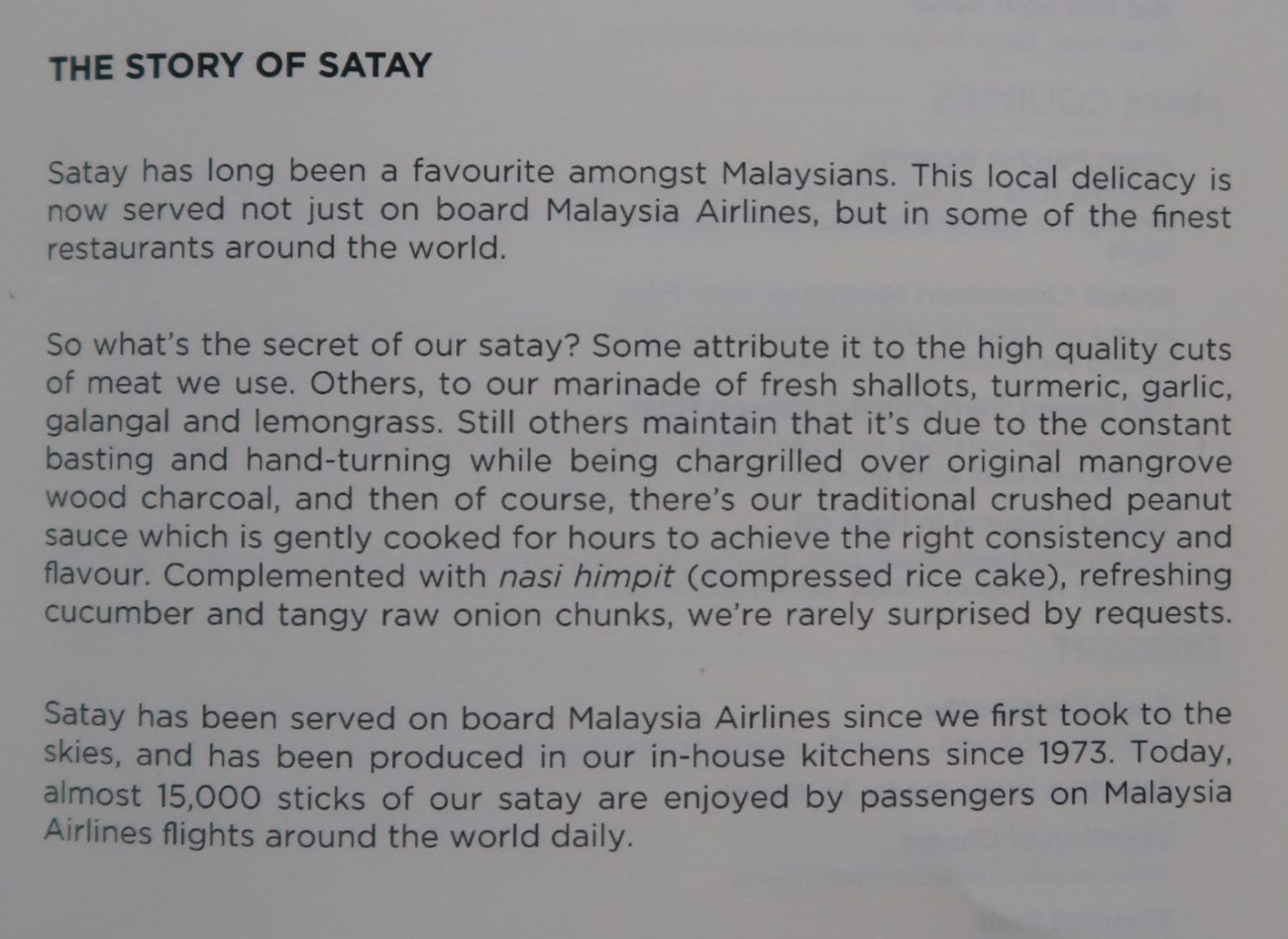 Of course, there is also garlic bread served on the side. Such a simple food but also another that is always good in the air!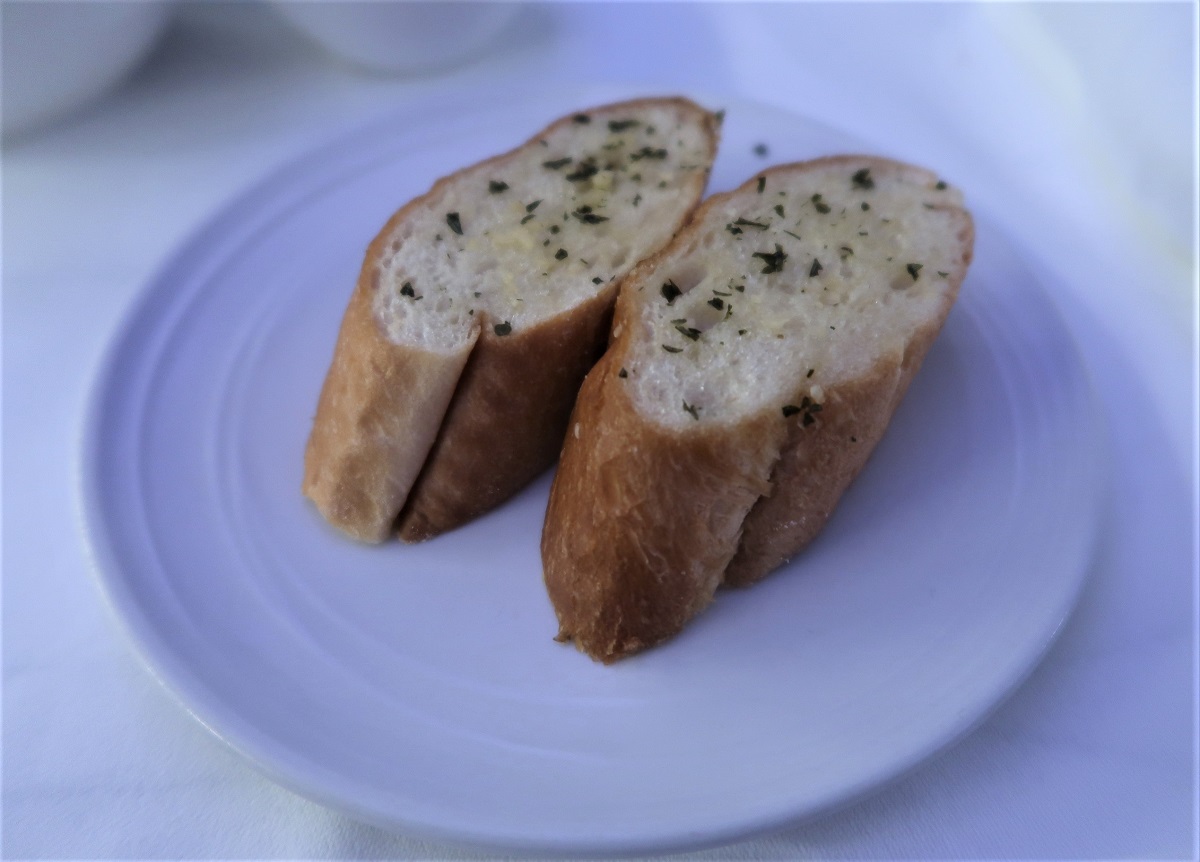 And now I'm at the point where I have to make choices. It's a tough call after perusing the menu, but I'm keen to try something out of the ordinary. Hot and Sour Soup looks a bit safe so I opt for the Marinated Jelly Fish, wrapped with smoked duck, pamelo and mango salad.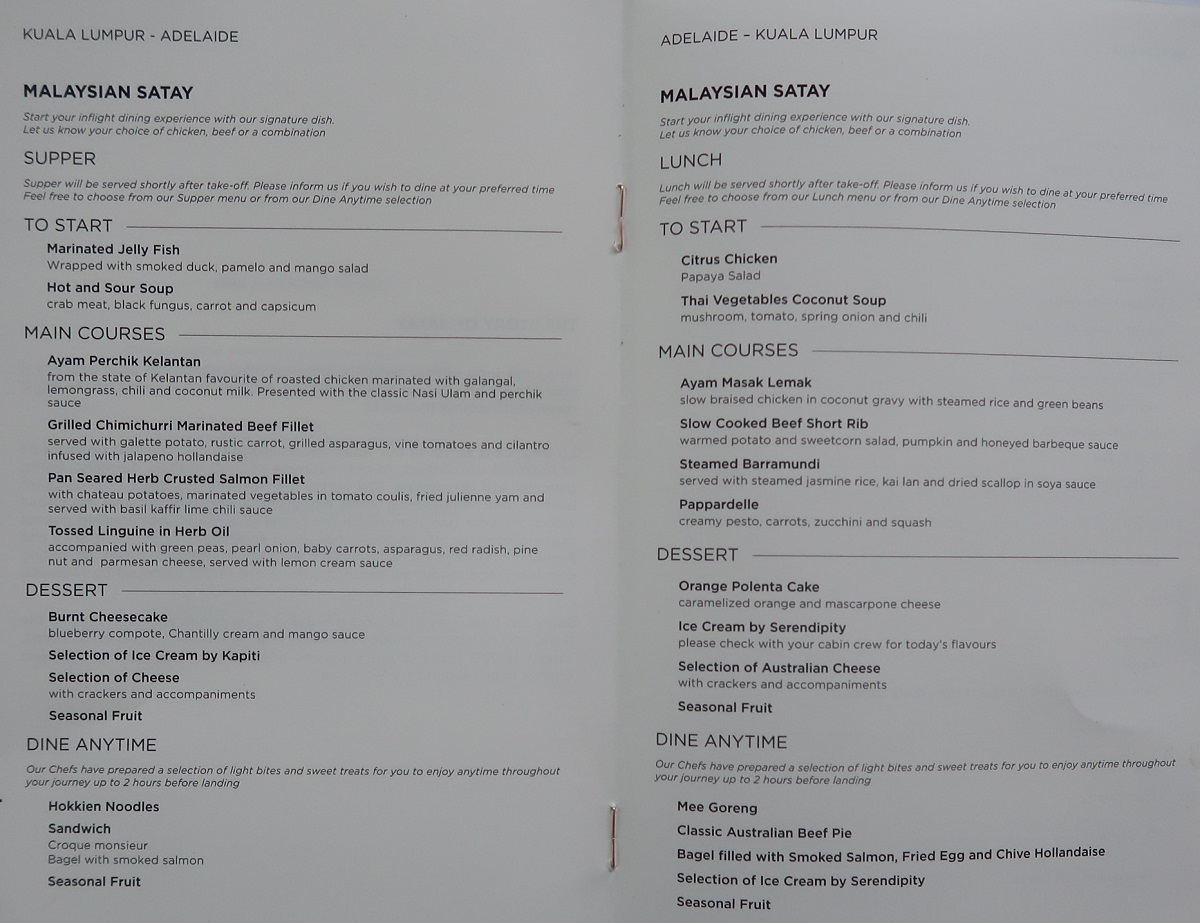 The dish promptly arrives at my table and looks quite appealing…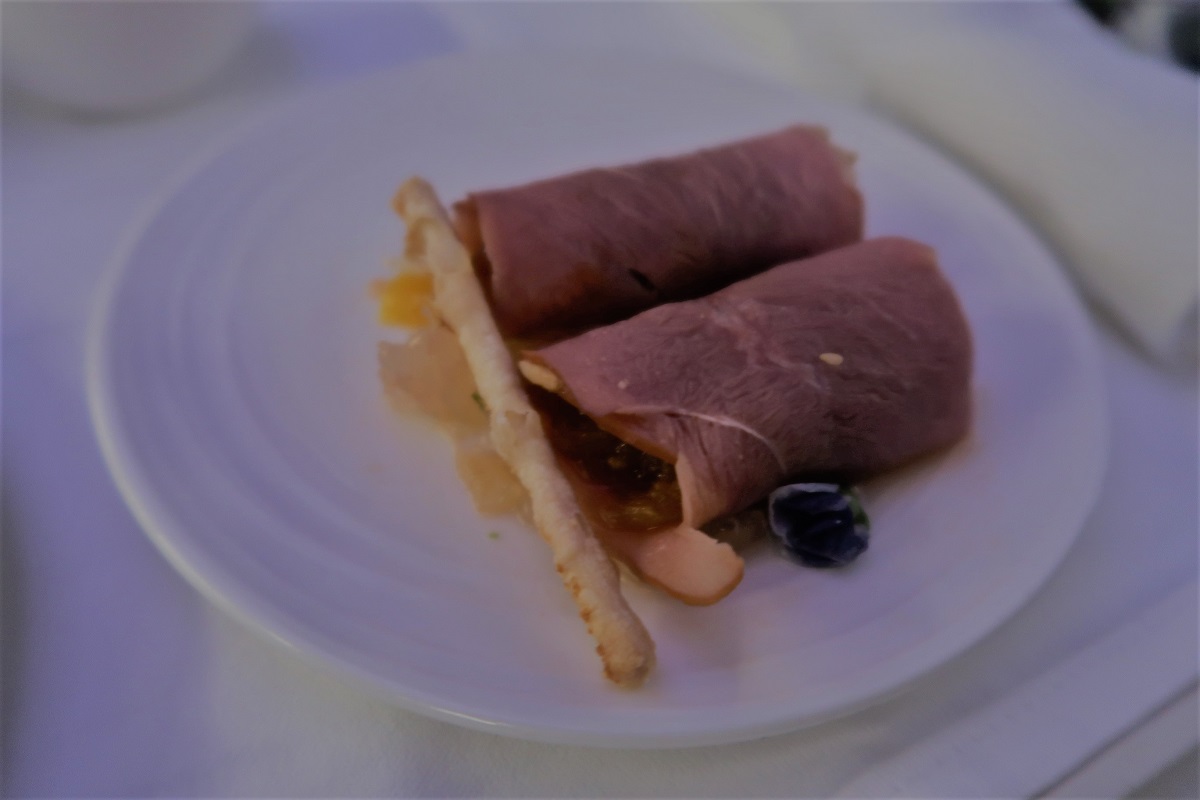 But one bite in, I know I've chosen the wrong dish. To me, the ingredients don't work together and the overall taste is challenging. I would be naive to think that Jellyfish would suit everyone as it is seafood so I simply chalk that one up as an experience. I'm only able to finish one of two pieces and wash it down with a pleasant drop of Champagne.
The main course
Thanking my lucky stars that I had opted for what was a surely safe dish, I enjoy another glass of Champagne before the main arrives.
My Malaysia Airlines business class dish of choice is Ayam Perchik Kelantan – a roast chicken marinated with kalangal, lemongrass, chilli, and coconut milk.
At this point, the flight is experiencing a bit of turbulence. However, the crew does an admirable job of serving and I enjoy the pleasant dish.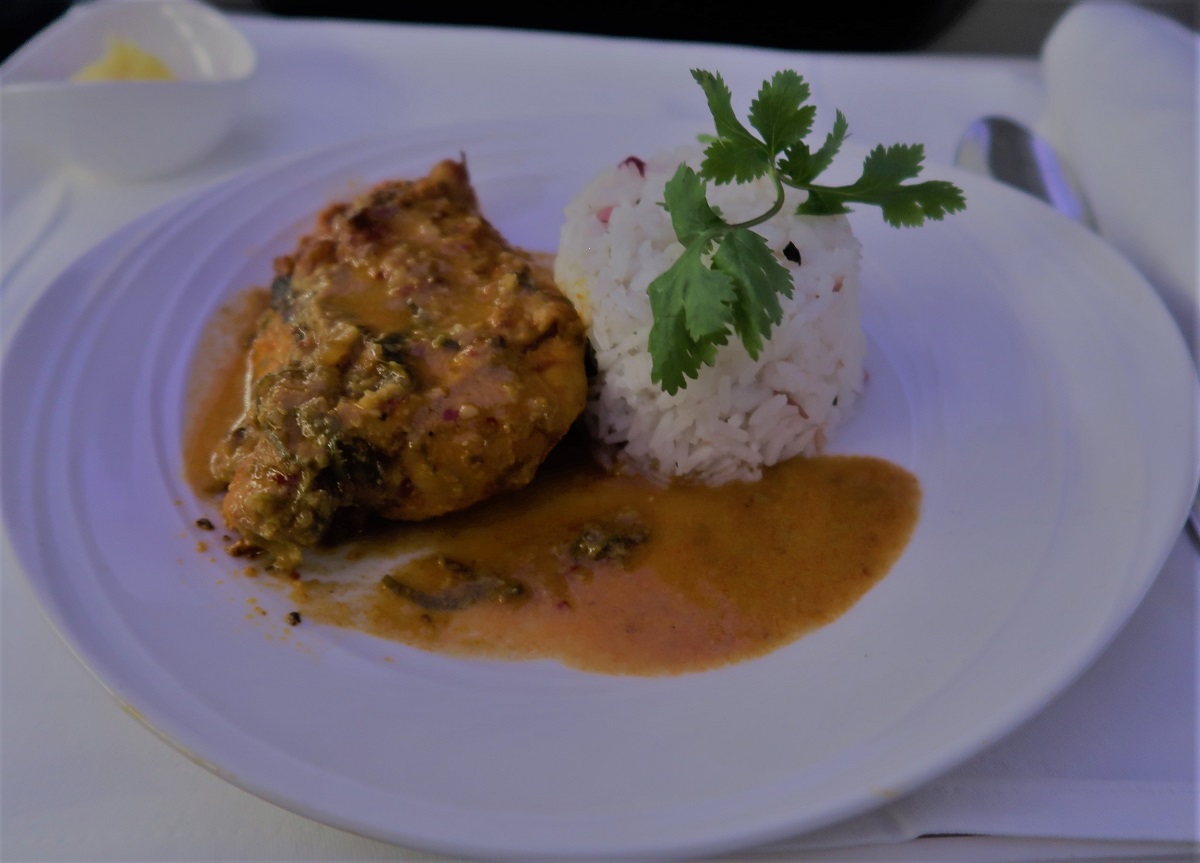 Dessert – yes please!
I'm pretty hopeful when asked whether I want chocolate or vanilla ice-cream. But when I'm handed a tub rather than it being served in a bowl with fruit and other Asian mango delicacies, I'm a bit disappointed.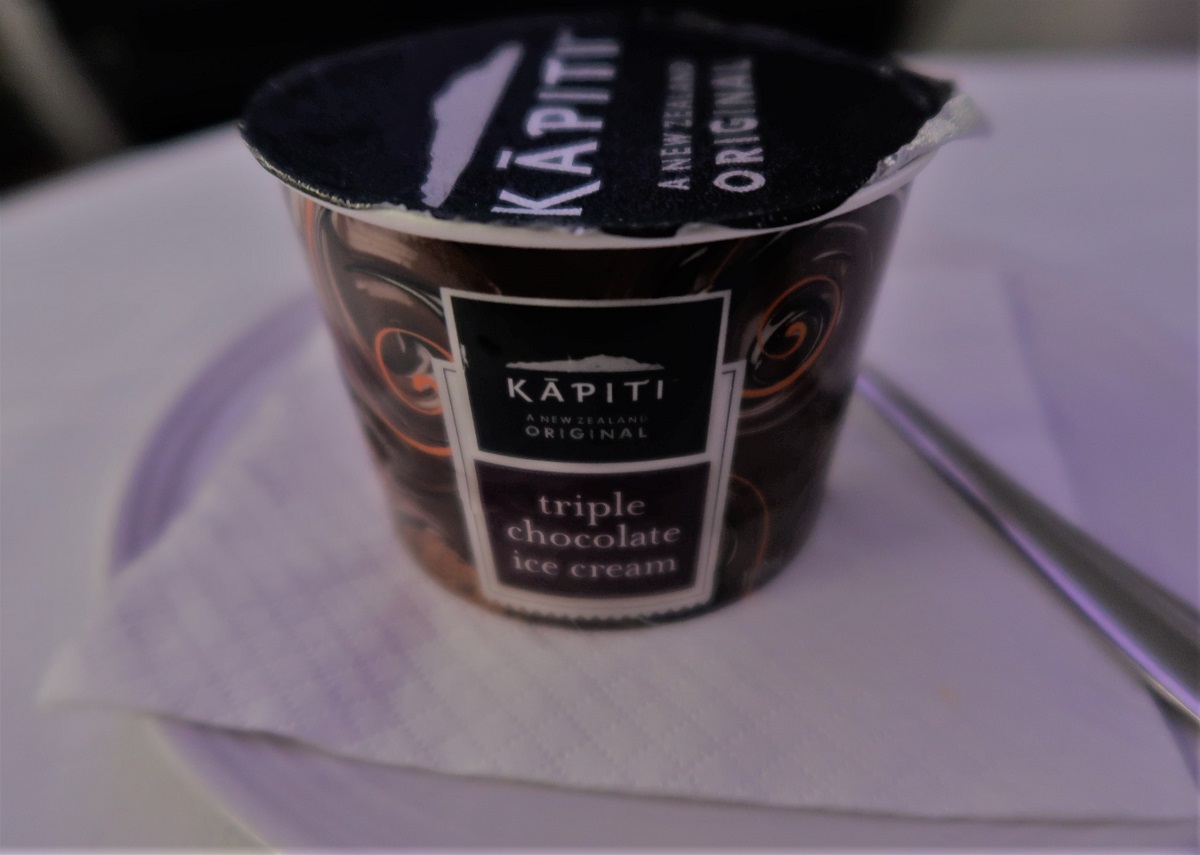 At least the ice-cream is from New Zealand, cold and triple chocolate!
Following dinner, Malaysia Airlines business class passengers can indulge in a heart-warming tea or something a little stronger if you desire. There are some decent whiskeys on offer or you could indulge in a nightcap with an Otard XO Gold Cognac.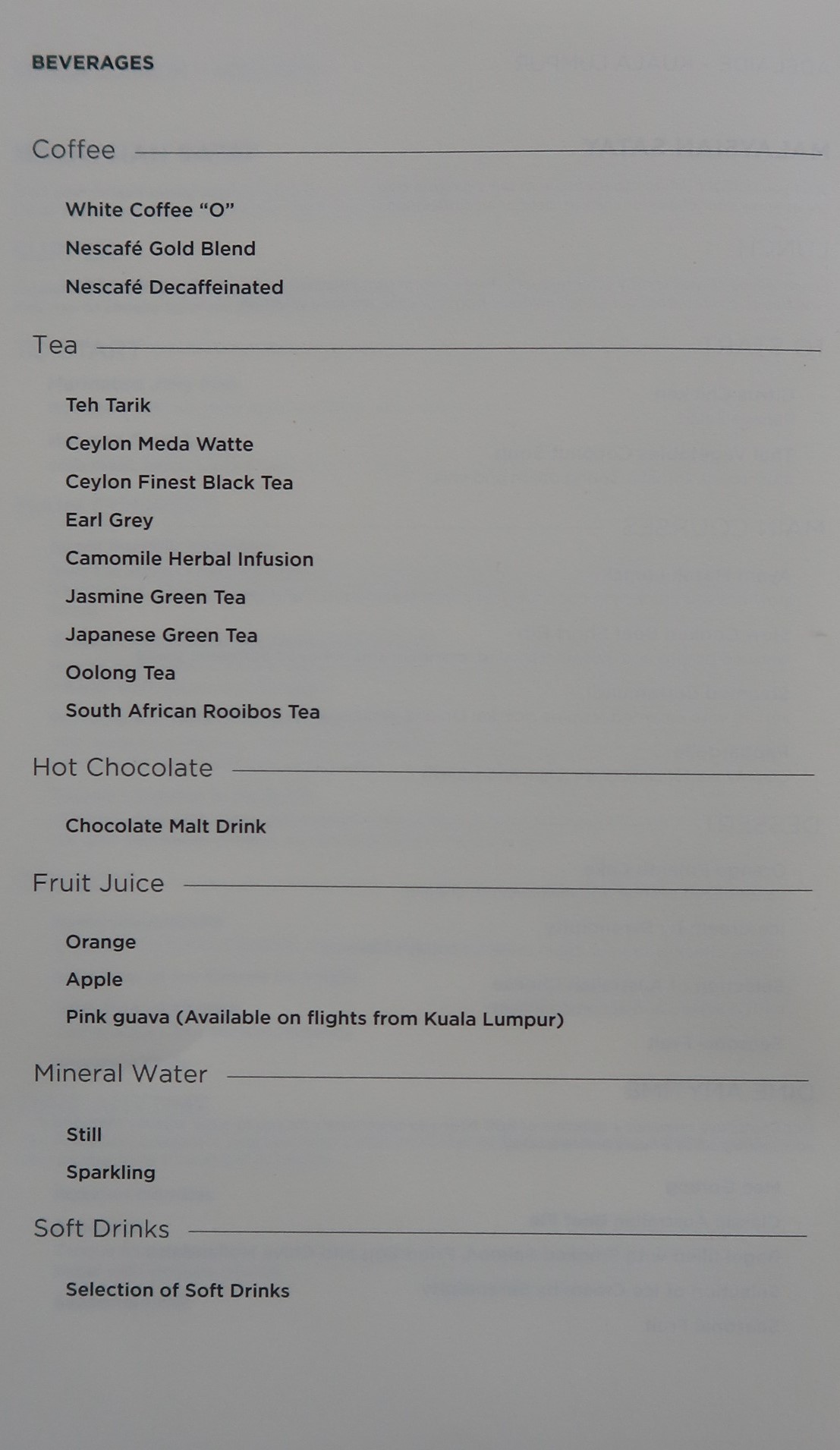 Bruno Paillard Champagne on pour in Malaysia Airlines Business Class
Now, some more about the champagne. As I mentioned earlier, I was pleasantly surprised to encounter an offering of Champagne Bruno Paillard Brut Cuvee Multi Vintage and corresponding Rose Premiere (a blend of 25 vintages going back to 1985!).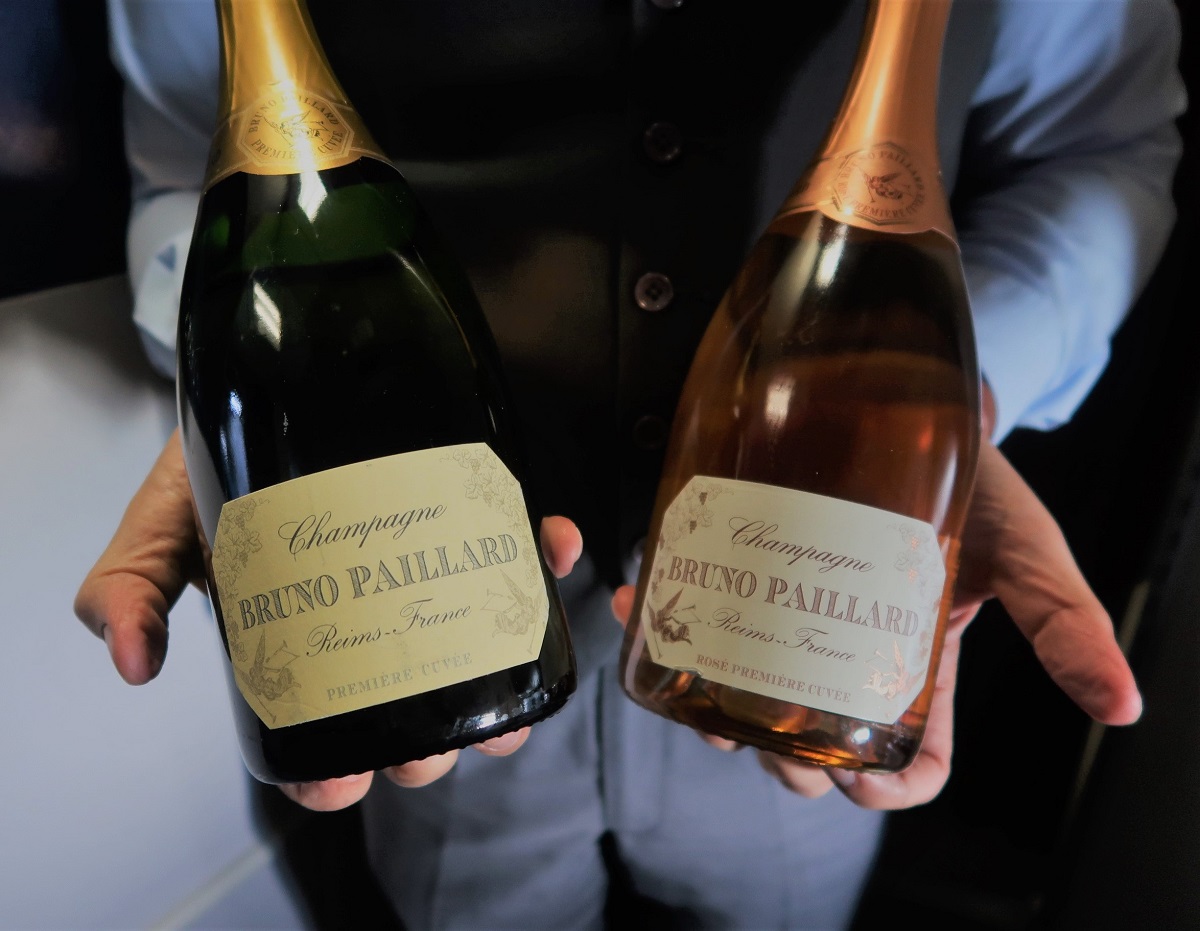 For those not in the know, Bruno Paillard is a young (1981) Champagne House based in Reims. The house style is known for strong berry flavours.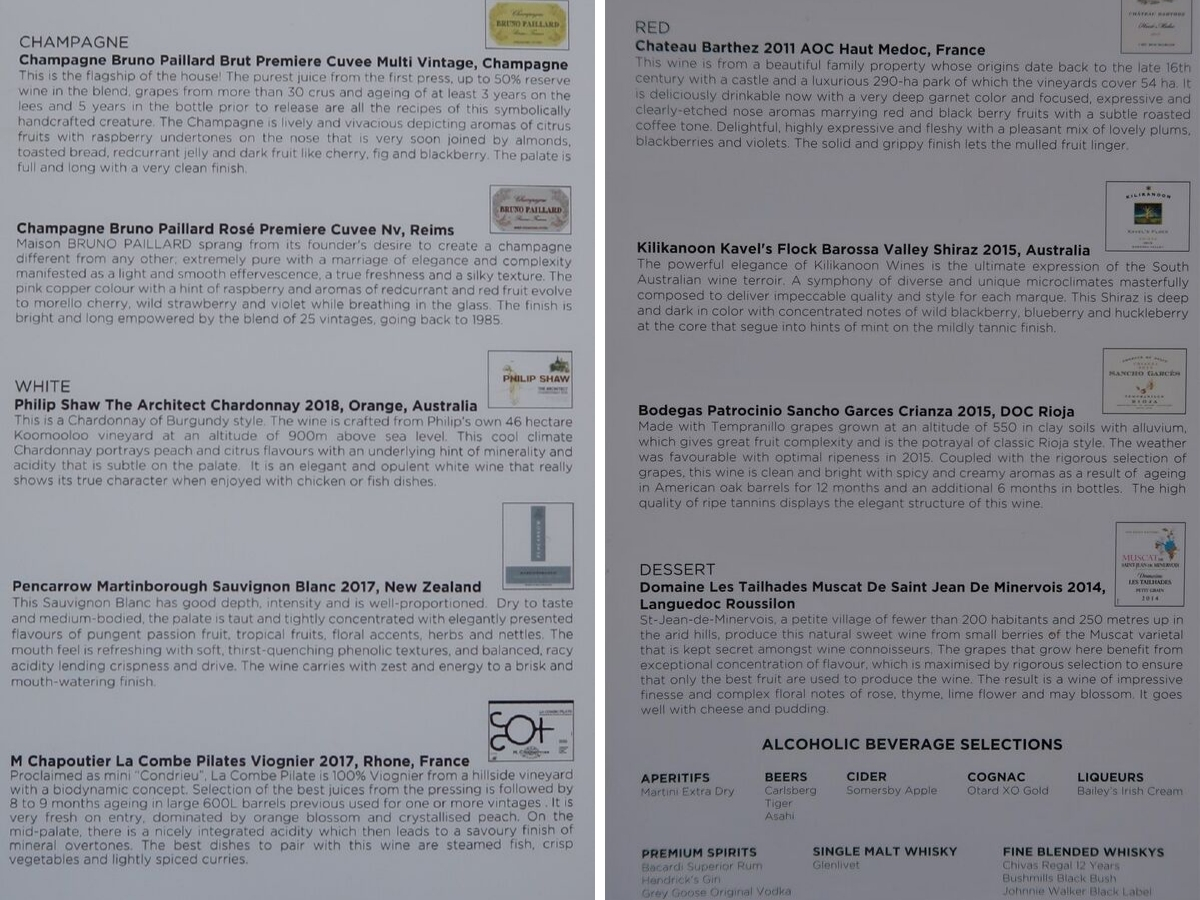 These champagnes are both lovely, and well worth sampling if you travel in Malaysian Airlines business class in the future.
Malaysia Airlines business class turndown
Very quickly after dinner the cabin lights dim and everyone settles into a movie or gets up and puts their seat into the bed position.
I have a quick browse of the movies on the entertainment system and I would have to say that the latest releases fall well short of expectations. It might pay to have a tablet loaded with your favourites on long-haul flights.
So, I make a poor attempt at making my bed up and catch some solid sleep for the next 5 hours on a full lie-flat bed, not a reclining seat! Was the bed comfortable? Yes, it's not so hard to sleep at 1 am.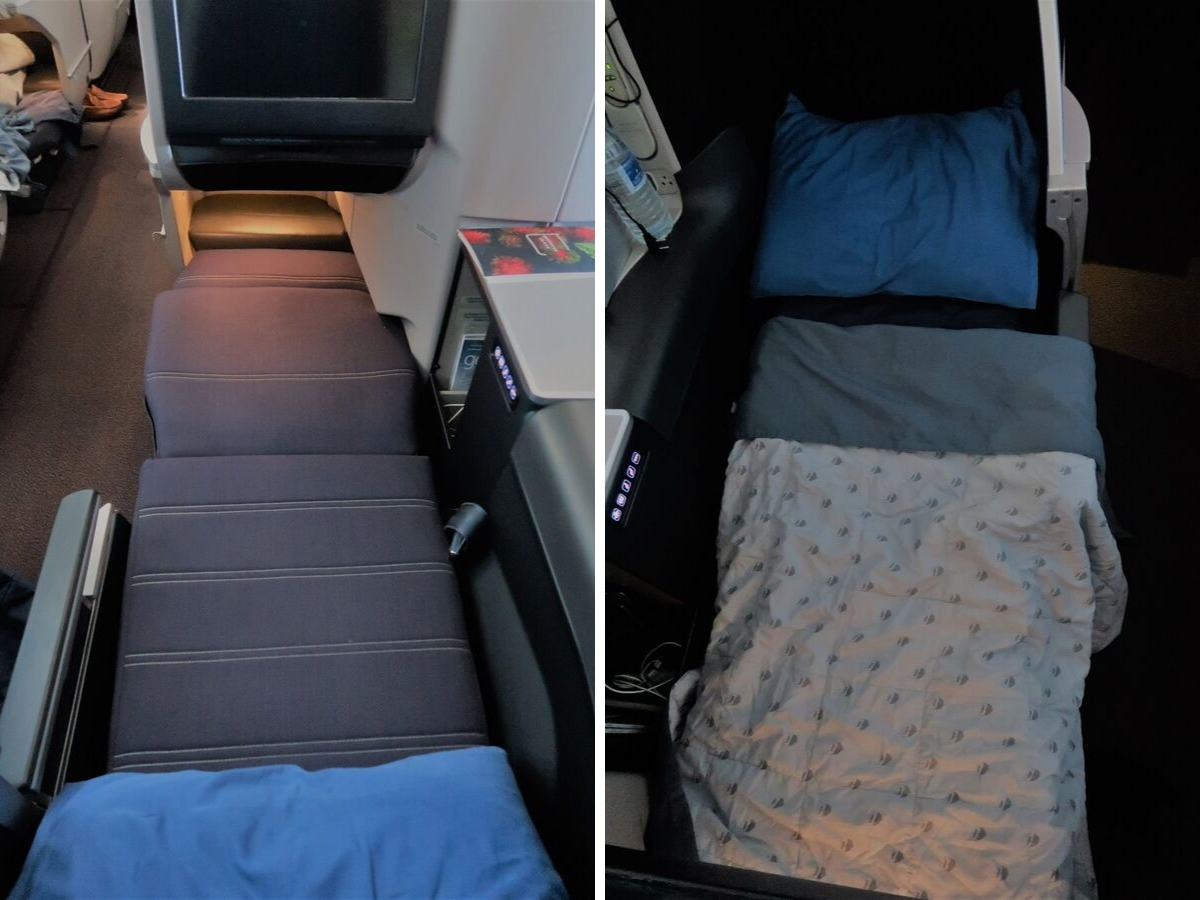 But… the seat is quite narrow overall and the footwell is a bit restrictive if you're long-legged, being the case for most business-class products.
Funnily enough, the centre-console located tray table is quite high and I was able to lie down without stowing my tray table. My laptop sits above me for 5 hours while I sleep, but it probably isn't too smart in turbulence!
One thing I notice is that there is an absolute minimum of cabin announcements overnight, which is appreciated as they're in two languages.
Getting ready to land
All too soon the cabin lights come on and it's about 45 minutes to landing. While I'm waiting, I can't resist having a look at what's in my amenities kit as it's just like opening a show bag. You learn a lot about an airline by having a look at the quality of the toiletries within.
Inside I find the usual socks, eye mask, comb and toothbrush accessories, a neat little mouthwash capsule, earplugs, and Payot lip balm and moisturising cream. All are enclosed in a super elegant Aspinal of London bag.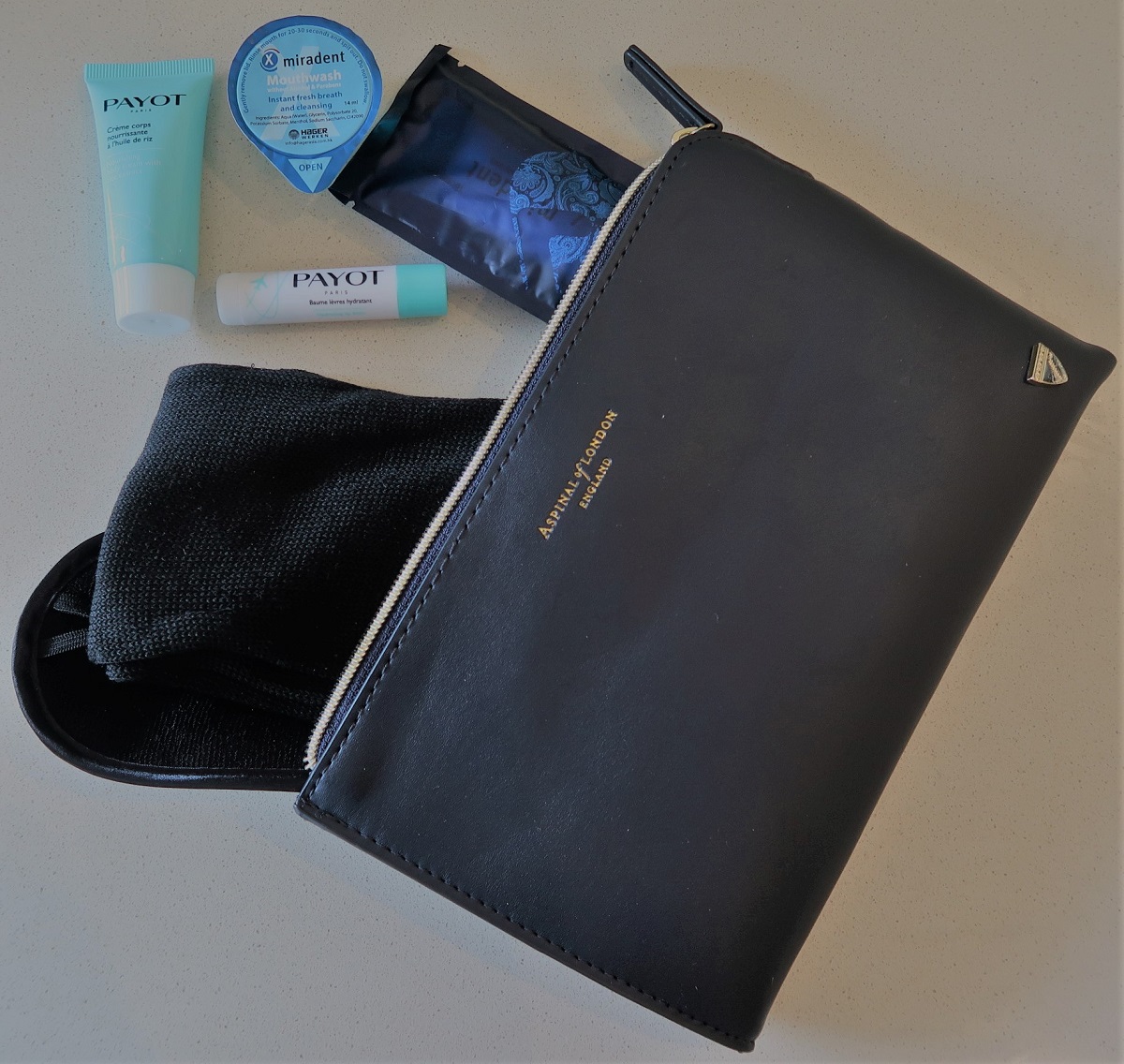 Disappointingly no breakfast is offered as we'll be on the ground just at 7.20 am.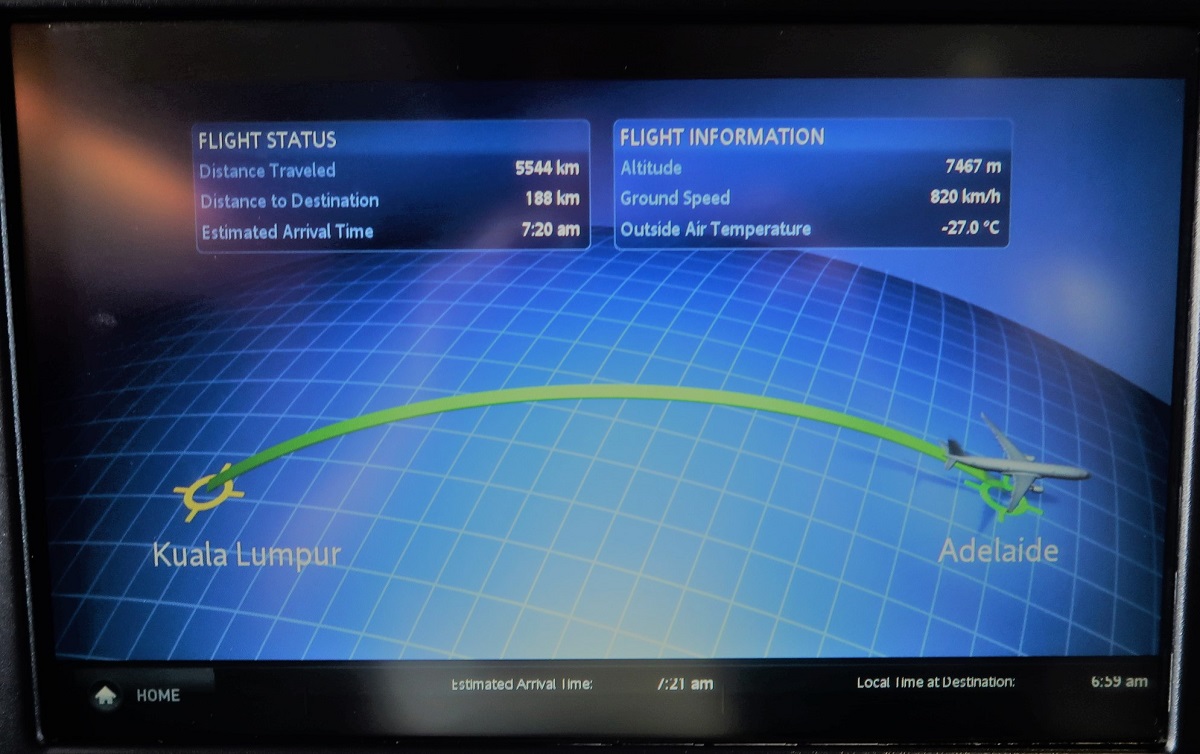 Malaysia Airlines business class: Verdict
Earlier, I mentioned my apprehension of flying Malaysia Airlines business class, but I need not have worried. My concern over its financial difficulties and losing two planes in recent memory doesn't appear to concern all Australians, particularly given the Business Class cabin was full.
Does Malaysia Airlines Business Class deliver? Yes, but with room for improvement.
The hard product is perfectly acceptable – it's a comfortable seat and bed, but the entertainment movie options need improvement.
The soft product is adequate with attentive staff and it offers good value for money, but the dessert situation needs to be fixed.
Of course, when you're flying through the night, you don't tend to drink or indulge in food as much as a day flight, but the lie-flat bed is worth its weight in gold.
So would I fly Malaysia Airlines again? Absolutely and what's more it's made all the more appealing by being accessible via the oneworld alliance for the average Aussie.
Are you tempted to try out Malaysia Airlines business class?
FAQ – Malaysia Airlines Business Class
What is the cabin configuration of Malaysia Airlines business class?
The seating configuration on the A330-300 differs from some other airlines as it uses alternate rows of 1-2-1 and 1-2-2 across the cabin. This creates three "throne seats" with additional space, looking forward to the right-hand side of the cabin.
Travellers departing from Perth should choose their flight with care – as Malaysia Airlines does alternate 737 and A330 aircraft on the Perth to Kuala Lumpur route. With recline-only seats (similar to Qantas 737 business class) the Malaysia Airlines 737 should be avoided.
How often does Malaysia Airlines fly from Kuala Lumpur to Adelaide?
Flights leave Kuala Lumpur five days a week, departing Friday, Saturday, Monday, Wednesday, and Thursday at 10.20 pm and return leaving Adelaide at 9.30 am the following mornings – Saturday, Sunday, Tuesday, Thursday, and Friday.
Which points currency is best for Malaysia Airlines business class?
Many Australian travellers will use Qantas points to book Malaysia Airlines business class, primarily because the Qantas Frequent Flyer points currency is easy to earn and redeem here. However, it is possible to book Malaysia Airlines award flights with a range of other airline loyalty schemes – namely Oneworld airline partners.
Partners such as Asia Miles and American Airlines AAdvantage can offer sharp award pricing. It's also possible to book flights with the Malaysian Airlines Enrich loyalty program.
While you're here: Subscribe to our newsletter for the latest tips, deals and news. It only takes a few seconds and we respect your privacy: