Discover the British Airways Singapore Lounge, located at Singapore Changi Airport.
Usually, when I think about British Airways, I conjure up visions of a slightly dated business class cabin and exorbitantly high passenger surcharges.
However, when it comes to lounges, British Airways hosts some seriously stylish spaces to relax in. And on my initial visit to the British Airways Singapore Lounge, it's fair to say that I was pleasantly surprised.
Here's the TCM take.
Located at Terminal 1, the British Airways Singapore Lounge is found one level up from the main concourse. Conveniently, it's also just a stone's throw from the Qantas Singapore Lounge. The space was renovated quite recently, in 2015.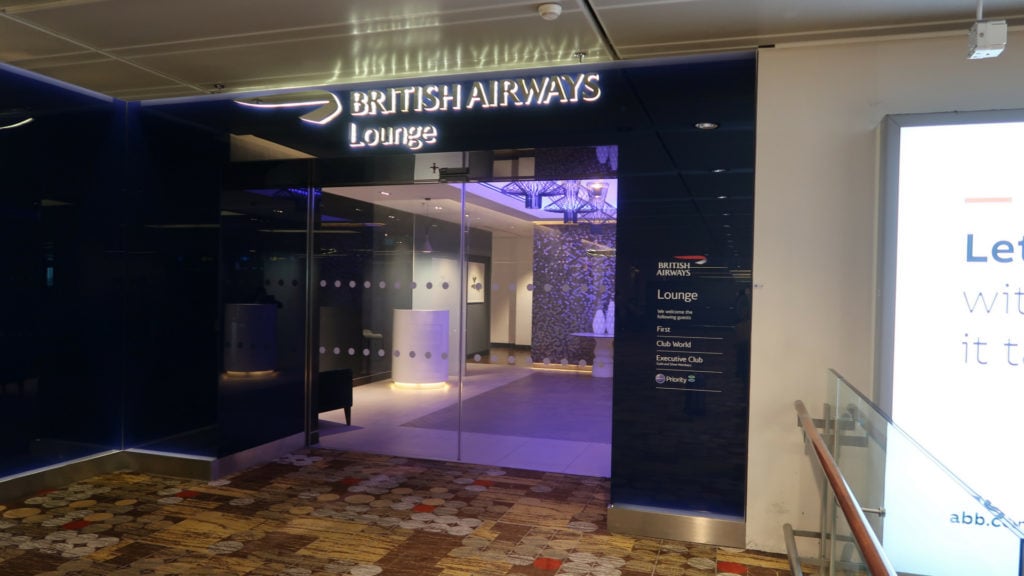 I'd found myself killing time at Changi Airport Terminal 1 before an evening first-class Qantas flight. I'd anticipated spending most of my time at the popular Qantas Singapore Lounge. However, I found myself looking for another lounge option as the Qantas space became increasingly overcrowded in the late afternoon.
Approaching the British Airways Lounge entrance at around 5 pm, I was warmly welcomed by the attendant at the front desk and escorted through. The entrance area is beautifully designed, featuring sleek sliding doors, soft purple lighting, and a variety of interesting sculptures and light fixtures.
Primarily an open plan space, the BA Lounge is cleverly partitioned into a number of different areas which accommodate relaxing, working and dining.
As you move past the front desk, to the right, you'll find the entrance to the famed British Airways Concorde Bar.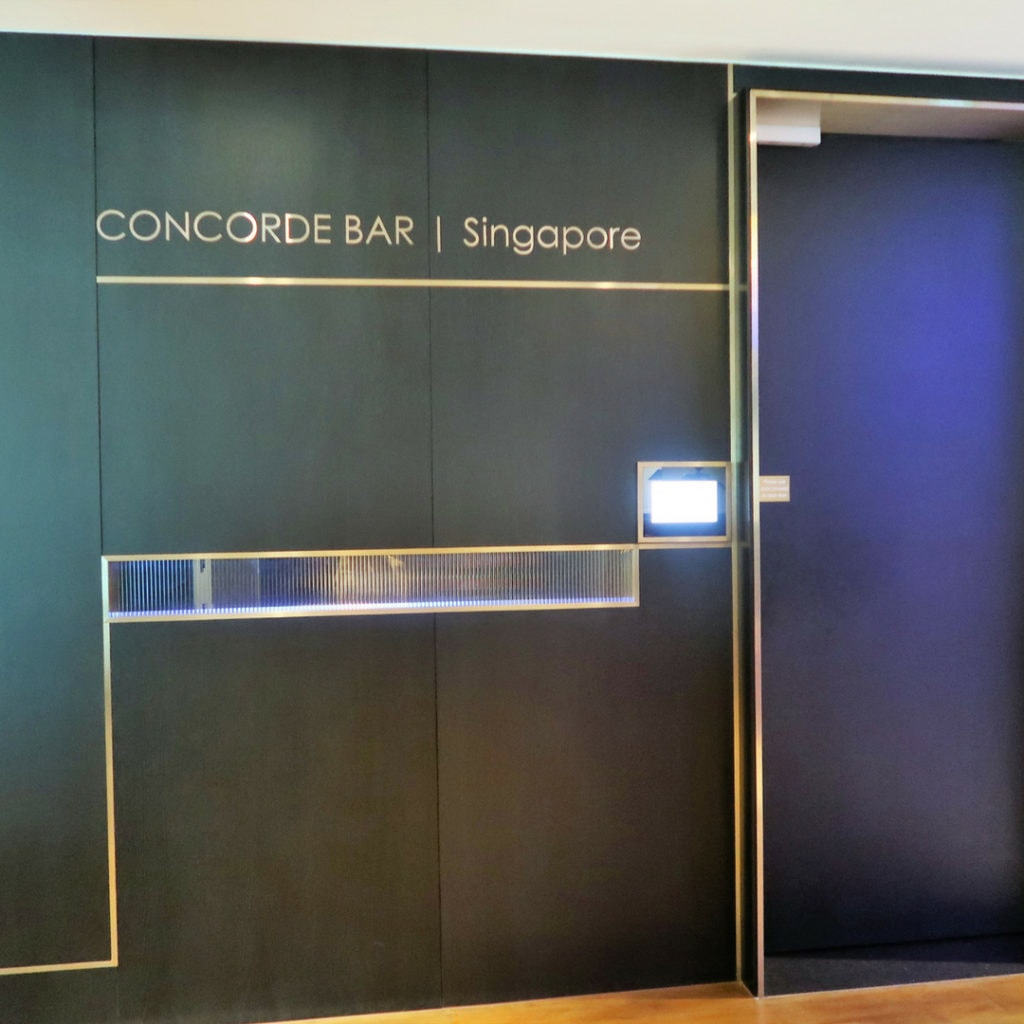 Sadly, I was unable to get a glimpse behind the panelled wooden doors on this occasion. This is because the Concorde Bar is reserved for the exclusive use of British Airways first-class passengers. While I was travelling Qantas first class that evening, unfortunately, that didn't cut the mustard.
Near to the entrance to the Concorde Bar, you'll find a sitting area and a magazine rack.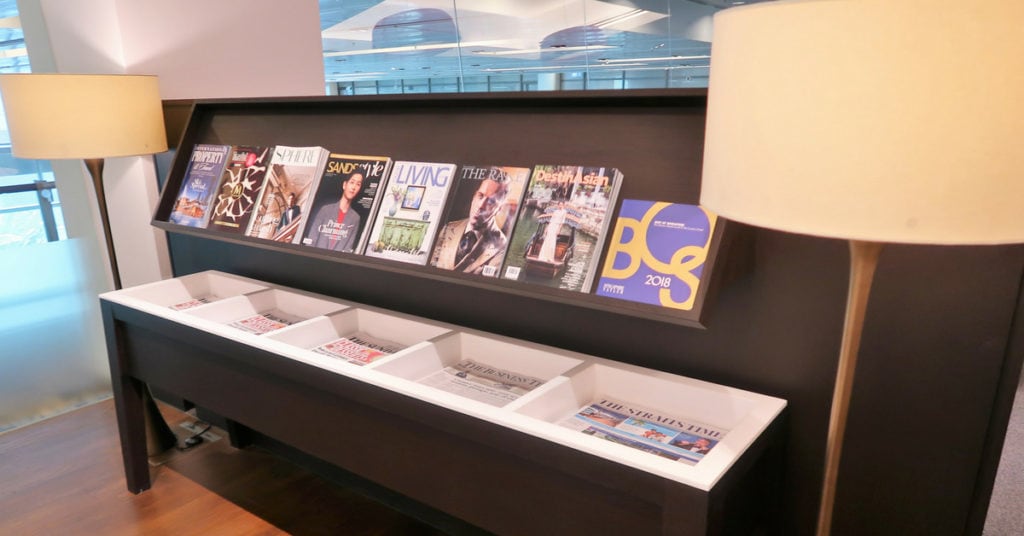 Beyond that, in the middle of the lounge, a series of high bar tables and dining tables are situated. The style and lighting that British Airways has used here is similar to what we see in Qantas domestic and international business lounges.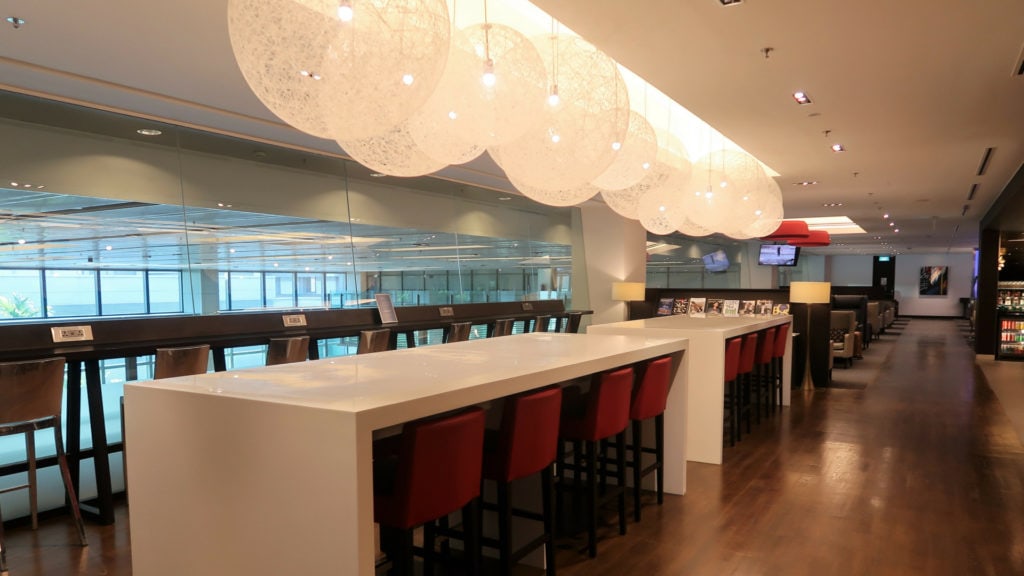 The food and refreshment section is located to the right of the dining area. This area features a stunning, curved bar in the middle, which acts as the centrepiece of the lounge.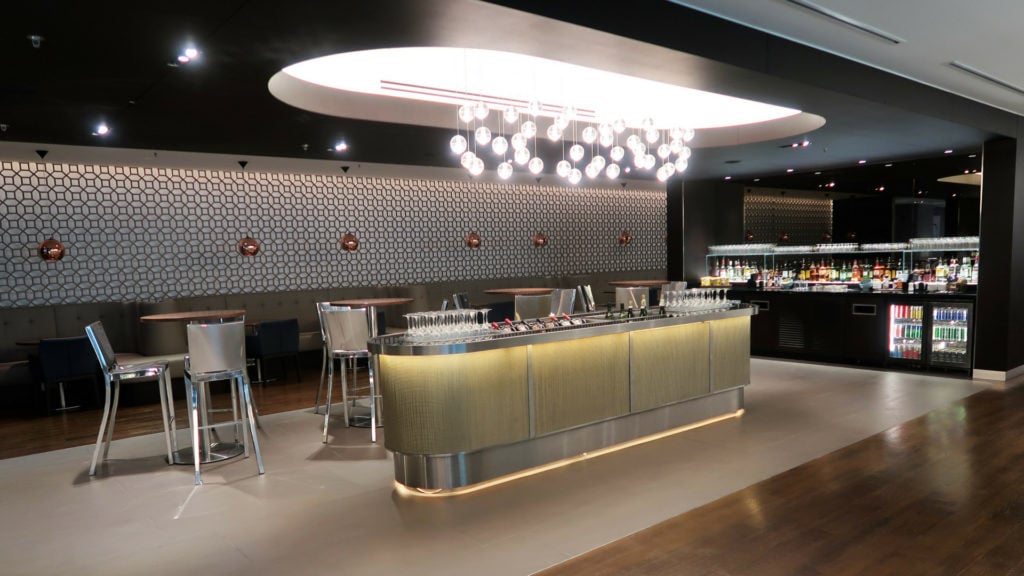 On my visit, a range of red and white still wines were on display, plus a sparkling (no Champagne was available, unfortunately).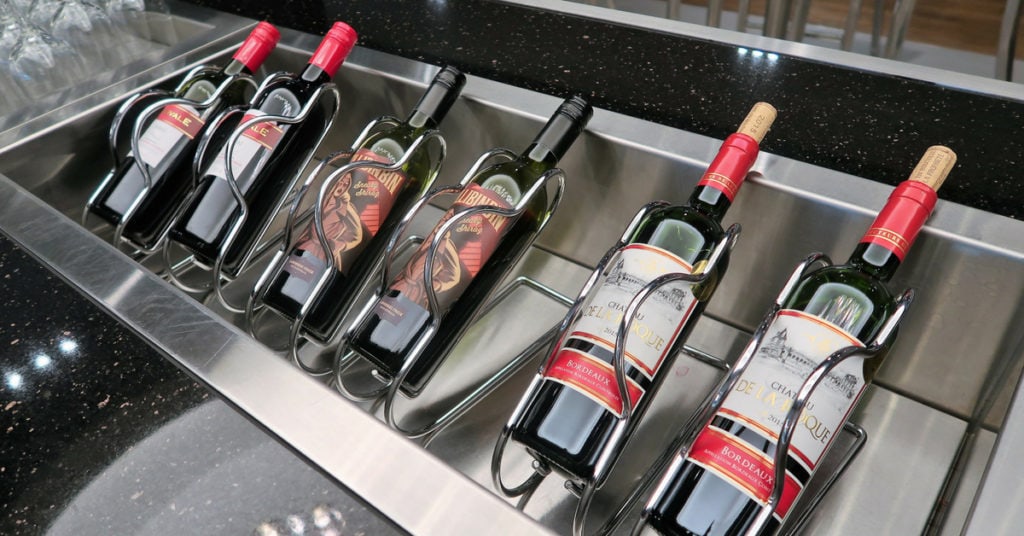 The far side of the food and refreshment area features spirits, soft drinks for self-service. Being a British Airways lounge, crisps (or chips, as we say in Australia) were on offer, too (of course!)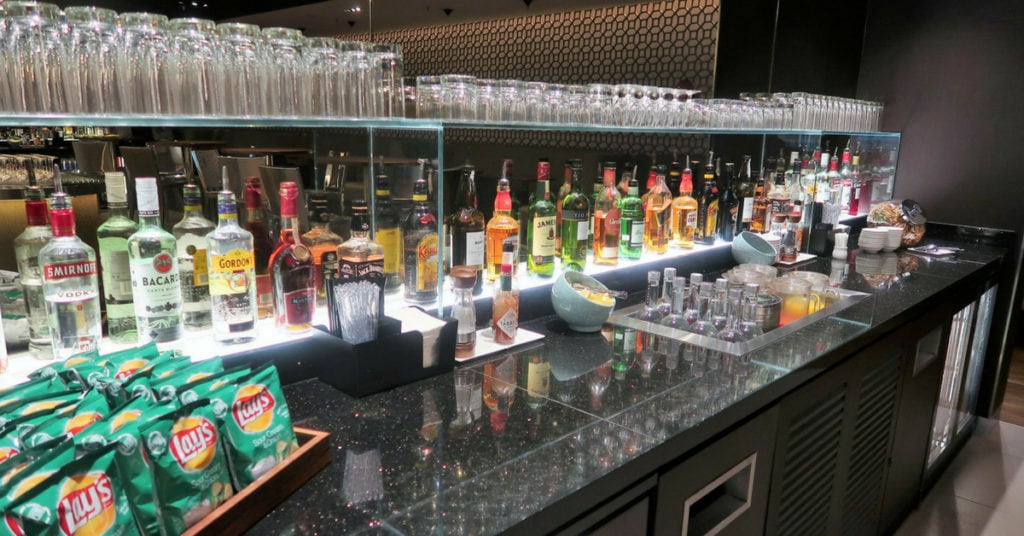 On the other side of the section, you'll find a hot and cold food buffet spread. Hot dishes on offer at the time of my visit included a couple of tasty curries, penne pasta and satays.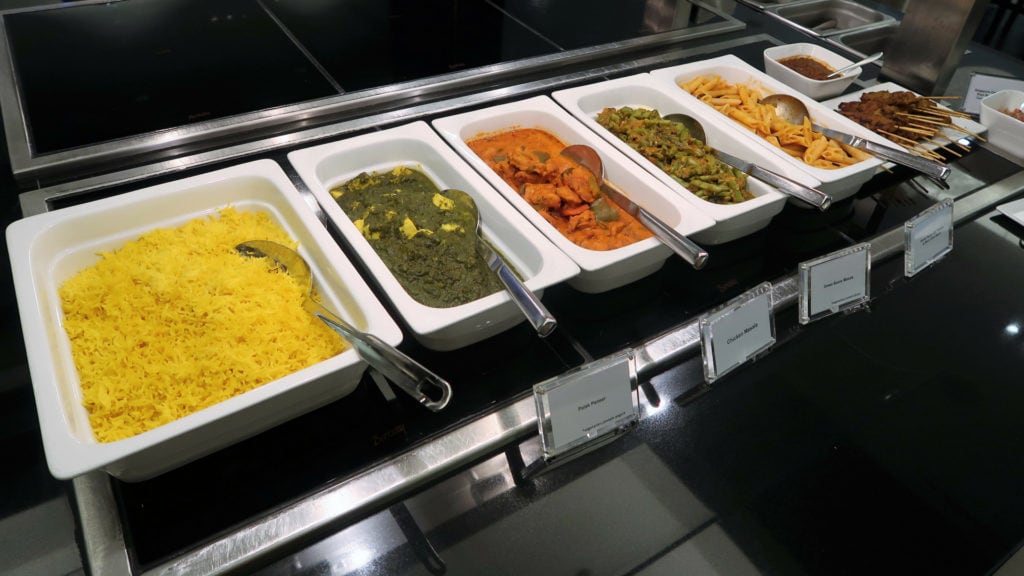 Meanwhile, the cold buffet presents several types of sandwiches, fruit, cheese and mini desserts.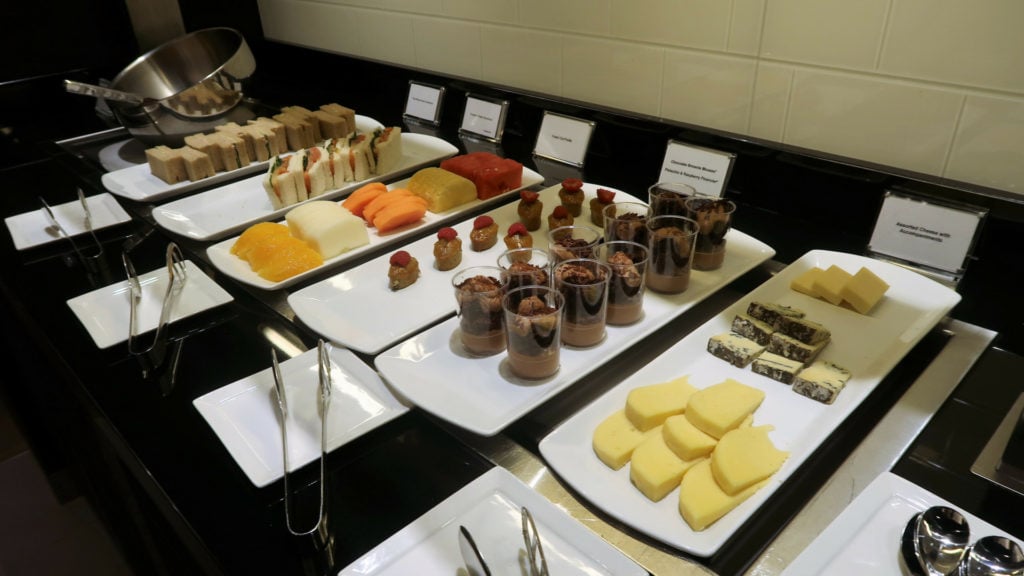 Moving past the dining area and continuing down the walkway, you'll find a range of different lounging areas. Out in the open, there are numerous pods of square armchairs. Some are starting to look a touch worn.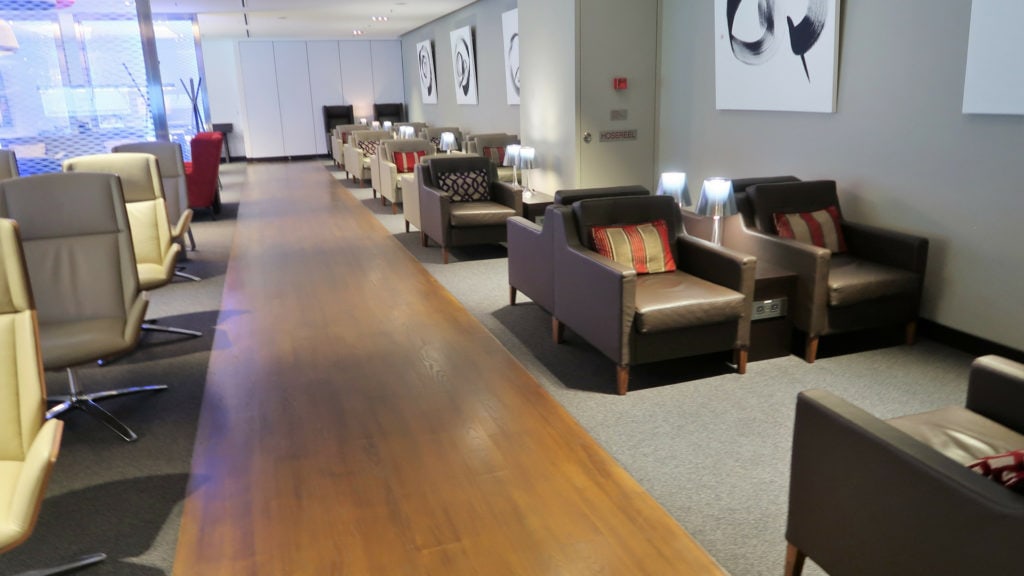 These armchairs feature a middle table with powerpoints, so are handy to perch at if you're charging a device.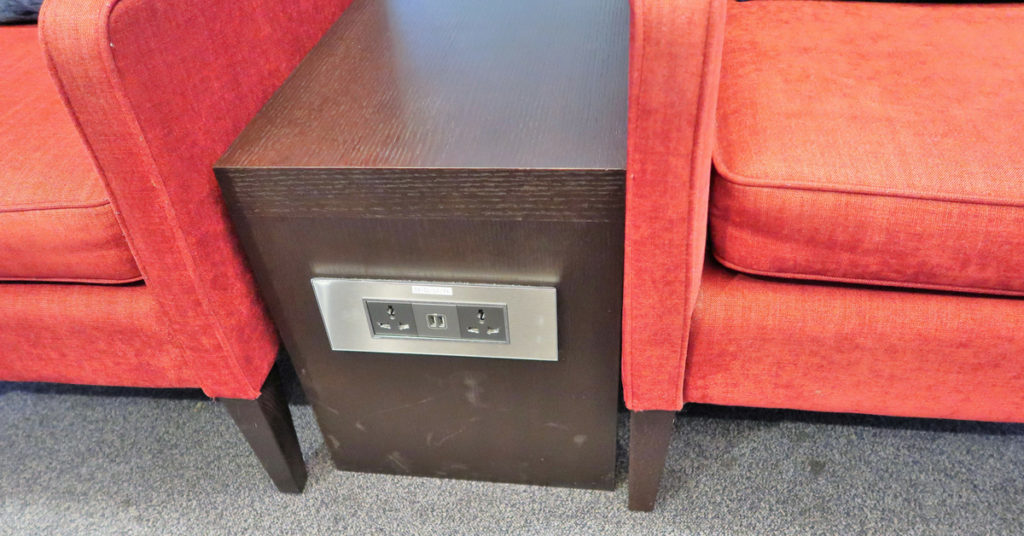 In other areas of the British Airways Singapore Lounge, you'll find stylish high-backed leather chairs…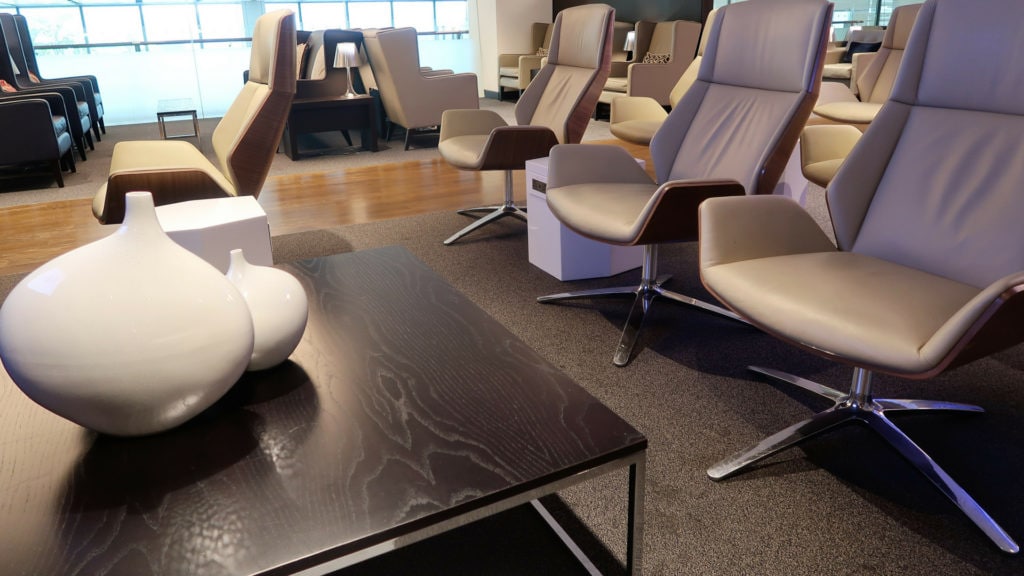 …along with clusters of lounge chairs discretely sectioned off behind artfully designed privacy screens.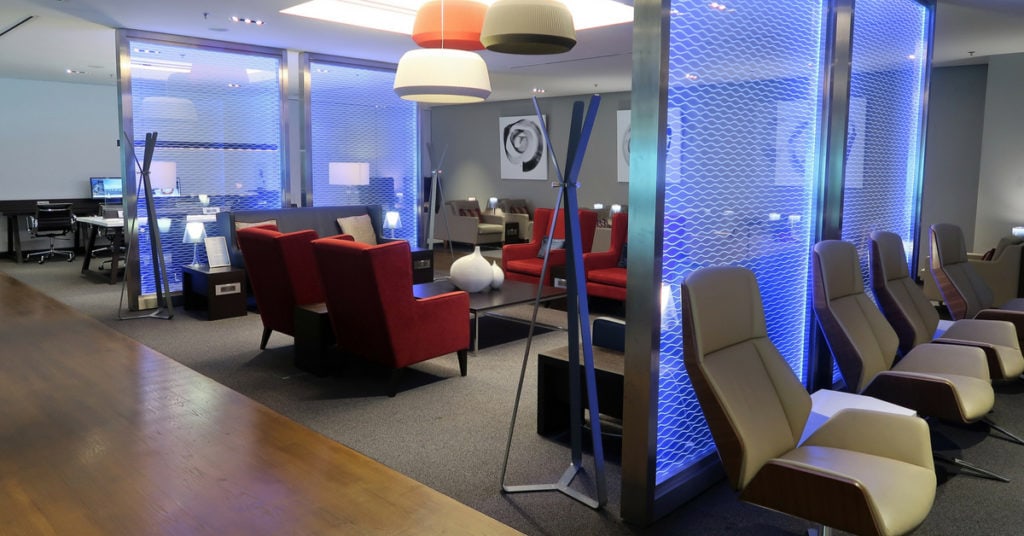 A brightly lit, open plan business centre is located at the very back of the lounge.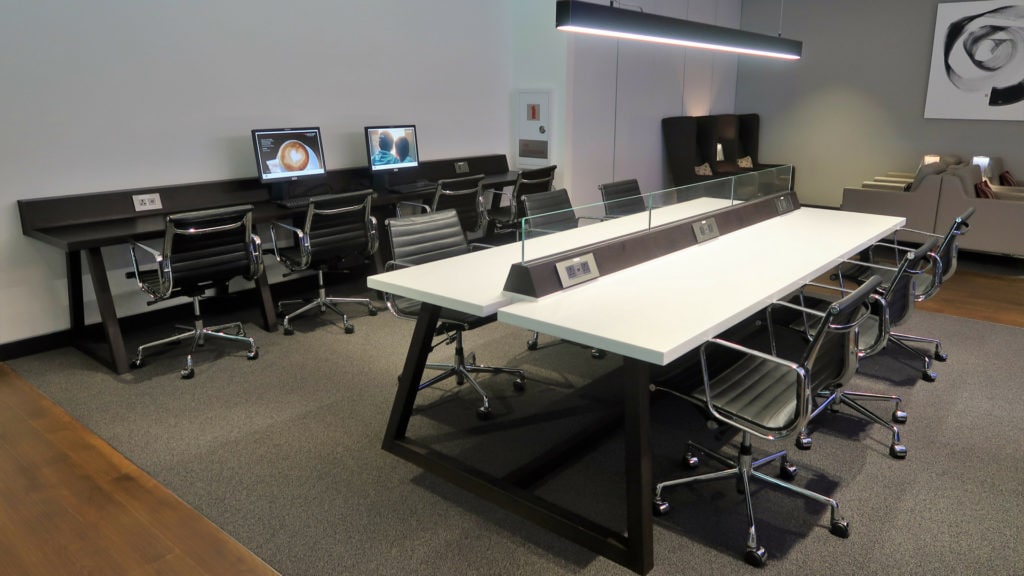 There was no dedicated children's area that I could see. If you're travelling with little ones, you might be best to stick with the chaos of the Qantas Singapore Lounge.
Who can access the British Airways Singapore Lounge?
This is a mixed-use business class and first class lounge (with British Airways first-class passengers, of course, gaining exclusive entry to the private Concorde Bar).
In addition to British Airways first class and business class passengers, British Airways Singapore Lounge access is granted to Qantas Frequent Flyers holding Gold and above (by virtue of OneWorld Emerald and Sapphire status) who are travelling onwards on a OneWorld partner airline. British Airways Silver and Gold Executive Club Members also get access.
British Airways Singapore Lounge – My verdict
All in all, this lounge exceeded my expectations. The service, decor and refreshment offerings were all of a solid standard. Furthermore, with only a very small number of travellers choosing to avail themselves of this lounge when I visited, I found it a relaxing and quiet sanctuary.
While it doesn't offer the opulence of the Singapore Airlines 'The Private Room', it's easily one of the nicer lounges I've had the pleasure of visiting at Singapore Changi Airport.
With the Qantas Singapore Lounge often struggling to meet demand at peak times, the British Airways Lounge is a lesser-known but very appealing option lounge for Qantas passengers departing outbound flights from the Lion City.
While you're here: Subscribe to our newsletter for the latest tips, deals and news. It only takes a few seconds and we respect your privacy: