The SATS Singapore Premier Lounge in Terminal 2 at Changi, Singapore Airport is part of the Priority Pass network and used by various airlines.
Recently, I visited this lounge before flying from Singapore to Kuala Lumpur in business class on Malaysia Airlines. This lounge was the winner of the Priority Pass Lounge of the Year in 2017.
Read on to find out how it fares.
Finding the SATS Singapore Premier Lounge in Terminal 2
The first thing to note is that there are 3 SATS lounges in Terminals 1,2, and 3 at Singapore Airport. Over a dozen airlines contract with SATS for their lounges here, so your customers are a diverse bunch.
Don't go heading off to the wrong Lounge in the wrong terminal as you'll likely miss your boarding call, given how big Changi is.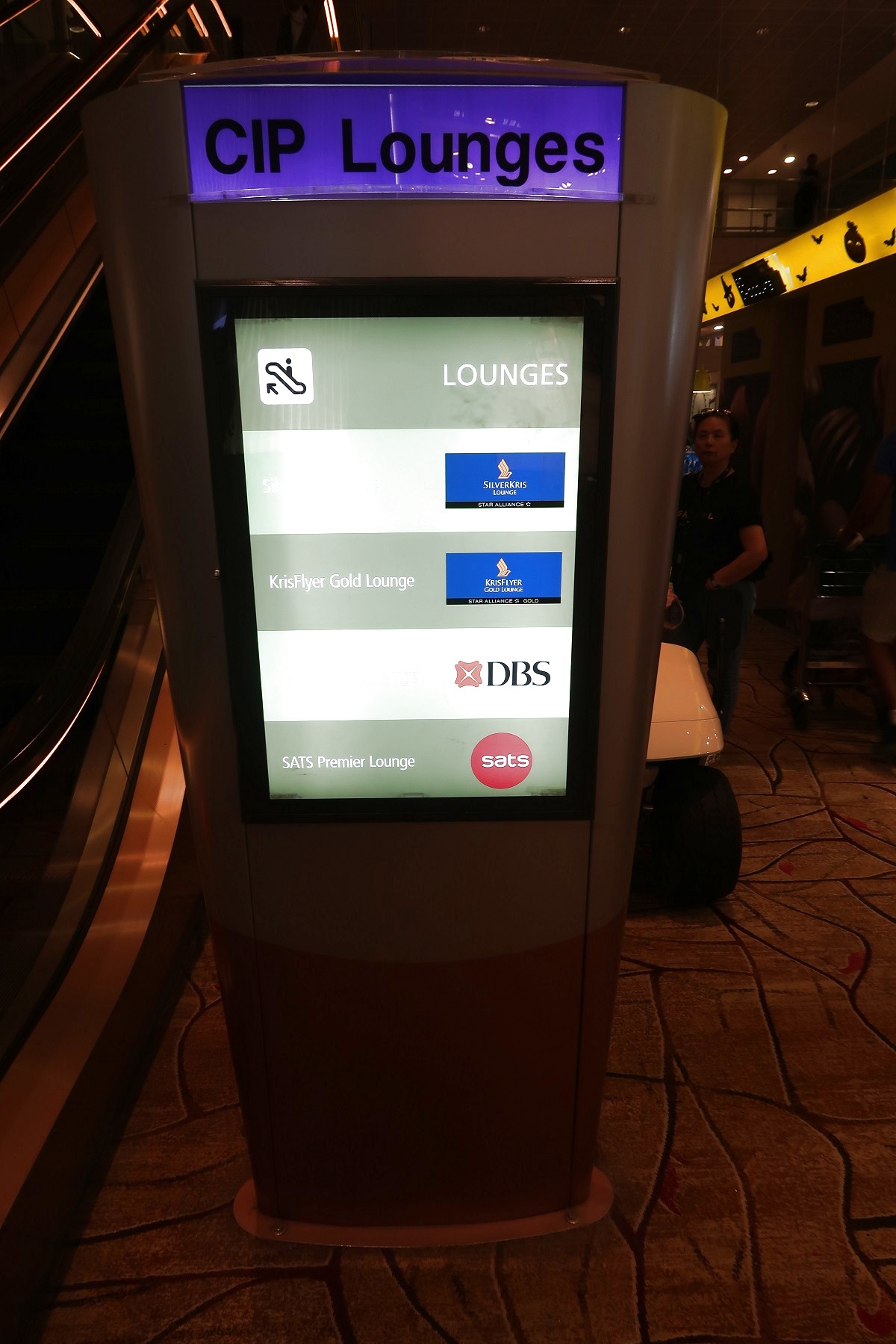 Getting through customs and security in Terminal 2, head upstairs by following the lounge signs. Walk down toward the Singapore Airlines Lounge, stop short at the DBS Lounge to see the SATS Singapore Premier Lounge all on its own across the other side of the mezzanine. You can't miss it. Just remember to visit The Jewel, too, if you have time!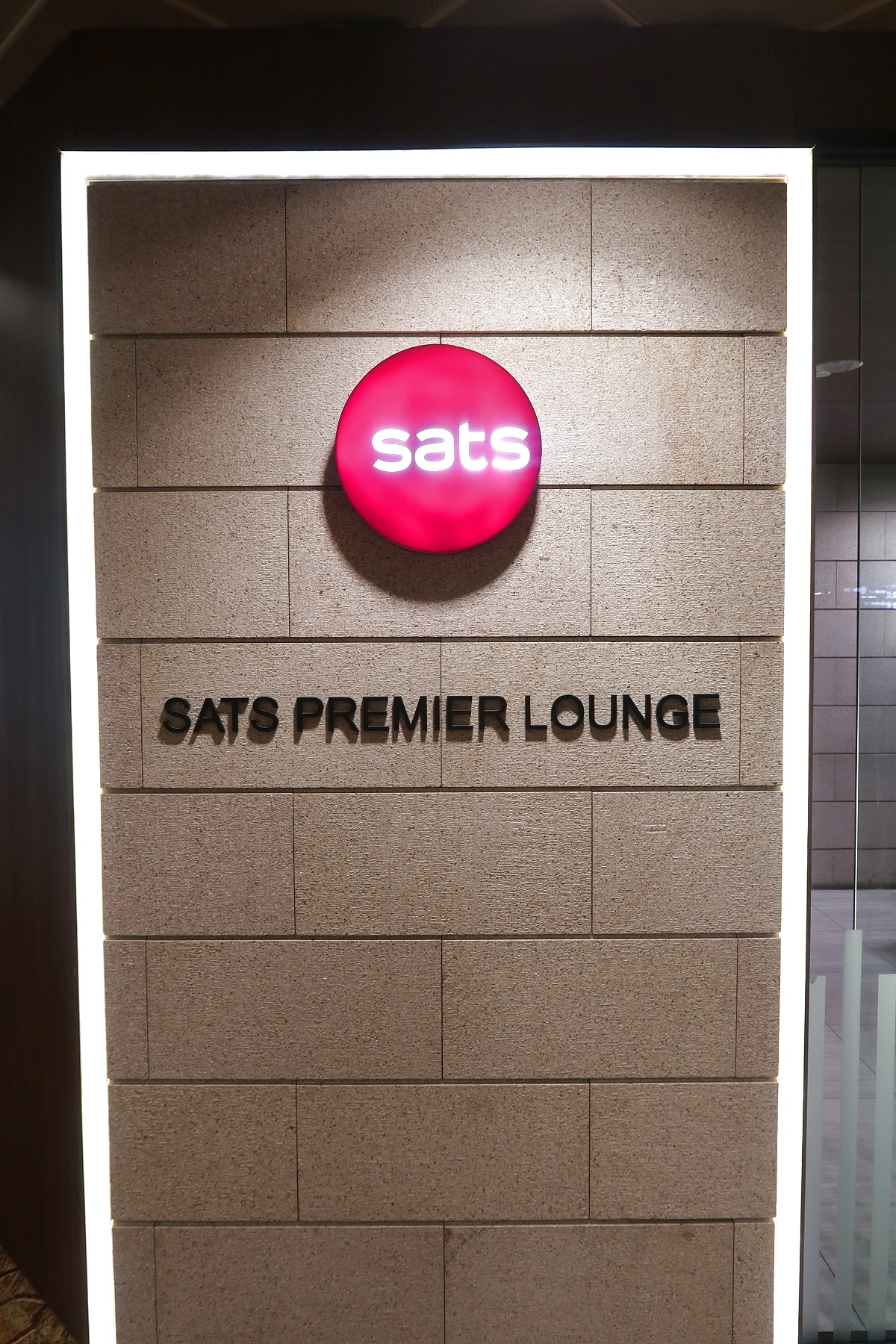 First impressions
Entry is all very quick with a boarding pass scan and straight through to the lounge.
The first thing I notice is that the decor is functional but lacking any distinct airline orientated character. It's clean and in OK condition, but due to the open plan, there aren't any nooks or crannies that make a place so much more comfortable. It has an almost sterile feel.
Furthermore, the space is not that large. Having said this, it's a high throughput contract lounge, open 24 hours per day, so maybe I'm being a bit precious.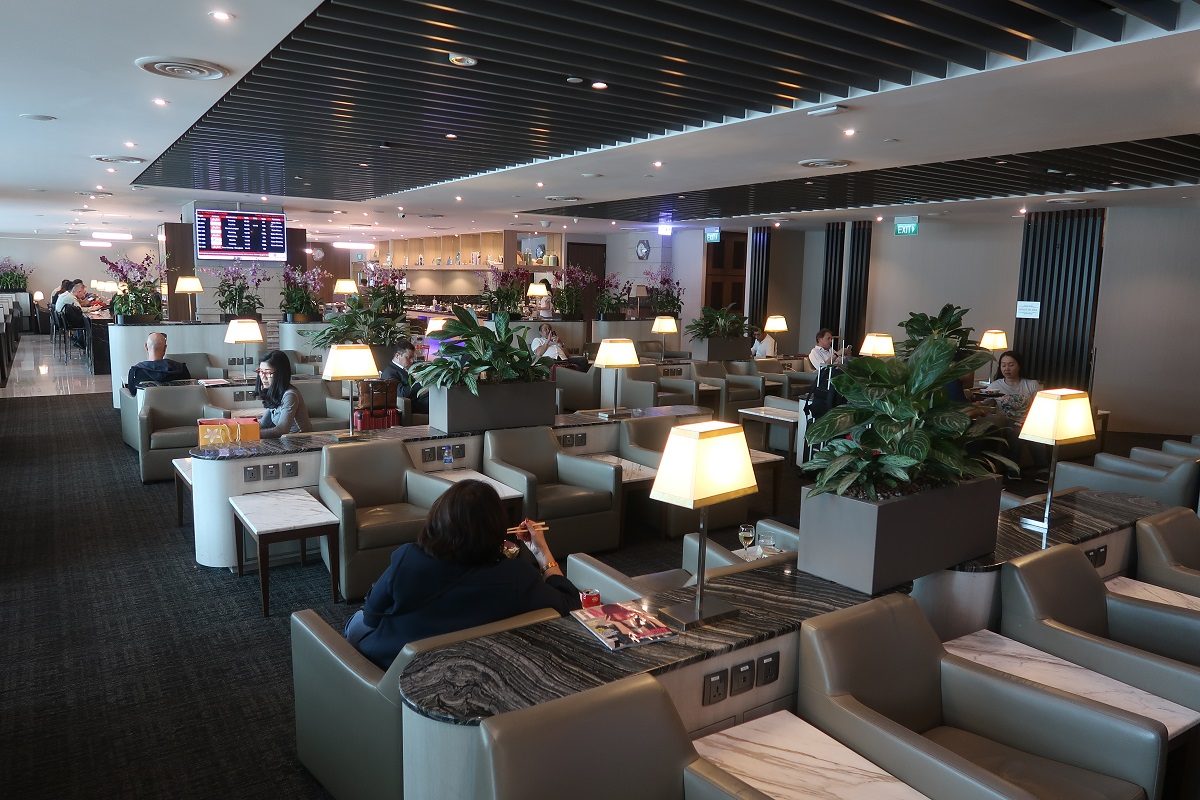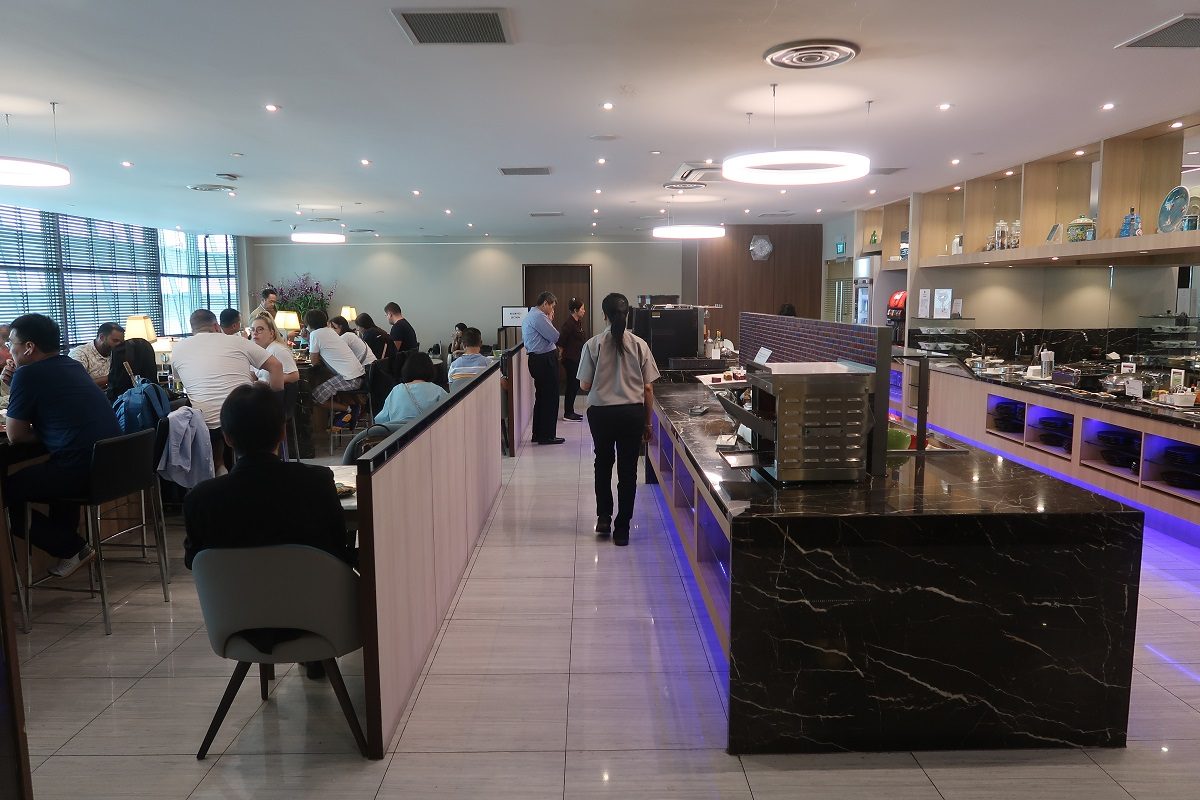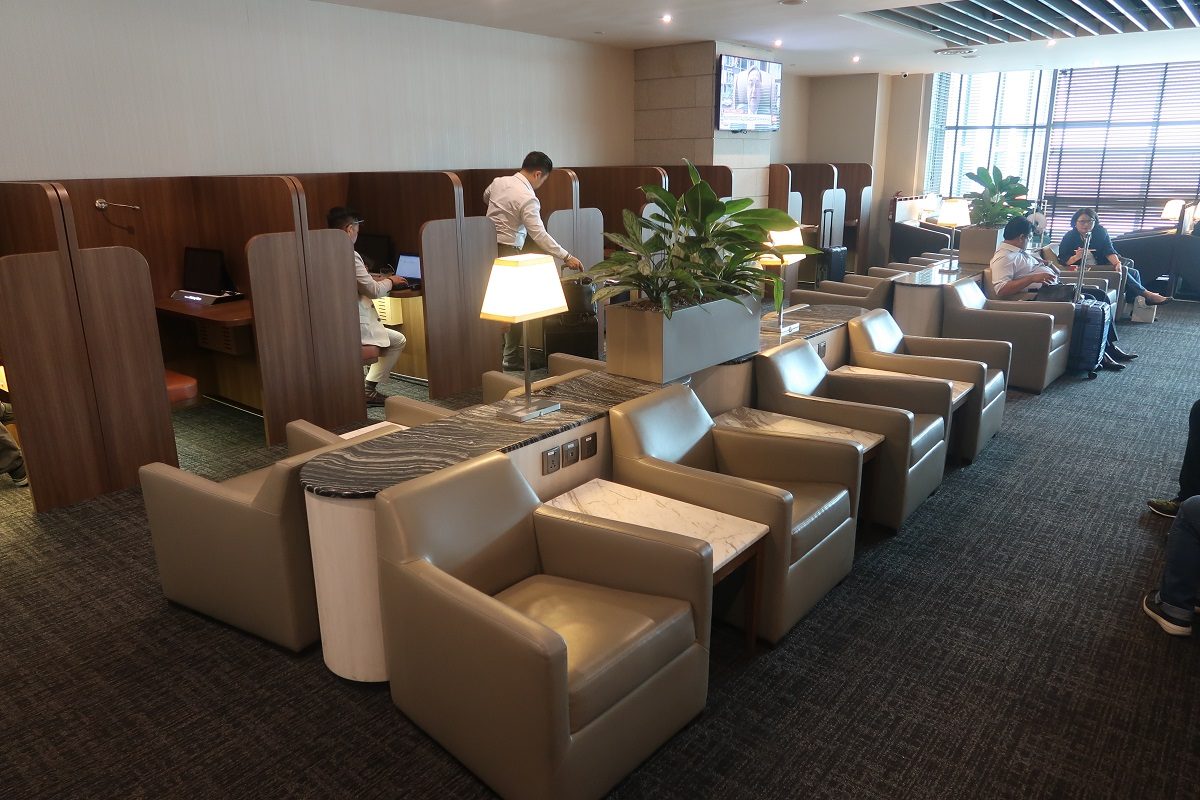 There is one space that catches my eye – I kind of like it and know it will work for me as I write this review – it's a row of work cubicles lining one wall. They're cosy and neat and well set up for the business traveller, perfectly positioned to can get away from the foot traffic for a while.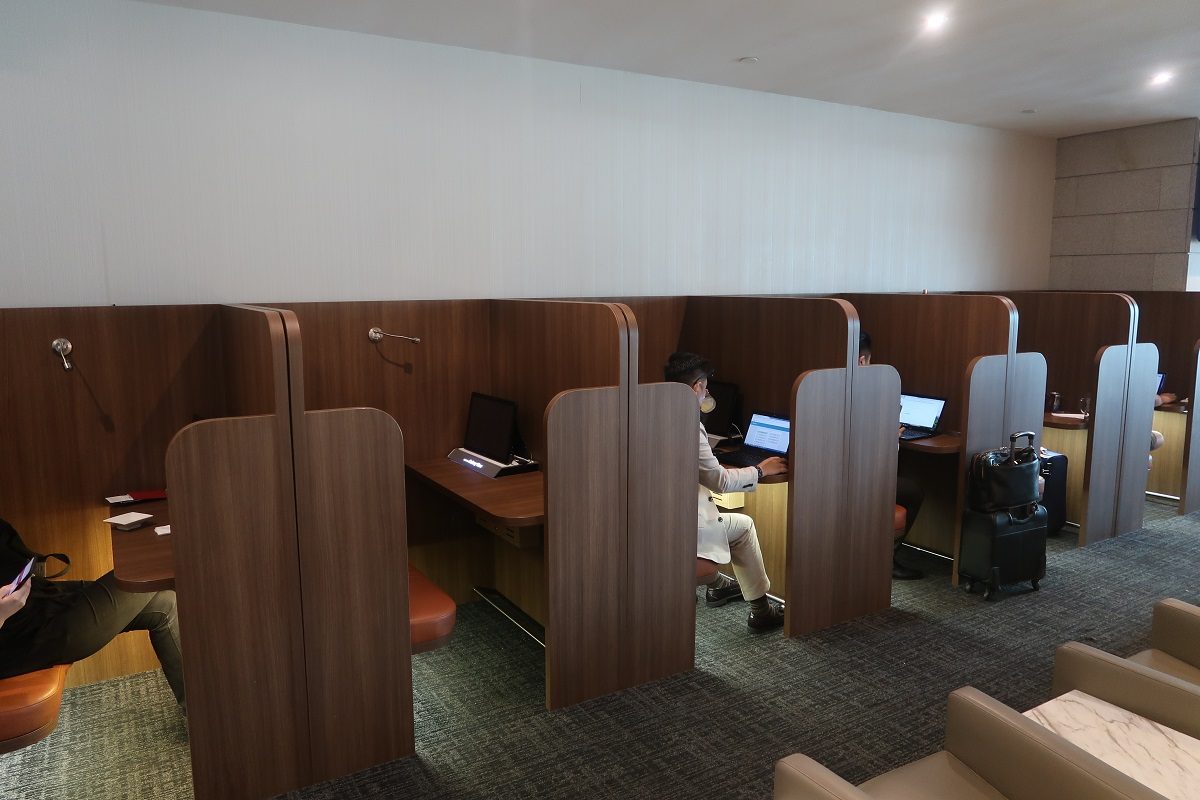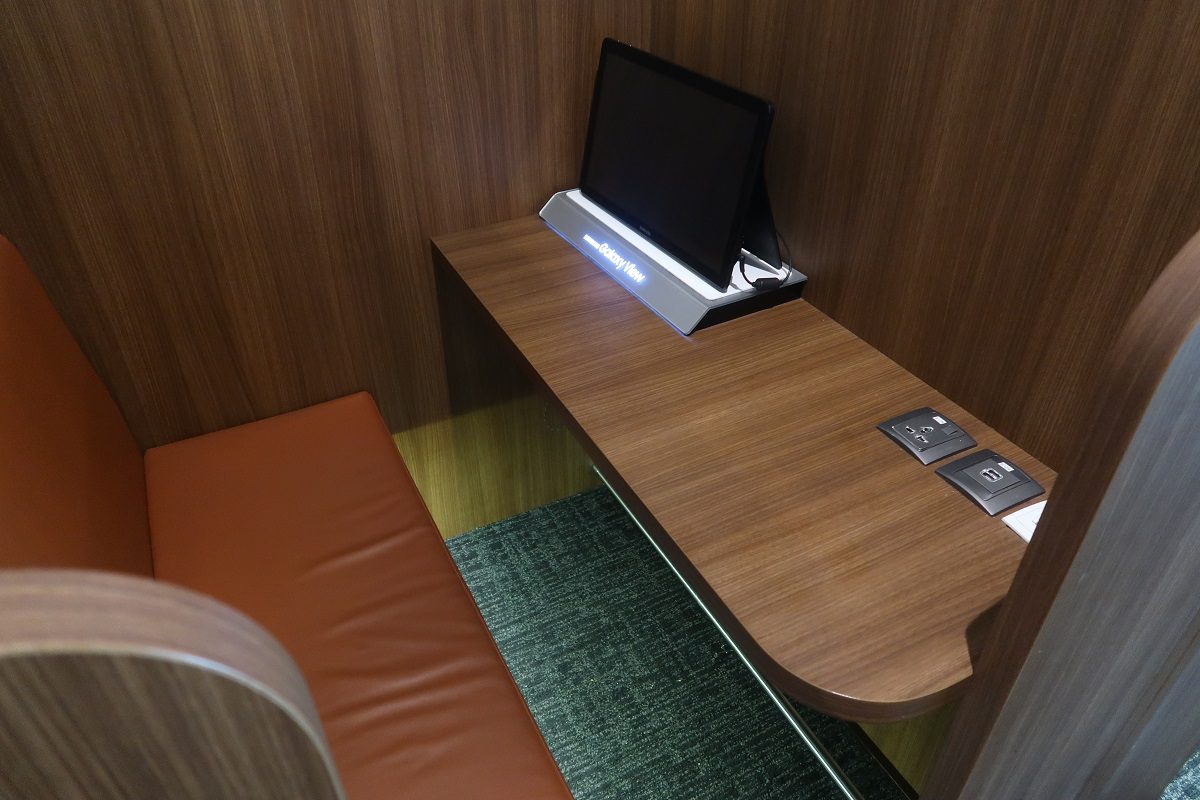 I find my perching spot and start to write my review, but after numerous attempts to get a good Wi-Fi connection, I give up and decide to scope out the food and drink options.
I have to be careful not to fill up on too much food as this is the first of 2 lounges and 2 flights I'll be reviewing today.
Food at the SATS Singapore Premier Lounge in Terminal 2
This is where things go downhill for me a bit. It doesn't take long for me to realise that the fare is perfunctory, but it won't set the world on fire.
My experience starts with the salad/fruit bar, which lacks a wow factor. In this instance, it would be best to disperse the contents around other counters as the lack of offering and presentation doesn't make the food appealing, even though it is fresh.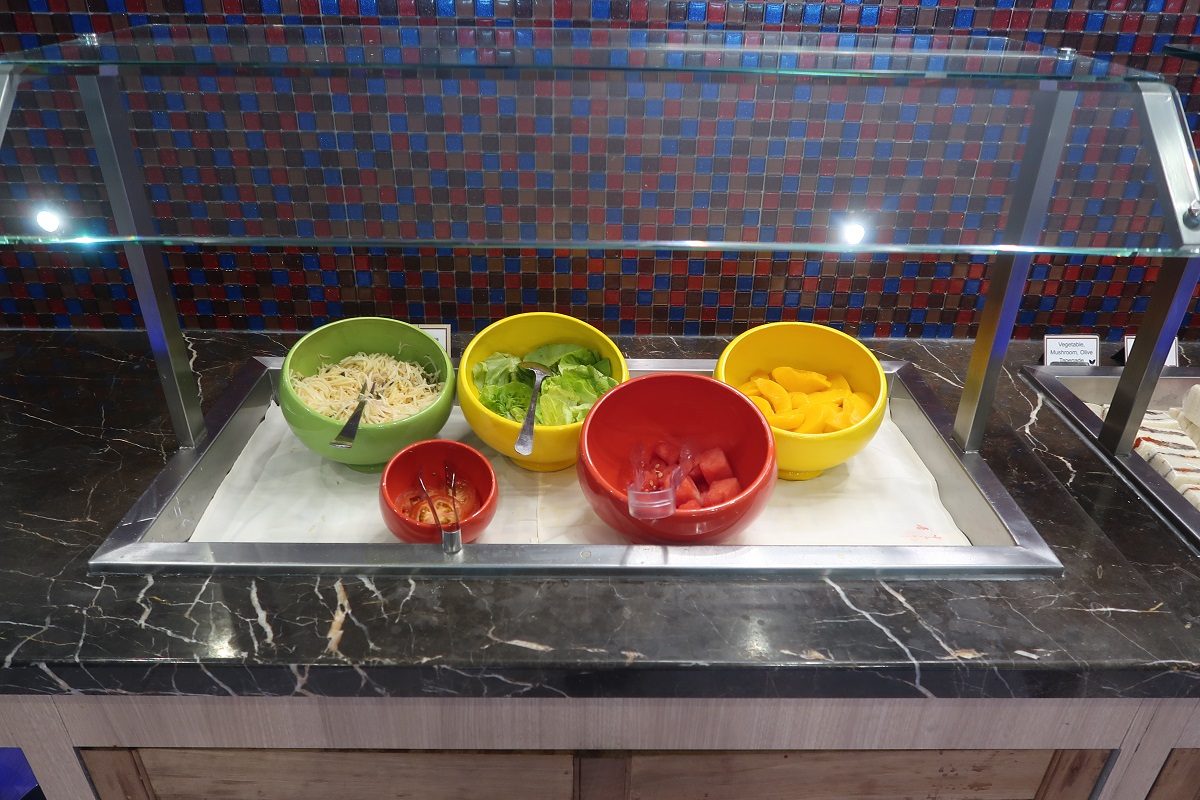 On to the cold sandwiches buffet and the same spartan, unappealing presentation repeats – no I'm not having a sandwich today.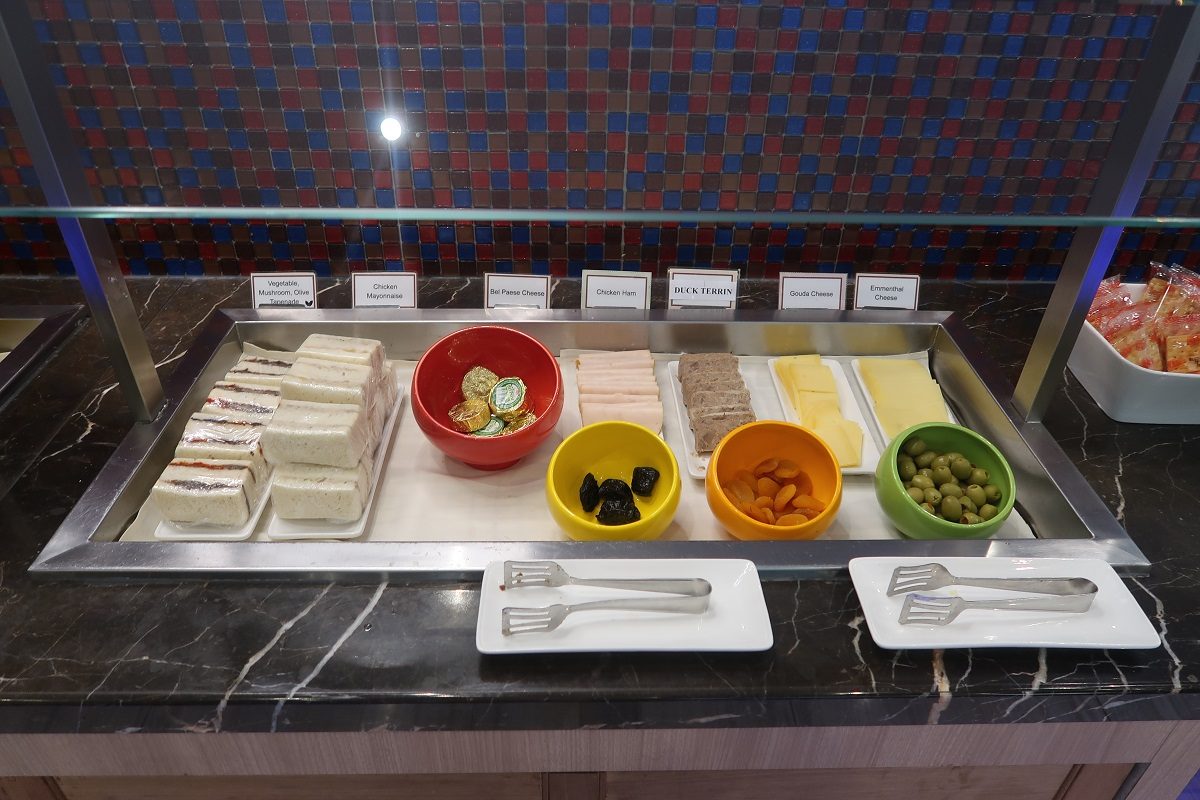 Peeking around the other side of the counter, the bread/breakfast offerings don't look that enticing, but to be fair I'm here in the afternoon…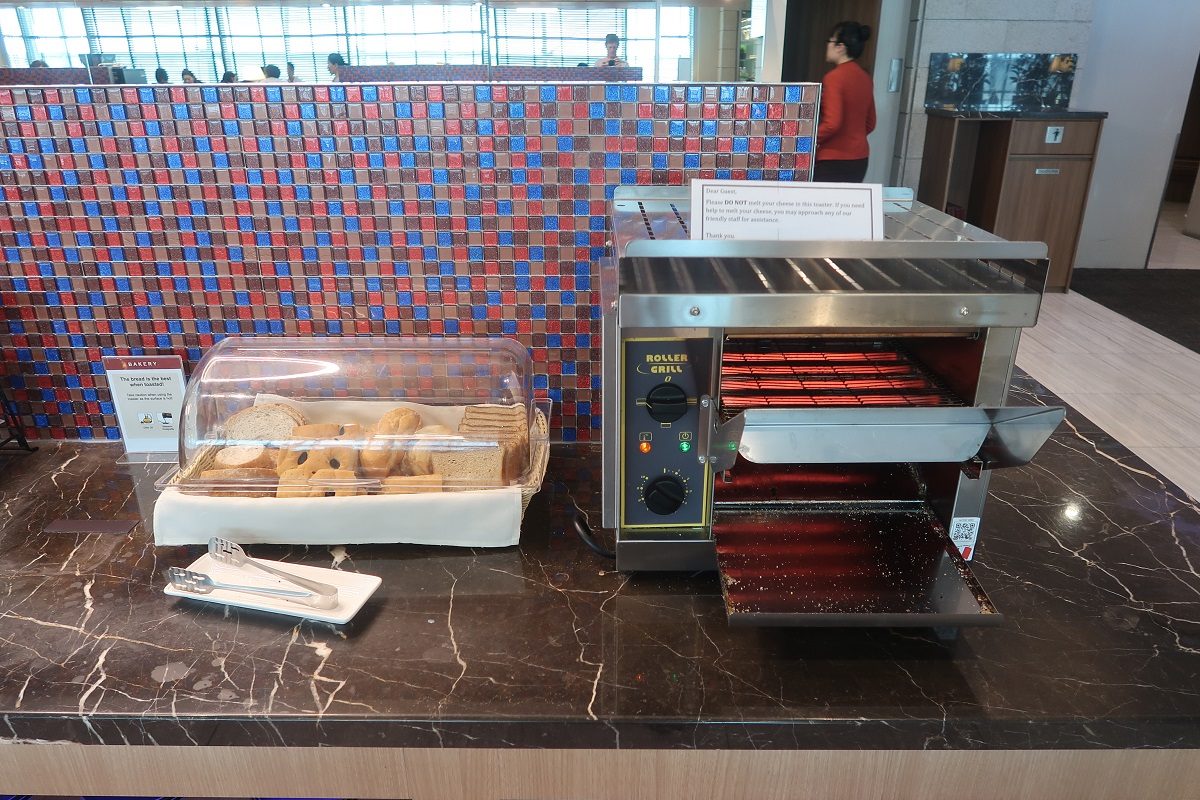 At this point, I turn around to have a look at the hot offerings – that's where everyone is headed!
A hallelujah moment – I've found a mini laksa bar. All I have to do is blanche the noodles in a steaming pot of water and then pour my laksa over top and season to suit. Great fun and really yummy!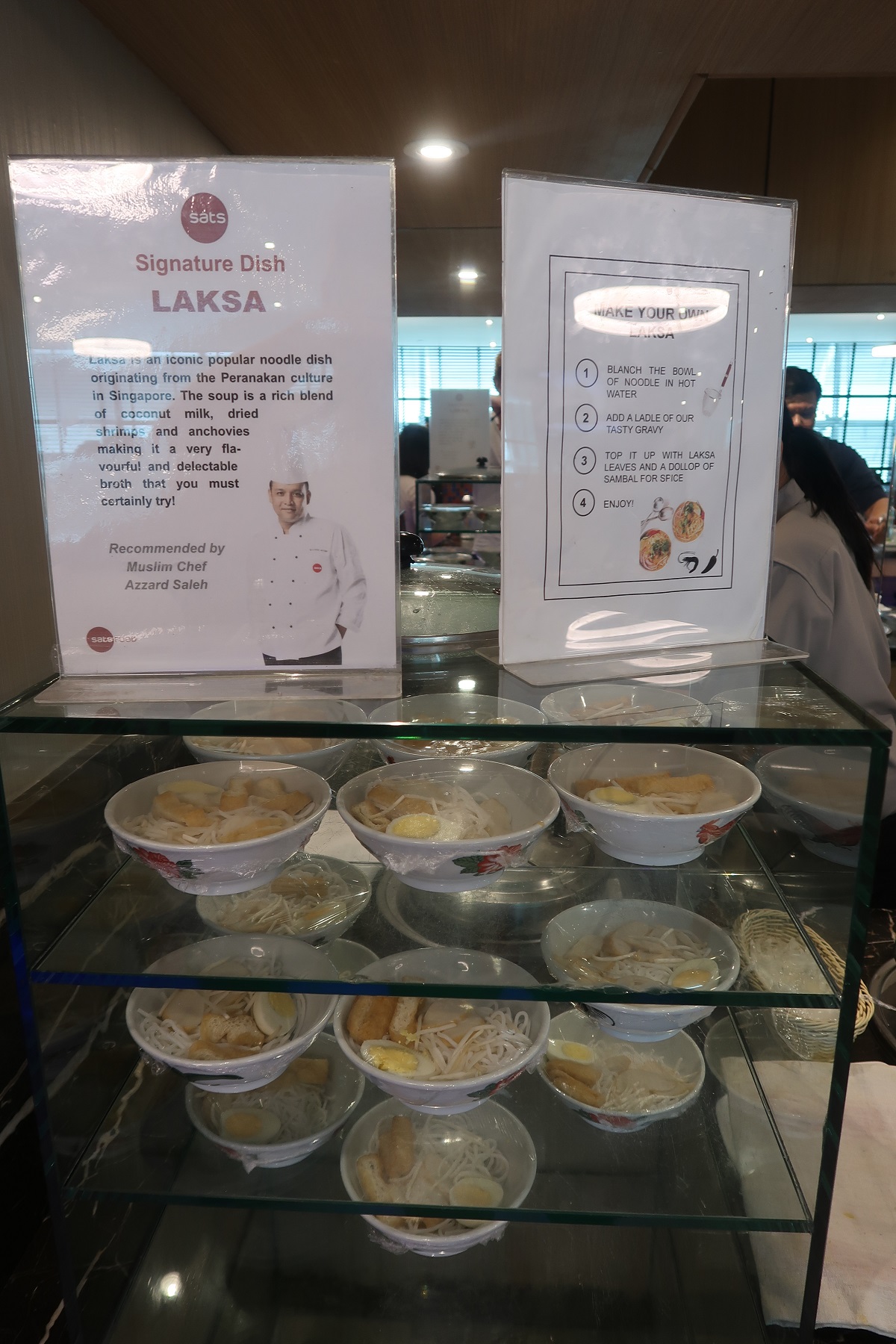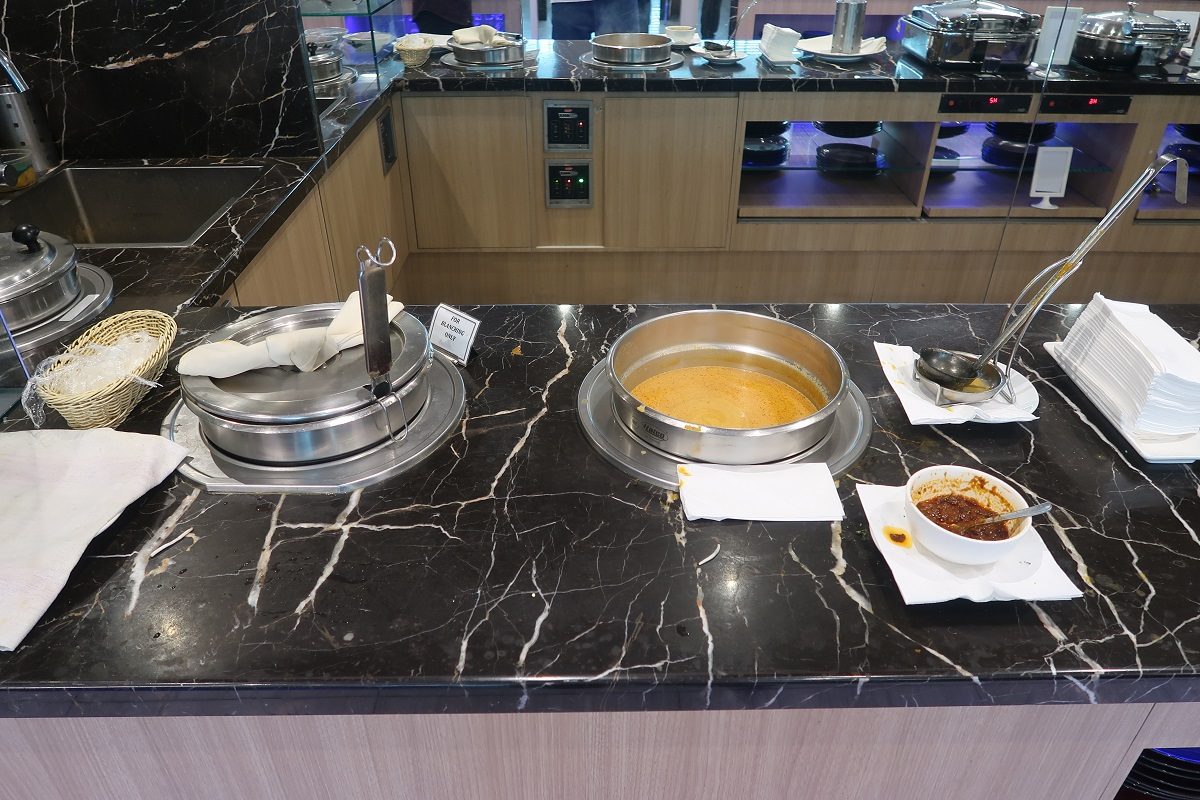 I made a bit of a mess of my bowl so I won't show you the end result but it tasted great.
Back for another visit to the hot food and I can say that the rest of it was uninspiring. The Chefs Special was a bland Indian dish and there were several other dishes such as a chicken masala that were also lacking flavour. Why?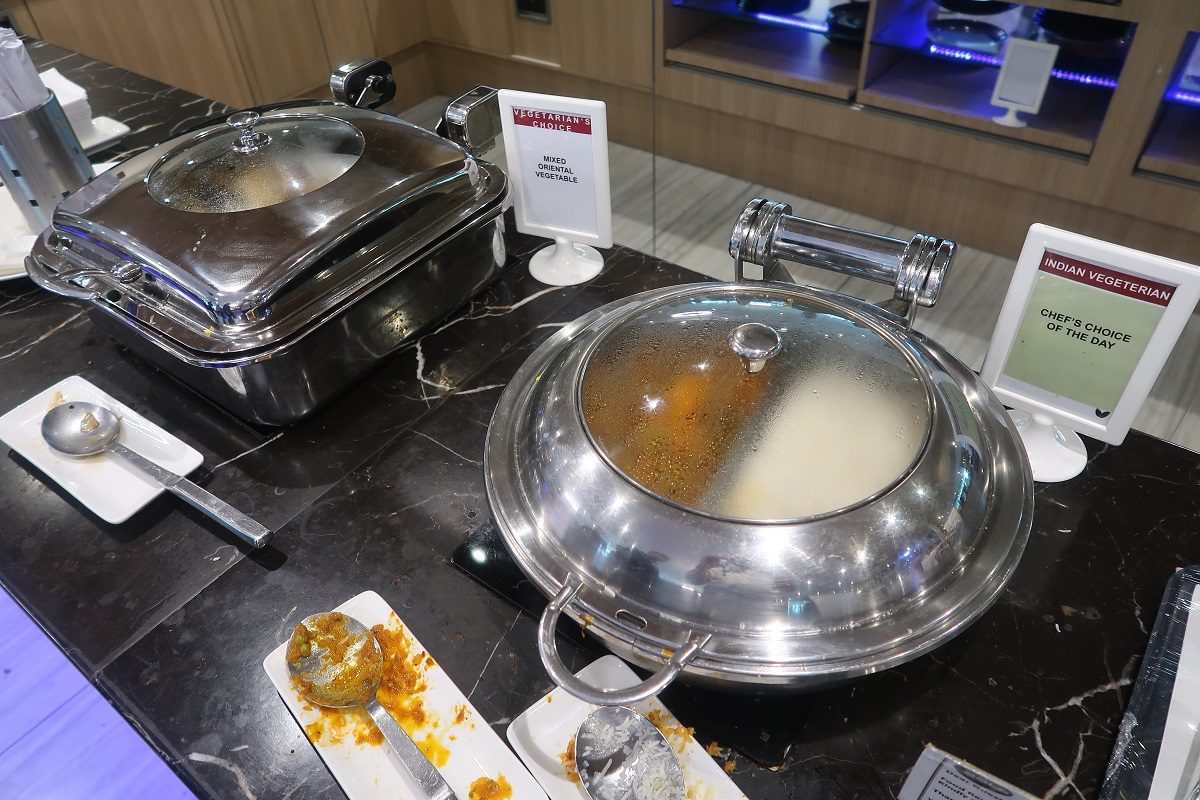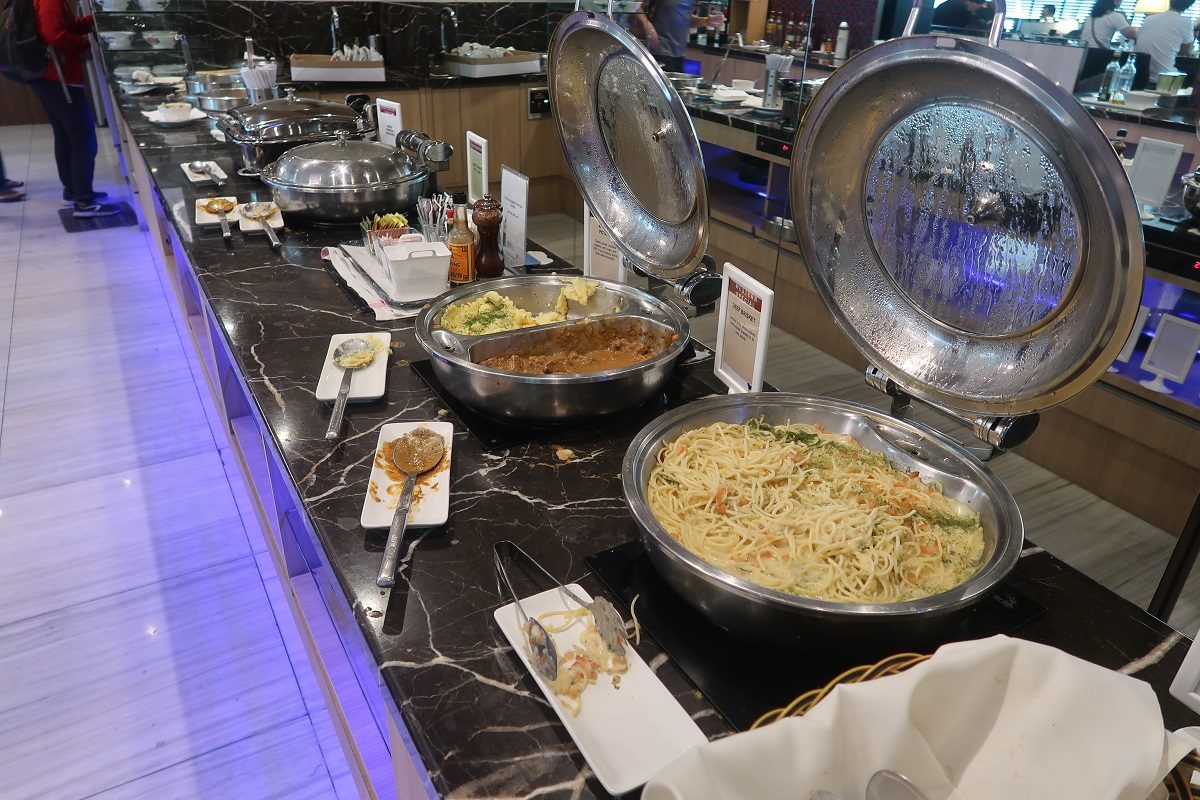 The dessert bar, I came across by chance – not much on offer I'm afraid.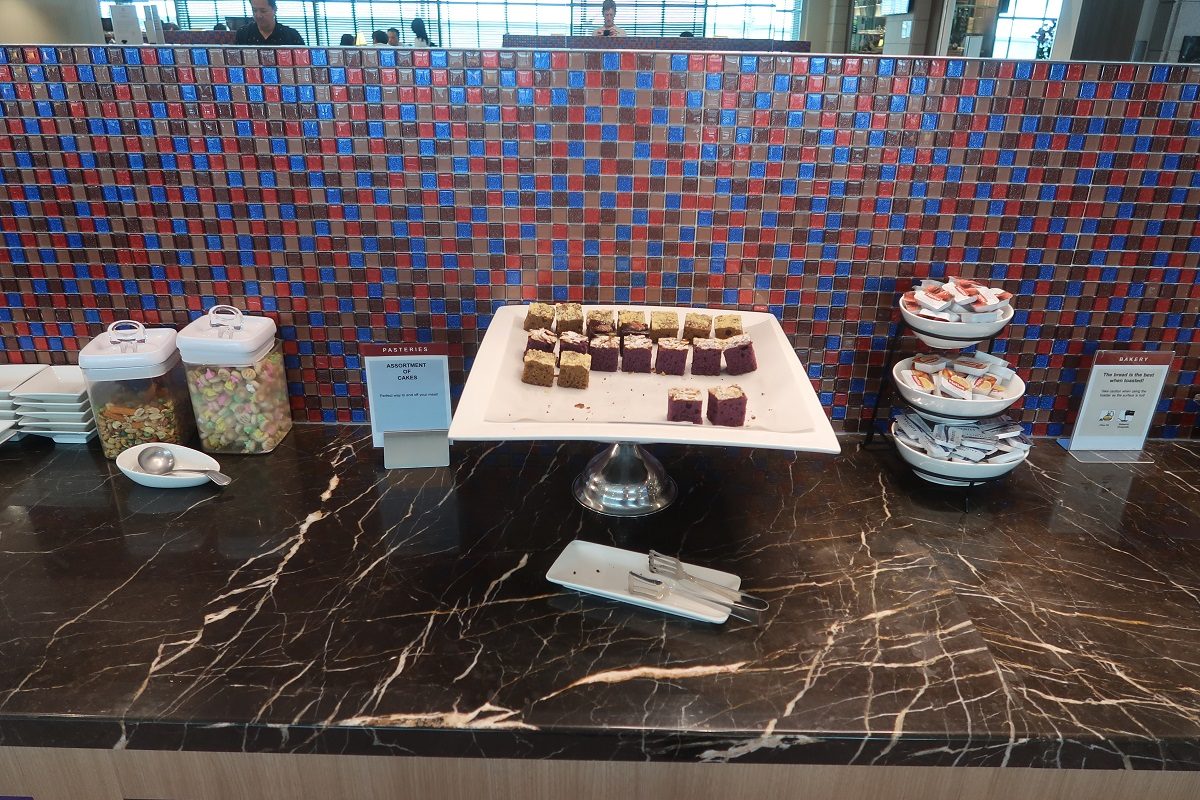 Given that this lounge is a 24×7 operation, there needs to be a more cohesive and elegant selection of food presented to guests.
Drink options at the SATS Singapore Premier Lounge
Time for a drink and so I naturally gravitate toward a nice glass of wine, but I'm not so sure today.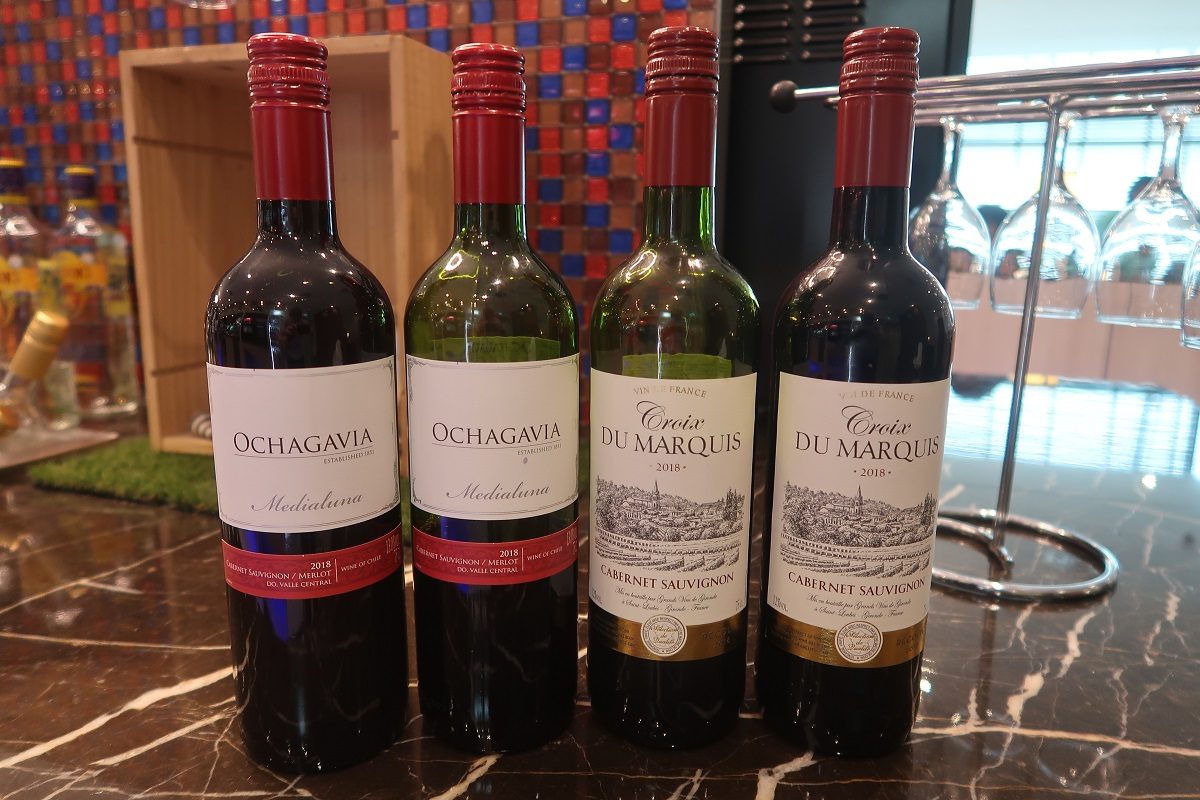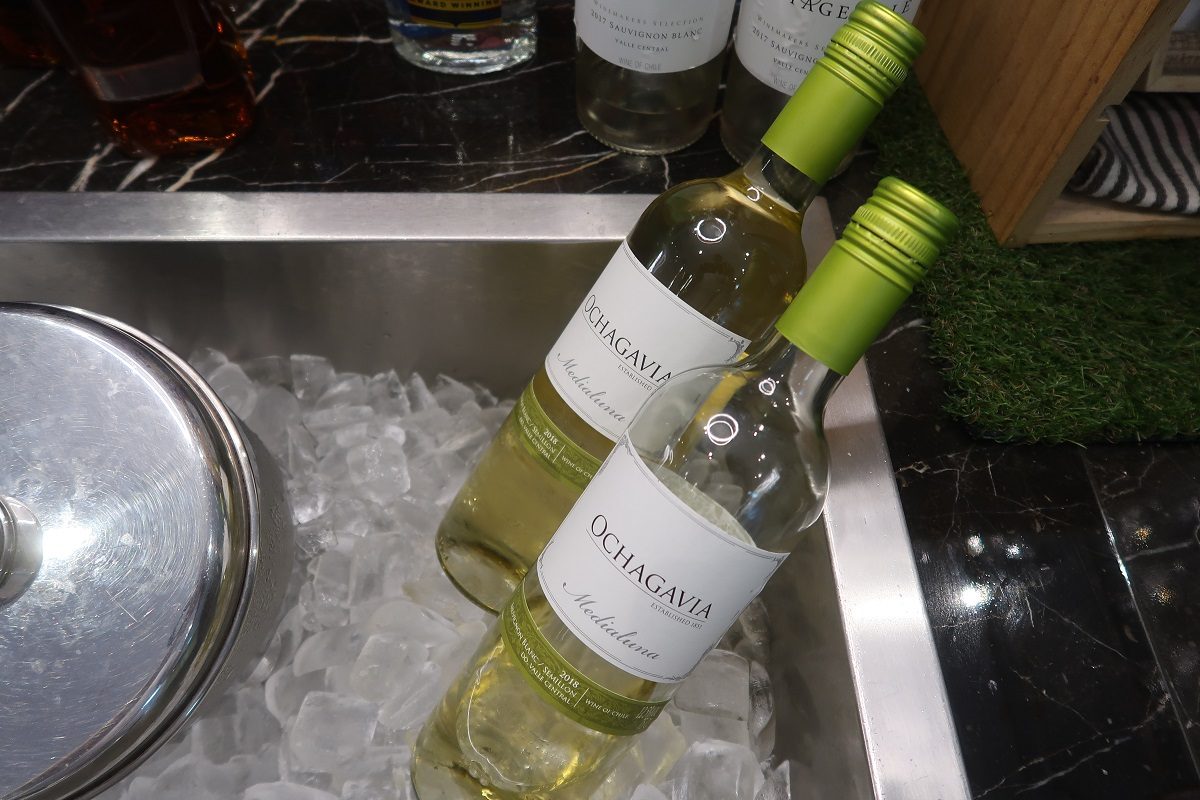 Cold drinks are fairly limited in choice and there is no champagne served here. If you want a beer, you might just be having a Tiger and don't expect to be able to do a Gin taste tour any time soon.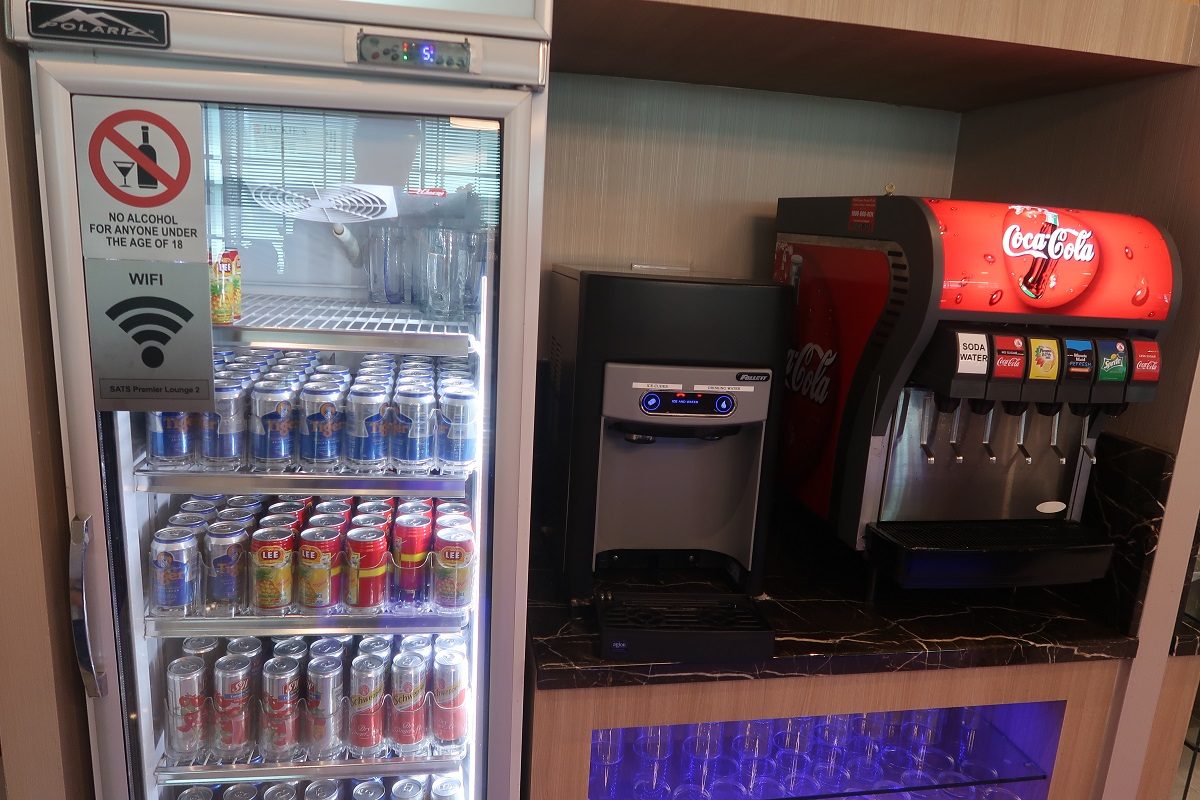 And so I opt for a coffee instead, noting that there is a reasonable tea collection.
After my coffee, I scope the newspapers and note a reasonable selection.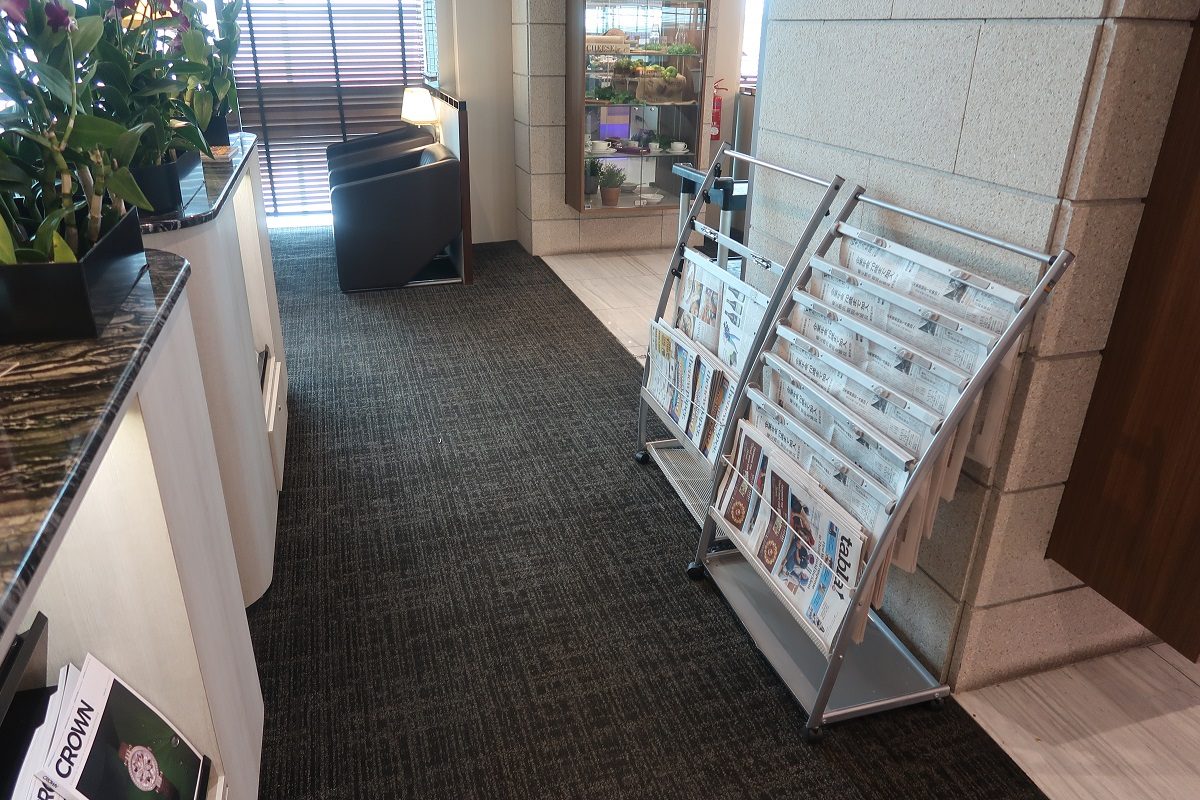 A very loud business conversation is occurring in the lounge with no end in sight. Sound travels easily in this small lounge and it would be a nightmare with kids. Combine this with the frustrating Wi-Fi quality and coverage and I decided to head to the exit earlier than usual.
I pass the showers and toilets – these are small and perfunctory. At peak times, a traveller may find themselves waiting a long time for a shower.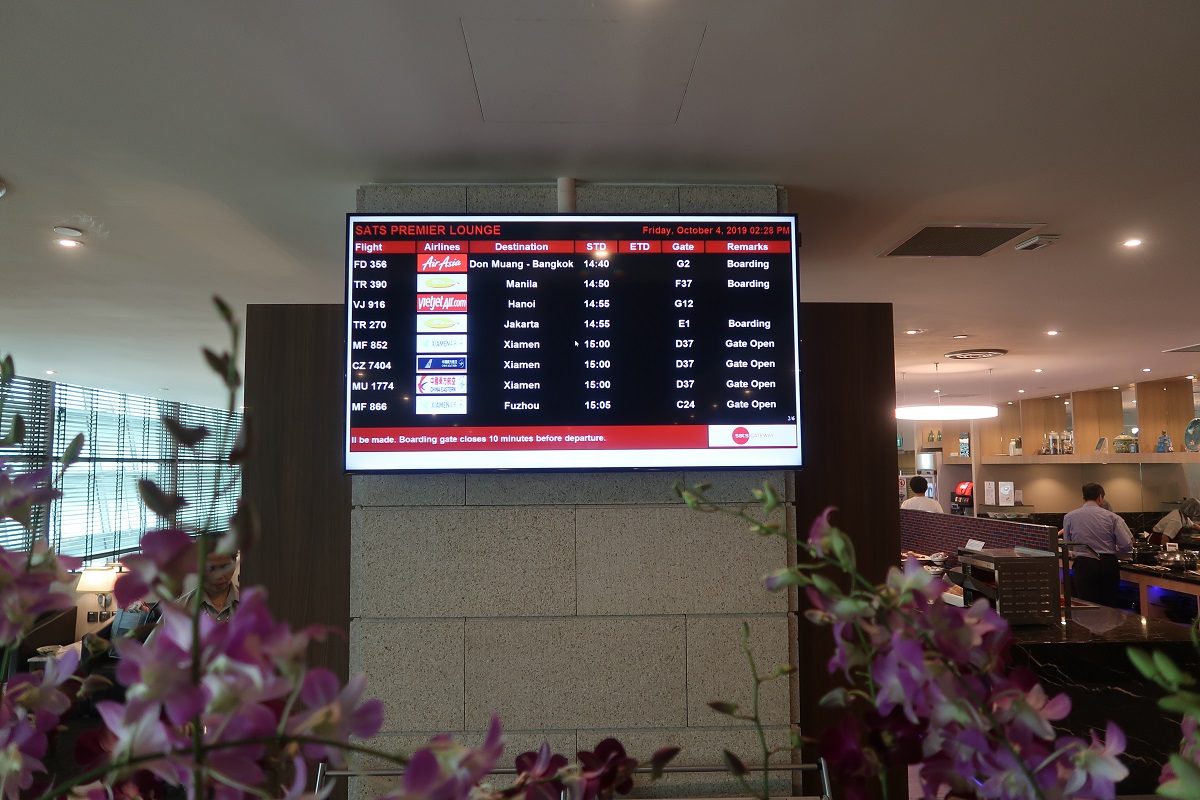 On my way out, I spot the SATS Singapore Premier Lounge First Class area – I do wonder which airlines would send their first-class passengers to a Contract Lounge at such a major airport as Changi.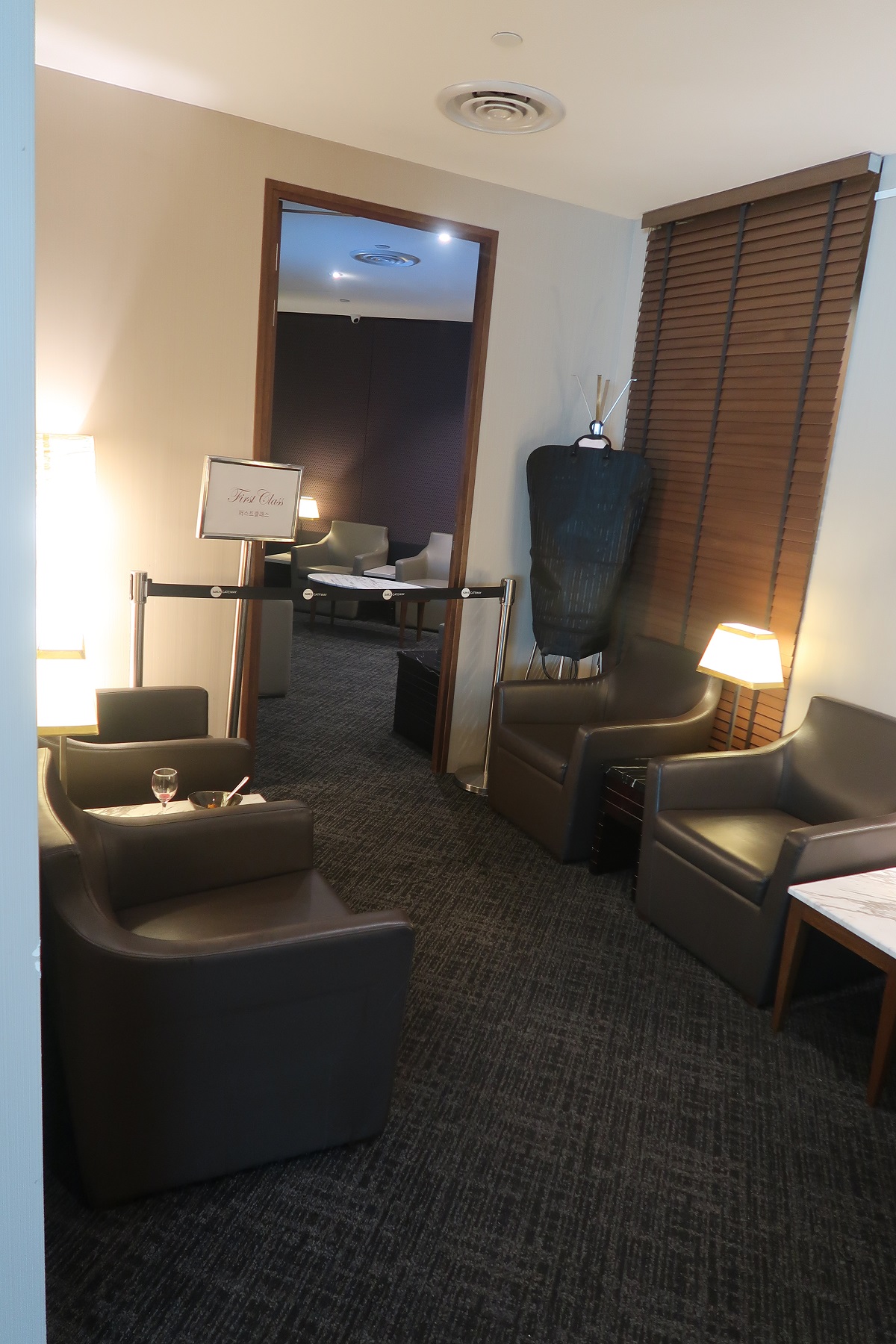 SATS Singapore Premier Lounge Singapore Terminal 2 – the verdict
Recently I've had some fairly great experiences in the likes of airline First Class lounges, so I have to be careful not to judge the lounge by the same standards.
SATS Singapore Premier Lounge isn't pretending to be a business or first class lounge per se, it's part of a global chain of lounges offering the convenience of a lounge in virtually any sizeable airport. As a satellite lounge for business class passengers, it's fine. However, it pales in comparison to the flagship Malaysia Airlines Lounge in Kuala Lumpur which I visit next before my final flight to Australia.
The SATS Singapore Premier Lounge at Changi – Terminal 2 performs its function adequately; allowing passengers to escape the main terminal hustle and bustle but it's a shame to say that the food and Wi-Fi let it down.
---
What are Third-Party Contract Lounges?
While most travellers don't realise it, there are really four types of lounges that you can encounter at a major airport. These comprise airline-owned and operated lounges, credit card owned lounges such as American Express, Alliance owned and operated lounges such as Skyteam and finally Third Party Contract lounges.
At one end of the scale, the Airline Lounges set out to dazzle the traveller with an exceptional pre-travel experience, seeing it as an extension of their inflight experience whilst Third Party Contract Lounges deliver a functional but often underwhelming experience.
The issue is one that many airlines face, is that they can't afford to build their own Premium Lounges as there are four terminals and customer expectations would be for more than one Lounge. Alternatively, the customer numbers are too low to warrant the rent and fitout expense – hence Contract Lounges exist.
How does SATS Singapore fit with Malaysia Airlines at Changi?
Most Malaysia Airlines flights arrive and depart at Terminal 2, but flights also operate out of Terminal 1 and 3, so the decision to use SATS comes down to the feasibility question of running its own premium lounges so close to its' home country.
While you're here: Subscribe to our newsletter for the latest tips, deals and news. It only takes a few seconds and we respect your privacy: