Find out what to expect when you fly American Airlines economy class.
I live in the United States and fly American Airlines for most of my non-regional flights. My hometown is a hub, so they offer a lot of flight options and are a solid and consistent carrier. This trip was for vacation and I went to Panama City, Panama, with a friend. This review is for my flight from Miami to Panama City.
Booking my American Airlines flight
We booked our flights on the American Airlines website after checking Kayak and Skyscanner. I don't like using the American website for flight searches, so I prefer to do my research on other sites first. We did pay for our tickets instead of using miles as my friend does not belong in their frequent flyer program, AAdvantage.
American Airlines overview
American Airlines is one of the world's largest carriers, and it is currently considered the largest in terms of fleet size, revenue, and passengers carried. They fly to 350 worldwide destinations in 50 countries and offer an average of over 6,500 fights a day.
My personal experience on this flight and on most flights with American Airlines in economy class is that they are a solid middle-of-the-road carrier. They are usually on-time and their service is generally consistent but not memorable.
| | |
| --- | --- |
| Flight Number: | AA1653 |
| Route: | Miami International Airport (MIA) to Panama City, Panama Tocumen International Airport (PTY) |
| Duration: | 3 hours 2 minutes |
| Aircraft Type: | Boeing 737 – 800 |
| Date: | Saturday, August 31, 2019 |
| Frequent Flyer Program: | AAdvantage (part of oneworld) |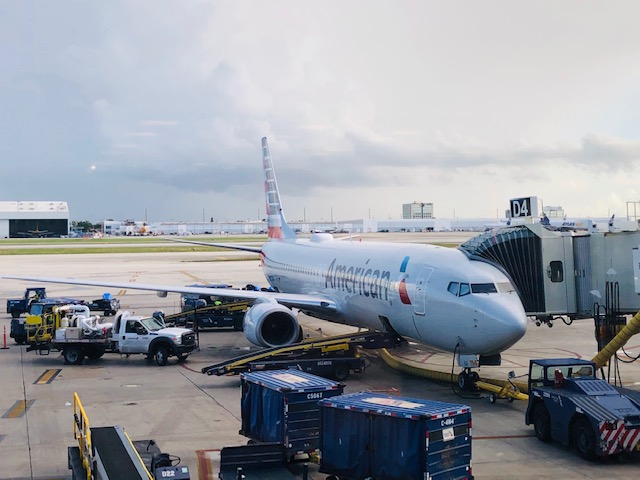 American Airlines economy class boarding
American has 8 boarding groups, with 1 to 4 being priority status. I generally board with group 5 as I have the airline credit card.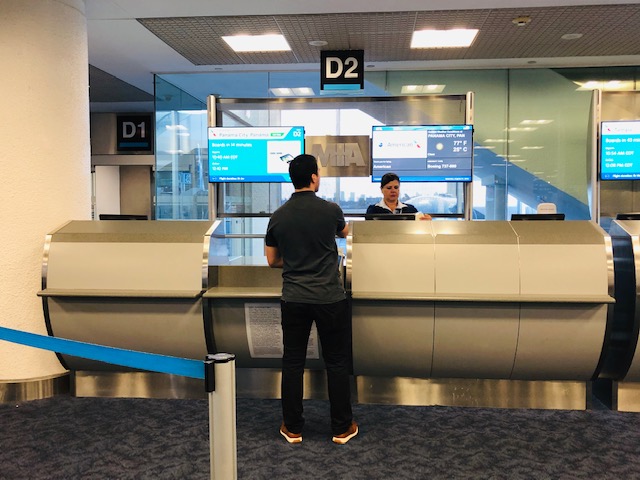 The queue area is very short for American flights. So, people all stand near it and as a result, block people trying to board. Even still, it didn't take us long to board the aircraft.
Onboard my American Airlines aircraft
The American Airlines Boeing 737 – 800 has first-class, main cabin extra, and the main cabin seating. First-class seats are in a 2-2 layout and the remainder is in a 3-3 layout. Main cabin extra offers a little more legroom than in the main cabin, easier access to overhead bins, and complimentary alcohol. We walked through to the main cabin and found our seats, cosy as expected.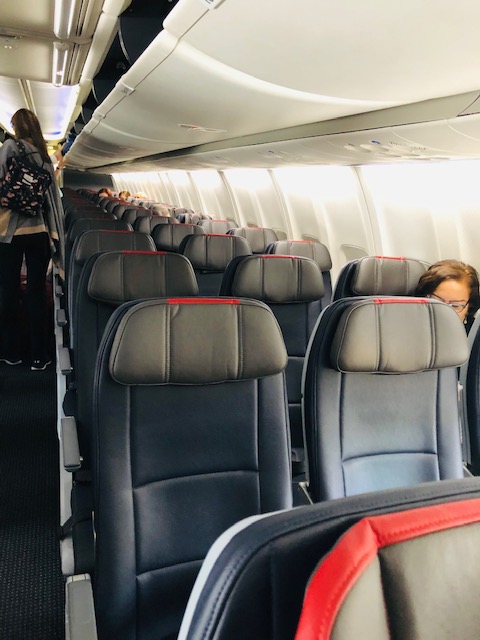 Our American Airlines economy experience
The seats in economy class are most definitely "cosy" as I mentioned. We were offered complimentary soft drinks and water and a small bag of pretzels. Food was available for purchase, however, we chose to grab breakfast in the Miami airport instead.
It can take a while to get drinks on American Airlines, depending on where your seat is (usually 15-45 minutes after the plane reaches flight altitude). We got our drinks and our tiny bag of pretzels in around 30 minutes. No movie was offered during this flight (the seatbacks don't have screens) and WIFI is available for purchase only.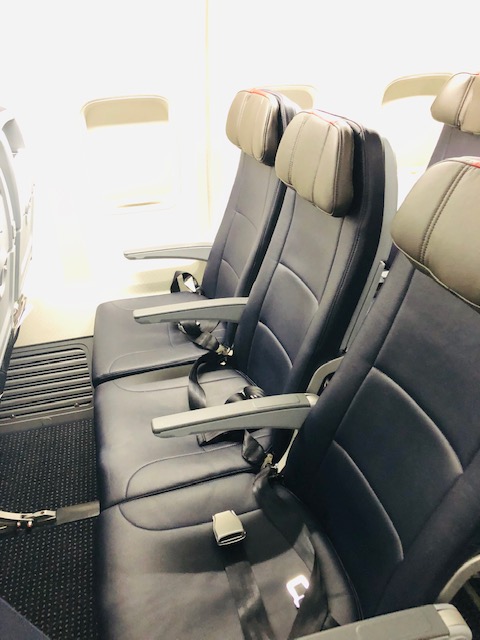 American Airlines: The Good and the Bad
This flight was on time and while the seats don't offer much room, the size is very typical for economy class across most airlines. The food offering of just soda and pretzels is also very typical. Sitting in "cattle class" isn't a comfortable experience, but it is economical.
This flight and most of the American Airlines economy class flights are pretty consistently typical. That means short on room, meagre service, and minimal food and drink options. Providing your expectation is set appropriately at the beginning of the flight, you're likely to not be disappointed.
Frequent Flyer Program – AAdvantage
I'd generally use miles where I can and have found the availability is good if you book well in advance (more than 6 months and depending on the destination, more than 9 months). American Airlines is part of oneworld so miles can be used on a number of other partner airlines.
Final Thoughts
American Airlines offers a solid "no-frills" experience in the coach class. If you're looking for an affordable alternative to first class, the American economy class is fine for shorter flights like the flight from Miami to Panama.
This article was contributed by Sam from My Flying Leap. You can follow My Flying Leap via the website, Pinterest, Facebook, Twitter or on Instagram.
While you're here: Subscribe to our newsletter for the latest tips, deals and news. It only takes a few seconds and we respect your privacy: