Hilton: It's the name we all know, and for good reason. As far as hotel loyalty schemes go, Hilton Honors packs a lot into its not-so-travel-sized program.
Chosen by over 57 million members worldwide, Hilton Honors is the world's largest hotel loyalty program.
Amongst the global frequent traveler community, this popular program is well-known for offering luxe properties, elite-level benefits and the ability to unlock 'free night' stays with points.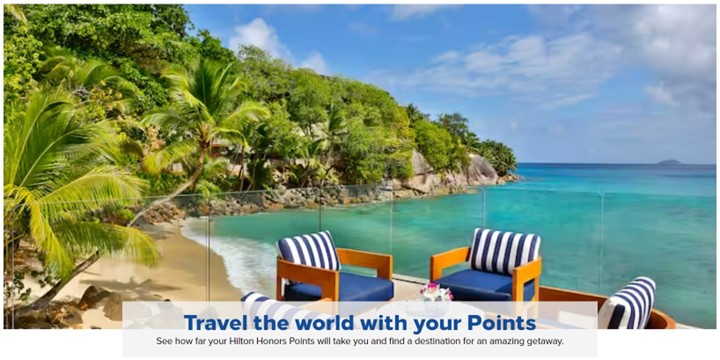 This Hilton Honors Guide will unpack the perks on offer with Hilton Honors, including reward nights and airline transfers. Intrigued? Here's what you need to know:
Table of Contents
What is Hilton Honors?
Hilton Honors is the free-to-join hotel loyalty program aligned with Hilton Hotels.
Members can earn and burn points at Hilton's family of brands, home to a range of mid-tier, upscale and luxe offerings, including names like Conrad and Waldorf Astoria.
Exclusive member rates, the opportunity to achieve elite status and a flexible points currency are just some of the appealing reasons to join Hilton Honors, especially for those who frequently stay at Hilton-branded properties.
What brands are in the Hilton Honors stable?
There are 18 different hotel brands that comprise the Hilton portfolio. Together, they encompass more than 6,800 properties located in over 118 countries worldwide.
While other hotel loyalty programs, such as Marriott Bonvoy and Accor Live Limitless boast a larger number of brands and an extensive local footprint, Hilton properties are appreciated by those in the know for consistency.
The list of hotel brands is shown in the graphic below.

Hilton properties cater to a range of travellers across luxury, premium and midscale offerings.
Members earn points globally on stays at chains including Hilton, Waldorf Astoria, LXR, Conrad, Canopy, Signia, Curio Collection, Double Tree, Tapestry Collection, Embassy Suites, Tempo, Motto, Hilton Garden Inn, Hampton, Tru, Homewood Suites, Home2 Suites and Hilton Grand Vacations properties.
Here in Australia, the main brands on offer include Curio Collection, Hilton and DoubleTree.
Digging into Hilton Honors elite status levels
Hilton Honors features four membership tiers, where higher status naturally leads to enhanced benefits. The four tiers are as follows:
Member (entry level)
Silver
Gold
Diamond
Each of the membership tiers and associated status benefits are outlined below.
Hilton Honors Member status
Requirement: Join Hilton Honors (no minimum activity threshold)
This is the base-level tier which all new members automatically acquire upon signing up for free. The basic Member tier includes the following benefits:
earn 10 points per US $1 spent (at most properties)
waived resort fees on rewards stays
complimentary standard Wi-Fi (there's a fee for premium)
access to exclusive Hilton Honors Experiences
room selection (up to 24 hours in advance)
digital check-in and check-out
access to a digital key via the Hilton Honors app
Hilton Honors Silver status
Requirement: 4 stays, 10 nights, 25,000 Base Points
In addition to the Member benefits, those who hold Silver status receive the following member perks:
earn 12 points per US $1 spent (at most properties)
fifth-night free benefit for Standard Room reward stays (of at least five nights)
complimentary bottled water
Elite Rollover Nights (excess qualifying nights will be rolled over)
It's worth highlighting that Elite Rollover Nights count towards qualifying for elite status for the following membership year, thus allowing you to potentially reach elite status faster.
Select American Express Cards offer a complimentary fast track to Hilton Honors Silver status. These are the American Express Explorer Credit Card, American Express Business Explorer Credit Card or American Express Gold Business Card.
Hilton Honors Gold status
Requirement: 20 stays, 40 nights, 75,000 Base Points
Those with Gold status receive all of the above perks, plus:
earn 18 points per US $1 spent (at most properties)
room upgrades (when available)
complimentary $25 daily food and beverage credit (inside the U.S.)
complimentary continental breakfast (outside of the U.S.)
access to the Hilton Honors MyWay benefit (at selected properties in the U.S.)
Gold and Diamond members also receive Milestone Bonuses of 10,000 Points after 30 eligible nights and an additional 30,000 Points after 60 eligible nights in a calendar year.
Those holding the American Express Platinum Card or Velocity Gold status can obtain instant Hilton Honors Gold status.
Hilton Honors Diamond status
Requirement: 30 stays, 60 nights or 120,000 Base Points
Enter Diamond, Hilton Honors top-tier membership status. Diamond members can access all of the previously mentioned benefits, in addition to:
earning 20 points per US $1 spent (at most properties)
executive lounge access at Hilton Hotels & Resorts, Conrad, Tapestry, Curio and DoubleTree properties (for all room bookings)
elite status gifting, which allows you to share Gold status with any other Hilton Honors Member
a 48-hour room guarantee (within 48 hours of a necessary booking)
Hilton Honors Diamond is generally considered by savvy travellers as the 'sweet spot' status to aim for, given the ability to access executive lounges at an extensive number of properties around the world.
Hilton Honors Diamond status is awarded on a complimentary basis to those holding Velocity Platinum status.
Lifetime Diamond status is awarded to those who have remained at Diamond status for 10 non-consecutive years and earned at least 2 million base points or 1,000 nights.
Obtaining Hilton Honors Silver or Gold status via American Express
As we mentioned, it's possible to access a fast track to Hilton Honors Silver status by holding select American Express cards. In Australia, these include the following products:
The key drawcard with Silver status is the ability to enjoy your fifth night free when booking five or more nights using Hilton Reward points.
Similarly, Hilton Honors members with an American Express Platinum Card are able to jump straight to Gold status.
Receive 150,000 Bonus Membership Rewards Points* when you apply online, are approved, and spend $5,000 on eligible purchases on your new Card within the first 3 months. T&Cs apply. New Card Members only. Plus, receive a $450 Platinum Travel Credit each year, up to $400 Global Dining Credit, complimentary Accor Plus membership & more.
A general rule of thumb is that the Hilton Honors status will remain active as long as a cardholder retains the corresponding Amex product. American Express card members can follow this link to enrol for their complimentary Hilton Honors status.
Hilton Honors Gold or Diamond status fast track via Velocity Frequent Flyer
Hilton Honors will effectively status-match Velocity Gold and Velocity Platinum members.
Velocity Gold = Hilton Honors Gold status
Velocity Platinum = Hilton Honors Diamond status
However, Velocity Frequent Flyer members who hold Gold or Platinum status can instead choose to opt for the relative IHG Rewards Gold or IHG Rewards Platinum Elite status.
While Hilton Honors offers an arguably more appealing array of benefits, the value of the status depends entirely on which program you would personally get the most out of.
The IHG One Rewards family of hotel brands, for example, have more than four times the Australian presence than that of Hilton Honors, which may position the program as a more practical option for local travellers.
Here are the steps to enrolling in Hilton Honors Gold or Diamond status via Velocity Frequent Flyer:
log into your Velocity Frequent Flyer account
select 'My Benefits'
navigate down to 'Complimentary partner membership – Accommodation'
select Hilton Honors (or IHG One Rewards)
It's worth noting that eligible Velocity Frequent Flyer members will only receive status for one year, regardless of the hotel loyalty program selected. After that year, it's up to the individual member to retain the status by earning enough Base Points and meeting the stay requirement.
How to join Hilton Honors
Becoming a Hilton Honors member is free and easy no matter where you live. Follow these simple steps for a virtually effortless online sign-up process:
go to the Hilton Honors sign-up page
enter your personal details (name, phone number, email, country of residence and address)
create and confirm your secure password
click the 'Join for free' banner down the bottom

You should note that by clicking 'join' you agree to the collection and use of your information as stated in the Hilton Global Privacy Statement.
Earning Hilton Honors points
A key benefit of the Hilton Honors program is the array of ways to earn points. Whether you're ride-sharing, dining or using your credit card, there are ways to boost your Hilton Honors points balance at home, or during any stage of a journey.
Stay at Hilton Hotels properties
The most obvious way to earn Hilton Honors points is via hotel stays. All status levels will earn at least 10 Points per US $1 spent on each stay.
It's worth noting that points earn at some of the more affordable properties, such as Tru by Hilton and Home2 Suites, are reduced by half.
Leverage bonus points
Elite members have the ability to earn the following additional bonus points for every hotel stay:
Silver members = 20%
Gold members = 80%
Diamond members = 100%
For frequent hotel travellers, the 100% bonus points on hotel stays may offer a solid incentive to aim for top-tier Diamond status.
Transfer points from American Express
Hilton Honors' partnership with American Express opens up a whole world of ways to earn Hilton Honors points on the ground.
While there are no co-branded cards available in Australia, Amex card members can earn points on everyday spend including groceries, phone bills, and fuel before transferring Membership Rewards points to the Hilton Honors program.
The transfer rate is 2:1, meaning 20,000 Membership Rewards points would equate to 10,000 Hilton Honors points.
Transfer points from Virgin Atlantic
In Australia, it's possible to access Virgin Atlantic points via transfer from American Express Membership Rewards. Virgin Atlantic points can then in turn be converted to Hilton Honors points at a better transfer rate.
Purchase Hilton Honors points
There's also the option to top up your Hilton Honors points balance by purchasing points. Buying Hilton Honors points may make sense when used for a points boost to reach a particular redemption.
Hilton Honors members can normally purchase a maximum of 80,000 points each calendar year. Note that new members will have to wait 30 days after enrolment or 90 days after account inactivity before they can buy points.
Hilton sets the price at 1 US cent per point, but occasionally runs bonus promotions, which can halve the standard price per point. To extract maximum value when purchasing Hilton Honors points, we suggest holding out for one of these promotions if possible.
View the latest Hilton Honors points purchase promotion here.
Eat more, earn more with dining in the US
If you're travelling within the US, Hilton Honors Dining can earn you a steady stream of bonus points. The good news here is that the ability to earn points extends to ordering food online with participating restaurants.
The bad news, however, is that you can only earn points through participating restaurants in the US, so we wouldn't suggest counting on this for regular points-earn unless you frequently find yourself over there.
Rideshare with Lyft
Currently, Lyft is not available in Australia, however, those who use Lyft rideshare services overseas can link accounts to earn 3 Hilton Honors per US $1 spent on rides.
Again, the good news here is that travel is back, which means you may find yourself using Lyft to rideshare. However, this partnership won't mean much to Hilton Honors members staying put in Australia.
Redeeming Hilton Honors points
One of the main drawcards of the Hilton Honors program is the ability to redeem points, ideally for the program's free award nights. For many savvy travellers, a bucket list-worthy award stay in the Maldives is the ultimate goal. For others, taking advantage of 'free' nights at accessible city properties is more in reach. However, if an award stay is not on the cards for you, there are a host of other ways to burn through those points.
Redeem Points for free award nights
A notable Hilton Honors program highlight is that points can be redeemed for free award nights at virtually any of Hilton's hotels and resorts worldwide, with no blackout dates. This essentially makes it possible to lock in your dream stay, even at the busiest times of the year. Yes, that stay at Conrad Maldives Rangali Island is calling!
While point redemption rates depend on the property, redemptions start at just 5,000 Hilton Honors points, extending up to an eye-watering 150,000 points per night for top-tier properties. This is where the fifth free award night for Silver elite members and above comes into play, offering additional value.
Has Baz Luhrmann's recent Elvis film inspired you to retrace the King's steps? You can book a night near Memphis' Beal Street at Hilton Garden Inn Memphis Downtown or DoubleTree by Hilton Hotel Memphis Downtown for 50,000 Hilton Honors points per night.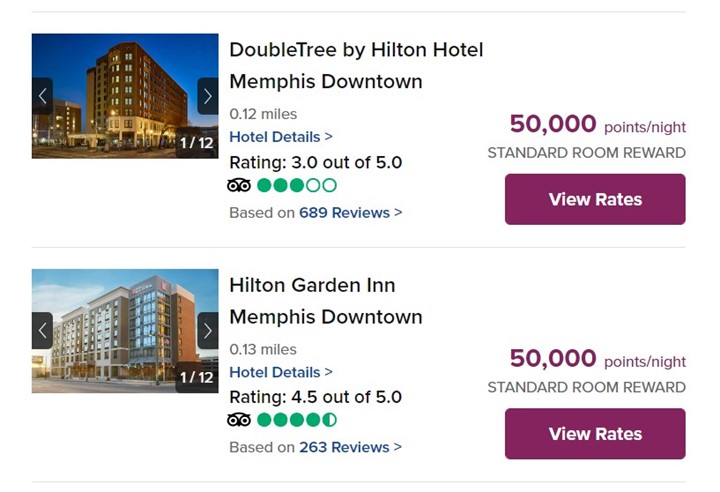 Rather, perhaps a staycation is on the cards. Closer to home, a Standard Room reward at the West Hotel Sydney, Curio Collection by Hilton can be booked for 57,000 points per night.

For members with fewer points to work with, the Hilton Garden Inn Bali Ngurah Rai Airport offers an affordable and popular option. Here, it's possible to secure a night in a King or Twin Guest Room from a very low 5,000 Hilton Rewards points.

Want to shoot for the stars with your next Hilton Honors award redemption? The Maldives is home to some of Hilton's most aspirational properties – and they don't come cheap!
Enter the dreamy Waldorf Astoria Maldives Ithaafushi. Hilton Honors members can secure a Standard Room Reward here from an eye-popping 150,000 Hilton Honors points per night.
That said, with average nightly rates sitting at over $5000AUD, this is still a redemption that provides members with serious value:

The Hilton Honors website offers a handy Points Explorer tool, which allows members to view the Points prices for most participating properties (but excluding top-tier offerings).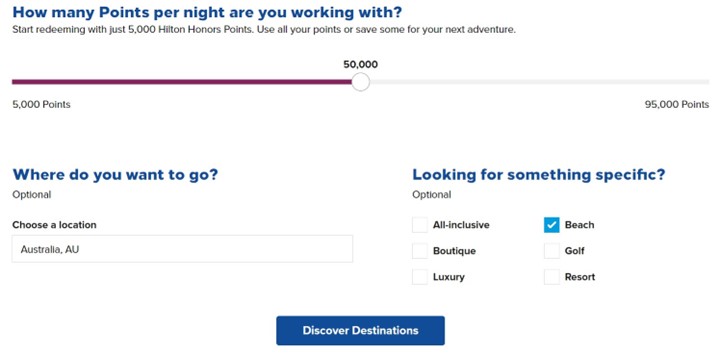 It's also possible to view available hotels for specific destinations and dates online by selecting 'Hilton Honors points' and searching for your desired location and dates.
Fly with points transfers to airline partners
Hilton Honors points can be transferred to a variety of airline frequent flyer programs, including Qantas Airways, Virgin Australia, Singapore Airlines, Qatar Airways, British Airways, Delta Airlines and United Airlines.
As highlighted below, with transfer rates sitting as low as 10:1, most of the conversion rates on offer represent extremely poor value, even when compared with other hotel loyalty programs. As such, Hilton Honors points are usually better spent elsewhere:
| Airline transfer partner | Minimum HH points transfer | Transfer ratio | Airline points/miles |
| --- | --- | --- | --- |
| Qantas Frequent Flyer | 10,000 | 10:1.5 | 1,500 Qantas Points |
| Velocity Frequent Flyer | 10,000 | 10:1.5 | 1,500 Velocity Points |
| Singapore KrisFlyer | 4,000 | 8:1 | 500 KrisFlyer Miles |
| Cathay Pacific Asia Miles | 10,000 | 10:1 | 1,000 Asia Miles |
| Qatar Airways Privilege Club | 10,000 | 10:1 | 1,000 Avios |
| Emirates Skywards | 10,000 | 10:1 | 1,000 Skywards Miles |
| Etihad Guest | 10,000 | 10:1 | 1,000 Etihad Guest Miles |
| Virgin Atlantic Flying Club | 10,000 | 10:1.5 | 1,500 Flying Club Miles |
| United MileagePlus | 10,000 | 10:1 | 1,000 MileagePlus Miles |
| British Airways Executive Club | 10,000 | 10:1 | 1,000 Avios |
Altogether, Hilton Honors partners with over 35 airlines. You can find them all here.
Note that you must link your frequent flyer and Hilton Honors accounts before completing a points transfer.
Embrace Hilton Honors Experiences
The Hilton Honors Experiences platform is exclusive to Hilton Honors members. A range of Experiences span across music, sports, culture and food categories. From epic concert and sports event seats to signature spa treatments and culinary events, there's an Experience to be had with points for just about everyone.


Shopping with Amazon's Shop with Points Program
By linking your Hilton Honors rewards account to an Amazon.com account, you can use points to shop for a range of everyday items.
Tip: If your account is linked to an Australian residential address, Amazon will only show items that ship to Australia. There's an option to set points to automatically apply to purchases, however, this usually represents a low-value proposition.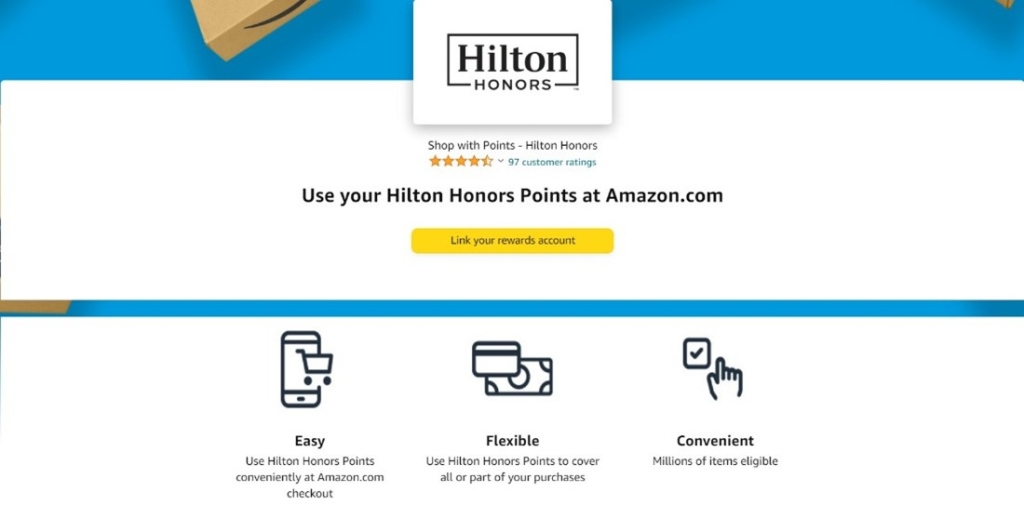 Pool your points with friends and family
Similar to Velocity Frequent Flyer's family pooling functionality, Hilton Honors members can pool points with friends and family. This could be particularly useful when planning a trip together.
The Points Pooling feature allows up to 10 Hilton Honors members to combine their points, which can be a strategic way to save for a particular holiday or Experience.
Feeling generous? There's also the option to say 'I love you' by gifting Hilton Honors points to loved ones – perhaps enough to redeem a reward night.

How does Hilton Honors stack up?
There are upsides and downsides to any loyalty program. When choosing a hotel loyalty program, it's all about which benefits and downsides make or break the program for your individual travel needs.
Here's how Hilton Honors stacks up with other leading hotel programs, at a glance:
| Hotel loyalty program | Hilton Honors | Accor Live Limitless | IHG One Rewards | Marriott Bonvoy |
| --- | --- | --- | --- | --- |
| Points currency | Hilton Honors points | ALL Reward points | One Rewards points | Marriott Bonvoy points |
| Sign up/membership fee | No | No | No | No |
| Ability to buy points? | Yes | No | Yes | Yes |
| Membership tiers | 4 | 5(plus invite-only ALL Black) | 5 | 5 |
| Redeem points for free nights? | Yes | No (points can be exchanged for credit towards stays) | Yes | Yes |
| Number of brands | 18+ | 43+ | 17+ | 30+ |
| Australian presence | 17 hotels | More than 340 hotels | 69 hotels | 31 hotels |
| Ability to transfer points to airline partners? | Yes | Yes | Yes | Yes |
| App | Yes | Yes | Yes | Yes |
Hilton Honors – together with Marriott Bonvoy – offers one of the most valuable points currencies out there. Generous elite benefits, including lounge access for all room type bookings, paired with the convenient ways to earn and burn Hilton Honors points in Australia, is a definite program standout that highlights the value in collecting Hilton Honors points via transfer partners, such as American Express Membership Rewards.
The ability to secure a free award night at any property, all year round, adds further value to the program by unlocking the chance to experience the most aspirational of stays, even during peak times.
However, in terms of lifestyle points-earning avenues, such as Hilton Honors Dining and Lyft rideshares – Hilton Honors is more accessible for US-based members. As such, Hilton Honors is a program more suited to those who frequently travel Europe and the US, with many of its 18 brands located in the northern hemisphere.
So, while in terms of stay benefits, Hilton Honors holds its own against other leading programs such as Accor Live Limitless, IHG One Rewards, and Marriott Bonvoy, Hilton's lesser presence in Australia may limit its appeal for domestic travellers. Other programs such as Accor Live Limitless and IHG One Rewards boast a larger number of properties in Australia and the Asia Pacific, positioning them as more accessible programs for local stays.
In saying that it largely depends on where, and for what reason you travel. If you're often in proximity to a Hilton Hotel brand, it's likely Hilton Honors could be a worthy loyalty program for you.
Is there a Hilton Honors app?
Yes. The Hilton Honors app offers a convenient way to book hotels, explore destinations and earn rewards.
The app is free to download via the App Store for iOS or Google Play for Android.
How do I contact Hilton Honors customer service in Australia?
There are a few ways to contact Hilton Honors. From Australia, you can call 1300 445 866.
Alternatively, you can contact Hilton Honors online. Simply scroll down to the bottom of the homepage and click 'Contact Us'. Then, submit a form with a message detailing your query.
If you are overseas, the toll-free number to call is +800 4445 8667.
FAQ – Hilton Honors
How much does it cost to join Hilton Honors?
It is completely free to become a Hilton Honors member. You can sign up by following the easy steps in our post.
How many Hilton Honors points do I need for a free night?
It varies depending on the hotel. The cost for a reward stay in a base room ranges between 5,000 to 95,000 points per night (excluding top-tier properties), with many hotels requiring around 50,000 points per award night.
Is Hilton Honors the same as HHonors?
Yes, the Hilton Honors program was previously known as HHonors. It offers exclusive benefits when staying at Hilton-branded properties, as well as ways to earn and redeem Hilton points.
While you're here: Subscribe to our newsletter for the latest tips, deals and news. It only takes a few seconds and we respect your privacy: