Forget status runs. Velocity Frequent Flyer Family Pooling offers an easy fast track to the benefits of Gold or Platinum status.
Points power to the travelling family, Velocity Frequent Flyer offers a program-unique feature called Family Points Pooling, and it's one you'll definitely want to know about.
Most other frequent flyer programs, including Qantas Frequent Flyer, limit member transfers to points, whereas Velocity's Family Pooling feature makes it possible to automatically send points and status credits to an eligible family member.
A handy shortcut for Velocity Frequent Flyer members who take status seriously, there are many benefits to leveraging Velocity Family Pooling. Let's dig in.

Table of Contents
Velocity Family Pooling: how does it work?
Velocity's Family Pooling feature – a feature rarely seen in other airline loyalty programs – offers the unique benefit of consolidating Velocity Points and Status Credits into one account. That means, one nominated member can collect all points and status-earning flights and credit card sign-up bonuses.
The benefit allows members to pool Velocity Points and Status Credits to up to six family members of the same household, including a maximum of two adults and four children under the age of 18.
Since Family Pooling offers a quick way to attain status and reach redemption goals, it offers Velocity Frequent Flyer a family-friendly point of difference over other points and status-based loyalty programs.
In theory, the Family Pooling benefit could get the whole family to enjoy perks of elite status – particularly useful when travelling together – including lounge access, priority check-in and boarding, as well as free Economy X extra-legroom seats once you reach Platinum.
How to set up Velocity Family Points Pooling
Velocity Frequent Flyer members can set up Family Pooling with a handful of easy steps:
Log in to your Velocity account (not already a member? Signing up is free and it only takes a few minutes)
Select 'Family Pooling' under 'My Velocity' on the right of the screen
Choose to pool Points or Points and Status Credits
Nominate an eligible beneficiary by filling in their details
Repeat this process for up to five other family members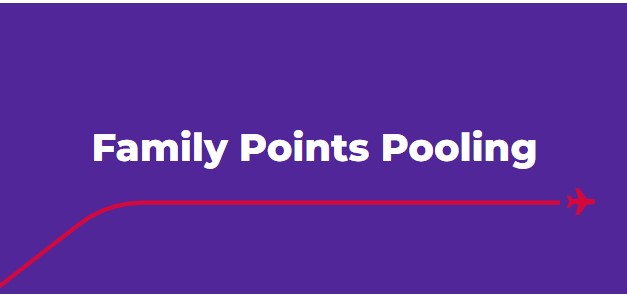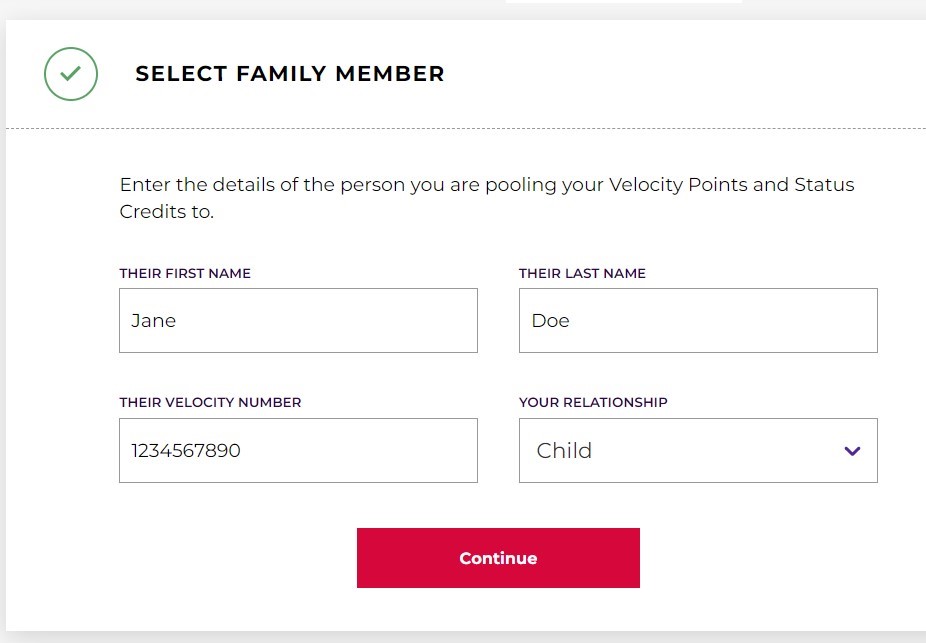 Members can update their Family Pooling beneficiary at any time, which could be a strategic way to help a particular family member achieve higher status or to reach a specific rewards goal sooner.
Who is Virgin Family Points Pooling for?
This generous feature is ideal for large families who earn Velocity Points and Status Credits individually, but who also hold a desire to share the spoils.
In saying that, couples and smaller families can also benefit from Velocity's Family Pooling feature. Points and status credits can be pooled to an eligible family member with the same address, which for the purposes of Family Pooling includes:
husband, wife, domestic or defacto partner
parent and child
grandparent and grandchild
daughter and/or son-in-law
sister and/or brother-in-law
mother and/or father-in-law
aunt and uncle
niece and nephew
first cousin
any of the above that extend to a foster, step or adopted relationship
Family Pooling vs Family Transfers: What's the difference?
Velocity Family Transfers also allow Velocity members to share the points love with their nearest and dearest, but in a slightly different way.
Velocity members can make up to four one-off manual transfers – of a minimum 5,000 Velocity Points and up to a maximum 125,000 Velocity Points – per membership year. Family transfers do not, however, offer the ability to share Status Credits.
Keep in mind that while online Velocity Points transfers are free, opting to do so over the phone via the Velocity Membership Centre will cost $20AUD.
Family Transfers are also more flexible than Family Pooling, in the sense that they don't require the related members to reside at the same address.
Which facility should I use?
This depends on a couple of factors: do you want the option to automatically pool Velocity Points and Status Credits from a flight, or would you rather select a certain number of points to transfer?
Another thing to consider is whether you live with the Velocity member you're planning to share points with. While Family Transfers don't require members to live together, points can only be pooled between frequent flyers who reside at the same home address. Note that Velocity can request proof of this.
Why pool Velocity Status Credits?
In a practical sense, pooling your Status Credits could very well see a selected sibling or cousin achieve their status goals by reaching Gold or Platinum status in time for holiday travel. Similar to Qantas Frequent Flyer membership, Velocity status tiers unlock a range of perks, including lounge access, priority boarding, seat selection and even Economy X upgrades.
Family pooling could also unlock a fast track towards aspirational flight redemptions booked with Velocity Points, including premium cabin redemptions on Singapore Airlines and Qatar Airways.
Family Points Pooling also offers an easy way to continuously share Velocity Points and Status Credits. Once set up, it's possible for a nominated beneficiary to automatically receive a steady flow of points and Status Credits when the administrator travels.
As such, the Family Pooling benefit ticks along in the background and requires little maintenance or intervention.

Changing the Family Pooling beneficiary
The primary benefit of Velocity's Family Pooling benefit is the ability to accumulate Status Credits from other family members' travel, meaning one person can access a strategic status fast-track.
Of course, you'll only want to pool points and Status Credits to someone until they reach the next status level and then move on to help another family member do the same.
A savvy way to do this is to shuffle the beneficiary and contributors by updating the 'pool'. You can cancel or change a Family Pool with these four steps:
Log in to Velocity Frequent Flyer
Navigate to the 'Link & Transfer' and then 'Family Points Pooling' page
Select 'Stop Pooling' beside the name of your existing beneficiary
You can now select a new beneficiary
Note that Points and Status Credits will stop pooling into the beneficiary's account from the day after the change is made.
Putting the points power in family travel: a case study
A family of four flying return from Sydney to Perth and earning 60 Status Credits and 2,300 Velocity Points on an Economy Choice fare for $460 per person. All points and Status Credits are then pooled to a nominated beneficiary, tallied to the following total:
240 Status Credits
9,200 Velocity Points
This means that with just one family return trip, the beneficiary of the Family Pool would have earned enough Points to book a one-way domestic Reward flight and almost enough Status Credits to reach Silver Status.
Conclusion: Is Family Points Pooling worth it?
In short, yes. Velocity Frequent Flyer's Family Points Pooling feature is a big jewel in the program's crown, offering members a compelling way to manage, gain and retain Velocity Points and Status Credits, whilst travelling in comfort and style.
Navigating Velocity's Family Pooling feature is quite straightforward. The beneficiary – who must be a Velocity member classified as an eligible family member – is nominated to access the pooled Velocity Points and Status Credits.
Operating separately to the Family Transfer functions, Family Pooling allows frequent flyers to show their appreciation to a particular family member by directing their program loyalty into a pool for that beneficiary.
The program is unique amongst airline programs, and is unmatched by Qantas. Separately, while Velocity's Family Pooling benefit doesn't quite have the flexibility of the program's Family Transfers feature (in that all members must live under the same roof), it remains an ideal way for a savvy family member to level up their status.
Have you set up Velocity Family Points Pooling yet?
FAQ – Velocity Family Pooling
How do I set up a pool on my Velocity account?
Velocity Frequent Flyer members can set up Family Pooling with a handful of easy steps. Simply follow steps 1-4 under the 'How to set up Velocity Family Points Pooling' heading in this post.
What is Family Pooling?
Family Points Pooling is a benefit that allows Velocity Frequent Flyer members to combine Velocity Points and/or Status Credits with up to six family members (including the beneficiary) living at the same address.
Does Qantas Frequent Flyer have family pooling?
No, Qantas Frequent Flyer does not have a family pooling benefit, however, it has a Points Transfers feature that allows members to transfer Qantas Points to an eligible family member.
While you're here: Subscribe to our newsletter for the latest tips, deals and news. It only takes a few seconds and we respect your privacy: