Right now, there's a chance to reward your business with a stack of bonus points. For a limited time, new cardholders can pocket 100,000 Membership Rewards points with the American Express Business Explorer Credit Card.
To take advantage of this opportunity, you must apply online by 12 January 2022 and spend $3,000 on your new card within 3 months of your approval date.
Above and beyond the sign-on bonus, this card delivers plenty of perks for a modest $149 ongoing annual fee.
You could save with a 3.99% p.a. on purchases for the first 6 months (reverts to 19.99% p.a). Plus, get access to complimentary insurances, elite hotel status and entry to the American Express Airport Lounge.
Add in an earn rate of up to 2 points per $1 spent (the equivalent of 1 frequent flyer point per dollar) and it's not hard to see how the American Express Business Explorer could deliver significant value to your business in the long term.
Or, read on to discover why the American Express Business Explorer Credit Card is a popular choice for many business owners and ABN holders.
Pocket 100,000 Membership Rewards points
American Express Membership Rewards is a flexible program that is highly valued by savvy cardholders. With no lock-in to one frequent flyer scheme and no points expiry, you can park your points and use them at a later date, when and where you please.
100,000 Membership Rewards 'Gateway' points are equal to 50,000 points or miles with leading airline programs such as Singapore Airlines KrisFlyer and Cathay Pacific Asia Miles. And while travel is unlikely to be top of mind for you or your business right now, there are so many other ways you could redeem points, including by using them for gift cards or goods.
Earn piles of points on business spend
Business owners are well-placed to earn piles of points when paying expenses – often at no additional cost outlay. And the fact is, the American Express Business Explorer Credit Card could see you rack up points fast.
You'll earn a flat 2 points per $1 for all spend, except with government bodies where you'll collect 1 point per $1. That's the equivalent of 1 frequent flyer point or miles per dollar across most transfer partners.
There's no cap on how many points you can earn each month or year. And, with American Express widely accepted at merchants across Australia, there's no shortage of places you can use your card.
Unlock a range of insurances
The American Express Business Explorer Credit Card provides a suite of complimentary insurances to help provide peace of mind when at home and abroad. The products include:
Cover for damaged, destroyed, lost or stolen personal baggage, money and documents during your trip
Medical emergency expenses
Delayed flight or missed flight connection
Luggage delay for luggage checked on a scheduled flight
Travel disruption due to the unforeseen and unavoidable cancellation of a trip
Complimentary Travel Insurance cover is extended to additional cardholders, provided the travel is booked on the additional cardholder's card.
Before deciding to take up any of these insurance products, and to find out more information about coverage requirements, you should refer to the card PDS and terms & conditions here.
Same time and money for your business with other benefits
The American Express Business Explorer Card unlocks plenty of other benefits designed to offer additional value for you and your business. There are too many to cover here in full, but they include:
Integration with leading business software: keep track of business expenditure using Quicken or MYOB
Apple Pay, Samsung Pay, and Google Pay support – use your card with your phone for easier payments
Amex Offers: Save money with popular promotions that reward you with a cashback when you hit a minimum spend threshold at a specific merchant (e.g. spend $250, get $50 back at Myer, or spend $500 and get $100 back at Harvey Norman)
Amex Experiences: get exclusive access to music, theatre and film events, sometimes via pre-sale tickets. You can also enjoy exclusive lounges at selected events.
Free additional cards: Additional cards can be provided to employees at no charge. The points earned are credited to your account. Additional cardholders will be able to access some of the exclusive perks we've covered above.
The American Express Business Explorer also carries an Interest rate of 19.99% p.a. on all purchases. This is lower than the interest rate of 20.74% on the personal Amex Explorer Credit Card and could help you with cashflow for your business.
Get access to a range of travel benefits
Look, we know that you're probably not thinking about travel right now. But when things ramp back up, the American Express Business Explorer Credit Card has you covered with access to a range of valuable benefits. We've listed the main ones below.
Free access to the American Express Airport Lounge twice a year
The American Express Business Explorer Credit Card unlocks two complimentary single entries to the American Express Airport Lounge each calendar year. There are two air-side locations at airports in Australia – Sydney International Airport and Melbourne International Airport.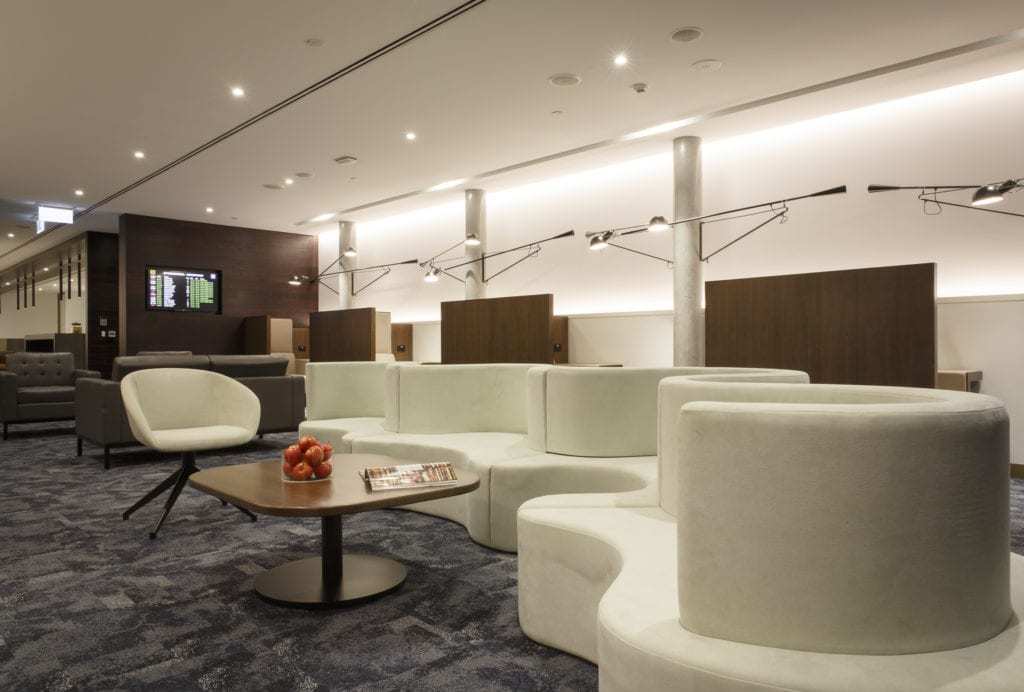 The Amex Lounge provides cardholders and their guests a comfortable area to relax and recharge before their flight. There's complimentary dining on offer, a full-service bar, high-speed Wi-Fi and showers.
This cardholder perk could be very valuable, particularly for when you're travelling internationally in economy.
Fast track to complimentary Hilton Honors Silver Status
Obtaining elite tier status with a hotel loyalty scheme usually requires a significant spend outlay. However, selected Amex credit cards – including the American Express Business Explorer – offer an instant fast track to Hilton Honors Silver Status.
Hilton Honors Silver members enjoy:
Late checkout (upon request and subject to availability): Hotels typically charge a significant amount for a late checkout. So, this benefit can be quite valuable and may come in handy if you have a later flight.
20% Bonus on Points towards free nights: Silver Hilton Honors members earn 20% more points than a regular member, helping you to rack up Hilton Honors points faster
Fifth night free: Silver, Gold and Diamond members get every 5th night free when booking a reward stay of five nights or more using Hilton Points.
Two complimentary bottles of water per stay: Applies to selected properties.
Get a US$100 hotel credit and room upgrade at selected properties
The AMEX Explorer Business Credit Card unlocks valuable benefits with The Hotel Collection, an exclusive accommodation booking service made up of more than 600 hotels and resorts in over 30 countries worldwide.
By booking two consecutive nights' stay, you could enjoy a hotel credit of up to US$100 and a room upgrade, (when available) at participating properties.
Over time, these exclusive perks could provide you with significant value for money when you travel.
American Express Business Explorer Annual fee
The annual card fee for the American Express Business Explorer has recently been reduced significantly to an ongoing annual fee of $149. It's possible to get this value back and far more by making use of some of the benefits we've outlined in this article.
Eligibility
To apply for this card, you'll need to be an Australian citizen or permanent resident or hold a current Business Long Stay Visa (subclass 457).
Additionally, you must have an annual business revenue of $75,000 or more and your business must have a valid ABN registered for GST.
To receive the 100,000 bonus Membership Rewards points via our partner offer, you must not currently hold or who have previously held a Card product issued by American Express Australia Limited in the preceding 18 month period. Previous and existing bank-issued American Express companion Card Members are eligible for this offer.
Don't miss an opportunity to pocket 100,000 bonus points!
This offer for the American Express Business Explorer ends 12 January 2022, so don't delay.
The secure, mobile-friendly application form takes less than 10 minutes to complete and Amex may be able to give you a response in less than 60 seconds.