Save up to $90 instantly on your booking with our Airbnb referral code.
As domestic travel ramps back up, Airbnb properties are growing in popularity, and with good reason. Airbnb offers a flexible cancellation policy, an array of unique and compelling stays, and it's a way for all of us to support smaller operators. Plus, if it's your first night (or you create a new account), you can score a sweet saving off your next trip with our Airbnb referral.
It's simple: By using our unique Airbnb referral link, you'll score up to $90 (AUD – you'll get the equivalent amount in another currency) off your first Airbnb stay and experiences booking! That's a sizeable saving, and money back in your pocket whilst you support the local tourism industry.
Click here to get your instant Airbnb referral credit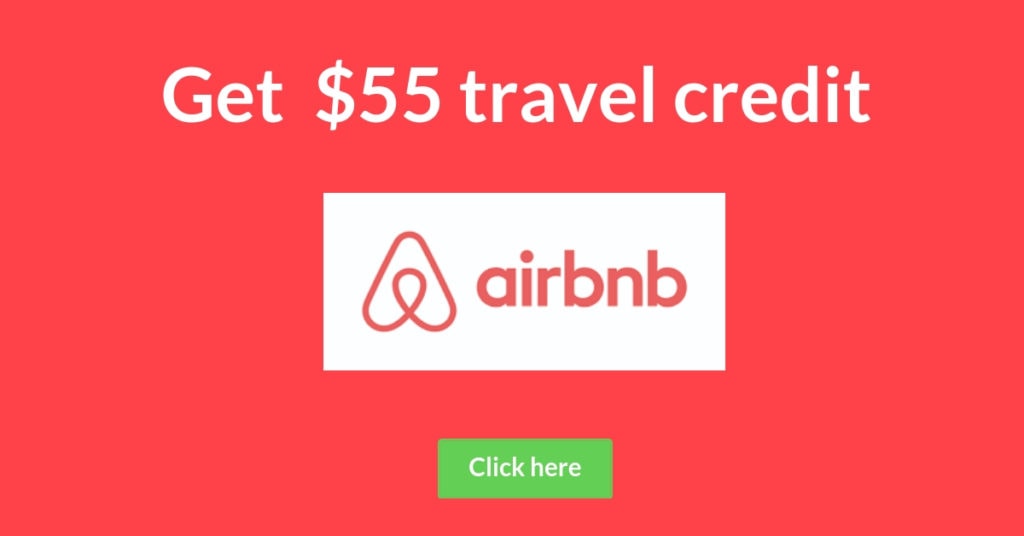 Why choose Airbnb?
While I love to stay in hotels, I often find myself booking trips at Airbnb properties throughout the year. Airbnb properties offer things that you won't find with a chain hotel – the ability to get to know your hosts and to really immerse yourself in a new location. And there are often some incredibly quirky Airbnb properties to find off the beaten track!
RELATED: Want to learn more ways to save with Airbnb? Click here for our roundup of 12 Airbnb secrets to save you money on your next booking!
But what about those who already use Airbnb? Good news! The Airbnb referral program is also open to existing users. As an existing user, you'll receive a $25 Airbnb coupon code by referring friends and family using your own link.
How to sign up for your $55 Airbnb coupon code
You can sign up for your $55 Airbnb coupon code here (disclaimer: we'll receive a referral credit when you take your first trip). Simply click on the 'Sign up' button on the Airbnb referral page and complete the registration process to get your travel credit when you make your first booking.
There is no need to enter any information in the Airbnb promo code field. New users who sign up with an existing Airbnb referral link will see the applicable referral credit show up automatically on the checkout page of any qualifying reservation.
How to earn Airbnb referral credit as an existing user
If you already hold an Airbnb account, you can earn travel credit when a friend or family member who signed up with your Airbnb referral link completes a qualifying reservation as a guest. You could also earn a hefty $100 Airbnb referral credit when they complete a qualifying reservation as a host. There is an overall 'cap' of $5,000 USD in Airbnb referral credit that can be earned by both parties during the lifetime of the Airbnb referral program.
How to generate your Airbnb referral link
As an existing user, you can generate a referral link to distribute to friends and family instantly. To begin earning Airbnb referral credit, simply visit the Airbnb invitation page and follow the steps to generate your link.
How to use Airbnb coupons
Airbnb travel credits automatically appear as a coupon on the checkout page of your reservation request. If the travel credits aren't automatically added to your booking, it may mean your reservation doesn't qualify. Travel credits can't apply to a trip that has already been paid for, but they will be available and applied to your next qualifying reservation.
Do Airbnb referral program travel credits expire?
Credits expire one year from the date they are issued and can only be used once – so it's important to keep an eye on the validity of your credits and to book wisely! Note that Airbnb referral credits are not reusable if you cancel a reservation where the travel credit was applied. You can read the full program terms and conditions here.
Can I use an Airbnb promo code or coupon?
No, Airbnb promo codes or coupons are not typically offered publicly. This is where the Airbnb referral program shines. Very rarely, an Airbnb promo code or coupon may be made available, either to first-time Airbnb users or existing customers. When we find these Airbnb promo codes, we publish them here. There are no Airbnb promo codes or coupons currently available. However, our Airbnb referral code provides an instant Airbnb coupon of up to $90 AUD.
If you already have an existing Airbnb account, you cannot apply our Airbnb referral credit. You will need to create a new Airbnb account before signing up with our unique referral code to get $55 off your booking.
Earning Qantas points with Airbnb bookings
Did you know that Airbnb users can also Qantas Frequent Flyer points when they stay at Airbnb properties?
Qantas and Airbnb have announced a partnership that gives Qantas Frequent Flyer members the ability to earn 1 Qantas Point per AUD$1 value or equivalent in foreign currency on Airbnb bookings made through the Qantas Airbnb portal. Of course, it's not as lucrative as scoring up to $90 off with our Airbnb referral credit, but there's value to be had if you're booking with an existing account. You'll find the full terms and conditions for the Qantas Airbnb partnership here.
While you're here: Subscribe to our newsletter for the latest tips, deals and news. It only takes a few seconds and we respect your privacy: