Many online survey sites offer payment in exchange for feedback or your opinion. And while not all these companies are legitimate, some deliver worthwhile rewards.
In this guide, we'll provide an in-depth overview of YouGov Australia, a legitimate market and social research company. Users can get paid for completing surveys, often on important social topics.
Our YouGov Australia review demonstrates how YouGov works in Australia, what users can expect, and tips for getting the most out of the platform.
Join trusted, global survey site YouGov and get 100 bonus points for completing the welcome process. Get paid in cash directly to your bank account when you complete surveys. Join here.
What is YouGov and how does it work?
YouGov is one of the world's leading market research companies. Founded in the United Kingdom, it boasts more than 9.6 million members worldwide. YouGov Australia publishes a number of high-profile syndicated public opinion reports. Their research is frequently featured in news media across Australia, Asia Pacific, and overseas.
Skip this review and join YouGov right now for 100 bonus points
As a social research specialist, the company works with leading businesses, government organisations, and brands to provide data analytics insights. Their core methodology involves data collection for many topics, including banking, consumer products, social and political issues, personal finance, IT, motoring, and more.
In order to gather insights, YouGov rewards Aussies for having their say. Yougov.com online surveys and polls vary in length. The amount of money paid is directly tied to the amount of time a YouGov panel member needs to invest.
Read on to discover everything you need to know about YouGov and learn why you should join now (for free, of course).
Top Australian Paid Survey Picks:
Start earning cash by joining some or all of our top Australian paid surveys now!
TIP: These legitimate sites are free to join. We recommend you sign-up for multiple Australian paid survey sites in one go for the best chance to earn more cash and rewards.
YouGov Australia members are incentivised to participate in paid surveys using a points-based rewards system. Users can earn those points by completing YouGov surveys and polls. The more you participate, the more opportunities for earning points will open up.
You can redeem YouGov Australia points for goods and gift cards from leading brands, and even pre-paid Visa gift cards.
Is YouGov Australia legit?
Absolutely. Australian consumers can be reassured that YouGov is a safe and legitimate survey site to use.
First and foremost, YouGov is one of the world's leading market research organisations. YouGov Australia carries out regular research studies for many high-profile brands. This includes plenty of high-profile work for the Australian federal and state governments. Since governments vet firms extremely carefully as part of the procurement process, it's fair to say YouGov Australia is 100% legit.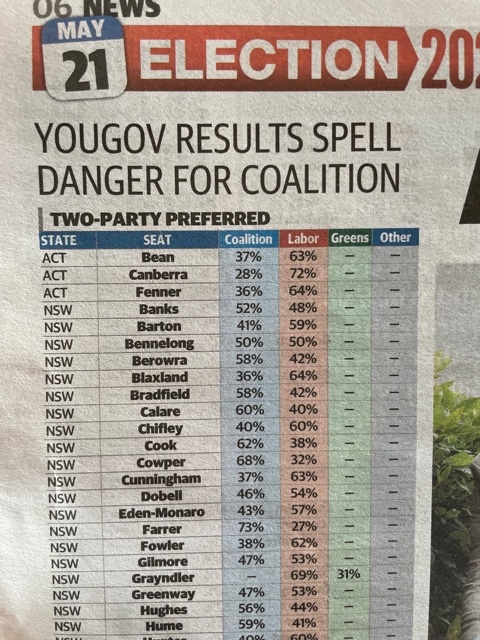 As you'd expect from a legit survey site, YouGov also implements a wide range of steps to ensure respondents personal information is kept protected and safe. While YouGov isn't a member of the Australian Data Insights Association, the company adheres to Australian Privacy Legislation and is a full member of The Research Society.
How to join YouGov Australia
YouGov is completely free for Australians to join. Plus, it will only take a few minutes of your time to sign up.
To sign up for a YouGov account, enter your info on the website and you will be sent a verification email with step-by-step instructions.
How to complete YouGov Australia online surveys
As a pure online survey panel, paid survey opportunities are the key way to earn with YouGov. Once you have registered as a YouGov user and completed your profiling information, you will be able to start taking paid online surveys.
How you receive YouGov survey invites
You'll be notified about any new YouGov Australia survey opportunities via email. Users can click straight through the link to start the survey. Our tip is to attempt a new survey as soon as possible. That's because popular surveys can fill out fast, leading to a screen out when a quota is filled.
While it's handy to receive new survey invites via email, there is a downside to this approach. Unfortunately, when you get an email about a new YouGov survey, you cannot check out how big a reward the survey provides or how long it will take you to complete it.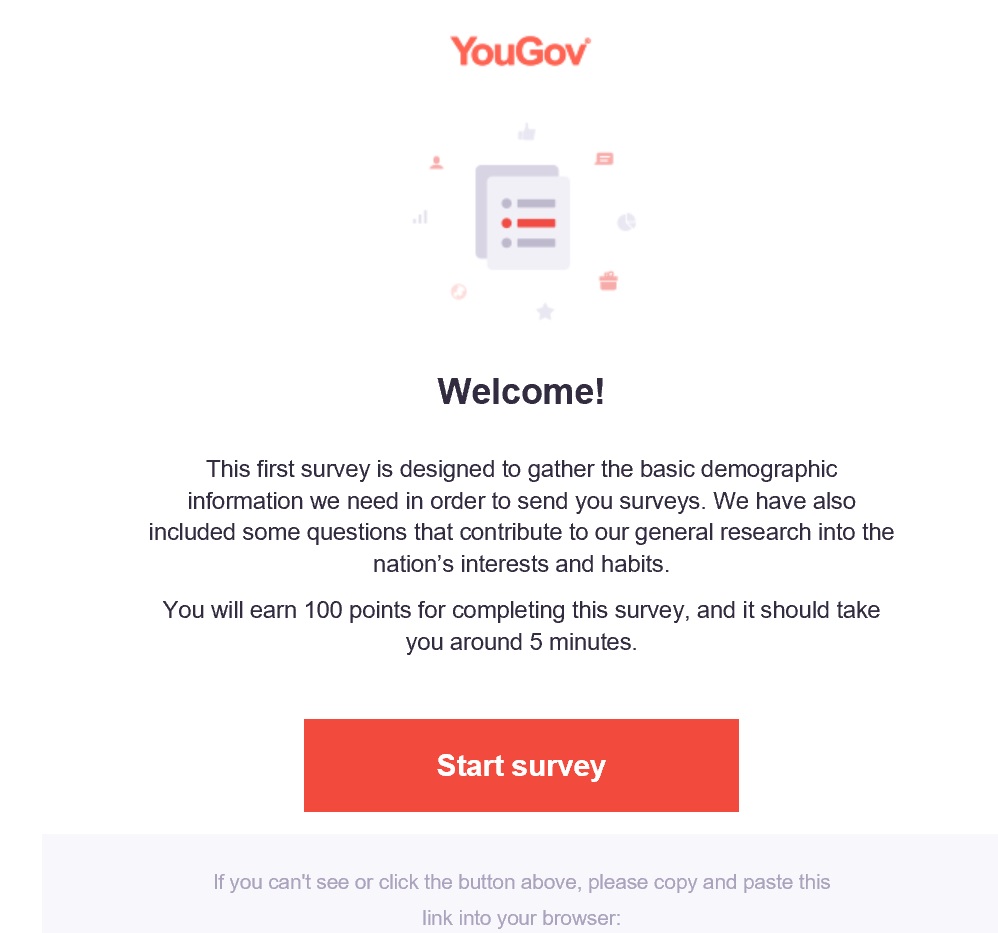 Online survey duration
So how long can you expect a YouGov survey to take?
The majority of YouGov Australia surveys are relatively brief. A typical survey has about 20 to 30 short questions in total, requiring around five to seven minutes of your time to complete. From time to time, YouGov offers longer surveys or research with more complex inquiries. The longest surveys should not take you more than 20 minutes to finish.
Frequency of online survey opportunities
As a leading survey panel, YouGov boasts plenty of clients – and this translates directly into more survey opportunities for members. In our experience, YouGov offers surveys quite frequently compared to other similar sites. Typically, you can expect to receive 5 or more survey invites in any standard week.
How much do YouGov surveys pay?
Survey earnings (credited as YouGov points) are entirely dependent on the length of the survey you complete. Typically, you can expect to earn up to 400 points for completing a 10-15 minute survey. The payout you can expect for time invested is quite low in comparison to high-paying Australian survey sites like Octopus Group.
Furthermore, like any online survey site, there's no guarantee of a steady income with YouGov. And, with relatively low payouts on offer, it's best to be realistic about how much you can actually earn – YouGov Australia isn't a waste of time, but it won't make you rich by any means.
Redeeming YouGov points
Loyalty has its rewards, and for frequent users of the YouGov survey portal, it won't be long before you're ready to cash out your points.
To redeem YouGov points, you'll need to have accrued a minimum payout threshold of at least 5,000 points. You can track your points balance easily from the YouGov website account dashboard.
YouGov redemption options
When it comes to cashing out points, YouGov Australia offers a decent range of redemption options, which makes it more flexible than some competitors. There's the ability to:
Request cash direct to your PayPal account
Redeem for gift cards (including the YouGov Flexi E-Gift Card)
Obtain mobile credit (for selected carriers outside of Australia)
Collect Air Asia credit
Offer your points up as charity donations
Redemption options can change from time to time. By navigating to the Rewards page, you'll find an overview of the various redemption options and the minimum points threshold you'll need for each amount. You'll also find information about how long it will take YouGov to process your chosen redemption option.
Redeeming YouGov points for PayPal
In order to redeem YouGov Australia points for PayPal cash, you'll need to be registered with a current PayPal account. To redeem, simply select PayPal as your preferred redemption. Your earnings will be credited to your PayPal account within 10 business days of YouGov receiving the request.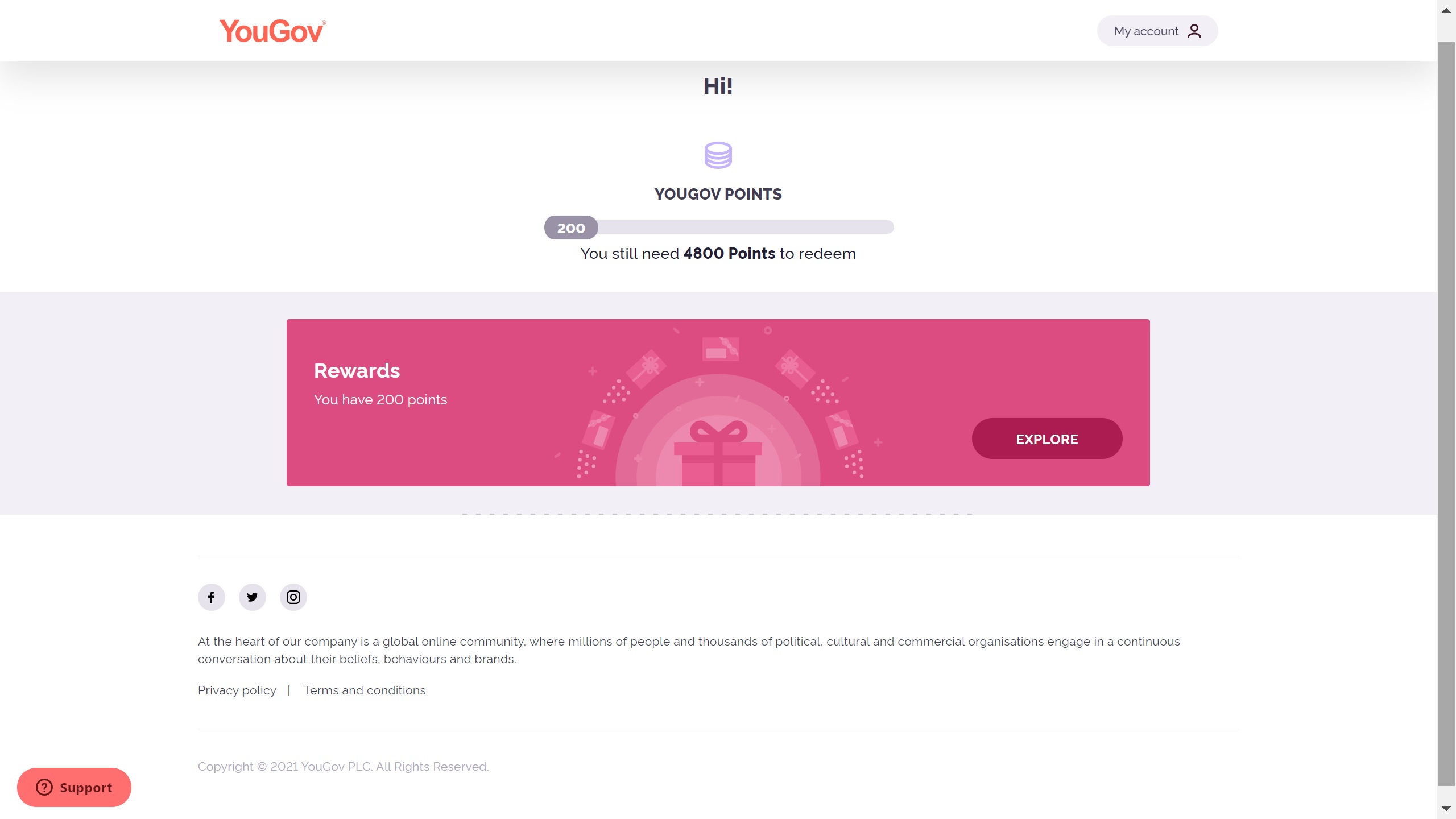 How the YouGov Flexi E-Gift Card works
While PayPal is a popular option, YouGov's flexible gift card option has the potential to offer tremendous flexibility, too.
With a YouGov Flexi E-Gift Card, you can shop at more than one store in Australia. With a YouGov Flexi E-Gift Card, you have the option of where to make your purchase.
There are two YouGov Flexi E-Gift Card denominations, as follows:
| | | |
| --- | --- | --- |
| Product | Denomination | YouGov Points needed |
| YouGov Flexi E-Gift Card | $20 | 5,000 |
| YouGov Flexi E-Gift Card | $50 | 10,000 |
YouGov points payout threshold
You must have earned a minimum of 5,000 YouGov points to cash out a reward from your account. 5,000 points are equal to $20 AUD when redeemed for a flexible gift card.
Once you have chosen your preferred redemption, the processing period can range from one week to one month.
Who can become a YouGov member?
So long as you're an Australian resident over the age of 16, you can create a YouGov account. If you are under 18, you must have the permission of a legal guardian.
Globally, YouGov is available to residents of many other countries.
How can I join YouGov?
It's simple to join YouGov Australia, and it won't cost you a cent. Simply head to the YouGov website now to get started.
The entire process shouldn't take you more than 2 minutes. You'll need to provide some basic personal information, your email, and your mobile number.
YouGov will ask you to verify your email address. Once you've done so, you will be able to complete a range of profile questions. While the process might seem arduous, providing accurate demographic information is very important.
After all, YouGov will use this information to match you to surveys. The more accurate your profiling information is, the less time you'll waste with screenouts. Once you've completed your profiling information, you'll start receiving a steady stream of online survey opportunities.
Does YouGov offer a referral program?
In some countries, YouGov offers a chance to earn extra money if you invite your friends to join the site. Once you've logged in, look for a link that you may send with your pals if such a feature is available in your nation.
At the time of writing, this feature is unfortunately not available to Australian users. You can discover a list of other survey sites that offer refer-a-friend programs for Australians here.
YouGov pros and cons
Like any survey site, YouGov has its advantages and disadvantages. Here are the good – and not-so-good – things to know about before you sign up.
Pros
Frequent online survey opportunities: Since YouGov is a leading market research company, they work with thousands of brands. This means they can usually provide users with more online survey opportunities than other survey sites
Have your say on important topics: Unlike purely commercial research companies, YouGov Australia does a significant amount of work for governments and socially-minded entities. So, many of the surveys will give you a chance to have your say on topics that might be important to you.
Legit and not a scam: YouGov is a trusted, legitimate survey company that has a track record of over 10 years. Aussie members can be reassured that the company pays out when it says it will, and that it adheres to Australian data handling and privacy legislation.
User-friendly interface: The YouGov website has an easy-to-use interface, making it simple to navigate to new survey opportunities and to cash out your rewards.
Flexible reward options: With the option to cash out for PayPal, gift cards, and more, YouGov offers a great choice of different redemption options.
Cons
Survey payouts could be higher: While YouGov survey compensation is by no means the lowest we've seen, other survey sites like Octopus Group, Ipsos iSay, and OpinionWorld pay more. You should bear this in mind when deciding whether to spend time on the site.
Points-based rewards system: YouGov's incentive scheme is based on a points system. Some users might find this confusing, as it's not always clear how much money you're actually earning.
No referral program: While YouGov offers a referral program in selected countries, this doesn't currently include Australia.
YouGov Australia reviews from users
If you've read this far, you might be wondering what other Australian users have to say about YouGov.
YouGov doesn't have a significant review footprint in Australia. However, you can find YouGov.co.uk reviews on Trustpilot, where it registers a current score of 3.9.
The YouGov reviews from users are quite mixed, so you'll have a chance to read through both positive and negative experiences people have had with this survey site.
Sites that are similar to YouGov
When it comes to paid online surveys, many sites are accessible to Australians. We've covered plenty of these survey companies on The Champagne Mile. How do they stack up against YouGov? Read on to find out.
YouGov vs Octopus Group
Octopus Group frequently appears at the top of our featured survey site lists, and there's a simple reason why. This Aussie-owned survey site offers the highest payout rates in Australia. In real terms, that equates to an approximate payout rate of $16.80 per hour, which is at least four to five times more than you could earn with YouGov.
Octopus Group also offers an incredibly generous referral program, a feature that is lacking for YouGov Australia.
Start taking paid online surveys with Octopus Group – Australia's highest-paying survey site! Get paid in cash or gift cards, plus earn even more when you refer friends. Join here.
That said, there are a couple of downsides to know about. While Octopus Group's online panel is growing, it's not as large as YouGov. So, the frequency of survey invitations you can expect to receive via Octopus Group may be lower. This can make it worthwhile to sign up for both sites.
Sign up to Octopus Group here or read our review here
YouGov vs Swagbucks
Global 'Get Paid to' site Swagbucks has offered survey-taking opportunities to USA-based consumers for years, and local Australians can now join too. Unlike YouGov, Swagbucks offers a range of non-survey-based ways to earn rewards, including interactive activities such as watching videos and even playing games. However, don't get too excited. When compared to YouGov, Swagbucks payouts are very low.
Swagbucks lets you earn FREE gift cards for taking surveys, watching videos, shopping online, and more! Score a $5 bonus when you join via our exclusive link here.
Also, while Swagbucks claims to have strict privacy and data handling policies, Australian users should be aware that the site doesn't offer local safeguards. As an example, Unlike YouGov, Swagbucks isn't a member of Australia's leading research body, The Research Society. Further, as Swagbucks is a 100% commercially focused site, users are unlikely to get a chance to provide an opinion on the types of important research topics that YouGov Australia regularly runs.
Join Swagbucks here or read our review here
YouGov vs Toluna
Toluna, like YouGov, is a global giant in the online survey space, but markets toward the consumer space more rather than the Governmental research space. Naturally, Toluna has evolved into more of a 'Get-Paid-To' (GPT) website to retain its survey participants. It allows members to not only complete surveys and polls, but also earn from creating their own!
Take online surveys and get awarded points that you can exchange for cash or rewards. It's quick, easy, and free to join Toluna here.
Toluna has the added convenience of a well-designed app for mobile users. It does, however, pay less per survey completed than YouGov. The good news is that it also takes data handling and privacy seriously, with local memberships in place.
Join Toluna here or read our review here
YouGov vs Survey Junkie
Survey Junkie users provide various companies with honest opinions about their products and services, helping them identify areas for improvement. With a range of money-making options, such as online and phone surveys, product testing, a Survey Junkie Pulse app, and a referral program, the site has a strong pull factor.
The fact that Survey Junkie boasts five million active users from all around the world, just like YouGov Australia speaks volumes to its legitimacy.
With a low redemption threshold and plenty of surveys, you'll be able to start earning almost straight away! Join here.
For those of us who are visually minded, the Survey Junkie website will likely keep users engaged longer than YouGov.
Join Survey Junkie here or read our review here
YouGov vs MOBROG
MOBROG is a survey panel that consistently receives good feedback from Australian users. With per survey payouts of between $1 and $5 (similar to YouGov), there is an opportunity to earn some cash on the side from this site.
Great rates, low redemption thresholds, and three ways to redeem. What's stopping you from joining MOBROG? Join here. 
Users may also be offered other types of activities, such as focus group participation or paid product testing.
Join MOBROG here or read our review here
In summary: Is YouGov worth it?
YouGov Australia is a worthwhile and legitimate option for people looking to earn extra cash on the side with paid surveys.
Plus, there's a welcome bonus of 100 points available right now, simply for joining up!
The interesting research topics, user-friendly website, and flexible earning options make YouGov a reasonable contender when it comes to Australian survey sites. That said, with less than competitive payouts and a lacking a referral program, some Australian survey takers are likely to find better opportunities elsewhere.
At the end of the day, joining YouGov Australia is entirely free and you can opt-out at any time. So, you don't have much to lose. As long as you're not expecting to get rich, it could be worth trying out YouGov to see if you can make this paid survey site work for you.
Join trusted, global survey site YouGov and get 100 bonus points for completing the welcome process. Get paid in cash directly to your bank account when you complete surveys. Join here.
YouGov Frequently Asked Questions (FAQ)
Is YouGov Australia legit?
Absolutely! And what's more, they take data handling and privacy very seriously as they are a multi-national leader in market research.
How can I join YouGov Australia?
Joining is free, easy and it only takes 2 minutes! You'll need to provide basic personal information including your email and mobile number.
Does YouGov Australia have a referral program?
No. While YouGov operates member incentive schemes in other countries, there is currently no YouGov Australia referral program.
How old do I have to be to join YouGov Australia?
So long as you are an Australian resident over 18, you can join. Those who are younger can join from the age of 16 if they have parental permission.
While you're here: Subscribe to our newsletter for the latest tips, deals and news. It only takes a few seconds and we respect your privacy: