Choosing which online earning opportunity to invest in can be difficult with an overwhelming number of options available.
As a leading online rewards program, Swagbucks Australia is worth a look. If you do various things online, such as watching videos and completing surveys, you can earn gift cards or even cash.
Click here to score a $5 sign-up bonus with Swagbucks right now!
Sure, the name "Swagbucks" might sound a bit dodgy. However, this site is reassuringly legit. With an engaged membership base and over 15 years of operation, Swagbucks has paid out hundreds of millions of dollars in rewards.
Read this Swagbucks Australia review to find out if this site could be right for you.
Top Australian Paid Survey Picks:
Start earning cash by joining some or all of our top Australian paid surveys now!
TIP: These legitimate sites are free to join. We recommend you sign-up for multiple Australian paid survey sites in one go for the best chance to earn more cash and rewards.
Can Swagbucks be trusted?
First things first, if you're anything like me, you're probably wondering whether a site named "Swagbucks" is trustworthy and legit. This is a valid concern, given the number of dodgy online rewards programs that operate today.
As a longstanding member, I'm confident that Swagbucks Australia is the real deal. But don't just take my word for it. Here are the most compelling reasons why the site is worth trusting with your time:
Proven player: Swagbucks is one of the biggest players in the lucrative 'Get-Paid-To' market. While it's particularly popular in the US, Australian consumers can now get in on the action. The site is reassuringly backed by Prodege LLC, which is A+ rated with the Better Business Bureau (BBB).
Payout history: And let's face it, any company that has paid out hundreds of dollars in incentives is likely to be legit.
Swagbucks Australia reviews on the web: Perform a quick search in Google and you'll find thousands of testimonials about how members make cash with Swagbucks. Most users have found these dealings to be legit and trustworthy.
When all is said and done, you should carry out your own research to ensure you are comfortable with the site before you join up.
Six strategies for getting the most out of Swagbucks
Ready to get started with Swagbucks Australia? Here are my quick top six tips for maximising your earnings:
Earn $5 in bonus Swagbucks Points immediately when you sign up
Combine Swagbucks with other legitimate online survey sites
Consider referring friends for extra money earning
Use Swagbucks as your default search engine to earn money when you search
Install the SwagButton so you capture all earning opportunities
Minimise email spam by signing up for an email account with a separate address than the one you normally use at home
What Is Swagbucks?
Swagbucks Australia is an online site that gives its members points for performing tasks like answering surveys, searching on the Internet, or watching videos. It boasts over 20 million active members, who earn rewards in the form of "Swagbucks points".
Swagbucks credits users with points and cashback when they complete a range of passive and more-involved online activities, including:
Completing daily polls and online surveys
Performing web searches
Shopping online via a cashback portal
Playing games and watching videos
Not only is it easy; joining and using Swagbucks.com is also completely free! You can watch a Swagbucks video here.
Why Should Australians Join Swagbucks?
Swagbucks Australia has a lot of functions that suit just about every interest. And while the site is primarily geared to US users, Australian members can take advantage of most features.
Join Swagbucks and you can earn real rewards in minutes by doing key tasks that take as little as one minute online.
To start earning, all you need to do is download the Swagbucks browser extension or grab the app. Then, you're ready to redeem your first SB with a click.
How Does Swagbucks Actually Work?
Over the years, Swagbucks Australia has built up a reputation as a popular and exclusive market research service. They work with all sorts of marketers to offer them a chance to get their brands noticed by consumers. However, they do also benefit from these partnerships because they are also getting paid for providing advertising services for these companies.
What are Swagbucks Points worth?
Swagbucks Australia pays out online rewards in the form of SB points. To make it easy, one Swagbuck point is worth 1 US cent.
The exchange rate is 100 SB for one US dollar. Regardless of the currency you have, 1 AUD, EURO or GBP is equivalent to one US dollars' worth of SB Points. The value of a currency will vary depending on the location where it is filed.
For an easy conversion to money in your PayPal account or as a gift card, accumulate 2,500 points by using Swagbucks frequently and you can convert it to either $25 USD in PayPal money or a $25 gift card for leading brands.
How to Earn Money With Swagbucks Australia
At this point, it's important to stress that while Swagbucks can help you earn additional money on the side, it is in no way going to make you enough to replace other income streams.
But there are plenty of ways Australian members can earn on the site. If you become a regular user, it's not unrealistic to expect to make an average of $25 USD a month. If you're there often enough and your online activity level is high enough, you have the potential for earning more than that.
Swagbucks Australia proudly proclaims that some dedicated members have earned over $10,000 on the site, though it's likely that this has come at a tremendous opportunity cost to those users.
In this section, we'll cover what you can expect to earn via the different Swagbucks activities accessible to Australian users, the estimated opportunity cost, and any caveats or warnings you should know about.
Complete online surveys
One of the primary functions of Swagbucks is to offer their advertisers market research insights through the conduct of online surveys. Users can take these surveys and earn rewards, simply for providing an opinion.
How much can you earn? Anywhere from 1 SB Point for a daily poll, up to several hundred SB points for an extremely intensive. It's worth noting that this earn rate is significantly lower than high-paying online survey sites available to Aussie consumers, such as Octopus Group
How much time is required? Anywhere from one minute (completing a daily poll) up to half an hour for a survey.
Need to know: Like many online survey sites, Swagbucks Australia registers a high screen out rate when a demographic or behavioral quota is filled. When this occurs, Swagbucks offers very modest compensation in the form of 1 SB. Because Swagbucks routinely routes users to third-party sites, users should check the data collection and privacy handling practices of these sites before disclosing personal information. It's also important to ensure anti-malware is installed.
Swagbucks lets you earn FREE gift cards for taking surveys, watching videos, shopping online, and more! Score a $5 bonus when you join via our exclusive link here.
Shop via the Shopback portal
Like traditional cashback sites such as Cashrewards and Shopback, Swagbucks Australia also operates a cashback rewards program. Here, it tracks customer purchases and informs retailers of any qualifying transactions. If the retailer pays Swagbucks (and then shares this money with customers), the customer receives cashback on their purchase.
Users in the USA can also shop in-store using an eligible American Express, Mastercard, or Visa credit card for Swagbucks In-Store Cash Back.
How much can you earn? Get rewarded with at least 1 SB on every USD you spend. The amount you can earn can vary. At the highest end, users can earn up to 10% cashback, or 10 Swagbucks points per dollar spent.
How much time is required? Very little – essentially, the amount of time you'd usually spend shopping. Simply log in to the Swagbucks portal from your Swagbucks account and shop as you normally would.
Need to know: The Swagbucks portal is quite US-centric, partnering with retailers like Target, Walmart, Home Depot, and Starbucks. However, it does partner with a number of retailers that are accessible to Australian consumers.
Use the SwagButton
To access the full array of Swagbucks Australia savings and rewards when you shop, install the SwagButton, which is similar to products offered by Qantas Shopping, Honey, and Cashrewards. Shopping with the SwagButton browser extension gives you access to coupons while also providing a personalised savings profile. If you install the Swagbucks extension for your browser, it will alert you whenever you visit a SB earning site.
How much can you earn? From time to time, Swagbucks offers 50 SB points for installing the browser extension. Right now, you can also spend at least $25 at a store featured in Swagbucks.com within 30 days of registration and get 1000 SB, equivalent to $10 USD in value. Thereafter, the SwagButton provides notification of cashback and promotional offers which can be helpful to save more money and time.
How much time is required? Allow 5-10 minutes to complete the install. Then, simply use the SwagButton when you browse the web.
Need to know: Some earning opportunities require you to outlay cash first. Before using the SwagButton, ensure you are comfortable with SwagBucks Australia tracking your online browsing activity.
Watch Videos
Watching videos is something many of us do every day, so it's handy to know that Swagbucks Australia rewards members for doing so. Swagbucks users can watch videos on the iOS or Android app or desktop. Then, rate them to earn online rewards. There are many topics and categories on offer to suit different tastes – everything from cooking to wellness to personal finance.
How much can you earn? Watching a short video clip earns an SB point. You can earn even more SB points by watching a full playlist.
How much time is required? As much time as you are comfortable spending on this online activity from within your Swagbucks account, noting that the reward return is very small.
Need to know: It's worth noting that you can multi-task when carrying out this activity, and it's best done on desktop. Simply open a video in a browser tab and carry on working on something else at the same time.
Play Games
If you regularly outlay money to play games online, then Swagbucks Australia might be worth a look.
What you can earn: This varies. Earn a small number of SB by playing games on any device, up to 3000 SB for an install.
How much time is required? That's entirely up to you. Spending time on this activity could be enjoyable, but the cash return is very small.
Need to know: This online activity requires you to spend money, so it won't suit everyone and could even be to your detriment. In order to earn rewards for playing games, you need to deposit money into your GSN account. Unfortunately, right now, Swagbucks members don't earn points for playing games that do not require a money deposit.
Refer friends to Swagbucks
The best online rewards programs offer referral opportunities, and it's possible to earn additional rewards with Swagbucks Australia in this way. In fact, referring friends and family to Swagbucks can be a great way to earn more SB points with minimal effort, even in Australia.
How much can you earn? Both the referrer and the referee will get 300 SB upon sign up (the referral points are awarded when the new sign up earns at least an extra 300 SB within their first 30 days. Plus, you'll earn 10% of your referee's SB points earnings for as long as they remain a member.
How much time is required? Just a few minutes to access your referral link from your Swagbucks account and send it through to friends who you think may be interested.
Need to know: It's always best to 'pre-qualify' friends and family with a chat before you send them a referral invitation. That way, you'll ensure you only approach people who have a genuine interest in joining, and you won't be seen as spamming.
Enter Swagbucks competitions
For members wishing to try their luck, Swagbucks Australia offers frequent competitions. Users can enter regular giveaways known as Swagstakes.
How much can you earn? Technically, the prizes can be anything from Apple products to more points (SBs). But here's the caveat: to enter each contest you must spend SB points. So, for example, you can enter a competition to win 100 SB, but it might cost you 5 SB to take part.
How much time is required? Typically, no more than a few minutes to locate opportunities from within your Swagbucks account and register your entry.
Need to know: Before entering a Swagstakes, you should always weigh up the chances of winning the competition, vs losing a nominal number of SBs.
Download apps and games
Downloading, installing, and opening certain apps is another way to earn points with Swagbucks Australia. But you always should watch out for opportunities that require you to outlay money to earn rewards.
How much can you earn? It's not uncommon to earn several hundred SBs, if not more, depending on the offer.
How much time is required? Several minutes for downloading/installing apps, and as much time as you want to outlay on using them.
Need to know: In most cases, you'll have to do something extra before getting your reward, and this might involve spending money. For example, you might need to unlock new levels of a game or plunk down some cash to get a return for your time. If you'd rather not outlay money, stick to the free apps.
Use the Swagbucks Search Engine
Passive income doesn't get much easier than generating points by using the Swagbucks search engine.
Search the web for anything: the latest news, cooking tips, even the latest in celebrity gossip. Use the owned Yahoo-powered search engine to get what you're looking for.
How much can you earn? You should expect to earn around 1 SB point for every search, but the exact number will depend on the search terms.
How much time is required? As much time as you're prepared to spend searching the web.
Need to know: Not unlike the SwagButton, to use the Swagbucks search engine, you should be comfortable with SwagBucks tracking your online browsing activity. Google fans may also find it difficult to switch browsers.
Swagbucks lets you earn FREE gift cards for taking surveys, watching videos, shopping online, and more! Score a $5 bonus when you join via our exclusive link here.
Find Swag Codes
Across the internet, Swagbucks has hidden a series of word and number combinations that have deadlines as short as hours or days. If you're lucky enough to find a Swag Code, head to the "Promotions" button on your toolbar and click it. The pop-up will show with an input box where you can enter the code.
How much can you earn? It varies, however you can usually expect to earn between one and five SB points for each Swag Code you find and input.
How much time is required? This activity can be quite time-consuming, and the opportunity cost is quite low.
Need to know: It's worth following Swagbucks social media accounts, as Swag Codes are often advertised on Facebook and Twitter. The SwagButton will also notify you when a new Swag Code is created.
How to join Swagbucks Australia
Becoming a member of Swagbucks is free and straightforward, even if you're located in Australia.
To enrol and to start collecting points, simply go to the Swagbucks website. You'll automatically get a $5 bonus just for joining. You'll need to provide your email address and some other identifying information. You can optionally connect your social media accounts for extra points.
Cashing out Swagbucks rewards
1 Swagbuck is worth about 1 US cent, so 100 Swagbucks is equal to $1 USD. Swagbucks doesn't pay out in Australian Dollars.
There are many ways to redeem your points on the Swagbucks website. I personally like the fact that it's possible to exchange SB points for cash directly into my PayPal account. That said, there are plenty of other ways to cash-out.
A favorite redemption for Swagbucks Australian members is the Amazon Gift Card that can be used across its global marketplace. You can also get free gift cards for many different brands besides Amazon. The selection of available cards changes frequently.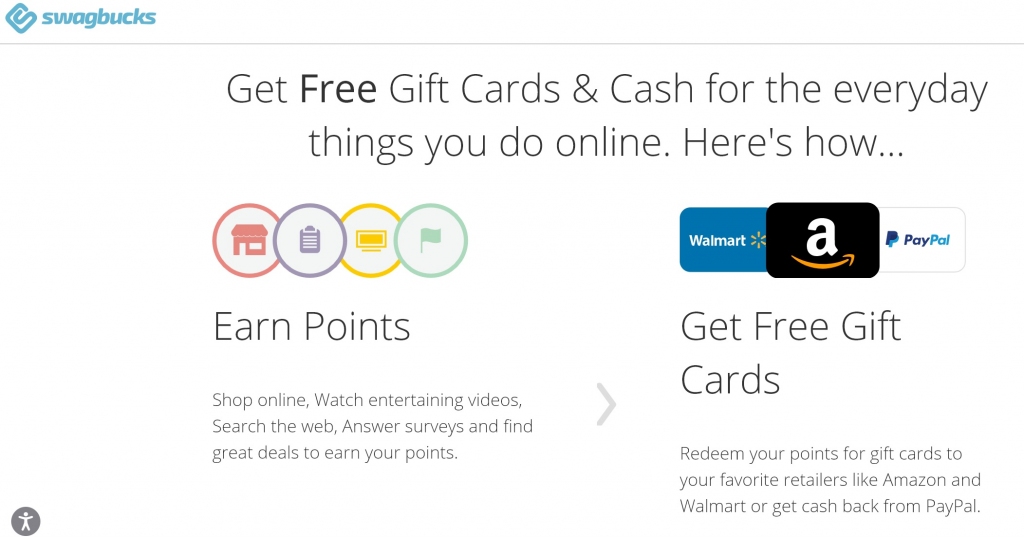 Downloading the Swagbucks App
One of the many ways that people can get free swagbucks.com is by downloading and using the main Swagbucks mobile app. This iPhone or Android app sends notifications about Swag Codes and gives access to most web features. Swagbucks Australia also operates a number of other apps, the likes of which can be a bit confusing to juggle on the go! These include:
Swagbucks Live (for taking part in trivia)
Swagbucks Watch (for watching video content)
Swagbucks Answer (for online surveys)
Sporty (for watching Swagbucks powered sports content)
Swagbucks advantages and disadvantages
As one of the most popular Get-Paid-To sites, Swagbucks Australia can absolutely be worthwhile. However, not everyone will find the opportunity cost is worth it. Here are some pros and cons Australians should keep in mind before deciding to join Swagbucks.
Swagbucks Advantages
Sign-on bonus: Earn a generous SB bonus, worth $5 USD – simply for joining free
Many ways to earn: Along with online surveys, earn passive income from the online activities you'd usually carry out. Continue browsing and online shopping as you always have.
Excellent UX: Swagbucks.com and the Swagbucks apps are all extremely easy to use
Bonus Swagbucks offers: These can help you boost your SB balance significantly
Swagbucks Disadvantages
Low earning potential: Swagbucks Australia isn't a replacement for a part-time job or side hustle
Opportunity cost: Like with other GPT sites, the rewards might not always be worth the time you invest
Low payouts: Particularly when compared to Australian online survey sites we've covered on The Champagne Mile
May need to outlay cash: Be weary of points earning opportunities that require you to outlay money first
Who should join Swagbucks Australia?
Swagbucks allows people aged 13 or older to become a member and this includes Australian residents. However, in Australia, parental supervision of members younger than 18 years of age is required.
Swagbucks Australia is particularly suited to people who spend a significant amount of time online. It's likely to be worthwhile for Australians who like to complete online surveys, shop online, watch videos, play games and browse the web.
Of course, you'll need to use Swagbucks as a portal to your favorite websites. Google enthusiasts may find this trade-off difficult to accept. To facilitate this change, use the SwagButton for anything you do on Google's Chrome browser.
Swagbucks Australia Reviews on the web
At the time of writing, Swagbucks Australia reviews have reached an average score of 4.3 on Trustpilot. It holds a 3.8 rating on Survey Police. Google reviews are not active.
Similar sites like Swagbucks
If you're interested in Swagbucks Australia, it could be time to discover other similar sites that reward you in your free time. Here are some of our top picks:
Octopus Group
If you're eager to take advantage of paid survey opportunities, then Octopus Group is worth a look. Octopus Group is the highest paying online survey company in Australia, meaning that they compensate users handsomely for their time and effort. Users are paid a set amount per minute they spend on the platform, which equates to over $16 AUD per hour, which can be cashed out for money in PayPal. In real terms, this is up to five times or more than what you can earn completing online surveys for Swagbucks Australia.
Start taking paid online surveys with Octopus Group – Australia's highest-paying survey site! Get paid in cash or gift cards, plus earn even more when you refer friends. Join here.
Survey Junkie
If you're looking for other global survey sites that will pay you, Survey Junkie may be a better option. However, there is no way to make easy money with Survey Junkie aside from surveys. In contrast, Swagbucks Australia offers several other methods of earning money so users can supplement their income if they're too busy to do surveys.
With a low redemption threshold and plenty of surveys, you'll be able to start earning almost straight away! Join here.
Toluna
Toluna is one of Australia's leading online survey sites. There are many ways you can make money with them including taking daily surveys, referring others, games, and polls.
Take online surveys and get awarded points that you can exchange for cash or rewards. It's quick, easy, and free to join Toluna here.
Cashrewards
Cashrewards is an Australia-based cashback app and website that enables users to get a percentage of their purchase back at over 1,700 retailers in the country. It's completely free to join, and you can receive a $10 instant bonus for joining here.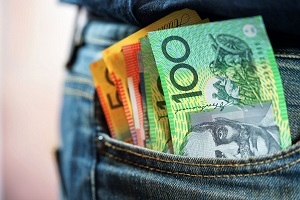 $10 BONUS CASHBACK WITH CASHREWARDS
Score $10 back when you shop in-store or online with Cashrewards, Australia's favourite cashback site. Sign up with our exclusive link now! Join here.
PrizeRebel
PrizeRebel is primarily an online survey site, but you can also earn points by signing up for product trials, watching videos, and referring others to join. You can redeem rewards worth as little as $5 with your account balance. It's worth noting that this company has mixed reviews. At the time of writing, it's registering just 3.3 stars on Trustpilot.
Get paid in CASH & Gift cards from PayPal, Coles, Myer, JB HiFi, and Amazon. Join here.
YouGov
Founded on the concept of the more people that are able to participate in the decisions made by the institutions that serve them, the better those decisions will be, YouGov has its feet firmly in the Governmental end of market research, so if shaping public policy is of interest, look no further than the global public opinion company – YouGov.
Join trusted, global survey site YouGov and get 100 bonus points for completing the welcome process. Get paid in cash directly to your bank account when you complete surveys. Join here.
Is Swagbucks worth my time?
Swagbucks Australia is a legit online rewards site with a range of worthwhile earning options. While the site's focus is primarily the USA, there are plenty of worthwhile earning options to keep Australian consumers engaged. The site is particularly well suited for people who spend lots of time online, and who want to make a modest passive income through completing day-to-day activities.
Like any rewards site, there is an opportunity cost to your time. The online rewards on offer with Swagbucks won't always be worth the time a user needs to outlay. Also, since Swagbucks often requires users to spend money in order to get rewarded, it pays to be careful.
At the end of the day, you won't get rich. However, Swagbucks Australia is a fun way to add rewarding moments to many of your daily activities. With all the benefits attached to membership, why not give Swagbucks a try?
Swagbucks Frequently Asked Questions (FAQ)
How much money can you make with Swagbucks Australia?
An average Swagbucks user in Australia can earn around $25 USD in PayPal cash or gift cards every month. This can increase up to $100 USD with a high level of time outlaid.
Is Swagbucks Australia safe and legit?
Yes, Swagbucks is legitimate and trustworthy. Millions of dollars have been rewarded to members who love how easy it is to use this service.
Is it safe to disclose personal information to Swagbucks Australia?
Swagbucks says they will only share your personal information with other companies if they have user consent or if it is necessary for completing a certain task such as verifying an account.
Does Swagbucks work in Australia?
Absolutely! Swagbucks Australia not only works but is also 100% legit! You can follow the links in our post to join up.
While you're here: Subscribe to our newsletter for the latest tips, deals and news. It only takes a few seconds and we respect your privacy: